Learn how to make custom and beautiful window treatments with DIY copper pipe curtain rods — inexpensively and easily!
I love copper. It's so bright and shiny and cheerful. And just a little quirky. So when I decided to put up curtains recently, I knew I wanted copper curtain rods. But all I found were some too-fancy, overpriced ones. And they weren't even REAL copper. That's when I remembered that copper pipe, the real stuff, wasn't too pricey. And that's when I knew I'd have to make some DIY copper pipe curtain rods myself!
As it turns out, this project was SUPER easy. We simply went to our local home improvement store and got some copper rods, copper bell hangers, and copper caps — everything was in the plumbing area. Then I ordered some copper curtain clips off Amazon and we were good to go.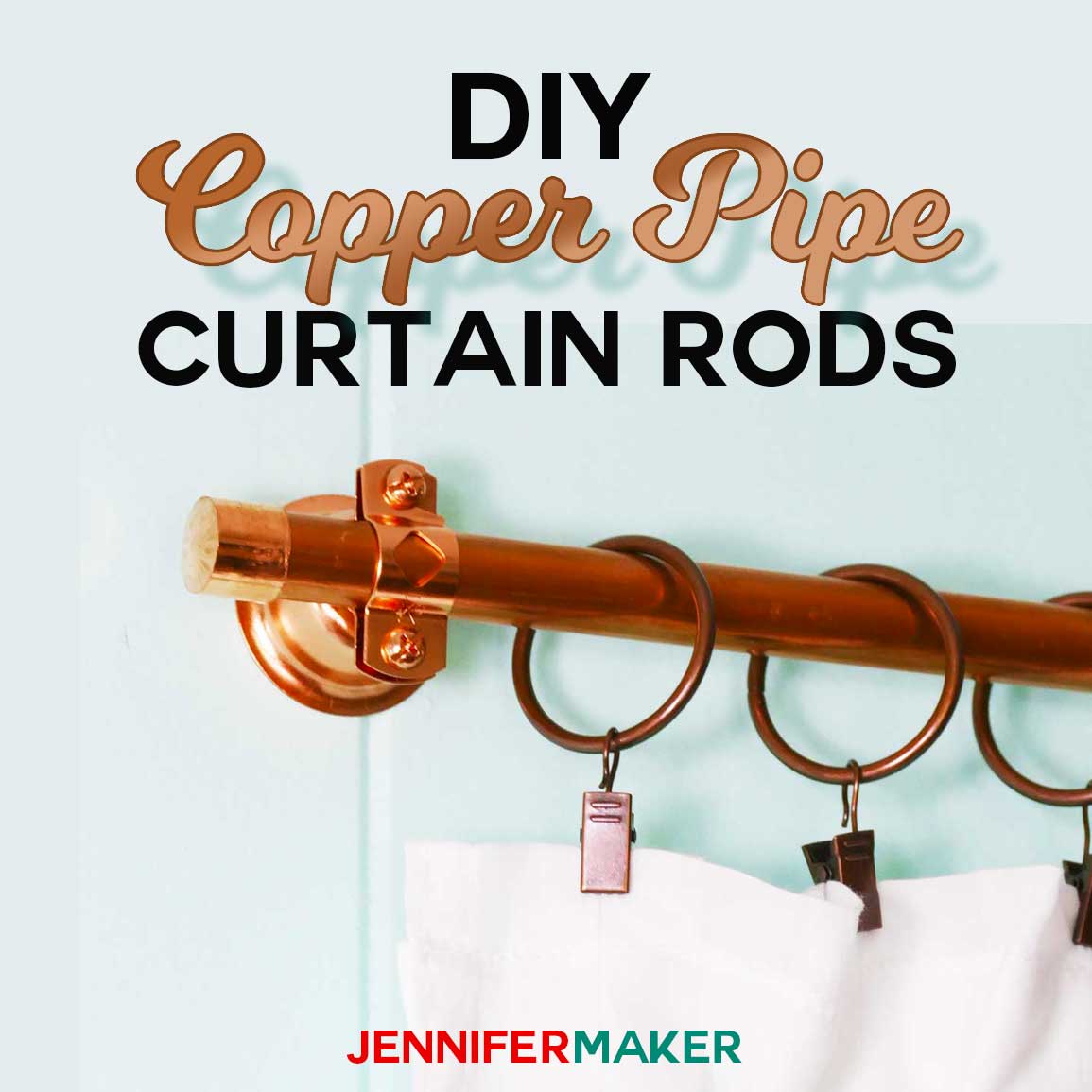 The entire DIY project took only 30 minutes to cut and and install the copper pipe curtain rods. If only all projects were this easy!
I am SO pleased with how they turned out. Every time I see them I smile. Here's some photos of the finished curtain rods: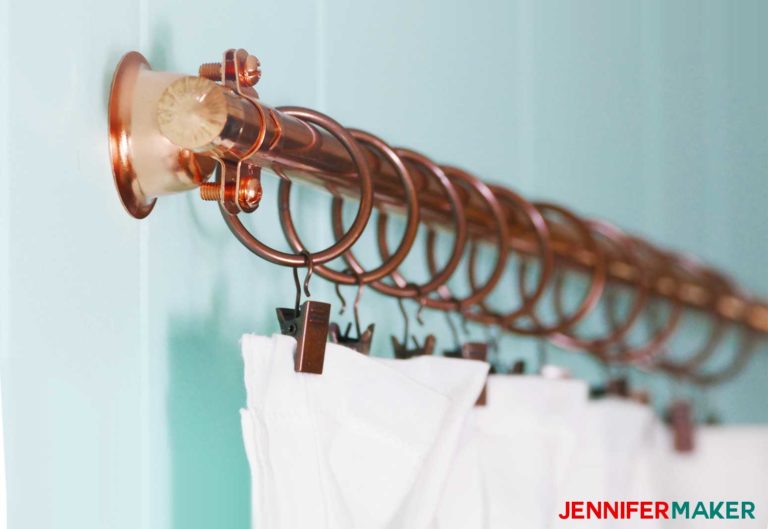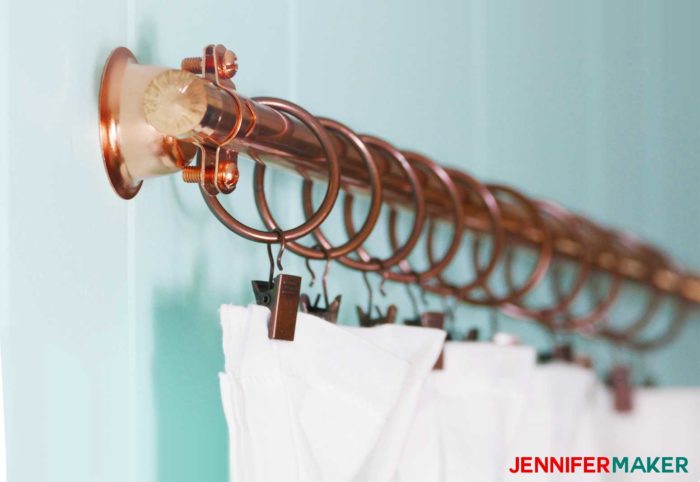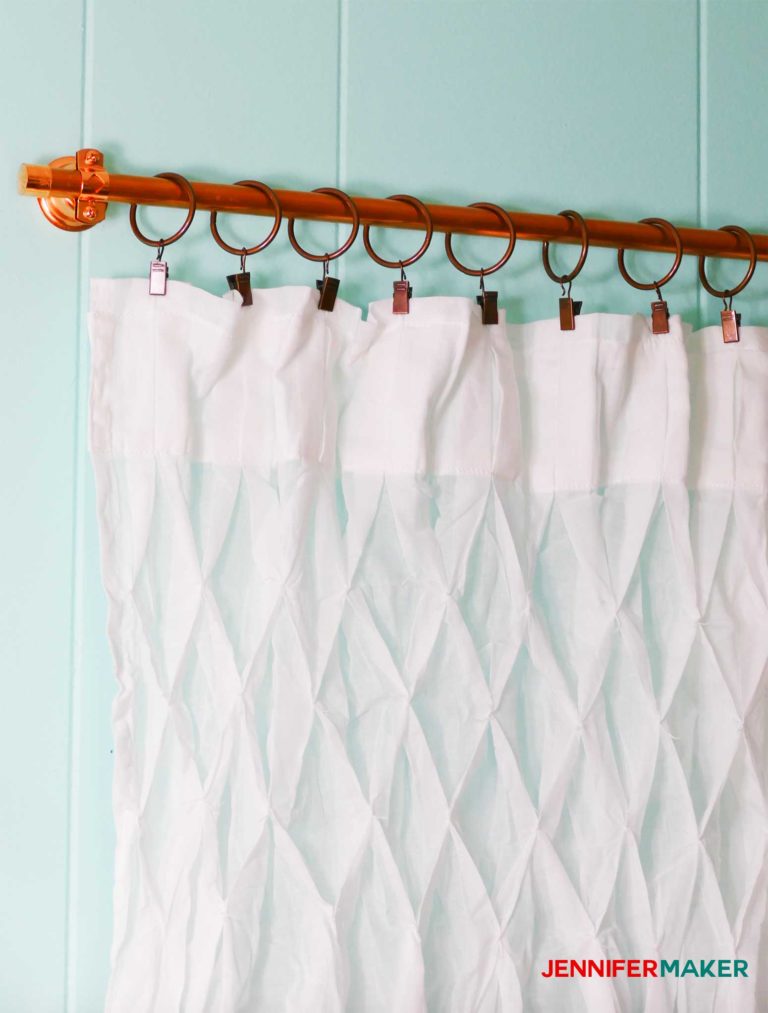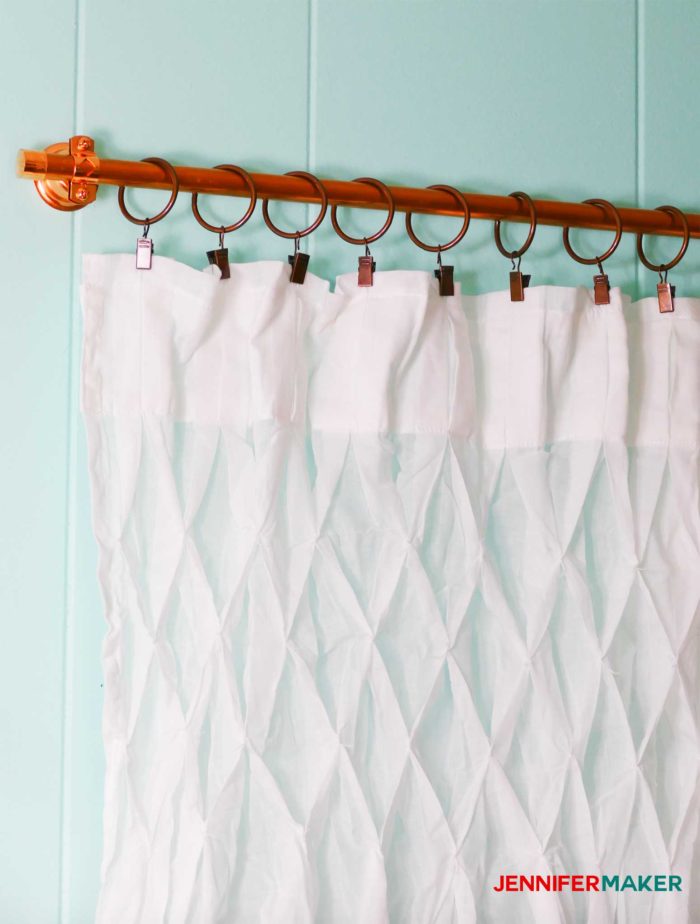 Fun fact: Copper can never rust! It can corrode or tarnish, but it's not going to corrode when it's just holding up a curtain. It might tarnish over time, but acetone will fix that right up. Easy peasy!
So let me show you how you can make your own copper pipe curtain rods, too! This post contains some affiliate links for your convenience (which means if you make a purchase after clicking a link I will earn a small commission but it won't cost you a penny more)! Read my full disclosure policy.
Materials and Tools for DIY Copper Pipe Curtain Rods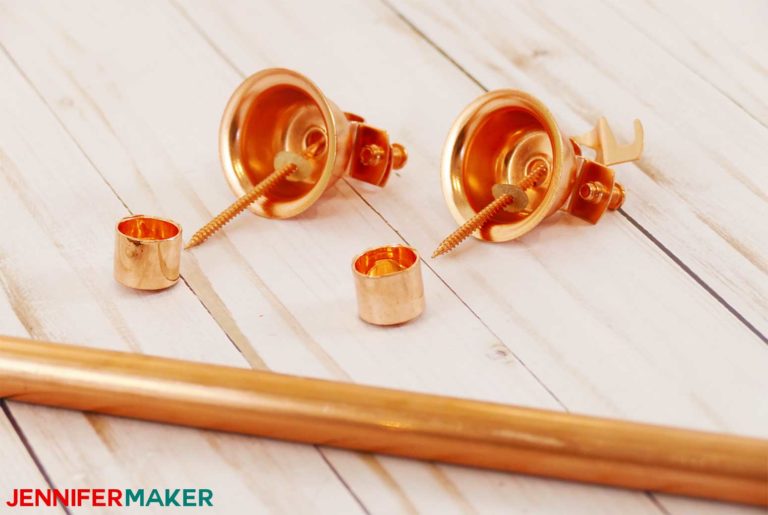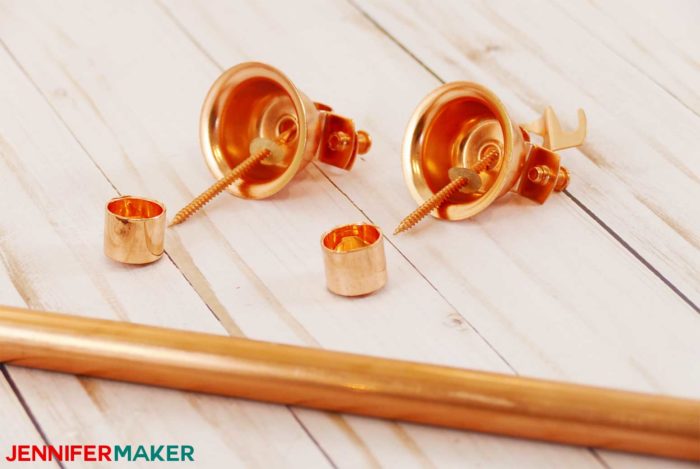 1/2″ straight hard copper pipe about 4″ or so longer than your window (we used the highest quality "type L" from Menards)
1/2″ copper bell hangers (two per curtain rod, unless your pipe is longer than 5′, in which case you may want a third or forth to support it in the middle)
1/2″ copper caps (two per curtain rod)
Acetone (to clean the markings off the copper pipe and shine them up)
Mallet (to put the caps on the copper pipe ends)
Level and pencil (to mark placement on your wall)
A way to cut your copper pipe, such as a pipe cutter or table saw
Portable drill
Total Spent: Pipe ($8), Bell Hangers ($1.90), Caps (80 cents) = $10.70 per 5′ or less curtain rod.
How to Make DIY Copper Pipe Curtain Rods
First, measure your window and decide how much extra of your copper pipe curtain rod you'd like hanging on either side or your casement. You'll want at least two inches extra on either side of your window for the curtain rod hardware to go.
Cut your copper pipe. It'll likely be easier to cut it with a pipe cutter. We used a table saw because that was easier for us as we don't have a pipe cutter.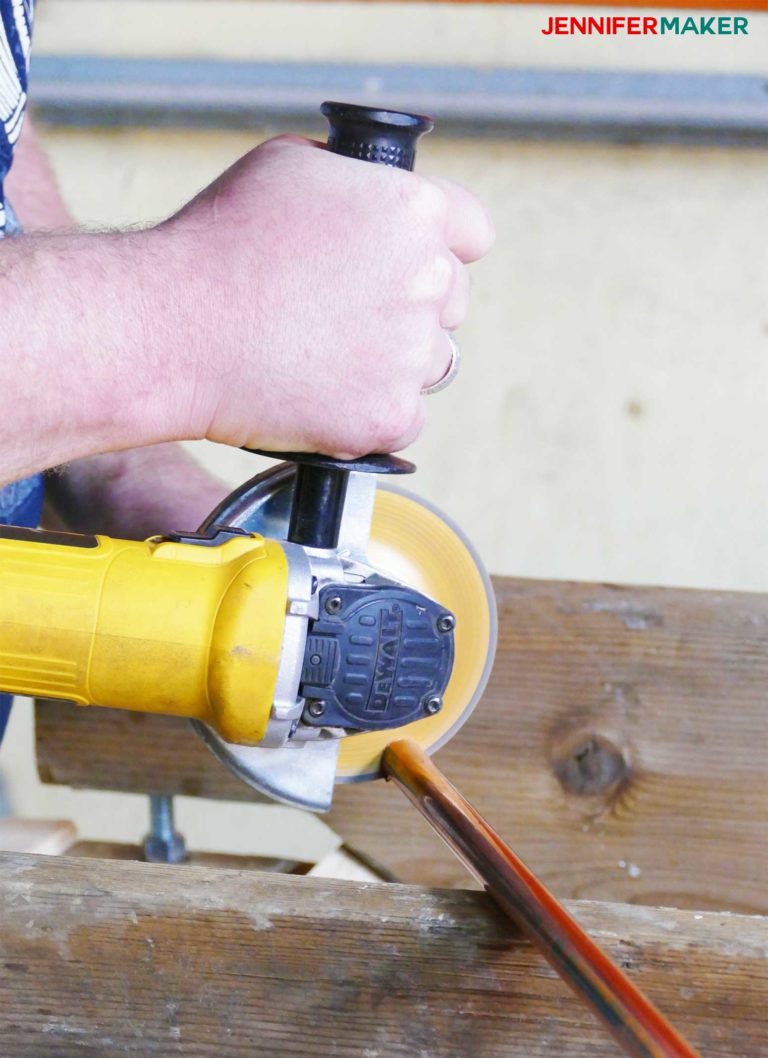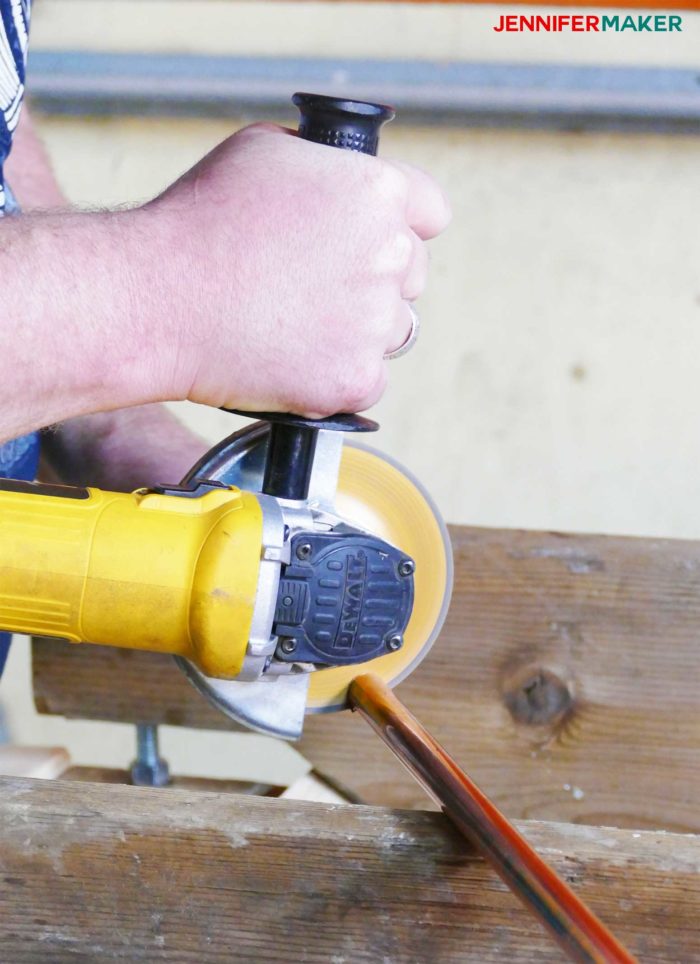 Next, clean your cut copper pipe with acetone to get any printing or marks off it. The acetone also shines your copper pipe up nicely, which you'll want when making copper pipe curtain rods.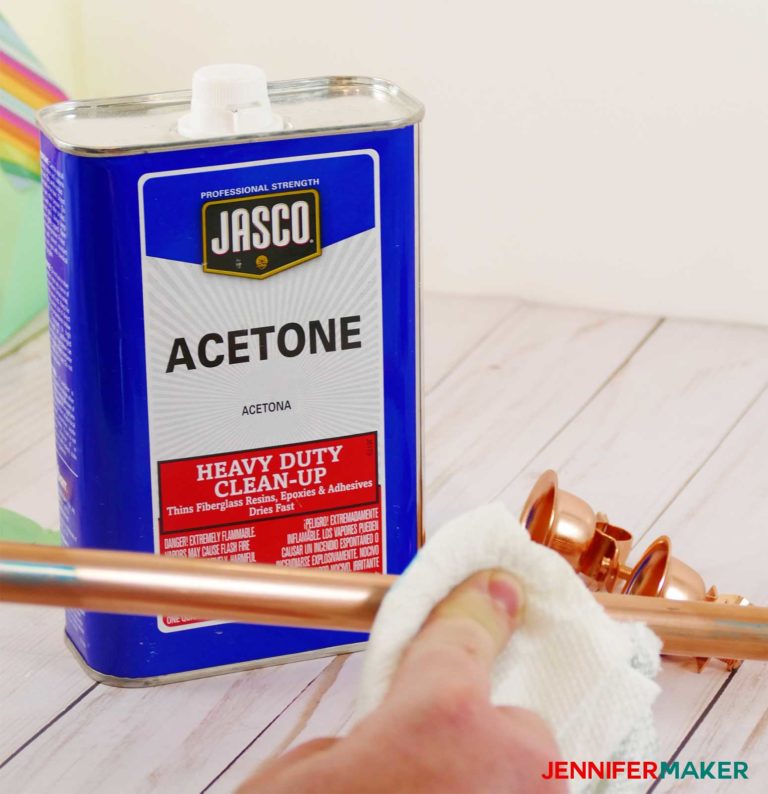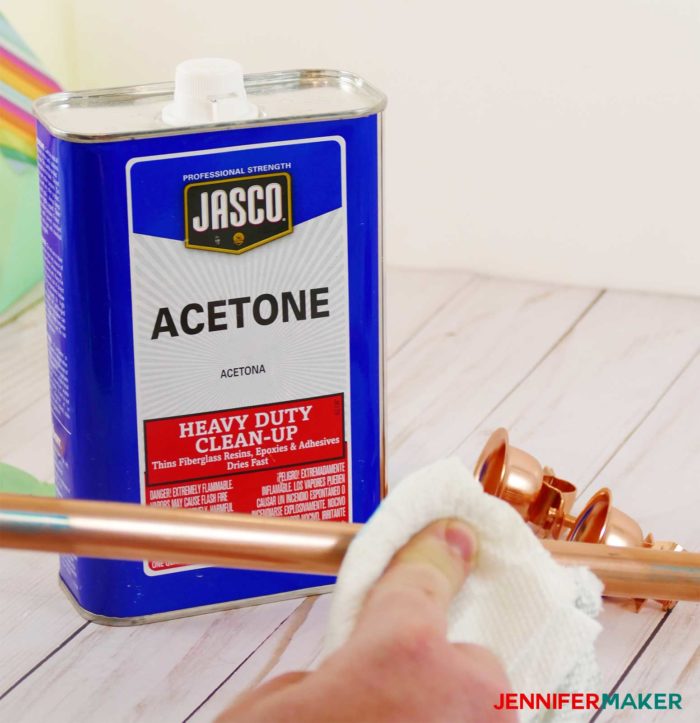 Put your copper caps on either end of your copper pipe. If they are a tight fit, use a mallet to secure them on.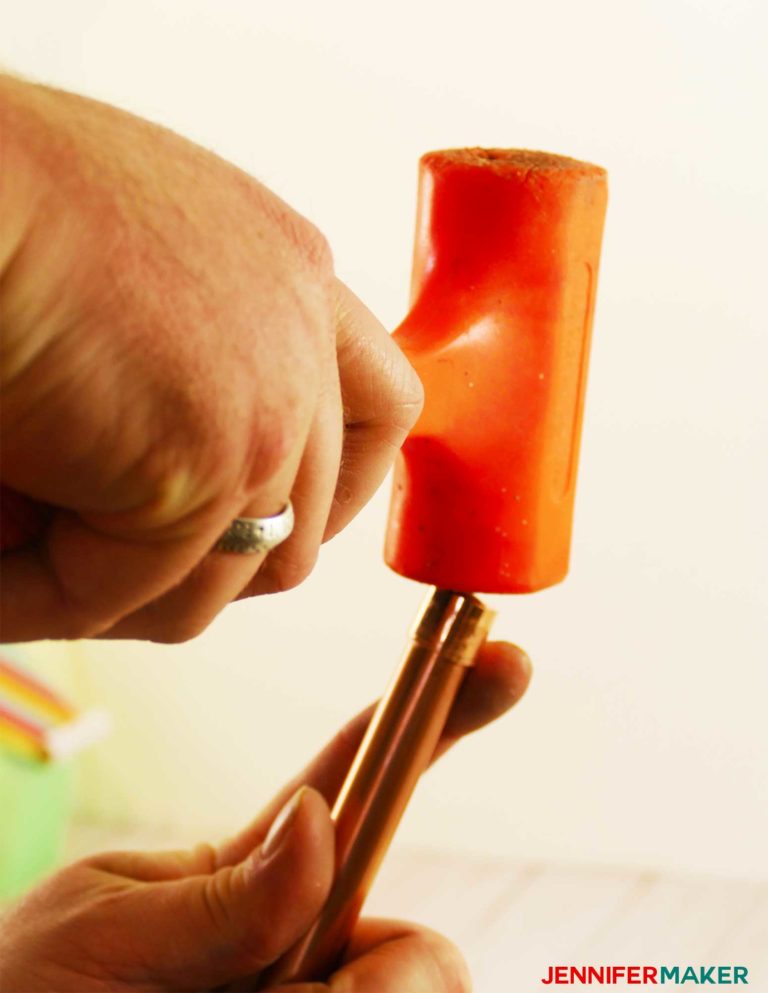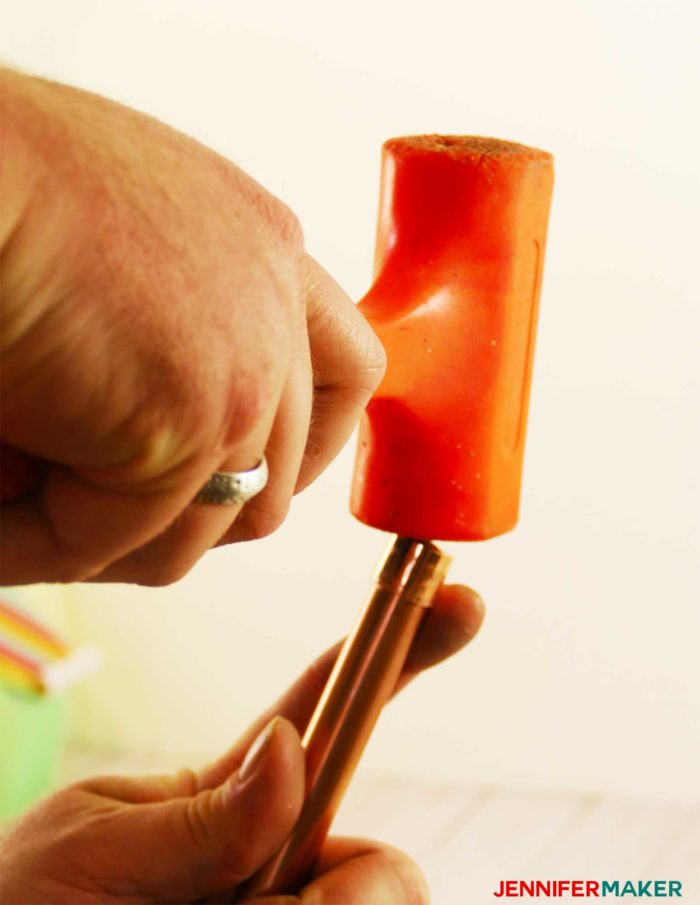 Now using your level and a pencil, mark the spots on the wall where you want to hang your curtain hardware. The distance between the two points should be at least 4″ shorter than the length of your cut copper pipe.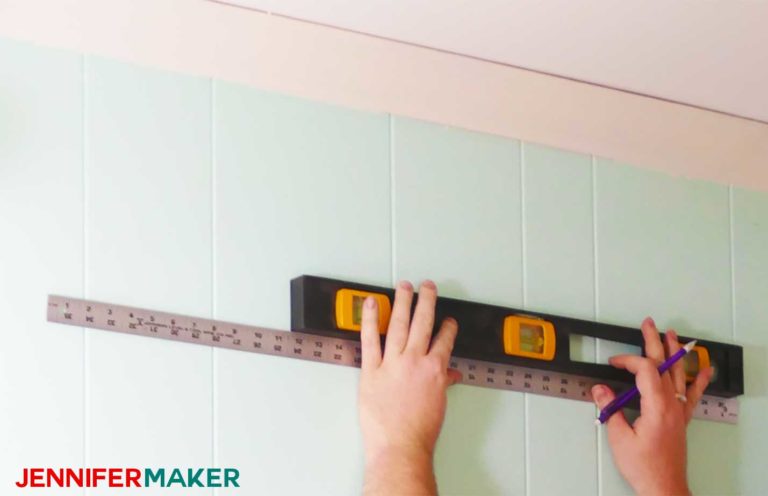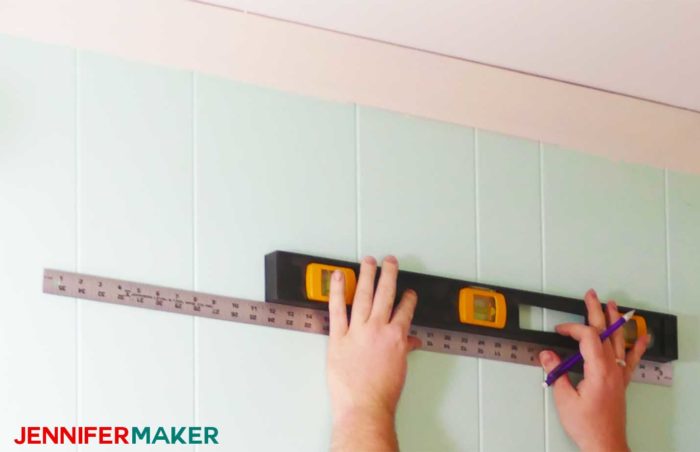 Once your wall is marked, attach the two copper bell hangers to your wall by drilling the included screw into the center.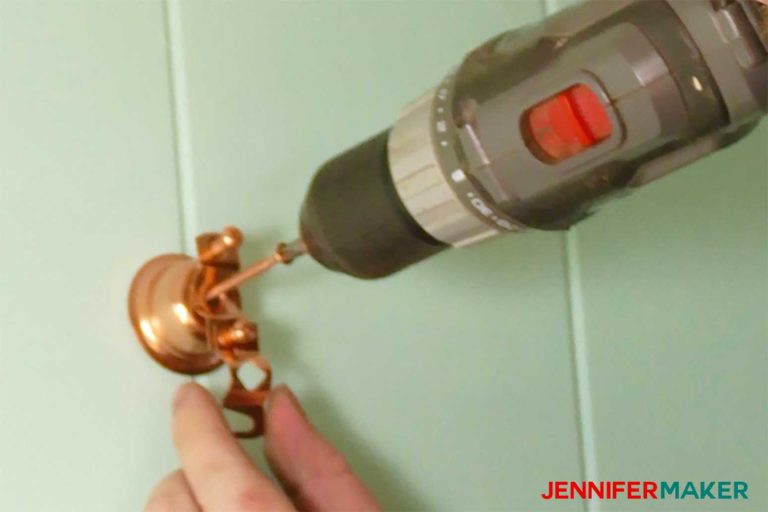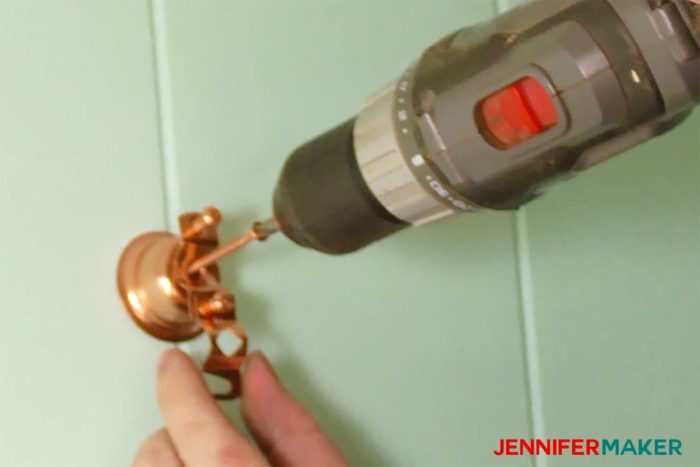 Slide your copper curtain clips rings onto the curtain rod before securing the clamp.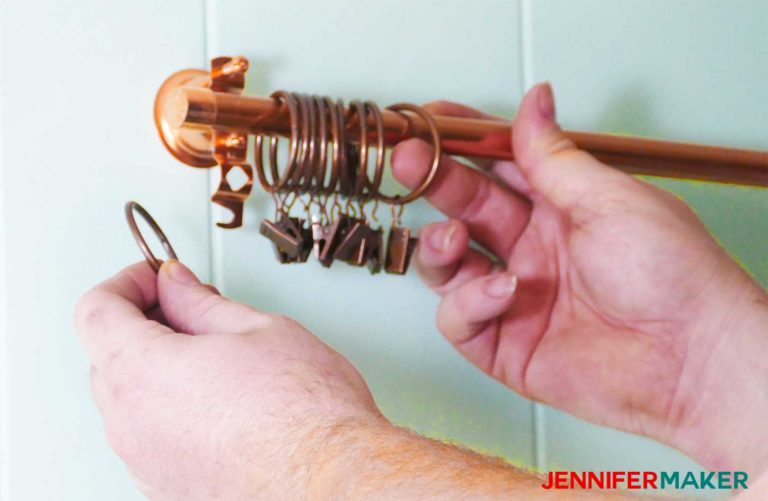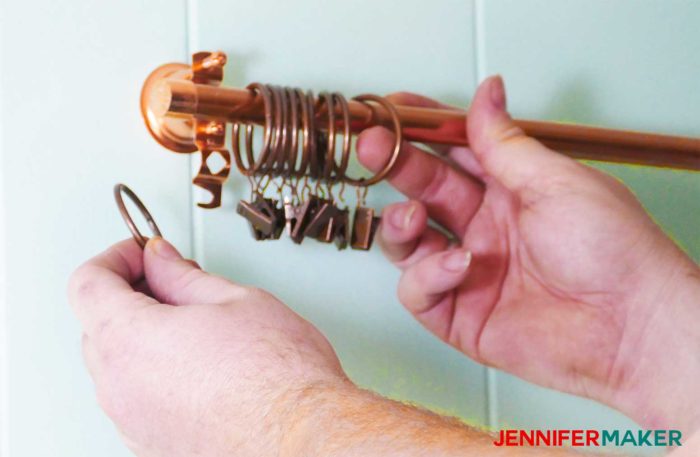 Now go ahead and close the clamp on the bell hanger and screw it closed.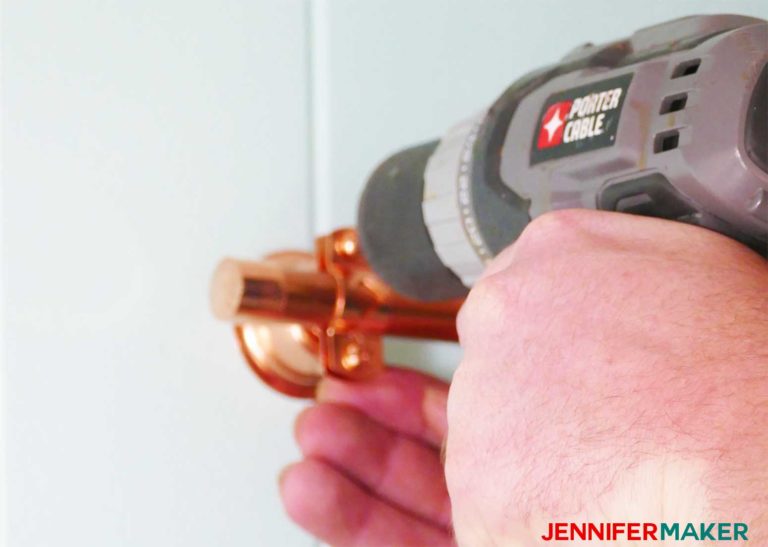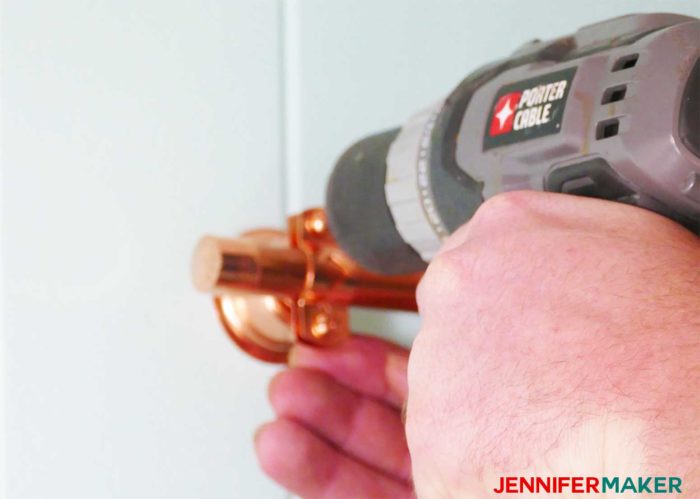 Clip your curtain onto your rings and enjoy!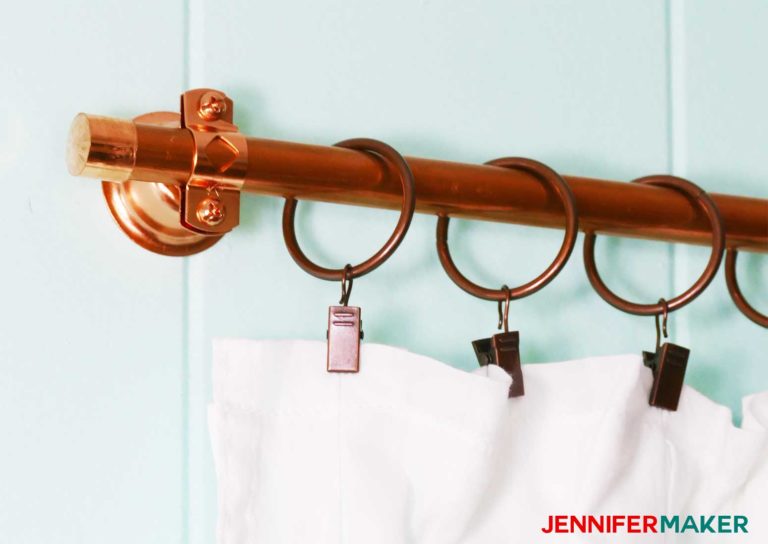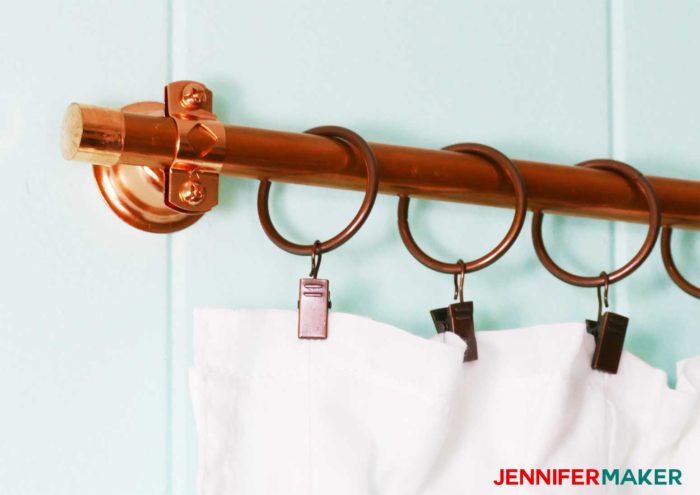 This project was so easy and the results so great that I think I'm going to hang some copper pipe curtain rods in my bedroom, too. I'm also going to use these to create some special hanging storage in my craft room, but that's a topic for another blog post!
If you make a copper pipe curtain rod, please share a photo of what you did! You can send it to [email protected] or tag me on social media with #jennifermaker.
Love,