IKEA craft room storage is affordable, great-looking, and SO easy to customize!
It's safe to say I'm in love with IKEA. I used to have to drive 6 hours to reach the nearest IKEA (and I did), but now I have one just 20 minutes away. My craft room is nearly ALL units from IKEA … and I love it! IKEA has so many different options at such affordable prices, making it so easy to create exactly what you need. I know many of you are working on creating and organizing your craft rooms, so I want to show you my best IKEA craft room storage shelves and ideas!
Many of the ideas in this post are from my own craft room, but a good number come from the wonderful ladies over at my Craft Room Organization Facebook group. If you're working on your craft room, this group is a treasure trove of ideas and information on getting and staying organized! If you're not yet in this group, come on over — we're friendly and happy to help you with your craft rooms.
If you're going shopping, popular IKEA craft room storage units include:
Tip: Be sure to check out my IKEA Shopping Tips and Tricks post before you go!
Let's take a look at the best IKEA Craft Room ideas, hacks, and storage solutions I've found so far! This post contains some affiliate links for your convenience (which means if you make a purchase after clicking a link I will earn a small commission but it won't cost you a penny more)! Read my full disclosure policy.
IKEA Craft Room Ideas for Storage
IKEA has SO many options for storage among its many shelves and drawers options. In my craft room, I put IKEA legs on IKEA Kallax units and Alex drawers to get them up to the height I wanted and give them a little extra flair! You can read exactly how I attached the legs to the IKEA craft room storage in this tutorial.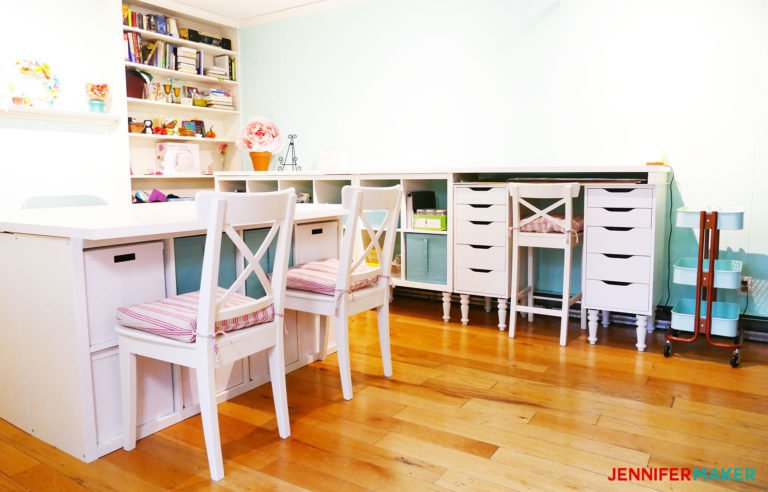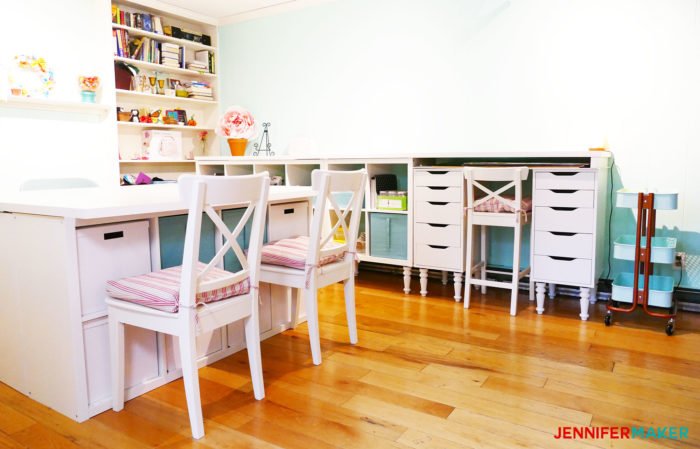 IKEA craft room storage rocks!
I also got a 74″ long IKEA Lack shelf, attached puck lights to it, and hung it over my pegboard! You can learn how I made the pegboard here.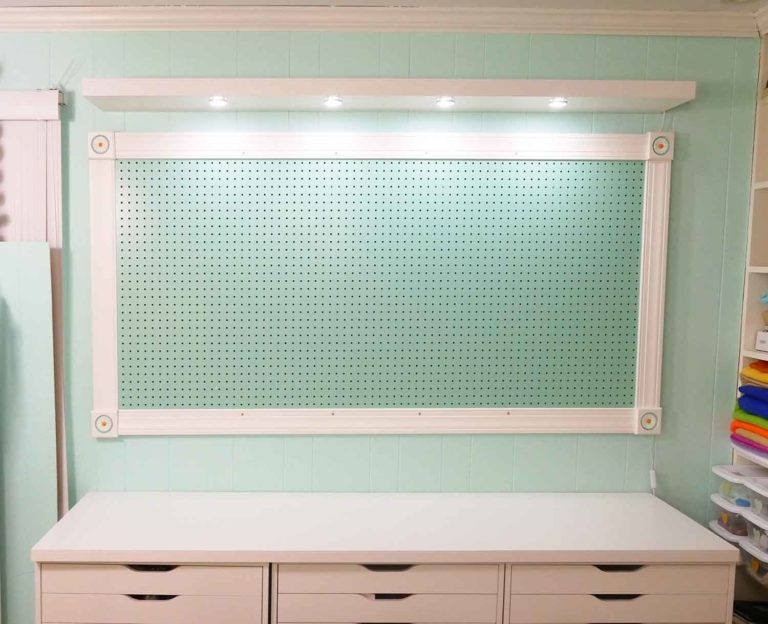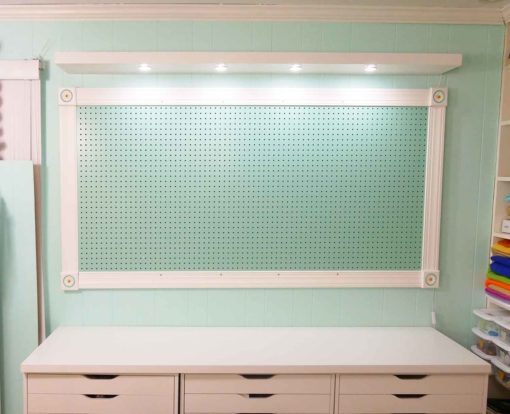 I also used this Kallax unit and added shelves for paper storage! It's even on wheels I got at IKEA. The plastic thing on top of the unit is a Variera bag dispenser.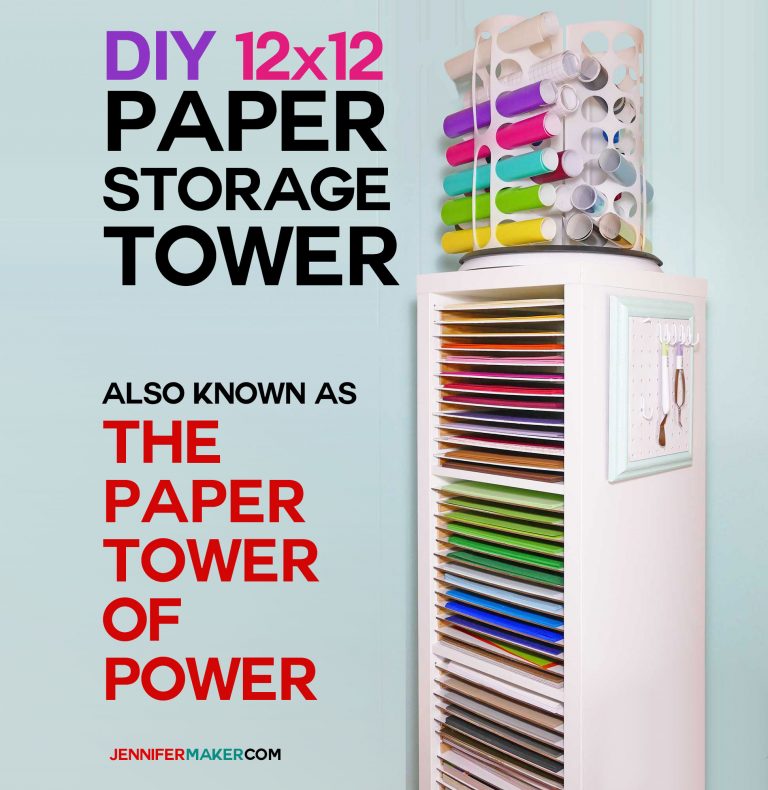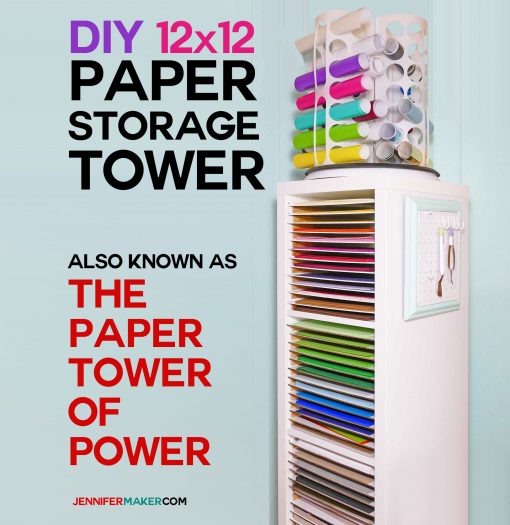 And I used a similar idea to use Kallax and pegboards make a craft vinyl storage unit, too!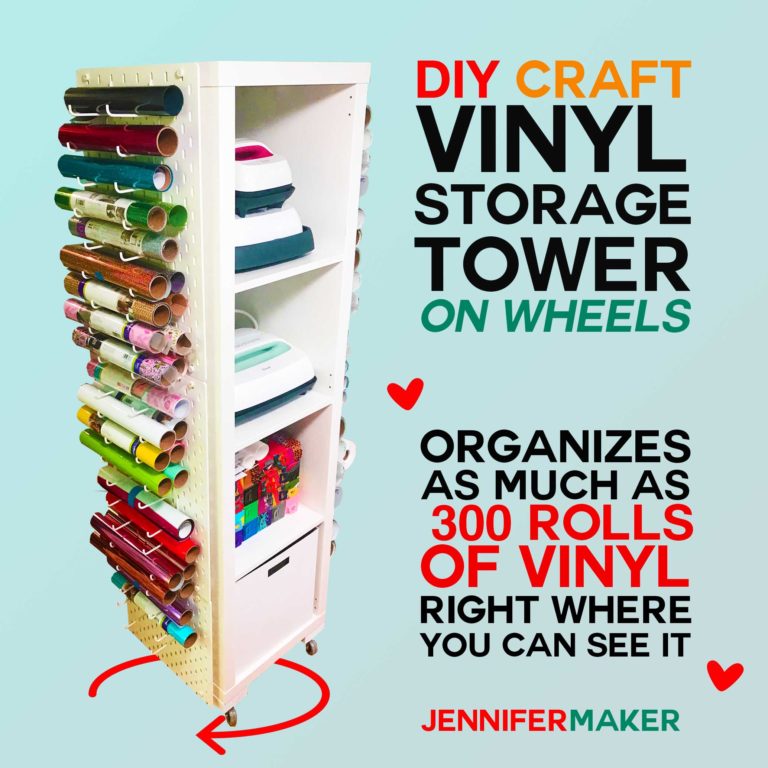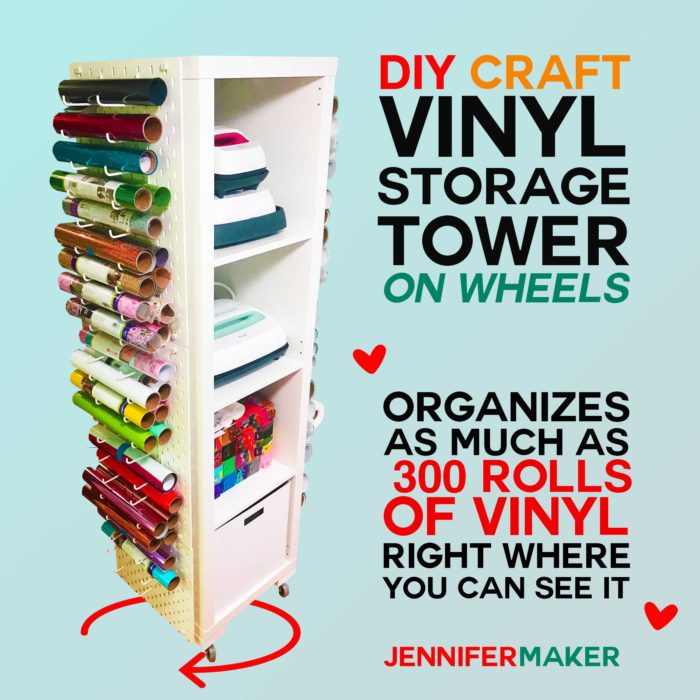 Here is a craft corner by reader Candice Winter. It features Kallax shelves (4×2), a Lack wall shelf unit, Alex drawers (both wide and narrow), and a Linnmon tabletop.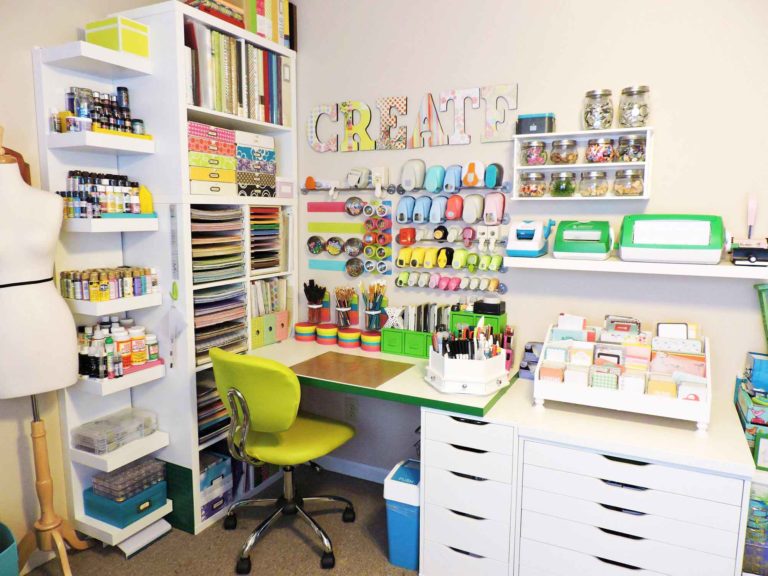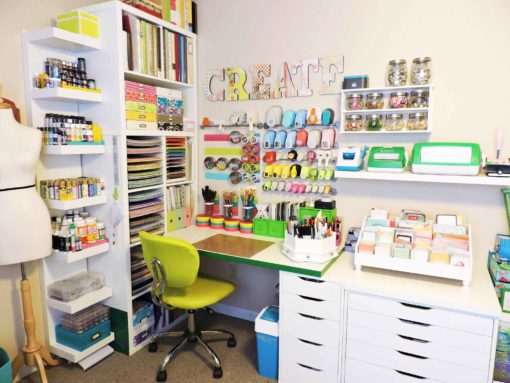 Taking a closer look at the area over her Linnmon desk, we see she's also using these steel strips to hold her magnetic tins. (Note that those magnetic tins used to be sold at IKEA, but seem to be discontinued, so you'll want to buy them online instead.) Isn't this super cute?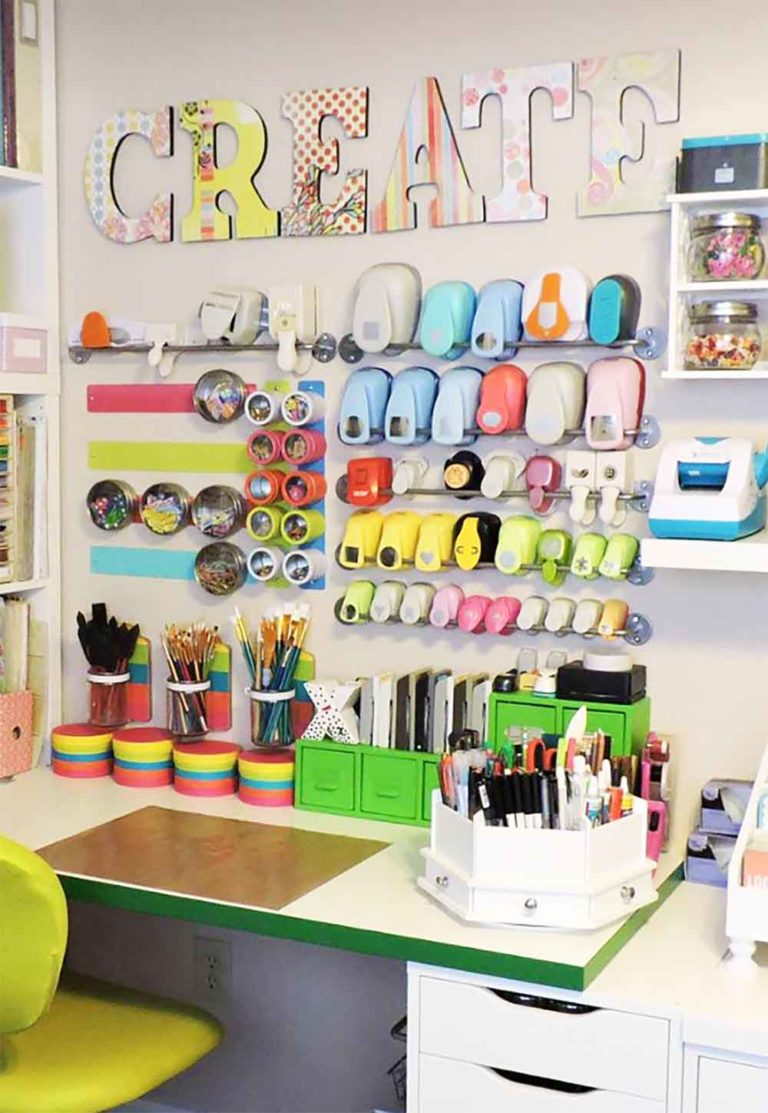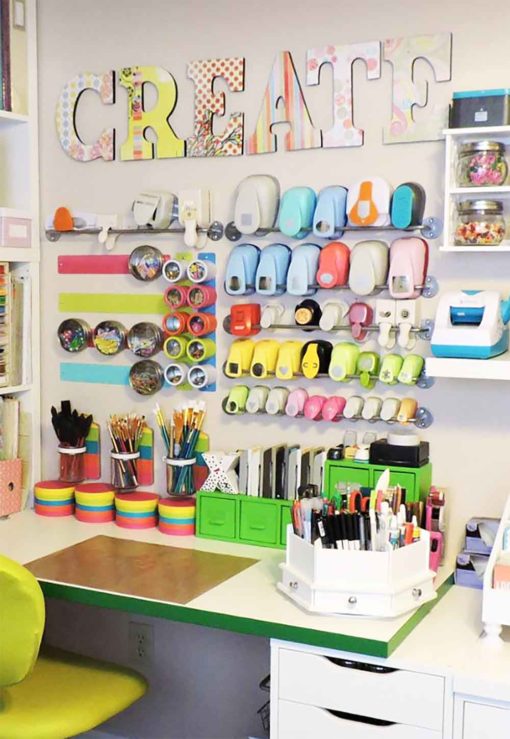 Here are two IKEA Kallax shelves (formerly known as Expedit) stacked on top of one another to create tall storage that makes the most of the space. There is a Kallax 4×4 unit on the bottom and a Kallax 2×4 unit on the top. Photo by crafter Marolyn Hundley.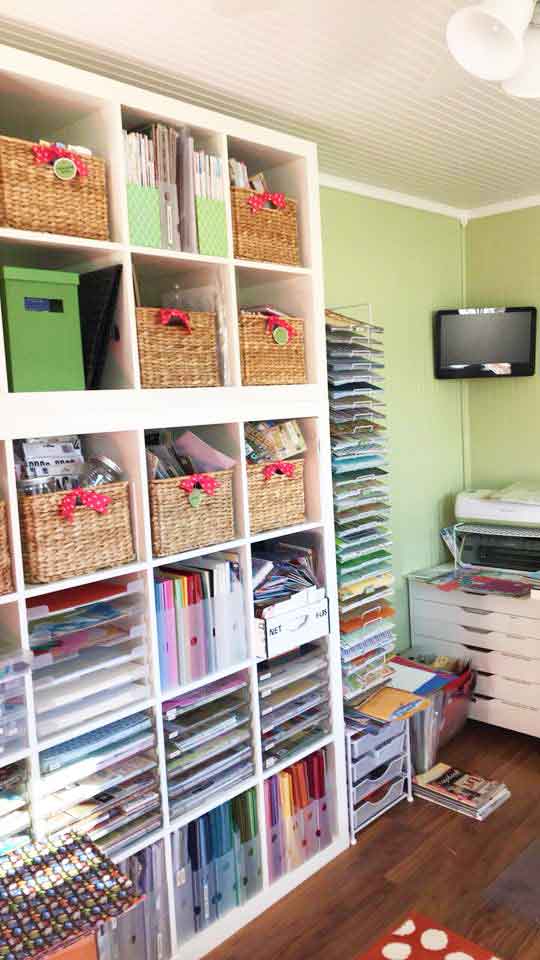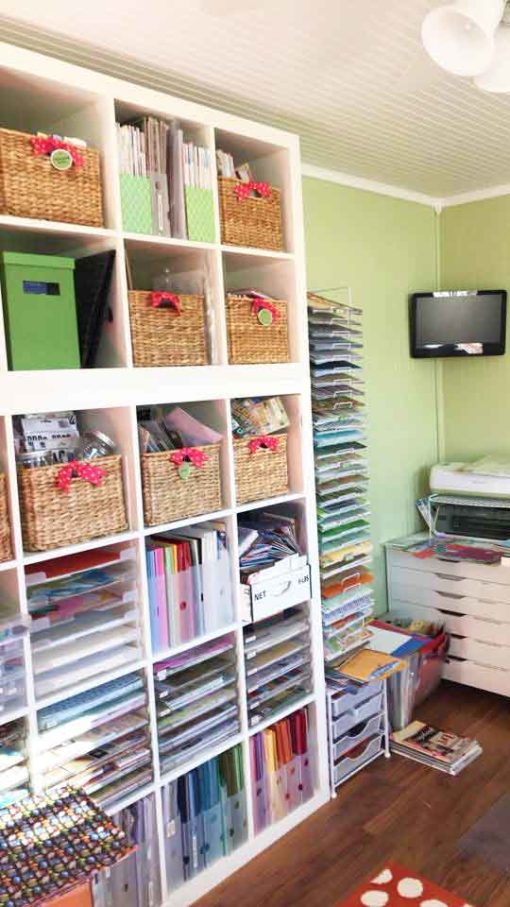 This is an IKEA Kallax unit (4×4) with fabric storage cubes and baskets. Photo by Cari Ruotolo.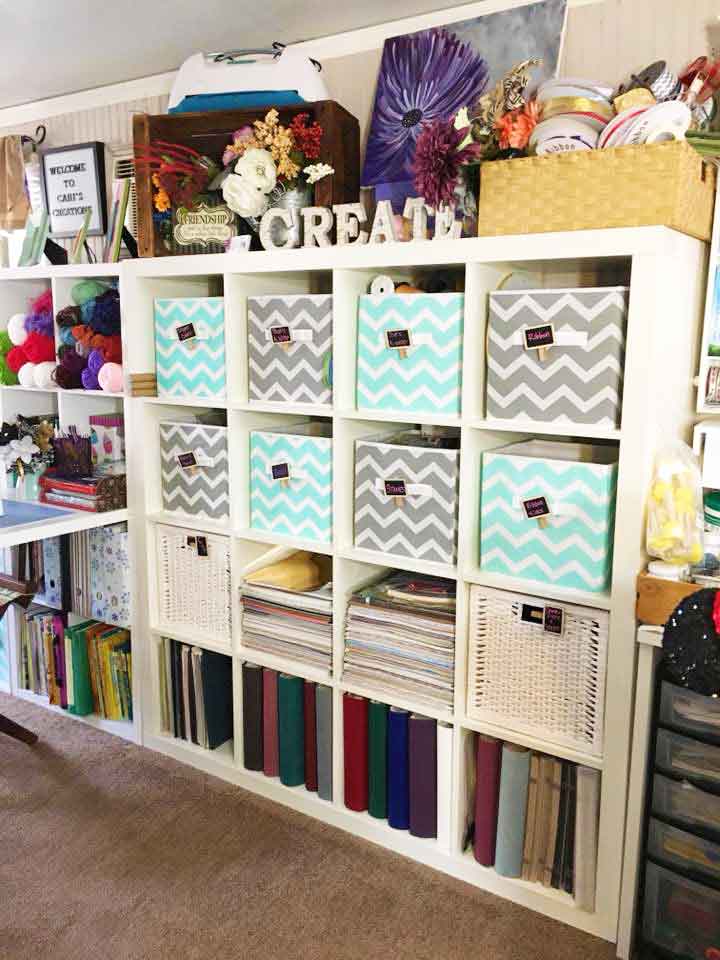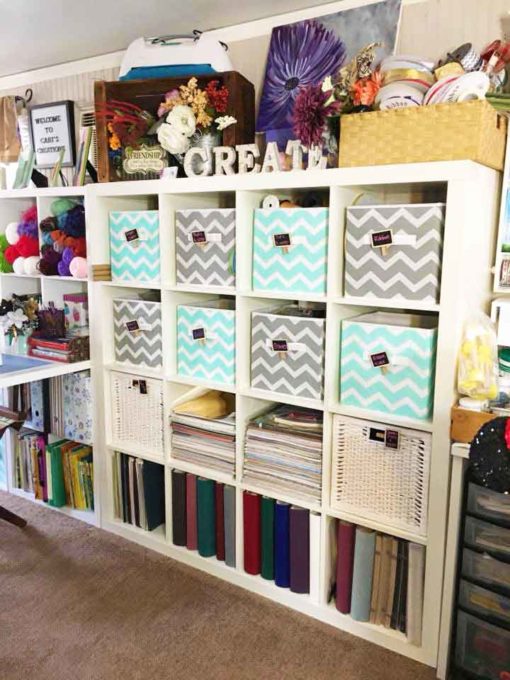 Here's another view of Cari's room, showing the other side of her sewing table: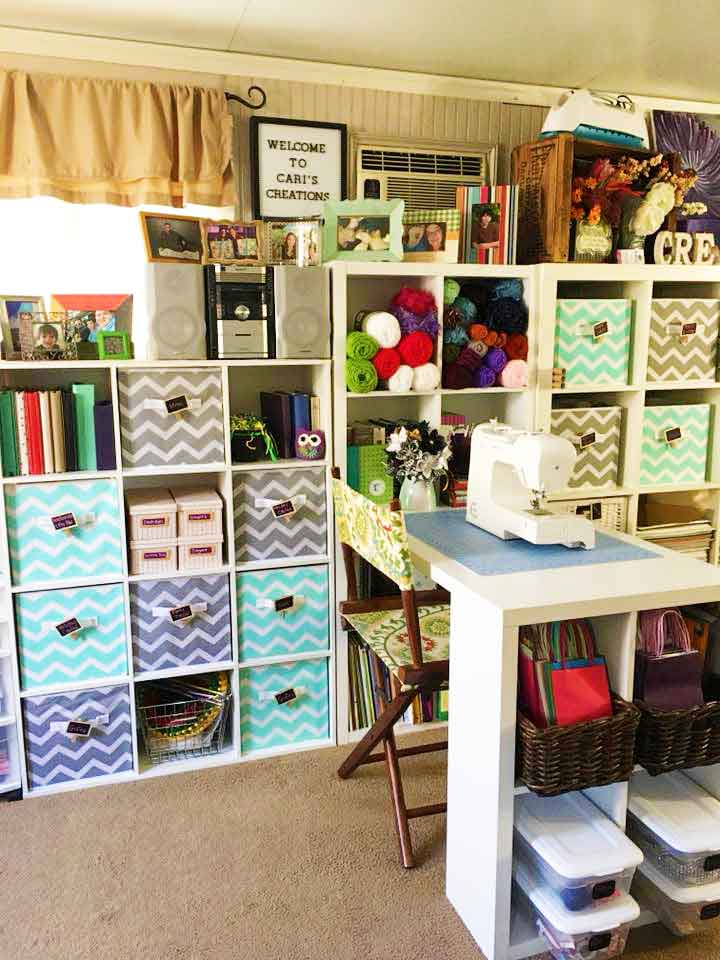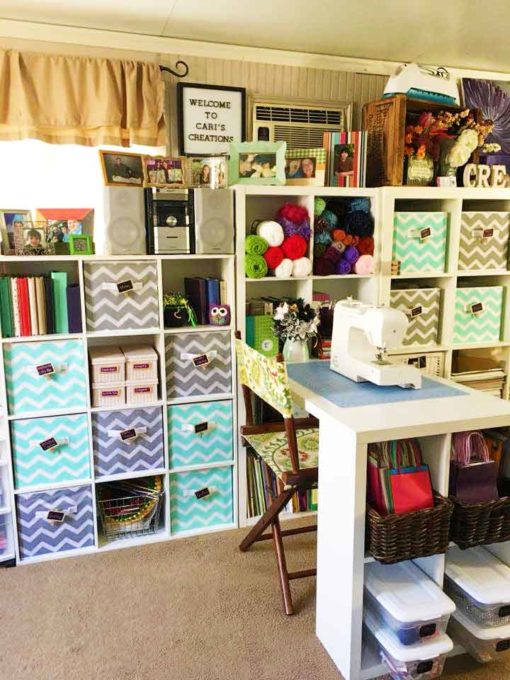 This is another use for the Kallax shelves (4×2) with added plexiglass dividers in the shelves to stack paper. Photo by crafter Arlene Muller.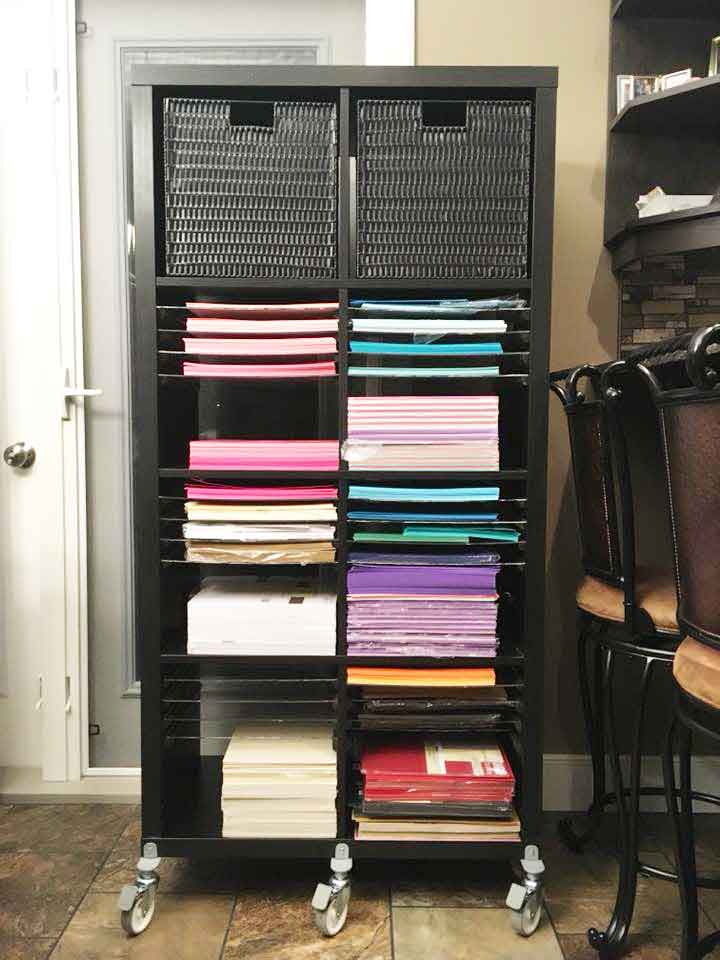 In this craft room, we have the 78 inch Lack shelf (with lights) over a pegboard. Below that is the 78 inch Linnmon tabletop. Photo by Tracy Gooch.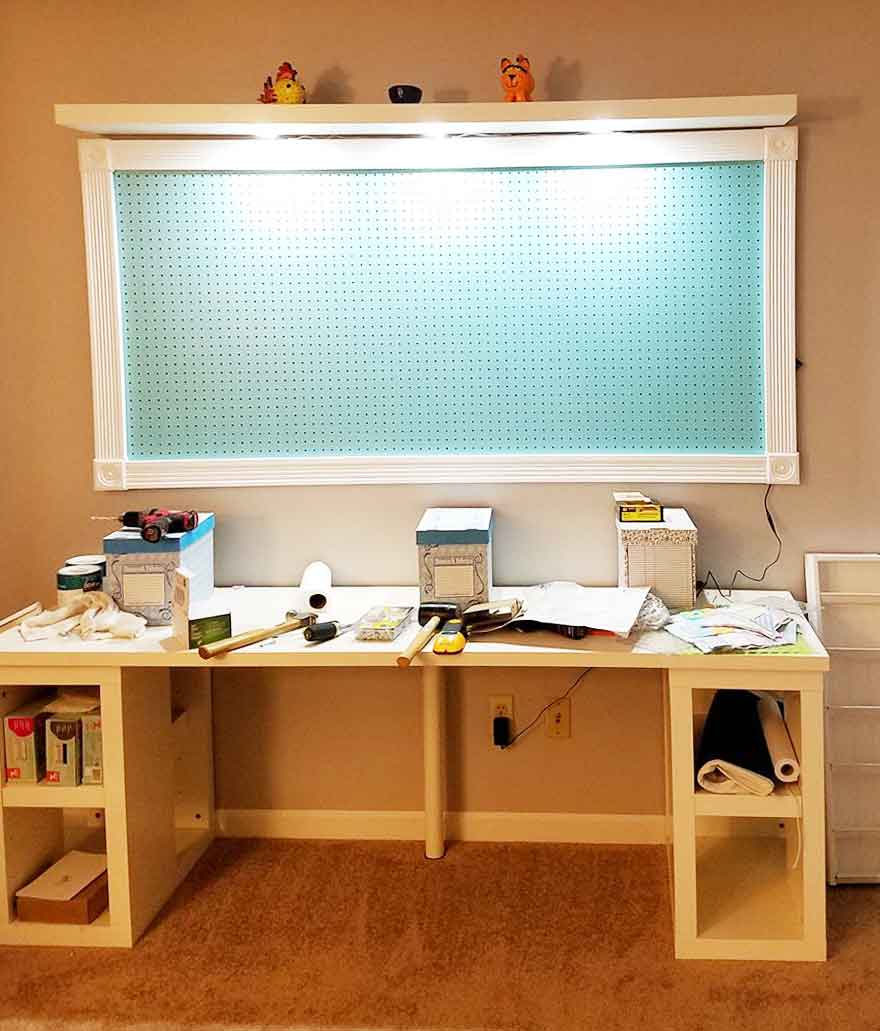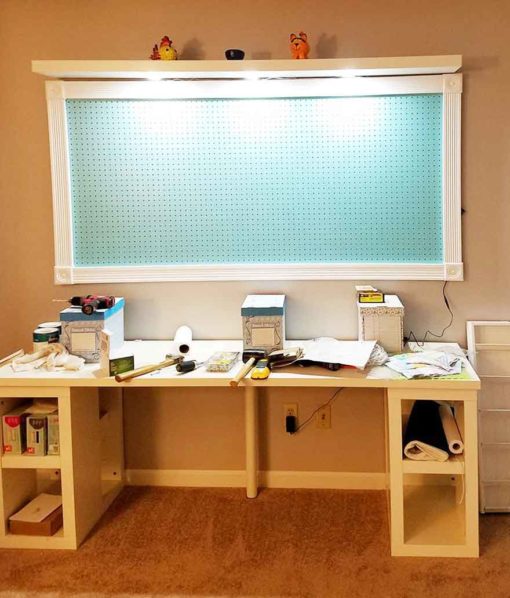 Kallax is a very popular unit for craft rooms made with IKEA options. Here are two black Kallax units (4×4). Photo by Kris Brusehoff.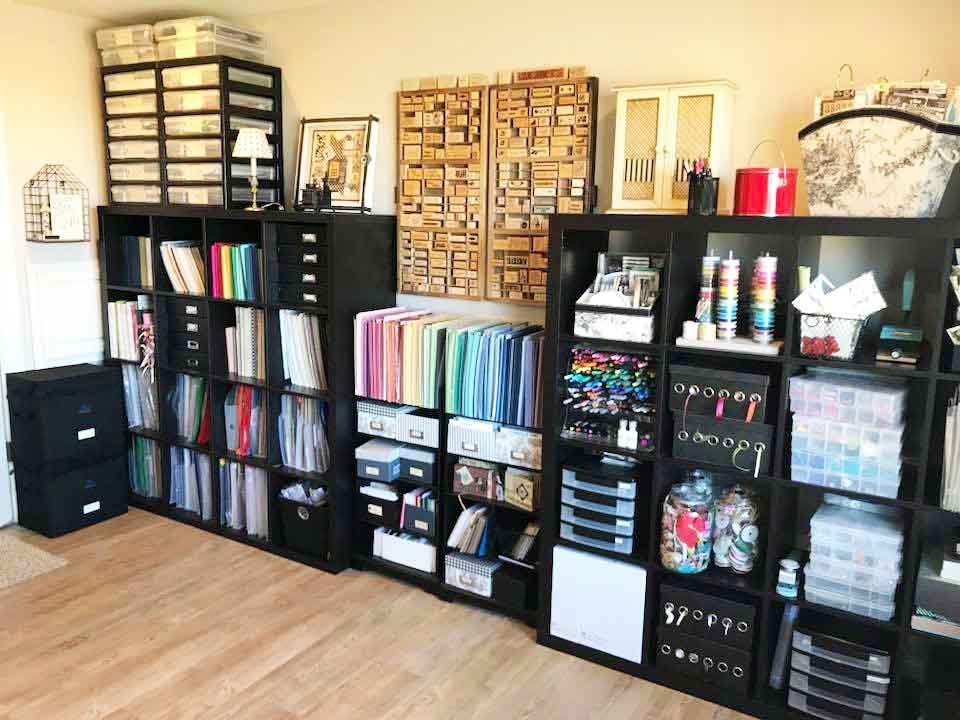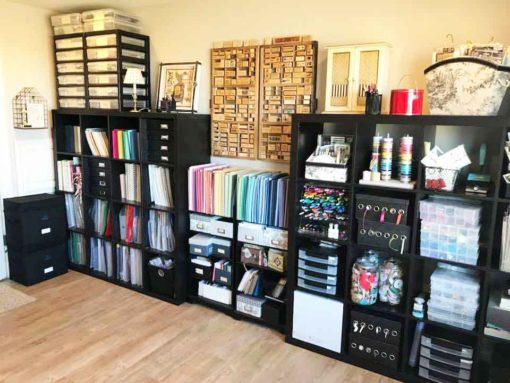 Here are some more Kallax shelves in black and white in Donnetta Byrd's craft room. Note the paper storage that fits into those perfectly — those are Stamp 'n' Storage inserts (not available at IKEA, but you can order them).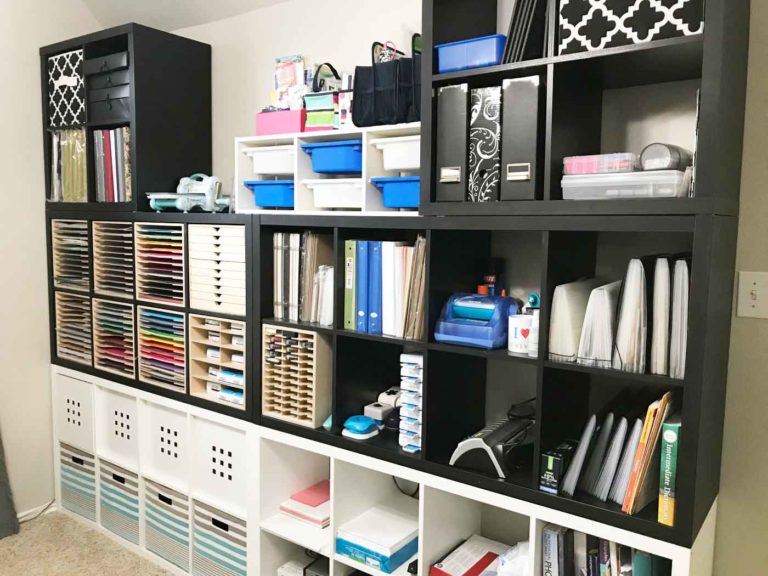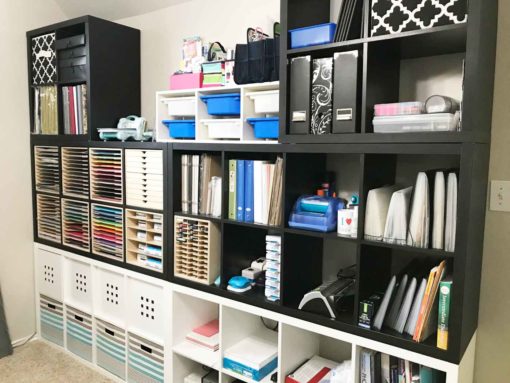 I adore this Kallax 5×5 unit with the Drawer Inserts. Crafter Terri Breedlove lightly sanded each drawer front, then primed, painted, and stenciled the drawers.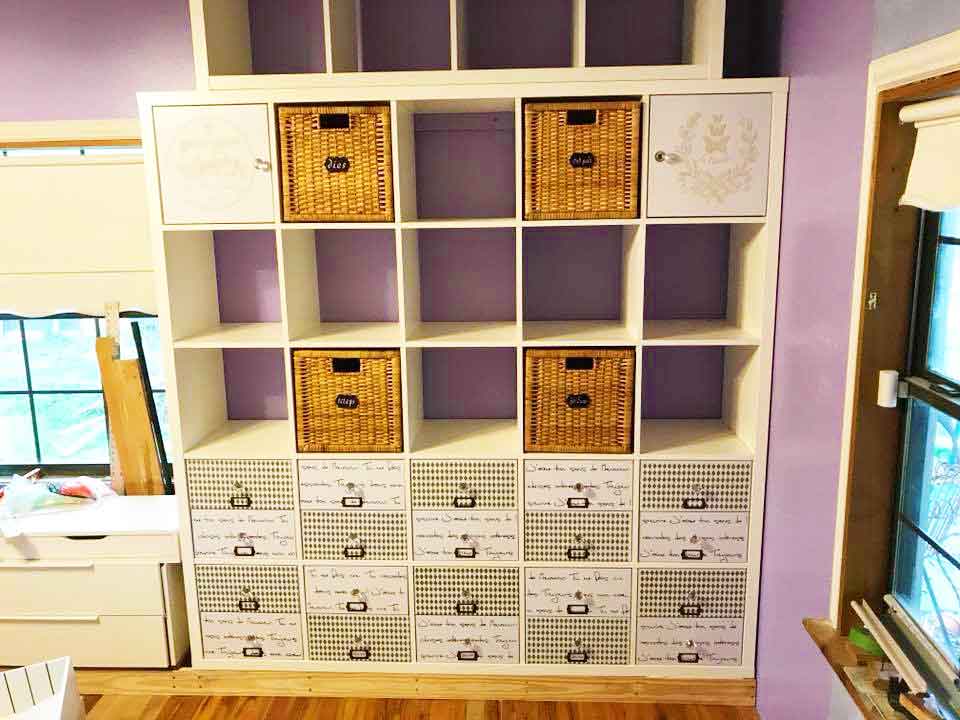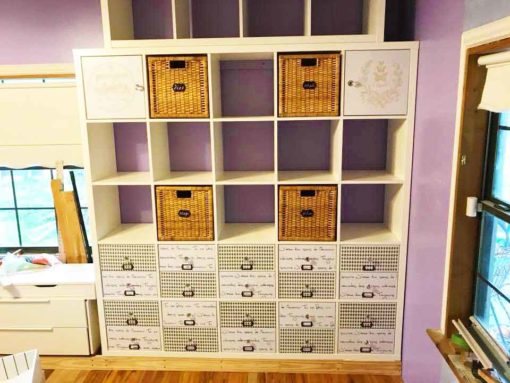 But there is more than Kallax! In Dannielle Roach's craft room, we have black IKEA Mosslanda picture ledges holding various craft supplies and a black IKEA Dyfjord chest of drawers that Dannielle says "holds a massive amount of stuff!"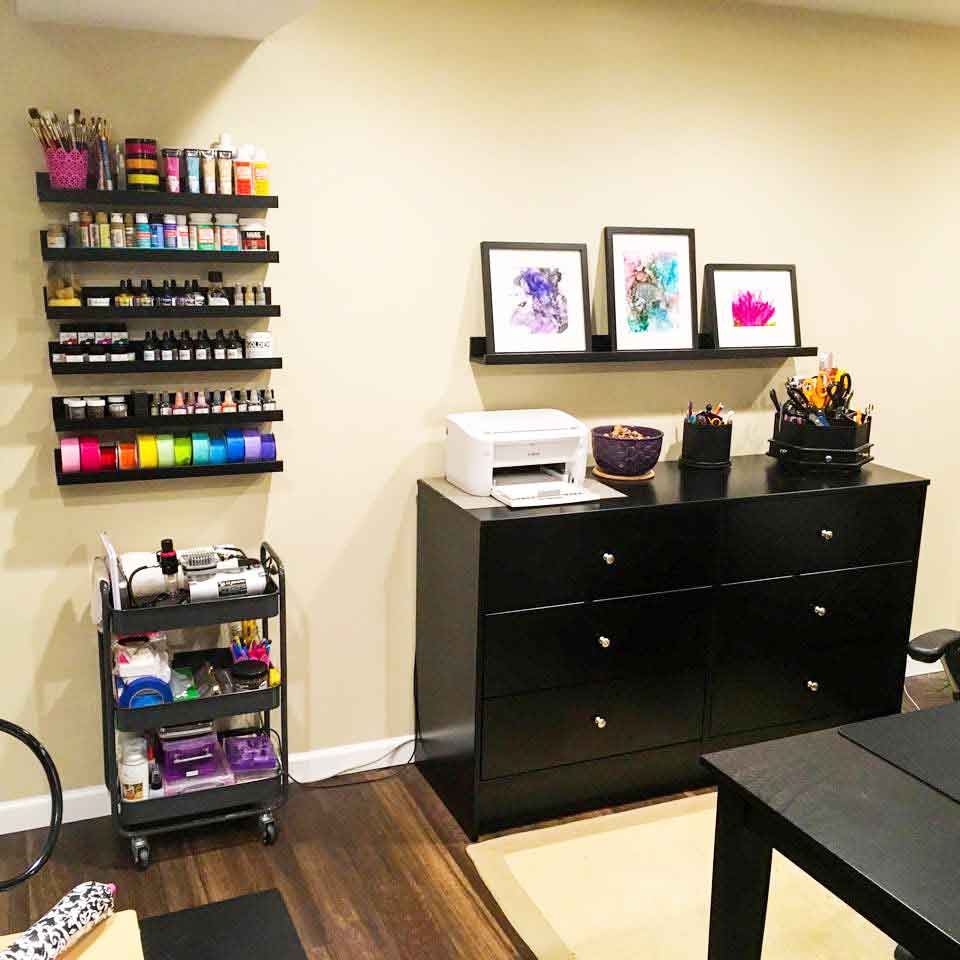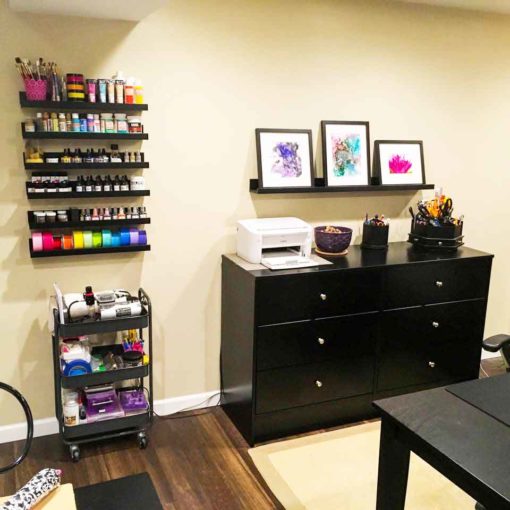 I like the creative use the of IKEA Ekby Jarpen and Ekby Bjarnum shelves and brackets in Dannielle's craft room, too! Those pink lacey cups on top of her shelf looks very much like IKEA Skurar pots.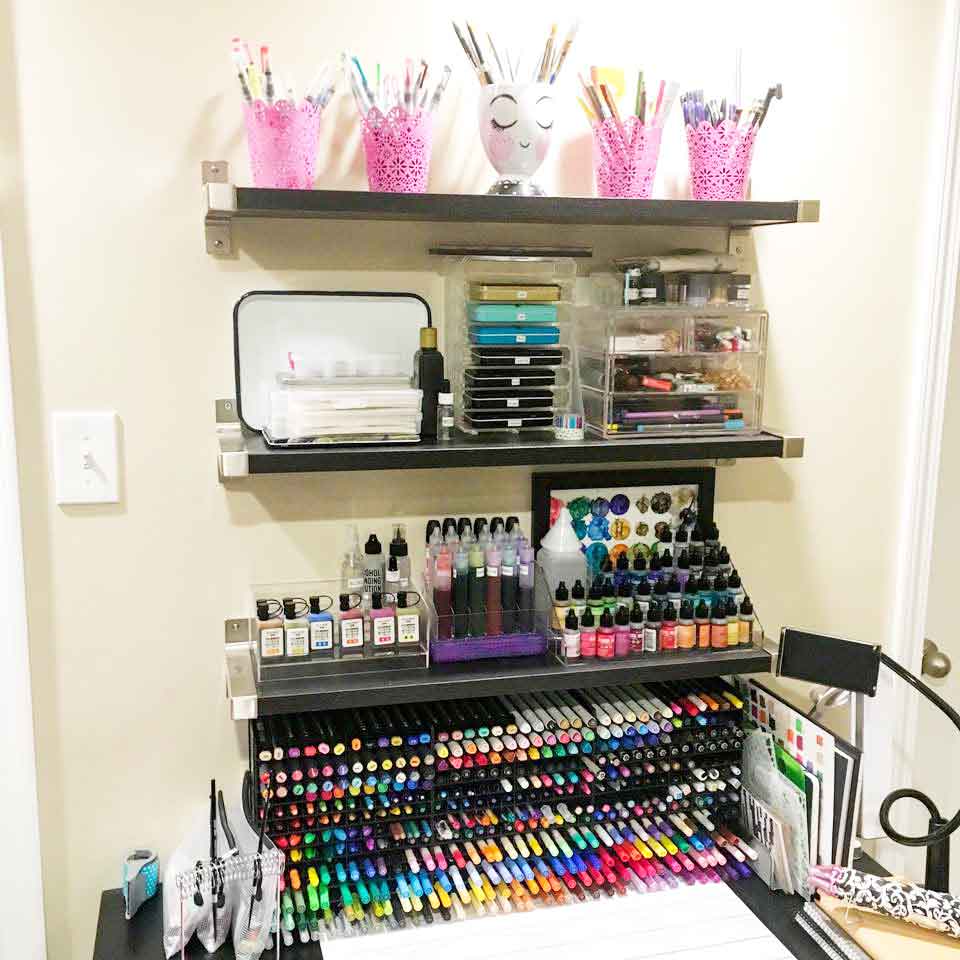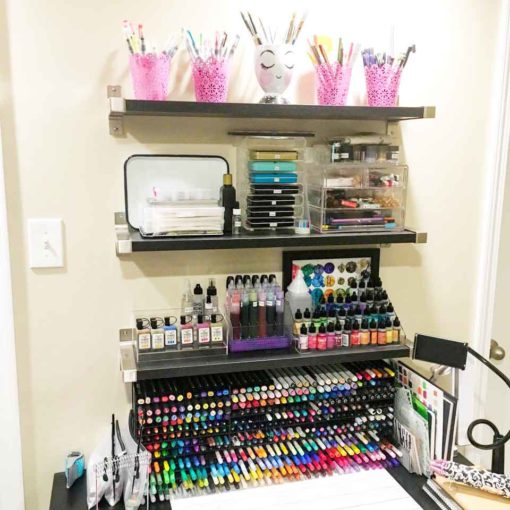 And here's a 20-foot wall of Billy bookcases in reader Rhonda Zimmerman's craft room: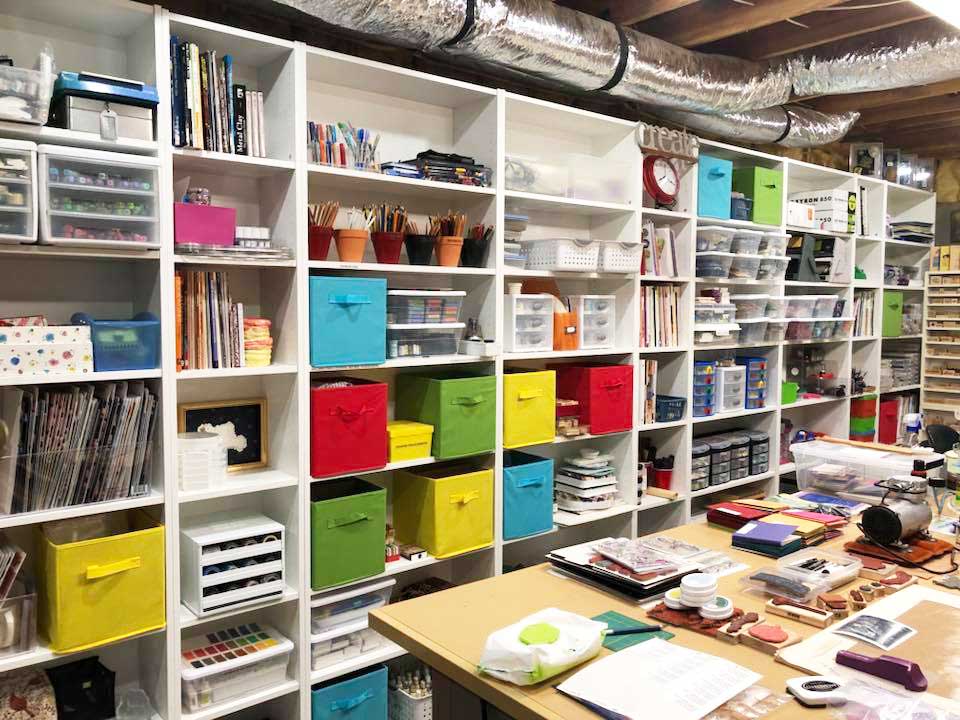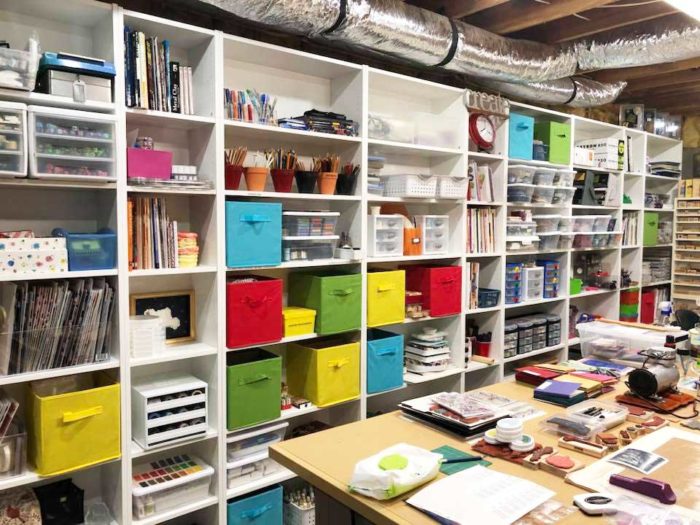 If you use IKEA to create any part of your craft room, please share a photo of what you did with me! You can send it to [email protected] or tag me on social media with #jennifermaker.
Love,