Learn how to make fun wood slice ornaments to decorate your Christmas tree or use as fun gift wrapping decorations.
Looking for a little rustic charm this holiday season? These wood slice ornaments are super easy to make and very on trend. Ornaments are a fun and inexpensive project to make, and a wonderful gift to give, just like my DIY Tile Ornaments. So for Day 5 of The Great Maker 25-Day Gift-Away Challenge, I am showing you how to make fun Wood Slice Ornaments!
See exactly how to make Wood Slice Ornaments in my tutorial video (or keep scrolling if you prefer a printable step-by-step photo tutorial):
For this project, you need some natural wood slices about three and a half to four inches in diameter. You may have a branch out back you can cut down with a mitre saw — if you do make your own wood slices, I recommend you first bake your wood slices in the oven for about an hour at 220° F to get them ready to decorate!
If you can't cut your own wood slices, no worries — you can buy wood slices in the exact size you need for ornaments, pre cut and pre-drilled for hanging! I got this stack of slices off Amazon (see material list below), and you can also find them at craft stores.
I recommend you use paint or varnish to coat and protect your wood slices, as it will make it easier to apply your decorations with vinyl. You can use acrylic paint and or gloss varnish on your wood slice ornaments.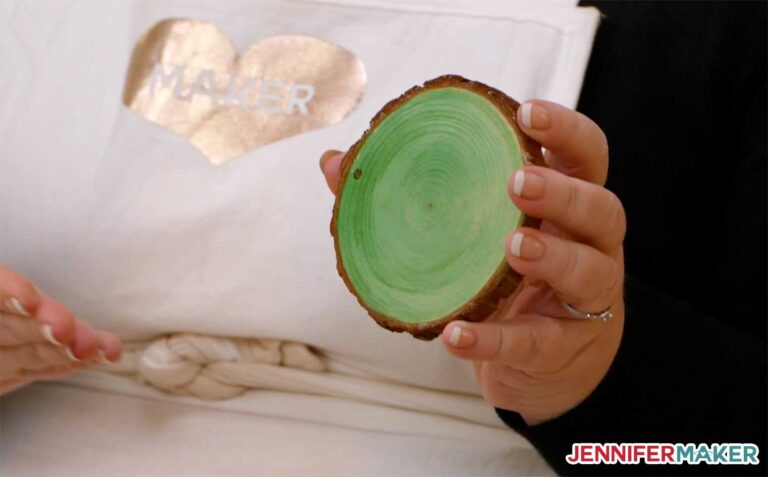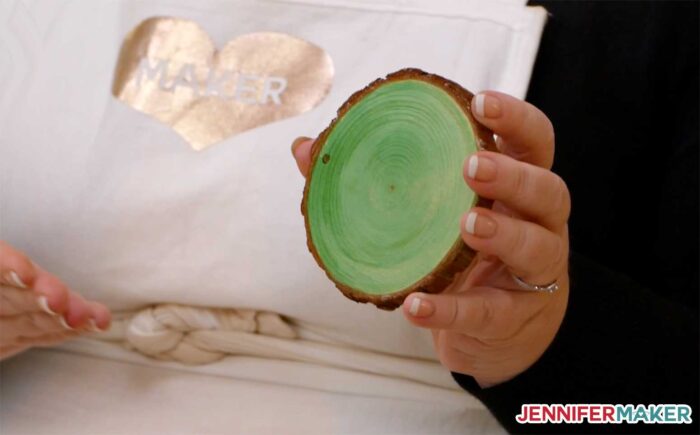 To decorate your wood slice ornaments, use permanent adhesive vinyl — I'm using white and black vinyl in this tutorial. You'll also need some standard grip transfer tape to get the vinyl onto your wood slices. You can also use heat transfer vinyl (iron on vinyl) if you prefer.
Last but not least, you'll want a way to hang your wood slice ornaments — you can dress them up with some pretty ribbon or keep the rustic look going with simple twine or string.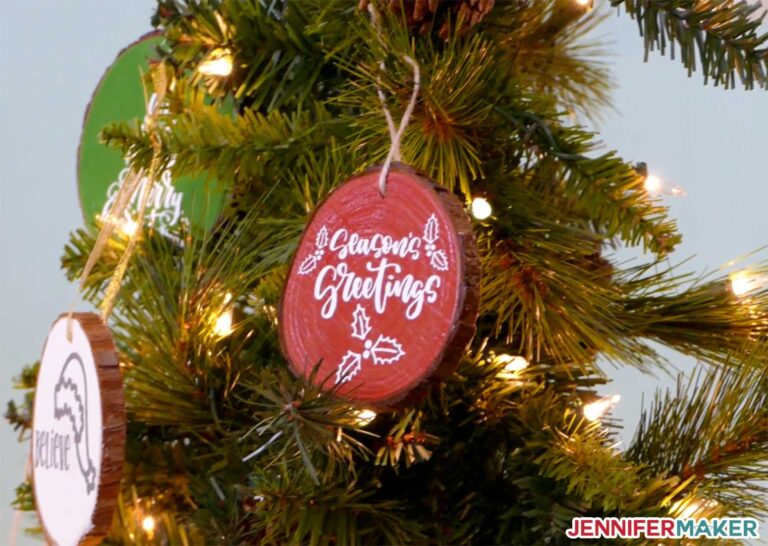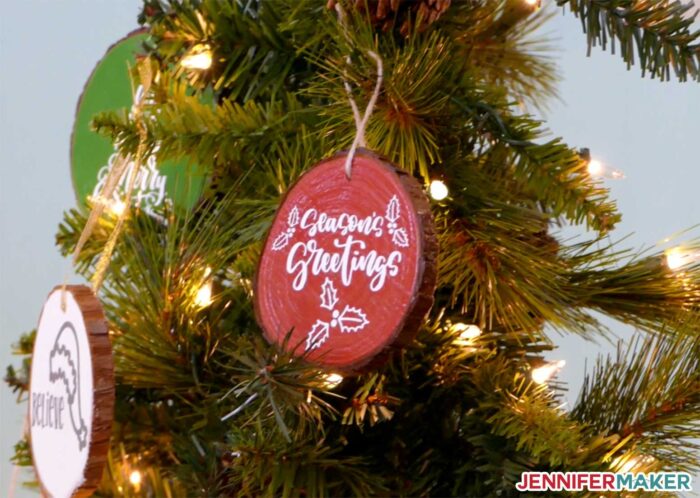 Tools used for this project include a way to cut your designs — I recommend a cutting machine like a Cricut. If you decide to paint your wood slices, you'll want something to hold your paints, a cloth, a cup of water, and a large and small paintbrush.
Other than that, all you need are some cute designs to put on your ornaments. You can design your own decals, or use my designs! I've prepared eight fun holiday designs for you to use free.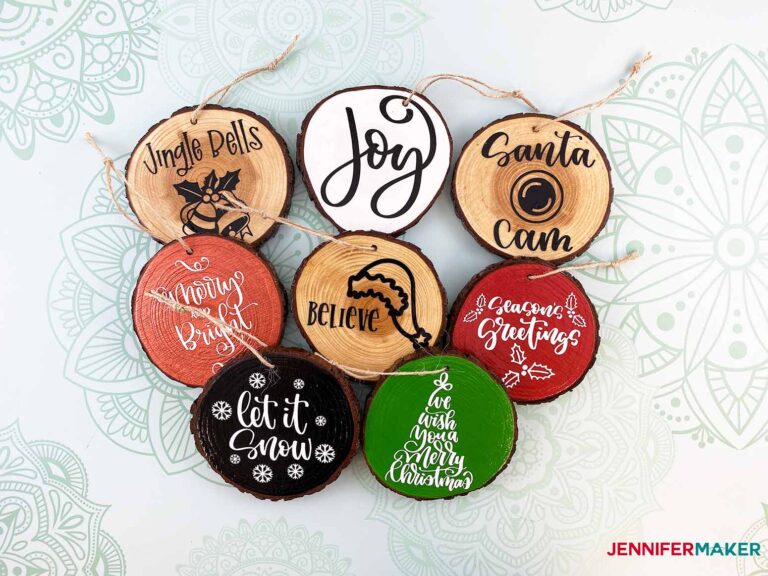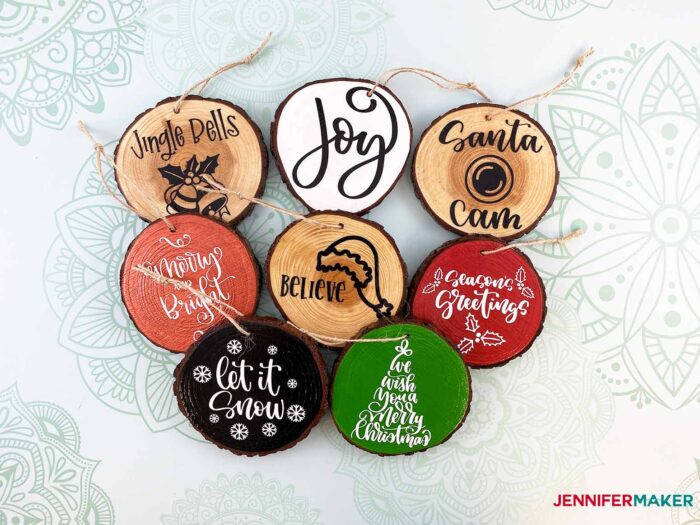 So let me show you where to find the free designs for these wood slice ornaments, and then I'll show you how to cut and apply them! This post contains some affiliate links for your convenience (which means if you make a purchase after clicking a link I will earn a small commission but it won't cost you a penny more)! Read my full disclosure policy.
Materials to Make Wood Slice Ornaments
How to Make Wood Slice Ornaments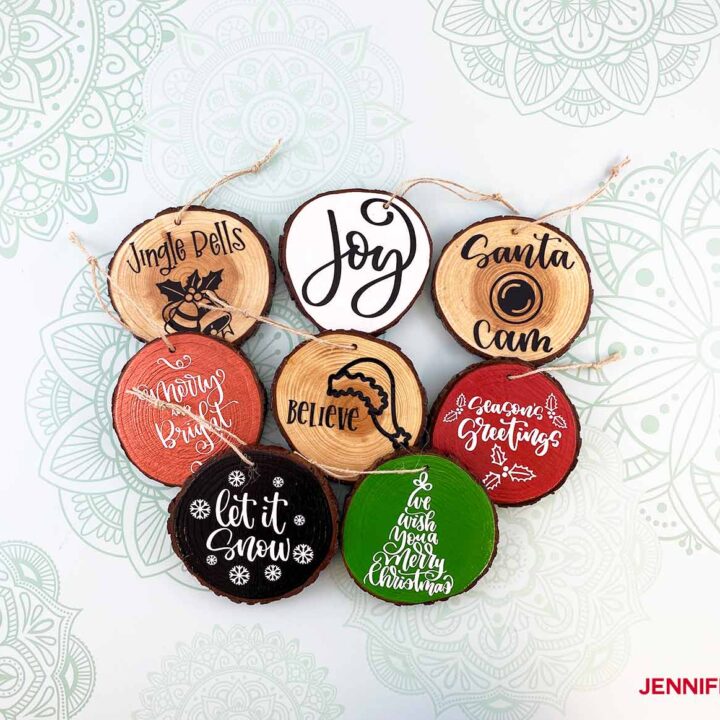 Wood Slice Ornaments
Yield: 8 ornaments

Prep Time: 2 hours

Active Time: 1 hour 30 minutes

Total Time: 3 hours 30 minutes

Difficulty: Easy

Estimated Cost: $30

Give your tree a festive look with my wood slice ornaments. I'll show you how to take my designs and make beautiful ornaments for your tree or to give as a gift.
Answers to Your Questions About How to Make Wood Slice Ornaments
Q: Does the varnish make the ornament waterproof and keep the vinyl from coming off?
Permanent vinyl, which is recommended for this project, is very durable! I recommend paint or varnish before applying the vinyl because it will make the wood surface smooth, which is what vinyl needs to adhere well! Many people choose to apply a sealer afterwards as well, which would probably help with the waterproof aspect, but if you are just worried about the vinyl coming off, it shouldn't if you follow the instructions!
Q: Can you use Mod Podge instead of the varnish?
Absolutely!
Q: Can you use cedar instead?
Yes, any wood should work! Cedar would be very pretty!
Q: Can you use spray paint instead of acrylic paint?
You sure can, but you will need to be very careful not to paint the natural wood sides of the ornament! You will have more control if you can paint with a paintbrush on this project.
Q: Do you need to sand the wood first?
If you are purchasing them from a store, you do not need to sand them, but if you are making them from fresh cut wood, then you will need to sand them to smooth them out.
Get my free SVG files to Make Wood Slice Ornaments
I'd love to see your Wood Slice Ornaments and all the ways you decorate them! Please share a photo in our Facebook group or tag me on social media with #jennifermaker.
See all of the projects, tutorials, and free designs in The Great Maker 25-Day Gift-Away Challenge!
Love,