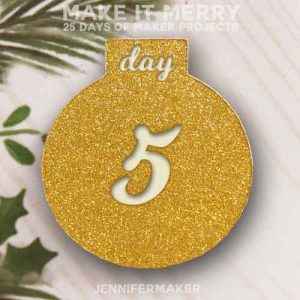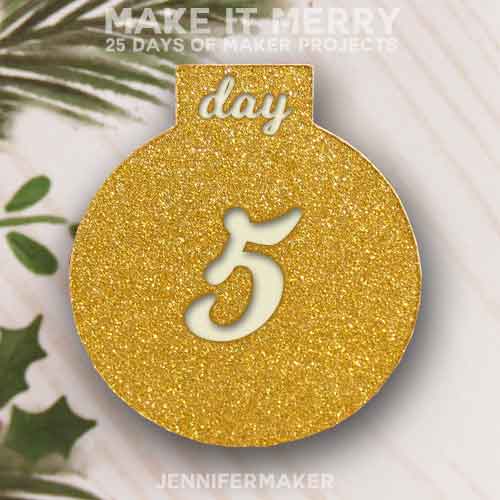 My family loves to wrap presents early and put them under the Christmas tree. It increases the anticipation and just gets us all in the holiday spirit. More often than not, we don't put gift tags on until the night before so that the presents can stay secret and mysterious. But I've designed a gift tag that keeps the giver/recipient names a secret until Christmas AND provides a ton of fun! It's a tear-away reveal gift tag, and it's your gift for Day 5 of the MAKE IT MERRY: 25 Days of Maker Projects Christmas.
And just to be absolute sure that the tag prevented peeking, I put my daughter on the task to test it. She tried to see inside. She tried holding it up to the light. She even tried shining her iPhone light down into it. She could NOT see the name written inside the tag. NO PEEKING! She says, "it's pretty cool." High praise indeed from a 13-year-old.
And the thing I love about this gift tag is how easy it is to cut and make. No score lines, no fiddling. Just cut, write, glue/tape, and fold. And I'll show you exactly where to glue or tape so your message inside the tag can't be seen, too!
And when gift-giving time comes, it's super easy (and fun) to tear open the strip on the tags to see who gets the gift.
I've included five tear-away reveal gift tag designs—four have words ("No Peeking," "Open Dec. 25," "Wait for Xmas." and "Secret Santa") and the fifth is blank. You could easily put your own saying on that blank one if you wanted, too!
Let me show you how to make these awesome gift tags! This post contains some affiliate links for your convenience (which means if you make a purchase after clicking a link I will earn a small commission but it won't cost you a penny more)! Read my full disclosure policy.
Materials for the Tear-Away Reveal Gift Tags
How to Assemble the Tear-Away Reveal Gift Tags
First, cut out the tags. This is a project you really need a cutting machine like a Cricut for because you need to get those tear-away lines perfect and the Cricut can do that. The good news is that you can just uploading to Cricut Design Space and go. There's no ungrouping or score line setup needed.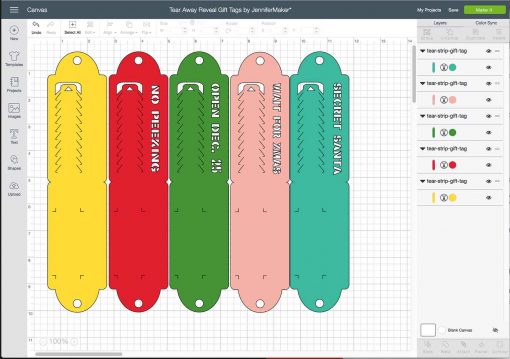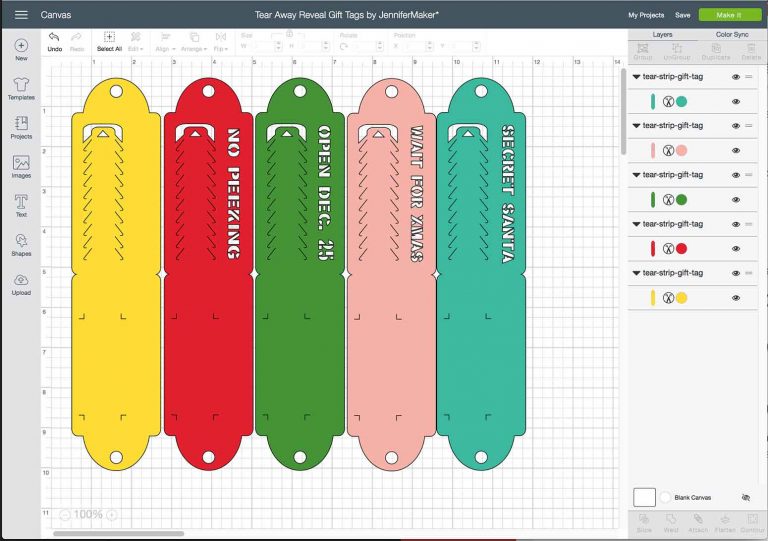 If you want to put your own word on the blank tag provided in the file, it's really easy! First, ungroup all the tags by clicking on Ungroup. Now just click on Text to type a new word, choose a stencil font such as Signa Stencil (in Design Space) or Stencilia (free at dafont.com) and resize/rotate it until it's in position on the tag the way you want. Now select both the tag layer and the text layer, and click ATTACH. Ta da! (Do not try to slice — it will cause some of the lines to disappear.)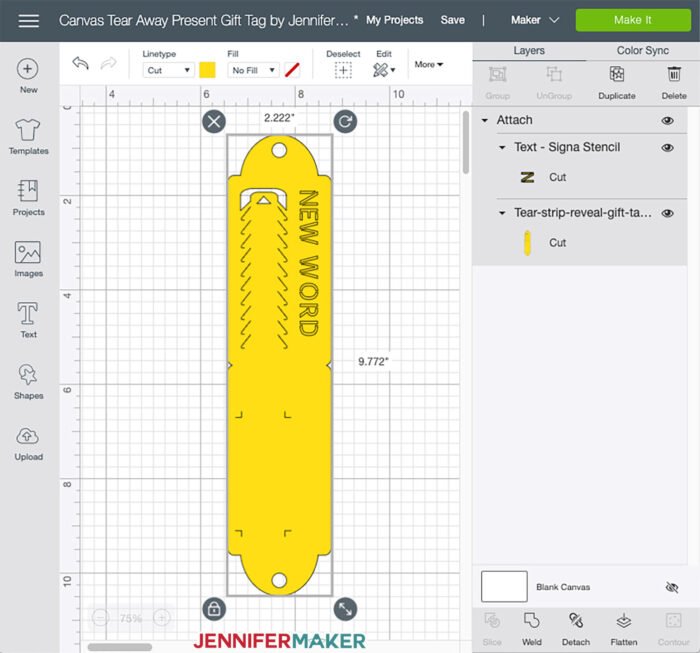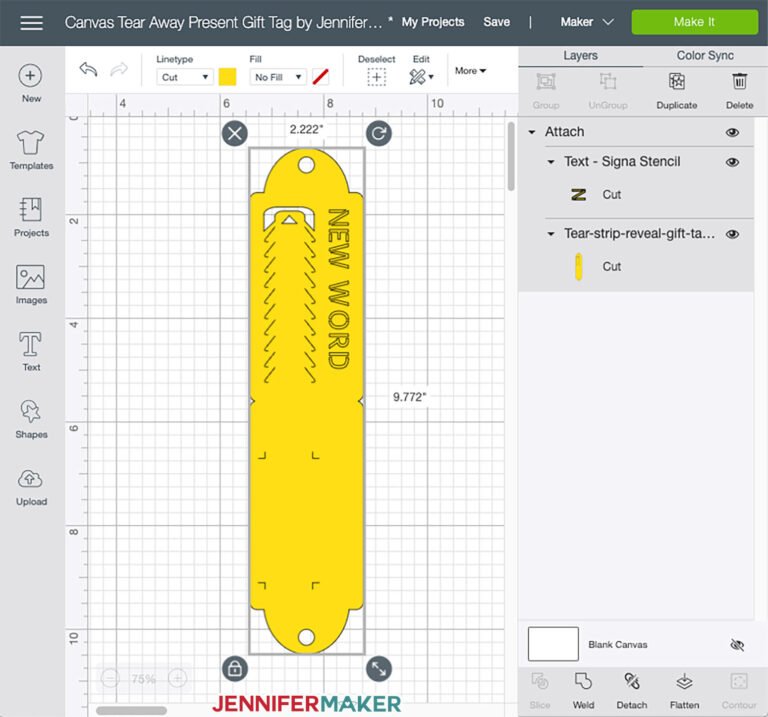 Tip: If you want your Cricut to write the names for you, just select all of the tags and click on Flip at the top of the screen, then choose "Flip Horizontal." Now click Text and type your names, then resize and rotate so they are in between the four L-shaped cuts at the bottom, like this: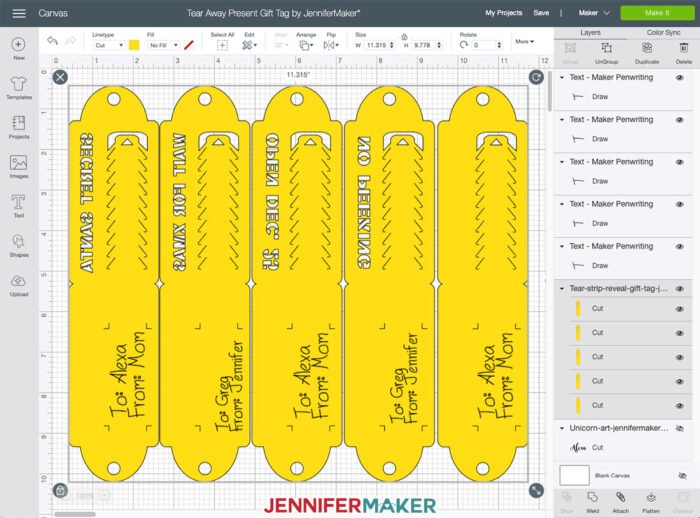 Now attach every cut layer to the gift tag layers, like this: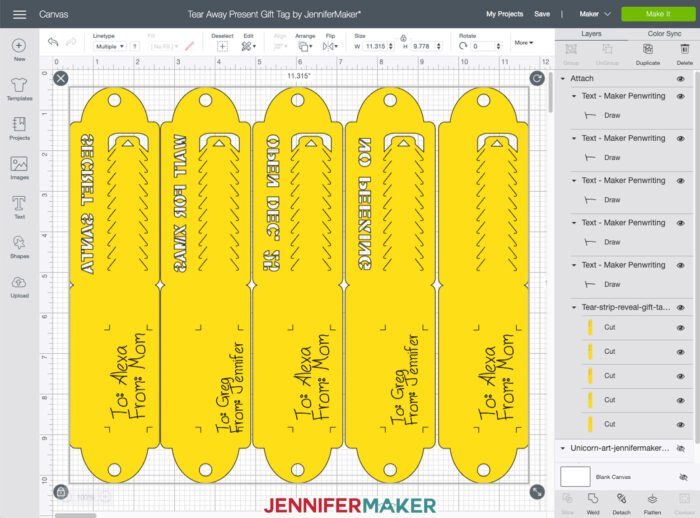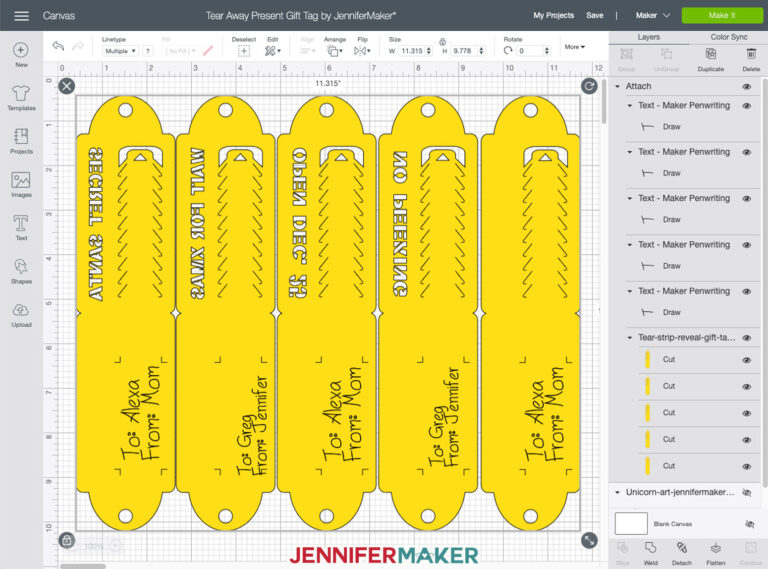 Now click Make It and then click Continue, but when you place your cardstock on your mat to cut it, make sure you put it pretty side down and load in a pen. If you do it like this, your pen will write on the "inside" of your tag and you can just fold them over to hide the writing and tape/glue them up like I explain below.
Once your tags are cut out, fold the tag in half.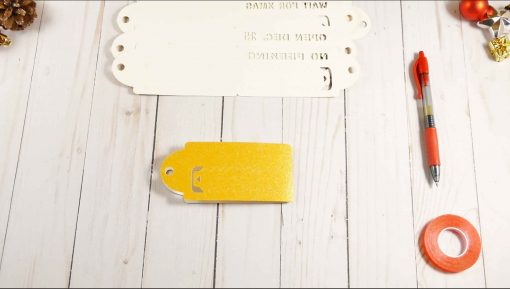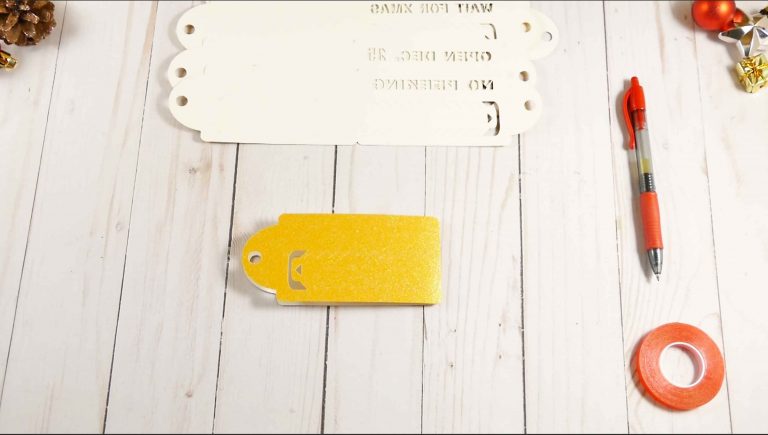 Now locate the four L-shaped cuts on the non-tear away side of the tag. These are guides to indicate to you where to write. Stay inside these lines and your words cannot be seen.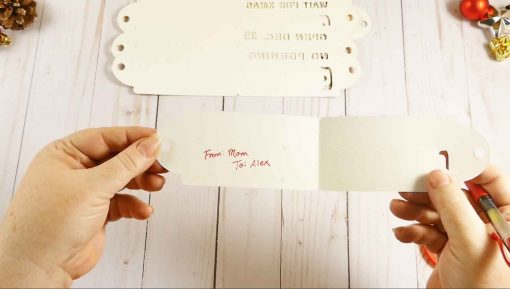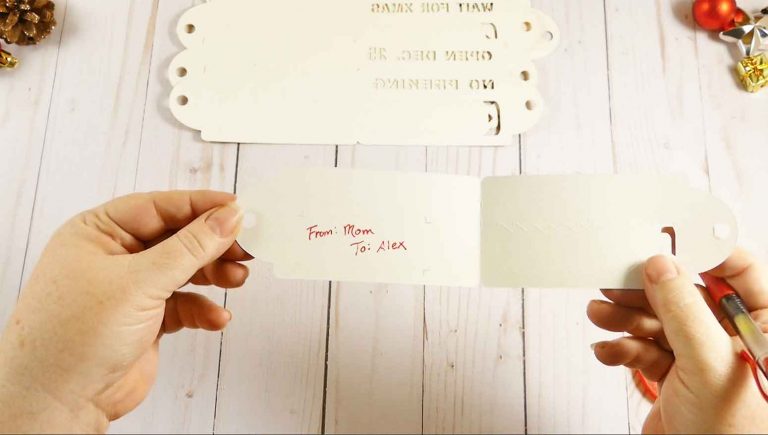 To keep the tag closed, glue or tape the three edges, as well as the space between the words and the top of the tearaway strip. Just avoid getting tape or glue on the tear away strip itself.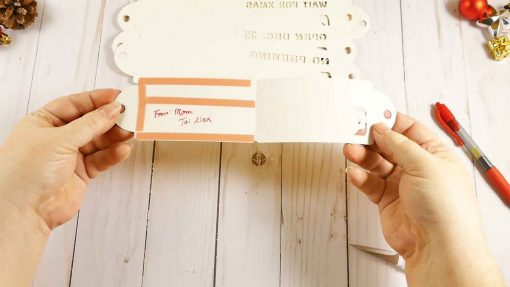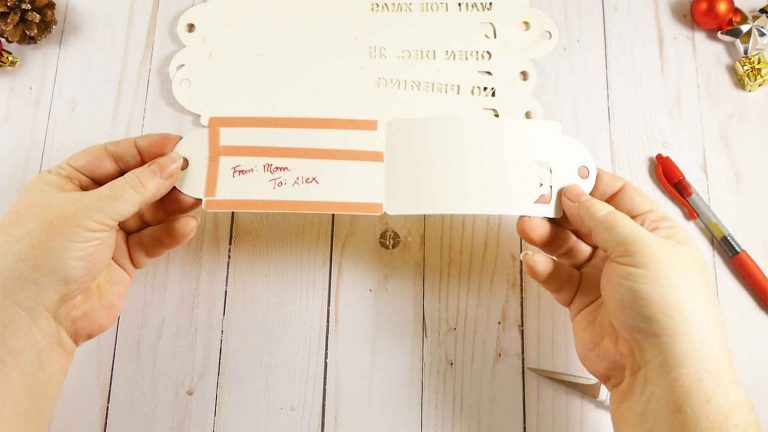 And that's it! Tie a ribbon or string through the hole at the top and attach to the appropriate present.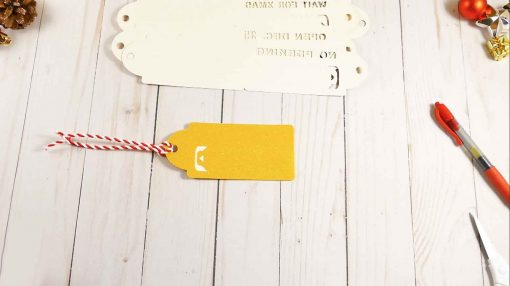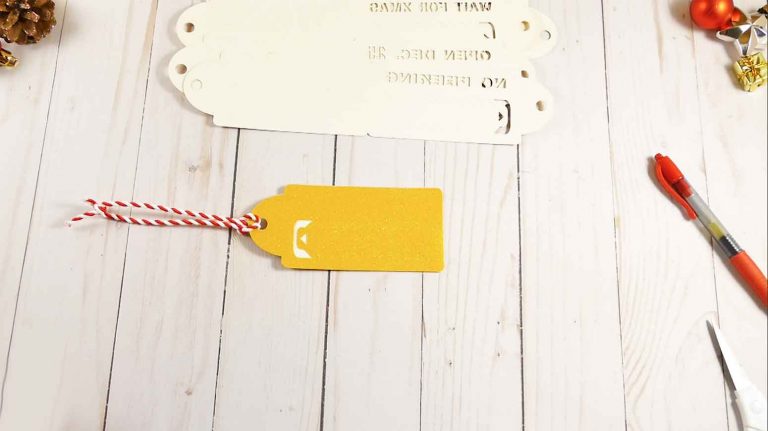 Tip: To help you keep track (and still keep your presents a secret), color code your gift tags. For example, Greg's presents will have all the red tags and Alexa's will have all the blue tags.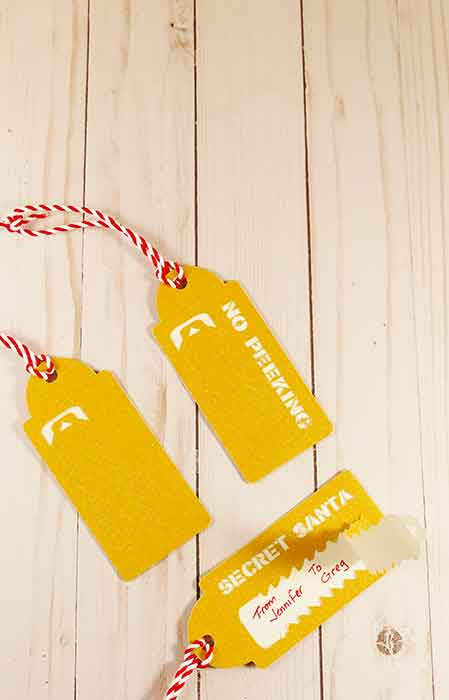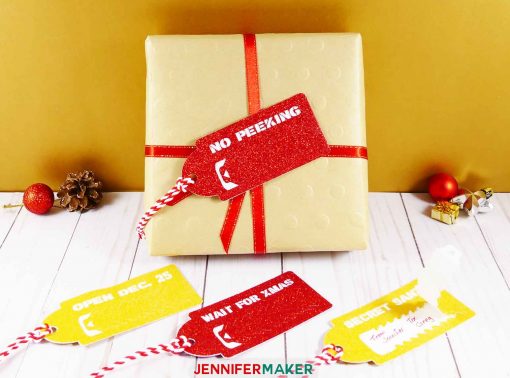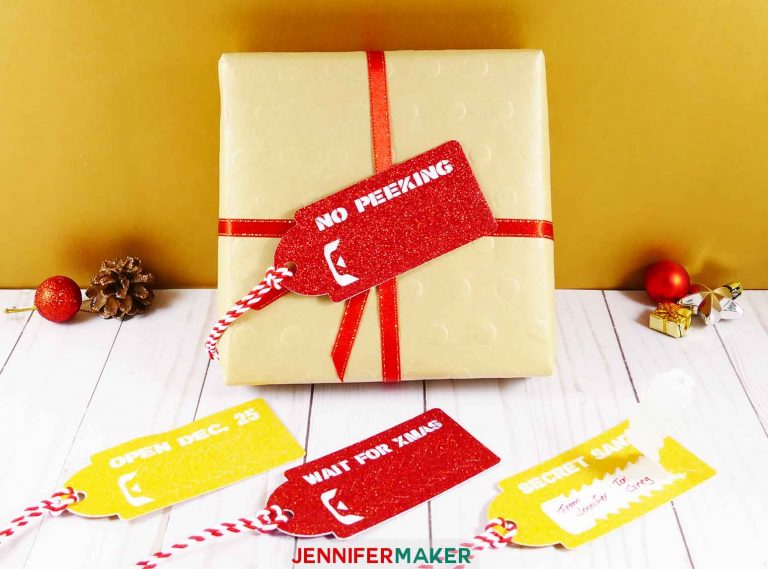 Get my free template and cut files for the Tear-Away Reveal Gift Tags
If you make these tear-away reveal gift tags, I'd love to see! Share a photo with me at [email protected] or tag me on social media with #jennifermaker.
See all of projects in the MAKE IT MERRY: 25 Days of Maker Projects Christmas! If you want to be notified of when there is a new gift ready to open on my blog, just fill out this form!
Love,