Spiral Betty photo designs have exploded in popularity! These eye catching spiral designs are fun to make and easier than you might think! Learn all about how you can make your own with this easy step by step tutorial.

I always spend some time every day in my Cricut group because I love to see what projects people are making. In the past week or two, these really intriguing spiral art designs have been showing up over and over. They definitely caught my eye and I decided to look further into this new project, called a Spiral Betty. I know the idea of taking a picture and turning it into a piece of art is always a popular topic in my group and I have shown how to put a photo on a candle and how to make your own photo puzzles. A Spiral Betty is a new way to use your photos in crafting! This is an excellent project for any level of crafter because Spiral Betty designs are easy to make and will not take a significant amount of time from beginning to end. I am excited to show you how to make Spiral Betty designs in a simple step by step tutorial!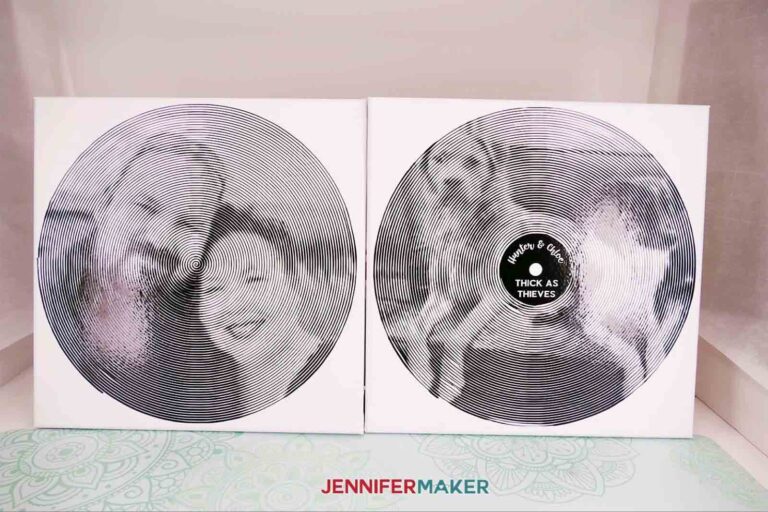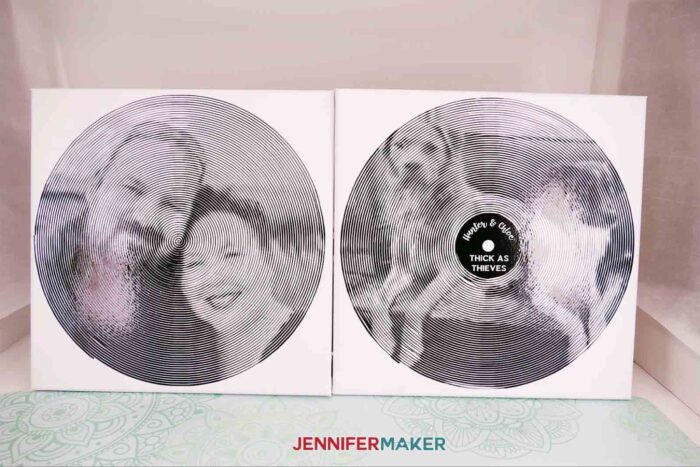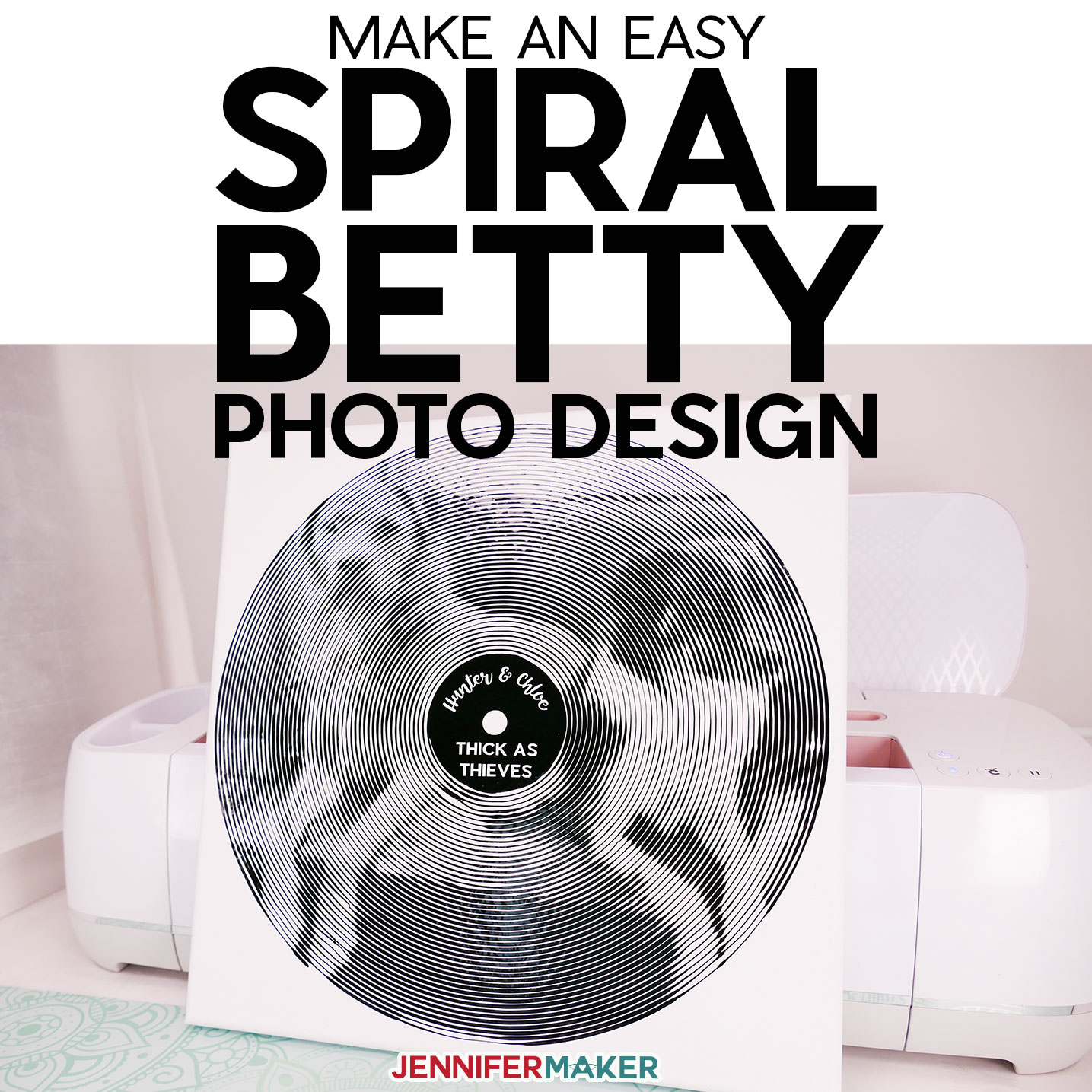 First, what is a Spiral Betty design? This is a really fun concept where you convert an image into a single spiral line. The line is made up variable widths, not dissimilar from the grooves in a vinyl record, and this variation creates the image when the spiral is viewed as a whole. And because a Spiral Betty design is a single line, that means you can weed these designs much easier than other projects … at least usually!
The first thing you will need to do is choose an image that works for a Spiral Betty design. After a lot of experimenting, I have discovered you need a simple high contrast image without a lot of small detail otherwise it will not translate well into a Spiral Betty. Close ups of faces (human or animal) have worked the best for me. If you choose something too busy, the images will not look clear and crisp. Your image also needs to fit well within the circle shape.
Once you have your image, you need to upload your photo to the Spiral Betty website. Don't worry, this step is actually very easy, even if you are not tech savvy. Once you upload it, you can resize it and move it around until you have your image centered the way you want and then hit the check mark. Then the magic happens! After you are happy with your design, you will save your design as a jpeg and then upload it to Design Space. I'll show you how to clean it up in this tutorial.
Note: The Spiral Betty online app is free for non-commercial use. If you'd like to use the spiral designs you make commercially, you can purchase a 1-year crafters license to sell your designs to individual consumers, or simply a per-image download that you can resell or share anyway you like. Please support the site creator!
Once you have a Spiral Betty design, what do you do with it? Most people seem most interested in cutting the designs from vinyl, so that's what we'll do in this tutorial, but just know that you could also print it or cut it from paper. I used black premium vinyl because I plan to put it on a white canvas and I really like the color contrast with the black and white.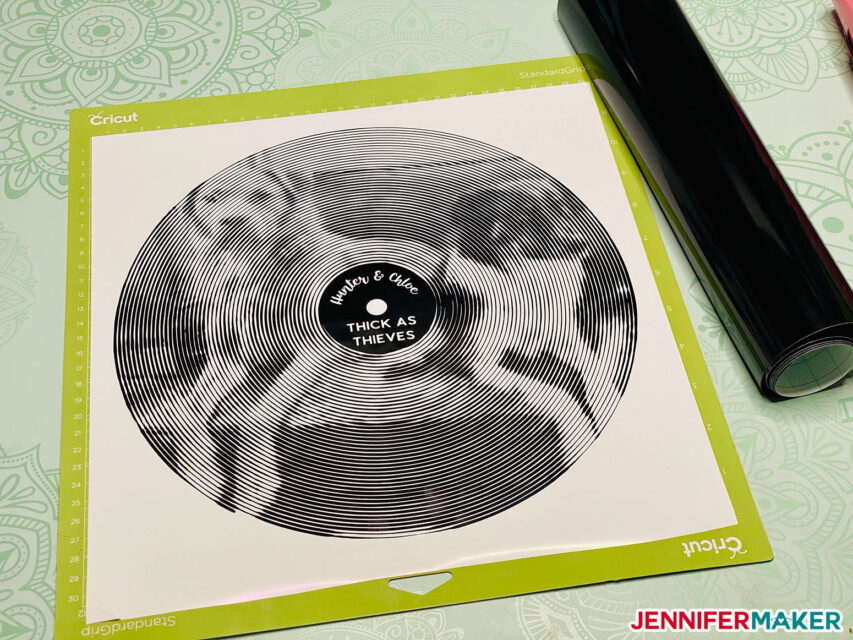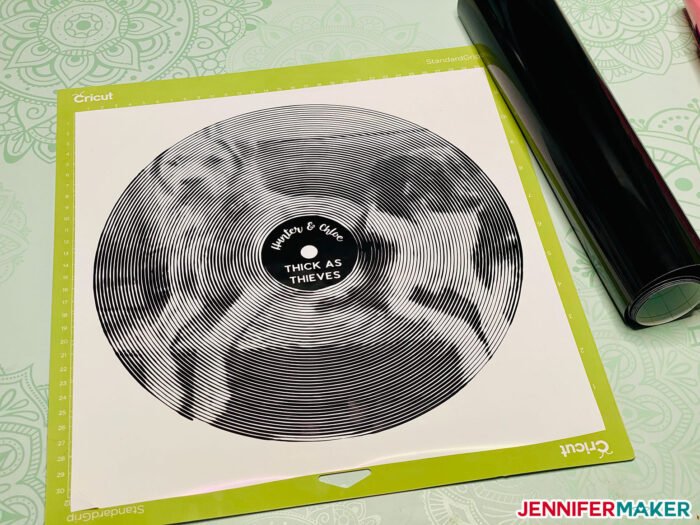 Remember, if you plan to put your Spiral Betty on a canvas, you will want to prep the canvas ahead of time with permanent spray adhesive and let it dry completely. This will help the vinyl stick to the canvas. I never skip this step now that I have discovered this trick!
I used my Cricut cutting machine to cut the vinyl along with the fine point blade and standard grip mat. After it is cut, go very slow with the weeding because one of the most common mistakes is people weeding the wrong part of their Spiral Betty! Make sure you start with the outside piece!
Once the Spiral Betty vinyl design is weeded, I used standard grip transfer tape to apply my design to my treated canvas. Do not use StrongGrip transfer tape — it will be much too strong and sticky for this project.
I think a Spiral Betty design makes an incredibly unique gift idea for anyone and can be applied to many different mediums! Besides canvas, you can put these on a shirt, a tote bag, or any surface large enough to hold your design!
Let me show you how to make a spiral betty design! This post contains some affiliate links for your convenience (which means if you make a purchase after clicking a link I will earn a small commission but it won't cost you a penny more)! Read my full disclosure policy.
Materials to Make a Spiral Betty Vinyl Design on a Stretched Canvas
How to Make a Spiral Betty Project with Permanent Vinyl and a Stretched Canvas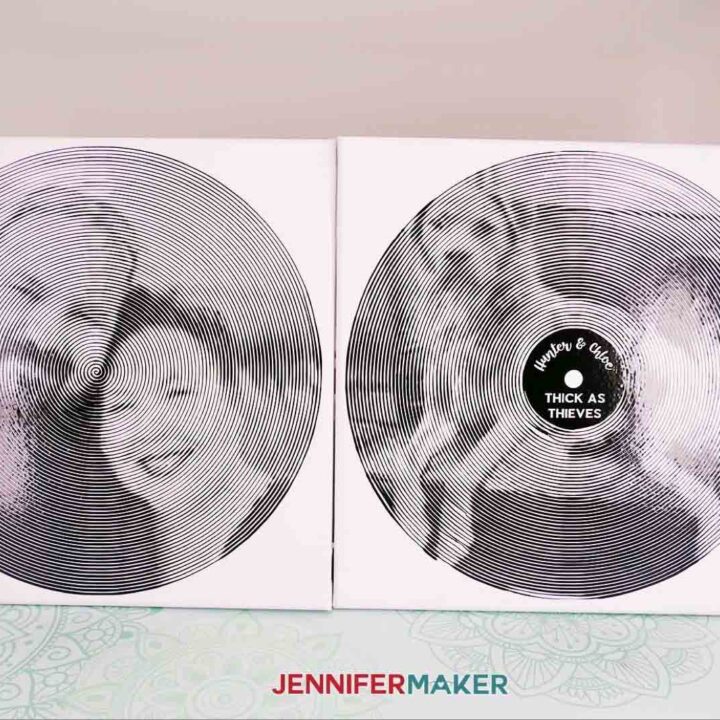 Spiral Betty Art
Difficulty:
Easy to Medium
A "Spiral Betty" is a really cool way to add some pizzaz to your favorite photo! In this tutorial I'm going to show you how to make your own Spiral Betty work of art using Cricut Design Space.
Answers to Your Questions About How to Make a Spiral Betty Photo Design
Q: What's the best material to cut a Spiral Betty from?
Iron-on vinyl (HTV) is the easiest to cut and weed this particular project (just be sure to mirror the design). Permanent adhesive is second easiest (you do not need to mirror adhesive vinyl). Here is a Spiral Betty design I did with red iron-on vinyl (my very first):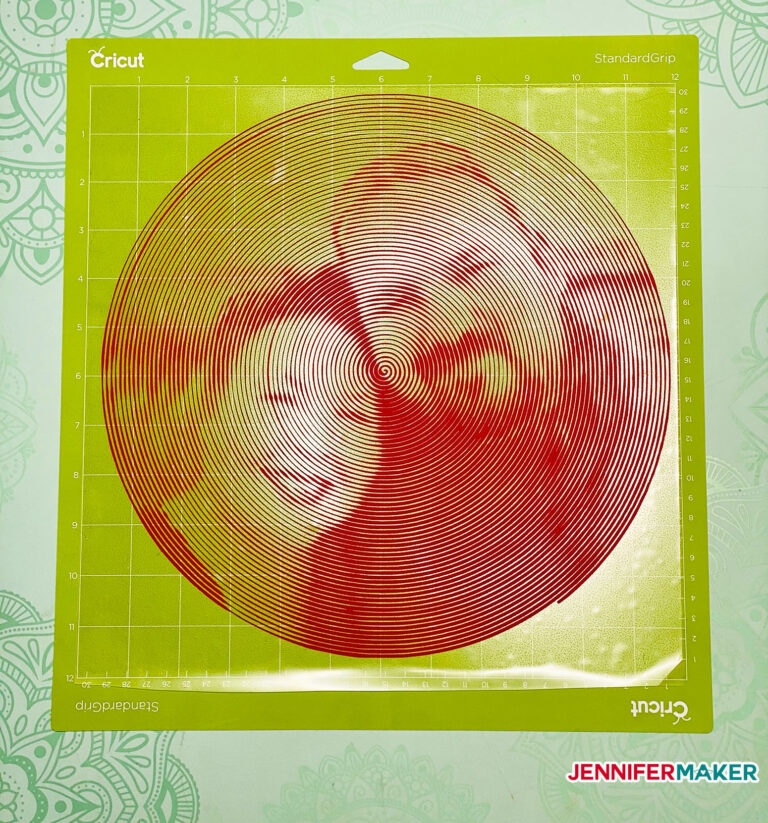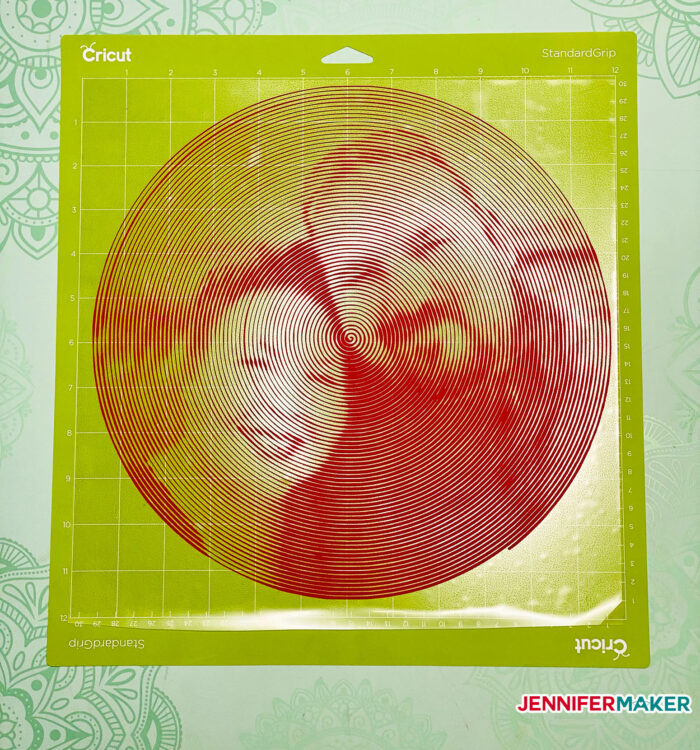 Q: Can I use removable vinyl?
Although you can use removable vinyl, I suggest using permanent vinyl because it will be easier to cut and to transfer to your canvas. Removable vinyl is great for wall decals, indoor signs, stencils, and any time you want a temporary application. But if you use it for a spiral betty vinyl project, you may find your vinyl comes off the liner while you're cutting and creates a mess.
Q: Can this be put on a real record?
A: Vinyl is best applied to smooth clean surfaces. All records do have some texture to them that may show through the design. If using a record for your surface, be certain to clean it well with alcohol to remove fingerprints or dust prior to application.
Q: How did you put the center on your Spiral Betty?
I added it in Cricut Design Space. I imported the Spiral Betty photo, then added a circle shape in Design Space, and duplicated the circle. One circle I positioned over the center of my photo and sliced it out of the design. The other circle I added my text to, sliced the text out of it, and then positioned and welded the center over the empty circle in the design.
Q: Will the Spiral Betty work with multiple people in a photograph?
It will, but I want to caution you to not pick an image that is too intricate! I have only tried with two people, an image of myself and Greg, but you would have to be careful adding more people. Those lines can become very fine and hard to weed.
Q: Can you transfer this to a shadow box?
Absolutely, this would look great in a shadow box! The shadow box glass be cleaned with alcohol and allowed to dry before you apply the vinyl. If the vinyl is to be applied to the inside glass of a shadow box make sure you mirror the image prior to cutting! Make sure to use regular transfer tape to apply the vinyl to the shadow box glass and use a scraper tool to apply the design onto the glass before gently removing the transfer tape from the design.
Q: If I put this on a shirt do I need to mirror the image?
Yes, you will use heat transfer vinyl (iron-on vinyl) and mirror the image!
Q: Will this work if I resize it small enough to cut on the Cricut Joy?
Yes, but it is important to know that the smaller you make it, the harder it will be to weed! I think it would be very challenging to weed if cut on a Joy unless you had fewer rings than usual in your spiral design.
Q: When I upload my image to Design Space, it becomes a black square. What am I doing wrong?
Make sure you have uploaded a JPEG file and then you need to clean up your image before you save it in Design Space as I show in this tutorial.
Q: When I cut my Spiral Betty design, it looks really jagged. Why?
It's supposed to! Those "jagged" and variable-width lines are what creates your image after you remove the excess vinyl. Follow this tutorial to remove the vinyl and you'll see what we mean.
Q: When I cut my Spiral Betty design, the vinyl began to lift up from the cutting mat and wrapped itself around my roller. Why?
This happened to me too. I checked my vinyl and realized it was older vinyl, probably 3 years or older. Vinyl has a shelf life of 1-2 years. So I went to the store and bought a new package of vinyl. I cut this new vinyl on the same mat, with the same blade, and the same settings… and it worked perfectly. So if you're having issues, try a newer package of vinyl.
Q: When I weeded my design, the vinyl pulled up other sections of lines. Why?
Your cut was probably not clean enough and it pulled at vinyl as you weeded it. I recommend you increase the pressure when you cut again to avoid this.
A: When I transferred my Spiral Betty design vinyl to my canvas, some of the lines moved out of place. What can I do to fix this?
You can go back afterward with a weeding tool and gently nudge the lines back into position, then press down again so they stay in place.
Q: What can I use Spiral Betty designs for in finished projects?
If you do not want to make a simple canvas as I have in this tutorial, here are more ideas:
Cut iron-on vinyl to make a T-shirt or totebag
Add some dates or even a Spotify code and frame it!
Get a wood round or metal pizza pan and make a hanging plaque
Put it on a mirror and then decorate the mirror
Get my free SVG files to make many other fun projects!
I'd love to see YOUR spiral betty photo projects! Please share a photo in our Facebook group or tag me on social media with #jennifermaker.
Love,