Learn how to make a gorgeous paper flower shadow box as home decor or a heart-felt gift.
There's just something magical about paper flowers. Not only are they gorgeous, but paper flowers can keep their beauty for years and years. Paper flowers are still rather fragile, but you can offset this by displaying and protecting them inside a shadow box. And — bonus — the glass on the front of the shadow box is perfect for personalization. Paper flower shadow boxes are really popular and on-trend, making beautiful home decor conversation pieces and thoughtful gifts for someone special. I'm delighted to share this paper flower shadow box tutorial with you today!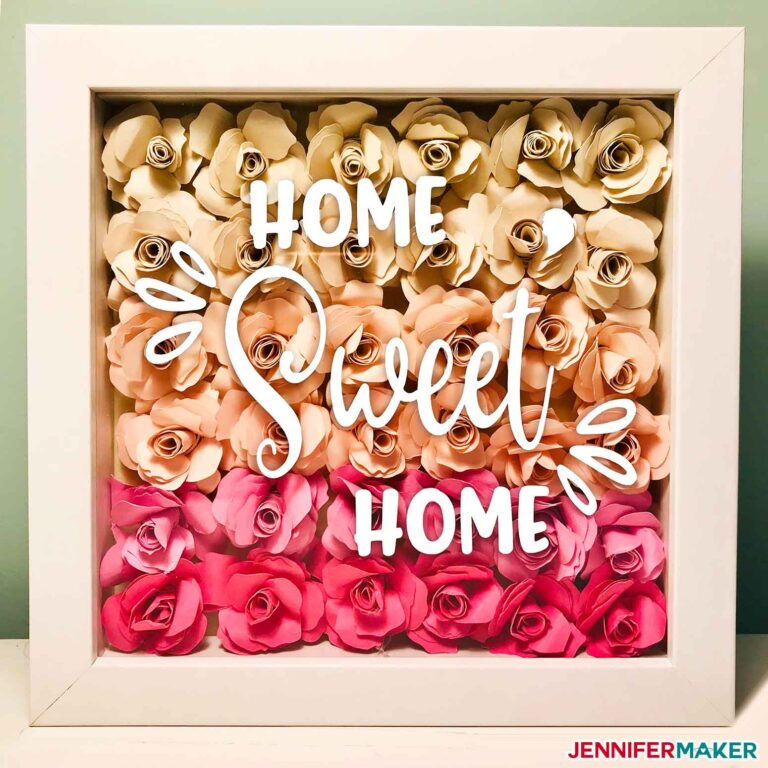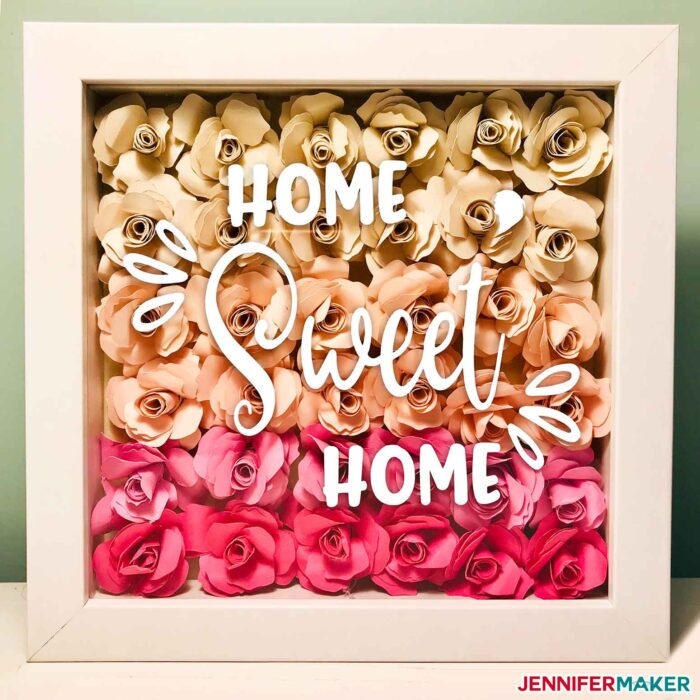 One of the biggest questions I get about paper flower shadow boxes is "what size do you make the paper flowers?" In this tutorial, I will remove the guesswork by providing a specific paper flower template (my paper rose design) that is already sized for particular shadow box sizes. So you can simply follow this tutorial and you'll get a beautiful paper flower shadow box! Here's the number of paper flowers you'll need to make at specific sizes for these size shadow boxes.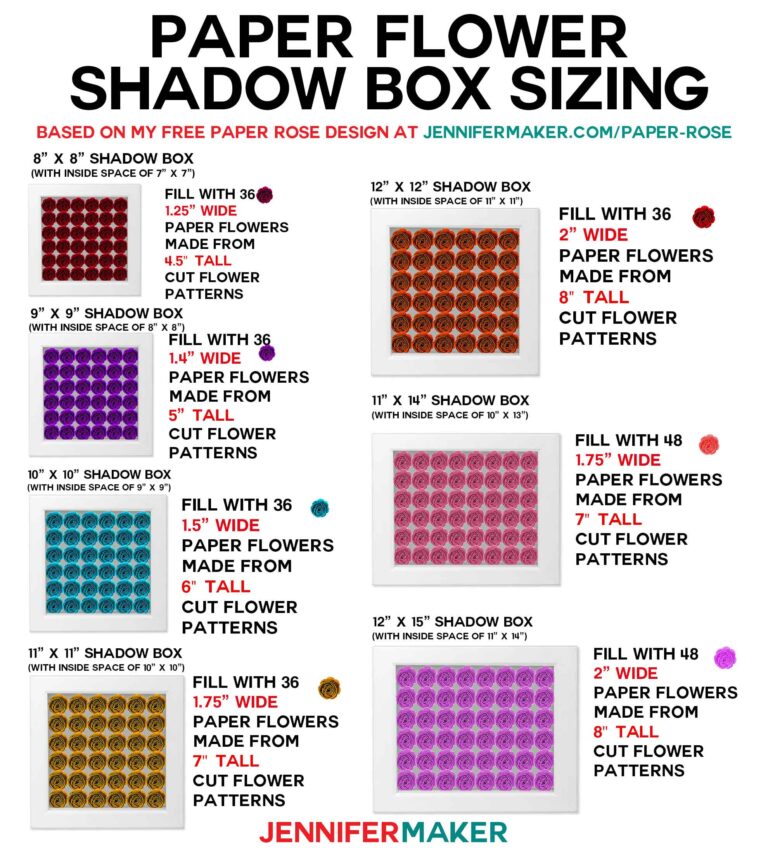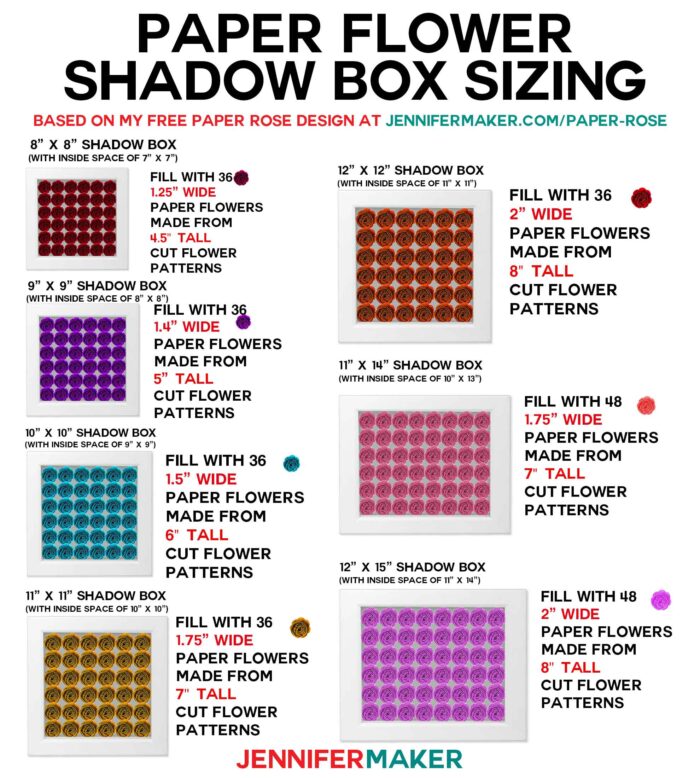 Still, I know that won't help everyone, because if you decide to use a different paper flower, you'll be back at the drawing board. Some paper flowers will roll up tighter or looser than others. What I recommend you do cut out your paper flower of choice using the sizing recommendation in the chart above, then measure the width of the FINISHED paper flower. Now use this chart to see how many flowers you need for a specific size shadow box. Just keep in mind that you may want to move up or down a line based on how tightly or loosely packed you want YOUR paper flower shadow box. I think this will give you a great starting point, though!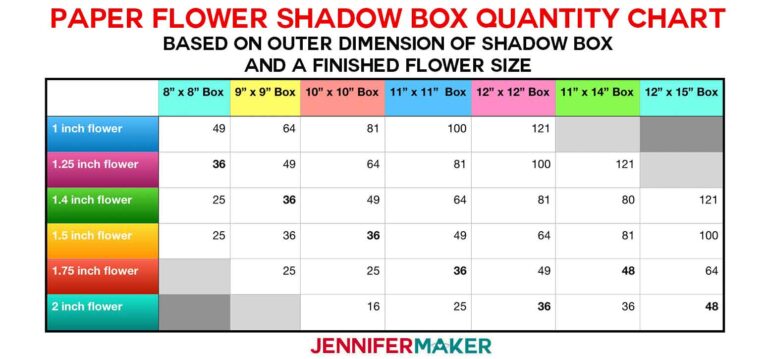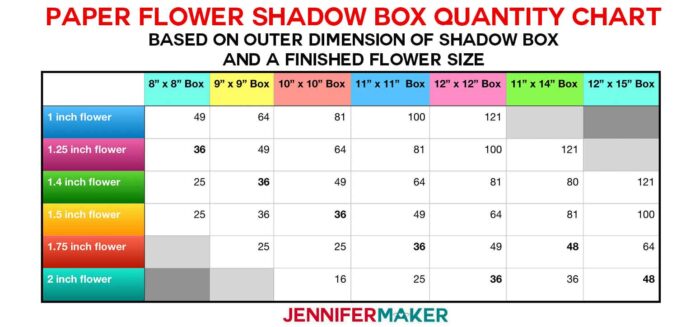 And if you're not familiar with how to roll paper flowers, I have a quick video that explains how to do that here:
Of course, if you just want to follow a step-by-step tutorial that takes out all the guesswork, I have that for you, too! Just keep reading for the full details!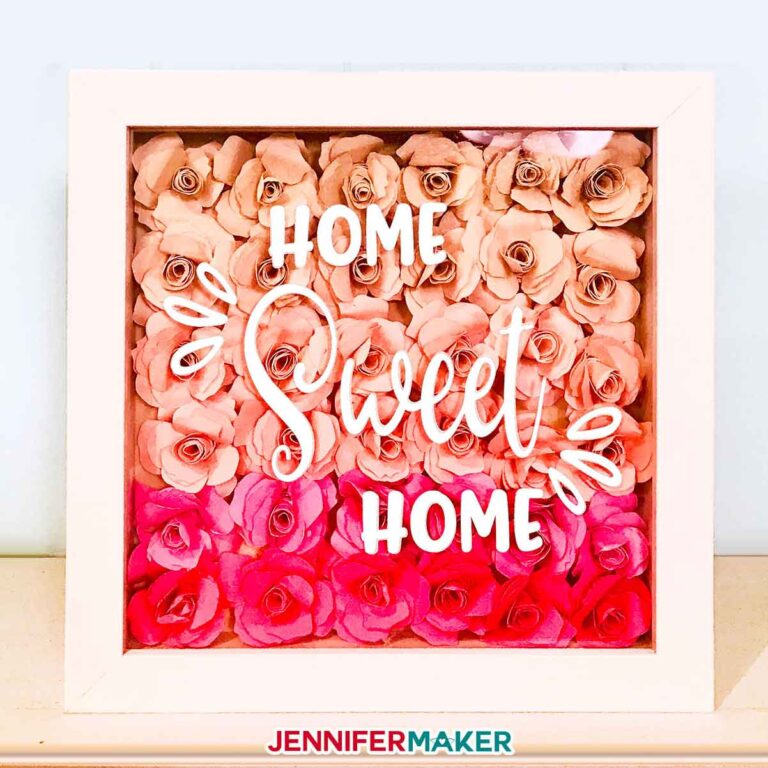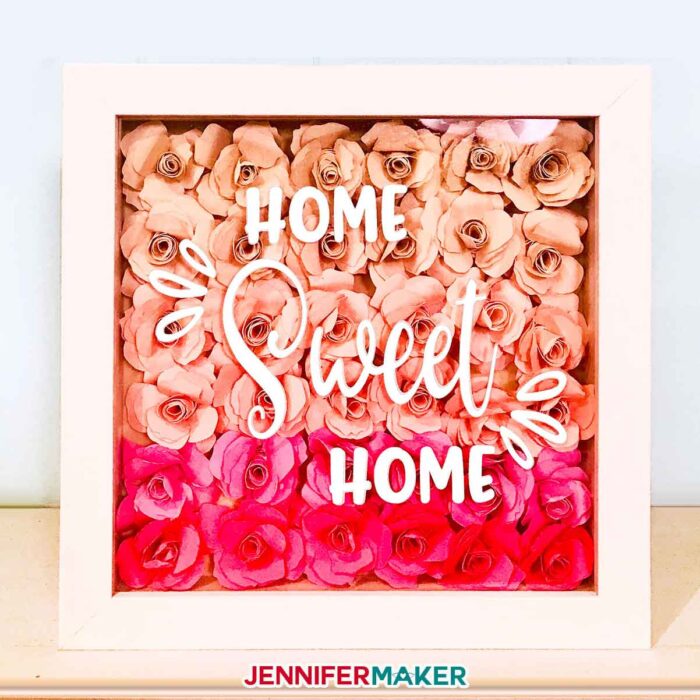 Ready to make your own paper flower shadow box? I'm super excited to show you how! This post contains some affiliate links for your convenience (which means if you make a purchase after clicking a link I will earn a small commission but it won't cost you a penny more)! Read my full disclosure policy.
Materials to Make a 9″ x 9″ Paper Flower Shadow Box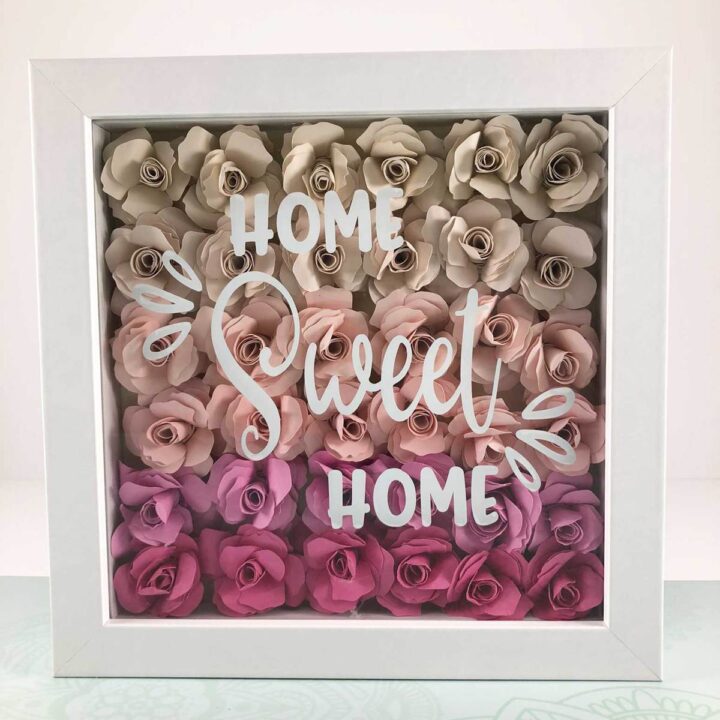 Paper Flower Shadow Box Tutorial
Prep Time: 15 minutes

Active Time: 3 hours

Total Time: 3 hours 15 minutes

Difficulty: Easy

A lovely shadow box holds three dozen gorgeous paper flowers. Add a saying or sentiment to the front of the shadow box to personalize it. The paper flowers stay safe and dust-free inside the enclosed shadow box so you can enjoy them for years to come.

I kept my shadow box right next to my bed while I was sick with the flu, and it cheered me up just to see it!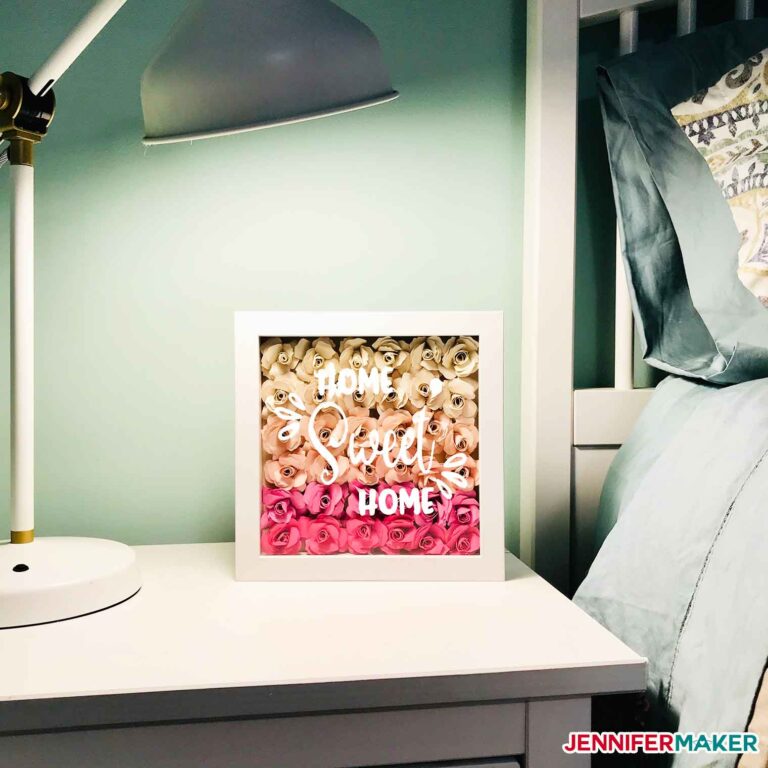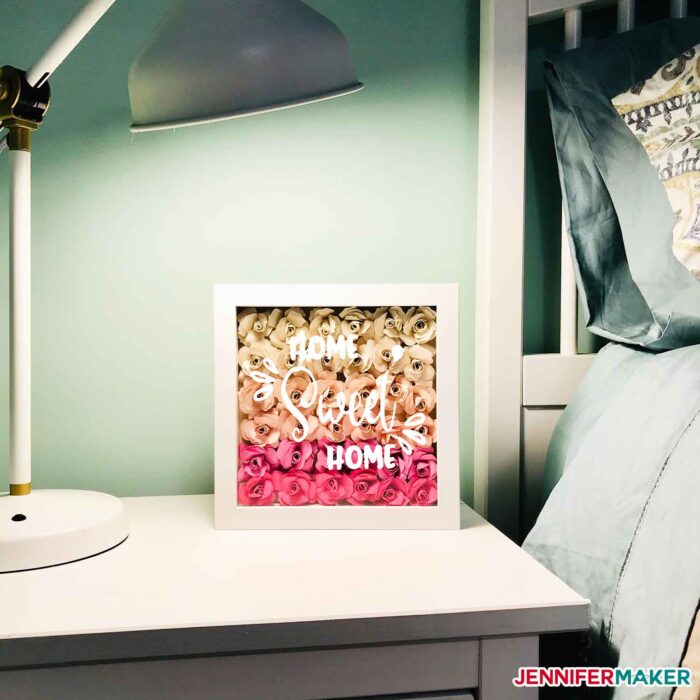 Get my free SVG files to make your own Paper Flower Shadow Box!
I'd love to see your paper flower shadow boxes and what sentiments you put on them! If you make one, please share a photo in our Facebook group, email it to me at [email protected], or tag me on social media with #jennifermaker.
Love,