Learn how to make easy DIY Personalized Candles with your own images and photos to give as a gift or to decorate your home.
Candles are wonderful decorations to have around the home! I've showed you how to make DIY Teacup Candles with old teacups, but I'm in the mood for something more personalized this time around…. personalized candles! The great thing about this project is that it is super easy! These custom candles can be created to match your home decor or you can give them as gifts. So for Day 17 of The Great Maker 25-Day Gift-Away Challenge, I am showing you how to make DIY Personalized Candles!
See exactly how to make personalized candles in my tutorial video (or keep scrolling if you prefer a printable step-by-step photo tutorial):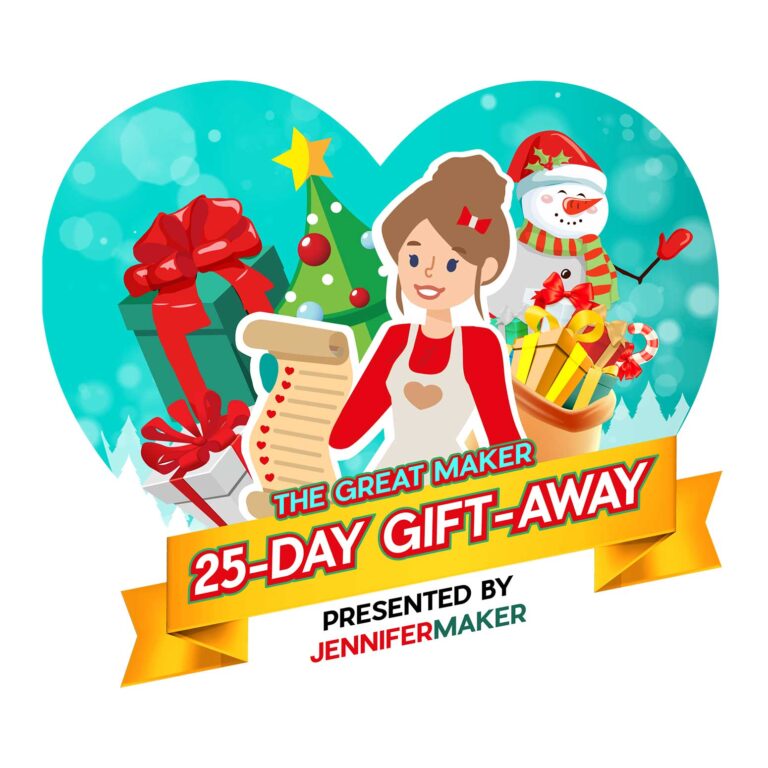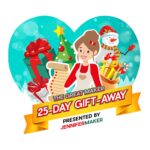 What is The Great Maker 25-Day Gift-Away?
This is an
annual tradition
here at JenniferMaker! Every day for the first 25 days of December we gift you with a brand new project, design, tutorial, and video. On top of that, we host a giveaway with 25 prizes. Some of the amazing prizes are
Cricut cutting machines
, sewing machines, gift cards, and beautiful
print editions of our popular Cricut Coach Playbook
. You can even earn bonus entries for sharing photos of the daily projects!
Click here to learn more about The Great Maker 25-Day Gift-Away!
The first way is to create a personalized candle is to transfer a printed image onto a candle, like this family photo or this holiday message. So for this type of candle, you need an inkjet printer. I'm using an HP Envy 7155, but any good inkjet printer will work. You'll also need a sheet of regular white copy paper, some plain white tissue paper, and some wax paper.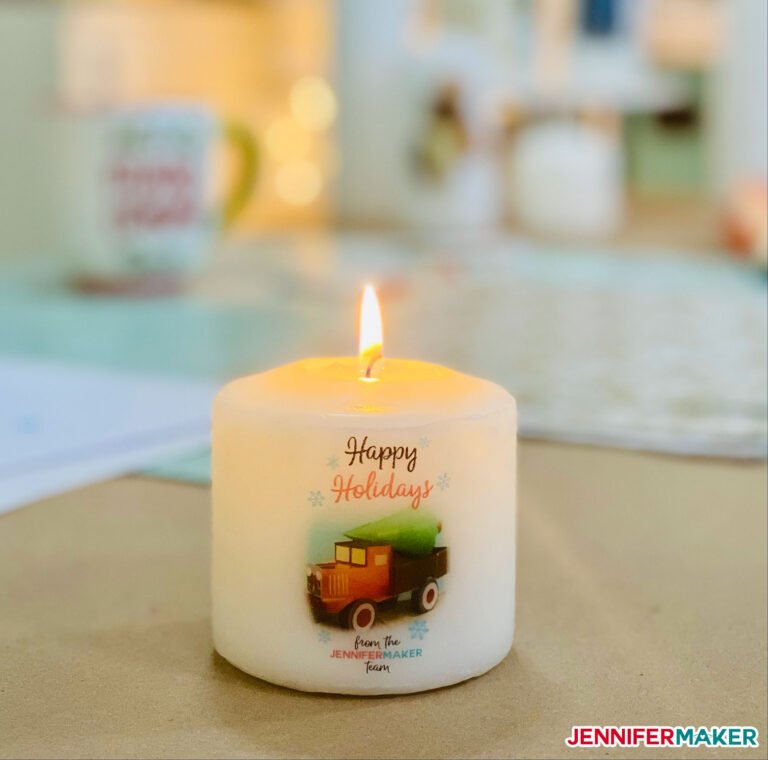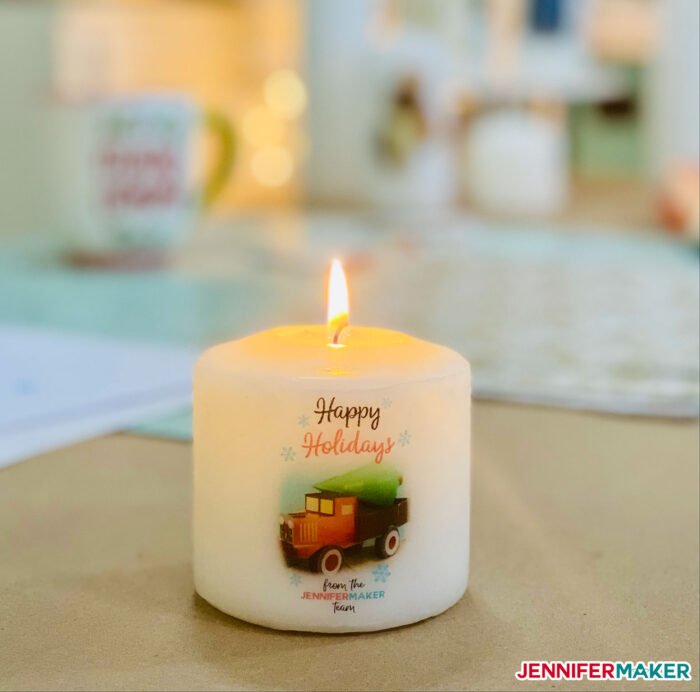 The second way to personalize a candle is with decorative tissue paper, like these pretty gold snowflake and geometric patterned candles. For this candle, you need the patterned tissue paper and some wax paper. If you cannot find a decorative tissue paper you like, you can always print your own just like you would print a photo or message!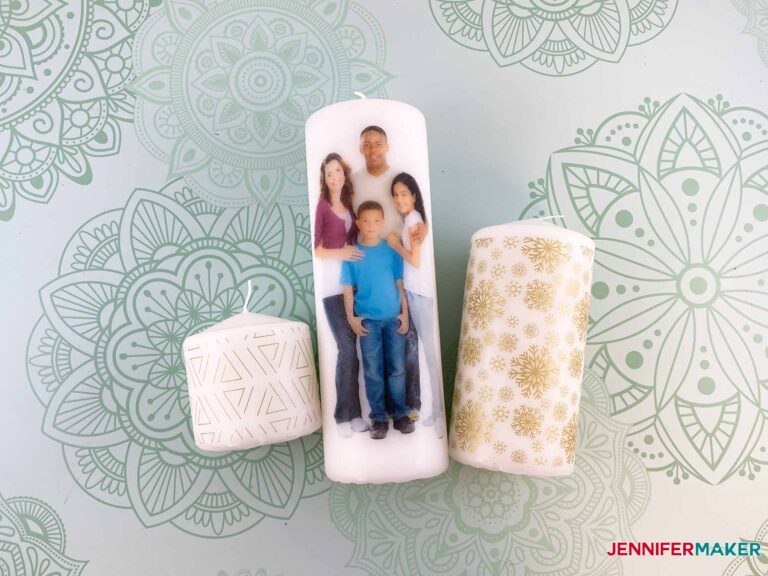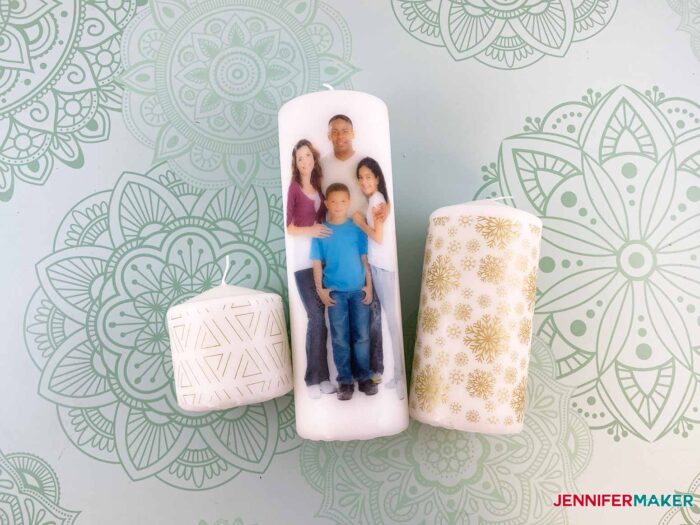 So by now you're probably wondering how in the world you get the image or pattern onto the candle? Well, the trick is HEAT. So you also need a heat gun — the one I have here is a three hundred watt heat gun that can go up to three hundred degrees Celcius. I got it for under $15 on Amazon, so if you don't have one, it's a worthy investment. But if you don't have or want to get a heat gun, you should be able to use a hair dryer instead.
I also recommend a flexible tape measure for measuring your candle and a pair of scissors for cutting your paper!
You can use pretty much any candle for this project, but you do want it to be made of actual wax. This technique would not work with LED candles unless they were made of wax also. I think these pillar candles work the best for showing off your design — these are three inch diameter pillars in various heights. The link to these candles is in the supply list beneath this video!
Now, I know it's not always easy to find patterned tissue paper, so I've created some designs for you to experiment with, and they fit the candles I've linked in my supply list perfectly.
So let me show you where to find the designs, and then I'll show you how to transfer the designs to your candles! This post contains some affiliate links for your convenience (which means if you make a purchase after clicking a link I will earn a small commission but it won't cost you a penny more)! Read my full disclosure policy.
Materials to Make Personalized Candles
How to Make DIY Personalized Candles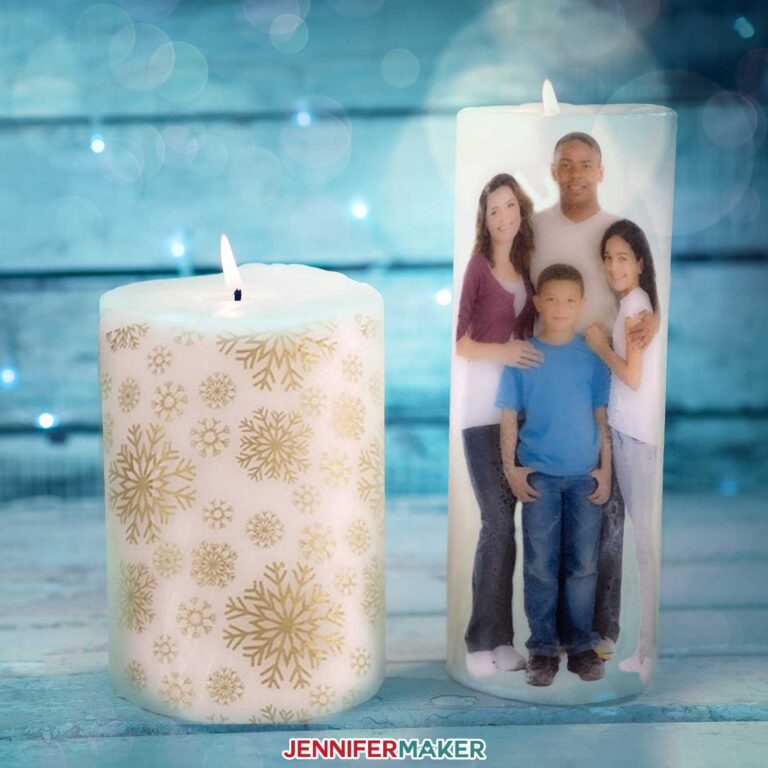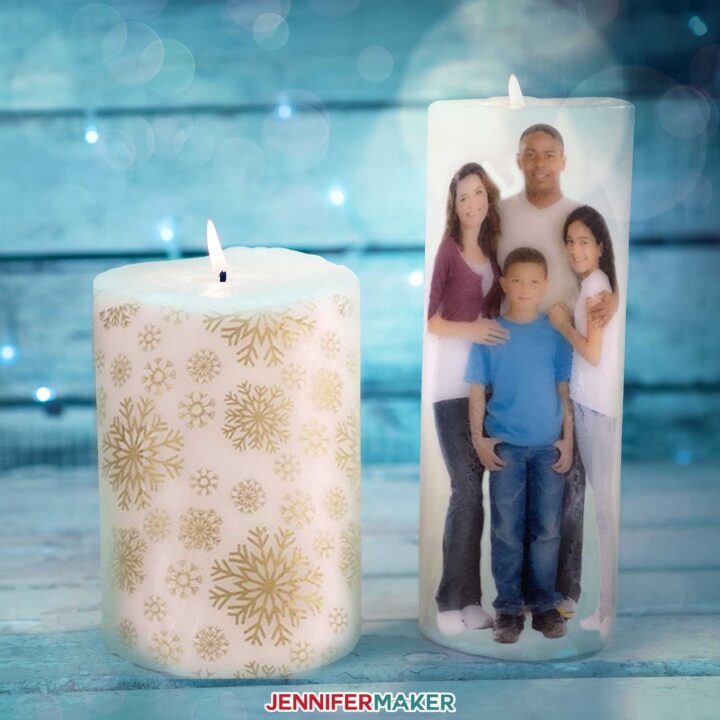 Personalized Candles
Yield: 1 candle

Prep Time: 15 minutes

Active Time: 30 minutes

Total Time: 45 minutes

Difficulty: Easy

Estimated Cost: $20

Let me show you how to take your favorite photograph and make a personalized candle using the image. I'll also show you how to make a beautiful candle from pretty tissue paper.
Tools
Oven mitt or protective hand covering
Instructions
STEP 1: PREPARING YOUR IMAGE
For this project, we are going to take an image, print it on tissue paper, and apply it to a pillar candle. If you do not have an image, You can download Design #268 which is my free Personalized Candles JPG designs.

In order to know what size the image should be, we need to know the size of our candle. Measure the height and circumference of your candle.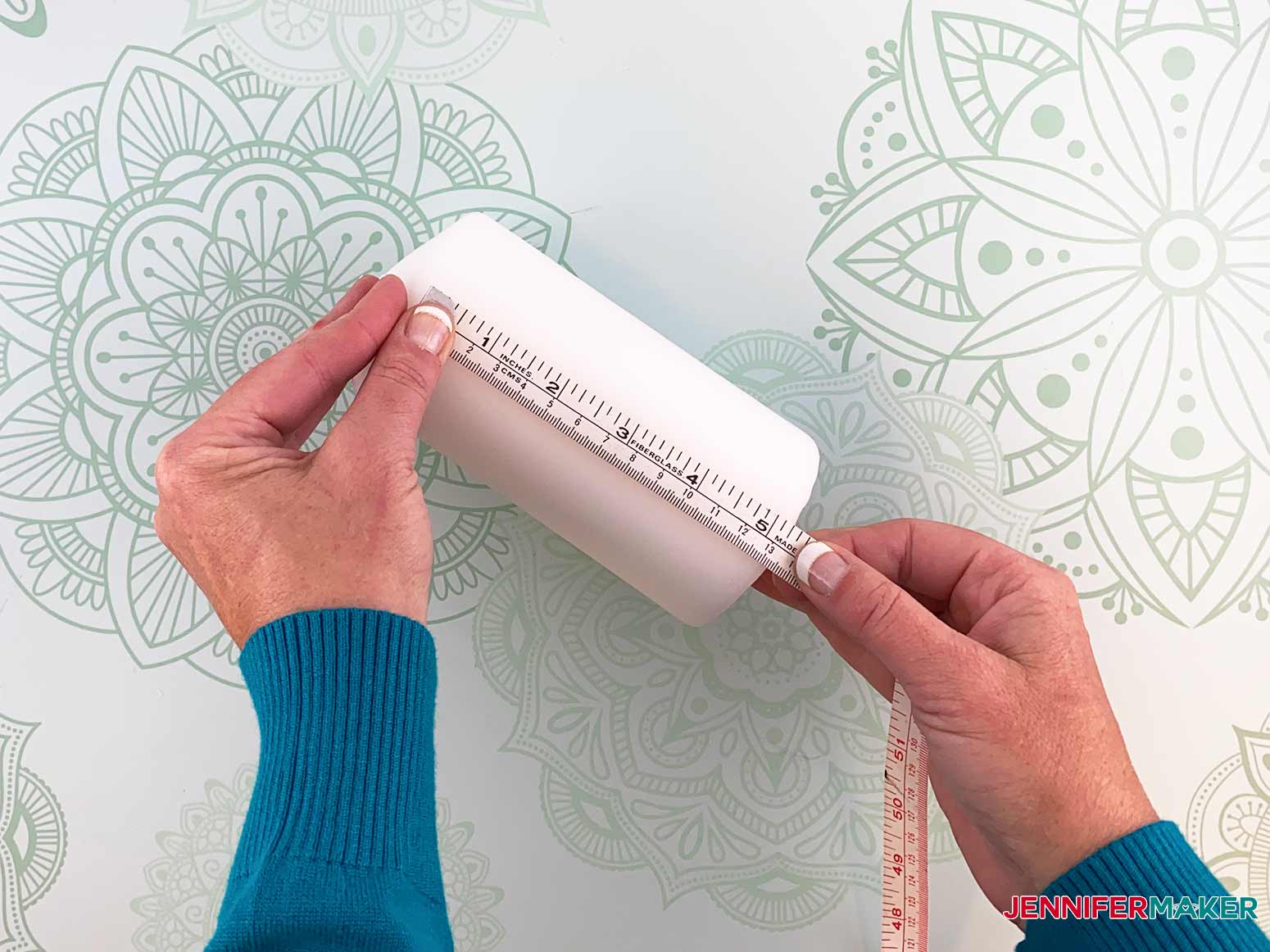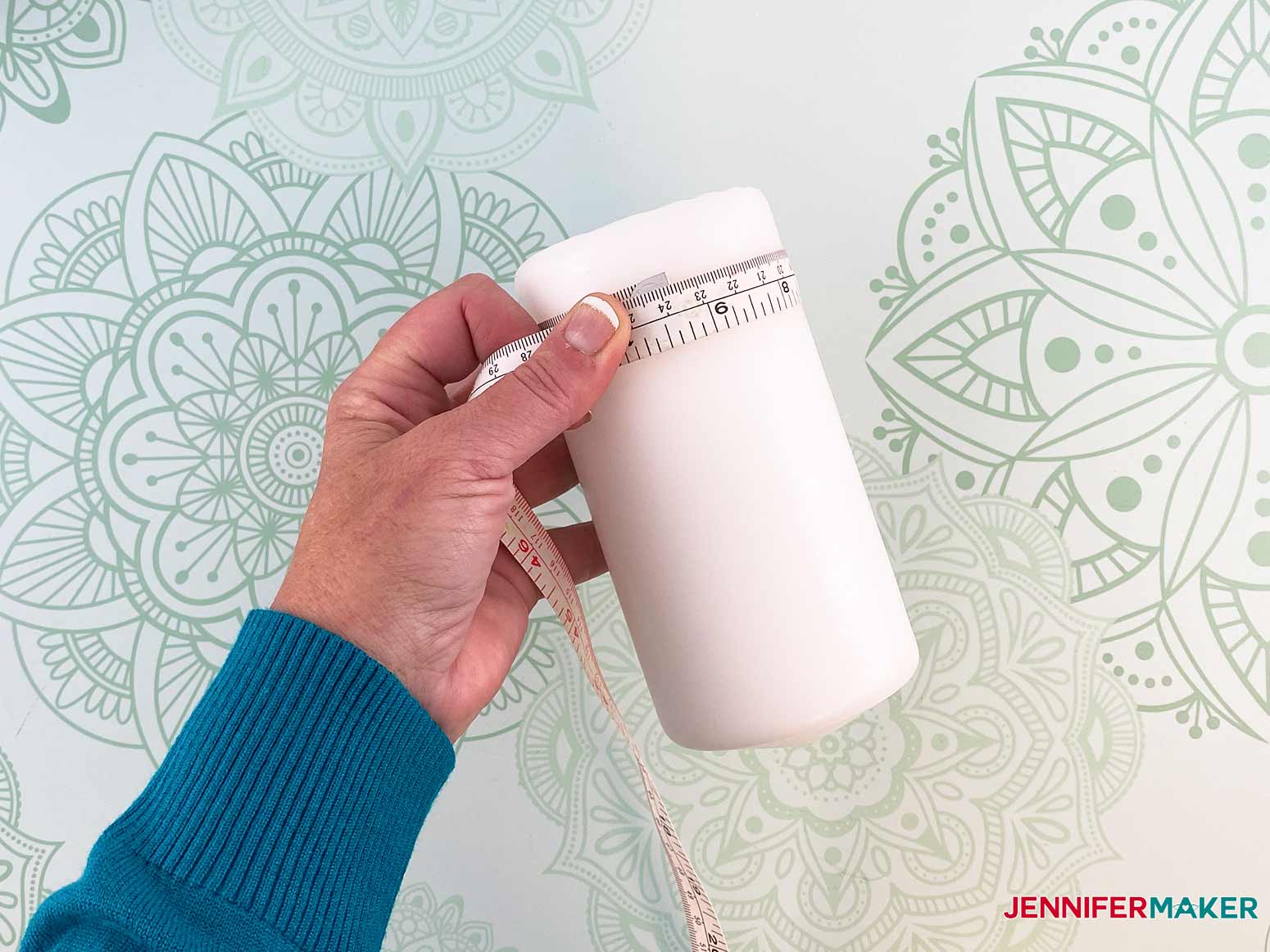 Open your image up in an image editor. Here I am using GIMP, which is a free image editor that works on Mac and Windows -- you can download it at gimp.org.

In GIMP, go to the File menu and click Open, then locate your image or one of the design images I provided. It will open on your screen like this.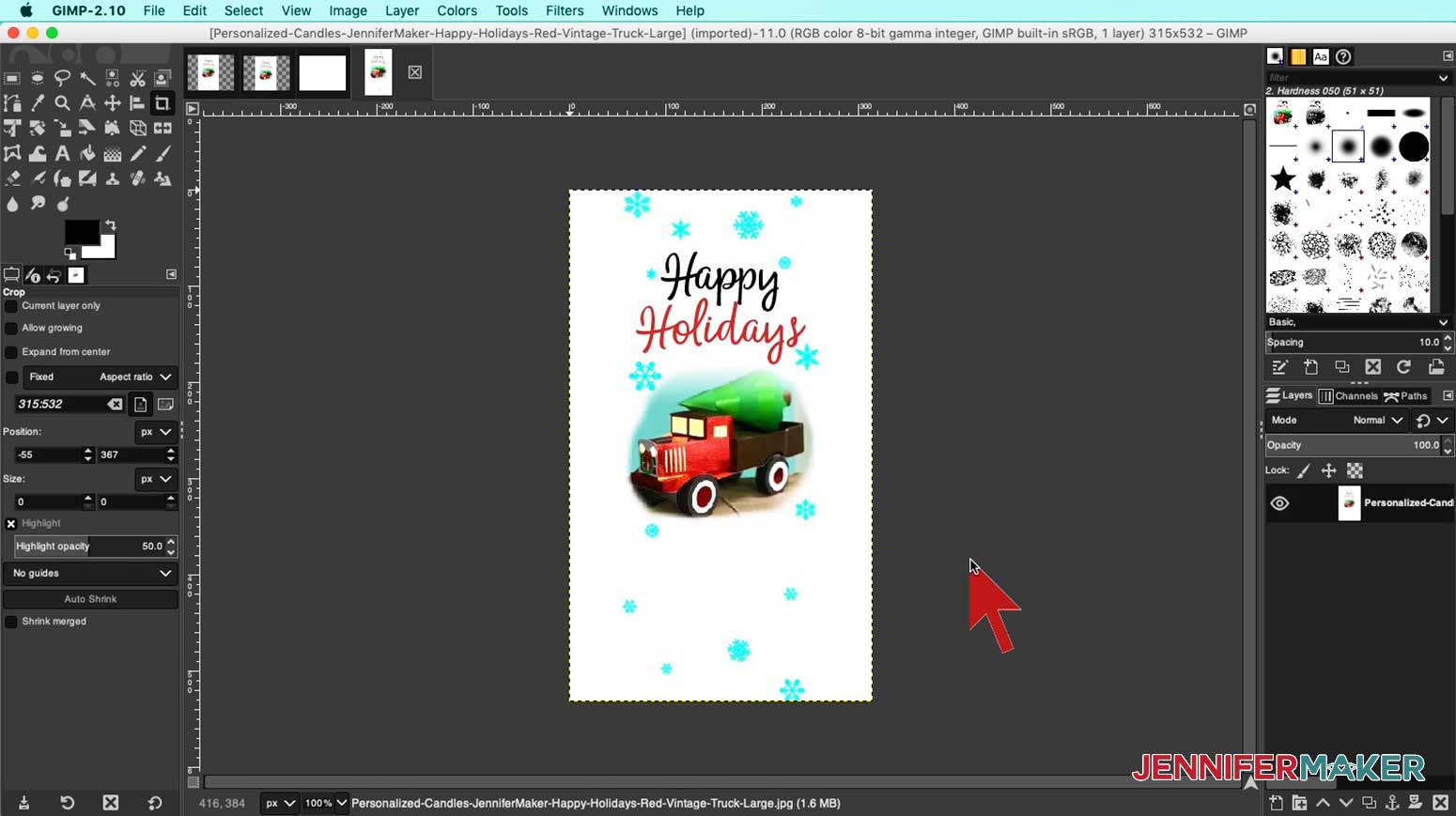 Now go to the Image menu and choose Canvas Size. Change the measurement dropdown box from px to inches and change the width and height to the circumference and height of your candle, like this.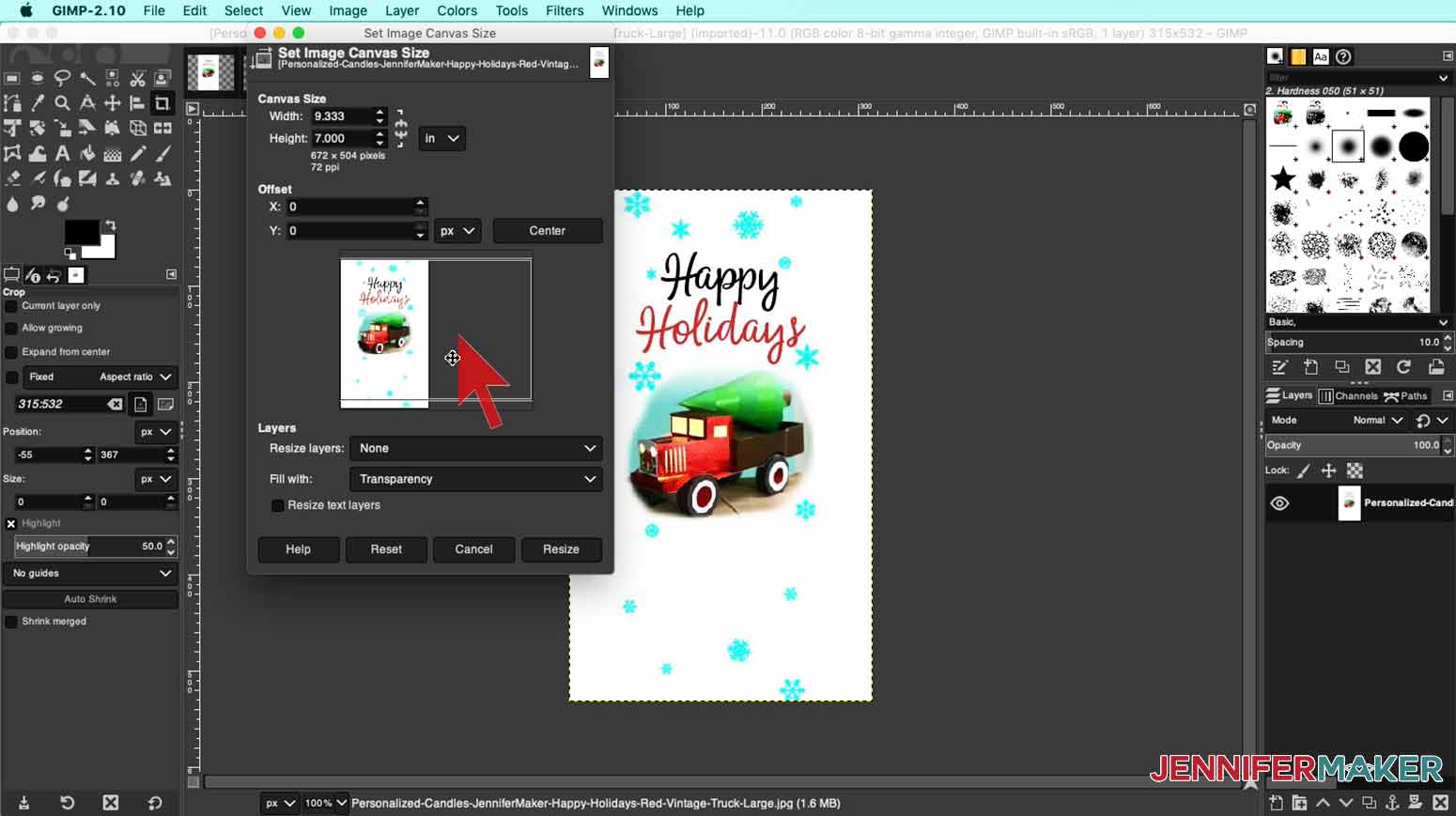 Click the Move tool from the icons on the left (it looks like two crossed arrows) and click on your image to move it around. To resize the image, click on the Scale tool on the left and use it to resize your image until it looks the way you want.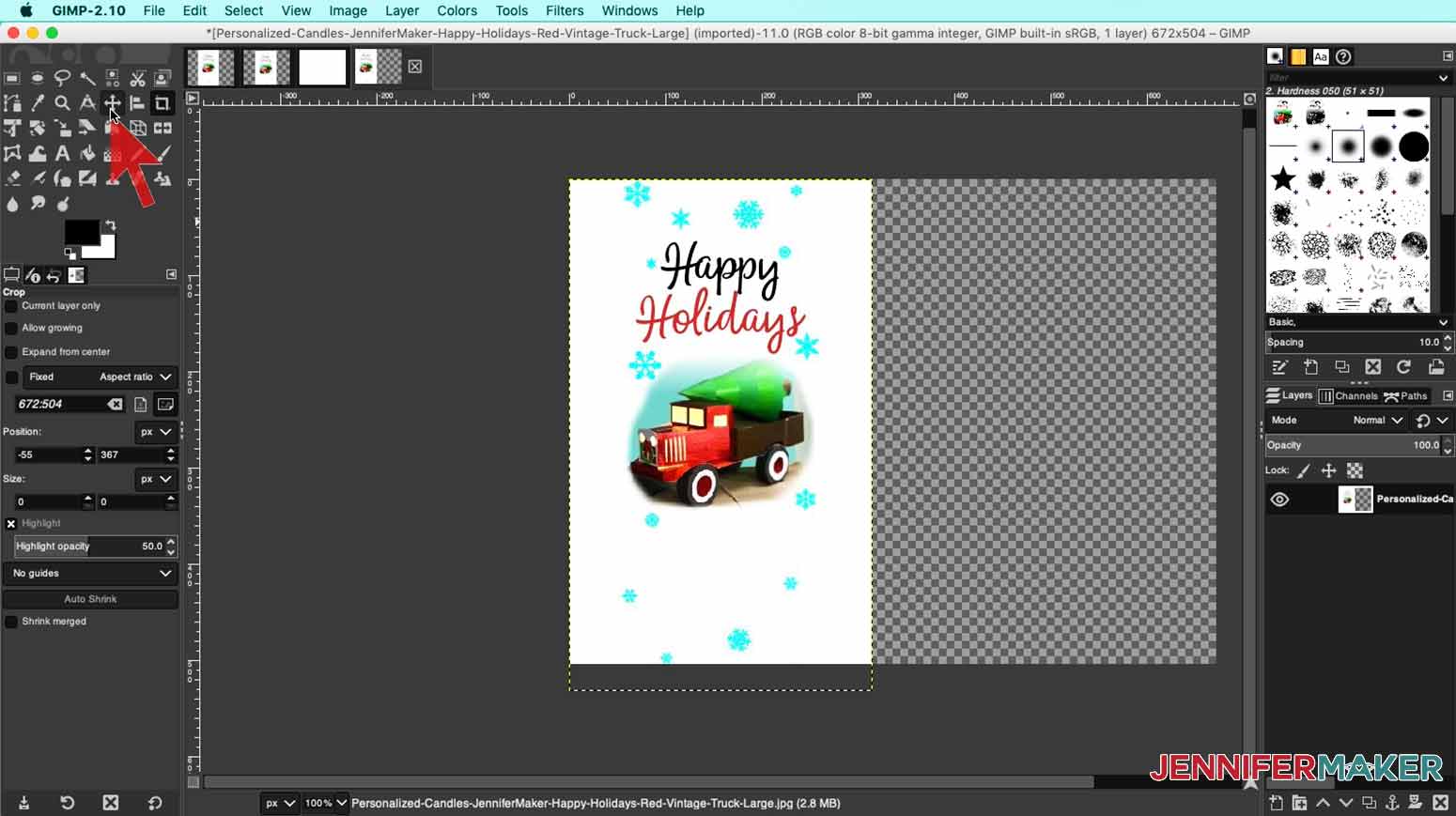 When done, save your file.
STEP 2: PRINTING YOUR IMAGE
It's now time to print your image onto a piece of tissue paper. Of course, you can't normally print onto tissue paper, but you CAN if you put it onto a sheet of regular paper first.

Take a piece of tissue paper and tape it to a sheet of printer paper in order to print the image on tissue paper.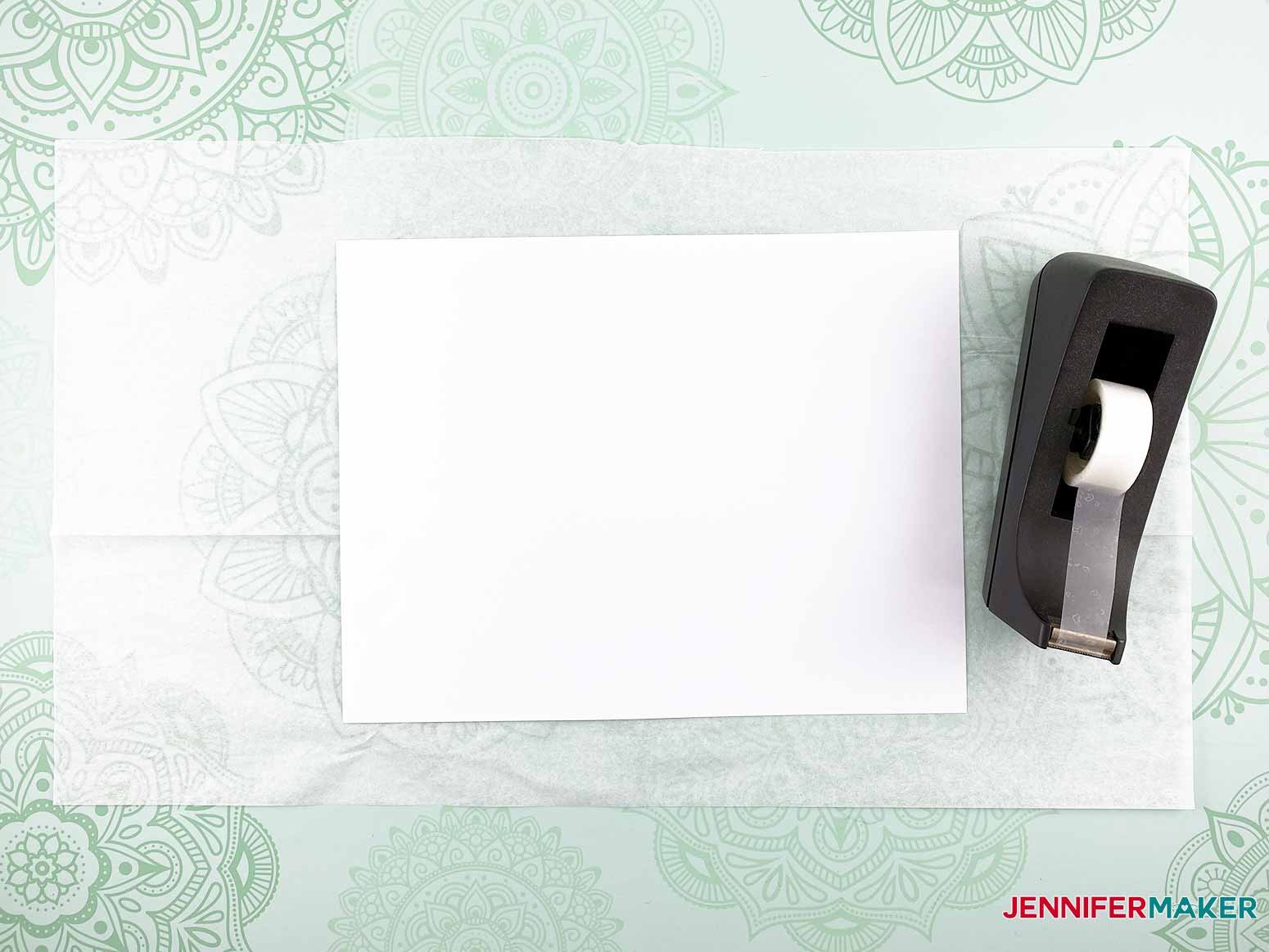 Fold one side of the tissue paper over the back of the printer paper and tape.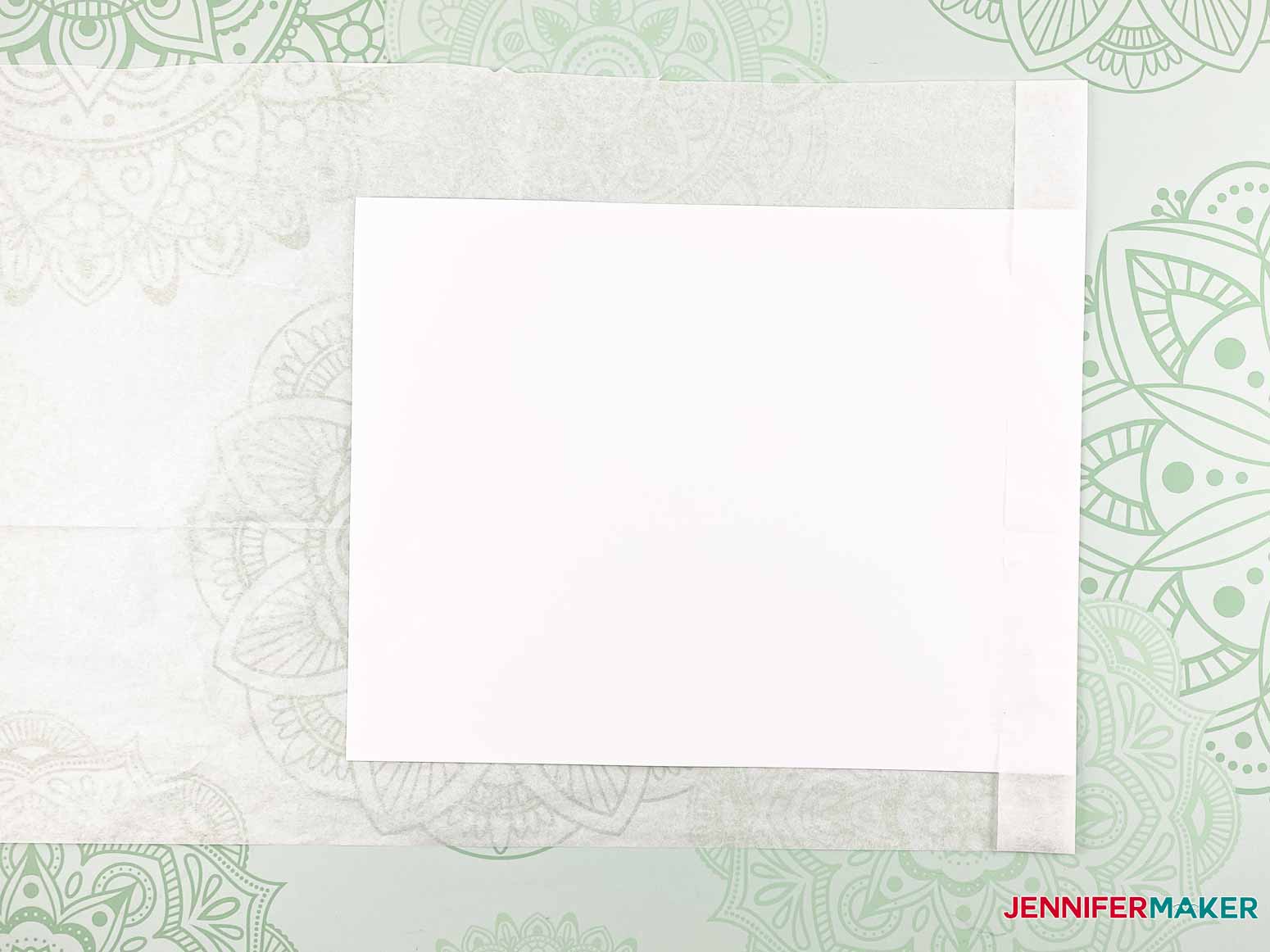 Take the next side of the tissue paper, fold it over the back of the printer paper and tape.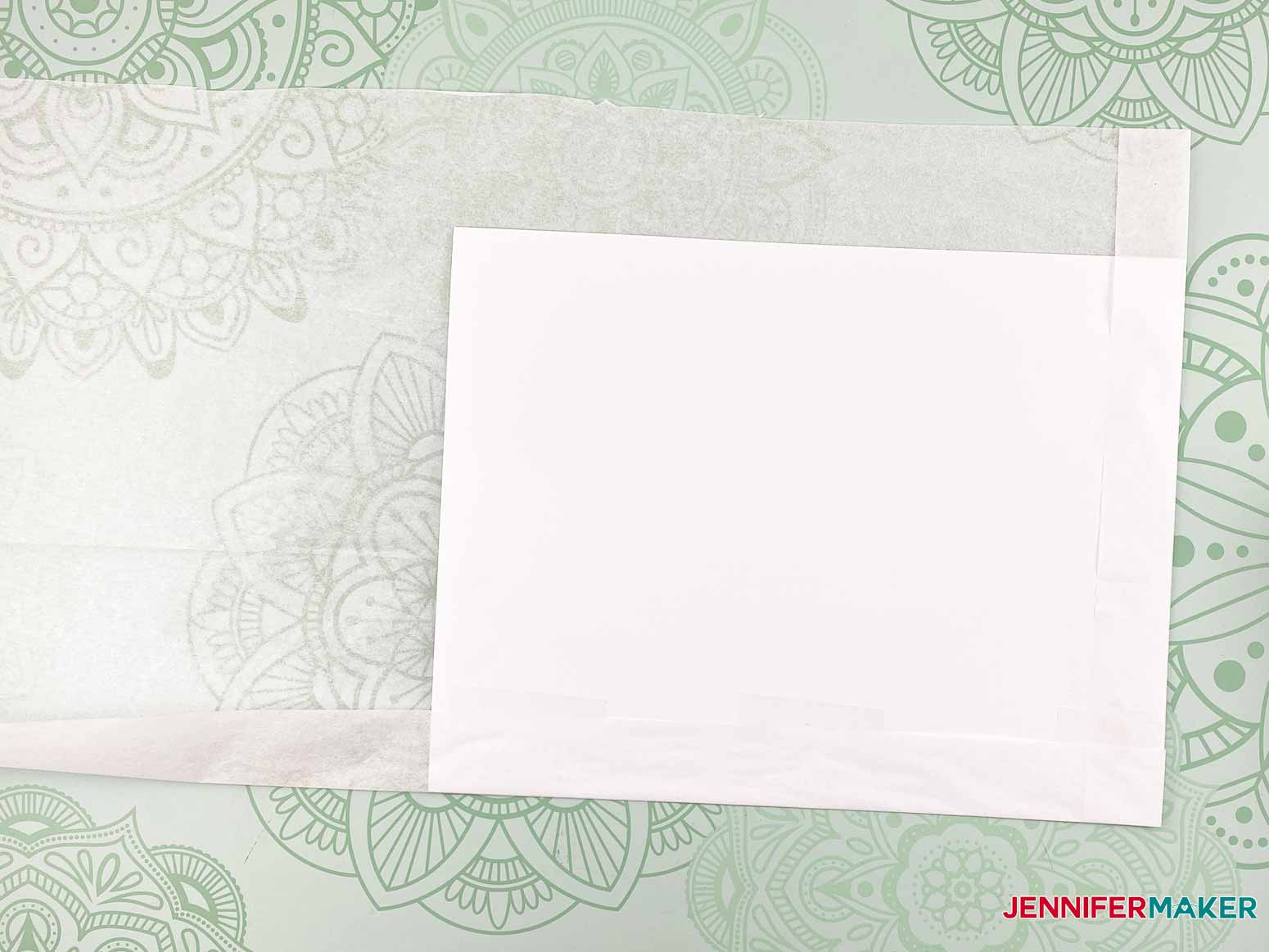 Trim the last two sides to be folded over and taped to the back of the printer paper. Fold over the printer paper and tape.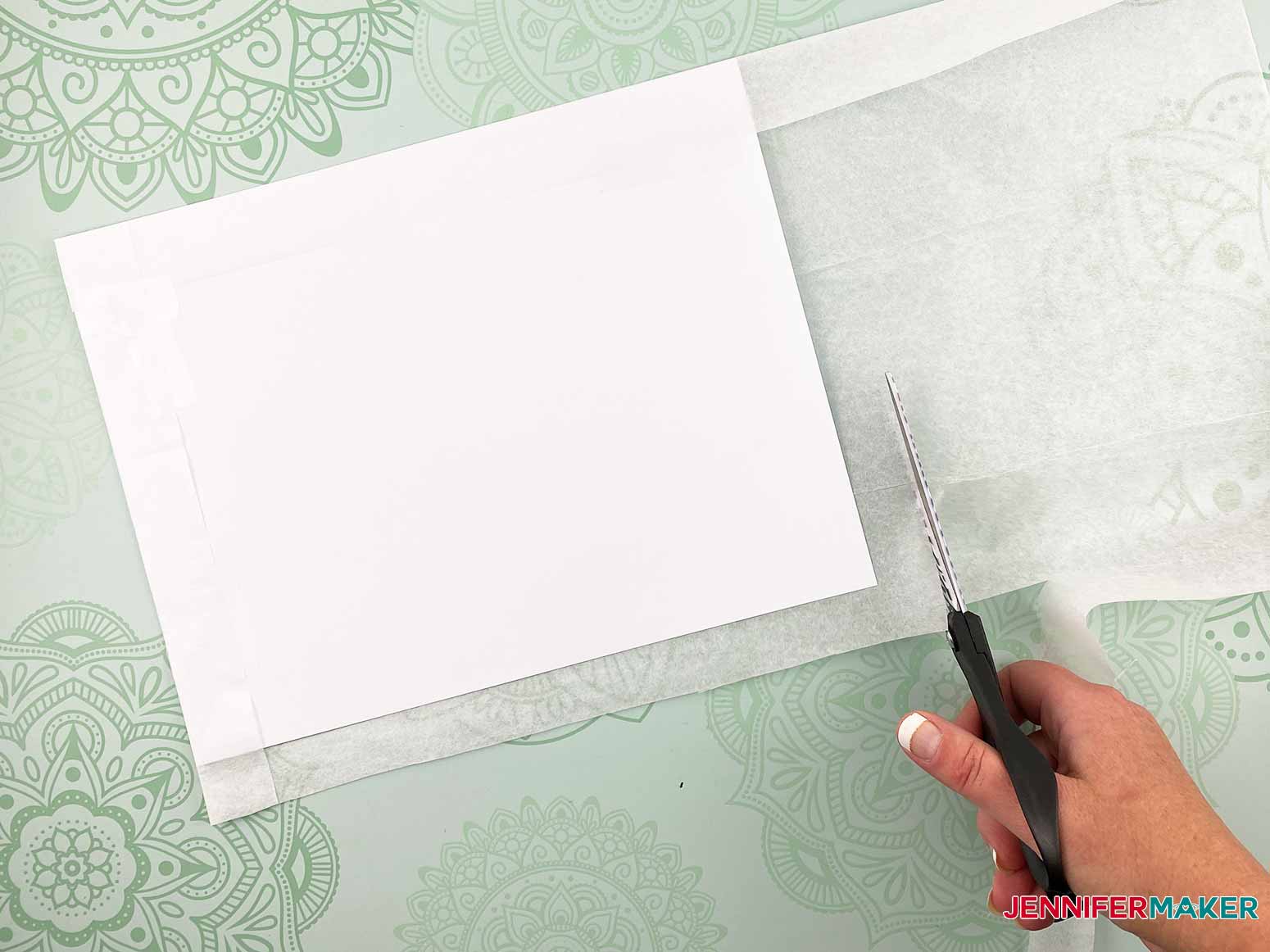 This is what your sheet of printer paper will look like with the tissue paper taped to it.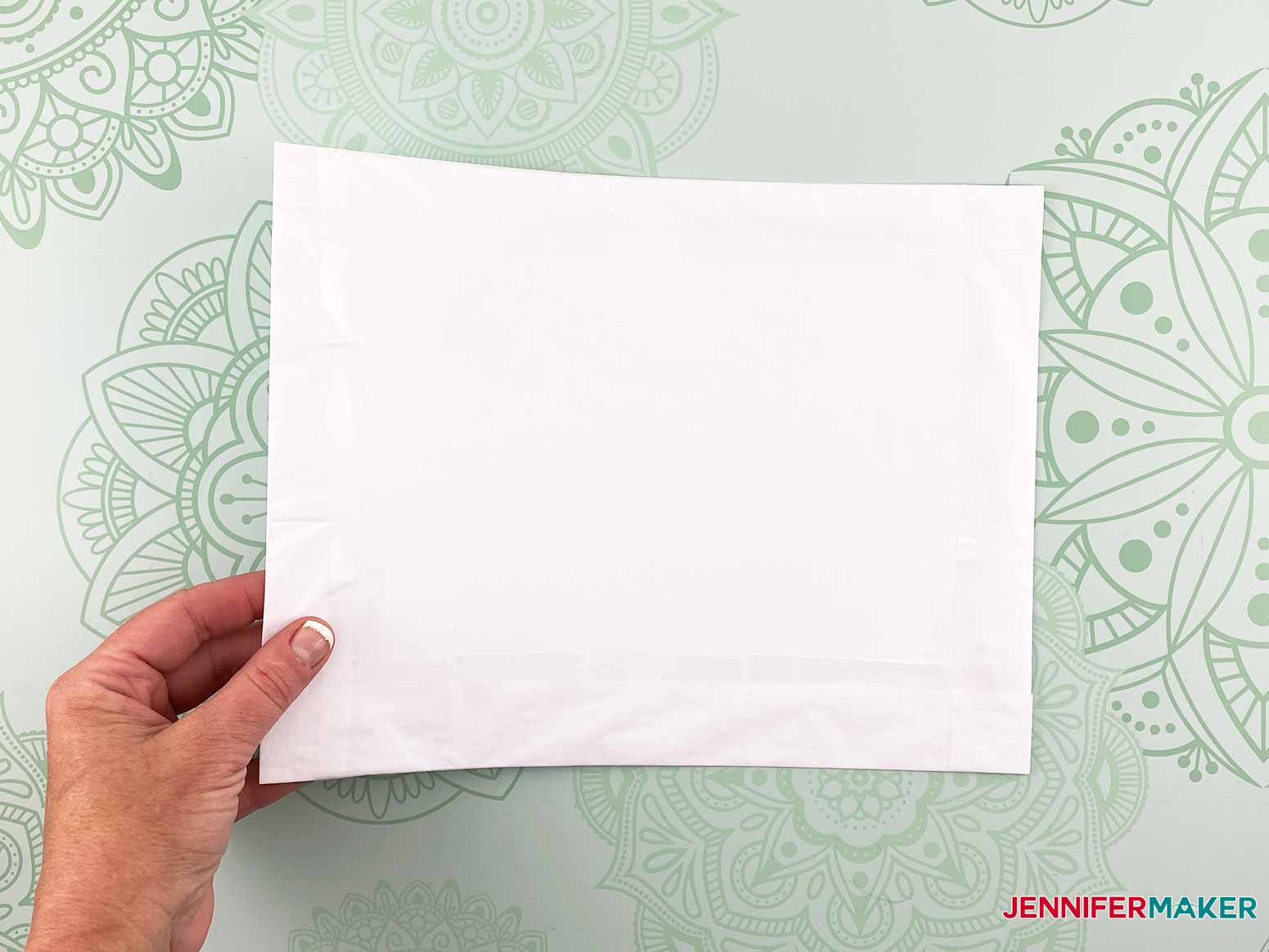 I found that my printer printed this the easiest using the manual feed tray. You may have to play with your printer settings to get this just right.
STEP 3: APPLY THE IMAGE TO THE CANDLE
Once you have printed your image, cut the tissue paper around the design and place it on the candle. The closer you can cut it, the less you'll notice the edges of the tissue paper when you're all done.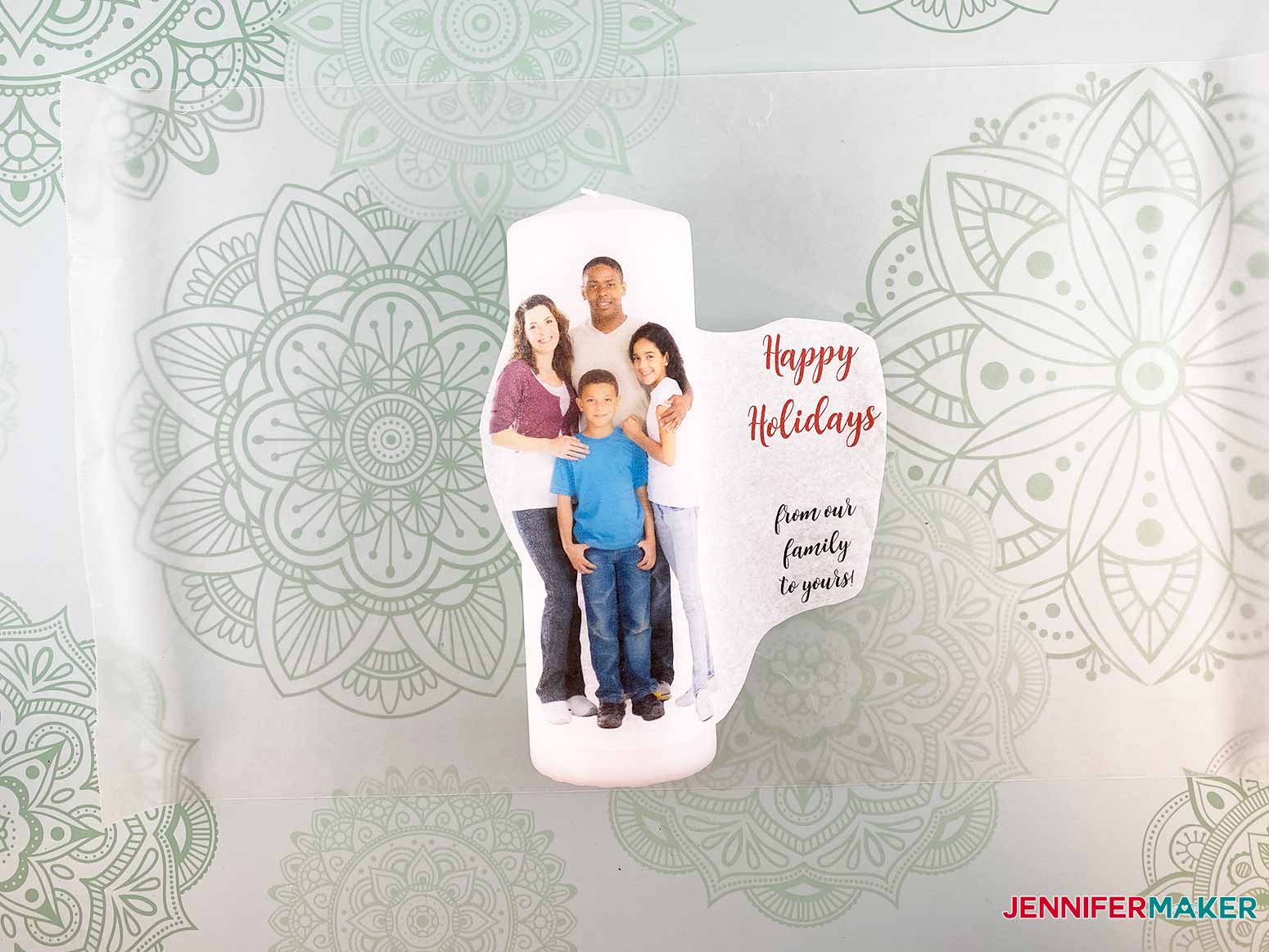 Hold the tissue paper in place, turn the candle over, and place it on a piece of wax paper long enough to go around the candle.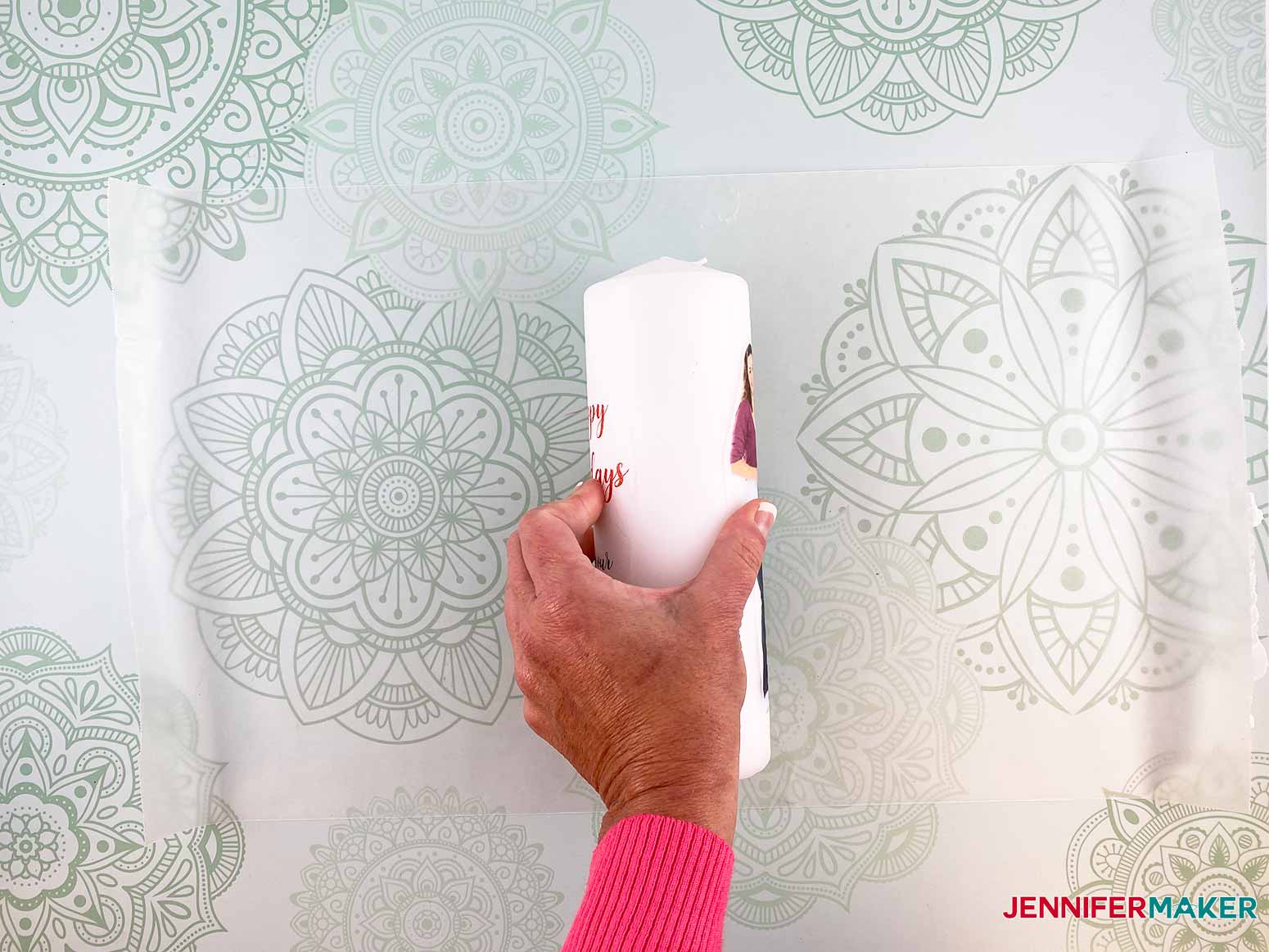 Bring each side of the wax paper together and grip it with your hand.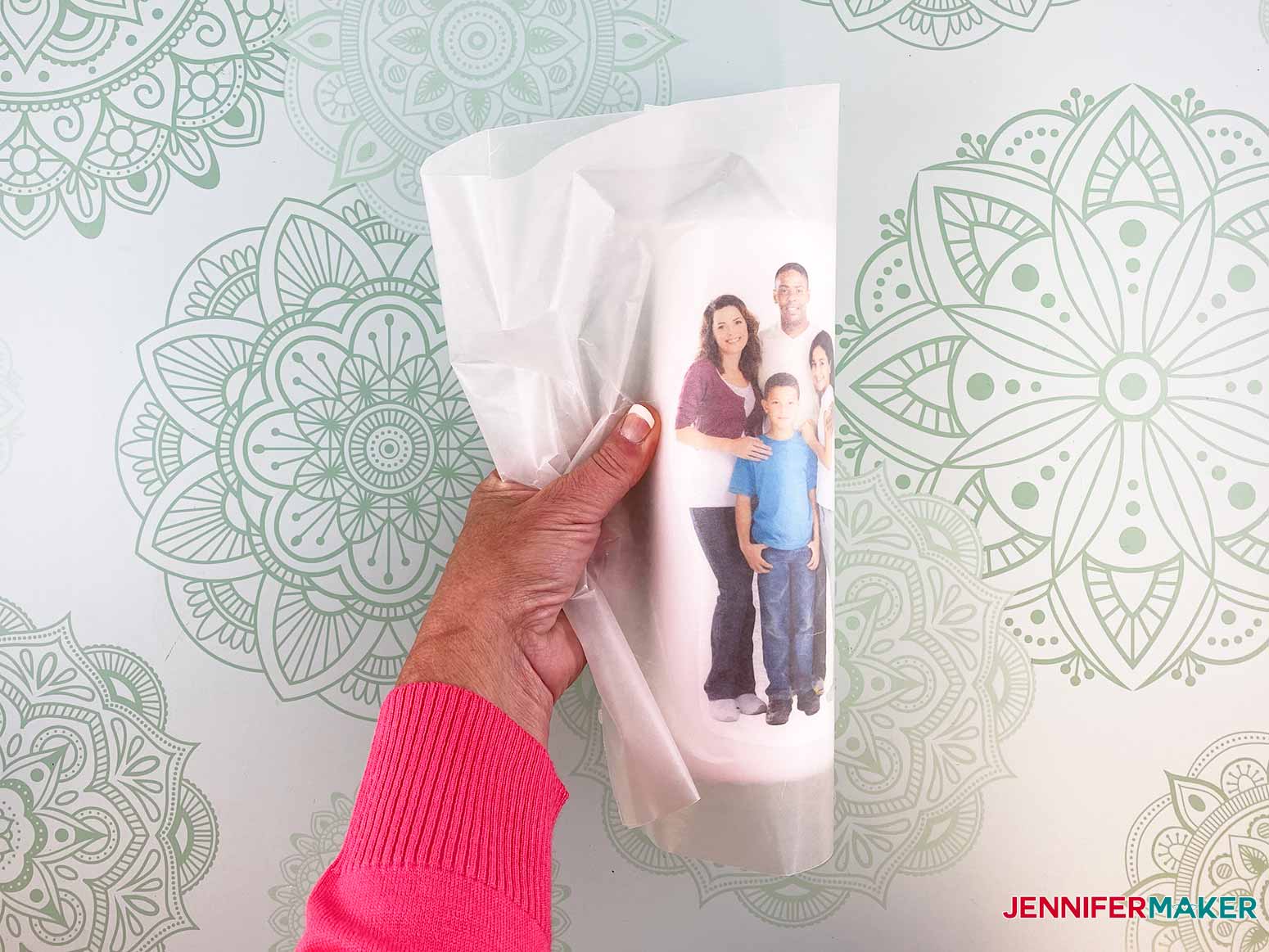 I will be using a craft heat gun to melt the wax from the wax paper to the candle. If you don't have a heat gun, you can use a hair dryer on a high heat setting, but be warned you'll need to wear an oven mitt to keep the hand holding your candle from getting too hot and it will require a little more time and patience than a heat gun. DO NOT use a professional heat gun.

CAUTION: Always follow the safety tips provided with your heat gun. The tip of heat guns can get very hot. Never place a heat gun on any surface while it is still turned on or use near flammable materials. If you have long hair, put it up to prevent it from flowing in front of the gun and catching on fire. Wear gloves for additional protection and never put a heat gun away until it is completely cooled.

Turn on your heat gun on high and begin going over the entire image melting the wax paper to the image.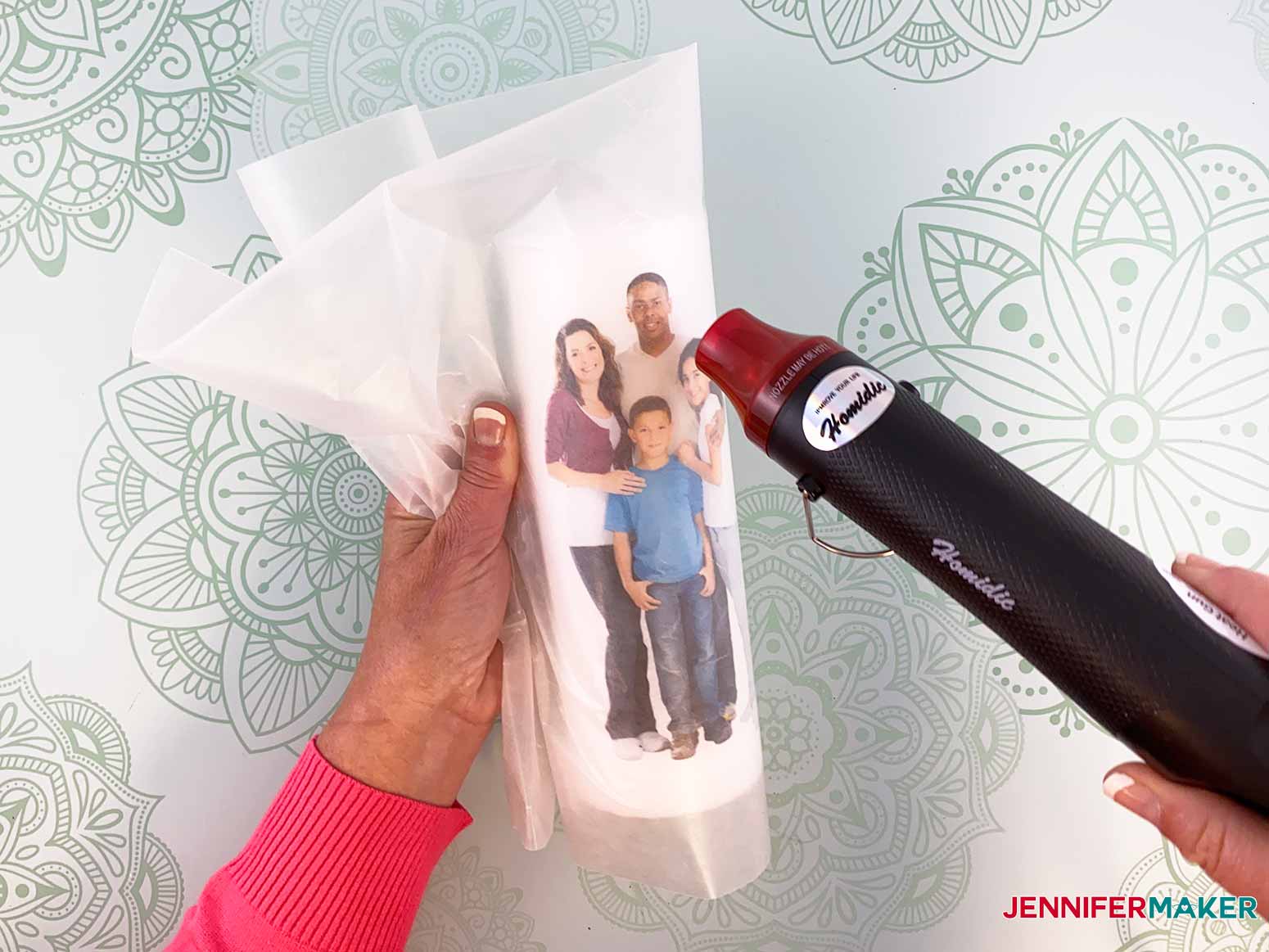 As you heat the tissue paper, the image becomes more vibrant as the wax paper melts with the tissue paper. You will also start to see the edges of the tissue paper disappear and melt into the candle. In the image below notice how the heads of the mom and dad are more vibrant than the children. This means the wax paper has melted with the tissue paper. Watch the amount of heat you use on the candle because you do not want to over melt. You can always lift the wax paper to check. Your goal is to get the tissue paper to melt into the candle clear and vibrant.

When you can no longer, or just barely, see the edges of the tissue paper, you're done!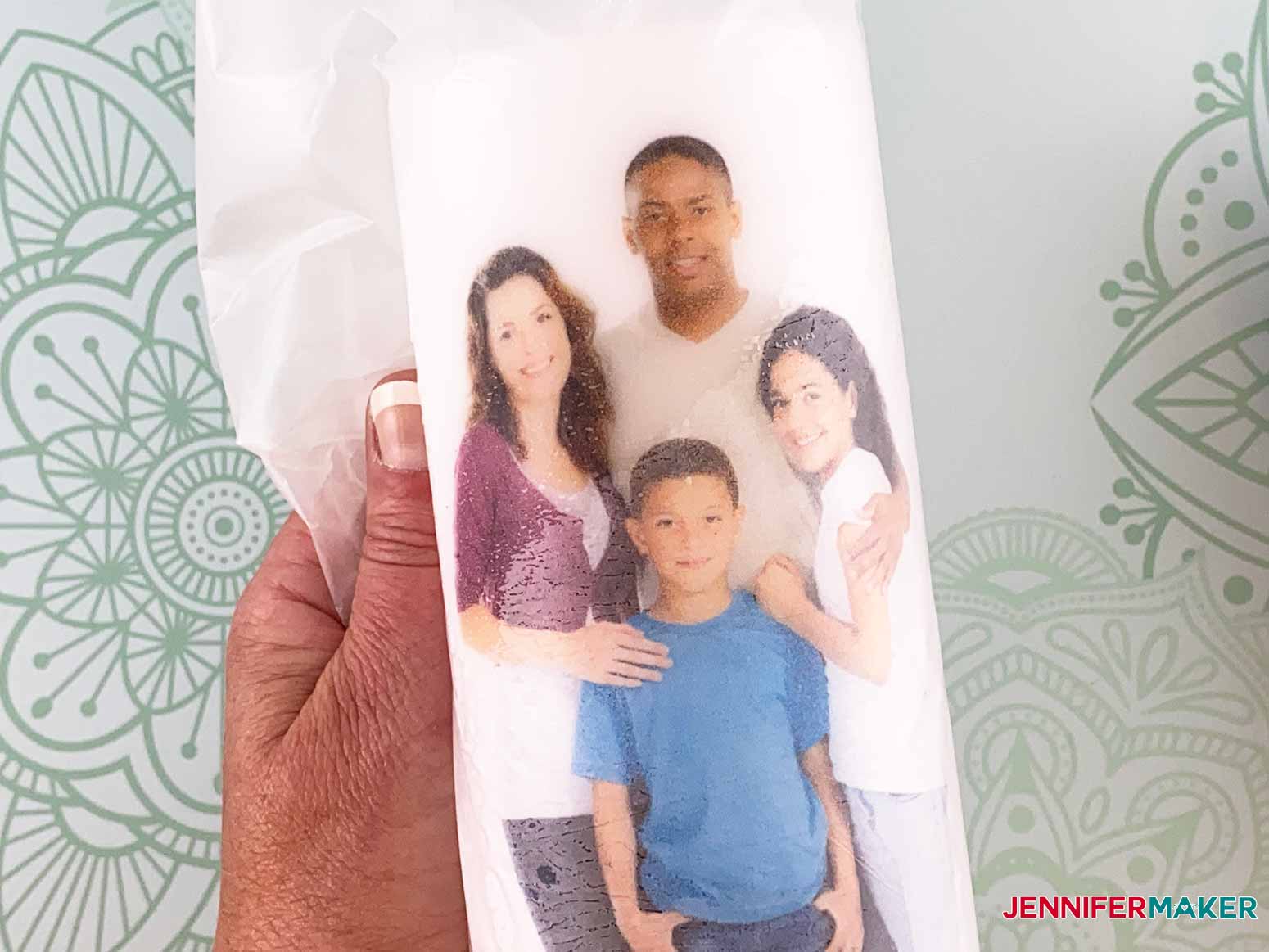 When the entire tissue paper is heated, allow the candle to cool and remove the wax paper from the candle. If there are spots you missed, take another piece of wax paper, place it on top the image and reheat that area.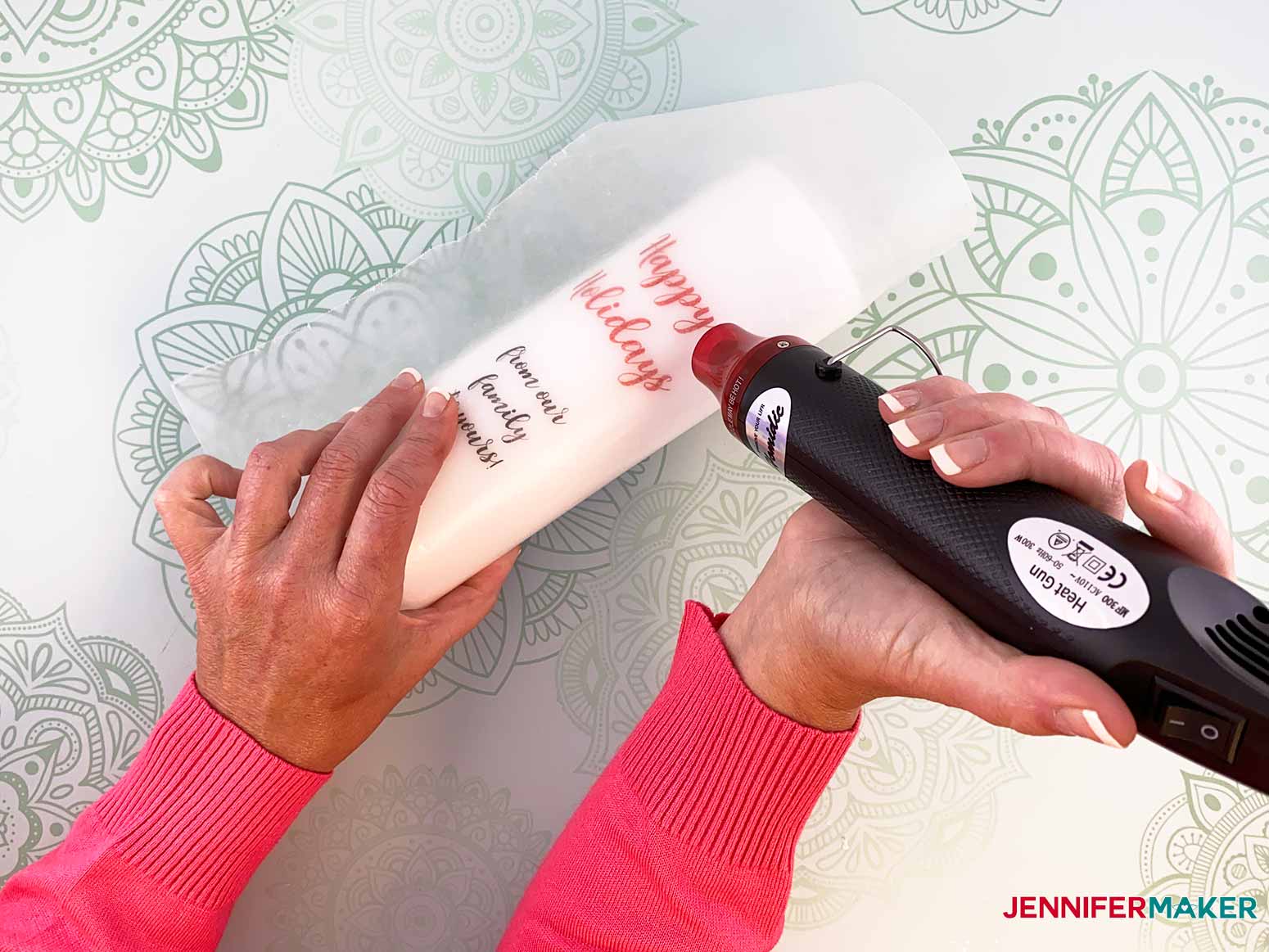 This is what my finished personalized candle using an image looks like.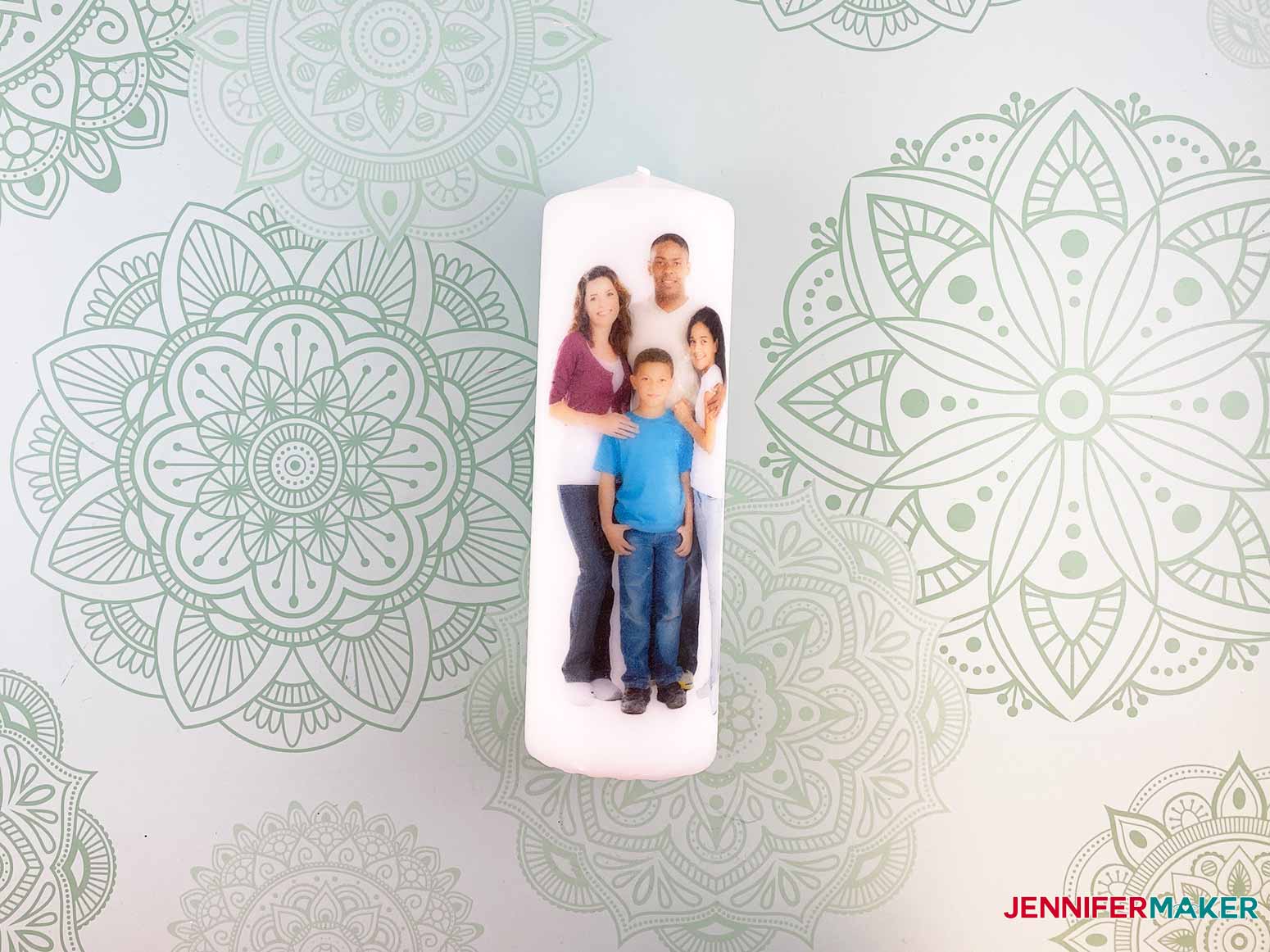 STEP 4: USE DECORATIVE TISSUE PAPER TO MAKE A PERSONALIZED CANDLE
You can make beautiful personalized candles using decorative tissue paper and even decorative napkins.

Measure the circumference of the candle.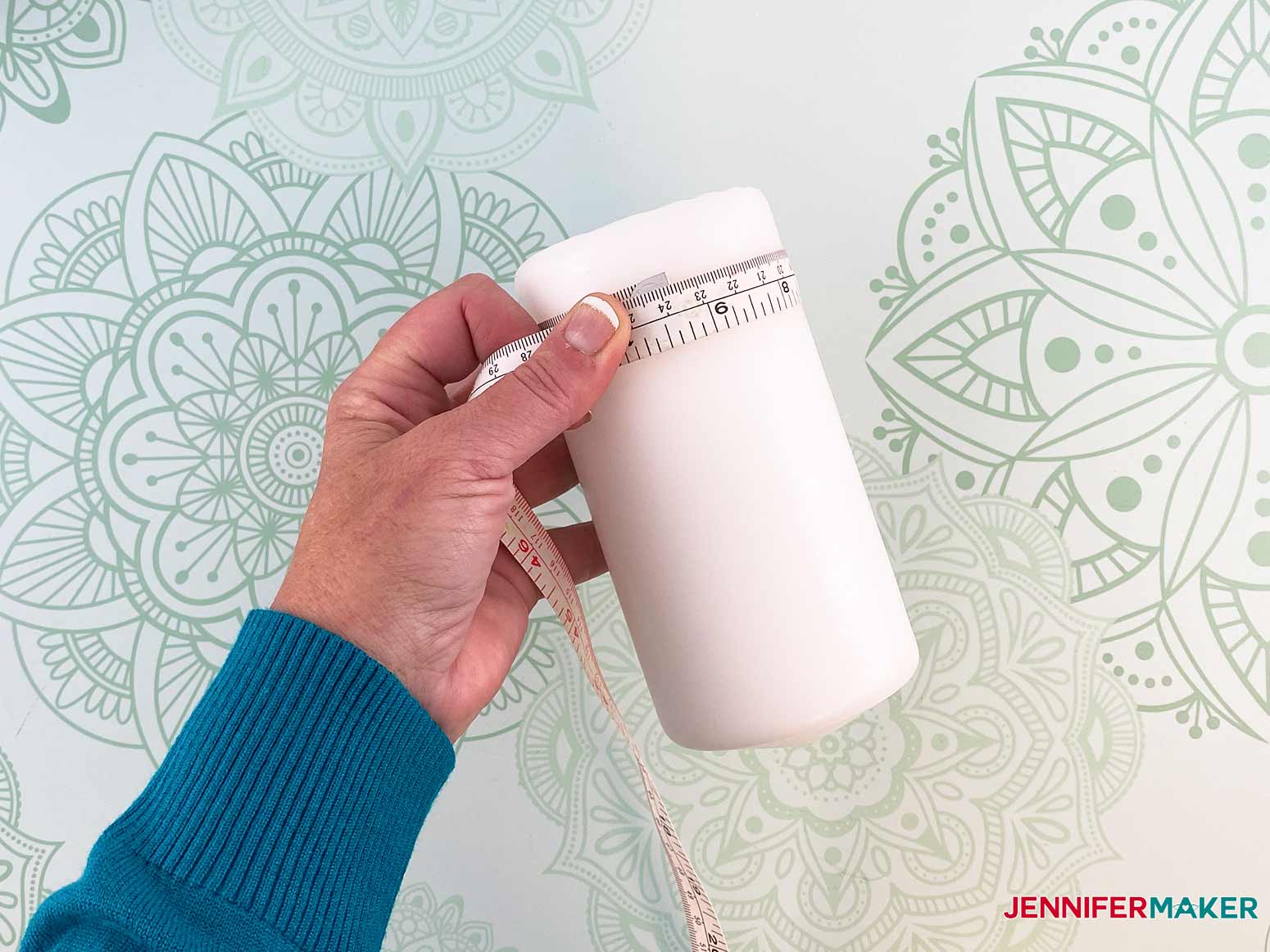 Measure the height of the candle. Cut a piece of decorative tissue that is the height and circumference of your candle.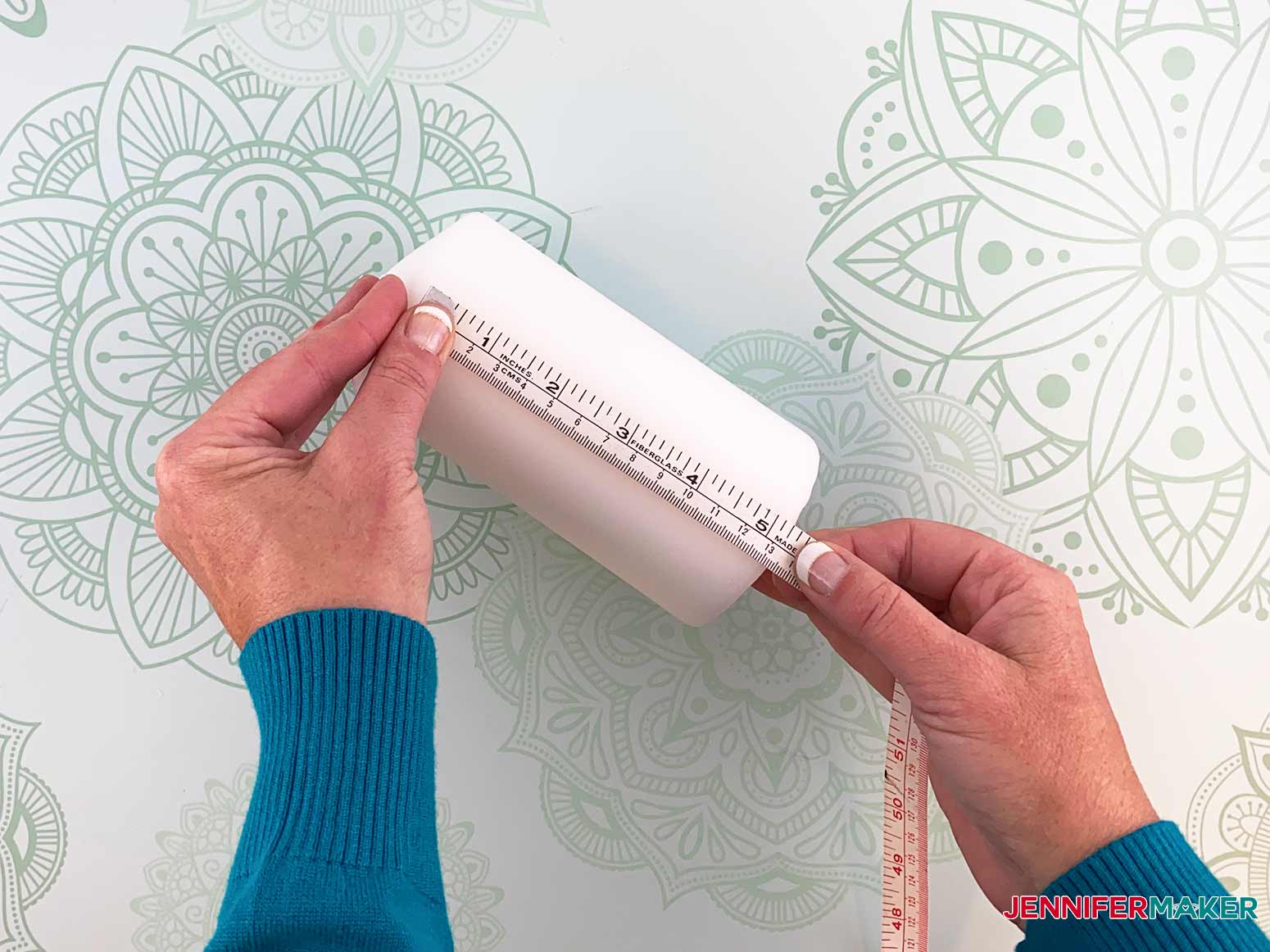 Wrap the tissue paper around the candle then wrap a piece of wax paper over the tissue paper and begin heating with your heat gun,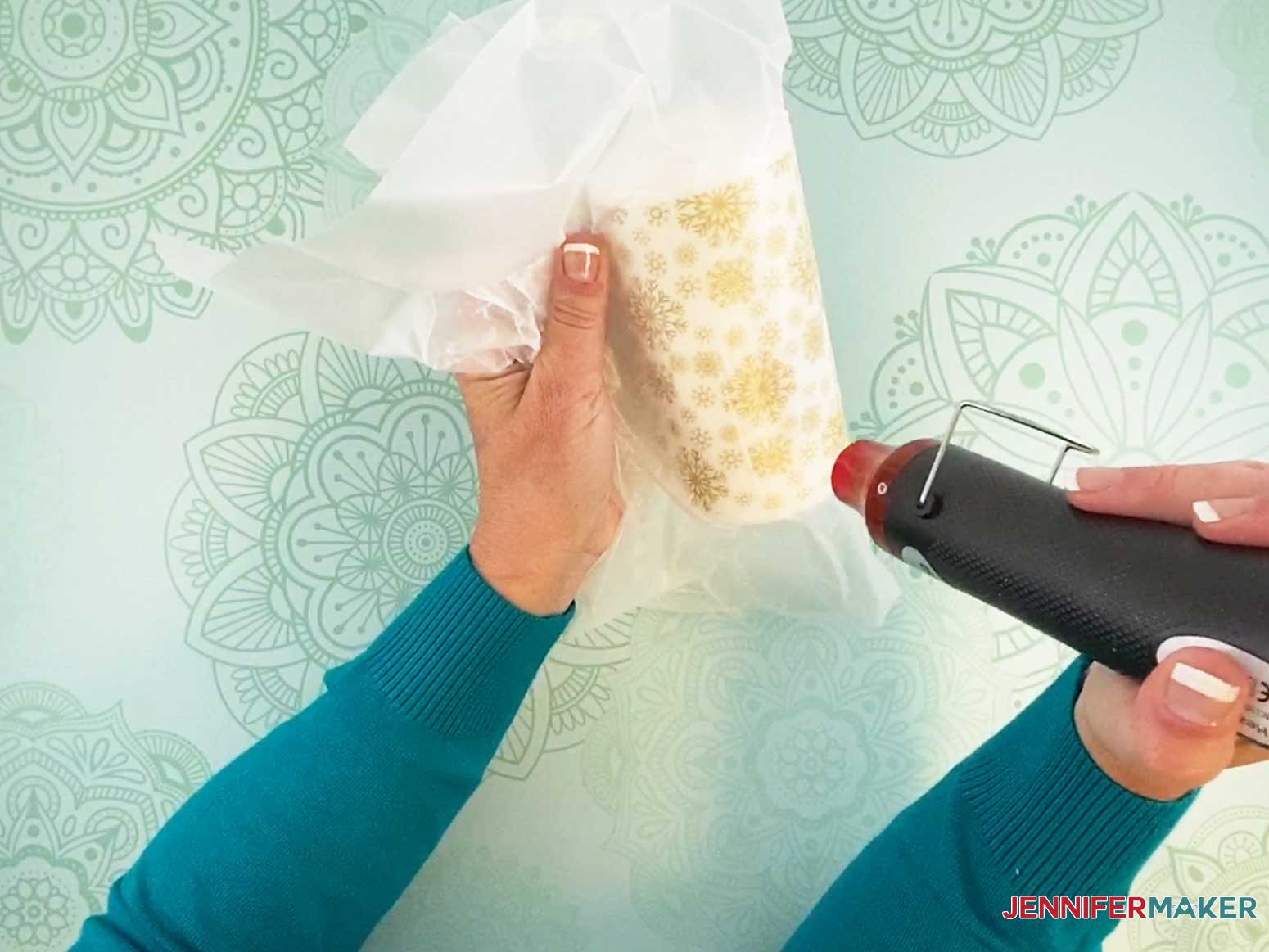 When you are done heating remove the wax paper from the candle.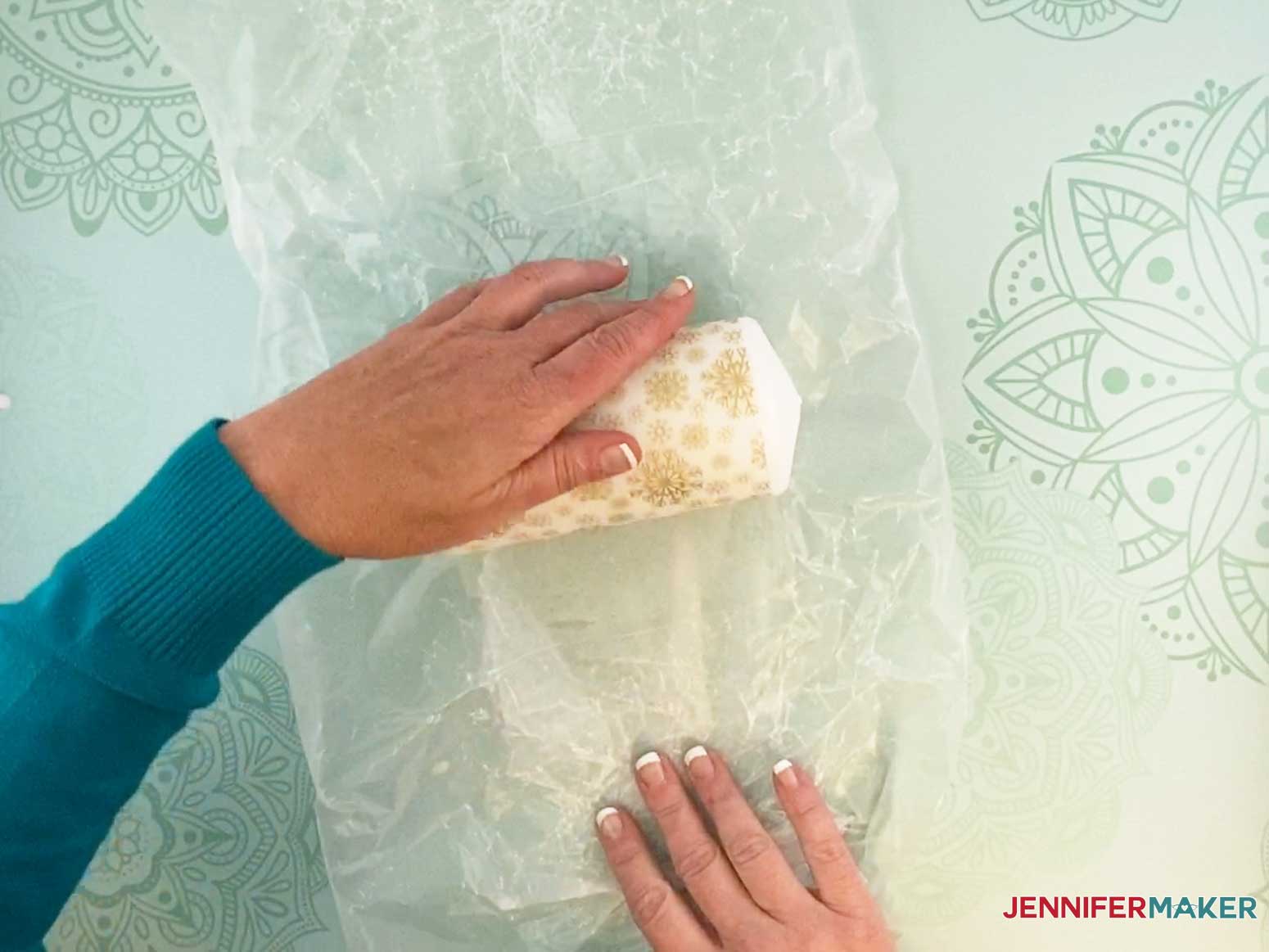 STEP 5: Show it Off
This is what my personalized candle with decorative tissue paper looks like.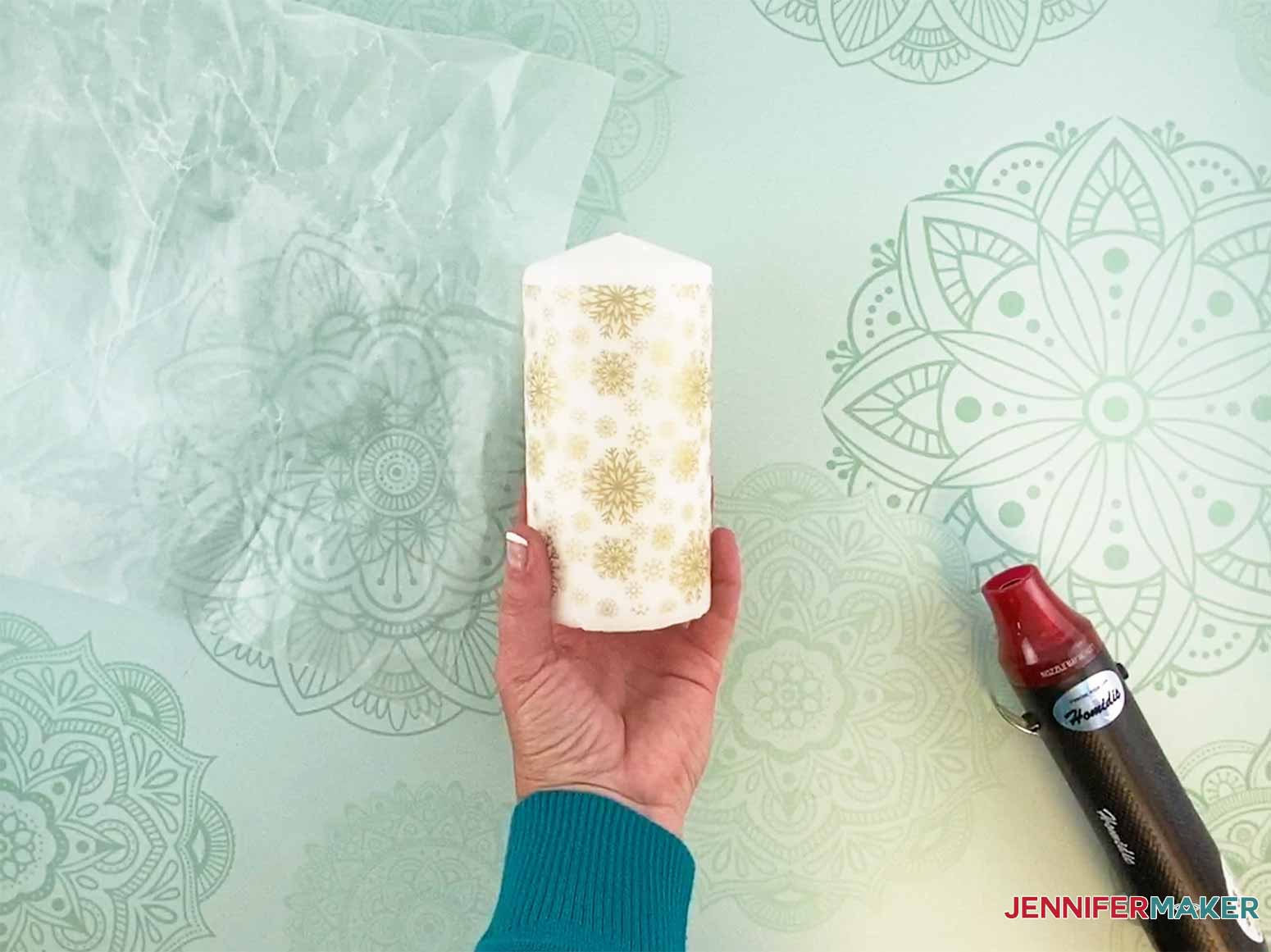 I even made a small pillar candle using another piece of tissue paper.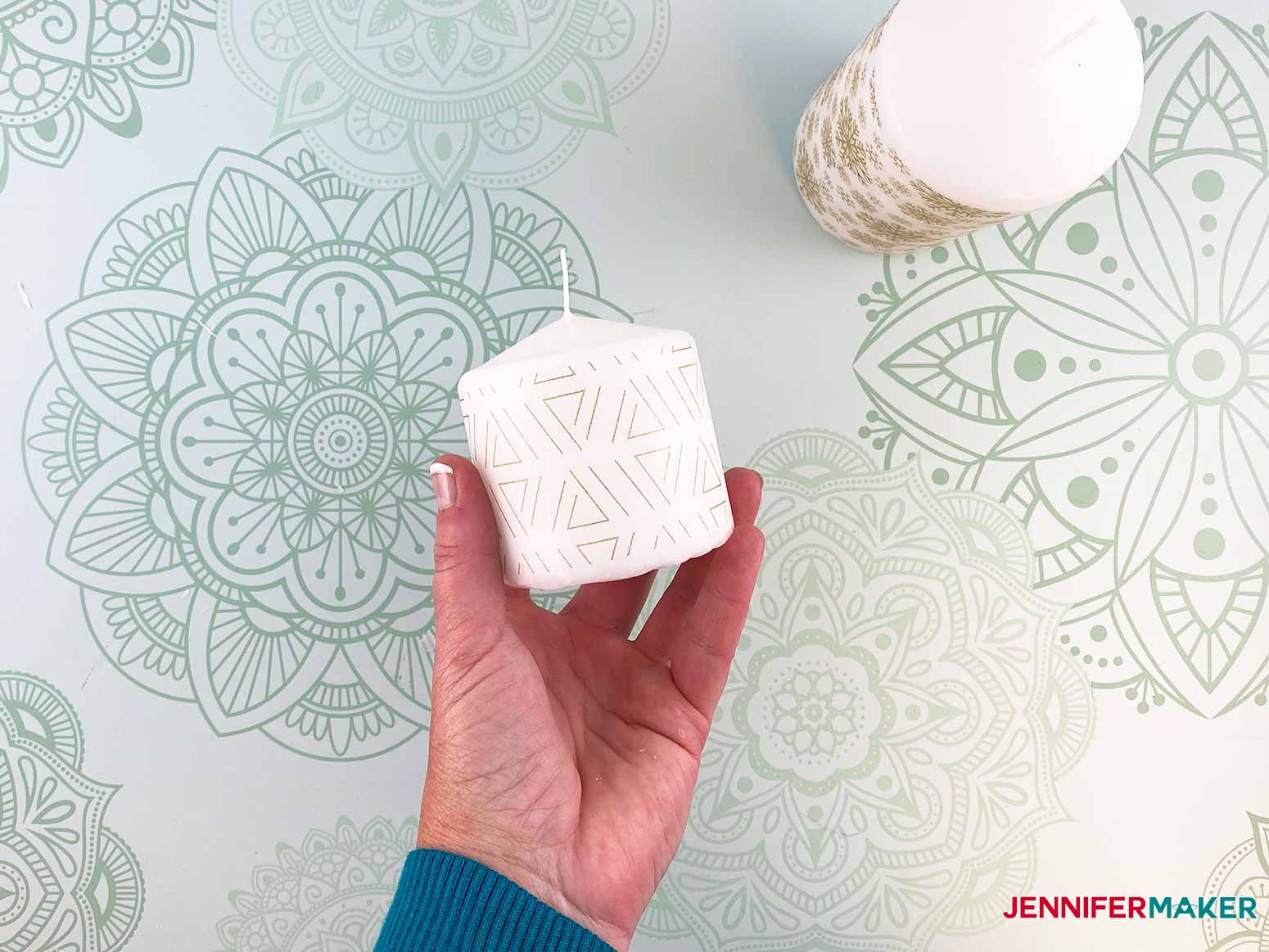 These are easy to make and the design possibilities are endless.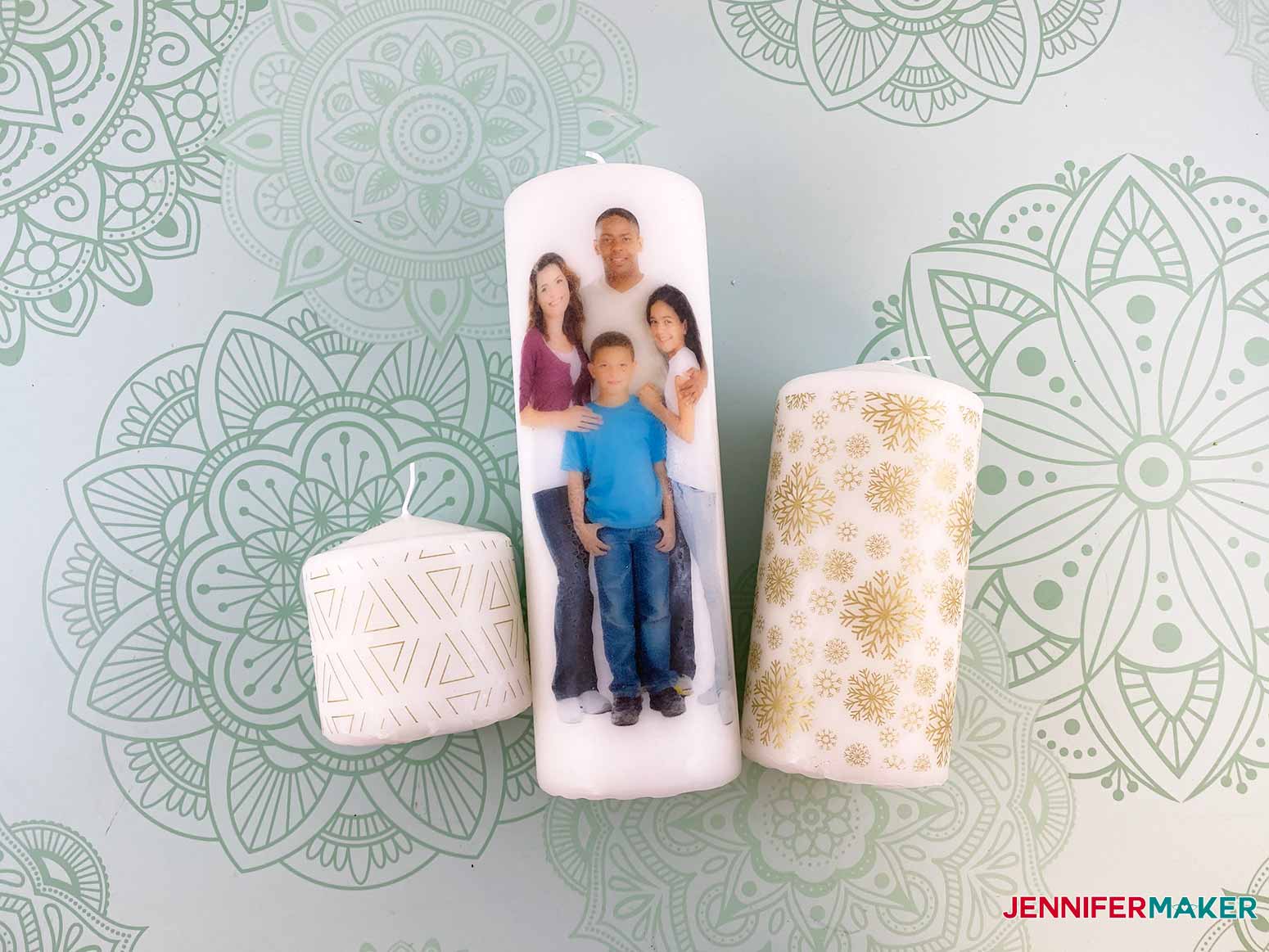 Notes
ACKNOWLEDGMENTS
Special thanks to the JenniferMaker Design Fairy Team, specifically Design Fairy Caitlin, for helping me design and assemble this awesome project.
Answers to Your Questions About DIY Personalized Candles
Q: Can you use other color candles?
If you use dark candles, you might not be able to see your image very well! You will also see the outline of the tissue paper. Other color candles will have different results, but you could sure try!
Q: Can you use photo paper?
No. You will need to use tissue paper because it can be melted into the wax.
Q: Can you use a laser printer?
I have not used a laser printer, I have only used an inkjet printer for this project. But, I would think that it would be possible to use a laser printer! The key is to print on to tissue paper!
Q: Can you use fake candles?
Yes, but only if they are made from wax with the LED inside. You really need the wax candles because you are melting the tissue paper into the wax!
Q: Can you use the print then cut on the Cricut?
Yes! On the Cricut Maker you would use the rotary blade. This will not work on the Cricut Explore or the the Cricut Joy though because you can't use the rotary blade!
Q: What printer do I need?
We recommend the HP Envy 7155! I've used one for many years now, and it does everything that you need for any printing project with a Cricut! If you'd like more information about it, you can find it in My Favorite Things blog post!
Q: Can I burn these candles after decorating them?
We've experimented with that, and it seems to be fine to burn them! As with all candles, though, you should always keep an eye on them while they are lit to make sure nothing happens!

Get my free SVG files to Make DIY Personalized Candles
I'd love to see your DIY Personalized Candles. Please share a photo in our Facebook group or tag me on social media with #jennifermaker.
See all of the projects, tutorials, and free designs in The Great Maker 25-Day Gift-Away Challenge!
Love,