Learn how to make rhinestone templates with Cricut!

Calling all sparkle lovers! Have you ever wished you could add some bling to your wardrobe? You all loved my glitter heart mandala T-shirt, so now we're dialing up the dazzle with rhinestones! My new rhinestone templates with Cricut tutorial makes creating stunning rhinestone T-shirts easy and fun! You can cut my gorgeous rose heart design on a Cricut Maker or Explore series, and I'll show you how to create your own rhinestone design templates that can be cut on all machines, including the Cricut Joy! This tutorial is for beginners, and I'll walk you through the whole process from start to finish so you don't miss a step.
Want to save this project? Enter your email below and we'll send the project straight to your inbox.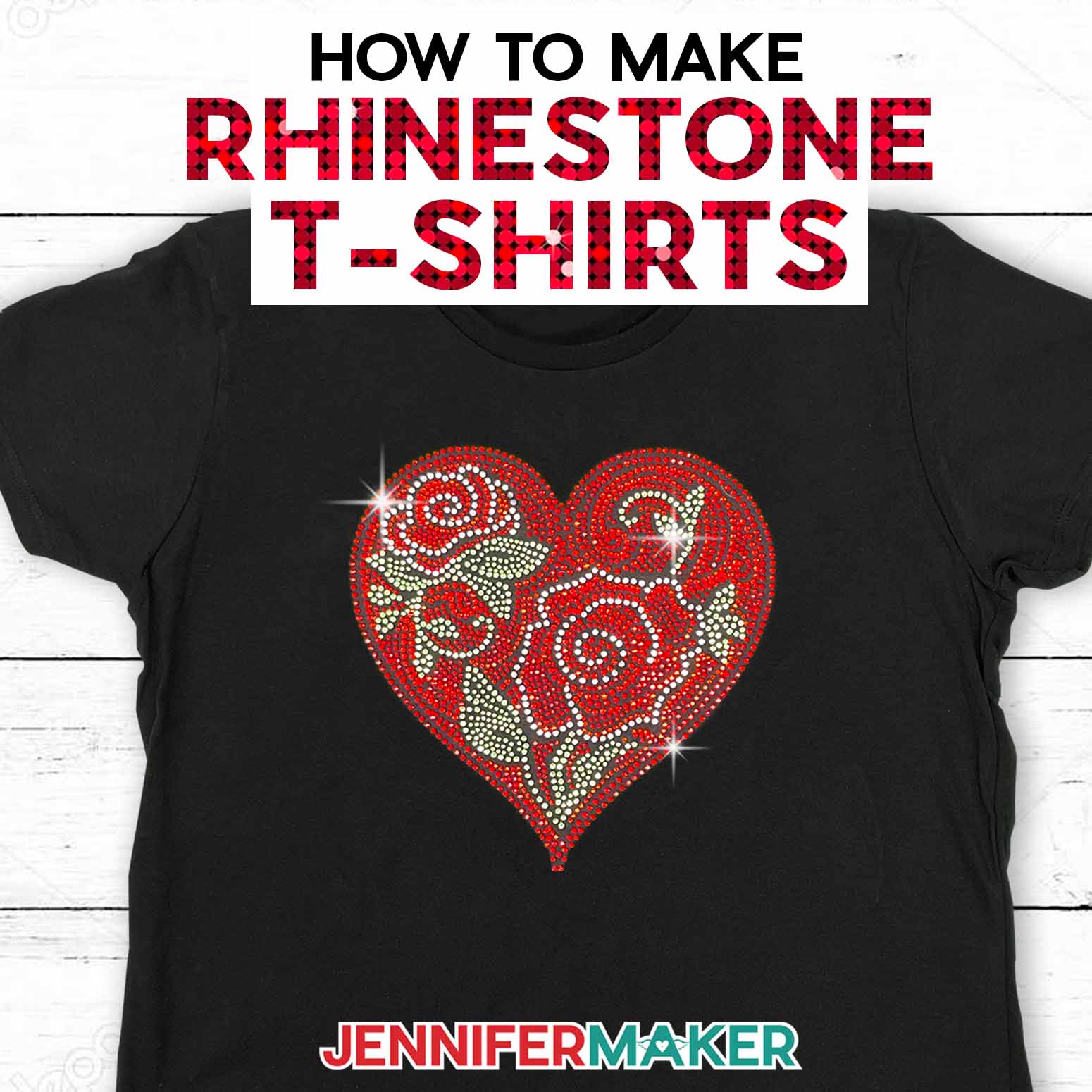 See the full step-by-step video tutorial on how to make rhinestone templates with Cricut:
I love discovering unique new ways to customize T-shirts, so when I stumbled upon some tees with gorgeous rhinestone appliqués, I thought: "Hey, I can make that!" Designing and creating a rhinestone T-shirt was easier than I thought, and the results were just beautiful! So, I knew I had to share what I'd learned so you could make them too! If you're ready to add some major bling to your wardrobe, you're going to love this tutorial.
First we'll start with my rose heart rhinestone template, then I'll show you how to make your own rhinestone template design in Cricut Design Space. That's right, there's no fancy software needed; you can make and cut the whole template in the same program. Cool, huh? I can't wait to share everything I learned so you can get dazzling results your first time.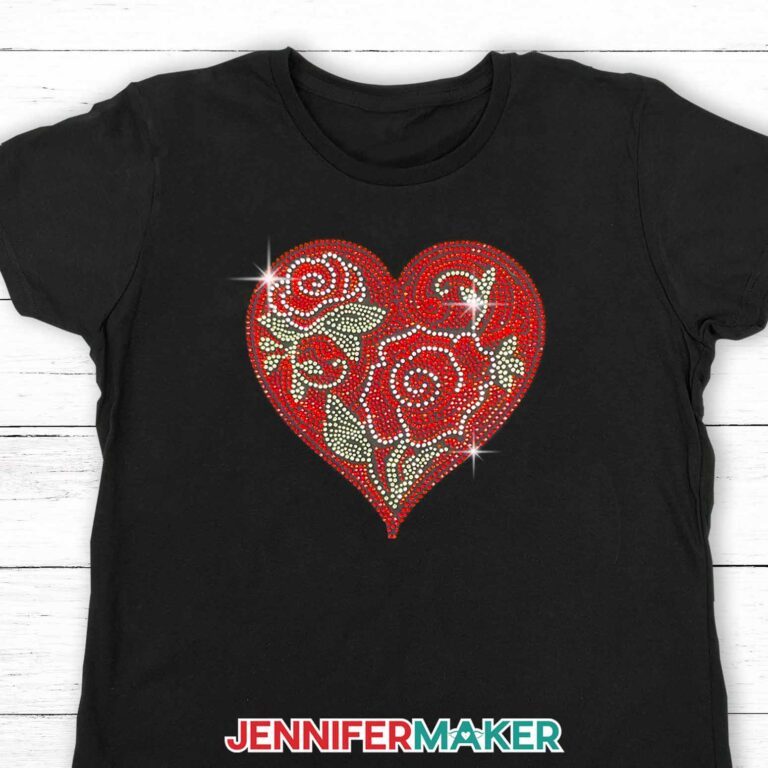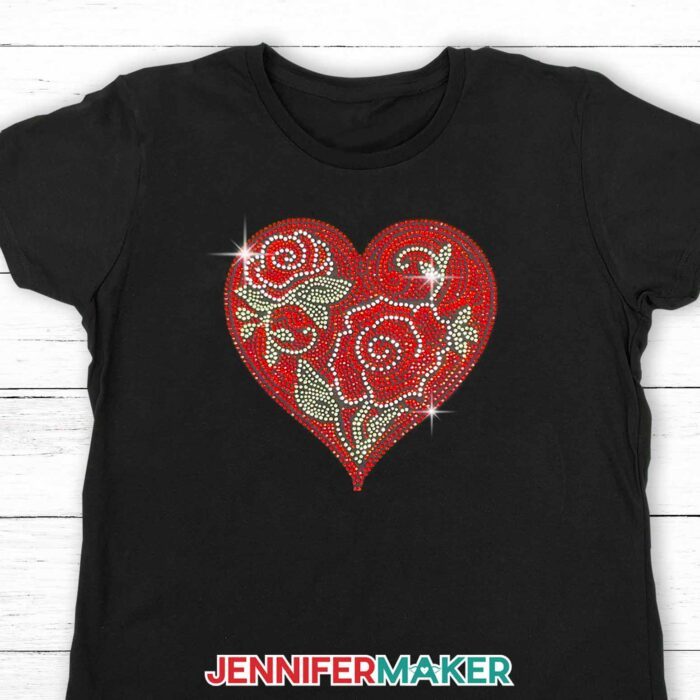 My heart-shaped rose design uses a total of seven separate templates – one for each different color or size rhinestone. Splitting the design up into separate templates helps make sure the right rhinestones go in the right spots. It helps for easy application with your heat press too, since we'll be heat-applying each template one at a time.
Cutting your template on your Cricut makes the process super easy, and you can use any Cricut cutting machine to make rhinestone templates. You can even use the Cricut Joy for custom mini rhinestone designs.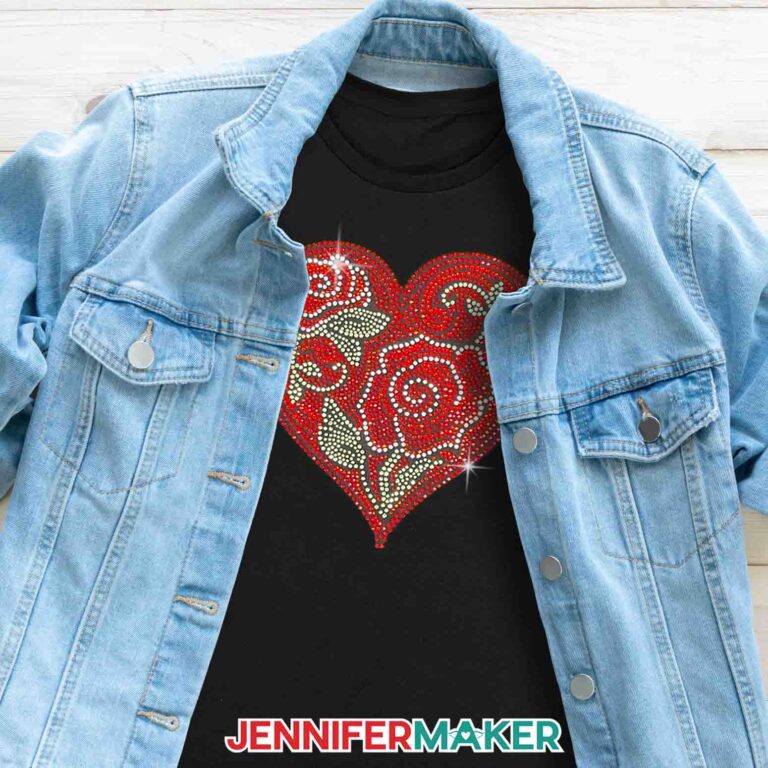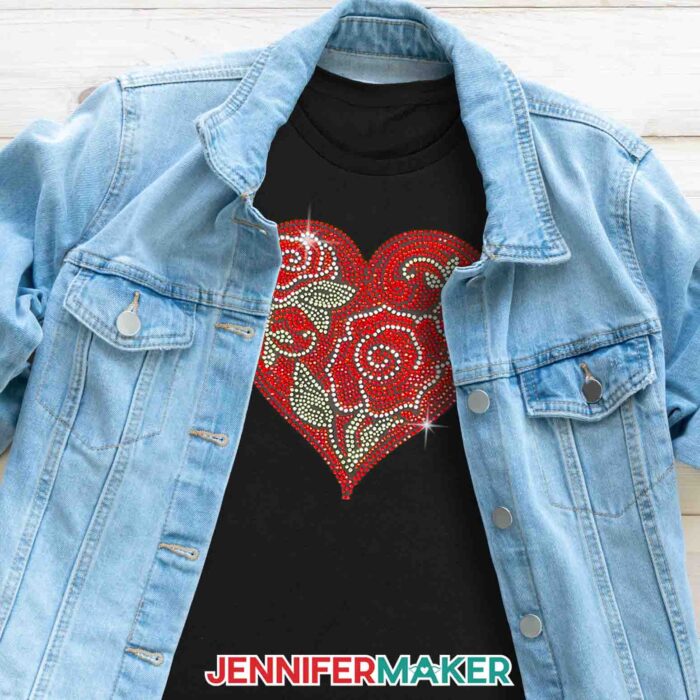 To make our template, we'll use flock material, which feels a lot like thin felt. I'll show you two different methods of cutting the flock on your Cricut – the manufacturer's method and the method that I prefer. You may think you need a special blade to cut your flock, but I'll show you how to adjust your settings to cut it with your Cricut's regular fine-point blade! I'll also share a bonus tip for using transfer tape to make weeding your flock so much quicker and easier (plus a secret tip for managing the mess of all those weeded holes).
And don't worry about eyeballing the placement of your rhinestones – I've included holes for rhinestone guides in each template, so you'll have no trouble lining up each layer perfectly!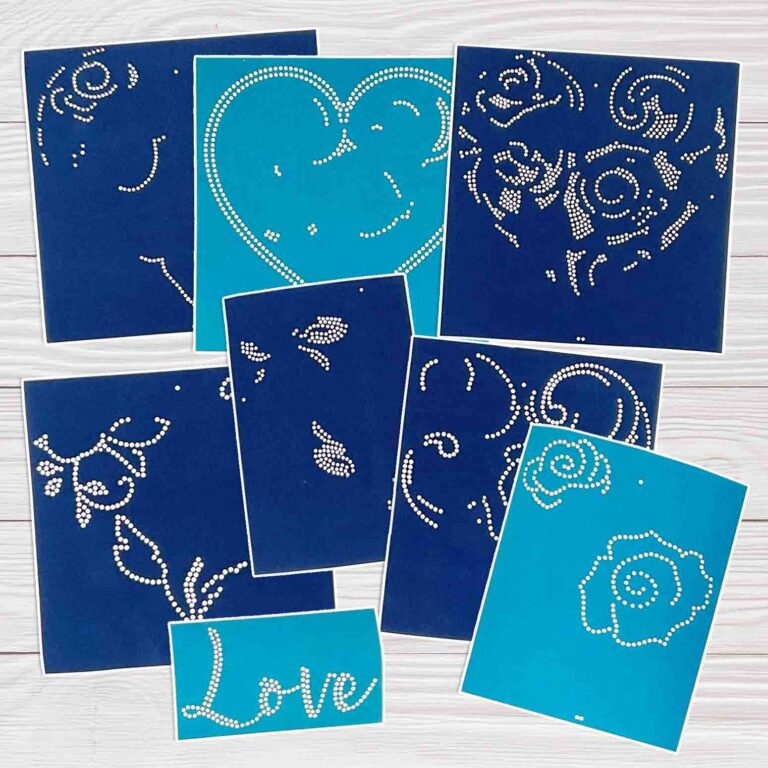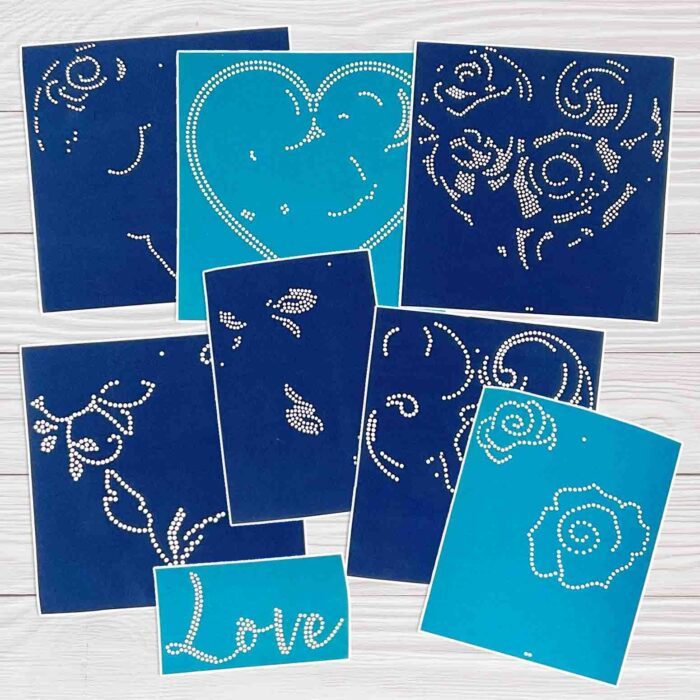 Lastly, I'll show you how to create your own customized rhinestone templates in Cricut Design Space using a really neat rhinestone font designed just for projects like this! You'll learn all about how to size your template the right way to fit your rhinestones, so there's no surprises or frustration when it's time to turn up the bling on your T-shirts.
I'm already dreaming up so many fun color combinations and design ideas, and can't wait to bring more stunningly sparkly ideas to life!
Ready to make your own rhinestone shirts? This post contains some affiliate links for your convenience (which means if you make a purchase after clicking a link I will earn a small commission but it won't cost you a penny more)! Read my full disclosure policy.
Materials & Tools to Make Rhinestone Templates with Cricut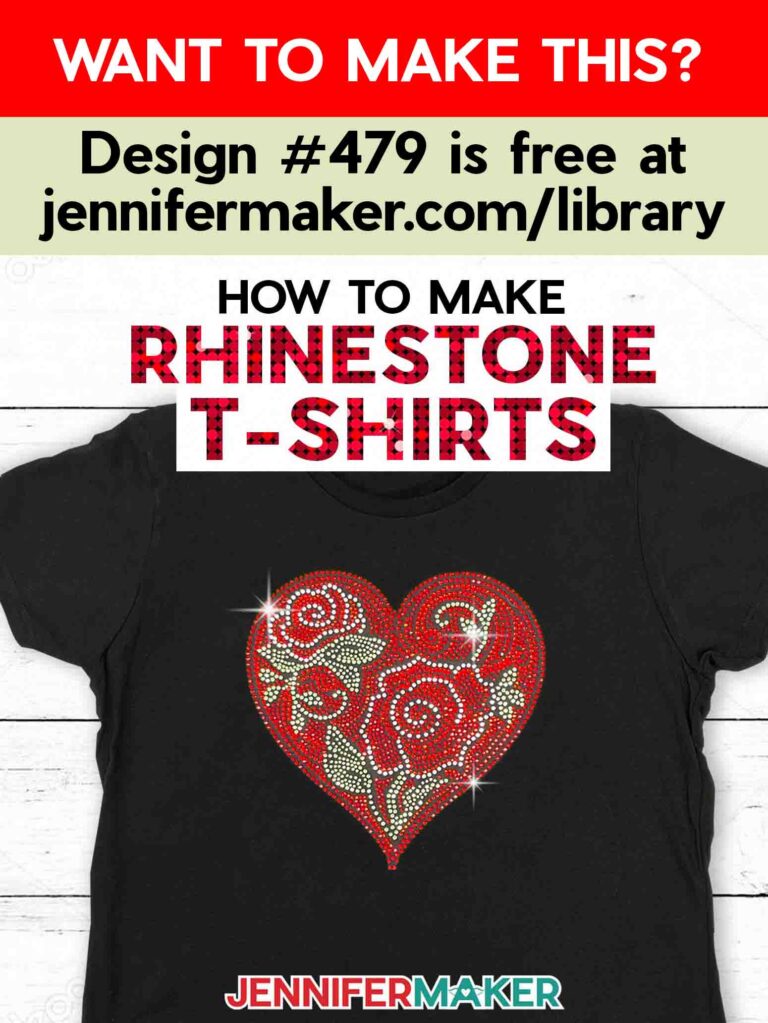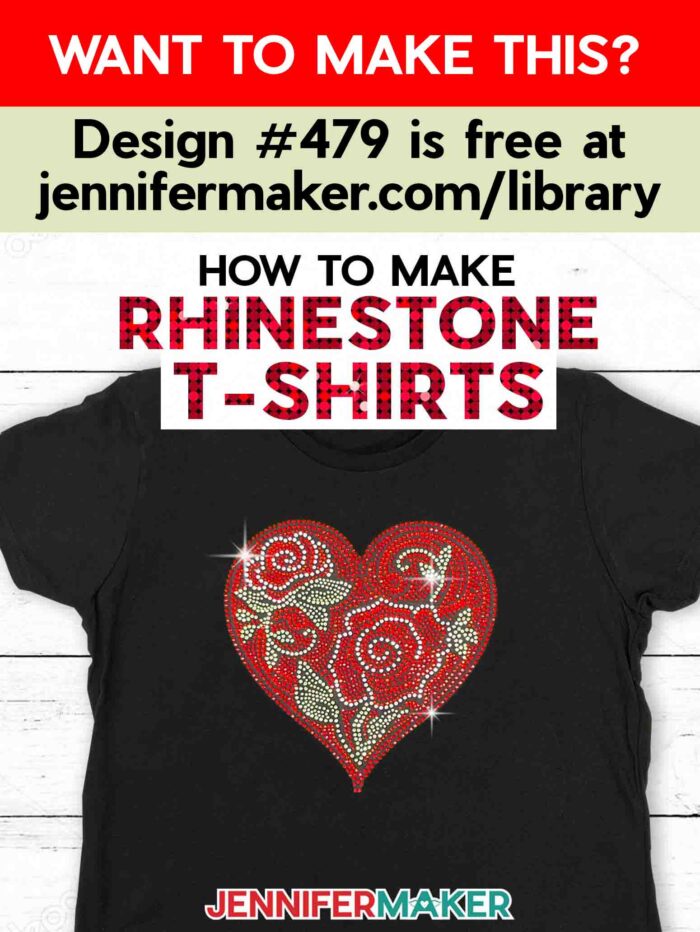 How to Make Rhinestone Templates with Cricut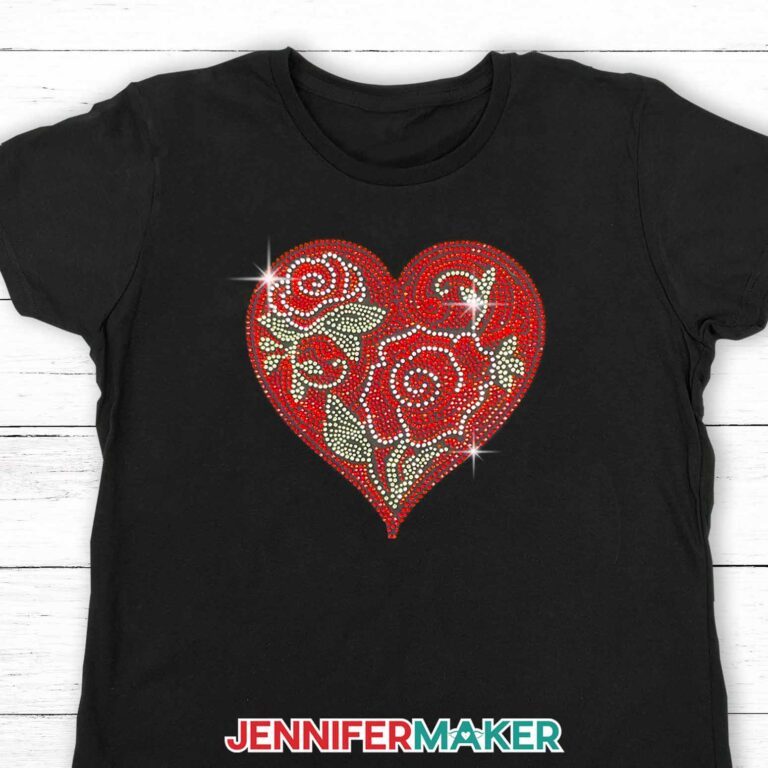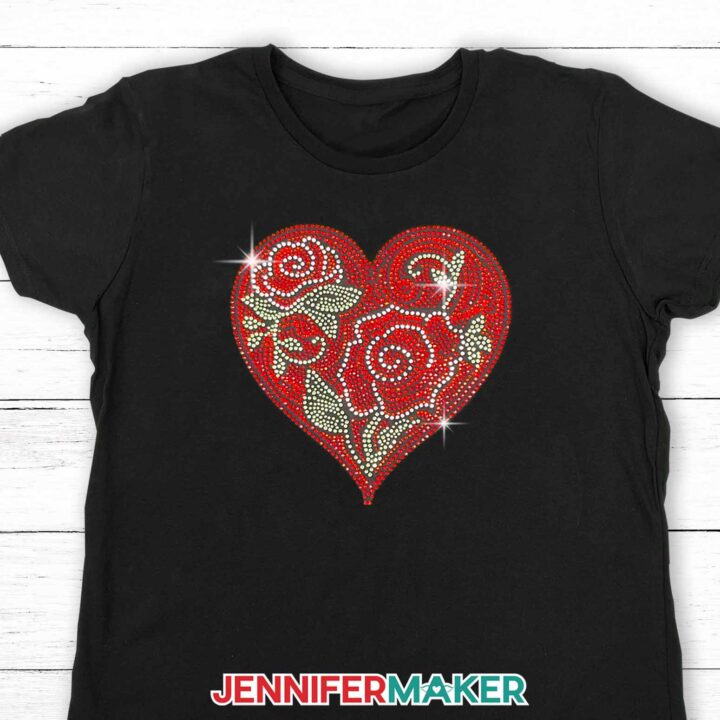 Rhinestone Templates With Cricut
Learn how to use your Cricut to size and cut rhinestone templates to add bling to your t-shirts!
Answers to Your Questions About How to Make a Rhinestone Template on Cricut
Q. Can a Cricut create rhinestone templates?
A: Absolutely! Once I show you how to apply my rose heart rhinestone design, I'll walk you through the entire process of creating your own rhinestone templates to cut on your Cricut cutting machine.
Q: What software can create rhinestone templates?
A: You can make rhinestone templates right in Cricut Design Space! This tutorial will walk you through every step for not only working with my design, but creating your own custom rhinestone transfer templates.
Q: What setting do you cut rhinestone flock on Cricut?
A: Your rhinestone flock material may have manufacturer's suggestions right on the packaging. I found that creating a new material setting and setting the pressure to 275, then using the fine-point blade with multiple passes turned off worked well for cutting my flock.
Q: What do you need to make rhinestone templates with Cricut?
A: Scroll up to see my complete list of materials and tools you'll need to create rhinestone transfers on any one of the Cricut machines!
Q: How do I resize a rhinestone template in Cricut Design Space?
A: The holes in the templates are created at a very specific size to let the correct size of rhinestones fall into them and onto your shirt in the right spot. It's super important that you do not change the size of the templates, otherwise your project will not turn out as expected. I will however show you how to create custom templates in your desired size!
Q: How do you press rhinestone transfers?

A: You can press your rhinestone design onto any material that can withstand heat transfers (like 100% cotton, polyester, and cotton/poly blends). I used my Cricut EasyPress to apply my rhinestone transfers, but you can use any heat press. I walk you through the entire process in my tutorial!
Q. Can you use vinyl transfer tape on rhinestones?
A: I recommend using Rhinestone Heat Transfer Material to transfer your rhinestone design to your T-shirt for pressing.
Get my free SVG files to make Rhinestone Templates with Cricut!
I'd love to see YOUR rhinestone template designs and all the sparkling T-shirt designs you make with this tutorial! Please share a photo in our Facebook group or tag me on social media with #jennifermaker.
Love,