Get the best pumpkin SVG cut files for all of your autumn projects, plus learn how to make a layered pumpkin shirt step-by-step!
It's September, which means it's time for Halloween decorations and fall crafts! And pumpkins are perfect, because they work for September, October, and November. I don't know about you, but I love decorations and crafts that I can proudly put out and wear for several months! To help you make the best projects this season, I've gathered 31 of my best and FREE pumpkin SVG files for a wide variety of crafts — everything from vinyl crafts to paper crafts! Plus, I'm sharing a brand new design — a fun pumpkin SVG for "Hello Pumpkin," because I love going to the pumpkin patch every autumn and this is the perfect thing to wear to it. My digital download is perfect for signs and shirts, and I'll show you how to make a cute shirt with it in this tutorial.
This is a Cricut Mystery Box project — it uses iron-on vinyls that you can get in the "Spooky" mystery box (affiliate link) that came out September 27, 2022. Even if the mystery box is not available when you check, you can still purchase the individual vinyls, which are all linked below in my material list. Learn more about Cricut Mystery Boxes and their contents in my Cricut Mystery Box Guide.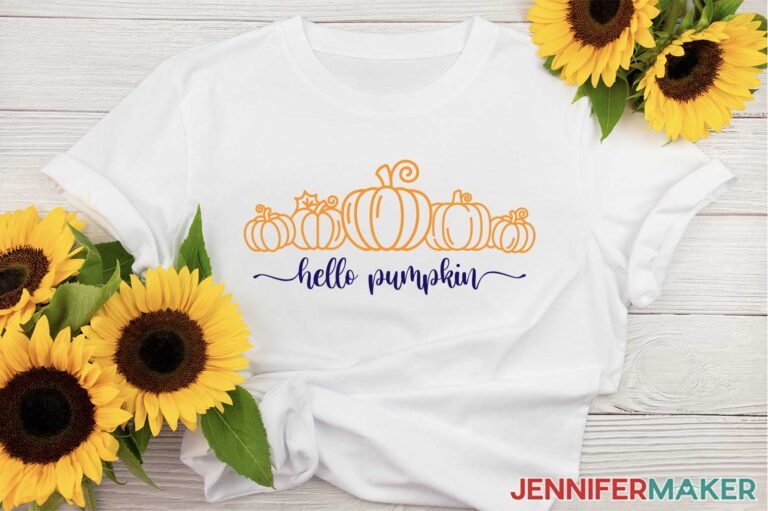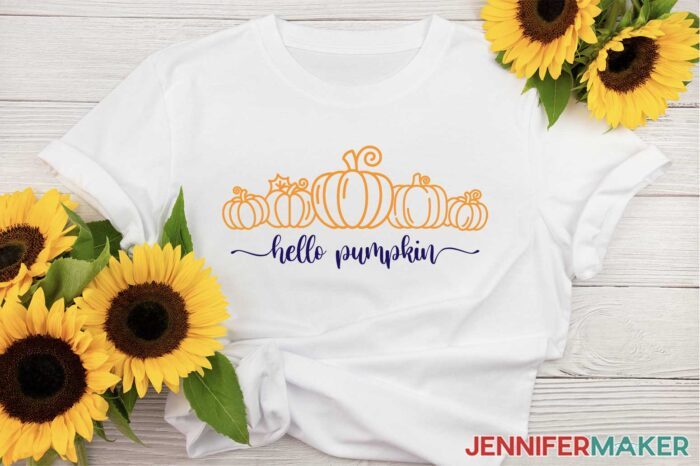 Before I show you how to make the pumpkin T-shirt, let me show you my other pumpkin SVGs so you can pick the best project for your needs! Here's a sneak peek at my pumpkin projects — click on each for more details!
3D Paper Pumpkins to "Carve"
This is a fun autumn SVG that you can use to make a 3D pumpkin with cardstock! Use one of my pumpkin designs, or carve your own pumpkin face on it with the provided designs.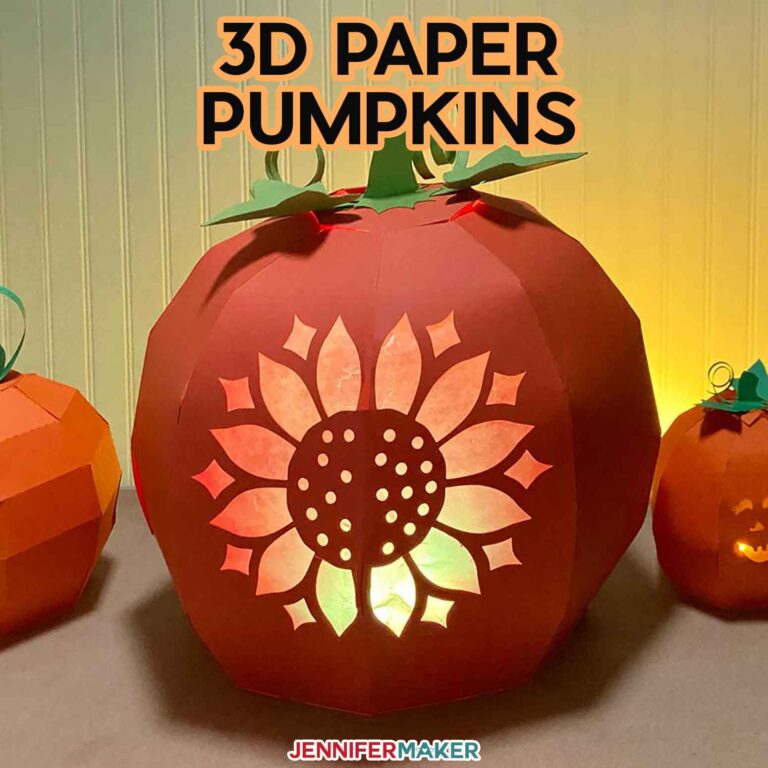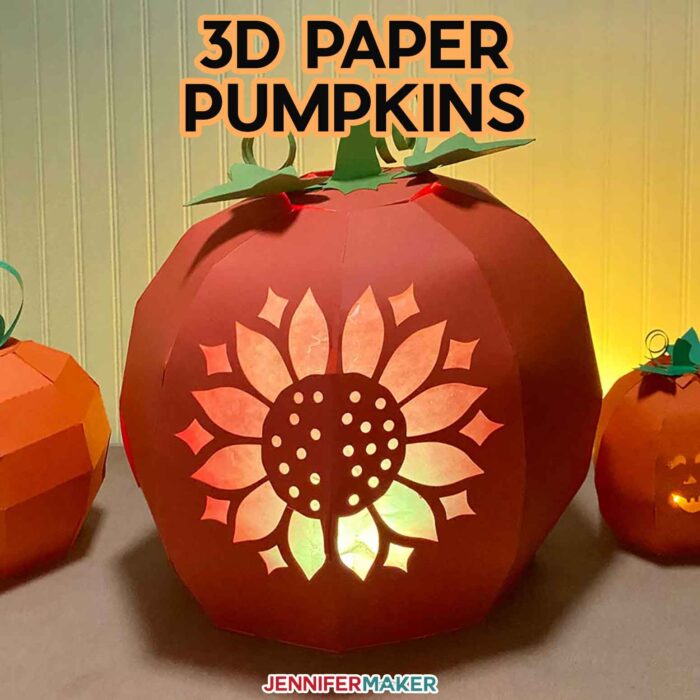 Cute Pumpkin Decals for Tumblers, T-Shirts, and More!
This Pumpkin Spice SVG is SO cute on so many things — I put it on a tumbler, but it works on shirts, mugs, and signs, too! This would make a cute Thanksgiving T-shirt, too!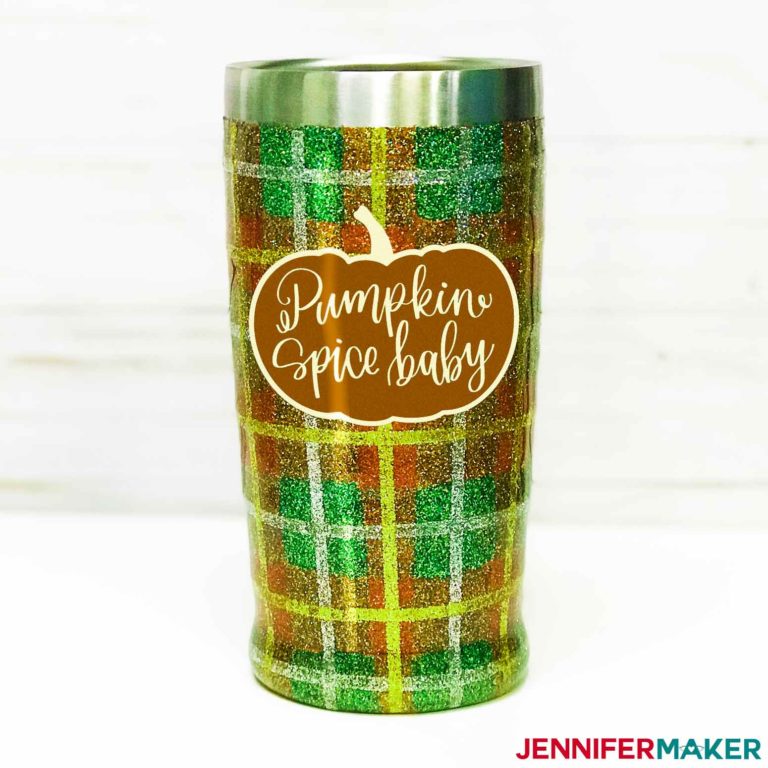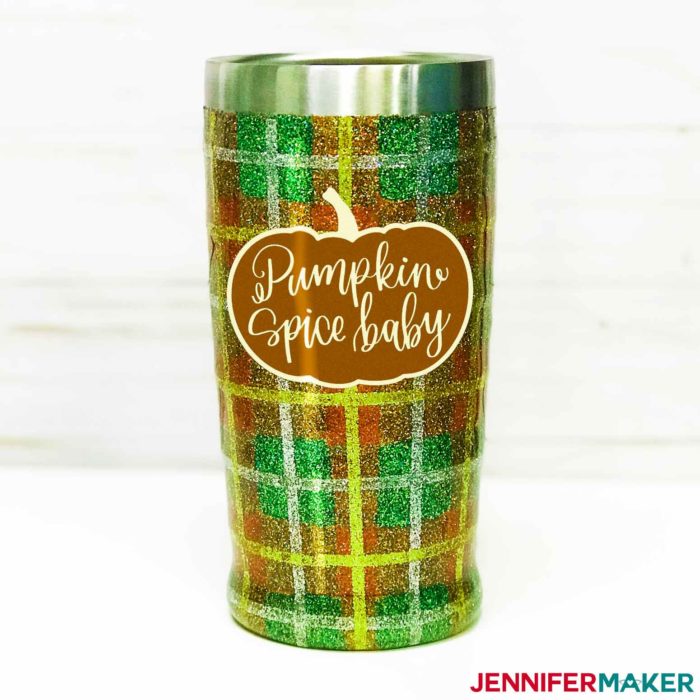 Pumpkin Pie Stuffie Pattern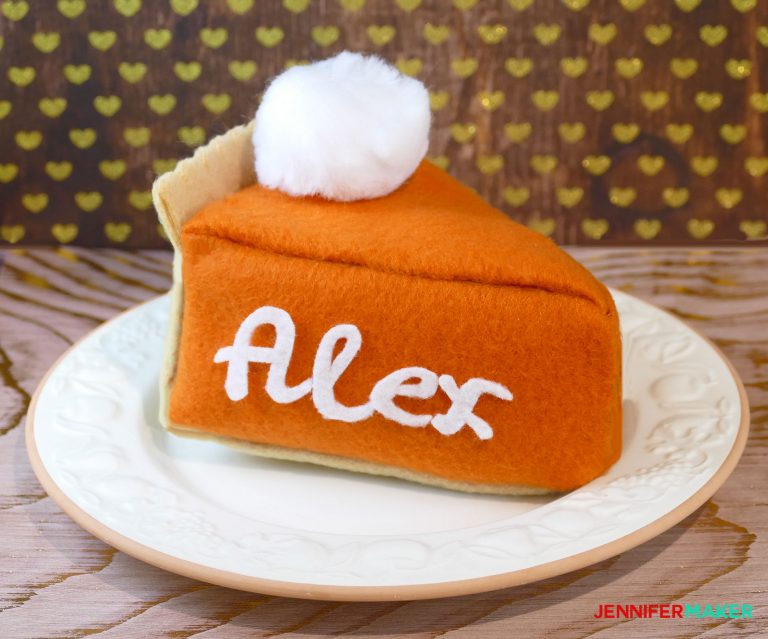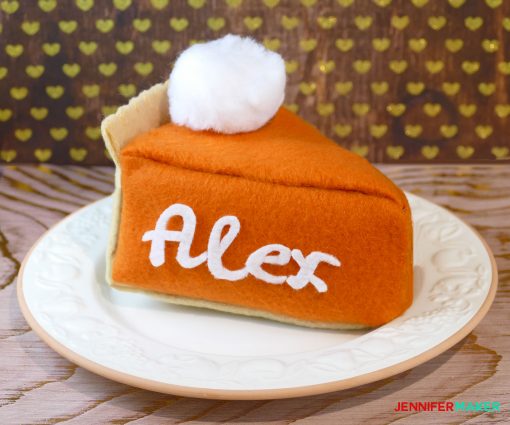 Pumpin Pie Slice Box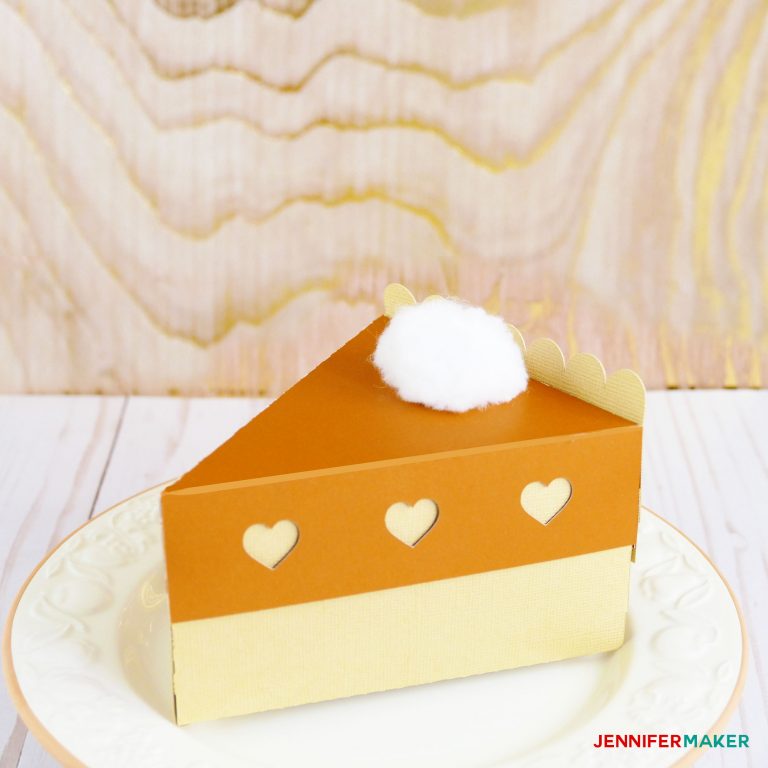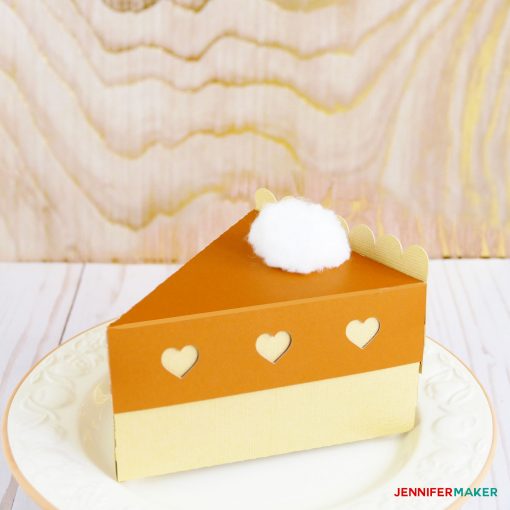 Smashing Pumpkin Paper Bomb SVG
This may be my favorite Halloween SVG — use it to create a paper toy that springs up into a pumpkin!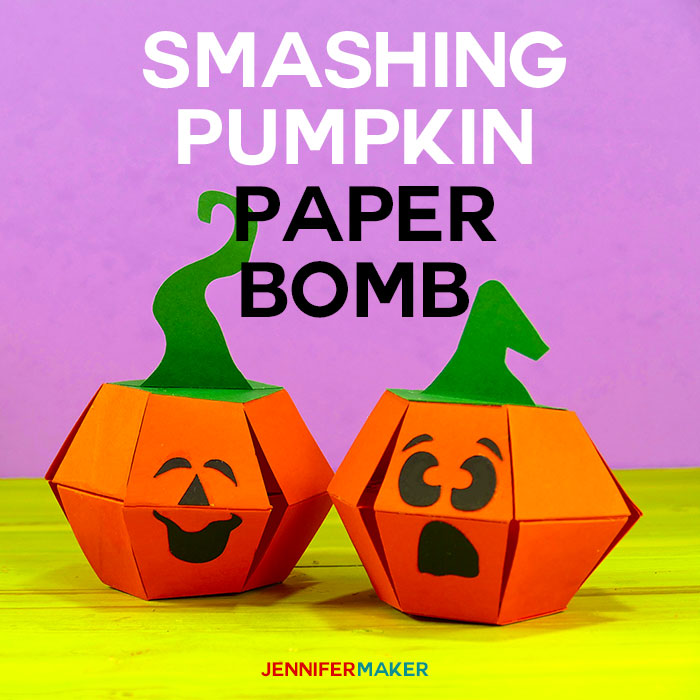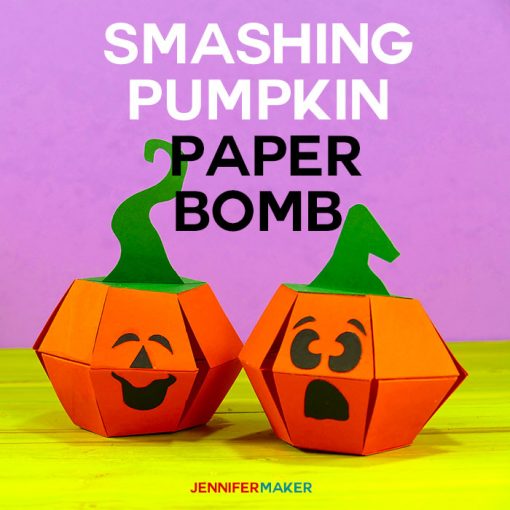 Four Fun Filigrees of Pumpkins!
These pretty pumpkins are perfect for heat transfer designs or tea towels!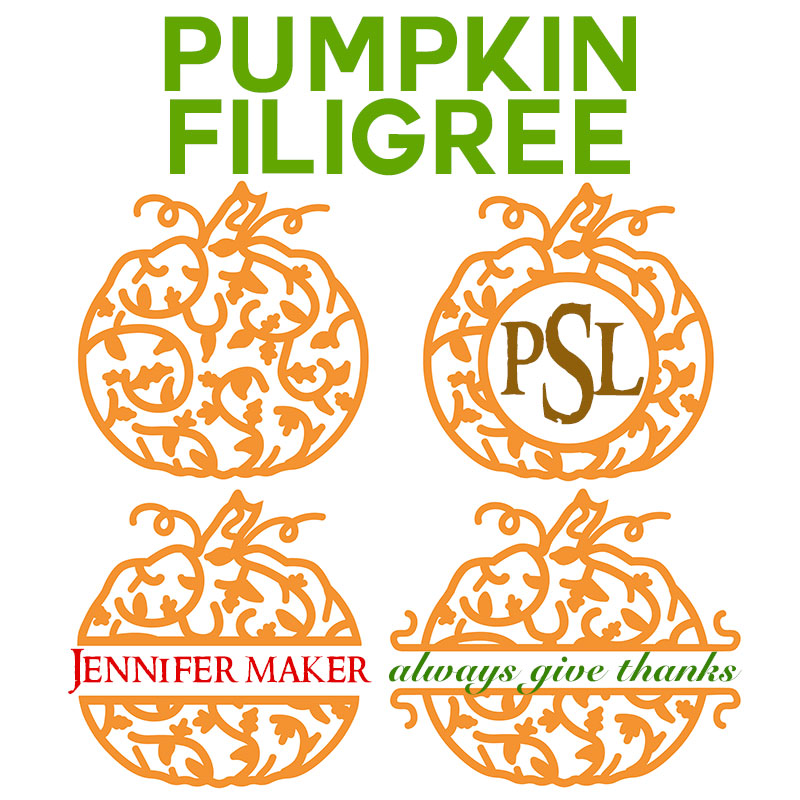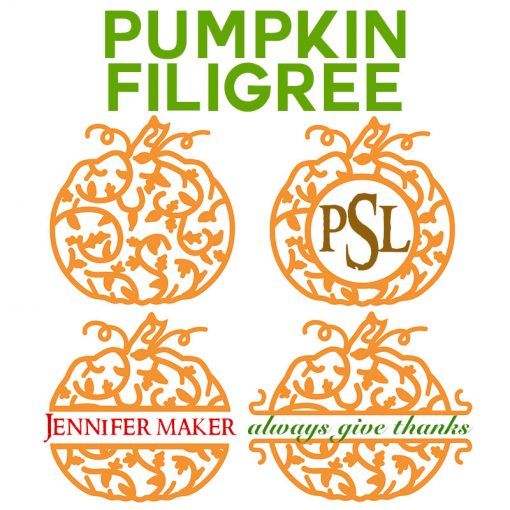 Decorate a Pumpkin with a Split Monogram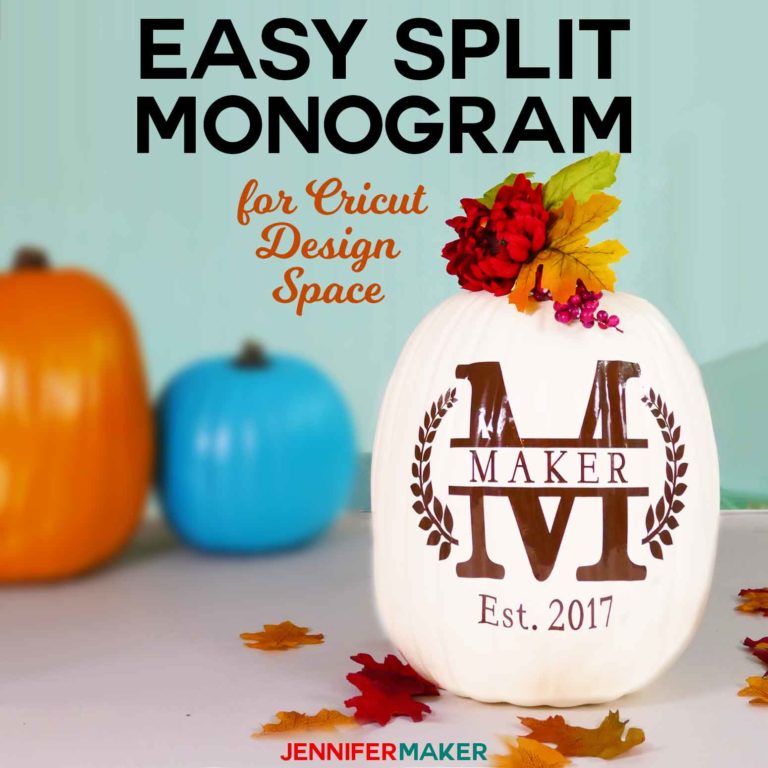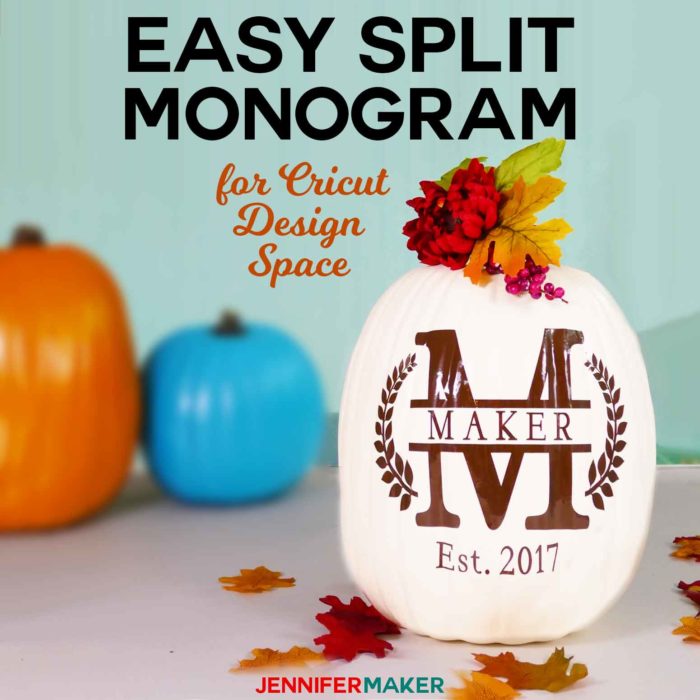 Make an Interchangeable Sign with a Pumpkin, plus More Seasonal Icons!
The best part of this project is how you can update it with the seasons … it's a cute design you can keep out all year round!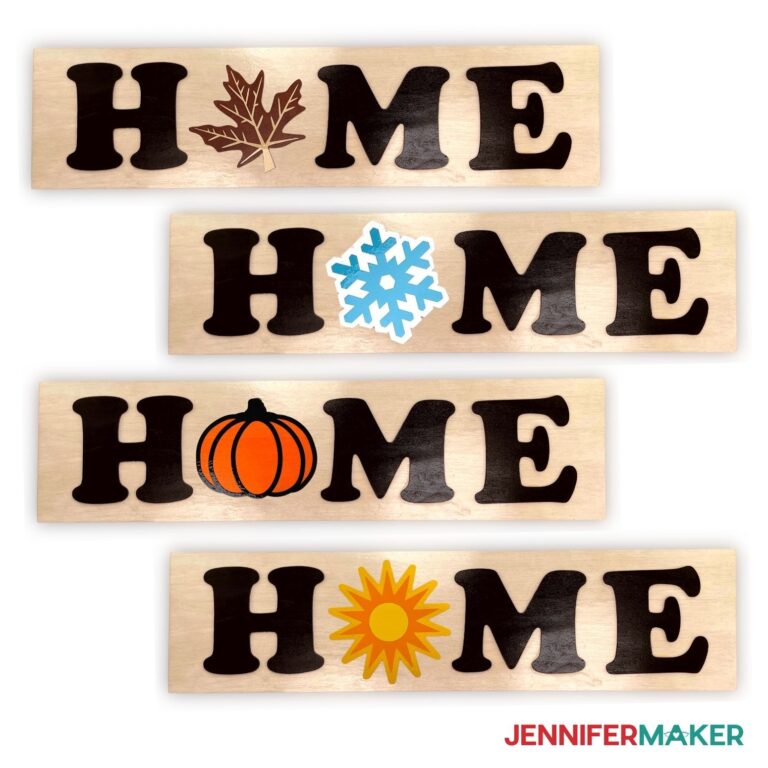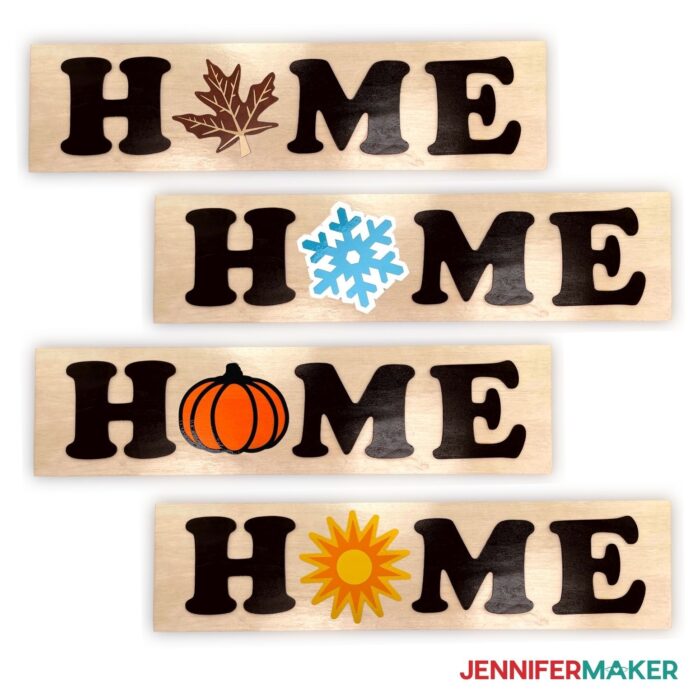 Make your own pumpkin from an old sweater!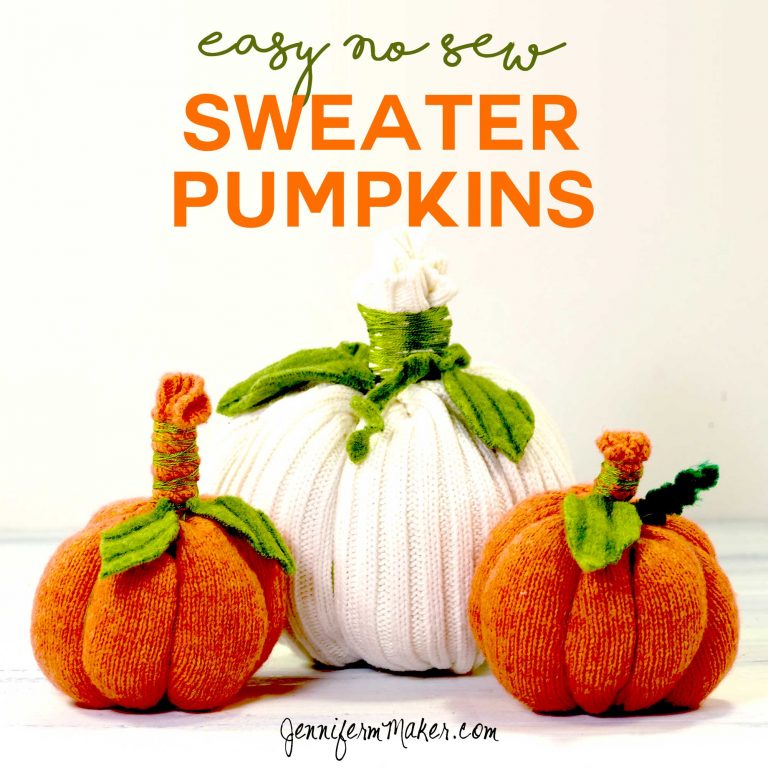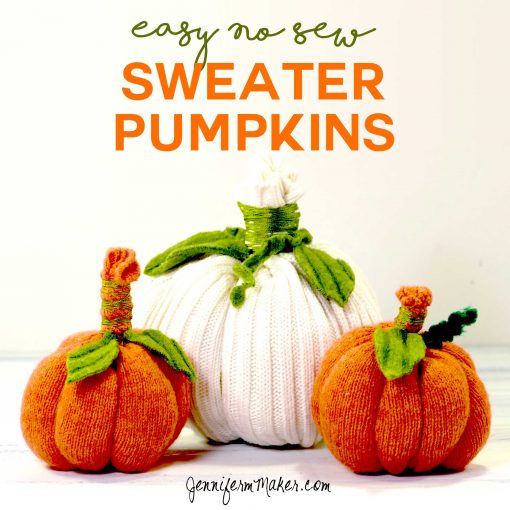 Pumpkin & Other Seasonal Stickers
These stickers aren't technically SVGs, but rather in PNG and PDF formats. Still, there's a pumpkin, plus so many more fun stickers!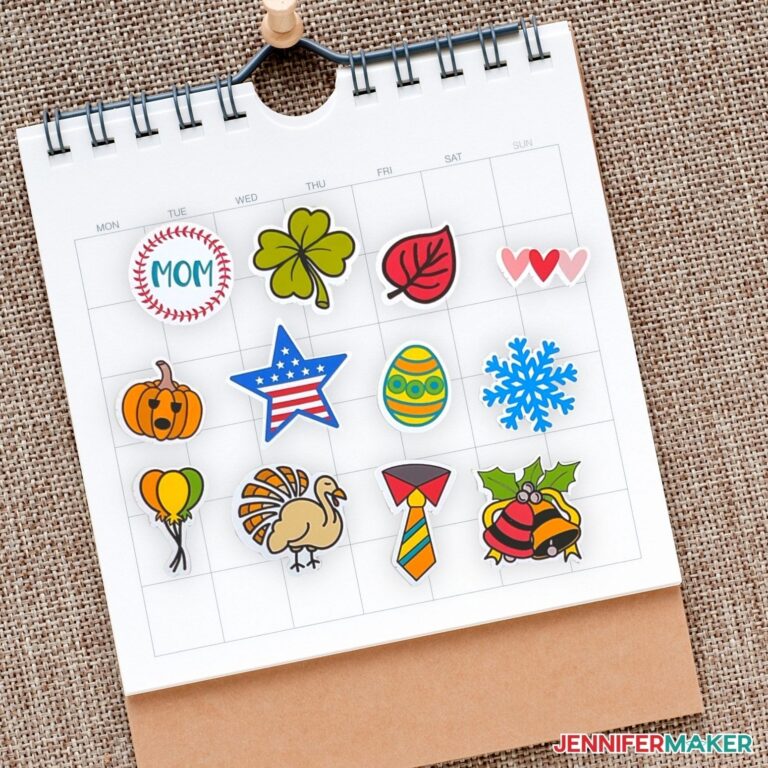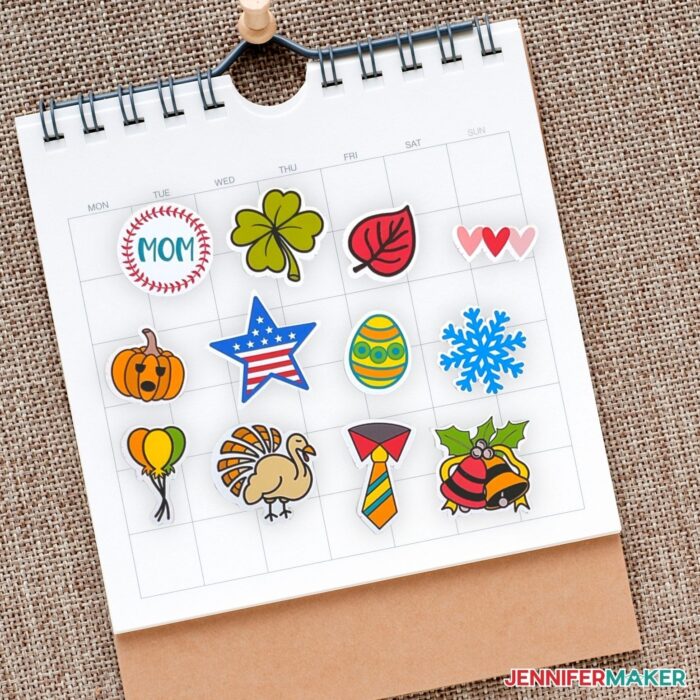 Pretty Pumpkin in Paper
I love this "Give Thanks" project, which is the perfect Thanksgiving cut file you could keep all all year round!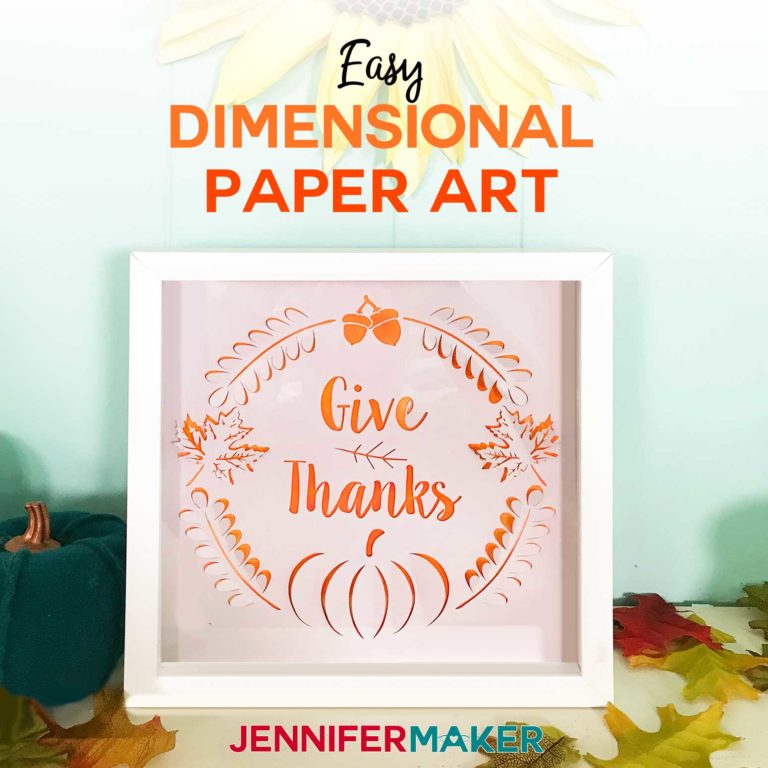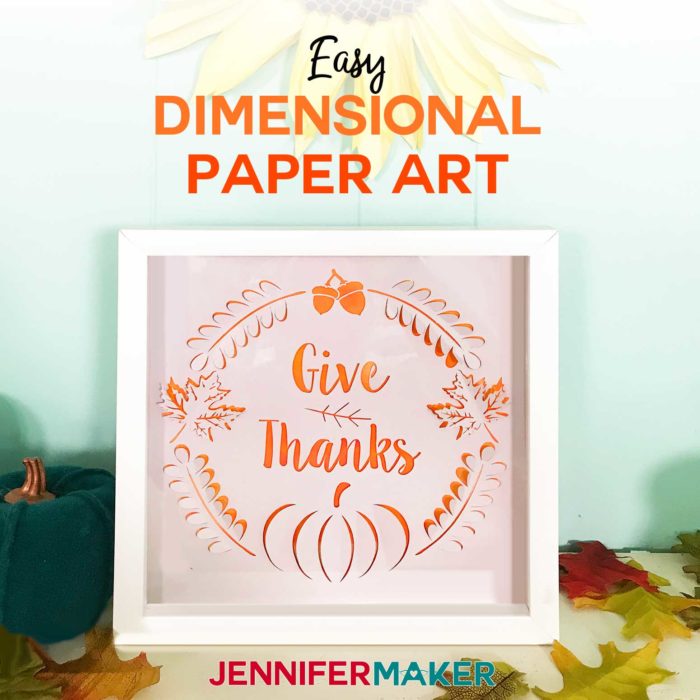 Seasonal Home Sign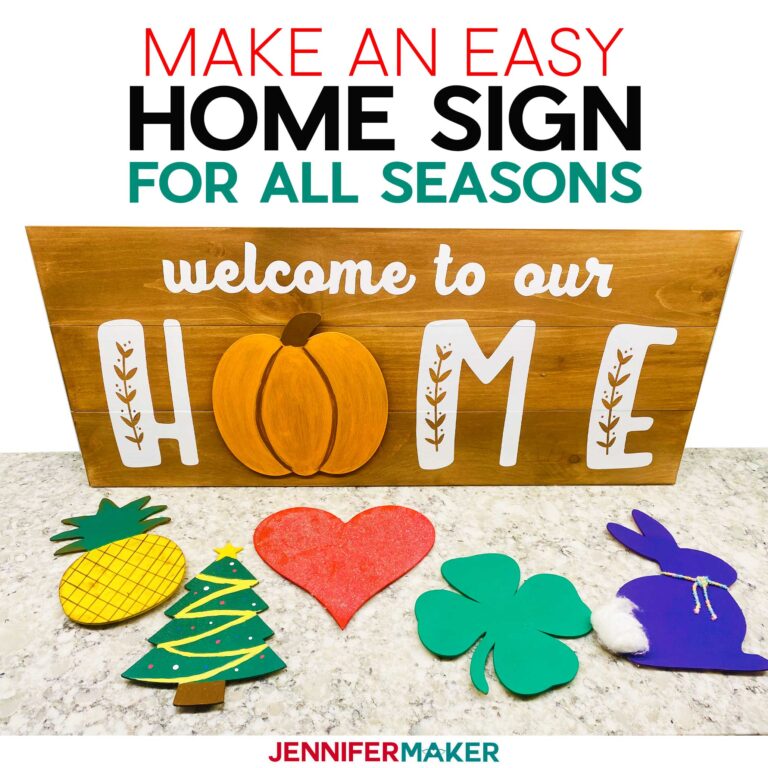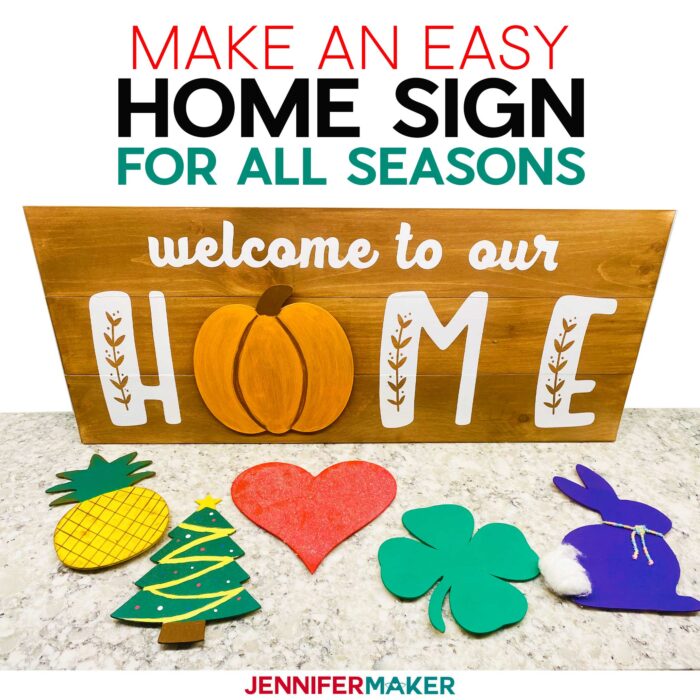 Pumpkin Home Shadow Box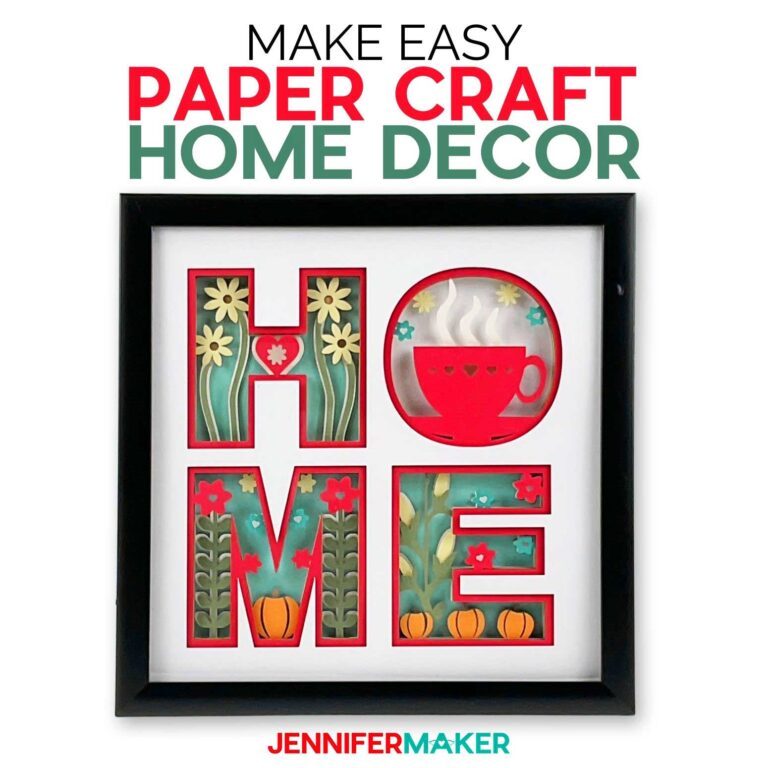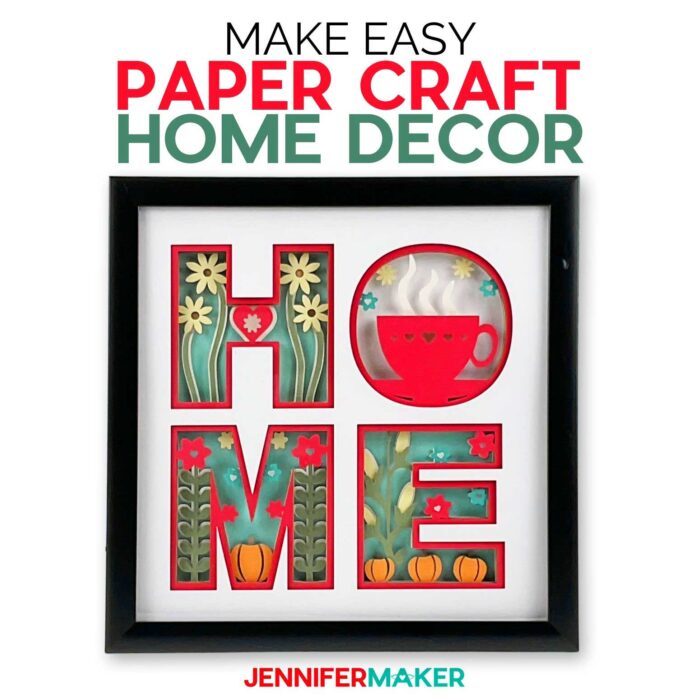 And I have so many more pumpkin SVGs, too — I gathered them all up for you!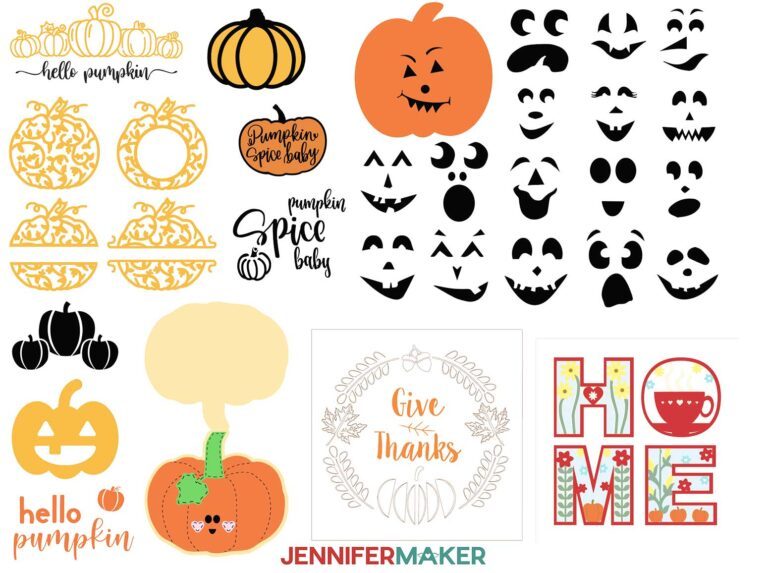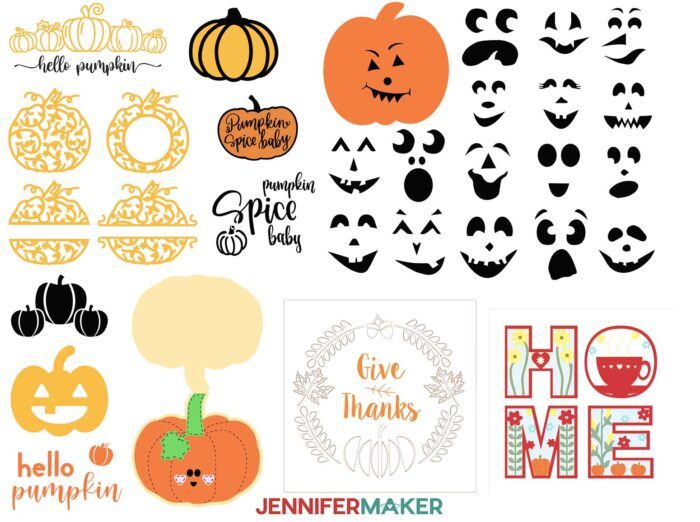 Ready to make some pumpkin crafts? I'm super excited to show you how! This post contains some affiliate links for your convenience (which means if you make a purchase after clicking a link I will earn a small commission but it won't cost you a penny more)! Read my full disclosure policy.
Materials for My Layered Pumpkin SVG Shirt
This is a Cricut Mystery Box project — it uses iron-on vinyls that you can get in the "Spooky" mystery box that came out September 27, 2022. If this mystery box is longer available for sale when you see this tutorial, you can still purchase the individual vinyls, which are all linked below in my material list. Learn more about Cricut Mystery Boxes and their contents in my Cricut Mystery Box Guide.
How to Make an Adorable Pumpkin Shirt in Cricut Design Space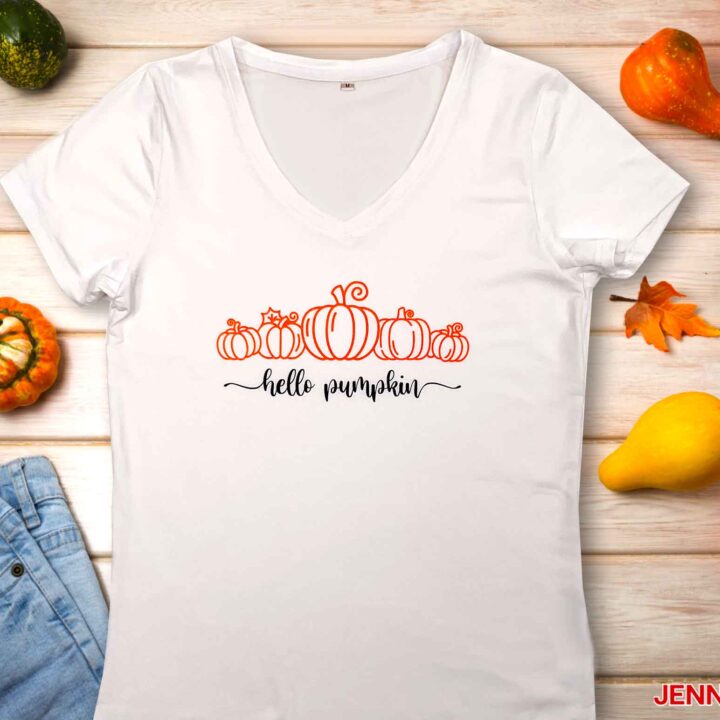 Layered Pumpkin SVG Shirt
Yield: 1

Active Time: 30 minutes

Total Time: 30 minutes

Difficulty: Easy

Estimated Cost: $10

Learn how to layer iron-on heat transfer vinyl to make a Hello Pumpkin svg shirt!
Instructions
STEP 1: GET MY FREE PUMPKIN SVG DESIGN
You can download my free "Hello Pumpkin" design — look for Design #430, from my free resource library.

If you're not sure how to upload an SVG file to Cricut Design Space, watch this helpful video SVGs Made Simple training series I made. It will help you SO much!

If you're on an iPhone or iPad, here's how to download and upload SVG files to the Cricut Design Space app.

Here's what my pumpkin design file looks like uploaded to Cricut Design Space.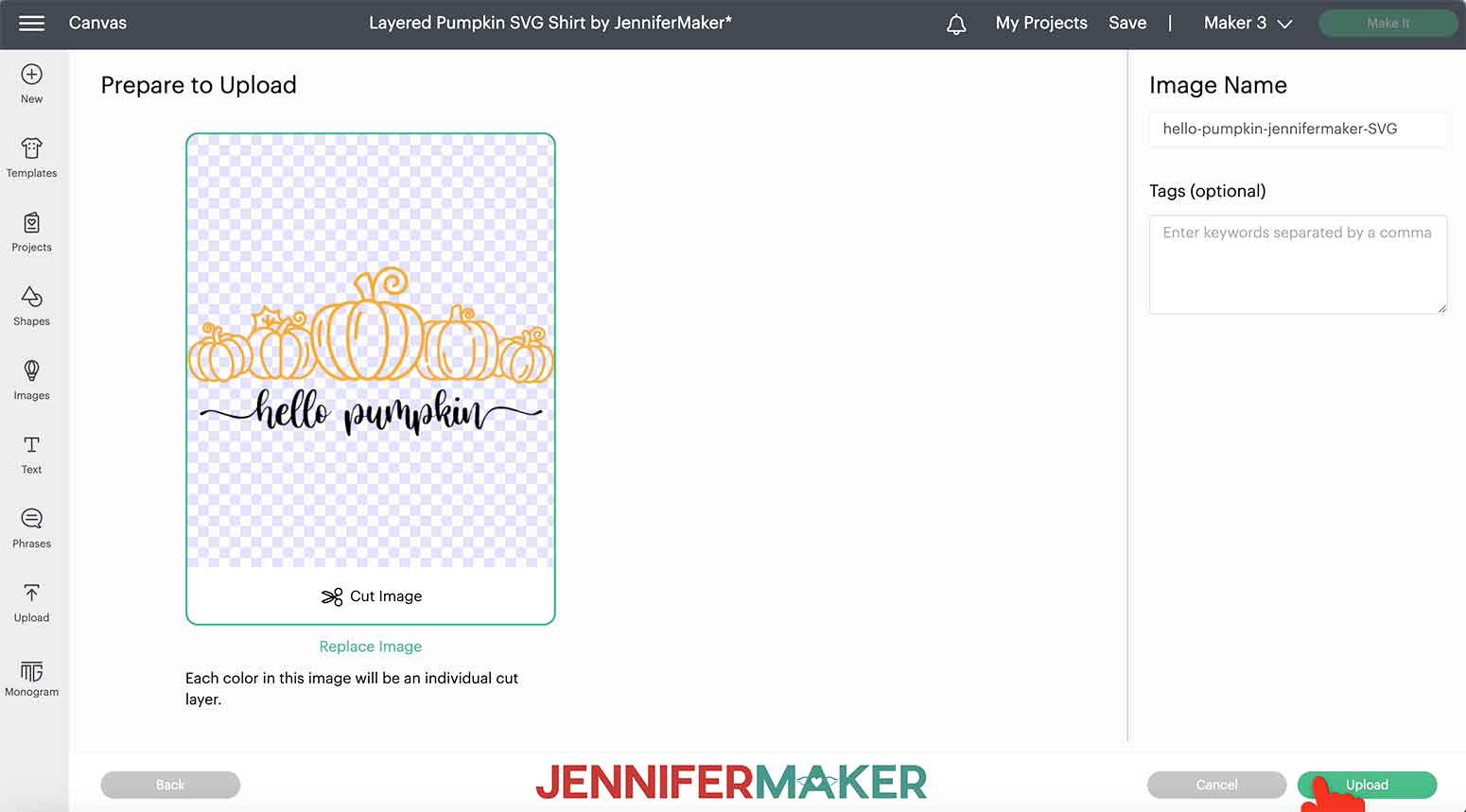 STEP 2: PREPARE AND CUT YOUR VINYL
Design Space offers several templates to help you design your shirts. Designing with a template visibly helps you get the size and layout just right. Since we're adding our pumpkin SVG to a T-shirt, let's find a helpful template.

Click on "Templates" in the upper left corner. Scroll down and choose "V-neck T-Shirts."

The T-shirt template will be added to the Canvas.

In the top menu you will see "Type," "Size" and "Color." These refer to the T-shirt template now on the Canvas. The drop-down menus allow you to adjust the template to match your shirt style, size and color. This will give you a good idea of what your final shirt will look like. My shirt is a women's V-neck shirt in size medium, so I selected "Women Short Sleeve" under "Type" and "Medium" under "Size." You can change the color from white to a color that matches your T-shirt if you want.

The template is ONLY to help with sizing and image placement and will not be printed or cut. If you look in the layers panel on the far right you will not see a layer for the shirt.

NOTE: Templates only work in Cricut Design Space on a desktop or laptop, not on an iPad, iPhone, or other mobile device.

Now click and drag the pumpkin design onto the shirt. I made the pumpkin 9" wide to fit my Medium V-Neck t-shirt, but you can resize the design to fit yours. To change the size, click and drag a corner of the bounding box until you are happy with the size.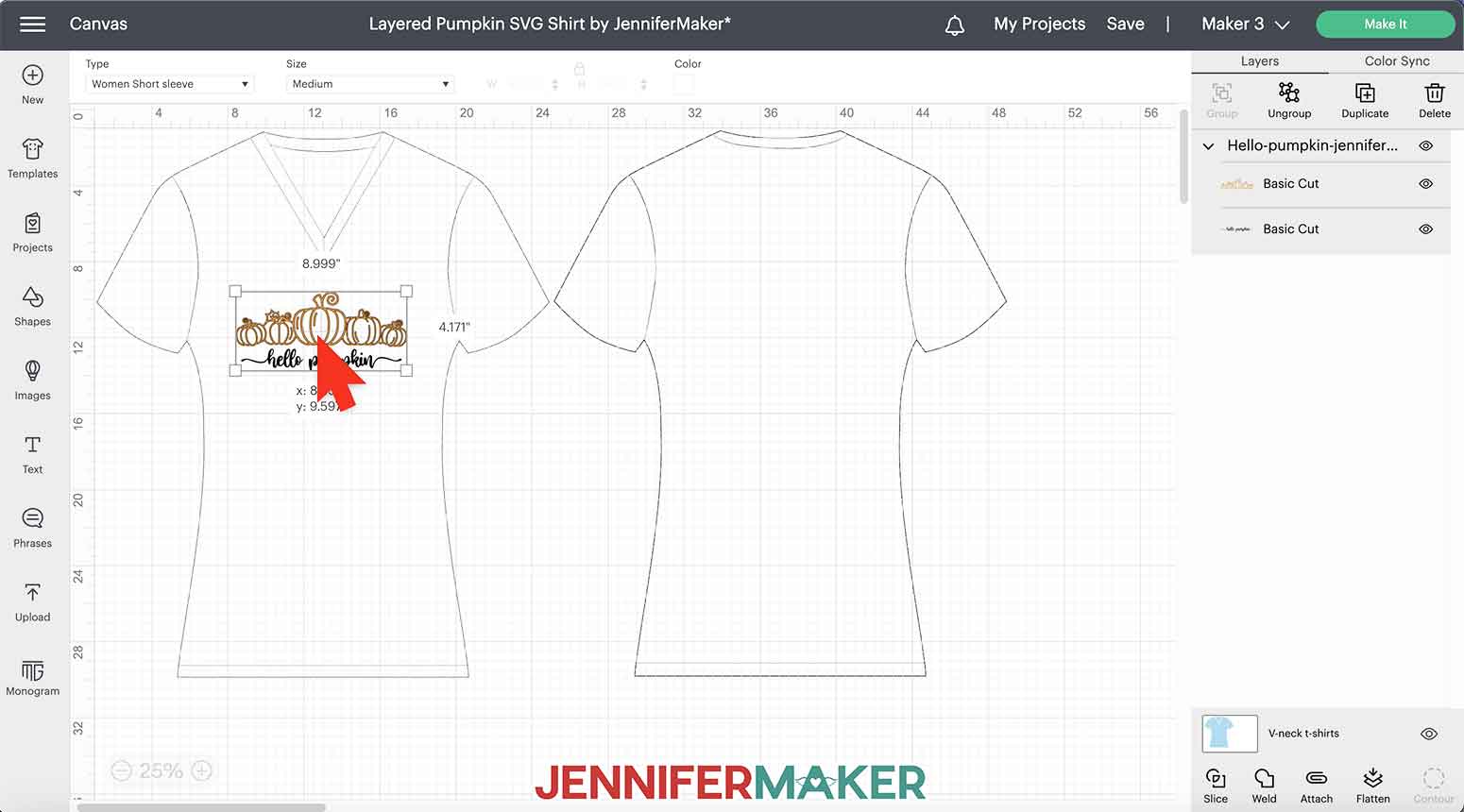 If you are using the same colors of vinyl as me, you are ready to click "Make It."

If you'd like to use another color combination, you can change the colors of each layer to preview what your design might look like with different variations. Click on a layer in the Layers panel on the right side. Then in the upper menu at the top of the screen click on the color box next to where it says "Basic Cut" under "Operations" and choose a new color.

When you are ready, select your Cricut machine — I selected Maker 3 — and then click the green "Make It" button in the upper right corner.

If you are asked if you are cutting your designs without a mat, on a mat, or multiple ways. Select "On Mat" and click "Continue." If you are using Smart Vinyl, you would select "Without Mat."

Next, on the Prepare screen, there is a toggle button labeled "Mirror" under each mat, which is really important for this project.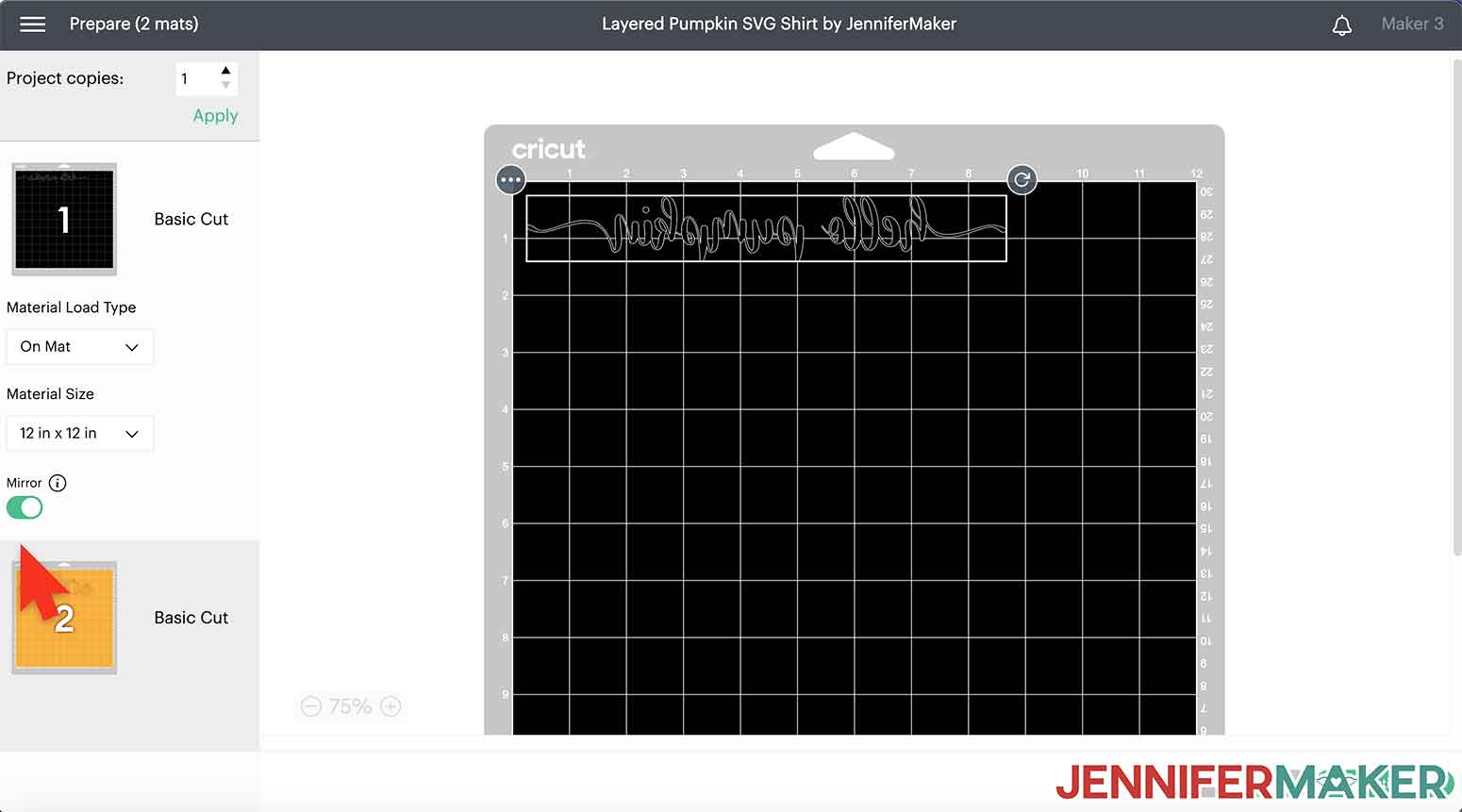 NOTE: Iron-on vinyl comes adhered to a shiny, clear, heat-resistant liner that protects your design during the heat-transfer process. Unlike sticky vinyl, the adhesive side of HTV faces away from the liner and the decorative side is visible through the liner. The heat source activates HTV's sticky side to adhere it to your item, while weakening its bond to the liner so you can peel it off to reveal the transferred design. The liner MUST remain intact and stay between the heat and your item to avoid ruining the design and equipment. Because of this, it is necessary to load the HTV liner-side down so your machine can cut your design and leave the liner intact. The "Mirror" function transforms the design into a reflection of itself so that it will look correct once flipped to be decorative side up. If you don't mirror each layer, your design will appear backward on your base material. This is especially important if your design includes text.

Toggle the "Mirror" switch to on, or green, for every layer. Click on each mat to do this, then click back on the first mat to complete the action before moving to the next step.

It's really good practice to ALWAYS mirror any iron-on projects before cutting.

Click "Continue."

On the Make screen you will select your material settings. For Mat 1 (orange vinyl) and Mat 2 (black vinyl).

So when prompted to "Set Base Material" for each mat, click on "Browse All Materials" and type "Every" in the search window, then choose "Everyday Iron-On" and click "Done." range

I always select "More" pressure to ensure the best cut.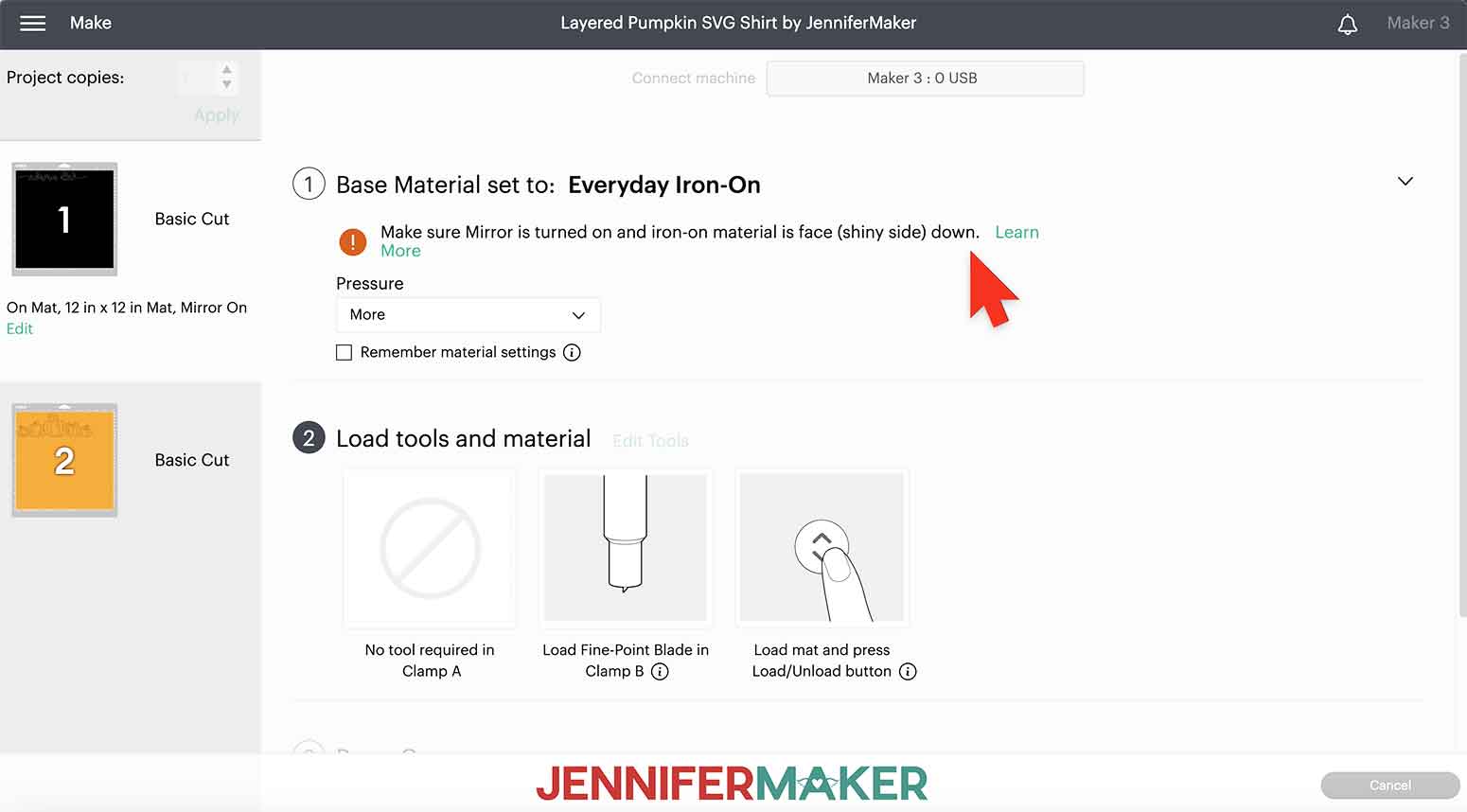 In case you forget to toggle "Mirror" on, you will be reminded on this screen as well. It also reminds you to place your iron-on vinyl SHINY SIDE DOWN on your machine mat.

If you ever have any questions about cutting vinyl, I have put together a great resource to help. It's "The Ultimate Guide to Vinyl" and among other things it explains how to tell which side of the iron-on vinyl goes down on the mat.

Now it's time to cut our design.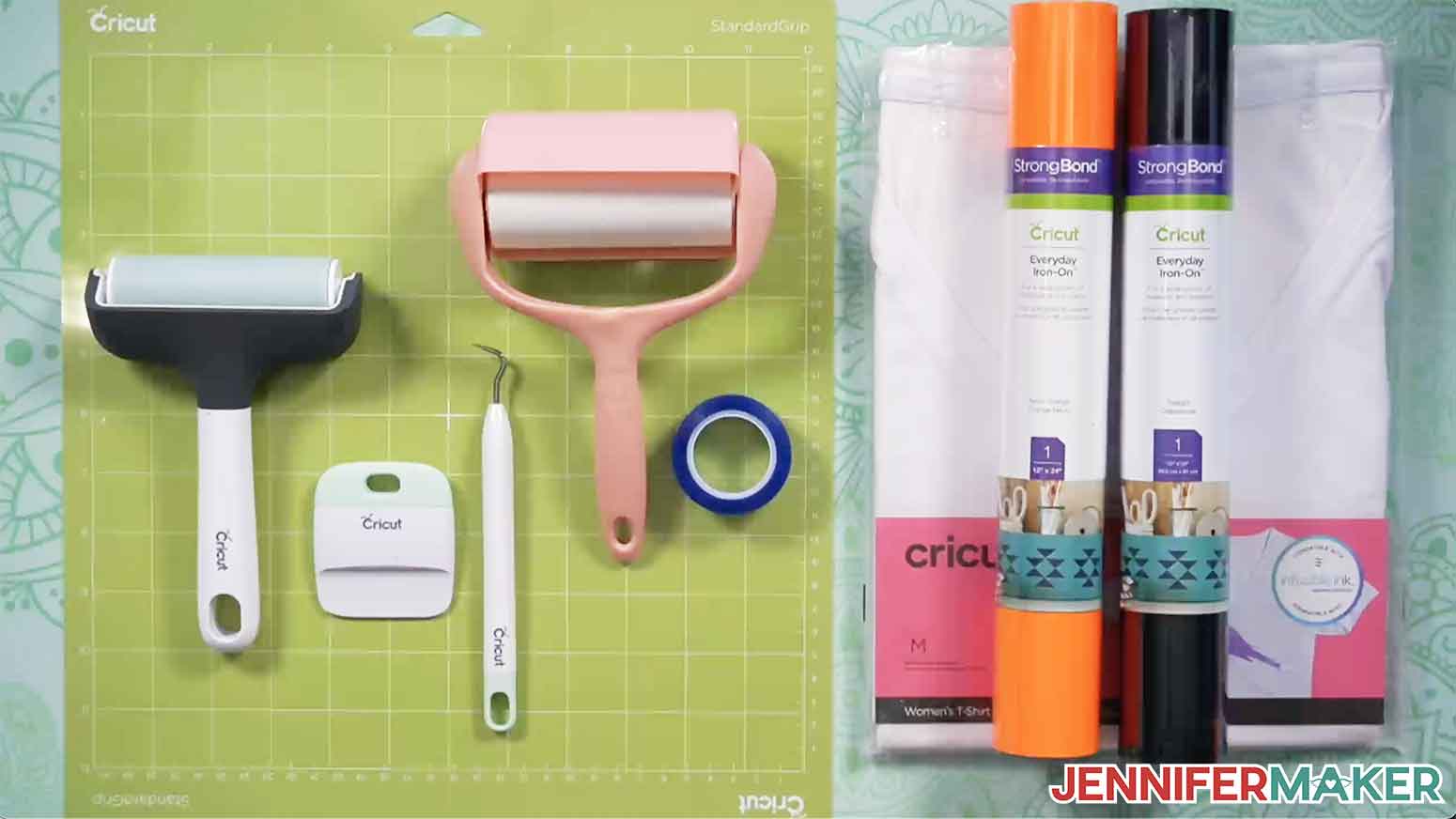 We will use a clean green Cricut StandardGrip Machine Mat to cut our layers of vinyl. So as mentioned, place the shiny side down on the mat, with the dull side up.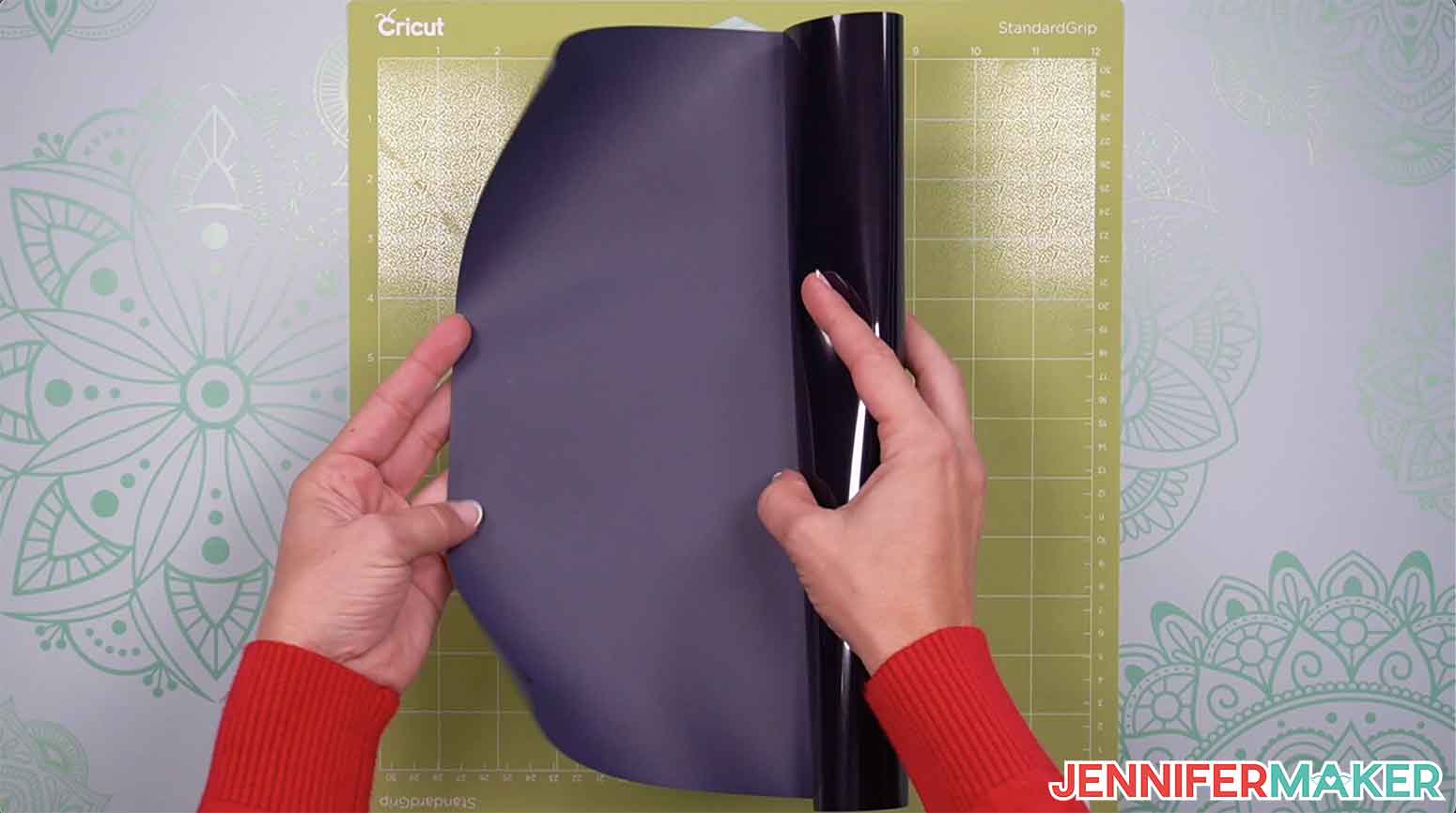 Use a brayer to adhere the vinyl well to your mat.

Make sure your vinyl color matches the corresponding color you selected for each mat. Double-check that the Fine-Point Blade is loaded in Clamp B, then load your mat into your machine and press the "Go" button.

Repeat these steps for all pieces of vinyl.
STEP 3: WEED YOUR PUMPKIN SVG LAYERS
It's now time to weed our iron-on vinyl design layers. Weeding means to remove all of the vinyl that we don't want to transfer to our project.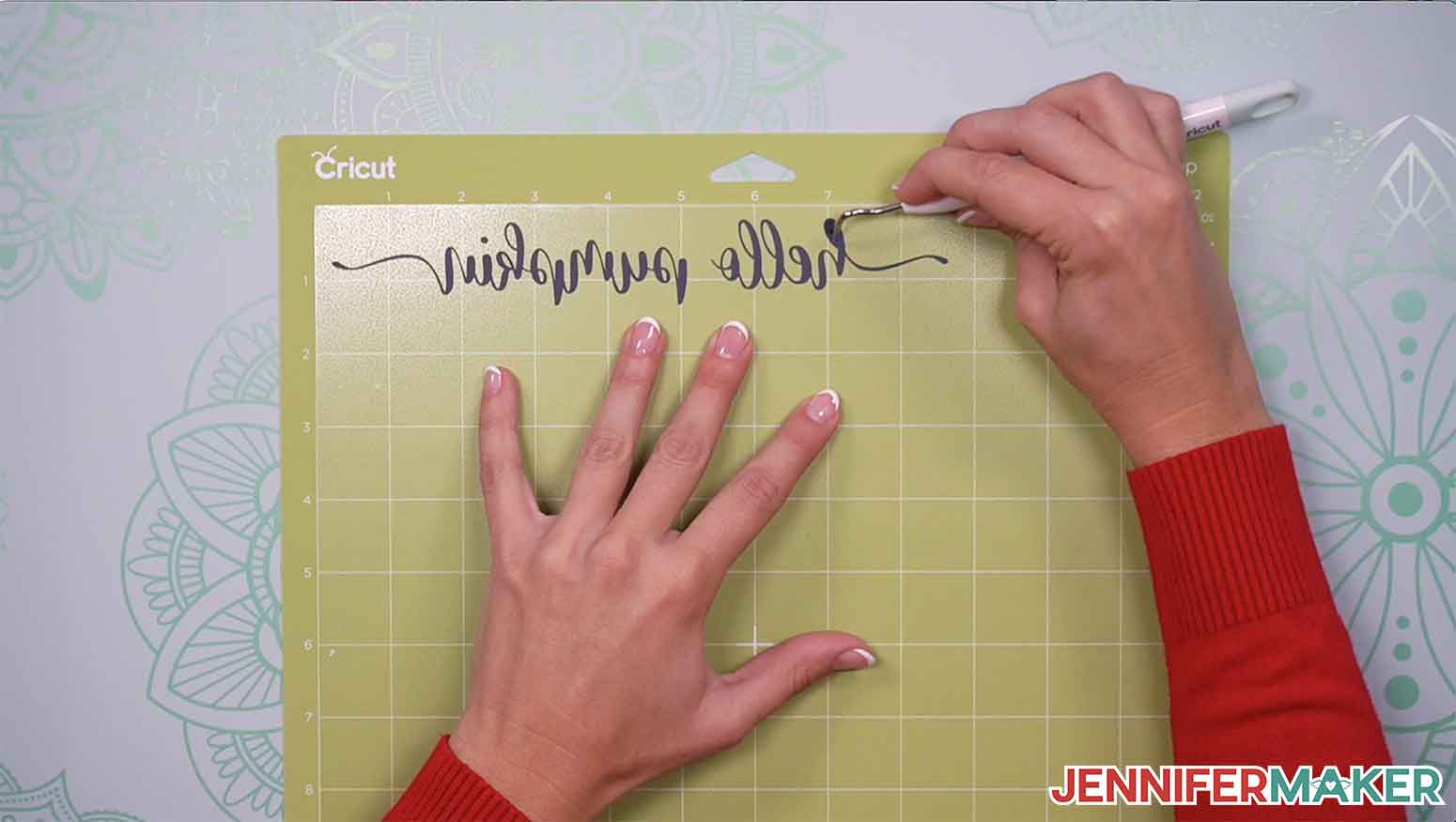 To get started, you begin peeling the unneeded vinyl away from an edge. You can also use the tip of your weeding tool in the corner and pull up the edge. Once you have it started, continue to pull the excess vinyl away from the carrier sheet. Your design will stay on the carrier sheet and the part that you do not want will pull away.

TIP: Sometimes the iron-on vinyl doesn't want to come free very easily. If this happens, I make a small knick in the corner with my craft knife. You don't want to cut all the way through. Just cut through the iron-on vinyl layer on the matte side (the cut side) and peel from there. I find that this small cut makes it easier to peel off the vinyl.

Repeat for all layers of your design.

Here's what the two layers of iron-on vinyl for the pumpkin will look like once cut and weeded. Notice that the shiny carrier sheet is visible and larger than the vinyl pieces.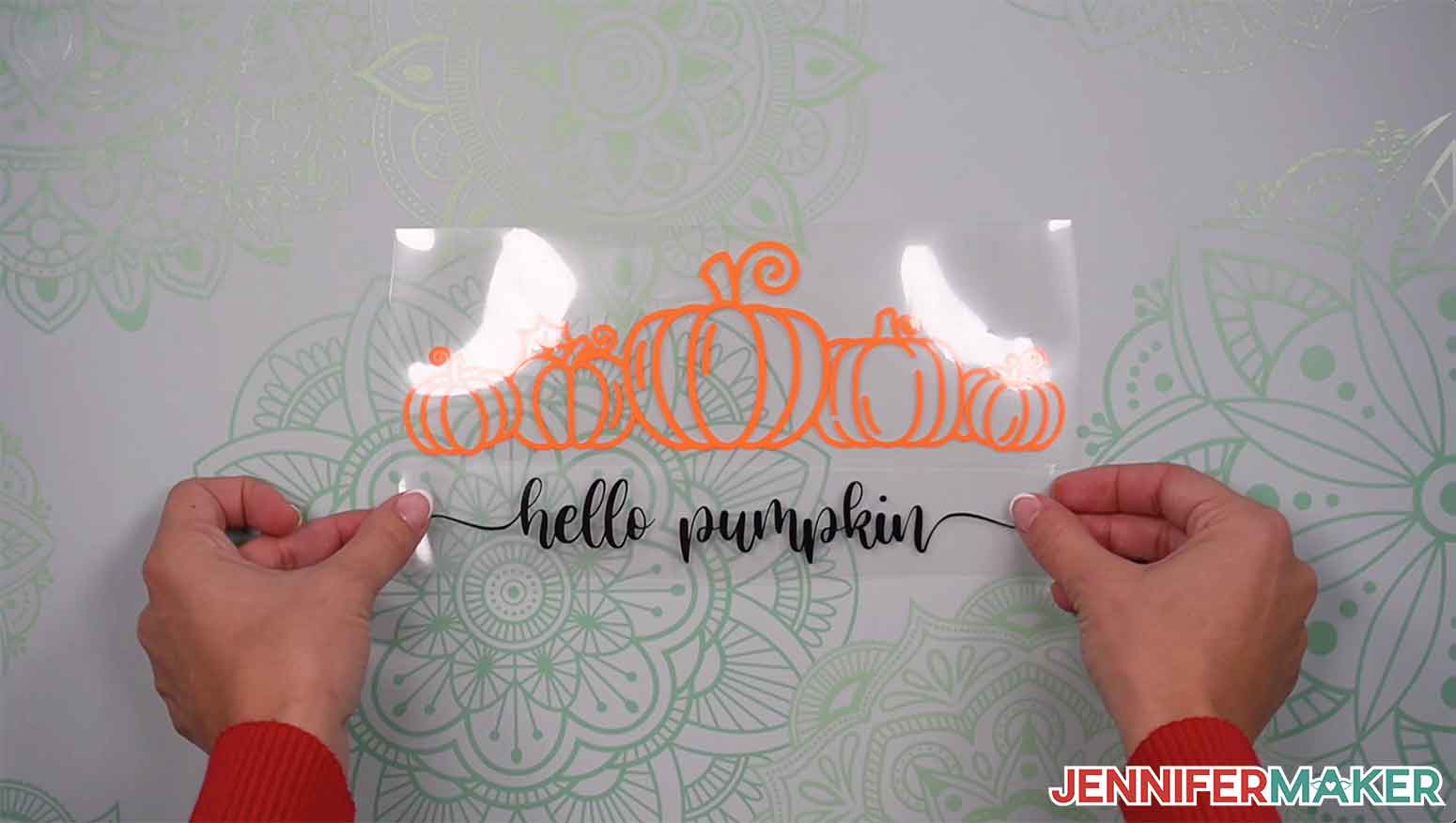 STEP 4: STACK YOUR VINYL LAYERS
Now we're going to stack our vinyl so we can press the whole design just once! To do this, we need to stack the liners together, being careful that no liner covers up another layer's vinyl.

First, trim the sides of both vinyl layers so they are even on the left and right. Then fold them in half and crease the liner at the top and bottom, then open them back up flat.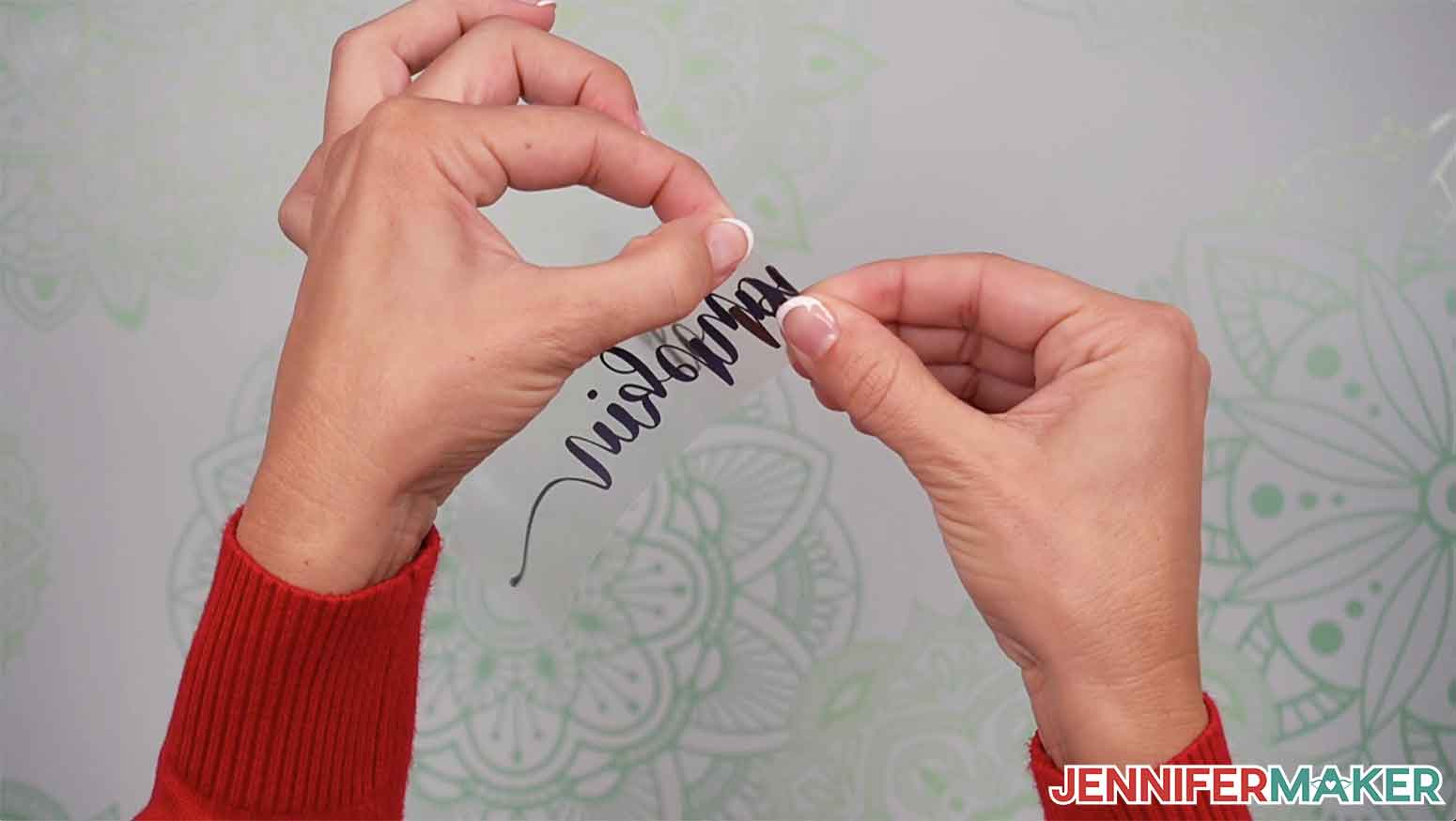 Also trim the liner at the bottom of the pumpkin layer so it is within 1/8" of the pumpkins at the bottom, being careful not to cut into the pumpkins themselves.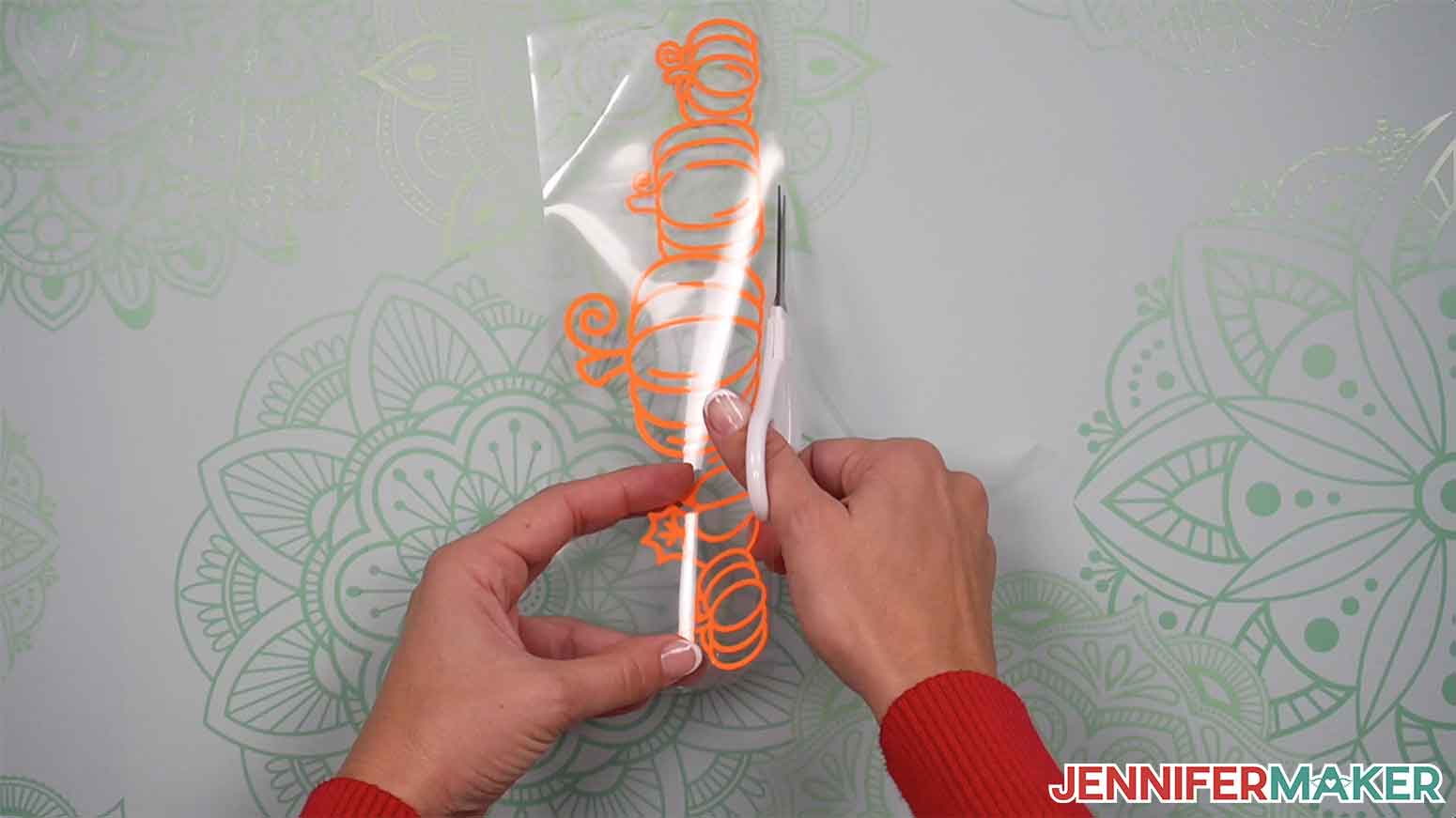 Once the orange vinyl is trimmed, get the layer with the words and stack it on top of the pumpkin layer, carefully aligning and centering the two layers together. Use those creases you put in to center the two layers. Press the layers together to keep them stuck together.
Tip: If the two stacked layers don't want to stay together, use heat-resistant tape on top of the liners where the black meets the orange to keep them together.

Look at your two layers carefully when done -- if they are not straight and centered, gently remove the black layer and try again. If you have problems getting it straight, you can get out a ruler and measure until you get it right.
Now flip over the stacked layer and carefully check that there is no clean liner covering up any layers of vinyl. If there is, gently remove the liners from one another, trim, and replace.
STEP 5: PRESS YOUR VINYL ON A SHIRT
First, if you are using a Cricut EasyPress, refer to the Cricut EasyPress Interactive Quick Reference Guide for how to prep your material and machine, how to apply, and how to care for the finished product. This takes the guesswork out of the process!

Then, preheat your EasyPress or iron to the proper temperature. The guide calls for me to set my EasyPress to 330°F. If you are using an iron and cotton t-shirt, set it to the cotton setting. If your shirt is something other than cotton, you may need a different setting for your material.

Place your t-shirt on a Cricut EasyPress Mat or folded towel to protect your work surface. Use a lint roller to clean any stray lint or fuzz from the area of your shirt where you plan to adhere the vinyl.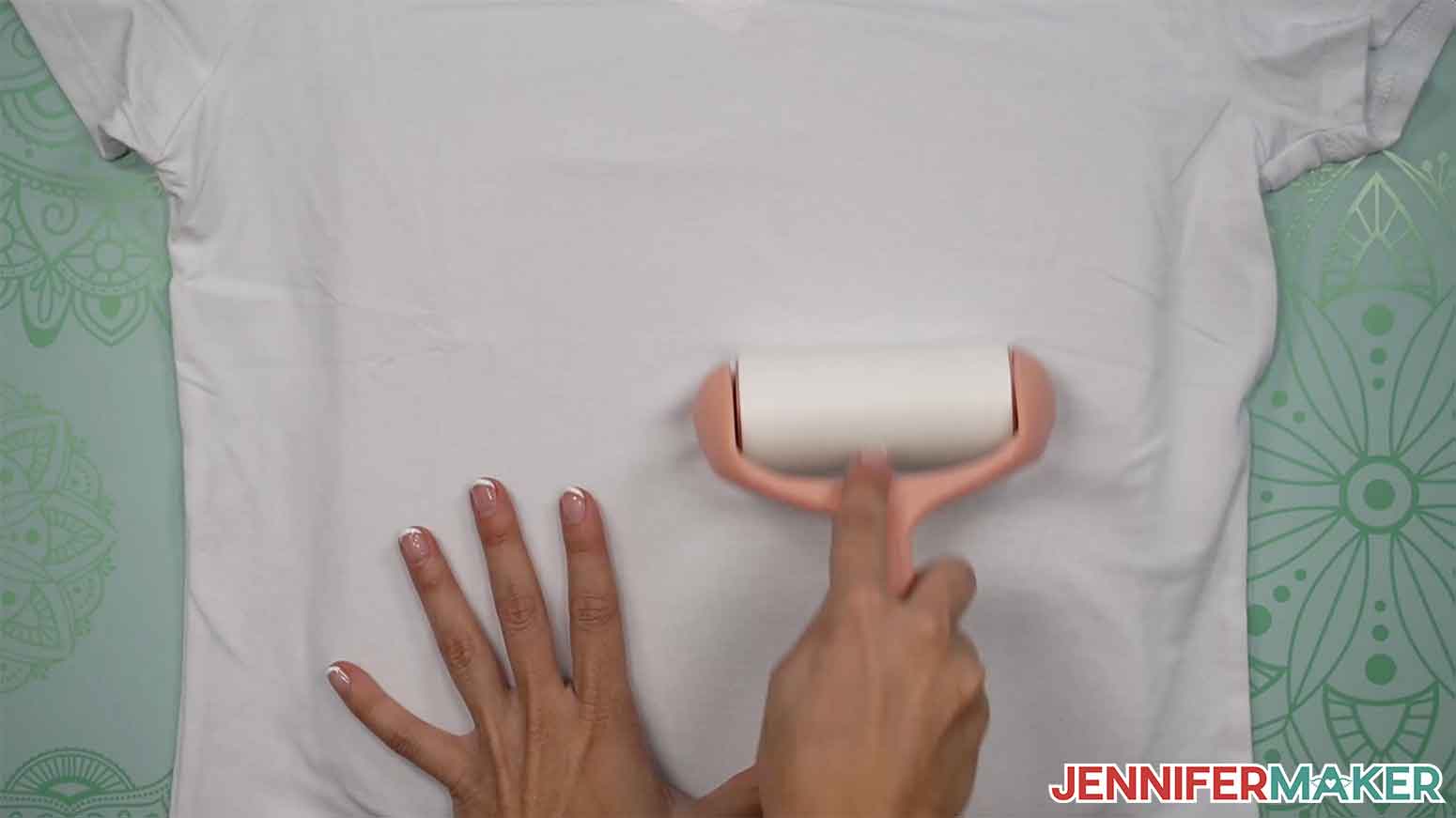 Find the vertical center of your shirt. The simplest way to do this is to fold your shirt in half by matching up your sleeves.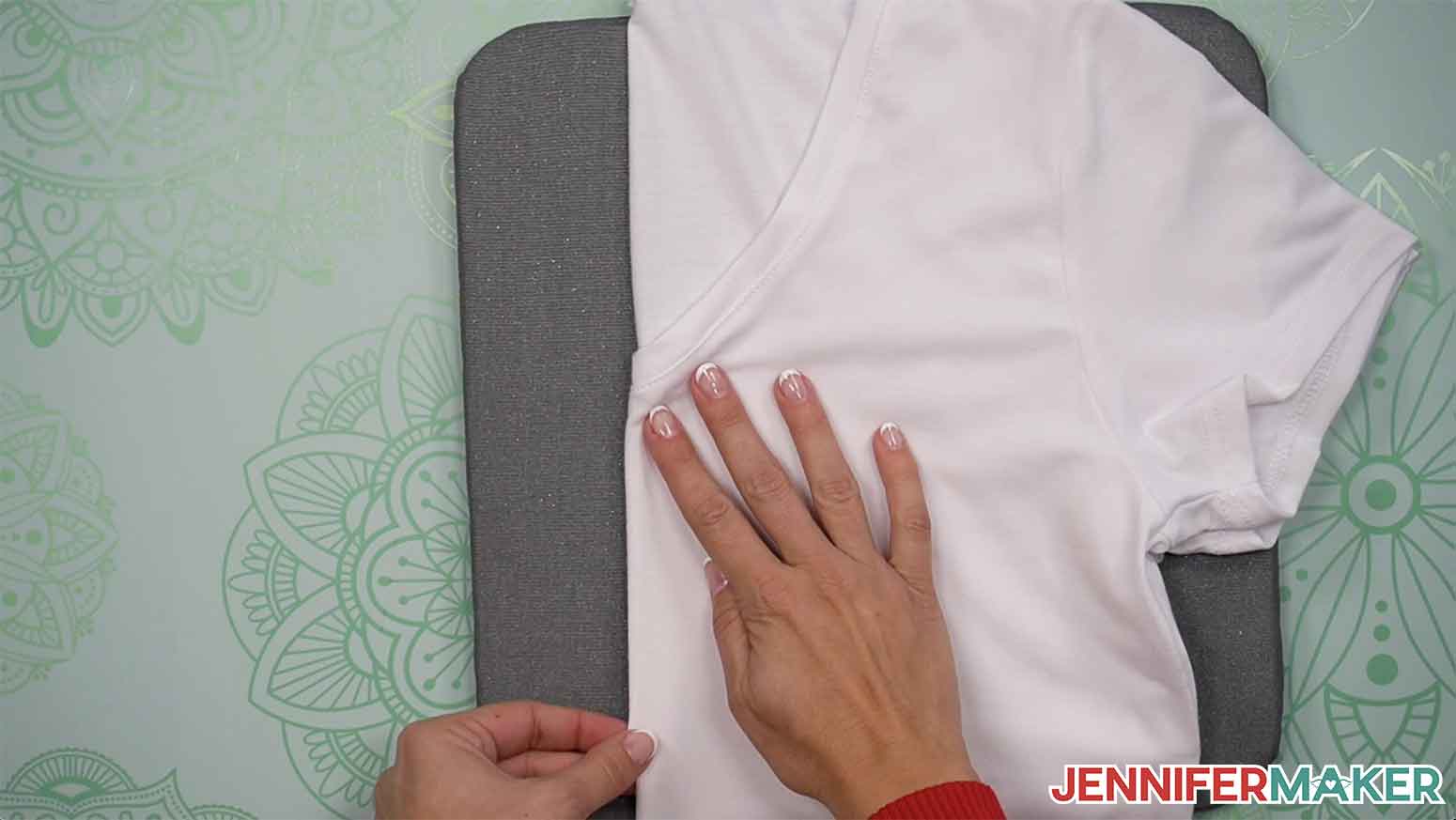 Use your EasyPress or iron to put a little crease on the center fold. When you open your shirt you'll know exactly where the center is. Now you can just line up the center of the decal with the crease to get perfect placement!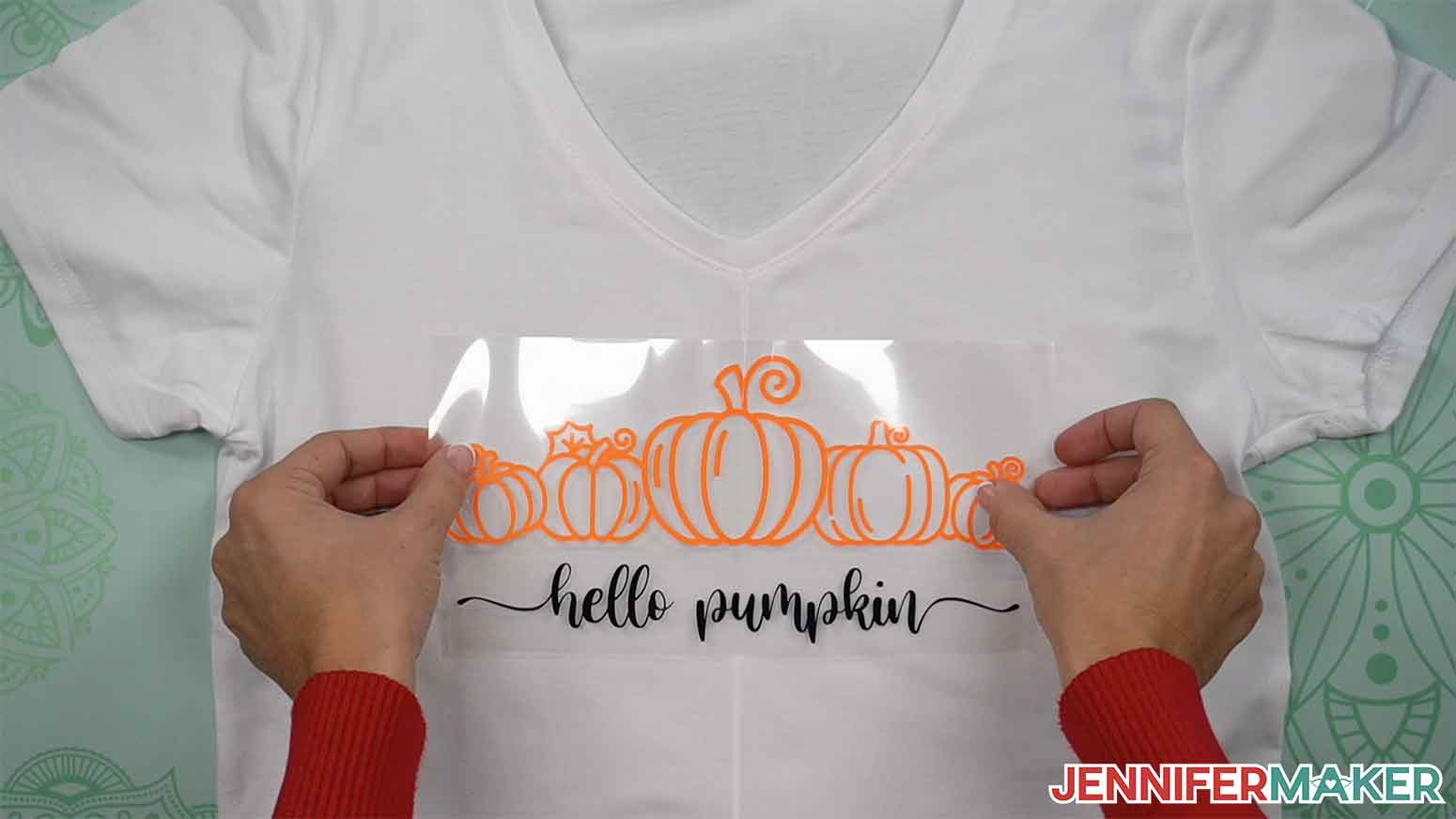 TIP: Putting a crease in your shirt like this also serves to pre-heat the material. It won't impact the final design at all.

Open your shirt up flat, then center the creases in your vinyl liners with the crease in your shirt. On a V-neck shirt, you want your design to be about 1" below the collar seam — if you are using a crew neck shirt, you want your design to be about 3" below the collar seam.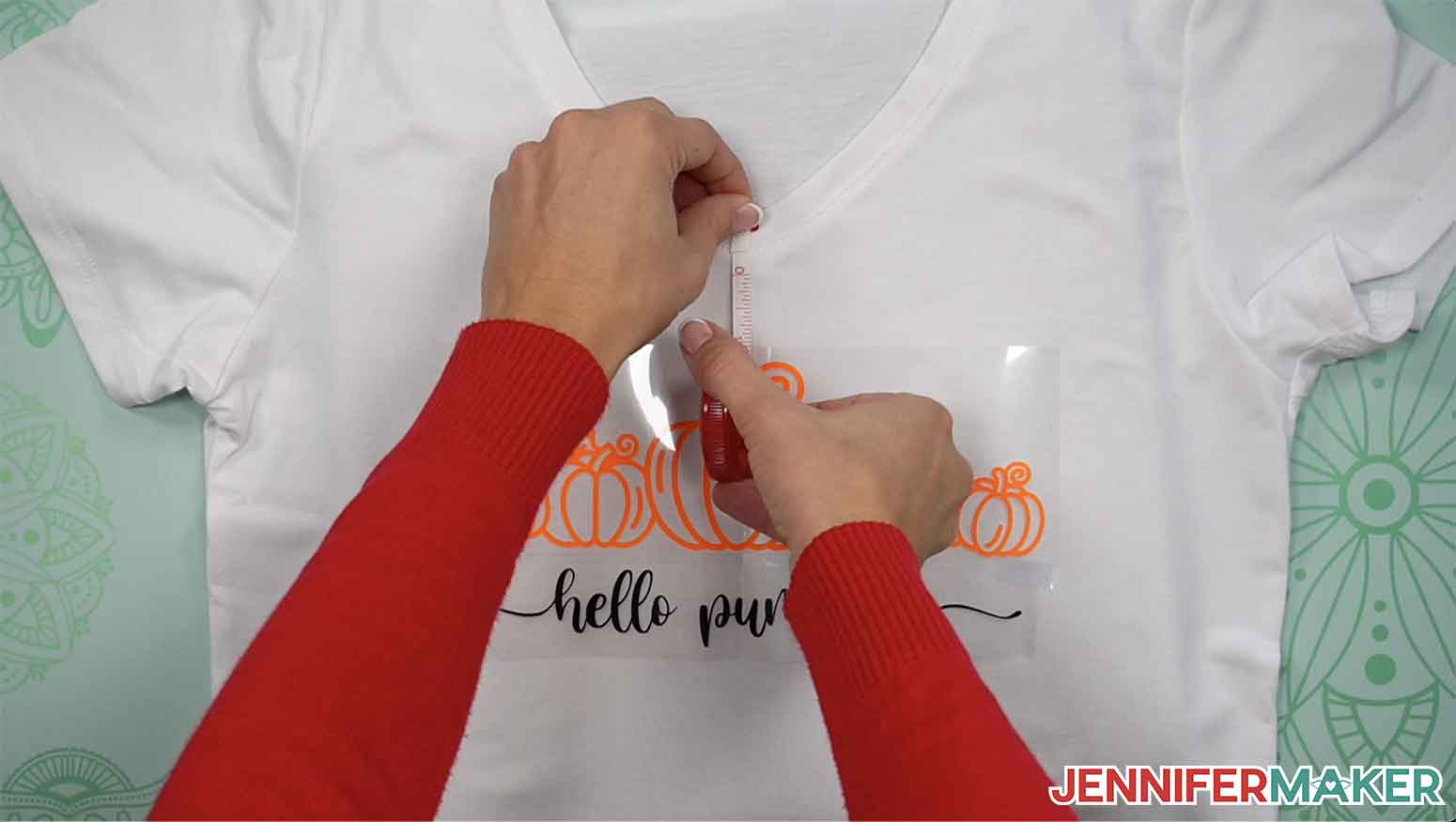 Remember, place the sticky side of the carrier sheet against the T-shirt so the shiny carrier sheet is between the vinyl and your EasyPress or iron.

If your vinyl is not sticking well to your shirt, you can use some heat-resistant tape to hold it in place.

When your EasyPress or iron is at the right temperature, just press the design for the recommended amount of time (in my case, that is 30 seconds), making sure the entire design is covered by the heat. You do NOT need to cover your liners with anything -- they are thick enough that they protect your shirt without needing any extra butcher paper or a Teflon sheet.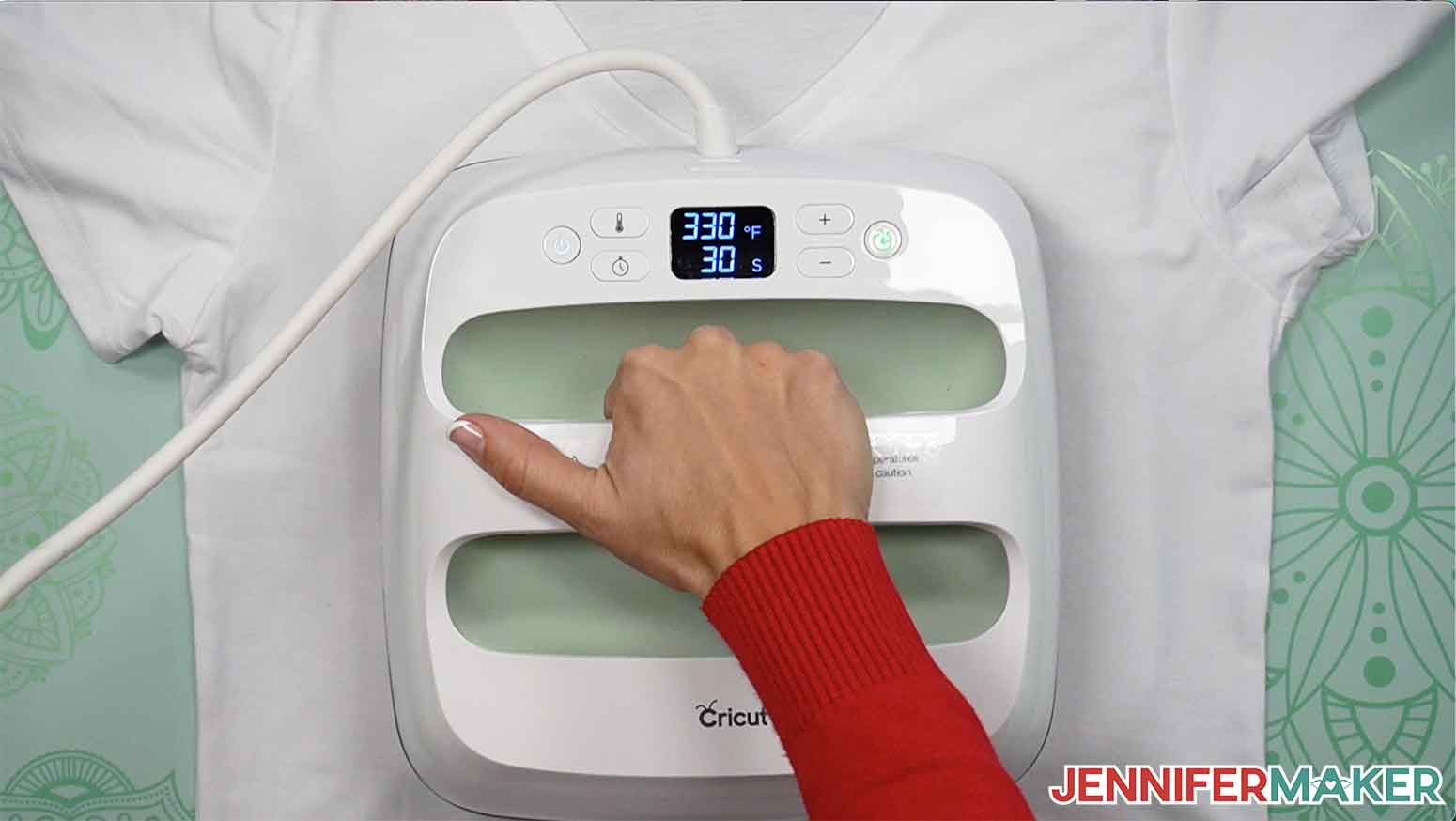 When done pressing, flip your shirt over and press from the back for another 15 seconds.

Remove your EasyPress and then peel away the carrier sheet when it's cool to the touch.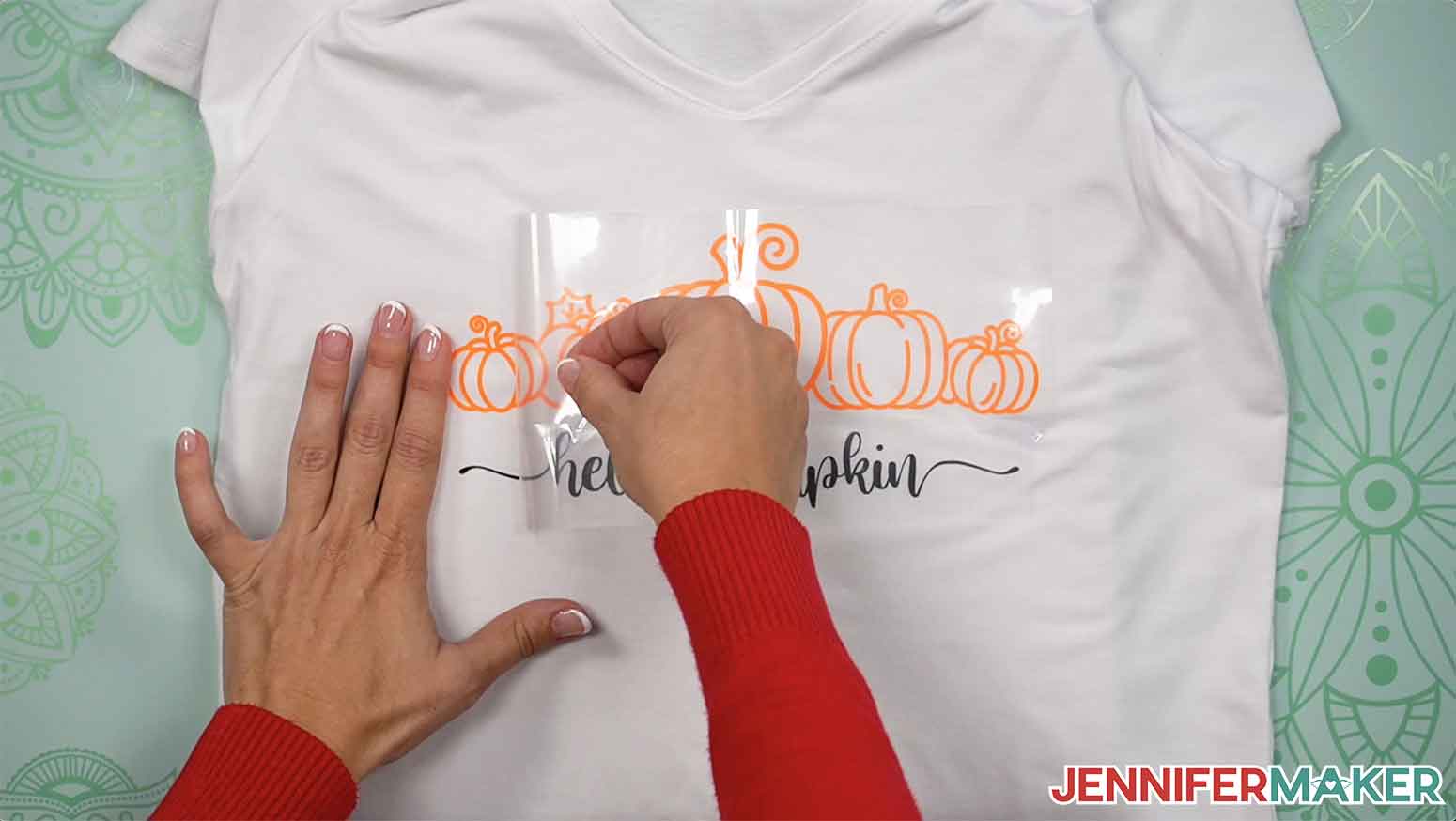 TIP: If you have an SVG design with a lot of layers, you will want to do them in stages, and you may want to add registration marks to help line up your layers. I used this method to make my Sunflower T-shirt.
STEP 5: SHOW IT OFF!
Here's a close-up of my finished Hello Pumpkin shirt. It's so cozy, perfect for a trip to the pumpkin patch!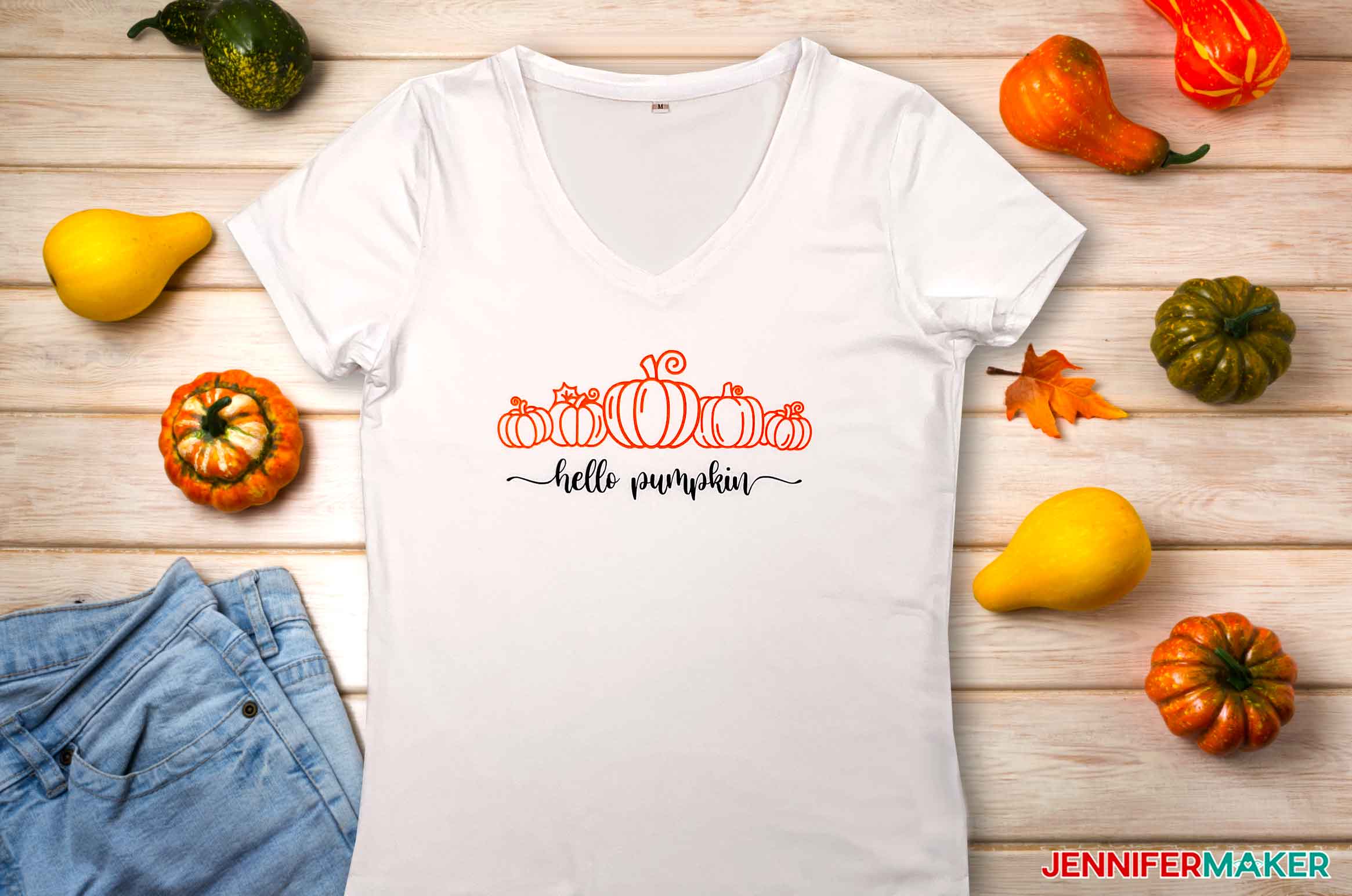 Notes
Allow 24 hours after applying the vinyl before washing your shirt. When you do wash it, turn your shirt inside out and do not use any bleach.
Recommended Products
As an Amazon Associate and member of other affiliate programs, I earn from qualifying purchases.
Be sure to check out my step-by-step video on my YouTube channel on how to make the Halloween Witch Hat Countdown Calendar with 13 days of treat boxes!
I hope you enjoyed this list of pumpkin files and ideas! This is a great way to get started on your autumn decorations! Why not pop in your favorite Halloween movie, gather up some craft supplies and friends or family, and make a cozy craft day inside?
Also check out my Cozy Decals collection, with fun things like a Sweater Weather SVG, Stay Cozy, Let it Snow, some fun Christmas SVG files, and a variety of holiday SVG designs.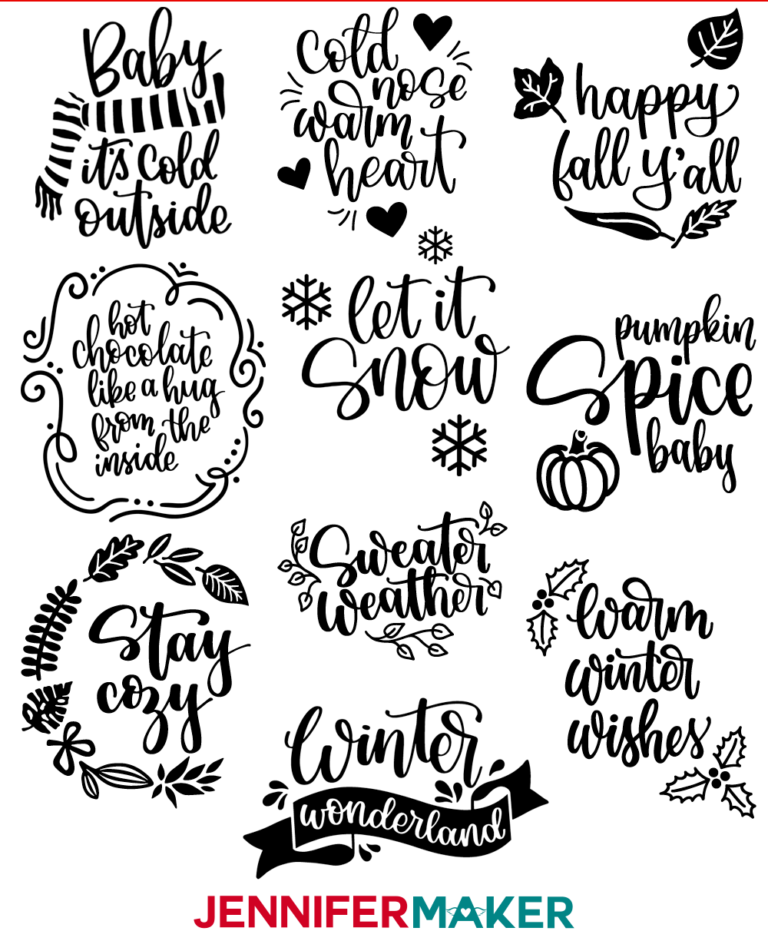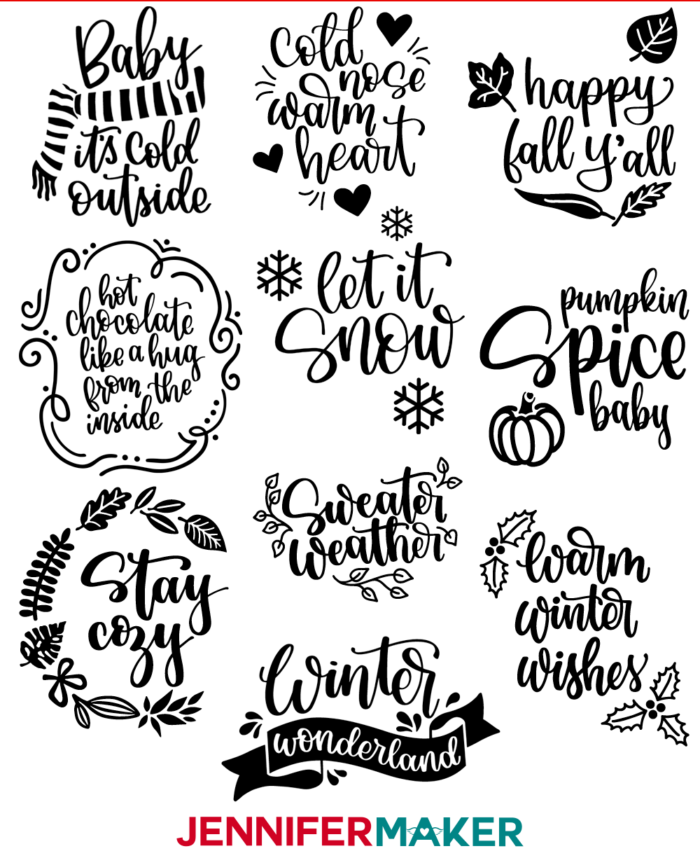 I put my 31+ SVGs into a single digital file (single zip file) to make it easier for you to find them all! You'll find them all in Design #340 in my Free Library. Fill out the form below to get the free password to access my library for an instant download.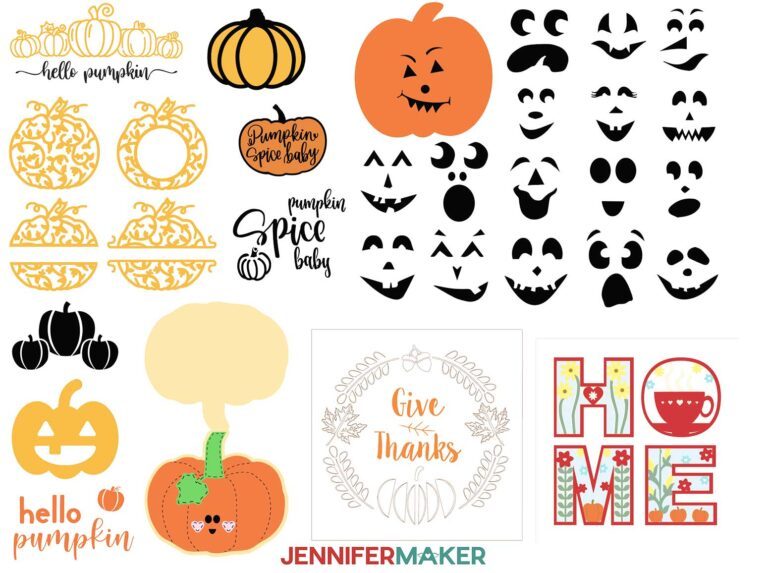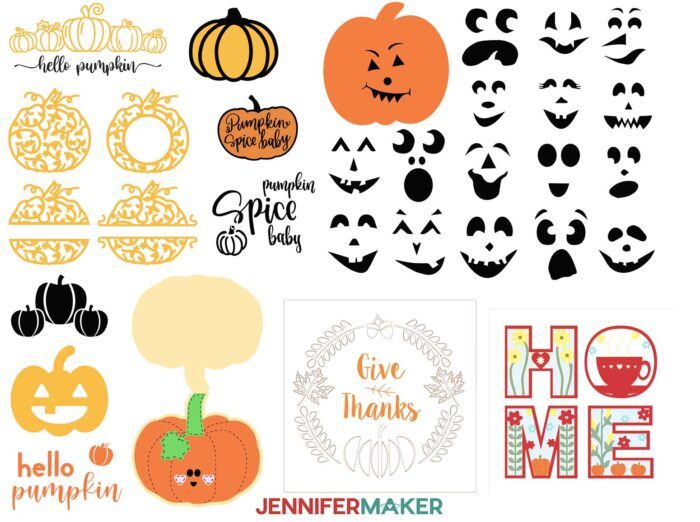 Get my free download of pumpkin SVG cut files and free printables here:
If you make one of these pumpkin projects, I'd love to see it! Please share your projects in my Cricut Crafters & Makers group where you'll find hundreds of thousands of crafters like you, sharing their tips, projects, and inspiration … including their own autumn projects, where you will find some of the best ideas!!
By the way, you're free to use my free svg files to create physical items to sell — I just ask that you share that you used one of my designs on your listing or with your product.
Love,