Learn how to make customizable paper handbags & purses that double as memorable gift bags!
Confession time. I really love purses! They're such a fun way to finish an outfit. Bonus points if they fit the things I need while looking cute! So I thought it would be fun to make some PAPER purses that double as gift bags?!? We had form, function, and FUN in mind while designing our new paper handbags and purses and they're ready for you! They're a step higher in skill and style from my DIY Gift Bags but are so adorable. I try not to have favorites, but the Daisy Duke Wallet might be the winner. It's perfect for gift cards and fits in well with so many of my small paper box patterns!
Want to save this project? Enter your email below and we'll send the project straight to your inbox.
Watch the full step-by-step tutorial video on how to make Paper Handbags & Purses premiering on my YouTube channel: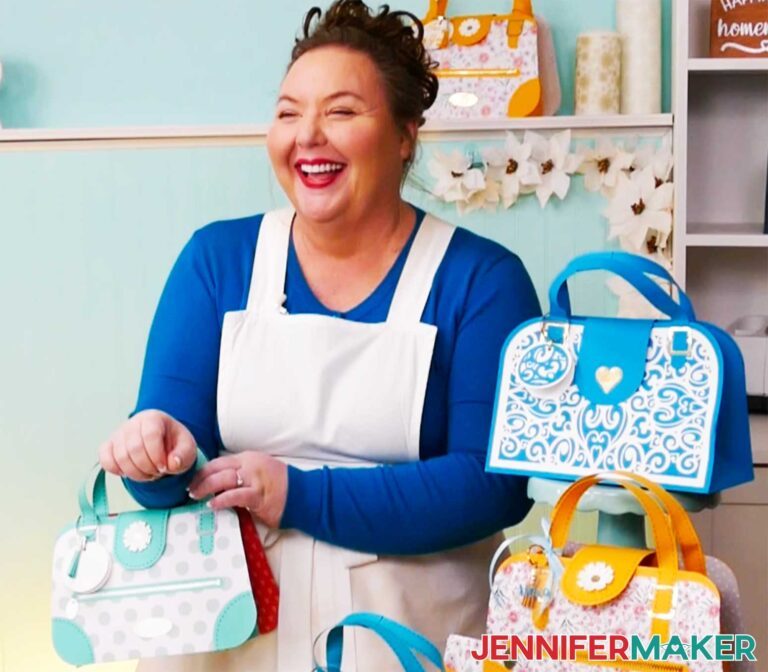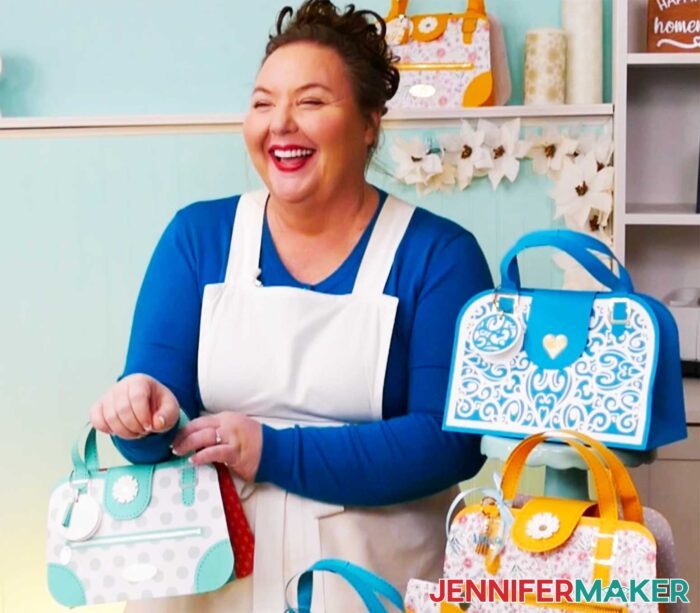 These paper handbags may look intimidating, but we'll go over the simple steps together! I've included lots of personalization options and even some special tool versions like a debossed purse!
My collection includes four designer paper purse patterns. But good news, they cost a fraction of the price of a Birkin — at least from what I've heard. Which one do you want to make first?
Flower Power Paper Handbag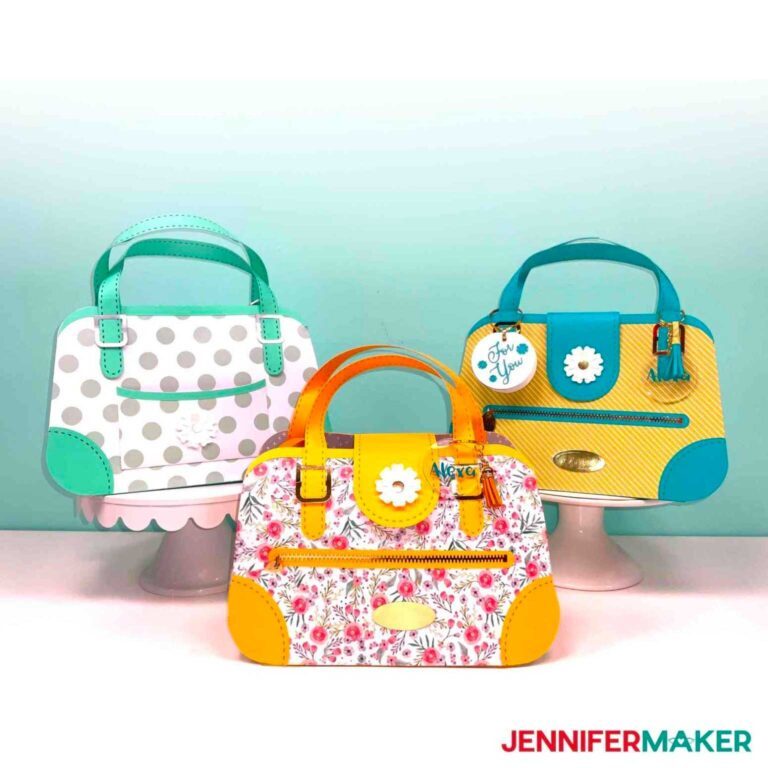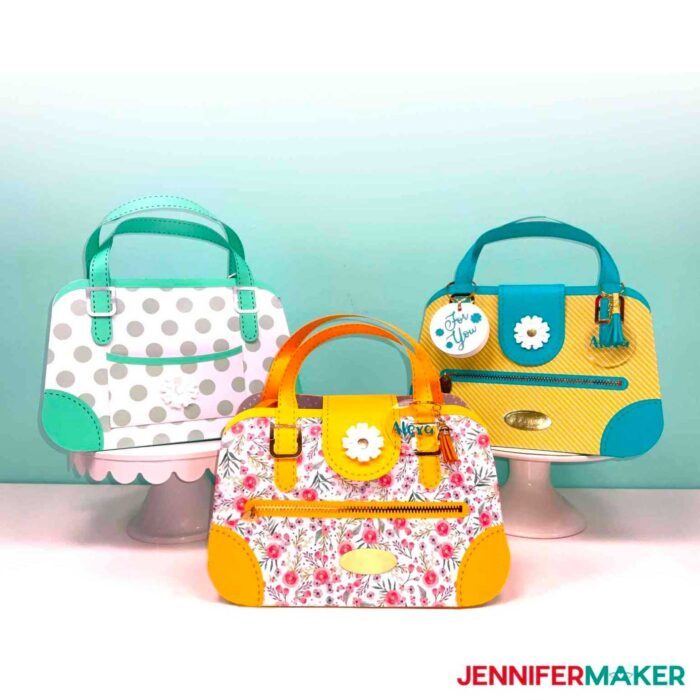 The Flower Power was the inspiration for the whole set! It has lots of details, like foil hardware and a functional yet decorative flap at the top just like a real purse. I'll show you how to assemble this paper purse from start to finish, then you'll be ready to make the rest! Make sure to watch my video for all my customization ideas in Cricut Design Space!
The Daisy Duke Paper Wallet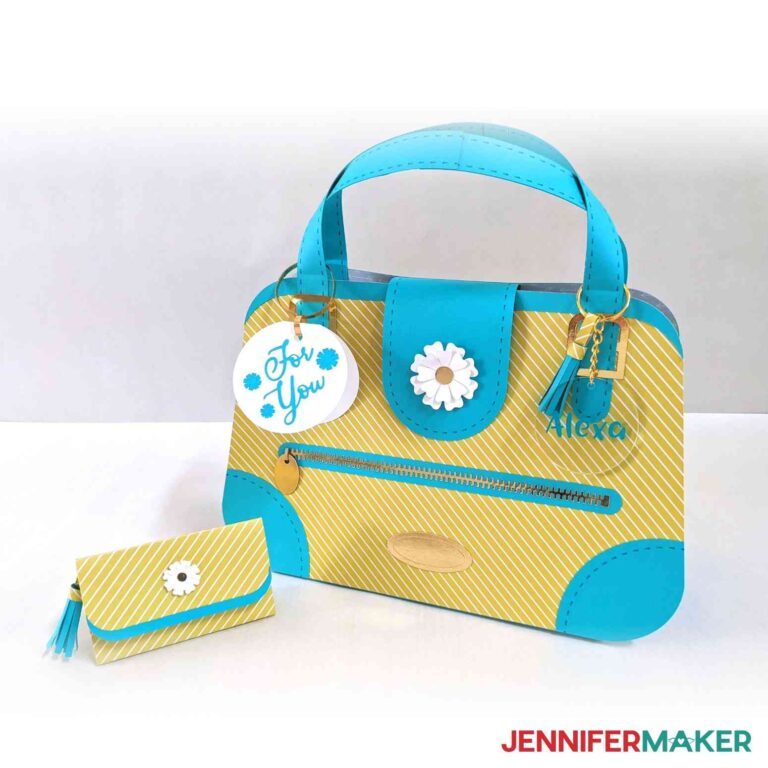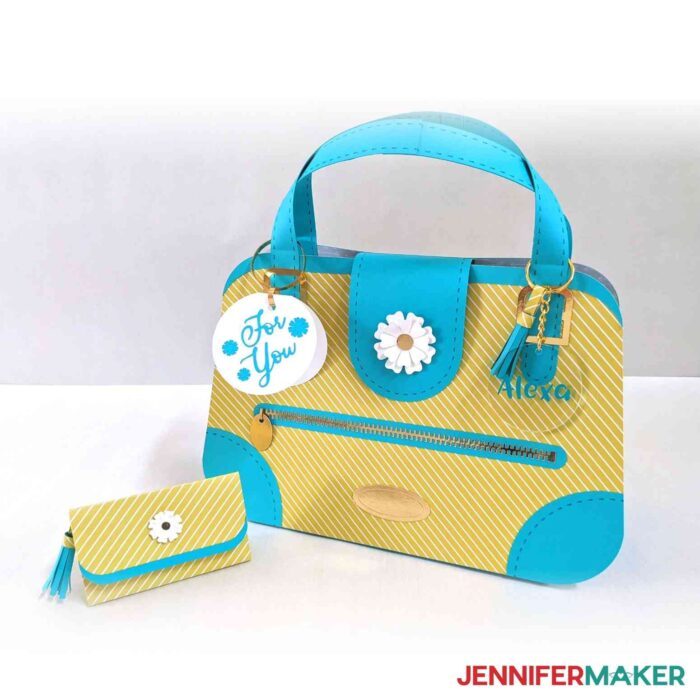 This mini paper wallet is a beautiful match for the Flower Power! I'll show you how to save time and paper by making both at once in the video. The Daisy Duke is the perfect size for a gift card or other tiny gift. There are some narrow trim pieces, but I'll show you the best glue and technique for the job!
The Heartbreaker Handbag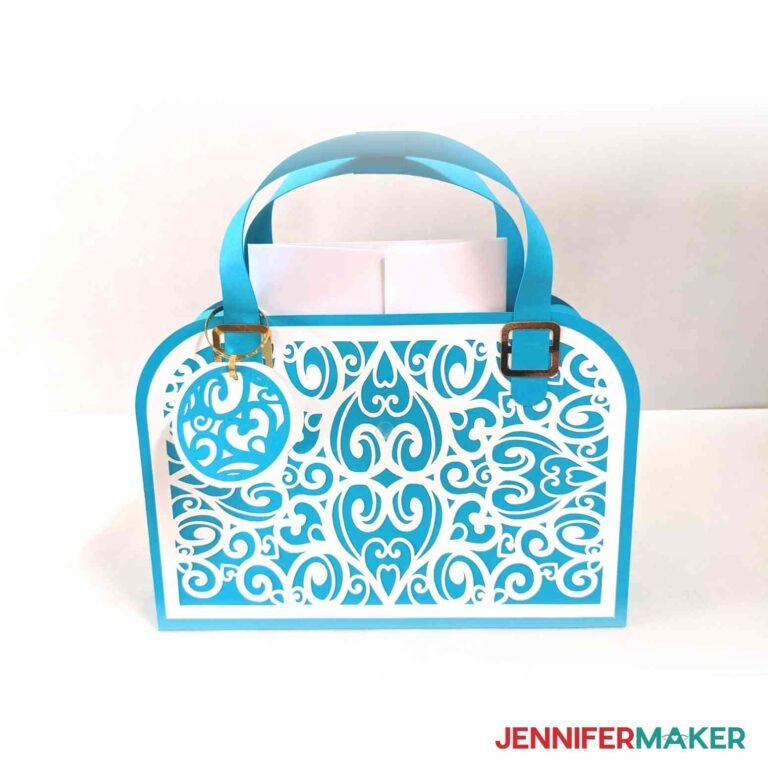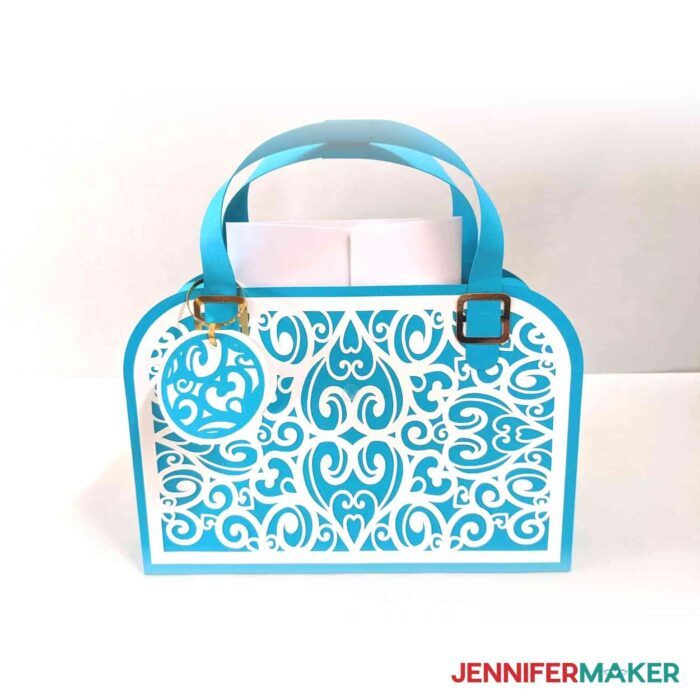 The perfect heart details on the Heartbreaker make it one of my favorite custom paper bags ever! I had fun combining details from the Flower Power and Couture to create this sweet satchel. I really love the tooled leather look you can achieve on the front of the purse with the Debossing tool, too! Check out the steps for that bonus variation in the written instructions down below.
The Couture Handbag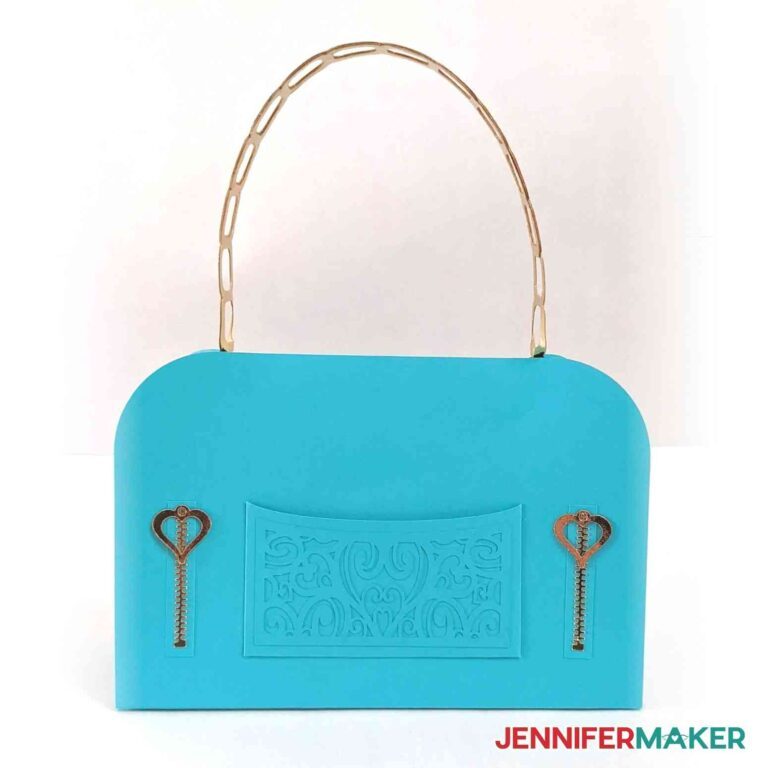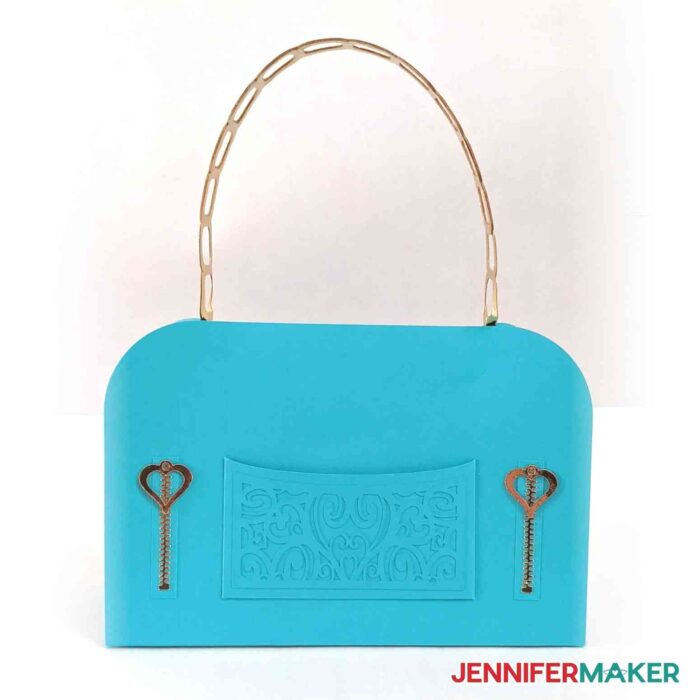 This timeless design is sleek and sophisticated thanks to the delicate metal foil hardware. I loved the look so much I added some extra pieces to the back of the purse. Assembling and attaching the chain side straps does take some patience, but you'll just love the delicate (but sturdy!) result!
And check out the debossed effect on the Couture! It's difficult to capture in a photo, but I hope you'll try it out!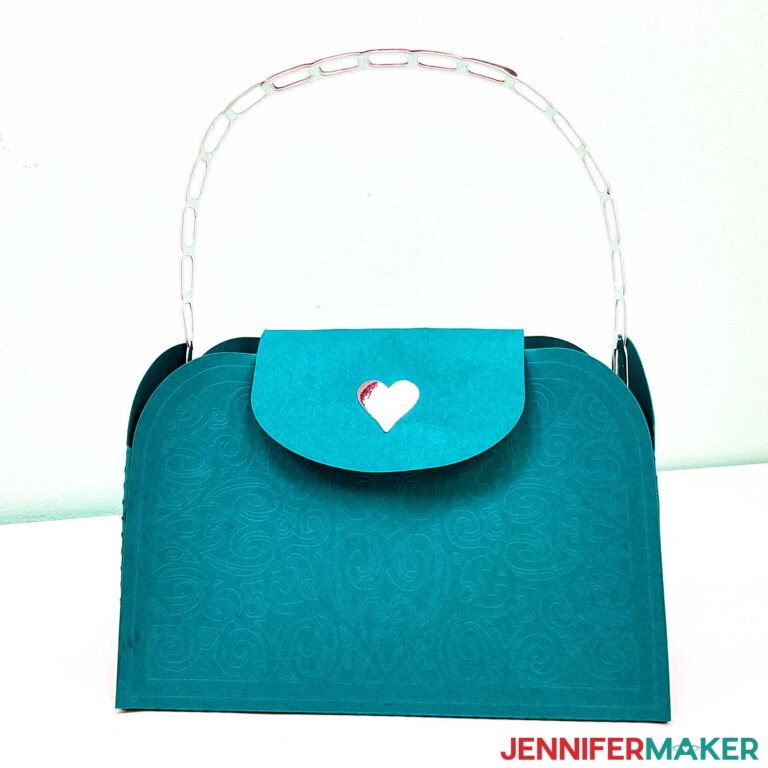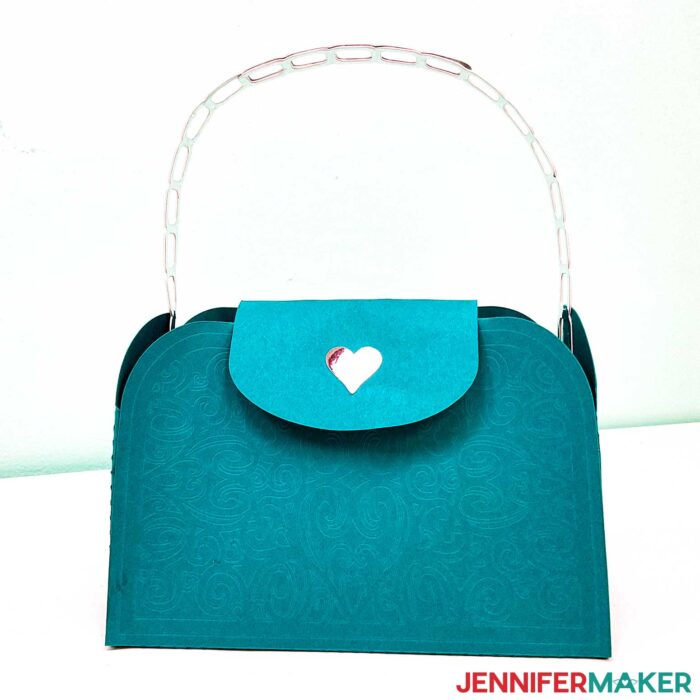 Plus, I'll share some fun personal touches in the full video tutorial! I have some great options for a gift tag and pockets the perfect size for a gift card. Of course, you can also make a card to match your paper handbags & purses. And don't forget to make a matching envelope!
Like I said, the materials and tools to make your own gift bags are simple! You really just need a few sheets of high-quality cardstock, good craft glue, and a way to cut your paper.
I used 65 and 80 lb cardstock in various patterns and textures. You can get really creative with different combinations and totally change the look of the paper purse!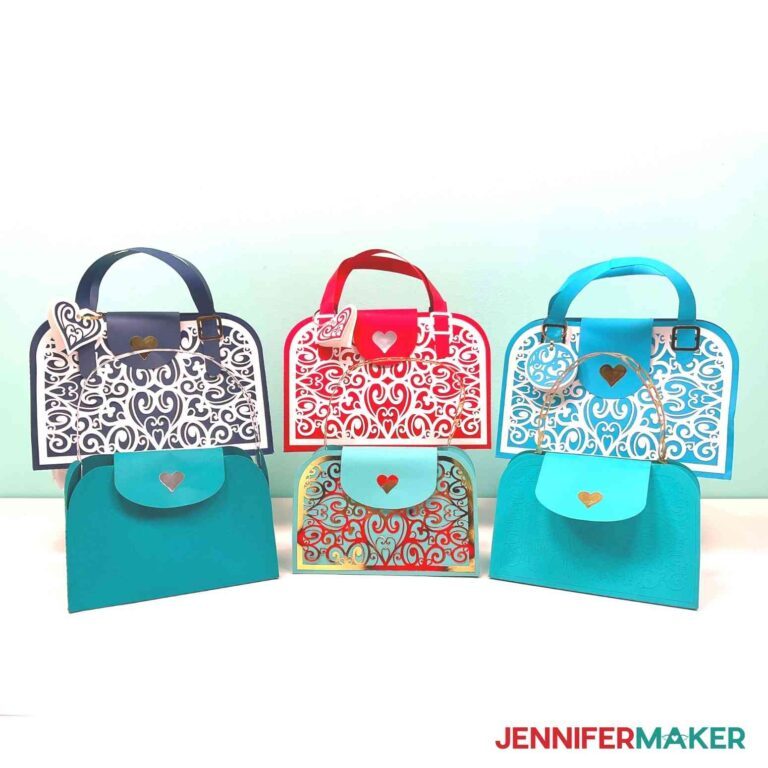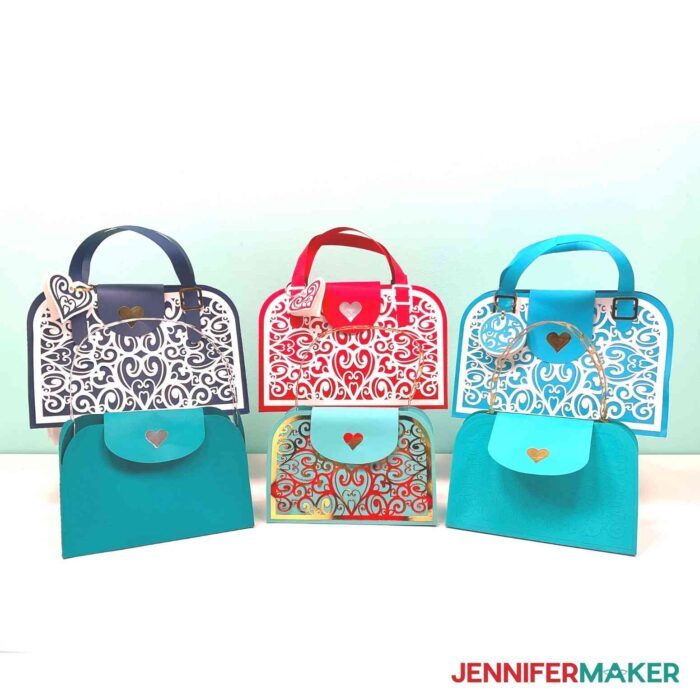 I'll also show you how to make detailed cardstock handles in two different ways and some cute tassels. And if you want to make the custom acrylic keychain, you'll just need a bit of permanent vinyl, transfer tape, and ribbon!
I cut the paper handbag designs on my Cricut Maker 3, but you can use any machine with a Fine-Point Blade. The Daisy Duke can even be made on the Joy!
I'll show you how to make the bags using dashed cut lines for the creases, but I've also included a SVG file version of each bag that uses a scoring tool if you prefer. I also added some stitched detail layers you can create with a Cricut Pen.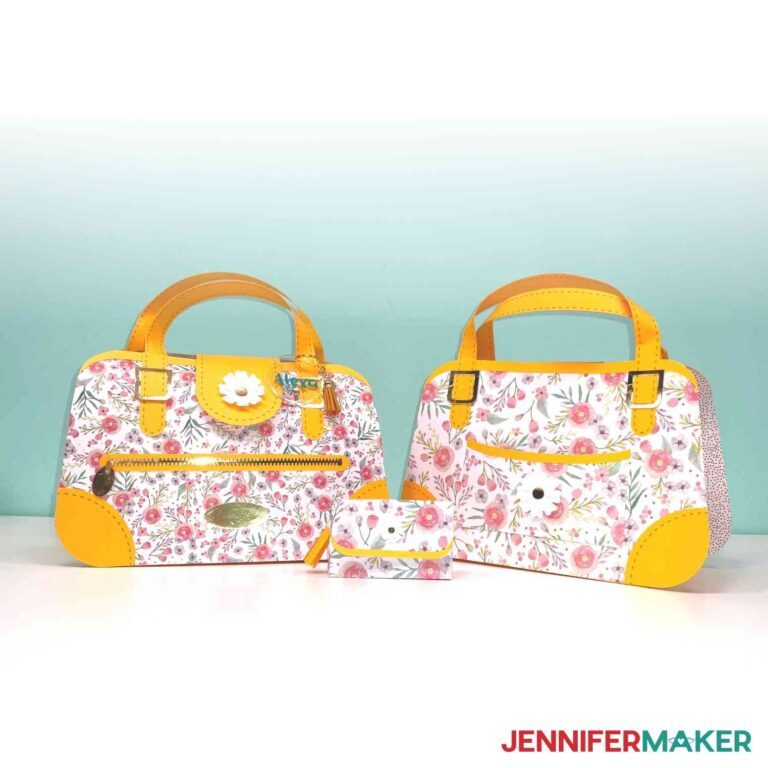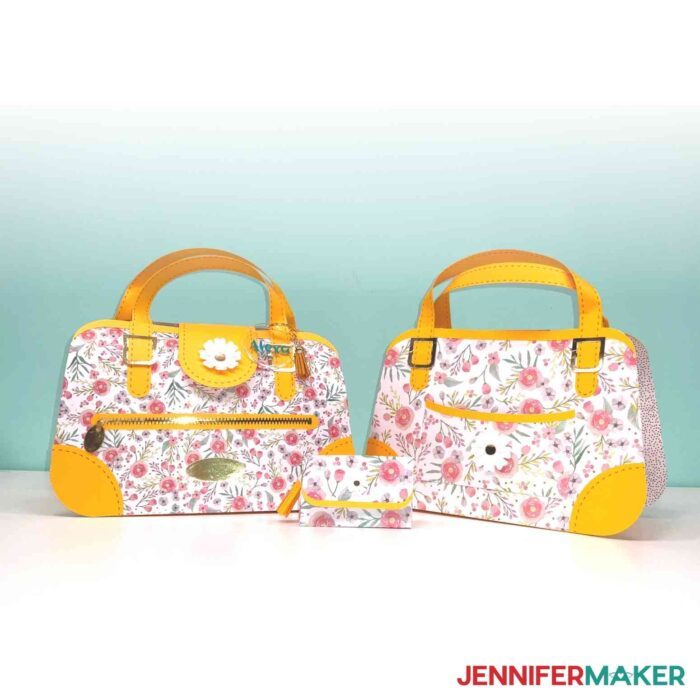 Get the free file set and see the full instructions down below for all my best tips and tricks!
Ready to make a paper handbags and purses? You're going to love them! This post contains some affiliate links for your convenience (which means if you make a purchase after clicking a link I will earn a small commission but it won't cost you a penny more)! Read my full disclosure policy.
Materials to Make Paper Handbags & Purses
View my Amazon shopping list with the exact items we used to make this project!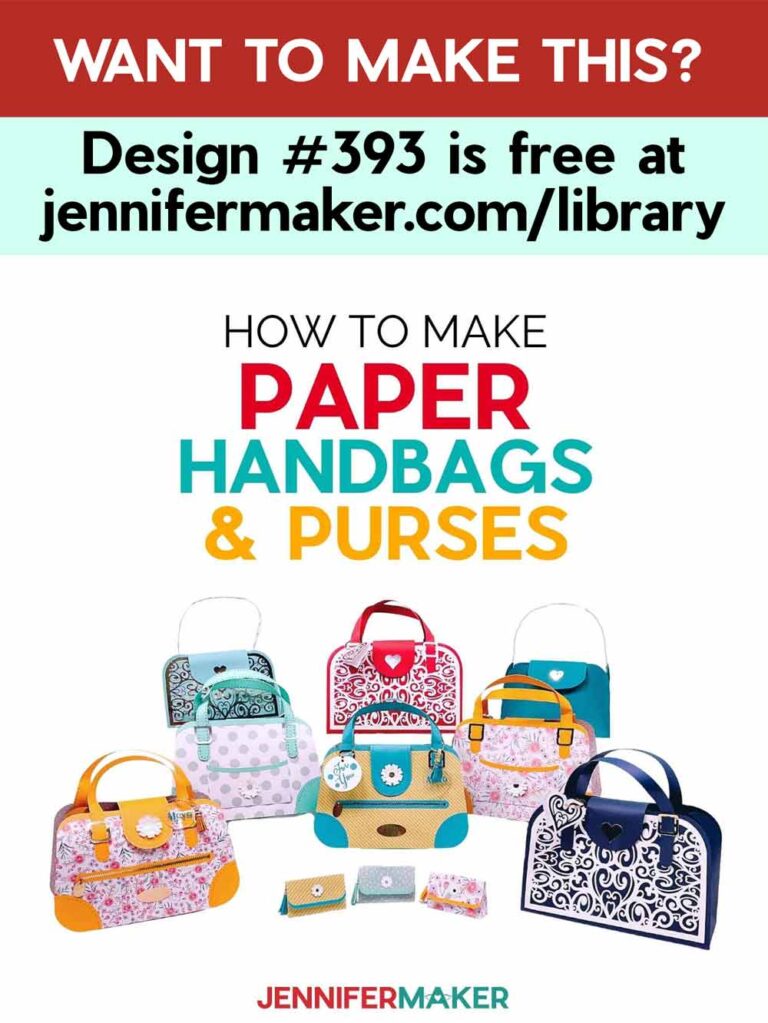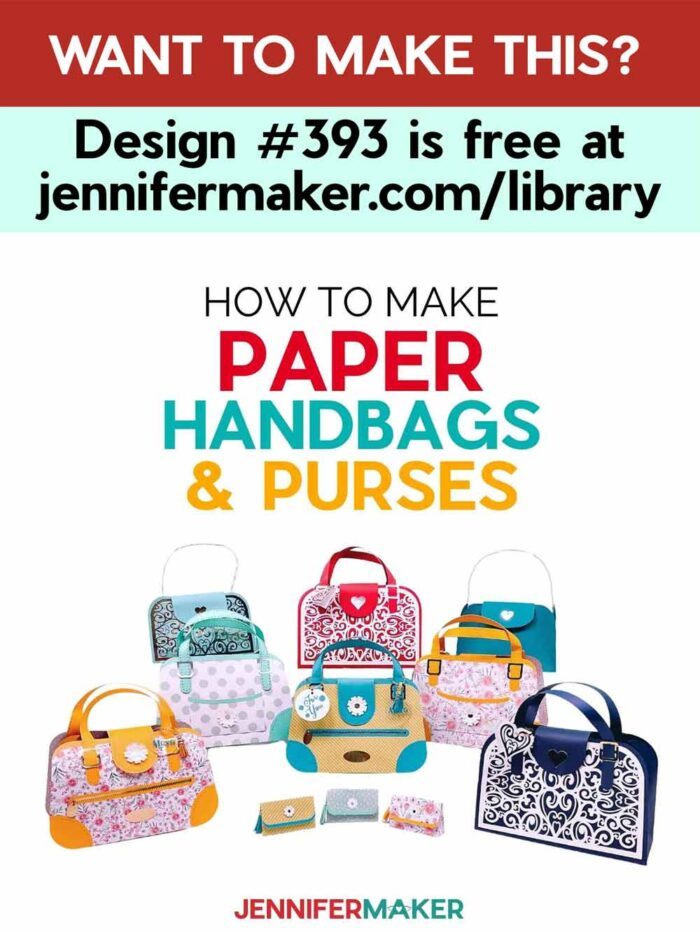 How to Make Paper Handbags & Purses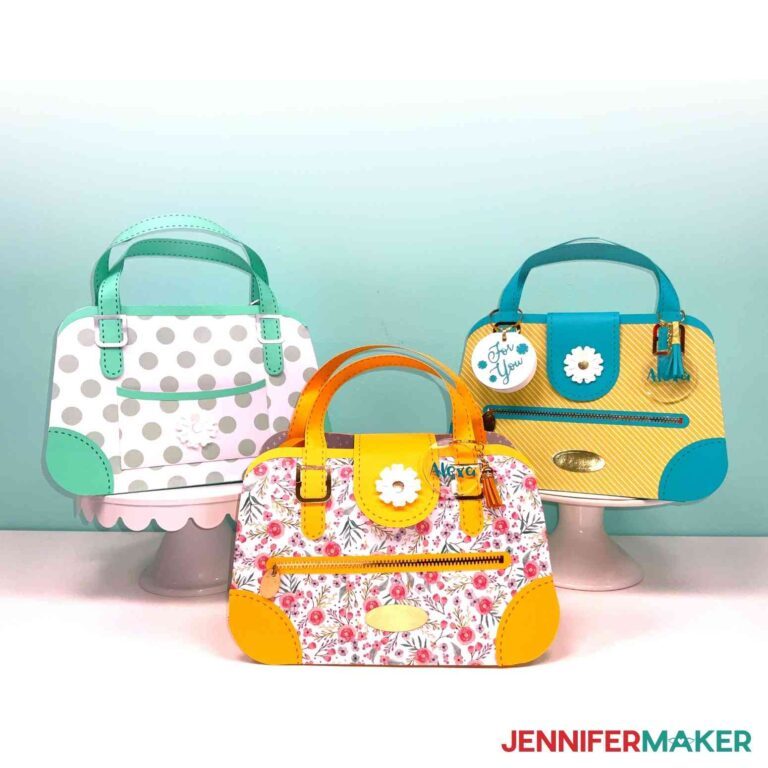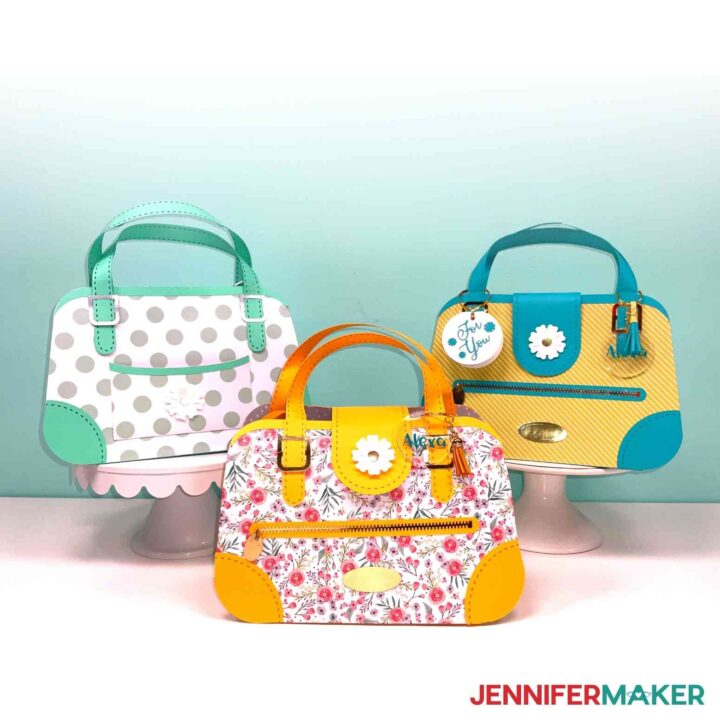 Paper Handbags & Purses
Yield: One (1) Handbag

Active Time: 1 hour 30 minutes

Total Time: 1 hour 30 minutes

Difficulty: Easy to Medium

Estimated Cost: $5-$10

Learn how to make cute paper handbags & purses that you can use as gift bags or fun decor!
Questions About How to Make Paper Handbags & Purses
How do I know which piece is which in these paper handbag designs?
Here are diagrams for all four of the designs: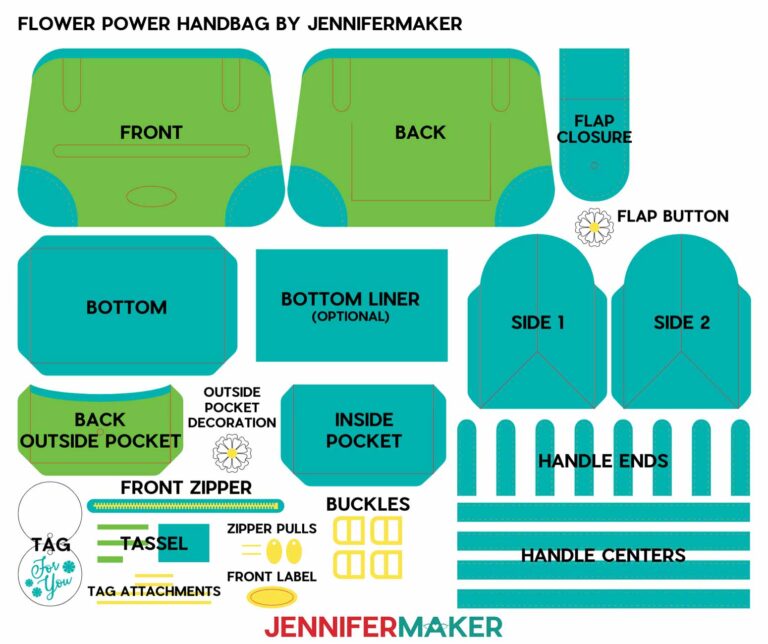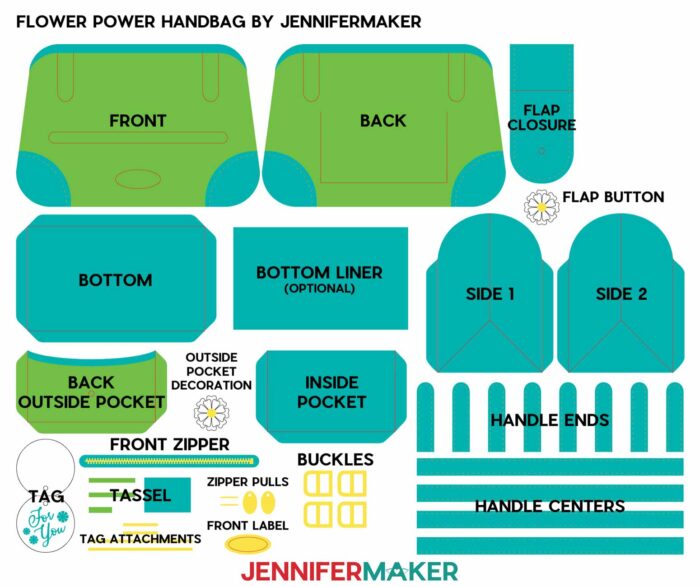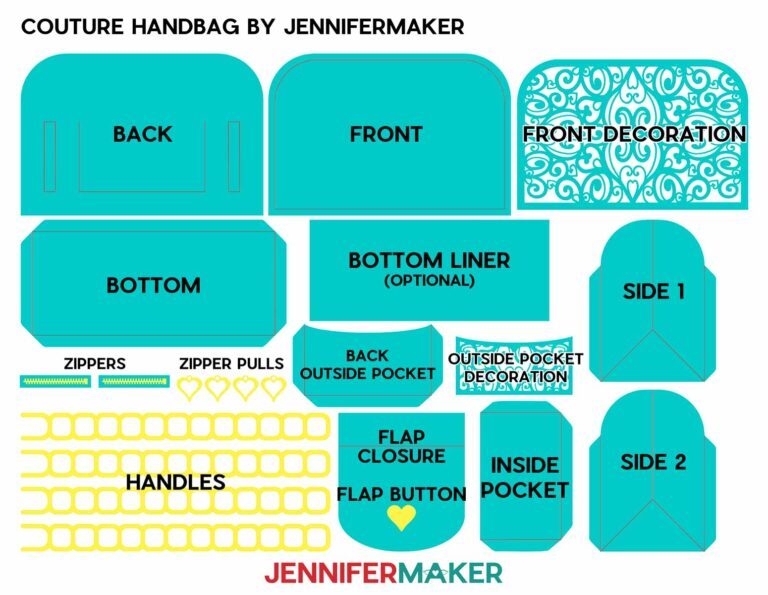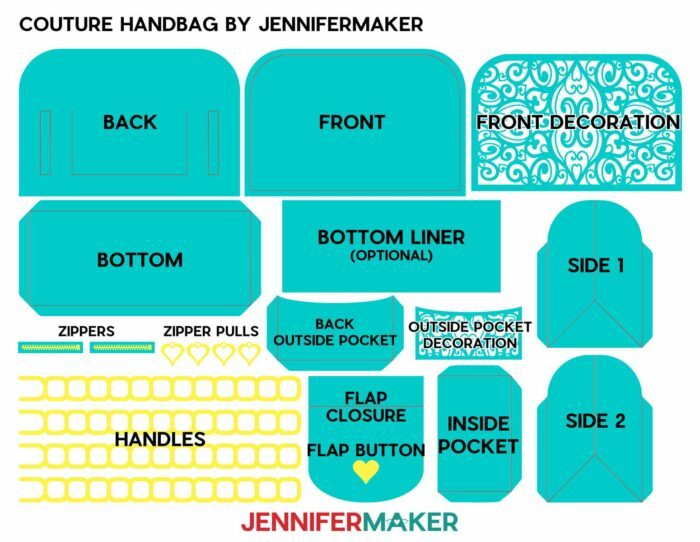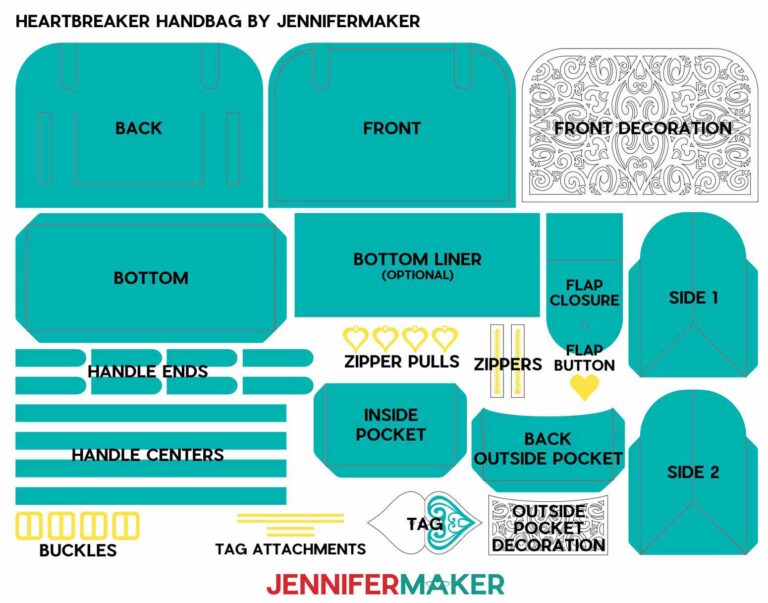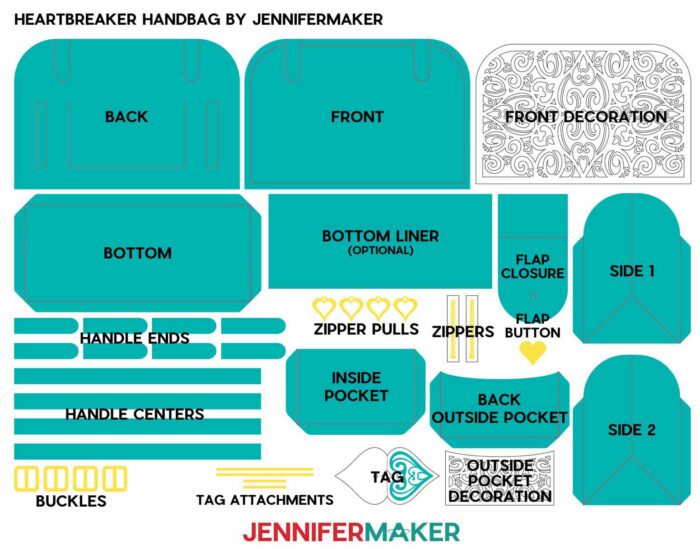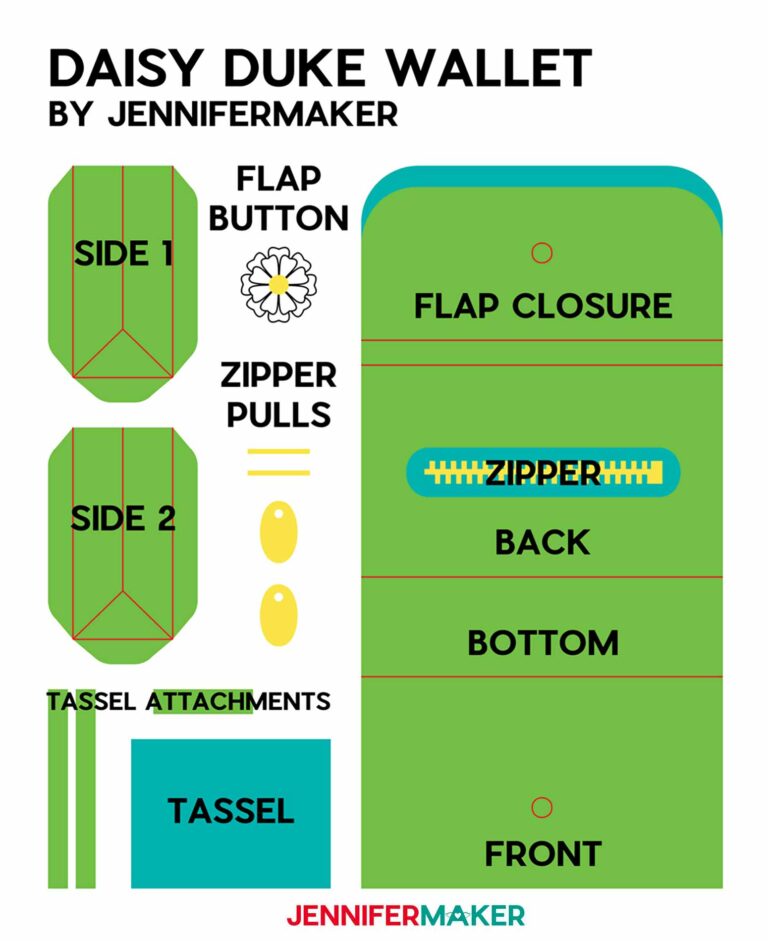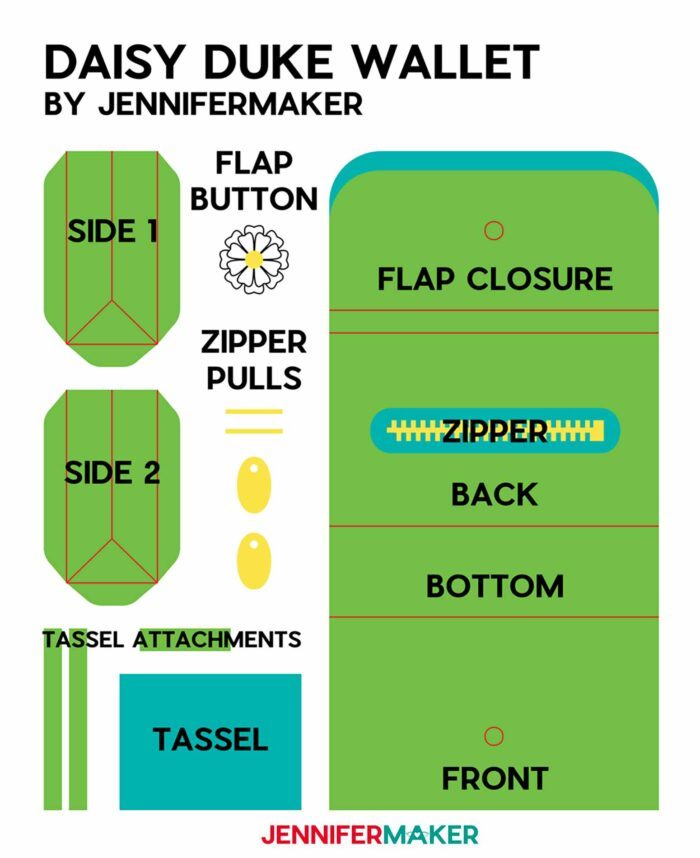 How do you make a designer purse out of paper?
It's easier than you might think! Just download my collection and get some good-quality cardstock, glue, and your cutting machine ready to go!
How do you make cardstock bags?
Assembling a 3D paper bag out of cardstock is easier than it might seem. You'll use creased tabs and adhesives to change the flat paper into a functional work of art with my tutorial!
What can I use instead of a gift bag?
There are so many easy crafts to use in place of a gift bag or paper purse, especially if you have a cutting machine! You can adjust my wine bag design, my purse gift bag, or use any of my cute box projects.
What is the best paper to use for this project?
We used 65 and 80 lb cardstock to make the bags flexible but sturdy enough to hold light items.
How should I decorate my paper handbags & purses?
You can make your own paper purse with any style or details you like! I've included steps for adding a name to the an acrylic keychain or cardstock gift tag, but you can get really creative! Different colors of ribbon, fancy cardstock, mixing and matching elements are all good ideas!
Get my free SVG cut files for the Paper Handbags & Purses!

Now, I'd love to see your paper handbags & purses! If you make bags with these designs, please share a photo in our Facebook group, email it to me at [email protected], or tag me on social media with #jennifermaker.
Love,