Learn how to make a customizable DIY Gift Bag for every occasion!
Have you ever searched a store for the perfect gift bag? Well, in the time it takes to drive to the store and look through the uninspiring options, I'll show you how to make the perfect gift bag at home! You can add your recipient's name, match it to gift boxes, or showcase some of your favorite cardstock on these pretty gift bags. And make an envelope to match! I've included a simple cardstock bag and one with extra features for truly special events. Don't have a Cricut? No problem! I'll show you how to make a DIY gift bag out of wrapping paper by hand!
Watch the full step-by-step tutorial video on how to make a DIY Gift Bag premiering on my YouTube channel on June 4, 2022:
These DIY gift bag designs are the perfect solution to dress up any present. I love that you can adjust the colors to fit a holiday, event, or the person you're celebrating! Even better, they don't take many materials and come together quickly. And they even fold to store flat, so you can make several homemade gift bags in an afternoon to have at the ready.
The wrapping paper DIY gift bag is a perfect way to highlight special holiday paper, or match oddly-shaped presents you're giving as a group. A puzzle is easy to wrap, but the hot chocolate and candy to go with it? Small gifts are the perfect opportunity for a DIY paper gift bag!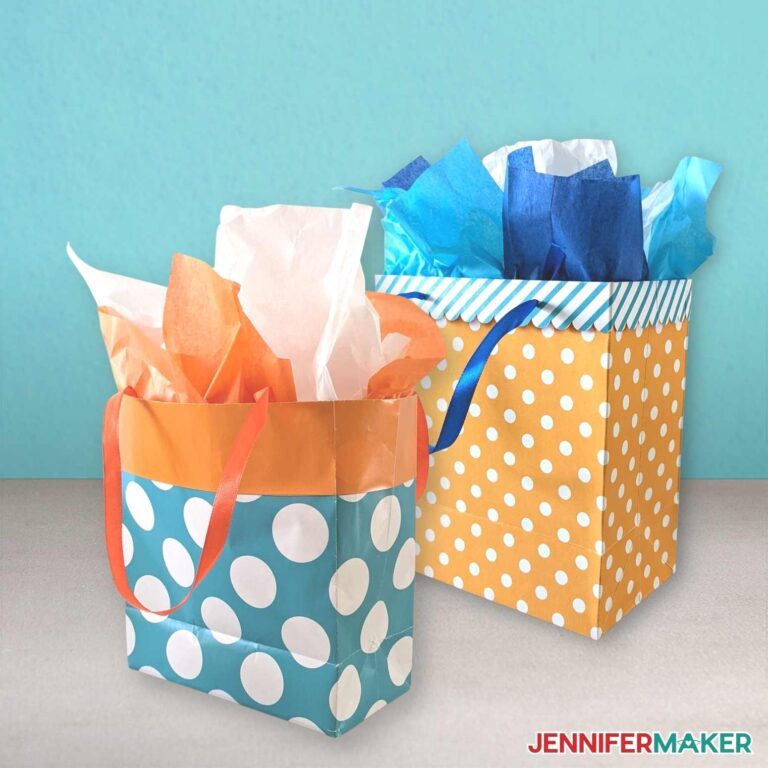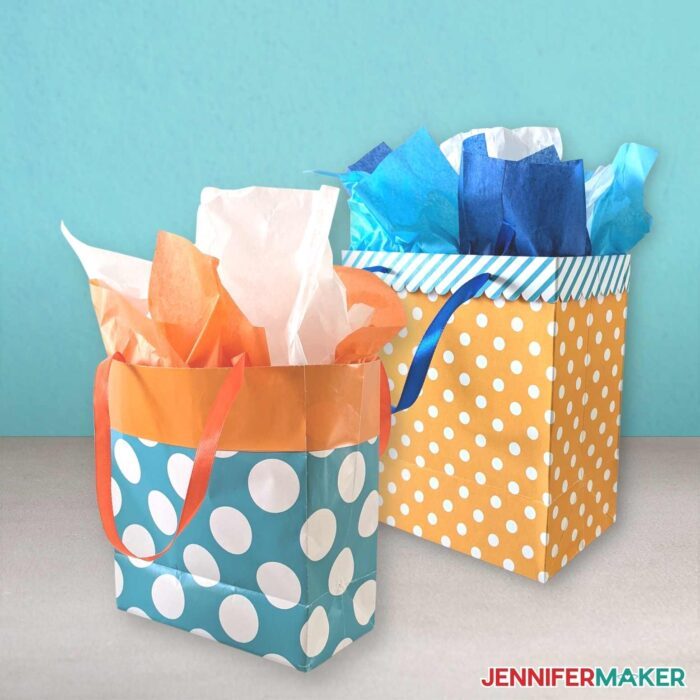 The simple cardstock version is an easy way to use that special paper you've been saving for just the right project. And with the decorative flap at the top of the bag, double-sided cardstock will really shine!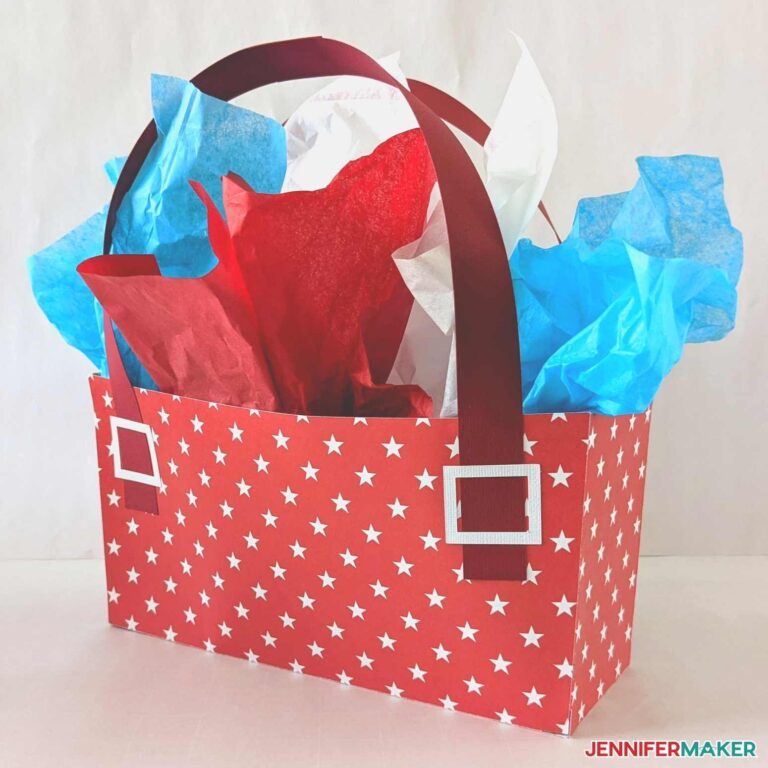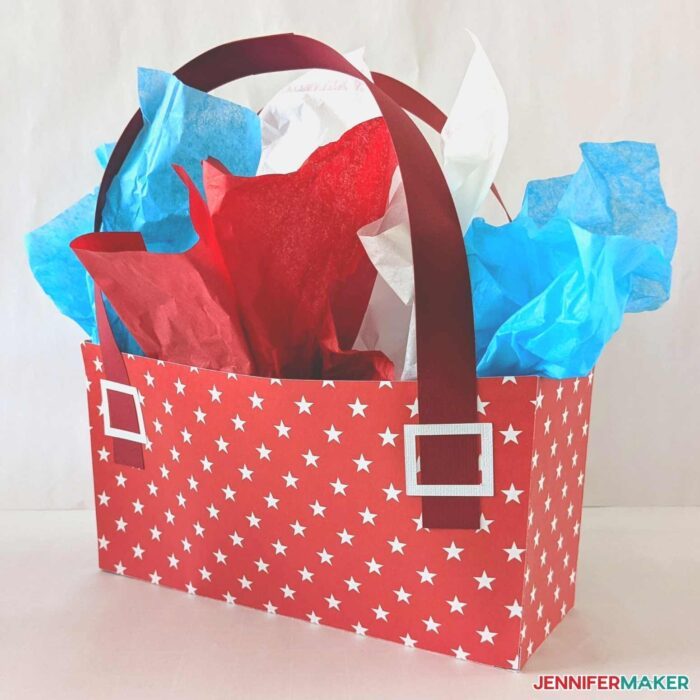 And my purse-inspired DIY gift bag has details to set it apart from average store-bought paper bags. For added flair, make the buckles in in metallic cardstock!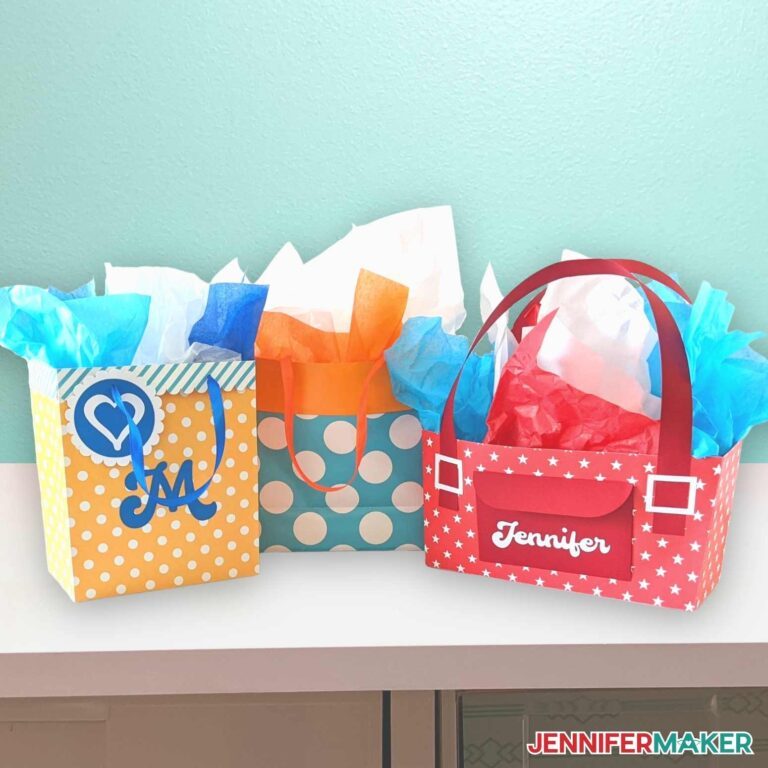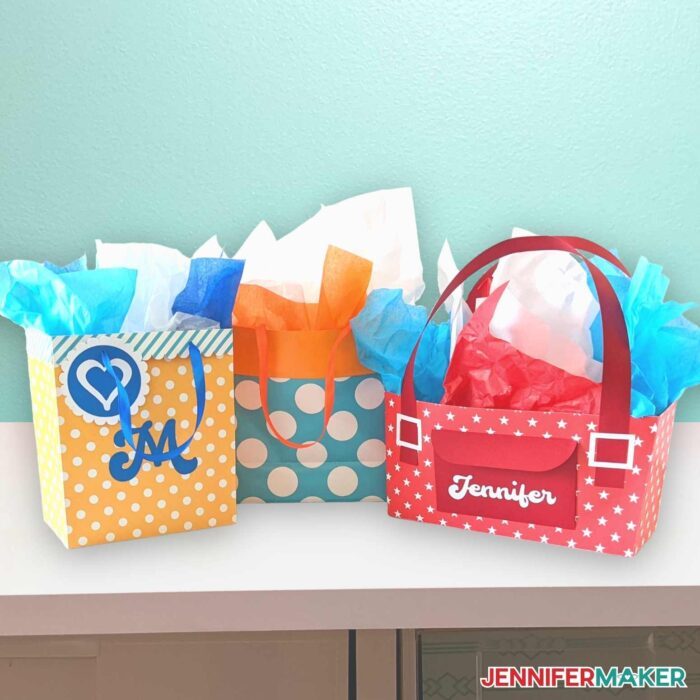 Plus, I'll share some fun personal touches in the full video tutorial! I have some great ideas for a gift tag and a pocket that's the perfect size for a greeting card. Of course, you can also make a card to match your DIY gift bag. Yes, you can make a custom gift set for a fraction of the cost of fancy ones from the store!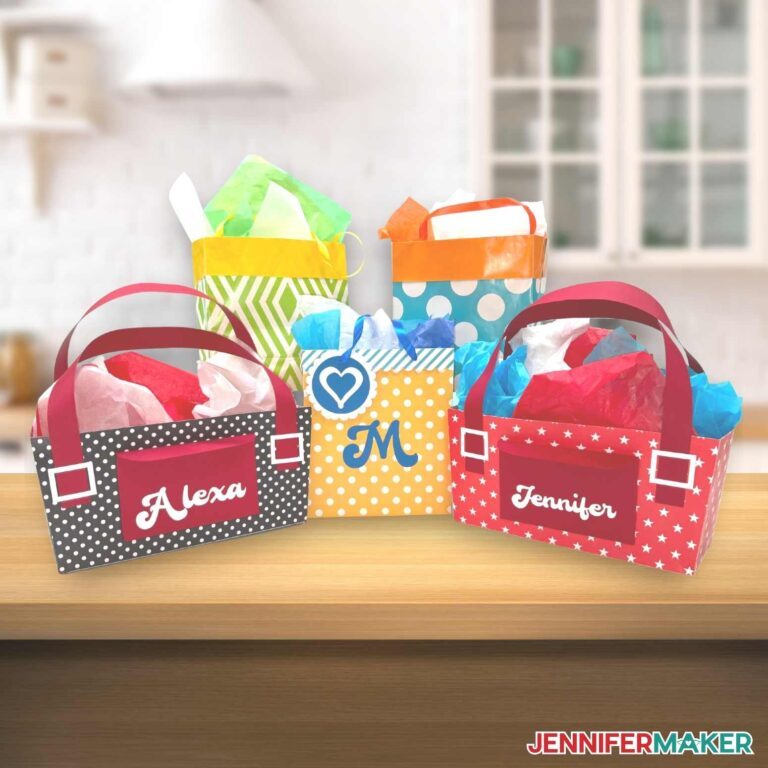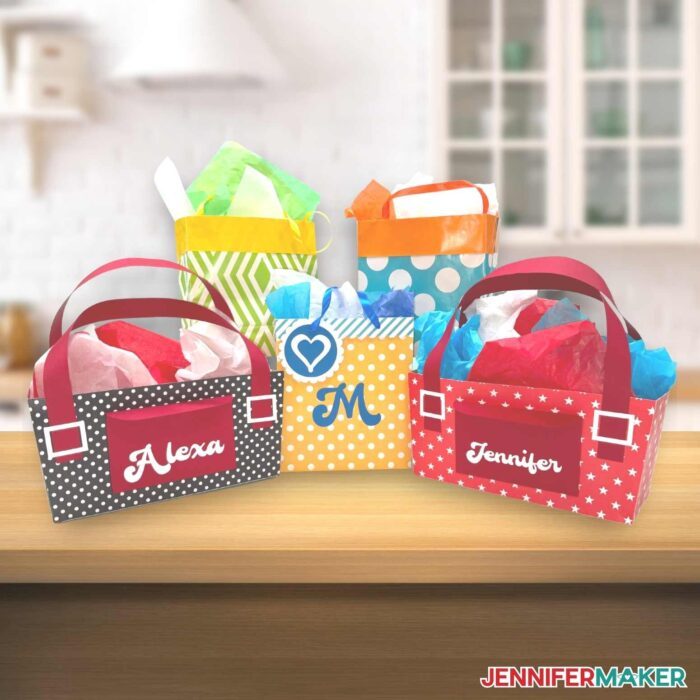 Like I said, the materials and tools to make your own gift bags are simple! You really just need a few sheets of paper, good craft glue, and a way to cut your paper.
For the wrapping paper bag, I used double-sided paper so the inside of the bag and flap at the top edge would really stand out. And a bit of pretty ribbon makes the perfect handles. This one doesn't even require a Cricut. A ruler, pencil, and sharp scissors did the trick for me!
My two cardstock DIY gift bag ideas also feature double-sided colored paper. I used 65 and 80 lb cardstock in various patterns and textures in my testing and loved all of the combinations! I'll also show you how to make ribbon or cardstock handles. The details on the purse-inspired bag will make it really stand out at any party.
I cut the cardstock DIY gift bag designs on my Cricut Maker 3, but you can use any machine with a Fine-Point Blade. That includes the Joy, with just a bit of resizing!
These adorable gift bags are perfect for lighter objects, but I'll also show you how to add a piece of cardboard to the bottom of the bag to make them hold more. See the full instructions down below for all my best tips and tricks!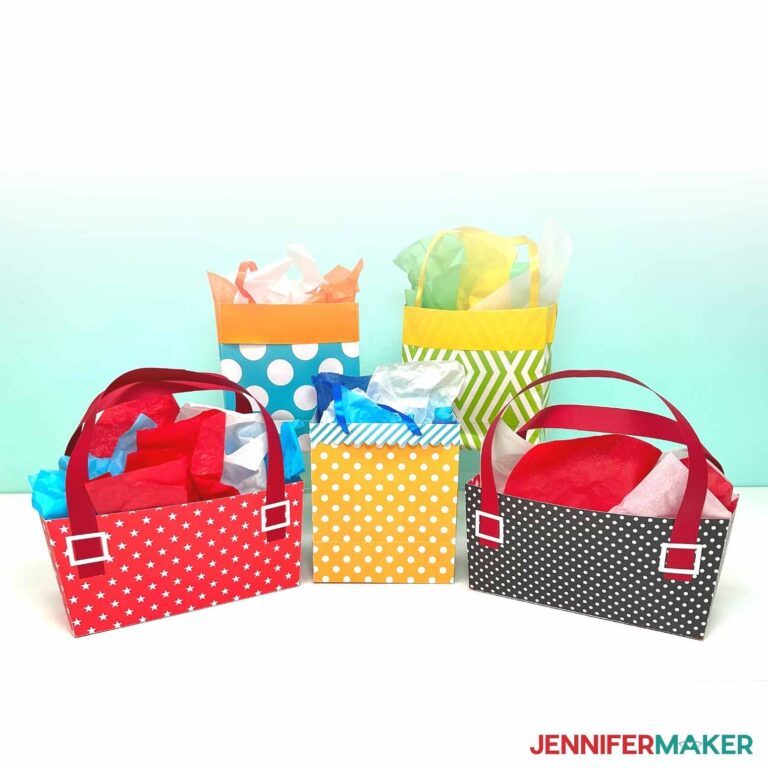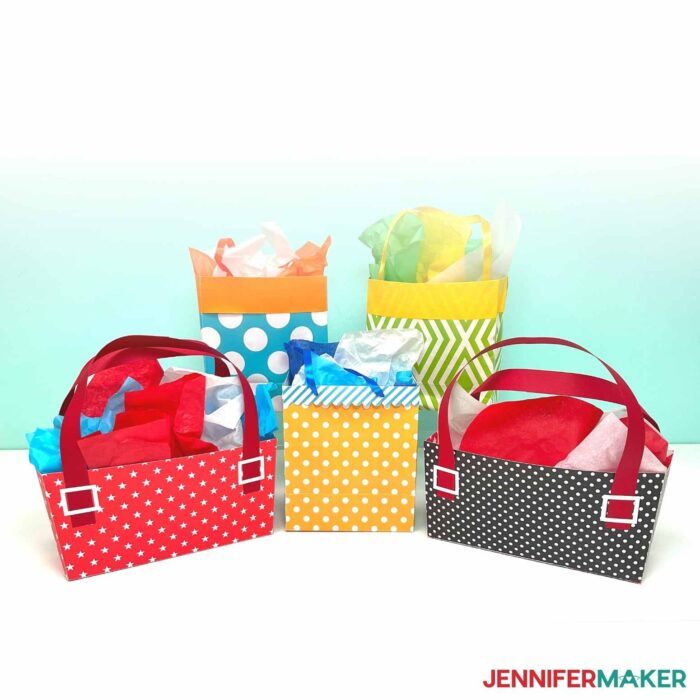 Ready to make a DIY Gift Bag? I'm super excited to show you how! This post contains some affiliate links for your convenience (which means if you make a purchase after clicking a link I will earn a small commission but it won't cost you a penny more)! Read my full disclosure policy.
Materials to Make a DIY Gift Bag in Three Ways
How to Make a DIY Gift Bag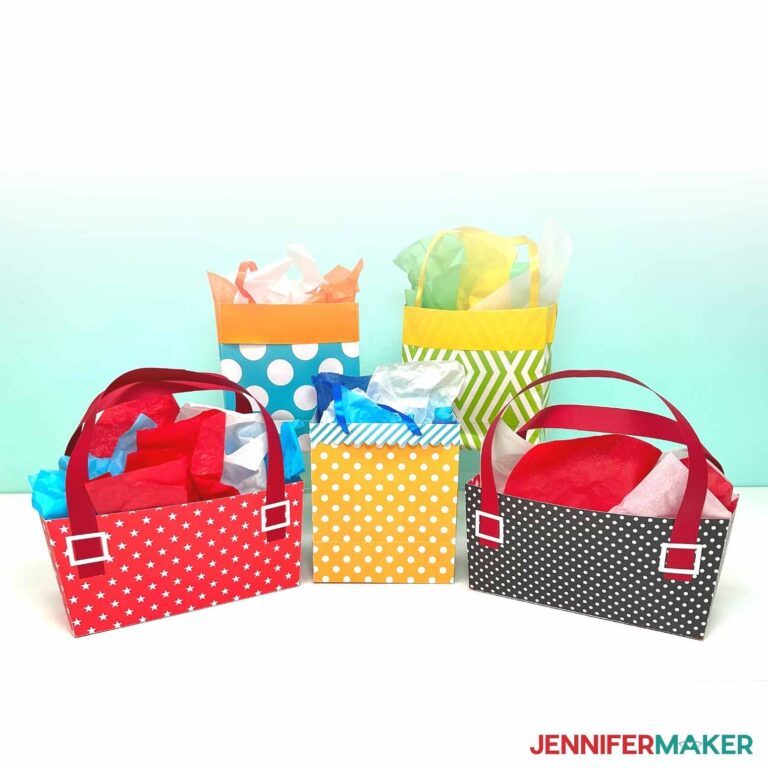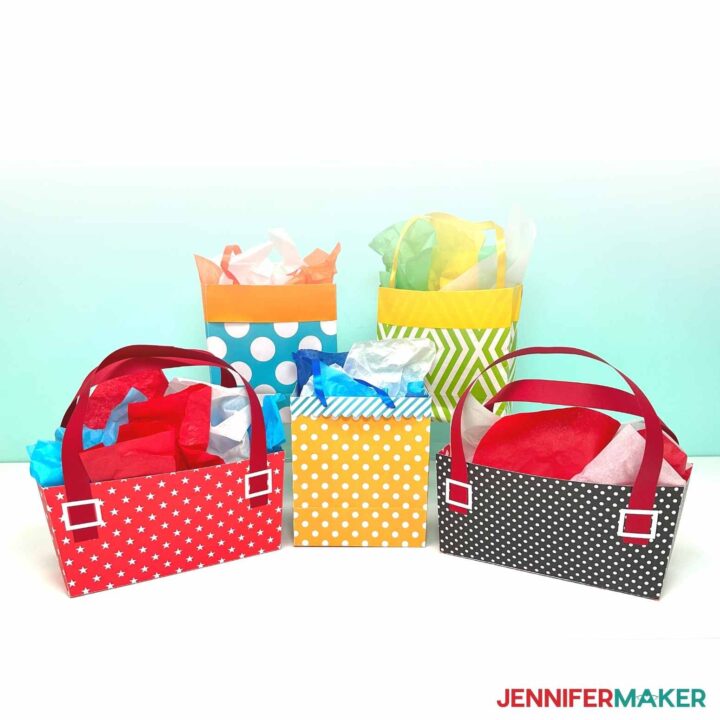 DIY Gift Bag
Yield: 1

Active Time: 30 minutes

Total Time: 30 minutes

Difficulty: Easy

Estimated Cost: $1-$5

Learn how to make easy DIY gift bags with and without a Cricut.
Questions About How to Make a DIY Gift Bag
How do you make a simple gift bag?
Making a handmade gift bag is really quite simple! All it takes is wrapping paper, glue, and scissors. You can follow my instructions to learn how!
What can I use instead of a gift bag?
There are so many easy crafts to use in place of a gift bag, especially if you have a cutting machine! You can adjust my wine bag design, my purse gift bag, or use any of my cute box projects.
How do you make gift wrap bags?
Making a DIY gift bag with gift wrapping is actually super easy. I've shared all the steps in my video and written tutorial above!
What material is used for gift bags?
You can use any type of paper as long as it's strong enough to crease and hold some small gifts. I've seen bags made out of old maps from the thrift store, scrapbook paper, and so many more kinds! I'd love to see your experiments with new papers!
What is the best paper to use for this project?
We used 65 and 80 lb cardstock to make the bags flexible but sturdy enough to
How should I decorate my DIY Gift Bag?
You can make your own paper gift bag with any style or details you like! I've included steps for adding an initial or name to the front of the bag or gift tag, but you can get really creative!
Get my free SVG files for the DIY Gift Bag Projects!

Now, I'd love to see your DIY gift bag projects! If you make bags with these designs, please share a photo in our Facebook group, email it to me at [email protected], or tag me on social media with #jennifermaker.
Love,