Make a mini quilt on a Cricut cutting machine with precise shapes and simple stitches — perfect for beginners!
Have you always wanted to try quilting but where sure where to begin? I got you! Mini quilts are a great way to show off your favorite fabrics and patterns, and they make wonderful gifts or decorations for your home. Plus, they're surprisingly easy to make! You can even have your Cricut cut out the pieces for you for precise control. You need only the simplest and most beginner sewing skills — just straight lines! This mini quilt project is perfect for crafters of all skill levels.
Watch the full step-by-step video showing you exactly how to create your own mini quilt with a VIP pass to Maker Academy Weekend 2022!
This mini quilt project can be cut by hand using the printable pattern I'm including with the free design file, but I've also provided digital design files so you can try cutting your fabric pieces with a cutting machine. The pieces of a mini quilt can be cut perfectly with a Cricut Explore or Maker cutting machine, and thanks to its precision, they will be exactly the right size. For those that want to try cutting the pieces on a machine, I've included two different SVGs for this little quilt project — which one you use will depend on how much you want to plan your project and how much patience you have for making adjustments.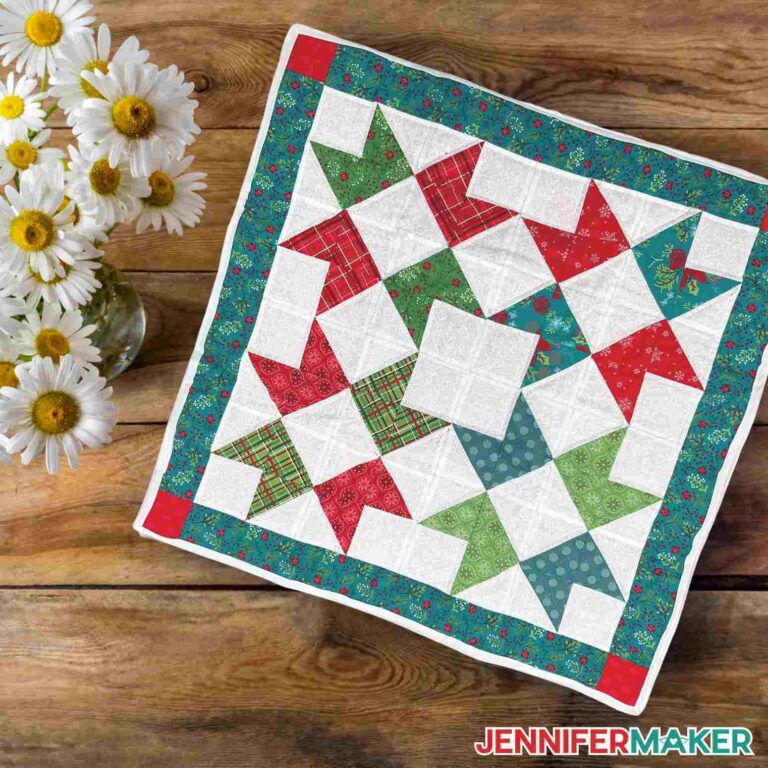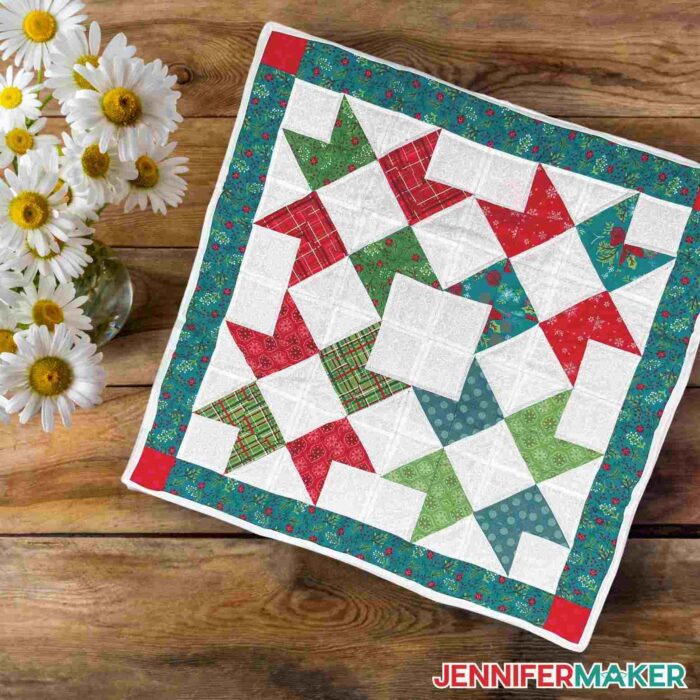 These mini quilts can be customized with your favorite colors and designs and make the perfect gift for the gift-giving season. The mini quilt SVG has the pieces to make one panel if you want to feature more than two colors for your triangles and customize the pieces as you wish, you will want to choose this version. I've included written instructions on how to do this in the workbook that goes along with this project.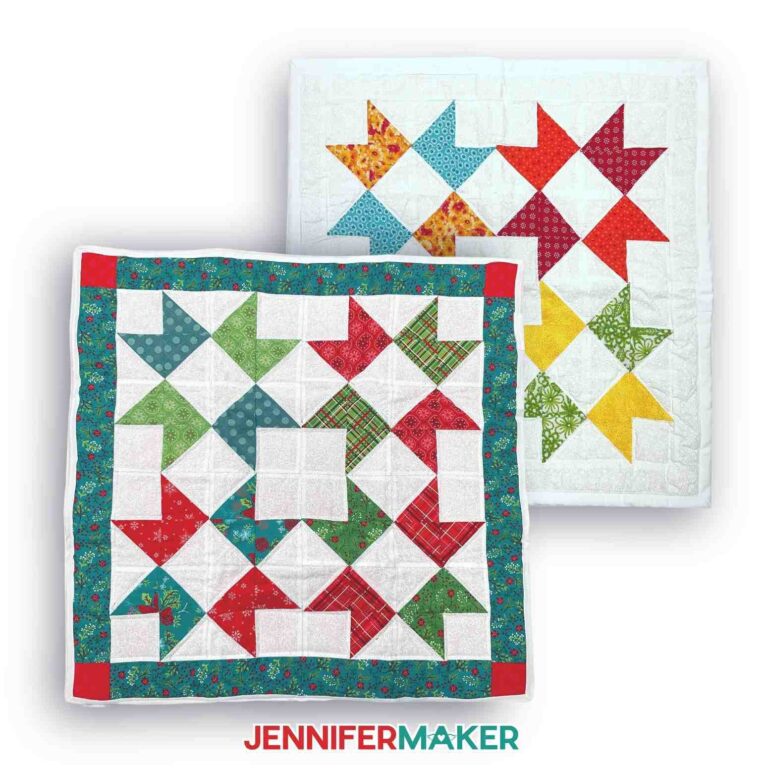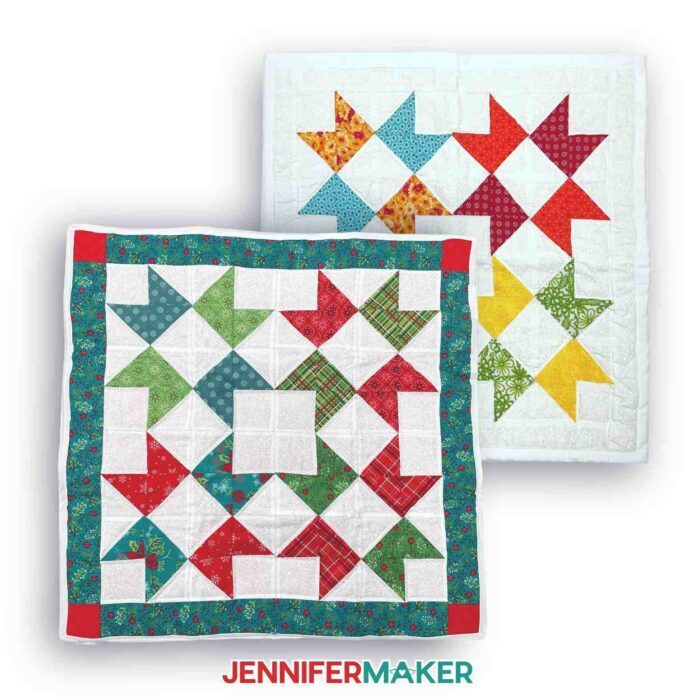 You may not want to spend as much time on your cute little quilt project and prefer an easier route however. If you want to spend less time making the mini quilt, you will want to use the consolidated file, which has all the pieces you need and just takes a minute to prepare. The choice is yours, as always!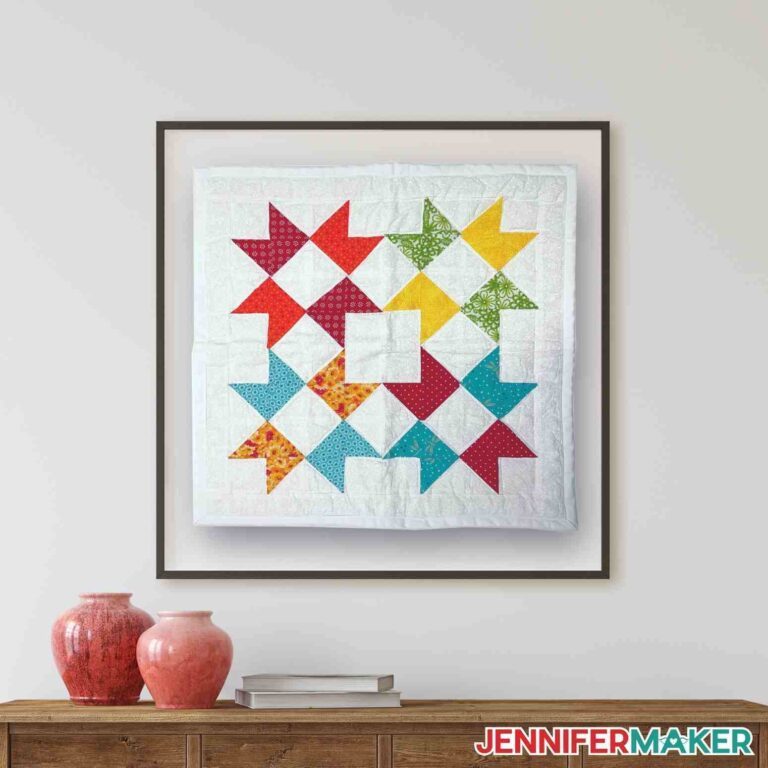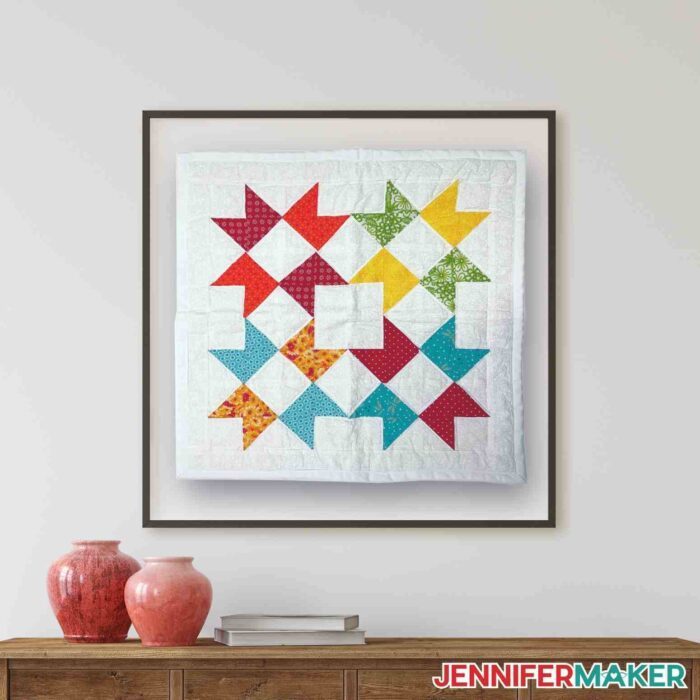 Here's a supply list of what you need to make a mini quilt on a Cricut! This post contains some affiliate links for your convenience (which means if you make a purchase after clicking a link I will earn a small commission but it won't cost you a penny more)! Read my full disclosure policy.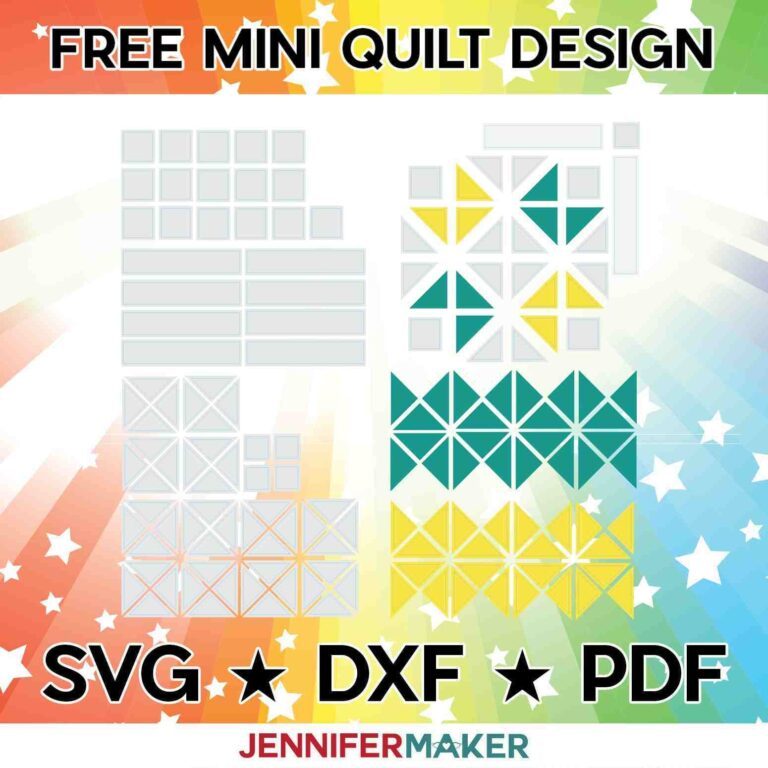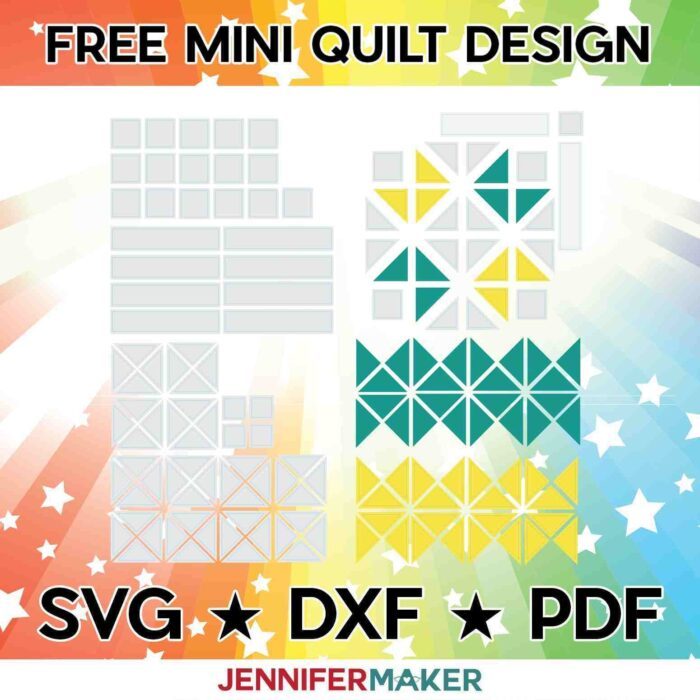 How to Make Your Own Mini Quilt on a Cricut
The detailed step-by-step assembly video on how to create a mini quilt on a Cricut debuted during Maker Academy Weekend 2022, held online November 3-6, 2022. Get an on-demand pass to watch all 20+ workshops, each with a printable handbook, transcript, audio files, design files, and support with a VIP pass below:


These quilts look just as beautiful as wall decor or even as a baby comfort blanket gift. You really can't go wrong with what you choose to decide for this project!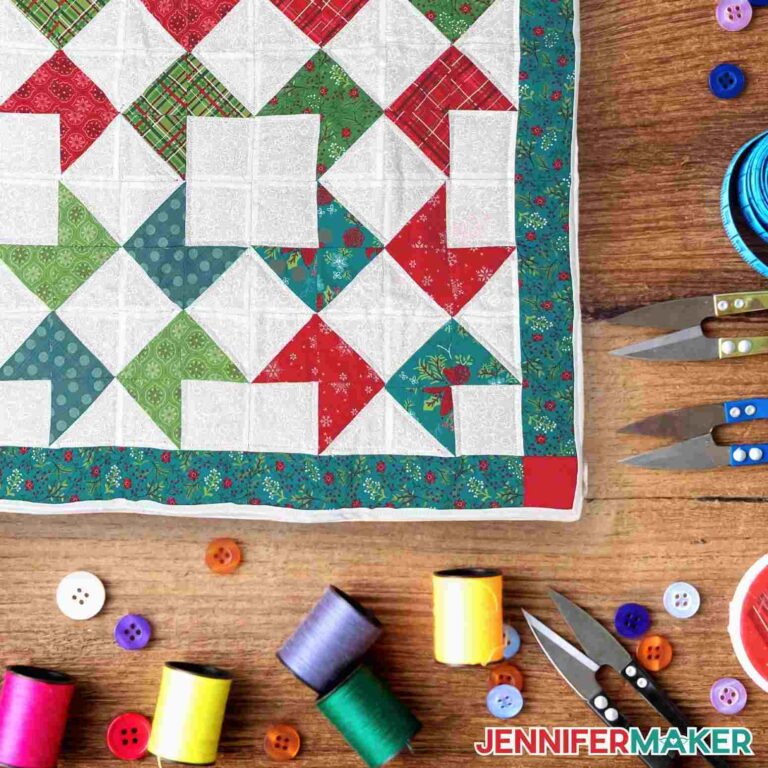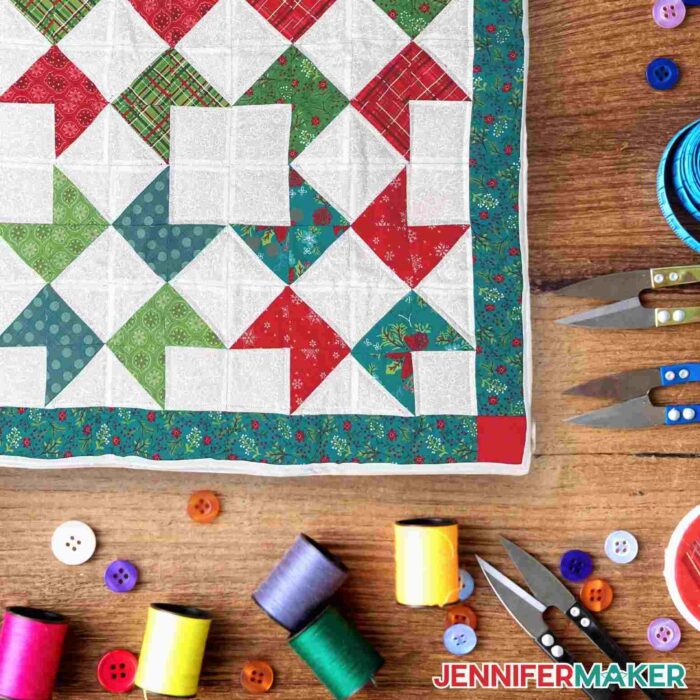 The colors you choose for your quilt will make it even better with your personalized touch. It feels great once you've completed the final design and say, "I did that!"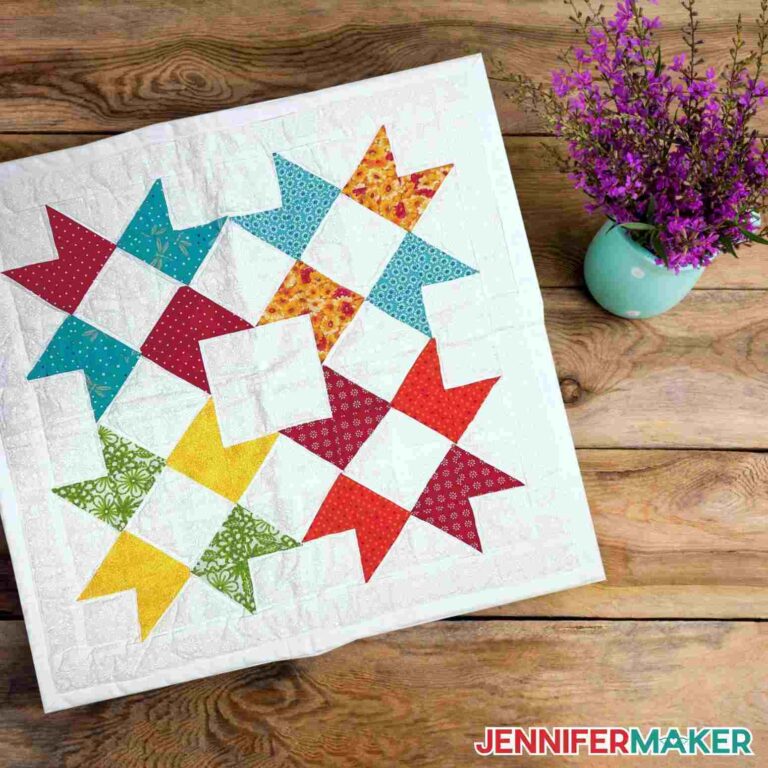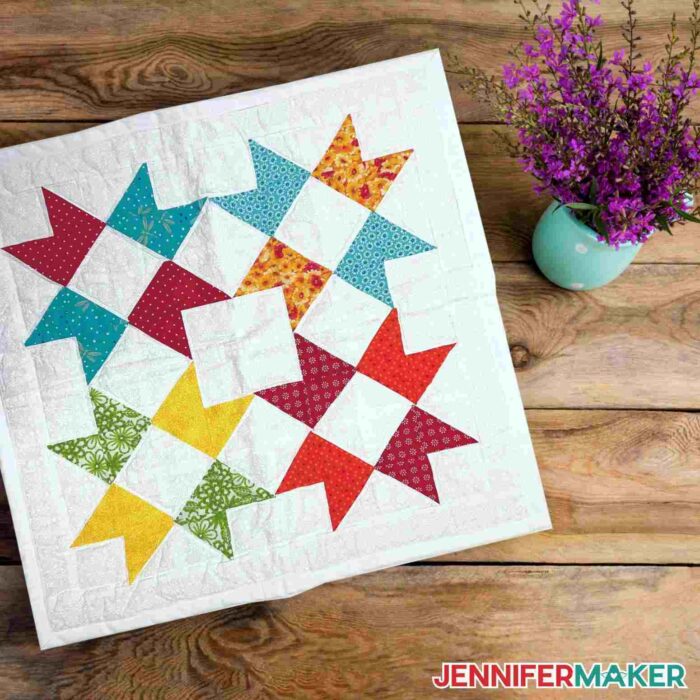 Mini quilts are a great way to show off your creativity and they make wonderful gifts or decorations for your home. If you're new to quilting, we recommend starting with a simple design like the one shown here; once you've mastered the basics, you can move on to more complex designs!
Answers to Your Questions About How to Make a Mini Quilt on a Cricut
Q: Where is your tutorial for this mini quilt project?
This is a special project we made for our free Maker Academy Weekend 2022 event! A complete and detailed step-by-step video premiered during the event November 3-6, 2022 — specifically, this tutorial video was available to watch for free for 24 hours beginning November 5 at 11:00 am ET! You can get access to the full video, the printable handbook that details how to make this beautiful project if you get a VIP Pass to Maker Academy Weekend 2022, which comes with other perks and bonuses, too!
How big is a mini quilt?
Most mini quilts are between 12 to 24 inches. Our finished mini quilt is 24.5″ x 24.5″
How do you display mini quilts?
Many people choose to hang their mini quilts on the wall, like artwork! One simple option for hanging small quilts is to simply use thumbtacks! Or frame your quilt and hang up the frame. You can also buy special mini quilt hangers, too. Or just get a dowel, hand stitch it to the back of your quilt, and hang the dowel on your wall. Lots of options.
How well does a Cricut cut fabric?
The Cricut is a champ as it can cut fabric much more precisely than we can with scissors or a rotary cutter. And precision is really helpful in quilting. Check out my How to Cut Fabric with Cricut Explore or Maker tutorial for more details.
Can I cut the pieces for a mini quilt by hand?
Absolutely! And this mini quilt pattern has pretty simple pieces to cut. Just use the printable pattern.
Get my free pattern to cut and sew a mini quilt from start to finish!
I hope you make a mini quilt and show me! I love seeing what you make with my designs and how you use them! Please share a photo of your mini quilt in our Facebook group or tag me on social media with #jennifermaker.
Love,