Learn how to make a 3D cake topper with a shaker for a birthday, wedding, or anniversary!
Custom cake toppers have become such a trend these past few years. I've seen all kinds of different cake toppers for all different kinds of occasions. They are so popular in fact that this is my third addition to my cake toppers collection! I've made custom cake toppers for birthdays and weddings as well as some rainbow and mermaid cake toppers with layers that work for a baby shower and birthday parties. I've added these new toppers to my collection because I know just how much you love them based on the feedback I've received in my Facebook group.
Watch the full step-by-step video showing you exactly how to create your own custom cake toppers with a VIP pass to Maker Academy Weekend 2022!
Custom Cake Toppers are a great way to make a special day even more festive. You can turn that boring store-bought cake into a beautiful one just by adding your own personal touch to it! In this project, I'm sharing three designs to celebrate birthdays, weddings, anniversaries, or a similar special occasion. And as a special present to you all, I've made them into shaker cake toppers!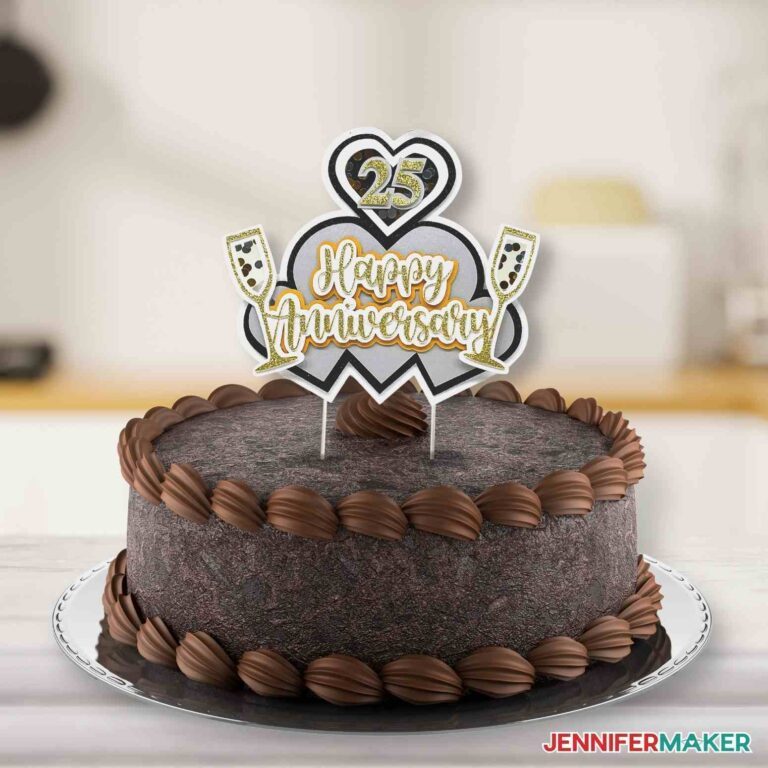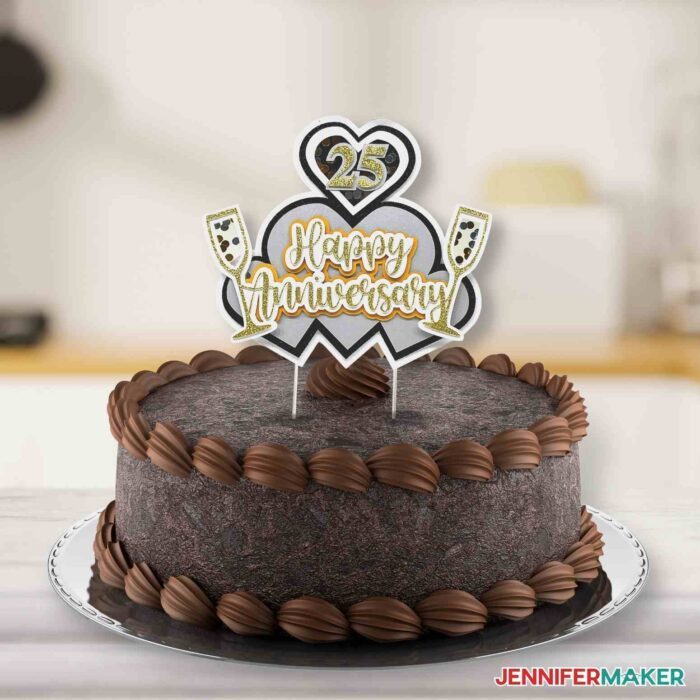 To make these adorable personalized cake toppers, you will need several pieces of cardstock. A custom cake topper is so much fun to customize and you can use whatever paper you want to coordinate with your party theme. I used 65 lb. cardstock in several colors and glitter cardstock for most of the layers. And if you want to add a photo, you can print it on photo paper too.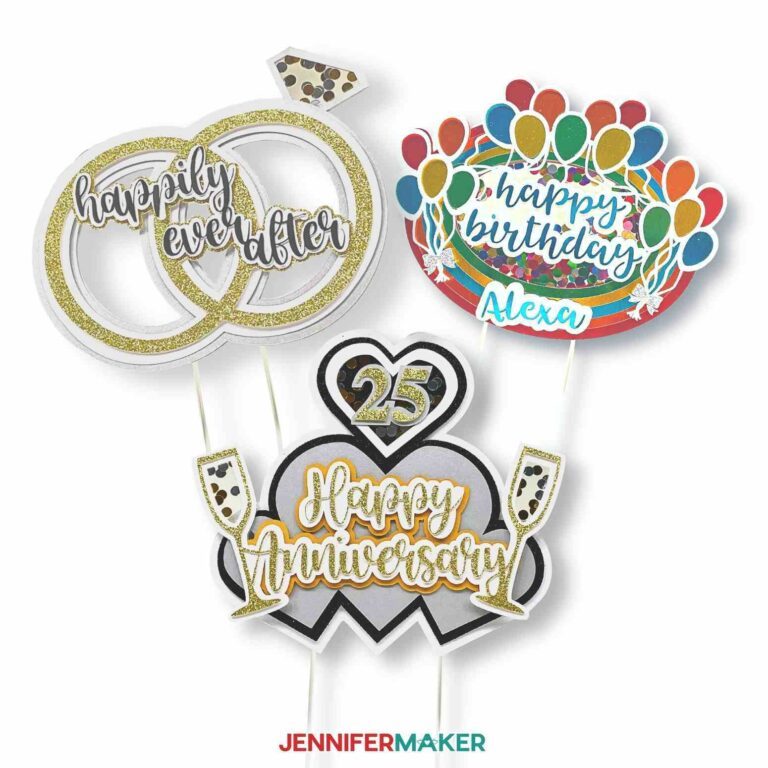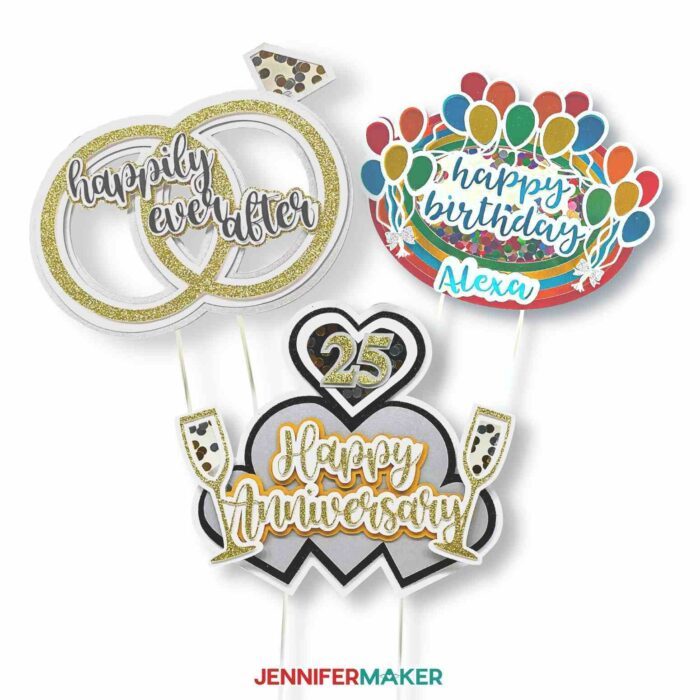 For the shaker section – the best part! – you'll need clear acetate and your choice of confetti. I'll show you the secret to keeping the confetti secure, don't worry. I use a variety of adhesives to keep the cake topper all together! Shakers are a lot of fun. Look what a difference a cake topper makes on a plain white and blue cake: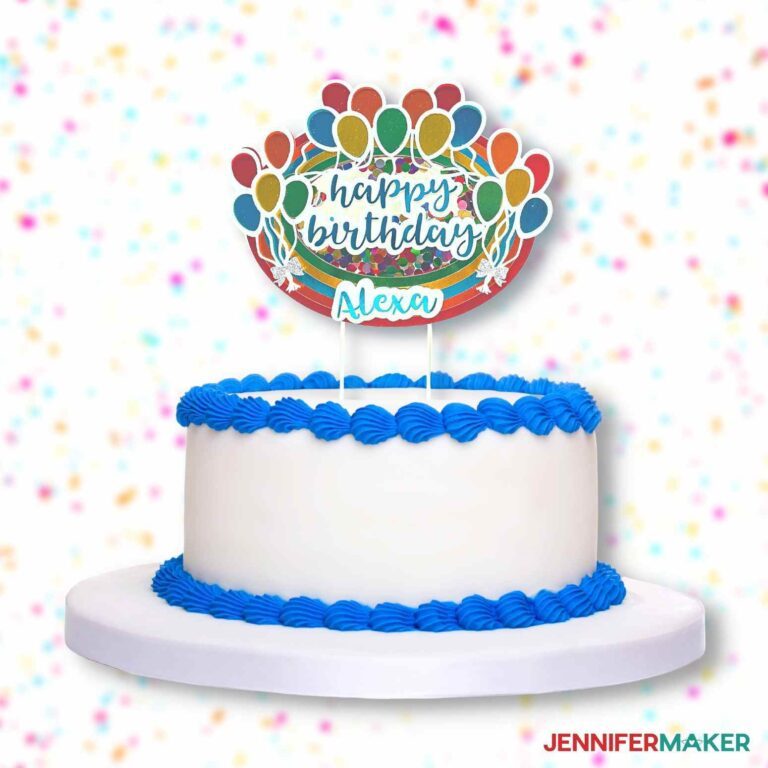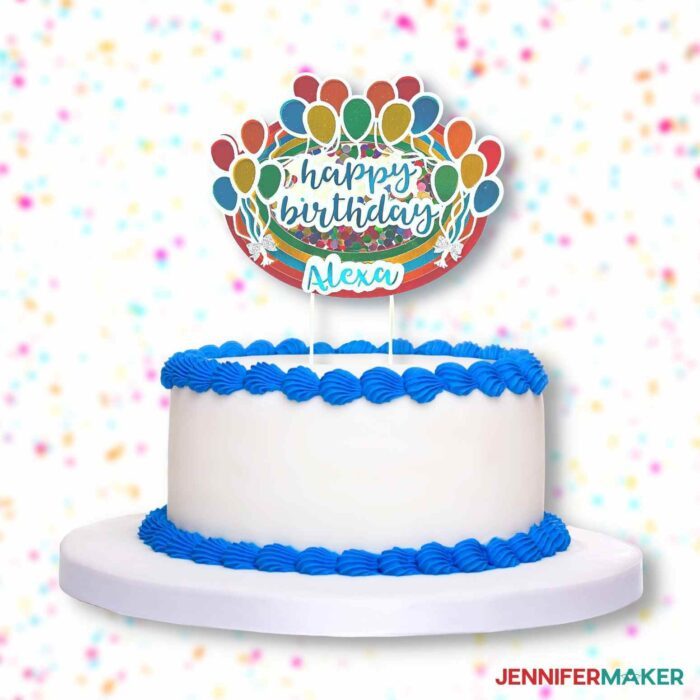 Here's a supply list of what you need to make easy DIY cake toppers! This post contains some affiliate links for your convenience (which means if you make a purchase after clicking a link I will earn a small commission but it won't cost you a penny more)! Read my full disclosure policy.
Materials to Make Custom Cake Toppers with Shakers
View my Amazon shopping list with the exact items we used to make this project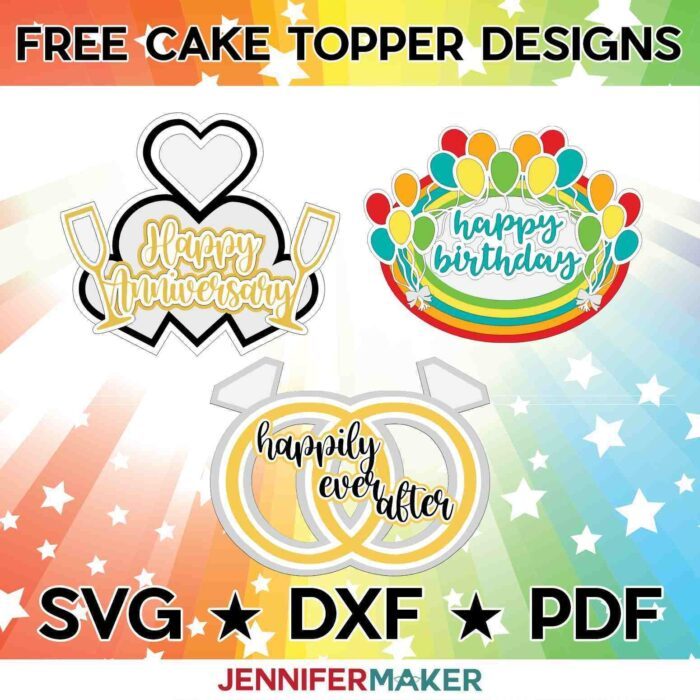 How to Make Your Own Custom Cake Toppers
The detailed step-by-step assembly video on how to create a custom cake toppers debuted during Maker Academy Weekend 2022, held online November 3-6, 2022. Get an on-demand pass to watch all 20+ workshops, each with a printable handbook, transcript, audio files, design files, and support with a VIP pass below:


I also included extra designs with this DIY cake topper tutorial that don't include any text so you truly personalize them for any occasion. Like most of my projects, you can customize these custom cake toppers to your heart's desire! There's lots of cake topper layers to play with and personalize.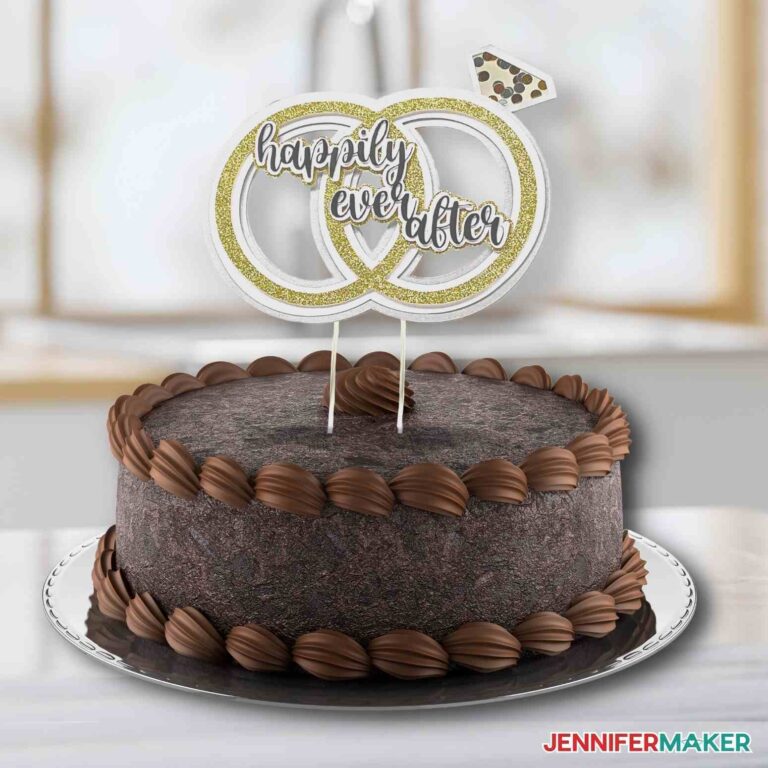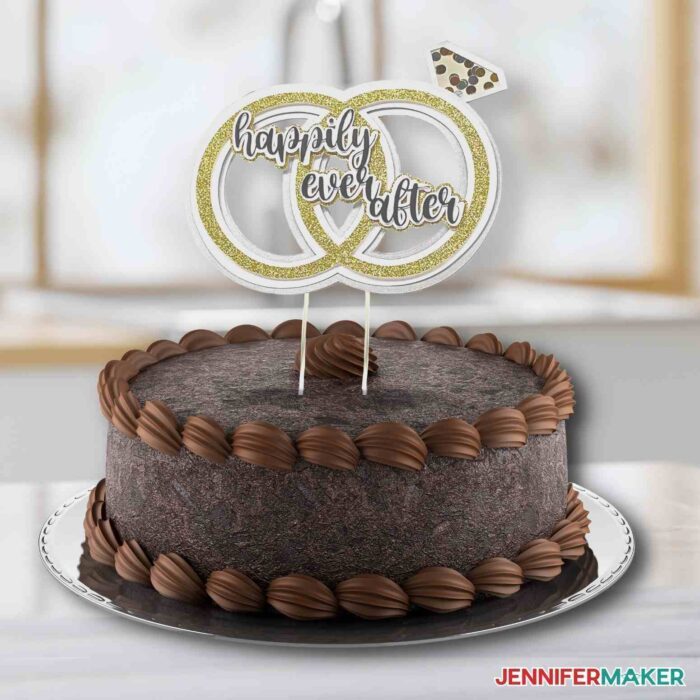 Answers to Your Questions About How to Make Custom Cake Toppers
Q: Where is your step-by-step process tutorial for this project?
Cricut cake toppers is a special project we made for our free Maker Academy Weekend 2022 event! A complete and detailed step-by-step video tutorial premiered during the event November 3-6, 2022 — specifically, this tutorial video was available to watch for free for 24 hours beginning November 5 at 3:00 pm ET! You can get access to the full video, the printable handbook that details how to make this beautiful project if you get a VIP Pass to Maker Academy Weekend 2022, which comes with other perks and bonuses, too!
How do you make personalized cake toppers?
The easiest way is to add names to your own DIY cake topper! In this tutorial, I show you how to add ANY name to a cake topper in Cricut Design Space … it doesn't even have to be one of these designs!
What material is used for custom cake toppers?
The best material for cake toppers is cardstock, which is nothing but thick and sturdy paper! I'm using plain, foil, and glitter cardstock for the best effect. Poster board would also work. If you want to get fancy you can add a shaker with acetate and confetti. Other than that, all you need is an acrylic stick or bamboo skewer to stick the topper in your cake. No sticks or skewers? Use paper straws!
How do you make a cake topper with Cricut?
The Cricut makes it so easy to cut out layers of cardstock that you just glue together. The cutting process is pretty straightforward, and I show you how in my step-by-step tutorial. Or, why not make some print then cut designs that you simply attach to your sticks? Super easy!!
How big are your finished cake toppers?
The entire design size of my cake toppers are about 8″ wide and will fit nicely on a cake of the same size. If you're decorating a larger cake, you can increase the width to 10″. If you have a small cake, I don't recommend cutting my toppers smaller than their original size.
How do you make cupcake toppers?
Cupcake toppers are like cake toppers, but smaller! I think Print Then Cut designs work really well as cupcake toppers — size them about 3″ wide for the best effect! Easy peasy!
What fonts did you use in your own cake toppers?
The right font makes a difference! Here's what I used:
Get my free SVG files to create your own personalized cake topper!
Which cake topper do you like the best? Which one will you make for your next party? I love seeing what you make with my designs and how you use them! Please share a photo of your custom cake toppers in our Facebook group or tag me on social media with #jennifermaker.
Love,