Use this free Hummingbird SVG to Make a 3D Layered Design that is easy and fun to put together!
3D layered designs are SO much fun to make! My layered 3D mandala sunflower is one of our more popular designs, and the recent 3D Layered Paper Cut Series I released has been a big hit! These layered designs are so cool to design that I kept thinking about what my next 3D project would be. I was sitting out on my deck the other day when I noticed a hummingbird flying around my garden. That was the inspiration I needed! Hummingbirds are brightly-colored birds known for their ability to flap their wings at an incredible speed making it almost a blur to see. This five-layered hummingbird SVG design is easily made using different colors of cardstock that could mimic the bright colors of the birds!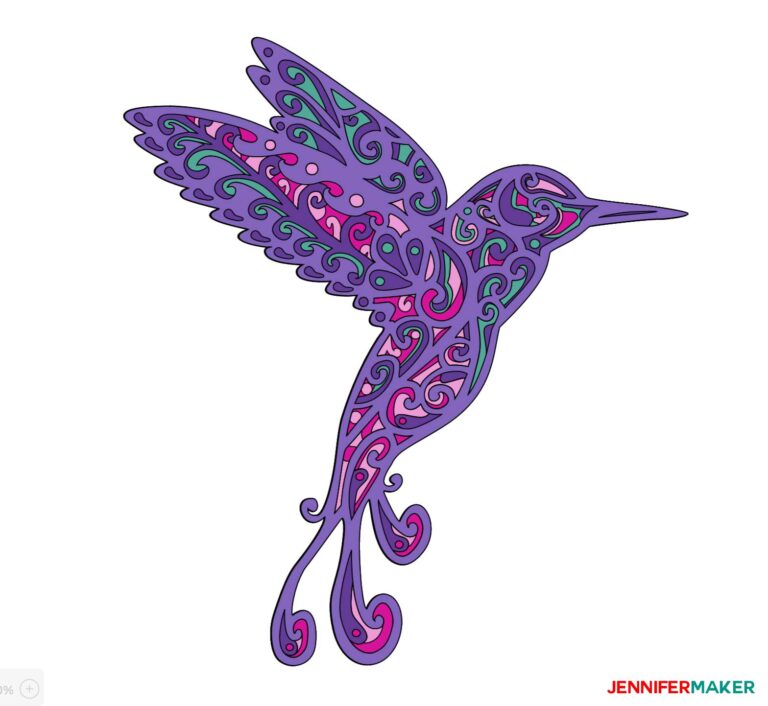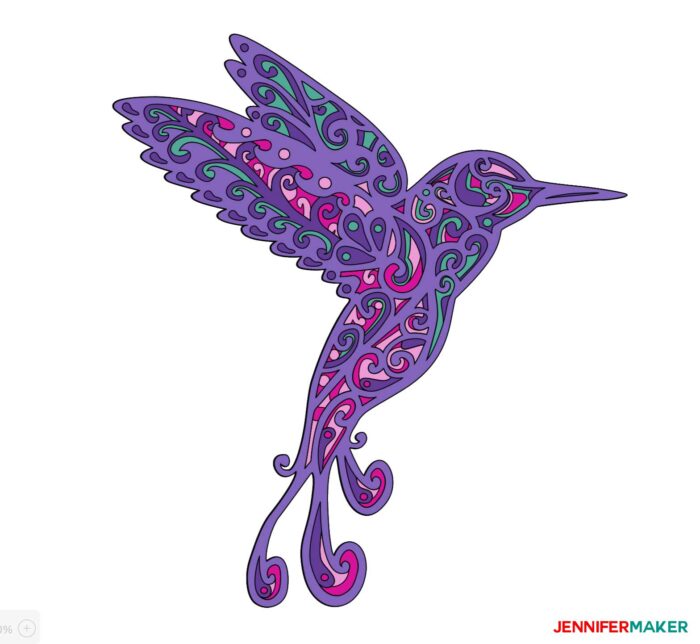 When I first shared this pretty hummingbird, many of you asked if I had other 3D layered designs like this — I saw requests for turtles and anchors. I do not currently have these, but you could make them yourself in Design Space. I show you how to do it in my Custom Cut workshop if you're interested in learning!
So while you can make a 3D layered design from pretty much any shape, I wanted to create a hummingbird because they represent perseverance (traveling 2000 miles at times!) and the infinite (figure 8 wing flap), two concepts near and dear to my heart. In some cultures, hummingbirds are even thought to be signs of love and messengers from heaven. Hummingbirds are little reminders to pursue your dreams and overcome your obstacles!
If you're interested in making the hummingbird SVG layered design, you'll find it is quite easy as it has just the five layers of cardstock. This is a great project if you're a beginner to the 3D layered designs, as the fewer the layers, the easier it is to figure out. Your cutting machine does most of the hard work for you!
Let me show you how easy it is to use my hummingbird SVG to make a 3D layered project. This post contains some affiliate links for your convenience (which means if you make a purchase after clicking a link I will earn a small commission but it won't cost you a penny more)! Read my full disclosure policy.
Materials to Create a Layered Project Using My Hummingbird SVG Design
How to Use my Free Hummingbird SVG to Make a 3D Layered Design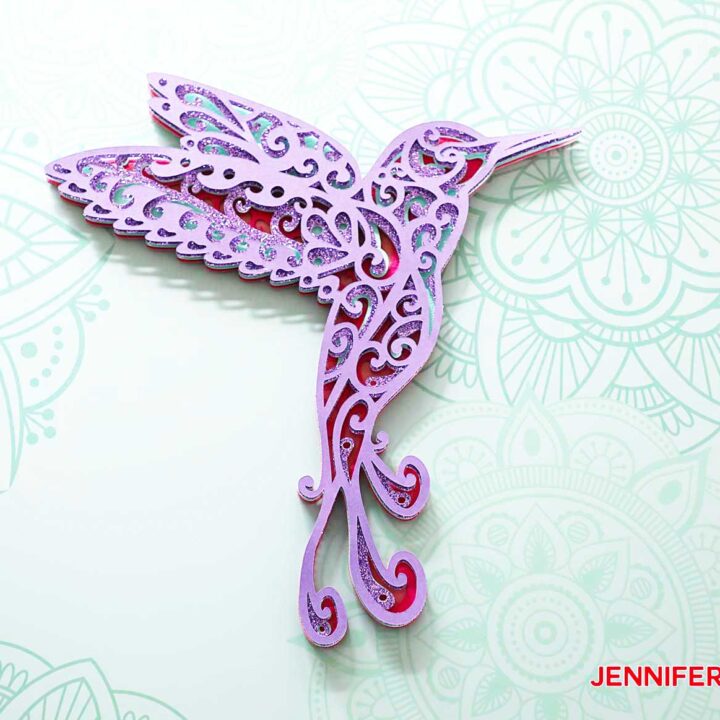 Hummingbird SVG for 3D Layered Design
Total Time:
1 hour
30 minutes
This five-layered Hummingbird SVG design is surprisingly easy to make from colored cardstock!
Instructions
STEP 1: GET MY FREE HUMMINGBIRD SVG FILE
Get the free Hummingbird SVG (Design #234) from my free resource library (get the password to the library in the form at the bottom of this post).
Upload the Hummingbird SVG into Cricut Design Space.
Tip: If you're not sure how to upload an SVG cut file to Cricut Design Space, watch this helpful video training series I made. If you're on an iPhone or iPad, here's how to download and upload SVG files to the Cricut Design Space app.
This is what the hummingbird SVG file looks like when placed in Design Space.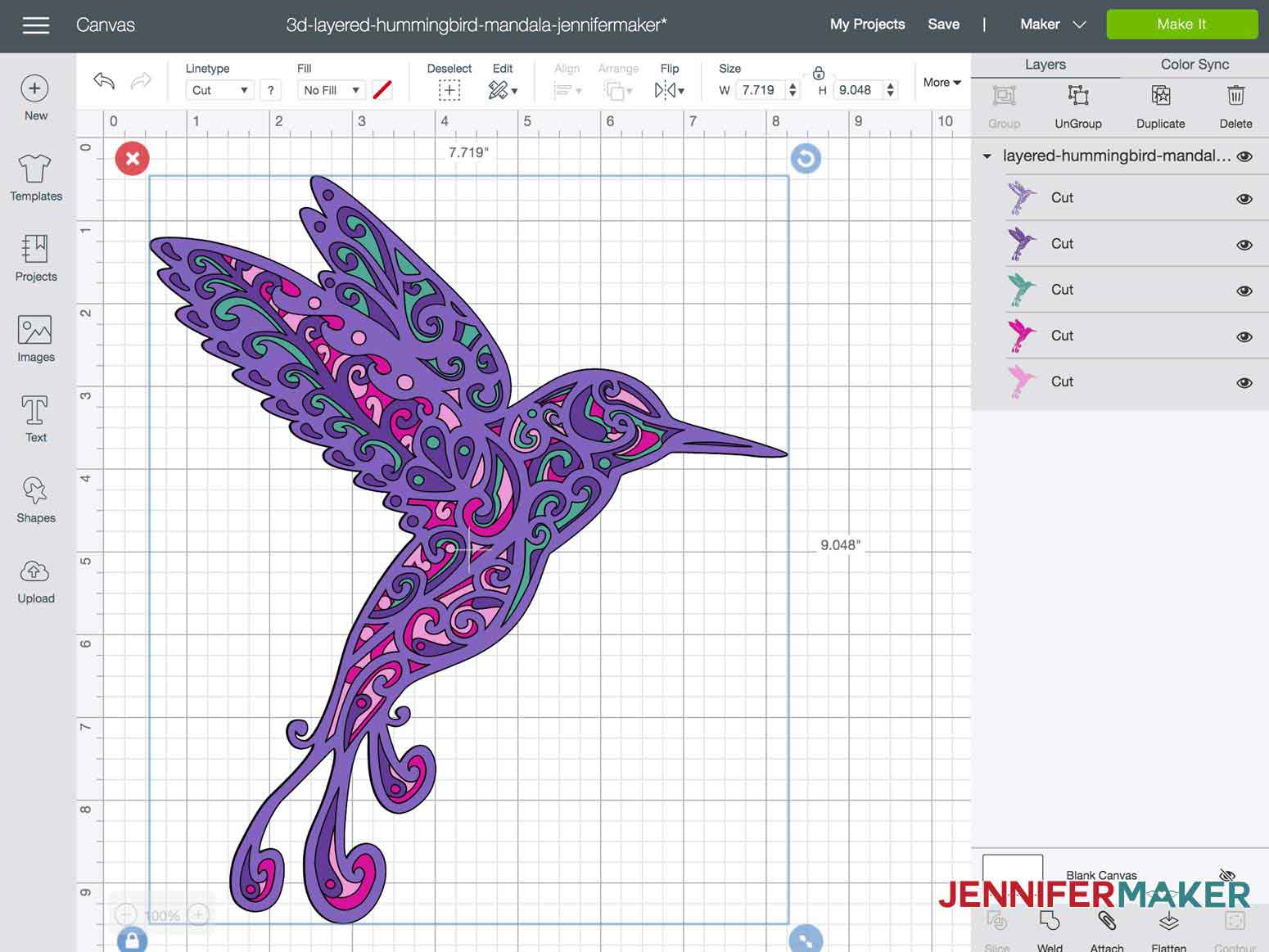 Adjust the size if needed. Similar layered designs are often displayed in shadow box frames. This design contains five layers for you to personalize with different cardstock colors. If you need help resizing this SVG, please see my resizing guide.
STEP 2: CUT OUT YOUR HUMMINGBIRD SVG
Once you have the 3D layered hummingbird's size adjusted to your measurements, you are ready to click "make it." For the material, select the intricate cut setting for cardstock. This setting worked perfectly for me.

Gently remove each layer from the mat. (Take a look at this tip if you're having issues with your cardstock curling or ripping.)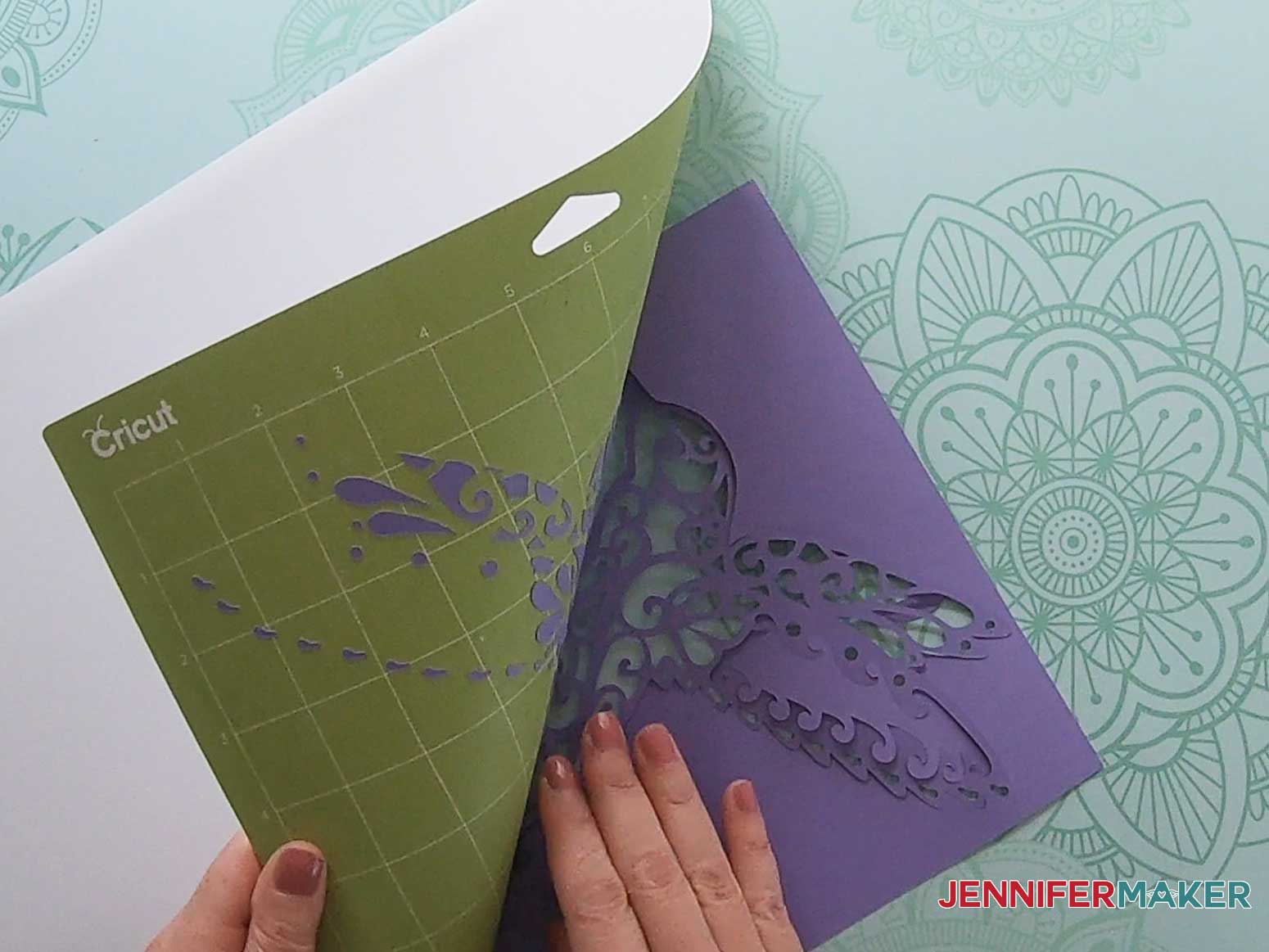 As you cut your layers, each design will leave behind cut-out pieces on your mat. I used my extra large Cricut scraper tool to easily remove those pieces.

These are the layers you'll have when you're done cutting: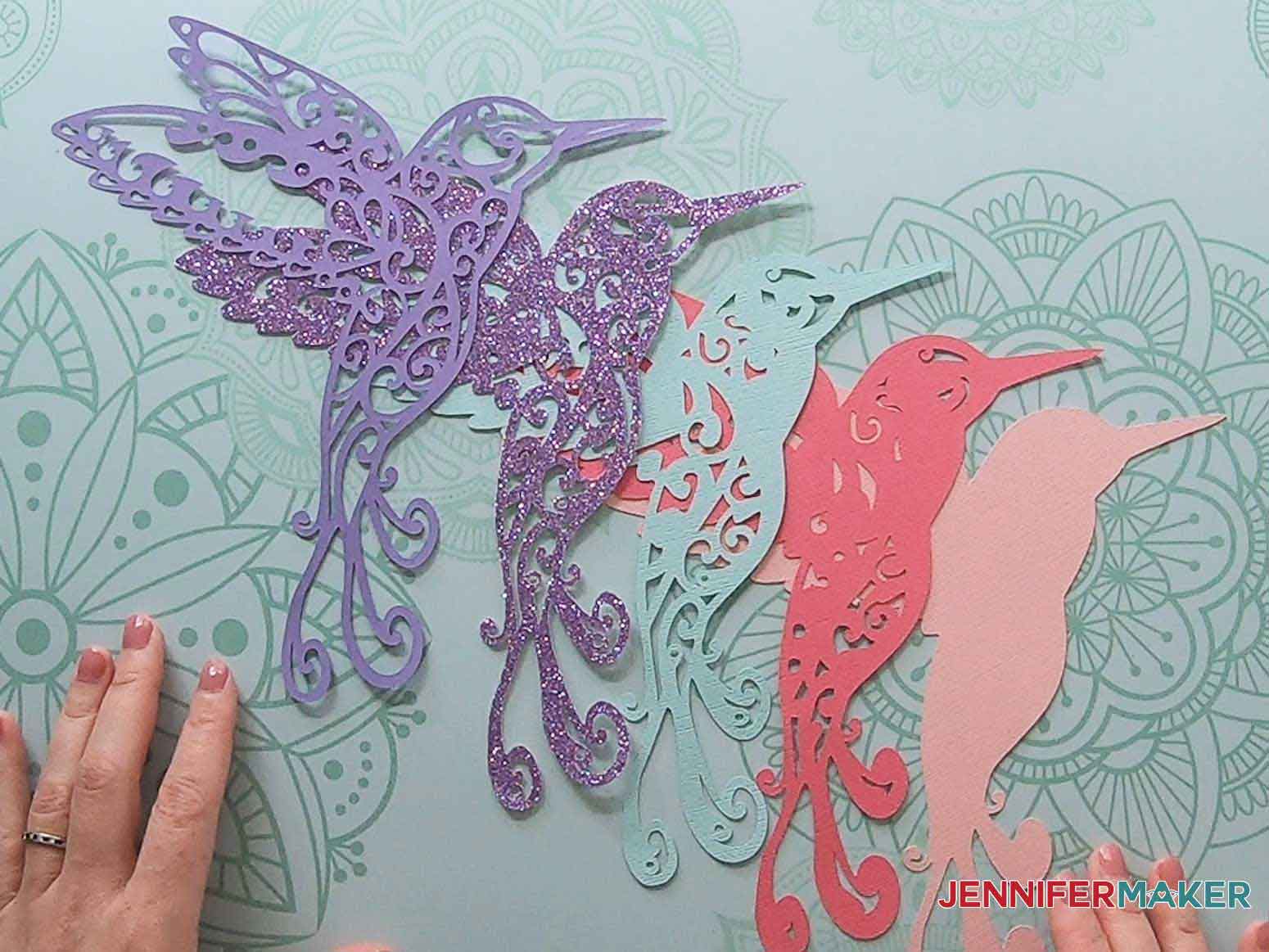 If you have any issues cutting, check out my Cutting Problems Guide because it tells you all the tips I use to get clean cuts consistently.

STEP 3: ASSEMBLE THE HUMMINGBIRD SVG DESIGN
Now that you have your five pieces cut, you'll want to apply double-sided foam adhesive to the backside of Layers 1 through 4. I cut strips of foam adhesive with scissors.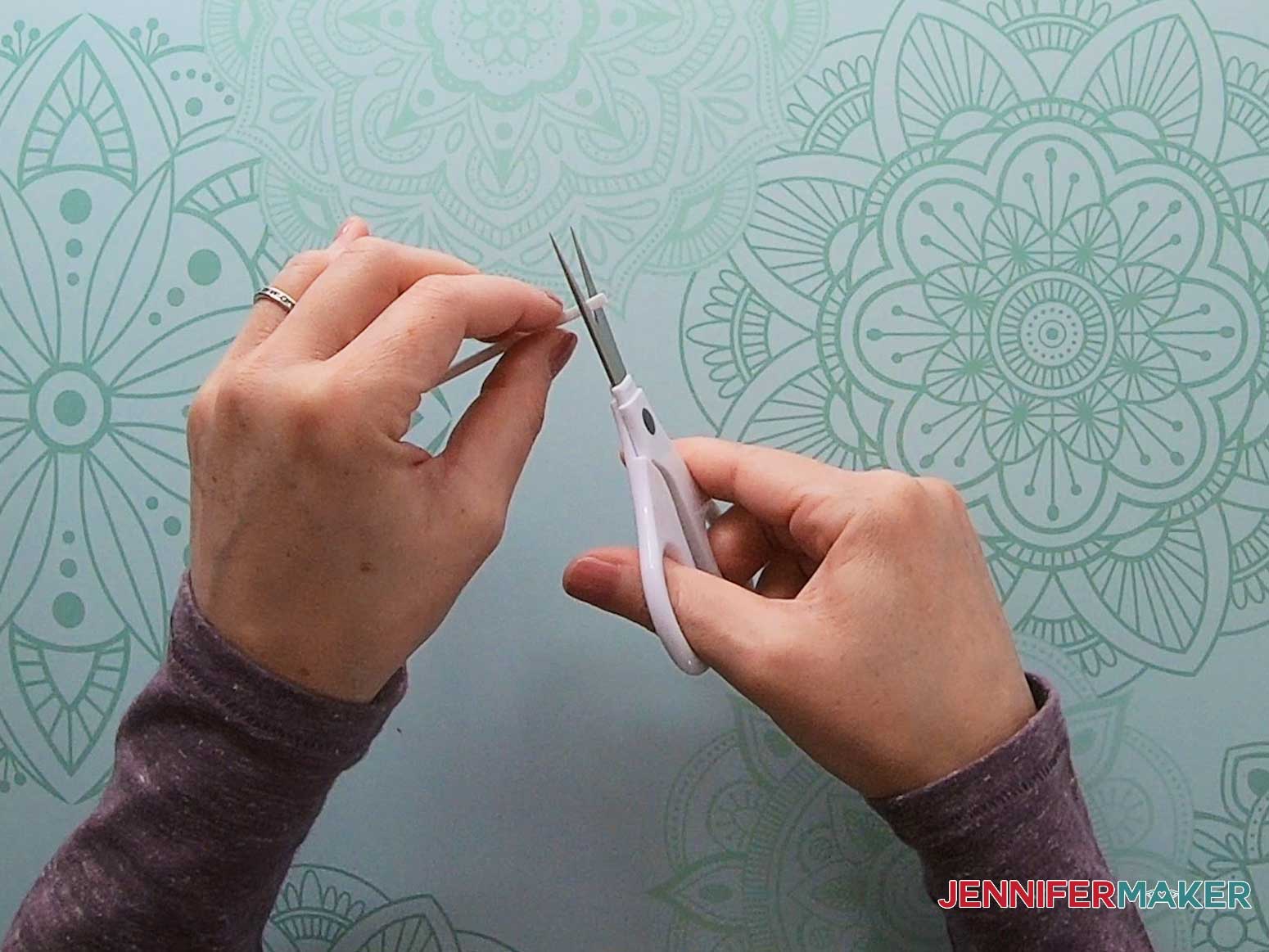 This is how I applied the adhesive foam to Layer 4 of the hummingbird.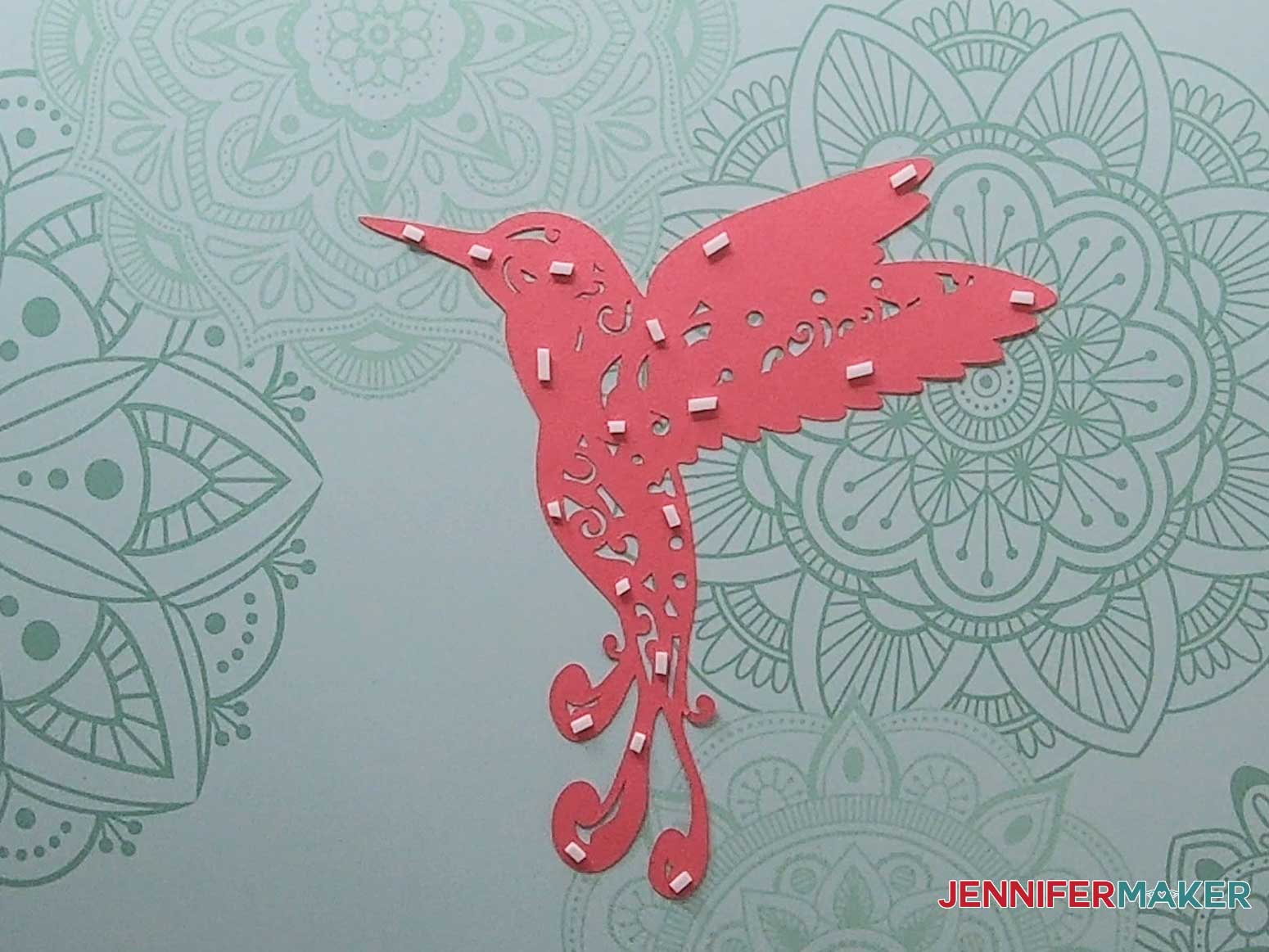 Center and place Layer 4 on top Layer 5. TIP: As you place the layers on one another, lay them down lightly so you can adjust your placement, if needed, then press to the underlying layer.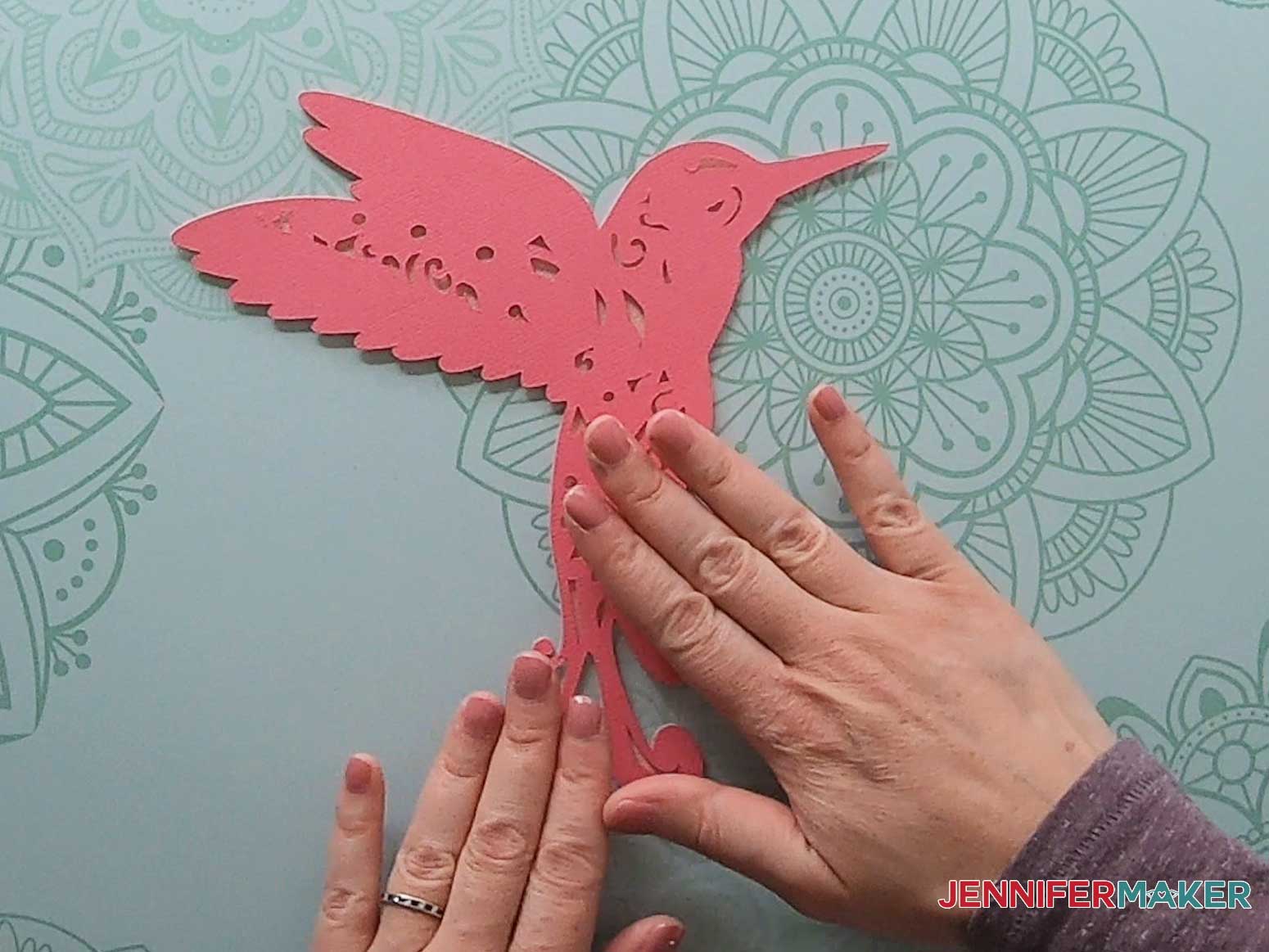 Add adhesive foam to Layer 3.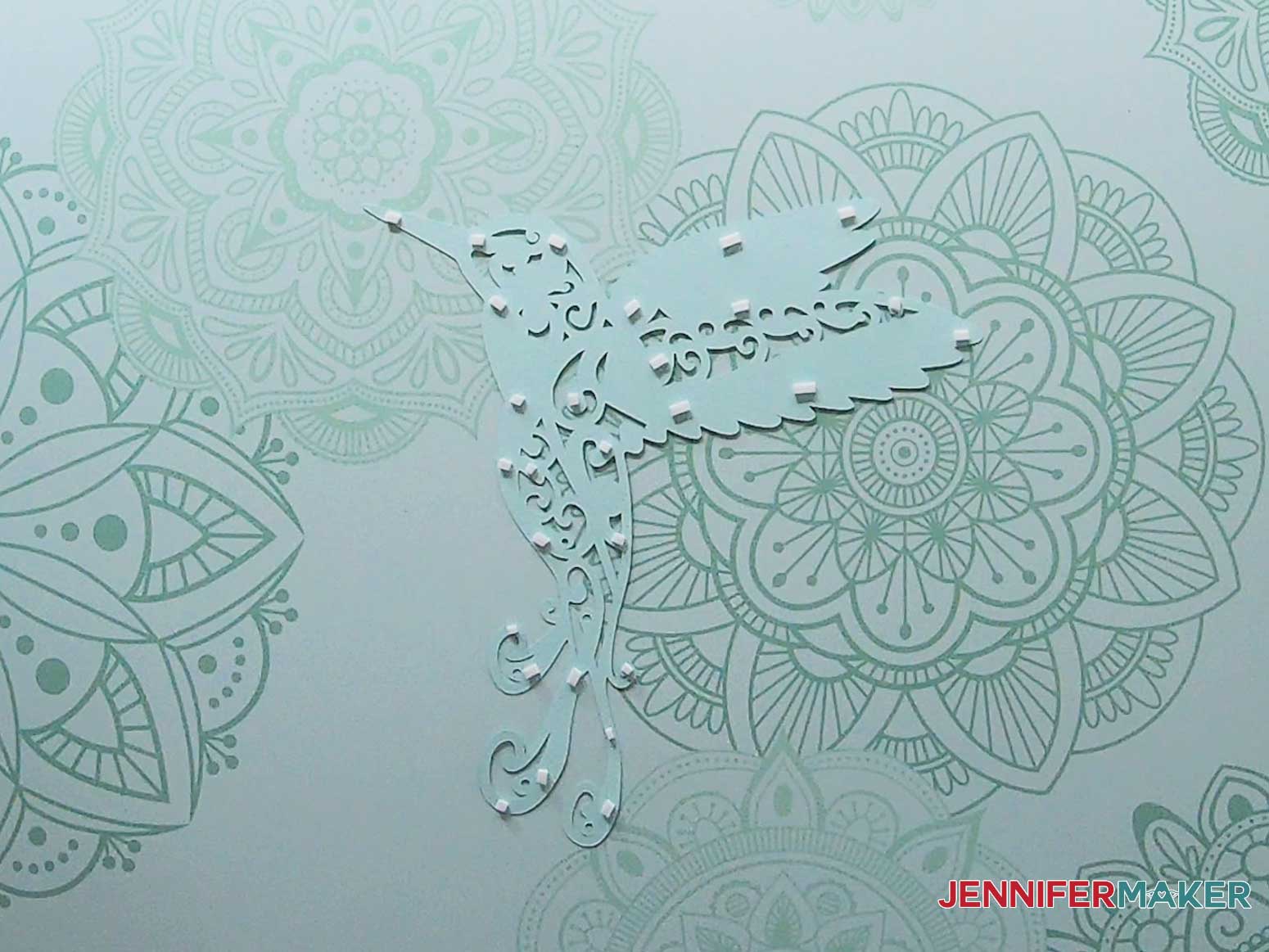 Place Layer 3 on top of Layer 4.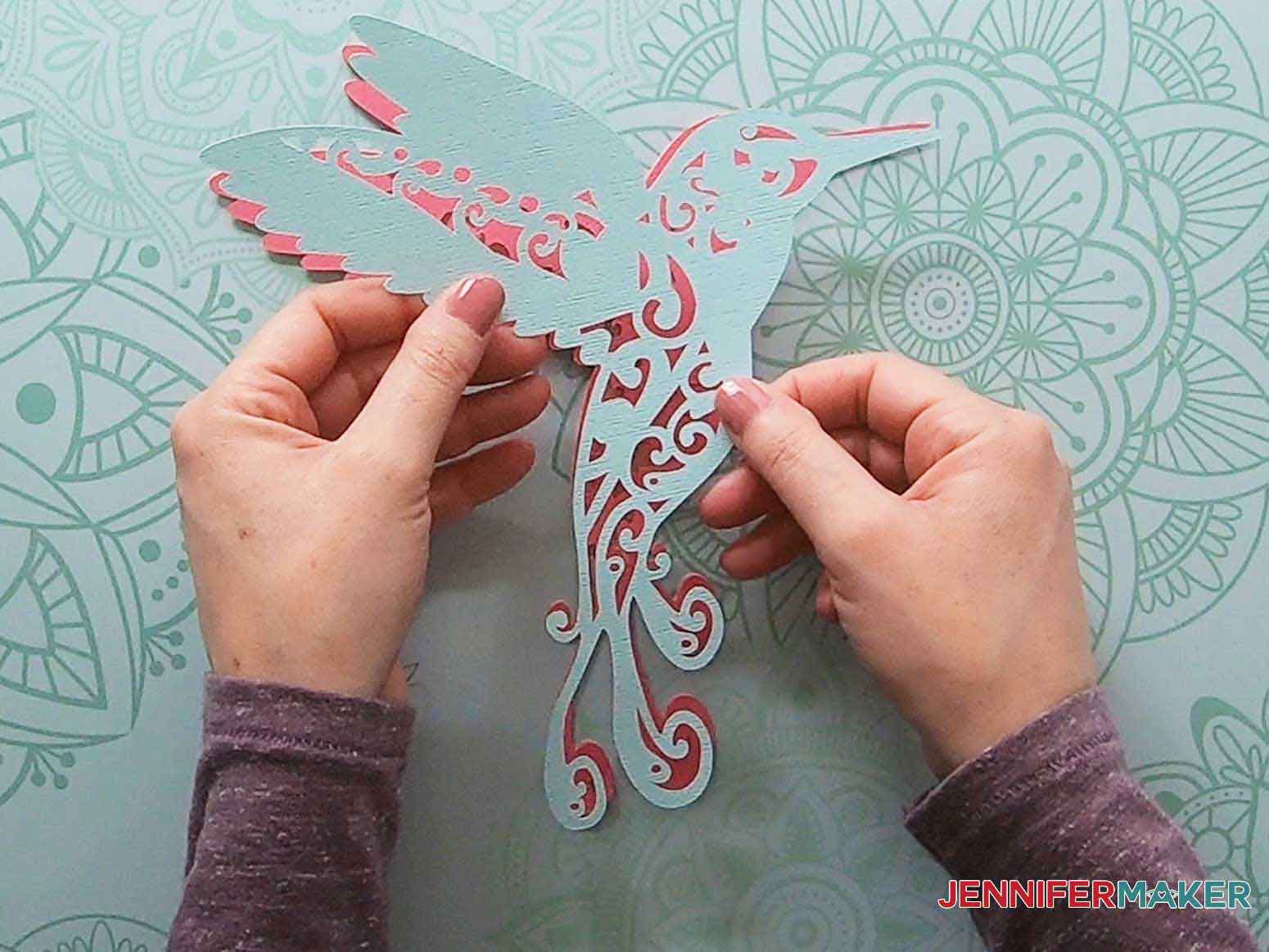 Continue placing the layers one on top of the other. Refer to the file in Cricut Design Space for placement. Below you'll see how I placed the foam adhesive on Layer 2.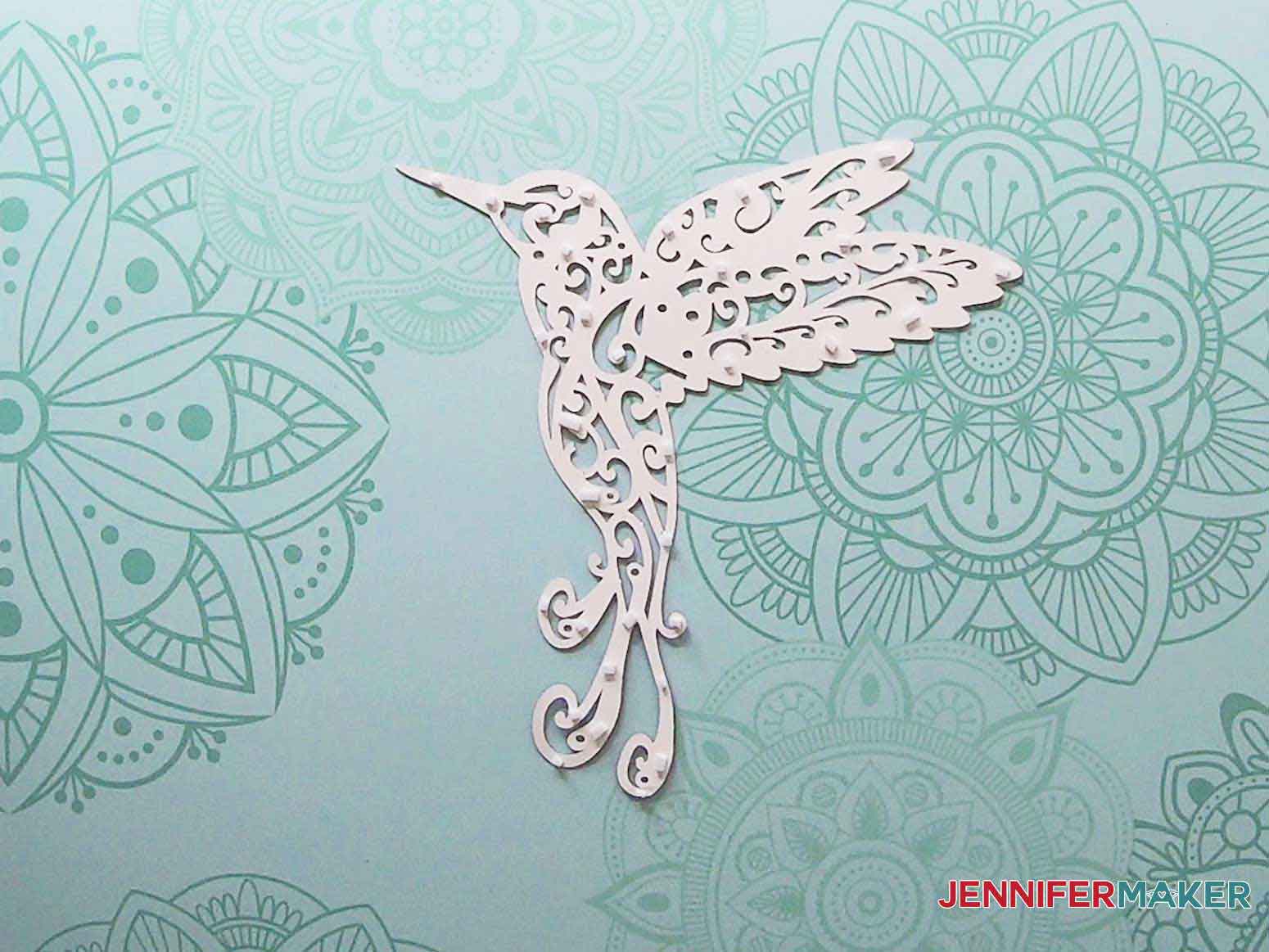 Place Layer 2 on top of Layer 3.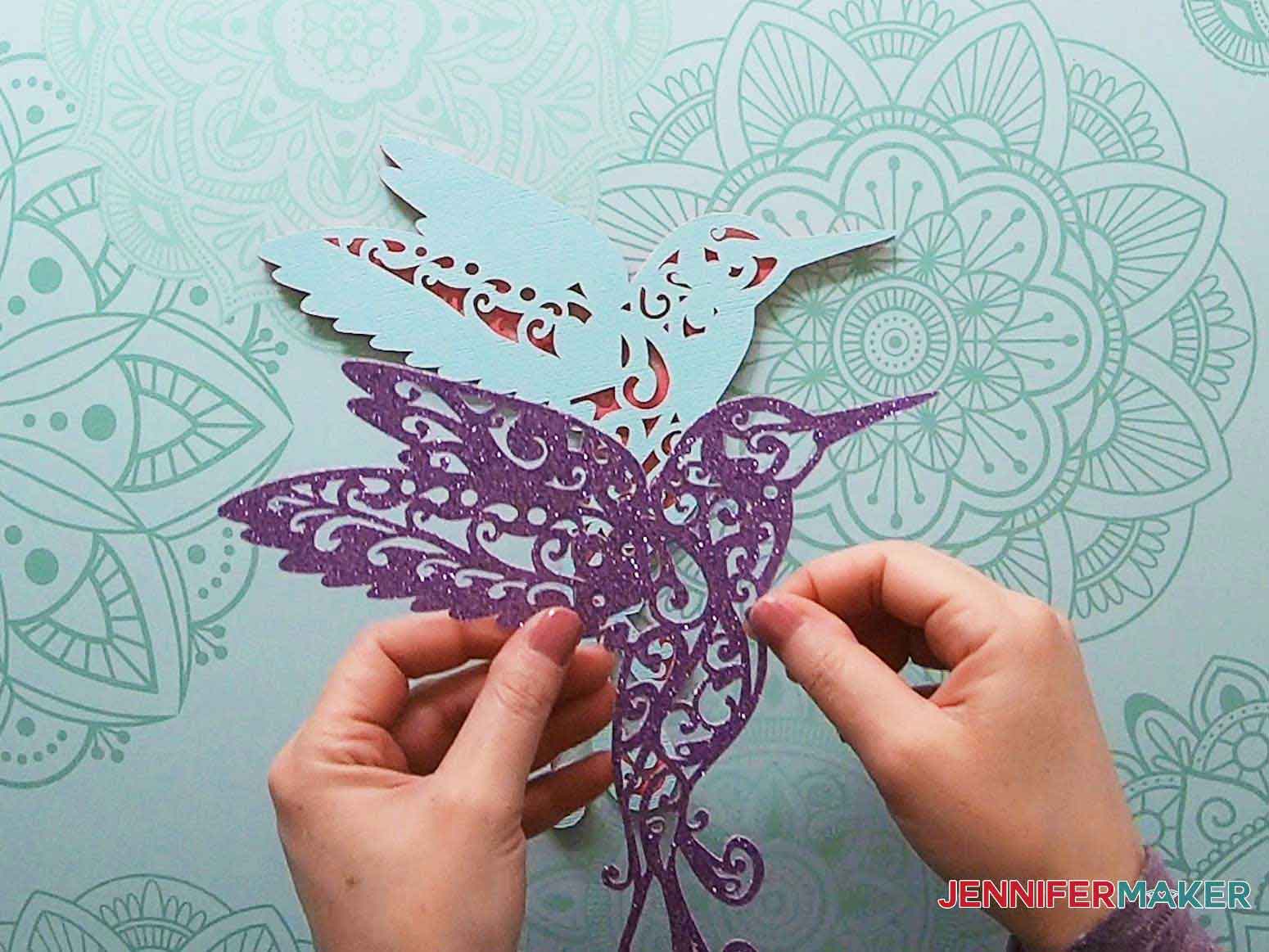 And here is Layer 1.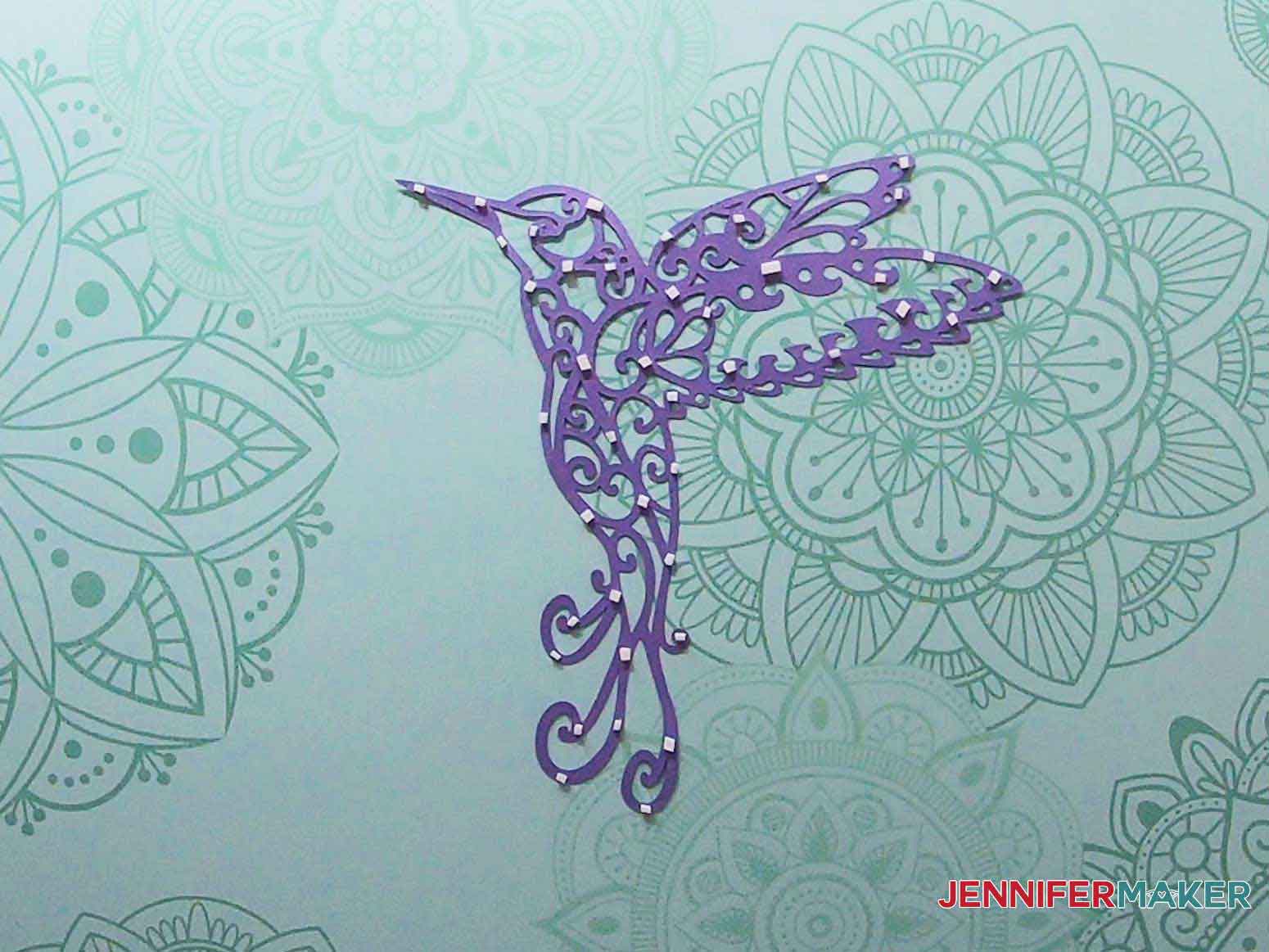 Place Layer 1 on top Layer 2 to complete the design.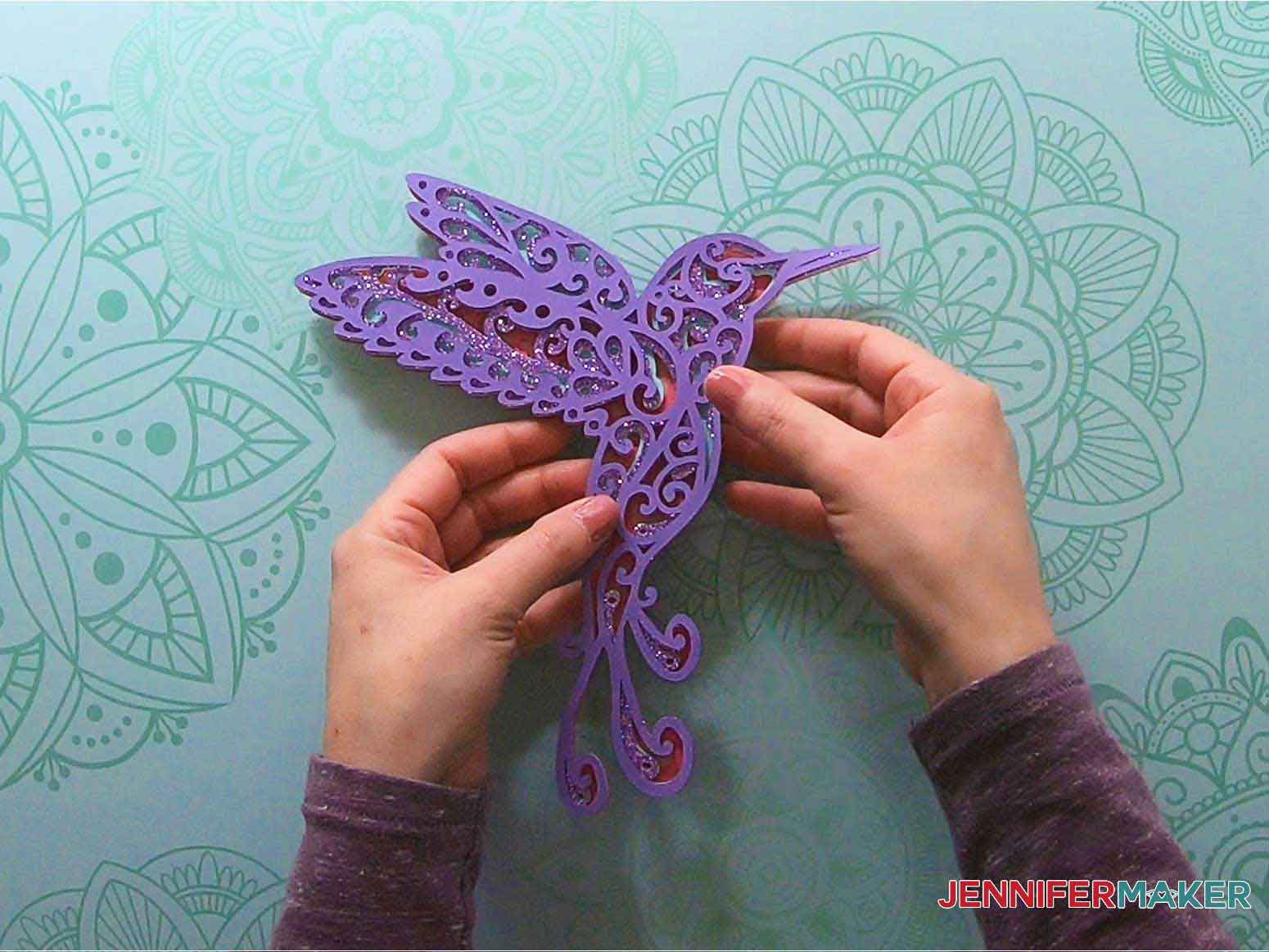 STEP 4: Show it Off
You can put your 3D Layered Hummingbird SVG project in a shadow box and put vinyl on the glass or put it on a reverse canvas. The glitter cardstock layer is a great way to add a little bit of sparkle to your design.
Here is my layered hummingbird mandala fully assembled.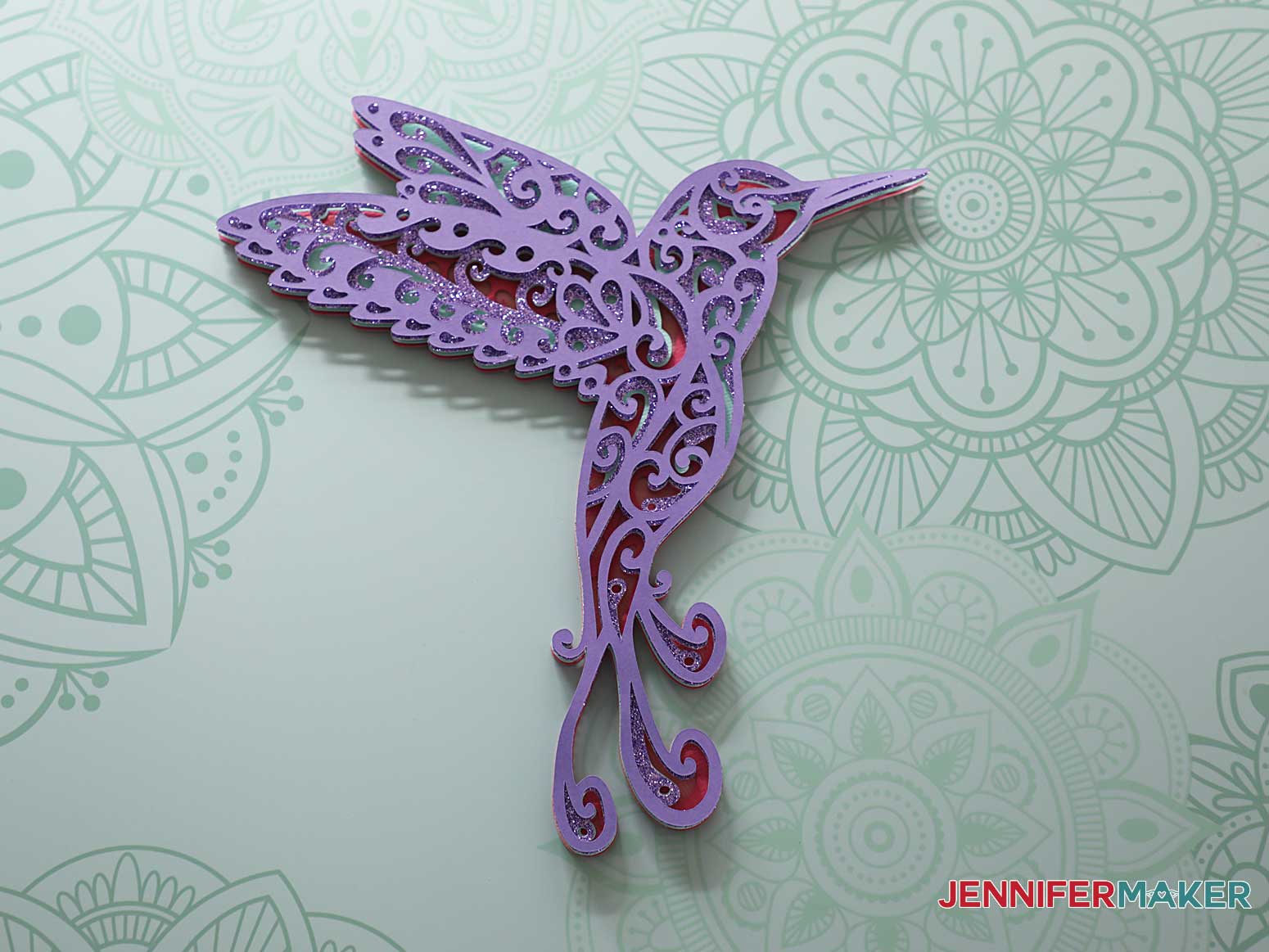 Here's a detail of the 3d layered hummingbird SVG mandala.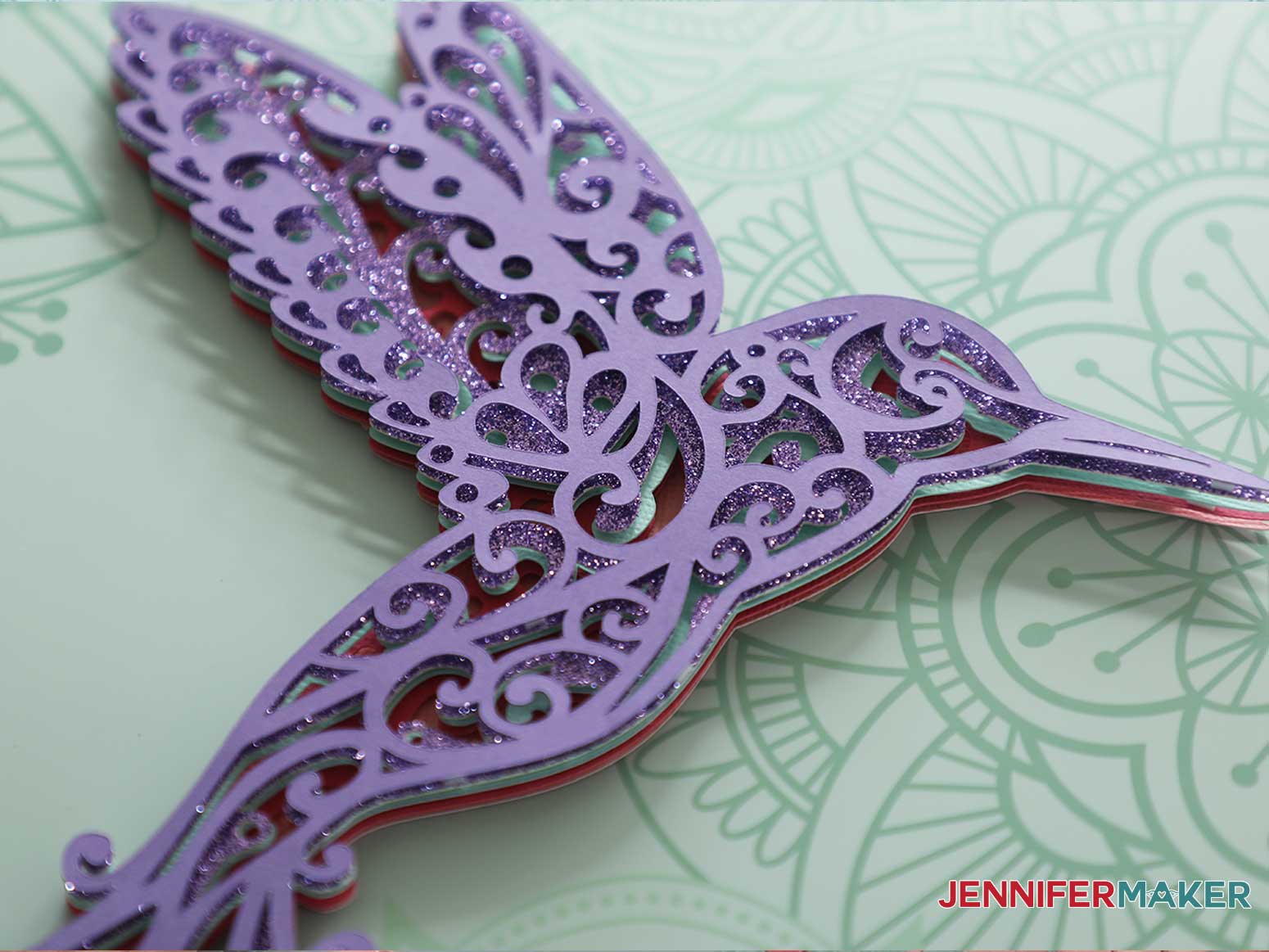 Notes
ACKNOWLEDGMENTS
Special thanks to the JenniferMaker Design Fairy Team, specifically Design Fairy Kelly, for helping me design and assemble this beautiful hummingbird SVG layered design.
Recommended Products
As an Amazon Associate and member of other affiliate programs, I earn from qualifying purchases.
Get my free Hummingbird SVG file to make a 3D Layered Design.
Are you looking for a different 3D layered design? You could learn how to make your own in any shape you want in my comprehensive Custom Cut workshop. Learn more about the workshop at https://makeracademy.com/custom-cut. I'd love to see your project using my free Hummingbird SVG. Please share a photo in our Cricut group or tag me on social media with #jennifermaker.
Love,