Use this free Hummingbird SVG to Make a 3D Layered Design that is easy and fun to put together!
3D layered designs are SO much fun to make! My layered 3D mandala sunflower is one of our more popular designs, and the recent 3D Layered Paper Cut Series I released has been a big hit! These layered designs are so cool to design that I kept thinking about what my next 3D project would be. I was sitting out on my deck the other day when I noticed a hummingbird flying around my garden. That was the inspiration I needed! Hummingbirds are brightly-colored birds known for their ability to flap their wings at an incredible speed making it almost a blur to see. This five-layered hummingbird SVG design is easily made using different colors of cardstock that could mimic the bright colors of the birds!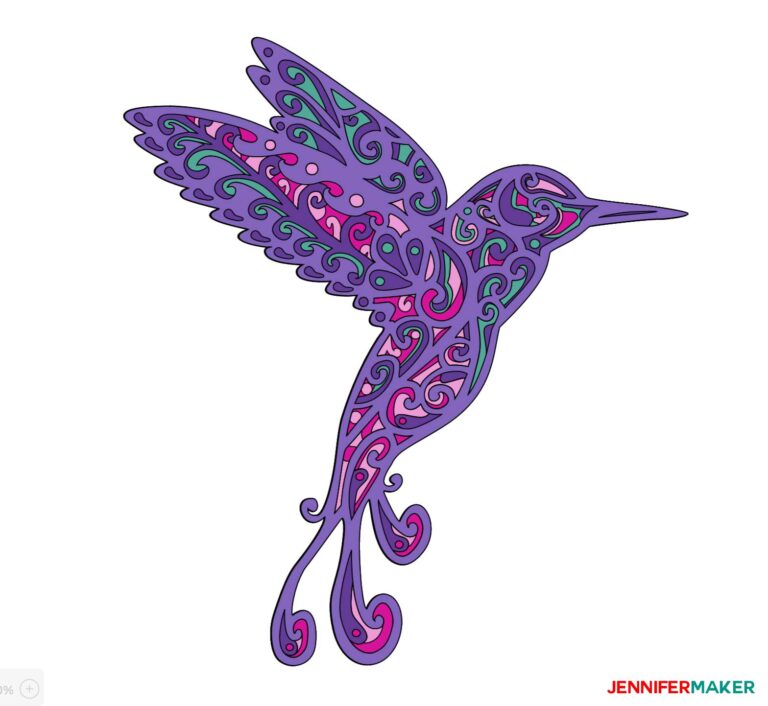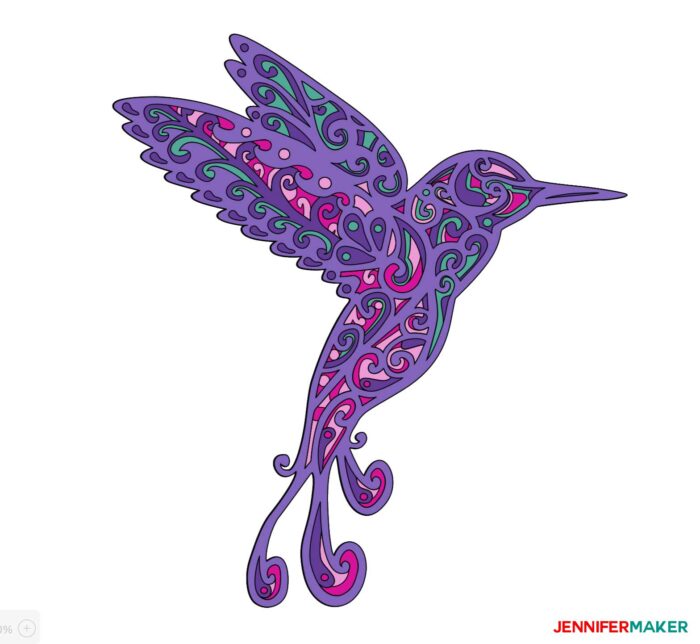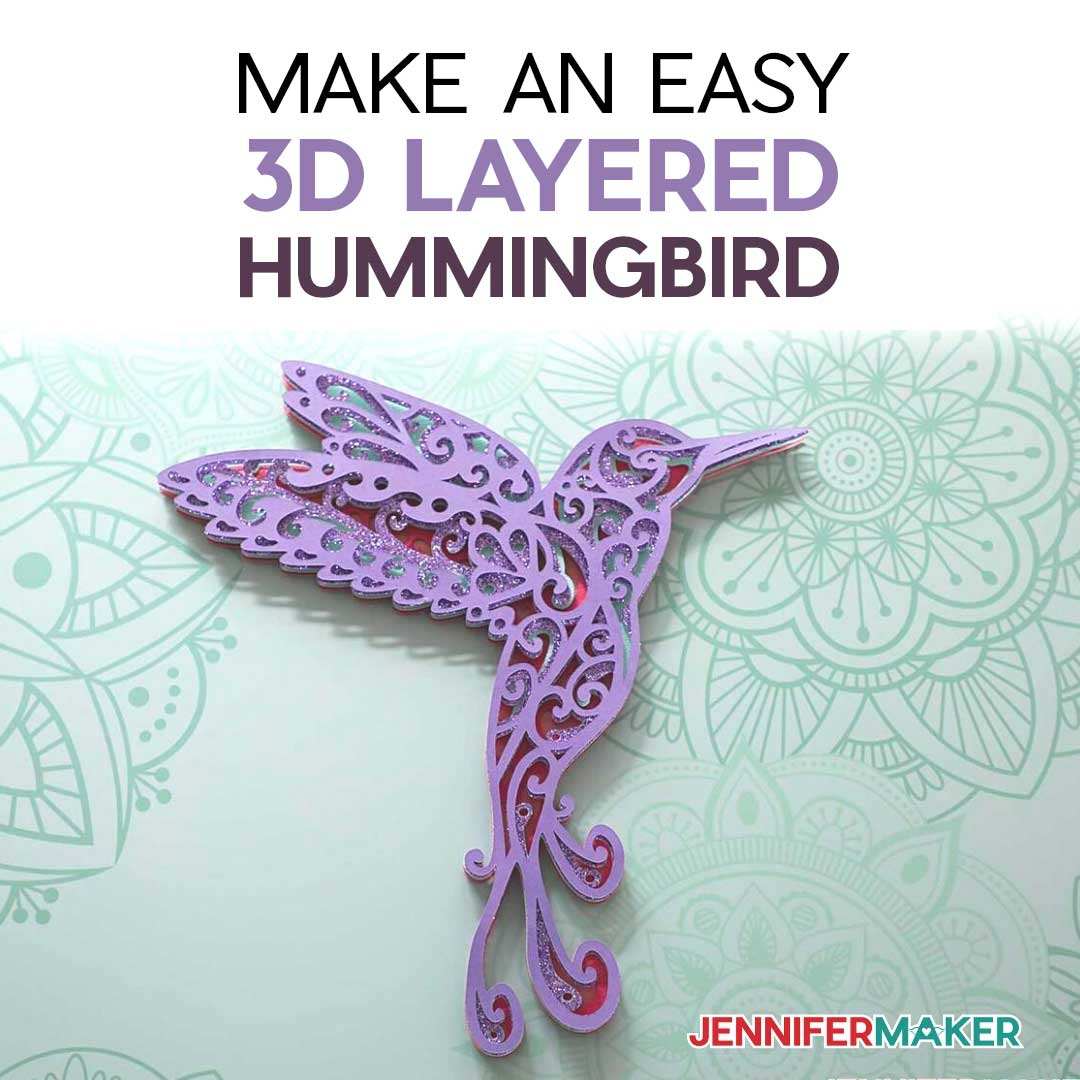 When I first shared this pretty hummingbird, many of you asked if I had other 3D layered designs like this — I saw requests for turtles and anchors. I do not currently have these, but you could make them yourself in Design Space. I show you how to do it in my Custom Cut workshop if you're interested in learning!
So while you can make a 3D layered design from pretty much any shape, I wanted to create a hummingbird because they represent perseverance (traveling 2000 miles at times!) and the infinite (figure 8 wing flap), two concepts near and dear to my heart. In some cultures, hummingbirds are even thought to be signs of love and messengers from heaven. Hummingbirds are little reminders to pursue your dreams and overcome your obstacles!
If you're interested in making the hummingbird SVG layered design, you'll find it is quite easy as it has just the five layers of cardstock. This is a great project if you're a beginner to the 3D layered designs, as the fewer the layers, the easier it is to figure out. Your cutting machine does most of the hard work for you!
Let me show you how easy it is to use my hummingbird SVG to make a 3D layered project. This post contains some affiliate links for your convenience (which means if you make a purchase after clicking a link I will earn a small commission but it won't cost you a penny more)! Read my full disclosure policy.
Materials to Create a Layered Project Using My Hummingbird SVG Design
How to Use my Free Hummingbird SVG to Make a 3D Layered Design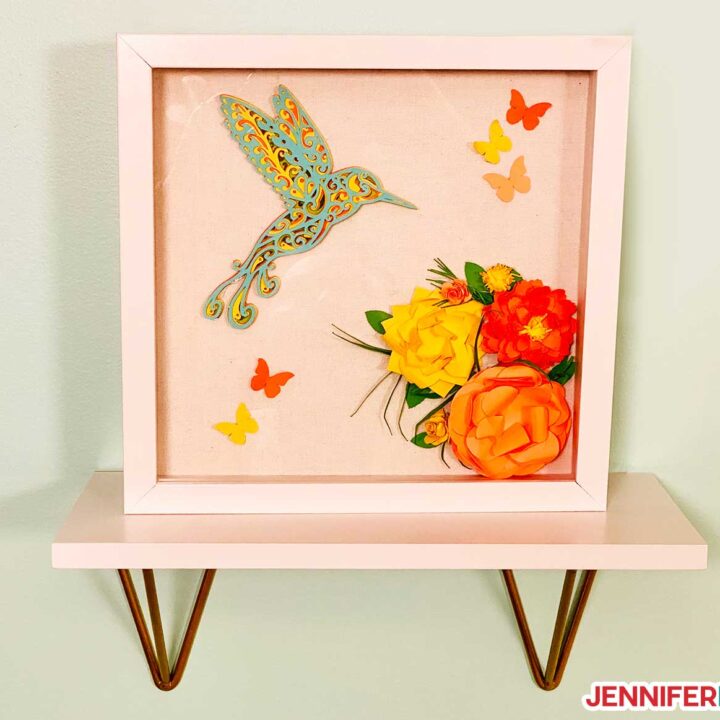 Intricate Layered Hummingbird Design
This five-layered Hummingbird is surprisingly easy to make as long as you use the right settings for intricate cuts on a Cricut!
Instructions
STEP 1: GET MY FREE HUMMINGBIRD SVG FILE
Get the free Hummingbird SVG (Design #234) from my free resource library (get the password to the library in the form at the bottom of this post).
Upload the Hummingbird SVG into Cricut Design Space and add it to your Canvas.
Tip: If you're not sure how to upload an SVG cut file to Cricut Design Space, watch this helpful video training series I made. If you're on an iPhone or iPad, here's how to download and upload SVG files to the Cricut Design Space app.
This is what the hummingbird SVG file looks like when added to your Design Space Canvas.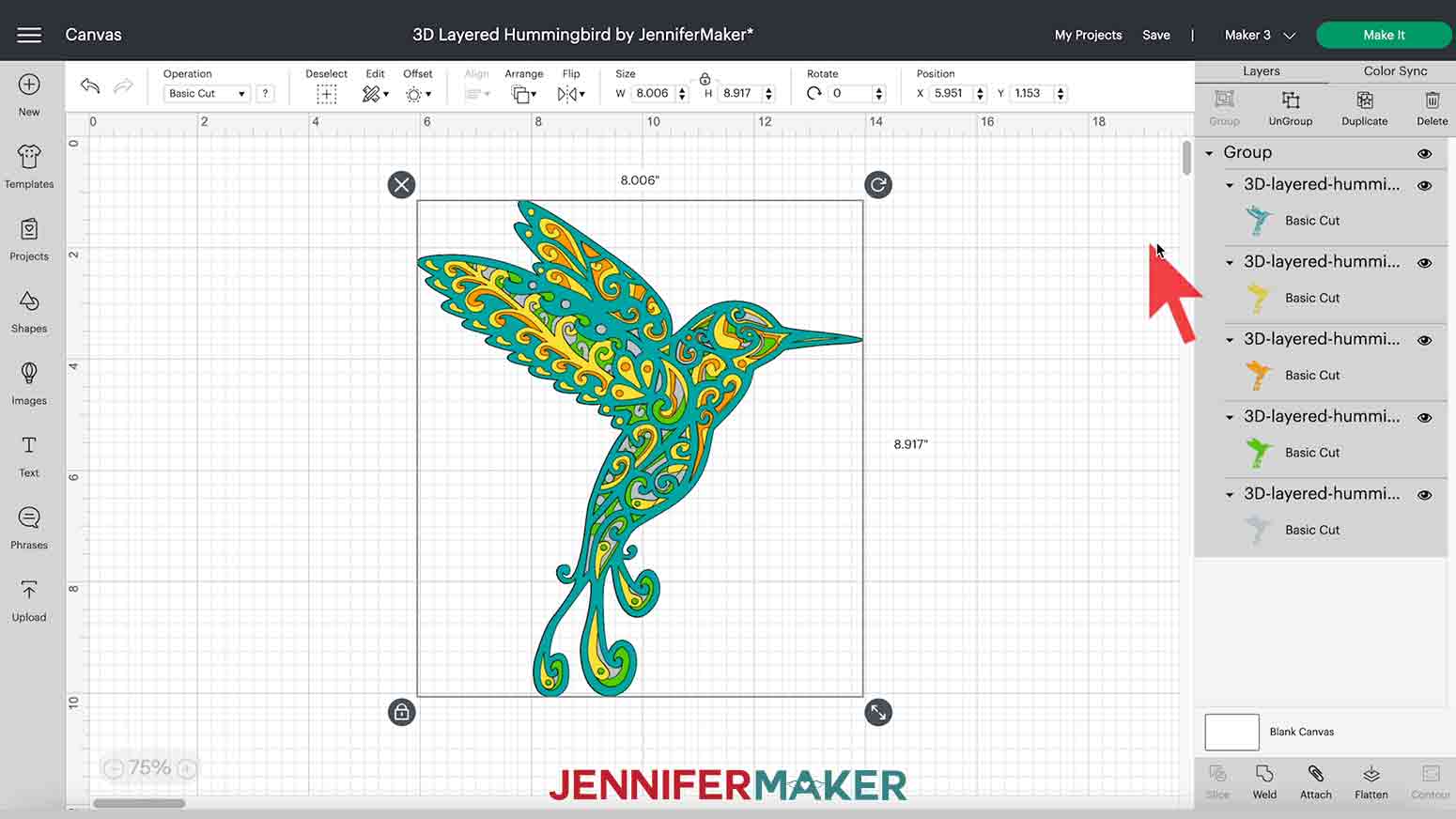 Click "UnGroup" to see all five layers. You can either use the colors I have, or select a layer and click on the similarly colored box in the upper menu to change its color. When you're done adjusting the design, click "Select All" in the top menu
You can also resize this design, but we need to adjust all of the layers together to make sure the pretty cutouts and designs match. Click "Select All" in the top menu, then click "Align" and scroll down to select "Center." The design will return to its original position, layers in a stack. Now click "Group" so that when you resize, all the layers maintain the same proportions. To resize simply drag the resize handle in the lower right corner of the bounding box until you get the size you want.

If you need help resizing this SVG, please see my design resizing guide.
STEP 2: CUT OUT YOUR HUMMINGBIRD SVG
Once you have the 3D layered hummingbird adjusted to your measurements, make sure you have the correct machine selected in the top menu and then click "Make It."
If a window asking how you will load materials pops up, select "On Mat" and hit "Continue." On the Prepare screen, make sure you have the right number of mats and click "Continue" again.
TIP: On the Make Screen, normally I would select "Medium Cardstock'' and "Heavy Cardstock" since that's what I'm using for my design.

However, since this design is very detailed and requires a lot of intricate and precise cuts I'm going to use "Cardstock (for intricate cuts)." To find this special setting, click "Browse All Materials" and type "Intricate" into the search window. Select "Cardstock (for intricate cuts)" in the results and click "Done" to reload the Make screen with the new material setting.

I got the best results by still changing my Pressure setting to "More." Also, check the box next to "Remember Material Settings" so the machine will use the same setting for each mat. Always save time when you can!
TIP: Check that your Cricut Fine-Point Blade is clean and loaded in the indicated clamp. Use my tin foil ball tip to clean it if you want! Review my guide for cleaner cuts for directions and even more tips.
TIP: A clean, sticky mat will keep your paper in place, which is especially important for intricate designs such as this. Check out my guide for cleaning Cricut mats for help.
TIP: If you're getting tearing or other issues after following all my tips, the paper may be the issue. Really inexpensive paper often has short, weak fibers, which can lead to choppy cuts. I recommend Cricut and Recollections brand cardstocks.
Load your first layer's paper on the mat and follow the prompts to cut. When it's done, check that the cut is all the way through the paper before unloading the mat. Just gently bend the mat under a cut section so see if the paper is cut. Mine wasn't! If this happens to you, press the Go button again to run the same cut in the same exact spot. The second time should go all the way through.

When each layer is finished cutting, unload your mat, flip it over, and gently bend your mat away from the cardstock to remove it. This helps prevent any ripping or curling of the paper.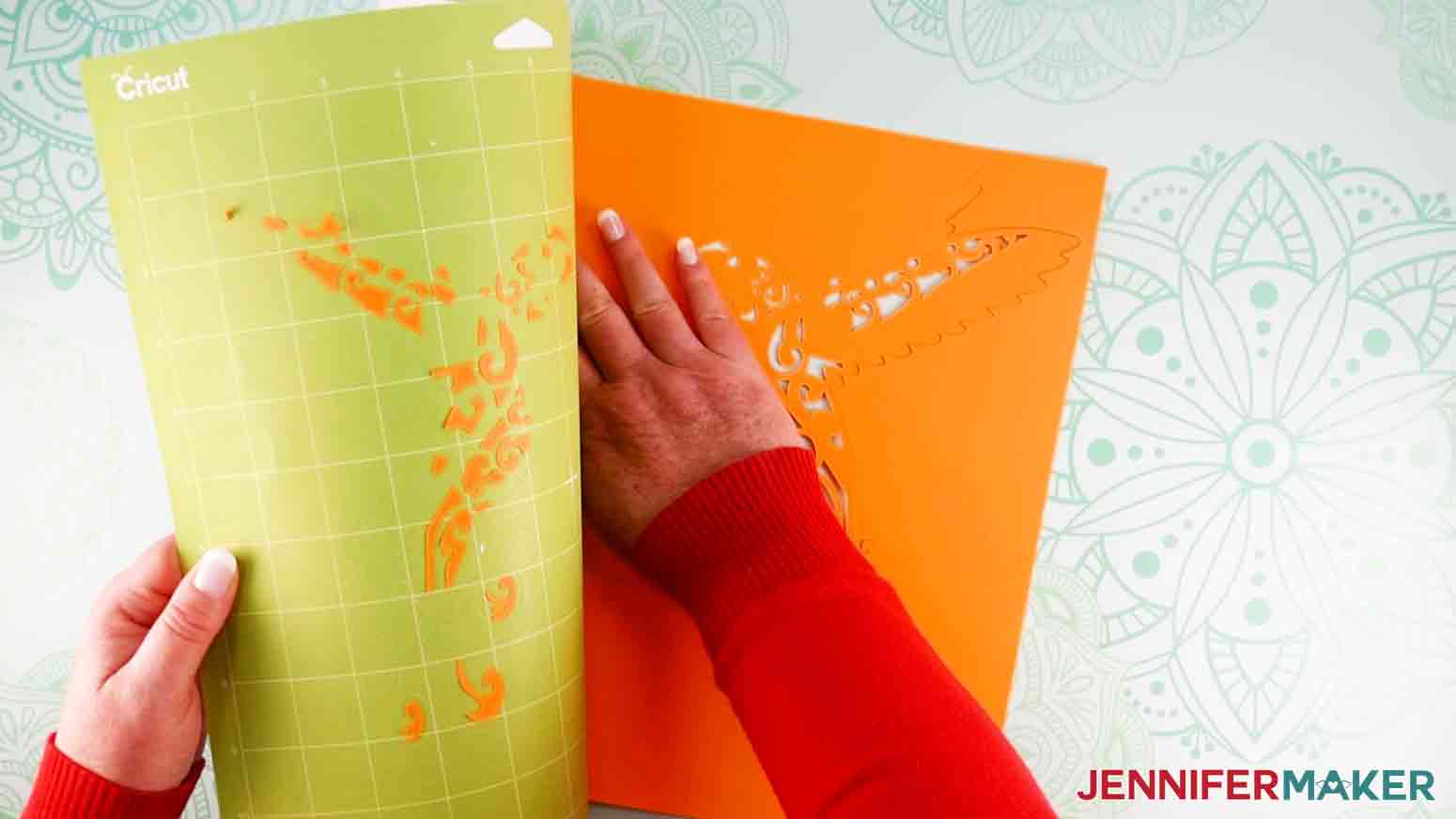 As you cut each layer, you may notice small bits and pieces of cardstock left behind on the mat. I used my extra large Cricut scraper tool to easily remove those pieces.
If small cutouts are still stuck in your design, you can use your fingers or a weeding tool to pop them out.

These are the layers you'll have when you're done cutting:

STEP 3: ASSEMBLE THE INTRICATE HUMMINGBIRD DESIGN
Now that you have your five pieces cut, you can assemble them. I used clear Zots since my white adhesive foam might be visible in the intricate cuts, but use whatever you're comfortable with.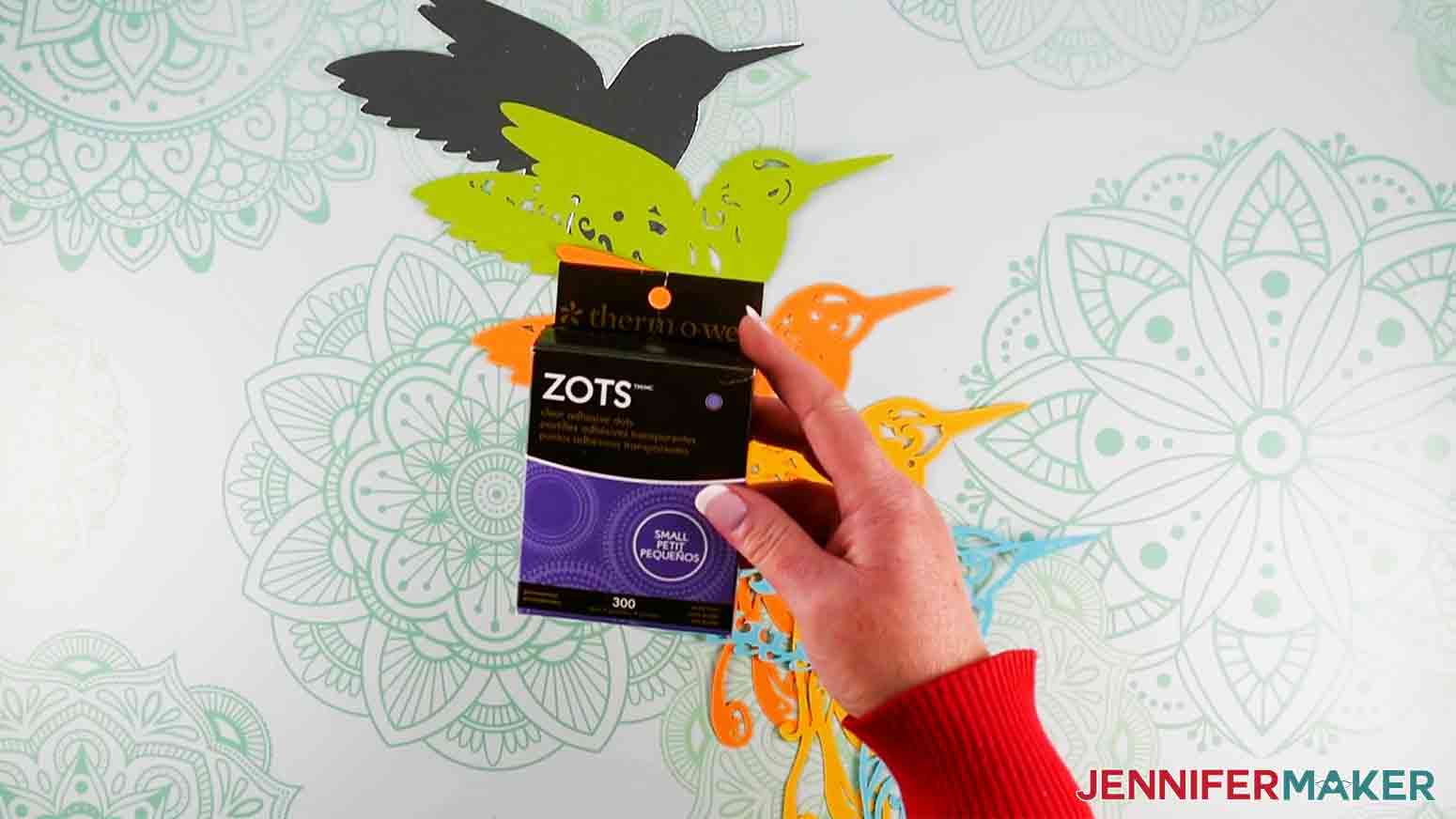 Zots are extra sticky! I recommend working with one at a time and only removing one side of the protective film. Use the remaining paper to position the Zot, press it in place, and then peel it off.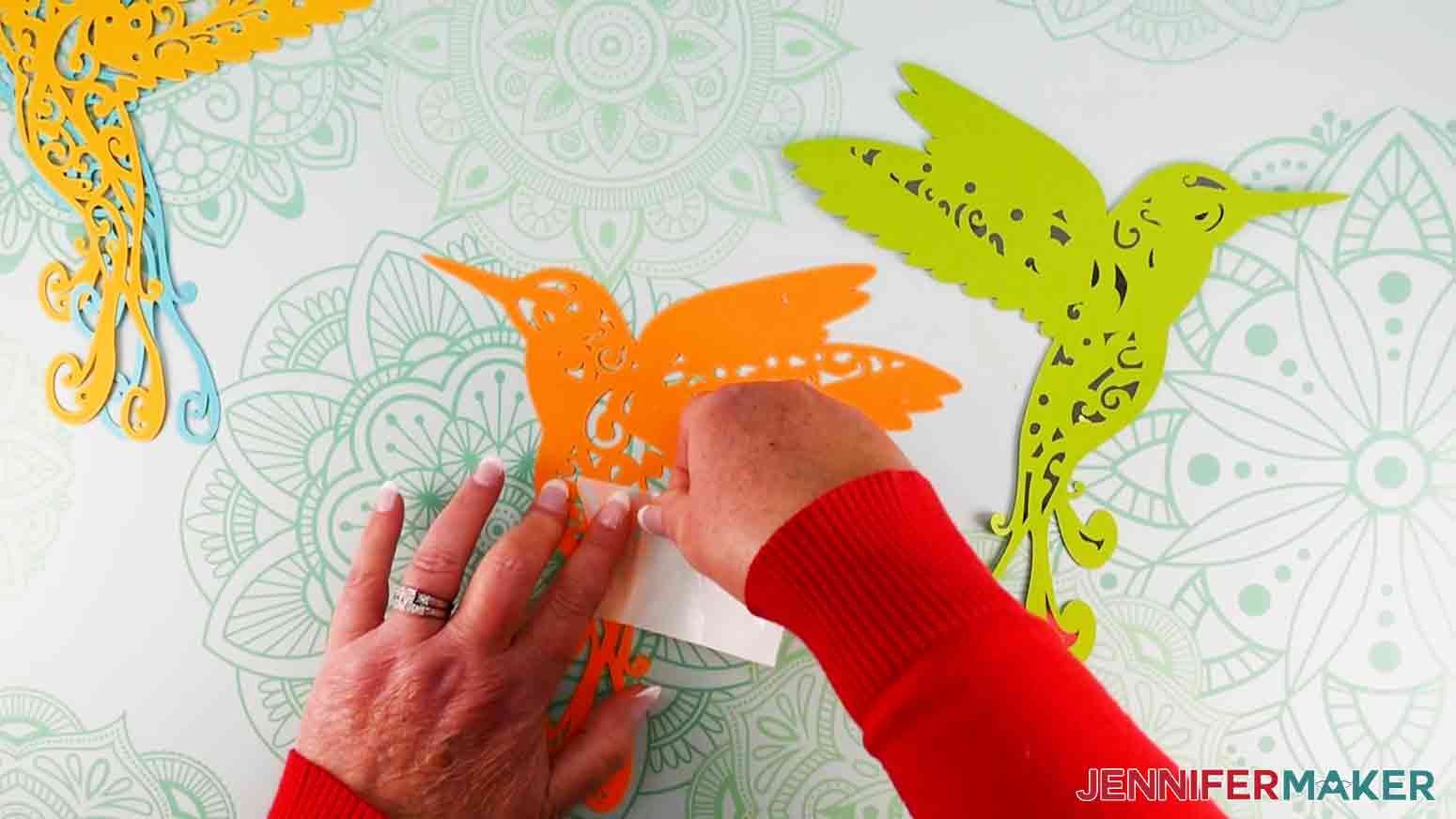 Position several adhesive spots on the back of Layer four. The clear Zots are hard to see, so I've pointed to one with a red arrow.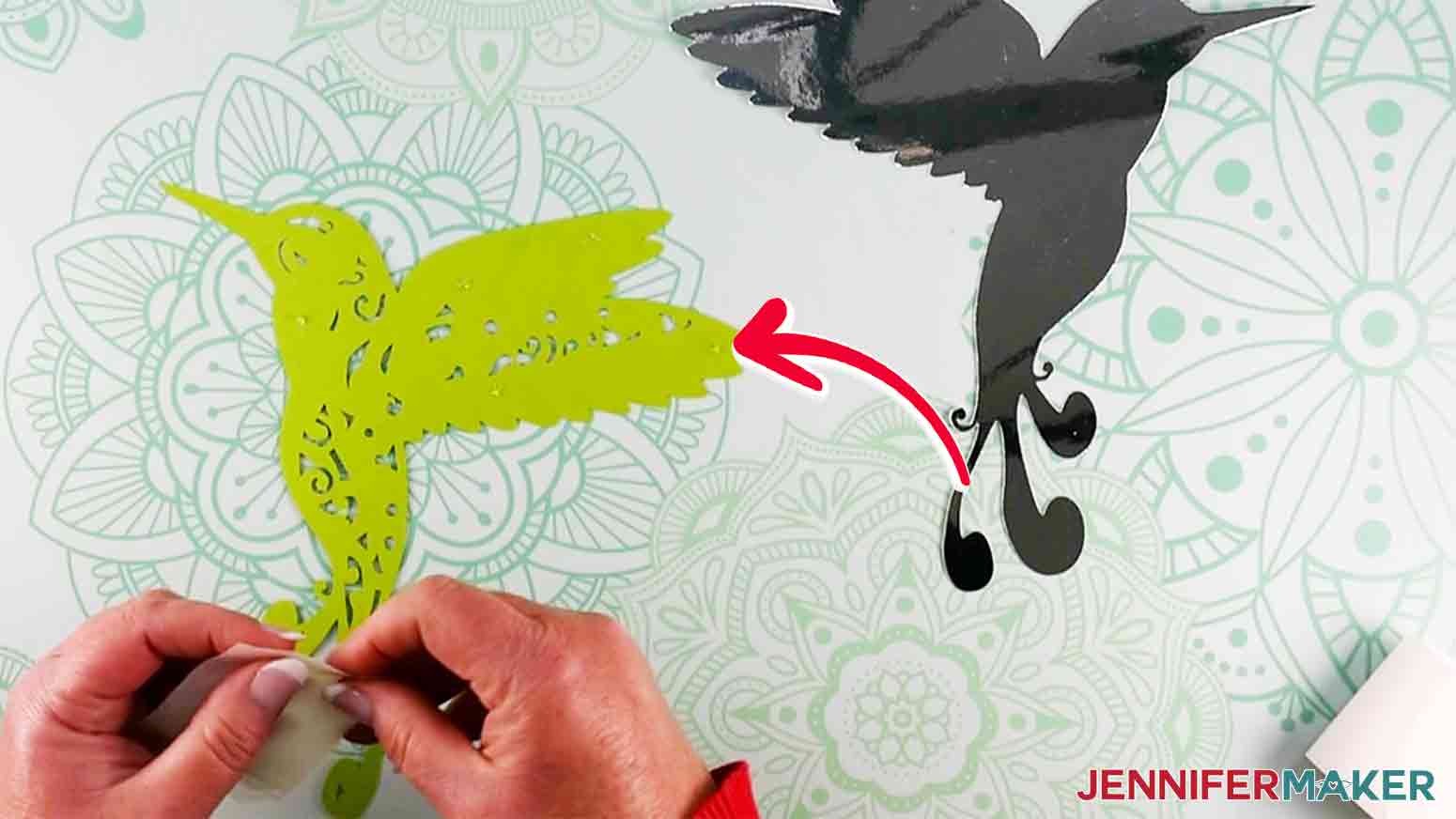 Line it up very lightly over Layer five until all the edges line up. Press down to adhere.
Repeat the process with the remaining layers, making sure your beak and feather swirls line up correctly!
Here is an example of lining up Layer three on Layer four.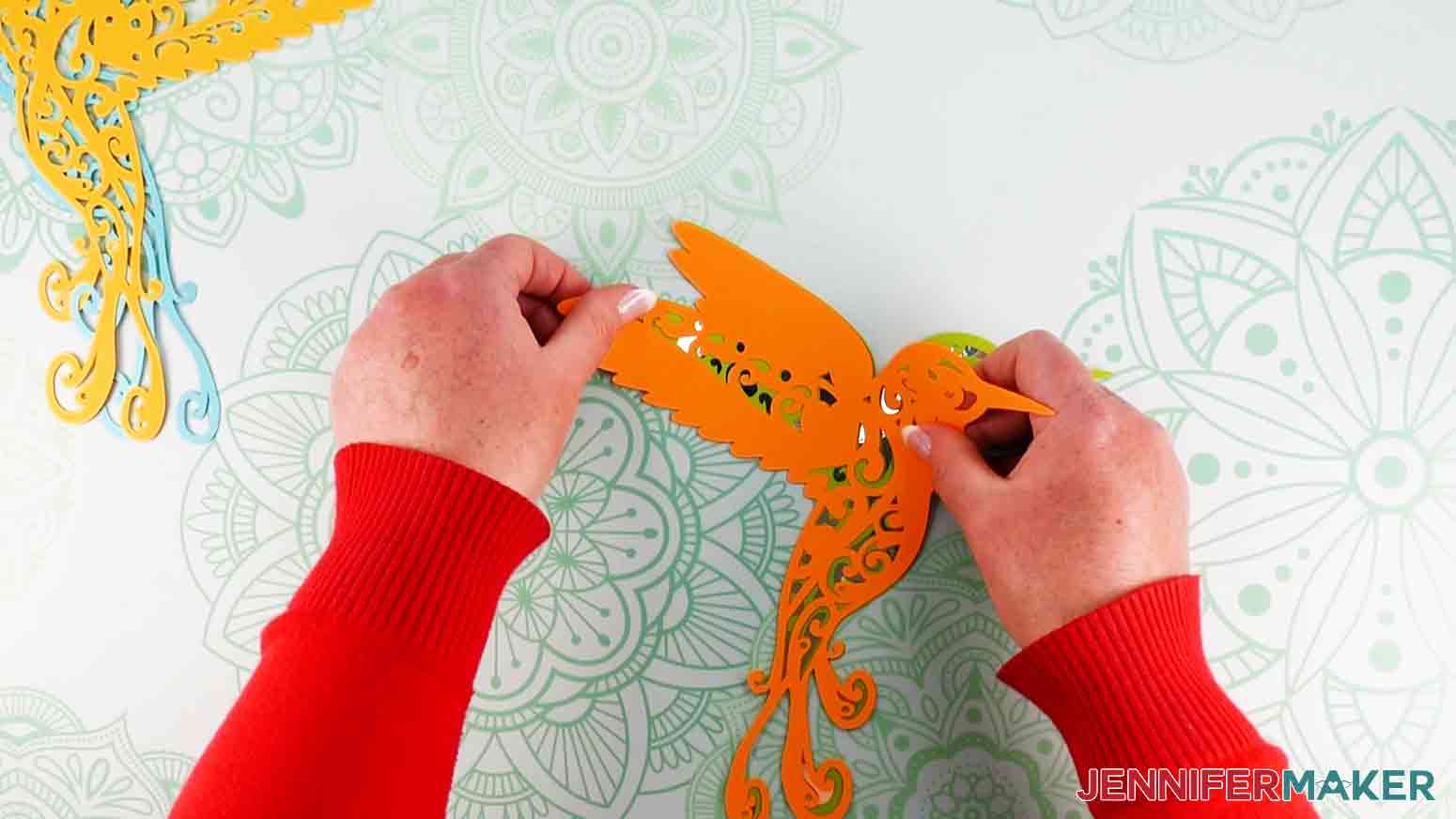 Then place Layer two on Layer three.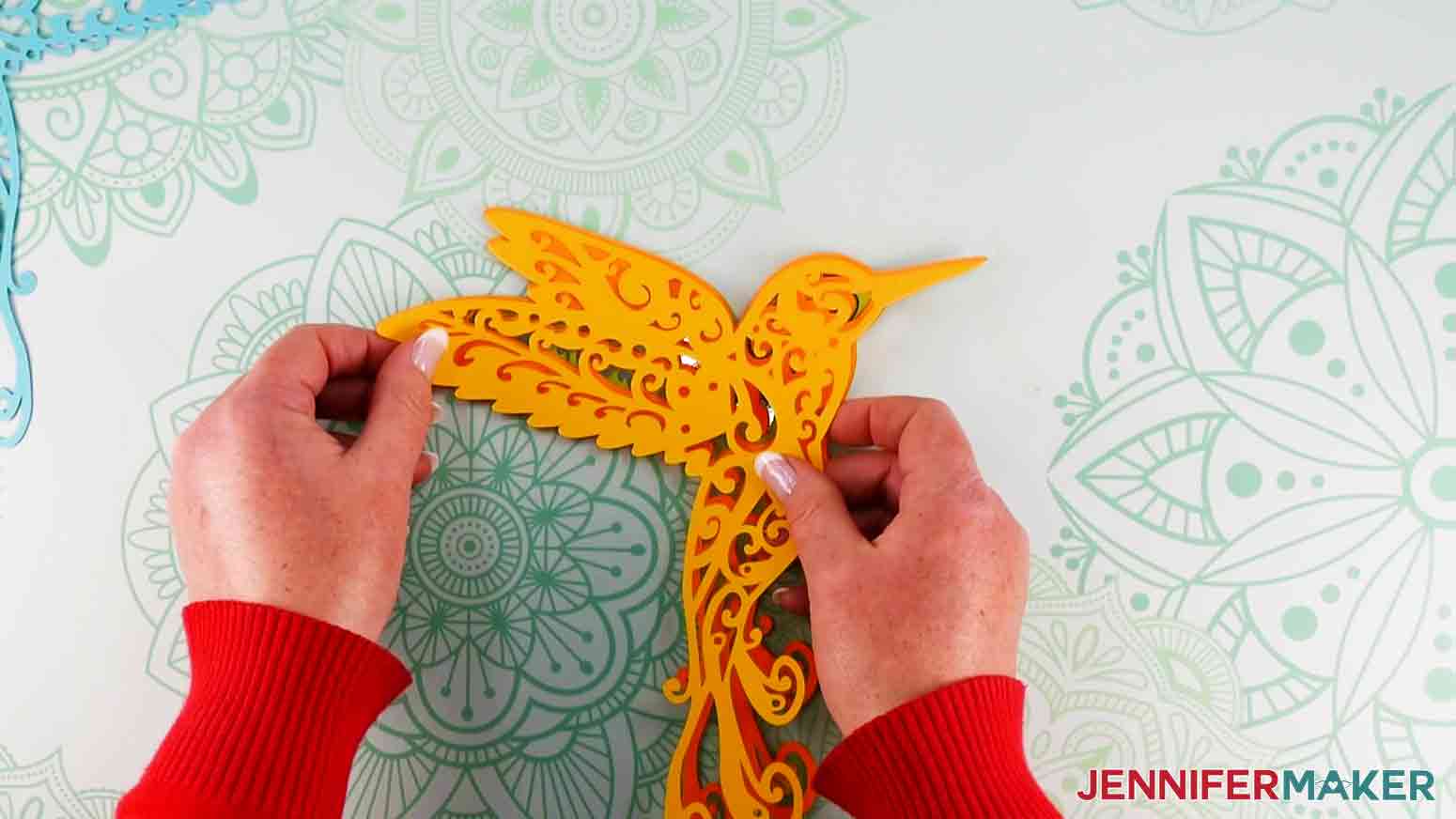 Finding discrete spots for your Zots or foam adhesive will get more difficult as the cardstock layers get more intricate. The red arrow indicates where I placed a Zot on Layer one, right at the base of the beak. You can cut your adhesives smaller, too, with a craft knife or scissors.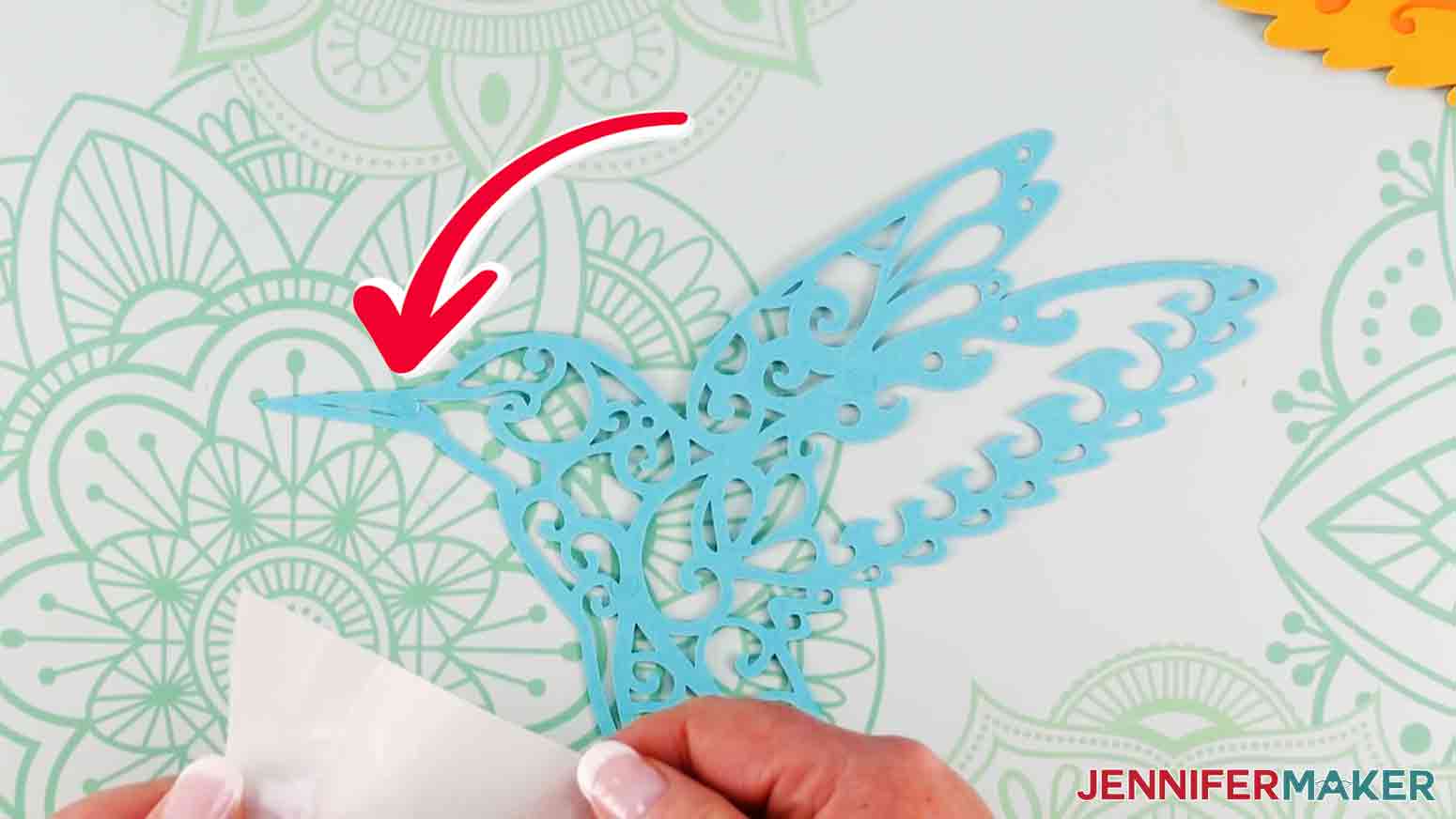 Place Layer one on Layer two and your stack is done! When Layer one is placed on Layer two, the Zot blends in since it's clear!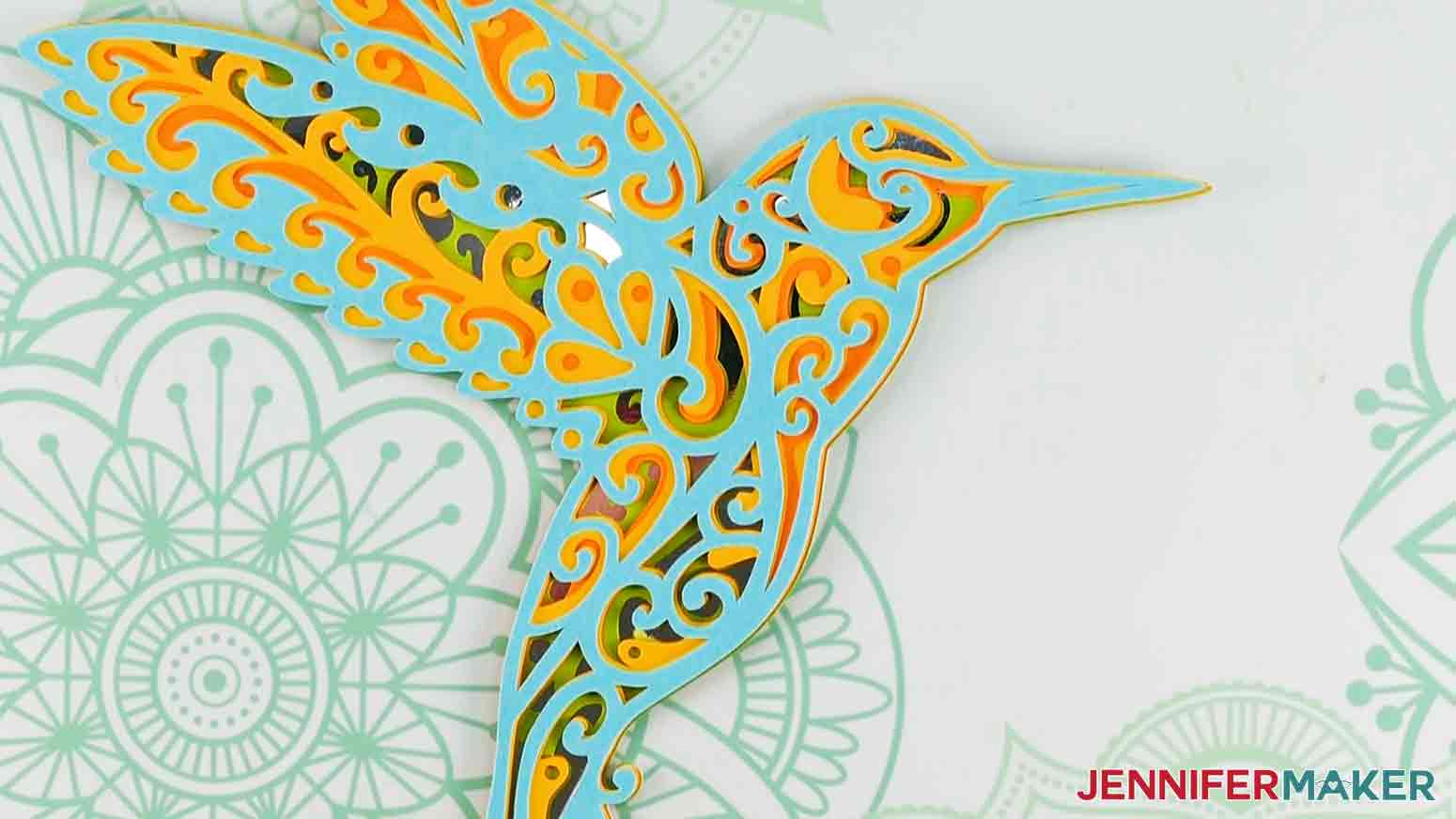 STEP 4: Show it Off
Here's what my finished 3D Hummingbird looks like. I just love the look of all the layers and how the pretty colors compliment one another.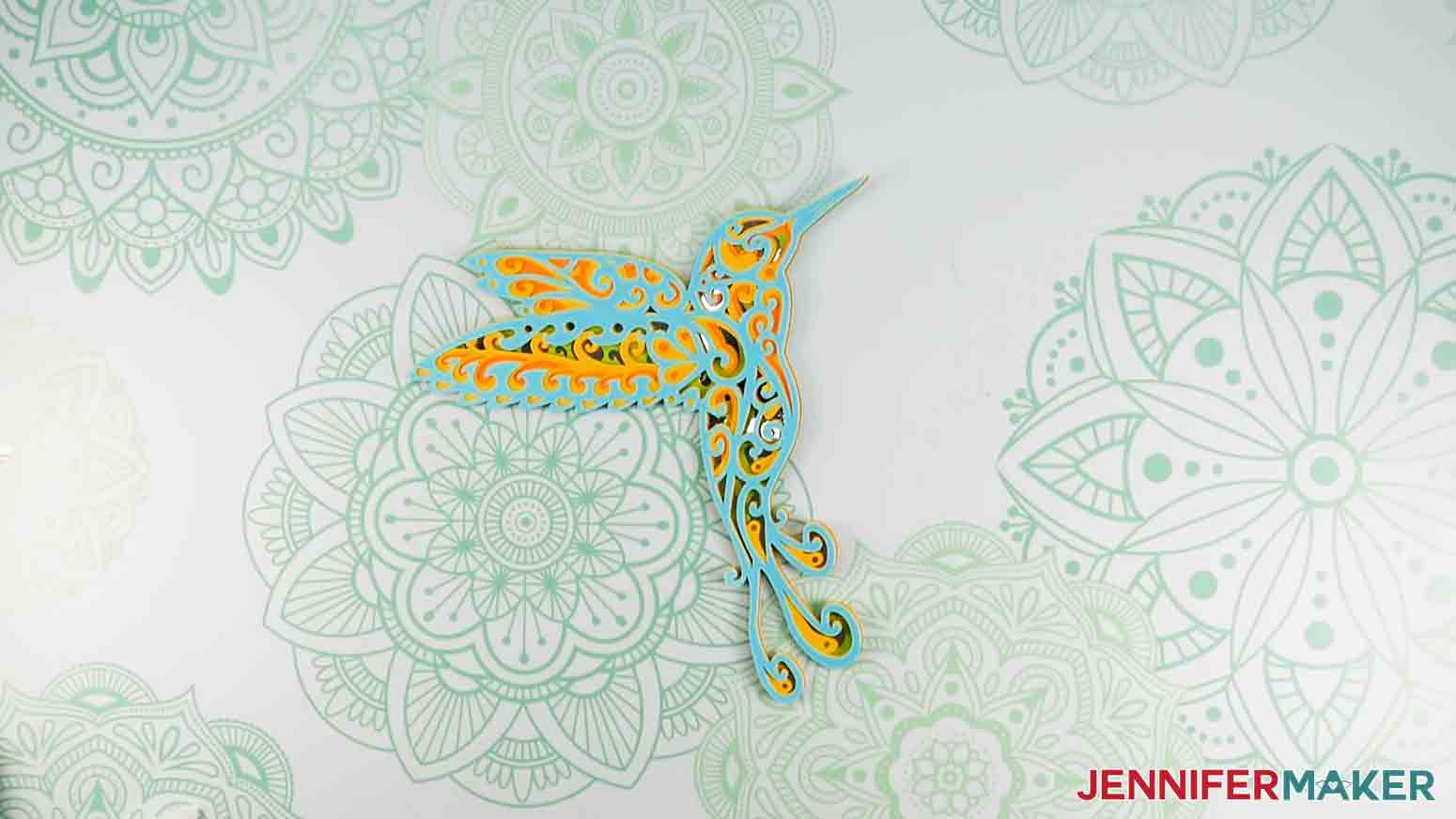 You could give your hummingbird a home by adding it to a shadow box!. Just use tape or hot glue to mount it to the shadow box backing. I added cardstock butterfly shapes from my Popup Butterfly Card and rolled paper flowers from the Letter with Paper Flowers tutorial.

I also made a smaller version that you can cut on the Cricut Joy. I've included the special cut setting in the description underneath the video description on YouTube. Since the hummingbird will be even smaller, you could add a magnet to the back with hot glue to decorate your refrigerator! I also hot glued one to a wooden dowel to dress up a bouquet of silk flowers.
Notes
The larger design will create a hummingbird that is about 8" x 9".

The smaller design will create a hummingbird that is about 4.25" x 4.75".
Recommended Products
As an Amazon Associate and member of other affiliate programs, I earn from qualifying purchases.
Get my free Hummingbird SVG file to make a 3D Layered Design.
Are you looking for a different 3D layered design? You could learn how to make your own in any shape you want in my comprehensive Custom Cut workshop. Learn more about the workshop at https://makeracademy.com/custom-cut. I'd love to see your project using my free Hummingbird SVG. Please share a photo in our Cricut group or tag me on social media with #jennifermaker.
Love,