Learn how to make sublimation garden flags!

Spring is coming (or so they say) and I'm getting antsy for warmer weather. The return of sunshine and the first flower blooms can't come soon enough! It's one of my favorite times of the year. With so many sublimation blanks out there, I was so excited when I came across blank garden flags for sublimating! So I thought: To welcome Spring a little early, why not make colorful sublimation garden flags for my yard? The process follows a similar technique as my custom doormats, and creates a beautiful tribute to Springtime! Even if you're new to sublimation, this is a tutorial anyone can try — with the right tools and materials.
Want to save this project? Enter your email below and we'll send the project straight to your inbox.
See the full step-by-step video tutorial on how to make sublimation garden flags: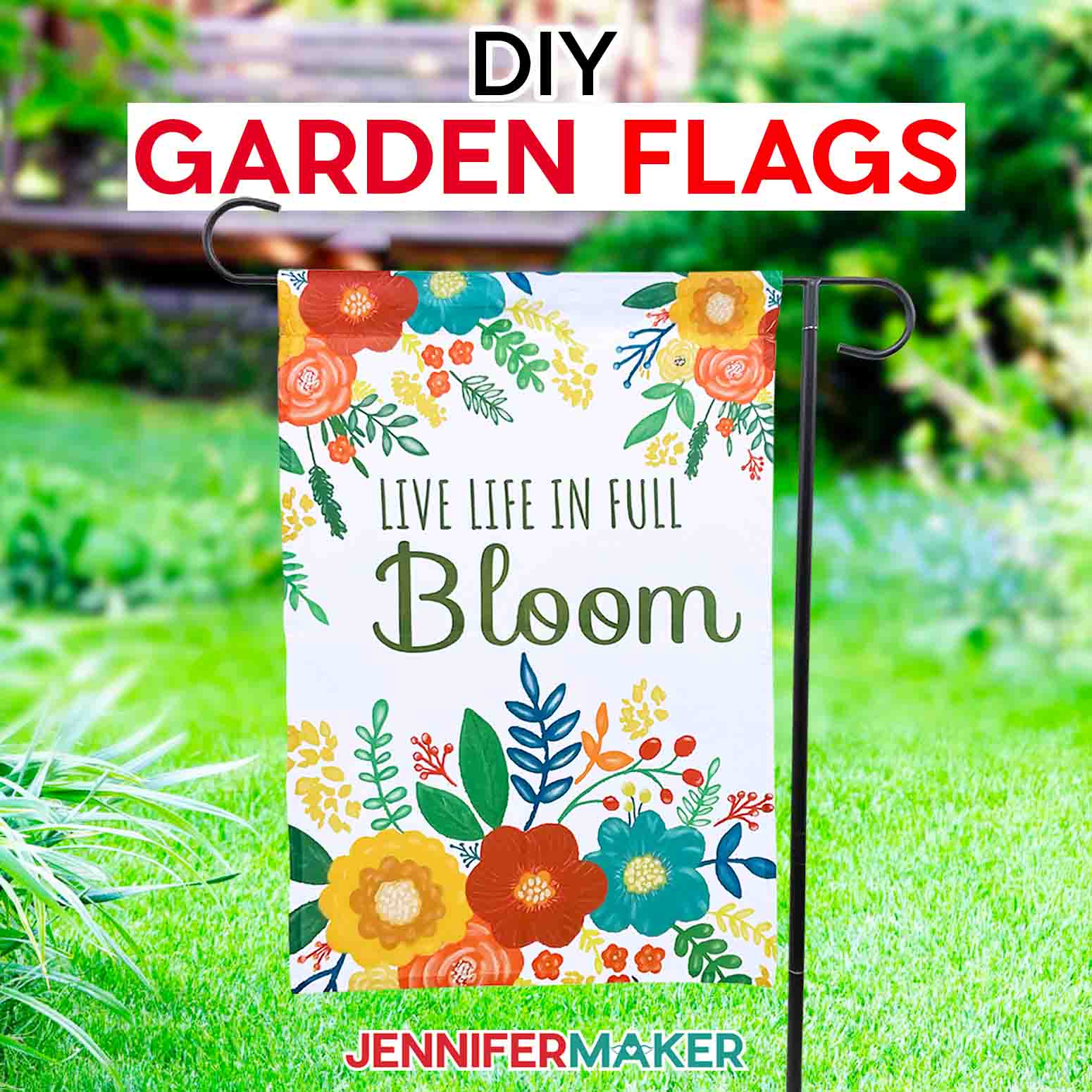 With Spring on the brain, I had so much fun creating these bright and cheerful designs. And the best part? They're customizable! You can add your own message, family name, or anything else you like! I'll show you how to size your design correctly in Google Drawings (which is free), then add and edit text to make your personalized flag look great. We'll finish up the design by printing it from Adobe Acrobat Reader (which comes with a free trial).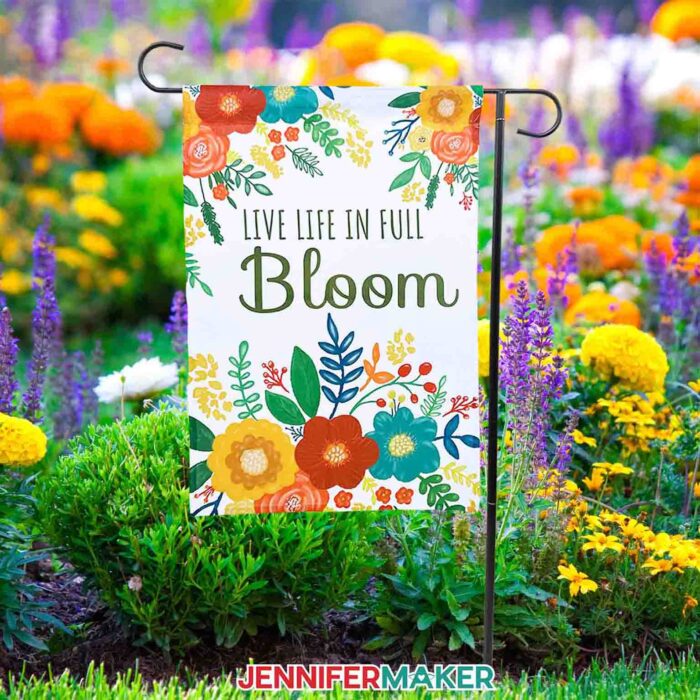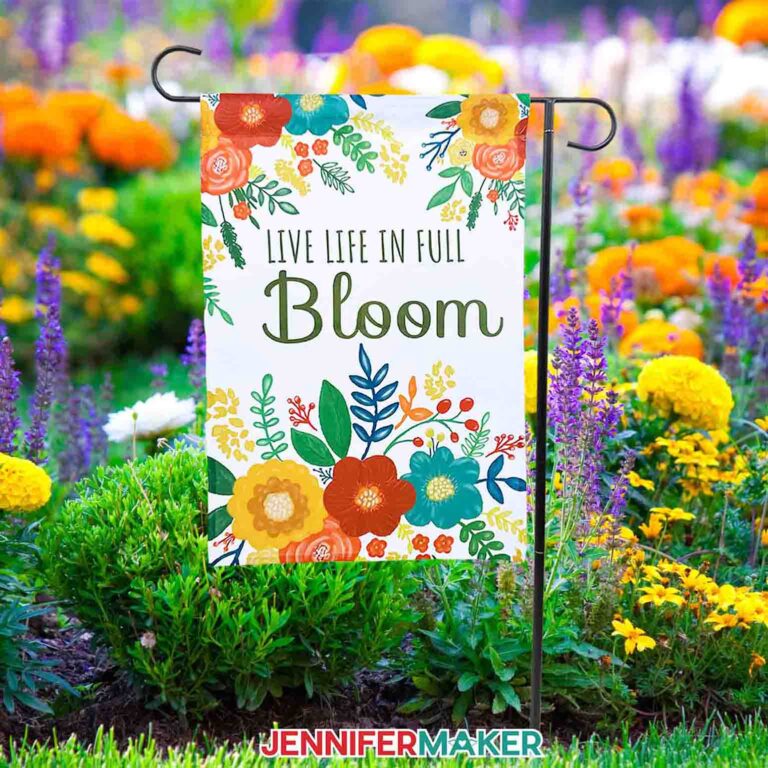 Sublimating a multi-sheet design requires some patience, but it's easier than you might think. I'll walk you through the whole process start to finish so you get it right the first time.
To make sublimation garden flags, first you'll need a sublimation printer. There are several great sublimation printers on the market, but for this tutorial I'll be using my converted Epson Eco-Tank printer and Hippoo sublimation ink — my favorite. We'll print our design on four full page sheets of high quality sublimation paper, then attach them together with heat-resistant tape.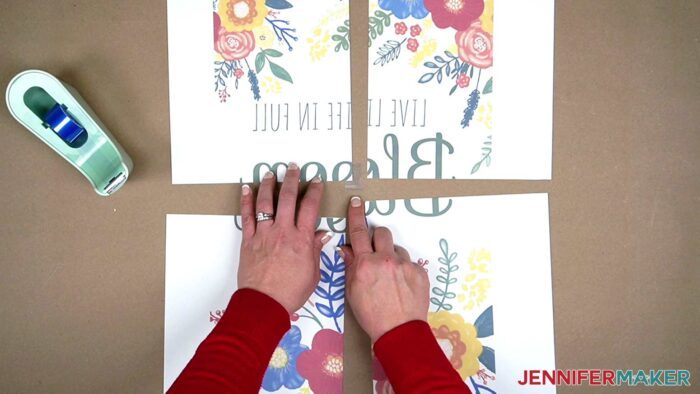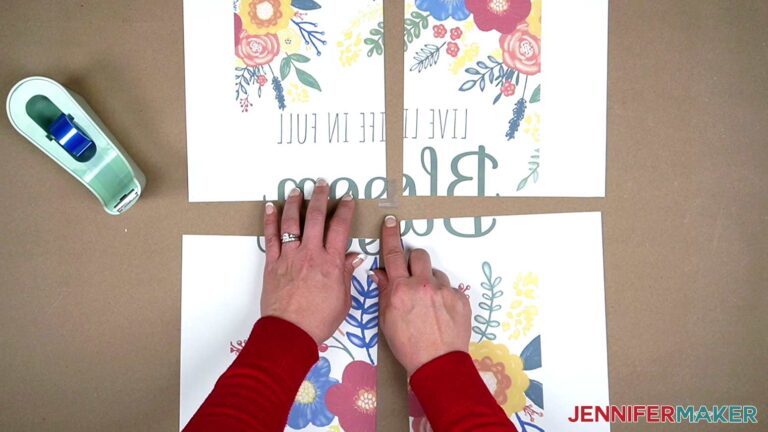 Next, you'll need a blank garden flag made of 100% polyester, which you'll find linked in my list of materials below. Not only will I show you how to sublimate a single-sided flag, I'll walk you through sublimating a double-sided garden flag, too. Because why not have double the color, right?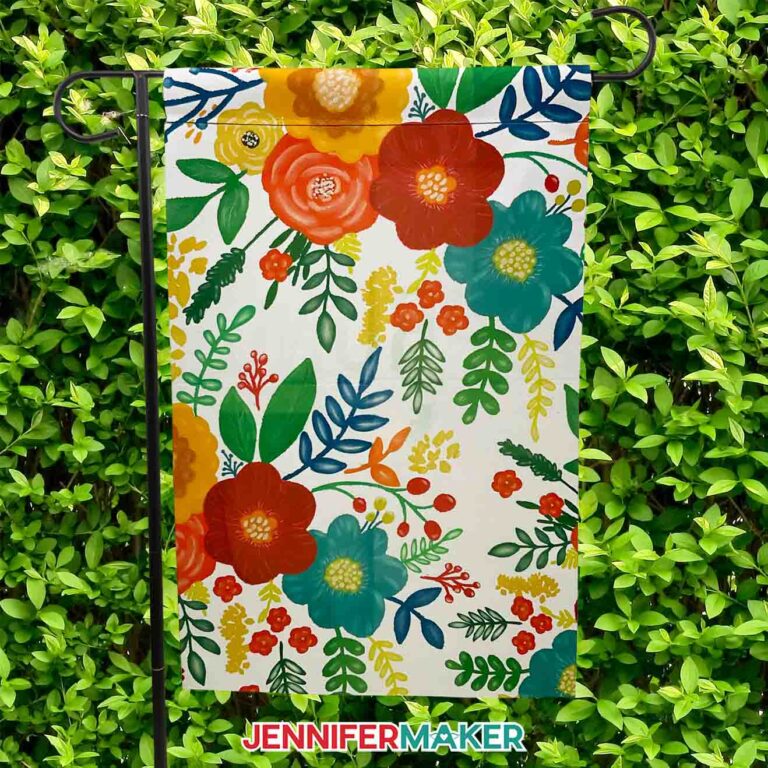 To sublimate your personalized design onto your yard flag, you'll need a heat press like my Cricut EasyPress, a pressing mat, and some other supplies you probably already have around the house. A word of warning, though: Don't try to make this project (or any other sublimation project) with a household iron. It just doesn't get hot enough, and your project will not turn out the way you expect. Heat presses are the way to go with anything sublimation related.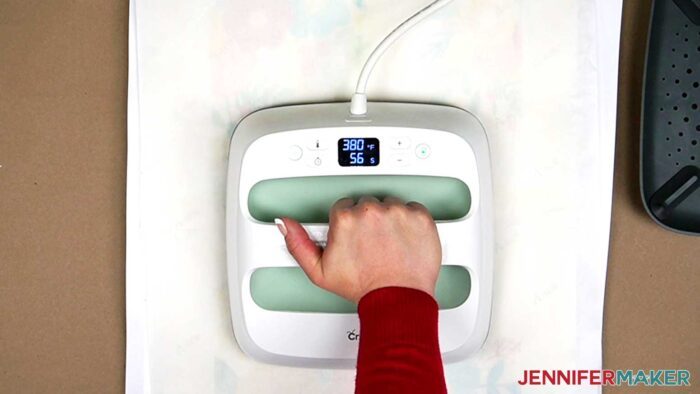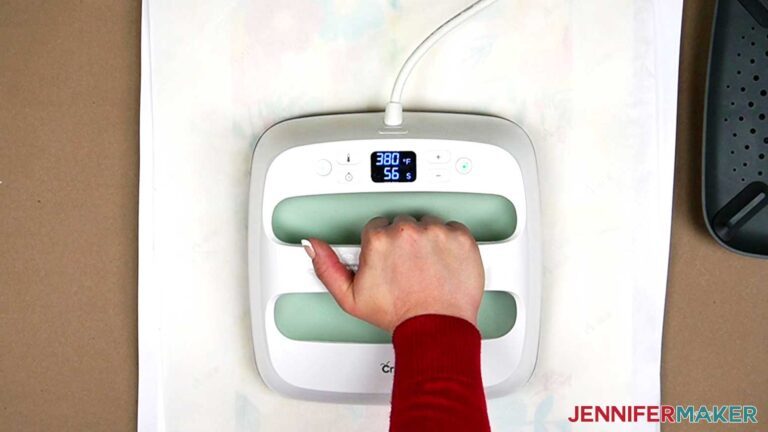 Anytime you're sublimating, you'll need proper ventilation for your safety. I like to open a window, turn on a fan, and try not to breathe in the fumes that escape while I'm pressing my sublimation design.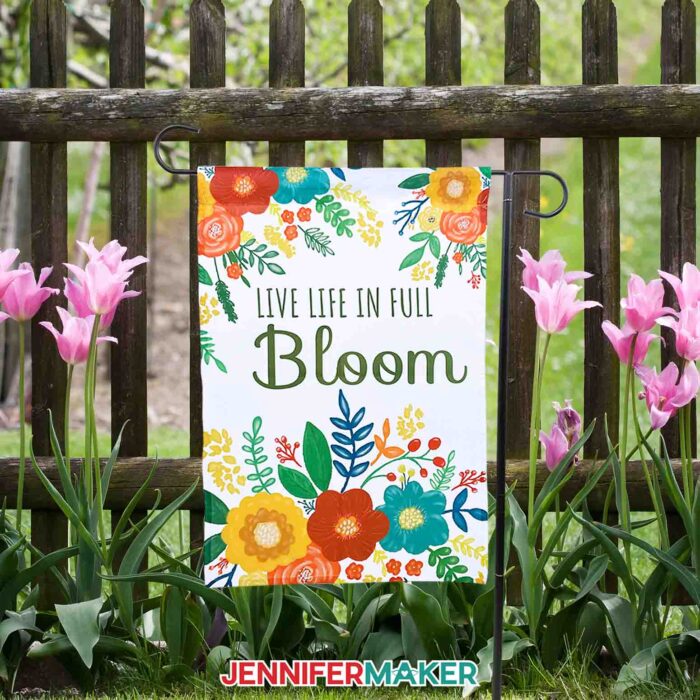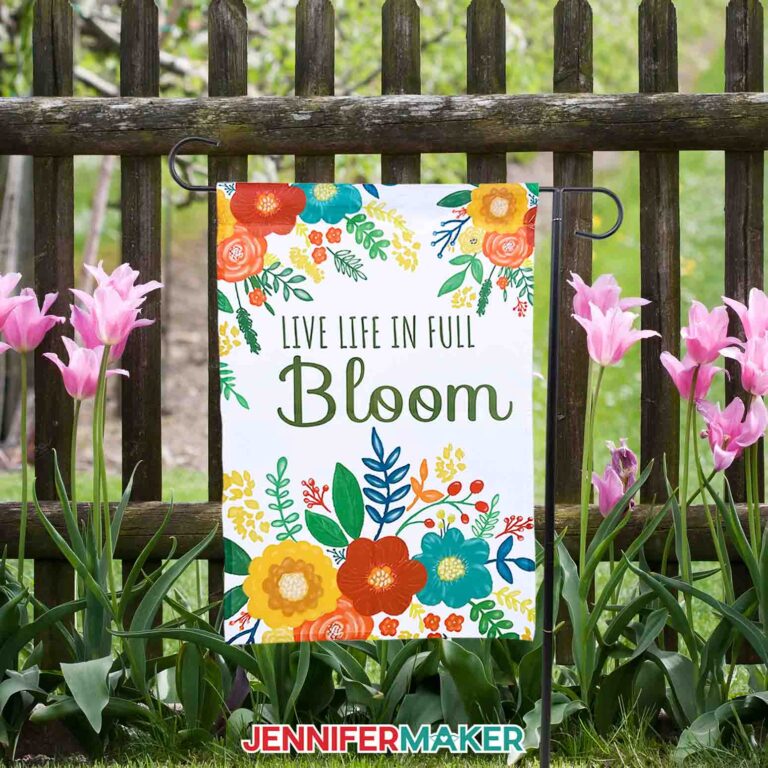 When your flag is done, it's time to hang it in your garden with a flag stand, or on your house with a small flag pole. Just one more word of warning, though: Once your neighbors see your custom sublimation garden flag, they'll probably ask you to make them one, too!
I can't wait to see how your sublimation garden flags turn out!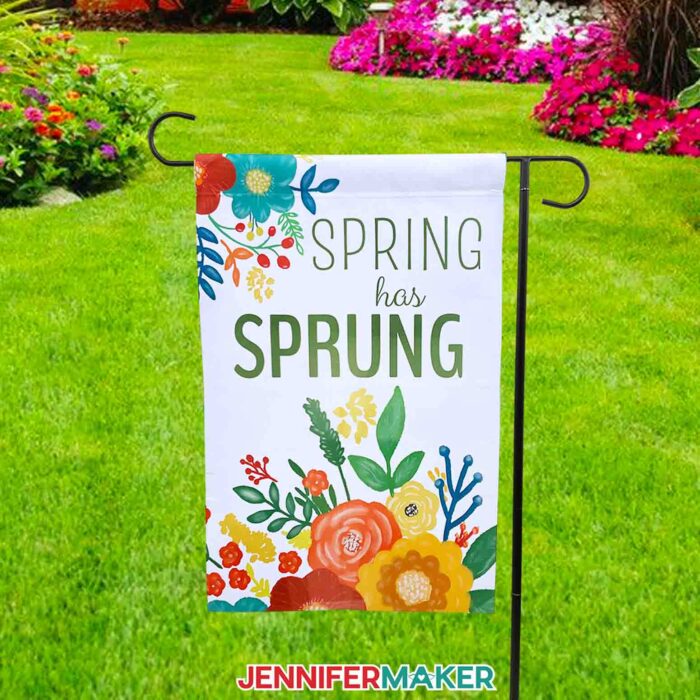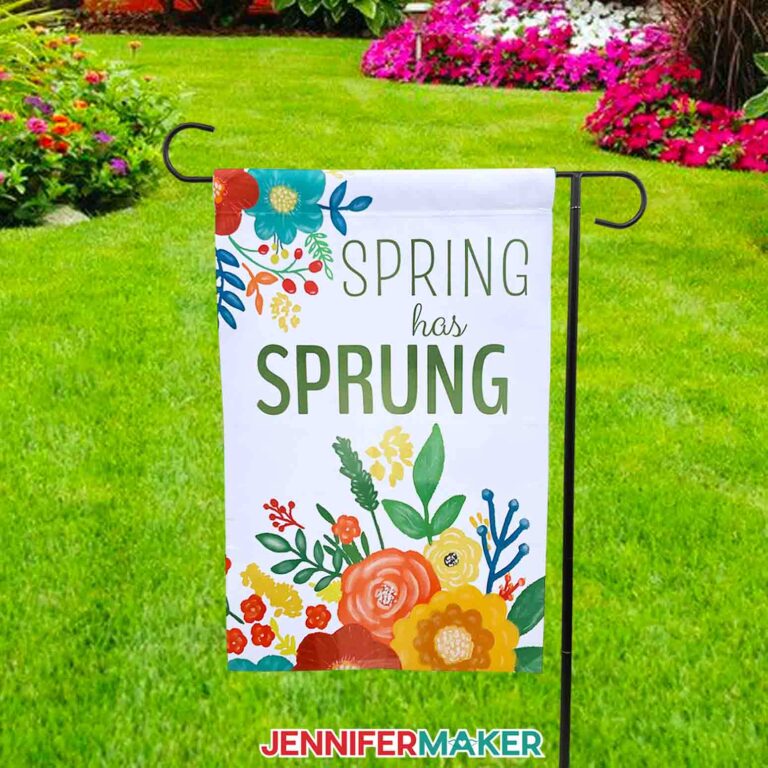 Ready to make your own DIY sublimation garden flags? This post contains some affiliate links for your convenience (which means if you make a purchase after clicking a link I will earn a small commission but it won't cost you a penny more)! Read my full disclosure policy.
Materials & Tools to Make Sublimation Garden Flags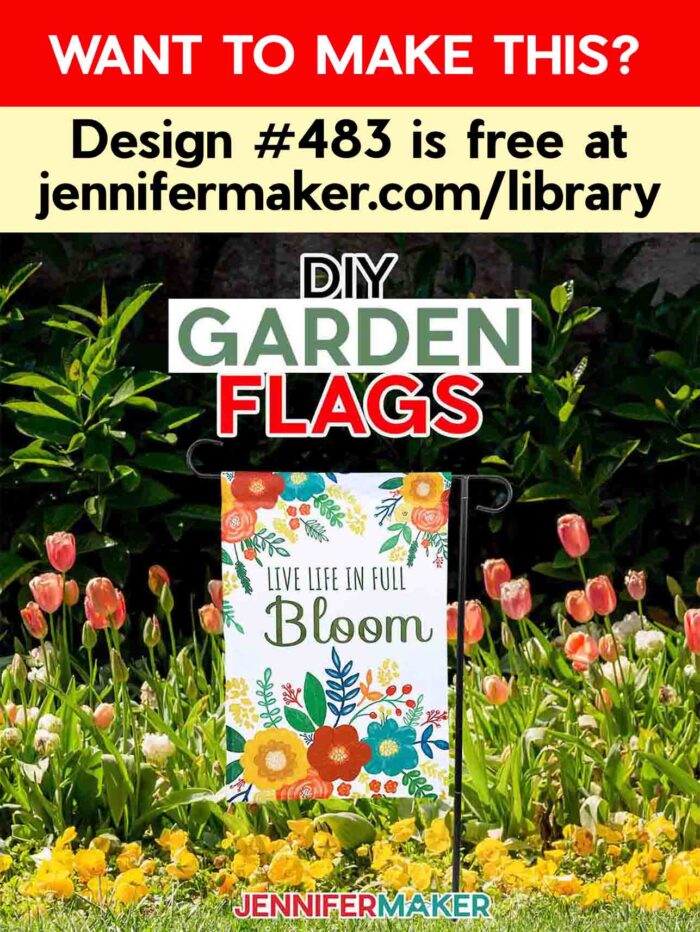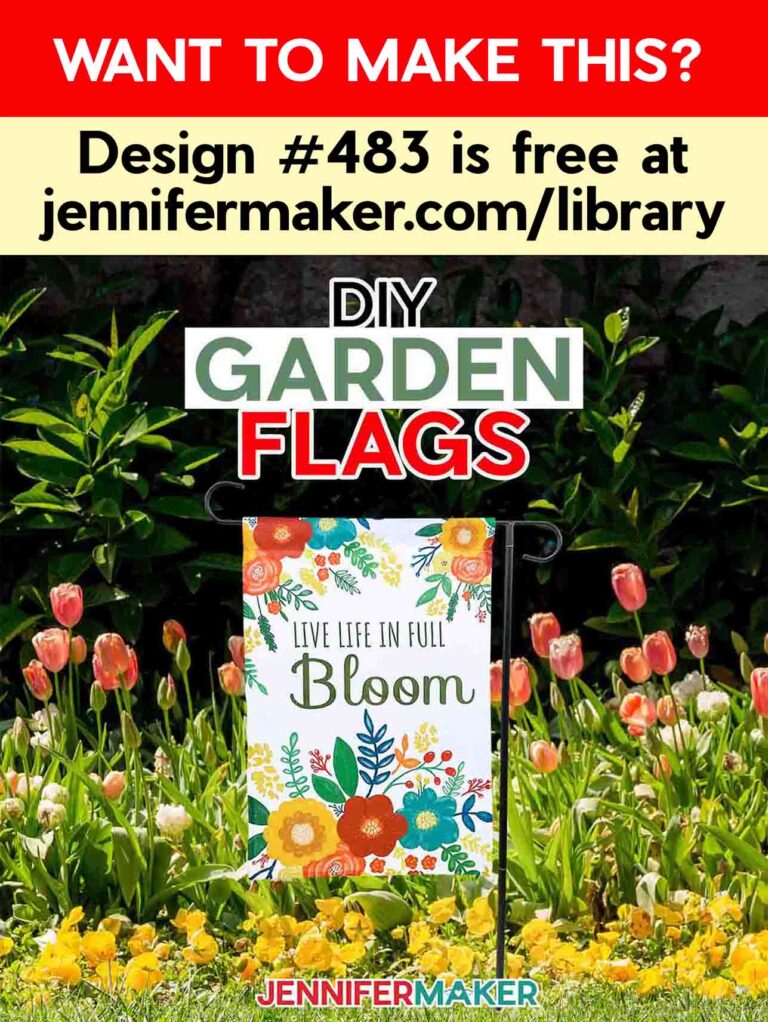 How to Make Sublimation Garden Flags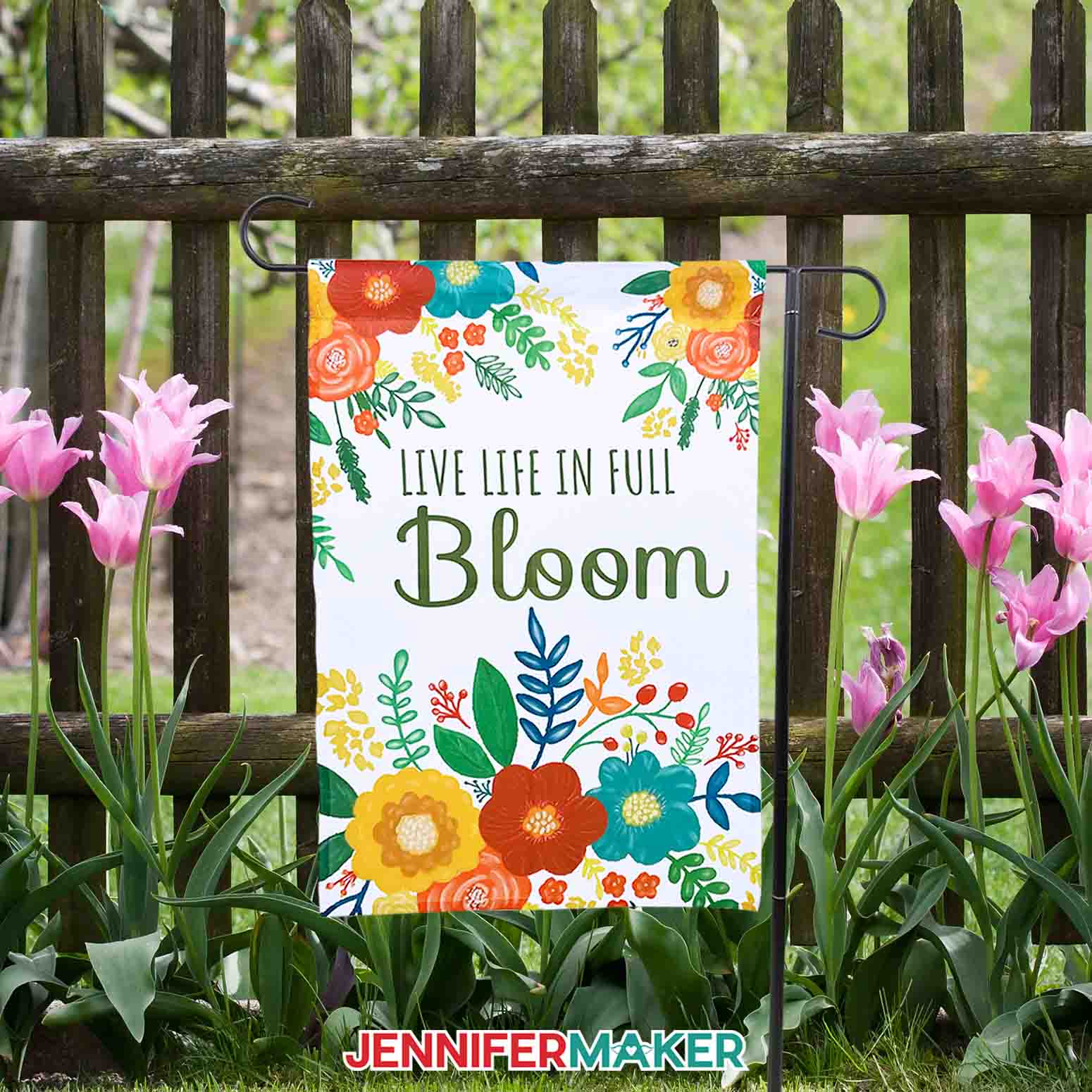 How to Sublimate Garden Flags
Yield:
1 single-sided or 1 double-sided garden flag
Additional Time:
5 minutes
Difficulty:
Easy to Medium
Learn how to sublimate a single OR double-sided garden flag AND how to personalize them with words or names!
Answers to Your Questions About How to Make a DIY Garden Flag
Q.How do you sublimate a garden flag?
A: By following this tutorial! But seriously, it's easy. I break it down step by step, and it's a simple project you can do in about an hour. And blank sublimation garden flags are pretty inexpensive, so you can get a few to practice on!
Q: How long to press a sublimation garden flag?
A: Because of the size of our design, and the limited size of even the largest heat press, we'll press our single-sided garden flag a total of five times, for 60 seconds each time. For the double-sided flag, we'll simply repeat the steps for a total of ten total presses at 60 seconds a piece. If you're making smaller flags, you probably can do each one all at once.
Q: What temperature do you heat press garden flags?
A: Sublimation requires pretty hot temperatures! We'll be pressing our flags at 380° Fahrenheit (or 193° Celsius). If you use heat transfer vinyl, check the recommended settings on the material packaging. If you need to know the temperatures for other sublimation blanks. check out the Sublimation Cookbook with handy one-page "recipes" for over 150+ different sublimation projects.
Q: Can you heat press a polyester flag?
A: Sure can! In fact, 100% polyester flags are the only type I recommend for bright, bold results that stand up to those Springtime rainstorms without fading. Other fabric blends tend to fade much more quickly.
Q: Can you overheat sublimation?
A: It's possible to overheat your sublimation garden flags and cause ghosting or browning of your design, but highly unlikely if you follow my steps.
Q: Do you peel sublimation hot or cold?

A: Always let your sublimation paper cool completely before removing it from your material. This will ensure a nice, crisp, fully sublimated design without any ghosting.
Get my free PNG files to make sublimation garden flags!

I can't wait to see the gorgeous sublimation garden flags you all create for your yards! Please share your sublimation projects and ask your questions in my Sublimation Made Easy Facebook group where you'll find over 100,000 sublimation crafters like you, sharing their tips, projects, and inspiration.
Love,