Use this helpful guide to get the answers to your questions about making face masks for children.
As we head into the back-to-school season, there is a new item added to the school shopping list this year – face masks for children. I have a DIY Face Mask Guide where I answer a lot of questions about Face Masks. I also have different Face Mask patterns and information about Face Mask Fabrics and Filters. This guide will help you decide what works best and answers your questions about face masks for your children.
Tips for Face Masks for Children
Here are some tips to help you choose the right face mask for your child.
First, check with your school or school district to see if there are any specific guidelines that you need to follow.
Second, have the face mask available ahead of time and make sure your child can take it off and on.
Third, ensure that the mask fits your child well.
Finally, let your child wear the mask so they get used to it.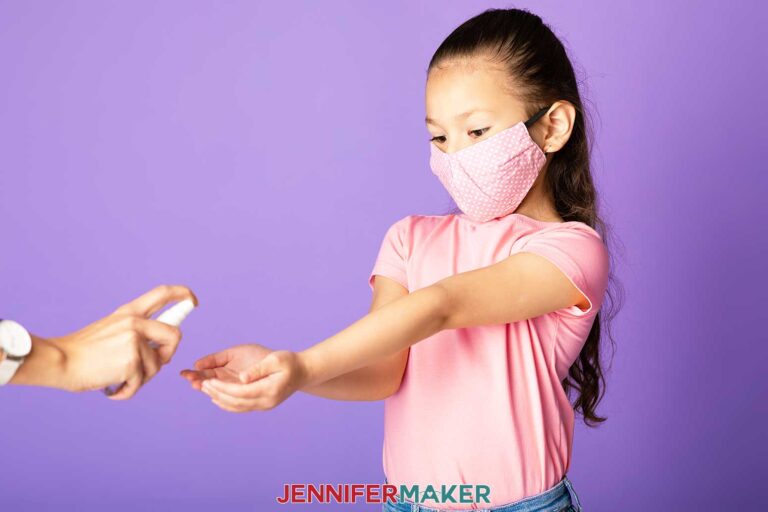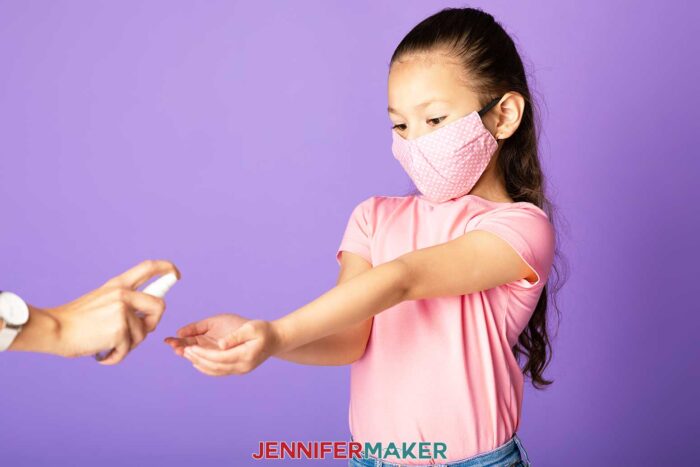 Should children wear face masks?
Yes, the CDC (Centers for Disease Control and Prevention) recommends that children over the age of 2 should wear a face covering to slow the spread of the virus.
What do I need to look for when choosing face masks for children?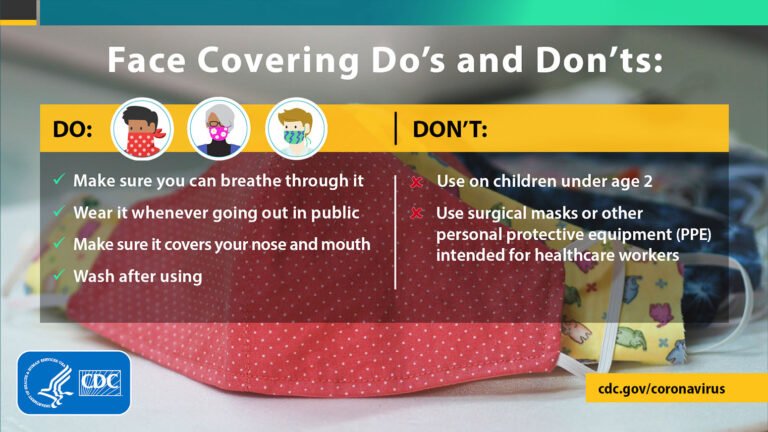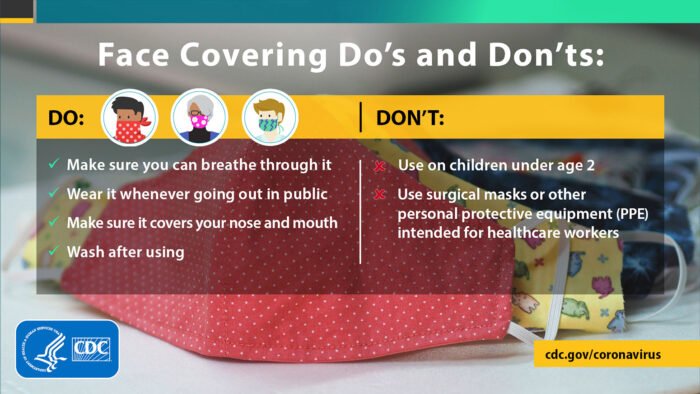 How do you make a child-friendly face mask?
I have a few different mask patterns so you can make a mask at home. I have smaller sizes that would fit a child's face.
What measurements do I need to take for my face mask for my kids?
Using a flexible tape measure, measure your child's face. Some measurements to have include ear to ear, around the entire head (this measurement is useful for some mask designs), and bridge of the nose to the bottom of the mouth or bottom of chin depending on where the mask will end.
Make your face masks with these dimensions in mind. Don't assume that your child falls exactly in line with the age recommendations for the mask size. Age recommendations are a good starting place, but you may have to size up or down.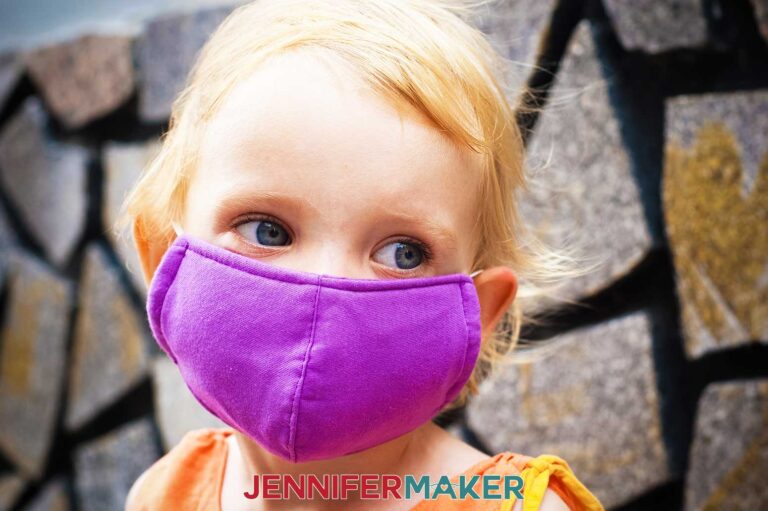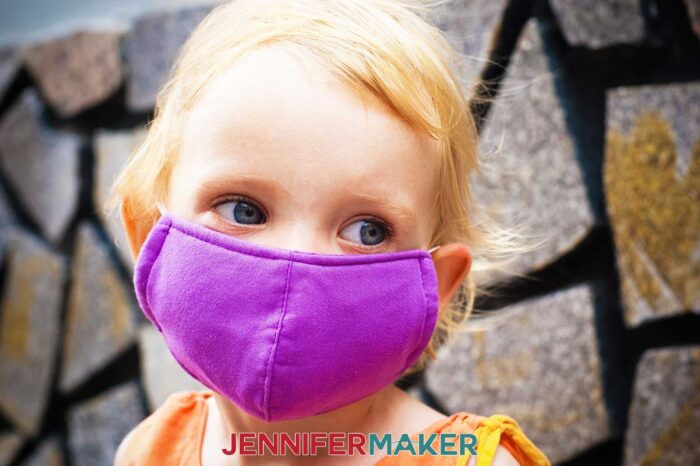 What are the measurements for your face masks for kids?
Approximate measurements for my patterns are:
DIY Face Mask (measure from ear to ear and bridge of the nose to below chin)
8.875″ x 5.75″ – Small
10.5″ x 6.75″ – Medium
No-Sew Face Mask (measure your head from ear to ear)
8.5″-9″ – Youth Small (Knit T-Shirt) or Youth Medium (Woven Cotton)
9.5″-10″ – Youth Medium (Knit T-Shirt) or Youth Large (Woven Cotton)
10.5″-11″ – Youth Large (Knit T-Shirt) or Adult Small (Woven Cotton)
Gaiter Mask (measure your head circumference)
19″-19.5″ – Youth Small
19.75″ – 20.25″ – Youth Medium
20.75″-21.25″ – Youth Large
8.5″ long x 9″ wide – Youth
How do you make a homemade mask?
I have a few different free patterns you could try. My face mask patterns follow the guidelines suggested by the American Academy of Pediatrics.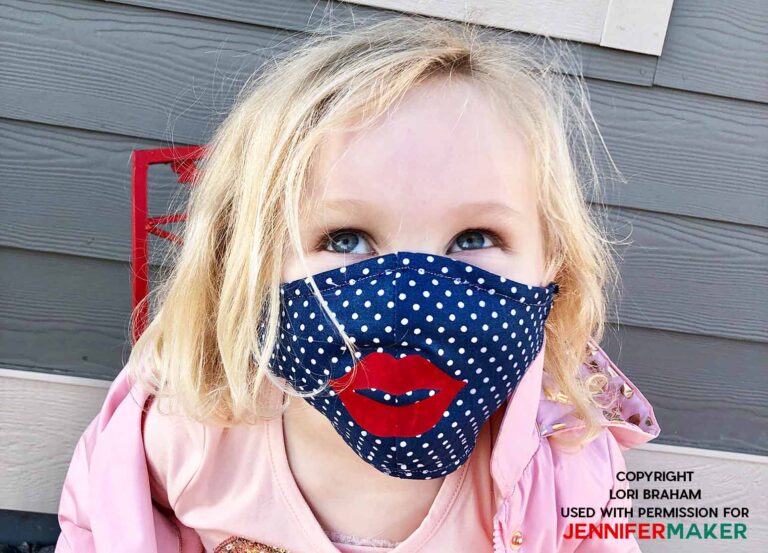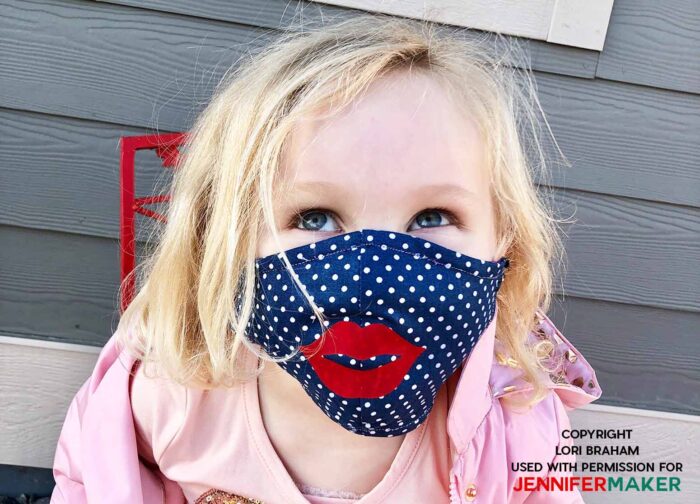 The DIY Face Mask is a sewn mask made from two layers of tightly woven cotton and a layer of 100% heavyweight T-shirt cotton. This style does have ties; however, you could use elastic instead of ribbon. In fact, you could either use elastic to make hoops around your ears or have the elastic fit all the way behind your head.

The no-sew face mask is the easiest mask pattern I have. You can make it out of either soft stretchy T-shirt material or quilting cotton. For the no-sew mask, you would measure your child's face from ear to ear.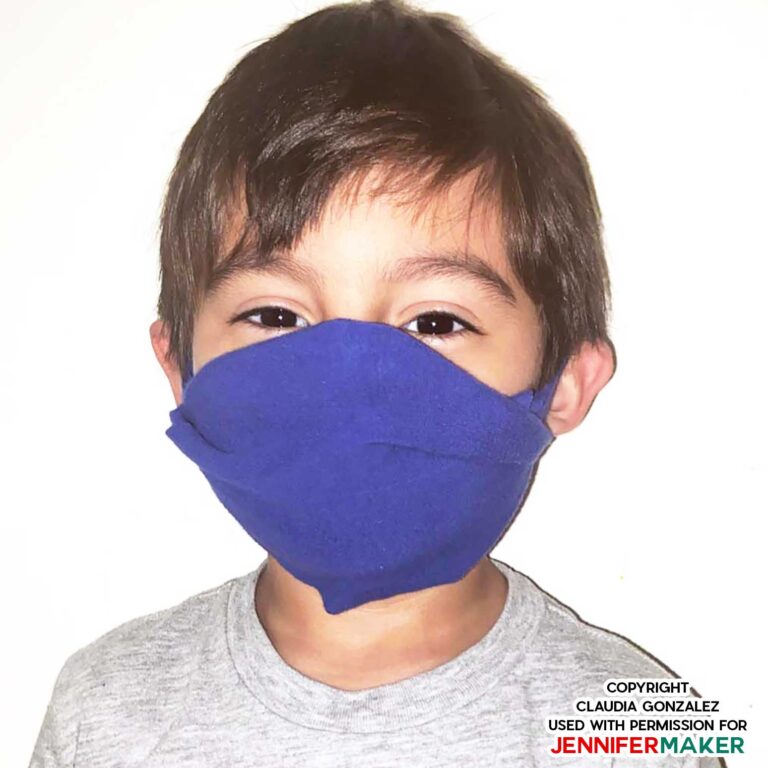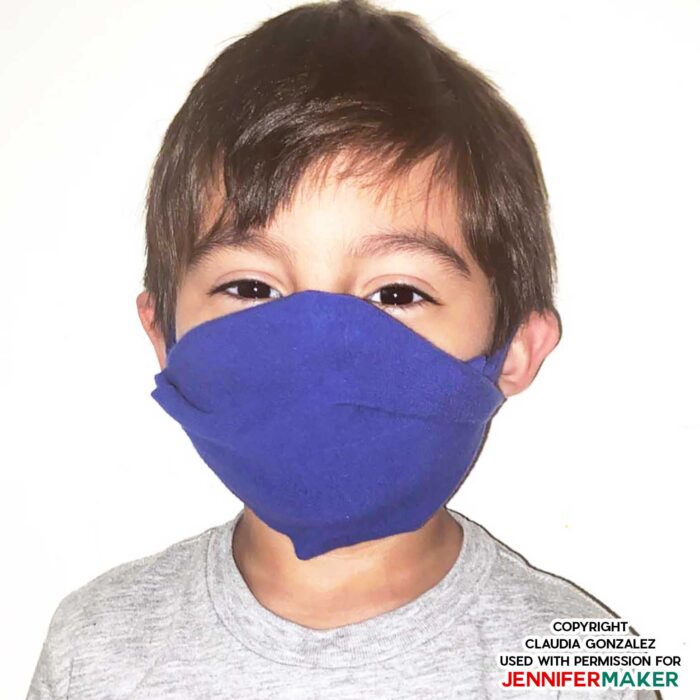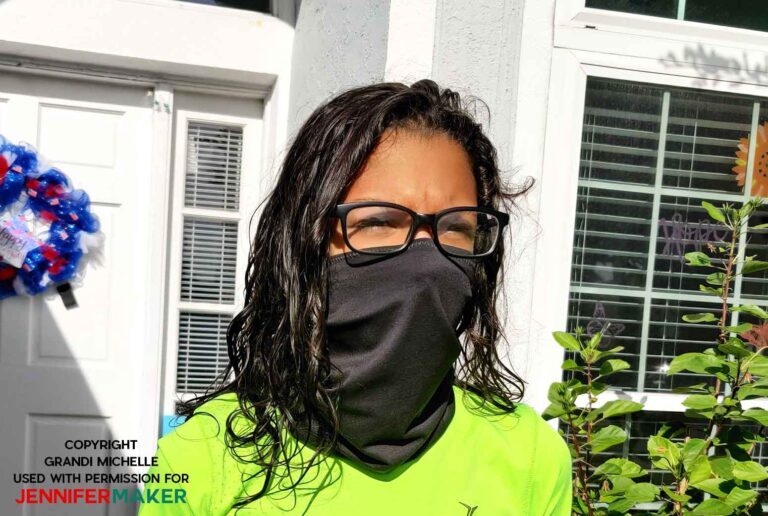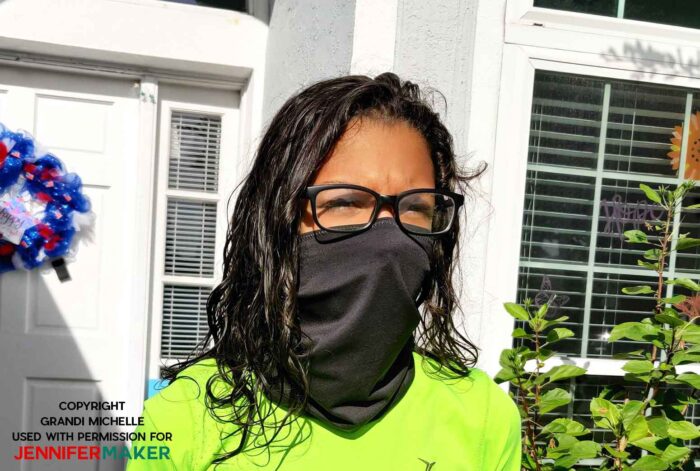 The Gaiter Face Mask is a good option because it won't get lost. Children can keep a gaiter face mask around their neck and just pull it up or down as needed. You don't have to worry about tying any strings with this style. If children wear glasses, they can wear a gaiter mask under their ears )like how Greg is wearing his gaiter mask in the photo below.) By wearing a gaiter mask under the ears, your child won't get sore ears because there won't be any elastics or strings on your child's ears.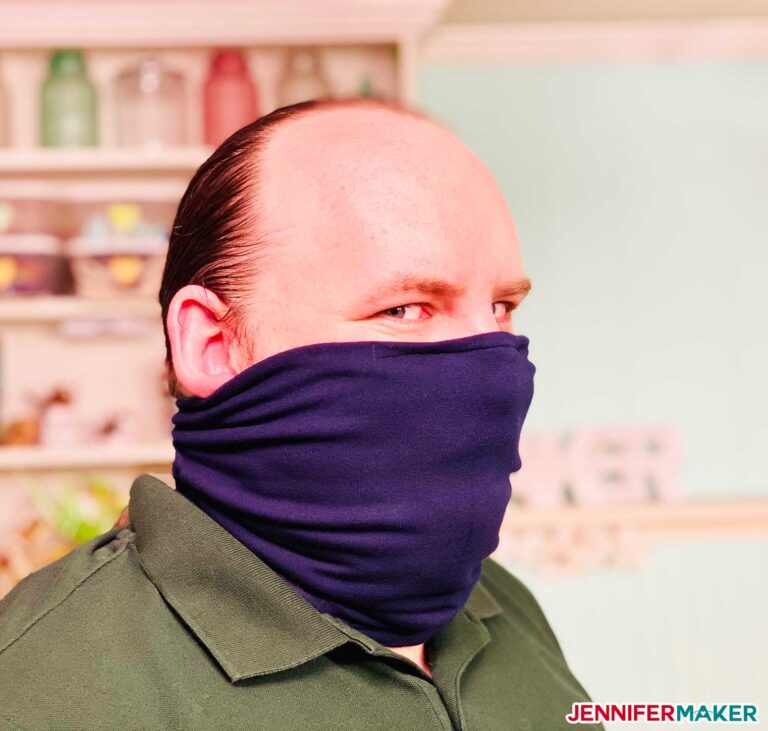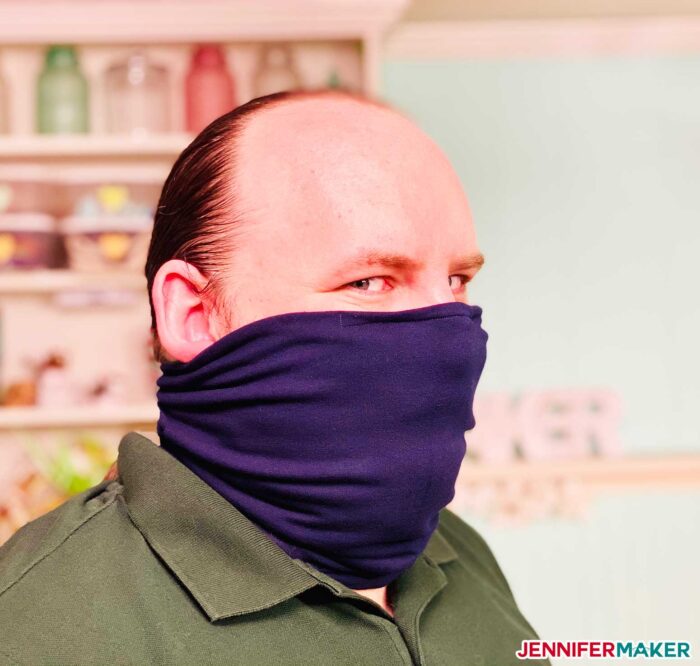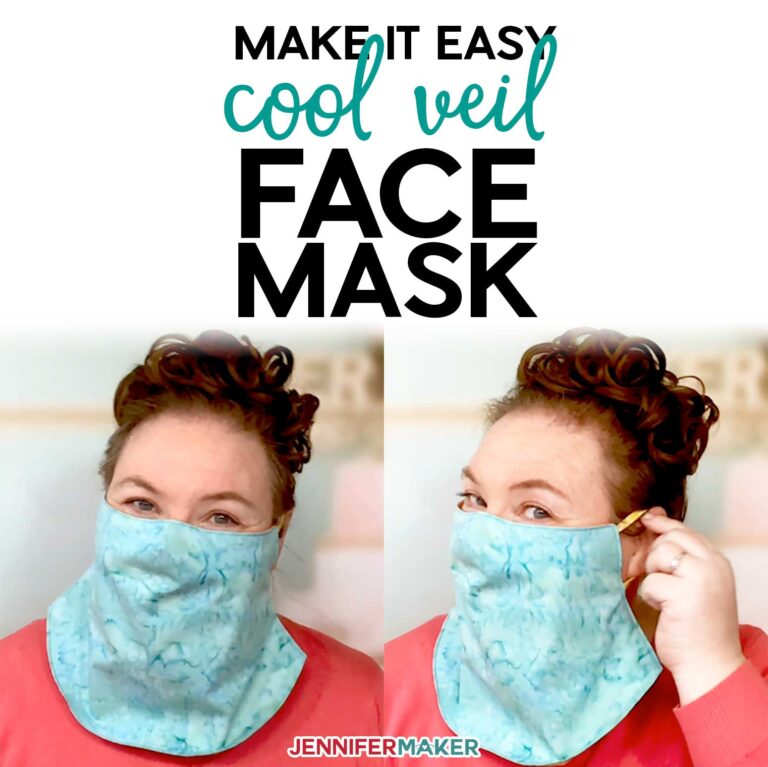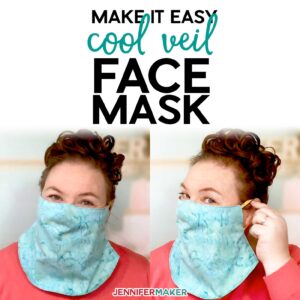 The veil face mask is cool to wear because it doesn't cover the back of your neck and it allows for air to circulate while also offering some sun protection. You use elastic or fabric to form loops to go behind the ears. You may need to try different lengths for the veil mask to find what works best for your child.
Do I need a Cricut machine to make these face masks for children?
You can either cut my Face Mask patterns using your Cricut Maker machine or you can hand cut them by printing out the PDF Files and using those as templates.
The mask doesn't fit my child, how do I resize the design?
Faces are all different shapes and sizes. If my design doesn't fit your child comfortably, you can resize the design using this tutorial – How to resize a file in Cricut Design Space.
What is the best fabric for my face masks?
The latest research shows that the best fabric to make face masks for children or adults is a combination of non-woven polypropylene and 100% cotton that is tightly woven with a high thread count, such as quilting fabric. If you don't have closely woven cotton, a heavyweight cotton T-shirt works in a pinch. Learn more about the variety of fabrics that can be used (and what to avoid) in your DIY face masks here.

Should I put a filter in my child's face mask?
Filters are optional. If you want to use one in your child's mask make sure it is between two layers of fabric and replaced regularly. See my list of Face Mask Filter Materials so you can make an informed decision on the best material to use for a filter.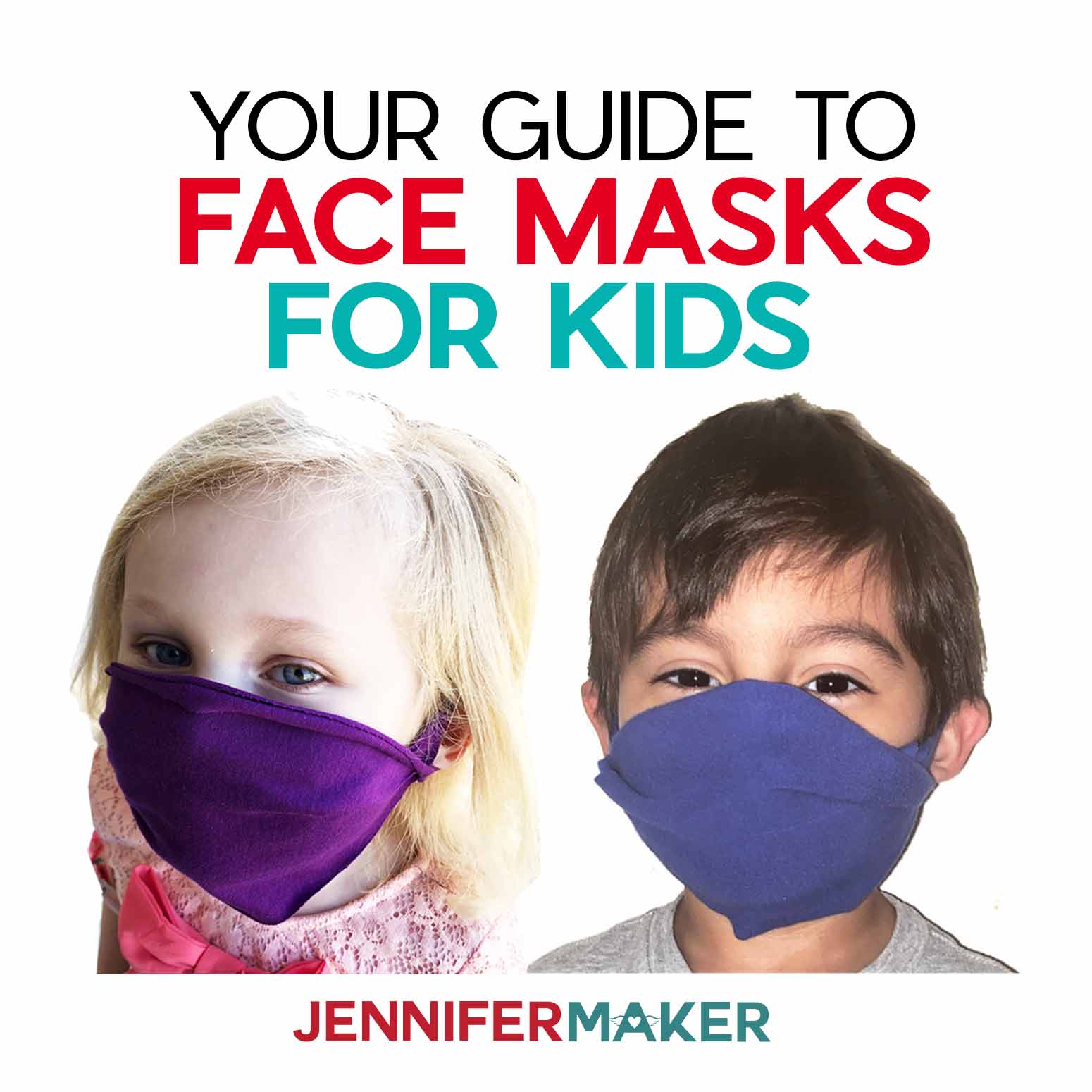 Do you sell face masks for children?
No, we do not sell any face masks for children or adults. However, we do teach you how to make your own masks with material you may already have at home. It's a lot easier than you might think!
How can I protect my child's ears from getting sore after wearing masks all day?
There are a couple of options to help minimize the chances of getting sore ears. You could make the gaiter-style face mask which wouldn't have to be behind the ears. You could use longer straps and run them behind the head instead of making ear loops. We have a pattern for making a DIY headband with buttons to use with your Face Mask. You could make ear savers (small plastic buckles). Ear savers can be sewn, crocheted, cut from plastic, or made on a 3D printer.
What can I do to help encourage my children to use their face masks?
To get your children motivated to wear their mask, get them involved in making the face mask. Let children pick out the fabrics for their masks. You can also personalize your face masks with Vinyl. (Learn how to put iron-on vinyl on clothing with my step-by-step t-shirt iron-on tutorial.)
Note, if you're wondering about the safety of applying vinyl to your face mask, the vinyl company Siser has released a statement explaining that their CPSIA-certified heat transfer vinyl does not release toxic chemicals. (See the green box on the Siser website for more information.)
Here is what the Gaiter Mask looks like with vinyl on the front.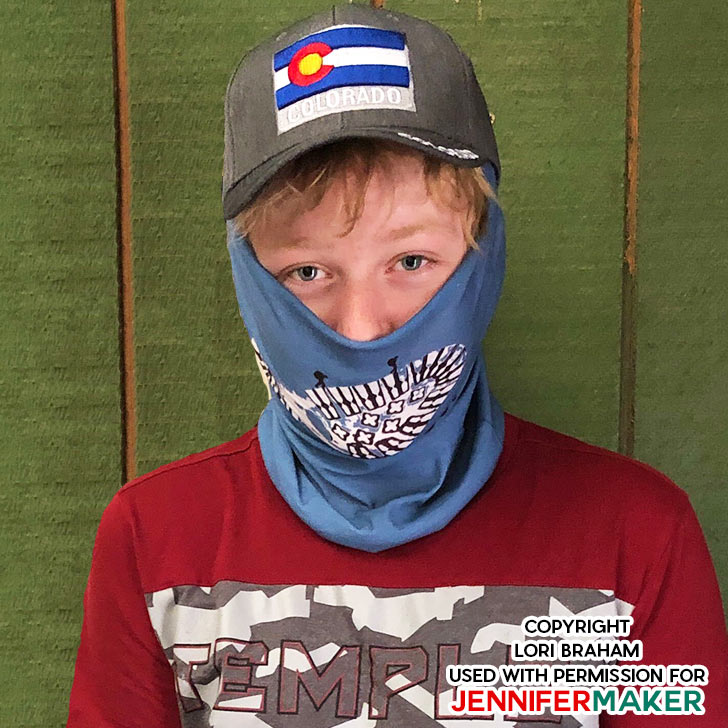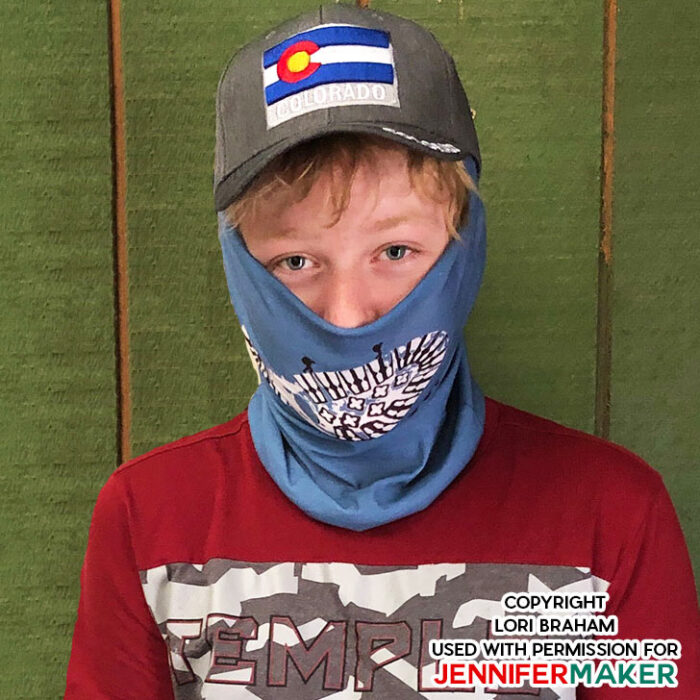 Things to Remember
Remind your kids not to share their face masks with classmates.
Also, set up a routine around what you will do with the masks after your children come home from school. Set up a place in your home for children to put their used masks and pick up clean masks for the next day. Remember, masks need to be washed on a regular basis. So set up space with labeled bins or plastic tubs for clean masks and another for used masks.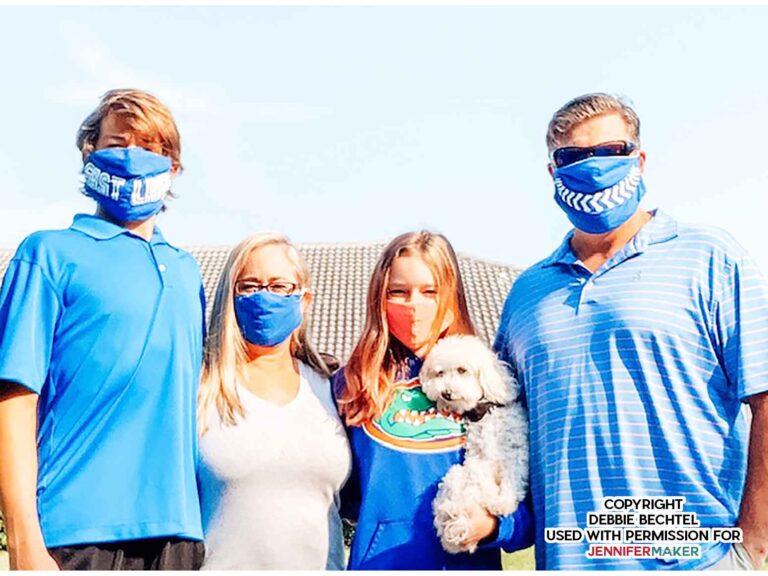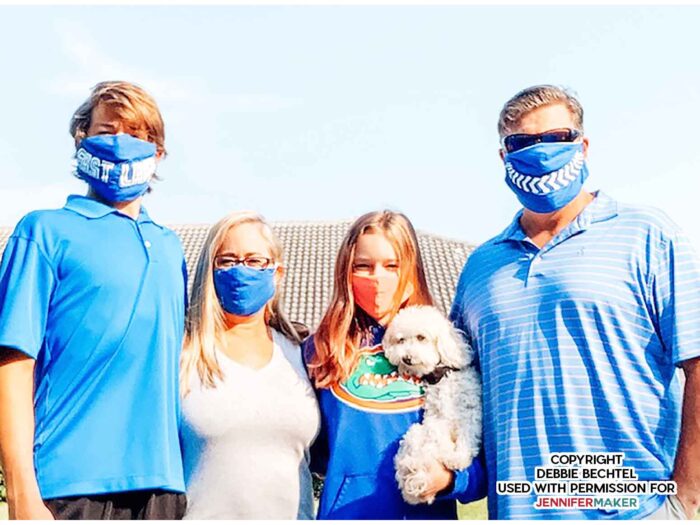 Get my free patterns to make your own easy face masks!
Have more questions? Come on over and ask in our Facebook group — everyone is welcome!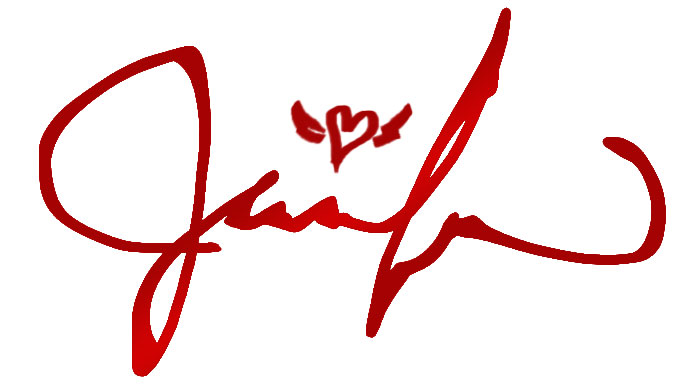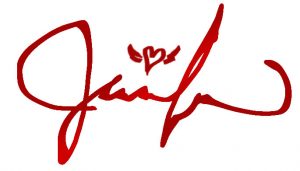 Take a Look at My Other Face Mask Patterns and Learn More About Face Masks