Get ideas on how to organize your craft supplies and Cricut machines into a DreamBox craft storage solution!
Do you struggle with organizing your craft supplies into small spaces? I can SO relate to this! For many years, I had no dedicated craft room and I worked from cardboard boxes at the kitchen table in the dining room. Even now, I don't have that much space in my craft room as it doubles as my office. And these days I have my amazing Cricut cutting machines and so many craft supplies and to support the many craft projects and tutorials I've created. So over the years I've found some great ideas to store all of my things. And to date the best way is to use my DreamBox craft closet, which holds all of my Cricut craft supplies and tools so neatly! So I thought it would be fun to show you how to organize your craft supplies — especially Cricut supplies and machines — into a DreamBox craft organizer.
TIP: Enter for the chance to win a DreamBox + Cricut Maker 3! Get details and enter here. Giveaway runs 12/10-12/31 (11:59pm MST) and the winner will be announced January 7, 2021! ONE grand prize winner will win a DreamBox + Cricut Maker 3, and there are also prizes for the second, third, and fourth place winners (like a Dream Cart, Cubby, planner, and Cricut machines and tools!).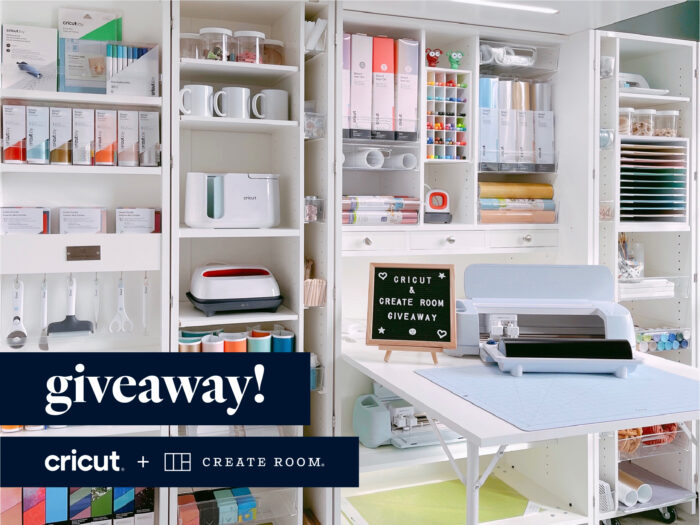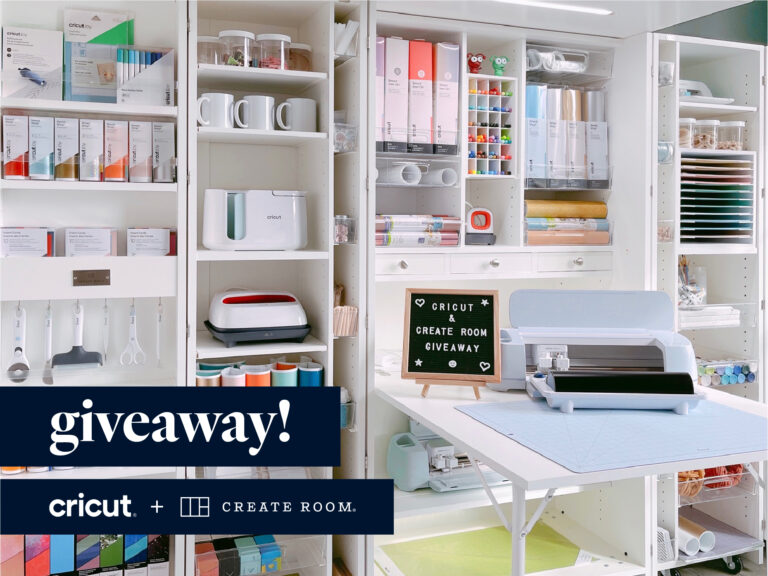 First, let's talk about the DreamBox craft cabinet … because this thing can organize craft supplies like no one's business. It's like a "mobile craft room" that you can fold up and close to blend in with your home decor. Then when you're ready to craft, you just open up the attached shelving unit on each side, fold out the handy craft table in the center, and pull up a chair to your ready-to-go craft space!
Here's my DreamBox, all decked out for the holidays. I love to swap out its drawer/tote liners to match the seasons—it brings me joy! You can get free patterns to make the liners on your Cricut here.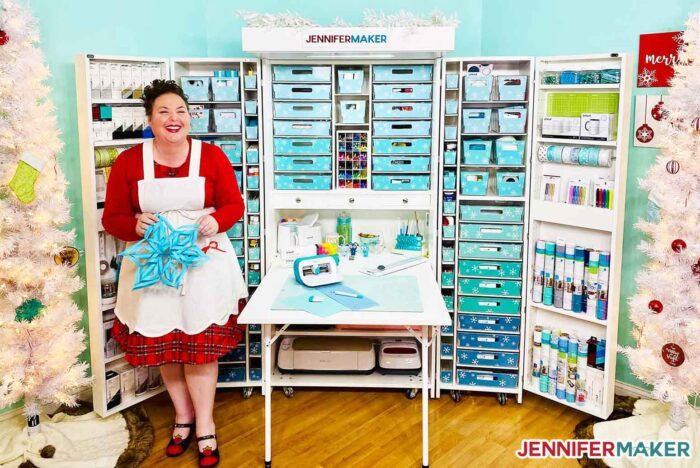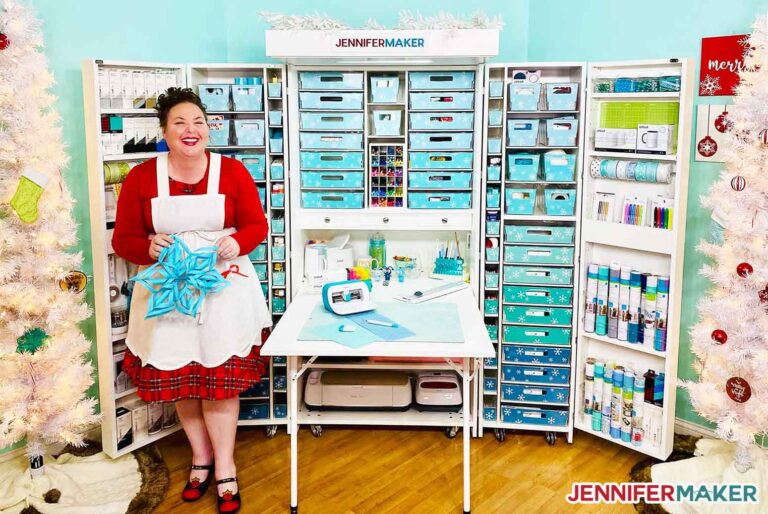 And there is SO much room in the DreamBox for the perfect craft room storage! The doors on either side hold things smaller things, the totes and drawers hold bigger thing, and the giant space below the table holds your machines. I like to store my Cricut cutting machines and Easy Presses under the table. Here's three cutting machines and three Easy Presses, plus my Cricut Roll Holder… and there's still room for more on the back of the bottom shelf!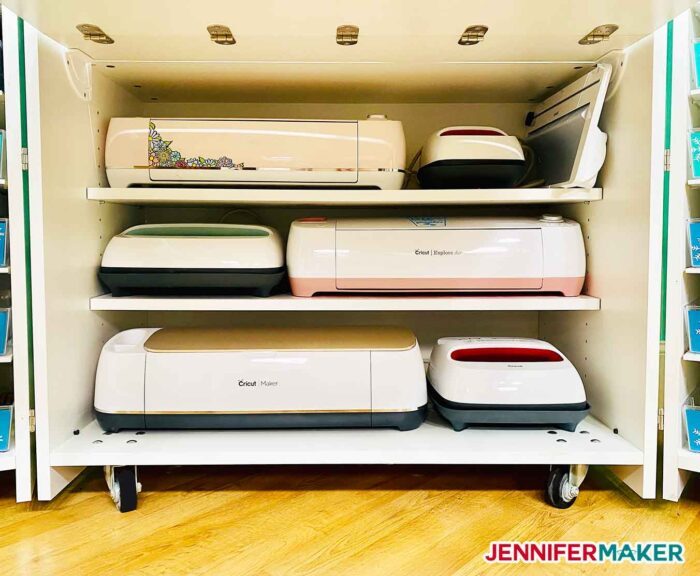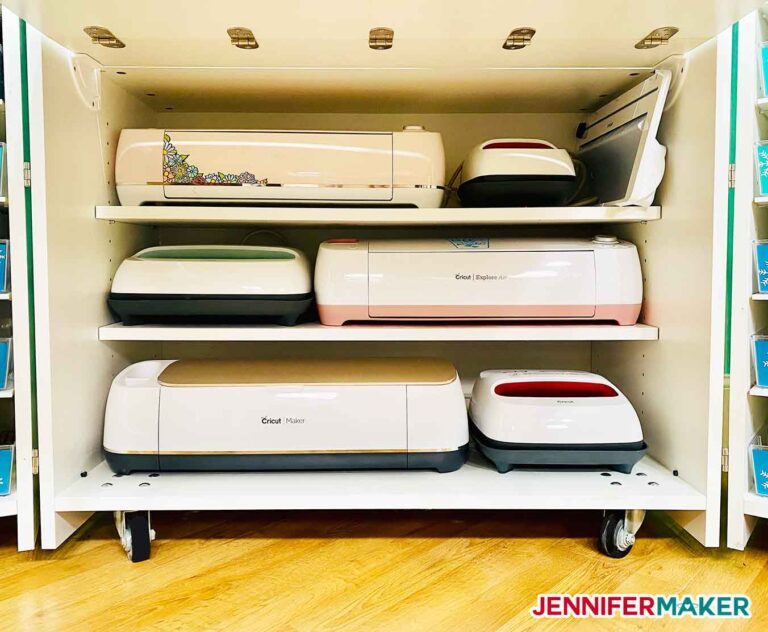 Tip: If you like to sew, this area under the table can also fit your sewing machine and serger as the shelves are all adjustable!
And the Cricut tools — like the scissors, spatula, and scaper — fit perfectly on the hooks on the side doors. I like the keep glass jars here to catch more smaller items, too!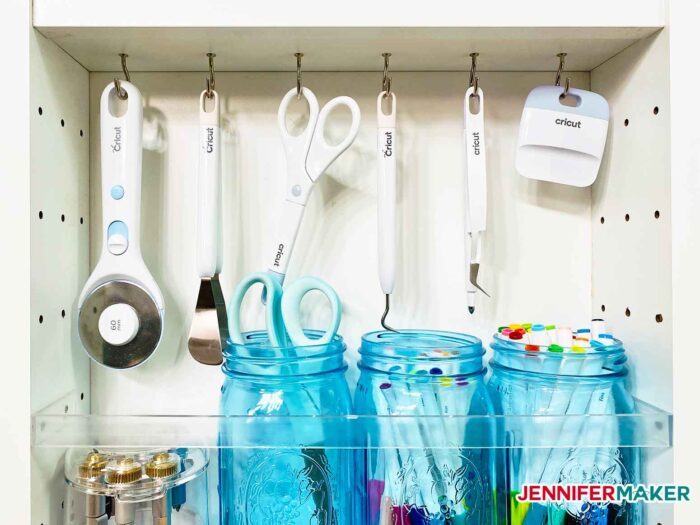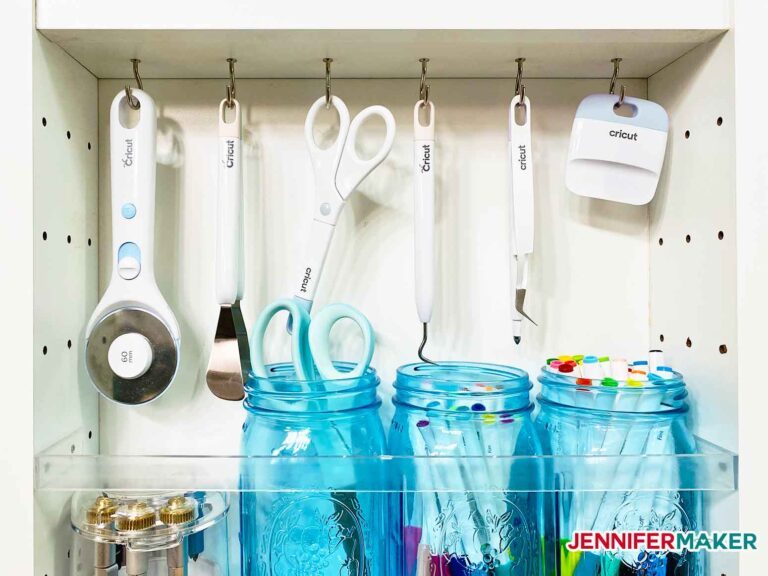 I also like the store the Cricut vinyl and Infusible Ink I'm working with in the side doors — it's so easy to see what I need and reach for it quickly. The smaller Joy boxes fit perfectly in the shorter top sections of my DreamBox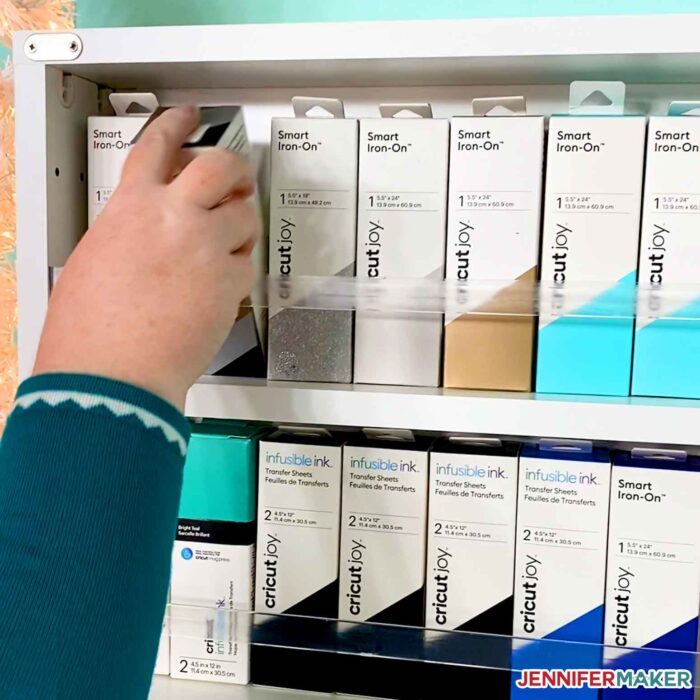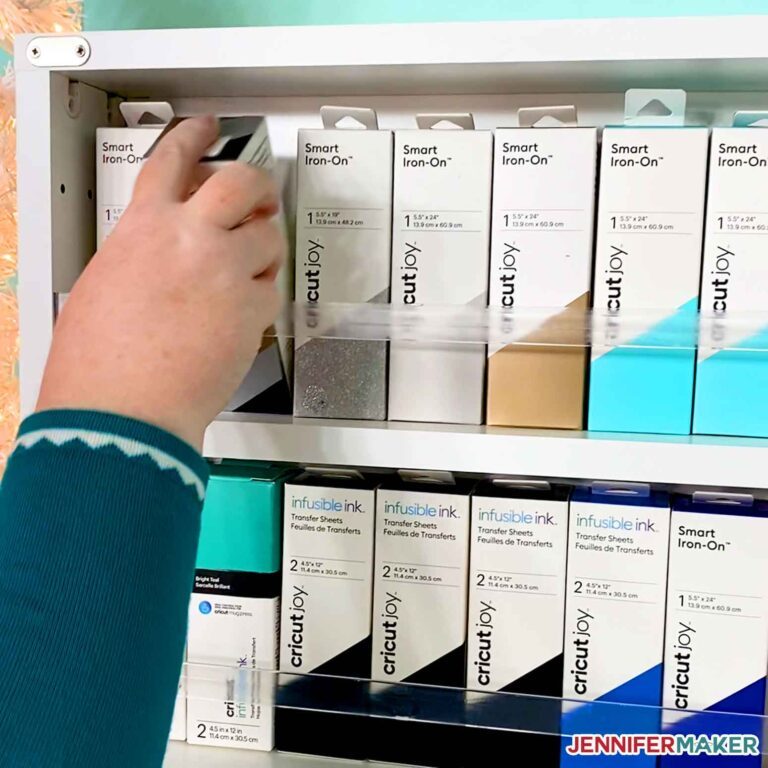 Nearly all of the DreamBox shelves are adjustable! You can change the height of the shelves to fit the bigger sizes of Cricut vinyl and Infusible Ink fit in the side doors, too.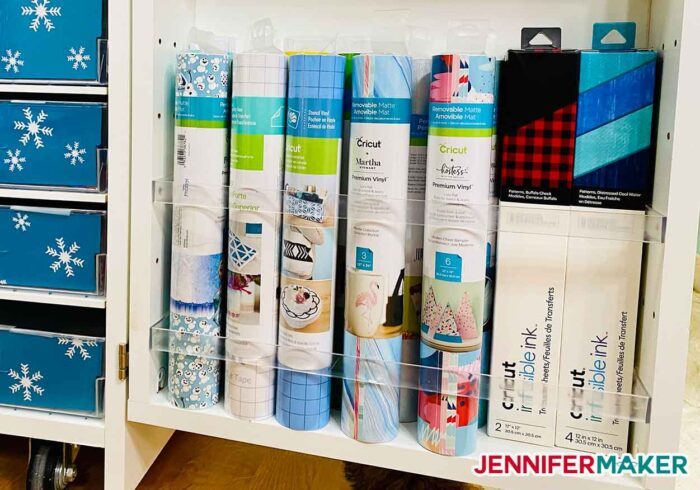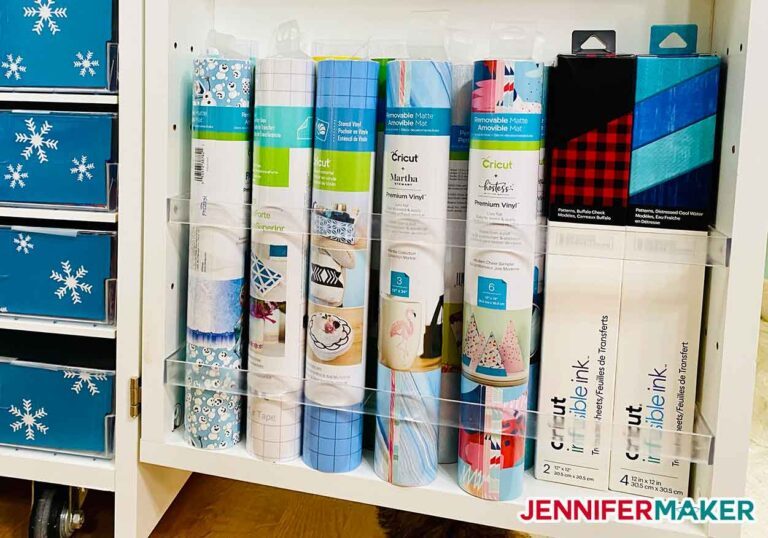 The DreamBox side doors also have these handy pockets, perfect for organizing small things, like the Cricut foil transfer sheets! The built-in rods are perfect for washi tape, too!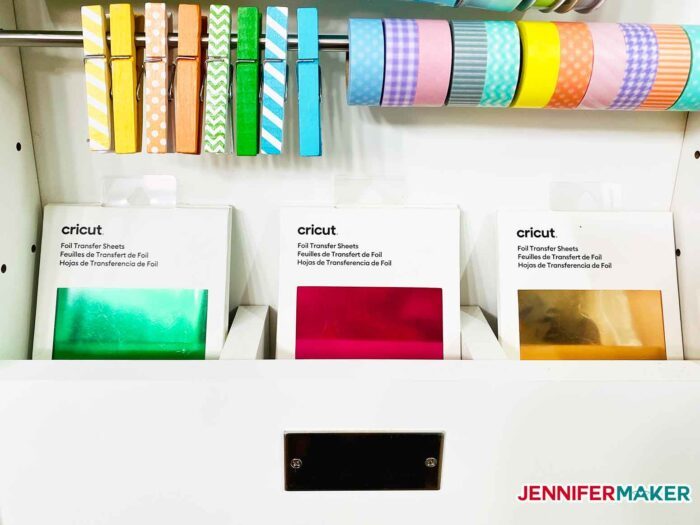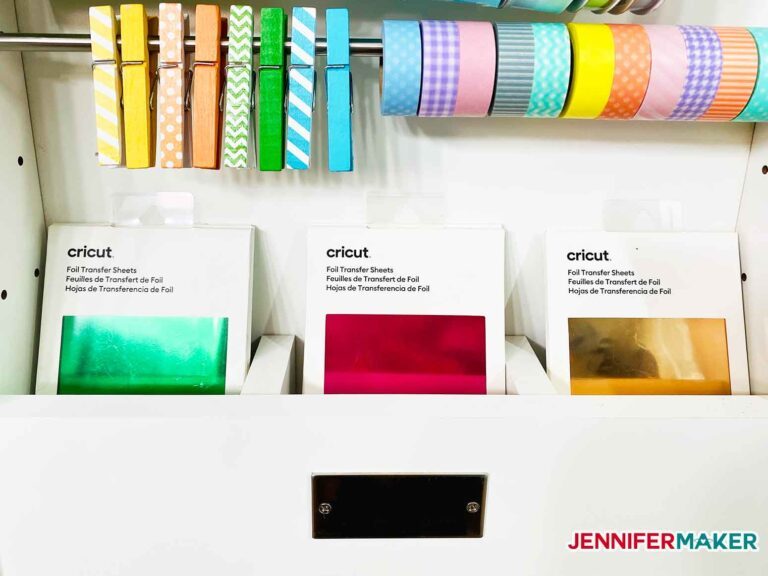 You can really get so much in here! The Cricut mugs fit great in the DreamBox side doors as well.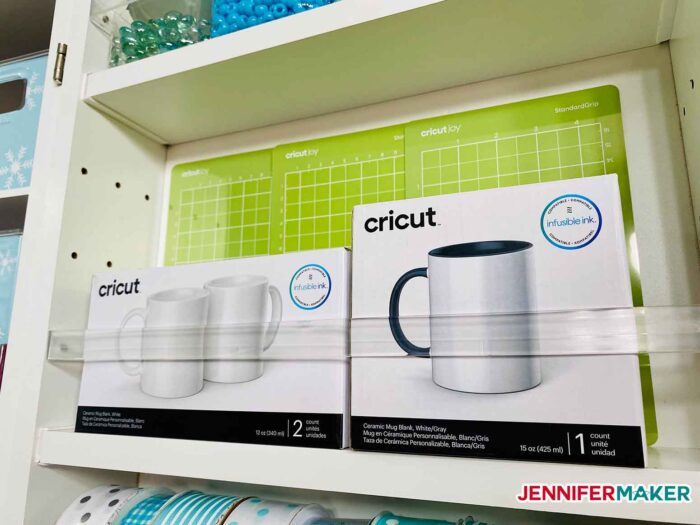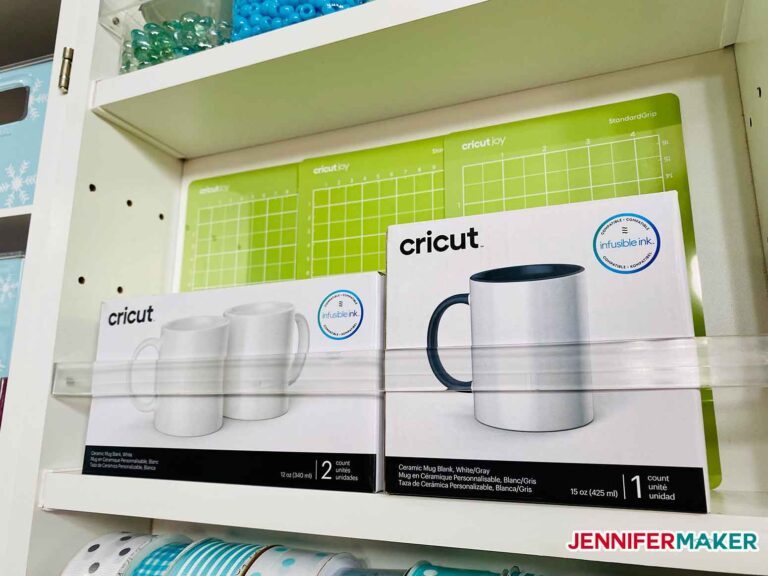 The side doors are best for small items and things you want to have easy access to, but I think the real storage happens in the drawers and totes, which are plastic bins sized just for craft and art supplies. The DreamBox drawers can hold SO many different items! If you have more Cricut vinyl (like me), you can put it in the drawers as well.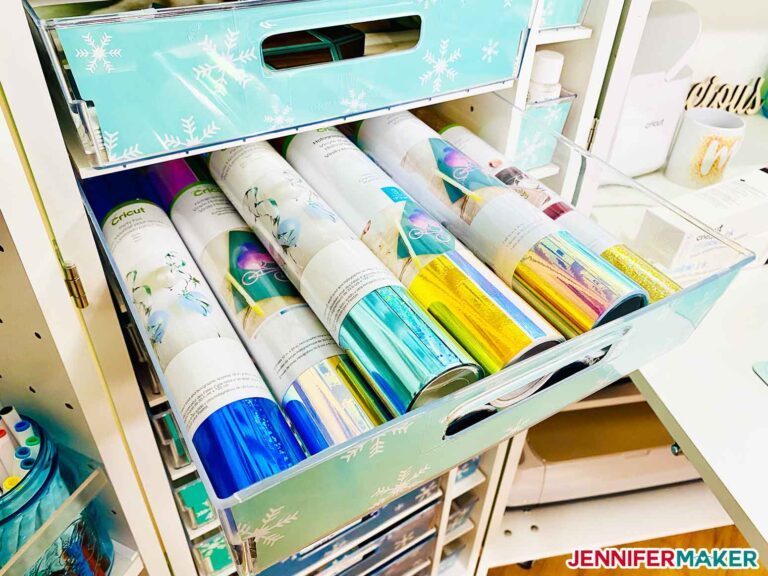 You can even fit the Infusible Ink in the DreamBox storage containers! In fact, they fit perfectly in a big bin like this.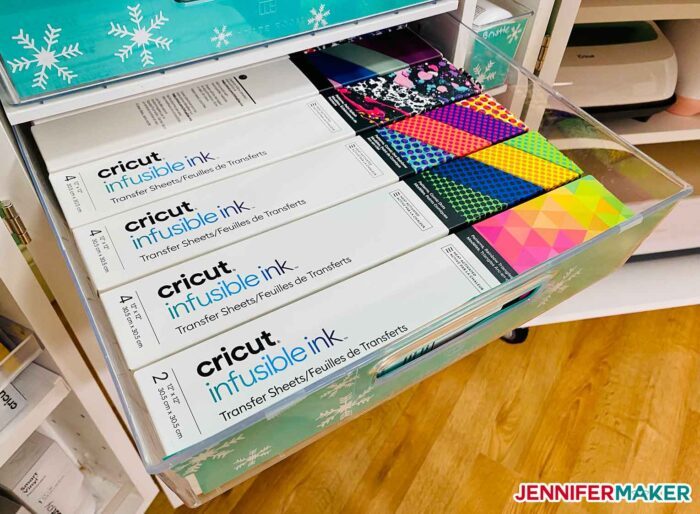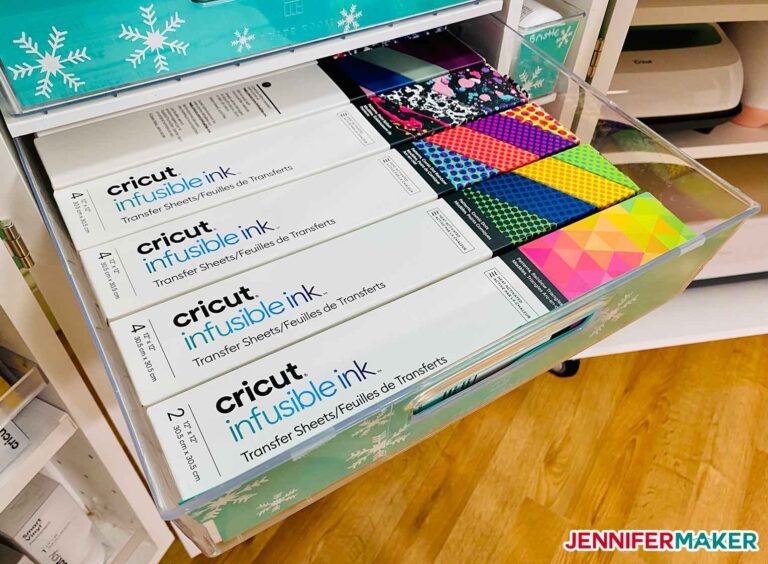 The DreamBox holds a lot of different types of containers. The drawers and totes come in different sizes — small, medium, large, and extra-large. The medium InView totes are excellent for organizing cards — including the Cricut Insert Cards: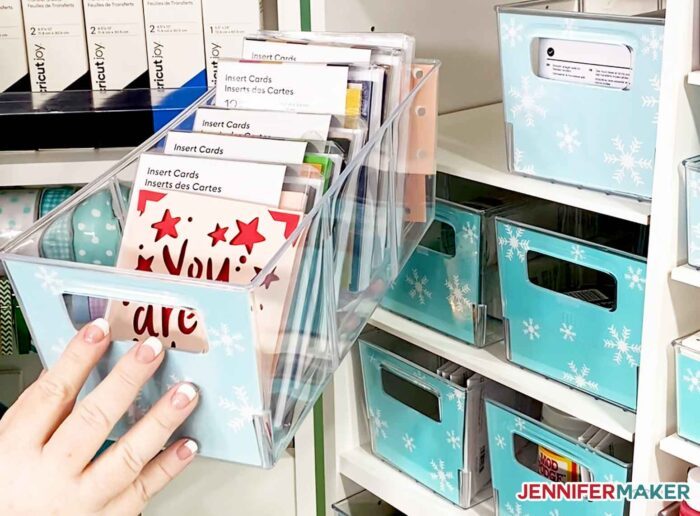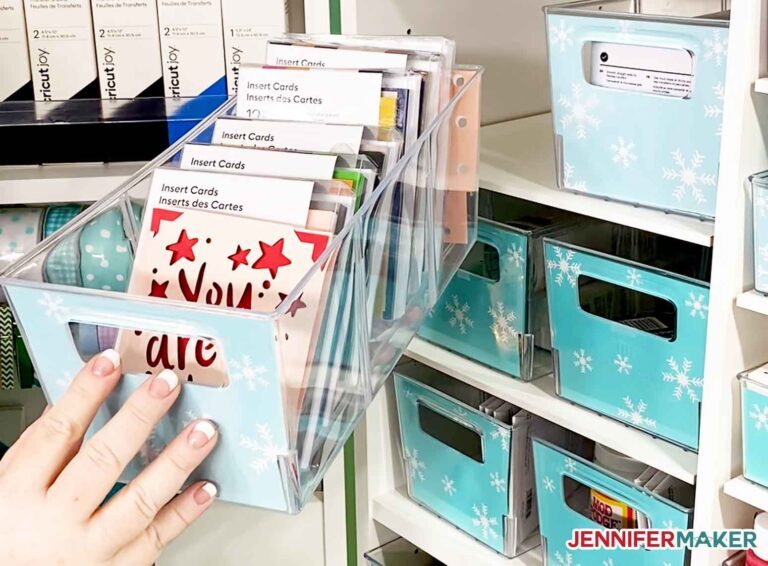 The heart of the DreamBox is the center crafting area with the big storage unit and fold-out table. I love that the table can be either a standing table or a sitting table, though I usually find that I prefer to sit at it. It's a great place to Cricut!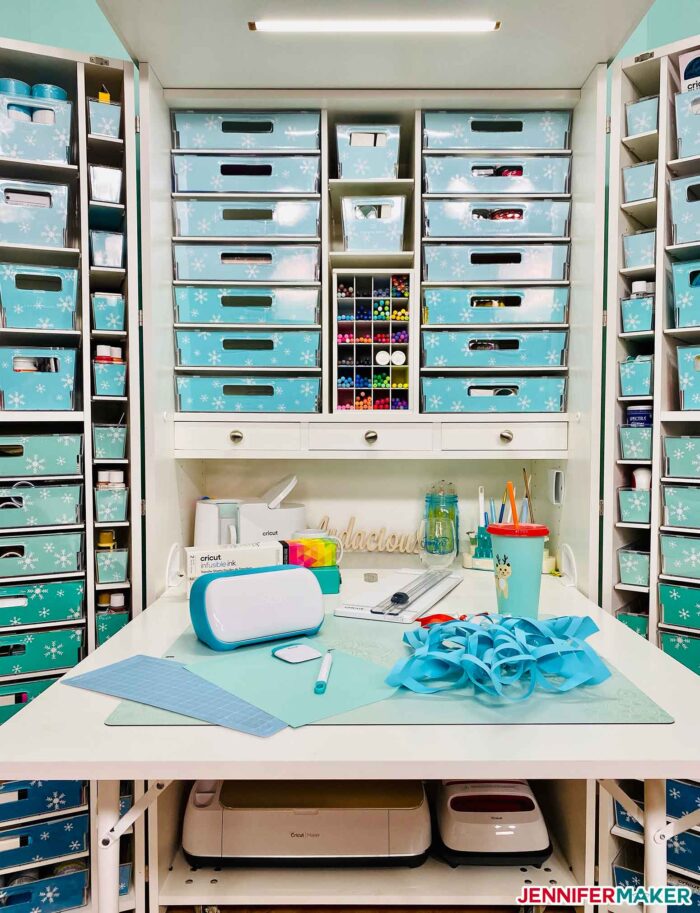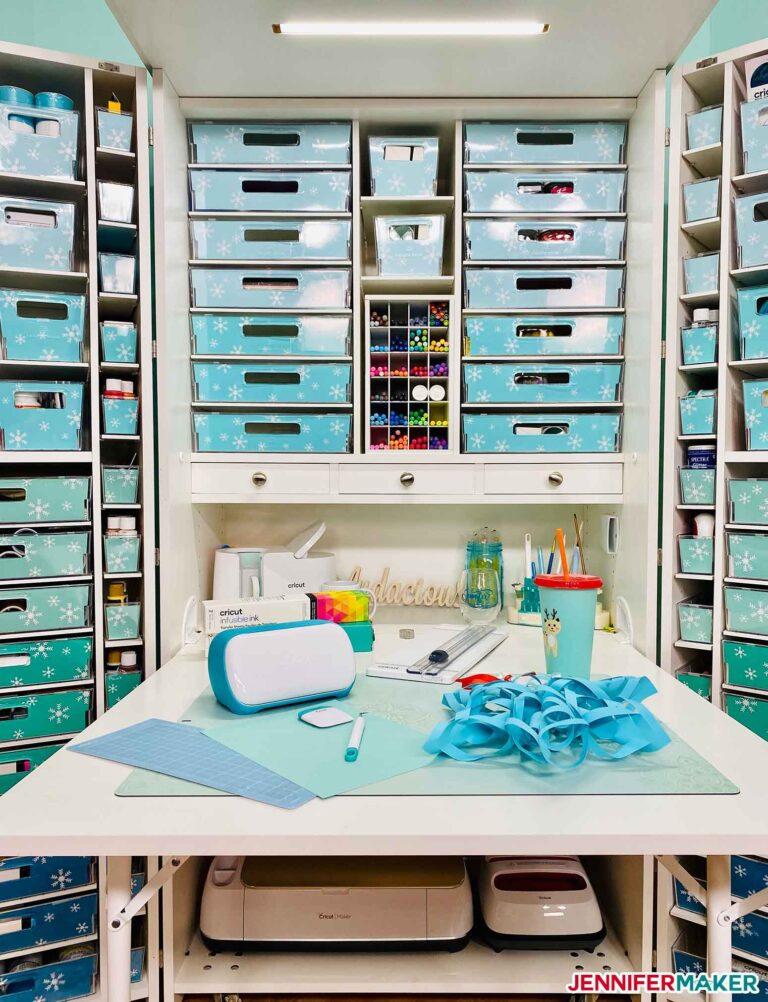 The smaller space on the sides with the small totes is perfect for paint brushes, paint bottles, sewing supplies, or a roll of Cricut transfer tape. I also keep my EasyPress mini in one of these small totes for quick access.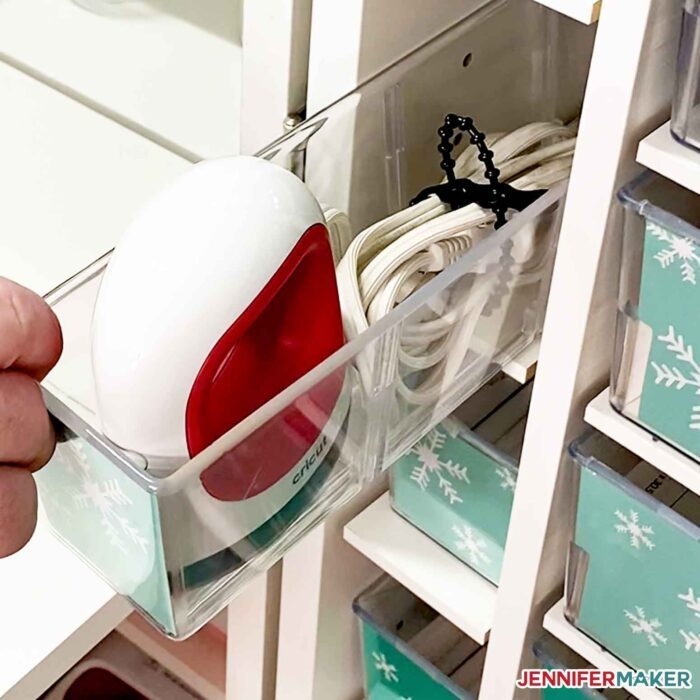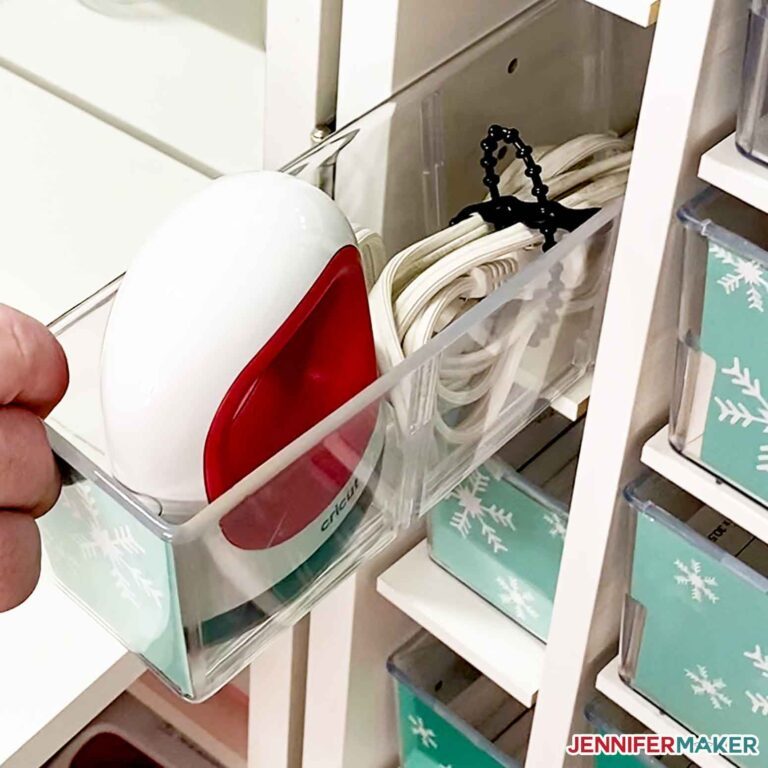 The organizer above the table with all of the cubbies is the optional Tool Cubby. I love to store my Cricut pens and markers in there — I put my Infusible Ink markers in the lower cubbies and my regular Cricut makers in the upper cubbies, both organized by color. It's really handy for finding just the right color. And storing the markers on their sides like this means the ink is always ready to flow!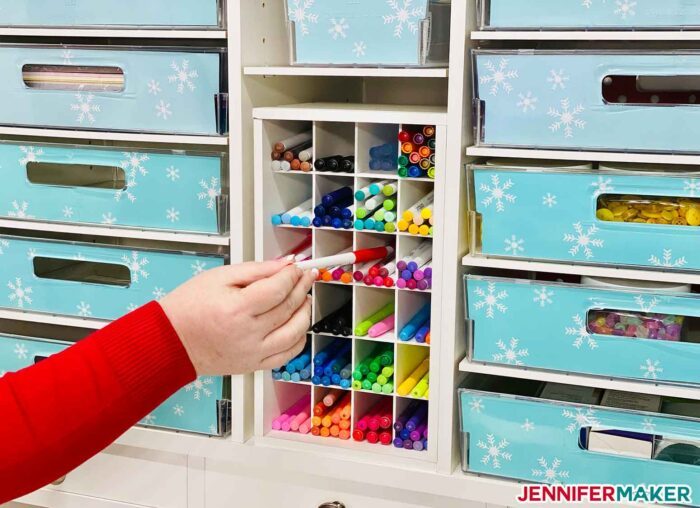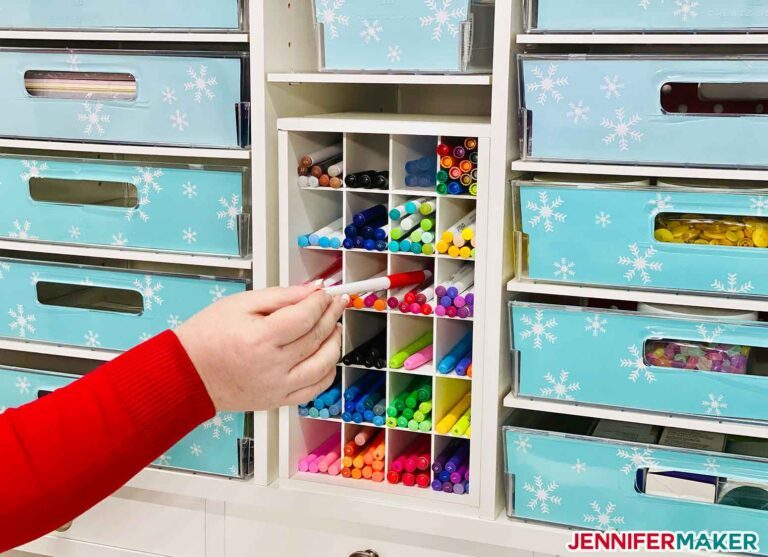 Tip: Scrapbook paper fits perfectly in the totes as well!
The DreamBox can hold up to 80 drawers or totes, which holds a ton of craft supplies … you'd be amazed at all you can get in here!
I think the DreamBox is the ultimate Cricut craft organizer! It's not only pretty, but it's super functional, holds a lot of stuff, and offers quick access to everything! I asked Greg to take some photos of me with my pride and joy so you can see what a marvel the DreamBox is and how well it organized my Cricut machines and craft supplies!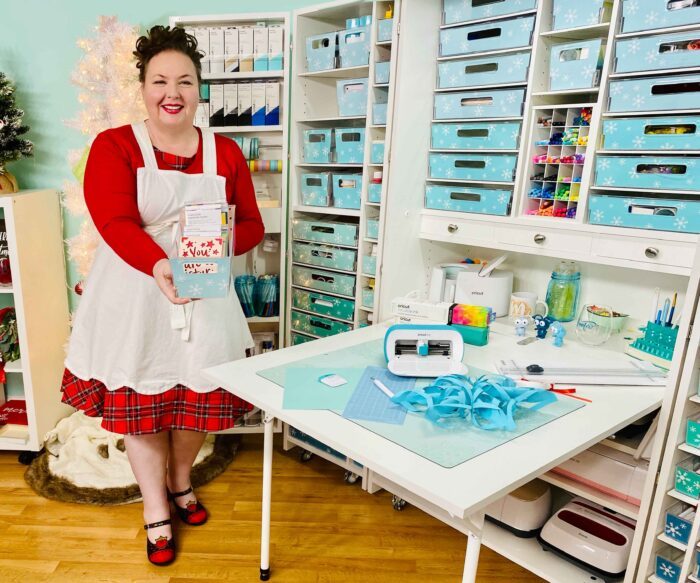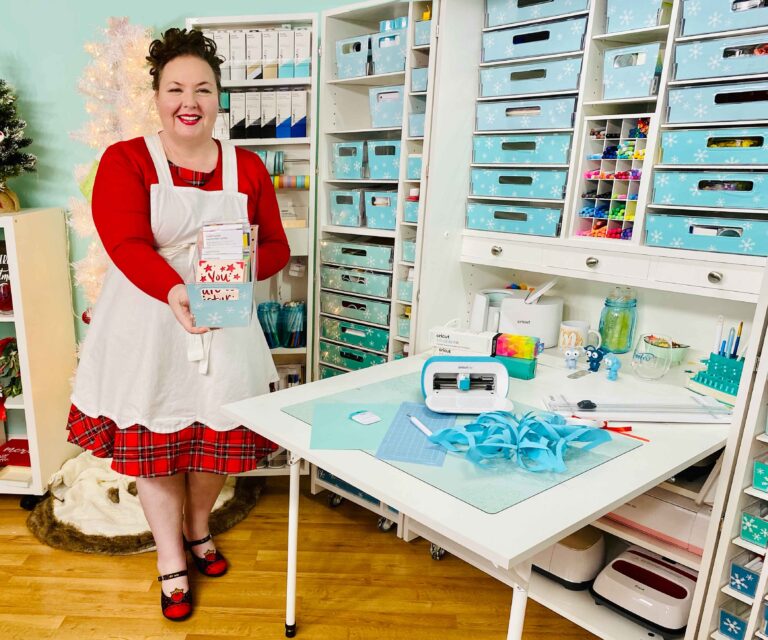 Me and my cutest Cricut machine — you can learn how to make this paper snowflake with my step-by-step tutorial!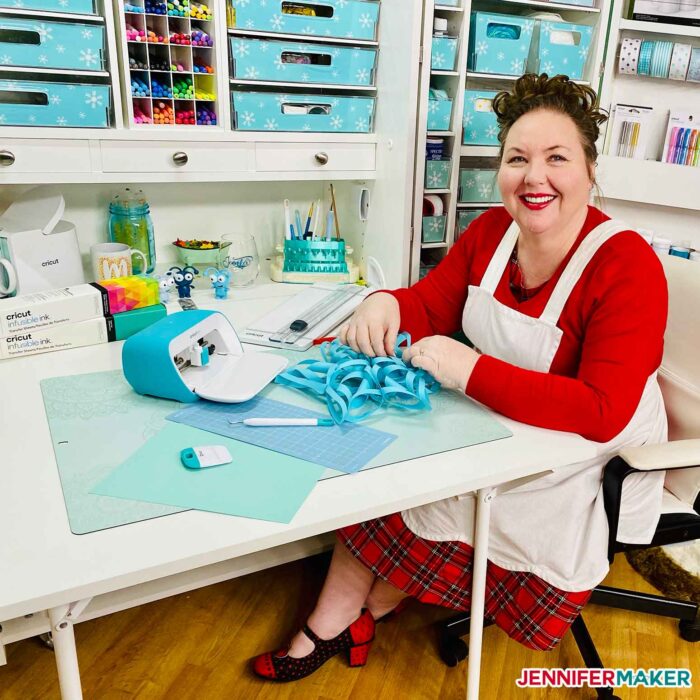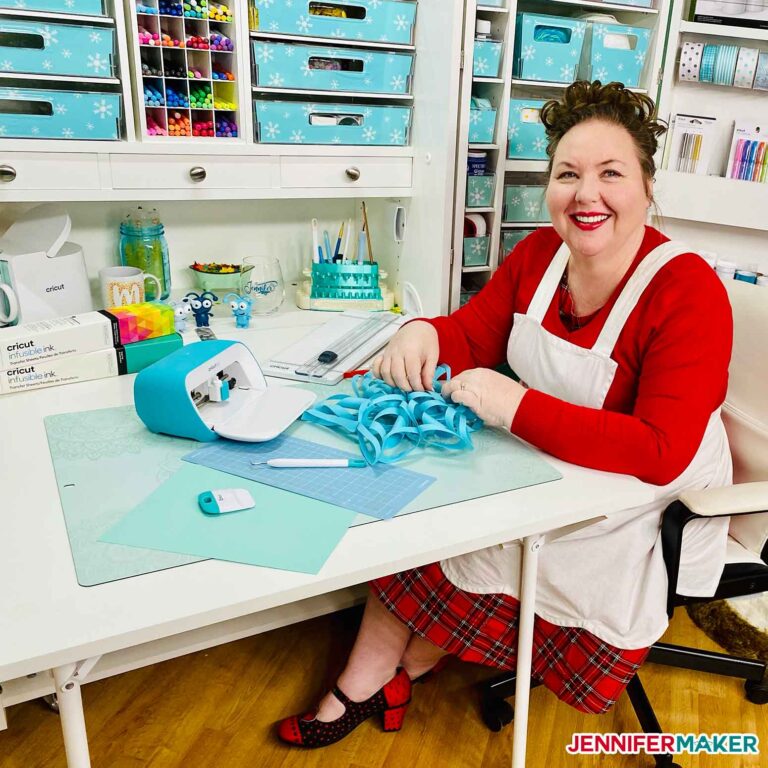 One of the things I love most about the DreamBox is how it offers so much vertical storage without needing to make it yourself with your wall space. It's really the perfect size when you don't have a whole room to dedicate to crafting.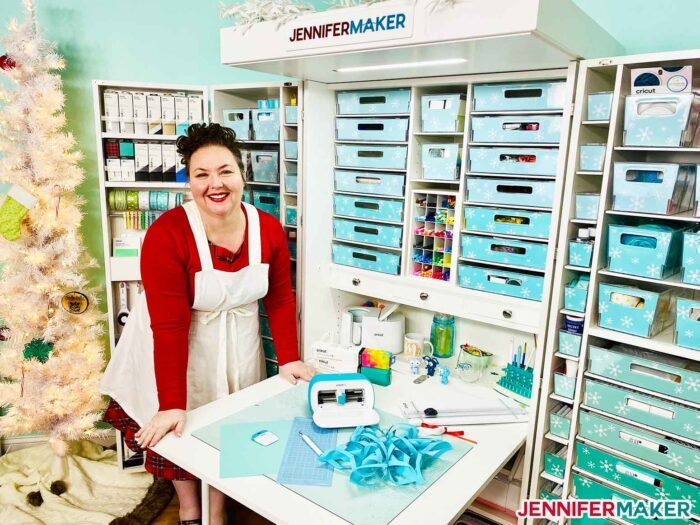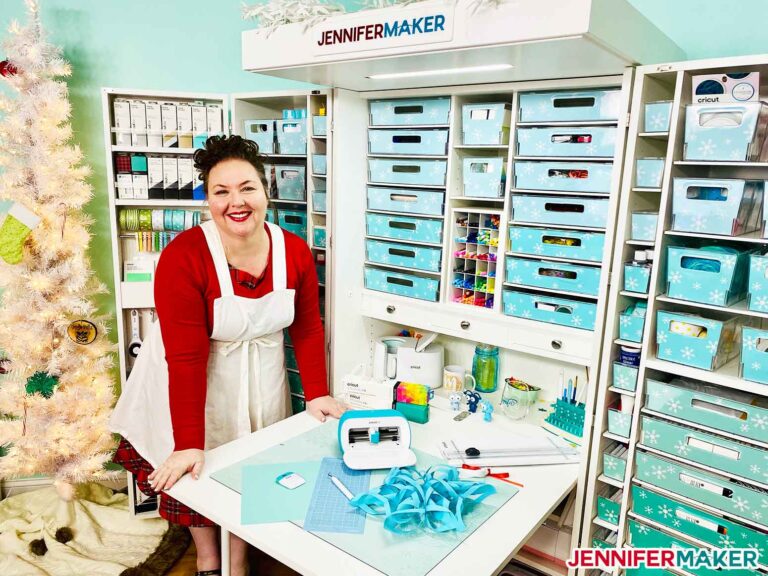 The DreamBox is a great size for so many craft spaces, too! It's perfect for a guest room if you don't have a dedicated craft space.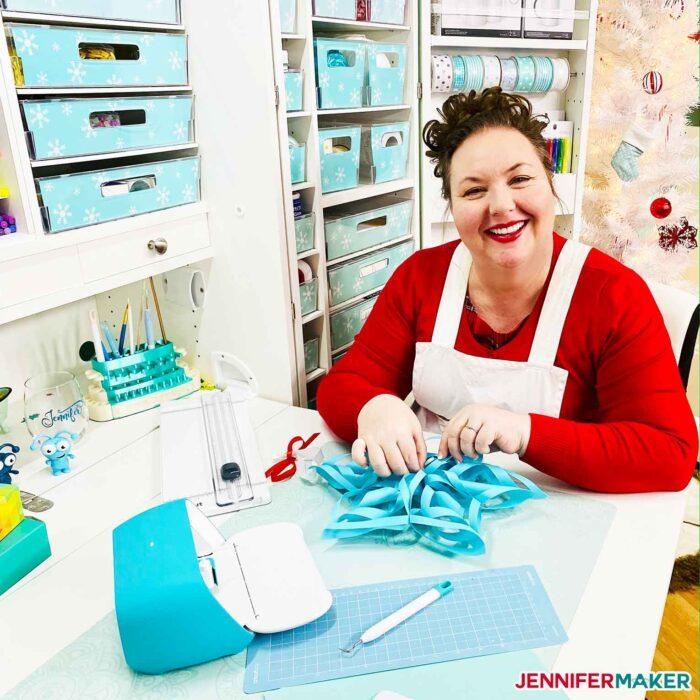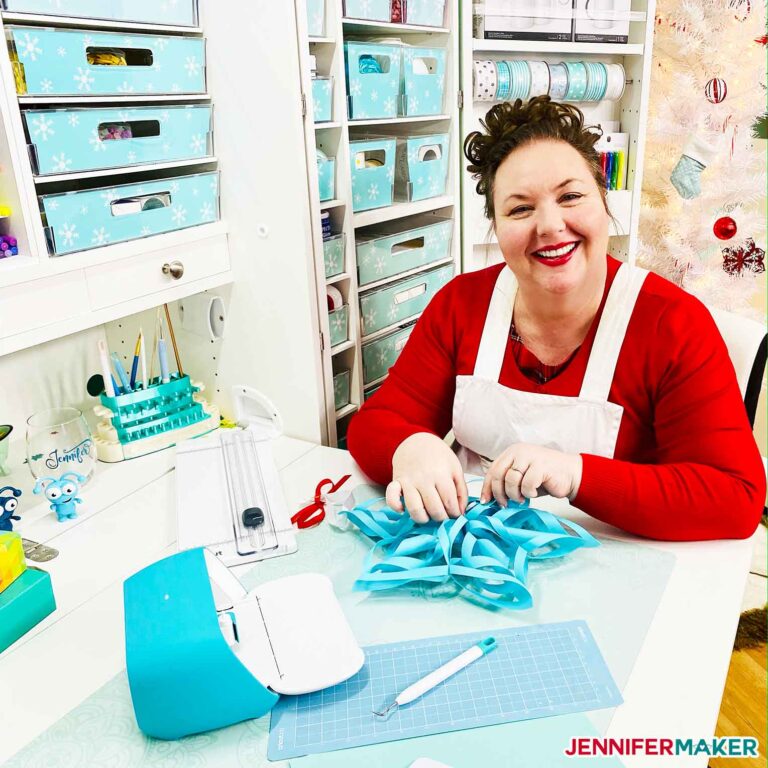 I find organizing things into my DreamBox so easy, and — I can't believe I'm saying this — but it is really the perfect organizing project. The DreamBox makes me feel like a professional organizer, and I bet it will do the same for you!
If you don't yet have a DreamBox, take a little time out for yourself to just play and build one over at CreateRoom.com! (Get my discount code to buy a DreamBox here.) And you can see all of the Cricut cutting machines and craft supplies I organized into my Dreambox at Cricut.com (Get my discount code to save on Cricut craft supplies here.)
And don't forget to sign up for the DreamBox + Cricut giveaway in the entry form below:
You can also click here to sign up for the giveaway!

Do you have any more ways to organize your Cricut craft supplies into a DreamBox craft space? Please share a photo of your craft room storage, unique storage solutions, and clever organization ideas in our Facebook group or tag me on social media with #jennifermaker.
Love,