Ready to organize and tidy up your crafts? See how I'm storing my craft supplies in the tote bins in my DreamBox Craft Storage unit, including special liners and labels!
While I have an amazing organized craft room in my home, I now have a new studio that needs organization … and I've opted to get a new DreamBox craft storage unit. This craft organization furniture is just SO COOL, because it has tons of storage and can fold up into a lovely armoire when you're not using it. And I love that, because I'm the sort of person who likes to have everything put away neatly and tidily. But the storage totes in my DreamBox are see through, which is great for the most part — but when they're full of the cacophony of craft supplies, it can start to look chaotic. So I'm making storage tote liners and labels to keep my craft storage contained and organized, and I'd love to show you how I did it so you can do it, too!
This post contains some affiliate links for your convenience (which means if you make a purchase after clicking a link I will earn a small commission but it won't cost you a penny more)! Read my full disclosure policy.
Note: If you've been thinking of getting one of these beauties or an accessory, you can save $100 off a DreamBox by using the discount code JENNIFERMAKER at checkout. Build your DreamBox at https://jennifermaker.com/dreambox
This is what the DreamBox I'm setting up looks like when it's empty …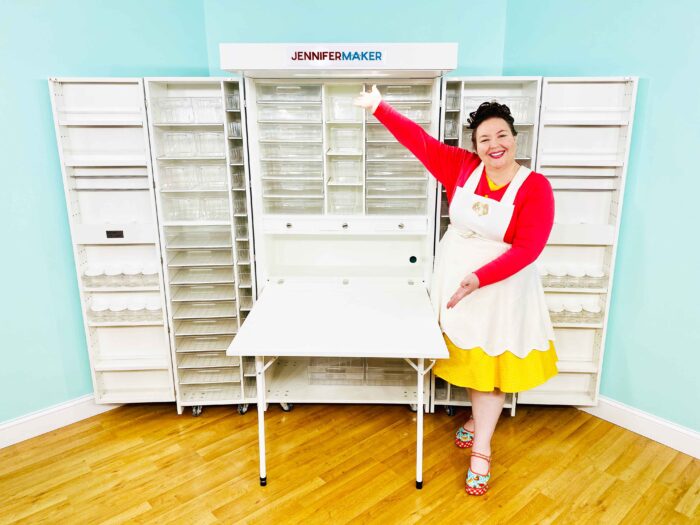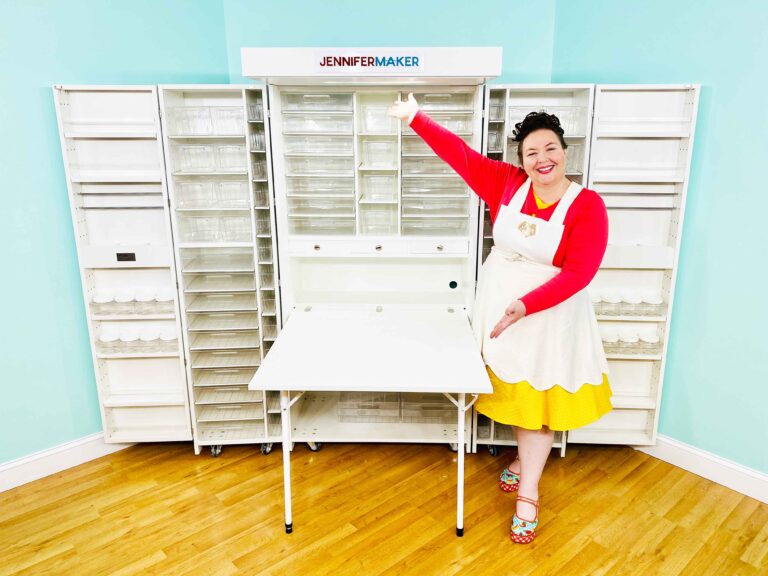 That's a LOT of storage, and I'm a firm believer in labeling things so you can find them, so I have my work cut out for me! Now I could have chosen to just put some pretty vinyl on the front of the storage totes, but I knew I'd still see all of my messy stuff and that would make it hard to read my labels. So I decided to put paper liners in each of my storage totes — not only will this make the labels easier to read because they'll have a clear background, but that also means I can color coordinate my DreamBox. I know that's not necessary, and it's not for everyone … but it makes me feel good, so why not?
DreamBox Craft Storage Tote Liners
So I designed two styles of storage tote liners — one is a solid piece of paper and it fits in all three sizes of DreamBox storage totes. Here's what the solid tote liners look like: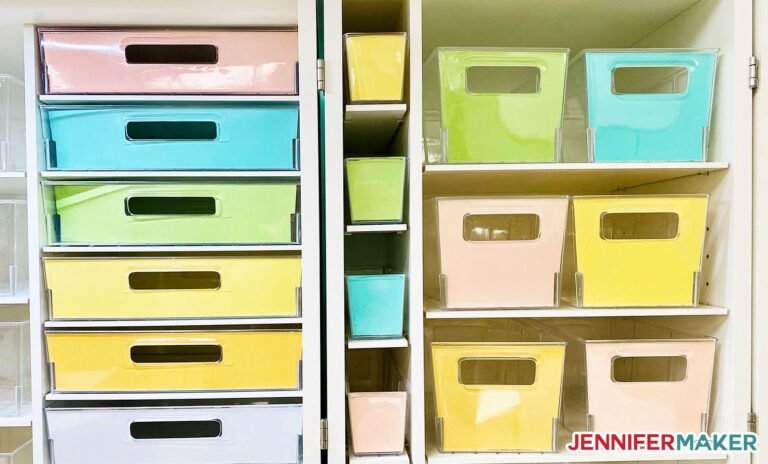 I thought that was cool, but I wanted something with a little more personality that fit my style. So I thought POLKA DOTS would be fun! Finding polka dot paper in just the right size and color is NOT easy, so I designed my own polka dot cut file where all the polka dots are in exactly the right places, like this: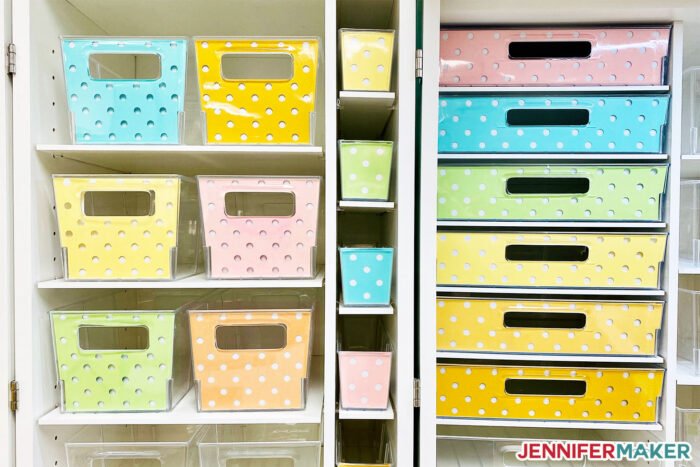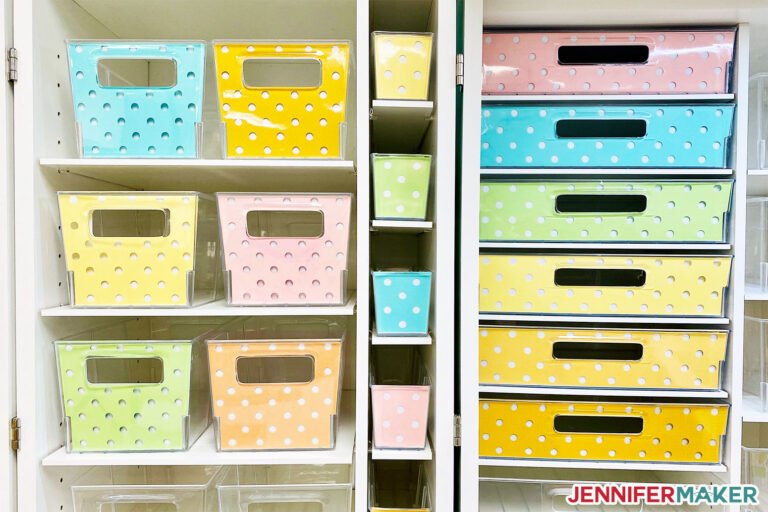 In order to get the polka dot effect, I also cut out solid tote liners in white paper to put behind each dotted liner. It was a lot of work, but it was fun and the result is amazing!
You are welcome to use my DreamBox storage tote liners as you wish — make solid liners, polka-dotted liners, or design your own fun patterns! This is Design #226 in my free Resource Library. Here's what the SVG cut file looks like uploaded to Cricut Design Space: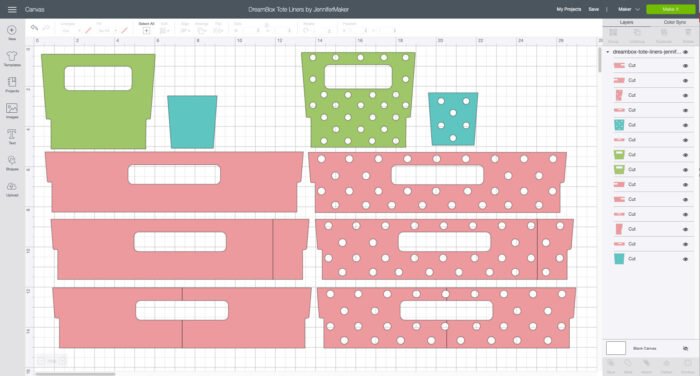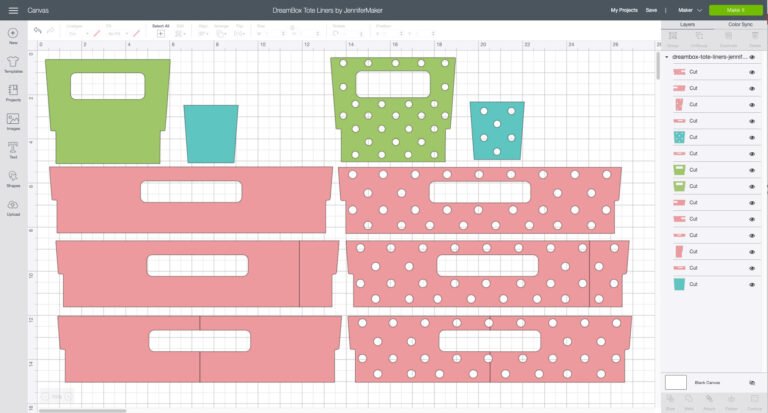 Note: There are three styles of large tote liners because I know not everyone can use large format paper — so I've broken up the large tote liners into multiple pieces so you can fit them onto smaller pieces of paper.
DreamBox Craft Storage Tote Labels
We can't forget about labeling all of our craft storage, too! There are a lot of ways you could do this — vinyl, tags, chalkboard labels, etc. My plan is to use chalkboard markers because they'll let me re-label the totes easier. I'm going to the studio to do this today, so I'll show you a photo of what it looks like!
So what is a DreamBox anyway?
The DreamBox is a nifty all-in-one craft storage unit with swing-out doors that allows you to put away your crafts when you're not using them. It was originally called a ScrapBox and came out in 2005, but now their main unit is called the DreamBox. The really cool thing about the DreamBox is that all closed up it looks like an armoire, so they're perfect for use in living rooms, dining rooms, and bedrooms. Here's my new DreamBox all closed up: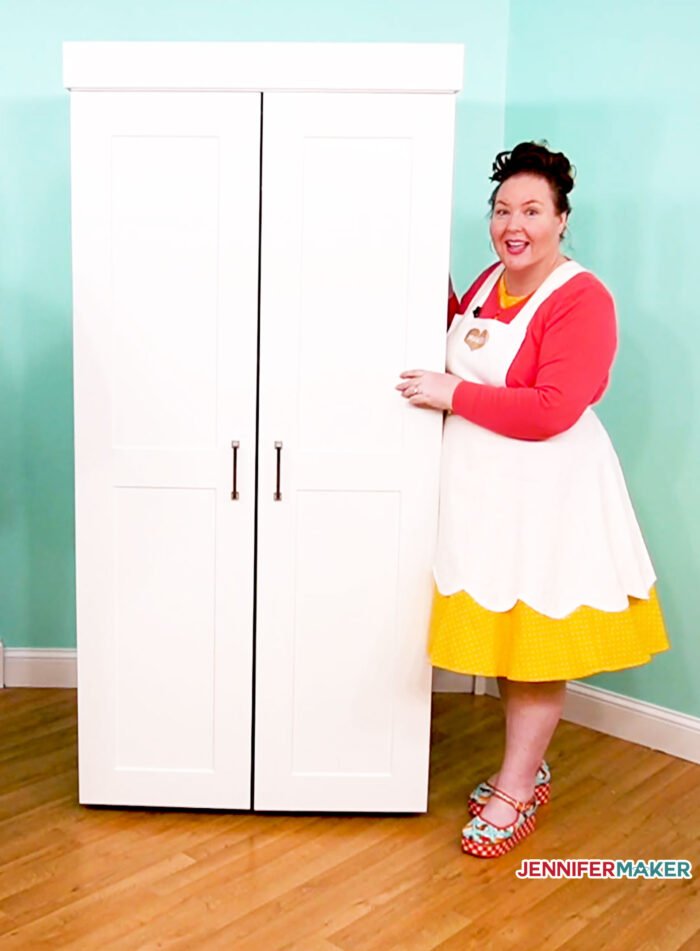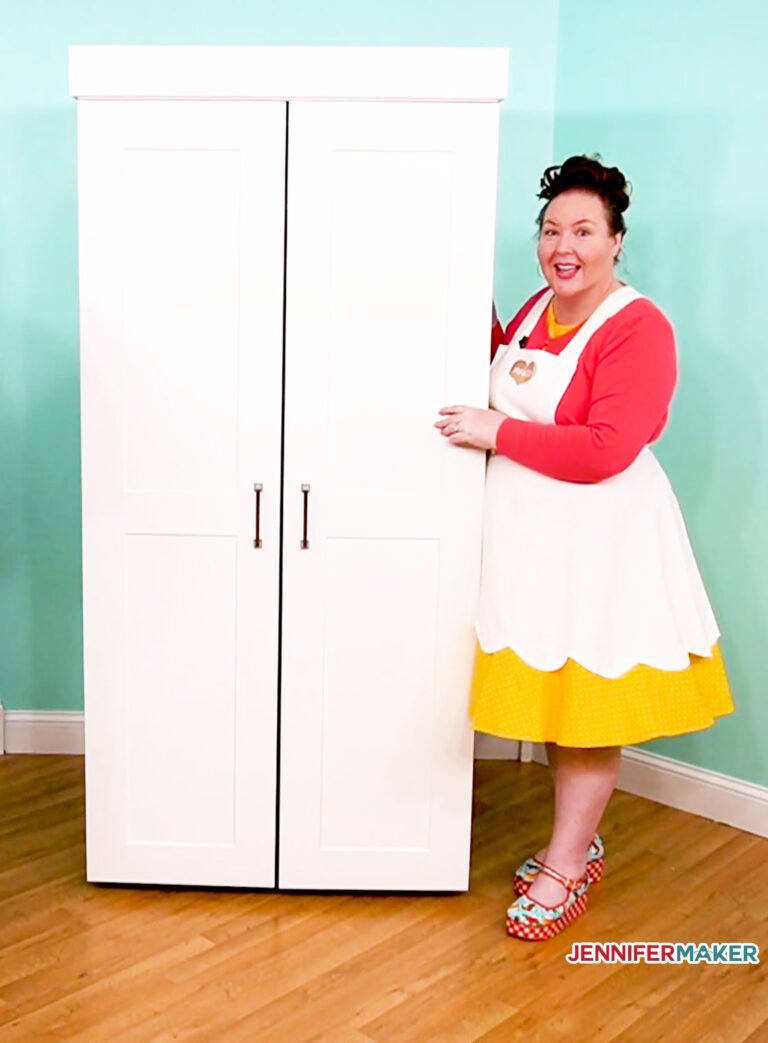 And here's us opening up our new (and empty) DreamBox: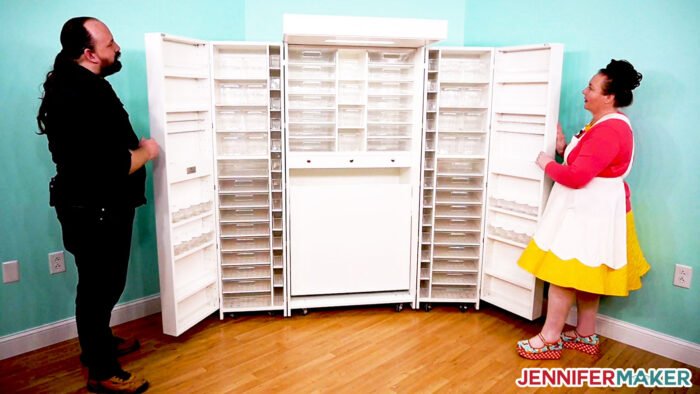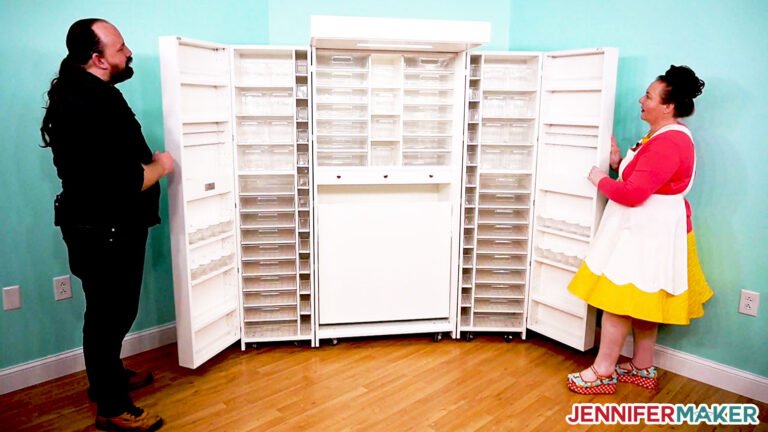 See? The DreamBox is amazing! And you can store SO MANY craft supplies and tools in it — it has 85,000 cubic inches of storage. It holds a LOT more than you might think — it's very space-efficient. And it includes up to 80 of those clear totes (the same ones I'm labeling) to hold all of your craft supplies. There's also an integrated table, so it's not just craft storage, it's craft workspace, too. The table can be easily adjusted to either sitting or standing height, as well.
Here is my DreamBox all set up with my polka dot totes: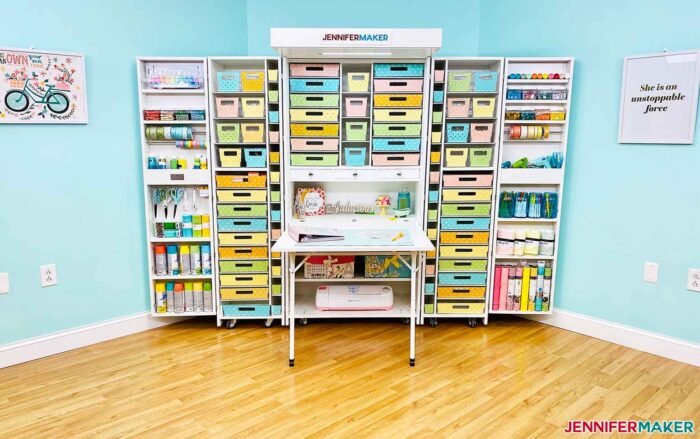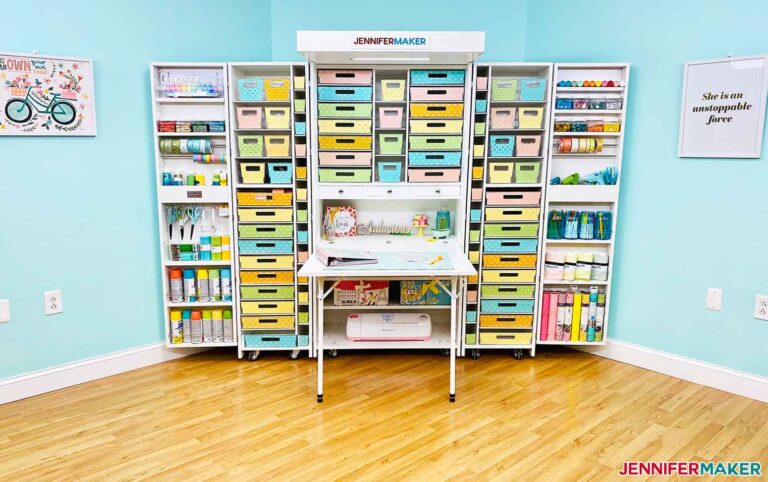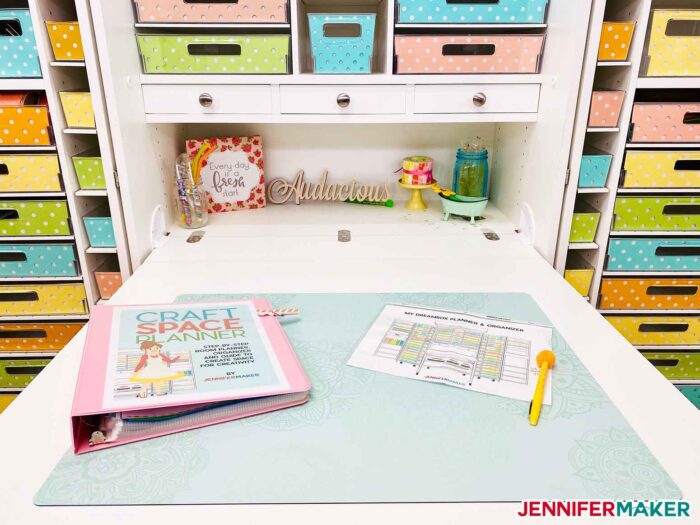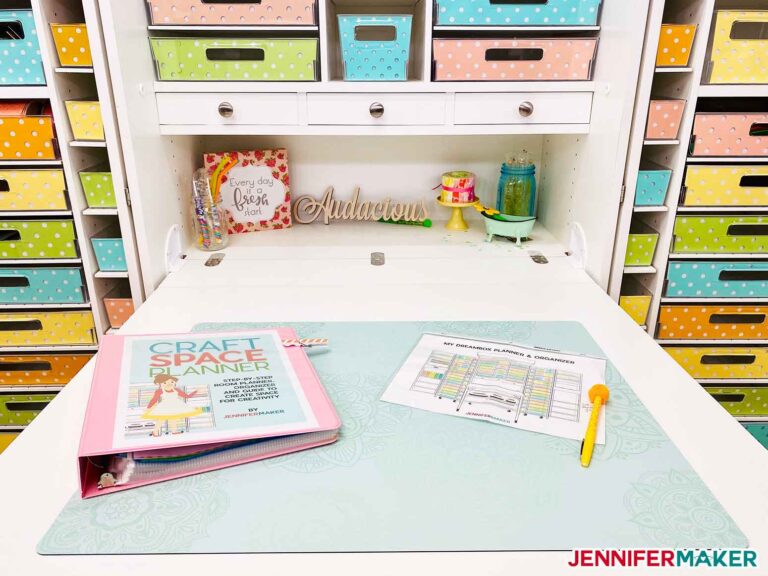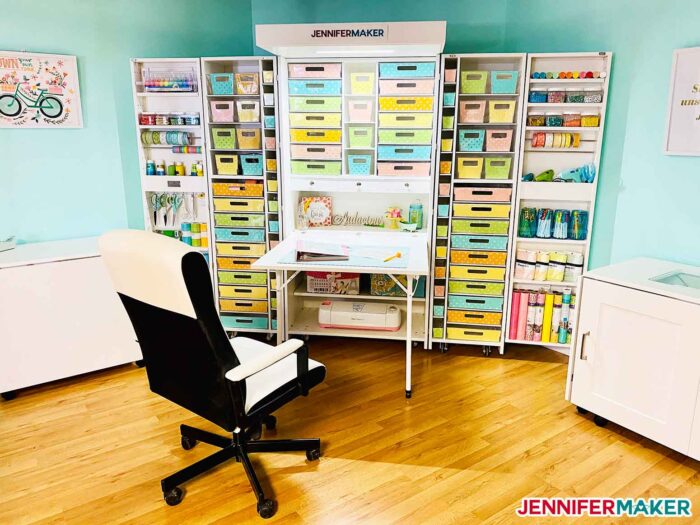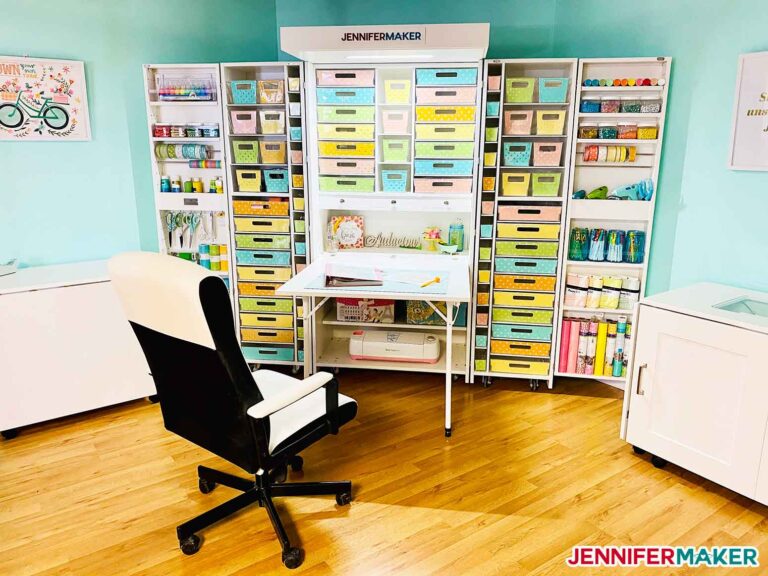 And here is my DreamBox with the DreamCart (on the left) and the SewStation (on the right).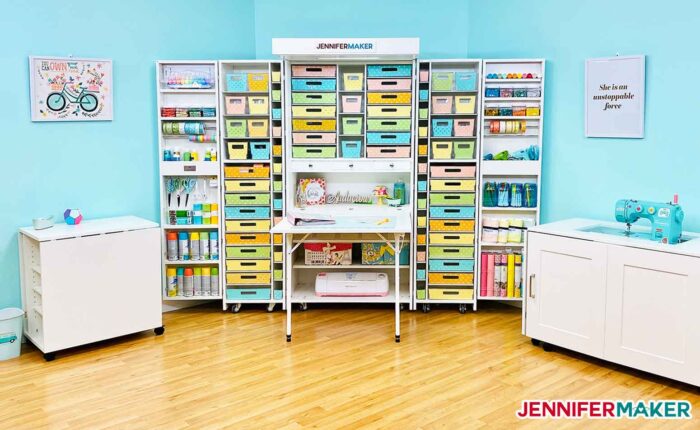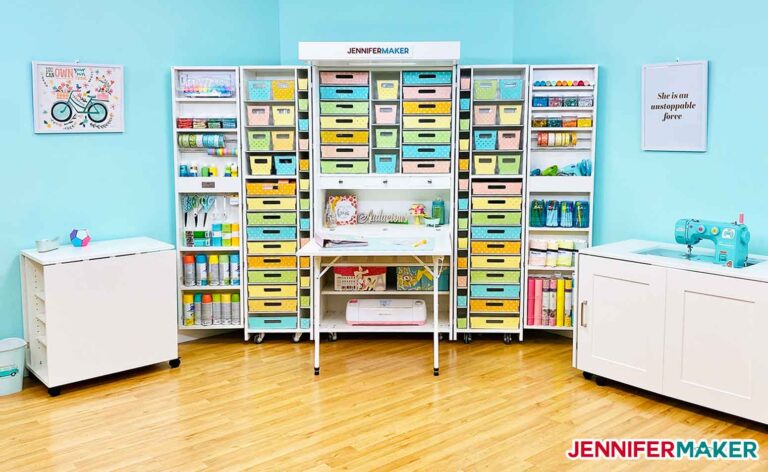 Get my free SVG files to make your own Dreambox storage tote liners and labels!
I cannot wait to see YOUR storage totes lined and labeled in all the colors of the rainbow! Please share a photo in our Facebook group or tag me on social media with #jennifermaker.
Love,