Learn how to make super easy Light Up Letter Blocks to brighten your day or as a wonderful inspirational gift!
I love creating beautiful decorations for my home. It's wonderful to look around and see pops of color or an inspirational message. The Light Up Letter Blocks illuminate to catch your eye and provide an uplifting reminder. These decorative letters is an easy project that you can also create and give to a friend. It's not very big so you can easily display it on a bookshelf or on the corner of your desk.
My free design contains letter blocks for all 26 letters of the English alphabet, so you can spell out a name or inspirational word of your own! For this tutorial, we're going to spell out H.O.P.E. If you need a number or punctuation mark to spell out what's important to you, I've included a blank block that you can use to slice out whatever shape or symbol you want (note that we used Adorn Smooth Serif from FontBundles to create the alphabet blocks).
Let me show you how easy it is to make the easy Light Up Letter Blocks design! This post contains some affiliate links for your convenience (which means if you make a purchase after clicking a link I will earn a small commission but it won't cost you a penny more)! Read my full disclosure policy.
Materials to Make Easy Light Up Letter Blocks
How to Make Easy Light Up Letter Blocks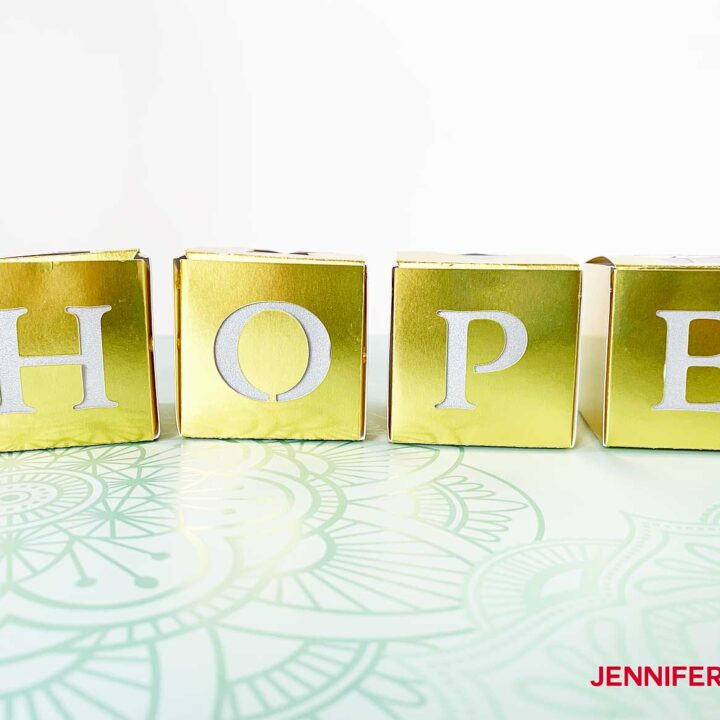 Light Up Letter Blocks
Yield: 4 Blocks

Prep Time: 5 minutes

Active Time: 30 minutes

Total Time: 35 minutes

Difficulty: Easy

Estimated Cost: $4 per set

Everyone can use a little HOPE...it's a powerful thing. These Light Up Letter Blocks are a good reminder that even during difficult times it's important to never lose hope.
Instructions
Step 1: GET MY FREE LIGHT UP LETTER BLOCKS DESIGN
My 'HOPE' Light-Up Letter Blocks design is free for you to use. It is Design #217 that is available as both a printable PDF or as an SVG cut file to use in a cutting machine like a Cricut. The file contains the design to cut the blocks and the vellum insert liners.

Download the 'HOPE' or the full Alphabet letter blocks design from my free resource library (get the password to the library in the form at the bottom of this post). For this tutorial, we'll focus on the HOPE design, but feel free to make any word or phrase you want!

Here's what the uploaded SVG cut file will look like once uploaded to Cricut Design Space: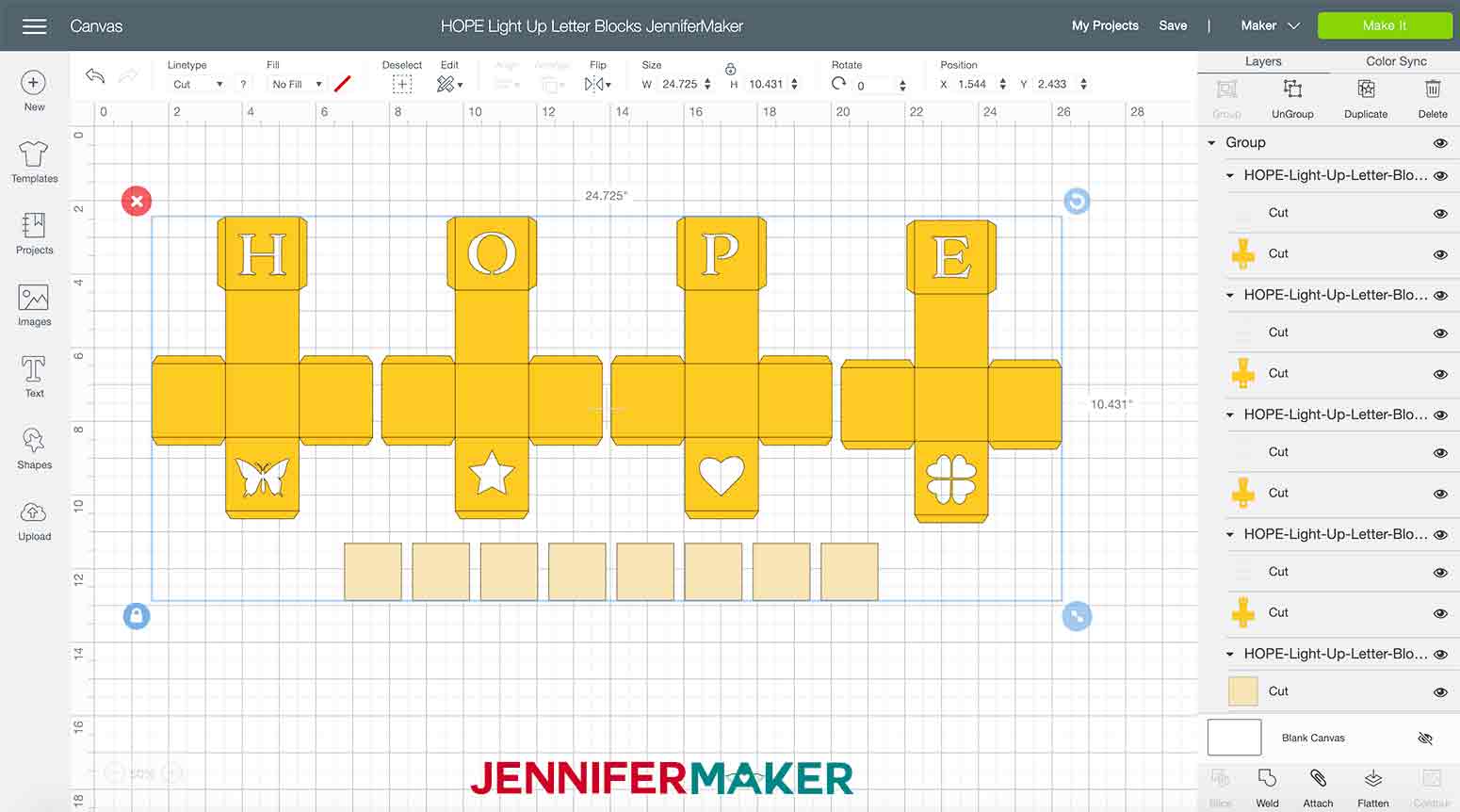 Tip: If you're not sure how to upload an SVG cut file to Cricut Design Space, watch this helpful video training series I made. If you're on an iPhone or iPad, here's how to download and upload SVG files to the Cricut Design Space app.
STEP 2: PREPARE THE LETTER BLOCKS IN DESIGN SPACE
Once you have uploaded the design to Cricut Design Space, you will need to follow these easy steps to prepare to cut your Light Up Letter Blocks.

1. Select the entire project by clicking anywhere on the screen.

2. In the "Layers" panel on the far right click "Ungroup".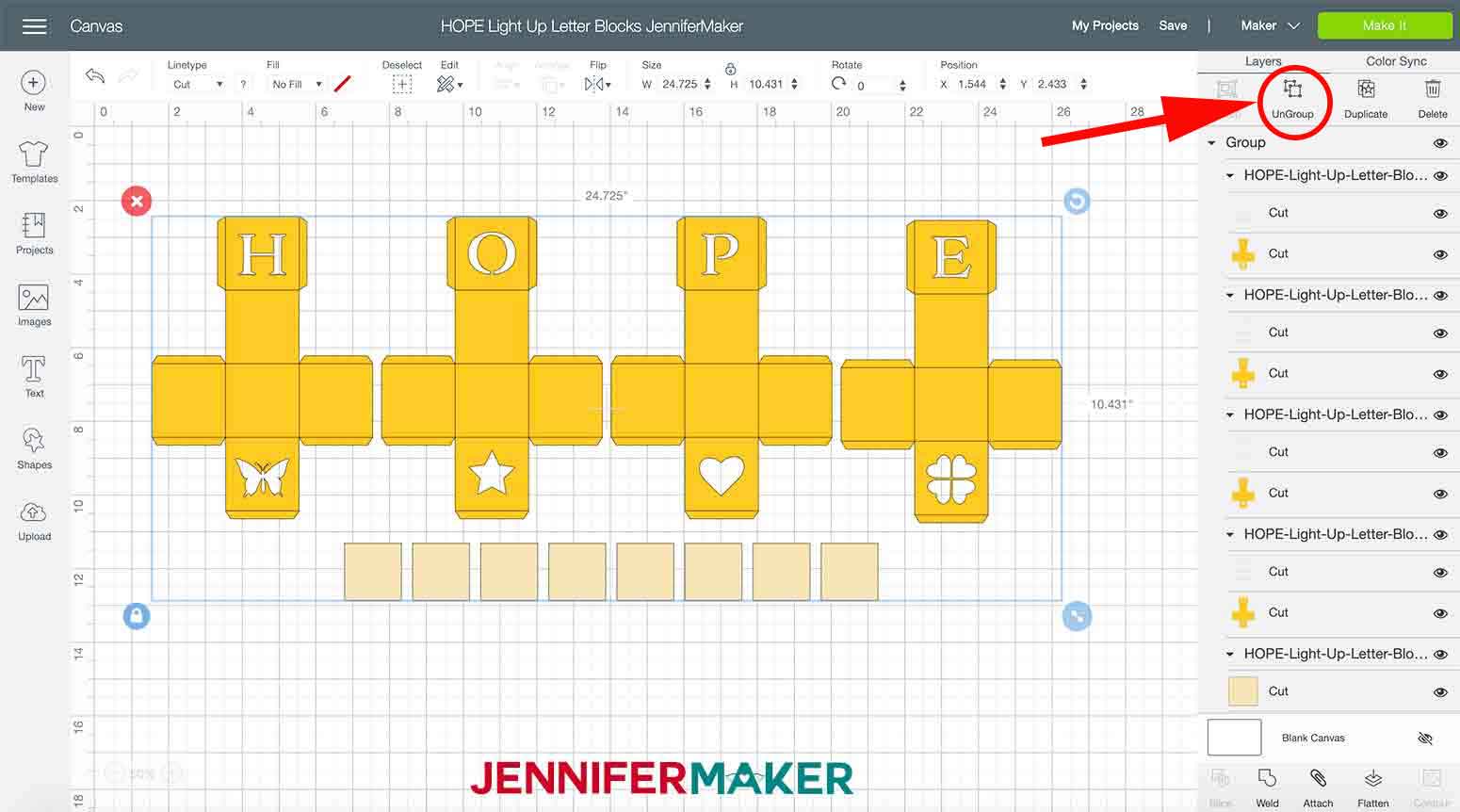 3. Now, select all four layers that should be score lines. You can select multiple layers by clicking on the first layer, then hold the Shift key and right click on each of the additional layers you need to select). Once you have all four layers selected, click under "Linetype" and select "Score" from the drop-down menu.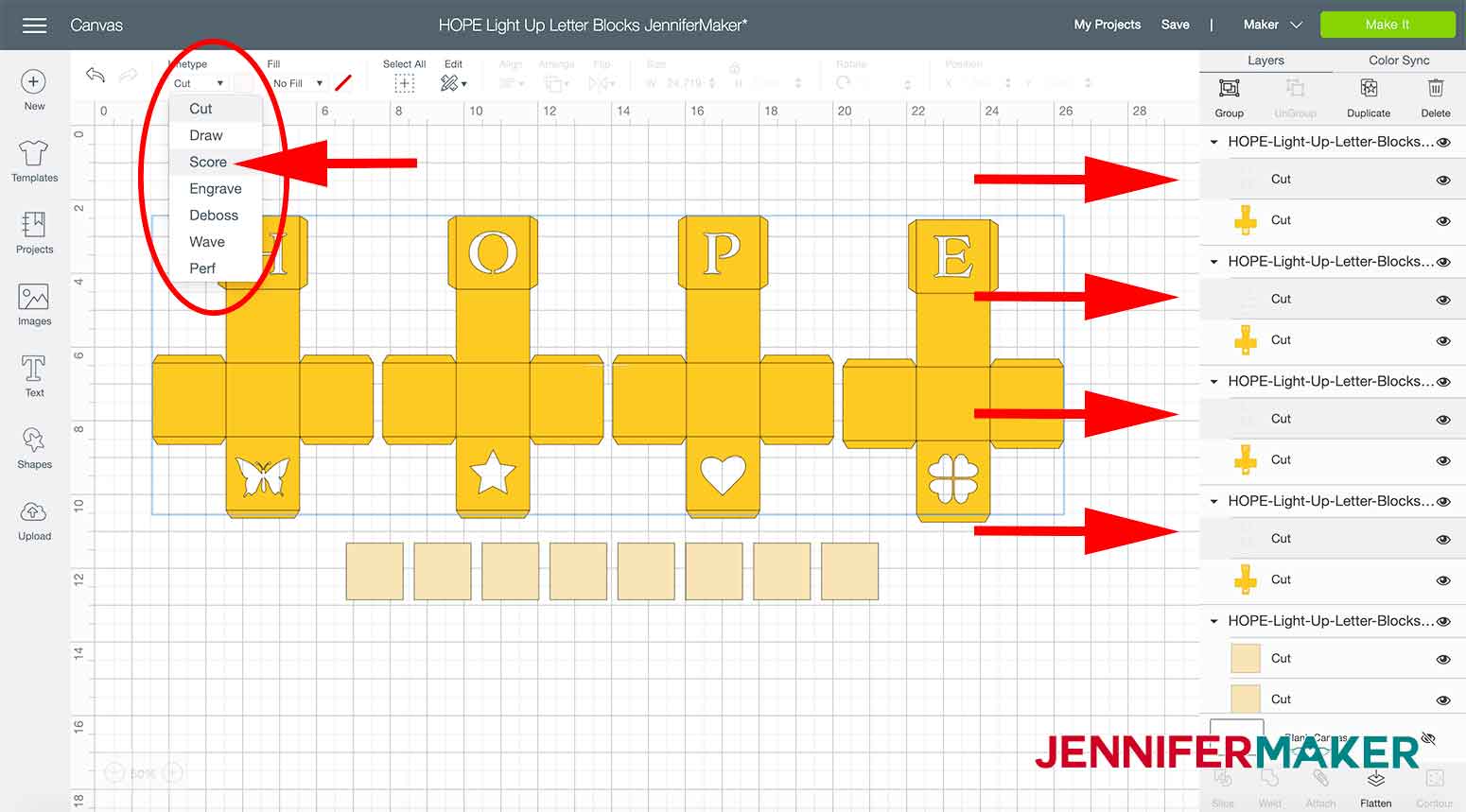 4. Next, click on each letter block on the screen (one at a time) and click "Attach" on the bottom right-hand side of the screen. Repeat this step for all four blocks.

Need help with Scoring Lines? Check out my tutorial on Cricut Scoring, Grouping and Attaching!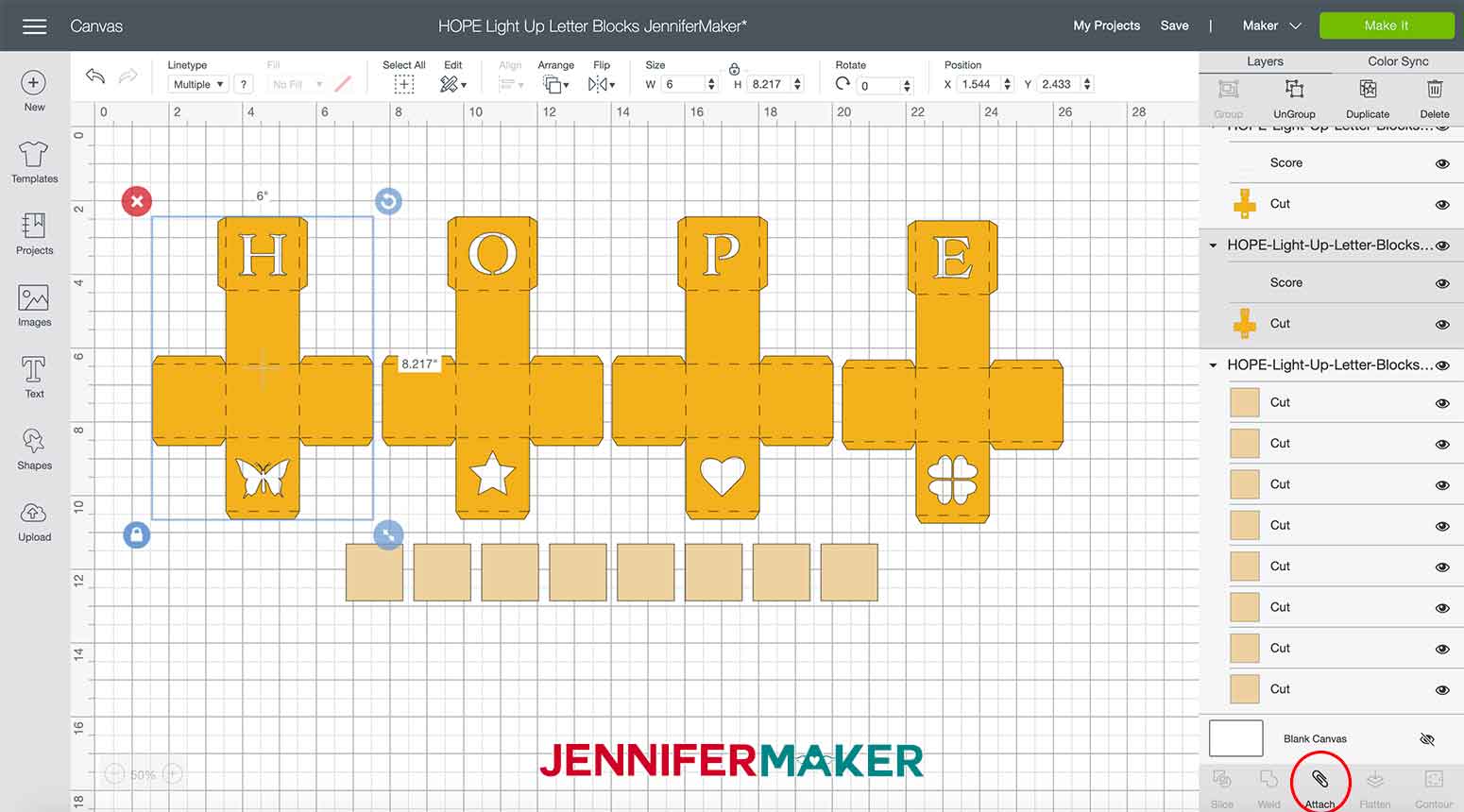 5. Now click "Make it".
STEP 3: CUT THE LETTER BLOCKS AND VELLUM INSERTS
Make sure to follow all the instructions in Design Space and don't forget to insert your scoring stylus. I recommend you keep everything at the same size as you find it in my files for the best results.

For the light up letter blocks, I used a foil poster board in Metallic Gold. Make sure to choose the "foil poster board" as your material under custom settings.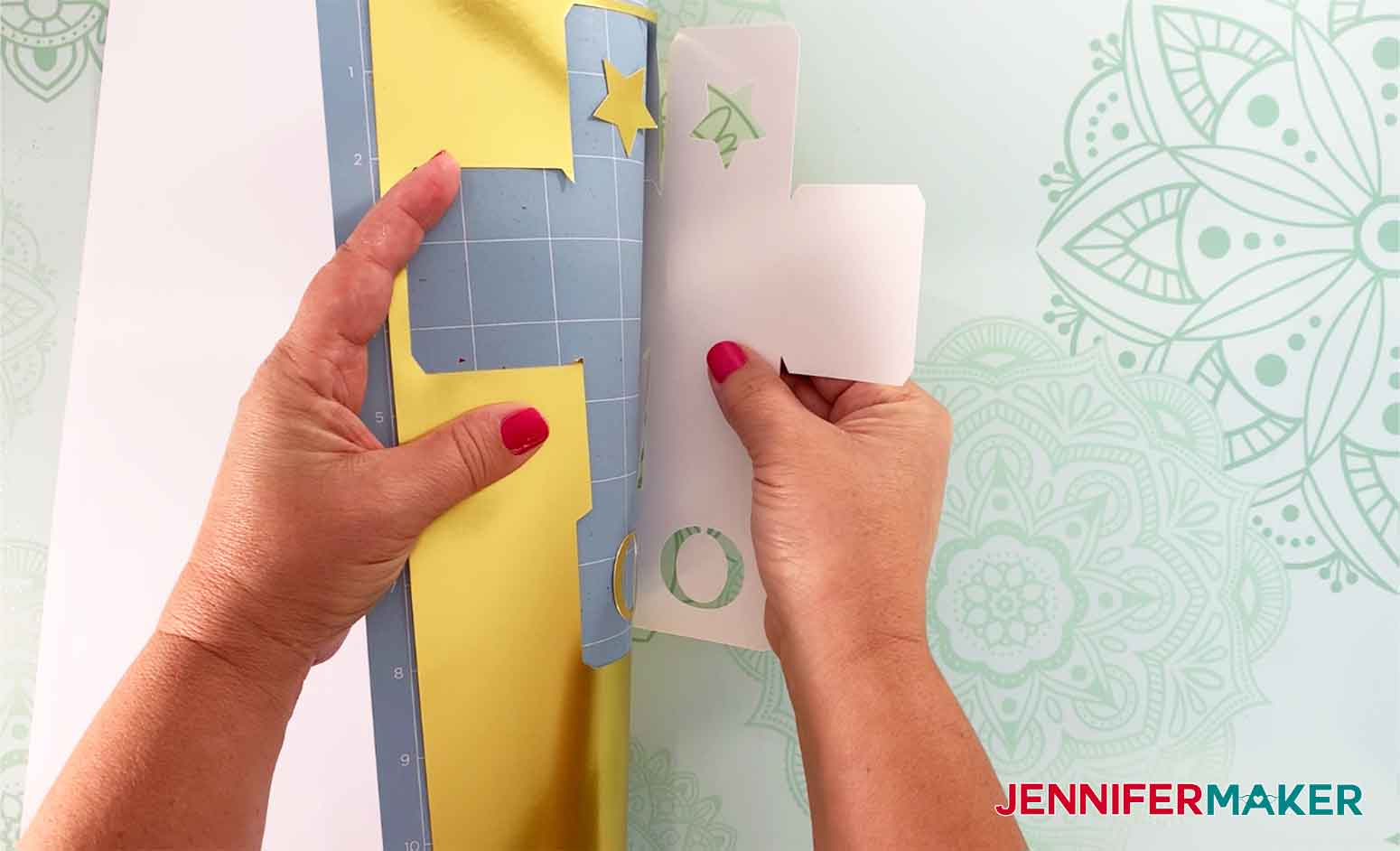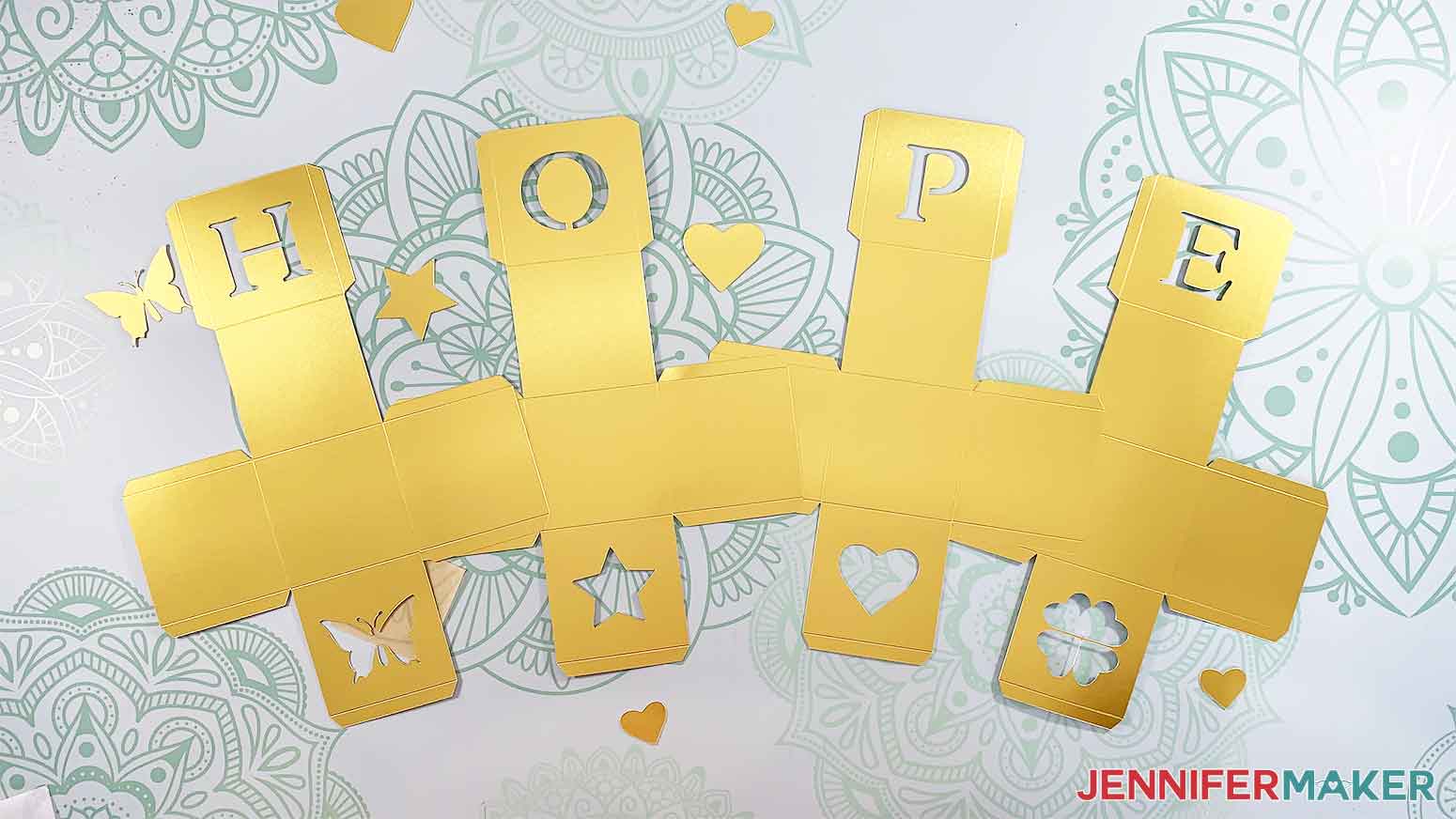 For the letter block inserts, I used vellum. This can be a little tricky to cut.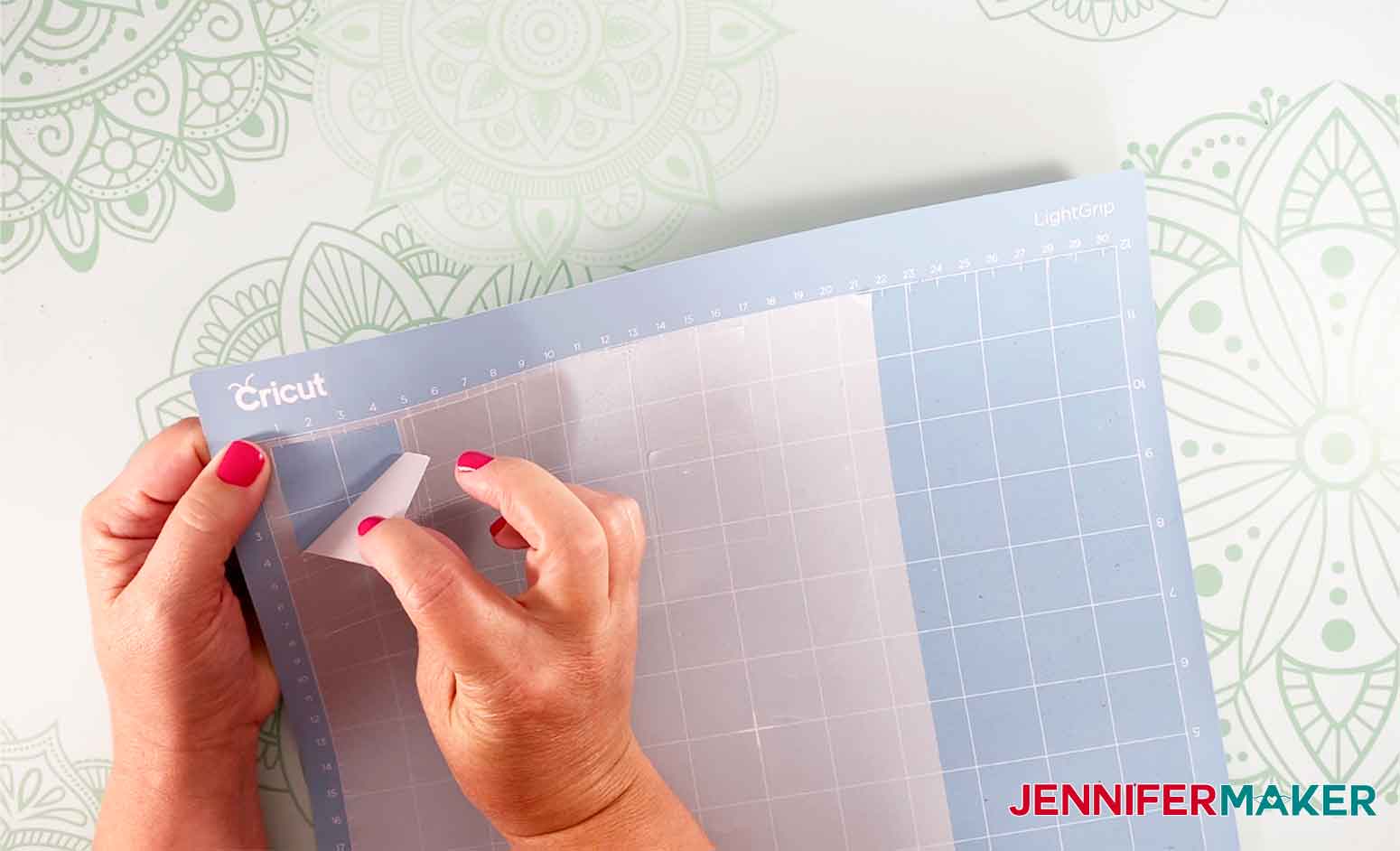 For best results make sure to use your hand or a roller (also called a brayer) to smooth out the vellum a few times, making sure it's firmly attached to your mat before cutting. And take your time peeling these pieces from the mat as they may tear.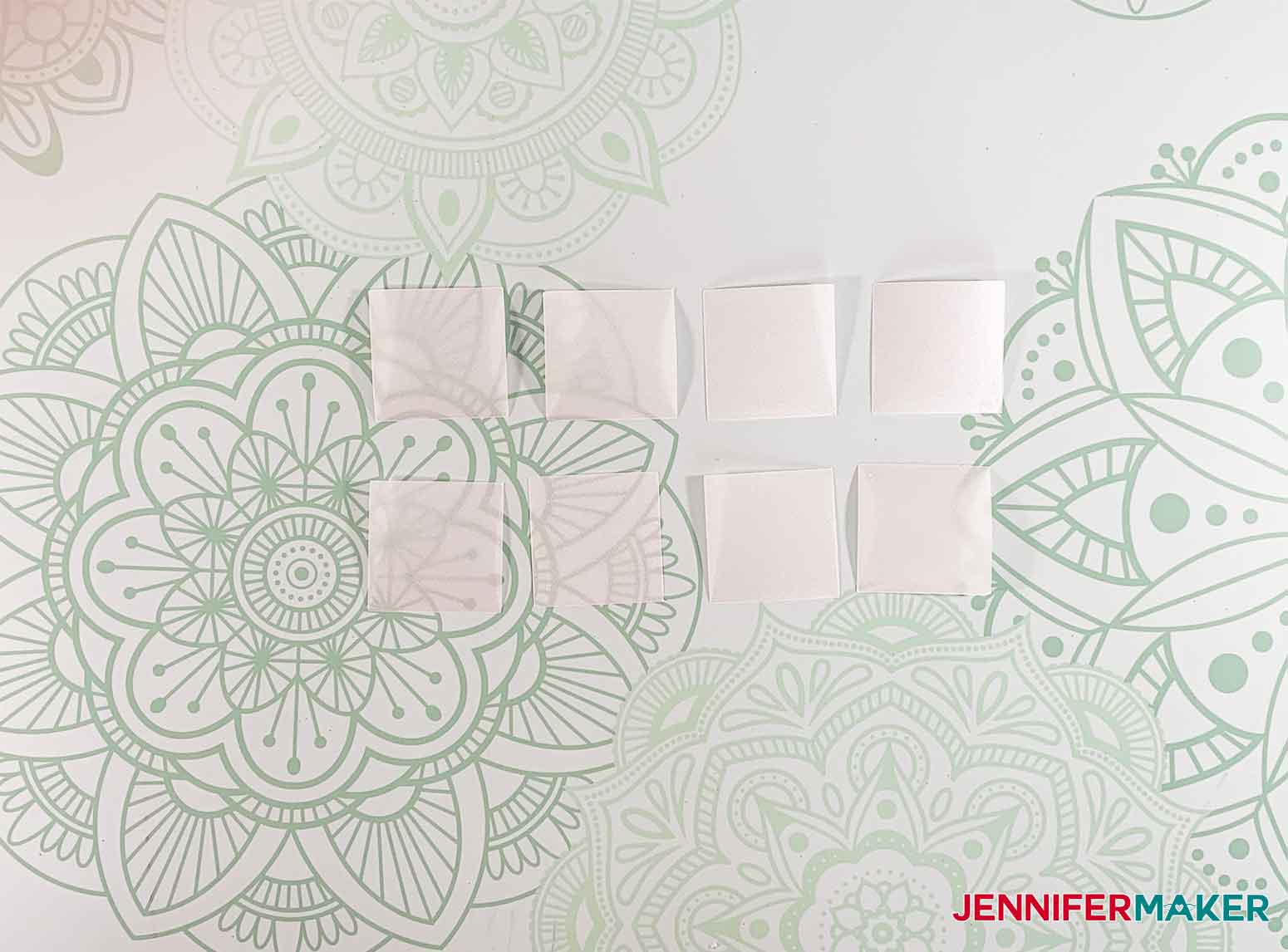 TIP: If you are cutting on 8.5" x 11" material, you can change the material size in the drop-down menu to the left (after you press "Make It". This will ensure everything prints on the specified size. Also since this project calls for two different paper types, make sure you select the right type for each cut.
STEP 4: ASSEMBLE AND GLUE EVERYTHING TOGETHER
First, find the score lines on each light up letter block and fold along the marked areas to get the block ready for assembly.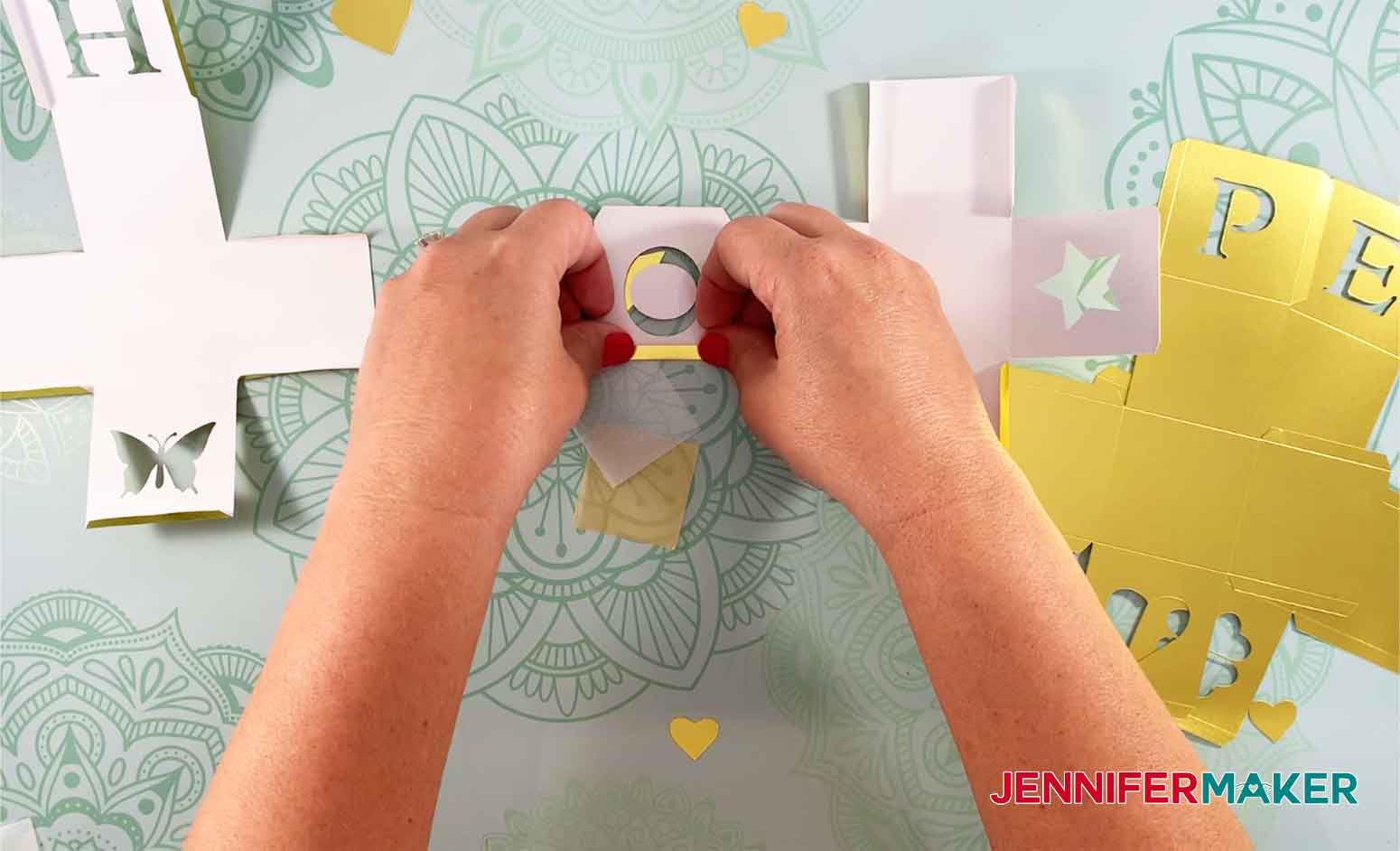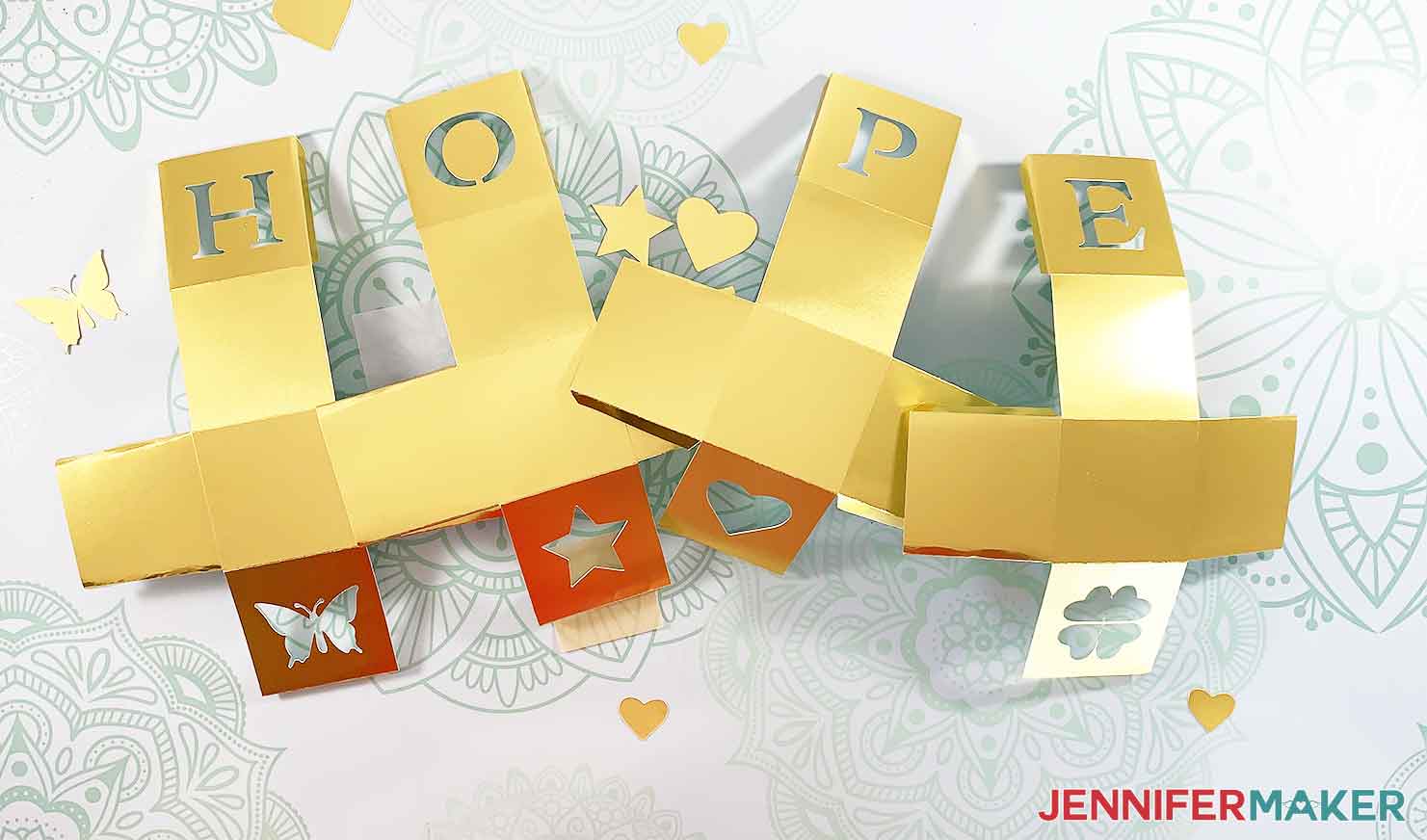 Next, grab your glue dots (use can also use tacky glue), I found the glue dots to be quicker and less messy.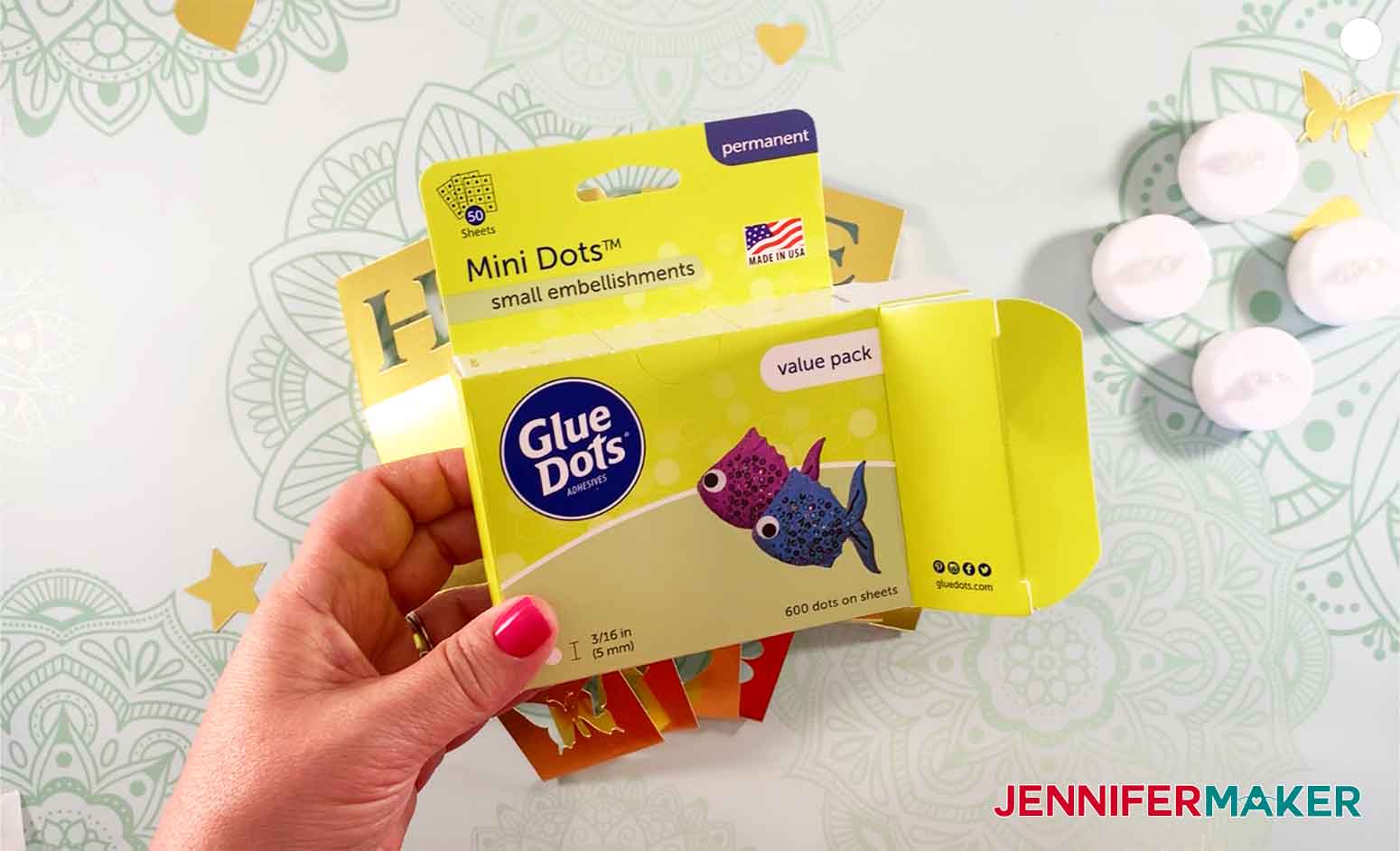 Use these dots to attach vellum on the inside of each block behind the letters and the cutouts on the top.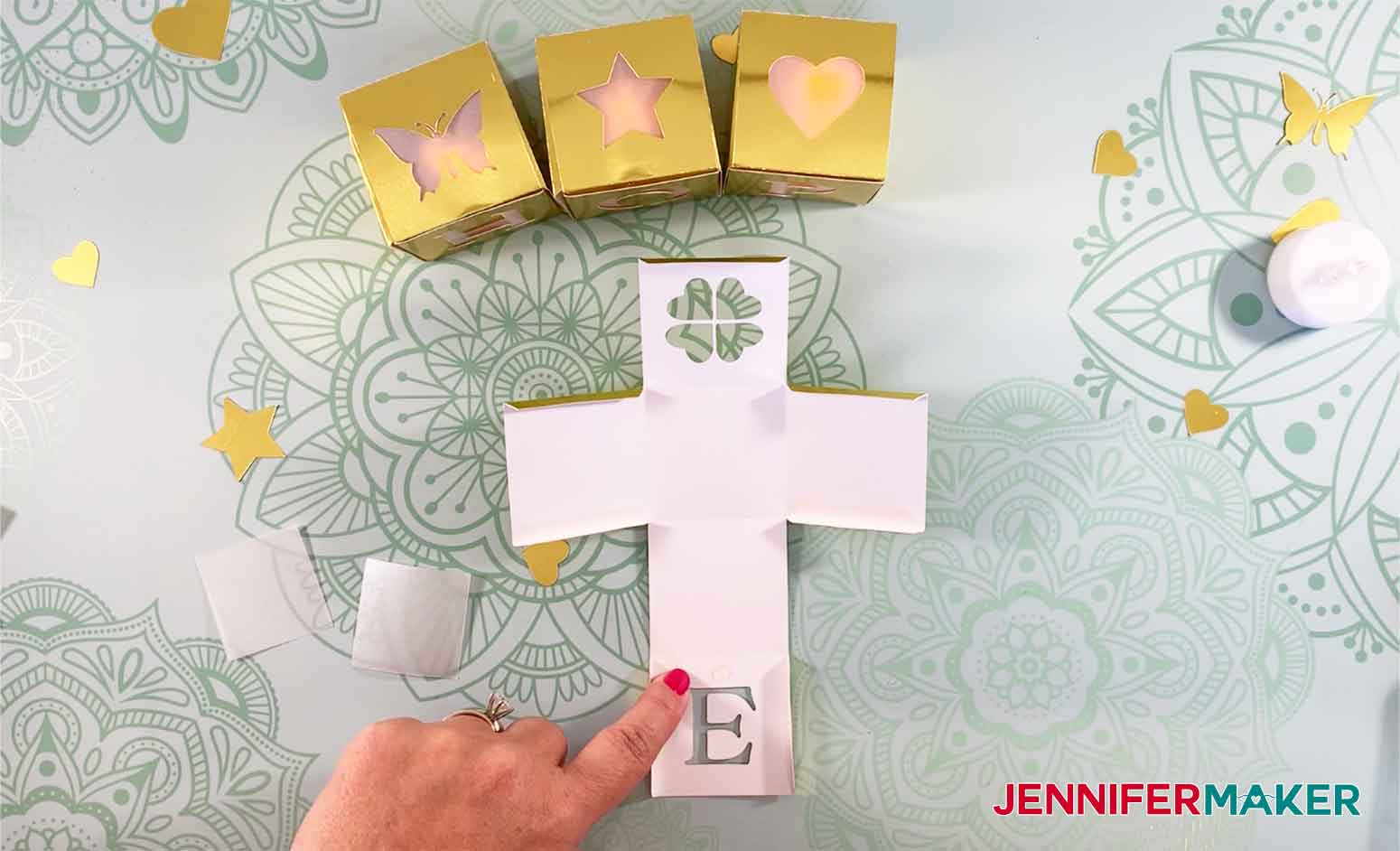 You want the vellum to completely cover each letter and cutout.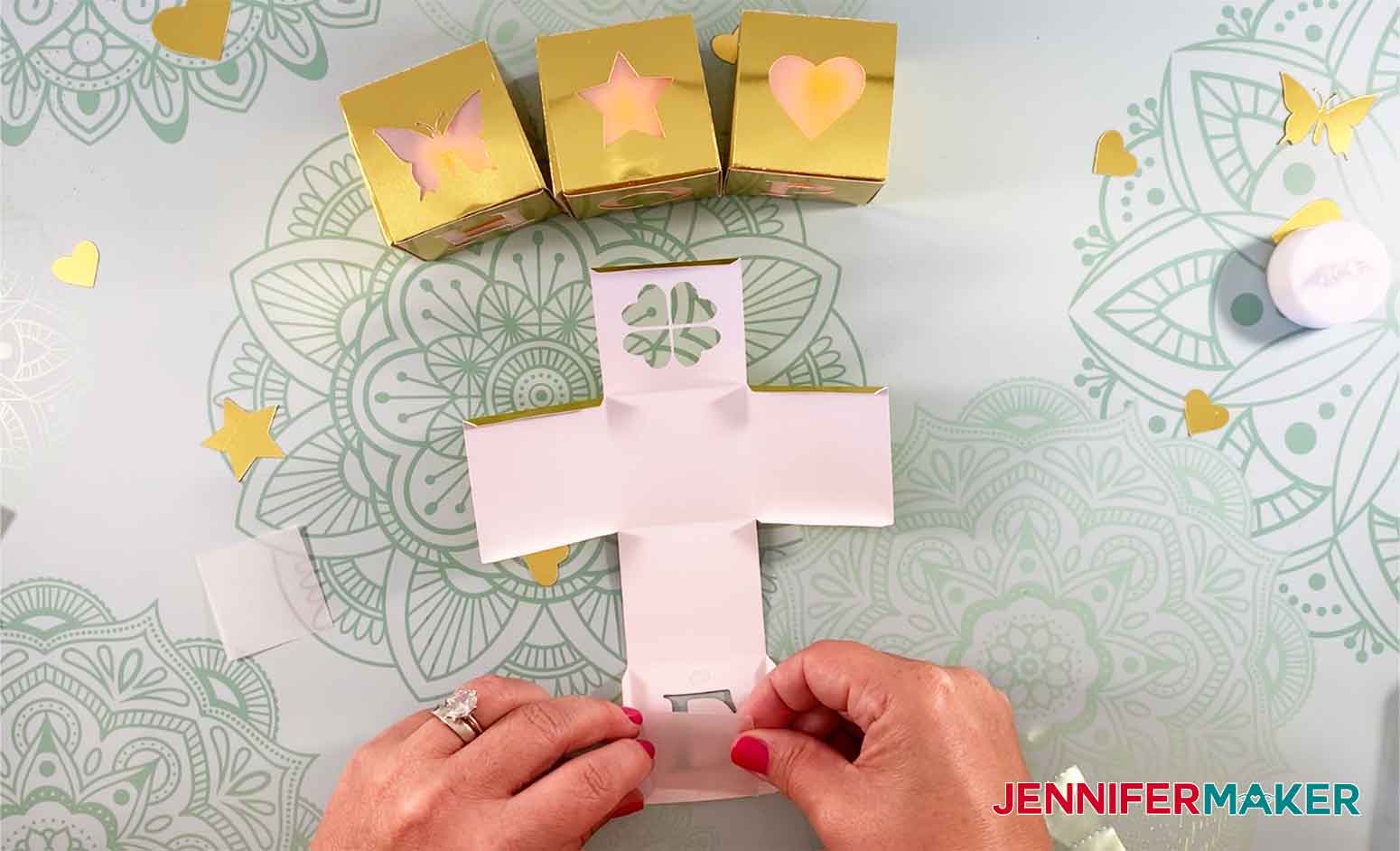 Finally, start assembling the blocks.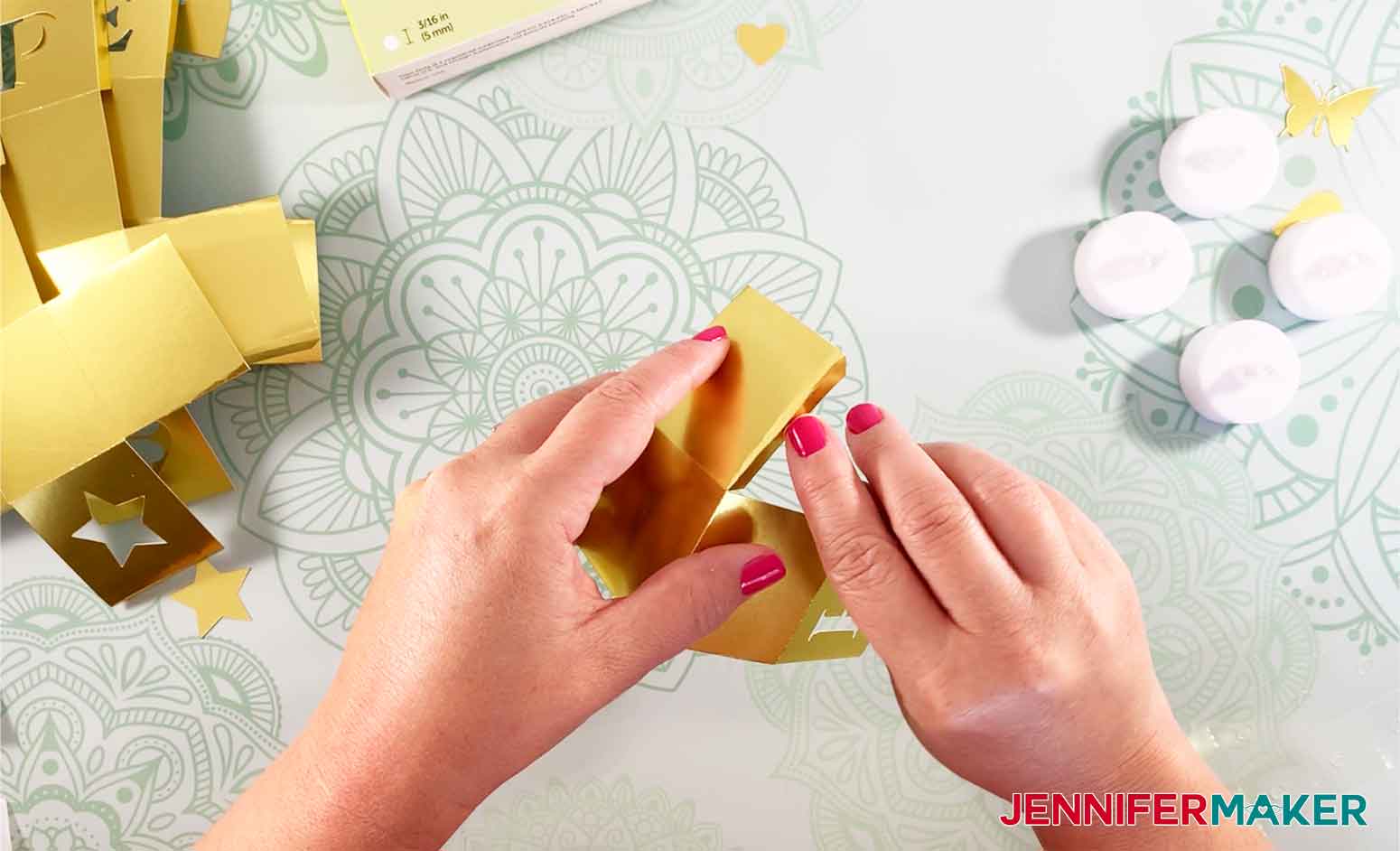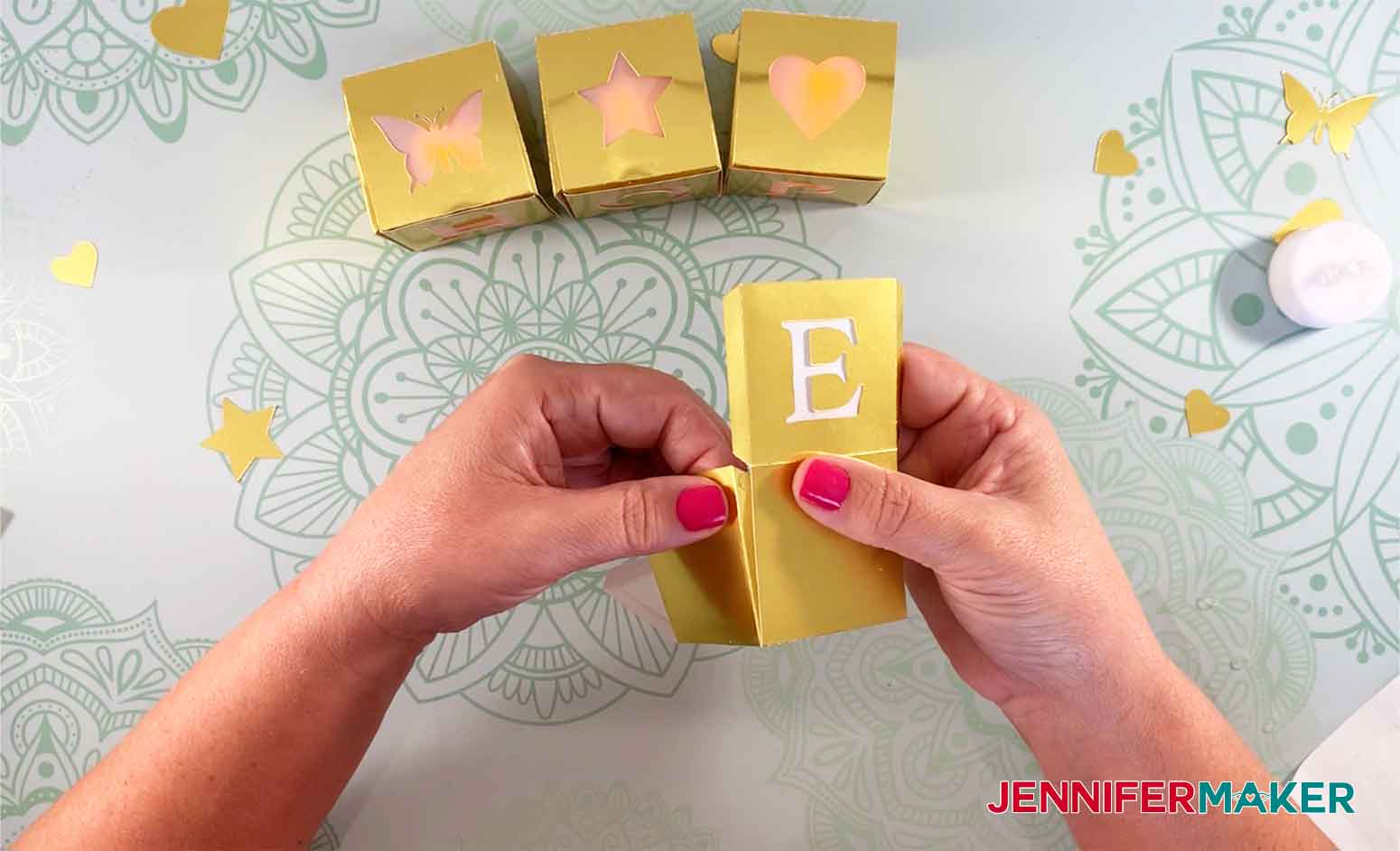 Use the easy tabs and glue dots to form the block, making sure to keep one side open to insert the battery-operated tealight.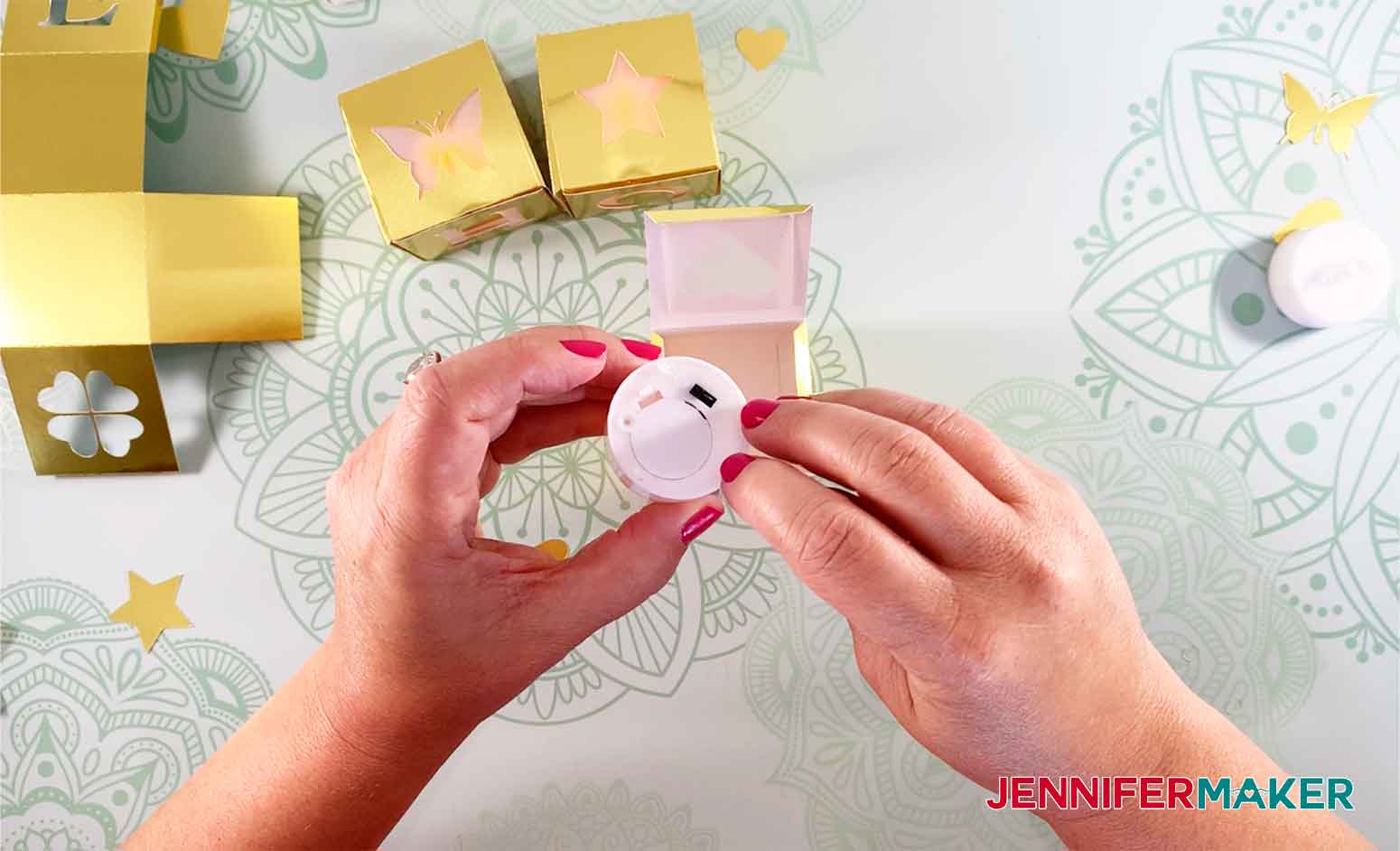 When you are ready, switch the tealight to the "on" position and insert it into your light up letter block.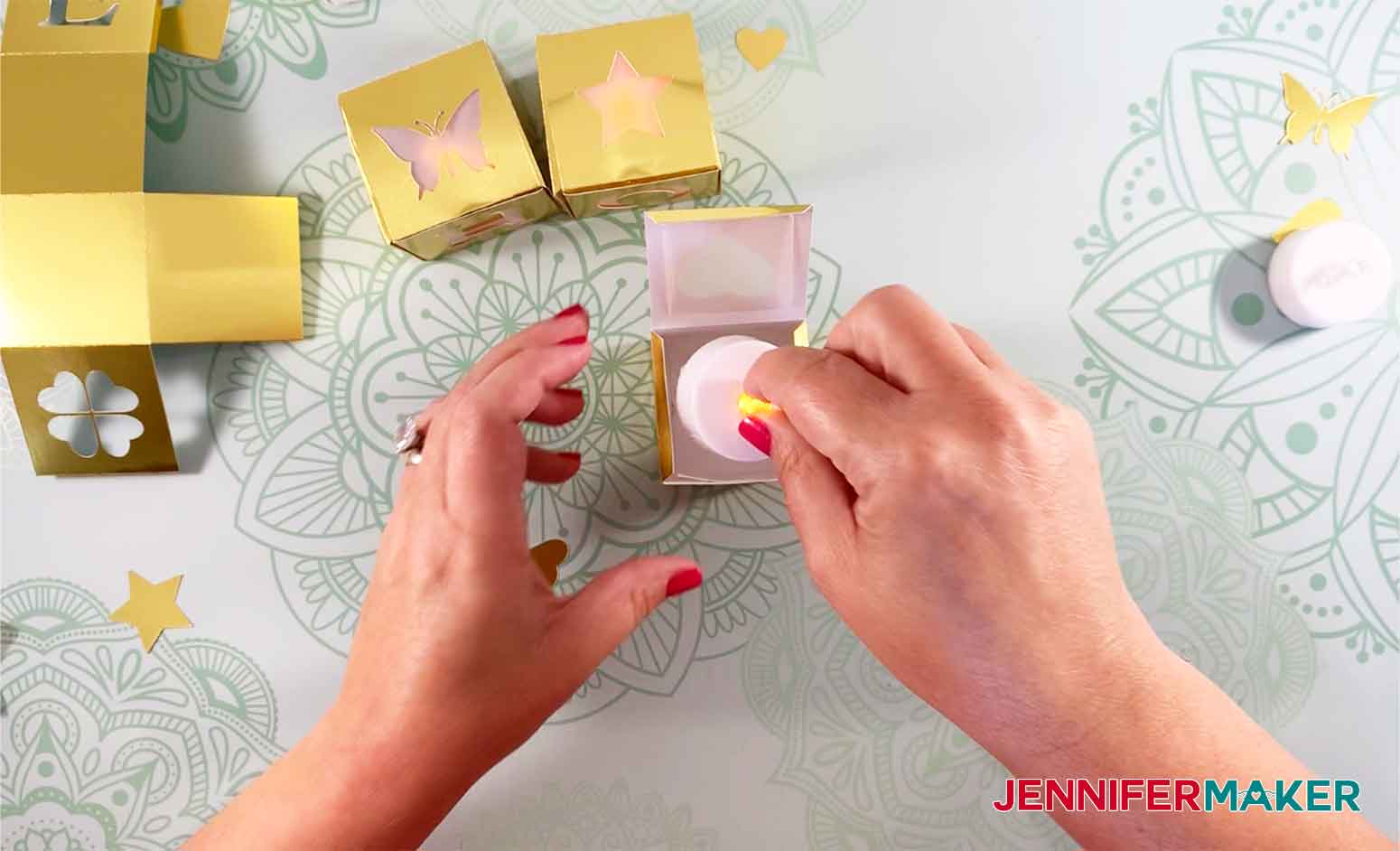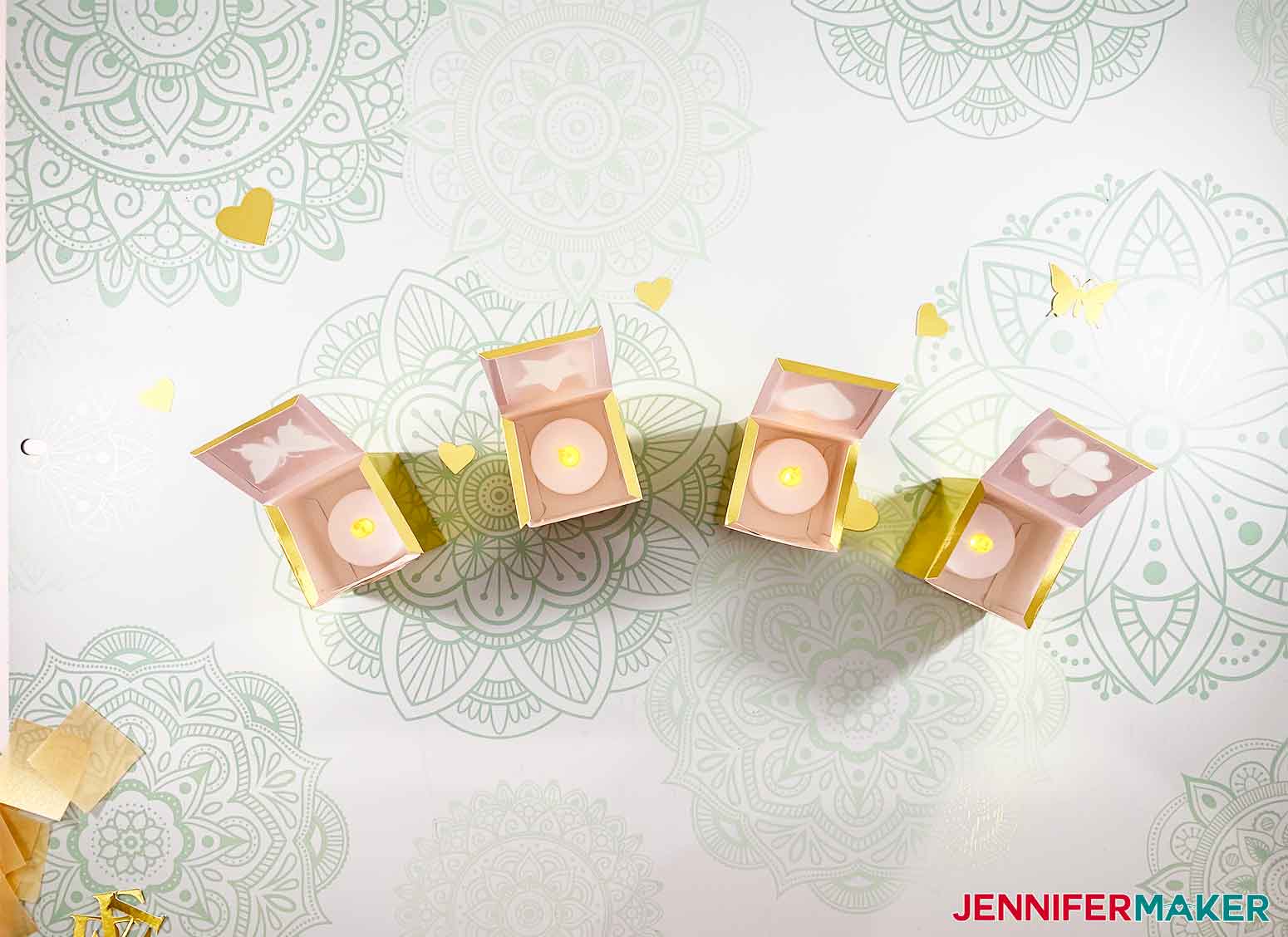 Then close the final flap on the light up letter block.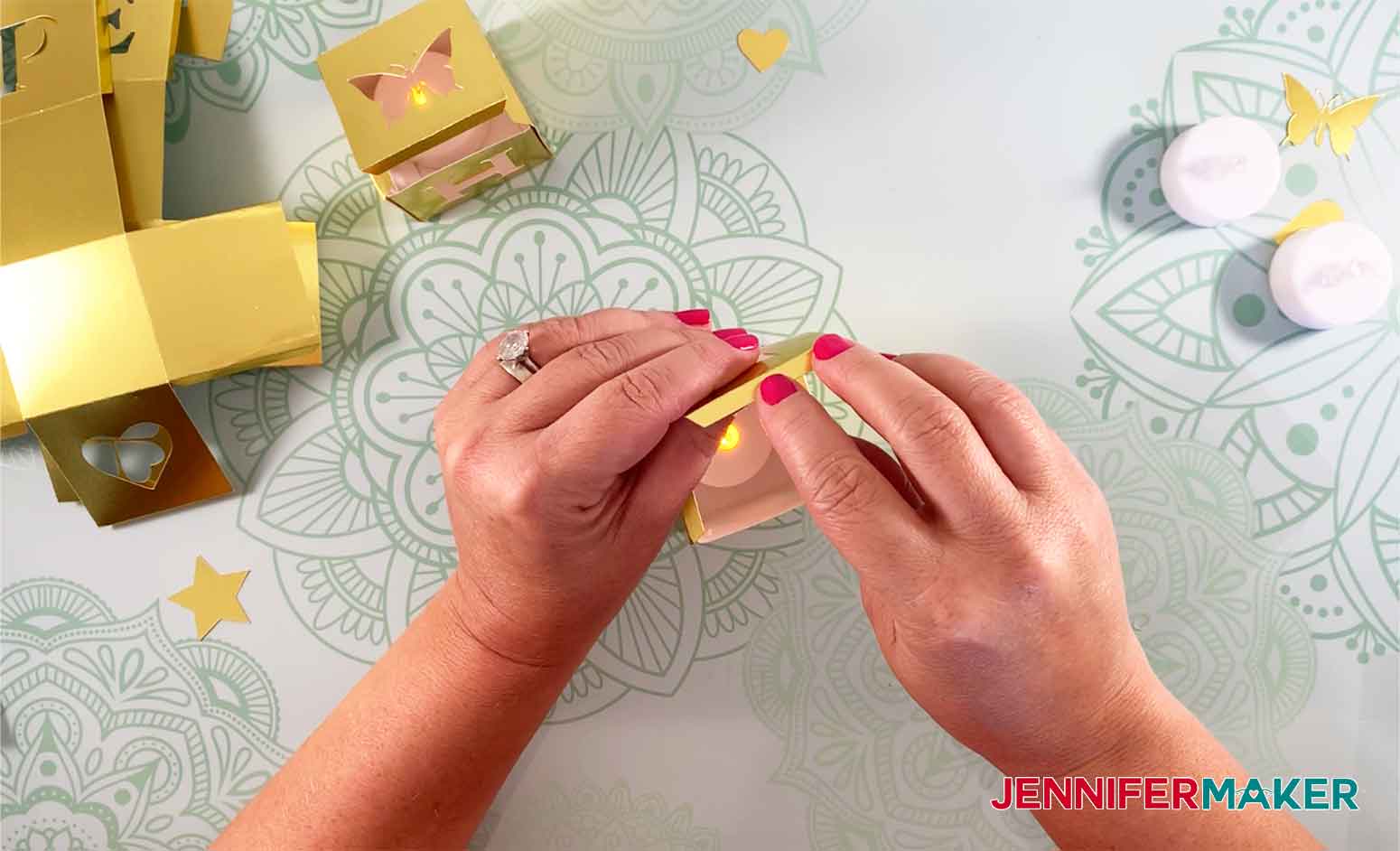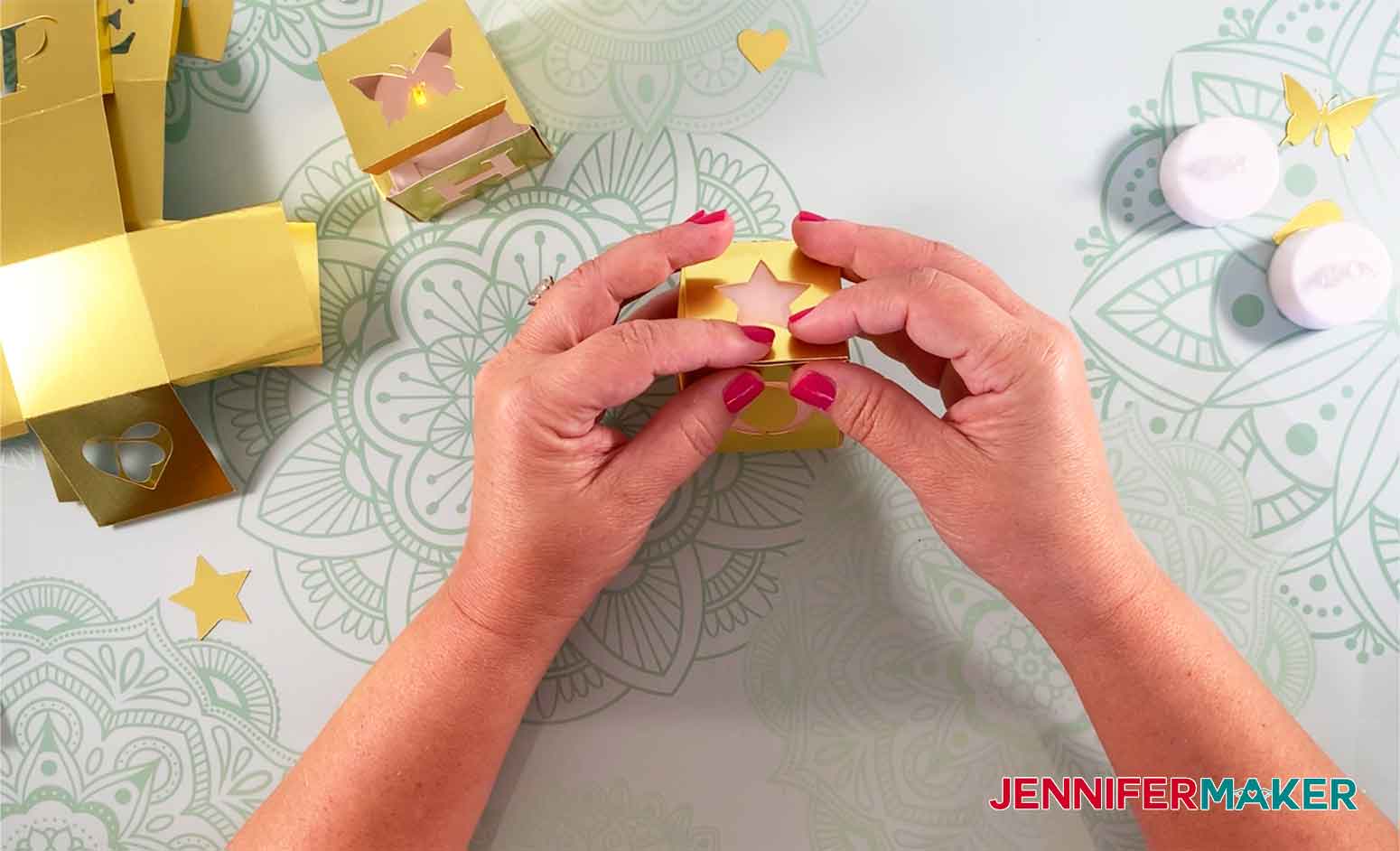 You can use a glue dot on this flap, but it's best to leave it off if you want access to the tea light later, so you can turn it on and off.

TIP: You can attach two or three glue dots to the bottom of the tea light to keep it in place inside the block so it won't wiggle around.
STEP 5: SHOW IT OFF!
When you're all done, display your beautiful new Light Up Letter Blocks.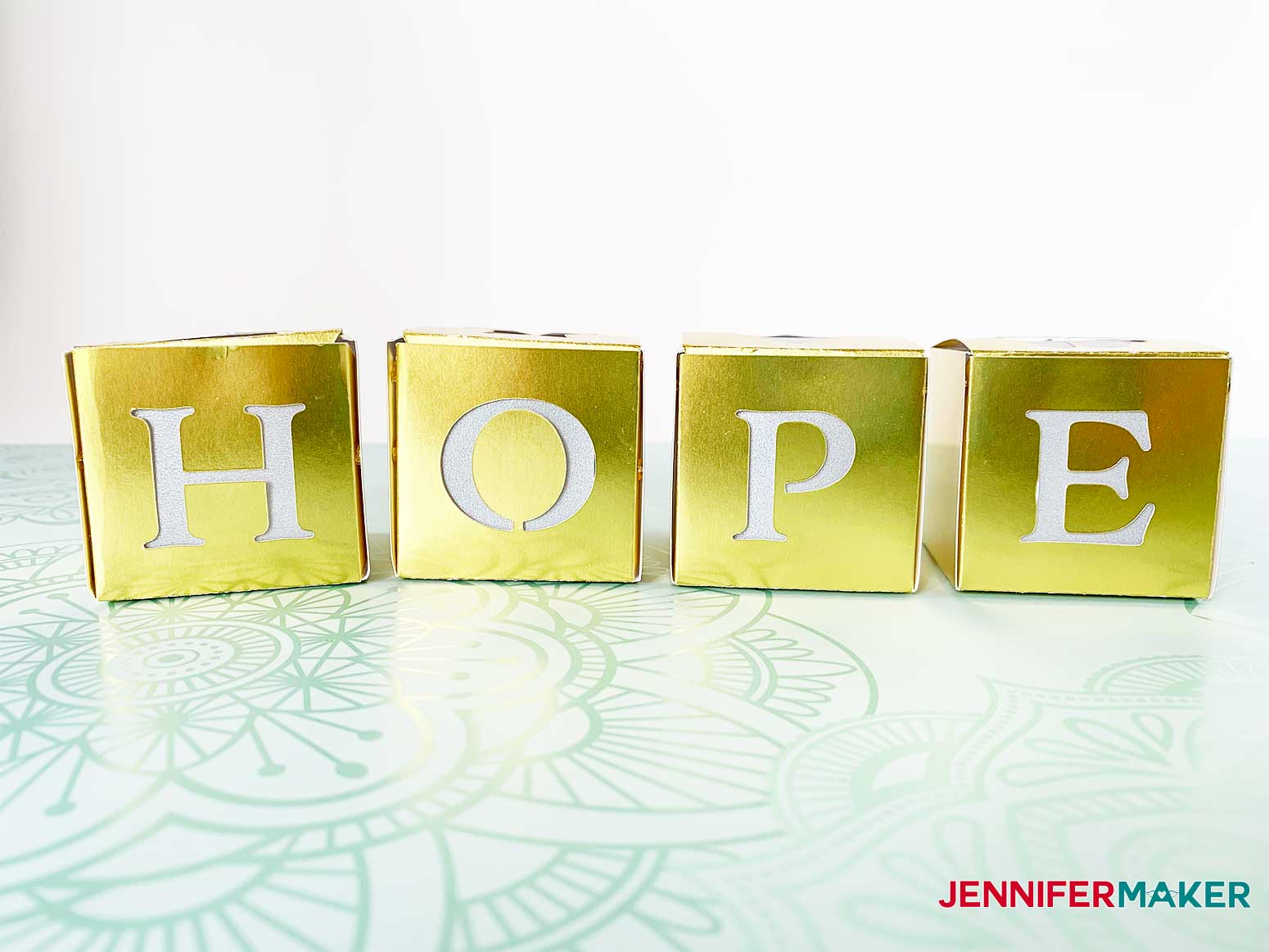 You can place these light up letter blocks side by side, stack them one on top of the other or arrange them two by two like the famous "LOVE" sign, it's completely up to you.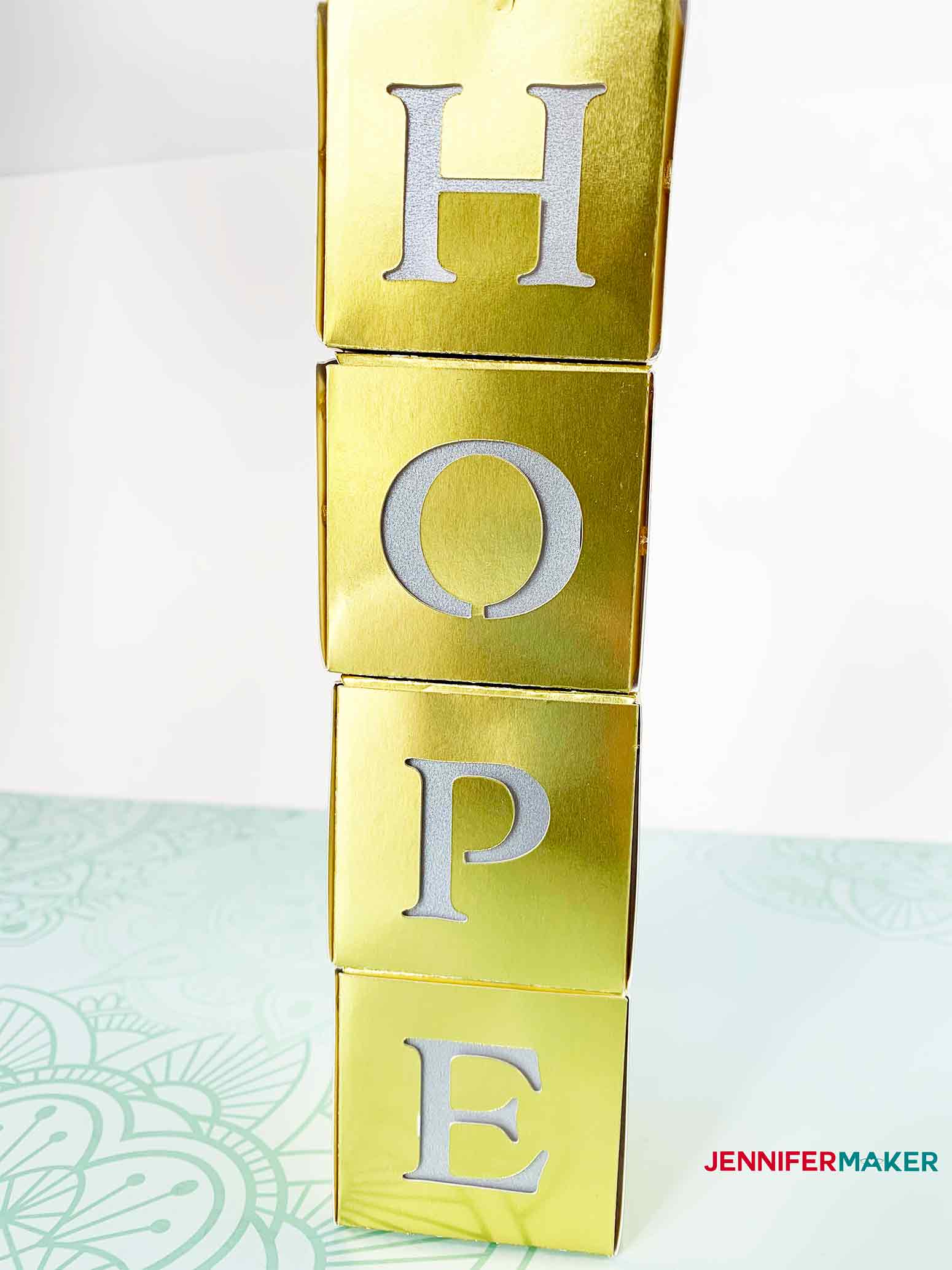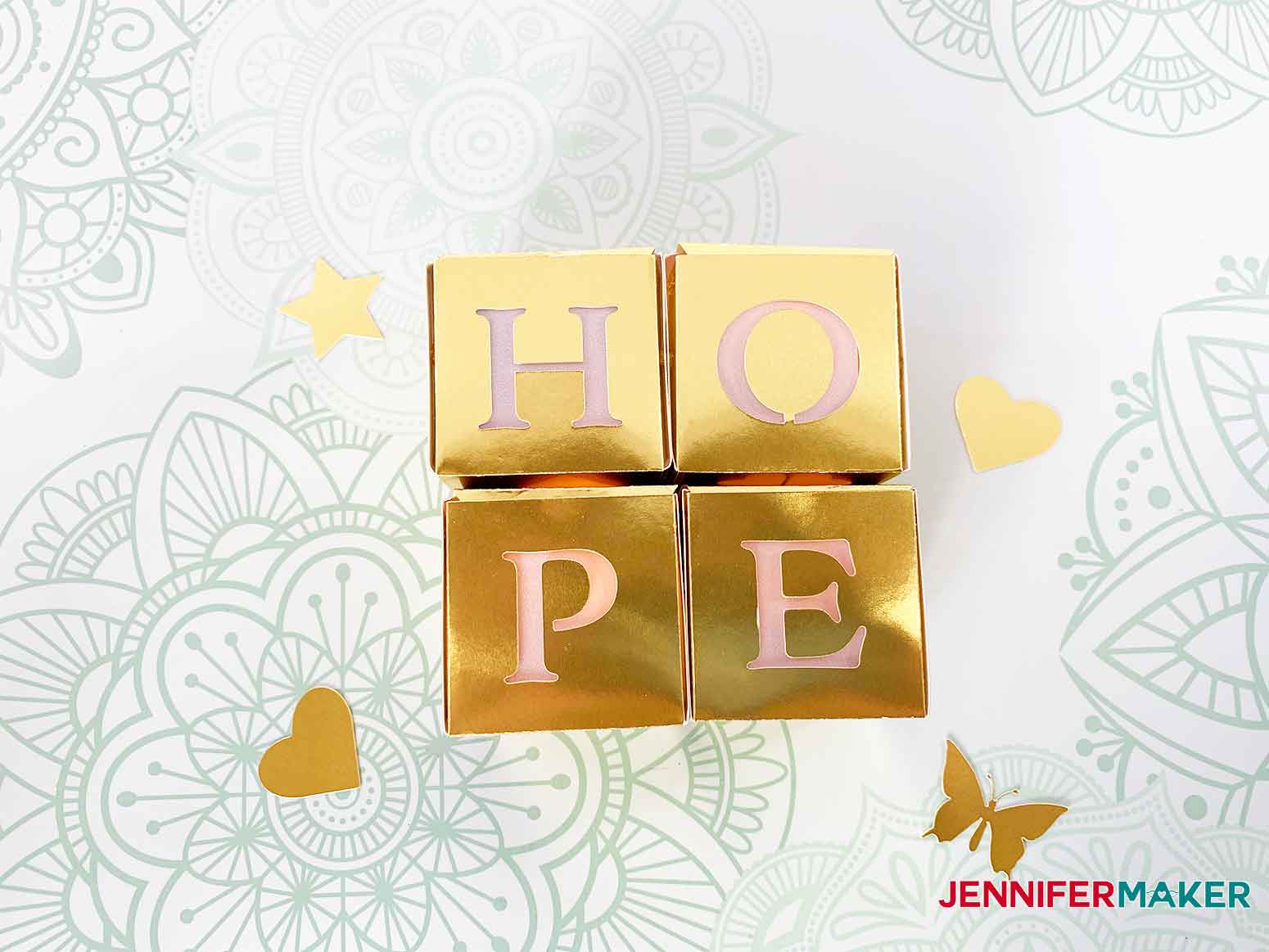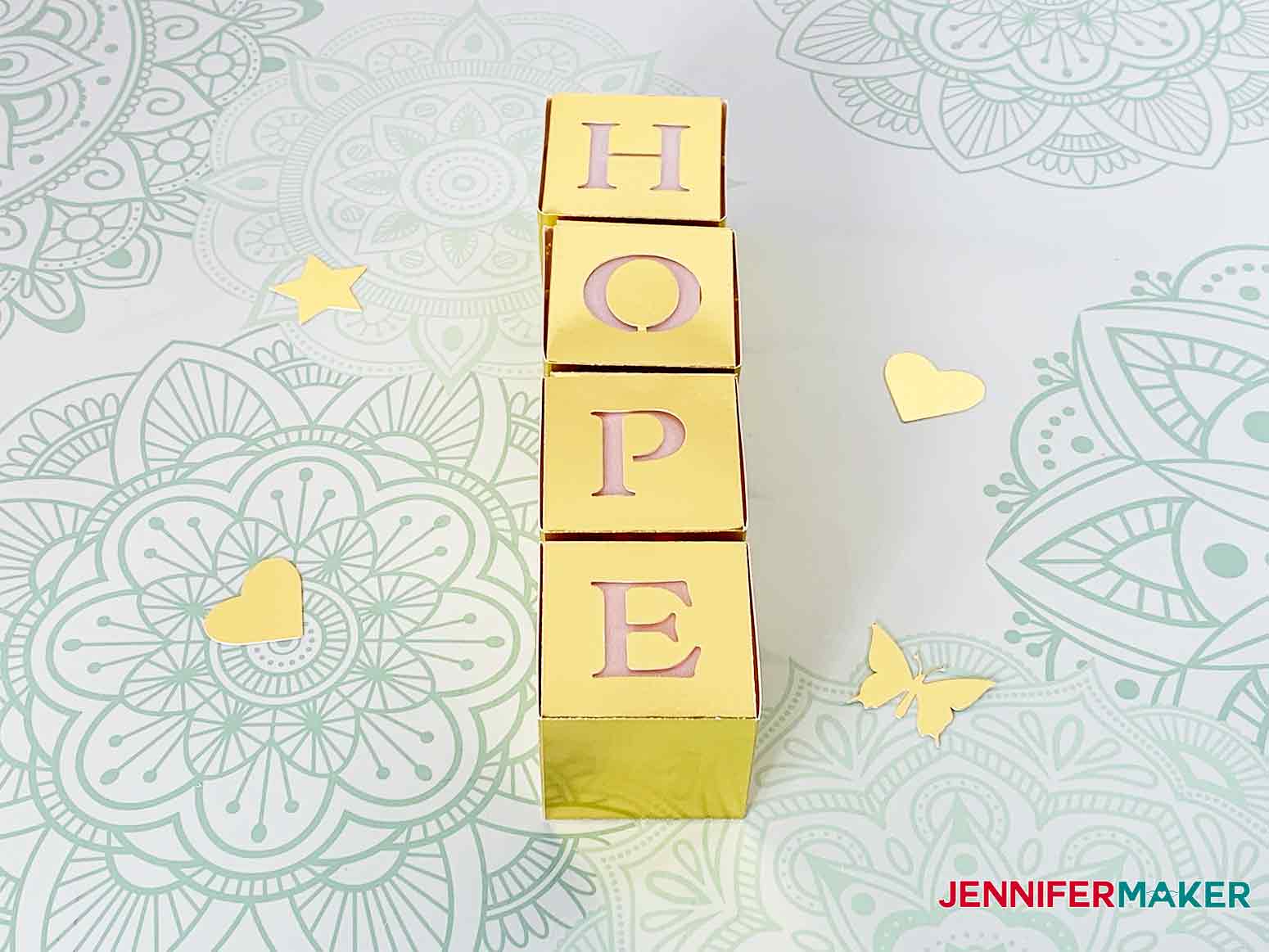 Also, I've included a fun surprise on the top of each light up letter block in the HOPE file...a butterfly, a star, a heart, and a four-leaf clover...these all produce a beautiful glow on the wall when the lights are low.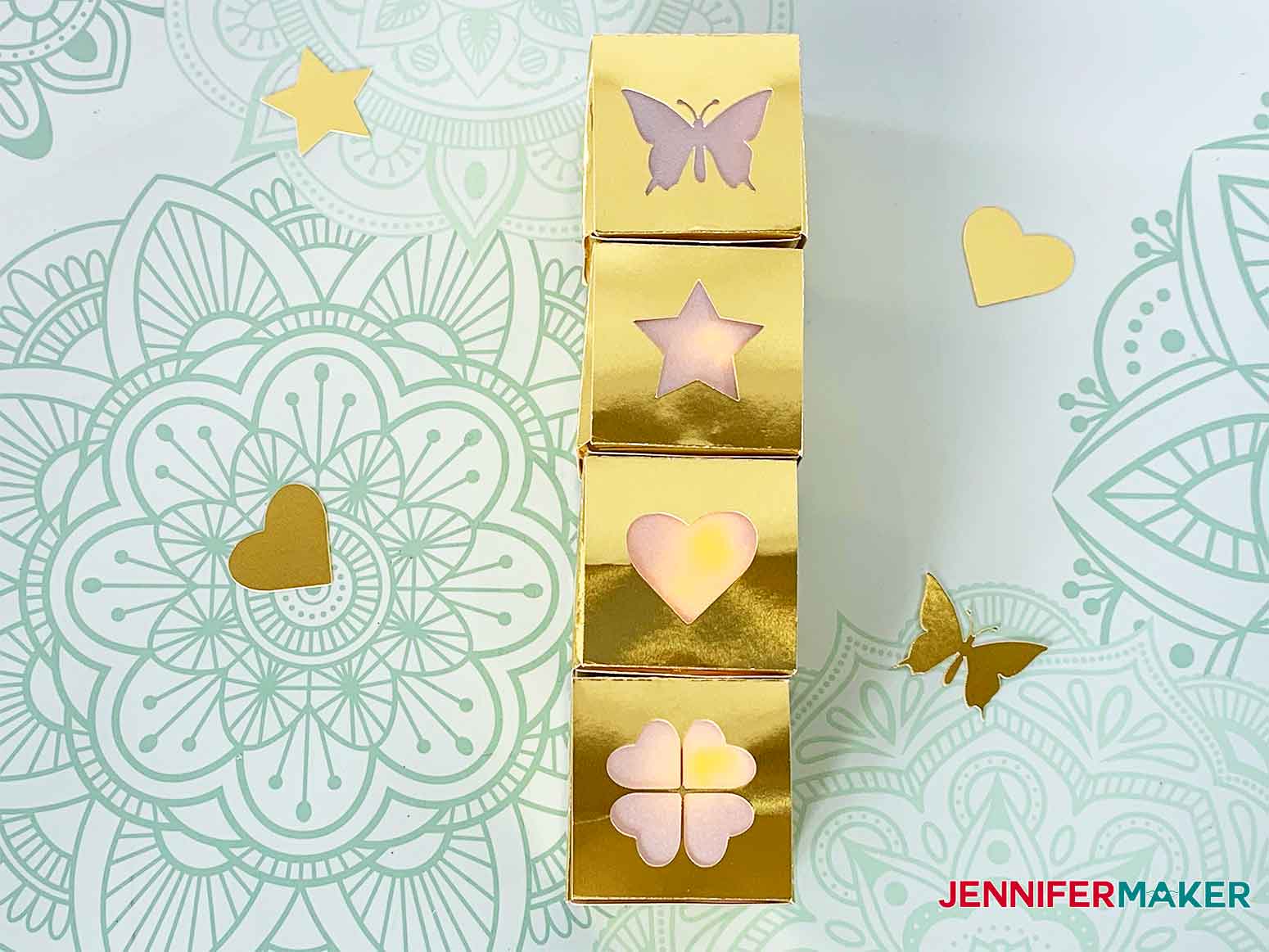 These light up letter blocks can be used anywhere around the house as a nice home decor element, placed in a window...and they also make a great gift!
SVG DIMENSIONS IN DESIGN SPACE
Decorative Letter Blocks: 6" w x 8.217" h

Inserts: 1.55" w x 1.55" h

Complete Design before ungrouping: 24.725" w x 10.431" h

Font: Adorn Smooth Serif from FontBundles

SIZE OF FINISHED PROJECT AS SHOWN

Each light up letter block measures 2"x2", and can be displayed in various combinations: side by side, stacked or side by side & stacked (see photos)
Notes
ACKNOWLEDGMENTS
Special thanks to the JenniferMaker Design Fairy team, specifically design fairy Debbie, for helping me design and assemble this beautiful set of HOPE Light Up Letter Blocks.
Get my free SVG files to make your own Light Up Letter Blocks
I'd love to see your Light Up Letter Blocks and how you use them! Please share a photo in our Facebook group or tag me on social media with #jennifermaker.
Love,