Create your very own personalized wine glasses with vinyl to make the perfect gift!
These personalized wine glasses are perfect to give as gifts, party favors or just for fun! Add a nice bottle of wine, some fun bev naps, and some cheese and crackers to a cute basket and you have a great hostess gift for any special occasion or holiday get together! You can also drop in battery operated tea lights and use custom wine glasses to decorate your home for the holidays or dress up your table for Christmas dinner. There are so many possibilities with a versatile project like these DIY personalized wine glasses!
Watch my full step-by-step tutorial video to make these easy personalized wine glasses from start to finish!
You are welcome to personalize these wine glasses however you'd like. You can add your guests names, use different color to match your holiday parties and decor, create sets to give out for Christmas presents, uand so much more!
I teach you how to design your wine glasses, use glyphs to get fancy letters, layer your vinyl the EASIEST way, and keep your vinyl straight on your wine glass!
I will also be showing you a technique I use to add vinyl to a curved surface like this because I know that is something many struggle with.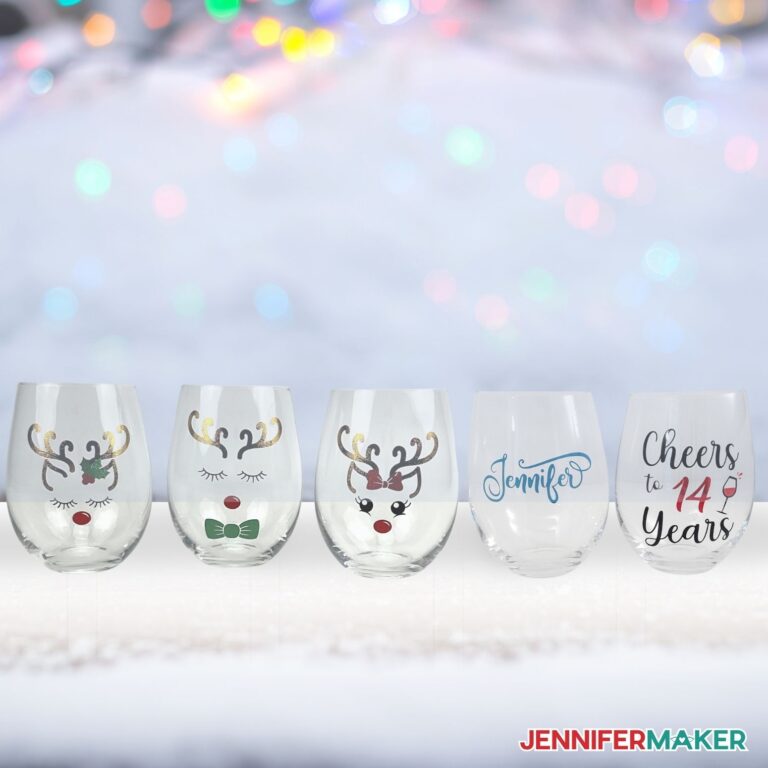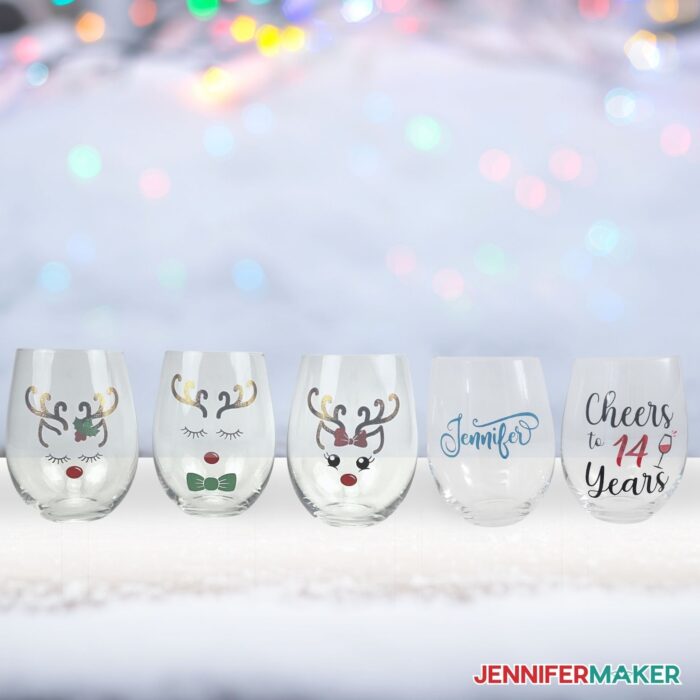 For this project we will need some wine glasses! You can either use ones that you have in your kitchen, or you can purchase new ones. I'm using these 20 ounce stemless wine glasses I found on Amazon, but you can find these anywhere and really use any size! We'll also need some vinyl and transfer tape and rubbing alcohol to clean the glass to make sure the vinyl will stick!
I will be using my Cricut Maker 3 for this project, but you can make these on any Cricut cutting machine, including the Joy! Of course we will need a mat, scraper and weeding tool.
As you can see, you really don't need lots of supplies to create these cute personalized wine glasses and they also don't take very much time at all. Just look at how beautiful these turned out!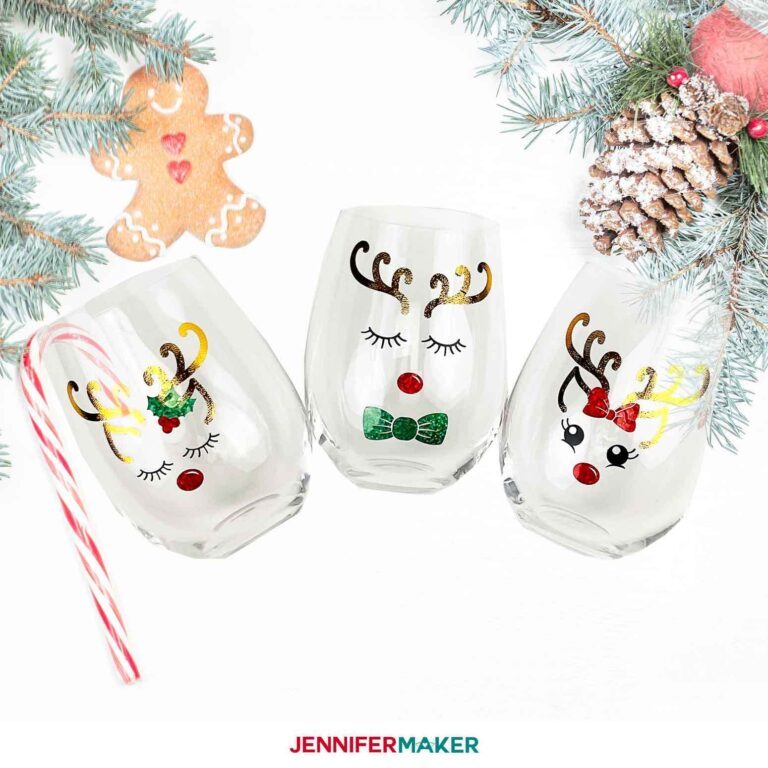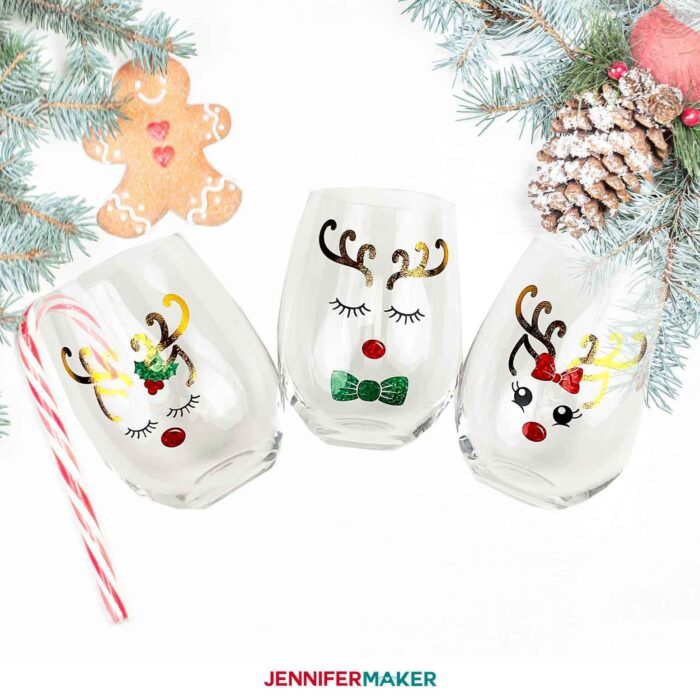 These make perfect holiday gifts for friends and family and they can also be used as a display piece to wow your holiday guests. Just pop in a battery operated tea light to the reindeer designs and let the fun begin!
Keep in mind, these glasses are handwash only. Don't put them in the dishwasher or the vinyl will peel or melt off and we definitely don't want that.
Also, I do not recommend sealing these with Mod Podge. It leaves streaks and can make the glass look cloudy and that's not the look we are going for with this project. We want these glasses looking sleek and polished like we bought them from the store like this!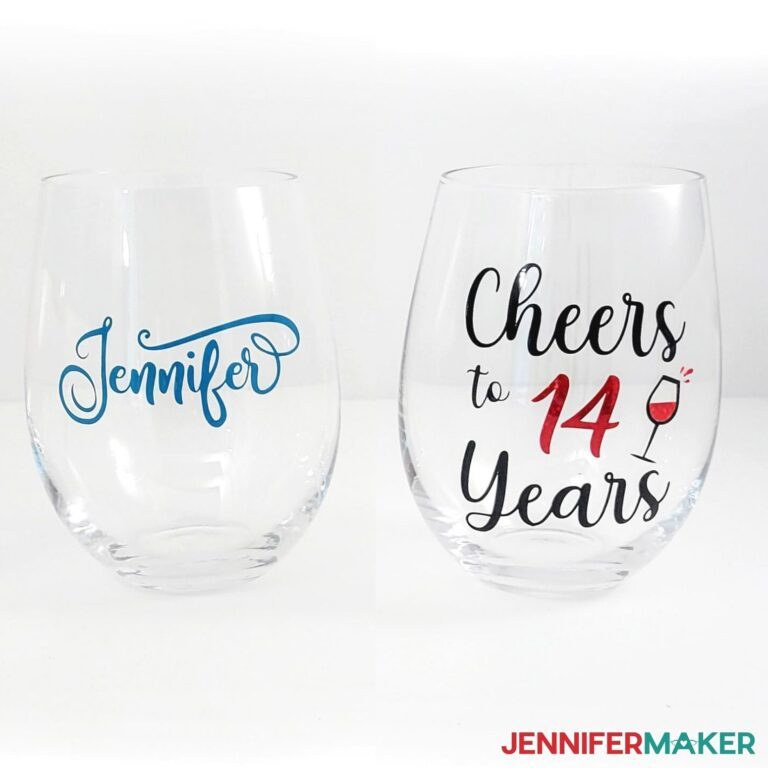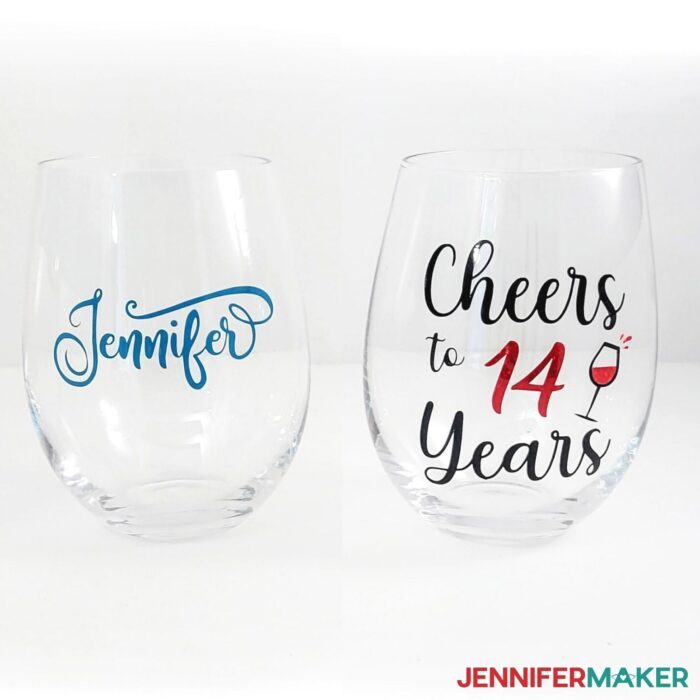 Pair these personalized wine glasses with a bottle of wine and one of our personalized wine bag patterns to easily create great gifts for your group of friends!
I can't wait to see all your amazing wine glasses with your own design!
Let me show you how easy it is to make this beautiful personalized wine glasses with my free design templates! This post contains some affiliate links for your convenience (which means if you make a purchase after clicking a link I will earn a small commission but it won't cost you a penny more)! Read my full disclosure policy.
How to Make Your Own Personalized Wine Glasses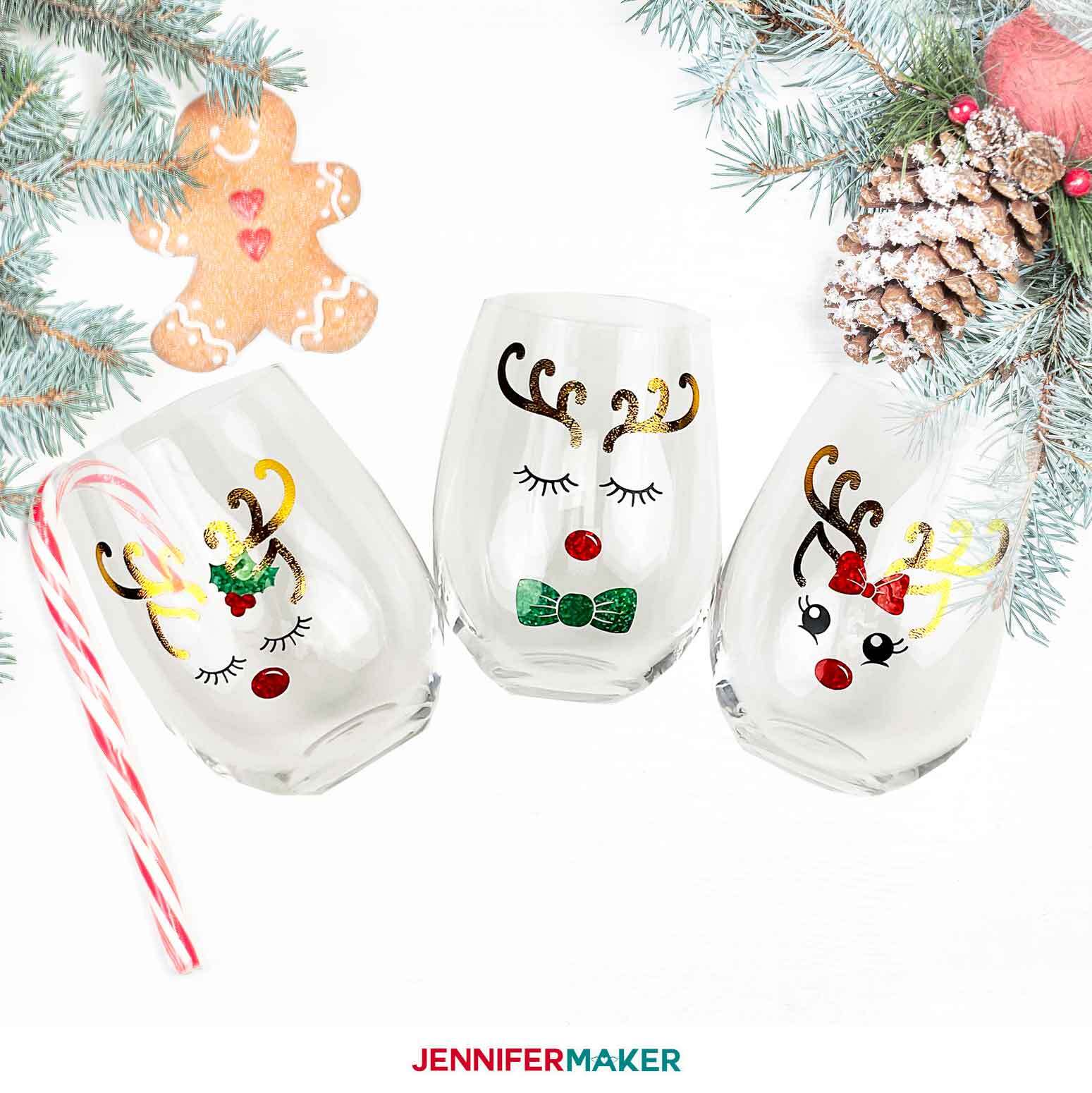 Personalized Wine Glasses
Yield: 1 Wine Glass

Prep Time: 2 minutes

Active Time: 30 minutes

Total Time: 32 minutes

Difficulty: Easy

Estimated Cost: $5 each

Create your very own personalized Wine Glasses, that make great holiday gifts!

Answers to Your Questions About How to Make Personalized Wine Glasses
Q: Are these personalized wine glasses dishwasher safe?
No, these are handwash only. If put in the dishwasher you risk the vinyl peeling or melting.
Q: Can I seal these wine glasses with Mod Podge?
I would not recommend using Mod Podge to seal the wine glasses as it will leave streaks and make the glass look cloudy. We don't want that!
Q: I can't get my wine glass to stay put as I apply the vinyl. Do you have any tips?
I actually have a tip for that! Set your wine glass in a roll of painter's tape to keep it from moving around while you are applying the designs. You can see me do this in the tutorial video!
Q: Are these decals permanent designs?
Yes, so long as you hand wash them, the vinyl will stay on permanently or at least for a very long time.
Get my free SVG files to create beautiful personalized wine glasses
I love seeing what you make with my designs and how you use them! Please share a photo of your personalized wine glasses in our Facebook group or tag me on social media with #jennifermaker.
Love,