Ribbon storage can be tricky, but there are many creative DIY storage solutions to bring calm to your chaos! Check out these ribbon storage organizers, racks, boxes, and container solutions for your craft room.
I love ribbon. It's so pretty and colorful and delicious. But after you've collected a few spools of ribbon, you end up with either a messy pile or a box that you can't find anything in. DIY ribbon storage to the rescue!
There are a lot of ways you can organize your ribbon, but my favorite way is to display the ribbons. That way you get to enjoy the ribbon even before you use it. I created a DIY ribbon organizer frame to put up on my large framed pegboard that I just adore.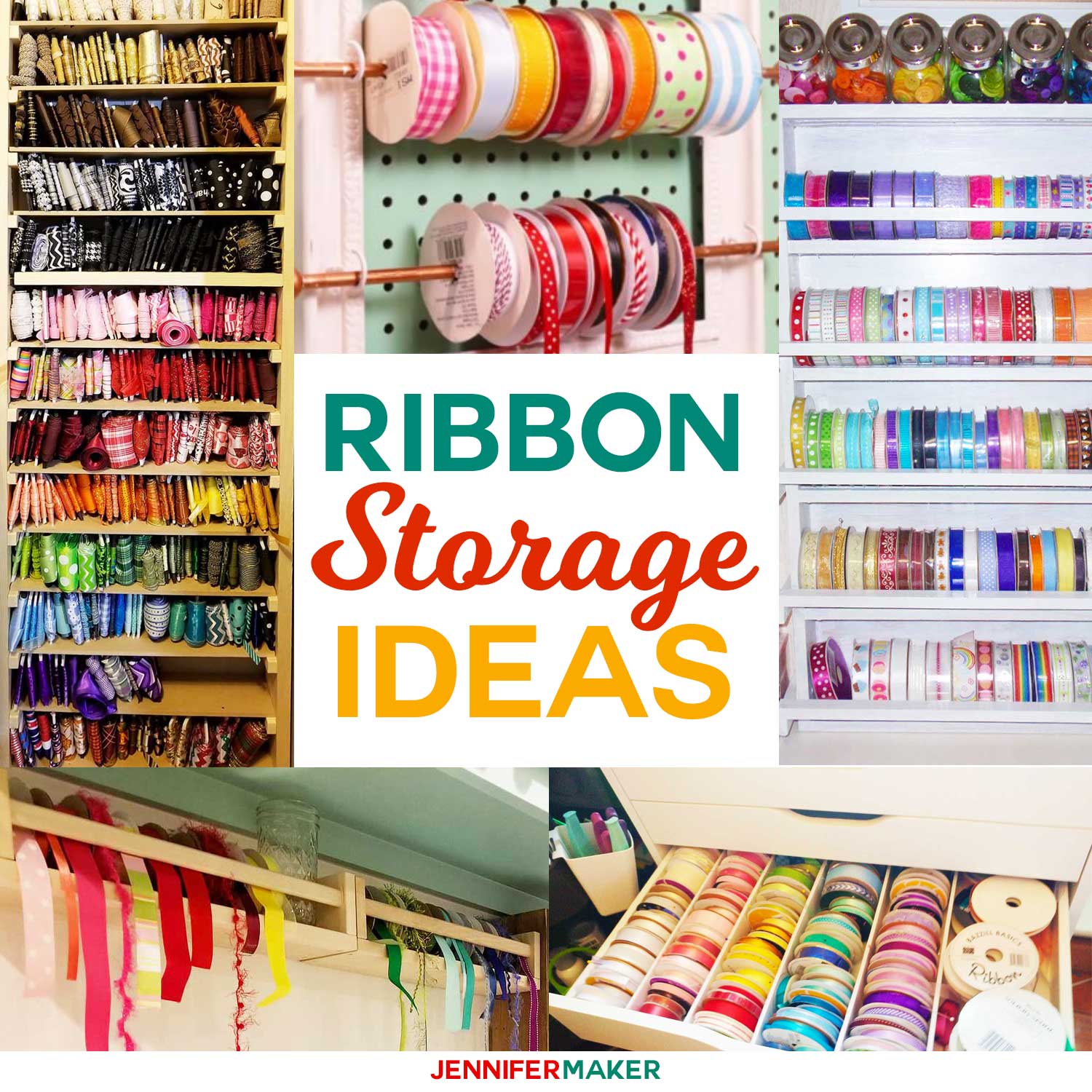 But if you prefer a cleaner look, you can also organize your craft ribbon spools in boxes and containers, too. There are a LOT of create ideas for ribbon storage in this post. In fact, most of the ideas here are from the wonderfully creative women in my Craft Room Organization Facebook group. This group is bursting with ideas and solutions — come join us!
So let's look at the amazing and creative ways you can store your ribbon spools. This post contains some affiliate links for your convenience (which means if you make a purchase after clicking a link I will earn a small commission but it won't cost you a penny more)! Read my full disclosure policy.
Ribbon Storage Organizers and Rack Ideas
Here's how I am currently storage my craft ribbon — on a pretty frame on my pegboard! You can get a tutorial on how to make this frame (or one like it) at DIY Ribbon Organizer Frame: Pretty and Functional.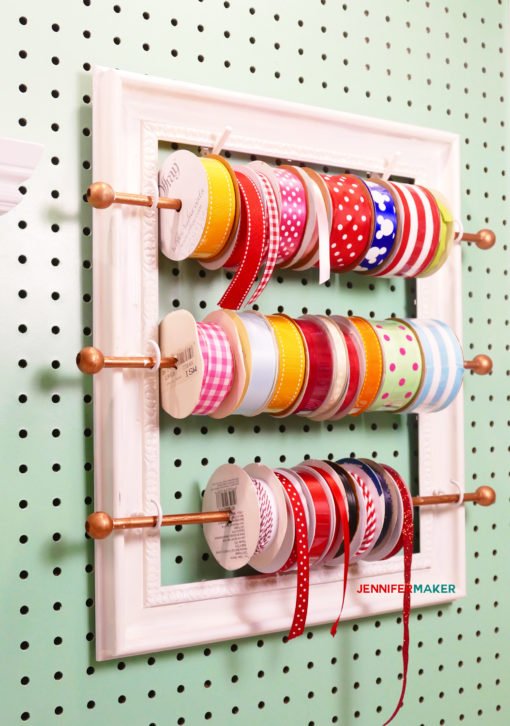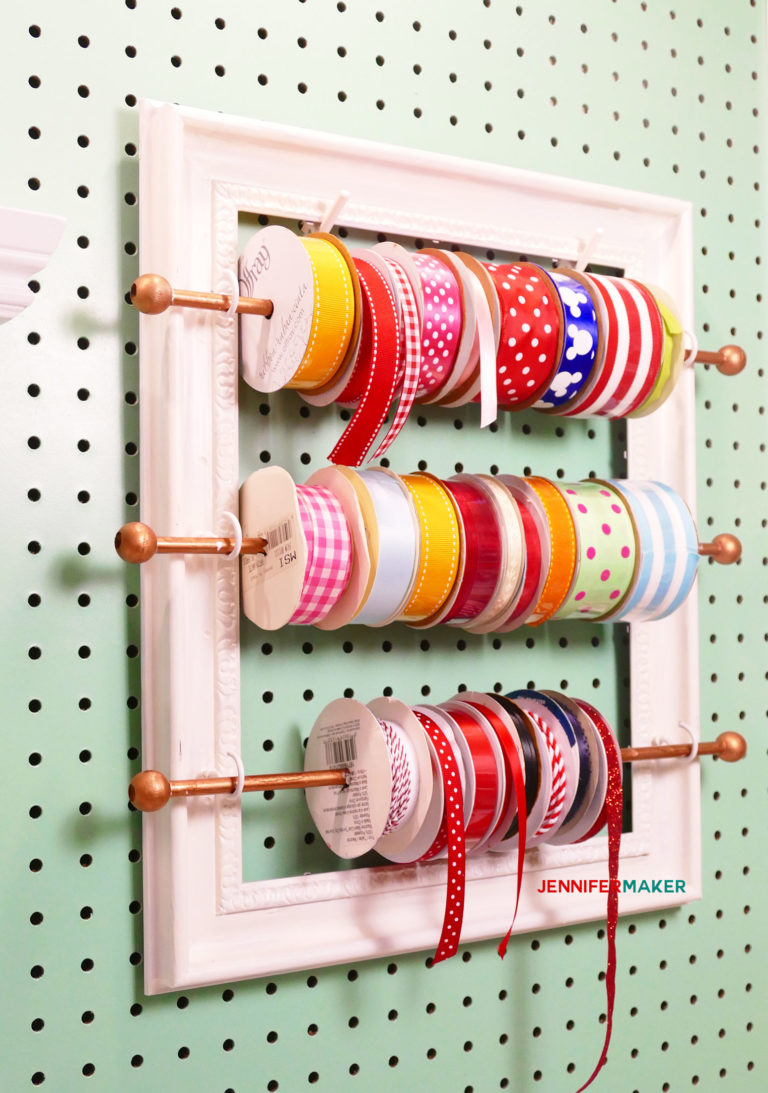 Reader Stephanie Cameron made a ribbon storage wall/pegboard combination! She got the shelves from IKEA (they are Mosslanda picture ledges) and put them on her pegboard with hooks (see photos below).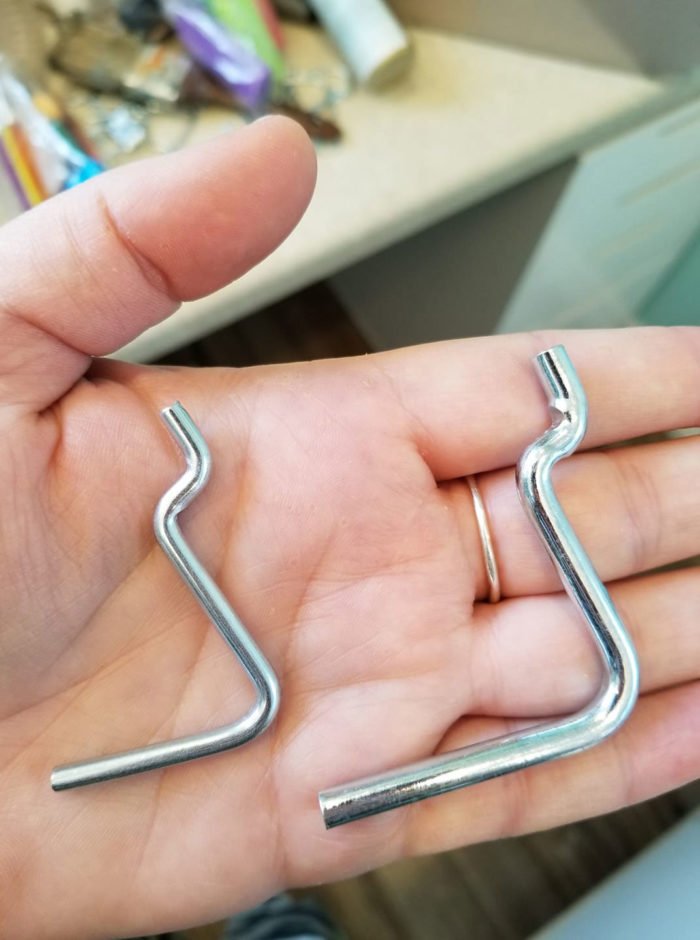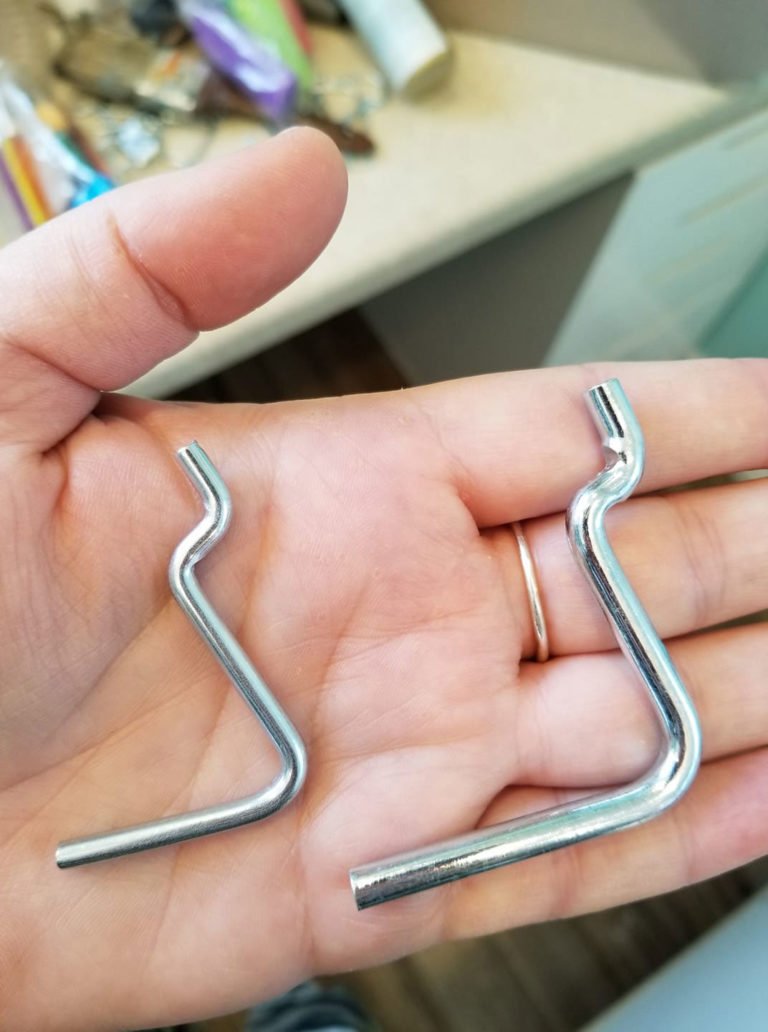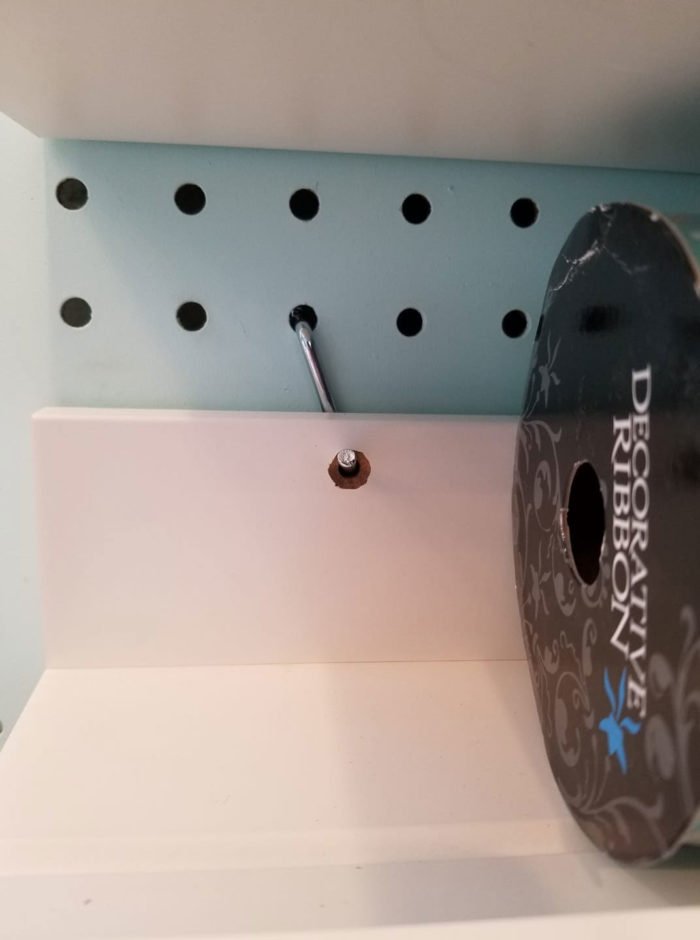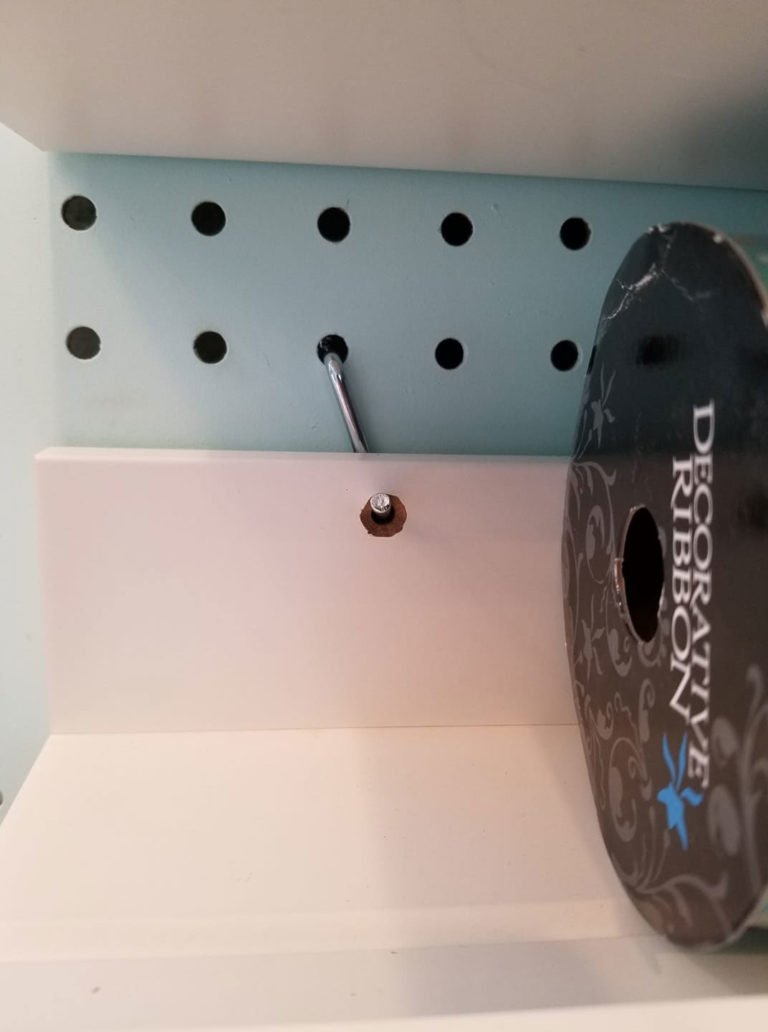 Here's another great idea for organizing your ribbon — spice racks! Reader Elizabeth Abbot got these spice racks from IKEA and they hold her ribbon spools perfectly. I love how they keep the tail end of the ribbon neatly organized, too!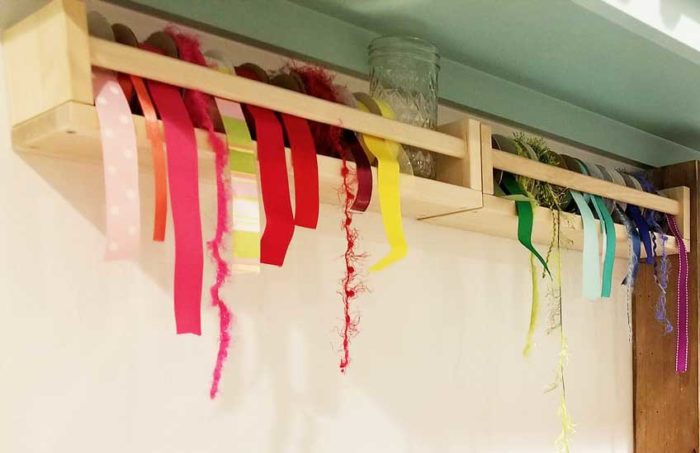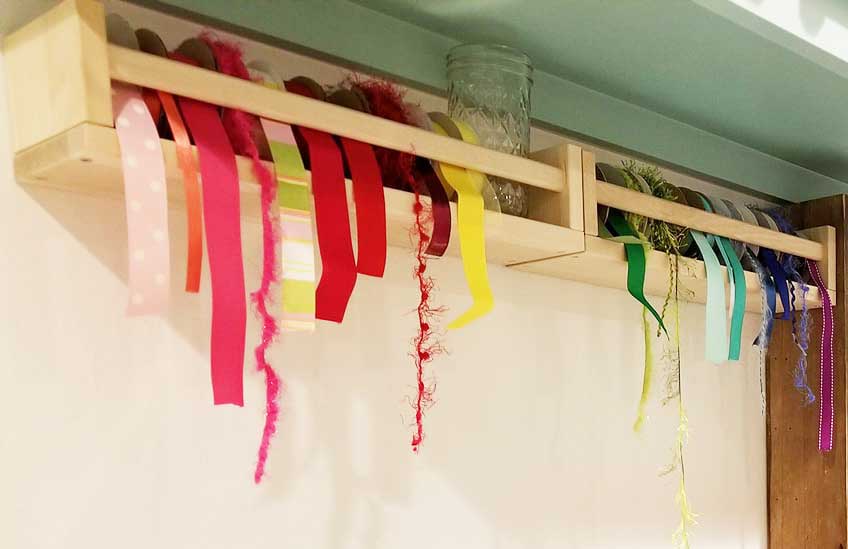 You can also repurpose old things for your ribbon storage. Reader Silvia Cantu's husband upcycled an old cassette storage rack to hold lots of craft ribbon spools. You might have one of these in your attic/basement, or they might be found at thrift shops.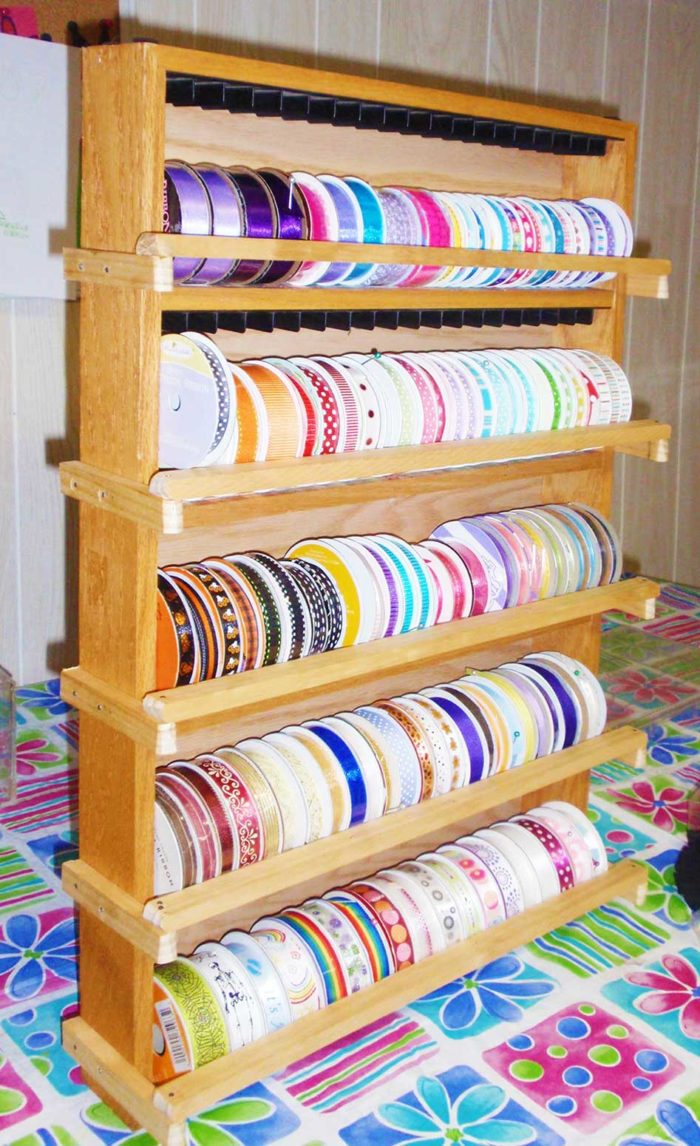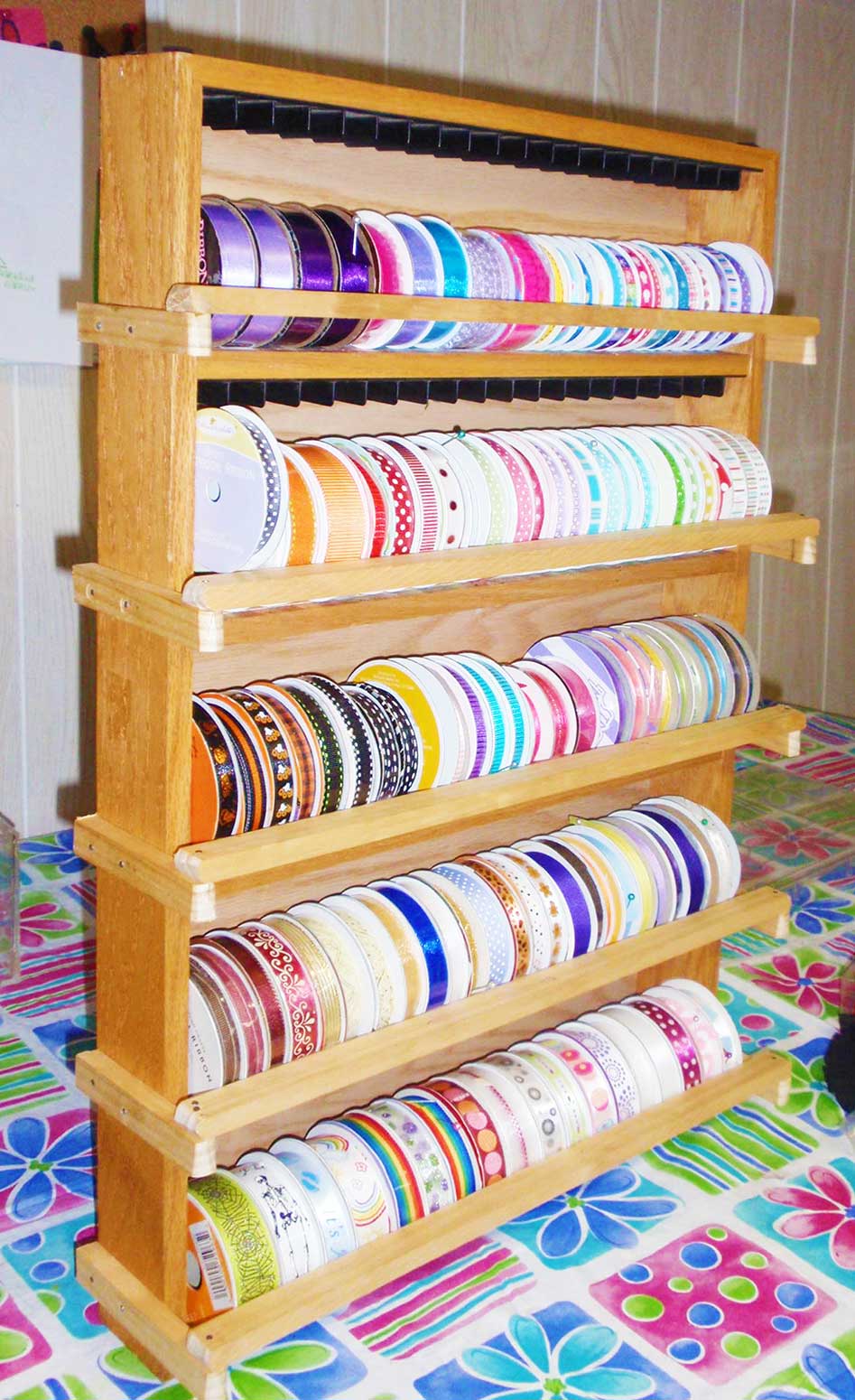 But it gets even better, because she PAINTED it to match her craft room. Amazing what a little white paint can do, eh? I love how cheerful and organized this rack looks now.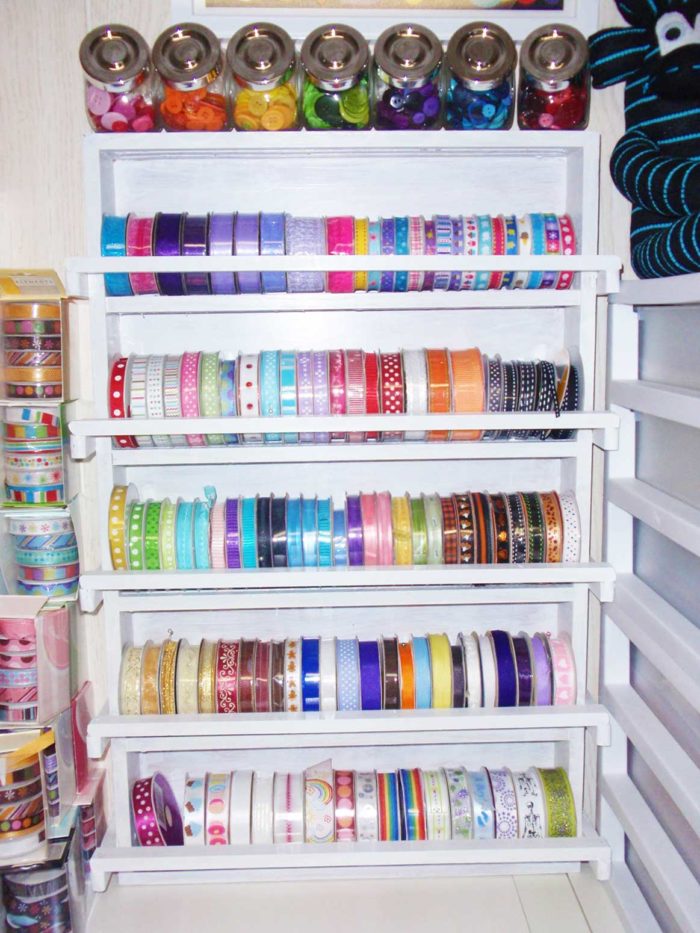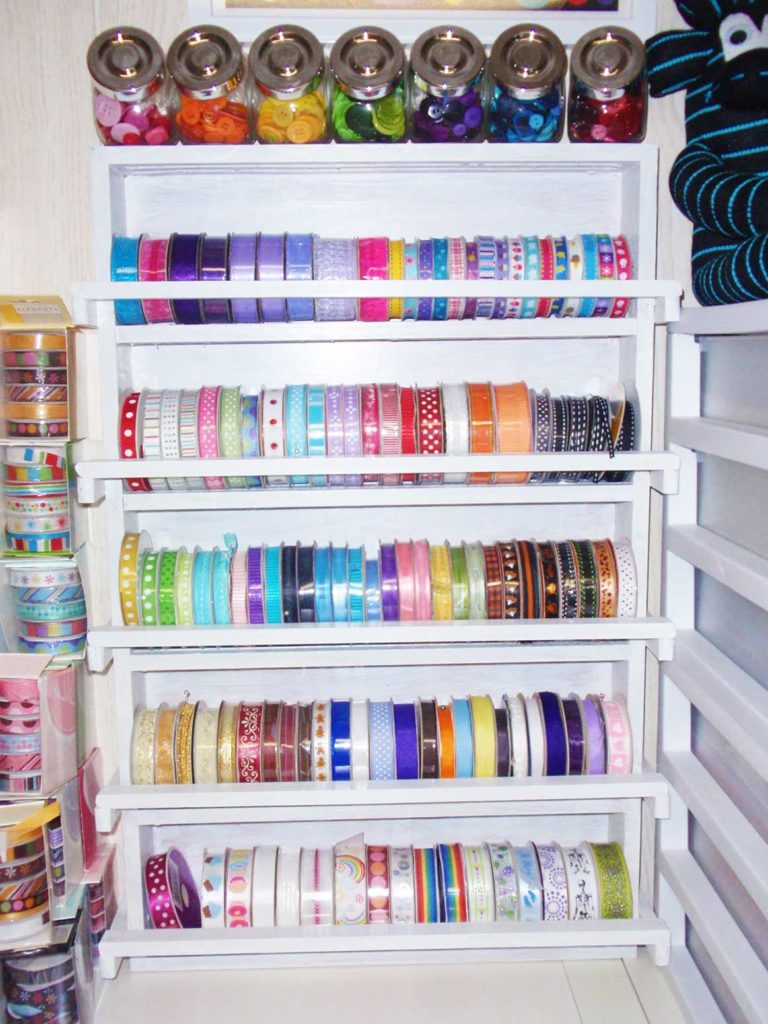 Can't find something to repurpose? Why not build your own, as reader Cyndi Oberlin did. She says, "I built my own ribbon rack after finding this on a Pinterest idea. First thing I ever built with hammer and nails. I really love it. Home Depot or Lowe's will cut everything for you."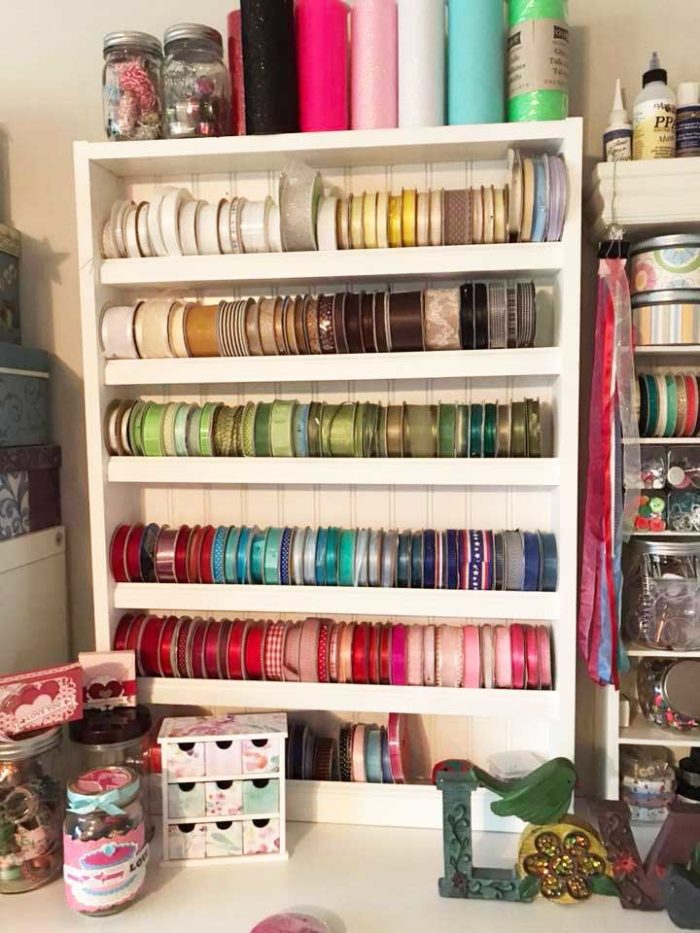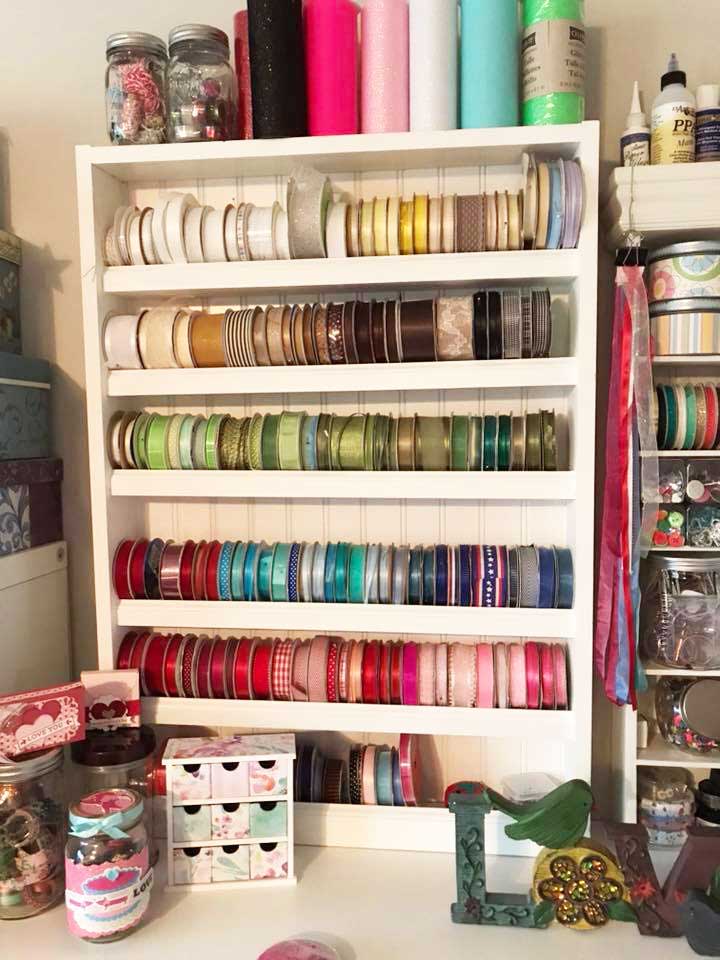 Reader Tracy Gooch made an even fancier version of this ribbon storage rack! This version has fancy moulding on the front of the shelves for a really classy look.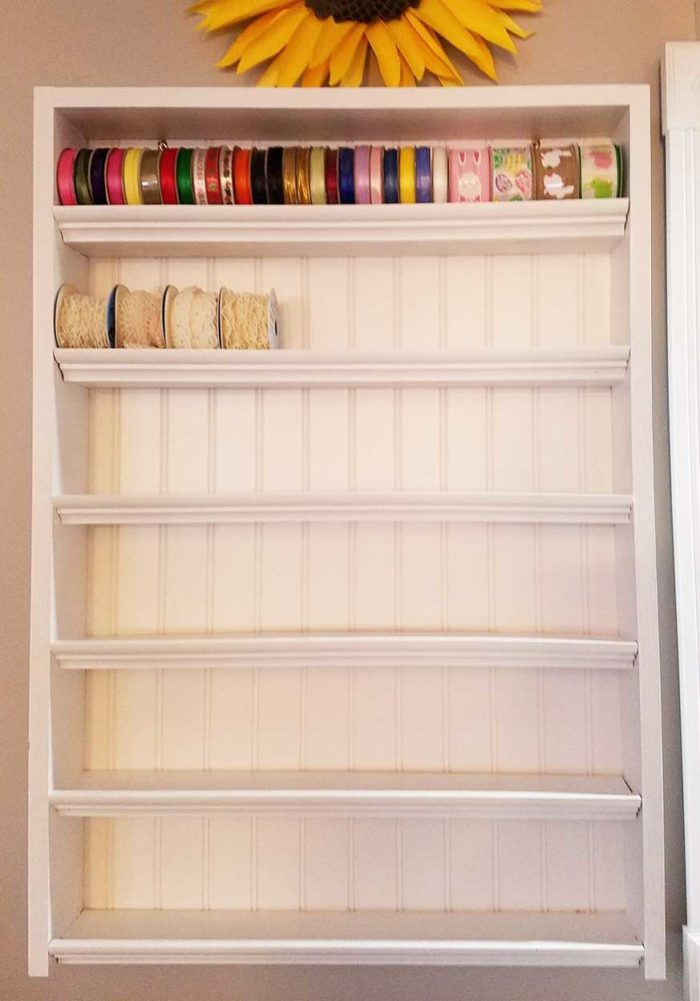 This DIY ribbon storage rack uses metal rods to keep the spools organized! Photo contributed by reader Karen Cobb.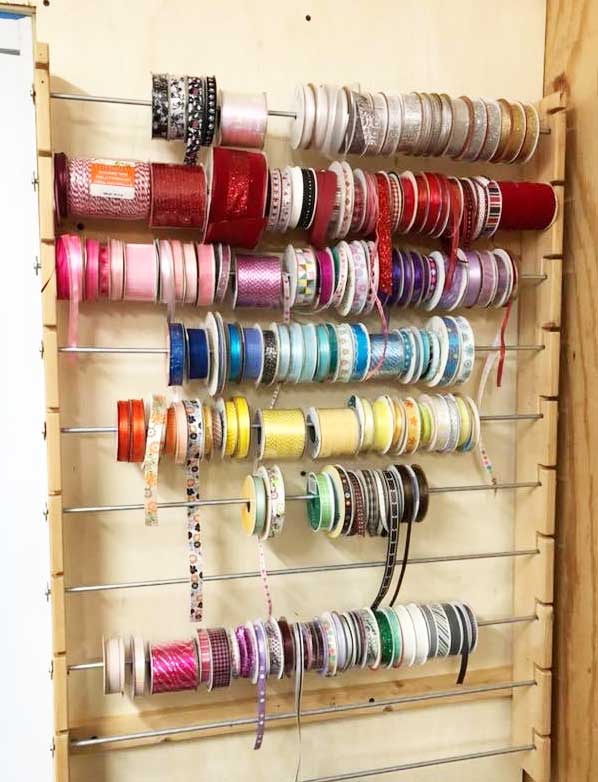 I love this DIY ribbon storage tower made by reader Pamela Perna — look at how much ribbon you can store here if you put it on cards!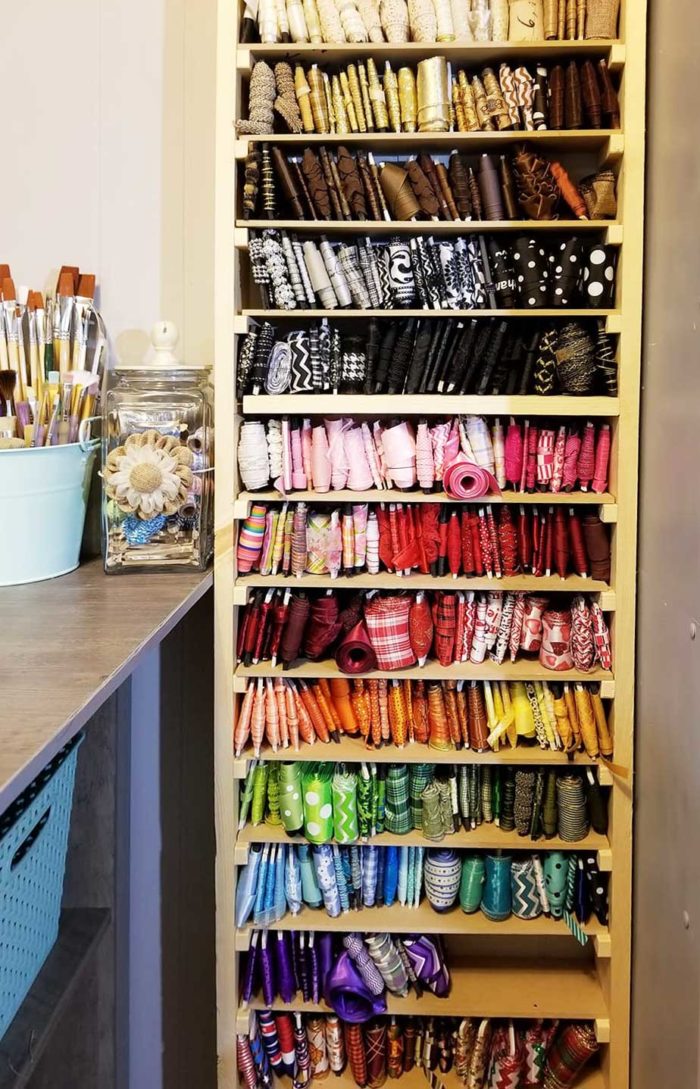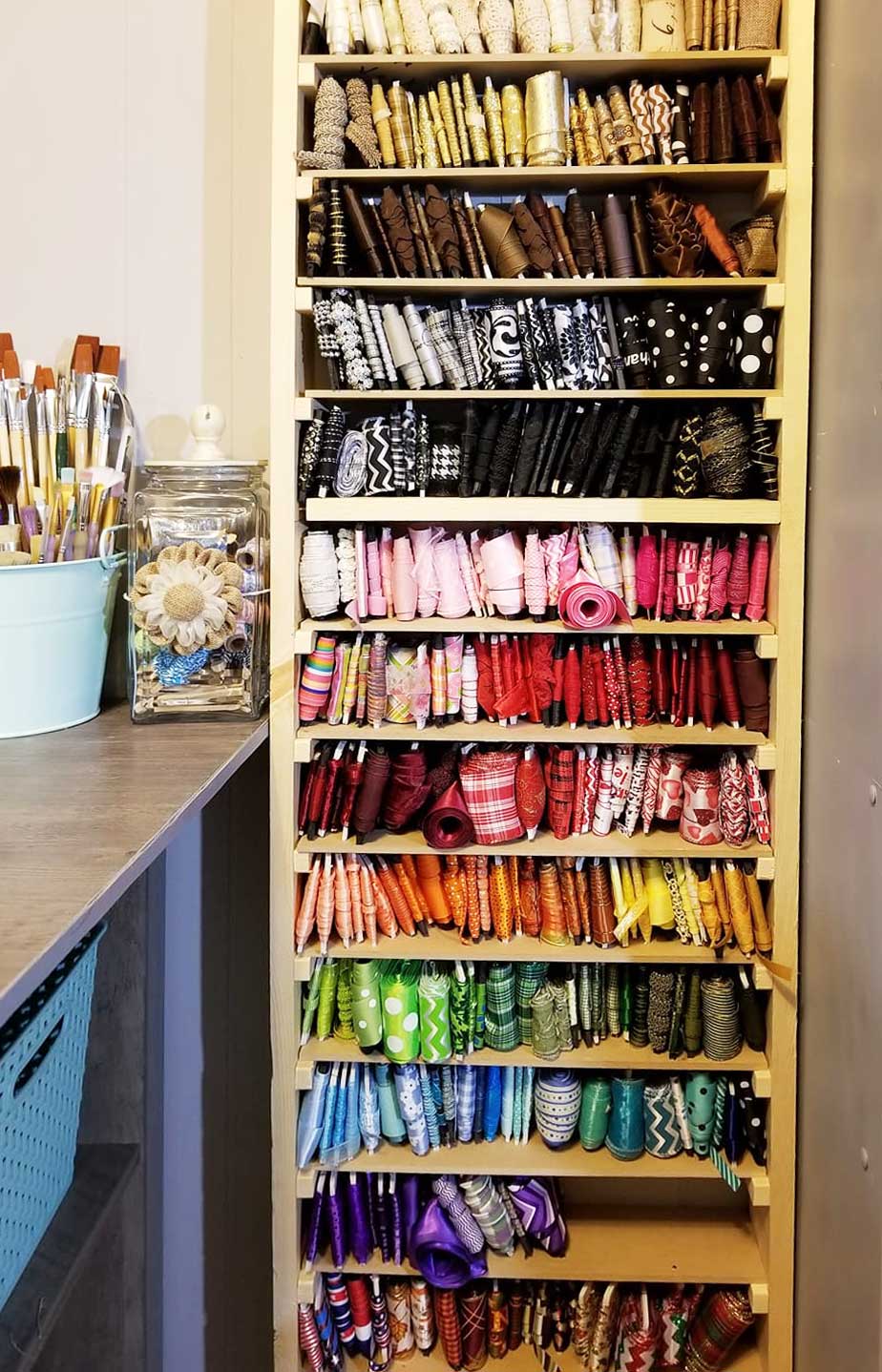 Check out this creative idea by reader Dawn Stitt — she's installed white rain gutters on her craft room wall to hold all of her ribbon spools! I love this idea. You can get white rain gutters at home improvement stores, and they really don't cost much. I myself repurposed rain gutters to make a gutter garden, though I haven't tried them in my craft room yet.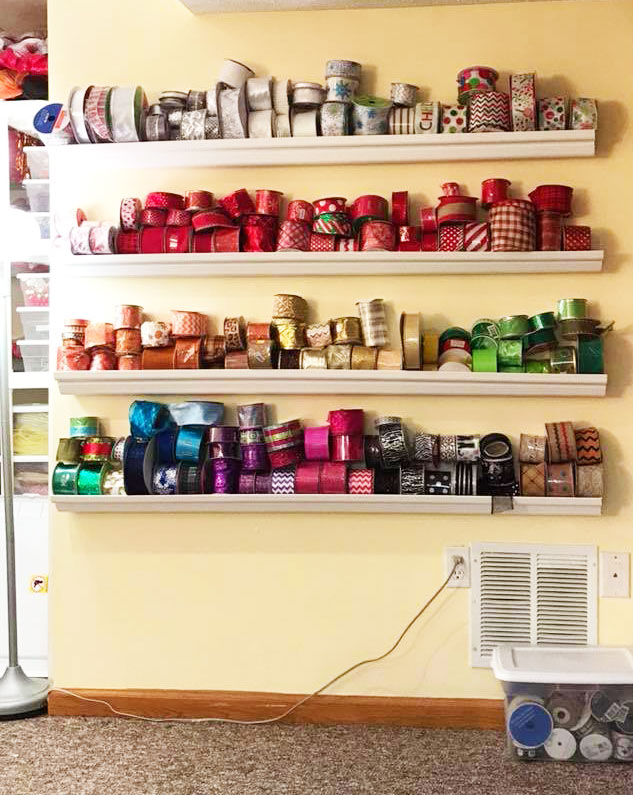 Here's another version of the gutter ribbon rack by reader Karen Zaccagnini. I agree that there are huge benefits to having your ribbon out where you can see it!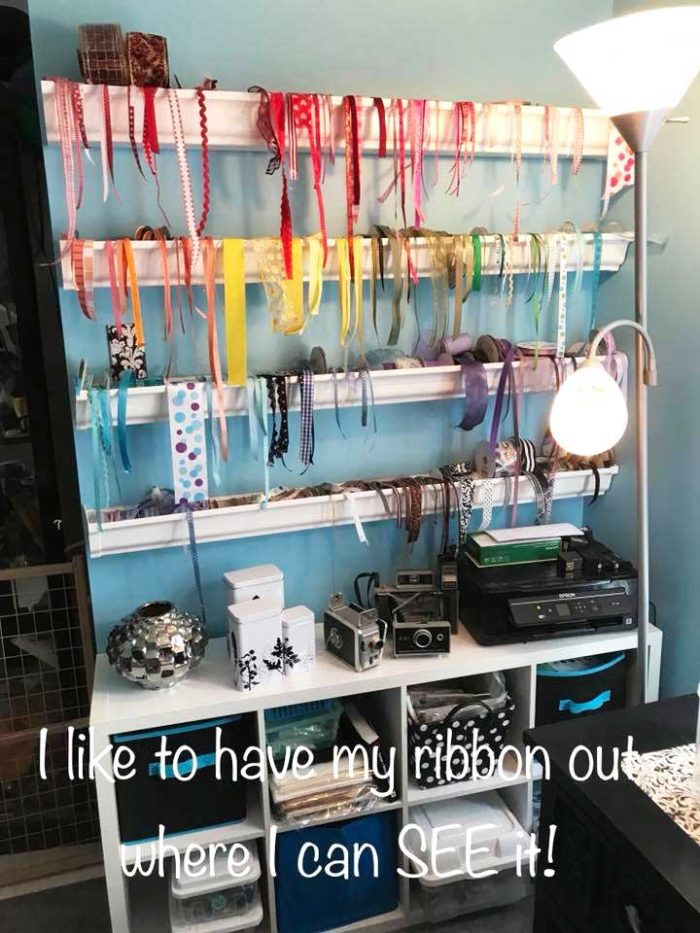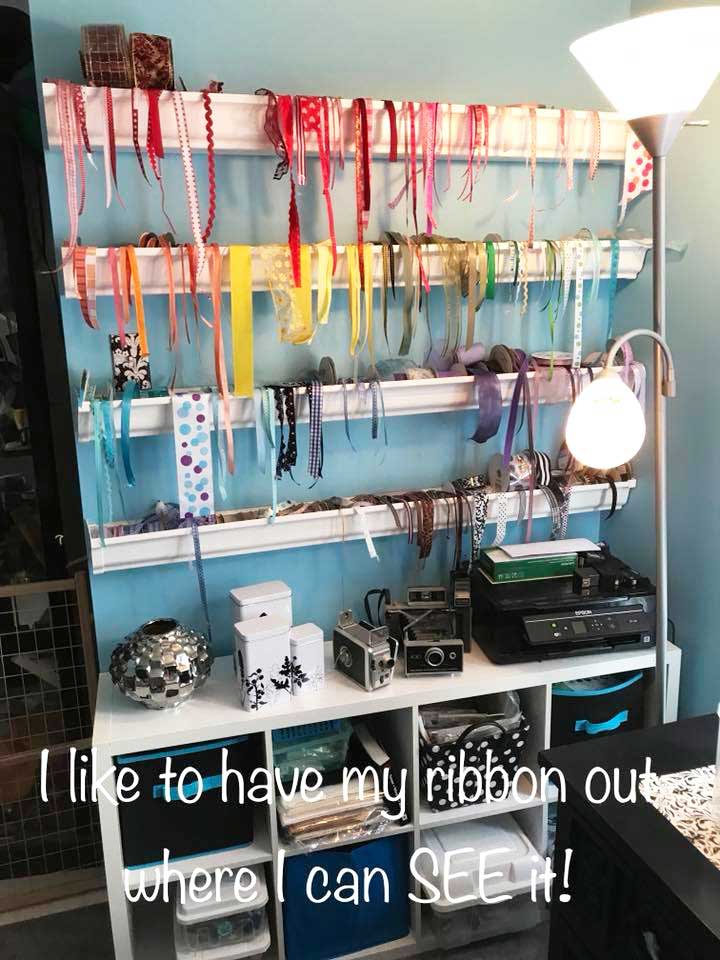 I love this idea for its simplicity — just put a dowel into a wood block and stack up your ribbon spools! Photo by reader Sophie Hyde.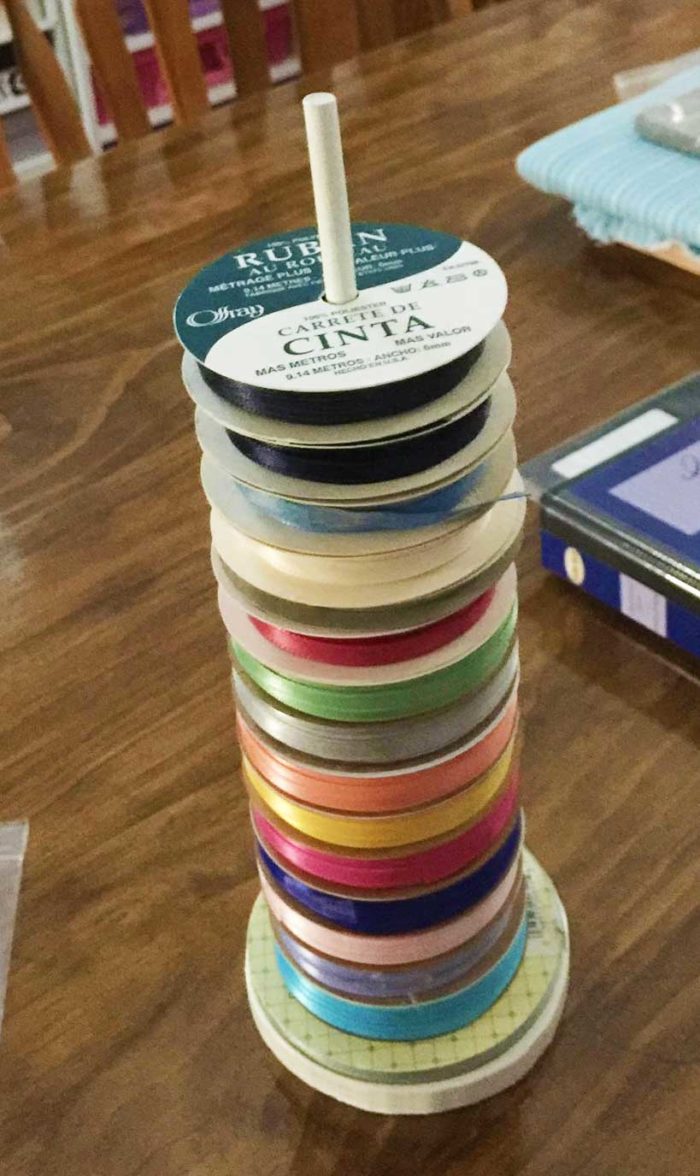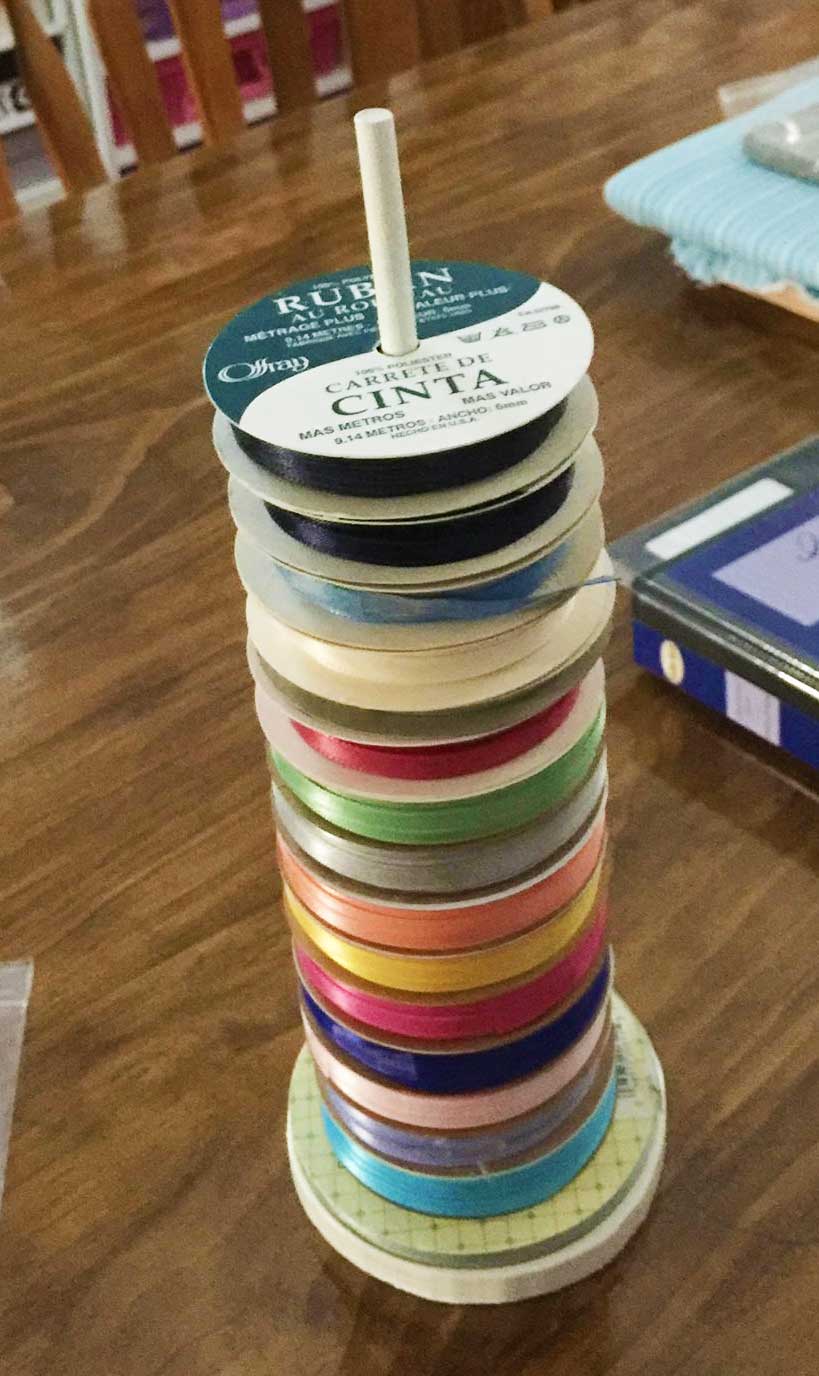 Ribbon Storage Drawer Ideas
You can also put your ribbon away into drawers, all neat and organized! Here are some of my readers' favorite ideas:
If you're tight on space, take your ribbon off their spools and wrap them around cardboard. Then you can file them in a drawer and see the ribbons at a glance! This wonderful idea is from reader Wendy Reis.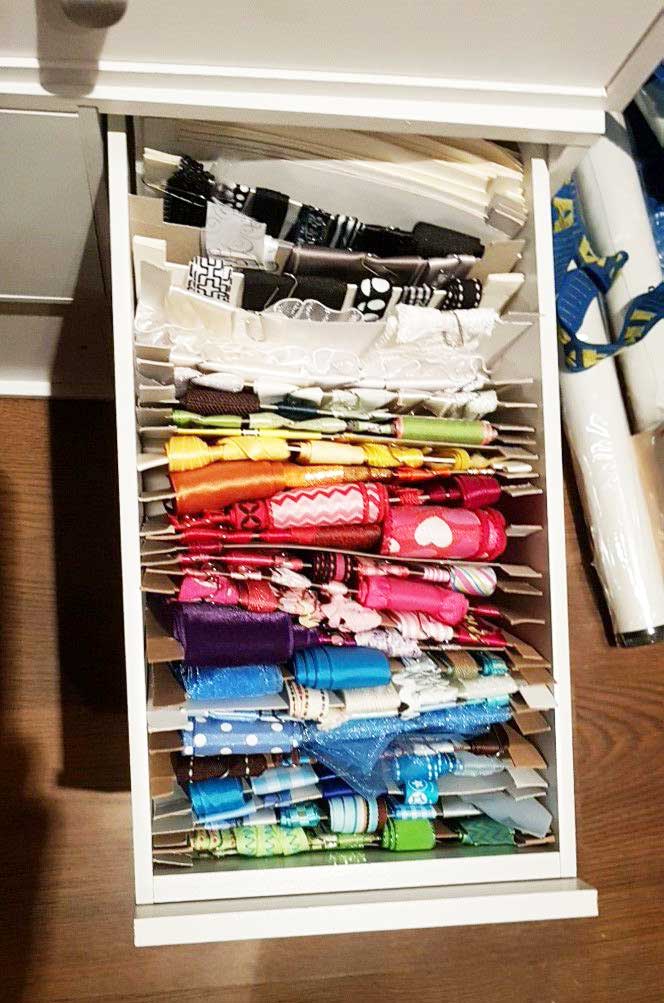 Reader Annette Schmidt created dividers for her IKEA Alex drawers to neatly fit her spools is little rows. She made the dividers with foam core and clear packing tape. Isn't this just SO organized?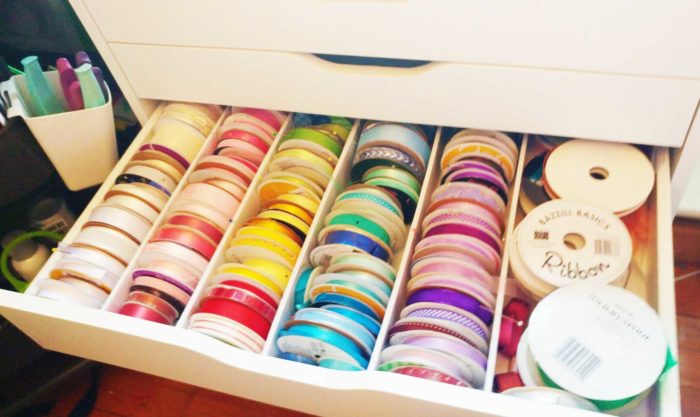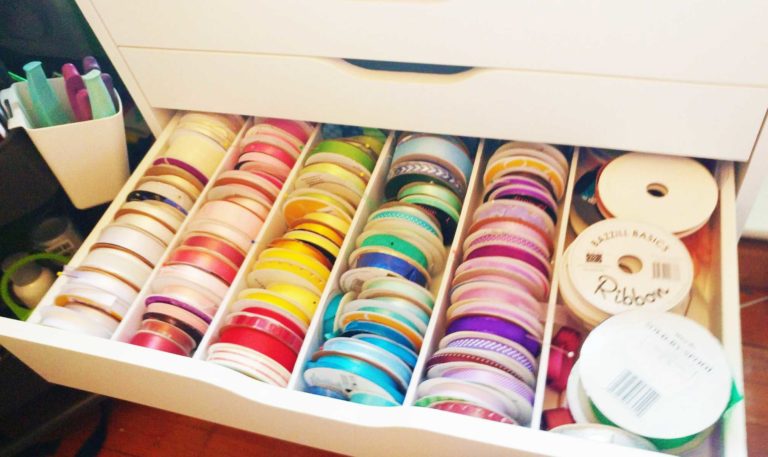 DIY Ribbon Storage Containers and Boxes
If your ribbon isn't on reels, you can sort and organize it by COLOR and put it into clear plastic organizers, like reader Kristin Stanzione did for her craft room.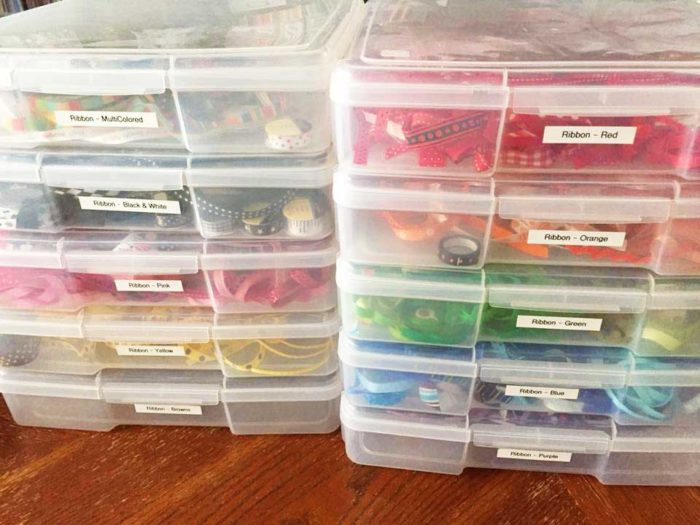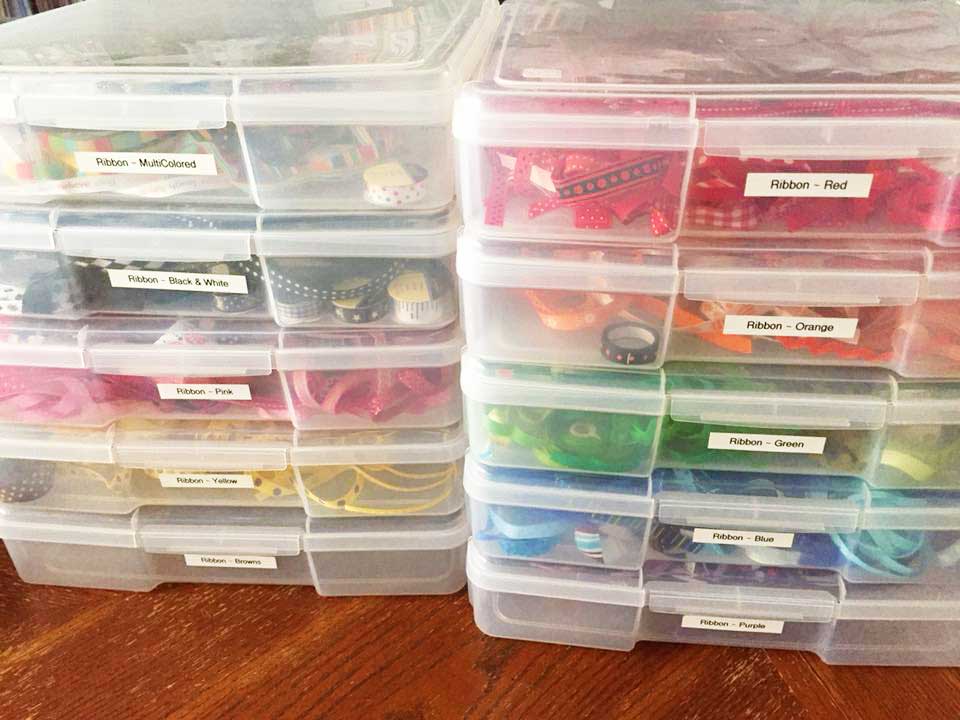 Here's another fantastic idea — put your ribbon on index cards! Reader Krystal Grant says, "I think I tried every method mentioned here, but (a) I collected way too much ribbon and (b) never took the right stuff to crops. So, I wrapped them around index cards folded in half and store them in Artbin satchels. Works GREAT."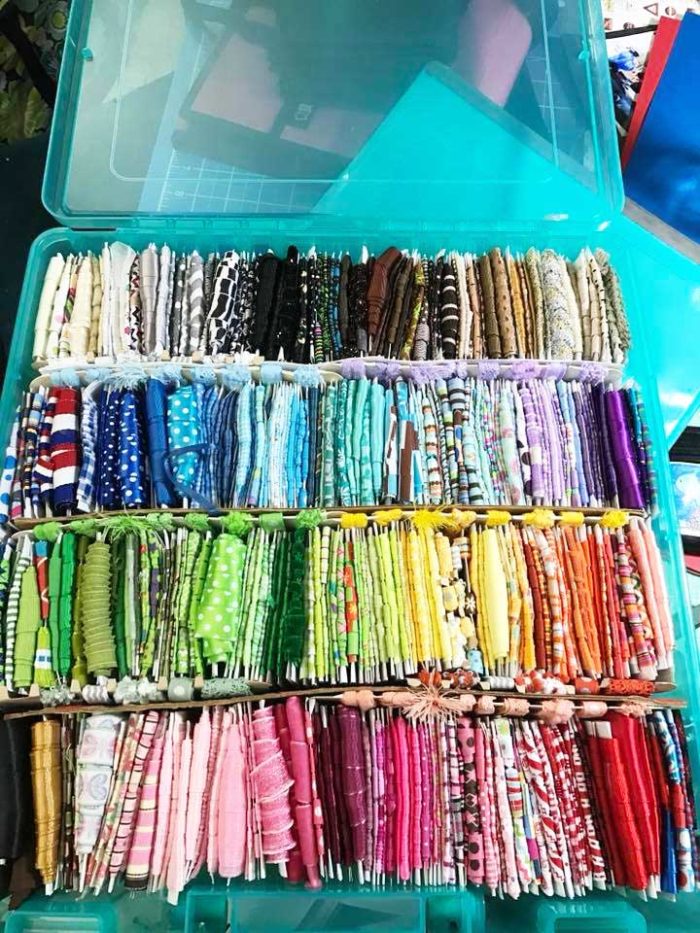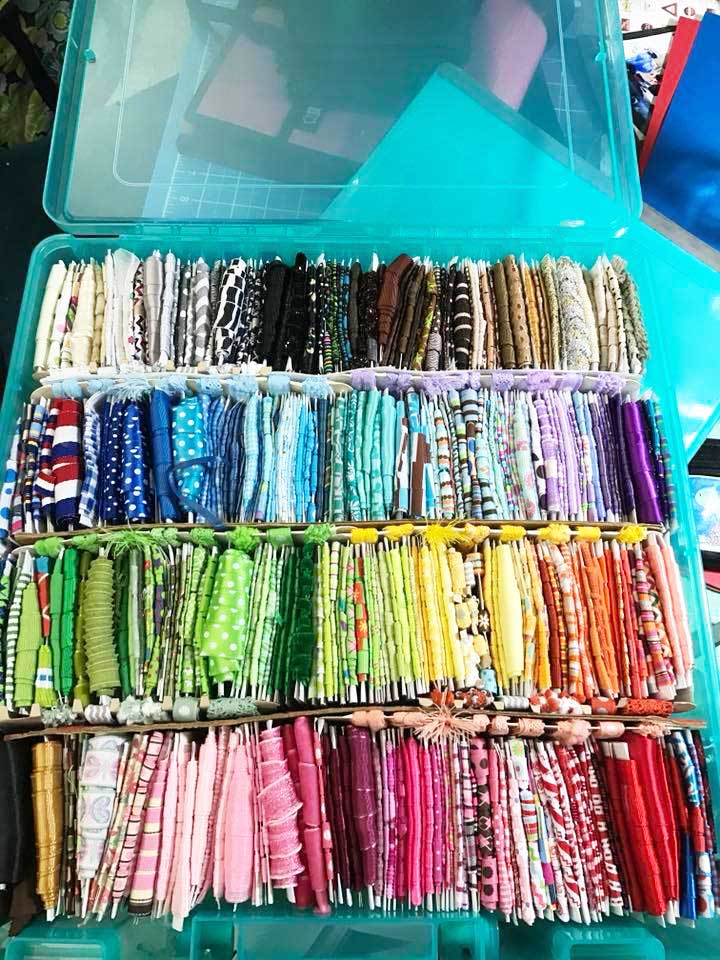 Reader Kristie Parker found some clear plastic organizers in the close organization section at Wal-Mart that work well. These trays hold quite a few rolls and they stack well on top of each other too!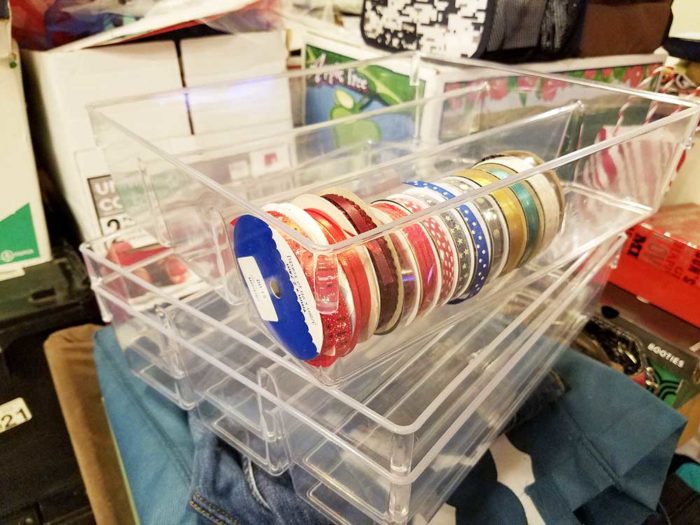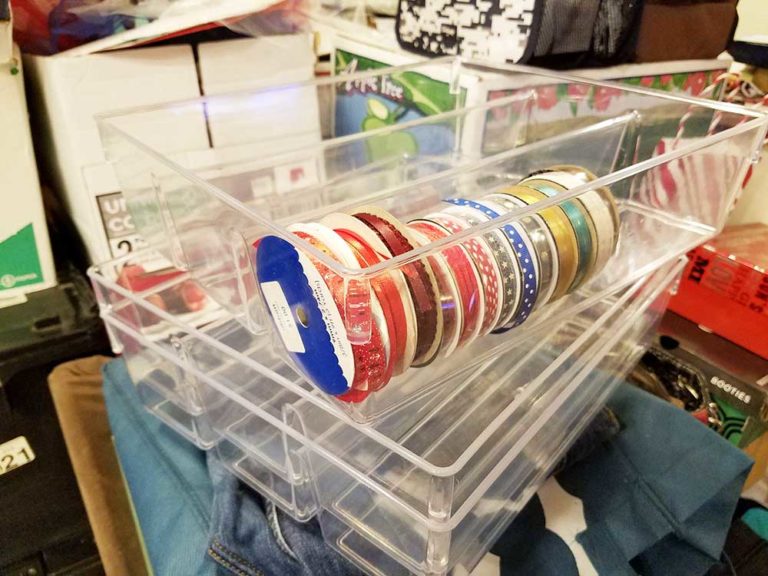 If you want to really sort your ribbon and keep it out of sight, why not put it in a binder? Reader Nancy Walker says, "I bought a ribbon spooler from amazon for $21 and rolled all my ribbons (automatically) into 2 inch lengths. Put tiny rubber bands around them. Then stored them in my ScrapRack according to color."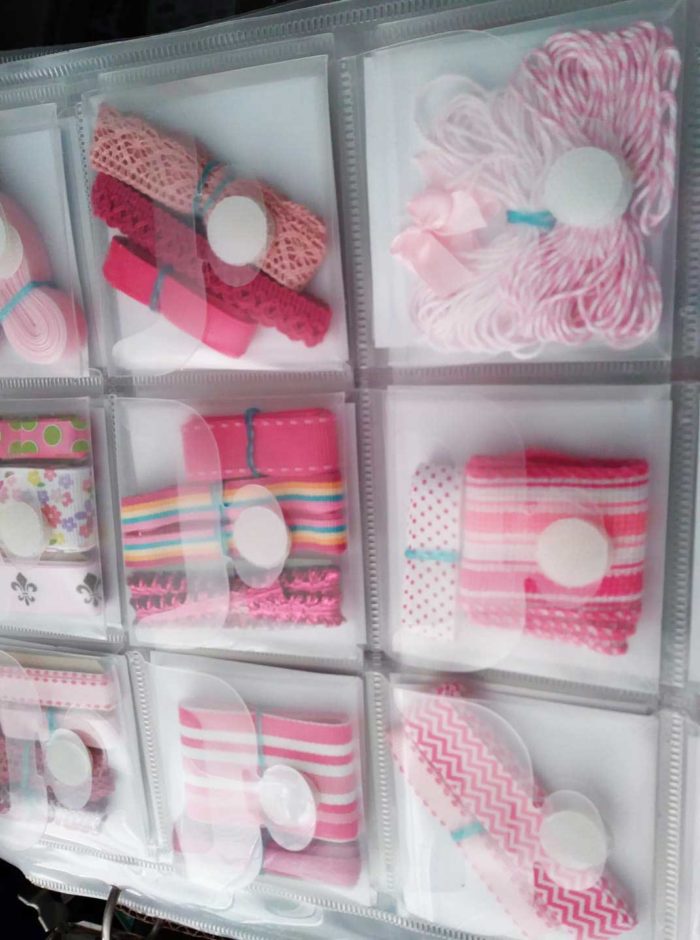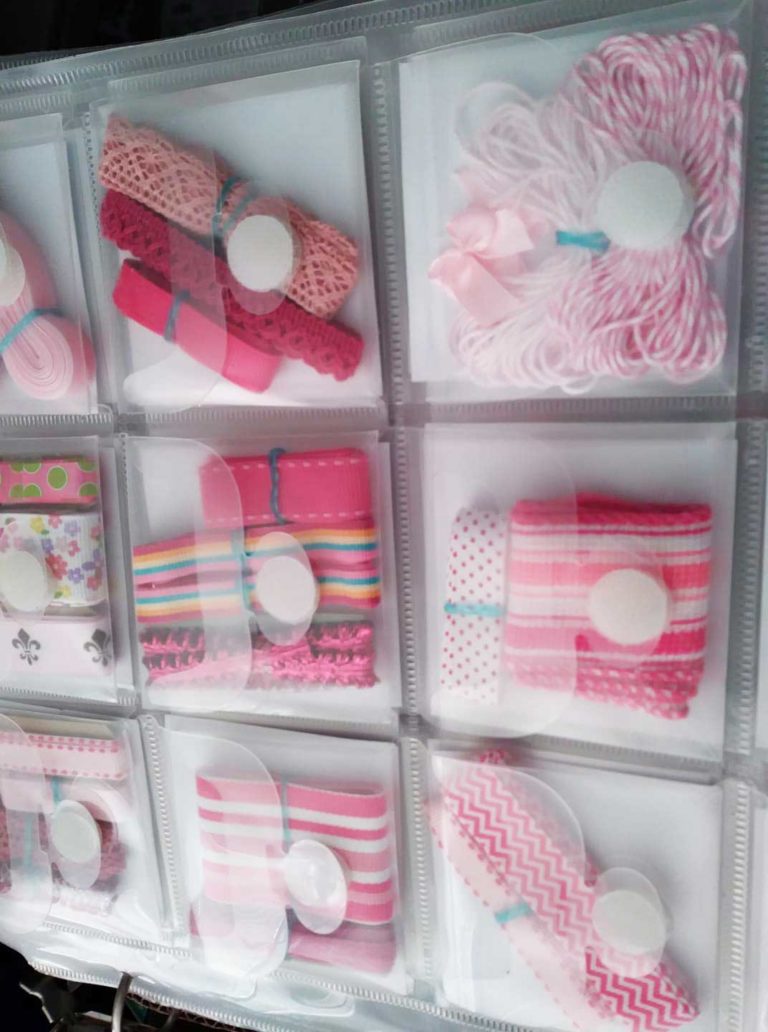 Or how about putting your ribbon in a box? Reader Nuria Vazquez put her ribbons ins a box with little holes for the ends to stick out!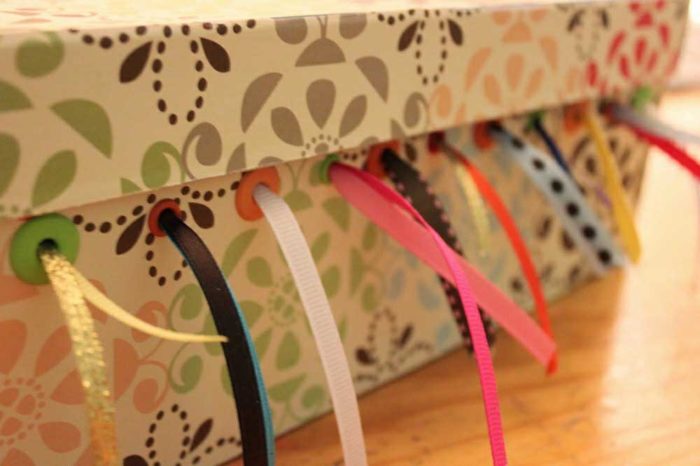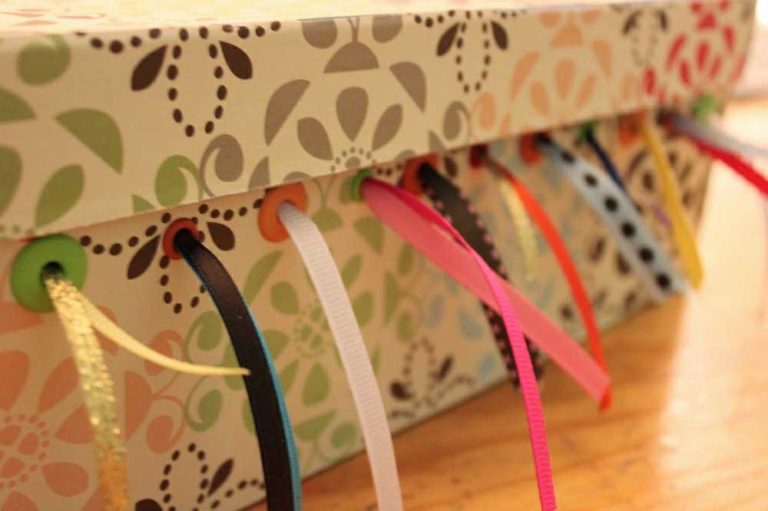 These are amazing DIY ribbon storage ideas!
If you have your own way to store ribbon, please share a photo of your solution! You can send it to [email protected] or tag me on social media with #jennifermaker.
Love,