Learn how to etch tumblers with Citristrip and custom stencils!
Custom tumblers are popular craft projects and I know you love them! Sublimation designs, vinyl decals, glitter tumblers–there are so many options we've tried! We've even etched stainless steel tumblers before, but I always felt they could be a bit more colorful. There are so many beautiful tumblers on the market, how could we customize them with a Cricut? After lots of experimenting, I'm excited to share the safest, easiest, and most reliable ways to etch tumblers with Citristrip! The gel will reveal the metal just where you want it, creating a really beautiful look. I'll show you how to use my free stencil designs and how to create your own!
This is a Cricut Mystery Box project — it uses the Kelly Green Permanent Vinyl from the Brights Sampler that you can get in the "Aloha" mystery box (affiliate link) that came out October 12, 2022. Even if the mystery box is not available when you check, you can still purchase the individual vinyls, which are all linked below in my material list. Learn more about Cricut Mystery Boxes and their contents in my Cricut Mystery Box Guide.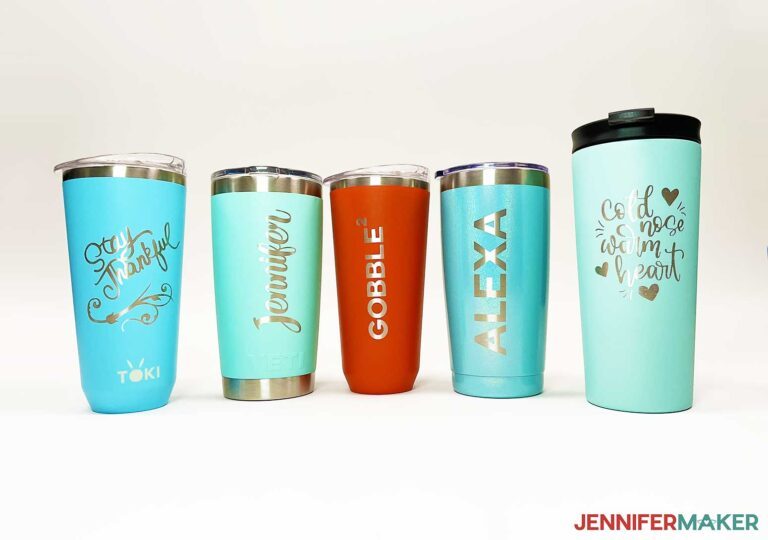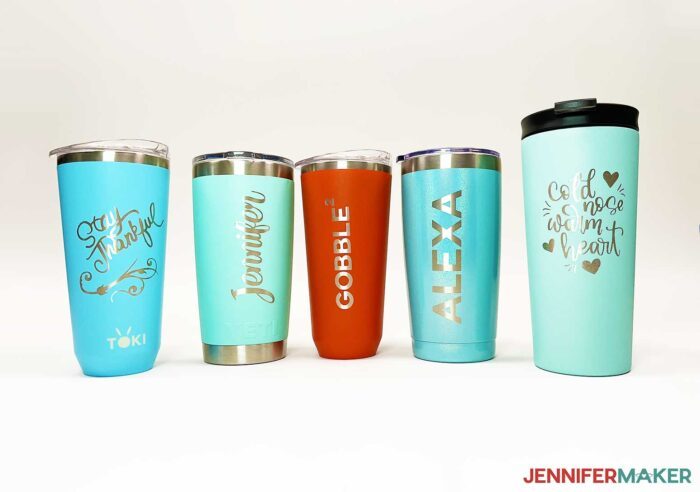 Making etched tumblers with custom designs takes some experimenting, but I've done a lot of the testing for you! With this tutorial, you can etch any of my free intricate designs into the surface of a coated metal tumbler. And your Cricut machine will cut the stencil design perfectly for you!
I'll also show you how to make a custom vinyl stencil from scratch for your etching, like this one I made for Alexa! We'll cover the simple steps in Cricut Design Space.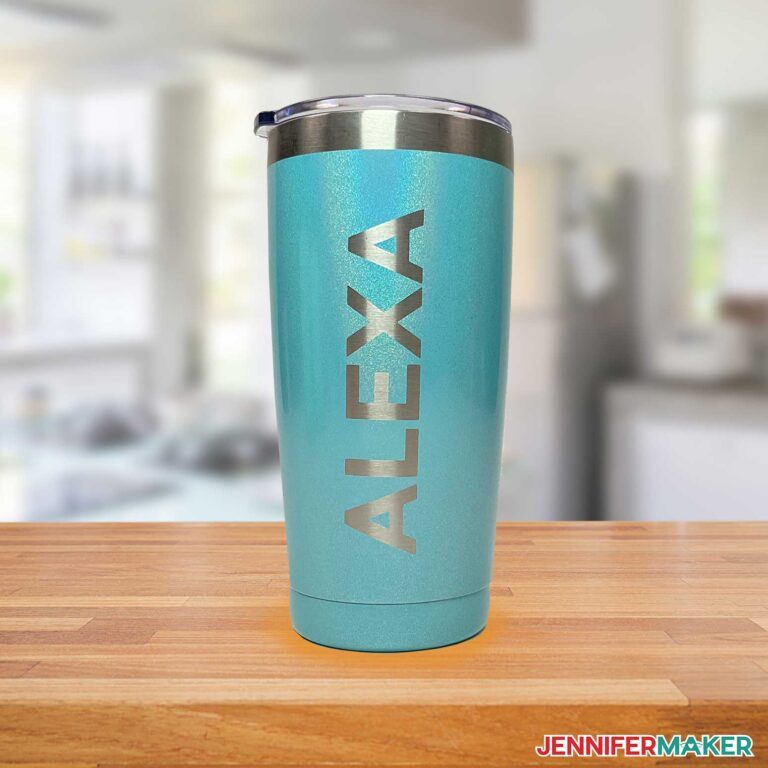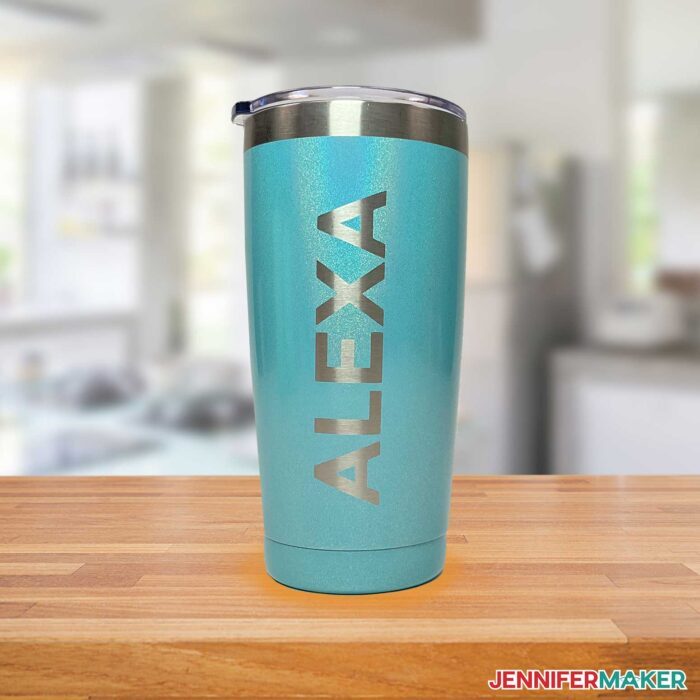 I tested a few processes on both matte and glossy tumblers, which are more delicate than the ones with matte surfaces. Citristrip worked very well on both, but the glossy ones were less consistent early on. Eventually, I found the best way to get reliable results involved aluminum foil, a heat gun, lots of heat-protective gear, and a delicate scrubbing sponge. It works great and is much faster than the other process! You can also use the heated technique on the matte tumblers with good results.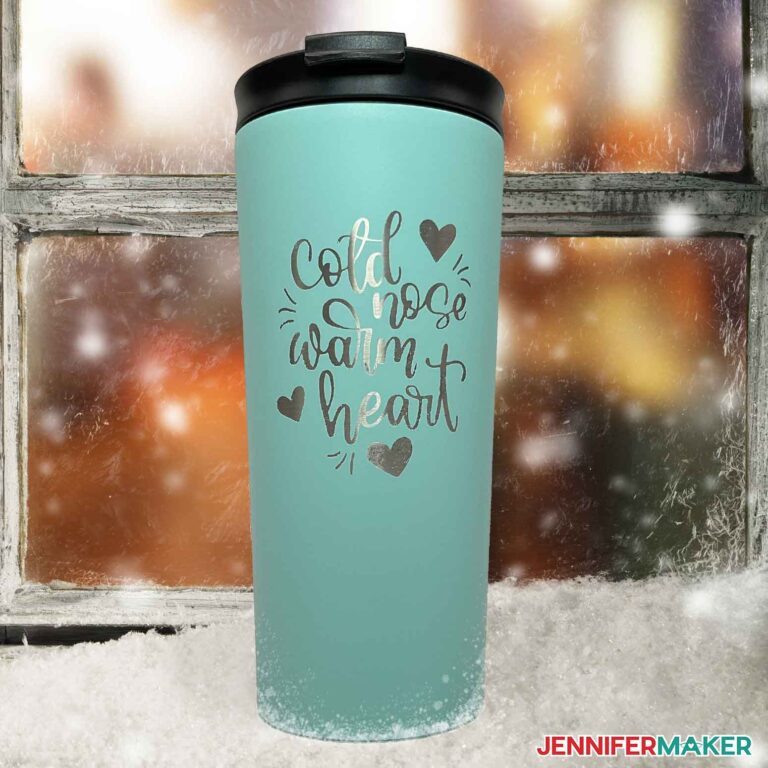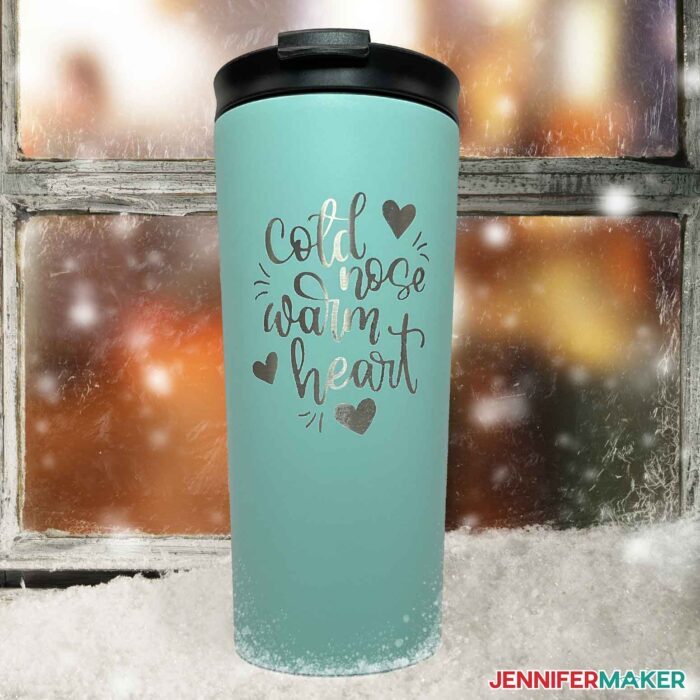 My biggest tip is to make sure your specific tumblers will work with Citristrip before. To check, use my included test stencils on the bottom of the tumblers you want to decorate. The test spot won't be noticeable if it doesn't work, and it's great practice before you work with the more intricate designs, too!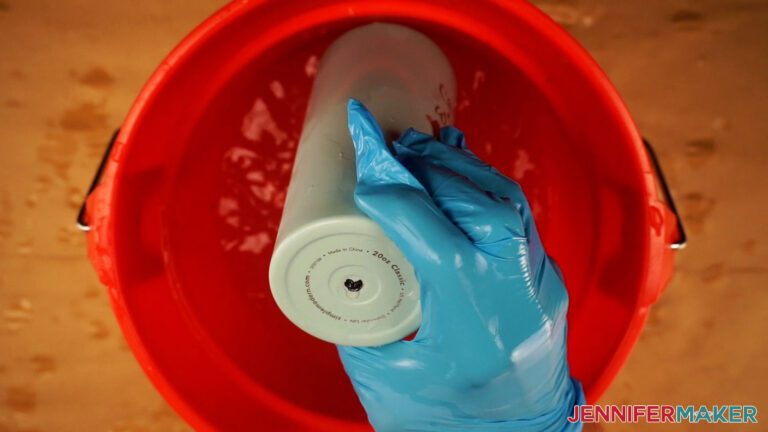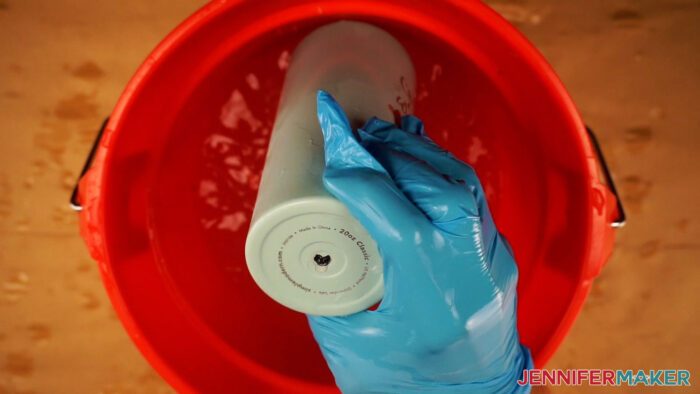 Paint stripping is a caustic process and produces fumes, so remember to craft safely! Wear eye protection, a mask, nitrile gloves, and an apron whenever you etch tumblers with Citristrip. It's best to work with any chemical strippers outside, too.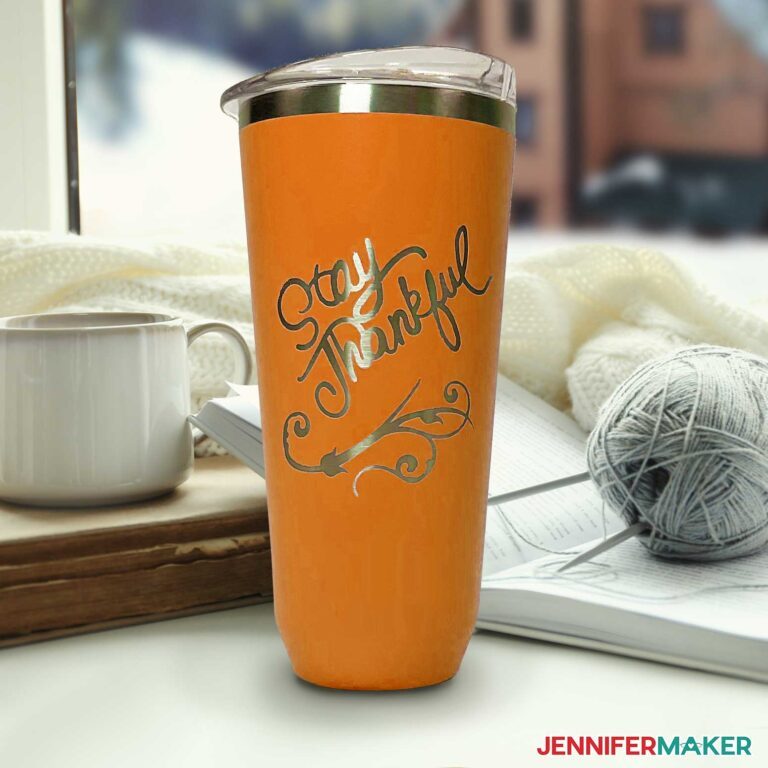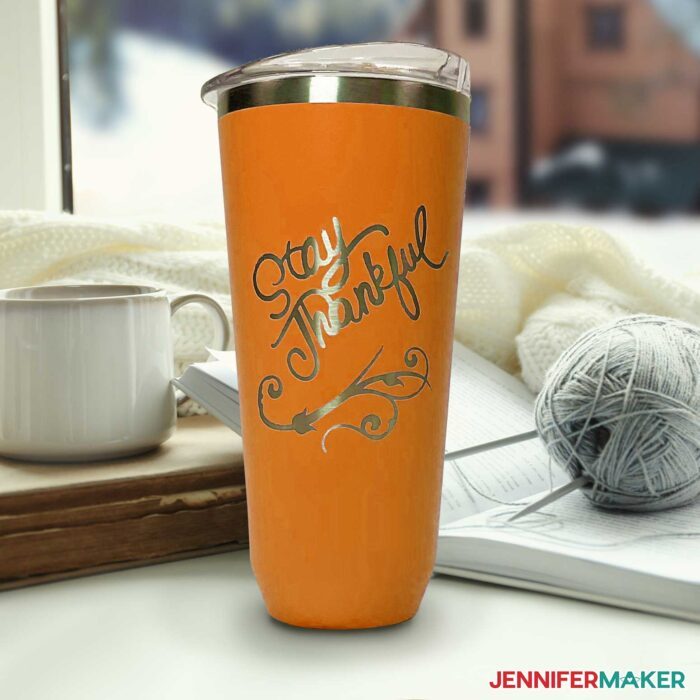 You can make stencils to create etched tumblers on both Maker and Explore machines, or even a JoyI I cut my adhesive vinyl on a green StandardGrip machine mat using a fine-point blade. Using a brayer to get a good stick is really important, too! You'll also need Standard Grip Transfer Tape, a scraper, brayer, scissors, a weeding tool, timer, rubbing alcohol, coffee filters, painter's tape, and lint roller.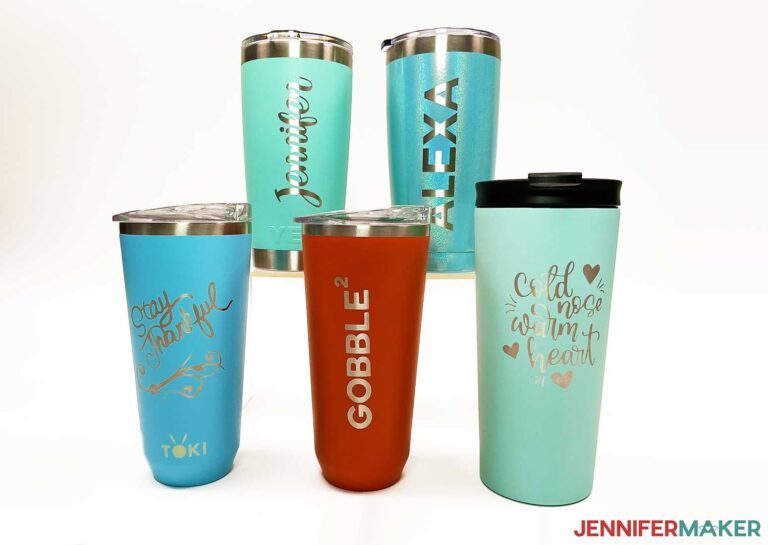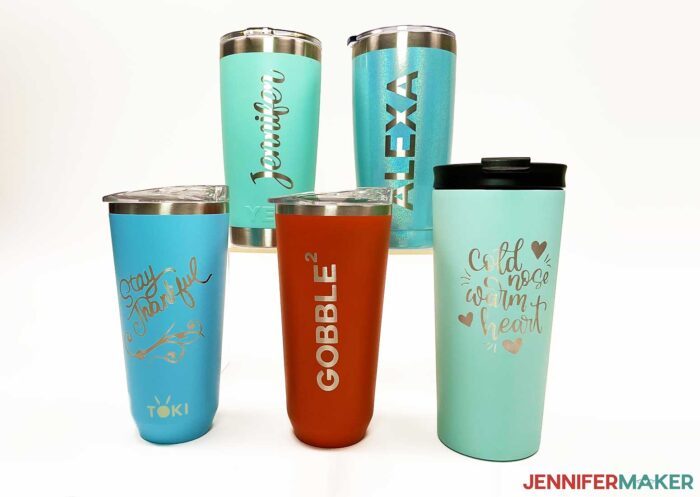 Let me show you how to etch tumblers with Citristrip using my free designs! This post contains some affiliate links for your convenience (which means if you make a purchase after clicking a link I will earn a small commission but it won't cost you a penny more)! Read my full disclosure policy.
Materials to Etch Tumblers With Citristrip

How to Etch Tumblers With Citristrip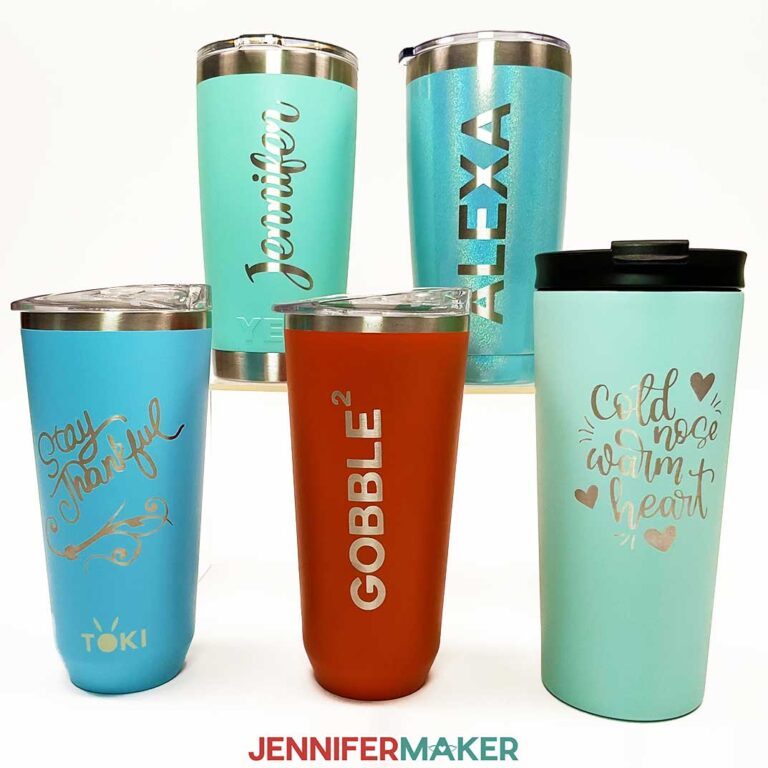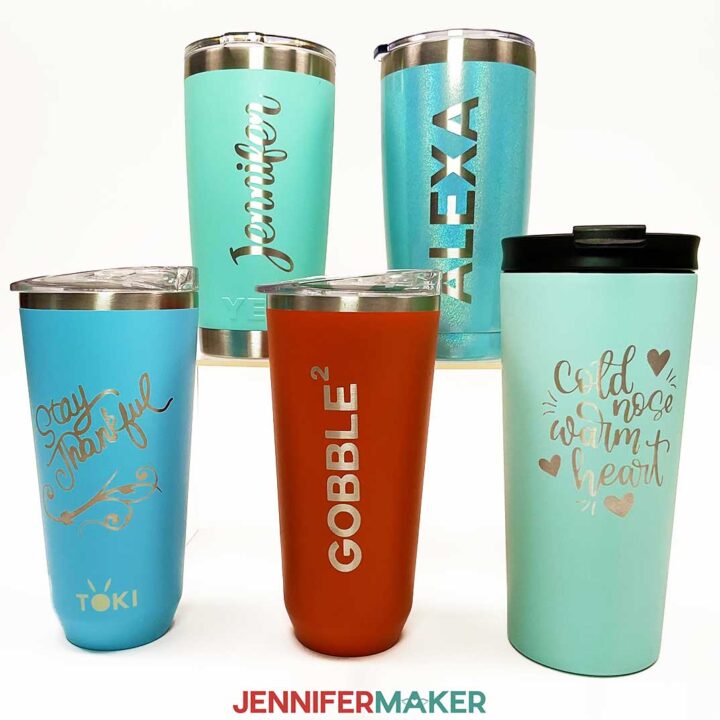 Etch Tumblers with Citristrip
Yield: 1

Prep Time: 15 minutes

Active Time: 1 hour 30 minutes

Total Time: 1 hour 45 minutes

Difficulty: Medium to Difficult

Estimated Cost: $20-$35

Learn to etch tumblers with Citristrip and vinyl stencils!
Answers to Your Questions About How to Etch Tumblers With Citristrip
Q. How long do you leave Citristrip on tumbler?
I had the best results at 50-60 minutes, with shorter etching times on hot days. Some tumblers will take more or less time, so just use my findings as guidelines.
Q. What tumblers work with Citristrip?
Yeti cups, Toki Powder coated tumblers, and Civago Gloss and Gradient Tumblers worked best for me, but I encourage you to experiment with other brands!
Q. How do you use Citistrip on tumblers?
My favorite way is to make a Cricut vinyl stencil to protect the negative space around a design. Then, add a little bit of Citristrip and let it sit and then remove it according to my tutorial. You could also use stencil vinyl.
Q. Does Citristrip work on Yeti tumblers?
Yes, I got some of the best results on my Yeti water bottle!
Q. Do you have to use mineral spirits after Citristrip?
A. I did not find mineral spirits necessary to remove the Citristrip gel. Water worked well on my painted tumblers. I also did not find a brillo pad or steel wool any better than the gentler scrubbing sponges I've listed.
Get my free designs to Etch Tumblers with Citristrip!
If you etch tumblers with Citristrip using this tutorial, I'd love to see your project! Please share a photo of your etched tumblers in our Facebook group or tag me on social media with #jennifermaker.
Love,