Learn how to make these awesome stainless steel etched tumblers … it's easier than you think!
I'm always looking for new techniques and project ideas to share with you. Especially when it's something that might seem impossible to do or something you might not think you can do with your Cricut. For example, did you know you can etch a design on stainless steel? Can you believe it? Pretty amazing huh? I've showed you how to etch glass before, but this project is all about how to make awesome etched stainless steel tumblers!
Watch my step-by-step tutorial video premiering on my channel tonight at 7 pm ET / 6 pm ET!
Now this may look hard, but I'm going to walk you through the process step by step and by the end of this tutorial you will be a pro at etching stainless steel. Yes, you read that correctly. And, who knows, you might even have a new hobby or better yet, something really cool you can sell or give as a gift!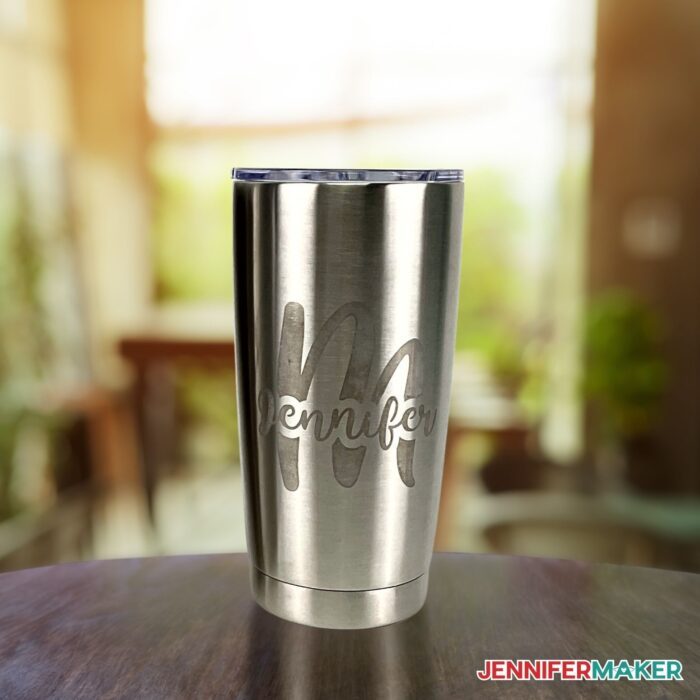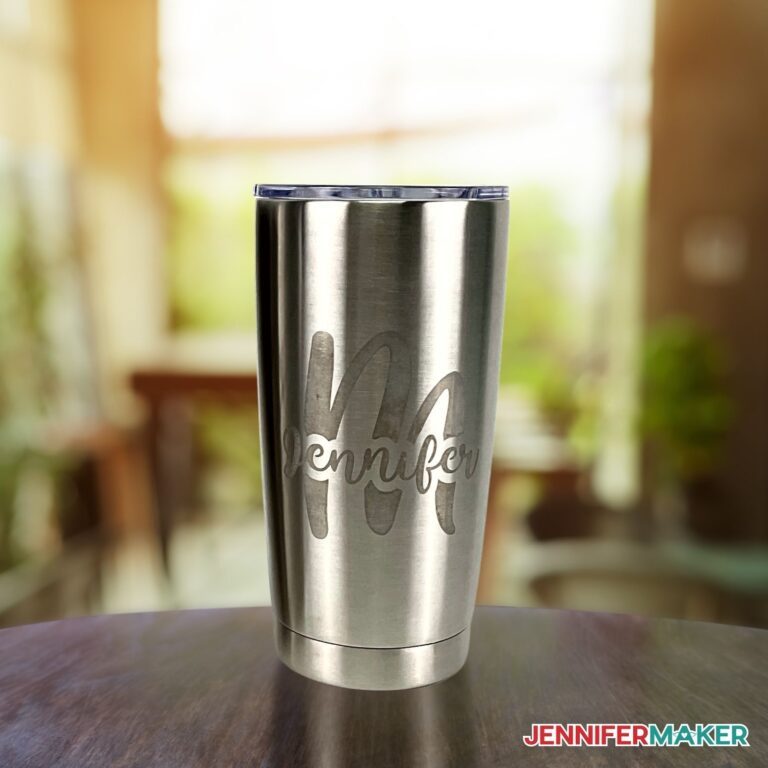 I'm always amazed at all the things I can make with my Cricut. Of course you know I love paper crafts. Especially making paper flowers and 3D shadow boxes. I also love that I can make so many fun gifts with iron-on vinyl. Anything from t-shirts, tote bags and pillows. Honestly, the Cricut has opened up a whole new world of possibilities when it comes to crafting.
Etching is also in my top favorite Cricut-crafting projects because of how great these projects turn out. Look at this tumbler, doesn't it look like something you would get custom made? Seriously, SO cool!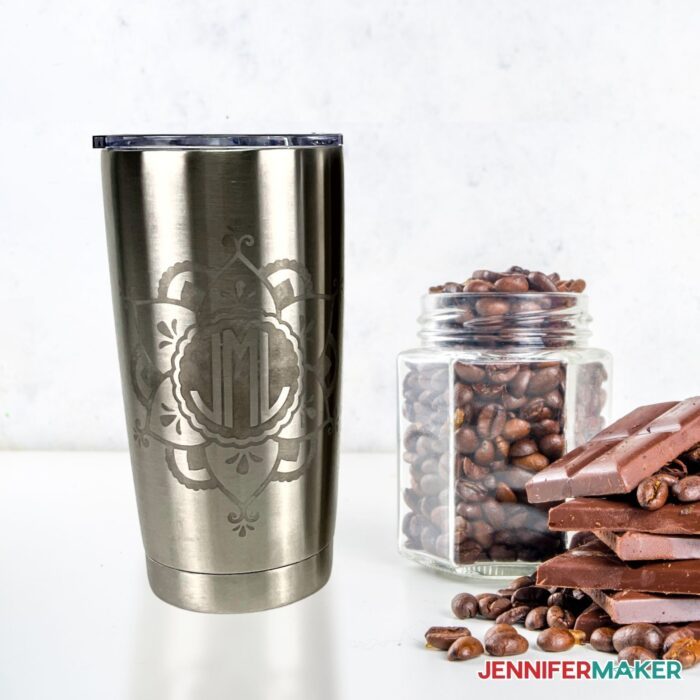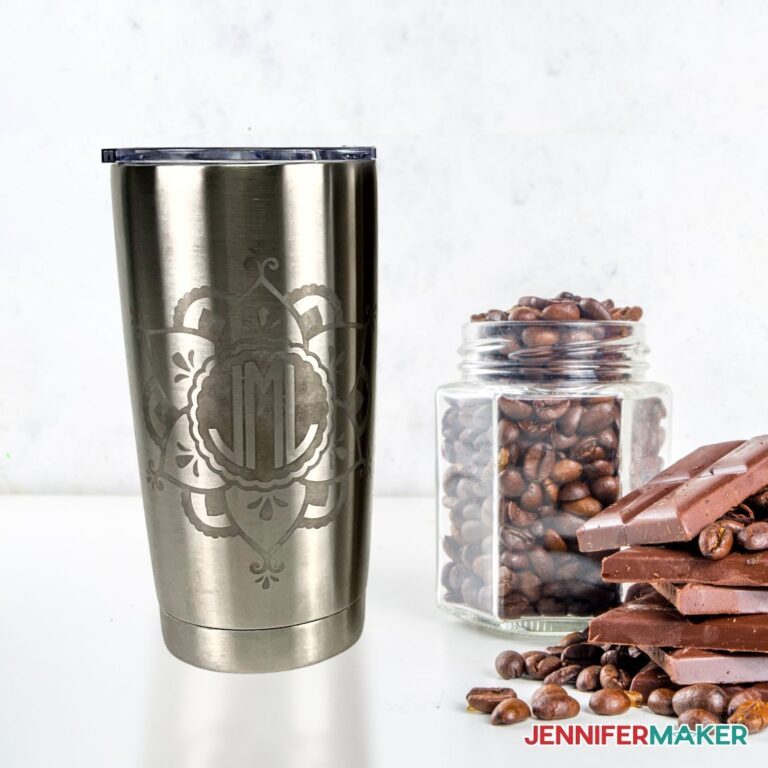 We will need a few materials to make this awesome project. First, we will of course need a stainless steel tumbler. I found this one on Amazon, it's a 20 ounce tumbler but you can really use any size as long as the design you add fits. You can even make matching ones for the family and have them in all different sizes, how fun!
To add our design to the tumbler we will use Ferric acid, cotton balls, (Q-Tips are fine as well) and some baking soda as well. And since we are working with chemicals, safety first! I always recommended Personal Protective equipment or PPE, such as gloves, a respirator and something to protect your eyes. Also, remember to stay in a well ventilated room or outside when you do this. This is really important as you don't want to be in a closed room breathing in all the fumes and chemicals.
And I know working with chemicals can sound pretty intimidating, but I promise…this is SO EASY!
We will cut our design with the Cricut Cutting Machine and you can use any machine for this, even the Joy!
We will also need some permanent vinyl. Any color is fine since we are using it as a stencil. Last but not least, you will need some transfer tape, a weeding tool, scraper and brayer. Other helpful items to have on hand are a measuring tape, disposable bowls and some sort of a timer.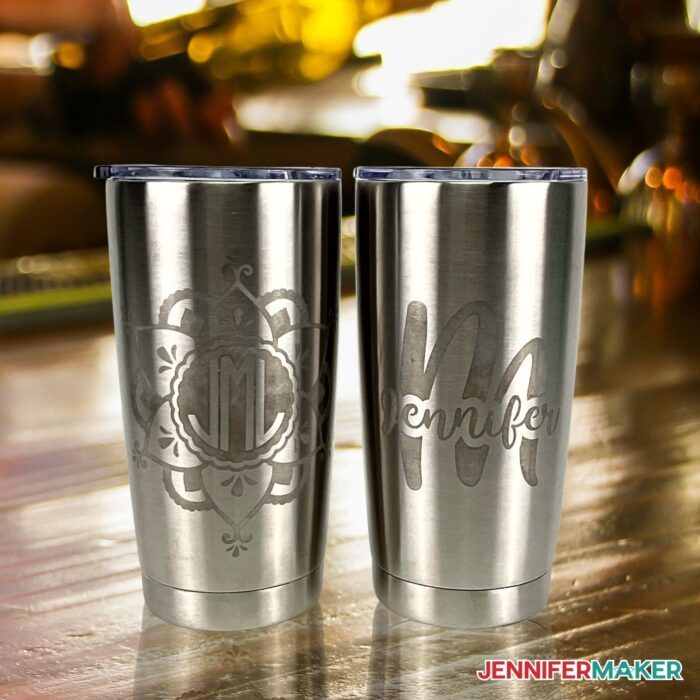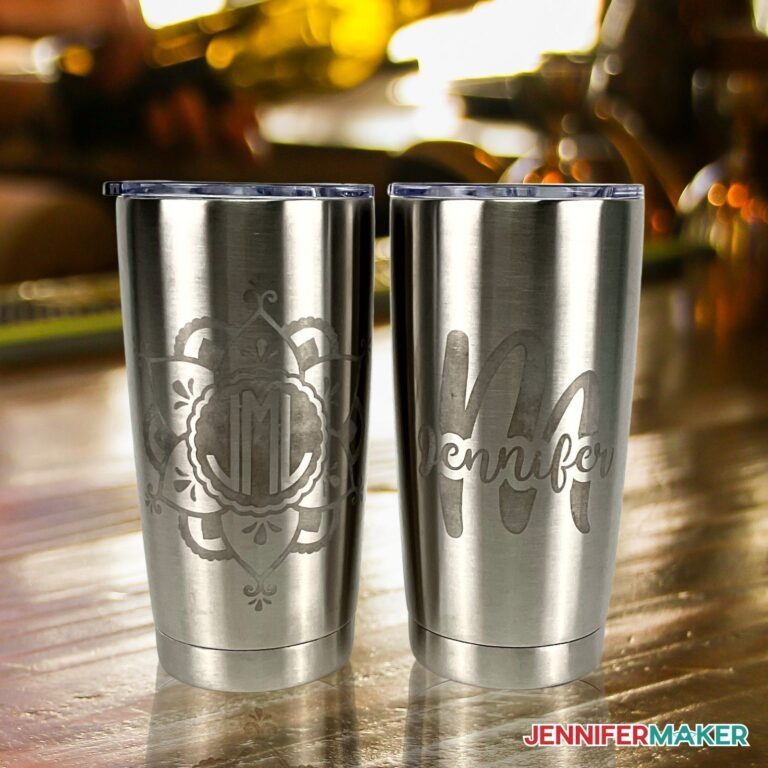 I've made one really fun design for you AND I'm going to show you how to make a personalized design from scratch. I can't wait for you to try this project!
These etched tumblers make great gifts for friends and family! Friendly reminder that they should be washed by hand to keep them looking their best. There are so many options for designs! You can add a favorite sports team, company logo, favorite hobby, or saying. Keep in mind that the simpler the design the better the tumbler turns out.
Let me show you how easy it is to make this etched stainless steel tumbler project! This post contains some affiliate links for your convenience (which means if you make a purchase after clicking a link I will earn a small commission but it won't cost you a penny more)! Read my full disclosure policy.
How to Make Etched Stainless Steel Tumblers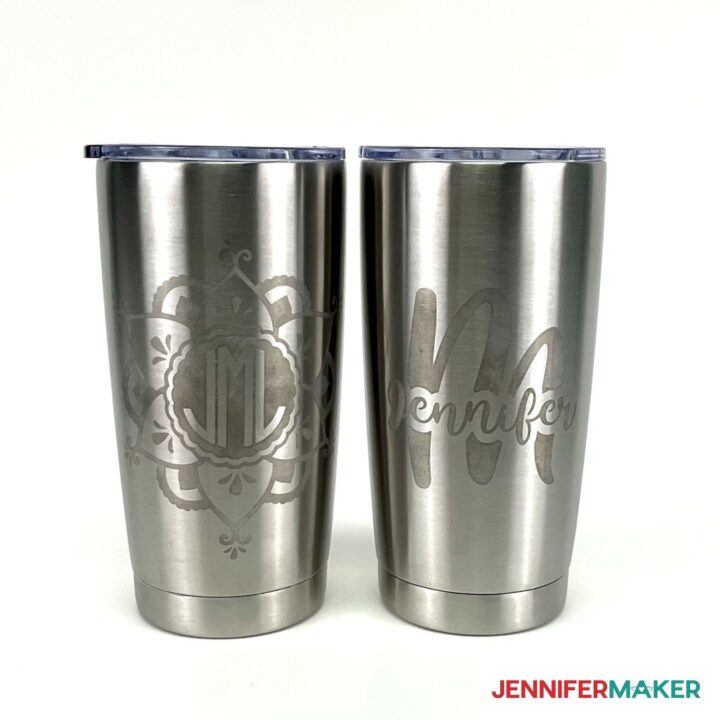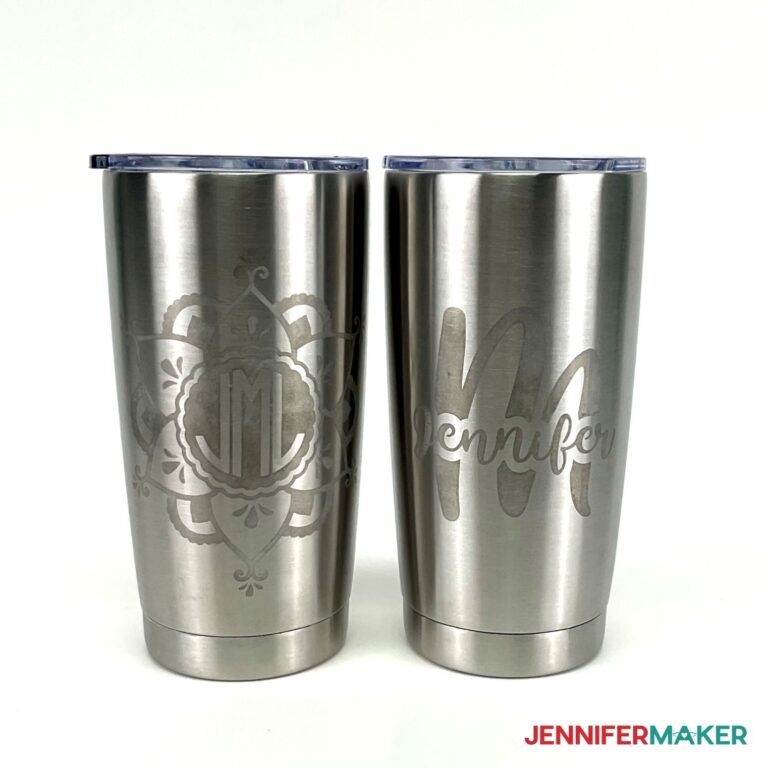 Etched Stainless Steel Tumbler
Yield: 1 tumbler

Prep Time: 20 minutes

Active Time: 50 minutes

Total Time: 1 hour 10 minutes

Difficulty: Medium

Estimated Cost: $15

Learn how to make these awesome etched tumblers!

Answers to Your Questions on How to Make Etched Stainless Steel Tumblers
Q: Can you use reusable vinyl?
No. Etching cream can potentially get under the repositionable vinyl, so you want to use permanent vinyl instead. It takes a few days for permanent vinyl to cure, so using it for this will give you the strength of permanent to give you a nice clean etched edge, and it will still be easy to remove!
Q: Can I use any shape of tumbler?
The sides of your tumbler need to be straight up and down. If you are using a rounder shape, it will be more difficult to put on the stencil. It can be done, but it will be more of a challenge.
Q: Can I use the Cricut Joy?
Of course! You can certainly shrink your image or slice your image into smaller parts that fit on your mat.
Q: Can I reuse my stencil?
No, the stencil will not retain its shape or integrity in this project. This will be a one time use stencil only.
Get my free SVG files to make etched stainless steel tumblers
I love seeing what you make with my designs and how you use them! Please share a photo of your etched stainless steel tumblers in our Facebook group or tag me on social media with #jennifermaker.
Love,