Learn how to do Cricut Infusible Ink coloring with this fun mandala totebag tutorial!
Cricut's Infusible Ink can bring your next coloring project to life in a fun and permanent way! Using an Infusible Ink pen, you can draw a design, color it in with more Infusible ink pens or markers, and then transfer the design permanently to a totebag, t-shirt, coaster, and more! In this tutorial, I have my Cricut draw a beautiful mandala with the black pen, then color it in with the pink and purple pens, finally transferring it onto my totebag so I can appreciate my hard work for always!
Here is a full step-by-step video showing the Cricut Infusible Ink coloring project (my mandala totebag) from start to finish: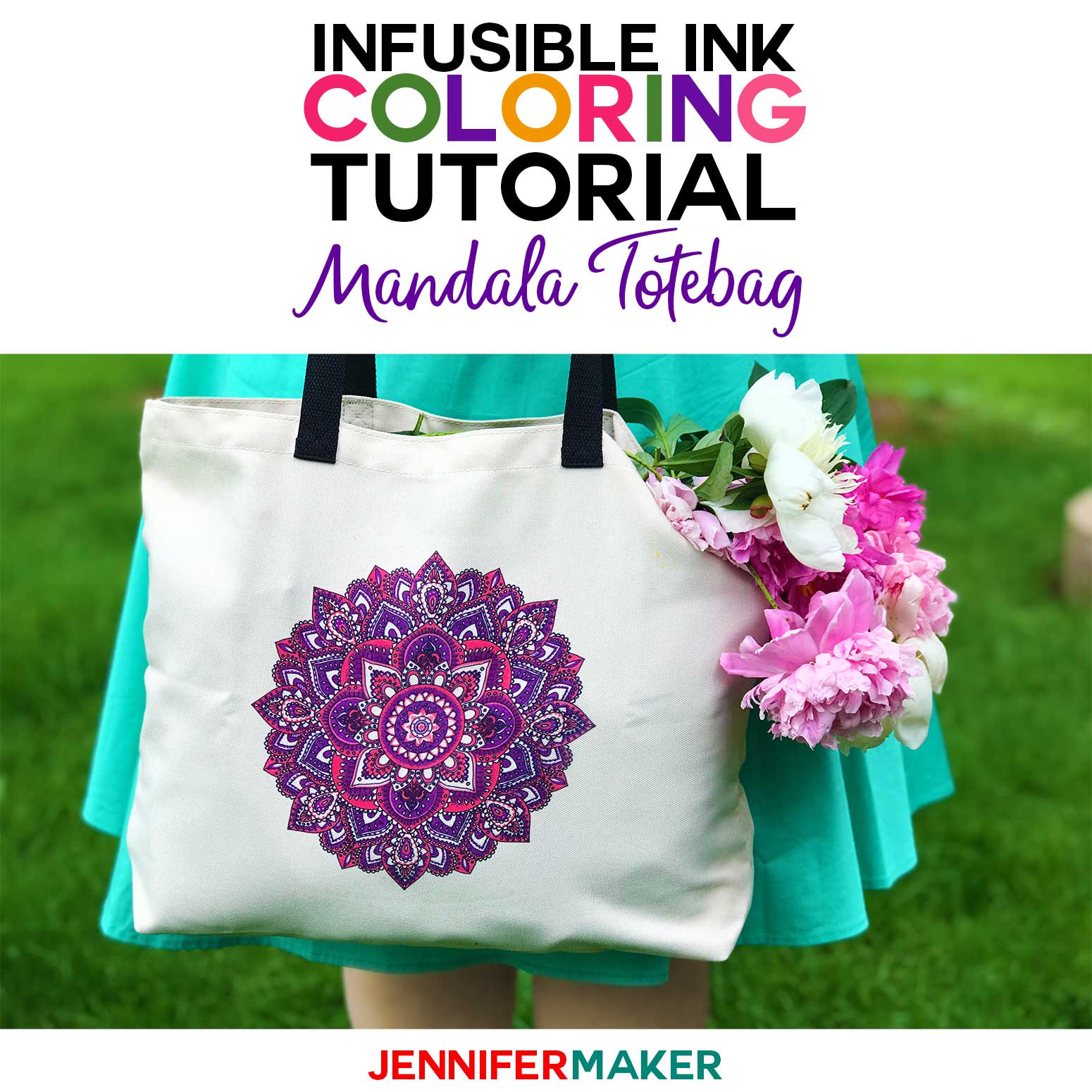 If you're unfamiliar with Cricut Infusible Ink, check out my Ultimate Guide to Infusible Inks for all the details on what these are, how to get them, and how to use them for really beautiful (and permanent) projects!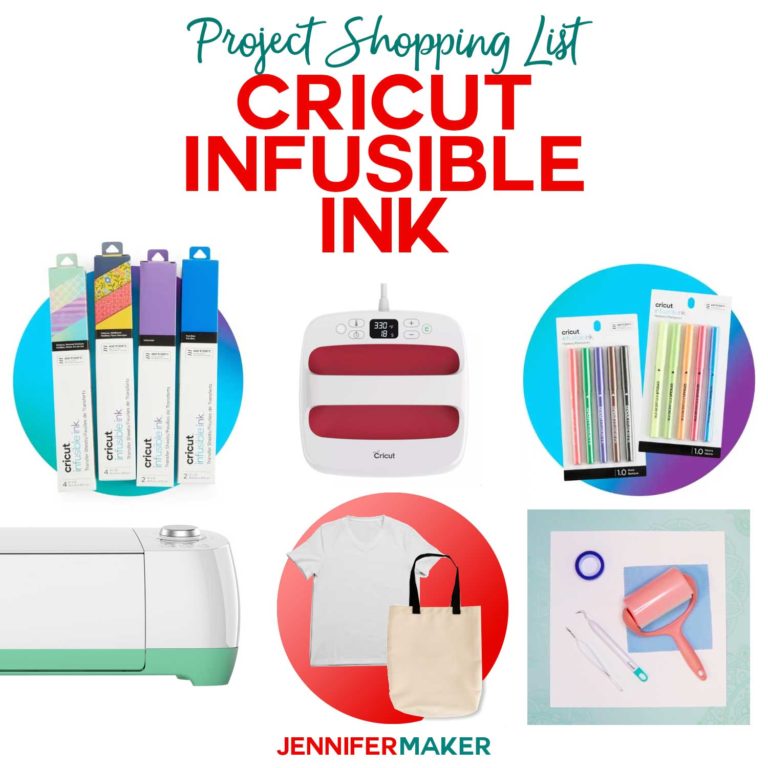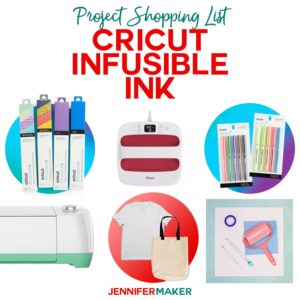 This post contains some affiliate links for your convenience (which means if you make a purchase after clicking a link I will earn a small commission but it won't cost you a penny more)! Read my full disclosure policy.
Materials Needed to Make a Cricut Infusible Ink Colored Mandala
How to Color a Mandala with Cricut Infusible Ink Pens
Step 1: Get the Mandala Design
I designed this mandala design specifically for Infusible Ink pens — it draws in single lines with your pen and looks amazing!
If you want to use the free mandala design I used in this tutorial (Design #154), which is ideal for a Cricut Infusible Ink pen project, you can download the free design files from my free resource library. It's available as an SVG for your Cricut. Just upload the file to your design software.
IMPORTANT NOTE: If you're not sure how to upload an SVG file to Cricut Design Space, or you're having issues (such as getting a message that says "unsupported file"), please watch my free training series, SVGs Made Simple. It will help you SO much!
Here's what my mandala design file looks like uploaded to Cricut Design Space: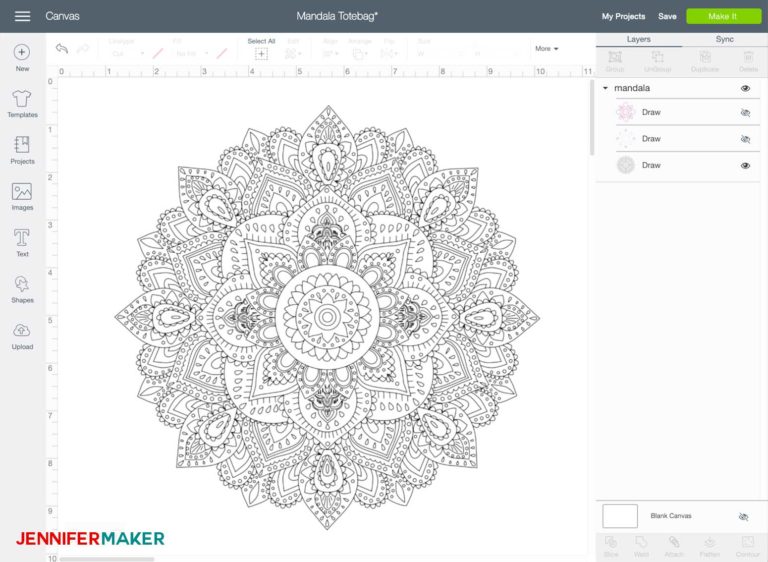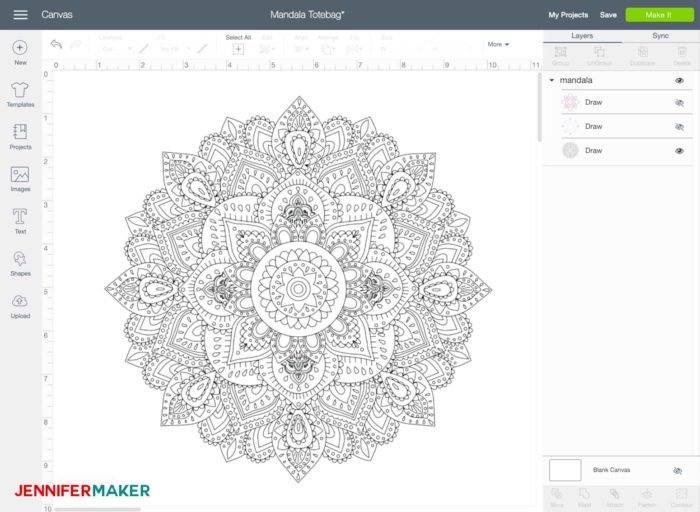 It's important that you change all layers from Draw to Cut using the Linetype menu. You also need to click Select All and click the Attach button. Be sure to change the extra layers to a different pen color (if you want) or just hide them altogether. Finally, you need to resize this for your project!
See the video for more details!
Step 2: Have Your Cricut Draw the Design with the Infusible Ink pen
Put the black Cricut Infusible Ink pen into your pen adaptor clamp, load the Cricut with a sheet of white laser copy paper on a LightGrip mat, and press the flashing button!
Note: You can expect your Cricut to take about an hour to draw the entire design!
See the video for more details!
Step 3: (Optional) Color in the rest of your mandala
Just take the pens (or markers) and start coloring! Be aware that it took me three hours to color in the rest of my mandala with the pink and purple pens!
See the video for more details!
Step 4: Transfer Your Ink Design
Transfer your inked design to your totebag (or another Infusible Ink compatible blank) using your EasyPress or heat press.
If you are using a Cricut EasyPress, refer to the Cricut EasyPress Interactive Quick Reference Guide which will tell you how to prep your material and EasyPress, how to apply, and how to care for the finished product. This takes the guesswork out of the process. You can view the guide at jennifermaker.com/easypress.
See the video for more details!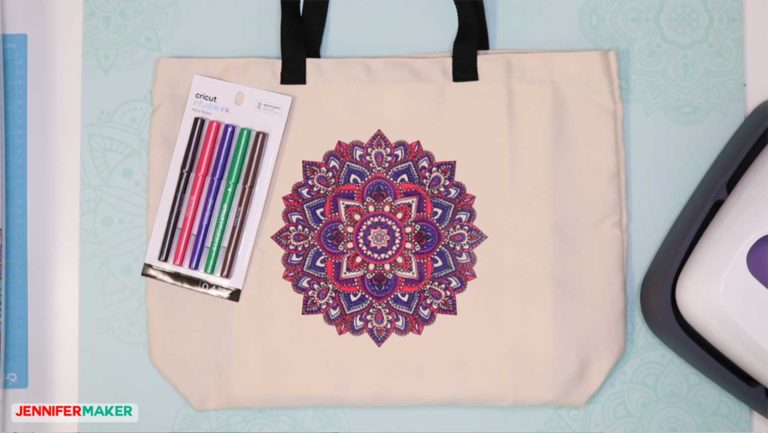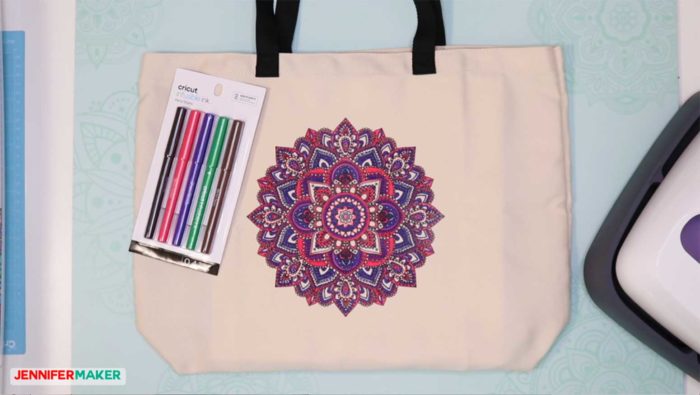 Isn't this project just so cute?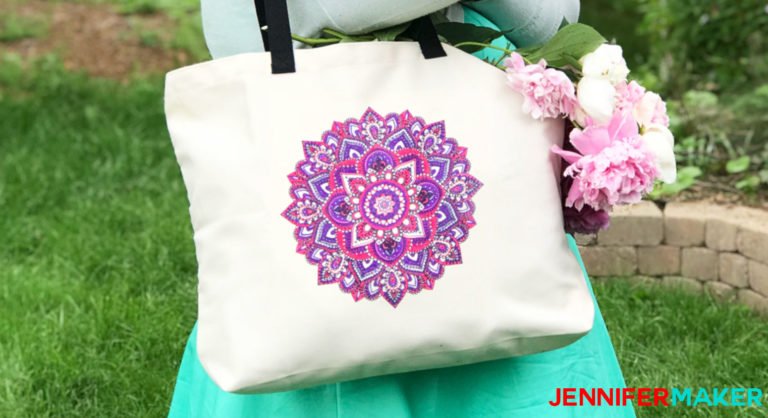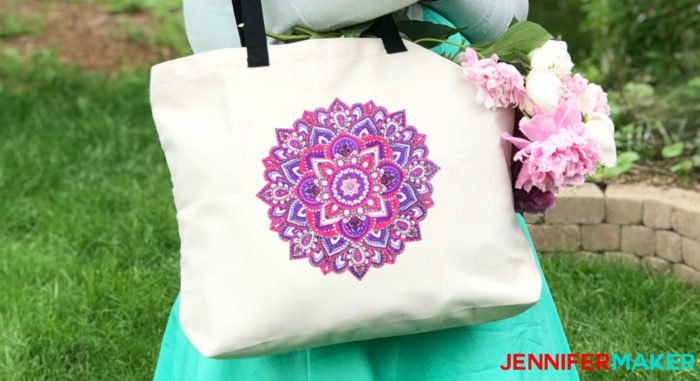 Get my free "Mandala" drawing design

If you make an Infusible Ink totebag with your Cricut, please share a photo in my helpful Cricut Facebook group or tag me on social media with #jennifermaker.
Love,