This Easter Truck Decor is a fun design to make and hang for Easter or with a few simple modifications, can be perfect for a baby's room.

Shadow Box projects are an easy and fun way to decorate your home for any holiday or season! Plus, they're an excellent way to display your creations. I have many shadow boxes filled with beautiful things now, including my Shadow Box Paper Art and my Paper Flower Shadow Box. So I decided to play with my popular Vintage Farm Truck and create this fun Easter Truck Decor, perfect for the upcoming holiday! But, you can get creative and adapt this design to fit a nursery or day care as well — feel free to fill the truck with flowers, butterflies, or anything you wish!
See this Easter truck assembled in my step-by-step assembly video: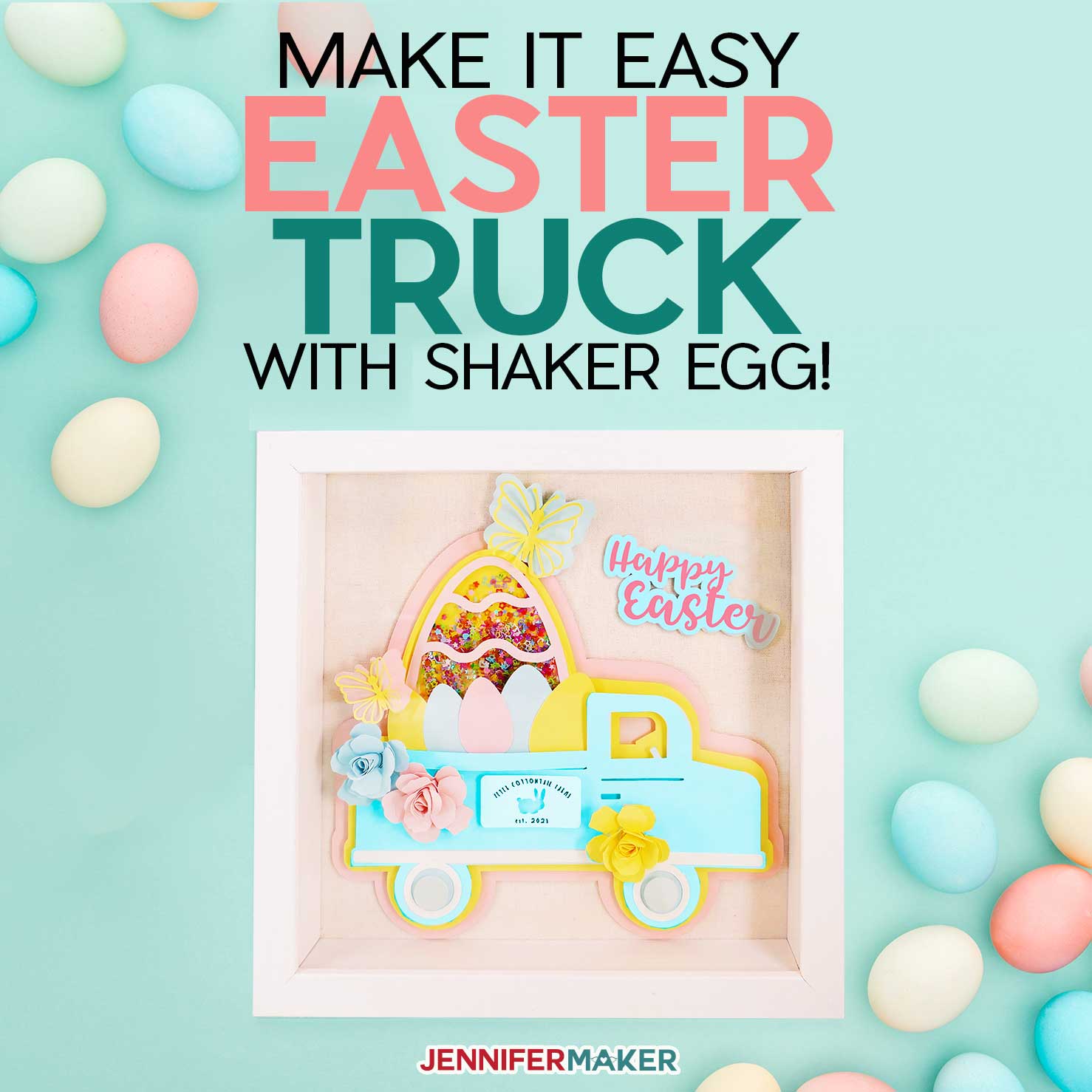 Another reason I am so excited to share this Easter Truck Decor project with you is because it's a great beginner project that will give you the chance to try your hand at a couple of different techniques! If you've made our shaker card, part of the shadow box decor will look familiar!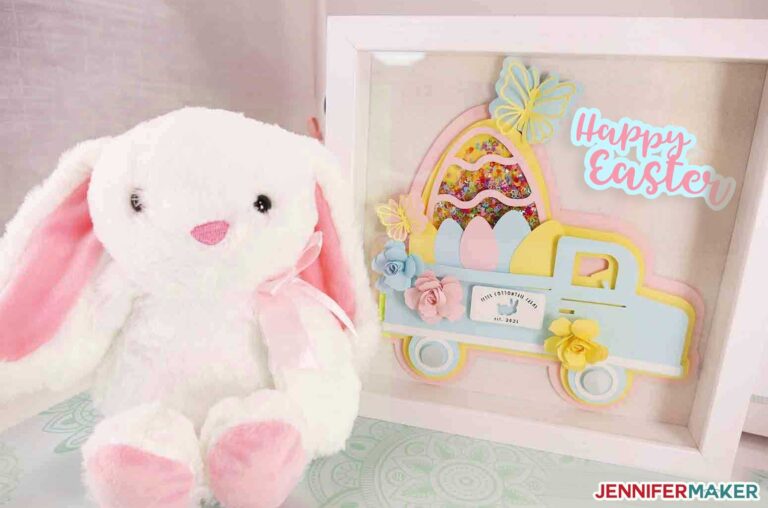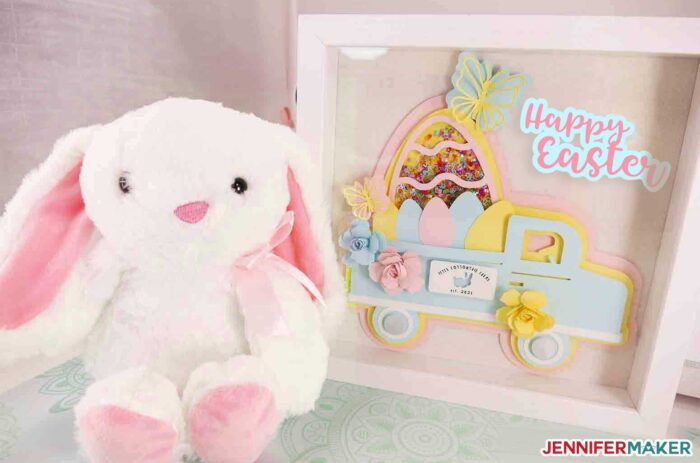 To make this Easter Truck Decor project, you'll need 65 lb. cardstock. I used 8 1/2″ x 11″ along with a 9″ x 9″ shadow box.
For the Easter egg cover, I used acetate but you can use embossable window plastic or cut down a sheet of transparency film to work as well. In a pinch, you can use an old cutting mat cover!
I love glitter confetti for the shaker card part of this project but you can also use chunk glitter, rhinestones, small pieces of party foil — really anything super small and shakeable will work!
Adhesives are important for this project. Foam mounting tape is essential for creating the window with space for the contents of your egg! I also used double-sided adhesive and tacky glue to attach other parts of the egg design. It is important to know that if you use a cardstock with a texture, like glitter, you may need to experiment with glues or even double-sided tape to find the best adhesive for your paper.
I used foam dots for the Easter Truck Decor layers and to tape the butterfly and flowers to the truck because I really love the 3D look that foam dots give to this design! For the butterflies, I used tacky glue and hot glue for the flowers. If you don't have all of these adhesives on hand, you can easily swap out whatever you have! There's a lot of flexibility in the Easter Truck Decor Shadow Box to use what you have on hand!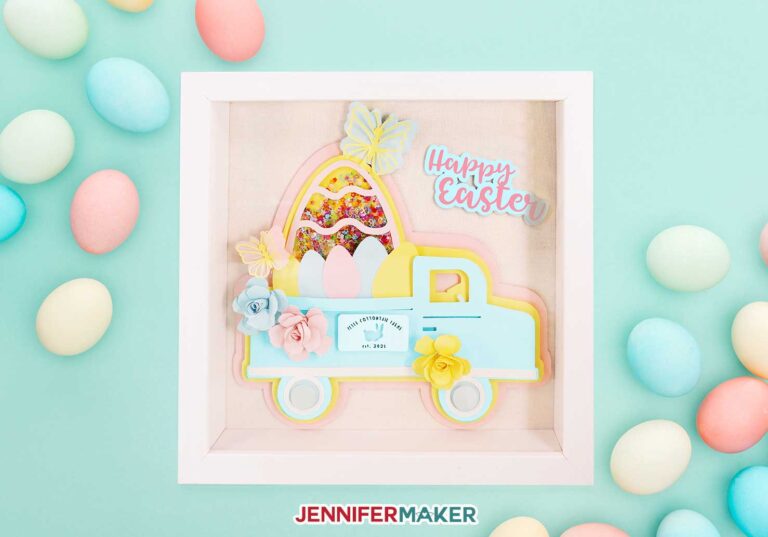 I used my Cricut cutting machine to cut the cardstock and acetate, along with the fine point blade and standard grip mat.
Let me show you how to make this Easter truck decor shadowbox. This post contains some affiliate links for your convenience (which means if you make a purchase after clicking a link I will earn a small commission but it won't cost you a penny more)! Read my full disclosure policy.
Materials to Make Fun Easter Truck Decor
How to Make Your Own Easter Truck Decor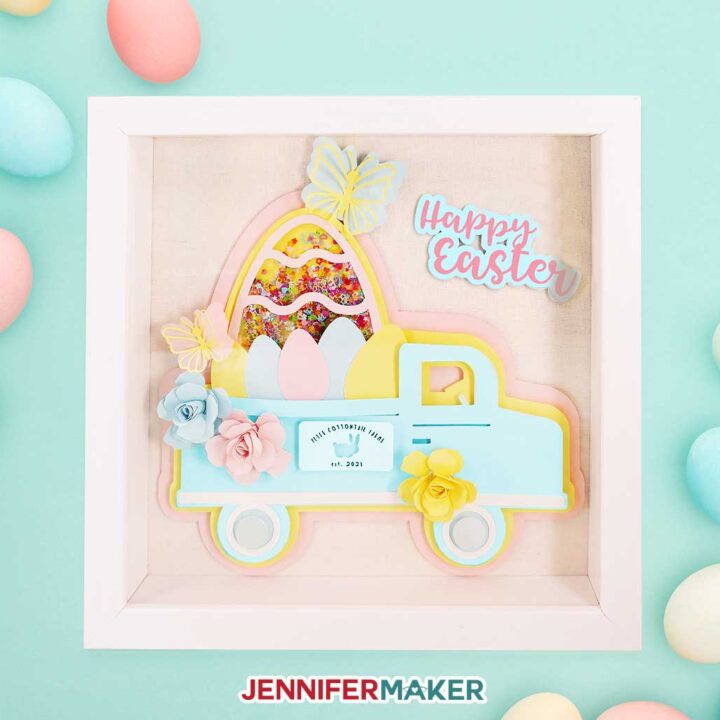 Easter Truck Decor
Total Time:
1 hour
10 minutes
Difficulty:
Easy to Medium
Home decor featuring vintage farmhouse trucks is very popular. In this tutorial I will show you how to make the cutest farmhouse truck shadowbox that's perfect for Easter. And this one comes with an extra dash of fun...a shaker egg filled with glitter confetti!
Answers to Your Questions About the Easter Egg Truck Shadow Box
Q: What can I use instead of acetate?
Any clear plastic that is thick yet flexible enough to cut and be taped down works great! If you don't have acetate, check your stash for clear plastic covers on materials and re-use that instead.
Q: Can I use regular glitter in the egg portion?
You definitely can, but it might not shake as well and could get stuck all over the entire plastic part. The bigger and chunkier the glitter, the better it works! You can also use little scrapbooking elements as filler!
Q: How can I keep the glitter from just sticking to the acetate?
Again, the chunkier the glitter, the less likely it seems to do that, but if you have your heart set on a glitter that is "sticking" to the plastic, it's because of static electricity! Removing that will remove your problem! We've heard of people gently wiping down the plastic with a dryer sheet or applying a thin coating of Static Guard from a can. You can also wash it gently with mild soap! Gently is the key, so you don't scratch the acetate!
Q: What can I use besides alcohol to clean the glass?
Yes, alcohol has been in short supply for some of us! To clean glass, you can use any percentage you can find! If you just can't find any, washing the glass with warm water and a little mild dish soap or vinegar, or using a citrus based glass cleaner is a great idea, too! If you are going to place vinyl on top of the glass, though, stay away from regular glass cleaners – many of them contain ammonia which can cause problems with the vinyl adhesive over time!
Get my free SVG files to make this Easter Truck Decor
I'd love to see YOUR Easter truck decor! Please share a photo in our Facebook group or tag me on social media with #jennifermaker.
Love,