Make a beautiful picture using just layers of paper with my step-by-step tutorial! This shadow box paper art template makes for a stunning conversation piece or gift!
I love creating paper art! You can do SO much with it, and it always amazes me how versatile it is. Like how you can layer paper to create a 3D scene like the one in the photo above, which I call my Secret Garden. The layers of paper create depth and drama. And when you put light behind the shadow box paper art, you can see it come to life. The shadows and light create a magical effect.


To make this Shadow Box Paper Art project, you'll need 65 lb. white or light-colored paper. I used 12″ x 12″ white and pastel paper for the two shadow boxes in this tutorial. It's important that you use 65 lb. cardstock — regular 20 or 24 lb. paper will be too light and see-through, and heavier 80 lb. cardstock won't let enough light in.
Here is a shadow box made with white cardstock: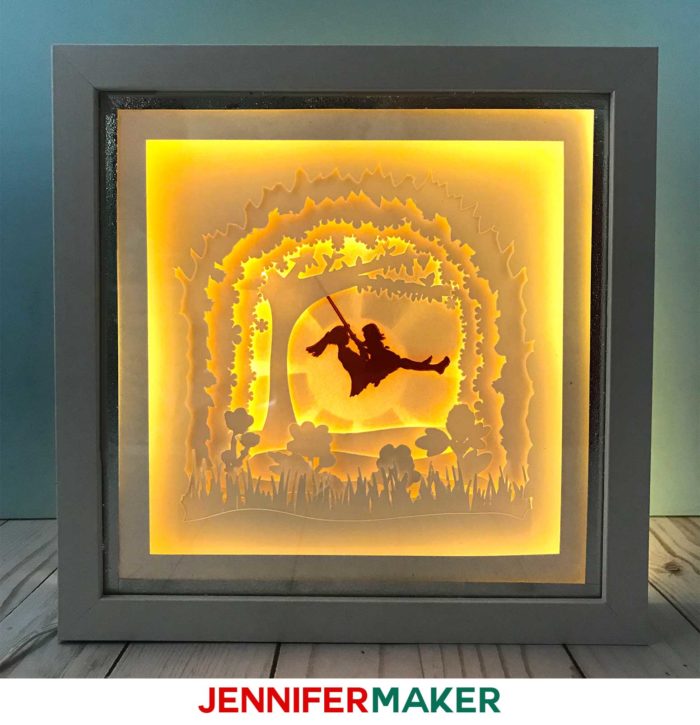 And here is a shadow box made with pastel cardstock: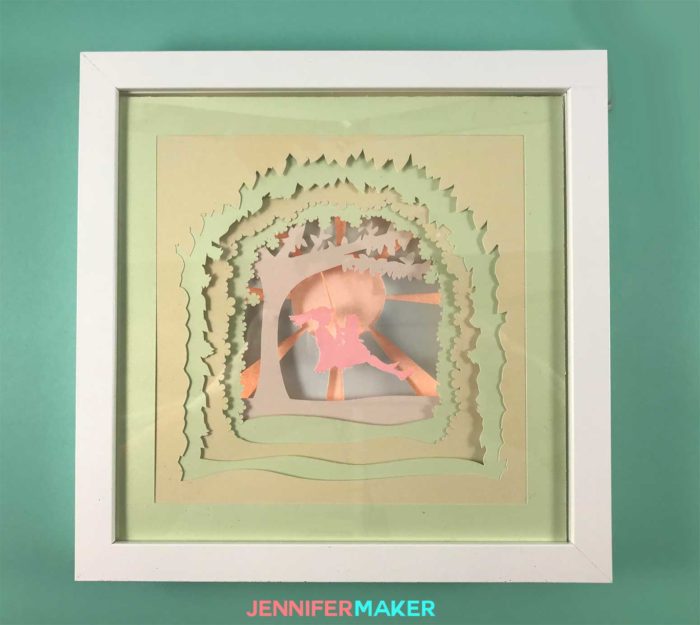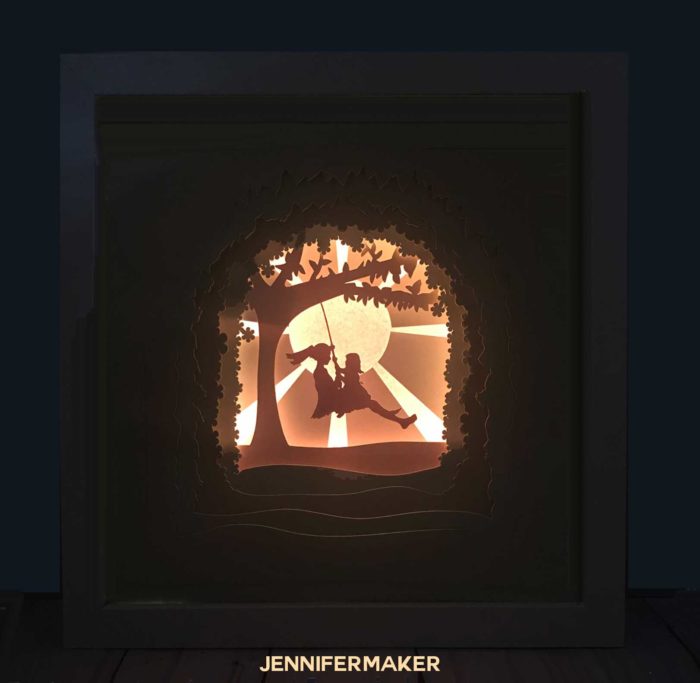 You also need a way to cut your paper layers. You could use a knife, but I used a Cricut. I have the free templates for this shadow box paper art design in my free resource library (see the materials list below). And you can customize the figures in the secret garden, too — you can have a mother and daughter, mother and son, just a mother, just a girl, just a boy, or any combination of these. Or create your own silhouette and put it in there instead.
For example, one of my lovely readers — Susan Watts — made my shadow box design with a silhouette of a couple instead!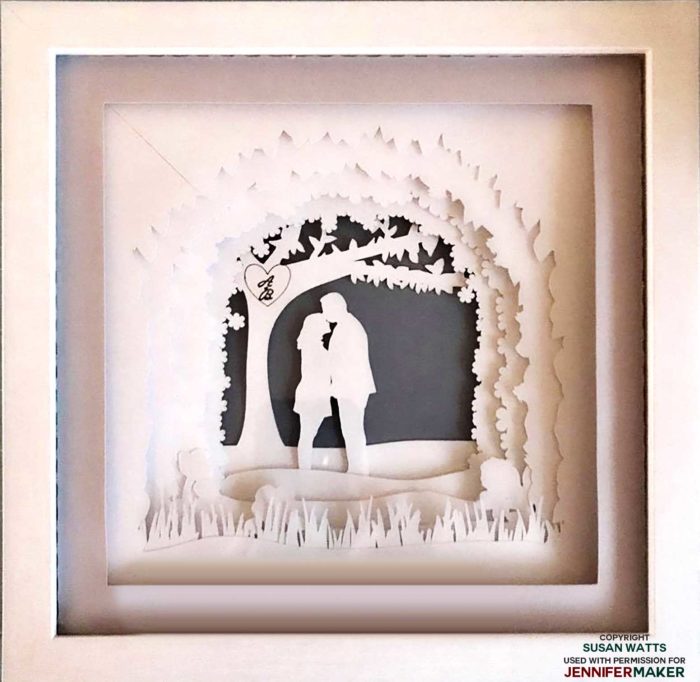 You also need a way to attach your layers of paper. I recommend a three-dimensional, self-adhesive dot in between your paper layers (see materials list). This ensures that your layers have some space in between them, which is important for creating the right look.
If you want to put your shadow box paper art in a frame, I recommend 8″x8″ or 9″x9″ frames that are at least 1.5″ thick. And if you want to put LED lights behind your paper art, you'll want to use LED tape lights — see the exact ones I used in the materials list below. Not all LED lights are created equal — I tried some that were just not bright enough.
This step-by-step video tutorial shows you how to make the Secret Garden shadow box paper art using my free template:
Ok, so let me show you how to make shadow box paper art! This post contains some affiliate links for your convenience (which means if you make a purchase after clicking a link I will earn a small commission but it won't cost you a penny more)! Read my full disclosure policy.

Materials for Shadow Box Paper Art
How to Make Shadow Box Paper Art
Step 1: Find or Make a Shadow Box Paper Art Template
If you'd like to use my Secret Garden shadow box paper art template, you can get my free design in my resource library (get the password for it at the bottom of this page). Don't forget to unzip it.
Here is my shadow box paper art design file uploaded to Cricut Design Space. Don't worry about it looks here — all the layers are in there. They will all cut out properly when you click the Make It button.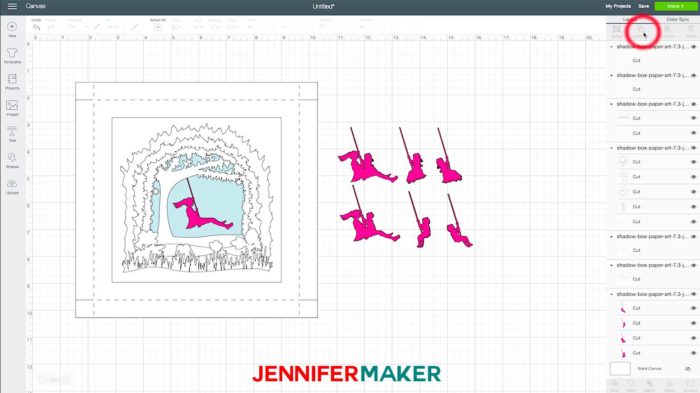 IMPORTANT NOTE: If you're not sure how to upload an SVG file to Cricut Design Space, or you're having issues (such as getting a message that says "unsupported file"), please watch my free training series, SVGs Made Simple. It will help you SO much!
Step 2. Customize Your Shadow Box Paper Art Template
Size to fit your shadow box frame, if you're using one. Use the resize button in the lower right corner to resize.
Put in the focal elements you want and remove the rest.
Delete any layers you do not want to include.
Step 3: Cut Your Shadow Box Paper Art
Cut on a Cricut or with an X-acto knife
Step 4: Assemble Your Shadow Box Paper Art
Put it together in the right order == watch my video to see this process!
Step 5: (Optional) Put Your Shadow Box Paper Art in a Frame
Put it in a frame with or without LED lights. Most LED tape lights have self-adhesive backings, so you can just peel off the backing and place them around the inside edge of your frame.
Watch my video to see this process!
Get my Secret Garden Shadow Box Paper Art Template FREE!
Download my free secret garden template by subscribing (free) below to get the password to my resource library.
What I really like about this shadow box paper art is that it looks good with the lights on and off, and yet really very different. You can experiment with paper colors for a unique look — just remember to keep the colors light so the light can shine through. Another idea is to paint the sky paper layer a light blue or something like that to give your shadow box a bit more character.
Want more free shadow box templates?
Here's a great shadow box tutorial from my good friend Tracy, who also loves to create things for her Cricut. This is a great way to someone you love how much you care. There are many different color combinations and layering effects to give it your own flair!
​ Get her free shadow box template here!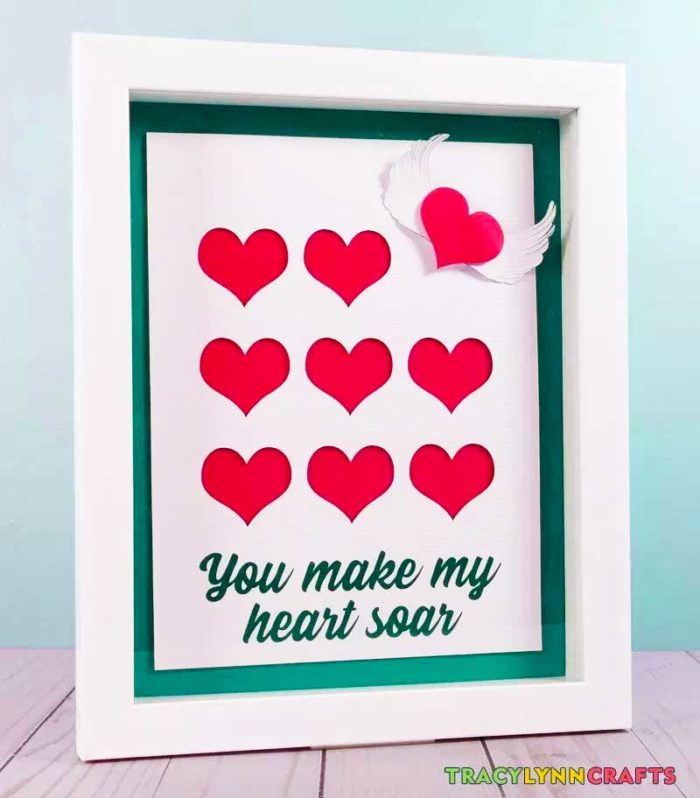 Love,