A little copper spray paint can make practically anything look decorative and trendy! I compared copper metallic paints to find the best looking one for your home decor projects.
It's no secret I love copper. It's such a cheerful and pretty color, and it's different than the gold and silver we see on everything these days. I'm not alone in this either — copper has been trending up lately, judging by the copper accessories I see for sale at Target. Trendy or not, I've been painting various things copper for the past year because, well, I can! Copper metallic spray paint is totally a thing, and you can paint pretty much anything.
Once I began painting things copper I realized that not all copper spray paints are equal. Some definitely work better than others — like, a LOT better.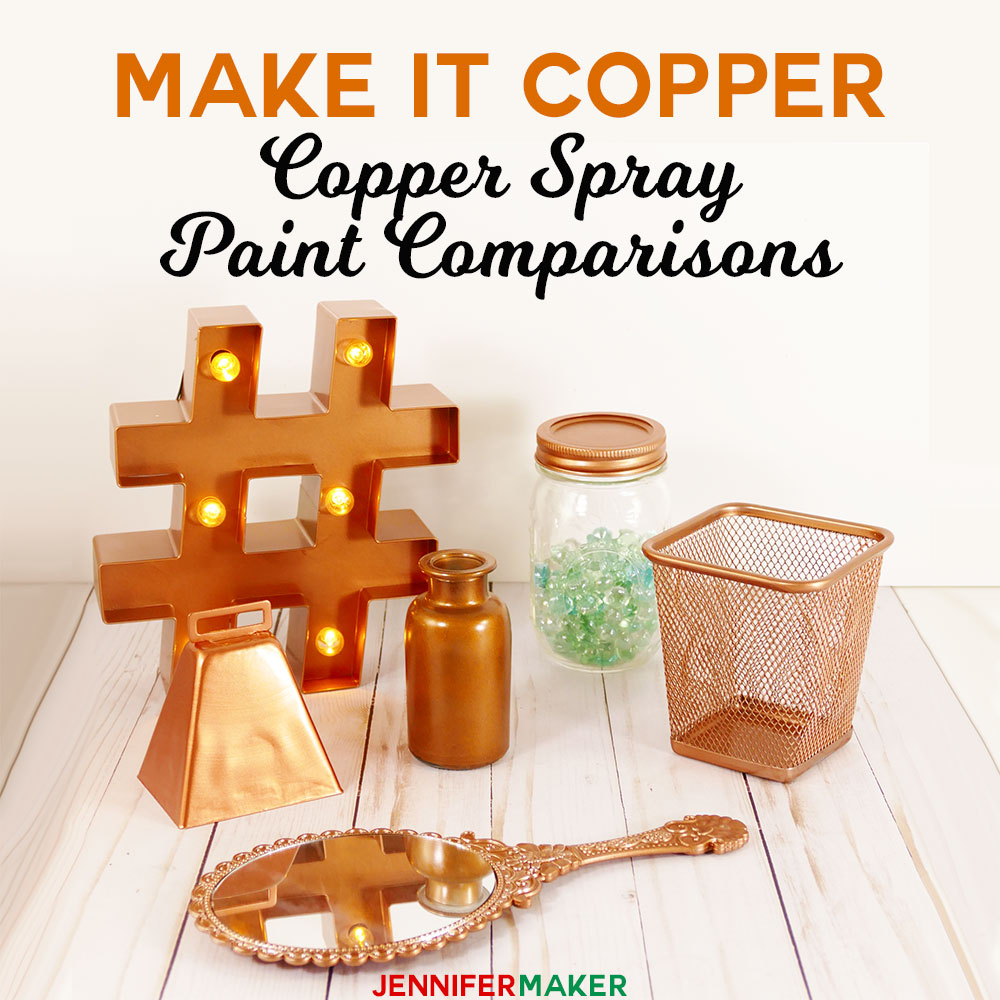 So I decided to actually test copper metallic spray paints on a variety of different surfaces so I could really compare them with one another. And now that this post is up, I'll never forget which copper spray paint to get for the best results!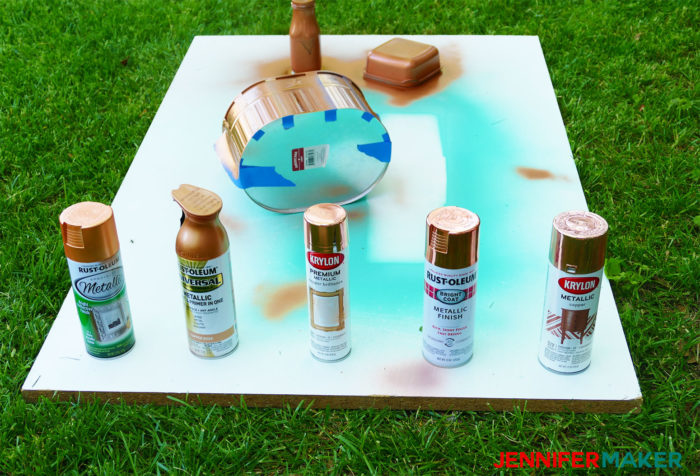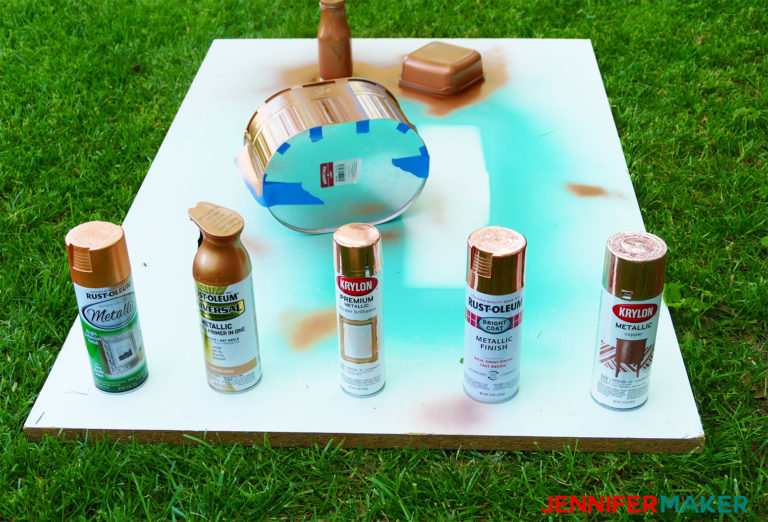 Why did I pick these five spray paints? These are the popular ones readily available at craft stores and home improvement stores, as well as those well rated on Amazon. No, it's not every copper spray paint made, but it does represent the ones you'll likely be able to find.
Note that I did not choose to test any hammered or antique copper spray paints, which are also available. I am most interested in true shiny copper, like a bright penny, and not any aged, weathered, or hammered looks.
Curious which paints I tested? Read on! This post contains some affiliate links for your convenience (which means if you make a purchase after clicking a link I will earn a small commission but it won't cost you a penny more)! Read my full disclosure policy.
Copper Metallic Spray Paints I Tested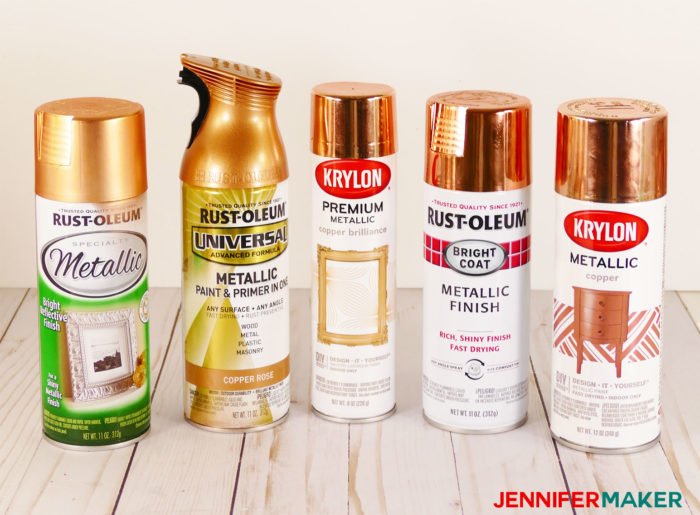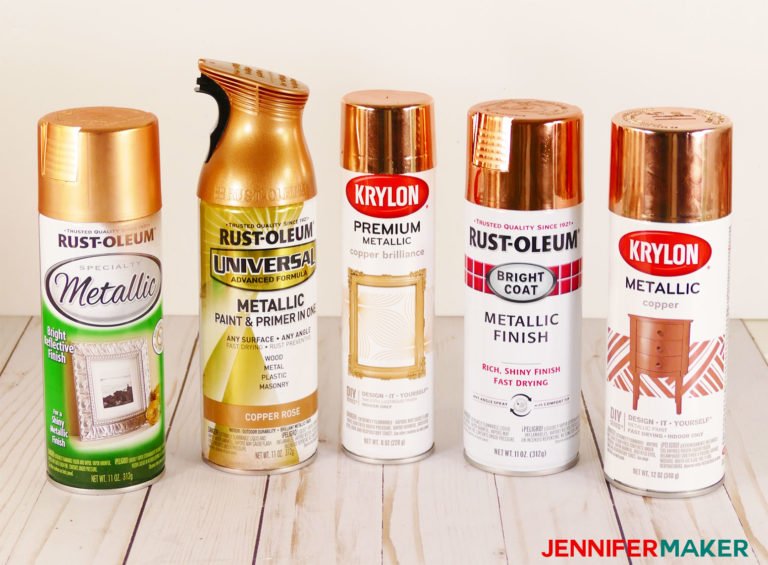 The Great Copper Metallic Spray Paint Test
For this to be a fair test, I had to apply the copper paint equally to the same items. So I tested copper spray paint on glass bottles (old Starbucks Frappuccino bottles), on plastic (a simple plastic container), on metal (aluminum), on naked wood (pine), and on primed wood.
Let's take a look at how each copper spray paint did.
First, we sprayed glass bottles with each copper spray paint. You'll note there is a huge difference in hue, shine, and coverage among these different spray paints.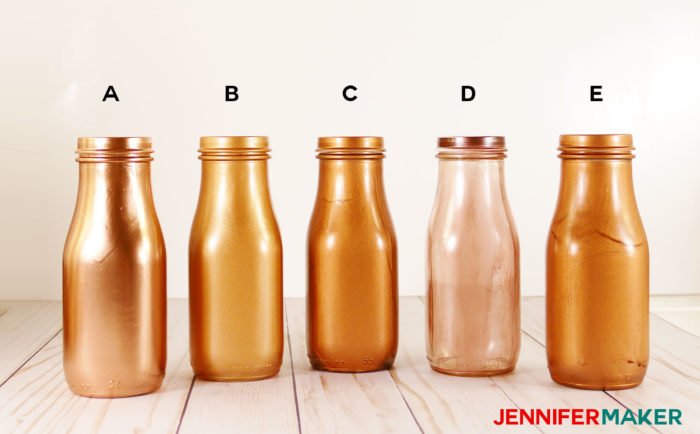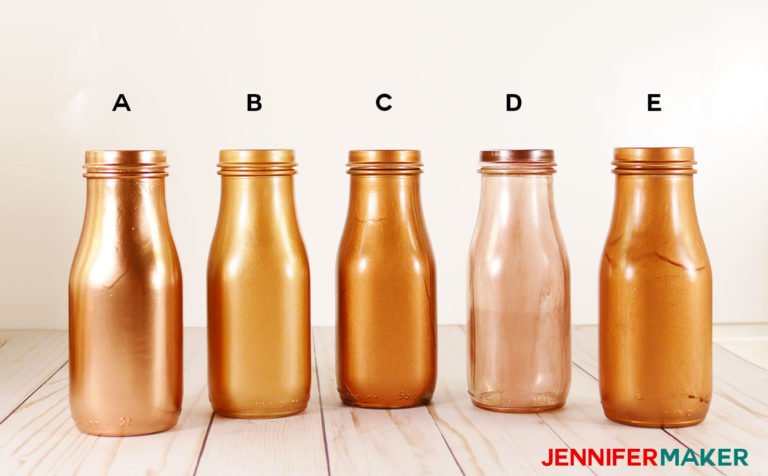 Now let's look at how these copper spray paints did on plastic. You'll note that D is not pictured at all — that's because we couldn't get the spray paint to even stick to the plastic with that paint.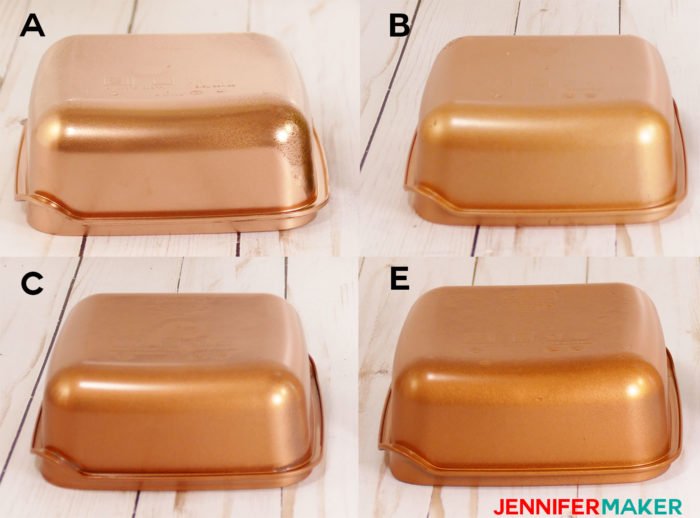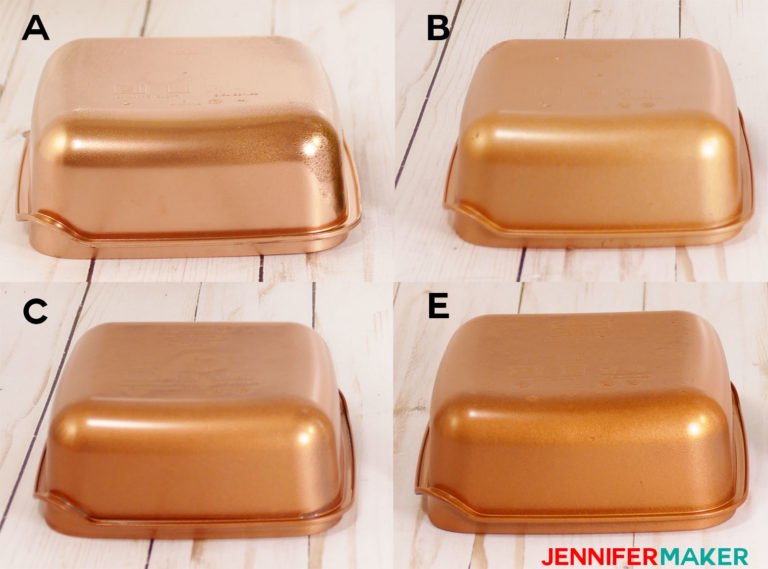 How did did the spray paints do on metal? Here are all five of the copper spray paint on aluminum: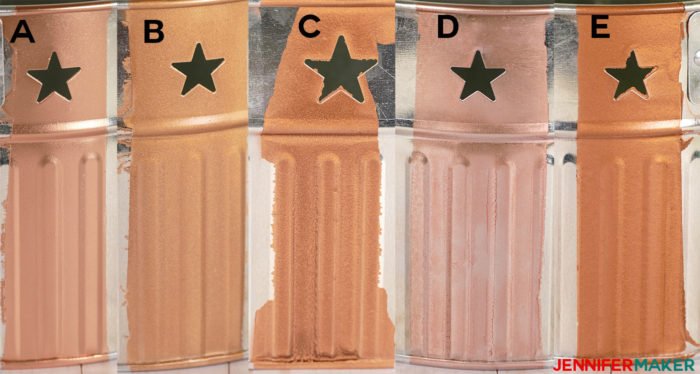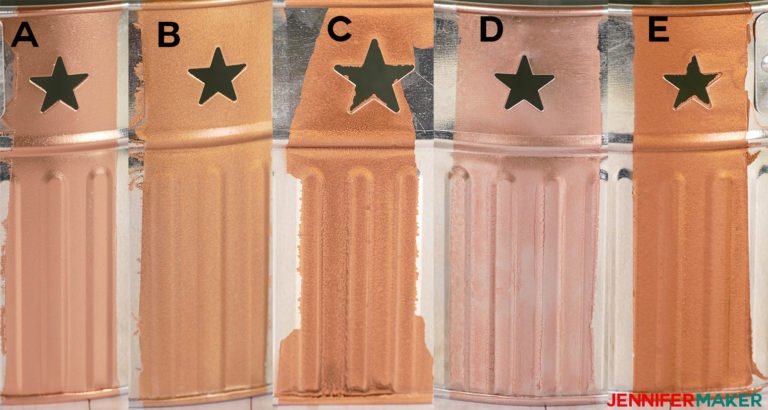 Finally, we tested each copper spray paint on wood. We have the paint on both primed wood and bare wood. (the primer is toward the center of each test).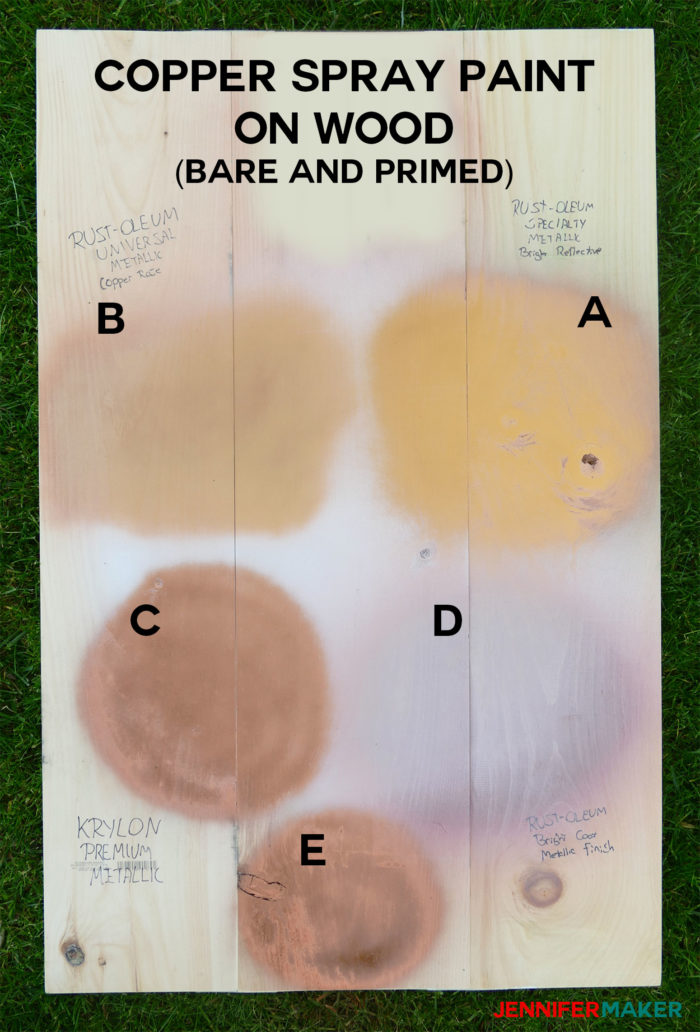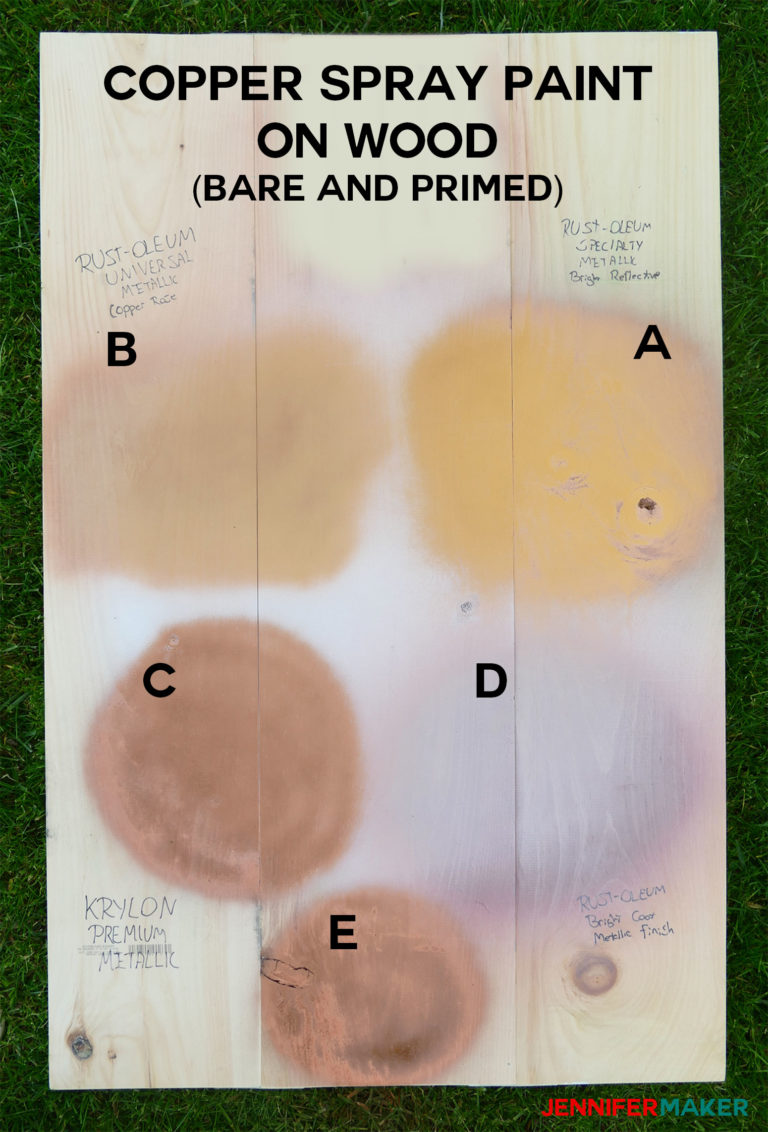 Here's how each letter matches up to the spray paints we tested:
A = Rust-Oleum Specialty Metallic Copper
B = Rust-Oleum Universal Metallic Paint & Primer Spray, Copper Rose
C = Krylon Premium Copper Metallic Brilliance Spray Paint
D = Rust-Oleum Bright Coat Metallic Finish, Copper Spray Paint
The BEST Copper Spray Paint
Was there a clear winner? Absolutely! Paint "A" (Rust-Oleum Specialty Metallic Copper Spray Paint) stood out as the best copper spray paint in every test. It was the most metallic, had the most genuine copper color, and it covered all objects very well. My favorite aspect of this paint was how shiny it appears, liked real copper.
I mean, look at that luster! I am totally in love with this metallic spray paint.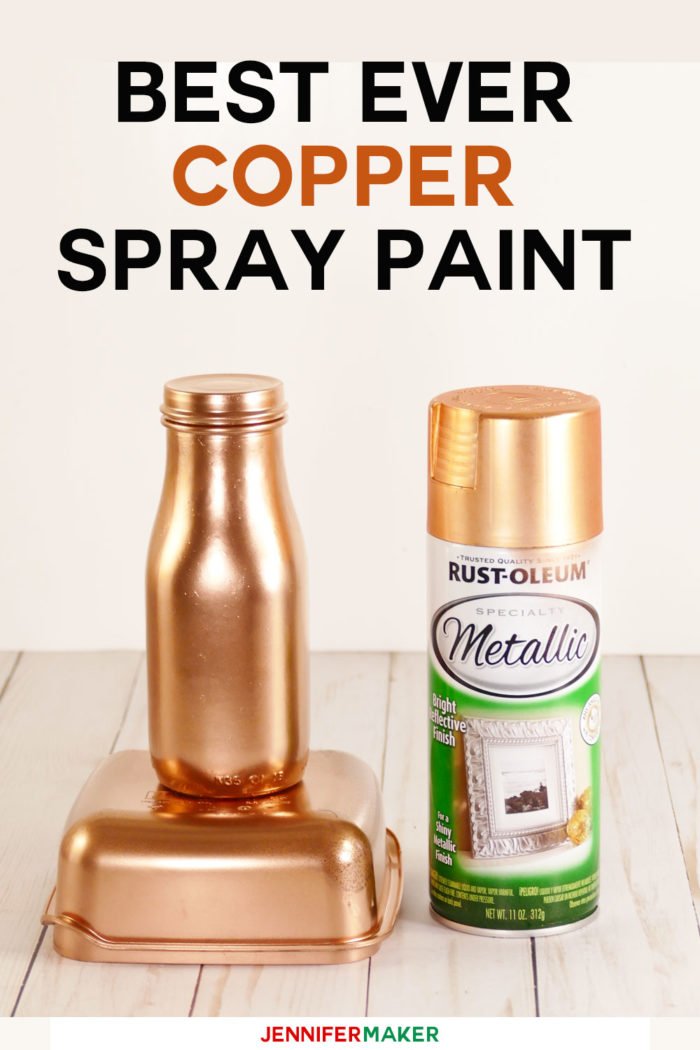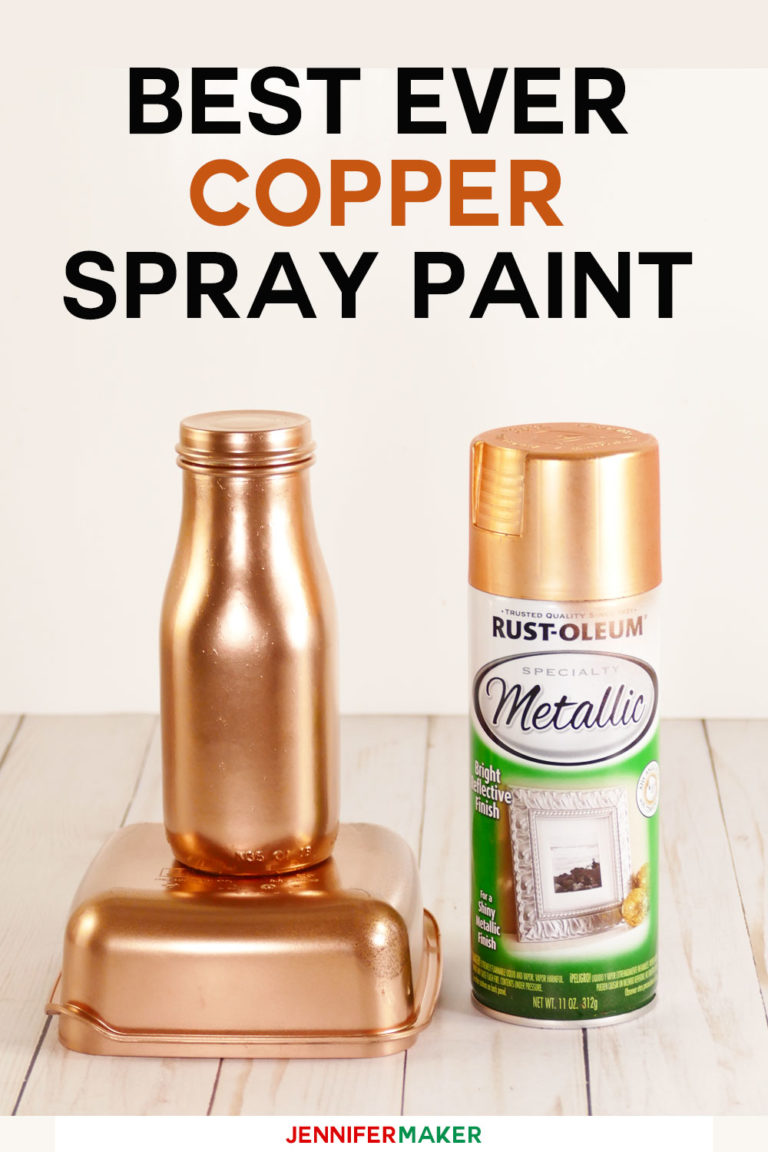 The Rust-Oleum Specialty Metallic line also comes in gold, silver, and brass. Their information page says this paint can be applied to wood, metal, plaster, masonry or unglazed ceramic. And it's made with real metal leafing flakes, which is probably why it is so shiny. But it should be noted that this paint is for indoor use only.
It's important to note that the other Rust-Oleum spray paints were really quite different from the "Specialty Metallic," so don't just get the Rust-Oleum brand and call it good.
My second favorite spray paint is a toss up between was B (Rust-Oleum Universal Metallic Paint & Primer Spray, Copper Rose) and E (Krylon Metallic Copper) — they both had great coverage and went on smoothly.
The worst paint was D (Rust-Oleum Bright Coat Metallic Finish, Copper Spray Paint) — it had horrible coverage and weird pinky color that didn't remotely resemble real copper. Yuck.
I hope this comparison test helps you determine the best copper spray paint for your next DIY project! If it does, please share a photo of what you did! You can send your photo to [email protected] or tag me on social media with #jennifermaker.
Love,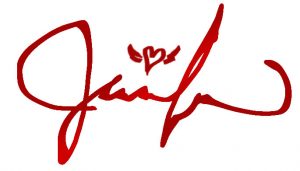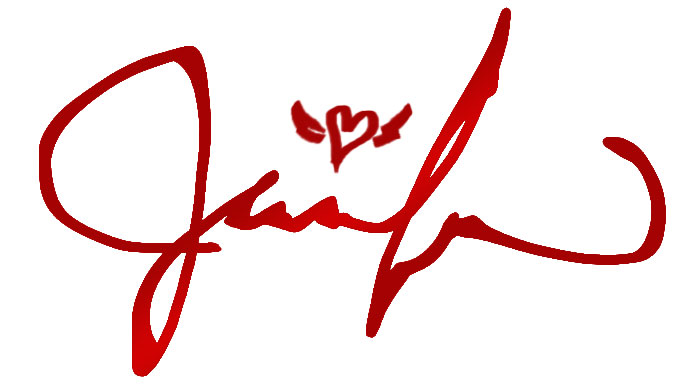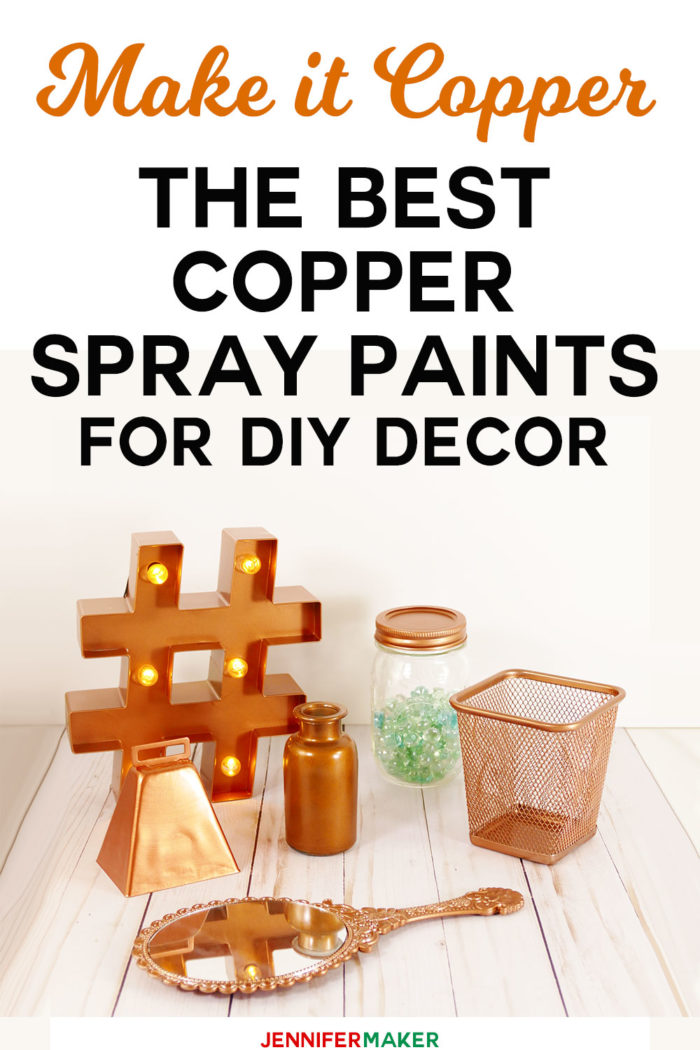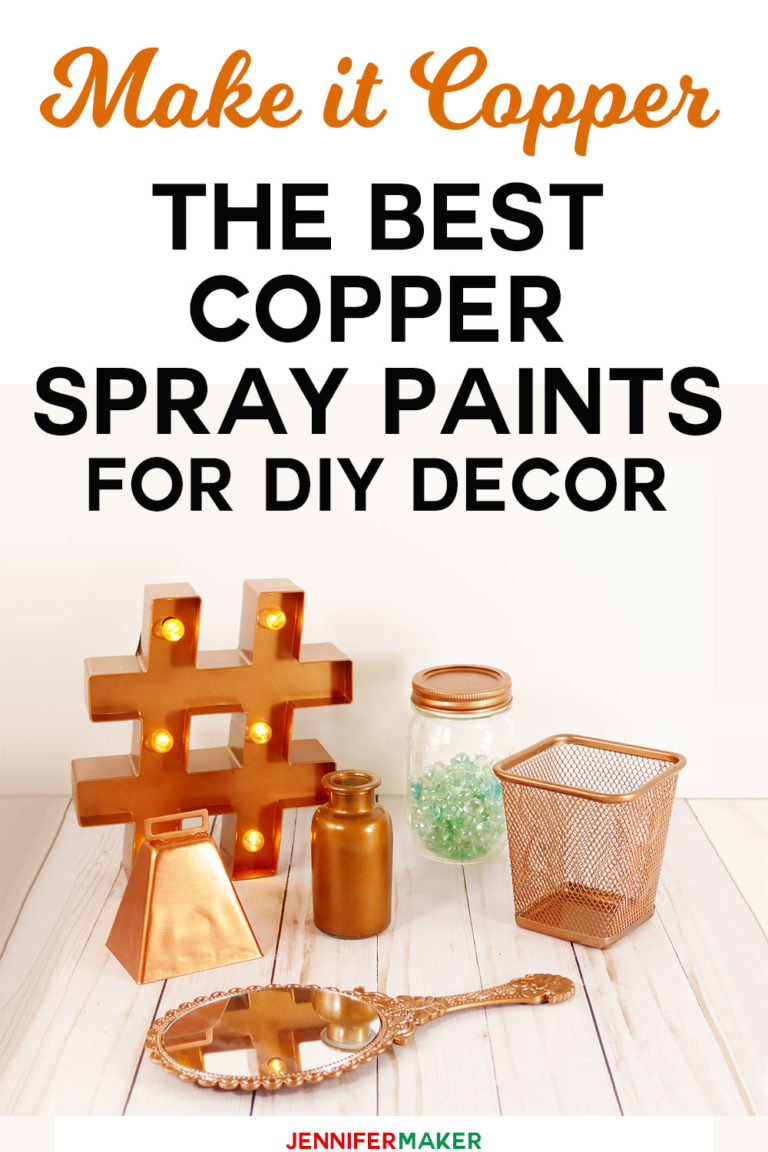 Get the best copper spray paint for your project