Make a large framed pegboard to organize all the tools and supplies in your craft room! You can even paint your giant pegboard and/or decorate the corners to make it a focal point of your craft space.
My ultimate craft room project is coming along nicely. I've put together my huge craft table, made an awesome paper storage tower, and made a very cute craft cart. But my craft room was still missing something. My walls are mostly blank which means I'm not utilizing all that valuable space. What should I do? Well, I should make a big pegboard for my craft room, of course! And as I had a large empty space, what I really needed was a large framed pegboard that would be functional as well as pretty.
I've been doing a lot of research into pegboards, and I created an entire Ultimate Pegboard Organization Guide for Craft Rooms. There are many different ways you can make them and mount pegboards. I had a very large space in my craft room — more than six feet wide and more than three feet high — so I went with a very robust and strong mounting technique.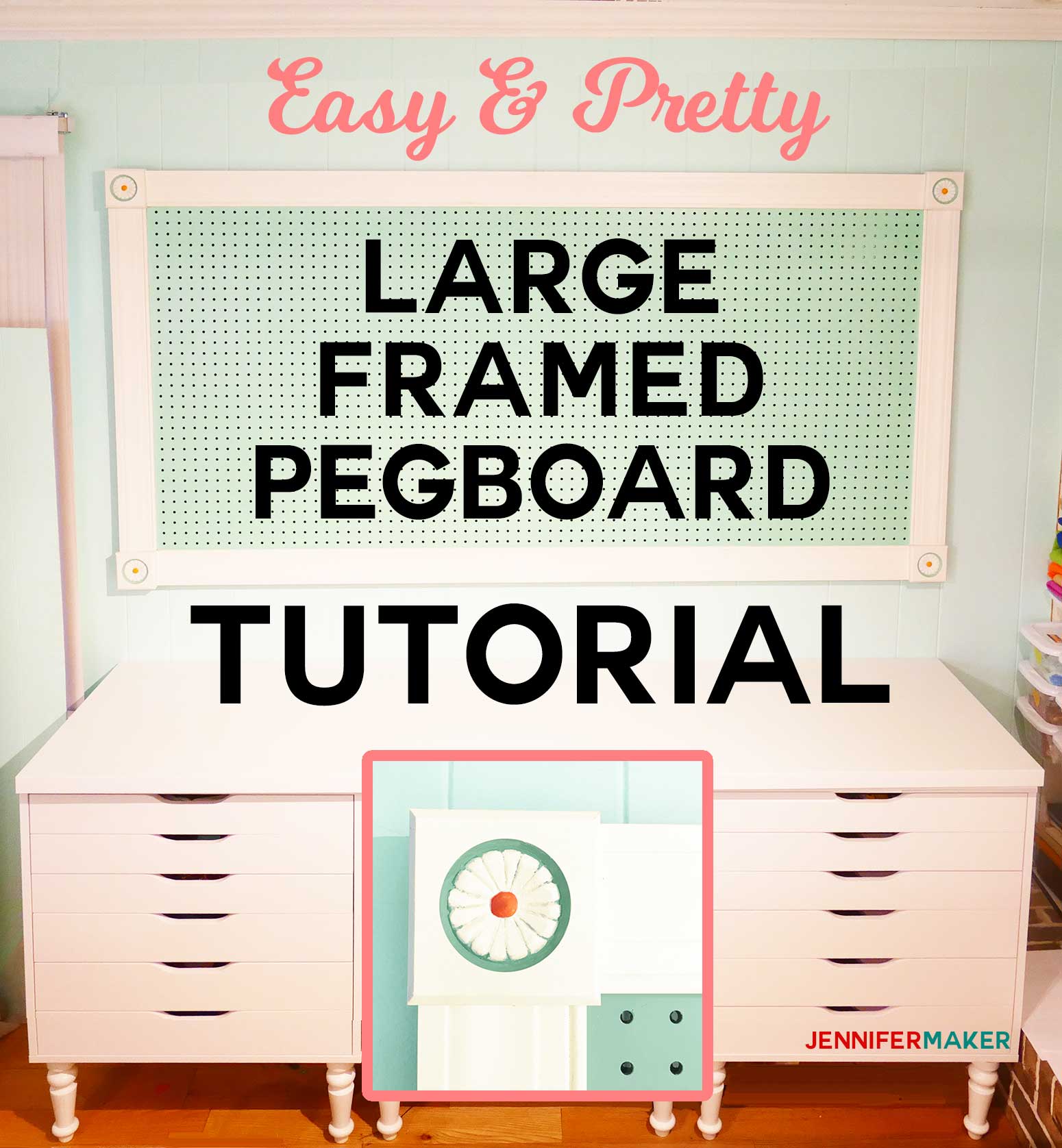 And even though I wanted my pegboard to be large and heavy-duty, I also wanted it to be pretty! So I knew I wanted to put a pretty frame around my pegboard. What I wasn't sure was which color to paint the pegboard and the frame. So I asked my amazing community over on my Craft Room Organization Facebook group (If you aren't a part of this group, you should be—these folks are SO helpful and just filled with amazing craft room organization ideas). I posted this photo and asked everyone to vote: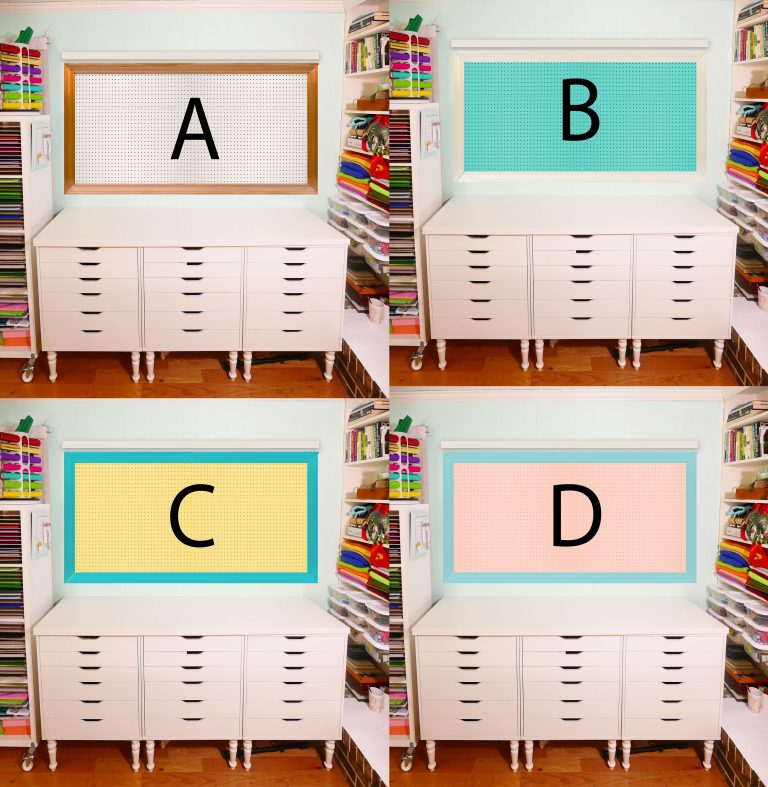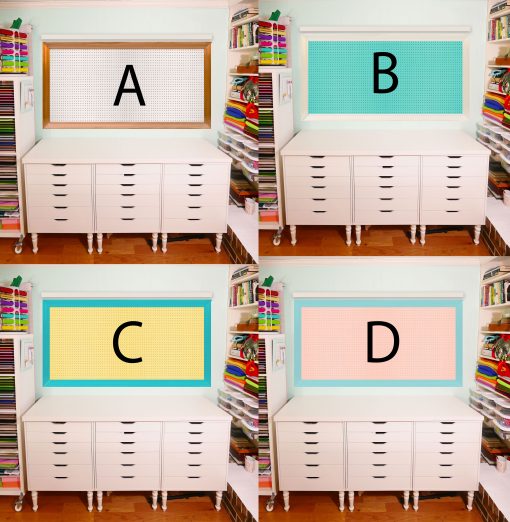 A: Metallic copper frame with white pegboard
B: White frame with turquoise blue pegboard
C: Turquoise frame with yellow pegboard
D: Light blue frame with pink pegboard
My friends voted for option B, but they suggested I lighten the blue paint on the pegboard a bit. So together we came up with this mockup: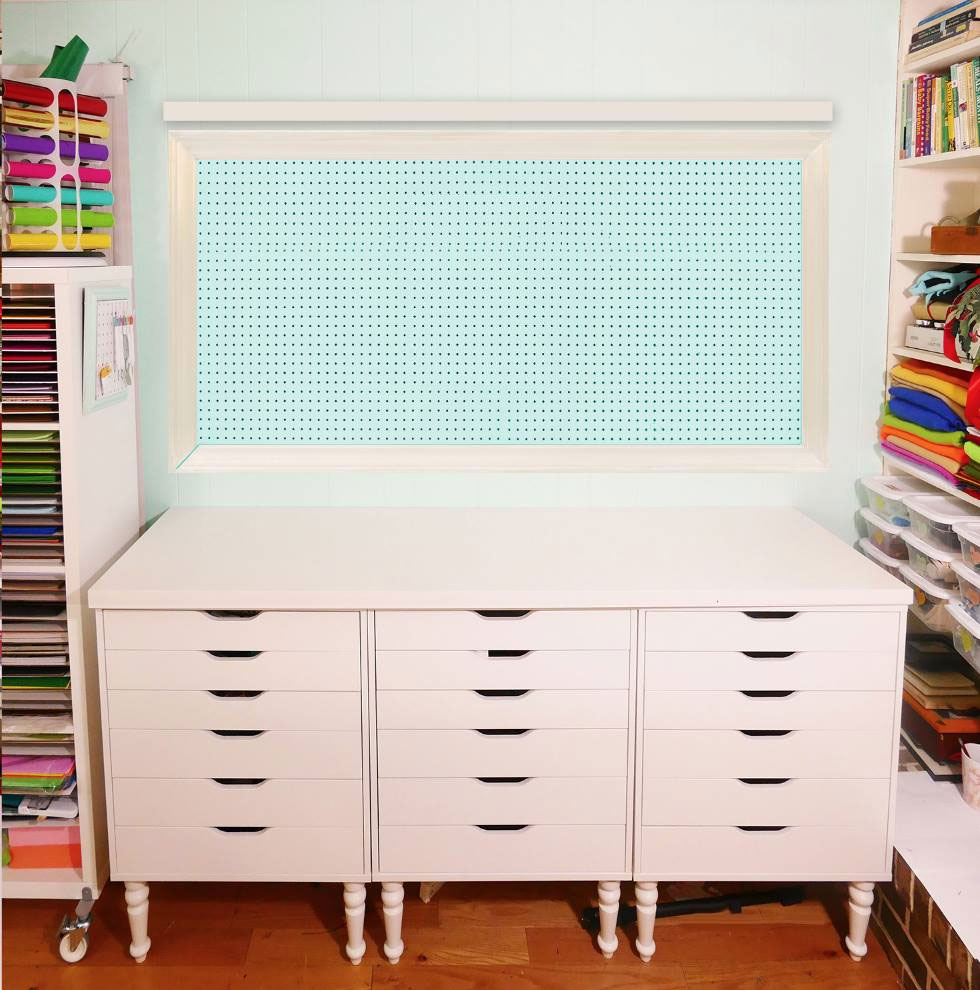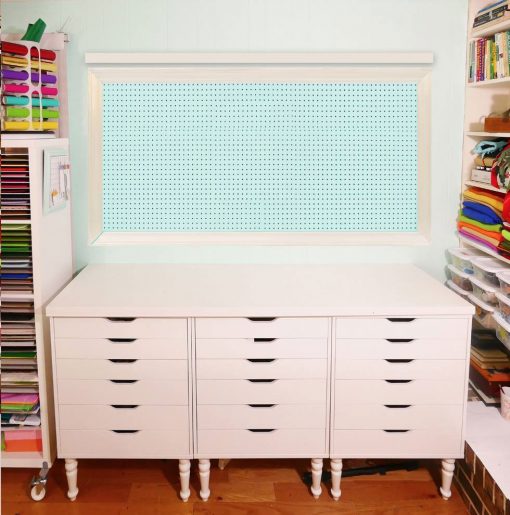 If you have the ability to ask folks for feedback like this in a Facebook group, I HIGHLY recommend it. This was really helpful to me. It's also a good idea to spend some time designing your craft room so you know just what you want, too!
So now that I knew what I wanted, I took my list of materials to Lowe's and got everything. It wasn't hard to make. Let me show you how we made this large framed pegboard. This post contains some affiliate links for your convenience (which means if you make a purchase after clicking a link I will earn a small commission but it won't cost you a penny more)! Read my full disclosure policy.
Large Framed Pegboard Materials
Tools used in this project include a saw (we used a table saw, but handsaw would work fine), cordless drill, hammer, and level.
Note: Pegboard tends to come in 8′ x 4′ sheets, which are often too large for cars and SUVs. So be prepared with measurements so you can have it cut (Lowes and Home Depot usually have panel saws so you can cut large sheets), or tiedowns for the top of your car.
Large Framed Pegboard Tutorial
Measure your wall space and determine the size you'd like your finished pegboard to be. Take away 1″ on both dimensions of your pegboard—this will be the size of the pegboard itself (before you put on the frame). For example, I wanted my finished pegboard to be 39″ tall by 78″ wide, so taking away one inch left me with 38″ by 77″.
Cut your pegboard to the exact measurements you obtained in the previous step. You may be able to have your local home improvement store do this for you if they have the equipment (a panel saw). Check out this article on how to get great cuts from home improvement stores.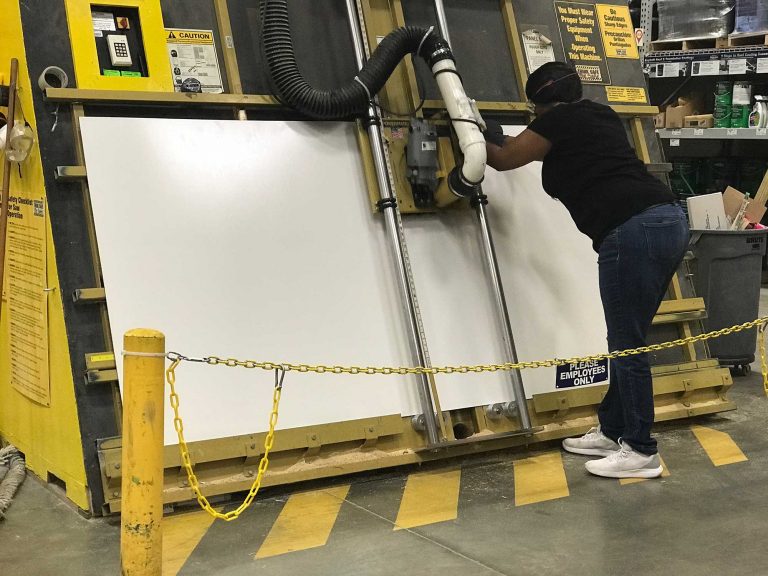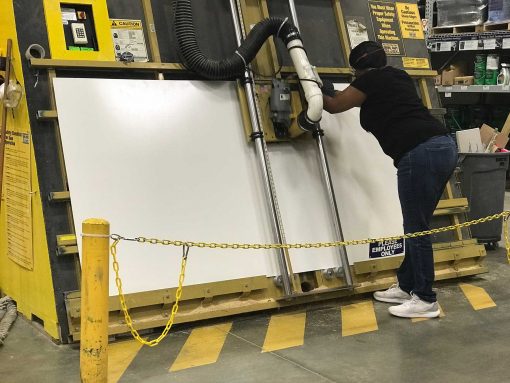 Tip: Take a few extra minutes to mark your cuts so that your peg holes are centered perfectly between them. This will result in a finished pegboard where all the holes are centered perfectly between the edges of the frame. This is more likely an option if you cut your pegboard yourself, like we did.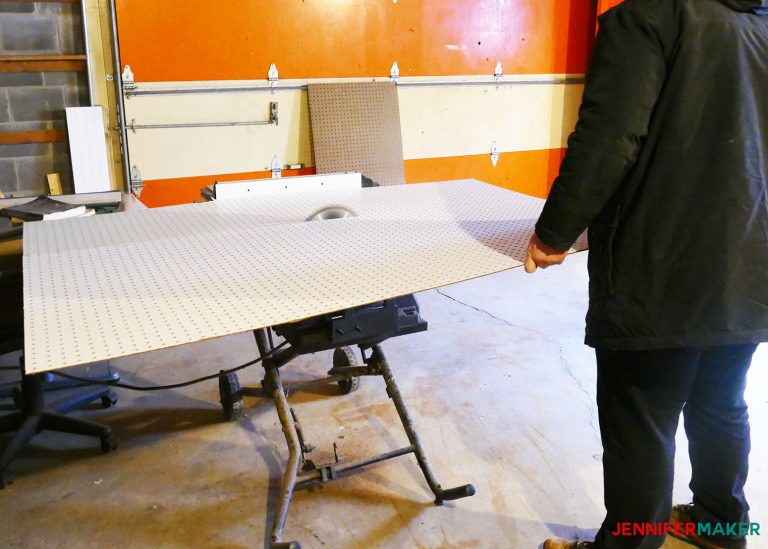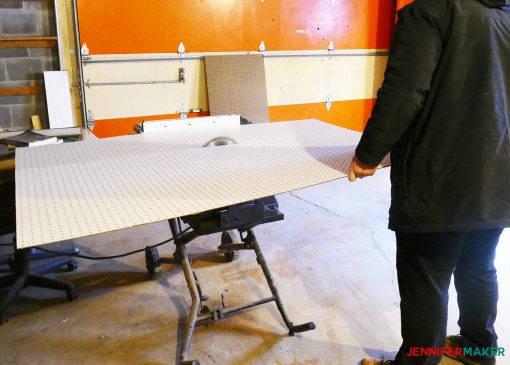 Painting Your Large Framed Pegboard
If you plan to paint your pegboard, do it now. I went with paint that was a shade or two darker than my walls (which are painted in Benjamin Moore #653 "Seagrove"). So I painted the large pegboard with the "Green Charm" (5008-8A) color. I did two coats of paint because the first coat was a little spotty in places.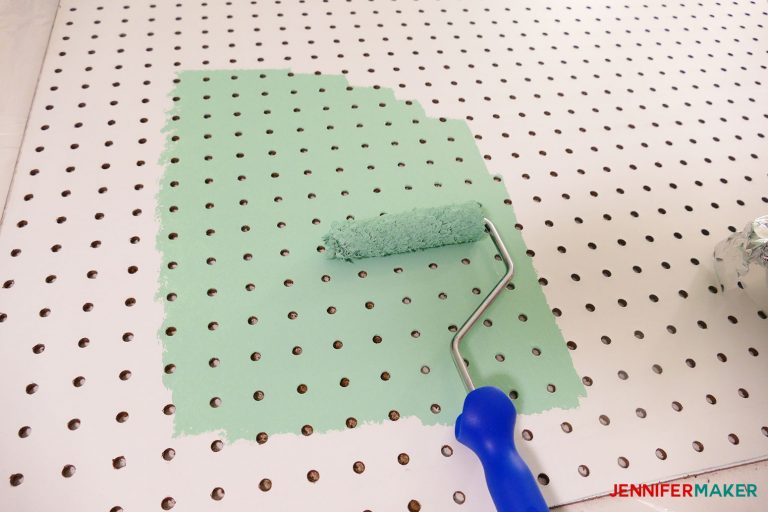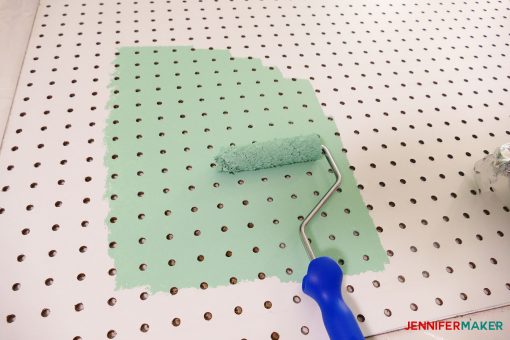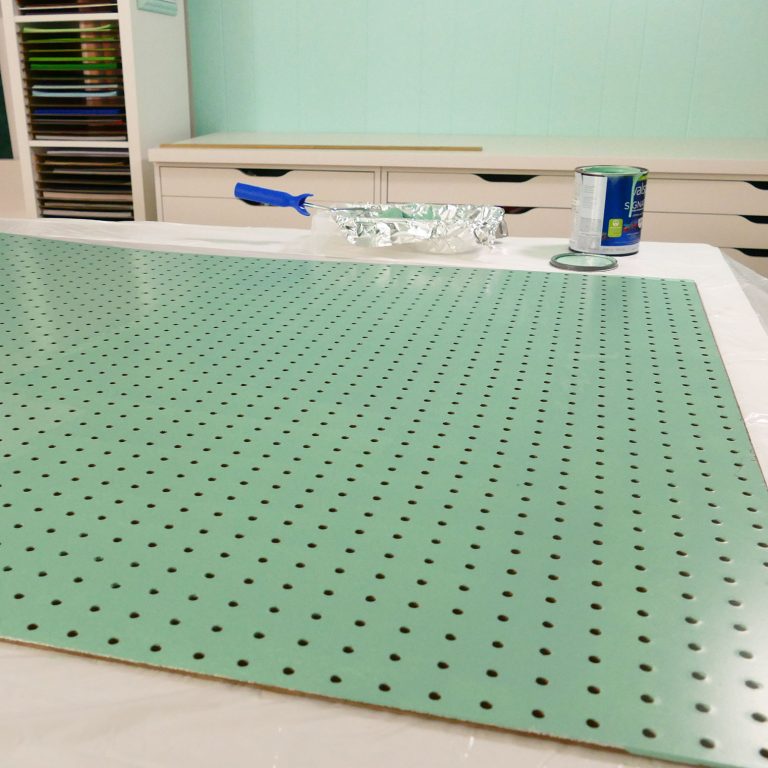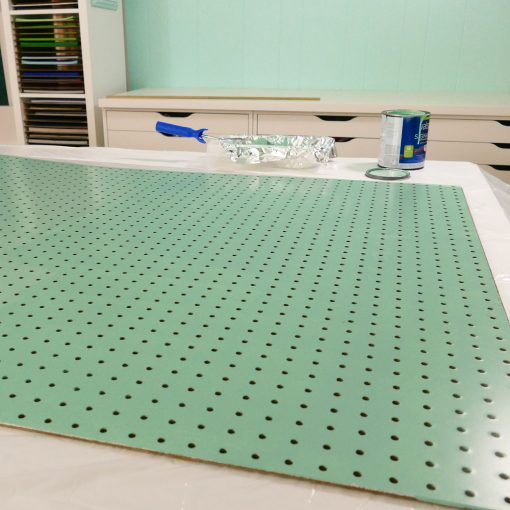 While your paint is drying, cut your moulding to size. The size of your moulding depends on the size of your rosettes. If yours are also 3.5″, then just subtract 7″ from your finished frame dimensions. So my finished frame dimensions are 39″ by 78″—if I subtract 7″ from that, I get 32″ by 71″. So I cut two strips of moulding 32″ long, and two strips of moulding 71″ long.
You should also cut those long, narrow boards to size. These just need to be about two-thirds the length of your pegboard. We cut ours to 50″ long. These are your mounting boards.
If you need to paint your frame, do that now. Even though my moulding was already white, I still painted my moulding with the "Swiss Coffee" (7003-16) color because wanted to be sure it matched the rest of the moulding and furniture in the room.
I also painted my rosettes in the same warm white color to be sure everything matched. The rosettes needed three coats.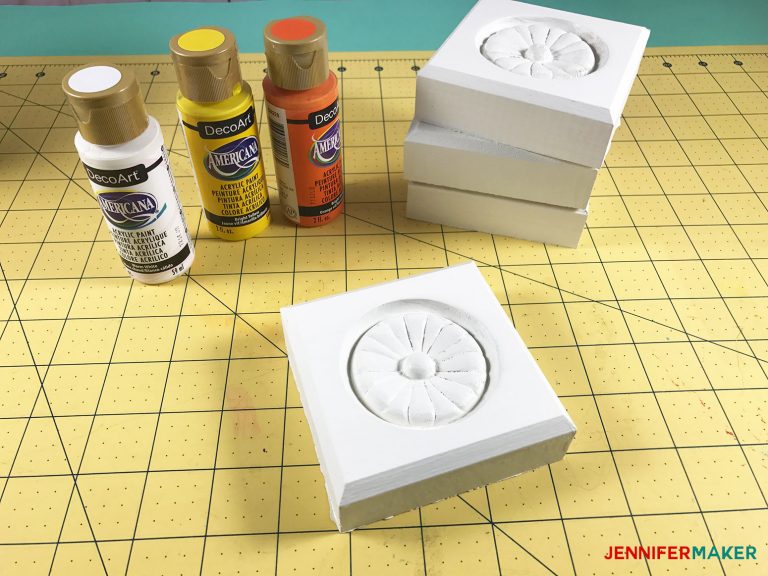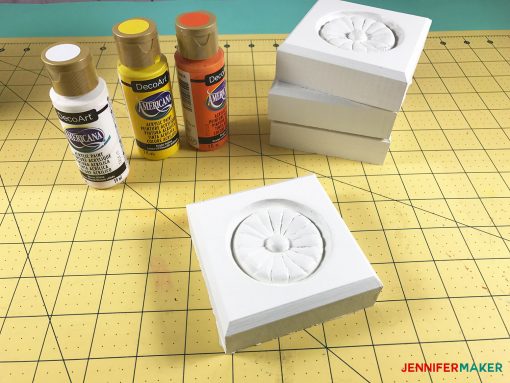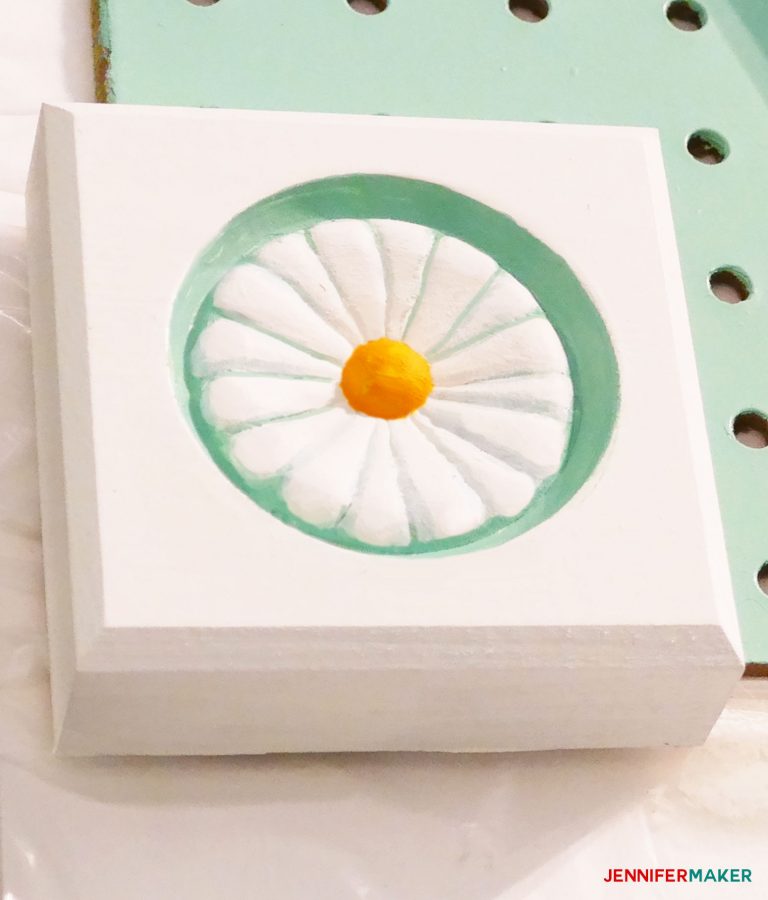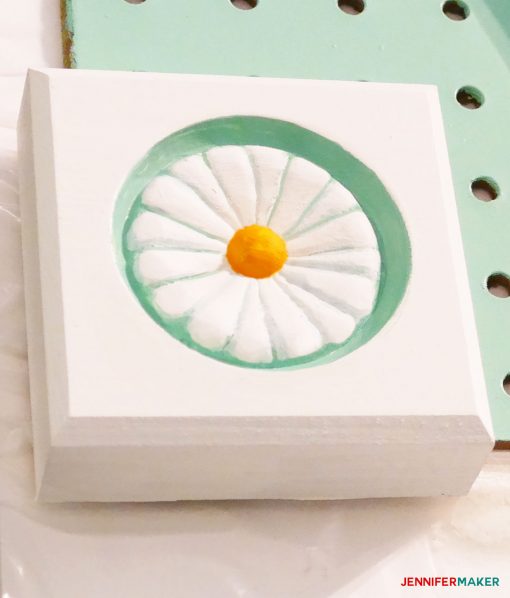 If you are at all concerned about paint chipping on your pegboard or plan a lot of heavy use, I recommend you spray the entire giant pegboard with a clear acrylic sealer.
Assembling Your Large Framed Pegboard
Once all the paint was dry (we waited 24 hours), we glued the moulding and rosettes to the front of the large painted pegboard using heavy-duty construction adhesive. Note, you want to center your rosettes between your moulding for the best and most balanced look. Your moulding and rosettes should overhang your pegboard by about 1/2″ on all sides—this is intentional, as it provides a cleaner edge when you are finished.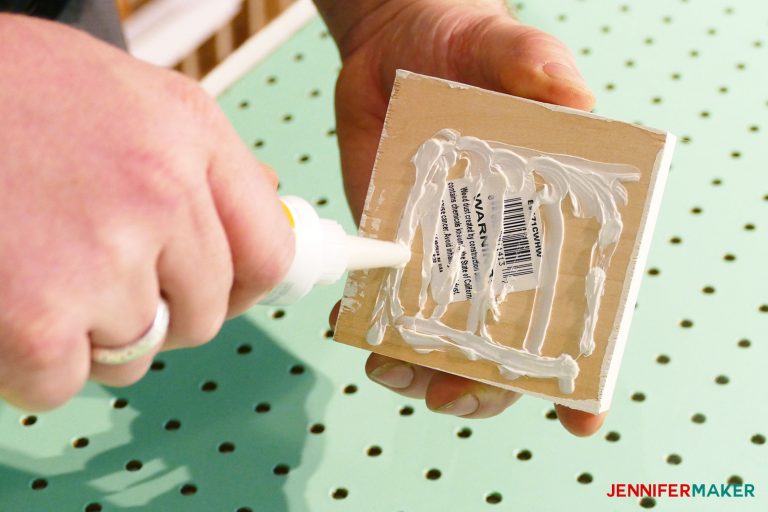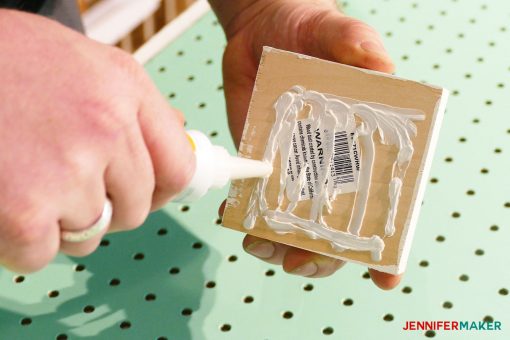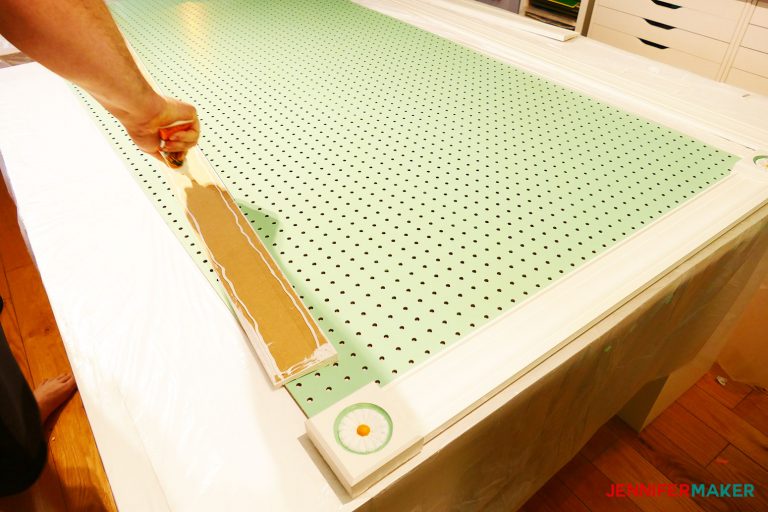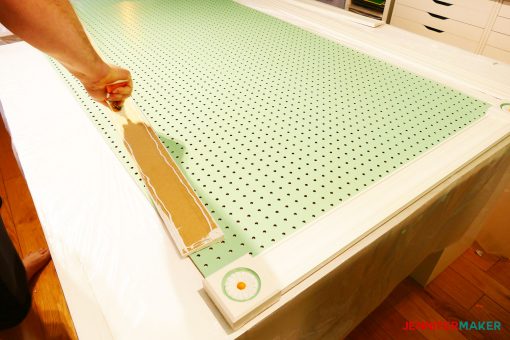 Weigh down all the edges of your giant pegboard with books or something heavy while the glue sets. The bigger your pegboard, the more necessary this is as there tends to be warping in both the pegboard and the moulding. You want to be sure the moulding is making good contact with the pegboard as the glue dries. We gave the glue 24 hours to set before moving on to the next step.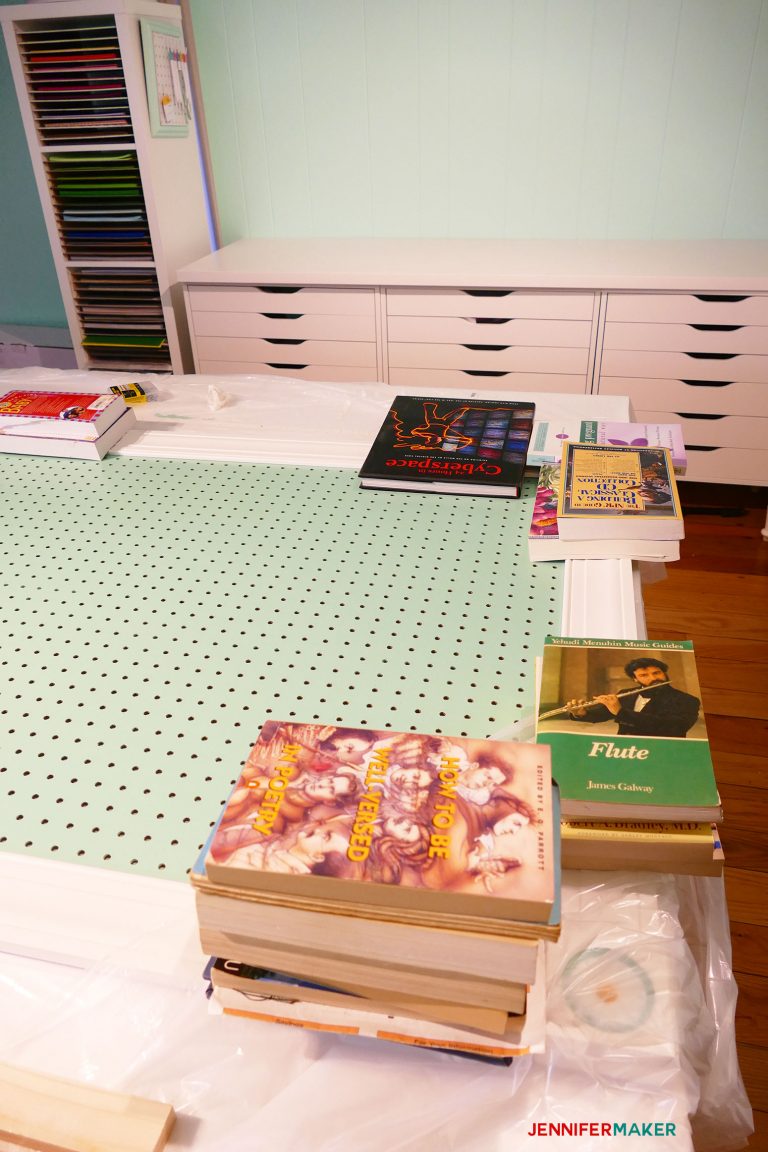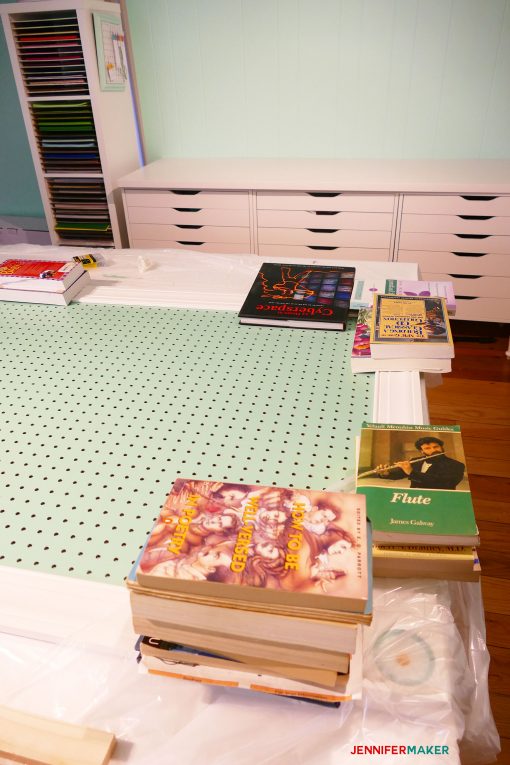 Mounting Your Large Framed Pegboard on the Wall
Measure and mark your wall to determine where your giant pegboard will go. I recommend you mount the center top position and center bottom position.
Find the studs in your wall (we simply used the knock-on-wall method, but you could always use a stud finder). Mark them in line with your top and center positions.
Attach the mounting boards you cut earlier to your wall with drywall screws that go into the studs. Use your level to make sure your mounting boards are straight.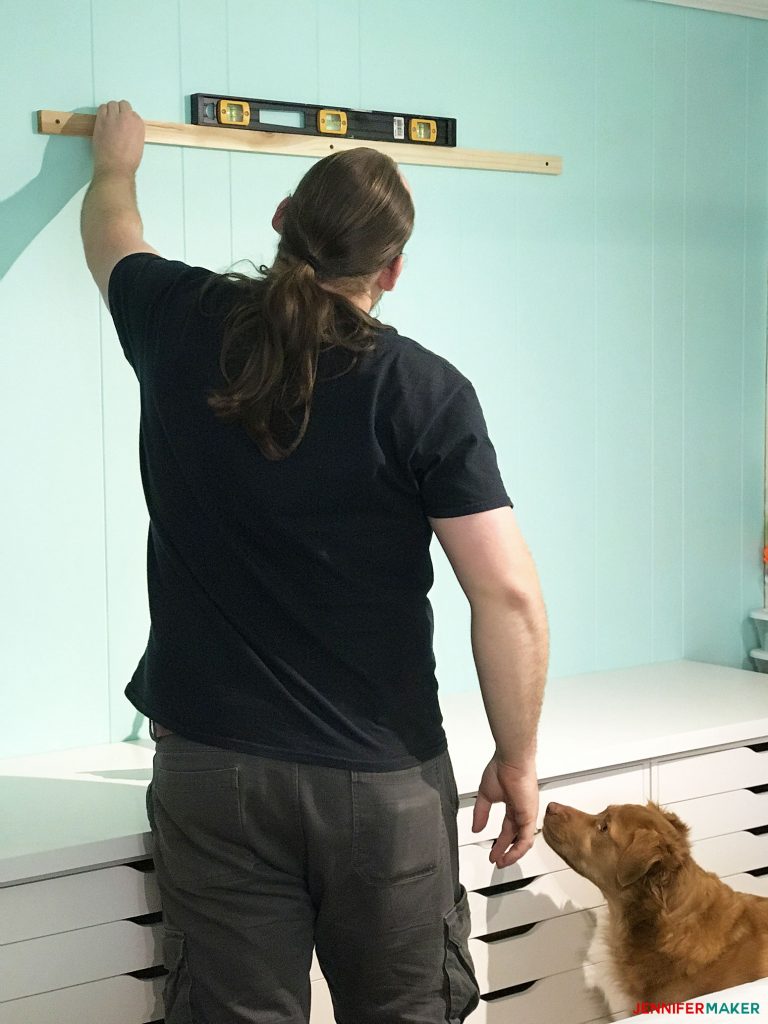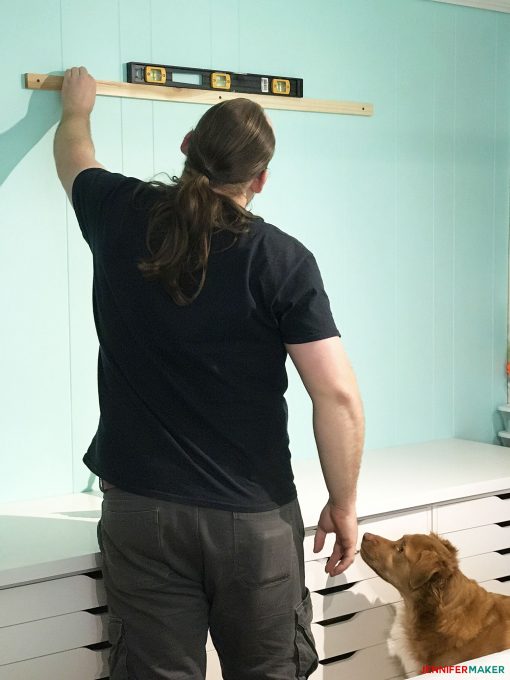 Hold up your framed pegboard and screw it in to the mounting boards. You'll likely need someone to help you hold it up while you screw it in. As were were putting ours over a set of drawers, we propped up some books to rest the huge pegboard on to make sure it didn't slip.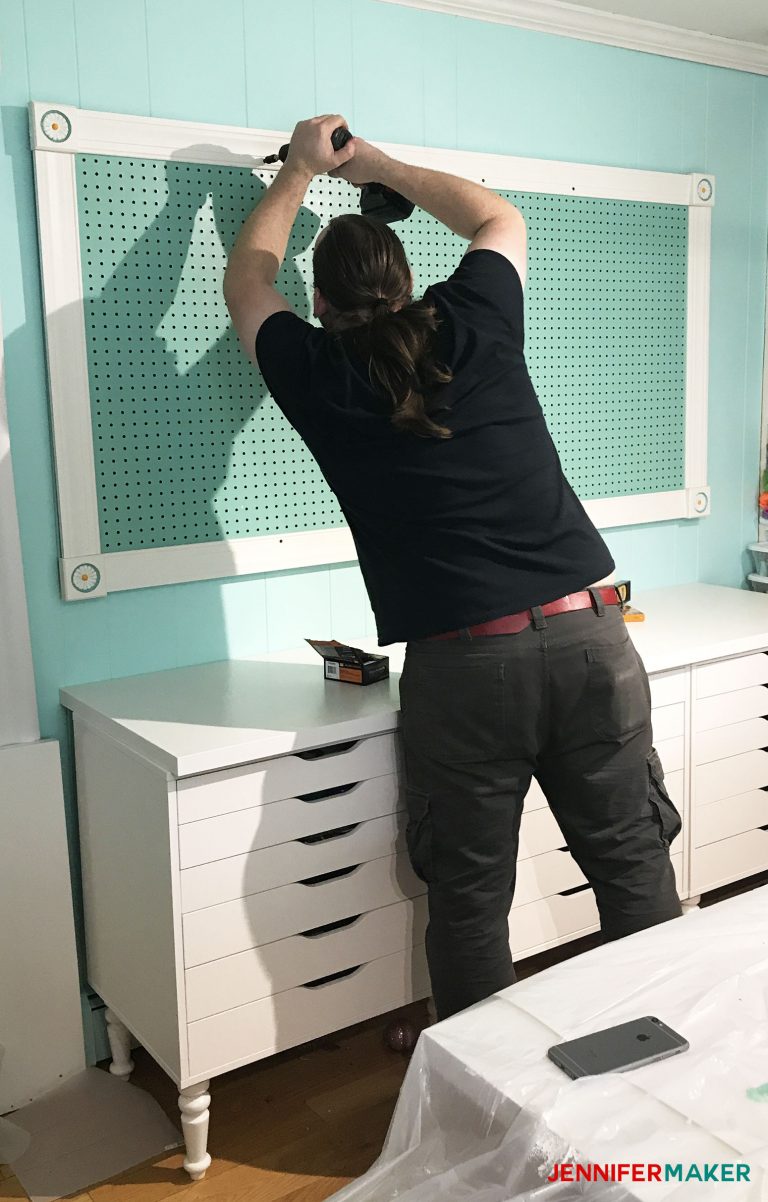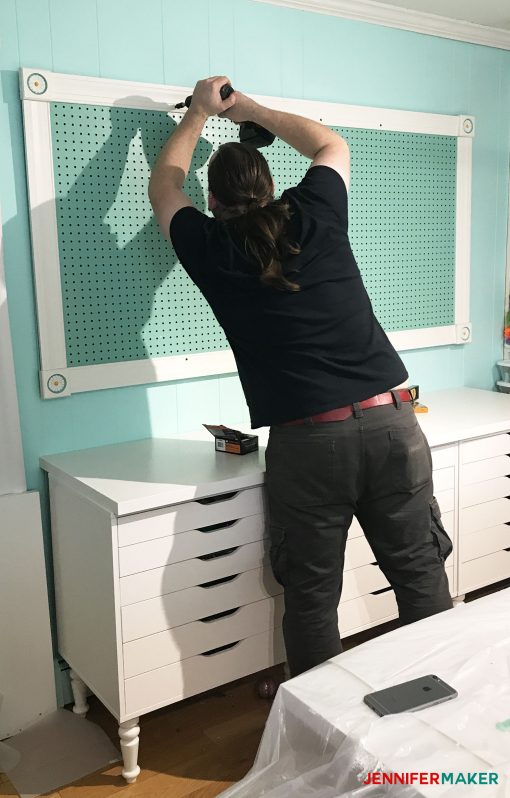 Wood fill over the screw heads, then paint them, so they don't show. Here's my tutorial on how to use wood filler to patch screw holes so they look crazy smooth.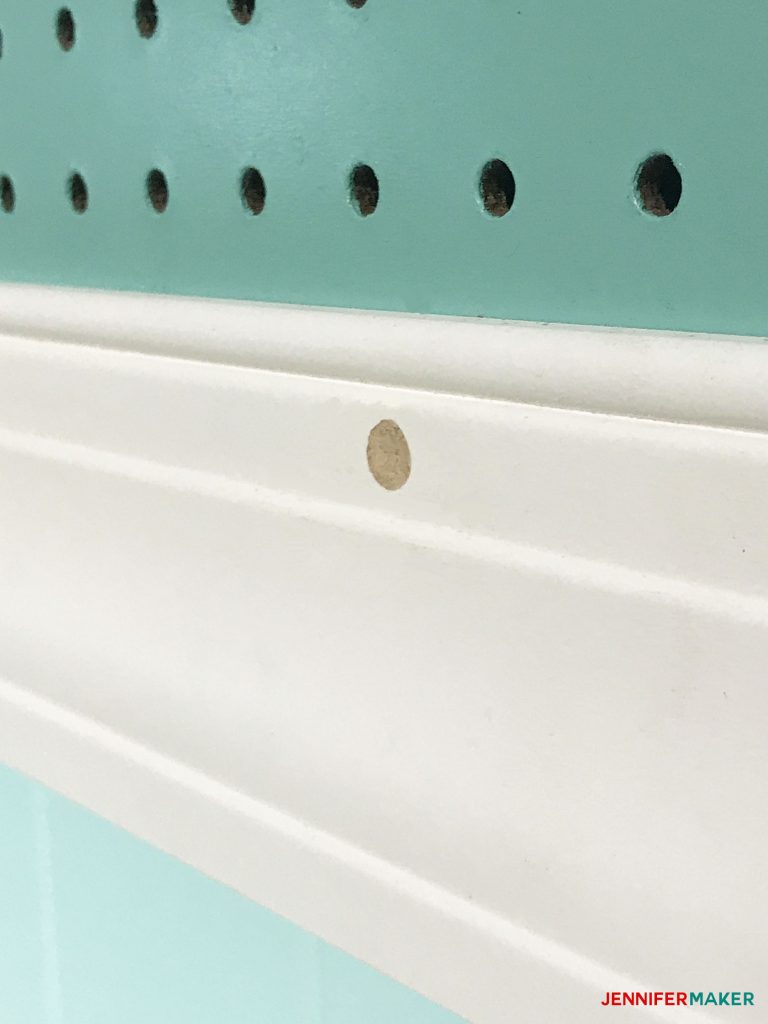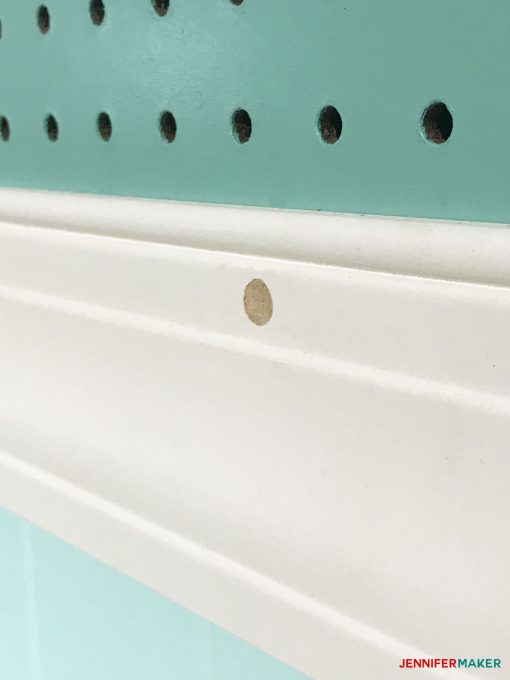 And there we go! Isn't this craft room pegboard beautiful? It makes my crafty soul happy!!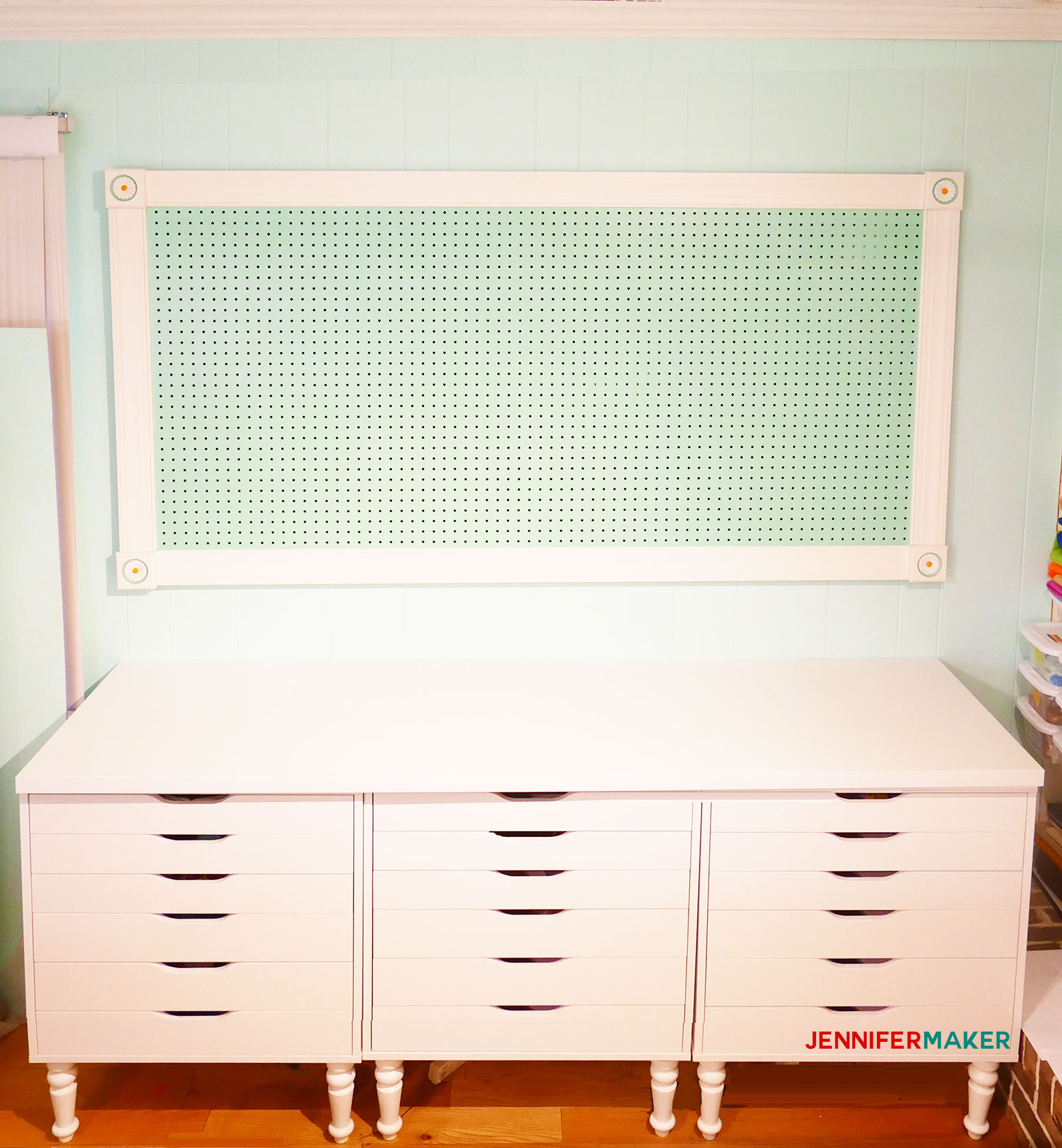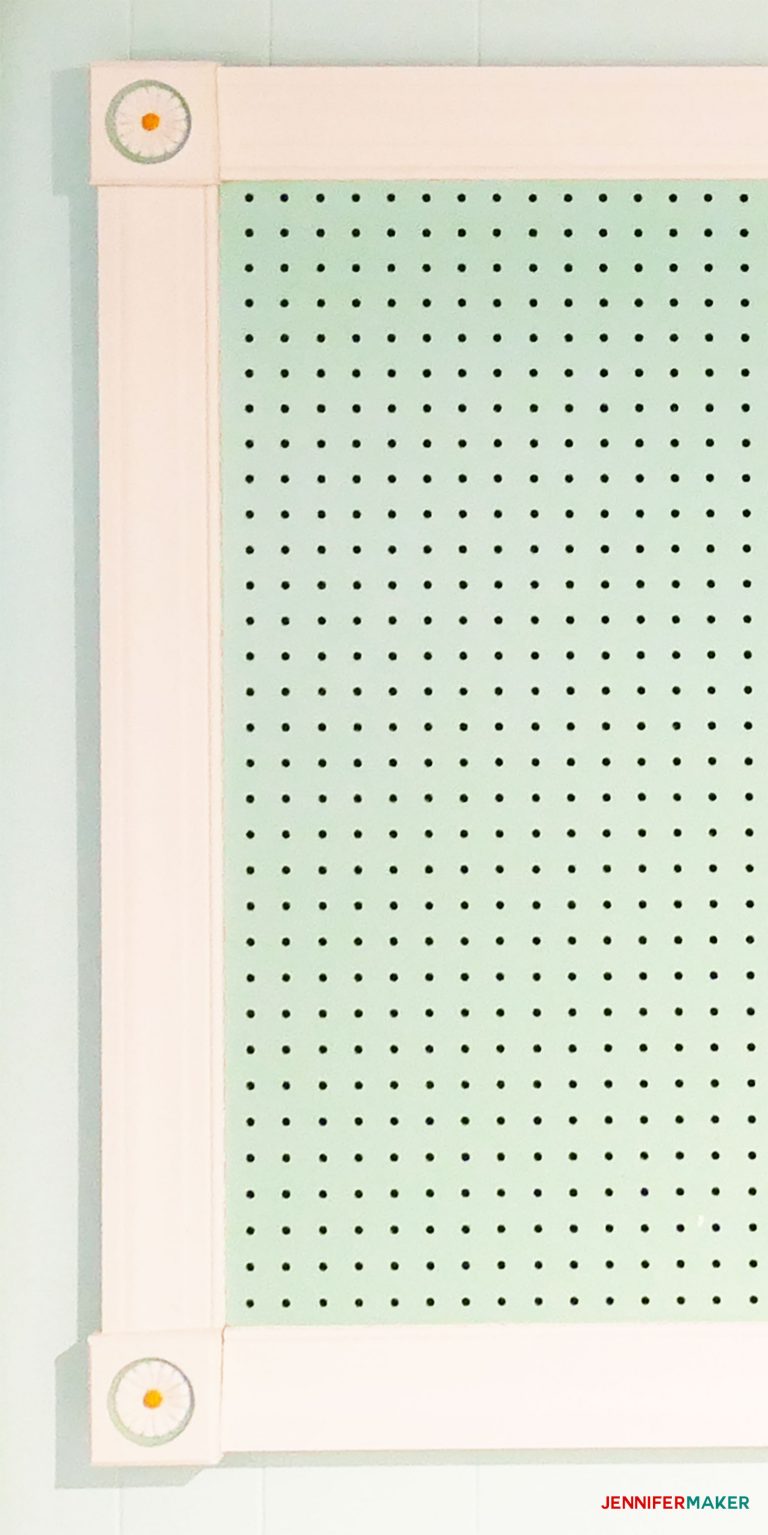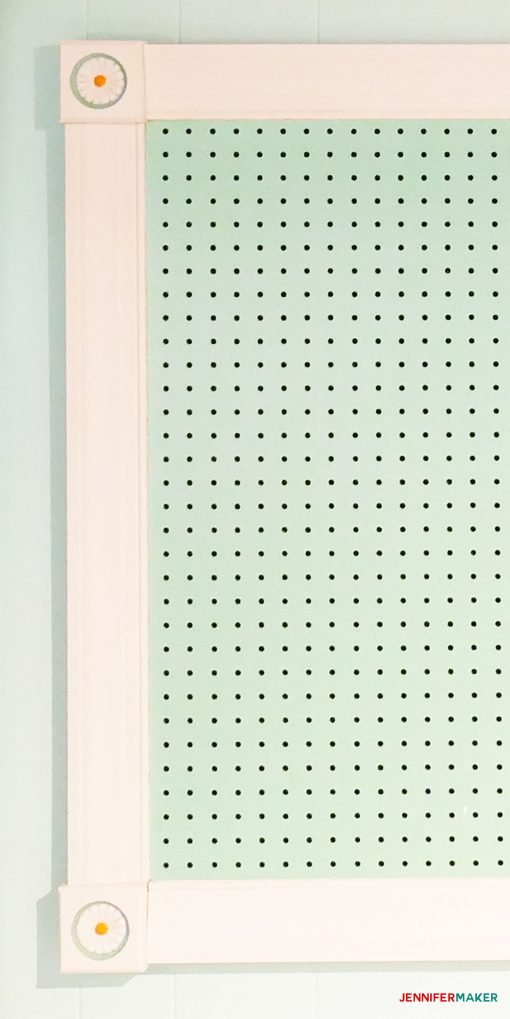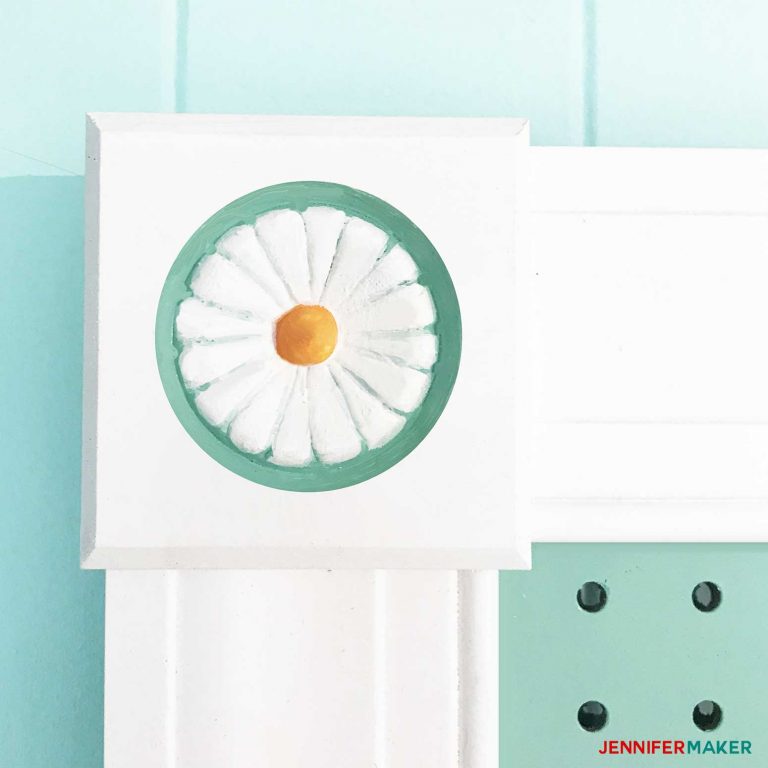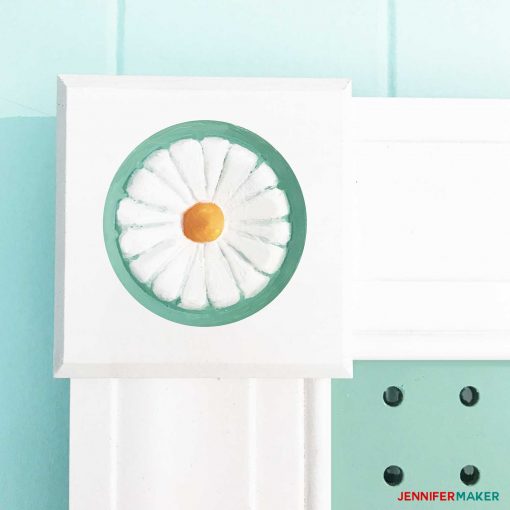 The next step was to fill the pegboard up with all of my tools and supplies. Here's a photo of the giant pegboard when everything is up on it! It's a lot of color, I know, but I tried to tie it all together with aqua and copper accents.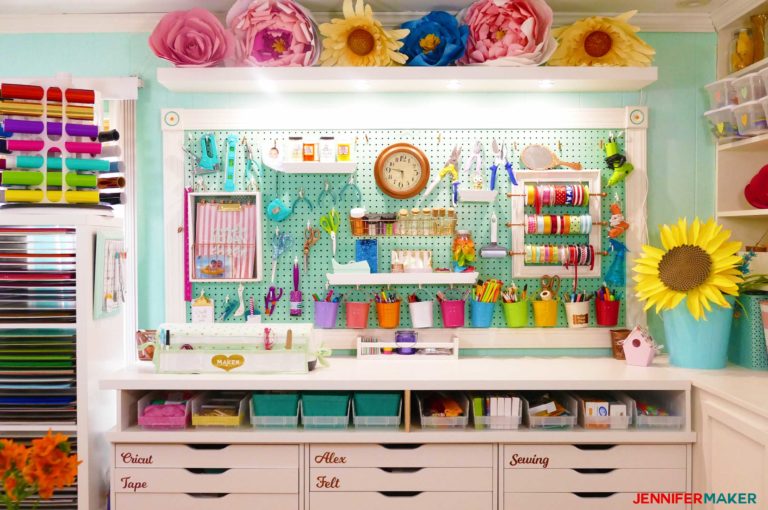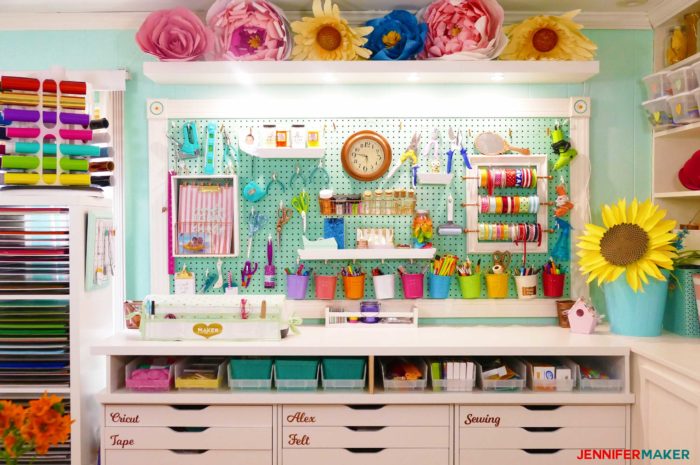 I just LOVE my large framed pegboard! It's so easy to find things and it's super cute and fun to look at, too. If you need more ideas on what to put on your craft pegboard, check out my Ultimate Pegboard Organization Guide for Craft Rooms.
If you want to know specifically what I have, I numbered everything on my board in the photo below — match it up to the items on my blog post at Craft Room Pegboard Accessory Ideas.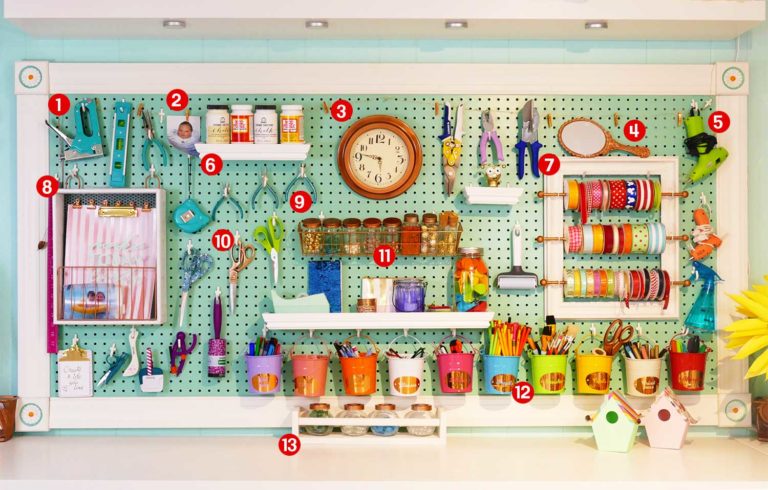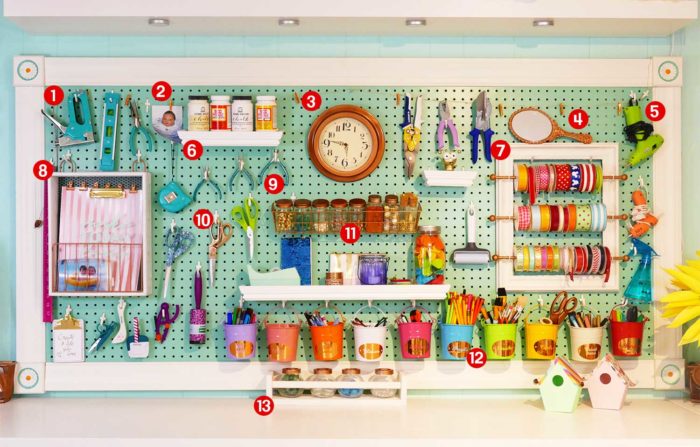 Please let me know if you have any questions about my giant pegboard! And come share your craft room pegboards over on our Craft Room Organization Facebook group! We've got a number of other crafters who have made some wonderful pegboards like this in a variety of different colors and styles.
Love,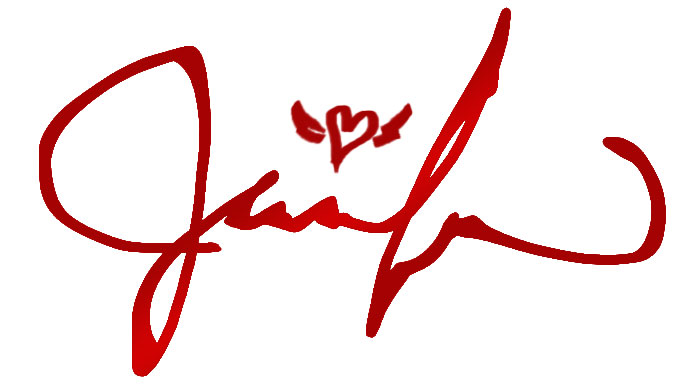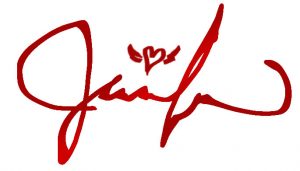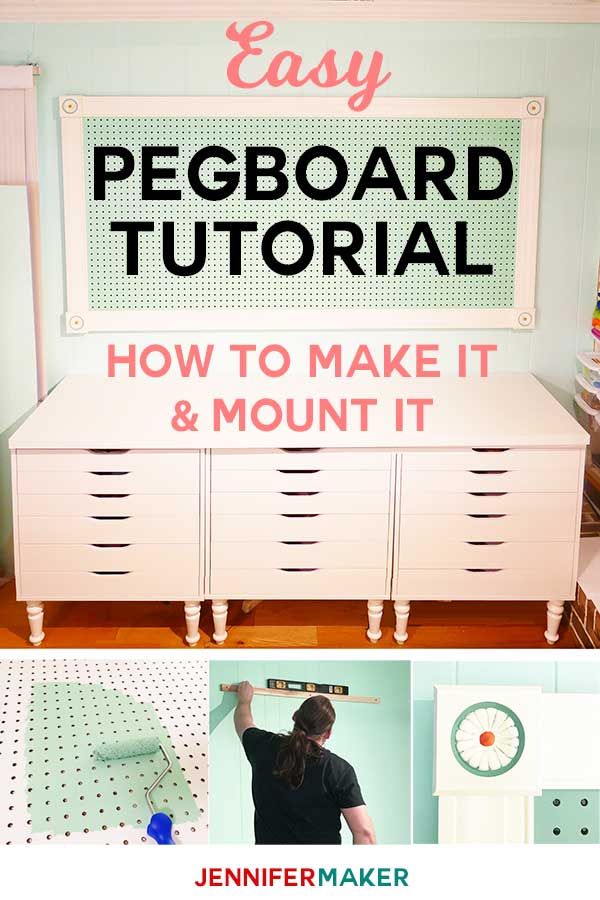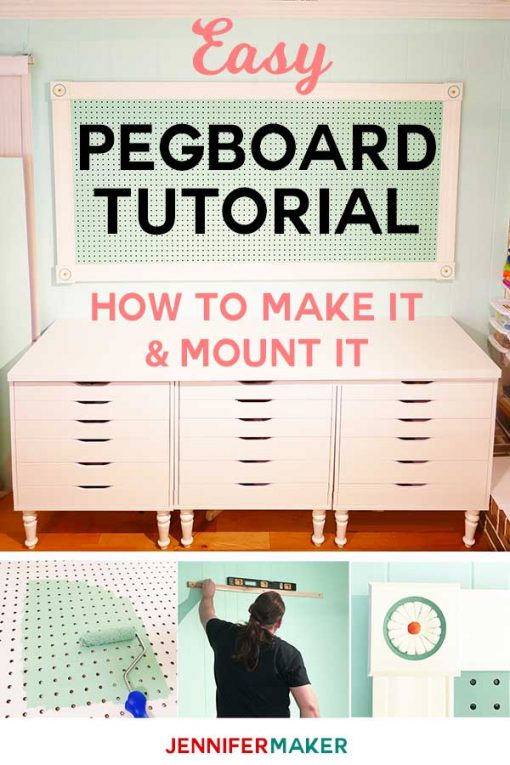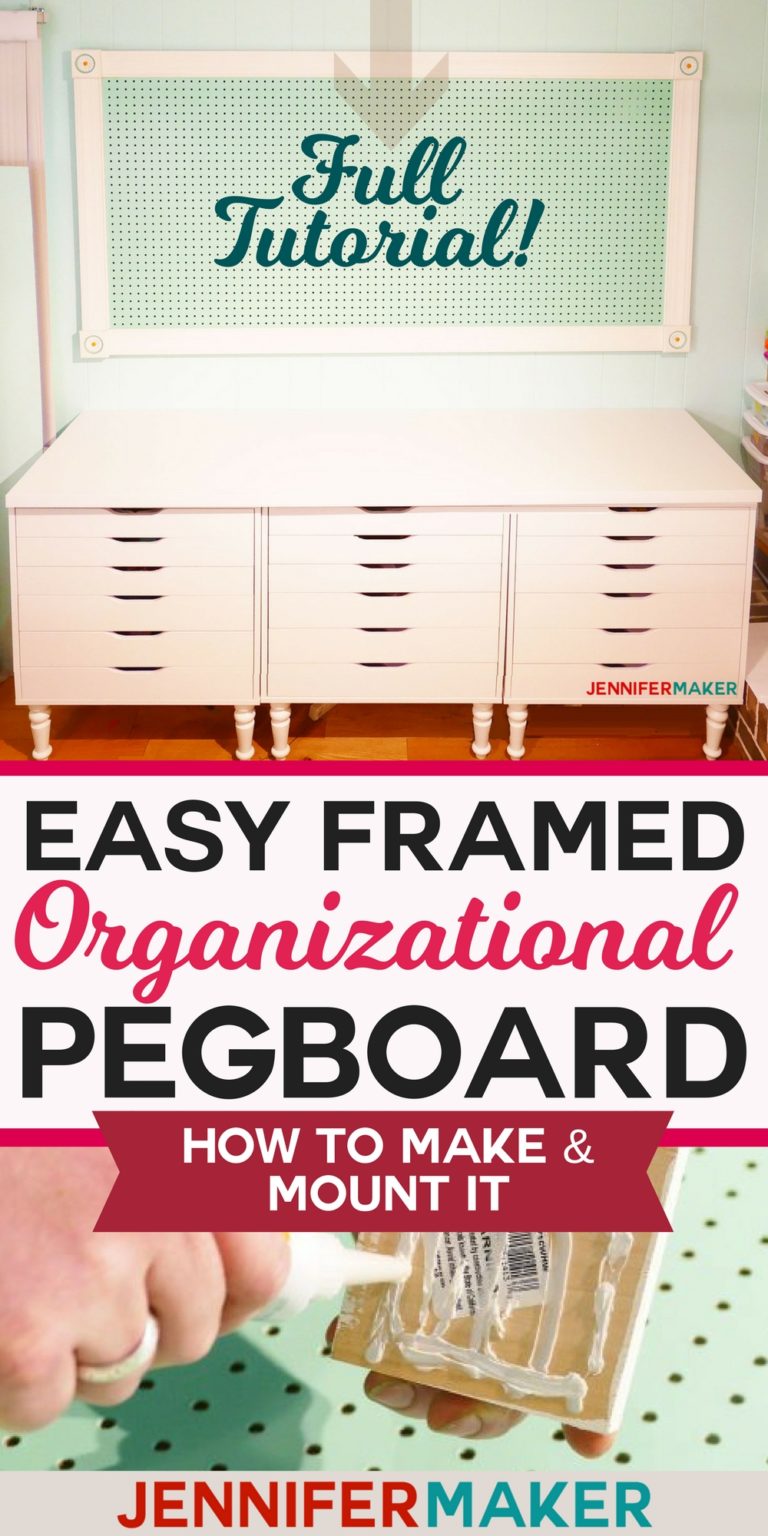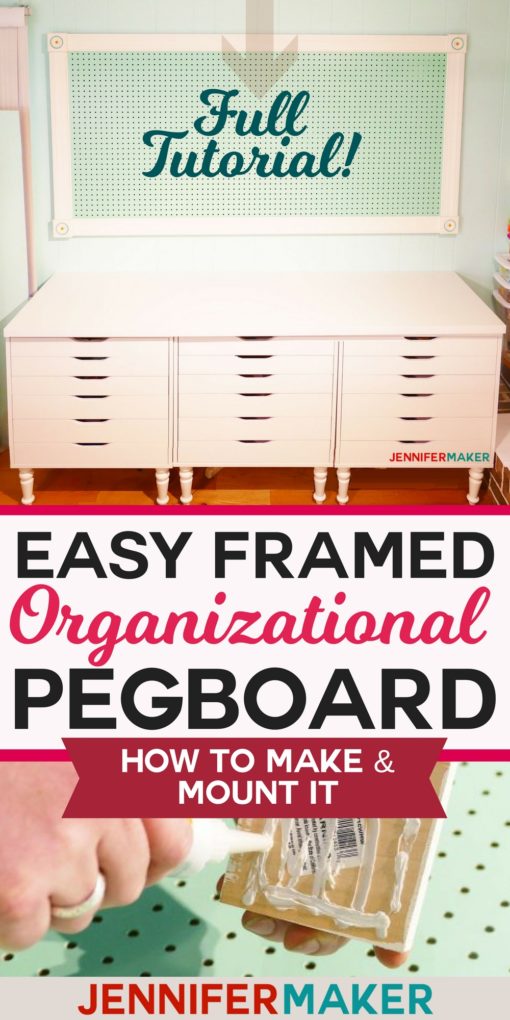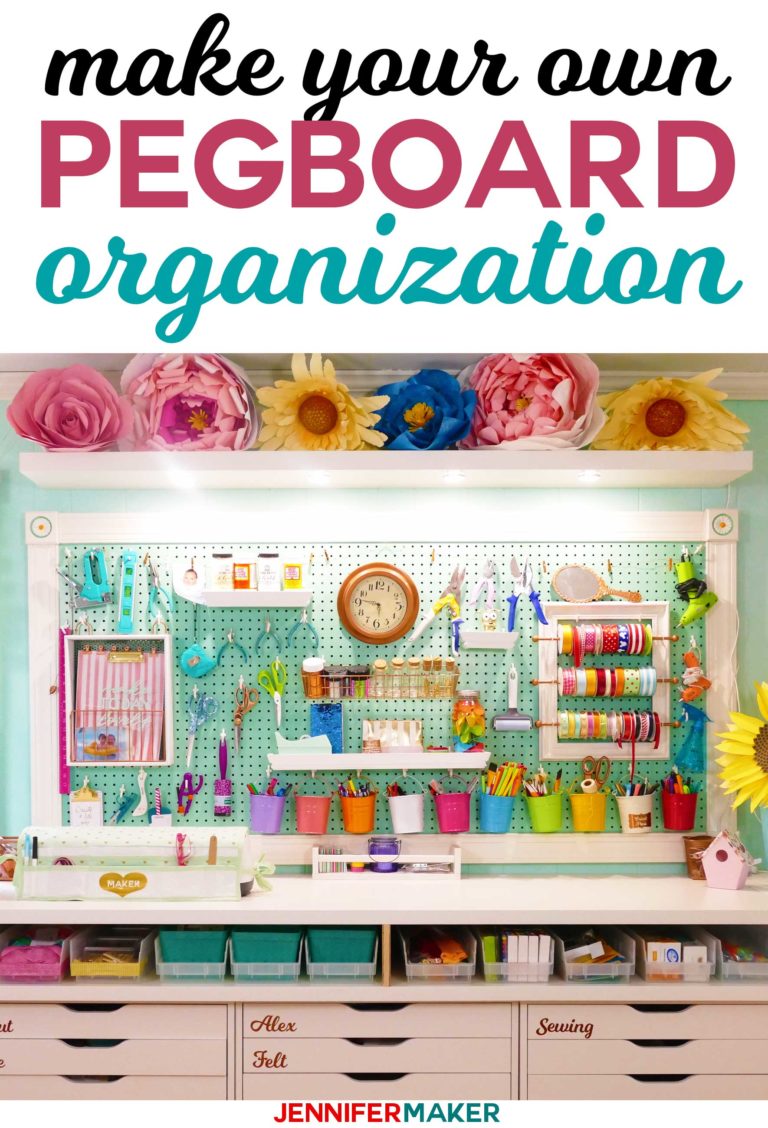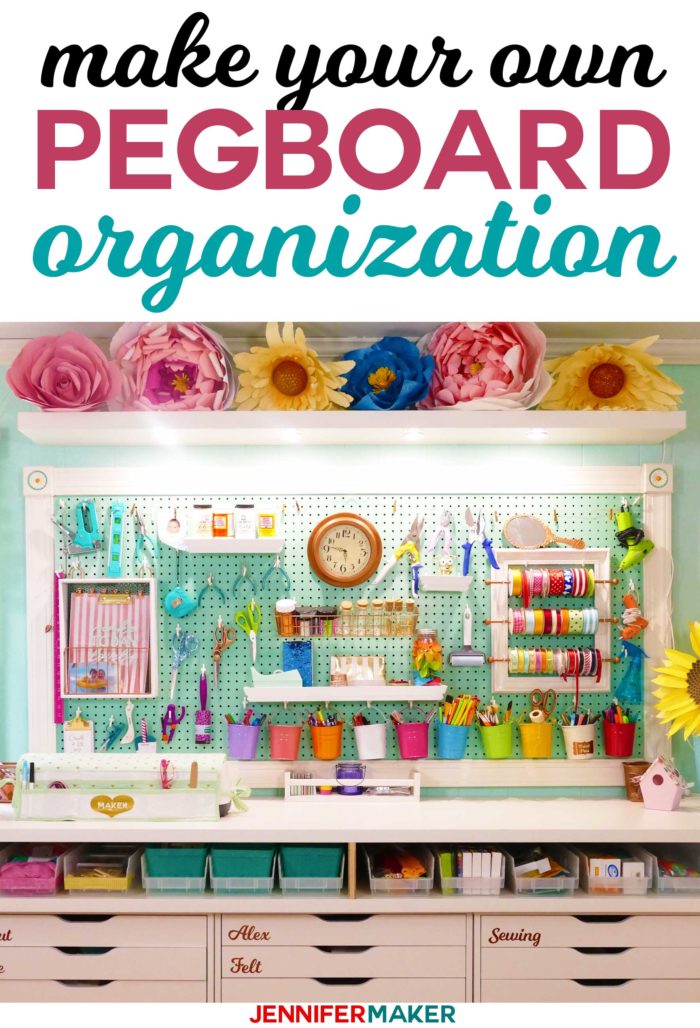 Frame a large pegboard to organize all the tools and supplies in your craft room today!