Now that my large framed pegboard for my craft room is finished, I'm getting a ton of comments and questions about it! So I'm making an entire blog post that just lists the items on my pegboard and where I found them (or made them). So let's take a closer look at my craft room pegboard accessories!
First, let's talk about why I picked the items I put on my craft room pegboard. Because the pegboard is so visible, I wanted everything on it to be visually appealing and colorful. So I picked a color scheme — white, turquoise, and copper. So anything metallic was copper, and often that meant I had to paint it that way. I also made sure my peg hooks were white, not silver since I knew I wasn't going to find copper hooks.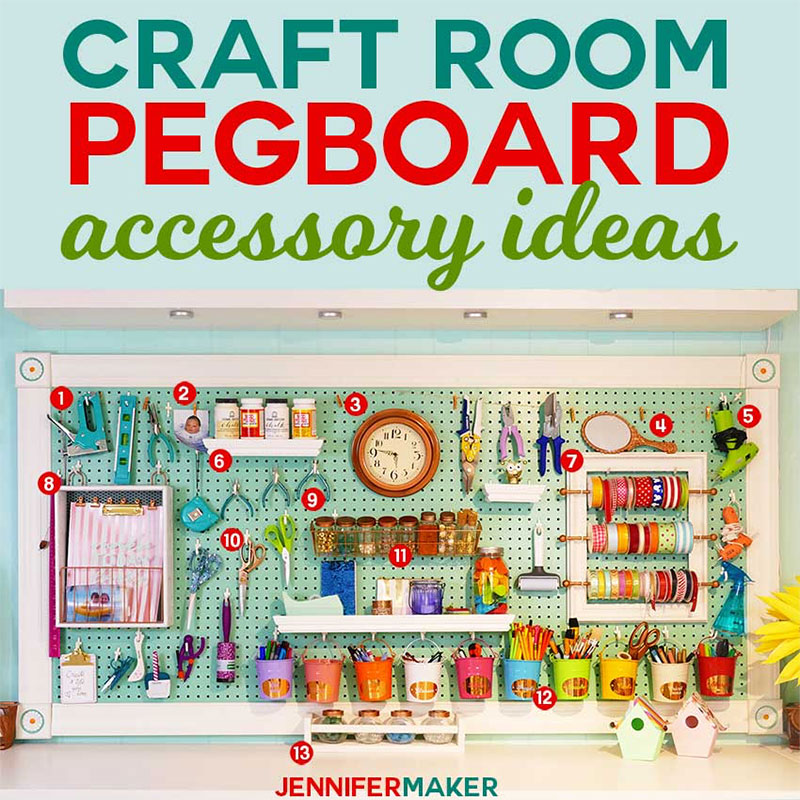 Of course, I also wanted to put up useful things on my craft room pegboard. The tools on the hooks are lovely to have on hand, and the shelves hold all sorts of little things I like to keep within reach. The buckets are amazing — so easy to use and the labels mean I can always find what I've put in them.
And everything is attached with simple pegboard hooks! That's the beauty of this — super easy to put things up and move them around.
This post contains some affiliate links for your convenience (which means if you make a purchase after clicking a link I will earn a small commission but it won't cost you a penny more)! Read my full disclosure policy.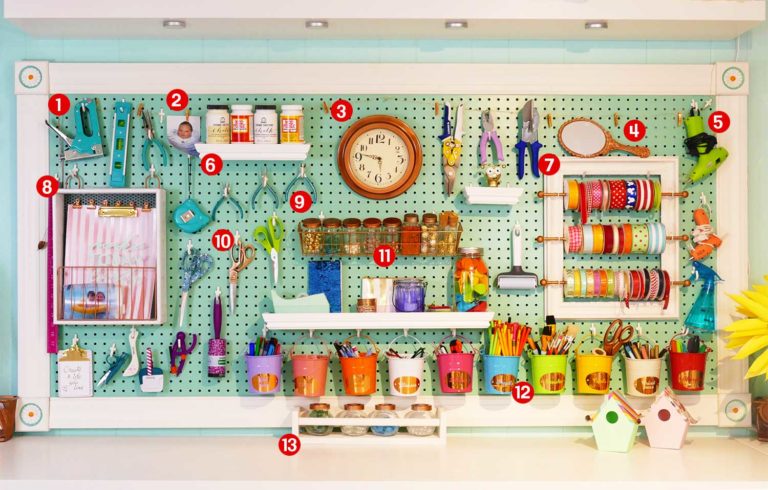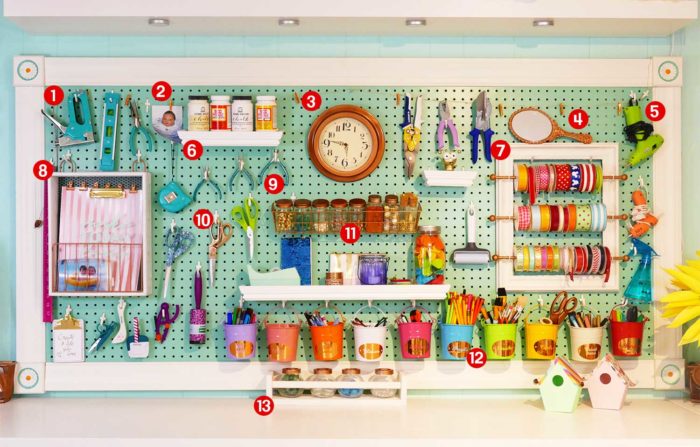 Craft Room Pegboard Accessory Ideas
Turquoise staple gun, torpedo level, diagonal pliers, and 25 ft. measuring tape — I found all of these at Michaels (brand is ArtMind)
Wall clock that I spray painted copper. I think I bought it at IKEA, but I'm not sure they sell it any longer. Any battery-operated wall clock will do, though!
A mirror I found at the dollar store and painted copper… because it's nice to have mirrors around!
Hot glue guns — here's the green one and the orange mini one.
Floating shelves (set of 4)
Ribbon storage frame (click to see tutorial)
Wall-mounted paper organizer we found at Joann's on clearance — we painted it white and copper to match my color scheme.
Jeweler's tools with turquoise handles (found at Joann's)
White pegboard locking hooks in J- and L-shapes
A wire basket we found at Hobby Lobby. It's filled with mini Mason jars and small accessory containers.
Mini metal flower pots, set of 10. I made the copper foil labels on my Cricut using my free label templates.
IKEA spice rack, painted white — you could put this up on the pegboard itself.
I didn't mention all of the tools on the pegboard, so if there's something in particular you are curious about, like the pretty copper-handled scissors, just let me know!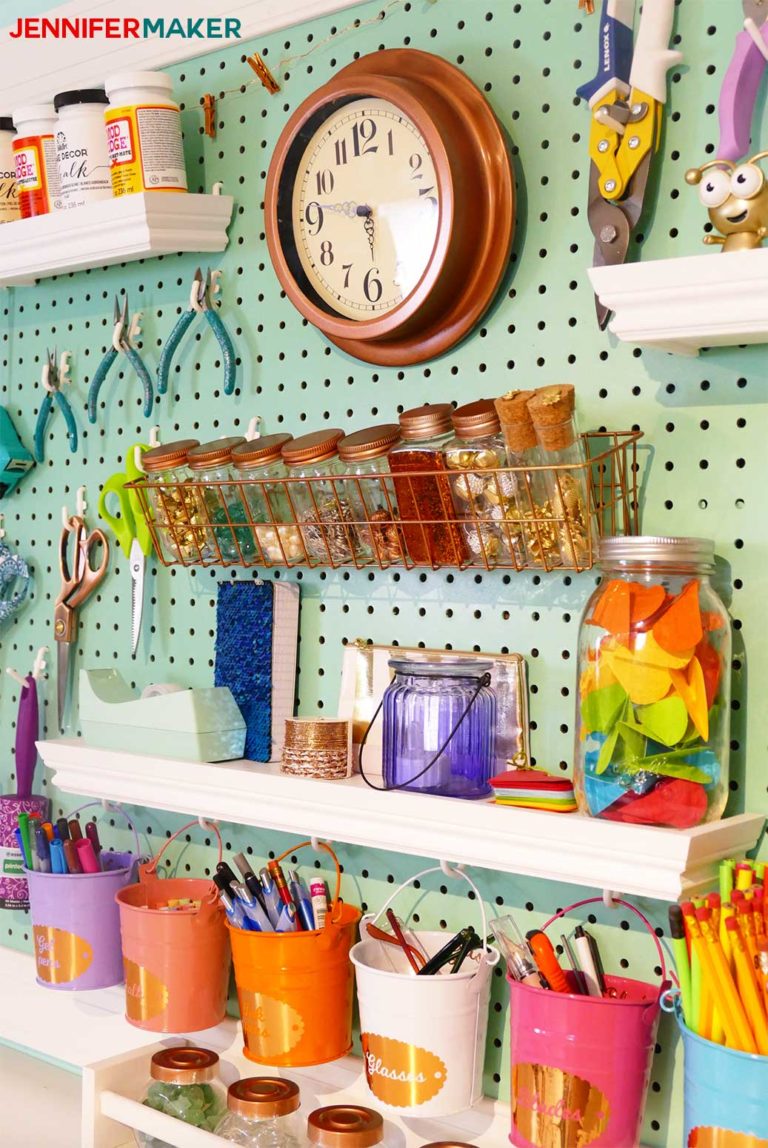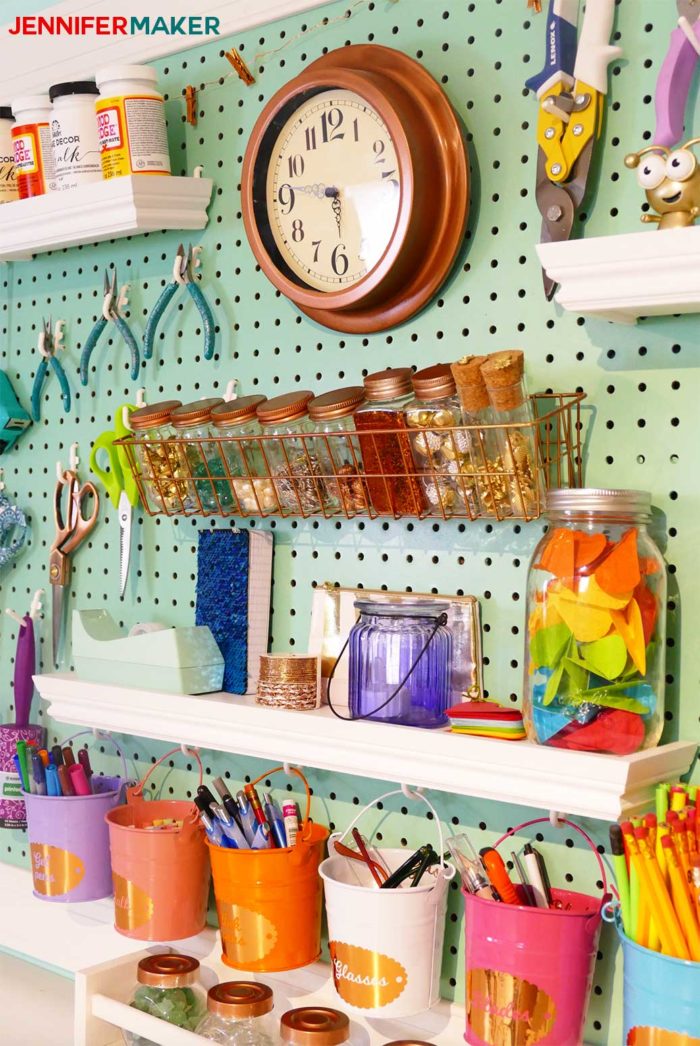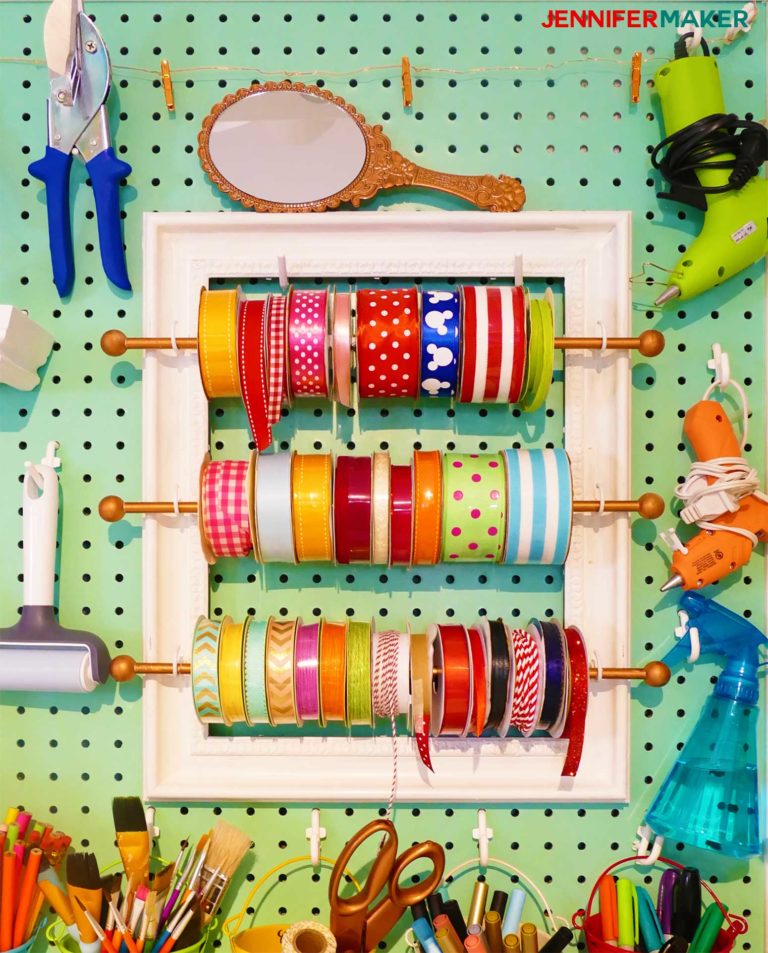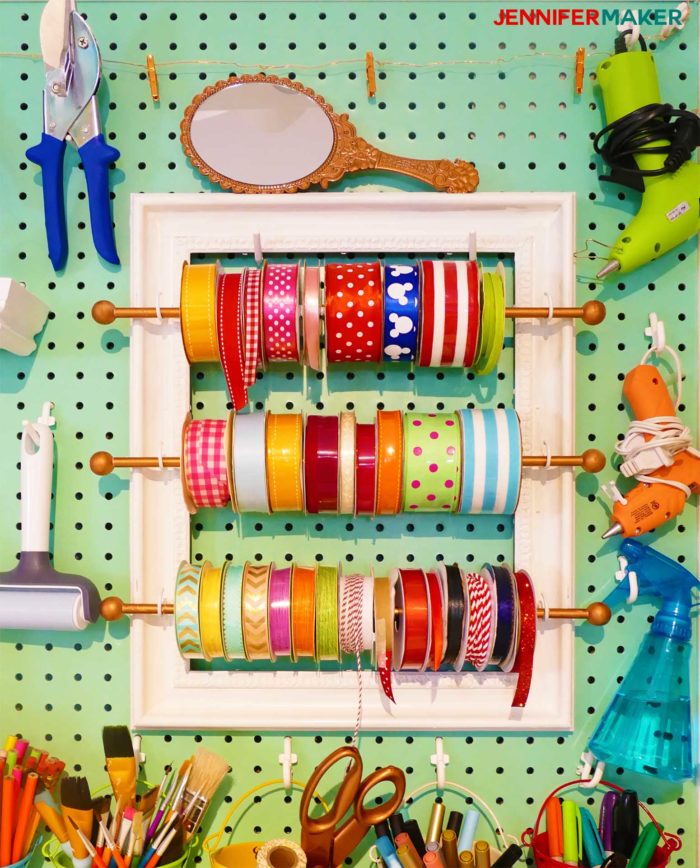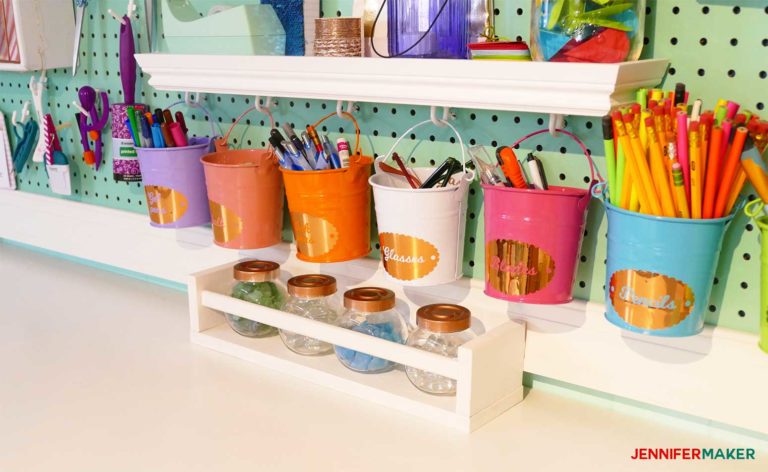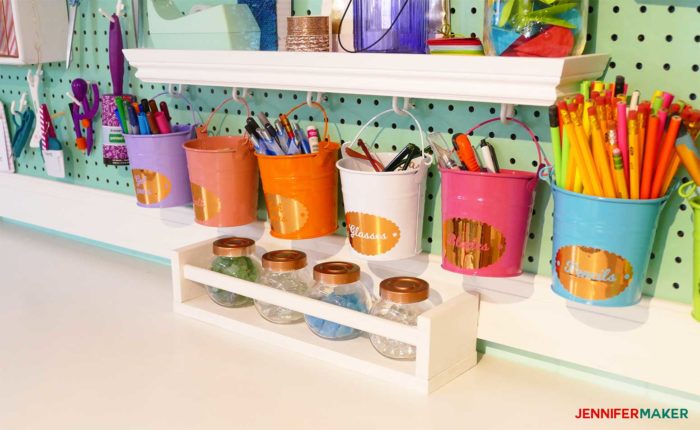 Here's another look at my craft room pegboard in action. The shelf overhead with lighting is fantastic—click to see the tutorial on how to install the lights onto a floating shelf.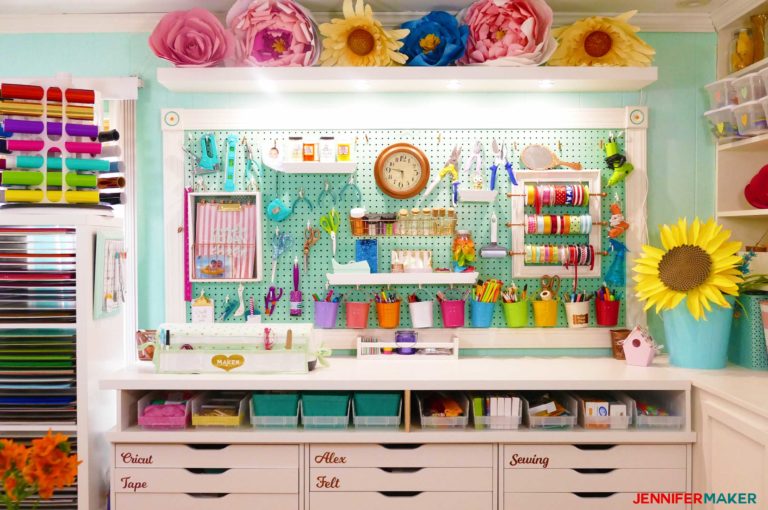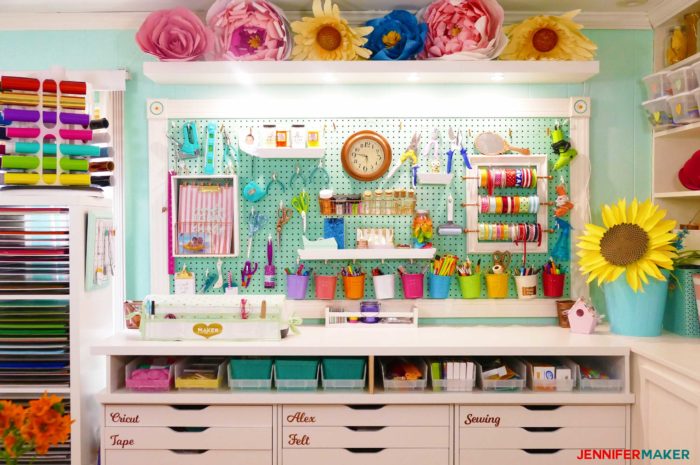 Below the craft room pegboard is my Cricut Maker, which is covered by my Maker Mat dust cover.
I have two tabletops that are separated by spacers — these are IKEA Linnmon tabletops on top of IKEA Alex drawers. Between the tabletops are 24″ long storage bins — these are great for storing a lot of things!

Please let me know if you have any questions about the accessories and storage on my giant craft room pegboard! And come share your craft room pegboards over on our Craft Room Organization Facebook group!
Love,