Learn how to make this stunning rose gold giant paper flower with foil-edged, heart-shaped petals!
My love affair with paper flowers is going strong! And why not combine that with my obsession with all things rose gold and create a special "rose gold" giant paper flower. Even the petals are heart shaped! I think this rose gold paper flower might be my favorite giant paper flower yet!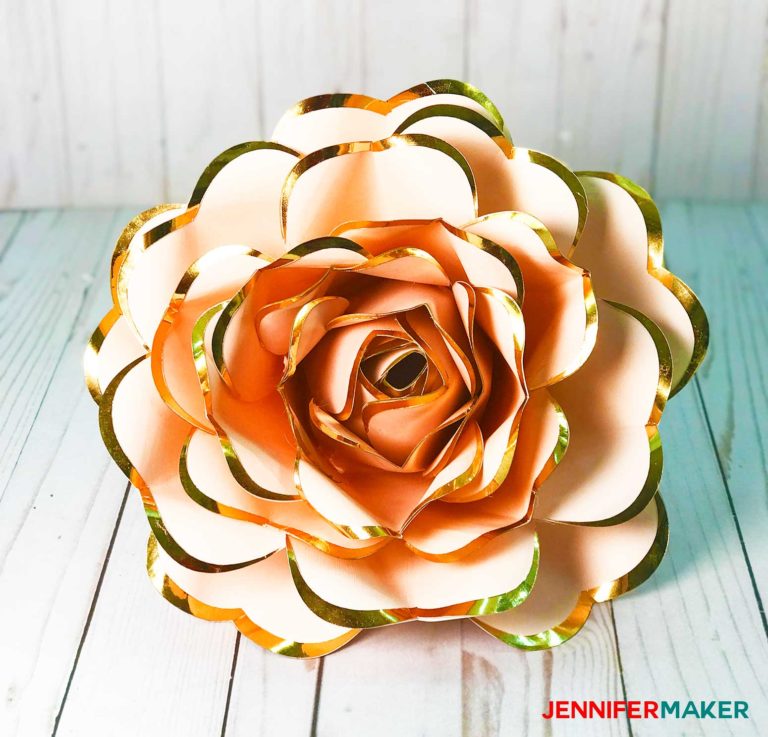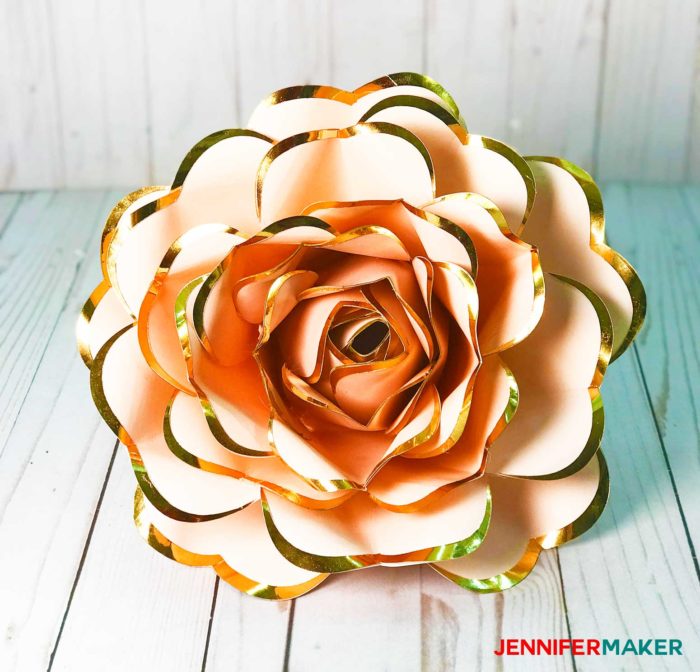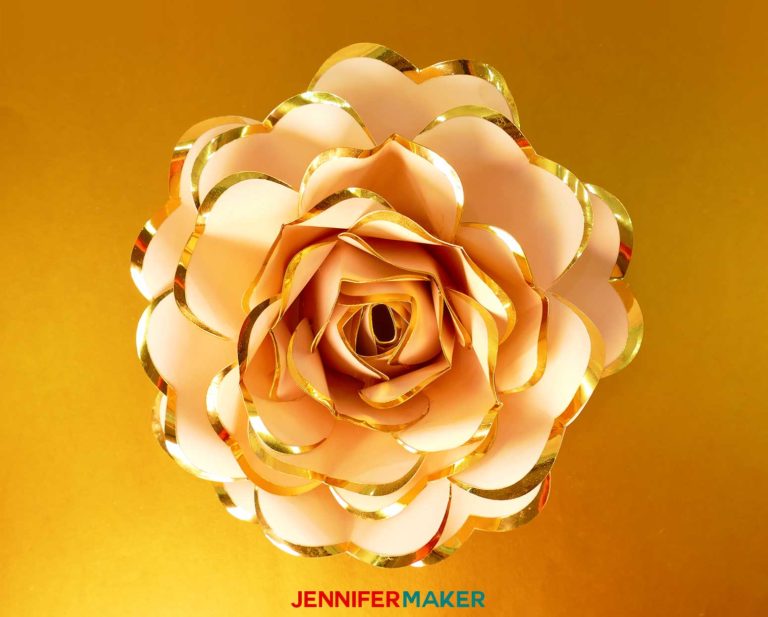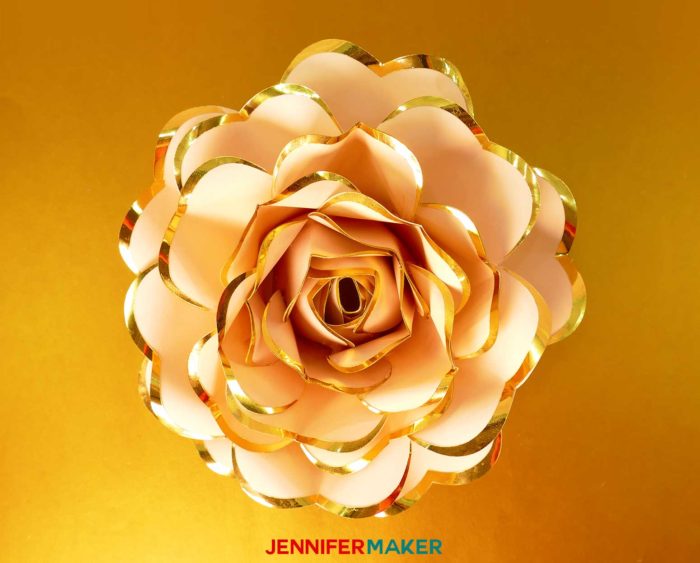 Of course, you don't need to put the gold foil on the edges of this flower — you can make it without! In fact this simple heart-shaped petal flower design was inspired by paper flowers made by members of my Facebook group, (many thanks specifically to Debbie A. for sharing her many photos of this style of flower) and they make it without the gold edging. But the regular petals of this flower lend themselves so well to this foil edge technique that I just couldn't help myself!
Are you ready to make your own? Let me show you how to make a rose gold paper flower! This post contains some affiliate links for your convenience (which means if you make a purchase after clicking a link I will earn a small commission but it won't cost you a penny more)! Read my full disclosure policy.
Materials Needed to Make the Rose Gold Paper Flower
How to Make a Rose Gold Paper Flower
First, download the pattern or cut file for my rose gold paper flower (Design #149) from my free resource library. It's available as both a PDF (for hand cutting) and an SVG/DXF (for machine cutting). If you're going to cut it out on your cutting machine, upload the file to your design software. If you're not sure how to upload an SVG cut file to Cricut Design Space, watch this helpful video training series I made.
Here's what my rose gold paper flower design file looks like uploaded to Cricut Design Space. Don't worry about how they look here — all the petals are in there. Note that no ungrouping, attaching or scoring is necessary in this design. Just click that green Make It button and you're good to go!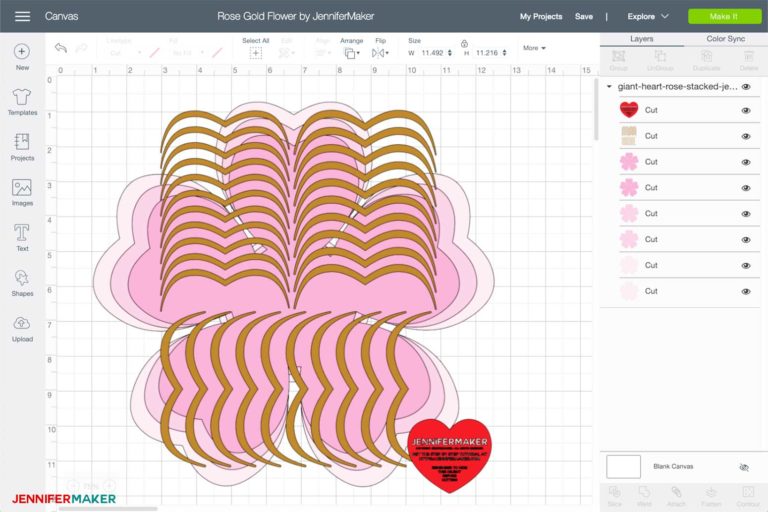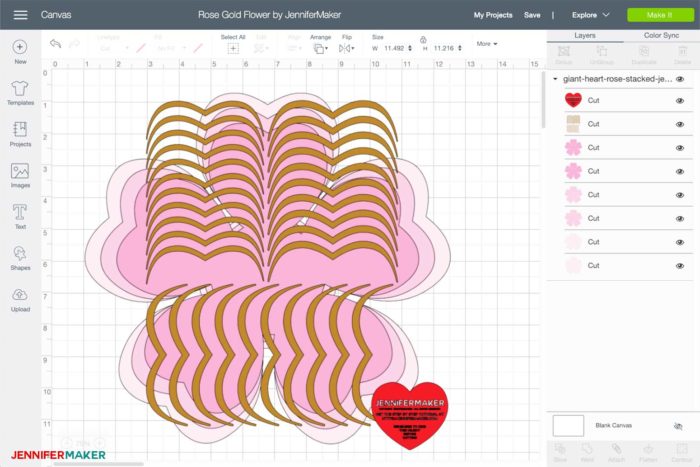 IMPORTANT NOTE: If you're not sure how to upload an SVG file to Cricut Design Space, or you're having issues (such as getting a message that says "unsupported file"), please watch my free training series, SVGs Made Simple. It will help you SO much!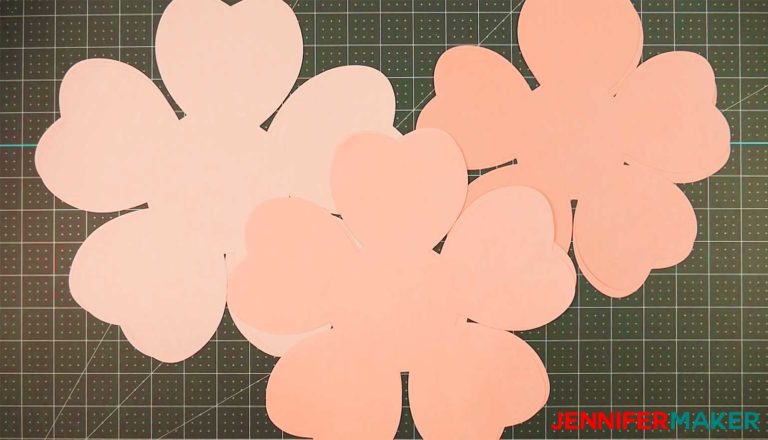 When done cutting everything out, you will have two large petal sets, two medium petal sets, two small petal sets, and 30 gold foil edges.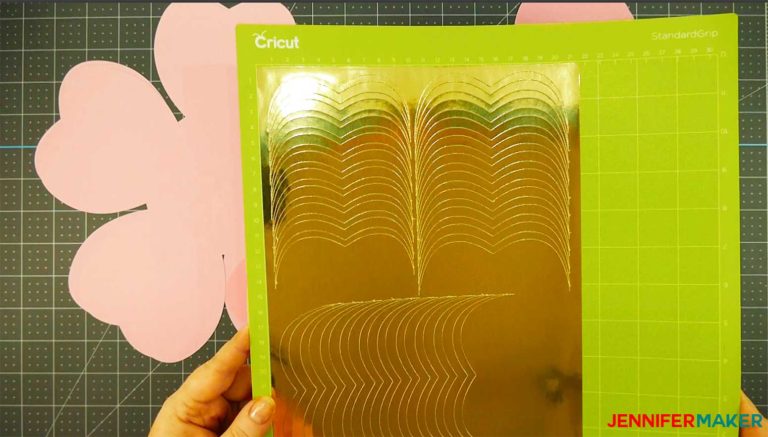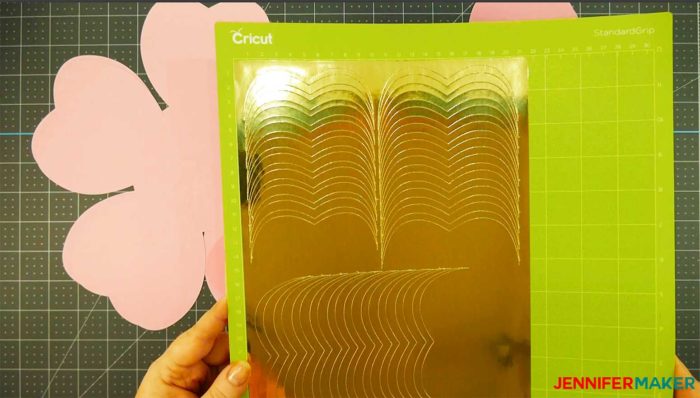 After you've cut out everything, you'll want to attach the gold foil to the edges of your petal. I used tacky glue for this.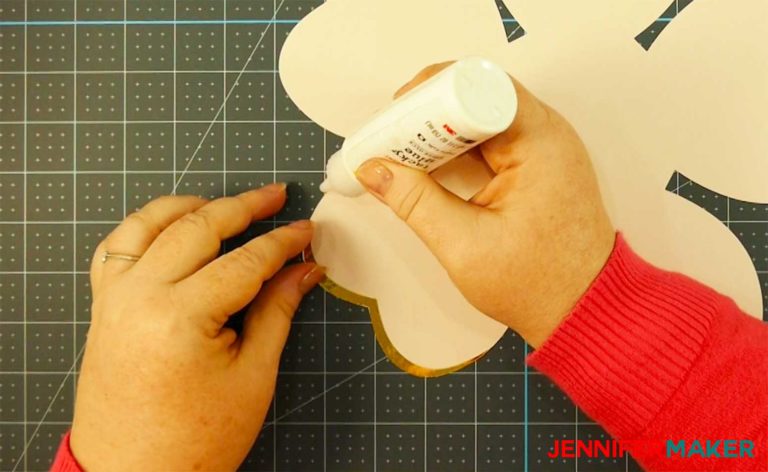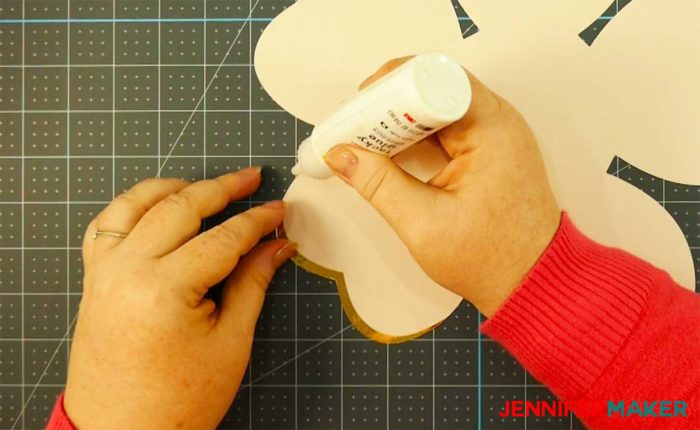 You can also use a gold marker to edge all of your petals, with or without the foil edges. I ran a gold marker along the paper edge of all my petals so the paper edge would look gold instead of pink.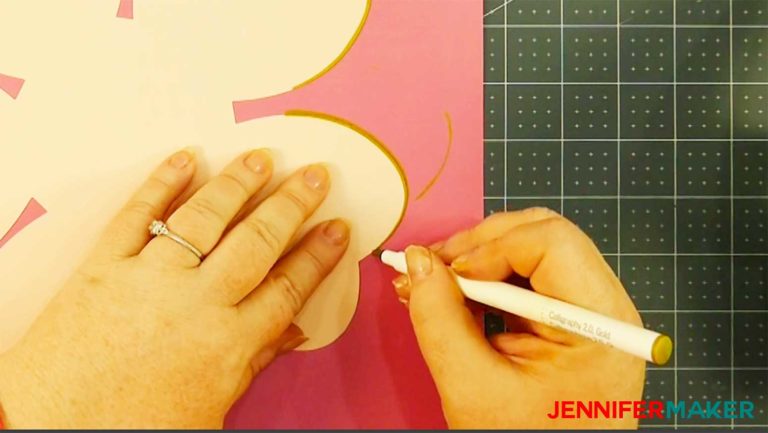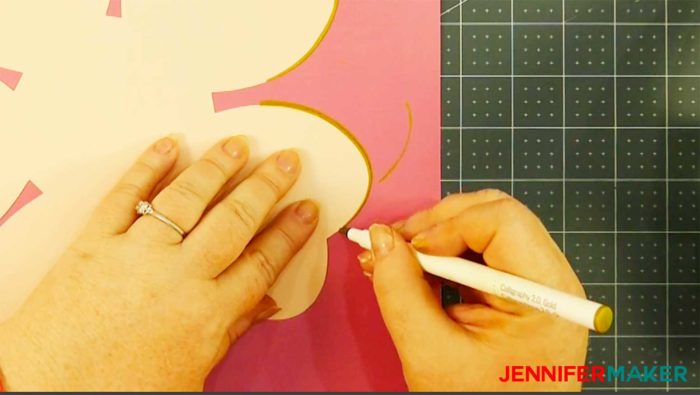 Alternately, you can paint the flower petals (watercolor would be very pretty), use distress inks, or use a foam sponge and an inkpad along the edges of the petals. Or nothing at all. Your choice!
Once your petals are decorated as you wish, fold each petal inward toward the center, then unfold again.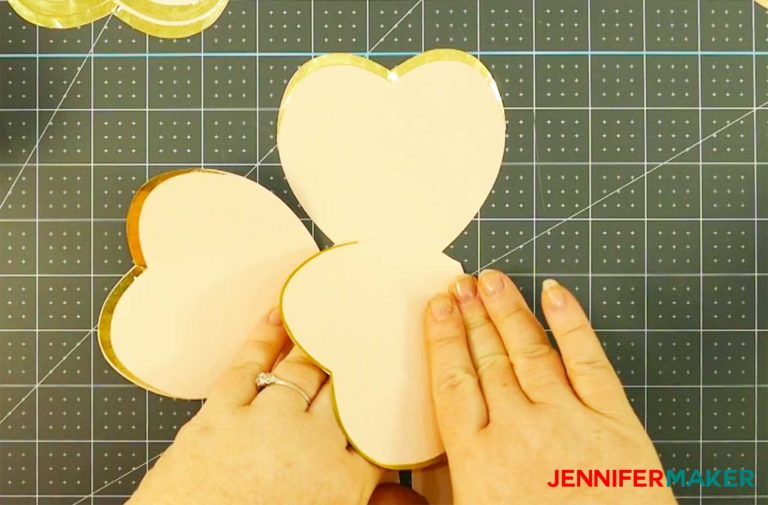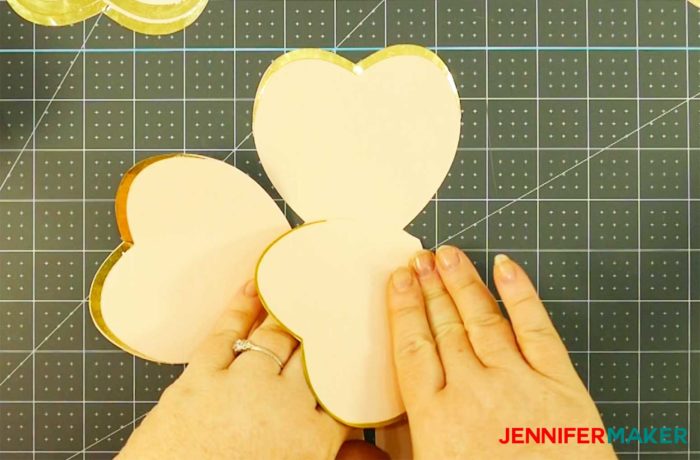 Then gently fold each petal inward on itself like this, just enough to give the petal a three-dimensional shape.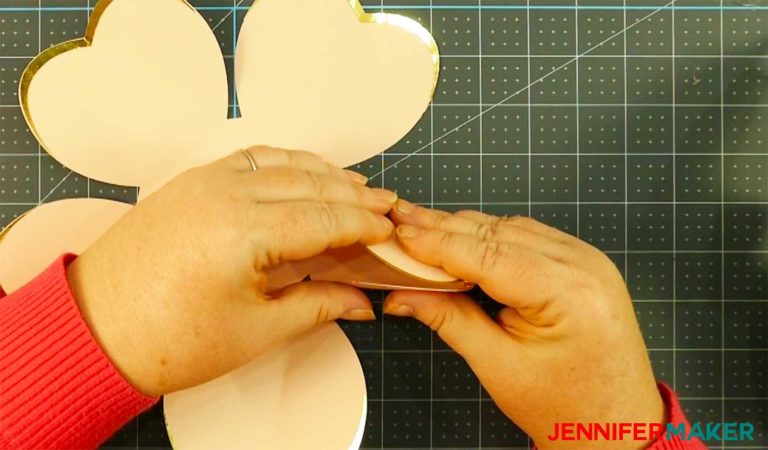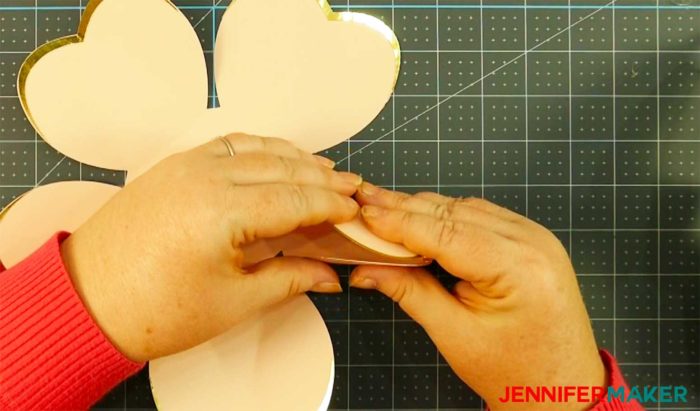 Now, using the barrel of your marker or something else round like a dowel or chopstick, curl each side of each petal on all but ONE set of petals (a small set).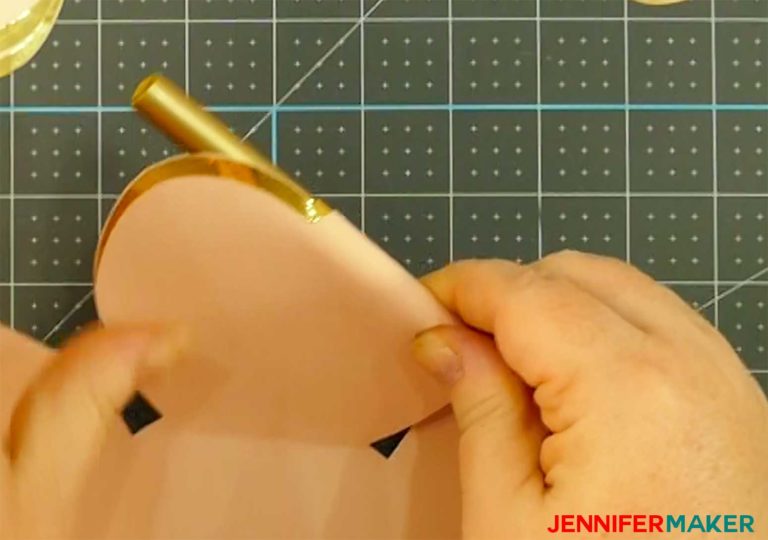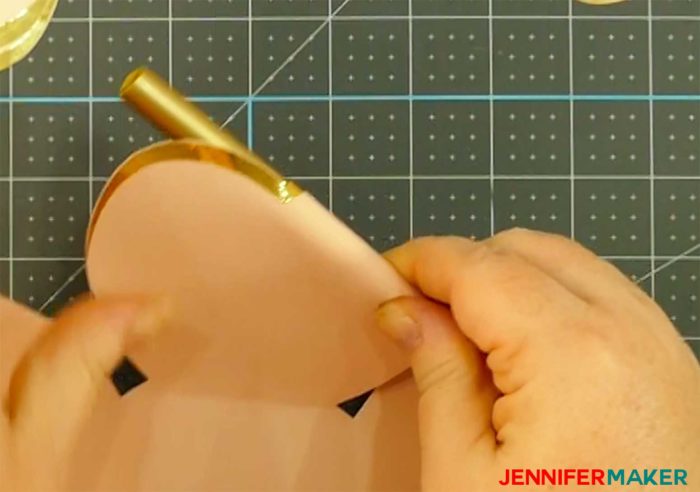 Start with the smallest set of petals and turn it face down on your work surface (so if you put edging on or painted it, that side should be DOWN). Then apply glue to either side of one petal as shown below.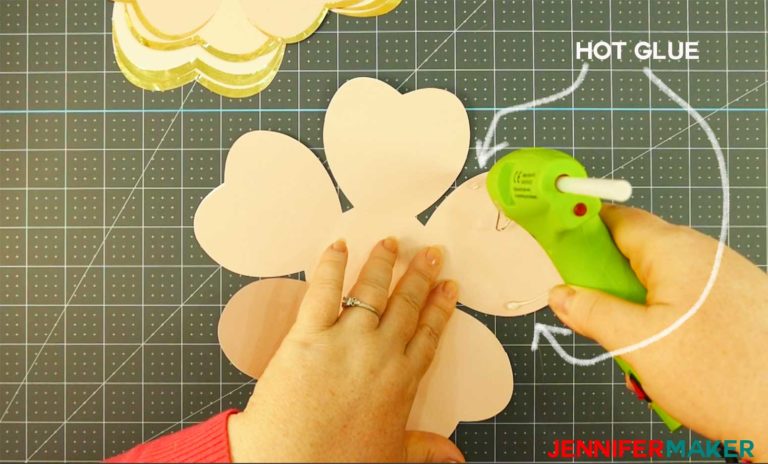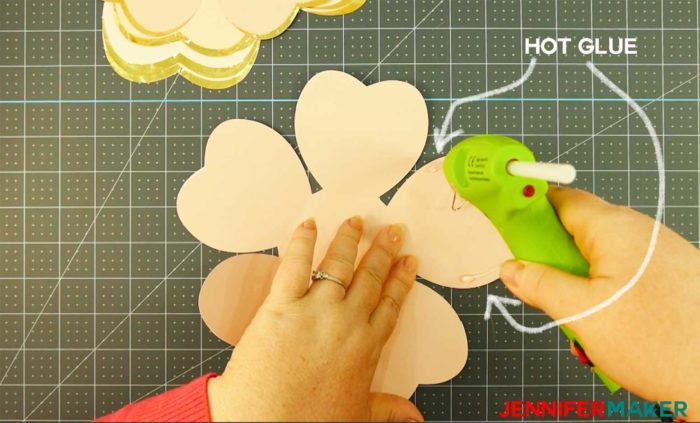 Wrap the petal with the glue around a petal across from it as shown here: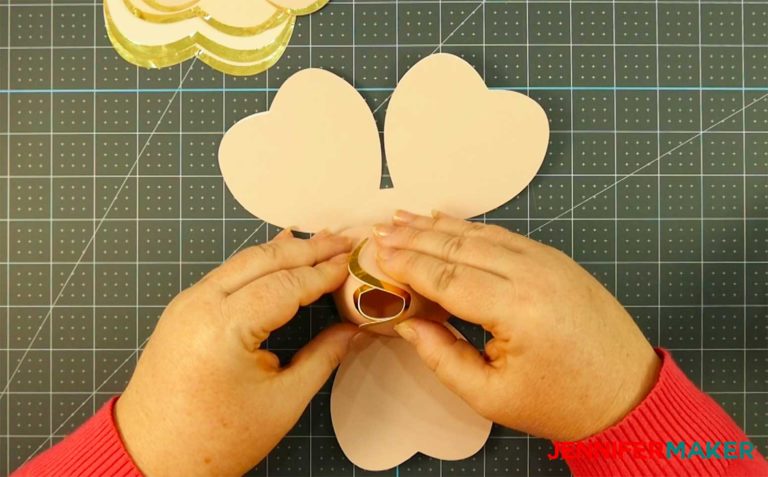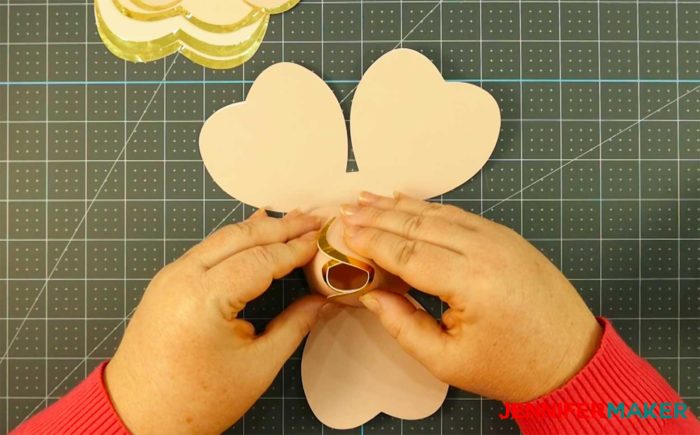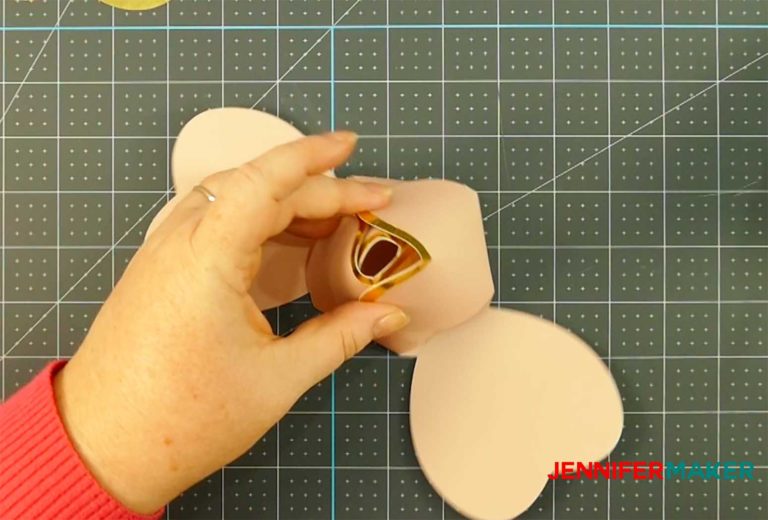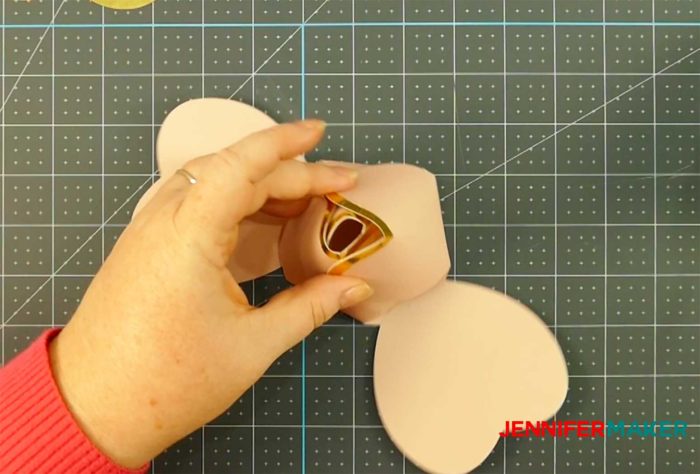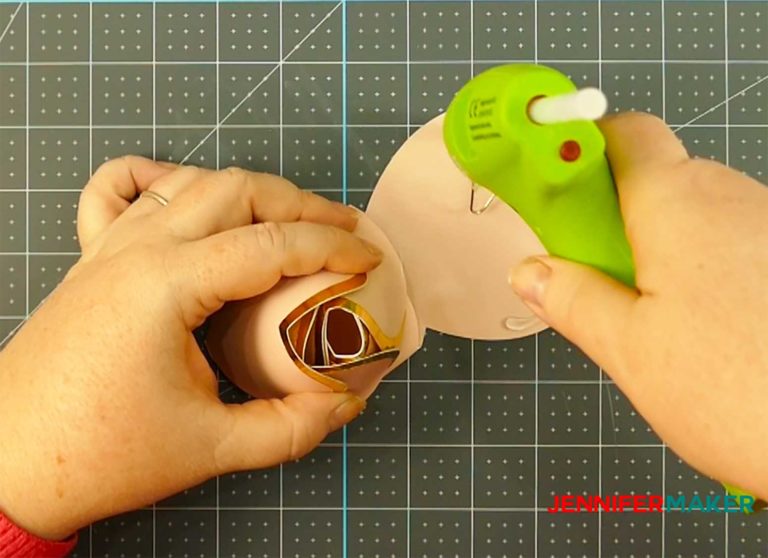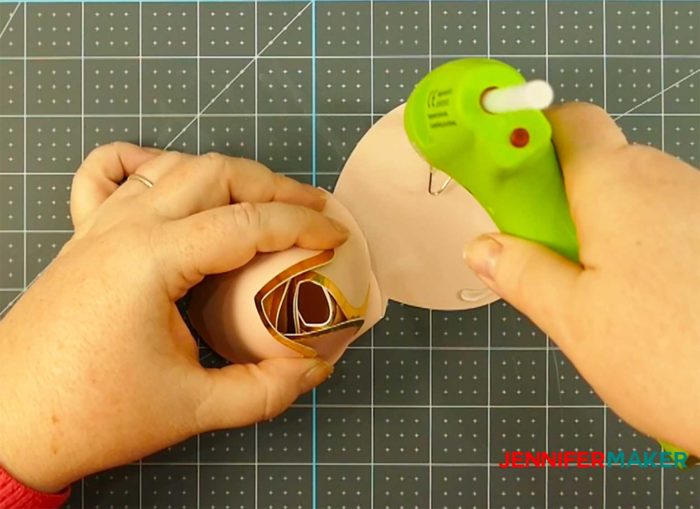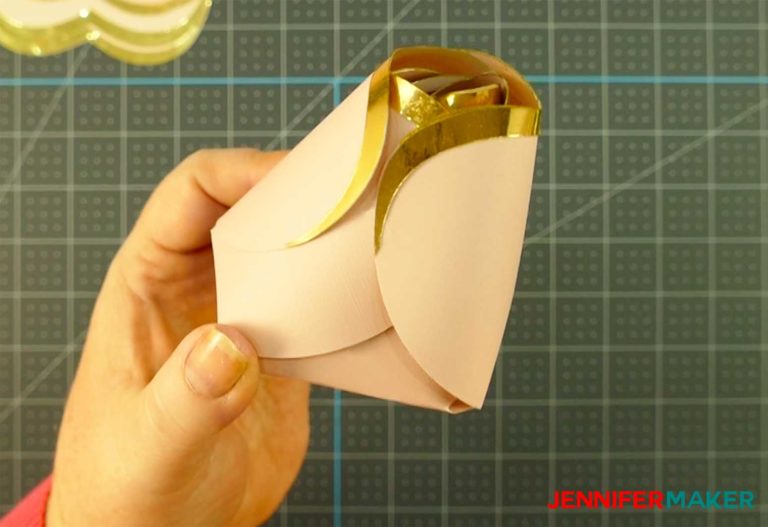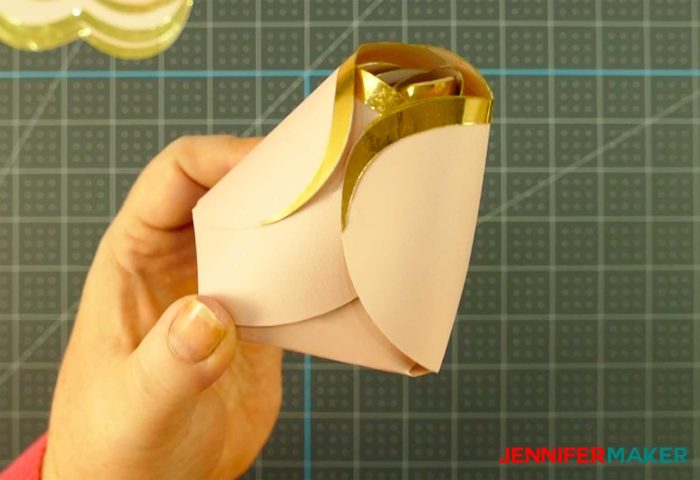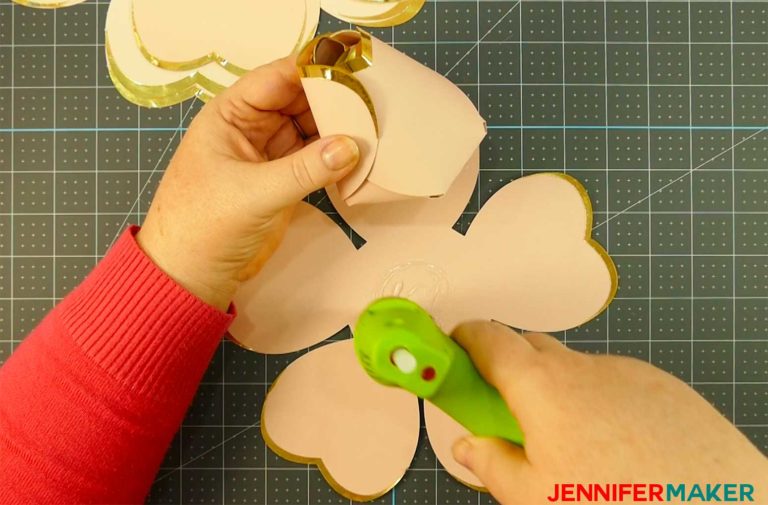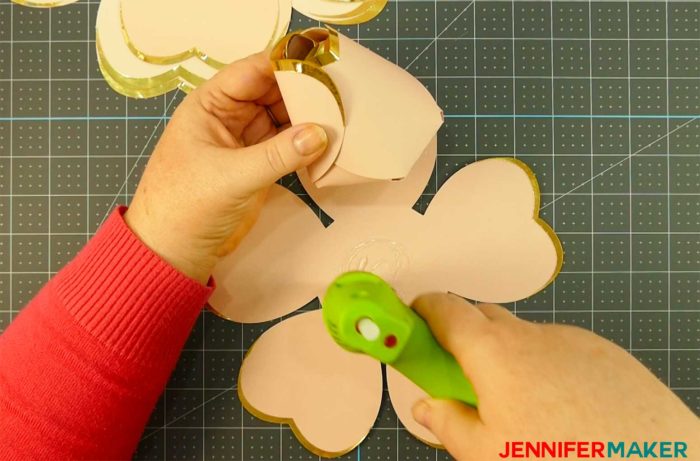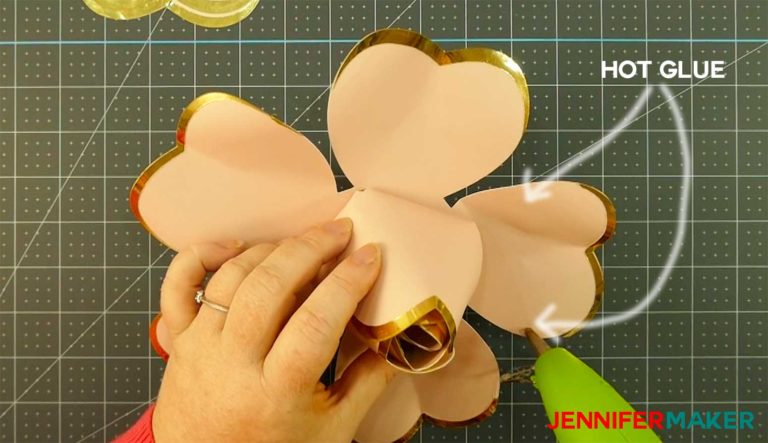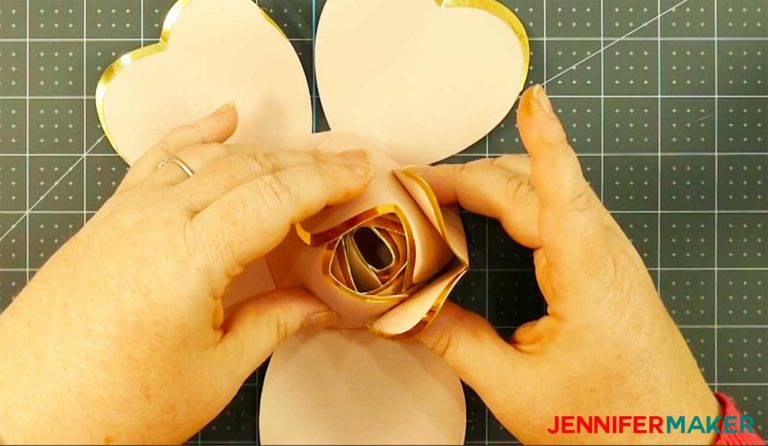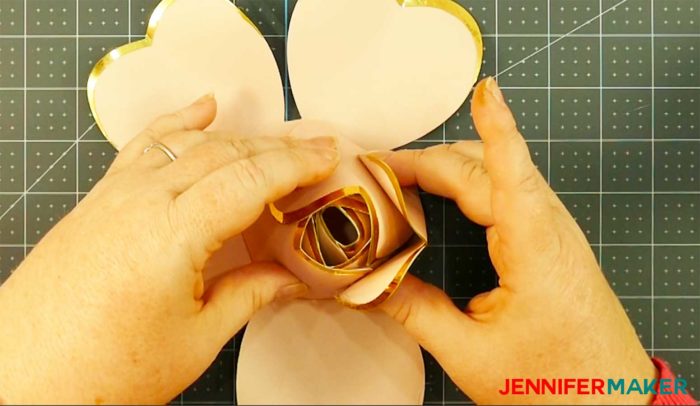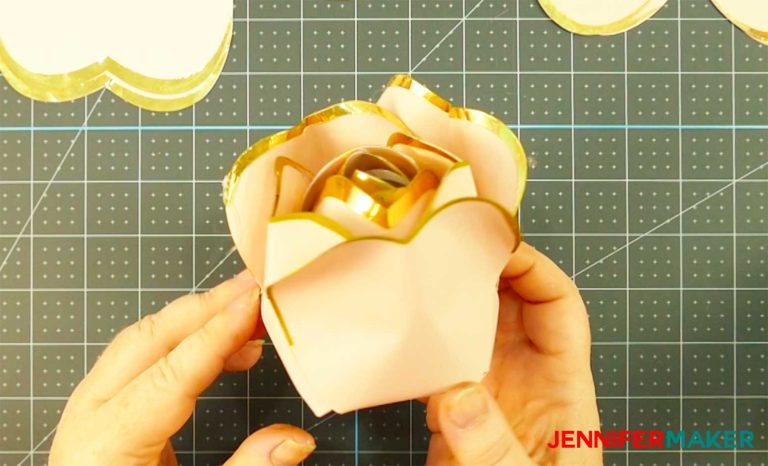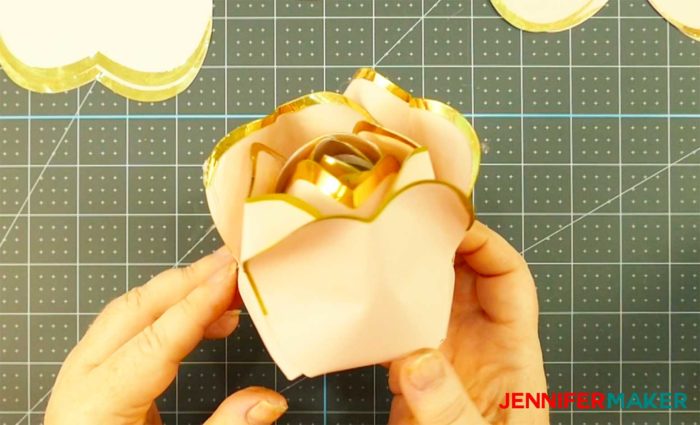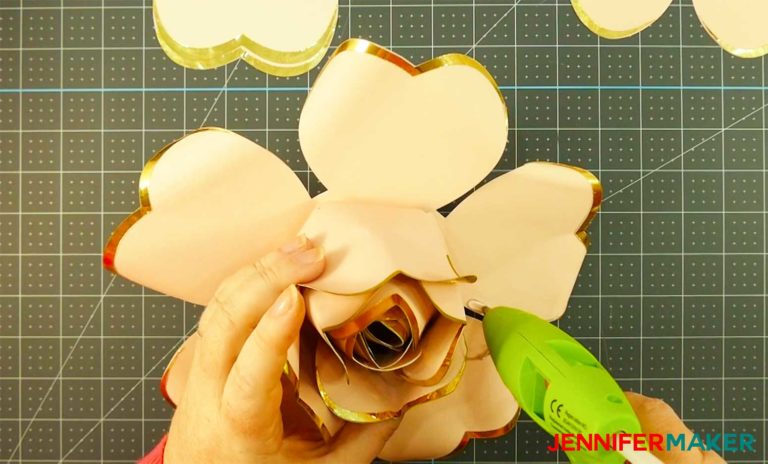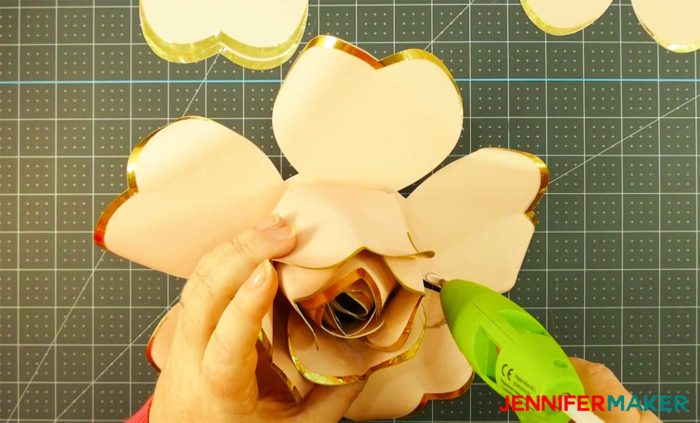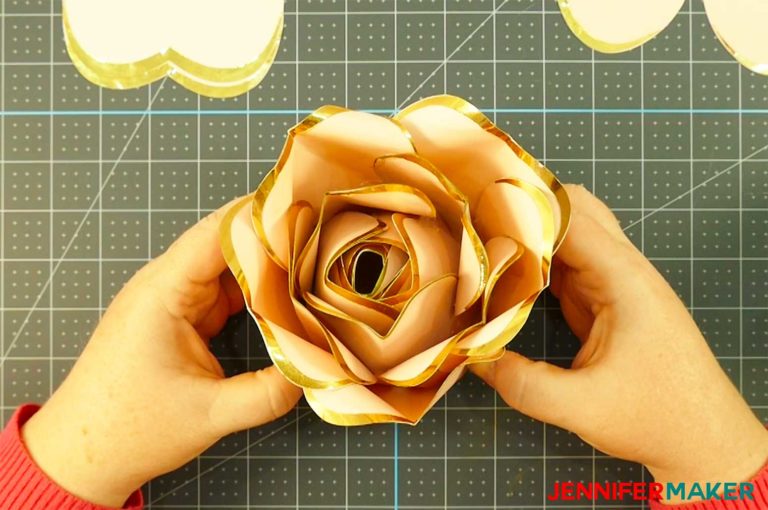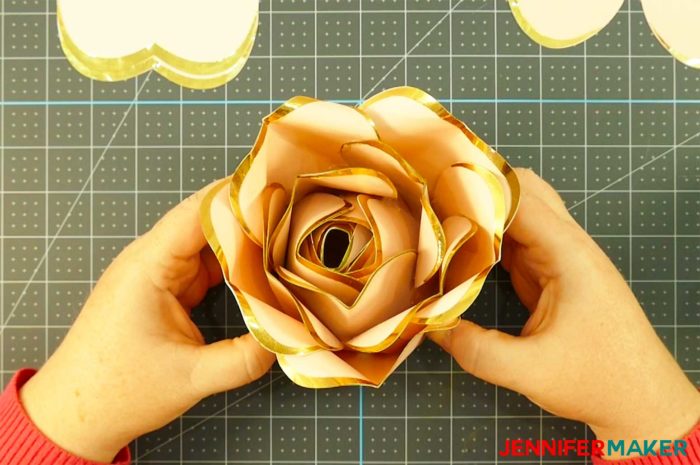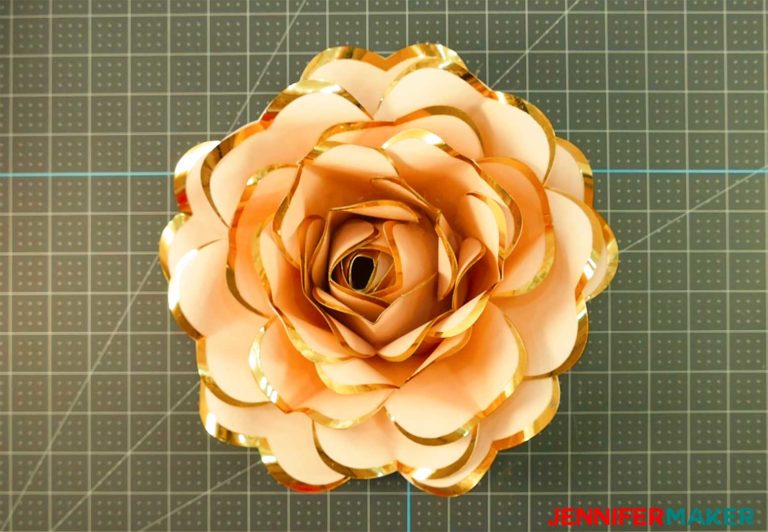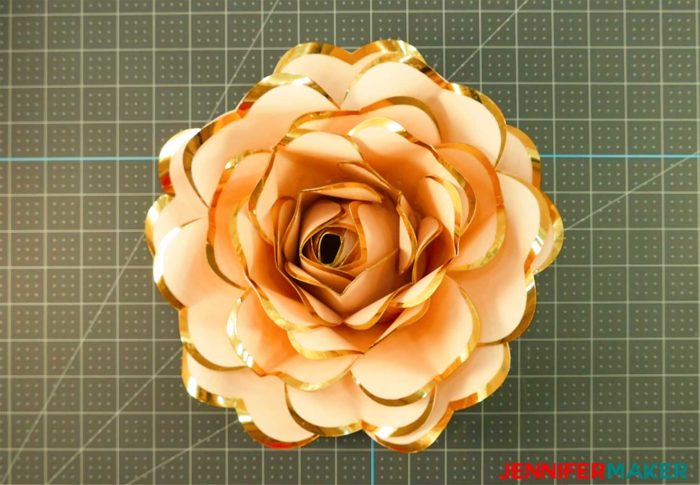 More directions and photos coming shortly!
Get my free pattern and cut files to Rose Gold Paper Flower

If you make this giant paper flower, please share a photo in my amazing Cricut Facebook group or tag me on social media with #jennifermaker.