Learn how to make a reusable stencil with your Cricut for easy DIY gifts and decor!
Have you ever made something you really loved and thought to yourself, I wish there was an easy way to replicate that without having to start from scratch. OR maybe you sell your crafts and you've wondered if there was an easier way to make the design in bulk to save time. Well I have some great news, there is! And I'm going to show you exactly how to do it by making a reusable stencil with Cricut!
Watch my step-by-step video tutorial on how to make and use reusable stencils with Cricut premiering on my YouTube channel at 7 pm EST tonight!
The secret to being able to replicate your designs without having to start from scratch is a little tool called a reusable stencil. You can cut your favorite design once or even cut a few of your favorites all at the same time and then reuse the DIY stencils over and over again to make beautiful things and gorgeous home decor! And the best part is, you can use the stencil on all sorts of blanks: wood signs, tea towels, t-shirts, tote bags, you name it! And did I mention how big of a time-saver this is? Seriously, this is a must for every craft lover!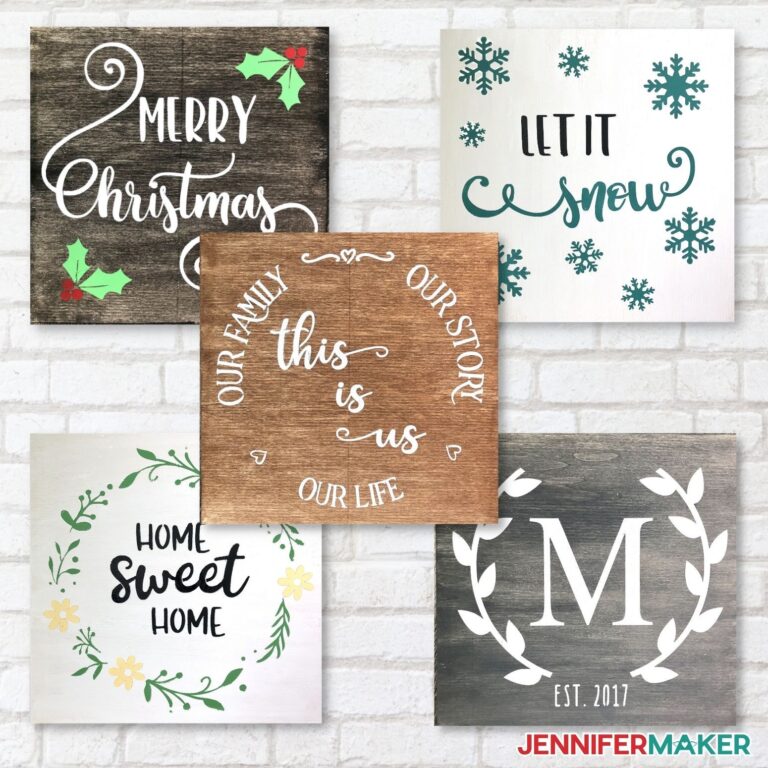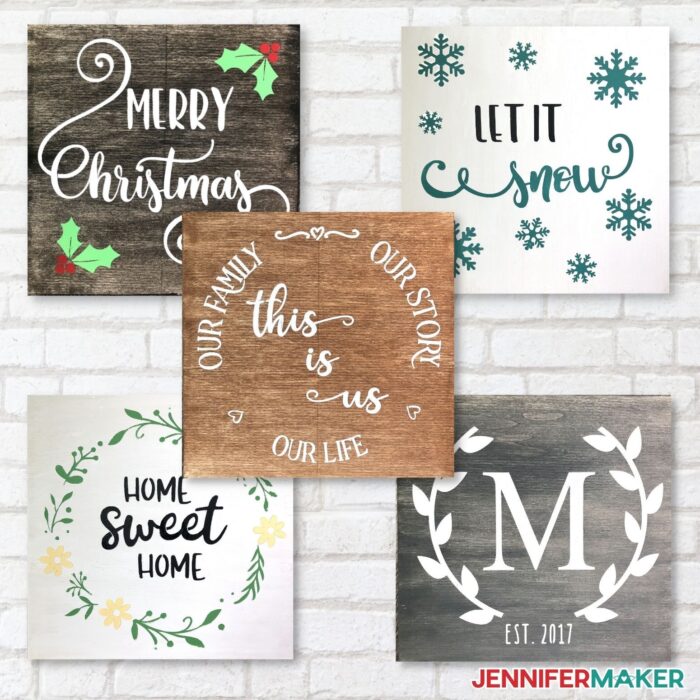 Now, of course you can also make a stencil out of regular vinyl, but that is just a one-time use stencil and then it's gone. This is fine if you only need to make one of something but if you are looking for the best way to make LOTS of somethings using the SAME design then this is for you! If you haven't noticed yet, I really love this technique and I'm super excited to share it with you!
To get started with this Cricut stencils project, craft plastic is key! I tested all sorts of things to make this project and think this plastic sheet is the best stencil material. It's an ultra-clear polyester plastic (not mylar) that can be reused over and over. So that means no vinyl and no transfer tape is needed for this technique.
You will also need Krylon Easy Tack Repositionable Adhesive Spray. This spray helps hold the stencil in place when adding our design and it's the easiest way to keep it in place. I'm also using paint including both fabric paint and chalk paint in a variety of colors, along with some Matte Mod Podge.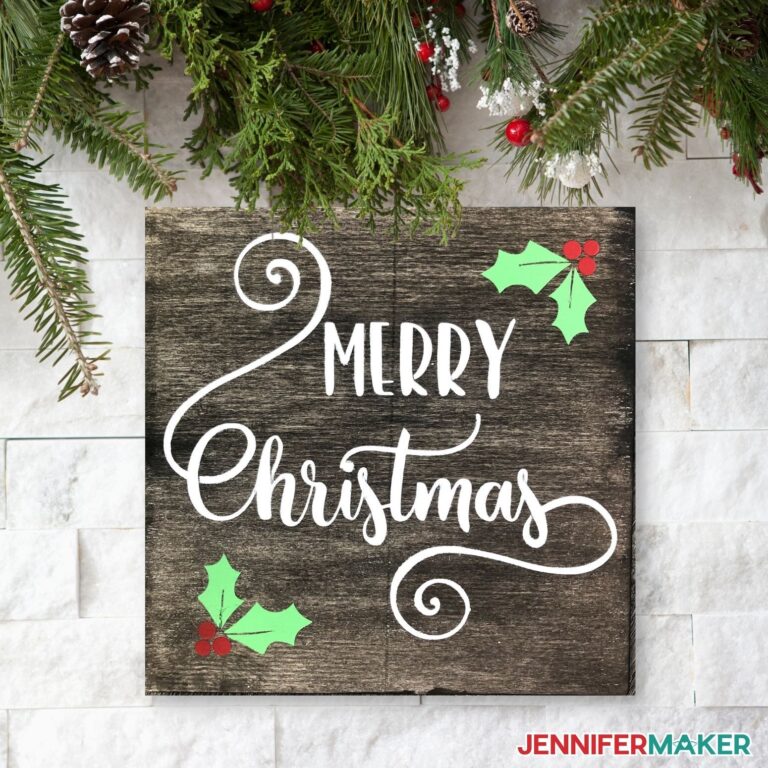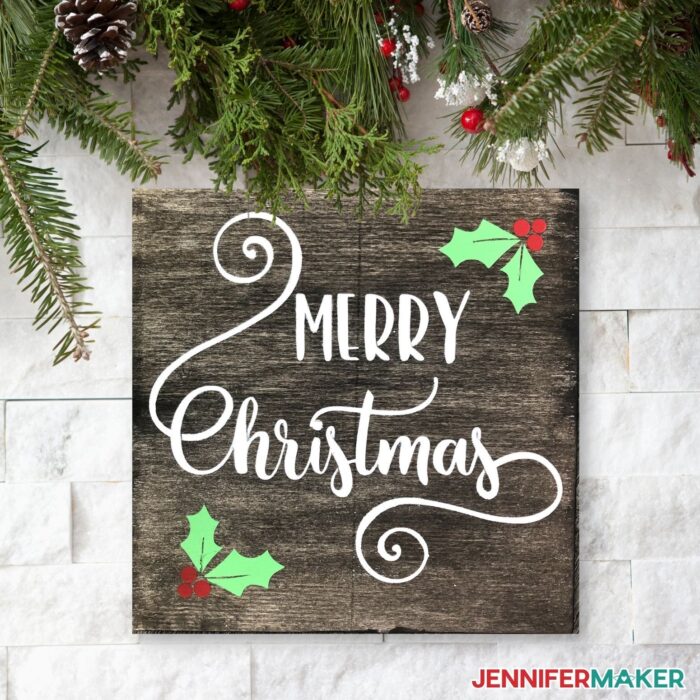 To apply the paint to the reusable stencils I used a round foam brush. And I do want to point out that the shape of the stencil brush is very important for a good application.
For my blanks, I used 10 by 10 inch wood panels and 100-percent cotton flour sack towels. These are 20×30 inch towels, but they come in all sorts of sizes.
Of course I will be using my amazing Cricut machine and machine mats to make my own stencils. You will need a green Standard Grip mat, along with a purple Strong Grip mat. We'll also need a brayer, extra large scraper, painter's tape, butcher paper and gloves to protect our hands and work surface.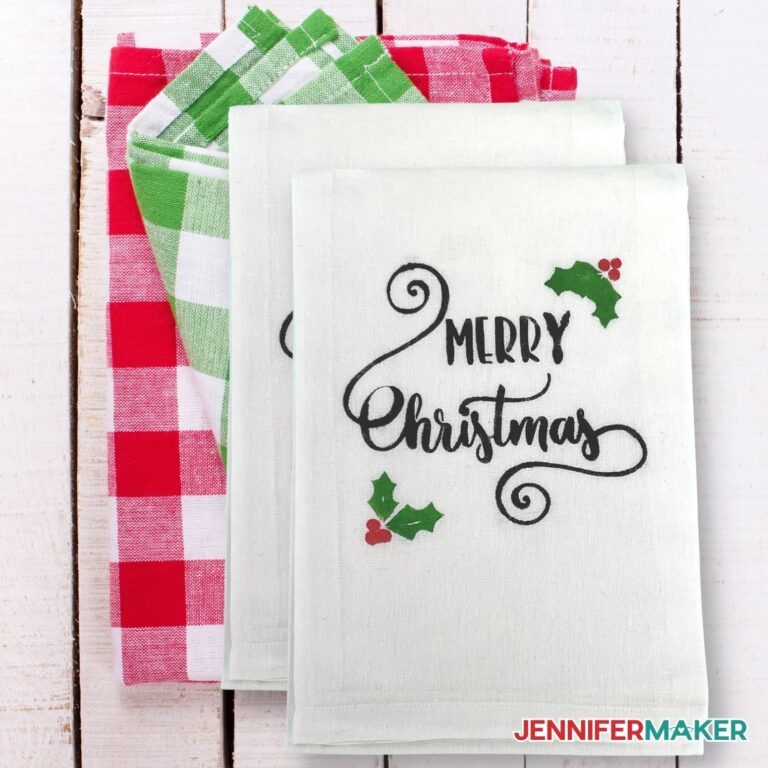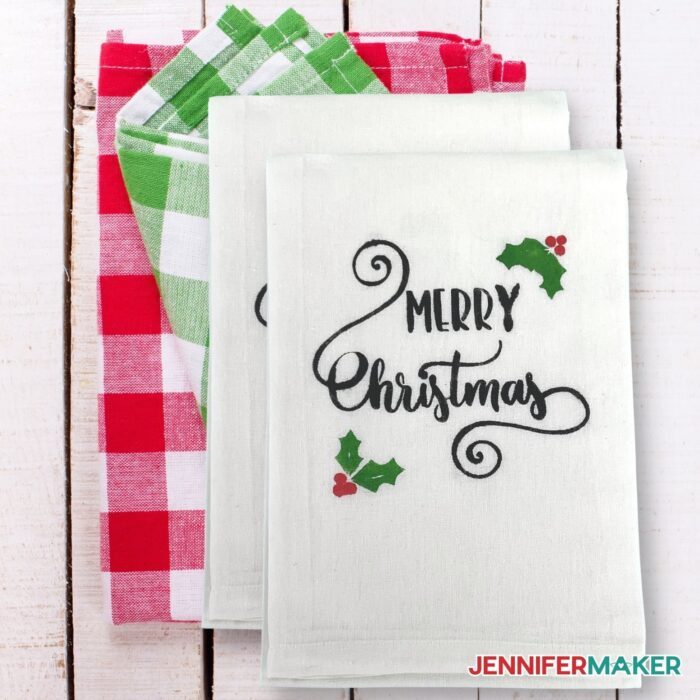 Didn't this stencil project turn out great? I really love these stencil designs! And they make for great gifts! And honestly, what a time-saver this technique is when it comes to making a lot of gifts or items you want to sell all at once.
I've create a whole collection of my own designs for this project and I'm happy to share my digital cut files with you freely! I'll also show you how to customize them so you can make your own design.
Let me show you how easy it is to make a reusable stencil with Cricut with my free SVGs! This post contains some affiliate links for your convenience (which means if you make a purchase after clicking a link I will earn a small commission but it won't cost you a penny more)! Read my full disclosure policy.
Materials to Make a Reusable Stencil with Cricut
View my Amazon shopping list with the exact items we used to make this custom stencils project
Fabric Paint – Assorted Colors
Chalk Paint – I used Black, White, Grotto (Teal), Imperial (Red) , Java, Irish, Parisian Grey, Summer Porch (Yellow) — you can use acrylic paint instead if you prefer
A way to cut your stencil material – I used the amazing Cricut Maker but you can also use the Cricut Maker 3, Cricut Explore 3, Cricut Explore Air, or Cricut Joy machines.
Baby Wipes
Paint Tray (Optional)
Butcher Paper (To Protect Work Area)
Painter's Tape (Optional)
Kitchen Timer (Optional)
Stencil fonts (Optional)
Design #349 – My free stencil designs SVG/DXF/PDFs are available in my free resource library – get the password by filling out the form at the bottom of this page
How to Make Your Own Reusable Stencil with Cricut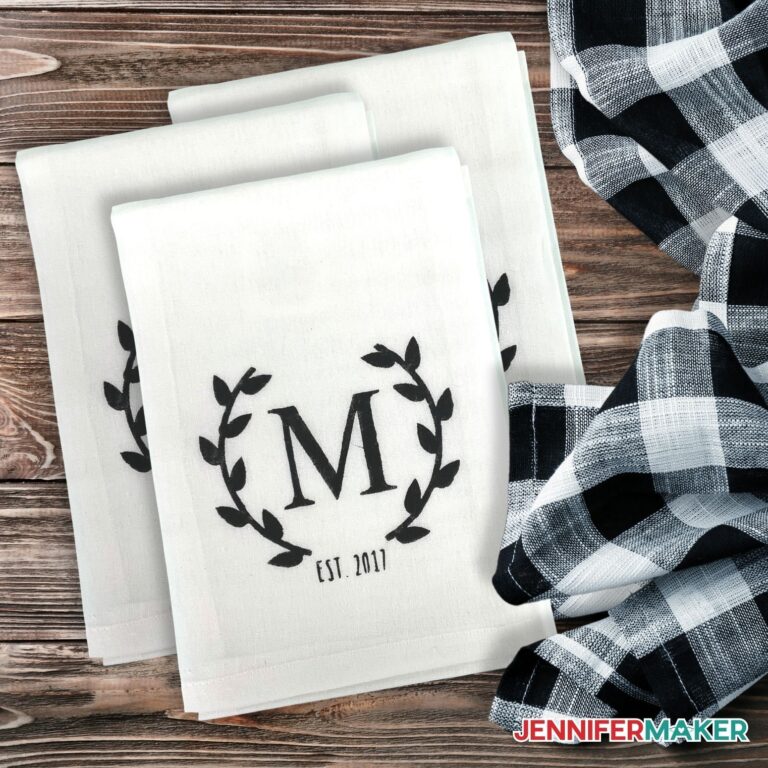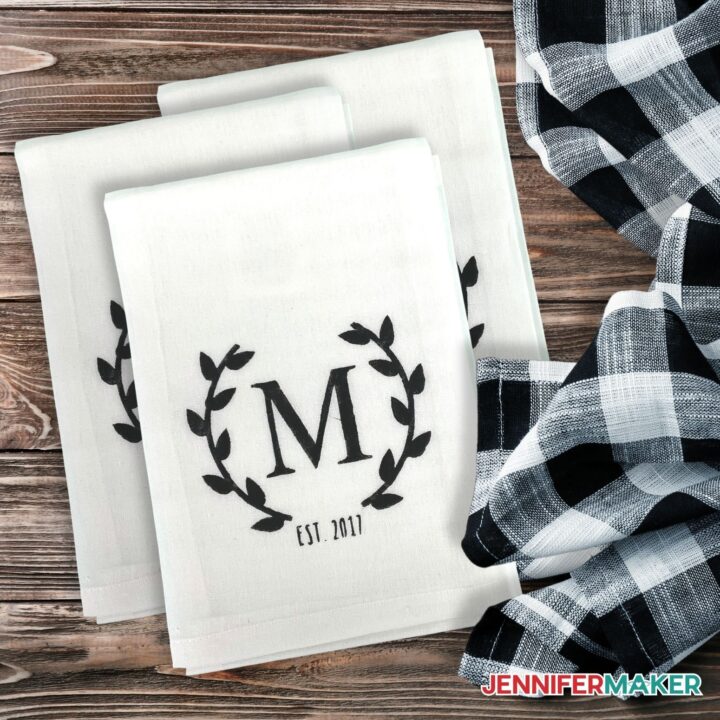 Reusable Stencil With Cricut
Yield: 1

Prep Time: 2 hours

Active Time: 2 hours

Additional Time: 1 hour

Total Time: 5 hours

Difficulty: Medium

Estimated Cost: $5-6

Learn how to make a reusable stencil with your Cricut for easy DIY gifts and decor!

Answers to Your Questions About How to a Reusable Stencil with Cricut
Q: Can I use vinyl instead?
You can use vinyl if you'd like. If you do, be sure to use permanent vinyl, not removable vinyl. Just remember that with vinyl stencils, they only last you for one use. This is why craft plastic is the best thing!
Q: What is the best material to make reusable stencils with?
I really think the .007 polyester craft plastic called Grafix Clear Craft Plastic works the best! It's intended for stencils, cuts well on all Cricut models, and can be washed.
Q: How do I care for my stencils?
If you don't plan to reuse it right away, you can gently wash your Reusable Stencil with soap and water to get more life out of it. After washing, gently pat it dry with a paper towel and allow it time to fully air dry. Be careful if using a regular towel, they sometimes get caught on the small cut edges of a design. The next time you use your stencil, don't forget to start with applying a fresh coat of Easy-Tack Repositionable Spray.
Get my free SVG files to create your very own reusable stencil with Cricut
I love seeing what you make with my designs and how you use them! Please share a photo of your projects from a reusable stencil with Cricut in our Facebook group or tag me on social media with #jennifermaker.
Love,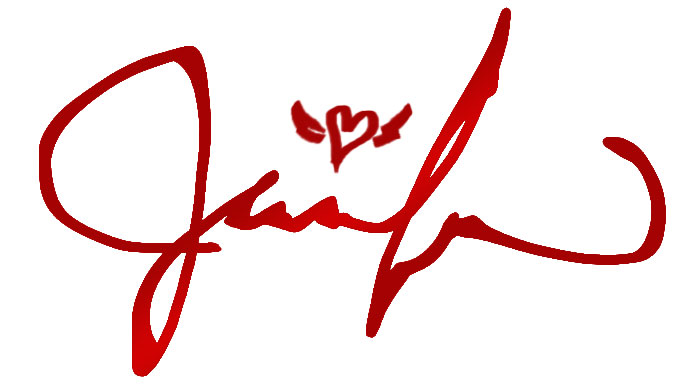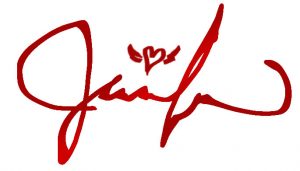 Want to remember this? Save this Reusable Stencil with Cricut Tutorial to your favorite Pinterest Board!