Learn how to use transfer tape for vinyl projects!

Adhesive vinyl has become a major staple when it comes to my crafting life, and one is the best beginner Cricut projects you can experiment with. There's truly no end to the many different things you can make with it, like fun decorative signs, customized cups, even decorations for your household appliances! But what do all these vinyl projects have in common? They all need transfer tape to get the job done. However, if you're new to working with transfer material or don't understand how and what types to use, it can turn a fun and simple craft into anything but! Today I'll show you the ins and outs of how to use transfer tape, so you can get confident about working with (and transferring) adhesive vinyl decals.
Want to save this project? Enter your email below and we'll send the project straight to your inbox.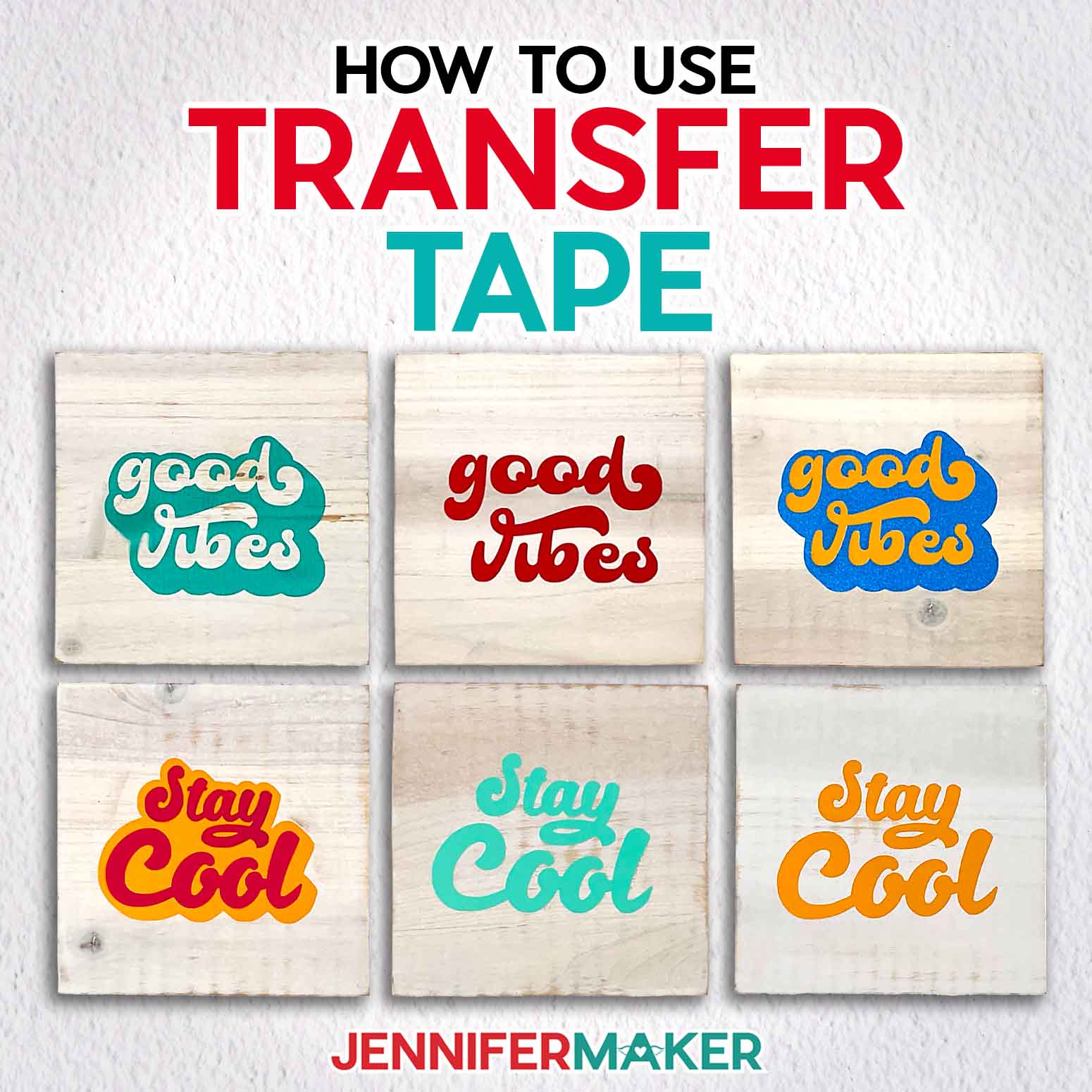 Ready to learn how to use transfer tape? This post contains some affiliate links for your convenience (which means if you make a purchase after clicking a link I will earn a small commission but it won't cost you a penny more)! Read my full disclosure policy.
This is a Cricut Mystery Box project — it uses the same blue light grip machine mat that you could have gotten in the "Outer Space mystery box in May 2023. While this mystery box is no longer available, you can still purchase the machine mat in my material list. Learn more in my Cricut Mystery Box Guide.
Why is transfer material a necessity when working with adhesive vinyl? Can't you just peel it off and stick it where you want it? Well, yes, and no. In theory, you could peel the vinyl off from the carrier sheet and stick it where you want it. However, in practice, this is a good way to ruin your vinyl decal.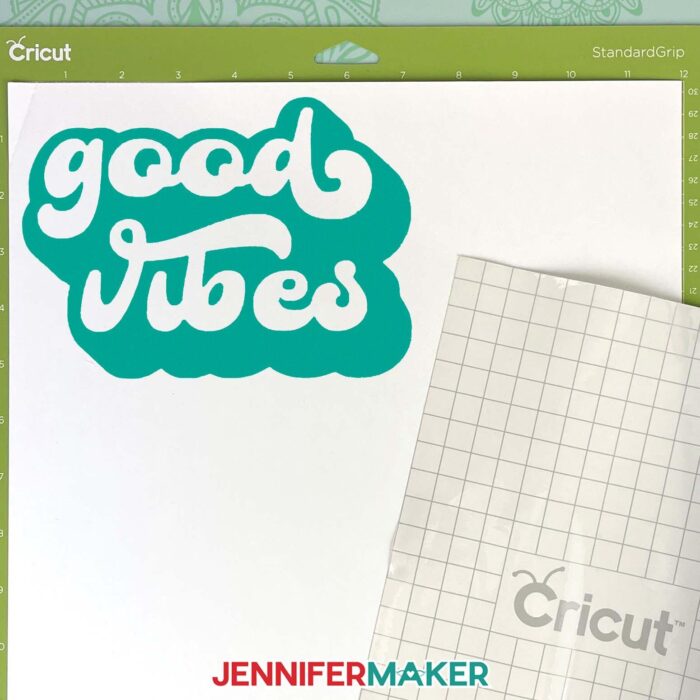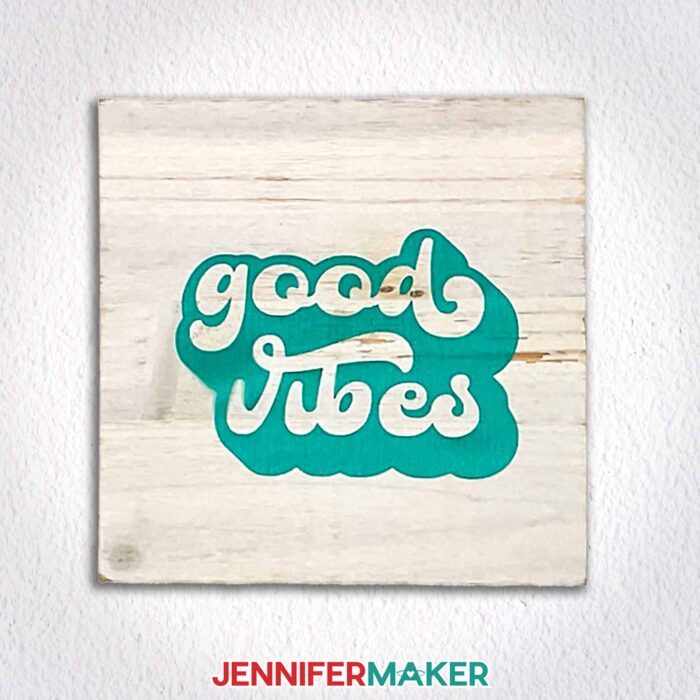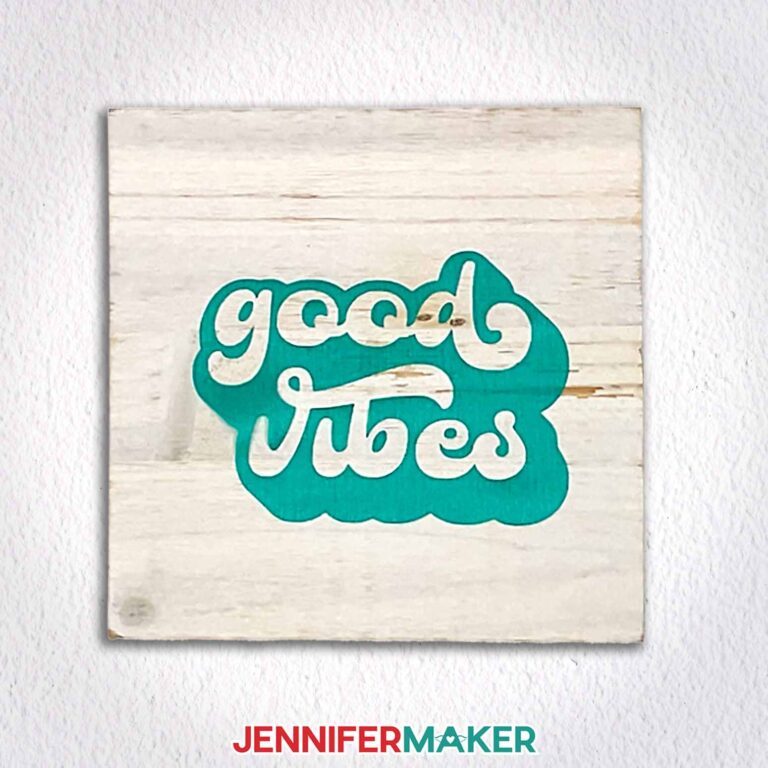 Because adhesive vinyl is so thin and sticky, and because the designs cut with it can be quite complex, transfer tape makes it infinitely easier to apply your decal to its intended place. It allows you to take delicate and intricate designs and place them onto any smooth surface you like!
From standard permanent vinyl to the surprisingly sturdy shimmer and glitter vinyl – there are a lot of different types of adhesive vinyl, with a lot of differences in how they're applied — which can be a lot to keep track of!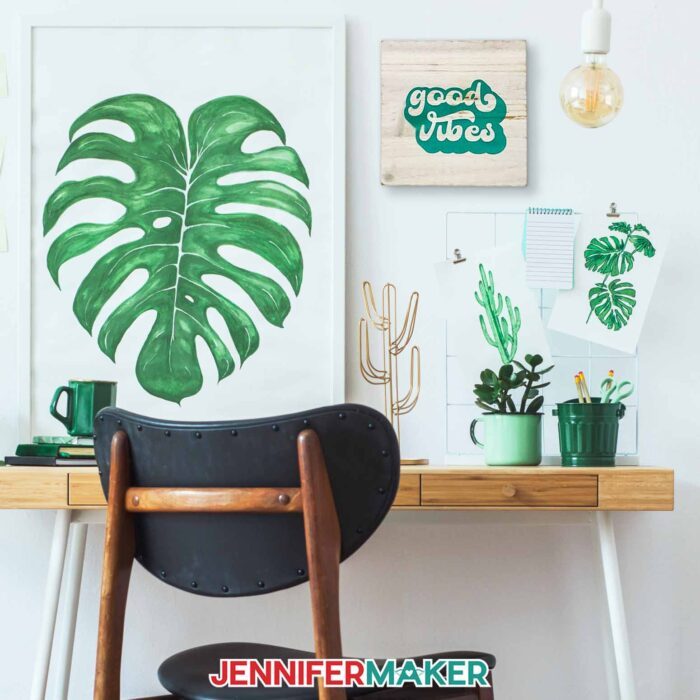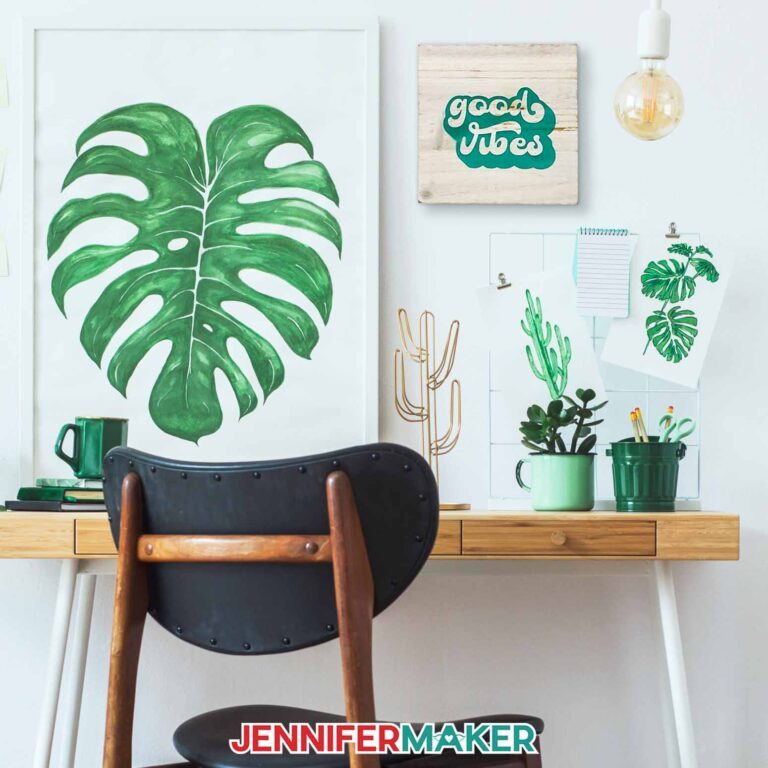 To show you all about transfer tape, we'll make these fun retro decals I designed for adhesive vinyl. Once you get my free cut file, the first thing I'll do is show you how to cut the decals on your Cricut machine, and then I'll walk you through how to apply two kinds of transfer tape – Cricut StrongGrip and StandardGrip, as well as linerless StandardGrip, which doesn't come with the paper backing. This is a nice way to create less waste, if you can live without the grid pattern on the back.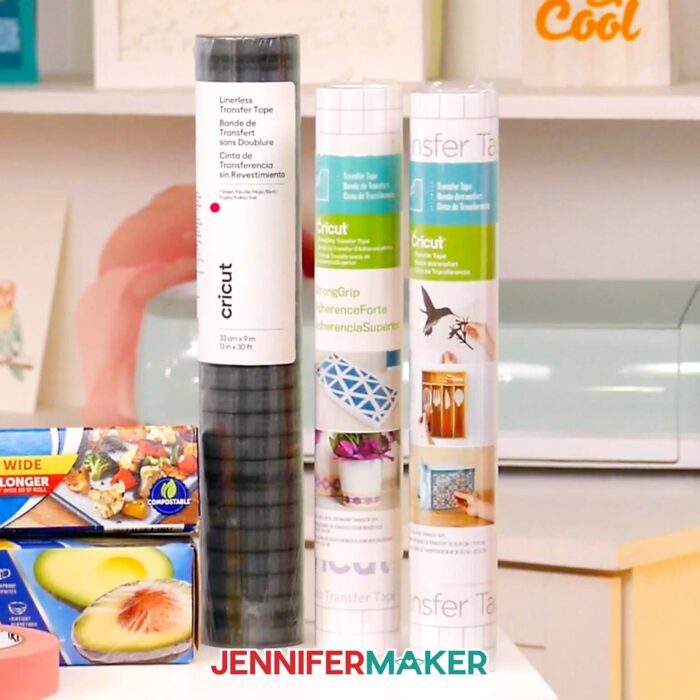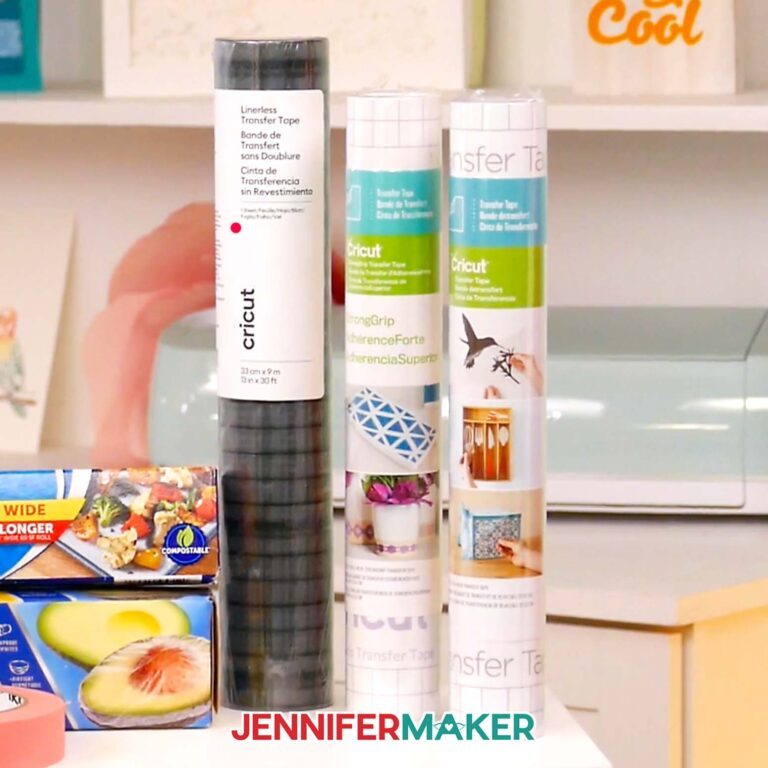 Don't worry or get overwhelmed, because I'm here to help. I'll show you why I use each type of tape in different situations, and share some great layering hacks — like when to grab the parchment paper, how registration marks can help, how to control the tape's stickiness, how to know when to layer directly onto certain items (or if that's a disaster waiting to happen), and lots more. There's even a tip on how to get the transfer tape off it's liner – have your weeding tool ready!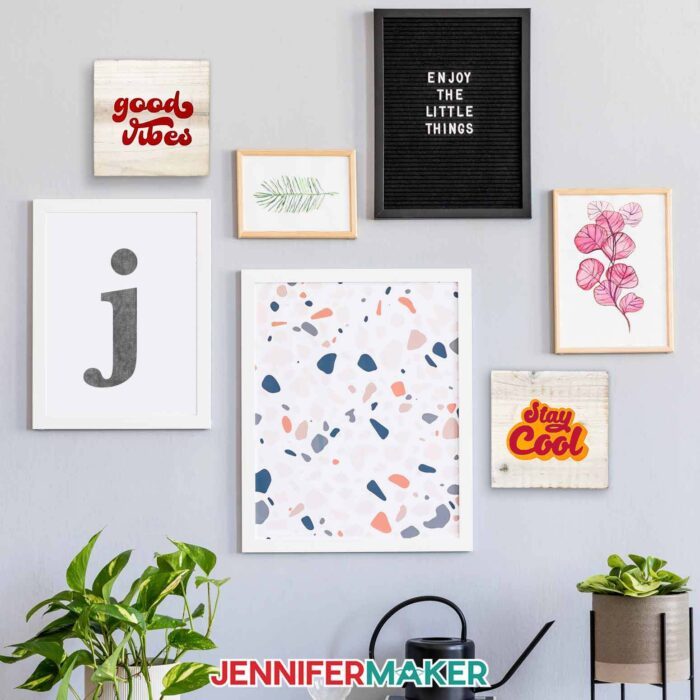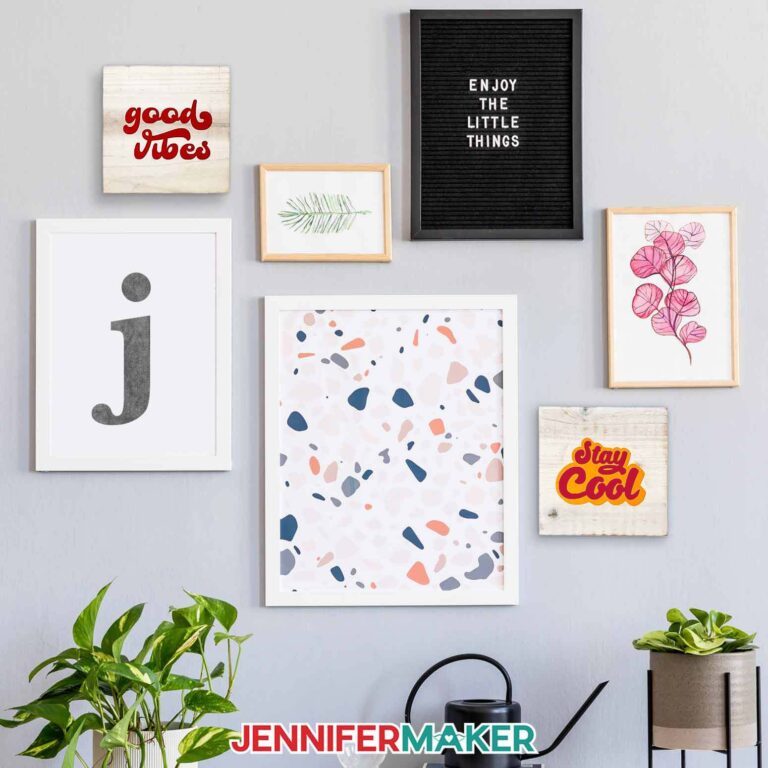 Finally, I'll apply my decals to these Wood Panels from my materials list. If you watch my YouTube video tutorial, I'll share some alternatives you can try beyond clear transfer tape that you might already have around the house, too!
If this seems like a lot, I completely understand. We all start somewhere when it comes to learning new crafting skills. I was there too at one point, too! But once you get transfer tape down pat, you'll be able to confidently create tons of super cool vinyl projects. It's worth it to learn how to use transfer tape the right way!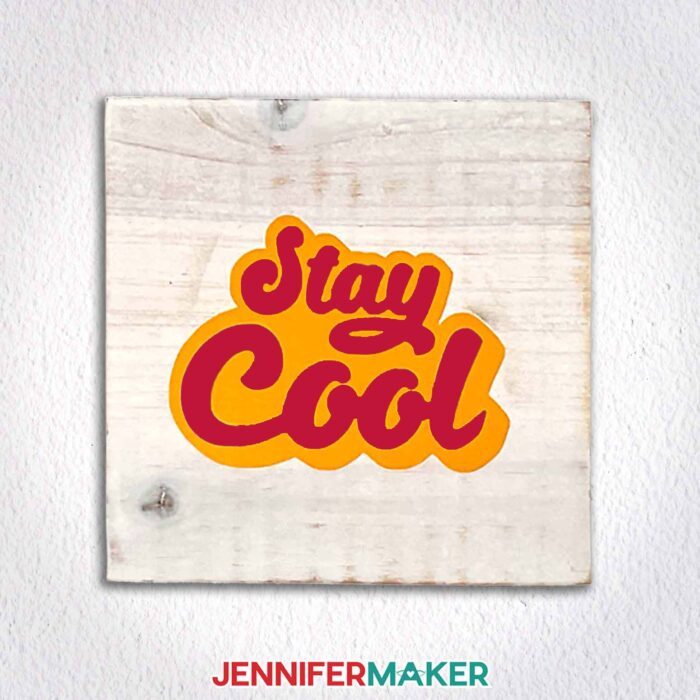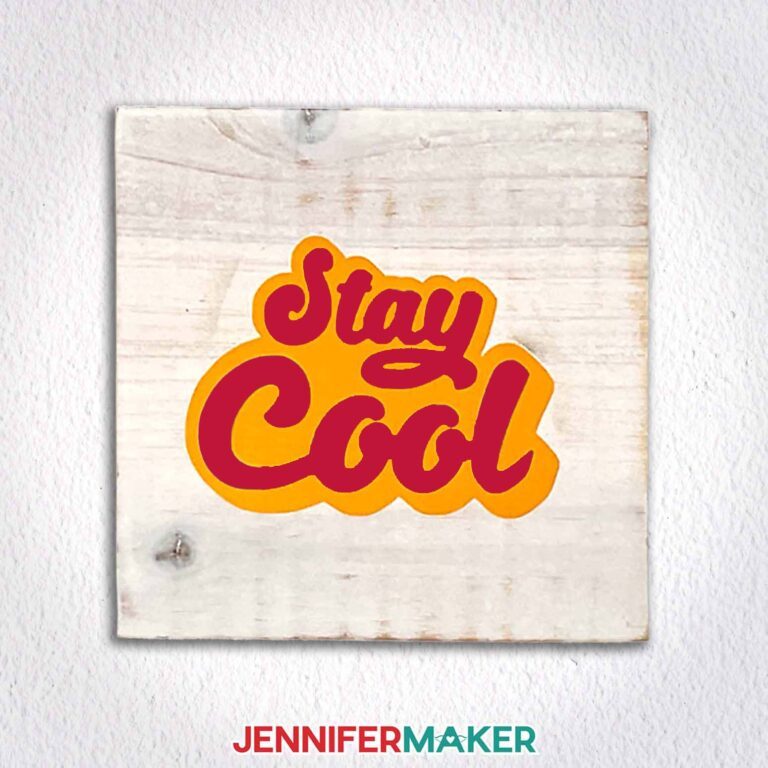 And once you get the basics down on how to use transfer tape, you can try other methods! If you're trying to place a large or detailed design perfectly, try the wet transfer method for vinyl with a slippery secret weapon!
Or, once you're ready to try curved surfaces, check out my vinyl wine glass tutorial for tips on snipping the material to match the item's surface!
Materials & Tools to Learn How to Use Transfer Tape
Learn How to Use Transfer Tape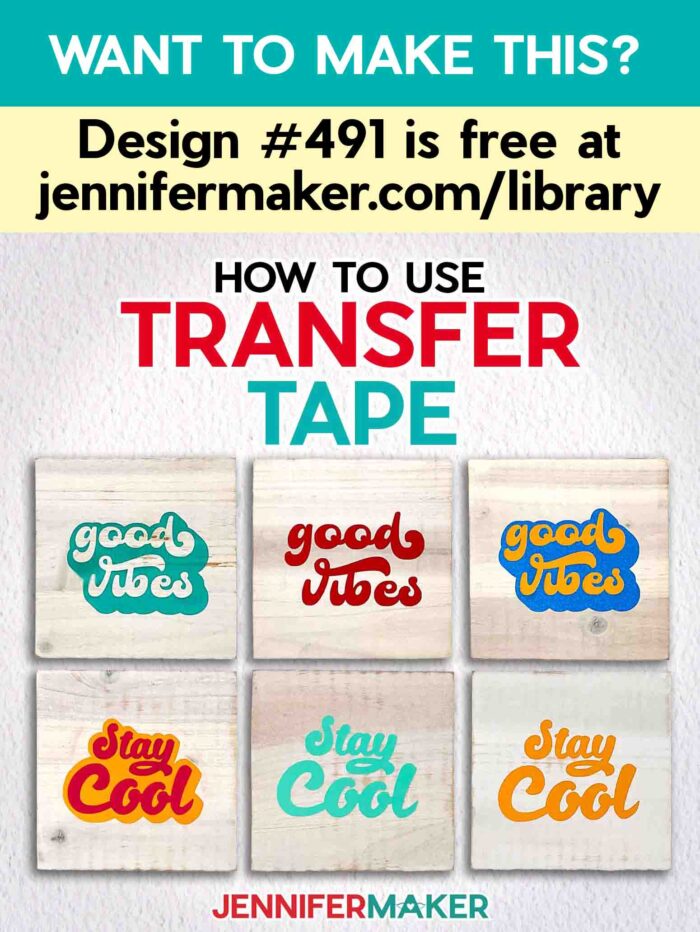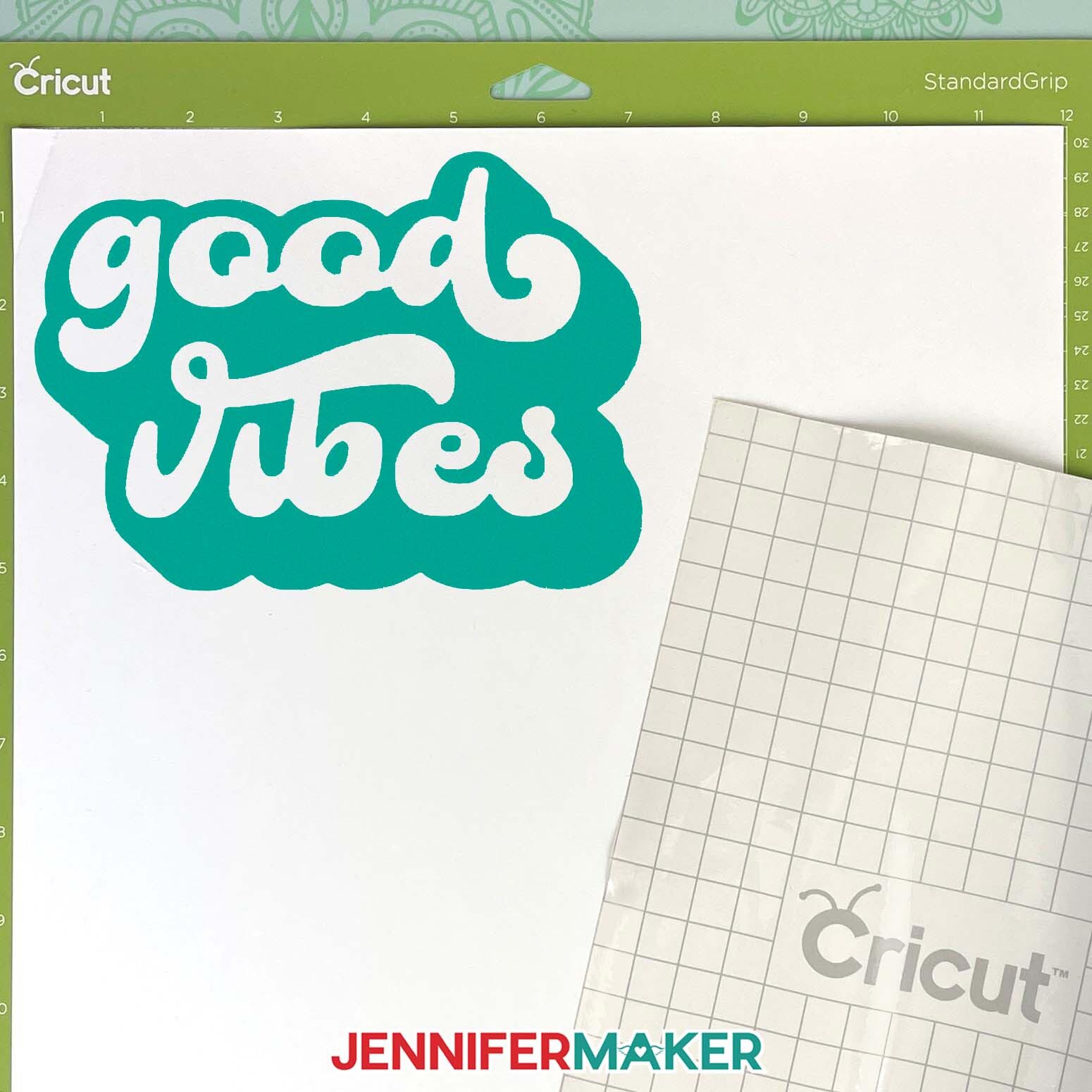 How to Use Transfer Tape
How to Use Transfer Tape.
Answers to Your Questions About Using Transfer Tape for Vinyl Projects
Q: What is the trick to transfer tape?
A: There are several "tricks" to effectively and using transfer material, but I'd have to say my biggest tip would be to make sure you're using the right strength tape, and burnish the tape down well to your piece of vinyl with your scraper tool, before trying to transfer your adhesive vinyl design. And if you can't get it off the liner, use your weeding tool to pick it up at a corner!
Q: Do you have to use transfer tape with vinyl?
A: Like I said before, you CAN peel and stick your vinyl…but it might not end well. The risk for error is high, and you won't be able to preserve the spaces or small details the way you would by using transfer tape. Transfer tape really is the best way to apply an adhesive vinyl decal to a surface. And once you know how to use transfer tape, you'll realize that it's the easiest way, too. That said, you can use other alternatives like Press N Seal wrap or painter's tape in lieu of StandardGrip tape — they often work great in a pinch! If you need a stronger tape however, you'll want to purchase StrongGrip tape.
Q: How do you lay transfer tape on vinyl?
A: After you cut a piece of transfer material large enough to apply to the whole design, remove the backing sheet from your tape and curve it like a taco, adhesive side down. Lower it onto the surface of your cut vinyl design and, after it touches, smooth it down with your fingers from the center outwards. Then use your scraper (or an old store loyalty card or credit card) to burnish the transfer tape down onto the vinyl. Leave the vinyl backing on the vinyl until you're ready to apply the vinyl decal to a surface.
Q: Why won't my decals come off the transfer tape?
A: Sometimes transfer tape works so well, that it works a little TOO well. If you're finding that your vinyl cutouts won't transfer onto your surface because the tape appears to be too strong, first try burnishing your design onto the surface again. Try a few times if needed. If that doesn't work, your transfer transfer tape may be too strong for your type of vinyl. Either try again with a different, less sticky type of transfer tape, stick it to something soft a few times to make it less sticky, or try using the Press N Seal or painter's tape methods. When peeling off the transfer material, do so at a 45-degree angle or less for best results.
Q: Do you need to mirror when using transfer tape?
A: A lot of crafters get confused as to when they should mirror their vinyl. Heat transfer vinyl is usually mirrored, after all. As a general rule, adhesive vinyl doesn't need to be mirrored — with a few exceptions. Never mirror your adhesive vinyl unless you're applying it to the back of glass where it will be read from the other side. The only other exception is in the case of printable adhesive vinyl sticker paper, like the kind used for Print Then Cut stickers. Don't mirror printable adhesive vinyl.
Q: How many times can you use transfer tape?
A: You might be surprised to learn that you can generally re-use transfer tape three or four times! Or, as your StrongGrip tape gets less sticky, use it for projects that require StandardGrip tape. And when that gets less sticky, you can still usually use it a few more times — especially with different brands of vinyl which may be less sticky than other brands. You really do get your money's worth when you learn how to use transfer tape!
Q: What can I use if I don't have transfer tape?
A: Rather than using transfer tape if you don't have any on hand and need to transfer a cut vinyl design, you can use Press N Seal wrap or painter's tape in lieu of StandardGrip tape. Furthermore, you can also experiment with using clear contact paper or lint roller tape!
Get my free SVG files to Learn How to Use Transfer Tape!

I'd love to see all the vinyl projects YOU make with the help of transfer tape! Please share a photo in our Facebook group or tag me on social media with #jennifermaker.
Love,