Learn how to make an easy paper spider plant that won't die because you forgot to water it!
The calendar says it's spring, but the snow on the ground still says winter! I'm tired of waiting for it to warm up so I can plant something, so it's time to make it happen myself … with paper! And the best thing about making paper flowers and paper plants is you can't kill them because you forgot to water or fertilize them. This is a particularly big deal for me. I'm great at the planting, not so great at the watering. So let me show you how to make this super cute paper spider plant!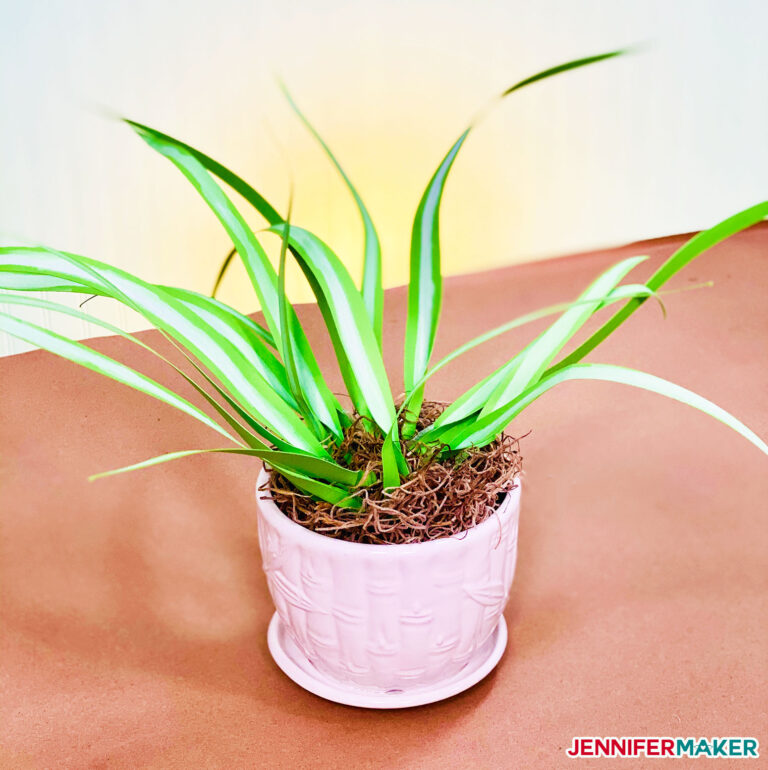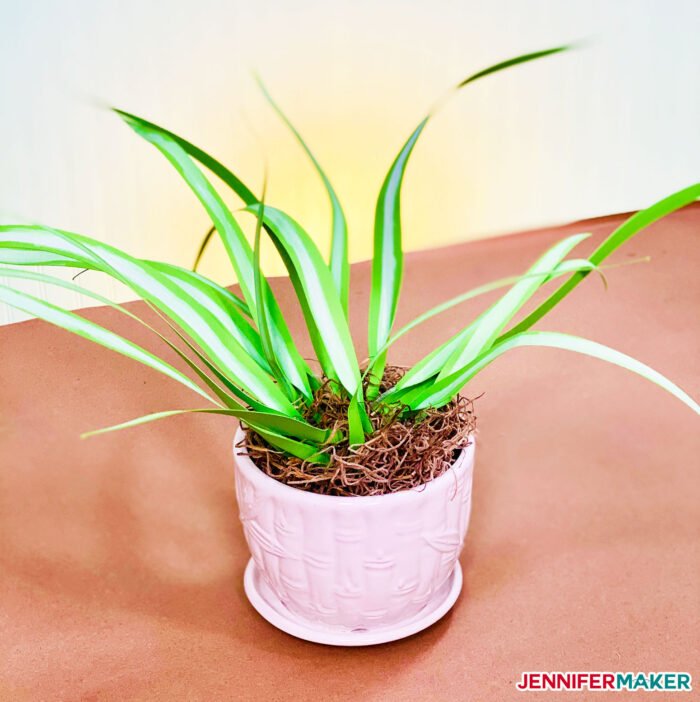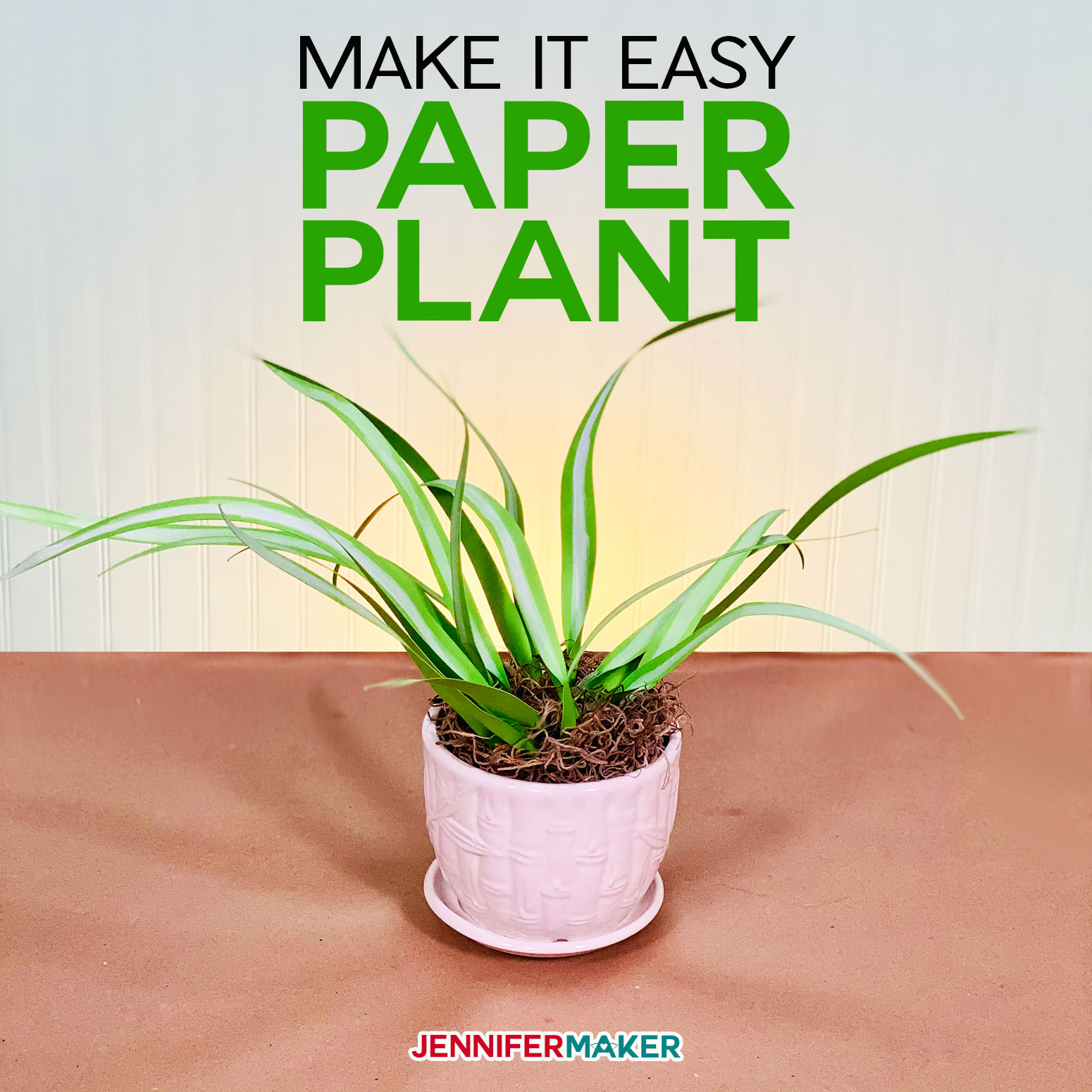 If you want an all-paper look, you can even make a vase for your paper spider plant from paper: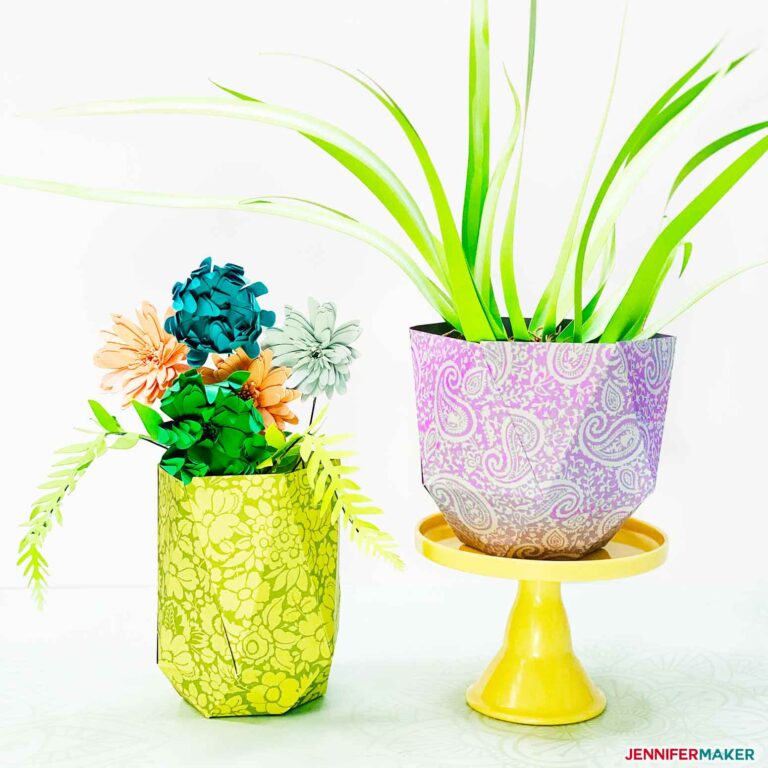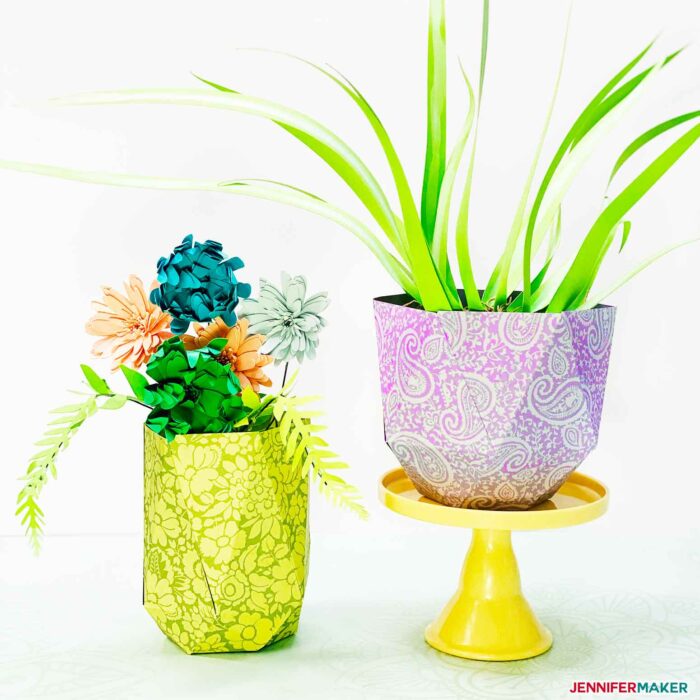 Let me show you how easy it is to make this paper spider plant! This post contains some affiliate links for your convenience (which means if you make a purchase after clicking a link I will earn a small commission but it won't cost you a penny more)! Read my full disclosure policy.
Materials to Make a Paper Spider Plant
How to Make a Paper Spider Plant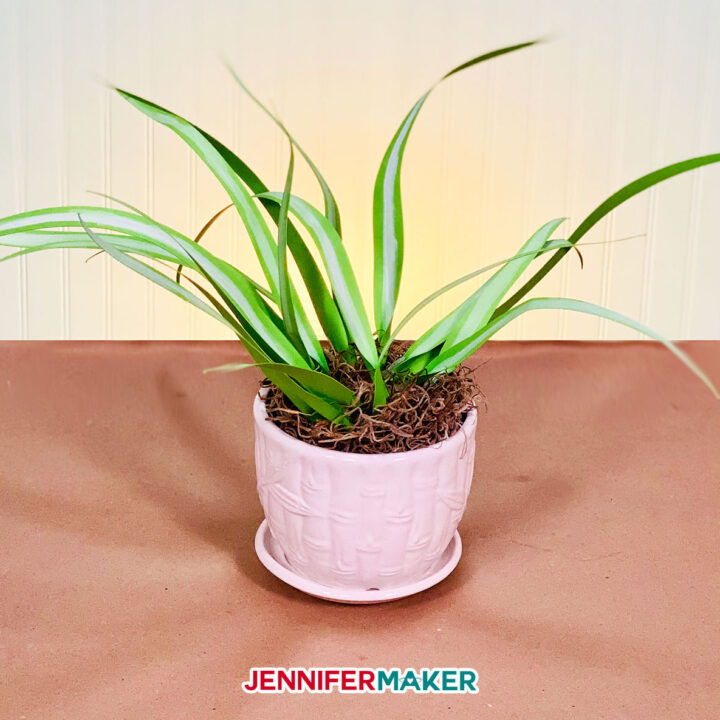 Paper Spider Plant
Difficulty:
Easy to Medium
With this easy paper spider plant tutorial, you'll never have to worry about watering your houseplant again!
Instructions
Step 1: Get my free paper spider plant Design
My free Paper Spider Plant SVG cut file (Design #211) contains the design to make your own personal beautiful paper house plant.
Here's what the uploaded file will look like once uploaded to Cricut Design Space: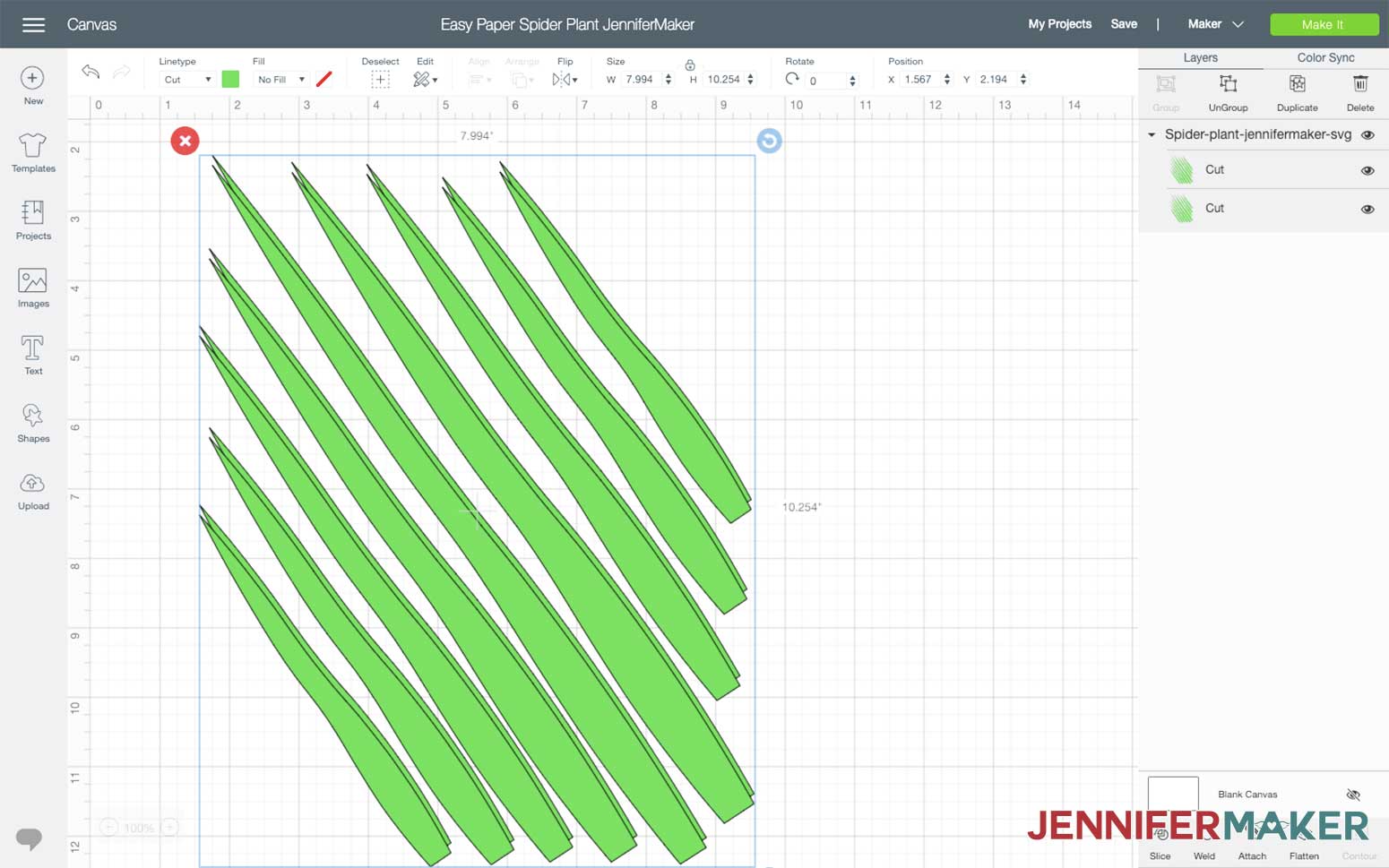 Tip: If you're not sure how to upload an SVG cut file to Cricut Design Space, watch this helpful video training series I made. If you're on an iPhone or iPad, here's how to download and upload SVG files to the Cricut Design Space app .
Step 2: Prepare and cut your paper plant pieces
You'll want to use a medium weight cardstock for this project as it is a nice weight that is easy to curl and gives a nice shape.
Place your cardstock on a green StandardGrip cutting mat.
Load your fine-point blade into your Cricut machine and press the flashing button to begin your cut.
Step 3: Paint striations up the plant leaf
Starting at the bottom, use some white paint to paint a thin line going up the center. It doesn't have to be perfect, there's always some imperfections in nature. You also don't need to use too much paint as you want a little of the green to show through. Feel free to even water down your paint a little to thin it out.
Keeping painting until you reach the tip of the leaf.
Step 4: Form your leaf
Take your floral wire, and carefully cut it down to about 2"-3".
Take one leaf and pinch the base, creasing the middle; this is where your floral wire will eventually sit.
Place a dollop of glue inside the crease and set just the tip of your floral wire inside the glue to set.
Using a marker, gently curl the ends of your leaves to form a soft curve
Do this for all remaining leaves.
Step 5: Prepare your planter
Find your planter, Spanish moss, and floral ball. Place the floral ball inside your planter.
Take your Spanish moss and gently place it over the floral ball.
Arrange the Spanish moss so it covers the floral ball completely.
Step 6: Place leaves inside your planter
Take your planter and your leaves, and carefully stick each leaf through the Spanish moss, making sure to catch the floral ball
Place your leaves in a circle, using the bigger leaves first.
Continue filling in your leaves until your planter looks full.
After filling in any holes with your extra leaves, you're finished! Enjoy the easy paper spider plant you just created!
Notes
ACKNOWLEDGMENTS
Special thanks to the JenniferMaker Design Fairy team for helping me design and assemble this awesome Paper Spider Plant.
Get my free SVG files to make your own paper spider plant:
I'd love to see YOUR paper plant! Please share a photo in our Facebook group or tag me on social media with #jennifermaker.
Love,