Learn to cut wood veneer on a Cricut cutting machine with this fun, customizable wooden bookmark tutorial!
Did you know that you can cut wood on your Cricut? Yes, the Cricut Makers can do it, but even the Cricut Explores can do it. You just need to use the right wood and the right blade. I'm going to show you exactly how to do that! And to demonstrate, we're going to make these super cool wooden bookmarks!
Watch me cut and assemble wood veneer and make wood bookmarks in my step-by-step video!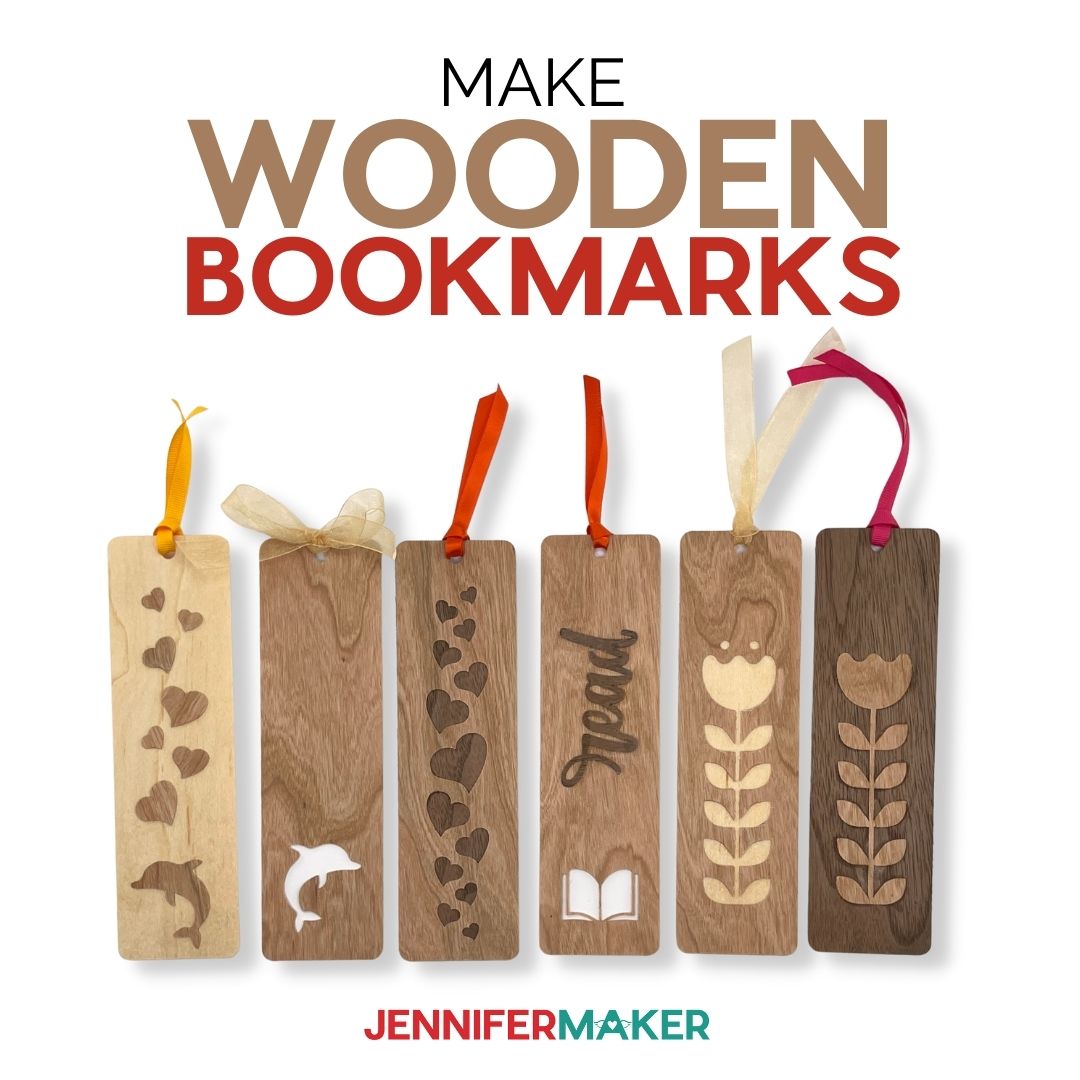 The best wood to use in a Cricut cutting machine is SUPER THIN wood. That means things like wood veneer or very soft and thin woods like basswood and balsawood. And here's the important part — the wood needs to be 1/16th of an inch or LESS in thickness. That's 1.5 mm or less. This is really quite thin!
Now basswood and balsawood are pretty light-colored woods, so if you want a different look than that, go for wood veeners. You can get wood veneers in a wide range of finishes and wood veneers the easiest woods to cut. Veneer will also give you the sharpest cuts. I made these bookmarks from different wood veneers! And they turned out SO good.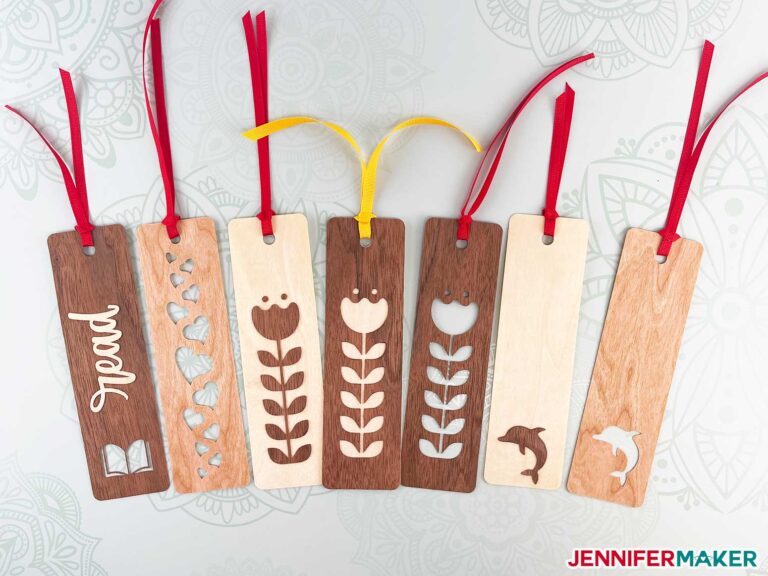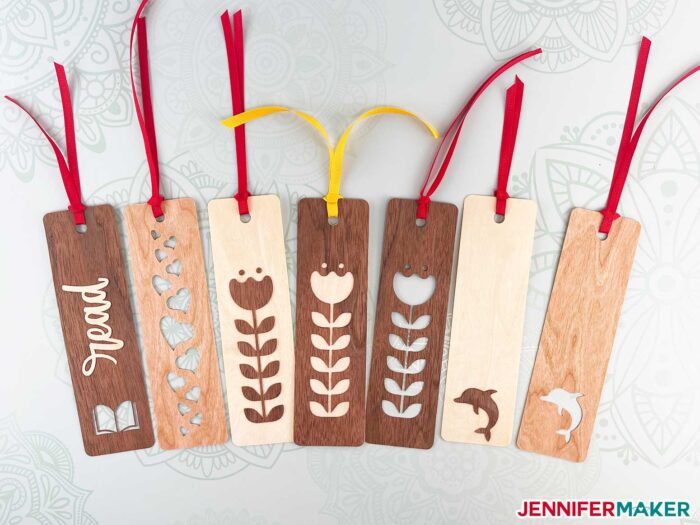 Whatever you do, do NOT use plywood in your Cricut, even if it is one-sixteenth of an inch think — it will not work well, and you'll waste material and time.
To show you how to cut wood, I'm going to use Cricut Natural Wood Veneer in Maple and Walnut and make these gorgeous wooden bookmarks!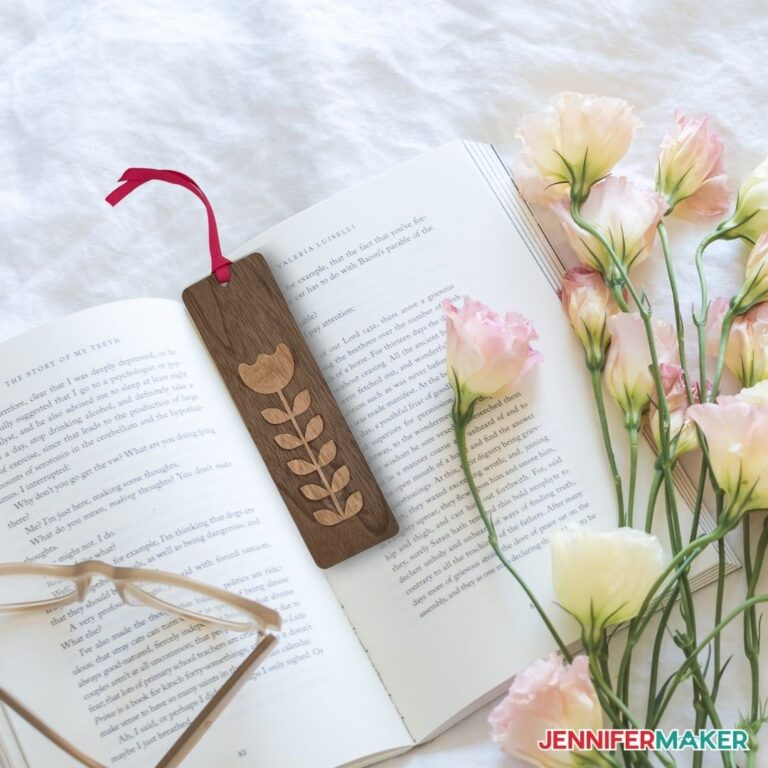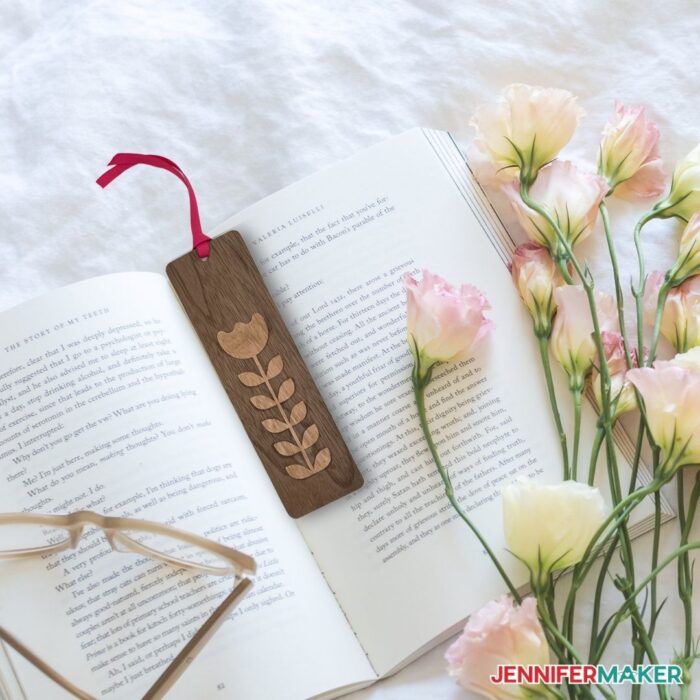 The right blade for cutting wood veneer like this is the Deep Point Blade that comes in a black housing like shown below. They don't come default with any Cricut cutting machines, so you'll need to get it separately. You may see it called a Deep Cut blade, but so long as it is in this black housing, it's the same blade. The Deep point blade has a steeper blade angle (60 degrees vs 45 degrees for the other fine point blades) and harder, more durable steel.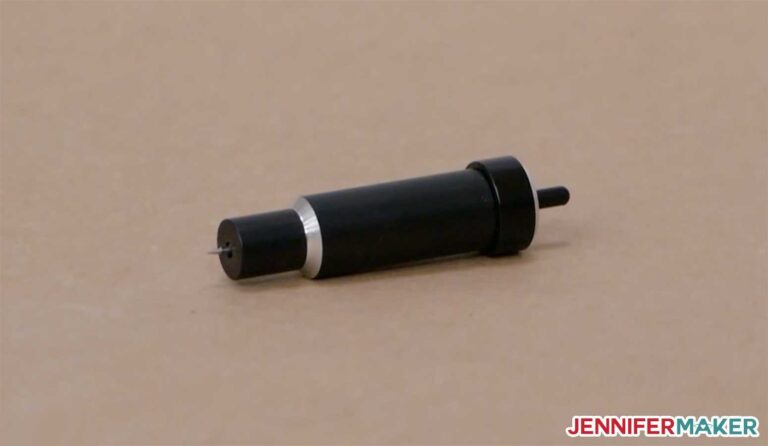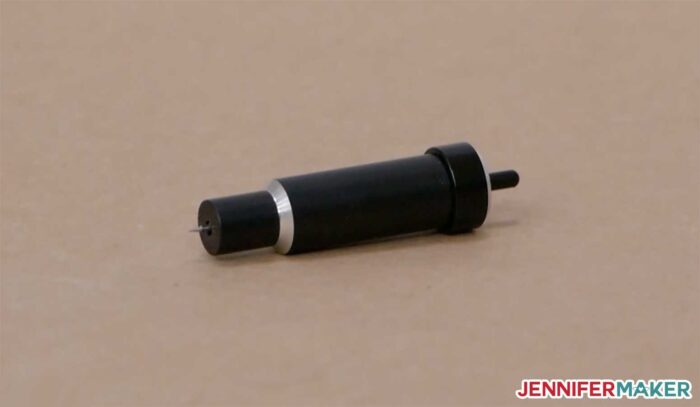 Now, if you have a Cricut Maker cutting machine, you CAN use the knife blade to cut thin wood, but it's important to understand that the knife blade is best for cuts of moderate detail, no smaller than ¾". This includes the size of the interior cuts. So the width of your cuts should not be smaller than the diameter of a pencil. Our bookmarks have finer details than that, so the knife blade is NOT a good blade for this wood veneer bookmark project.
If you're cutting basswood or balsa wood on a Maker, you will be encouraged to use the knife blade. If you're on an Explore, you can't even use the knife blade, so you'll want to use the deep point blade and then create a custom material setting with a pressure of at least 330 and 4-8 passes. Check out this tutorial on cutting basswood and balsa wood to learn more!
This is another reason why wood veneer is so great — you can cut wood veneer on both the Maker and Explore with the Deep Cut blade and just four passes. It's the easiest wood to cut on a Cricut! You can see how well it does with these wood veneer earrings I made — I mean, look at this detail!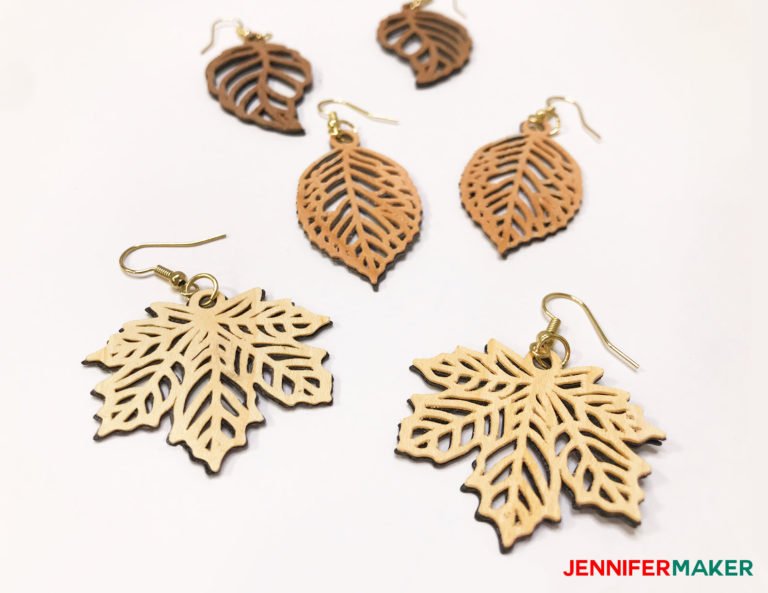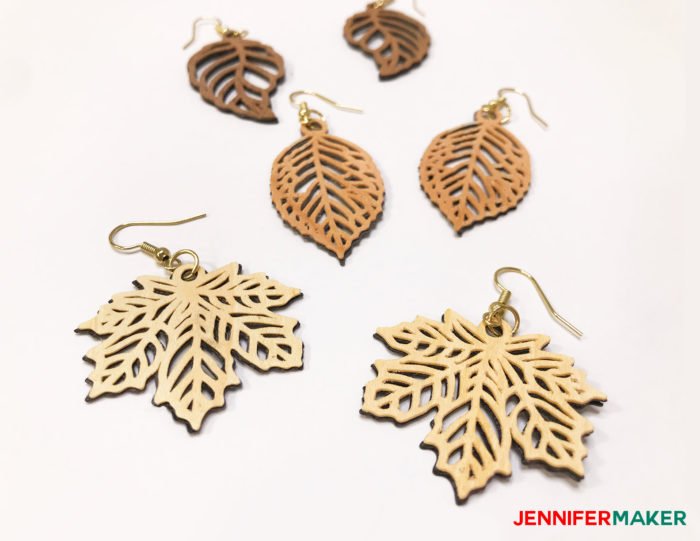 Now, to cut wood, it's also important to use a sticky machine mat, specifically a purple StrongGrip Machine Cutting Mat. It's super sticky, which is important as wood is very stiff and hard to cut, so it will want to move around more on your mat. For that reason, we also use painter's tape to keep the wood in place on the mat, and I'll show you how to put that on your wood properly, too!
And to get that wood stuck onto your mat REALLY well, you'll also want to use a brayer, which looks like this. You can roll it over your wood to super stick it on the mat!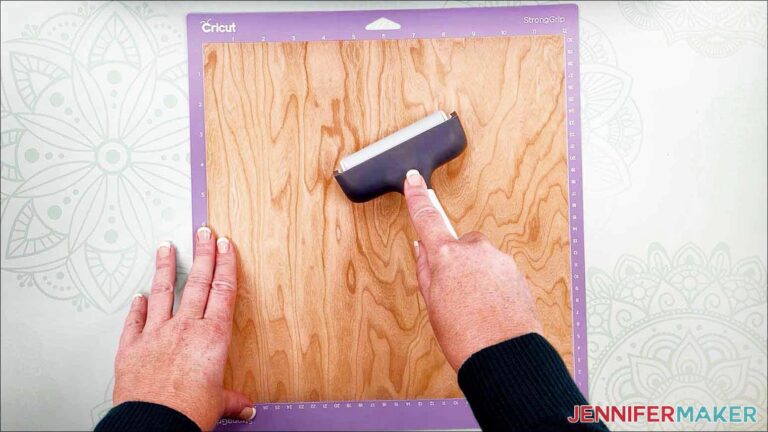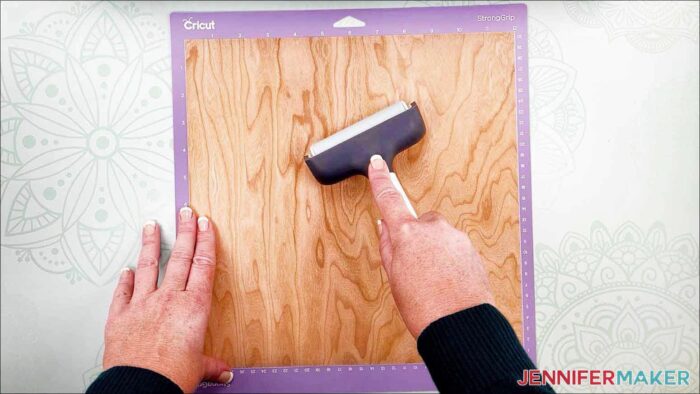 There's a few other tools I find useful when cutting wood, such as a craft knife to help clean up the wood after your cut if you need it, a nail file and sandpaper, to smooth your cuts, and a weeding tool to poke out little cuts from your wood.
And those are the basics tools and supplies you need to cut wood on a Cricut!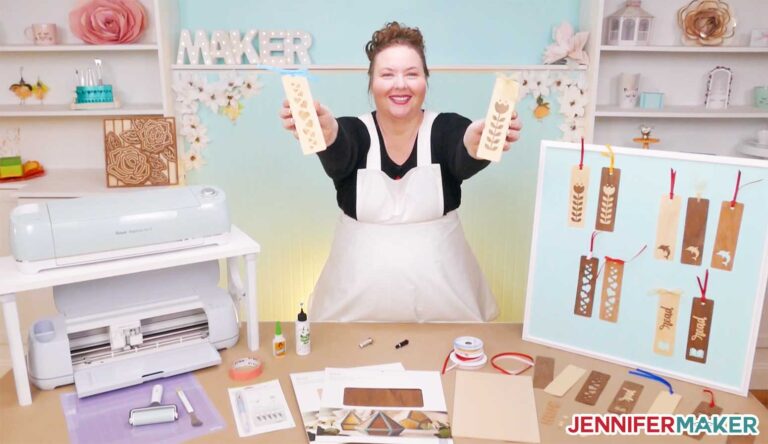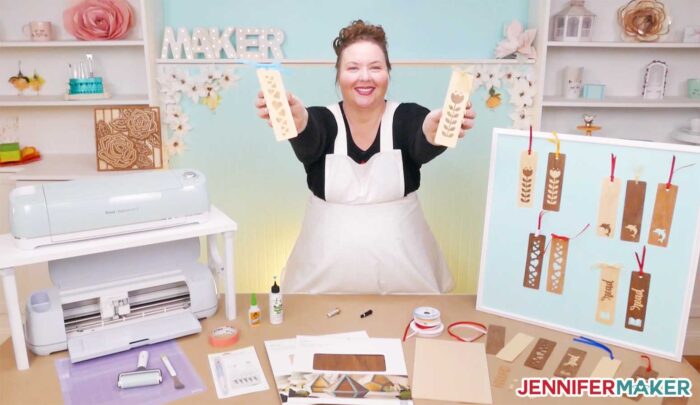 So let's dive right into this by making these pretty wooden bookmarks. This is a great starter project for learning how to cut wood. For this project, you just need some glue — such as Super Glue or Tacky Glue, and some ribbon. You can find a list of the exact materials and supplies linked below, as well as my free bookmark designs to use!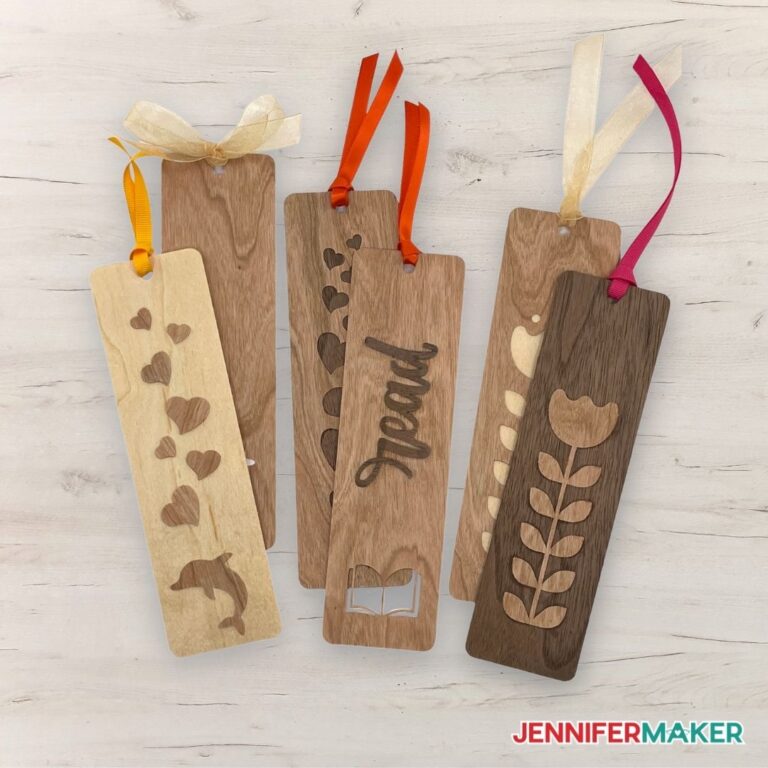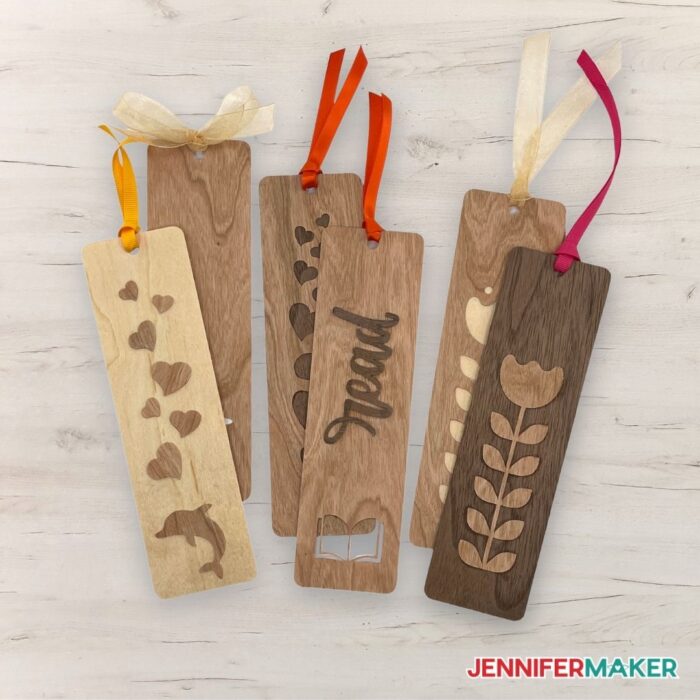 Let me show you how easy it is to make these wooden bookmarks with wood veneer on a Cricut cutting machine! This post contains some affiliate links for your convenience (which means if you make a purchase after clicking a link I will earn a small commission but it won't cost you a penny more)! Read my full disclosure policy.
Materials to Make Wooden Bookmarks
View my Amazon shopping list with the exact items we used to make this project!
How to Cut Wood Veneer and Make Wooden Bookmarks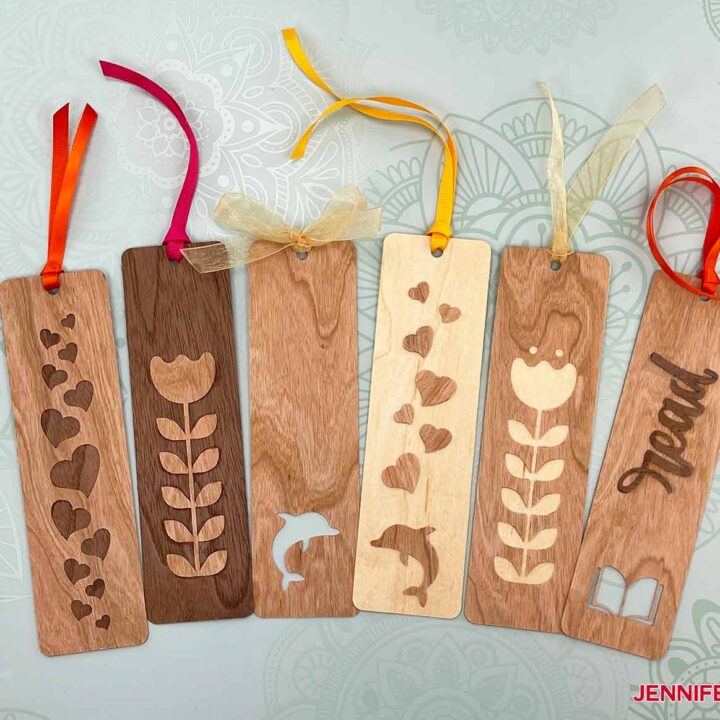 Wooden Bookmarks
Join me in making some adorable bookmarks using wood veneer. These are easy to make and would be a perfect gift for the avid reader in your life.
Answers to Your Questions About Making Wooden Bookmarks
Q: Can I use basswood or balsa wood to make these bookmarks instead of wood veneer?
Yes, but they aren't as thin as wood veneer and may not make the best bookmarks.
Q: Can I use the knife blade instead of the deep point blade?
You can only use the knife blade if you are making a simple, undecorated bookmark (outer shape only). The interior designs I've included on the bookmarks are too intricate for the knife blade to cut properly. Click here to learn more about the Cricut Knife Blade.
Q: I don't have or can't get wood veneer. Can I make these bookmarks from any other material?
Yes, you can totally make these bookmarks from cardstock, posterboard, or Kraft board!
Q: How do I personalize these bookmarks with a name?
Simply click on Text on the left side of the screen, type the name, choose a font, rotate the text 90° so it fits on your bookmark (and resize as necessary), then select both the bookmark and your name and click Attach. That's it!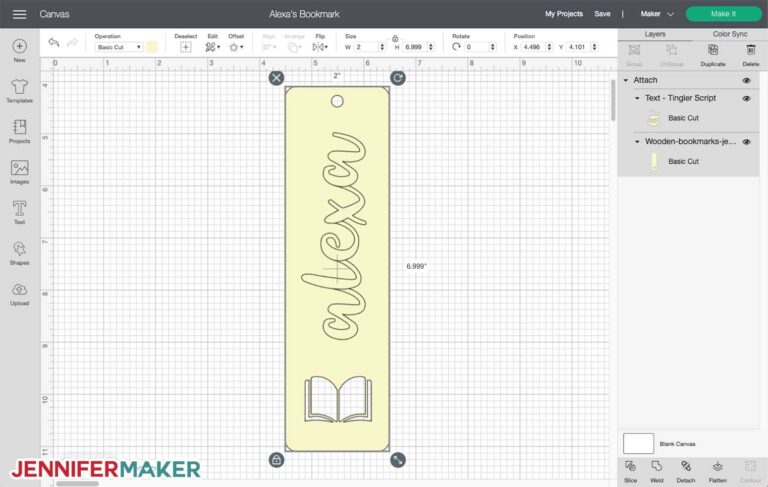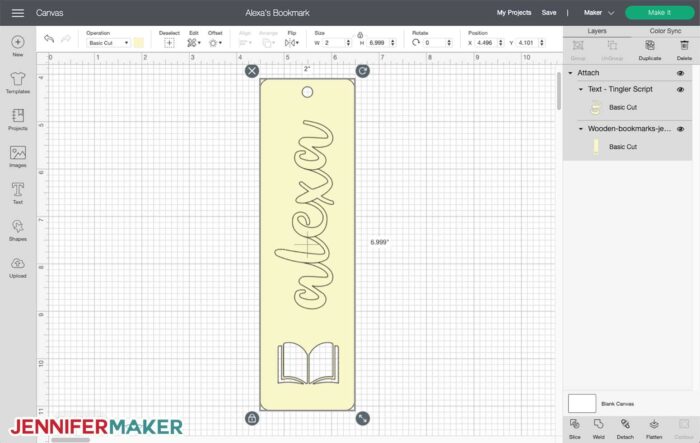 Get my free SVG files to cut your own wooden bookmarks
I'd love to see your wood veneer projects and all the ways you personalize your bookmarks! Please share a photo in our Facebook group or tag me on social media with #jennifermaker.
Love,