Learn to make this adorably cute 3D cat papercraft completely out of cardstock!
My daughter Alexa has been wishing for a cat for a long time now. Eventually, she got tired of hoping I'd get one and created her own — from paper! My talented daughter "sculpted" this cat in Blender, and from there I turned it into a 3D papercraft that we can cut from just a few sheets of cardstock! And to make it as easy as possible to assemble, I've numbered every tab and included a start point and a full step-by-step tutorial.
Watch me assemble the 3D paper cat in my step-by-step video:
It's truly amazing what you can make from paper! This low-polygon kitty cat is made by cutting the pattern on the cardstock, creasing it along the folds where indicated, and then glueing or taping the parts together in the right spots.
The easiest way to make a 3D papercraft like our cute cat is to use a cutting machine, such as a Cricut. I've included three patterns you can cut with a Cricut — a simple cat, a "tuxedo" cat (which lets you pick different colors for different parts of the body), and a black cat … fun for Halloween!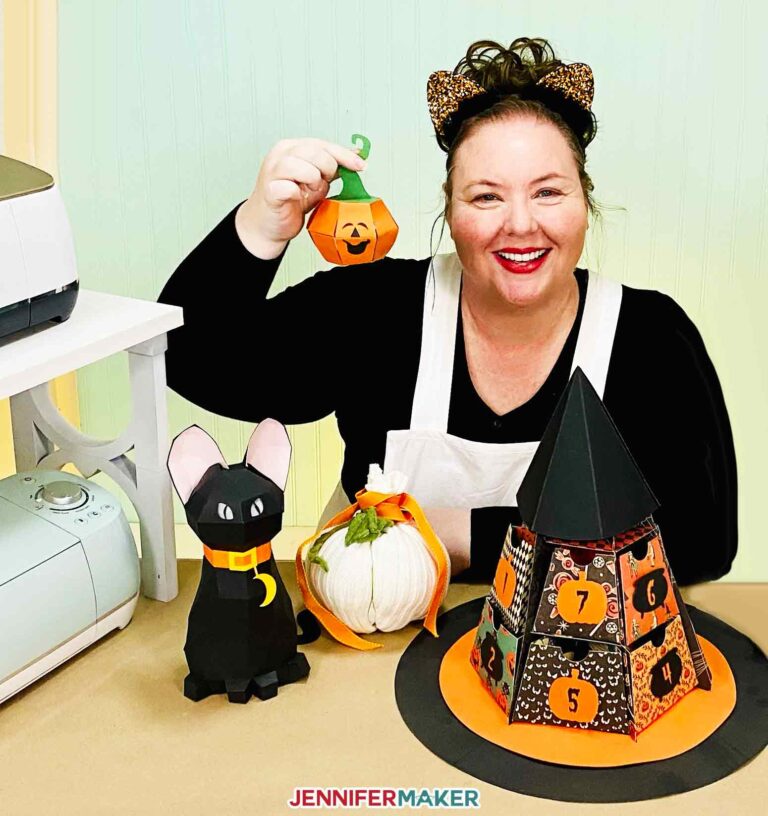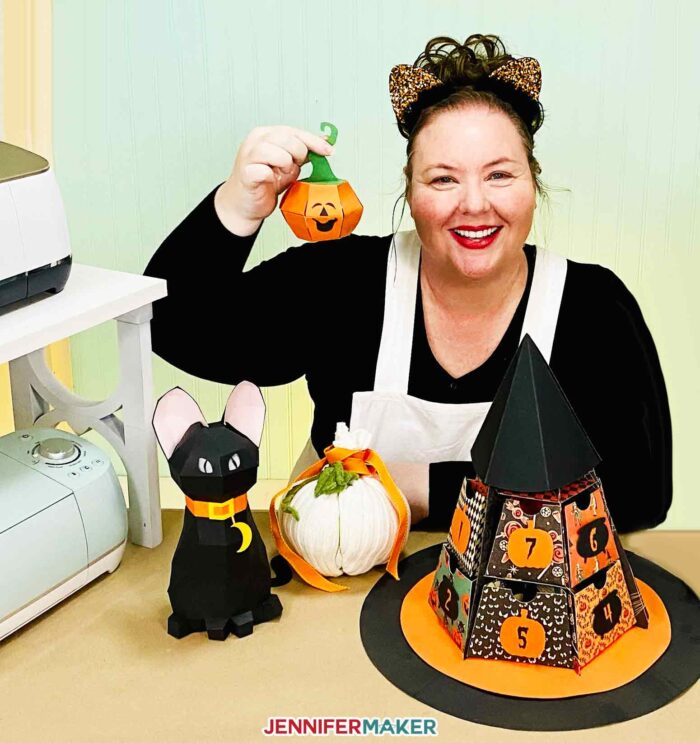 For glue, I highly recommend a good quality glue with a precision tip so you don't get too much glue on your project. And be cautious of dark or black papers, as glue messes will show up easier on those — you may want to use double-sided tape on those instead.
You'll also want a scoring tool of some kind, either a scoring stylus or a scoring wheel. Both work just great!
My daughter named this cat "Yue" which means moon in Mandarin, which she's studying in high school. But you can name yours whatever you wish!
Let me show you how easy it is to make this 3D cat papercraft! This post contains some affiliate links for your convenience (which means if you make a purchase after clicking a link I will earn a small commission but it won't cost you a penny more)! Read my full disclosure policy.
Materials to Make a 3D Paper Cat
View my Amazon shopping list with the exact items we used to make this project!

How to Make Your Own 3D Paper Cat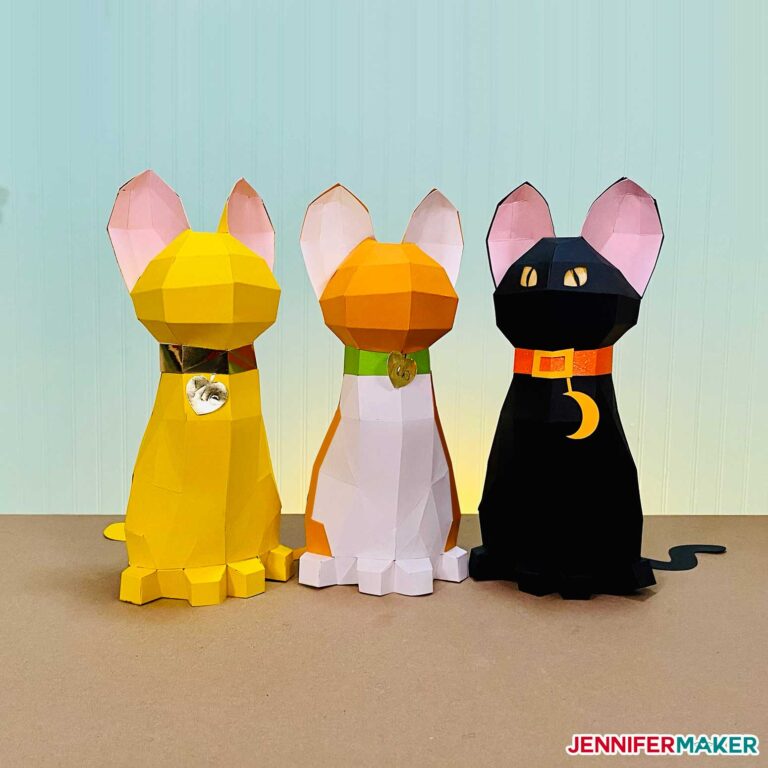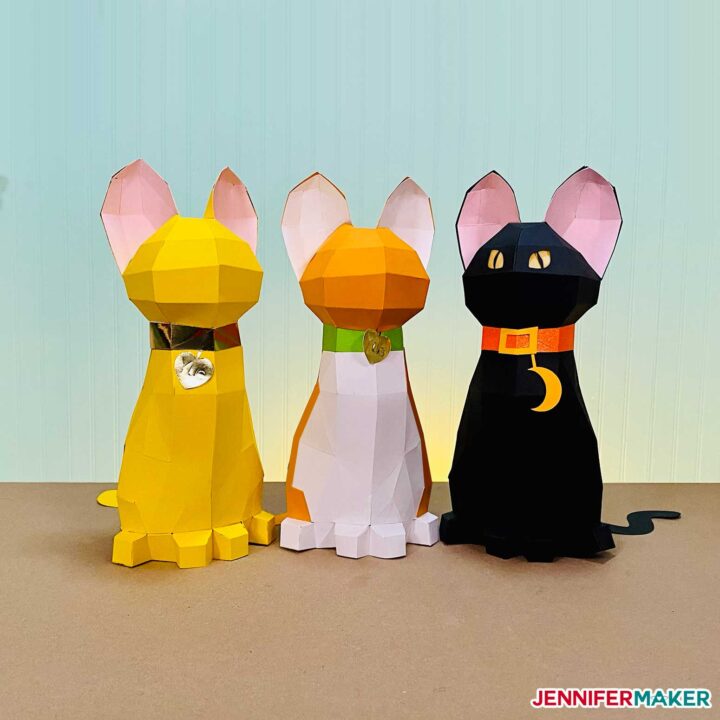 3D Papercraft Cat
Yield: 1 cat

Prep Time: 1 hour 10 minutes

Active Time: 1 hour 50 minutes

Total Time: 3 hours

Difficulty: Medium
Answers to Your Questions About Making a 3D Cat
Q: Can I use copy paper or construction paper instead?
No, copy paper won't be strong enough, and construction paper is not a high enough quality to withstand the intricate cuts. I recommend an 65 lb. cardstock for the best results.
Q: Do I have to use a pen?
No, feel free to make this without the markings, which are only there to help you assemble this 3D cat. If you're not going to draw out the markings, be sure to hide or delete that layer before cutting.
Q: Can I make this paper cat smaller?
Yes, but be aware that if it is significantly smaller, it will be harder to cut and assemble. And you may not be able to fit your hand inside to attach parts together. View my Resizing Tutorial to learn how to resize an SVG cut file.
Q: I don't have vellum for the Halloween cat's eyes. Is there something else I can use?
Yes, you can use another paper that is slightly opaque but allows some light to pass, such as wax paper or a very thin copy paper.
Q: My score lines are not pre-set nor pre-attached. What do I do?
You will need to select each layer that should be a score line, change it to score in the Operation menu, then attach the score line to the base layer. See my scoring tutorial for more details.
Get my free SVG files to create a 3D Paper Cat
I'd love to see your paper cat projects and all the colors you choose to use! Please share a photo in our Facebook group or tag me on social media with #jennifermaker.
Love,