Learn how to etch glass and make it stand out with color in three different ways!
I'm SO excited to share a new technique with you: color glass etching! Etching is an elegant way to permanently decorate glass, but sometimes I want a little more color in my decor. And I know you do, too! Many of you have asked, "How can I add color to my etched glass to make my etching stand out more?" so I set out to find the answer. I've tested several color products and techniques with vinyl stencils customized and cut on my Cricut. I'm excited to share my favorite option for coloring etched designs on glass. The results might surprise you!
Watch the full step-by-step tutorial video with results of my color glass etching tests:

In this tutorial, I'll teach you how to etch a piece of glass with a personalized design and then color it. Specifically, we're going to add an initial to a stencil SVG in Cricut Design Space. It just takes a few steps and is a great way to personalize gifts!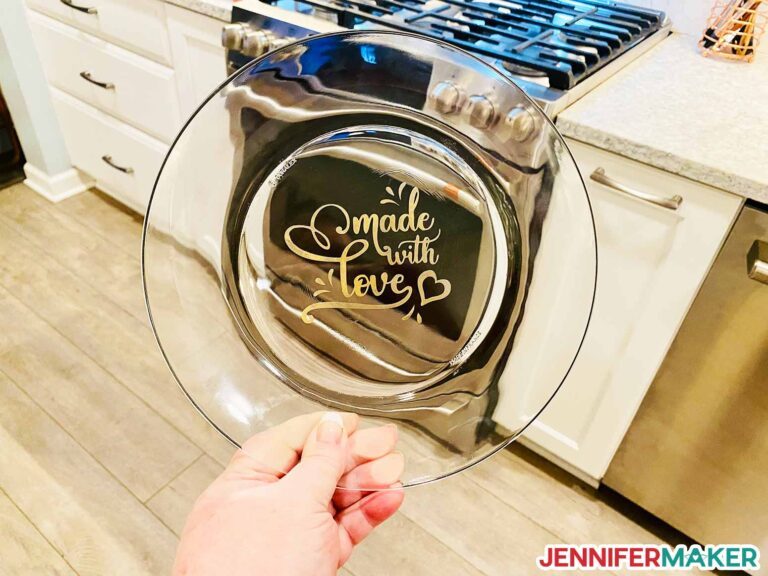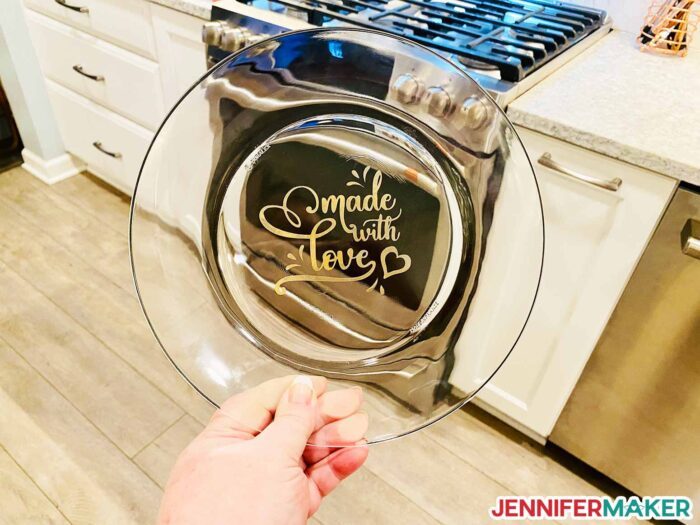 I'll also compare the color glass etching techniques and results for oil-based paint pens, Rub n Buff wax, and water-based paint markers. The results may surprise you!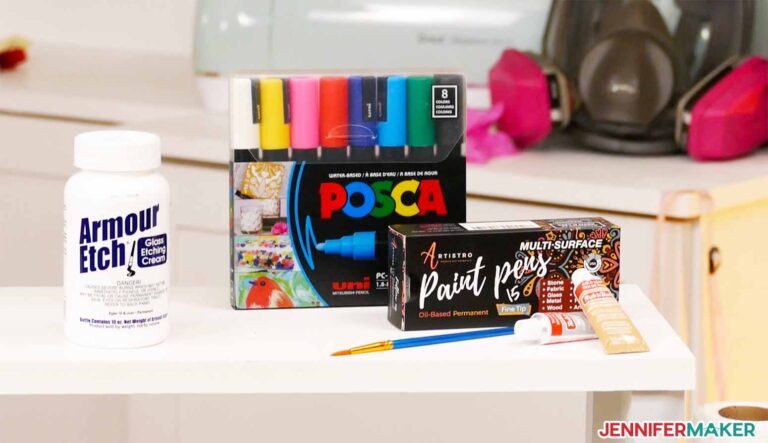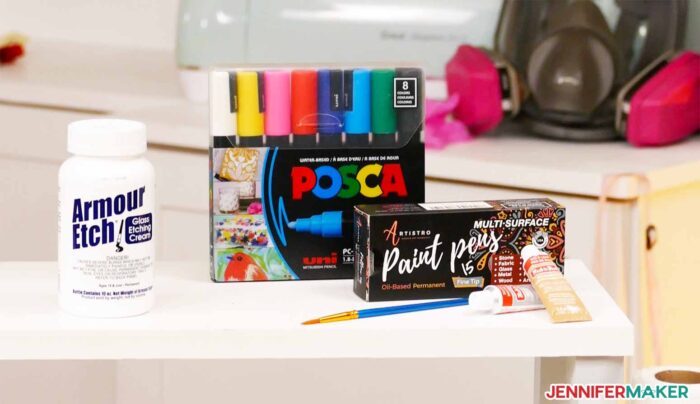 Each product works a bit differently, but have painters' tape, dry and dampened paper towels, and rubbing alcohol ready.
For the best etching results, make sure your glass doesn't contain Borosilicate or a scratch-resistant coating. Glass items with borosilicate may not etch evenly, if at all. The wine glass, plate, and vase in my materials list below all etched perfectly!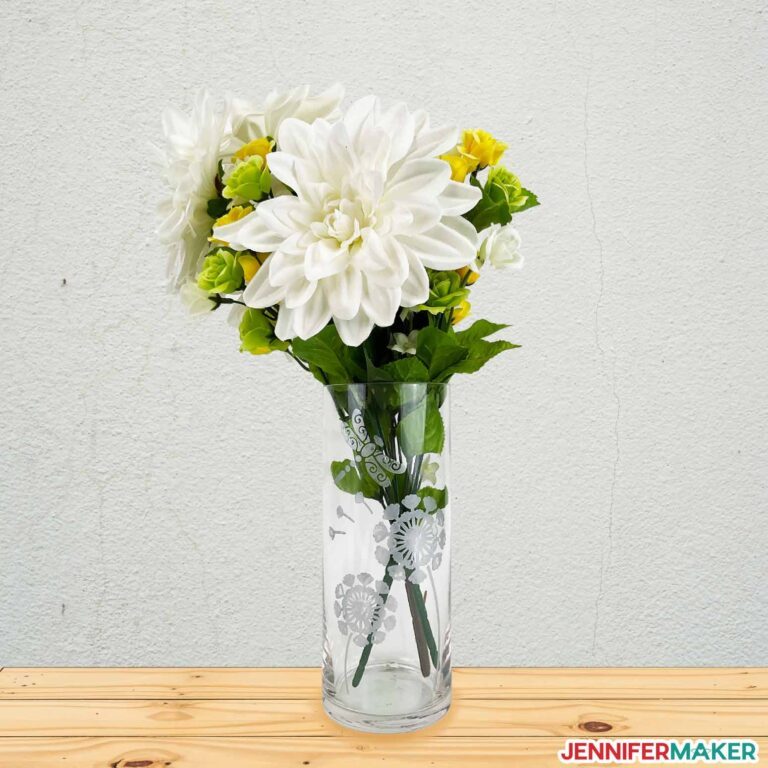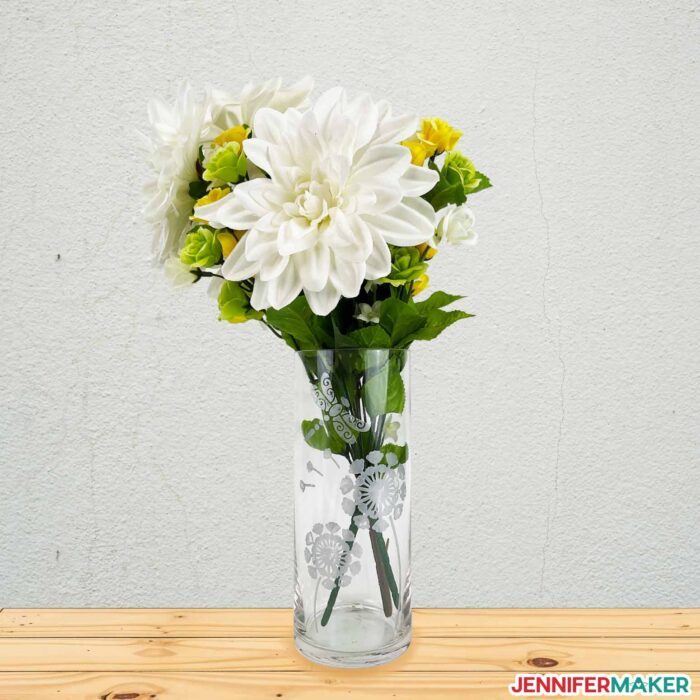 Perfect stencil projects rely on surface preparation and adhesive vinyl placement. Rubbing alcohol and a lint-free towel or coffee filter will clean the glass surface to get a good stick! Any color sticky vinyl will work, just make sure it and your transfer tape are a bit larger than your design. I'll share some tips about decorating round objects, too! That's where the fabric measuring tape, scraper, weeding tool, lint rollers, painters tape, scissors, and marker come in handy.
My best advice when it comes to color glass etching is to craft safely! Before we can color glass etching, we need to etch the glass surface, of course. I used Armour Etch to create my frosty designs. This etching cream permanently marks the surface of the glass, so you absolutely don't want to get it on yourself! I'll cover safety tips down below.
I recommend Armour Etch because a little goes a long way. Each of these designs took just a few tablespoons of etching cream. You'll add a thick layer of etching cream to the design using a paint brush (not a foam craft brush!) to get good coverage, but the excess goes right back in the bottle for the next project.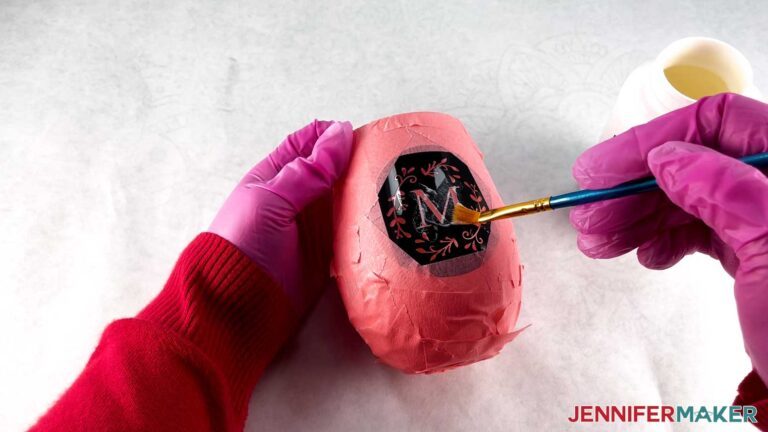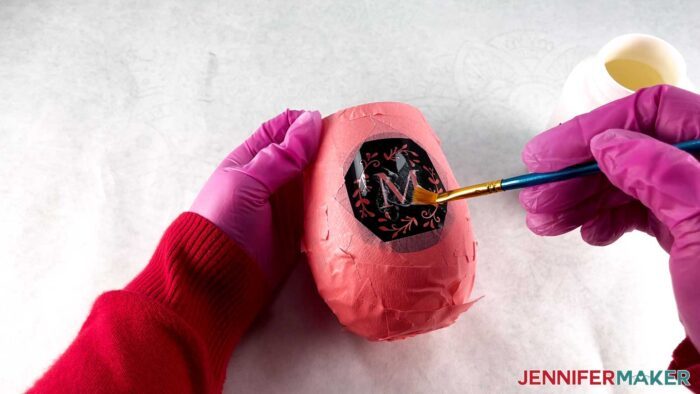 Etching projects require a few more materials than the average craft, but your health is worth the investment. Skin, breathing, and eye protection are the most important things to consider. I recommend disposable gloves, an apron, a well-fitting respirator with the correct cartridge, and eye protection if your respirator doesn't cover your whole face. Be sure to read the safety information on your etching cream and paints before starting your project.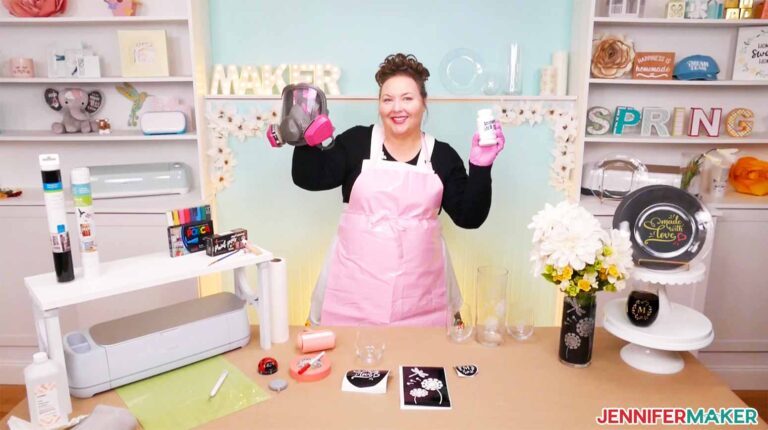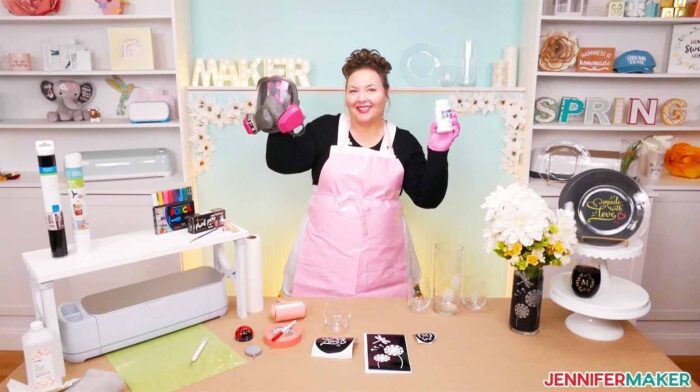 Also, your workspace is very important when using chemicals with fumes. Make sure you have adequate ventilation by opening windows, running fans, or even crafting outside. I always put down a few layers of butcher paper to protect my sturdy work surface and make cleanup a breeze. Speaking of cleaning up, you'll also need access to running water to rinse off the etching cream. Its caustic nature can harm ceramic surfaces, so rinse off the etch cream in a stainless steel or plastic sink if possible.
As with all homemade crafts, check your materials for correct care and handling instructions. The oil-based pens I used recommend baking the glass for one hour at 350 °F, which worked well. The Rub n Buff is pretty sturdy after it dries for a few hours, just avoid scratching the design. Handwash your products with gentle soap and avoid contact with alcohol, UNLESS you want to remove the color. More on that in the video! I recommend not using any of the finished items in a microwave just to be safe.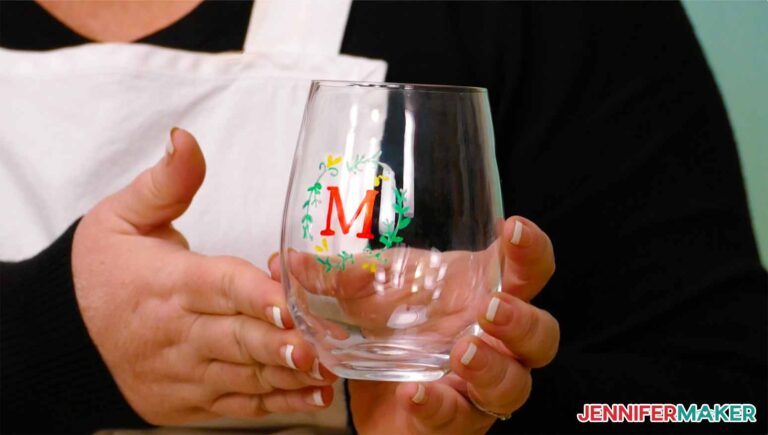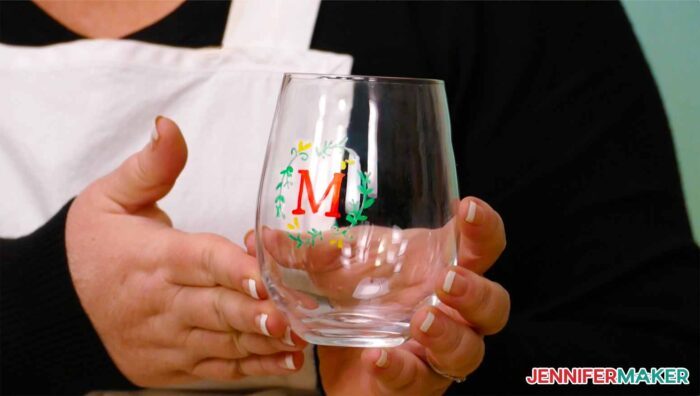 I'm using the amazing Cricut Maker 3 to cut out my stencils, but you can use any cutting machine in the Maker or Explore lines. If you're making a small design, you can even use a Cricut Joy. Just have a StandardGrip or LightGrip Machine Mat and Fine-Point Blade ready!
Once you get comfortable etching, coloring, and buffing, you'll be able to create so many custom, colorful etched glass projects following these techniques!
Let me show you how easy it is to add color glass etching to projects with my free stencil designs! This post contains some affiliate links for your convenience (which means if you make a purchase after clicking a link I will earn a small commission but it won't cost you a penny more)! Read my full disclosure policy.
Materials to Make a Color Glass Etching Project
View my Amazon shopping list with the exact items we used to make this project
One (1) 20 oz Stemless Wine Glass, One (1) 9.25″ Glass Dinner Plate, or One (1) 10″ Glass Vase — You can use another size, just measure your item to determine if you need to change the design size.
A way to color your glass etching, such as Rub n Buff Finish, Oil-Based Paint Pens, or Water-Based Paint Markers
Scrap Paper — to prep paint pens
Armour Etch Cream — I used about 2 tablespoons for each design
Disposable Gloves — a few pairs since you will need some for etching and others for applying the color
Paint Brush — to apply Armour Etch
Painter's Tape — to protect clear glass from etching cream
Paper Towels — to buff and remove excess paint
Isopropyl Rubbing Alcohol — to clean glass and remove paint or wax smears
Lint-Free Cloth or coffee filter
Respirator — with proper fit
Respirator Cartridge — to fit your respirator
Safety Goggles — if your respirator doesn't cover your eyes
Apron — to protect your clothing
Butcher Paper — to protect your work surface
Access to running water in a stainless steel or plastic sink to rinse off excess etching cream
A method to cut your vinyl — I used the amazing Cricut Maker 3, but you can also use the Cricut Maker or Cricut Explore Series
Cricut Permanent Premium Vinyl, a bit larger than your stencil design – any color
Cricut StandardGrip Transfer Tape, a bit larger than your stencil design
Lint Rollers — optional, to hold item in place while working on it
Fabric Measuring Tape — optional, if you need to measure your item to change the design size
Design #380 (My free SVG/PDF/DXF design files are available in my free resource library – get the password by filling out the form at the bottom of this page)
To make a wine glass just like mine in the video, you'll need: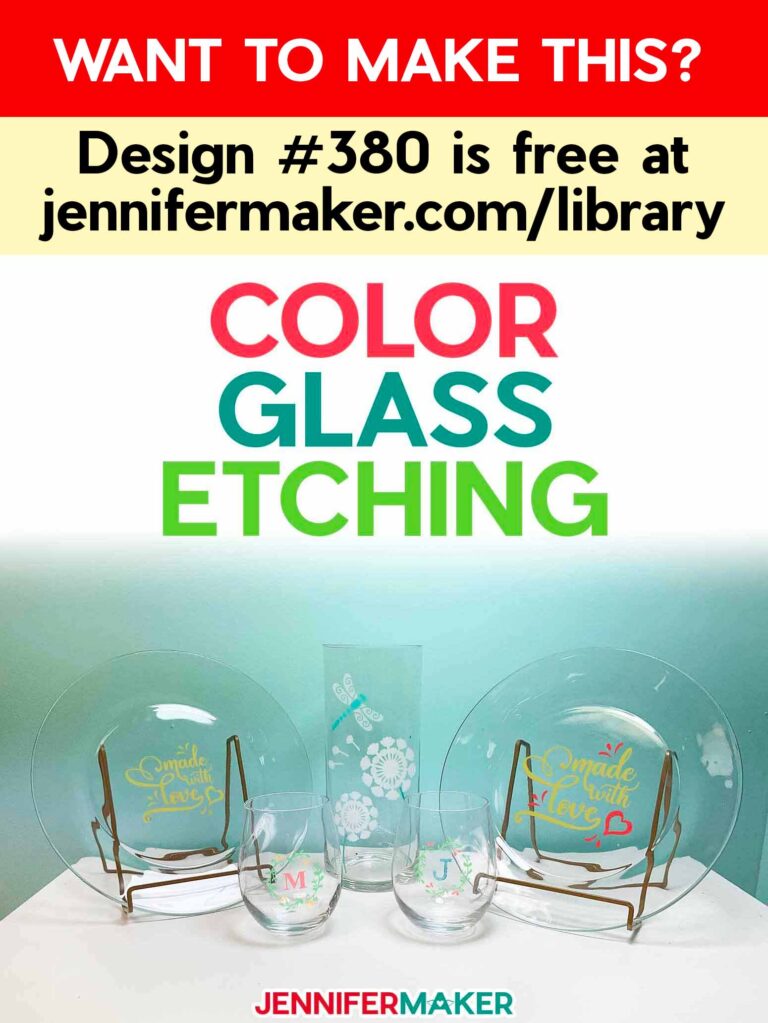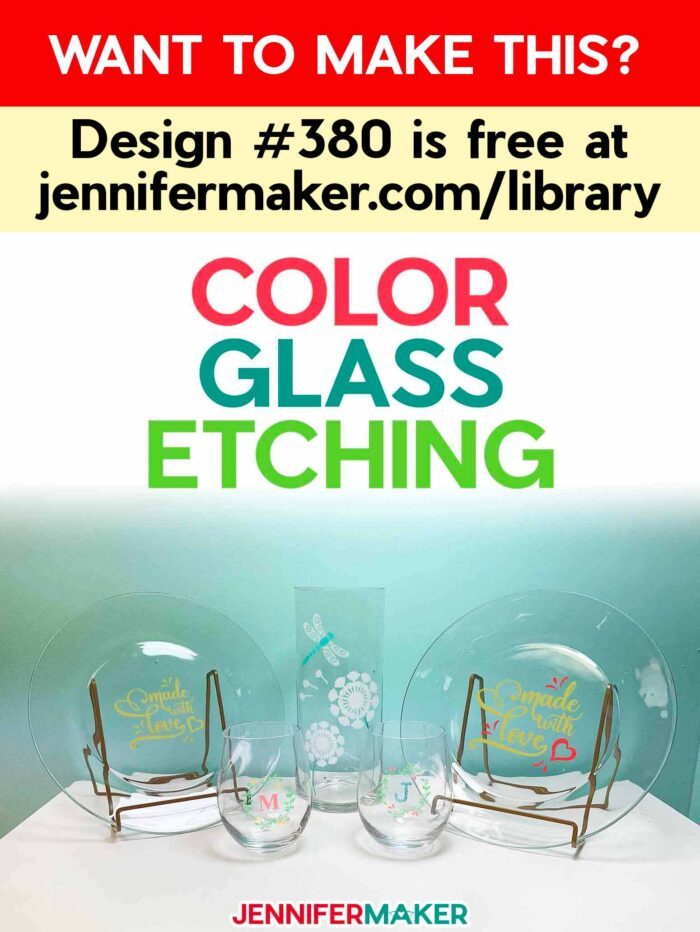 How to Make Your Own Color Glass Etching Items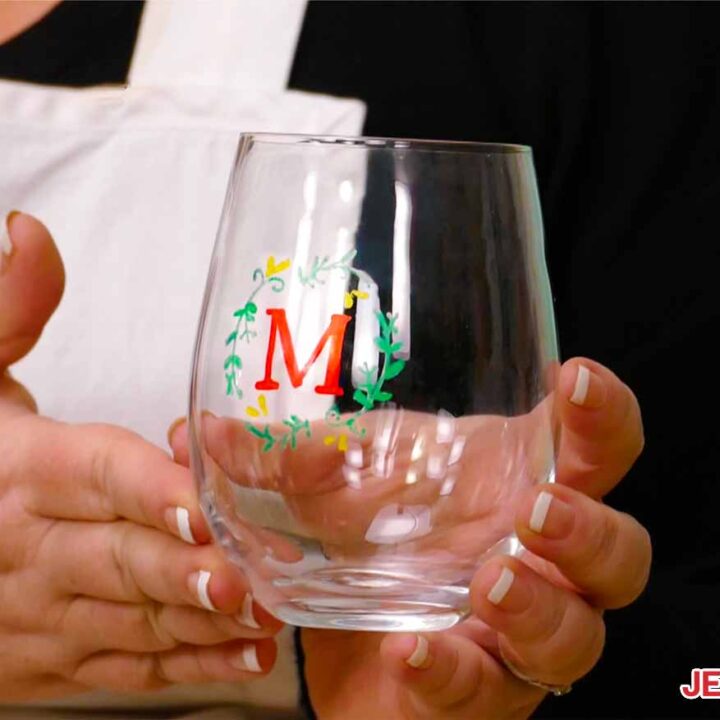 Color Glass Etching
Yield: One (1) Etched Wine Glass

Prep Time: 5 minutes

Active Time: 1 hour

Total Time: 1 hour 5 minutes

Difficulty: Medium

Estimated Cost: $15-$20

Learn how to add color to etched glass to create fun and unique gifts!
Answers to Your Questions About Color Glass Etching Projects
Can you color glass etching?
Yes! While these products and techniques take a little experimenting to perfect, I am absolutely sure that YOU can use them for color glass etching. I especially like the Rub n Buff wax metallic colors!
Can I microwave items with color glass etching?
I don't recommend putting the colored glass items in the microwave, just to be extra safe.
Do I need to wait for the paint to dry before covering it with painters tape?
Once you've buffed in the paint and removed any excess, it's safe to cover a design element with painters tape.
What paint do you use for glass etching?
This tutorial covers Posca oil-based paint markers, water-based paint pens, and Rub n Buff wax, but you can also try Pinata Alcohol Ink Tints on top of the glass's white etching (be sure to avoid soap when washing glass colored with alcohol ink, however).
What happens if you leave glass etching cream on too long?
While your etching results will likely still be good if you leave the Armour Etch cream on for a long time, it's always best to follow the manufacturer's instructions.
Can you use a Sharpie on etched glass?
I haven't tried coloring an etched glass area with permanent markers, but that may work for a decorative purpose!
Do I have to seal the color glass etching?
You don't have to seal these items, but each product does have specific instructions for the best results. If you use the oil-based paint pens, follow the instructions and bake your item for one hour at 350°F. This made my wine glass decoration much more durable and stand up to gentle handwashing. The Rub n Buff is more or less permanent after it dries for several hours as long as you don't scrub it with alcohol. I don NOT recommend using the water-based pens since they are difficult to use precisely. But if you want a temporary way to add color to etched glass, you can try them out and just wash the paint off with soap!
How do you make glass etching stand out?
Adding color is an effective way to add drama to etched details or an entire design! I recommend oil-based paint pens or Rub n Buff wax. Combining the two would create beautiful results!
How do you etch glass with a Cricut?
While a Cricut cutting machine cannot directly etch glass, you can create a vinyl stencil to use with Armour Etching cream using this tutorial!
What kind of vinyl is used for glass etching?
Use permanent adhesive vinyl or stencil vinyl to create stencils for chemical etching on glass. I recommend you avoid removable vinyl, as it won't form as tight a seal and may allow the etching cream to seep underneath.
Can I put colored etched glass in the dishwasher?
While glasses with frosted etching are dishwasher-safe, none of the colors I used will stand up to the heat and cleaners used in a dishawasher. Hand wash all colored glassware.
Does this technique work on colored glass?
I haven't tried it yet! You might get a striking effect with a daub of white Rub n Buff on etched colored glass.
Do I need a Cricut to add color to glass etching projects?
No, you can use pre-made Peel n Etch stencils or hand cut vinyl stencils.
How can I test the etching process and stencil?
If you want to try out a stencil for etching glass, you probably have some suitable glass jars in your recycling bin! Just clean the surface of the glass extra well.
Can Cricut Maker etch glass?
No, a Cricut Maker cannot etch glass directly. Cutting vinyl decals with a Cricut Maker to use with etching cream is a great option, though!
Why does my etched design look blurry?
You may get uneven etching results if you leave the cream in one spot longer than another, especially if you are working with large areas. Also, there may have been air pockets at your stencil edges, which allowed cream to spread beyond your design. You may be able to use color to create a sharper contrast by following this tutorial closely.
What if I'm not happy with the result?
Depending on the kind of paint you used, you can simply remove the color and try again. Most of these paints wipe off with a dampened paper towel if they're still wet, or with some rubbing alcohol. If the paint or wax has adhered to the porous surface, try rubbing alcohol and a cotton swab, especially for stubborn spots.
I can't get my wine glass to stay put as I apply the vinyl. Do you have any tips?
I actually have a tip for that! Set your wine glass in a roll of painter's tape to keep it from moving around while you are applying the designs. You can see me do this in the tutorial video!
Get my free SVG files to create beautiful color glass etching designs!
I love seeing what you make with my designs and how you use them! Please share a photo of your projects with color glass etching in our Facebook group or tag me on social media with #jennifermaker.
Love,