Learn how to get your Cricut cutting machine to draw and write beautiful designs with Infusible Ink pens and markers that you can use with the Cricut Mug Press.
Oh, the mugs we can make! Here's a fun one, made with Cricut Infusible Ink pens and markers and the Cricut Mug Press. So if you're unfamiliar Cricut Infusible Ink, it comes in two versions: there's the transfer sheets, which I used to make cute dishwasher and microwave safe mugs like my fancy edge mugs, my cute coffee sayings, and my layered Infusible Ink animal mugs, and then there's pens and markers. Today I'm going to show you how to get your Cricut cutting machine to draw and write mug designs FOR YOU with the Infusible Ink pens and markers, and then I'll show you how to transfer those designs to a mug with the Cricut Mug Press. These cute Infusible Ink pen mugs are vibrant and unique … and the best part is how you don't need any artistic or drawing skills, because the Cricut does all the work for you! And best of all, they'll look so cute in my Cricut Mug Boxes!
See my full step-by-step video to making Infusible Ink pen mugs with the Cricut Mug Press: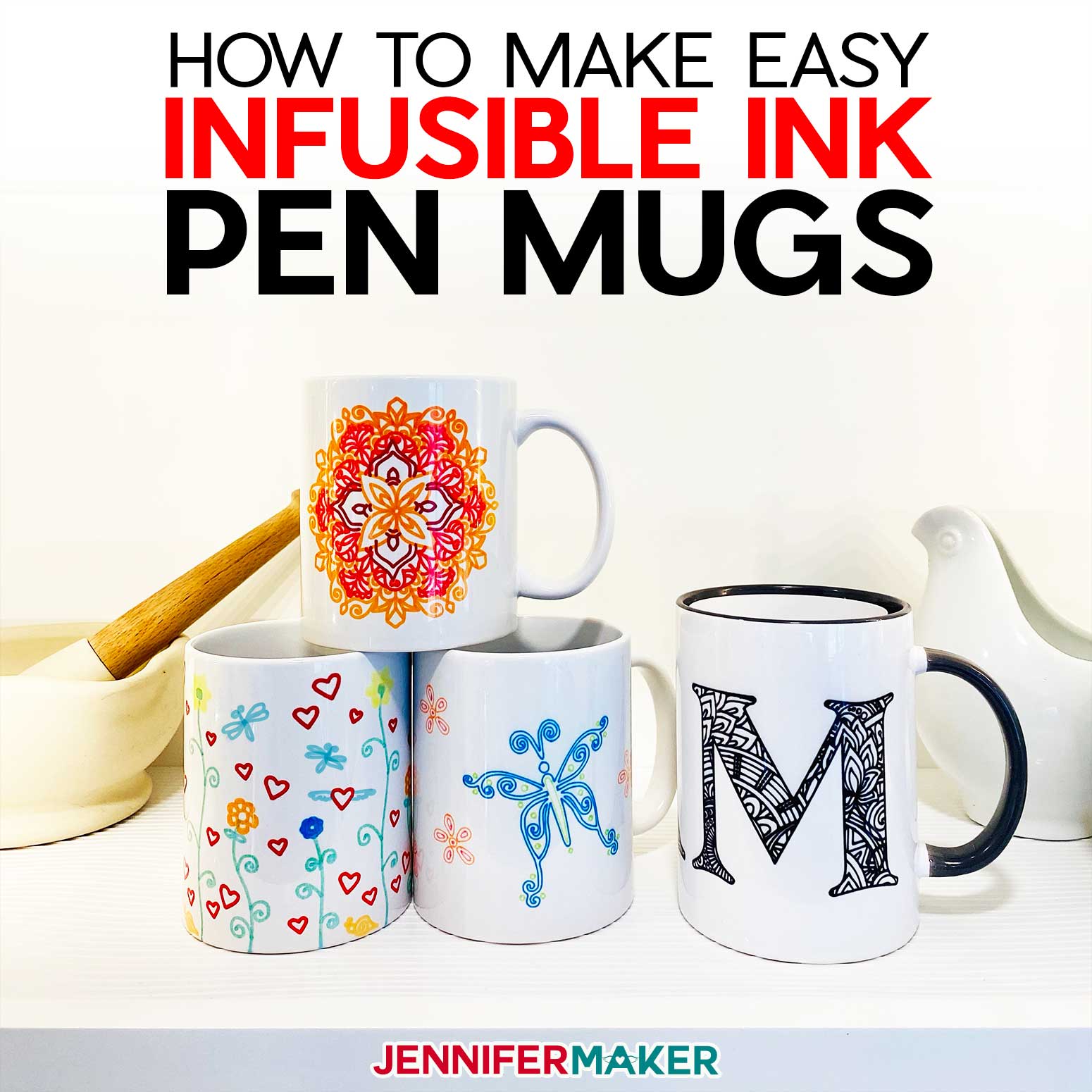 For this Infusible Ink pen mug project, you'll want either Cricut Infusible Ink pens or markers. The pens are great for designs with lots of detail, as the pen tip is quite fine. The markers are better for designs that you want to look vibrant and striking. I like the pens better for this butterfly and the mandala, but prefer the marker for the garden. It's up to you!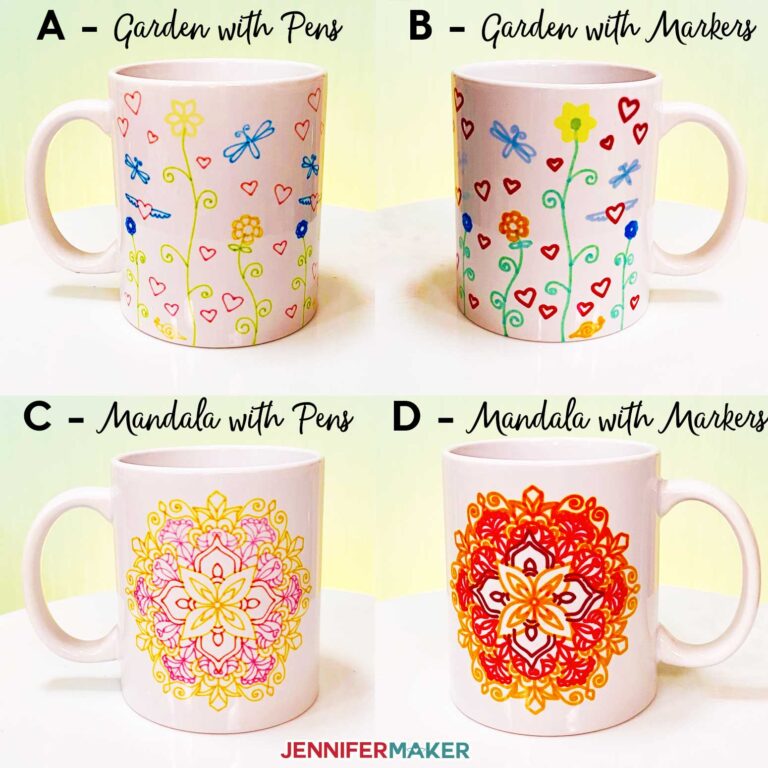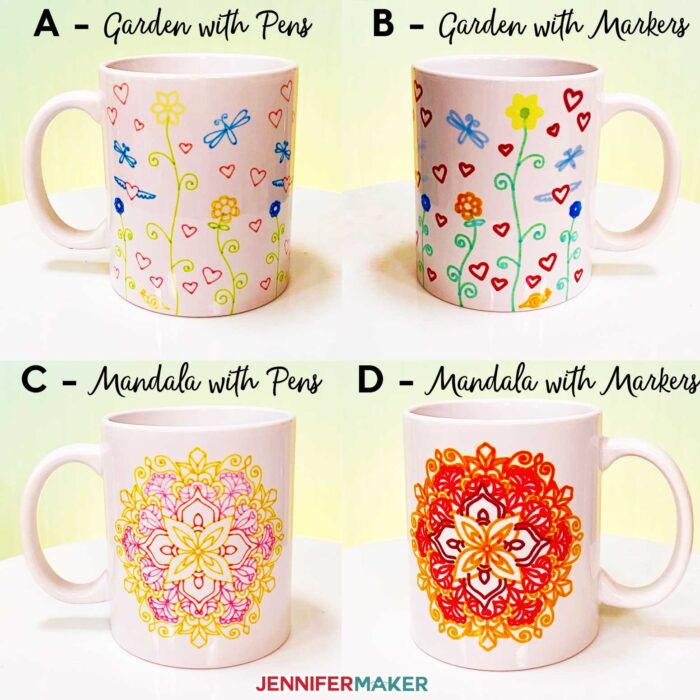 Please note that you need to use Infusible Ink markers and pens — Sharpies and other non-sublimation ink pens and markers will not work.
You also need some plain white laser copy paper to draw your design onto. I recommend two sheets of the regular eight and half by eleven inch paper per design for the easiest application, and I'll explain why later!
You also need a Cricut cutting machine — you can use any machine capable of holding a pen in its clamp, which is all of them (Explore, Maker, and Joy) at the time I'm making this video. A blue light grip cutting mat, the fine point blade, and a heat resistant tape are also needed for this project.
Cricut sells mugs that are optimized to work with Infusible Ink, which is what we'll use in this tutorial, but if you can't find those, just look for white sublimation blank mugs with straight walls between eleven and sixteen ounces. I put this pen monogram mandala on a gray-handled 15 oz. Cricut mug because I loved the striking monochrome look for it: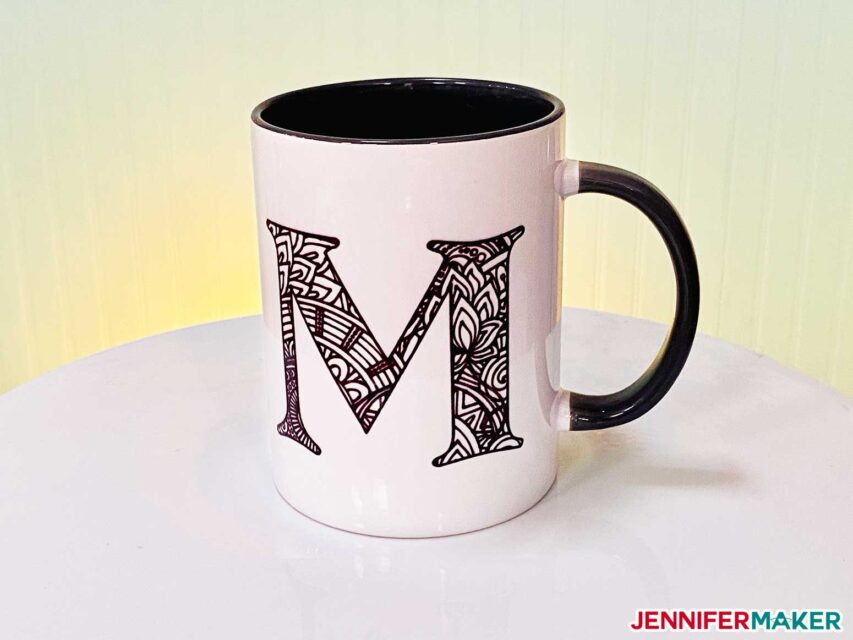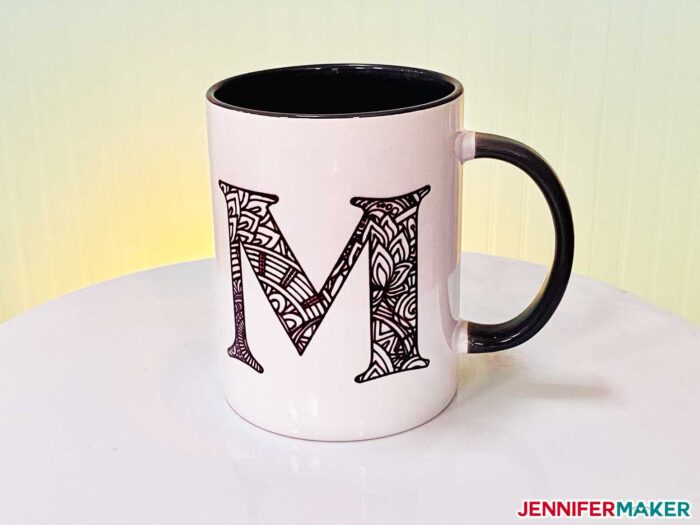 To transfer your Infusible Ink pen and marker designs onto the mugs, I'll show you how to use the Cricut Mug Press. It is SUPER easy … in fact, I'd say it's the easiest part of this whole project. It's like a cute little mug toaster with auto settings and safety features.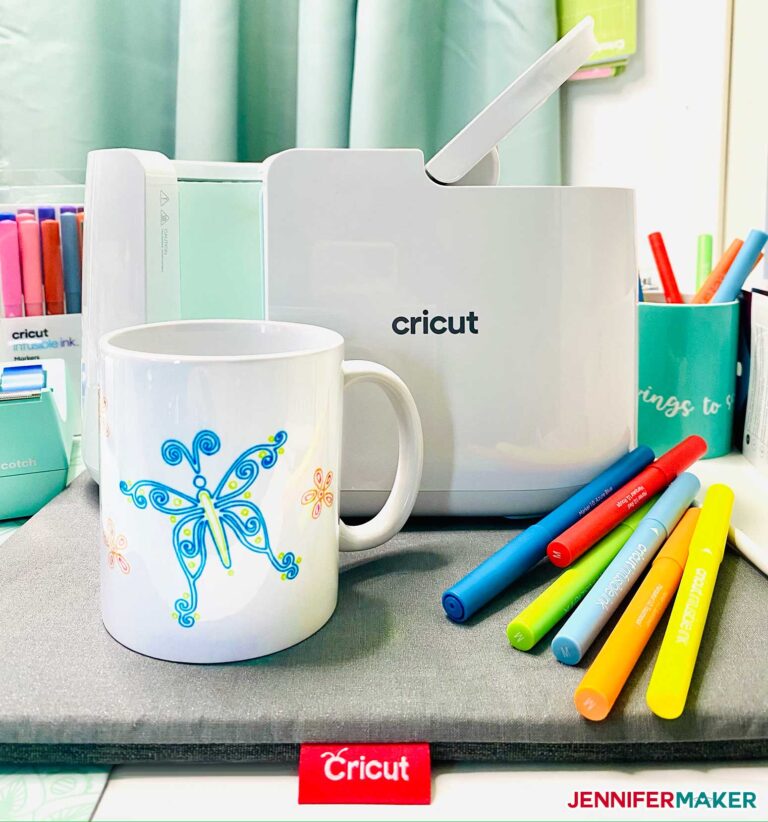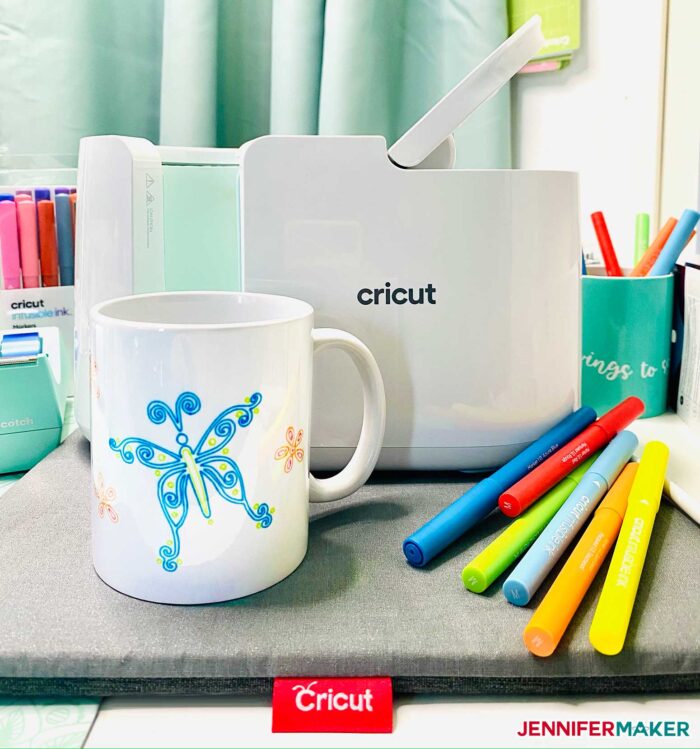 And to get you started in the right direction, we've designed several FREE pen and marker designs for you to use, including pretty pen art like the butterfly, the garden, and the mandala, as well as mandala monograms for all 26 letters of the alphabet.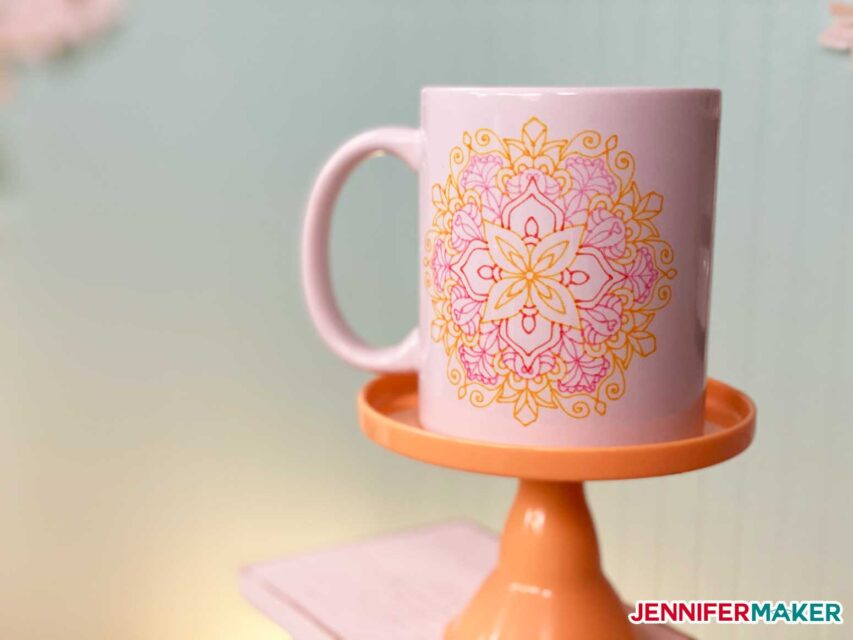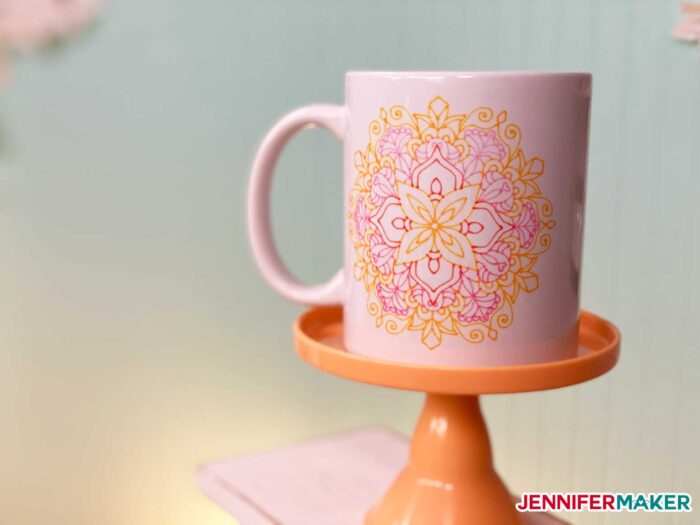 So let me show you where to find these designs, then together we'll draw, apply, and press these fun Infusible Ink pen mugs! This post contains some affiliate links for your convenience (which means if you make a purchase after clicking a link I will earn a small commission but it won't cost you a penny more)! Read my full disclosure policy.
Materials to Make Infusible Ink Pen Mugs with the Cricut Mug Press
H
ow to Create an Infusible Ink Pen Mug on the Cricut Mug Press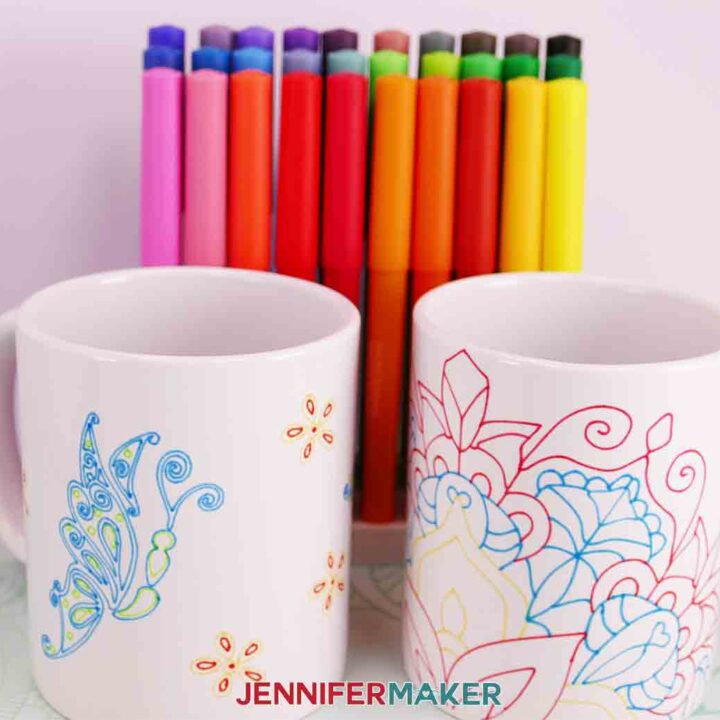 Mugs with Infusible Ink Pens & Markers
Additional Time:
15 minutes
Difficulty:
Easy to Medium
Learn how to use Cricut Infusible Ink pens and markers to design beautiful mugs with the Cricut Mug Press
Instructions
STEP 1: CHOOSE YOUR MUG DESIGN
First, you need a mug design that your Cricut cutting machine can draw with an Infusible Ink pen or marker. You will find some premade designs in Cricut Design Space. Look for the Cricut Mug Press section on the Home screen and scroll until you find a design you like.

To make this super easy for you, I designed over two dozen different Infusible Ink Pen mug designs that you can download from my free resource library. You can find the designs by searching my library for design #292 or design #293 and then click it to download the SVG cut file. We'll be working with the designs in #292 for this tutorial, but feel free to use the mandala monograms in design #293 if you prefer!
Inside the folder you will find seven different Infusible Ink Pen mug designs, including butterflies, hummingbirds, a garden design, birds and hearts and small and large mandalas. For this tutorial, I'll show you how to make the butterfly design.
Now, open Cricut Design Space and upload the SVG file. If you're not sure how to upload a SVG cut file to Cricut Design Space, watch this helpful video training series I made for you.
Here's what the Butterfly Infusible Ink Pen mug design looks like in Cricut Design Space.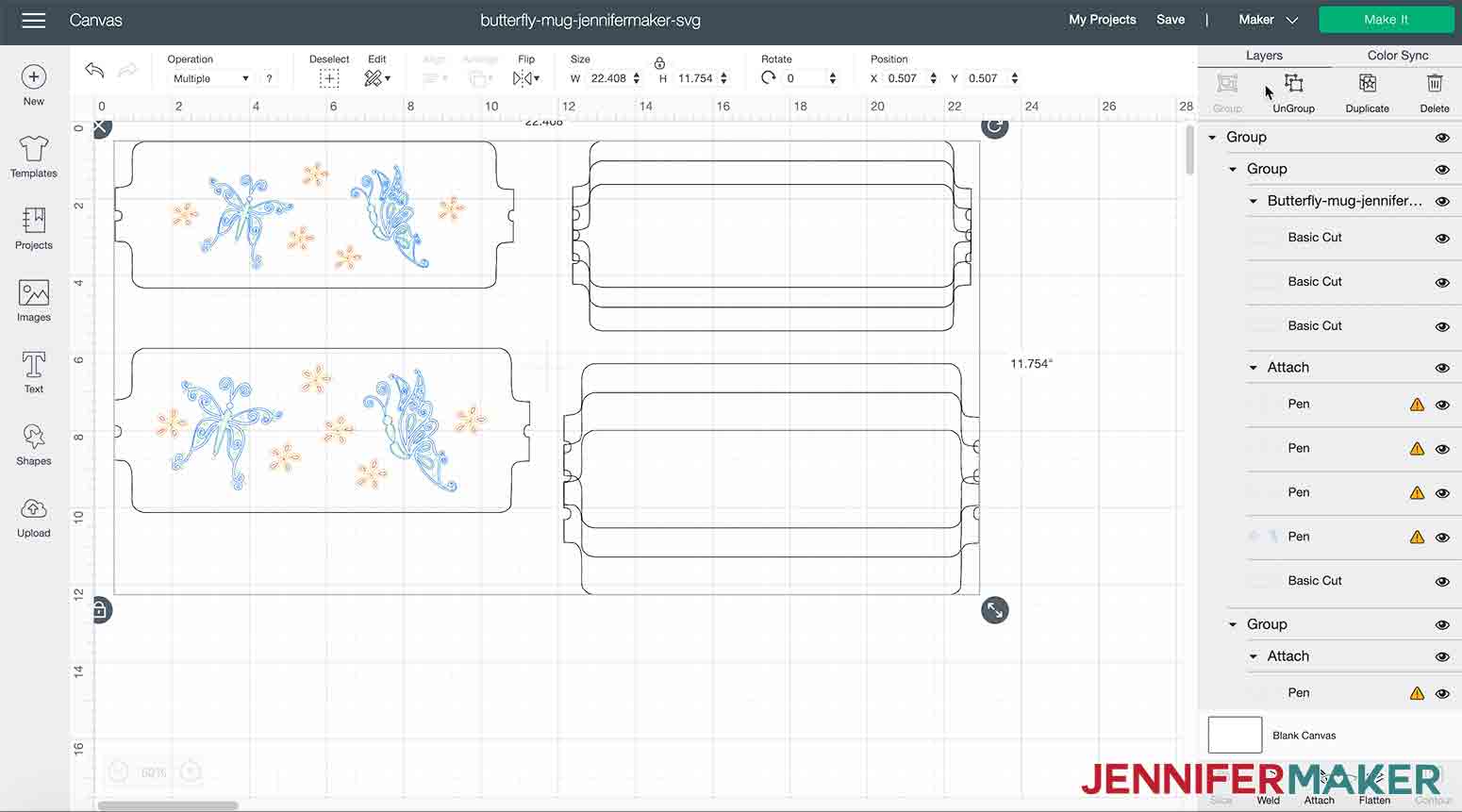 There are TWO sizes of mug designs in all of my files, the smaller one on top is for the 12 oz. mug, while the larger one on the bottom is for the 15 oz. mug. Both also include 3 extra cutouts, stacked on the right, that will be used to wrap and protect your mug in the Cricut Mug Press.
The first thing you want to do is select "Ungroup" on the right at the top of the Layers panel.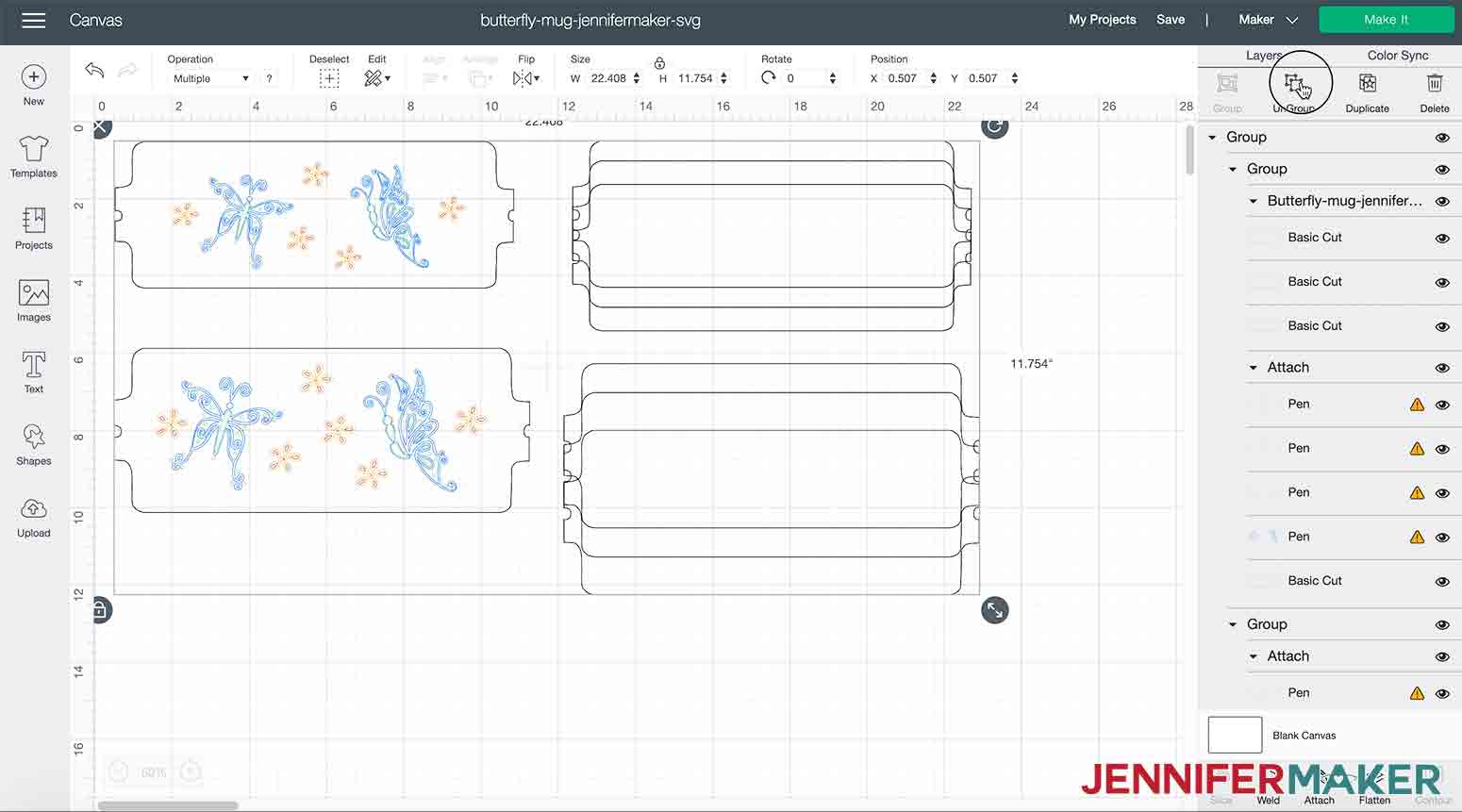 Next, hide or delete the size you do not need by selecting the layer and clicking the eye icon (to hide it) or the trash can icon (to delete it).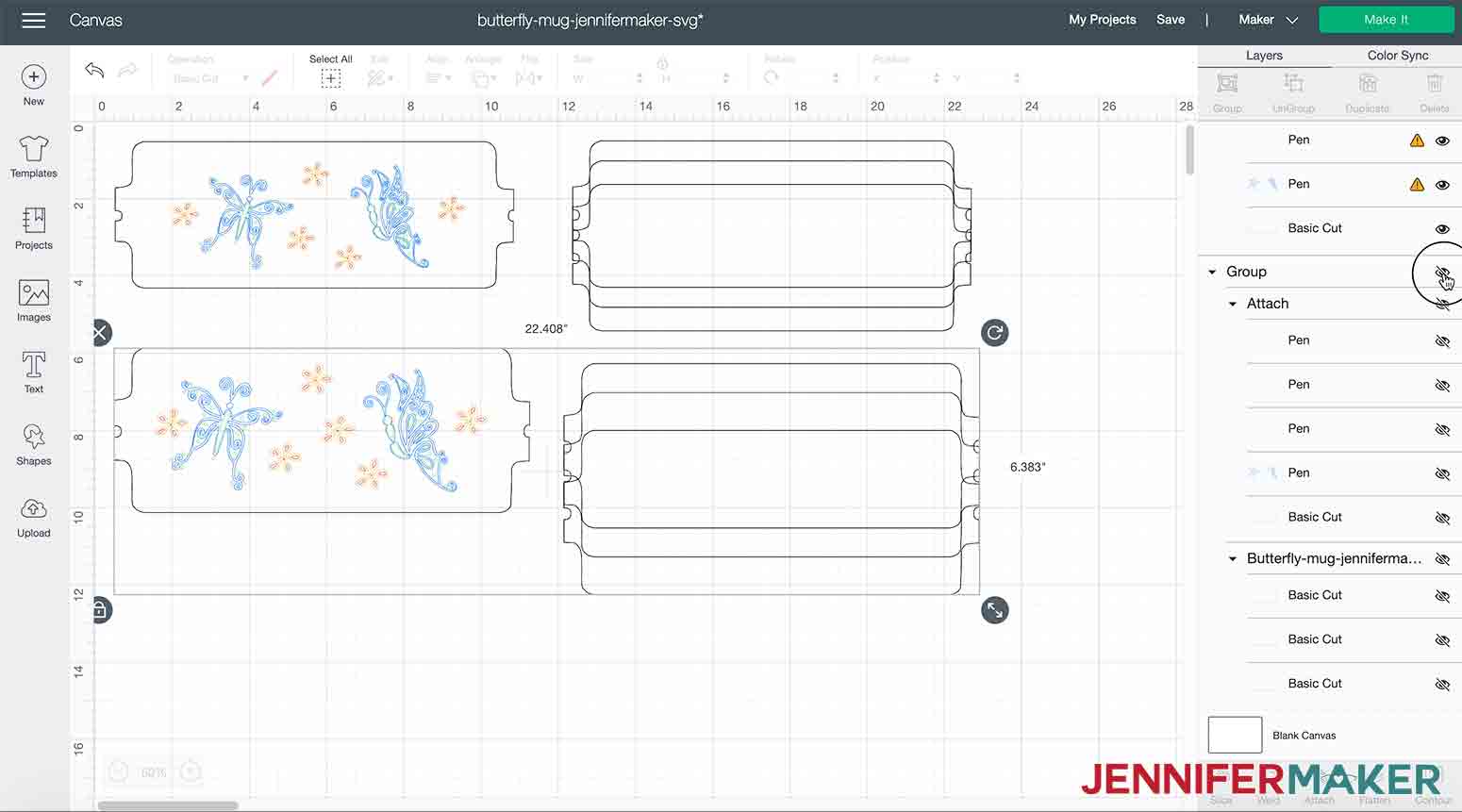 STEP 2: GET SET TO DRAW YOUR DESIGN
Now that you have chosen your design, it's time to make it.
You will notice on the right, next to the layers that say pen, there is a warning icon. All that means is you need to choose your pen colors for each layer. That's easy!
By the way, I made this with the Infusible Ink pens, but you can also use Infusible Ink markers, it's completely up to you!
First, click on the top layer, under "Attach", where it says "Pen".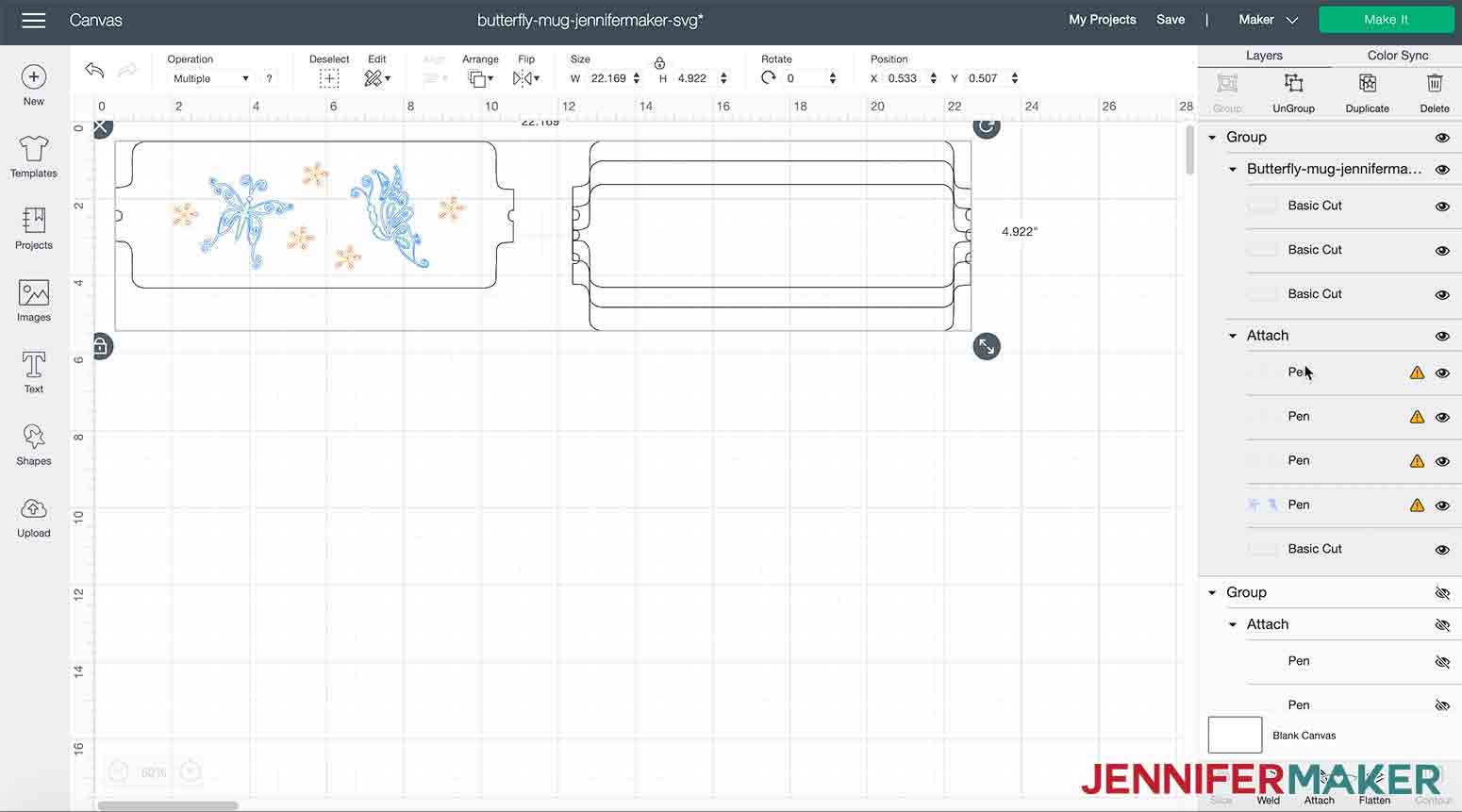 Now over on the top left you will see the word "Operation", next to that, just to the right, there's a blank box with a question mark inside, click on that. A dropdown menu will appear and list all the different pen and marker choices according to size and color. I've found the primary colors and darker colors to transfer more vibrantly, whereas the light colors tend to look more like pastels once transferred.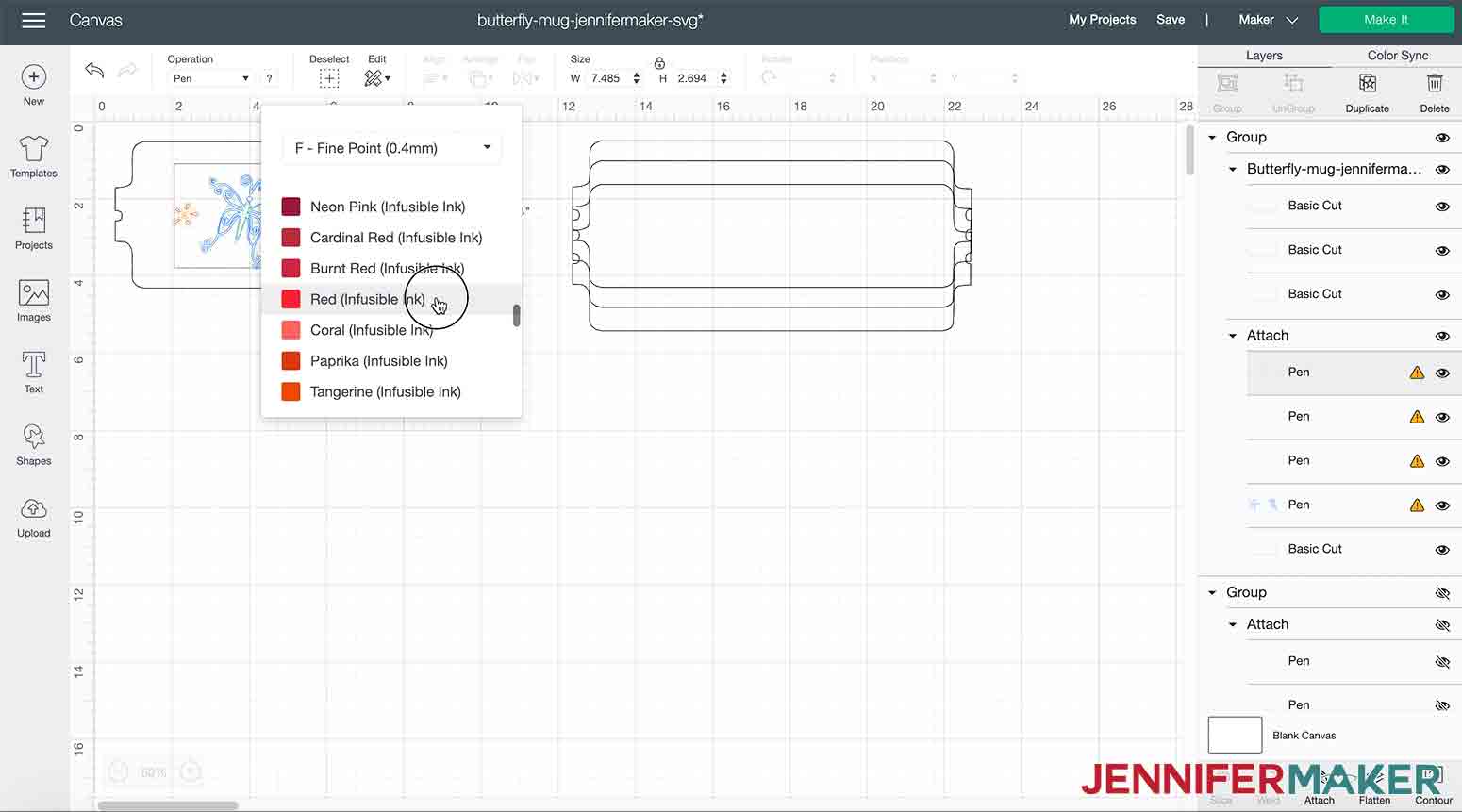 I'm going with the fine point pen and the first one I will use is "Red"...so scroll down until you come to "Red (Infusible Ink)". Now back to the right, click on the second Pen layer to highlight it, then scroll down to "Yellow (Infusible Ink)".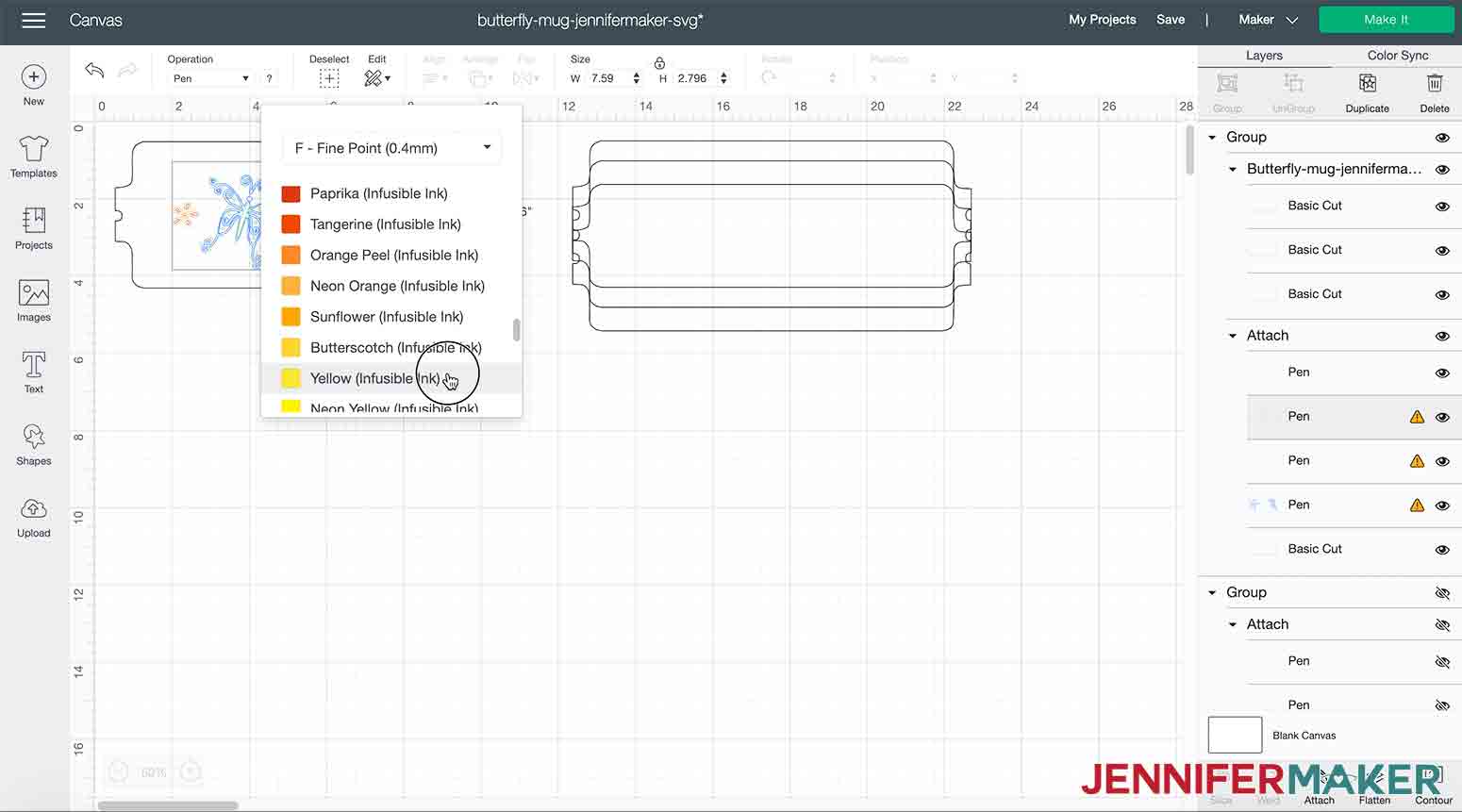 And now the third pen layer, highlight that on the right and scroll down to Green and then Blue for the bottom layer.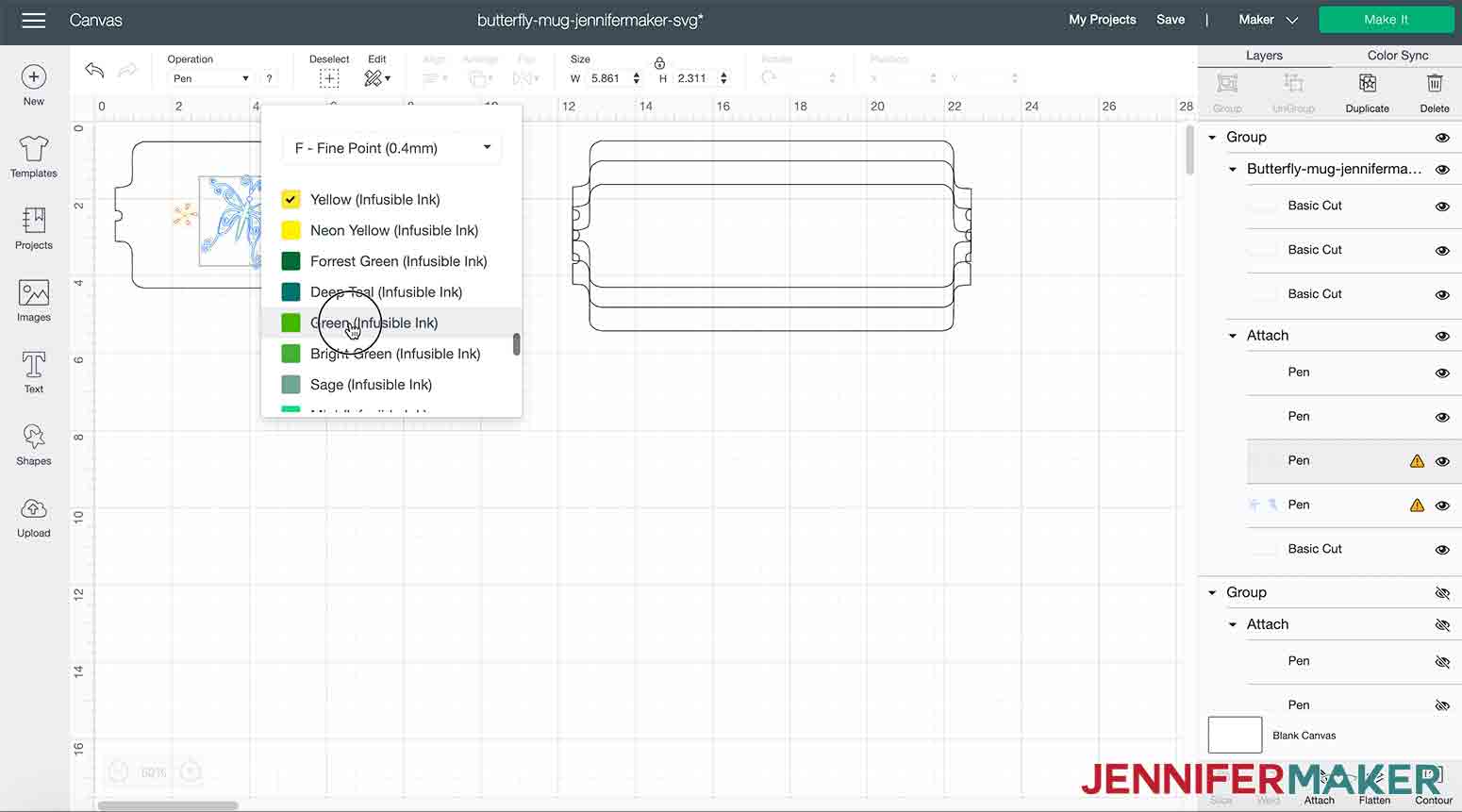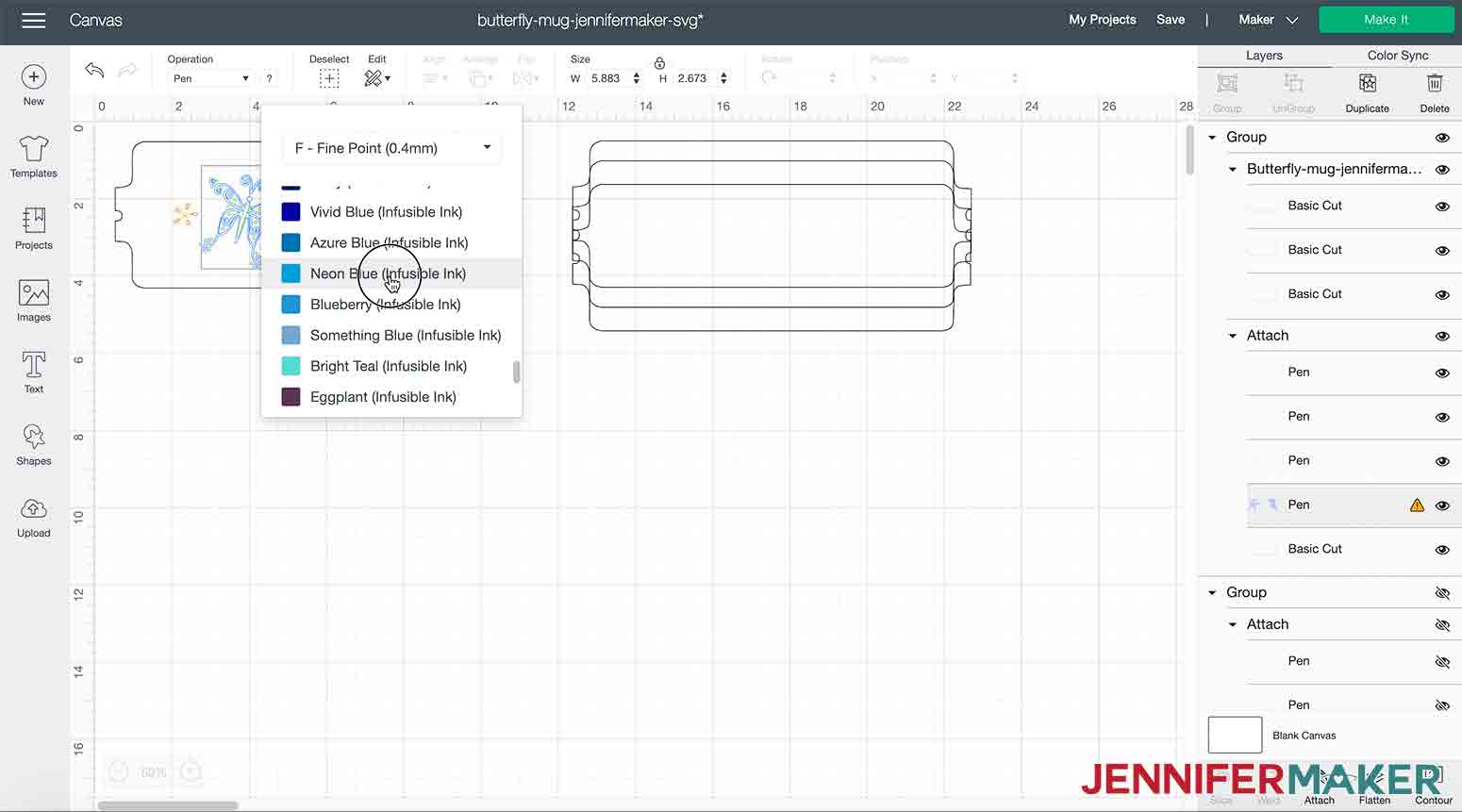 Now click the green "Make It" button on the top right.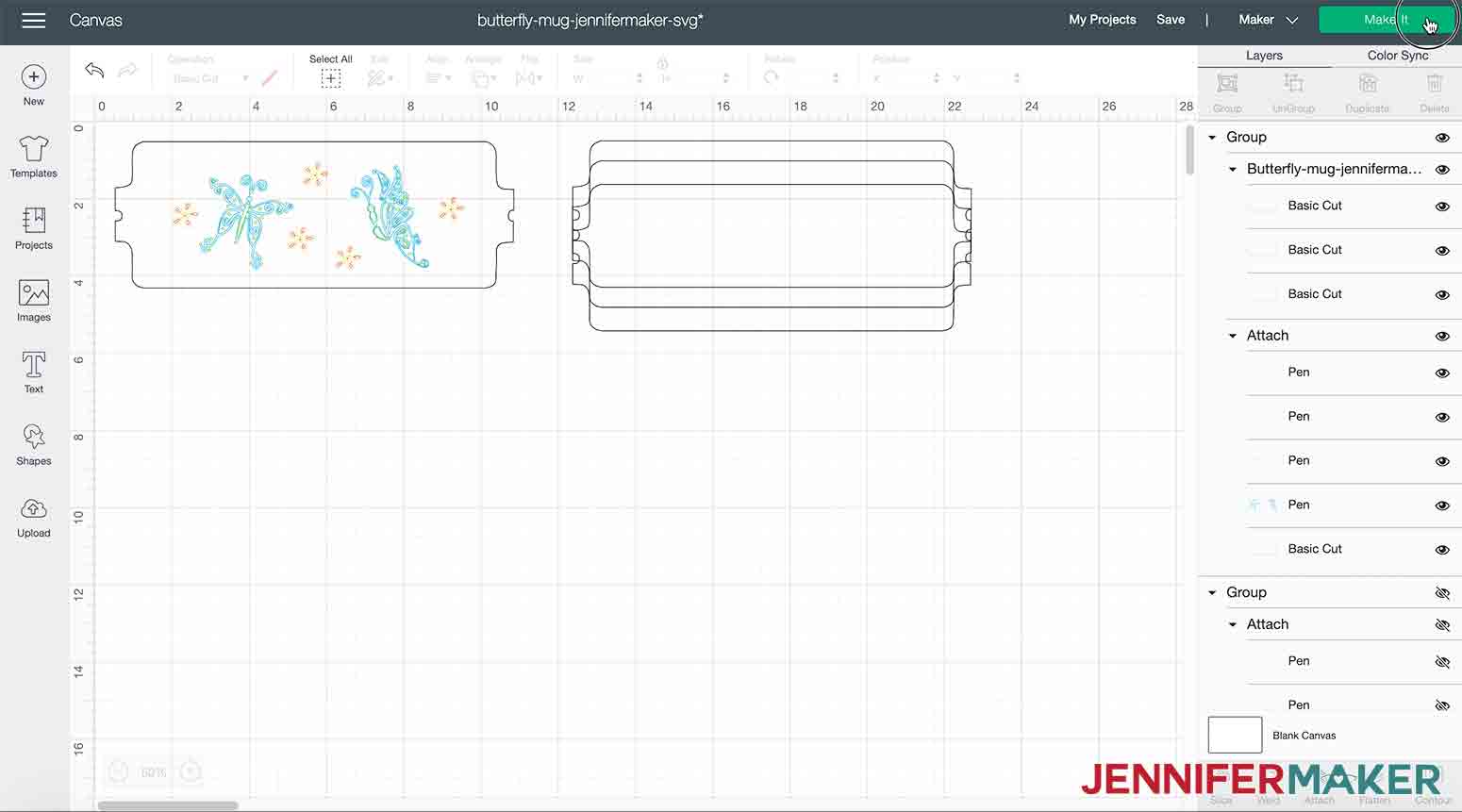 On the next screen click Continue, and then on the following screen you will choose your materials. Click "Browse All Materials" and type in "Laser" in the search window, then choose "Laser Copy Paper" and click "Done".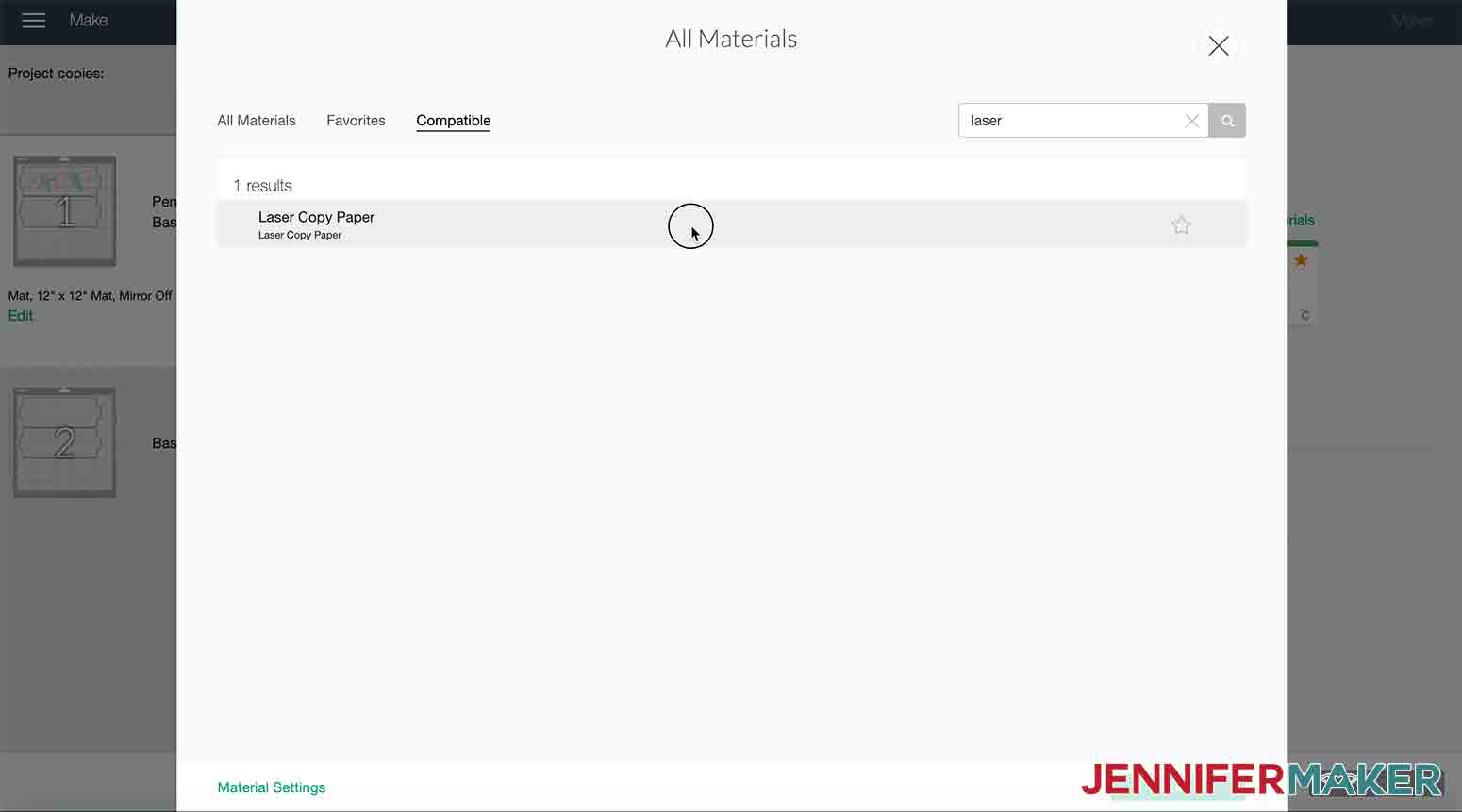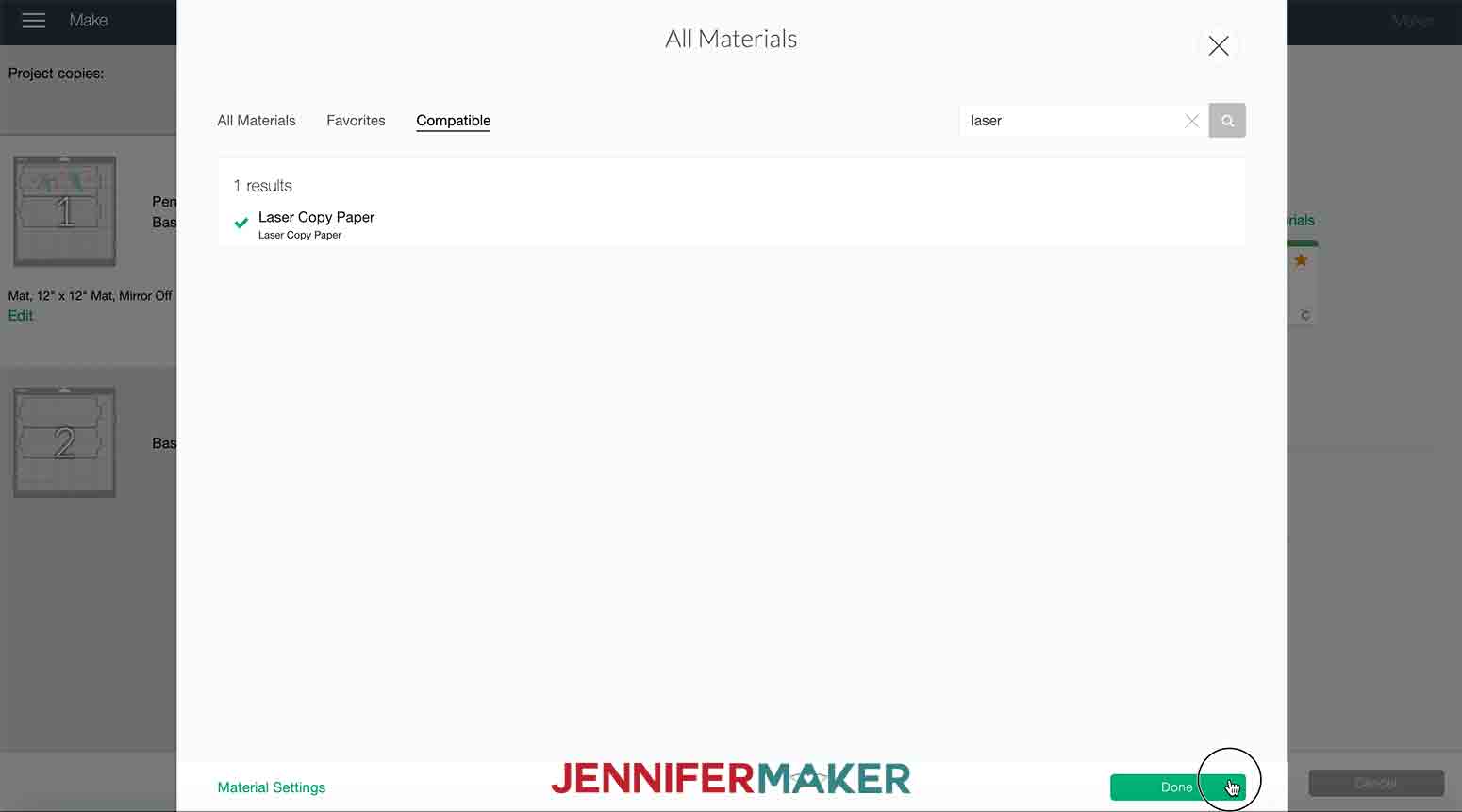 On the next screen there's a dropdown window under "Pressure". I always choose "More".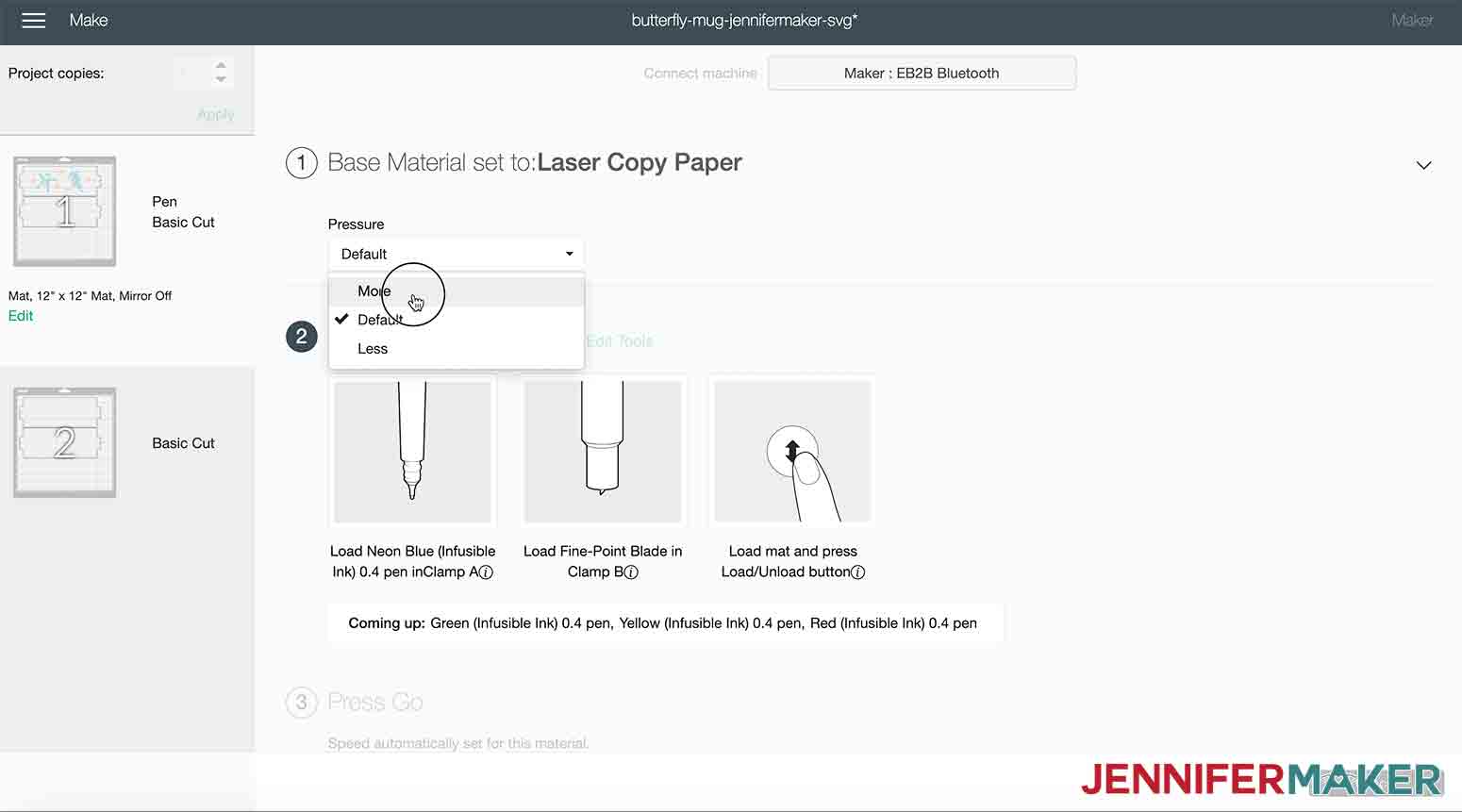 Also, it's important to note, the majority of the time you will want to "Mirror" any Infusible Ink projects, but since this is a drawing and there are no words, this is completely up to you. There's really no need to mirror it, but you can if you like. I didn't bother to mirror my design. On the next screen you will choose your materials. Click "Browse All Materials" and type in "Laser" in the search window, then choose "Laser Copy Paper" and click "Done."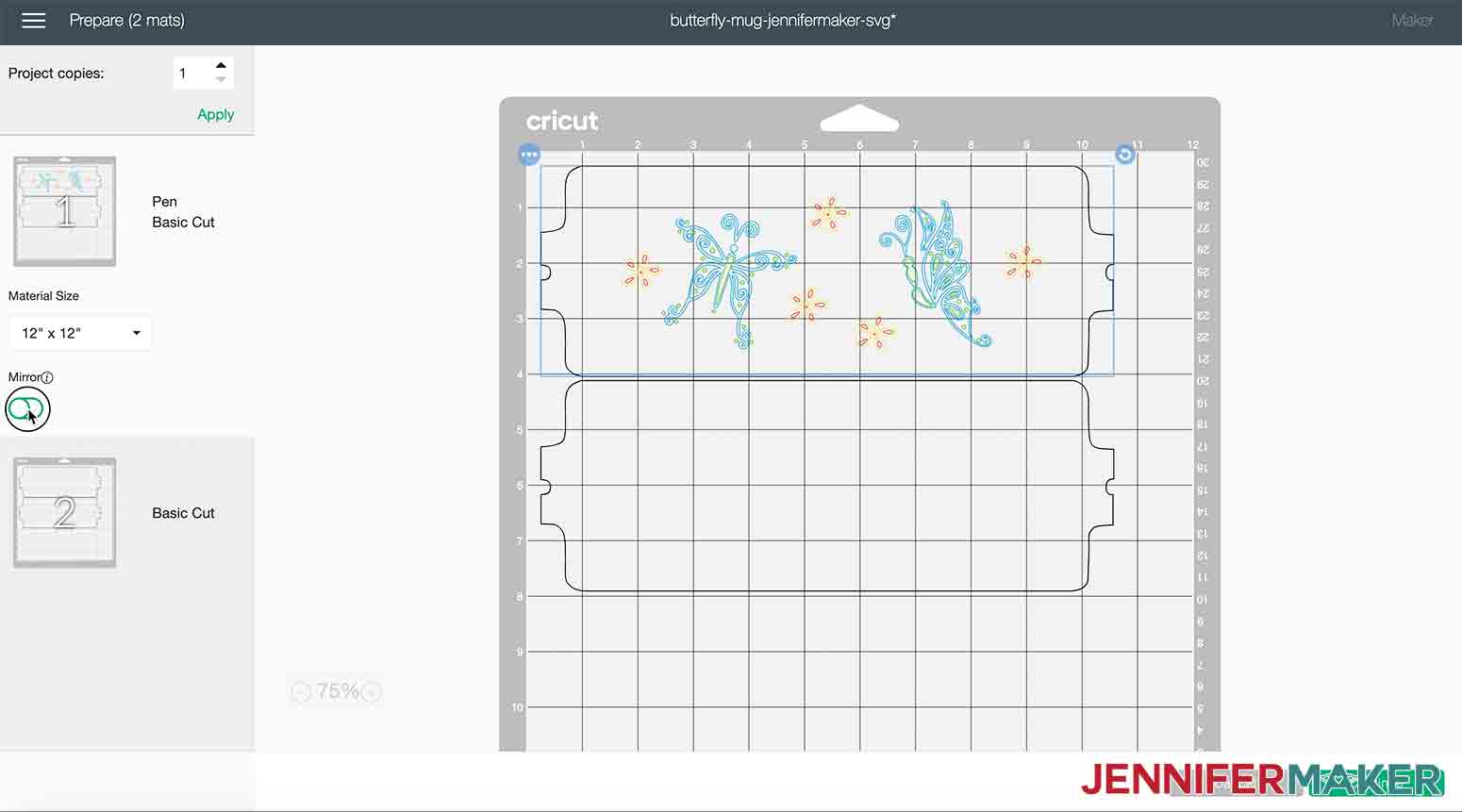 STEP 3: DRAW & CUT YOUR MUG DESIGN
First, place one sheet of 8 1/2" x 11" laser copy paper onto a Blue LightGrip Cutting Mat in Landscape Orientation (so wider than it is taller, just like this) and load it into your machine.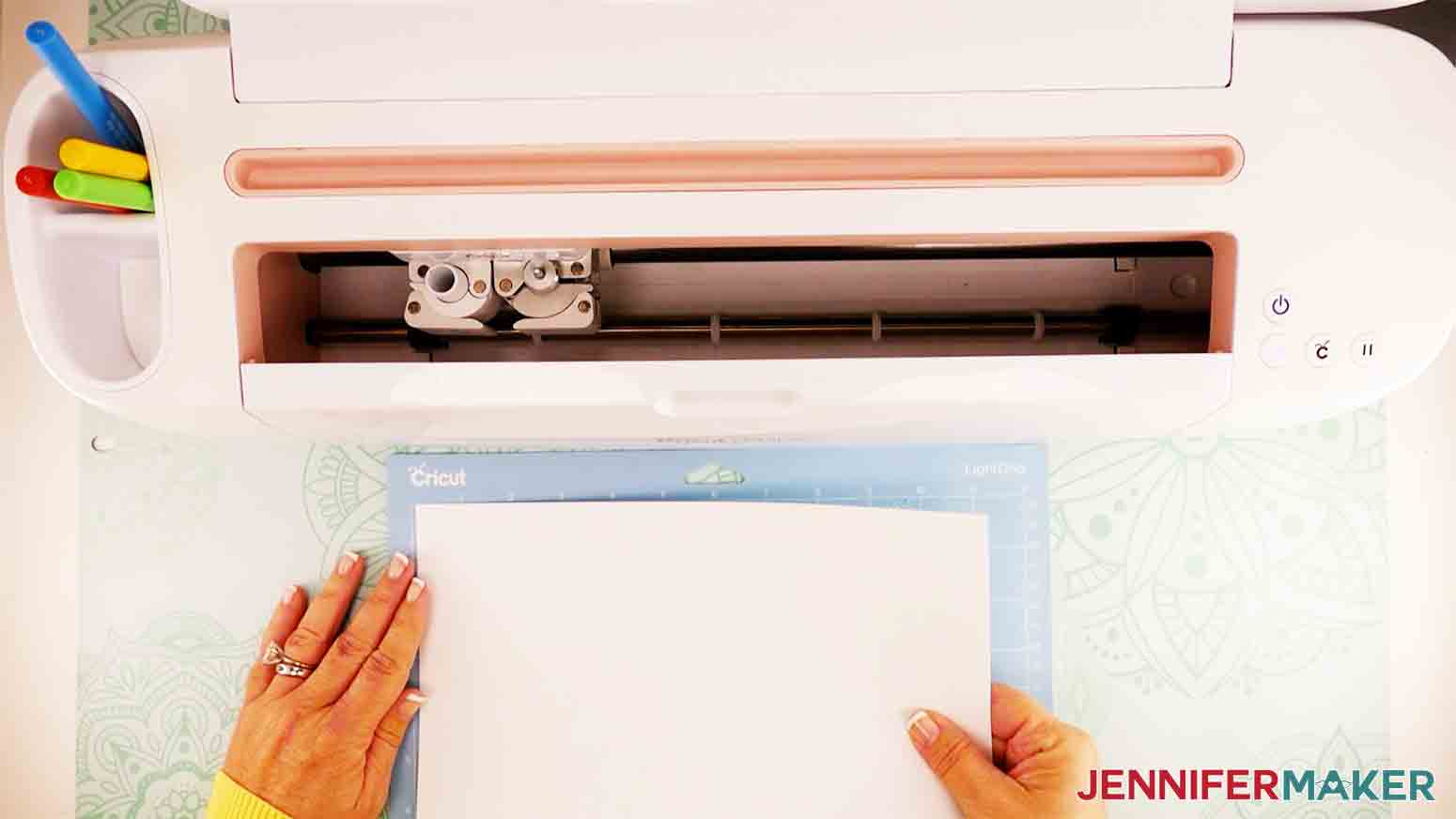 Now place your first pen color in clamp A -- Design Space will tell you which is first, and in the case of this butterfly, it's the blue pen. Push down on the pen until it is firmly seated -- most of the time you will hear a click as it seats into place. Place the cap on your pen so you don't lose it, then press the flashing button and your machine will draw the first part of your design.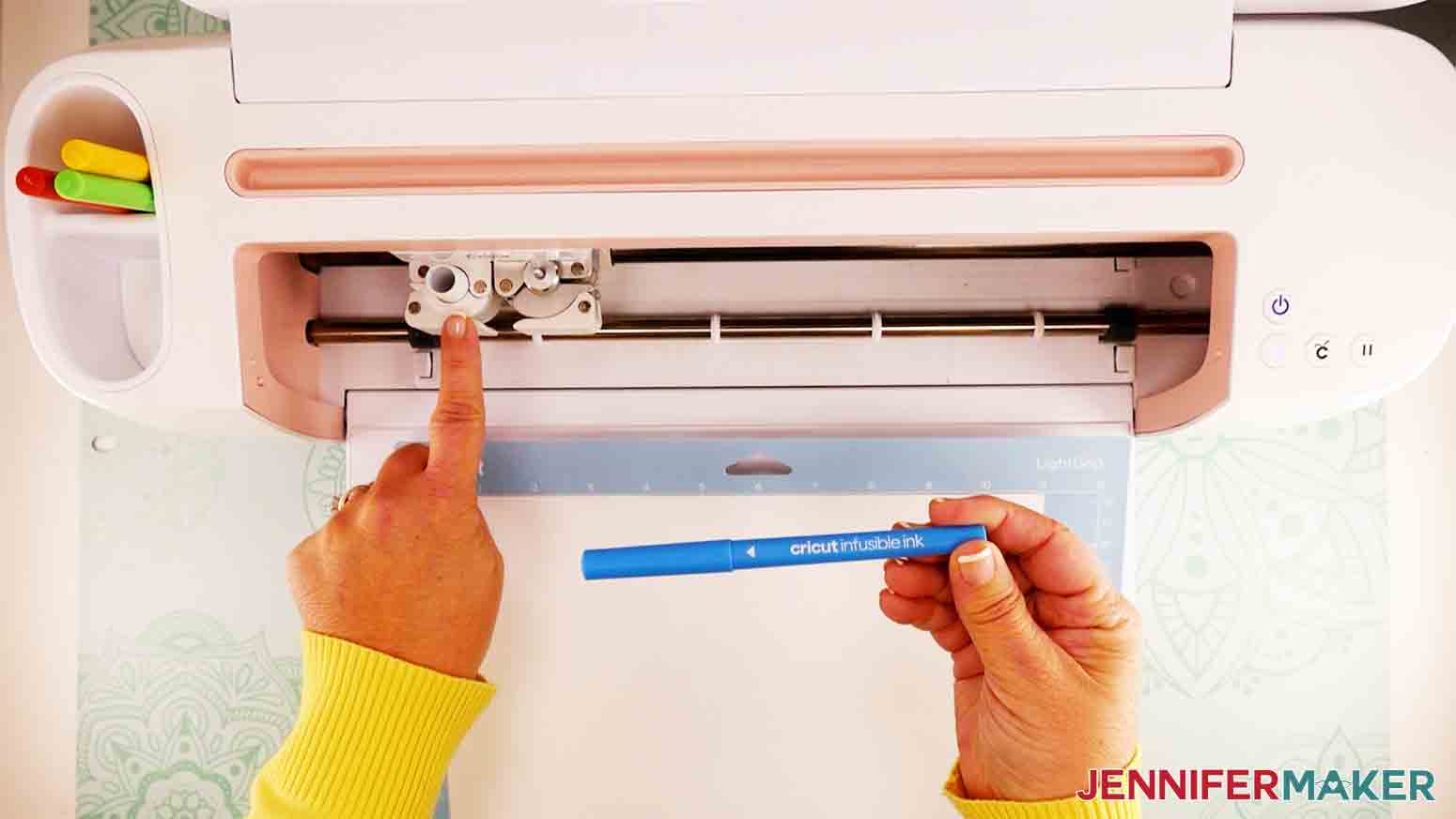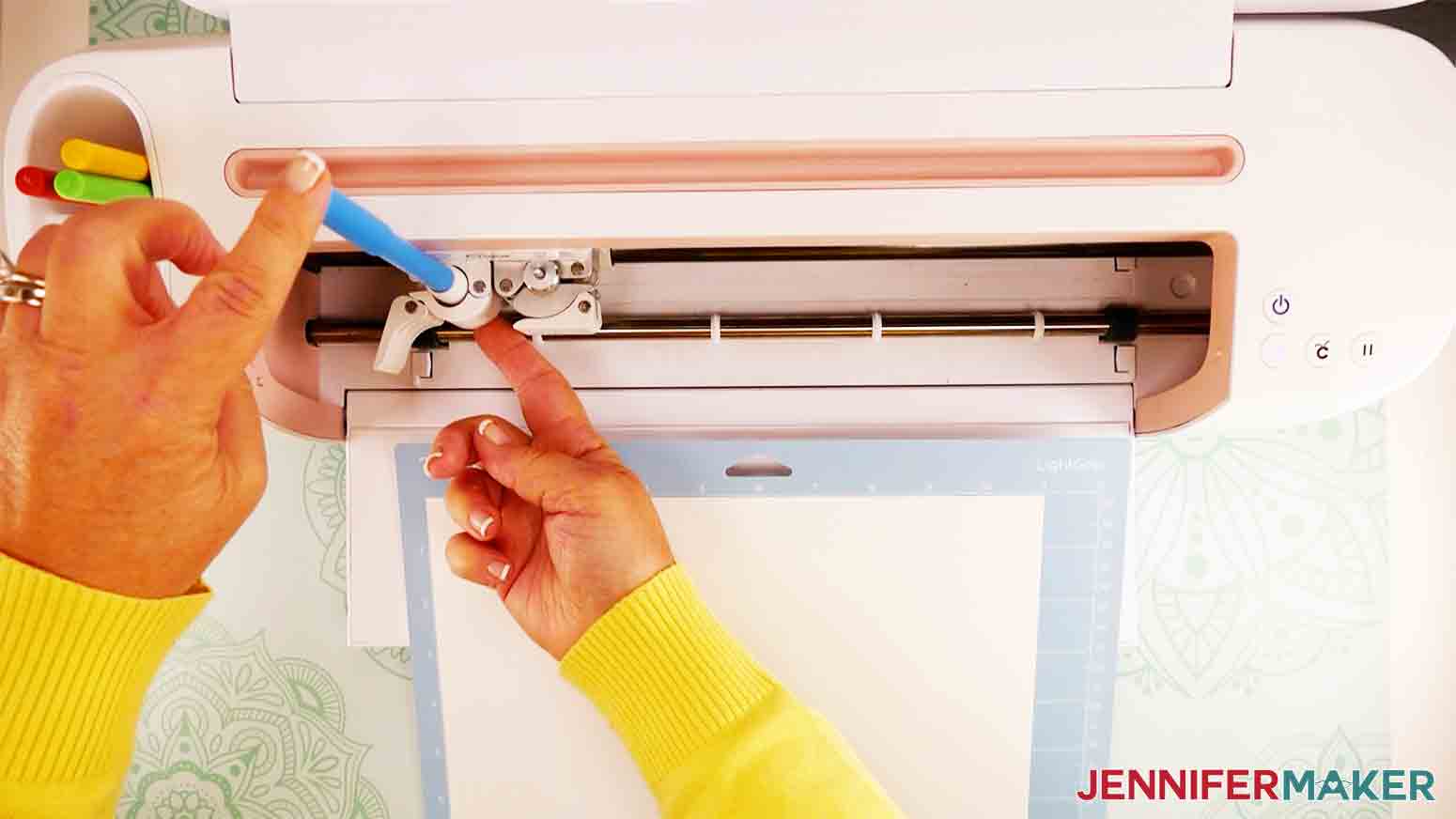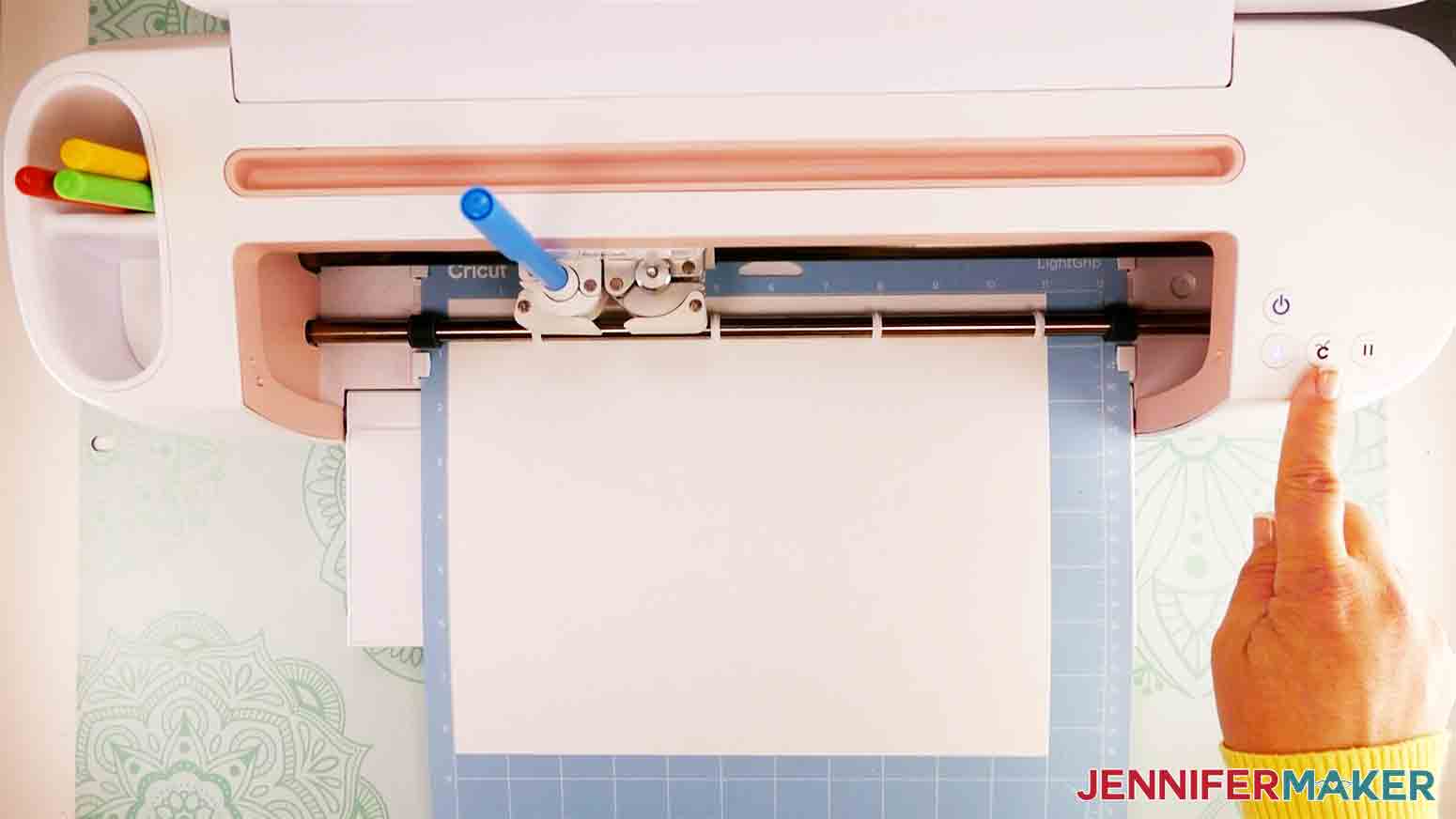 Once the first Infusible Ink pen color is finished, you will be prompted to load your next pen color into clamp A. If you forget which color comes next you can always refer back to your screen in Cricut Design Space and it will tell you what is next.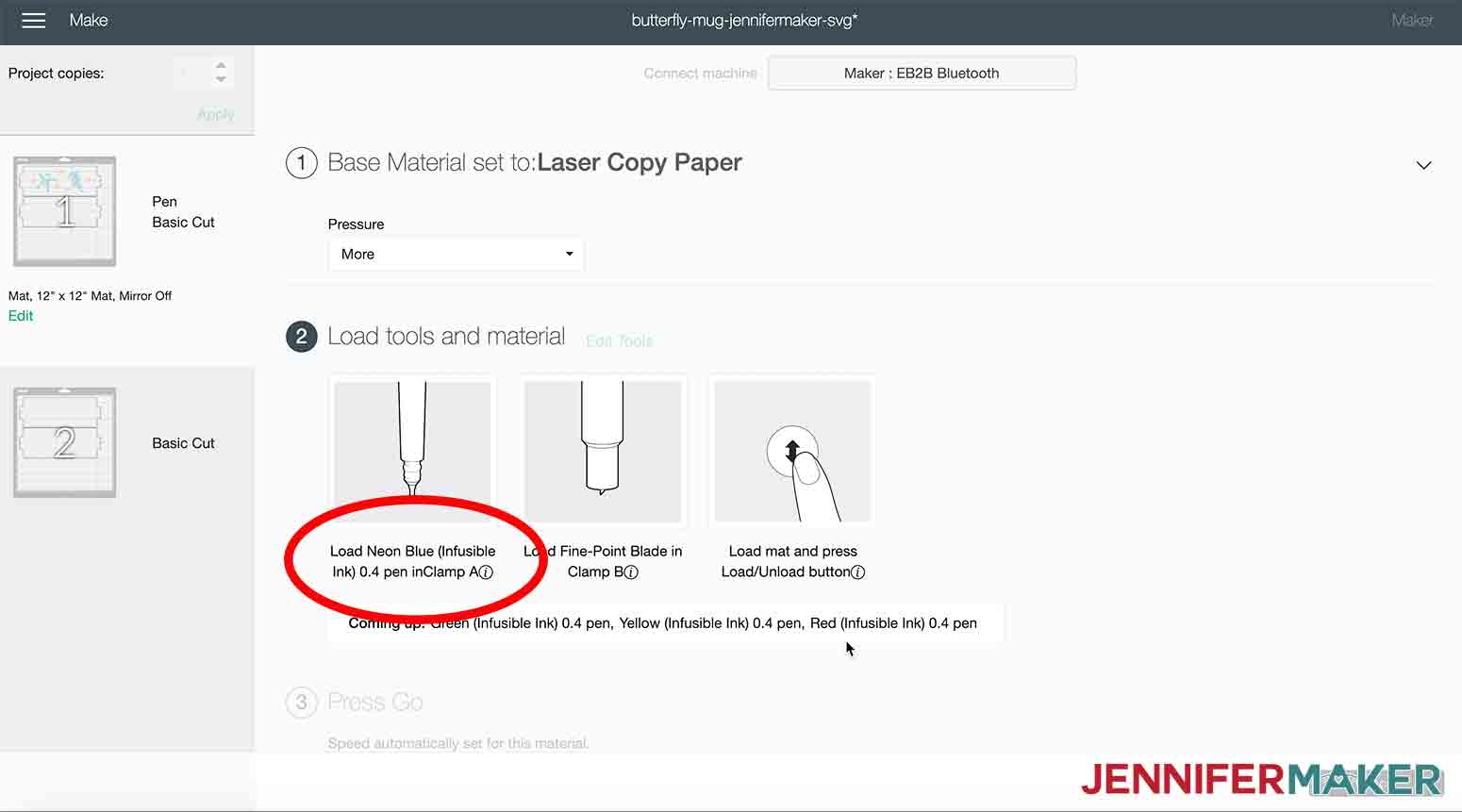 Repeat this for the next two pens. After the last pen finishes drawing the machine will cut out the mug design outline for the layer with the Infusible Ink pen design and one of the three extra Mug Design cutouts I mentioned earlier. Once that is done you will unload the mat and turn it over to remove those two cutouts.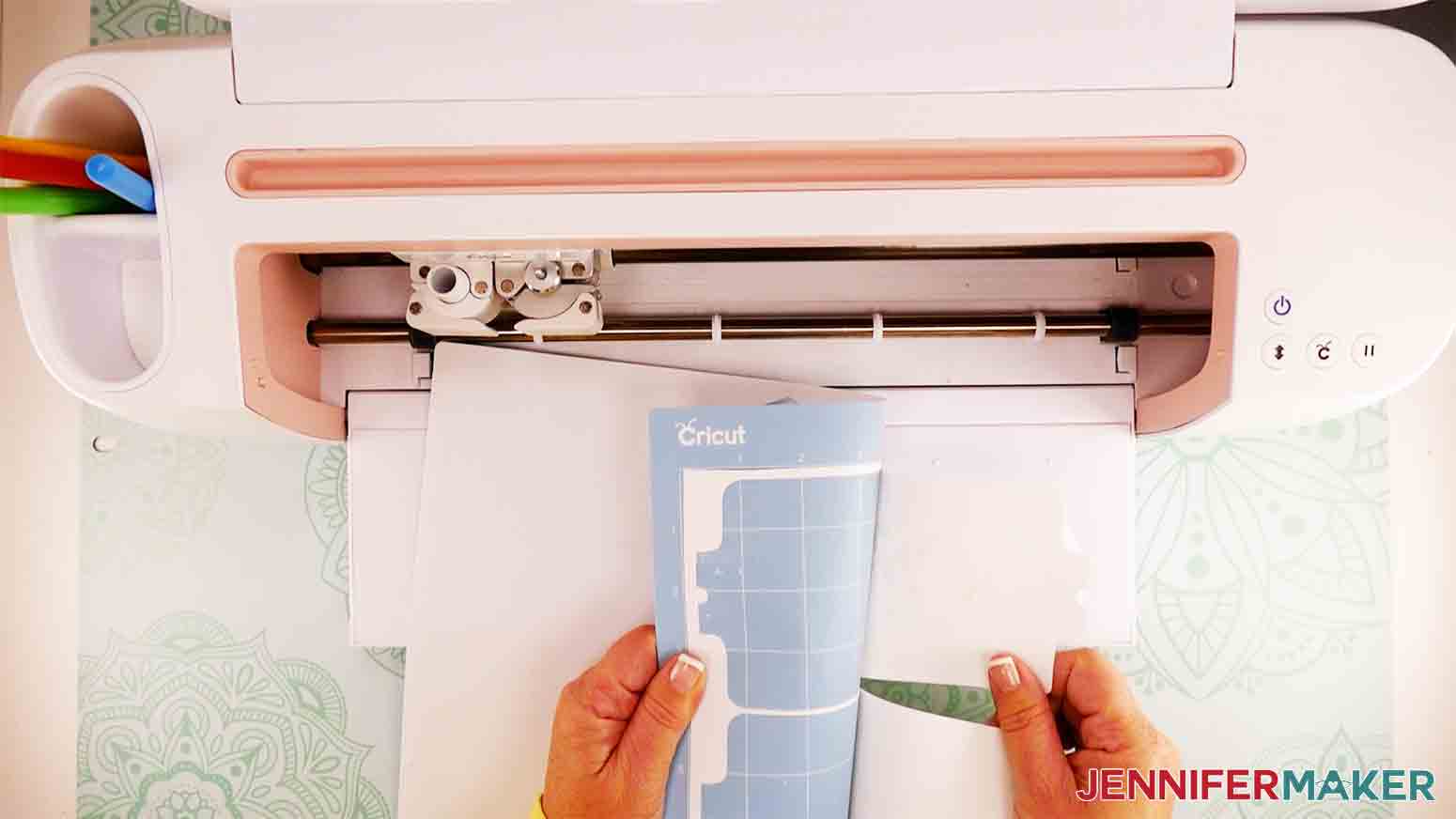 Now place another sheet of 8 1/2" x 11" copy paper onto your cutting mat, again in landscape orientation (wider than taller), load it into your machine and press the flashing button to begin. This will give you two additional mug wrap cutouts. Remove those from the mat just like you did with the first two.
STEP 3: WRAP YOUR DESIGN AROUND YOUR MUG
Now it's time to wrap your Infusible Ink pen mug design around your mug!
First, and this is really important, begin by cleaning the surface of your mug with a lint roller. This removes any dirt or dust and get the surface as clean as possible, and makes sure the Infusible Ink transfers cleanly and vividly.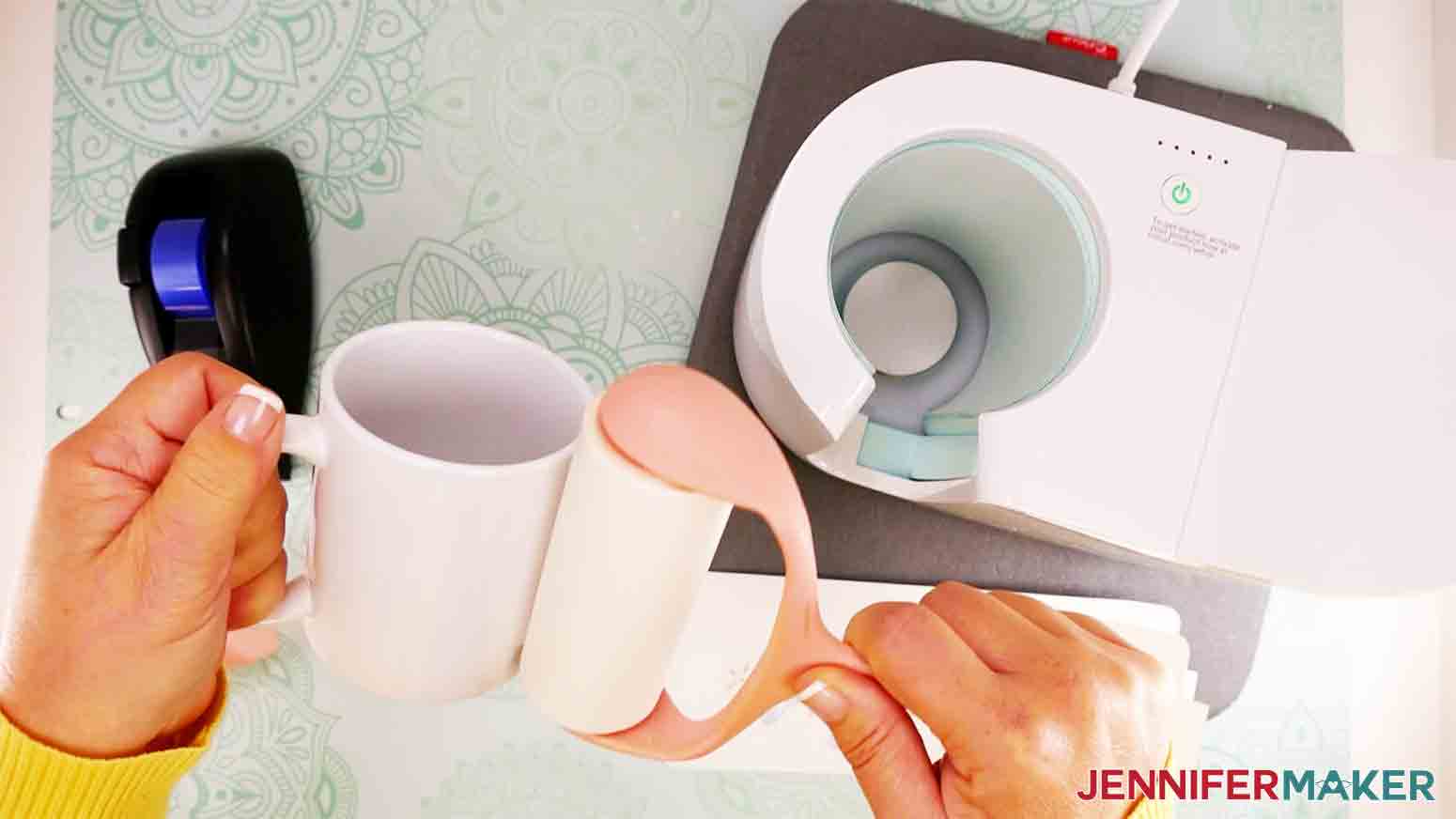 To ensure the design is on straight and centered, it's best to position the mug so the handle is pointing at you. Also, make sure to double check and make sure your design is right side up.
Now take those three extra cutouts and place them behind your design layer with the design layer facing you. Now position that stack of layers behind the mug, again you should see the design facing you and the mug.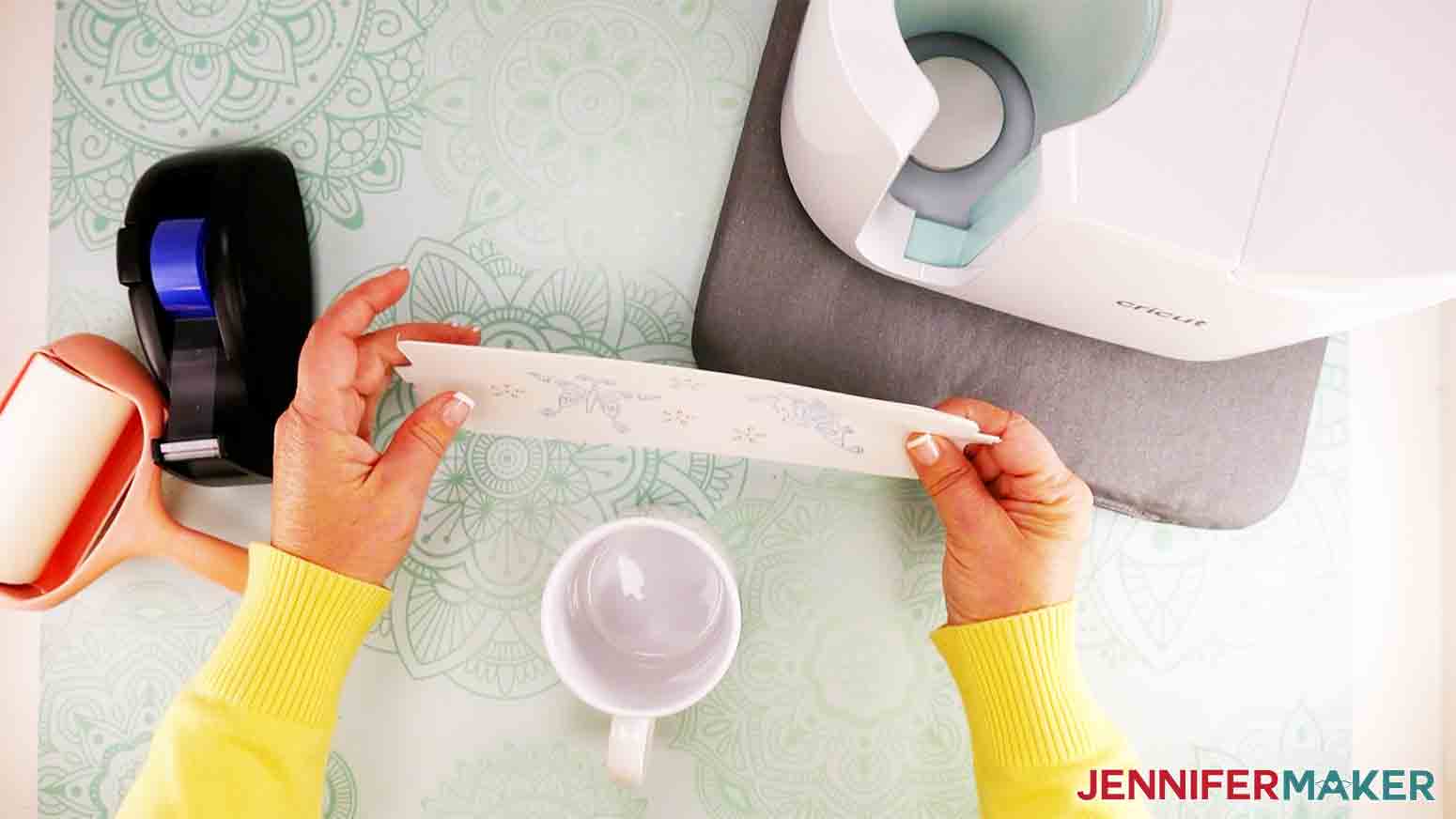 Wrap all four layers around the mug, make sure it's a snug fit and use Cricut Heat Resistant Tape to hold everything in place.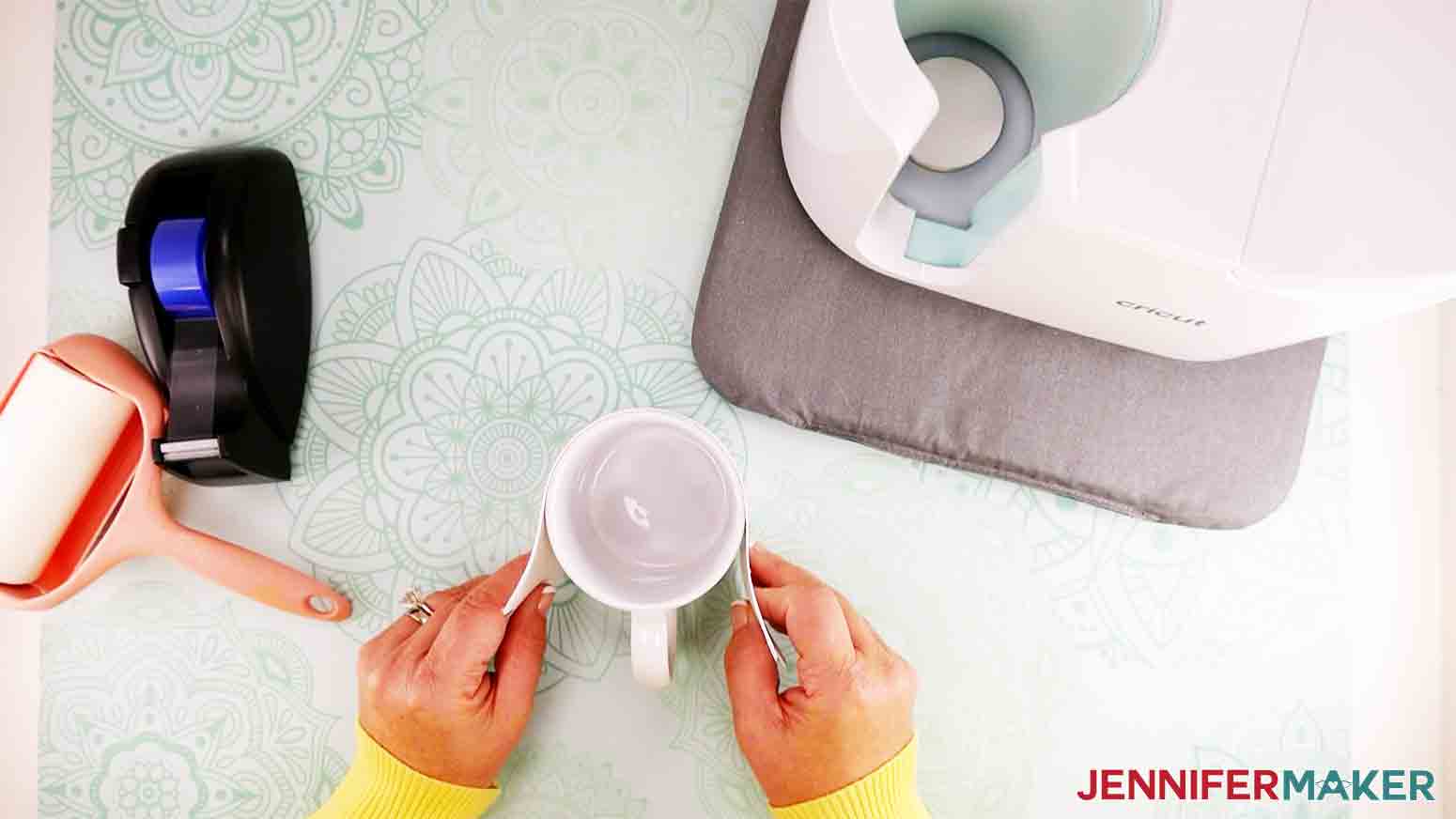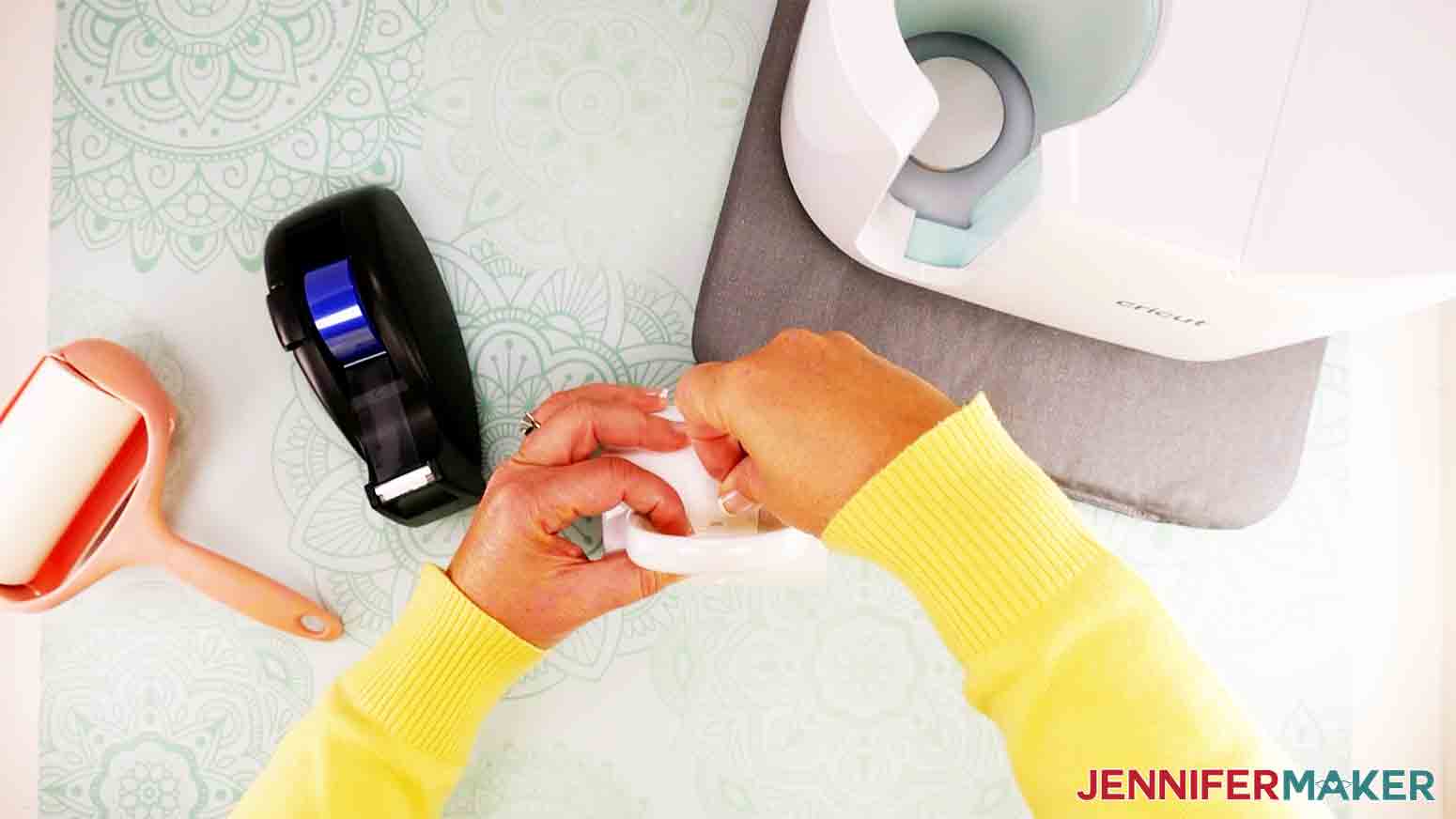 Just tape the two ends together right inside the mug handle. And now you're ready for the fun part!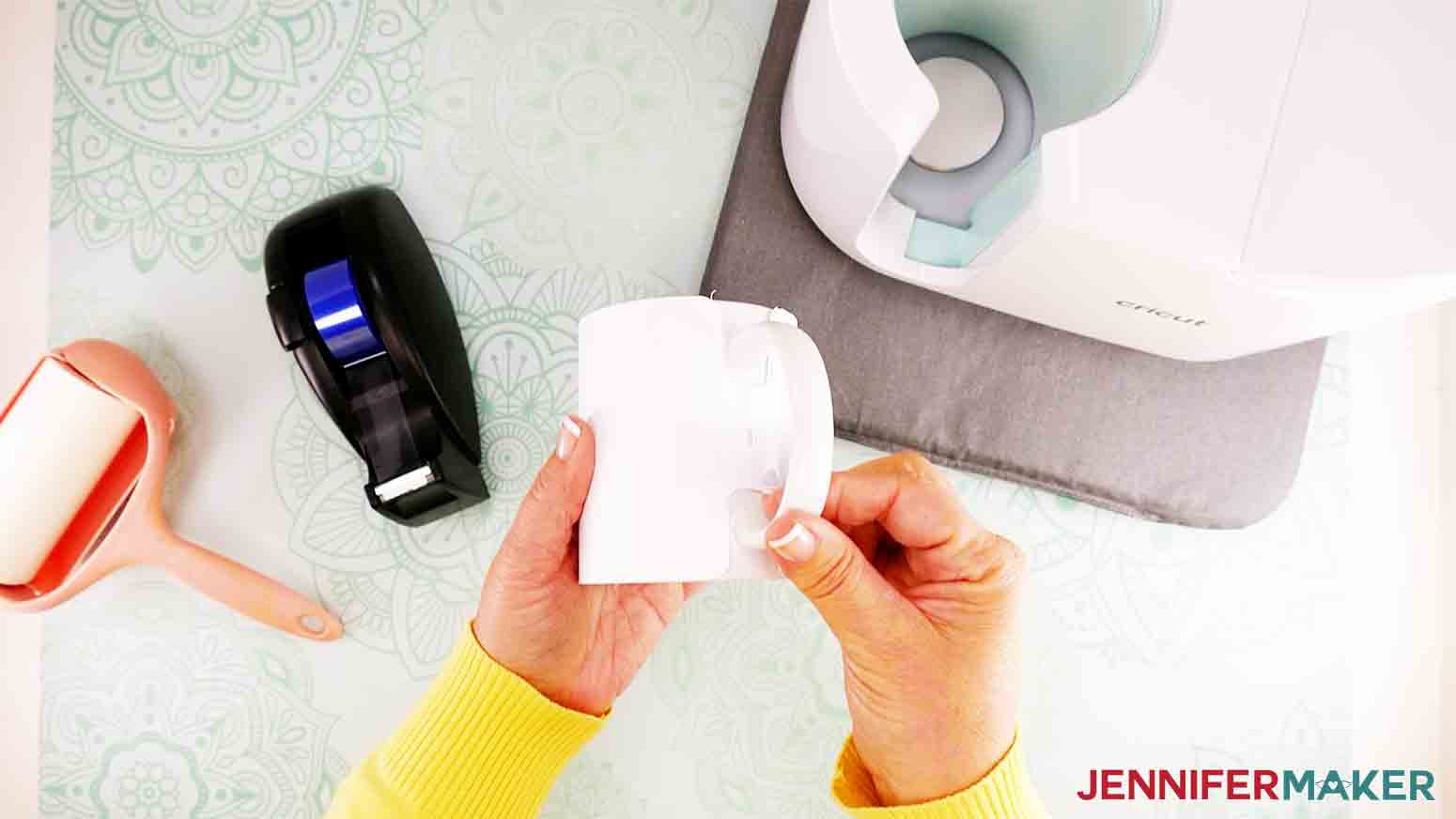 STEP 4: PRESS THE MUG WITH THE CRICUT MUG PRESS
With the Cricut Mug Press powered on and the power button green (which indicates it is ready), hold your wrapped mug by the handle and place it in the heating chamber.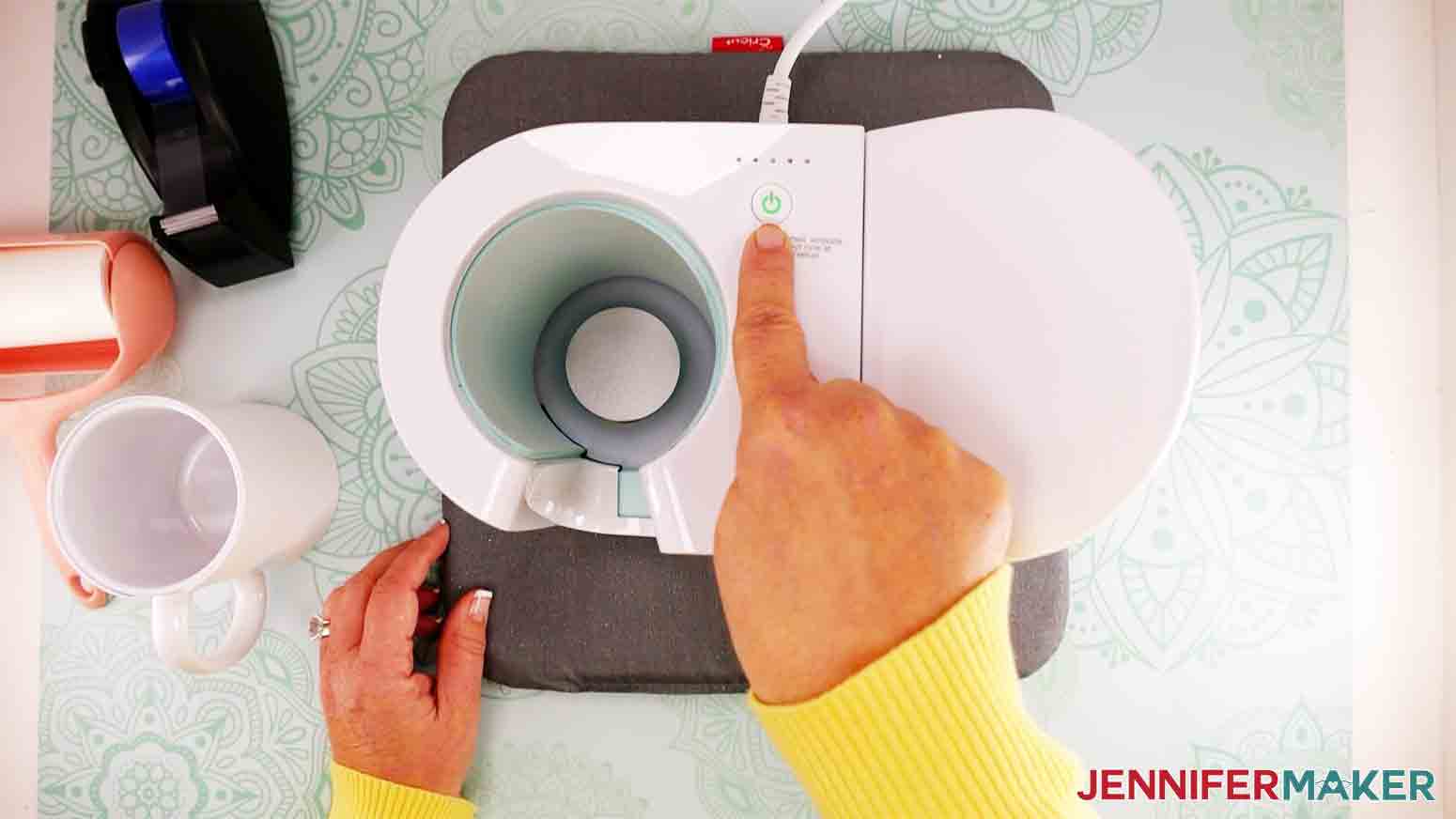 Pay attention to where the mug handle is and make sure the heat plate appears to be covering all of your design. I have found that moving the handle to the left a little bit helps.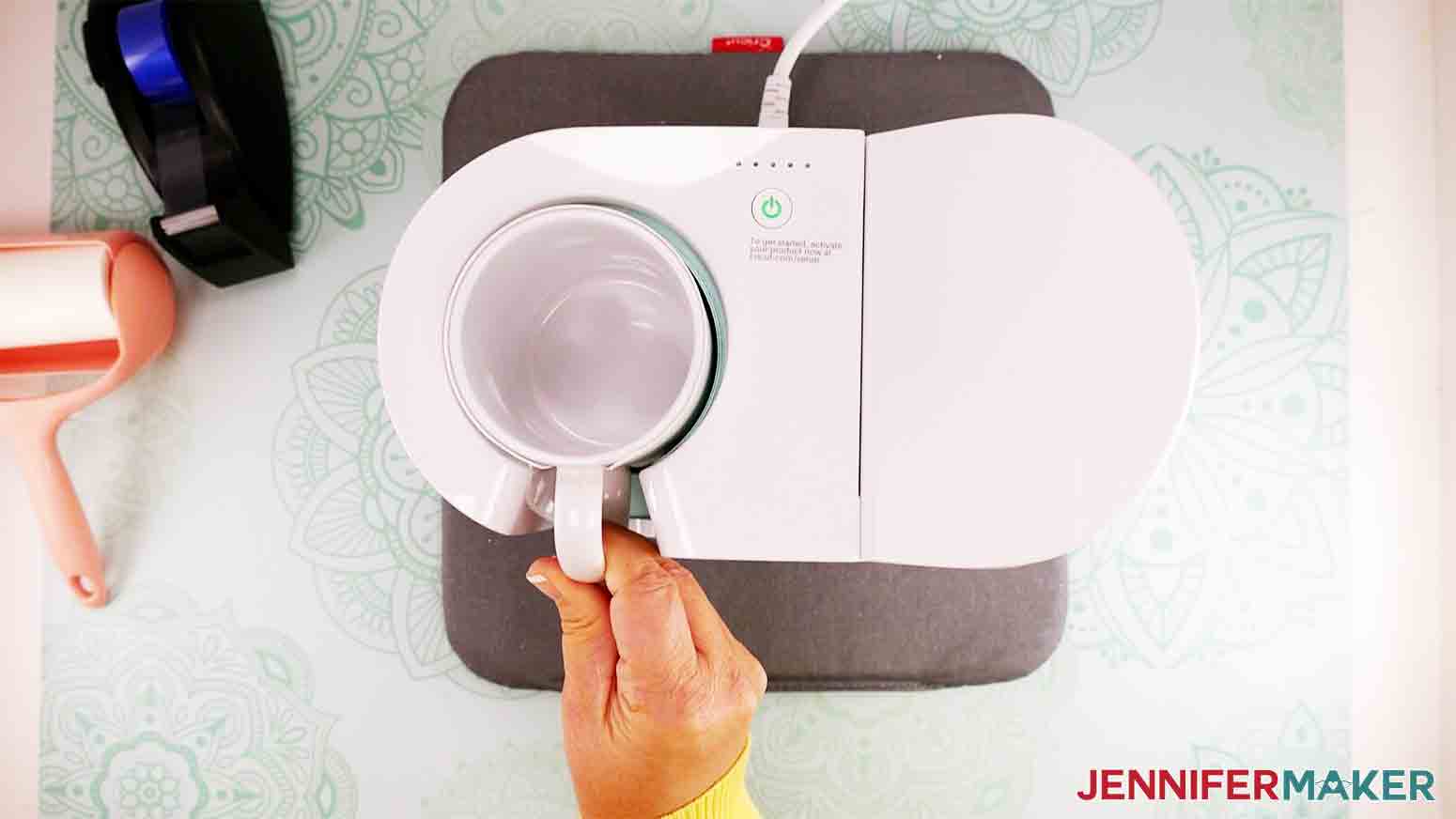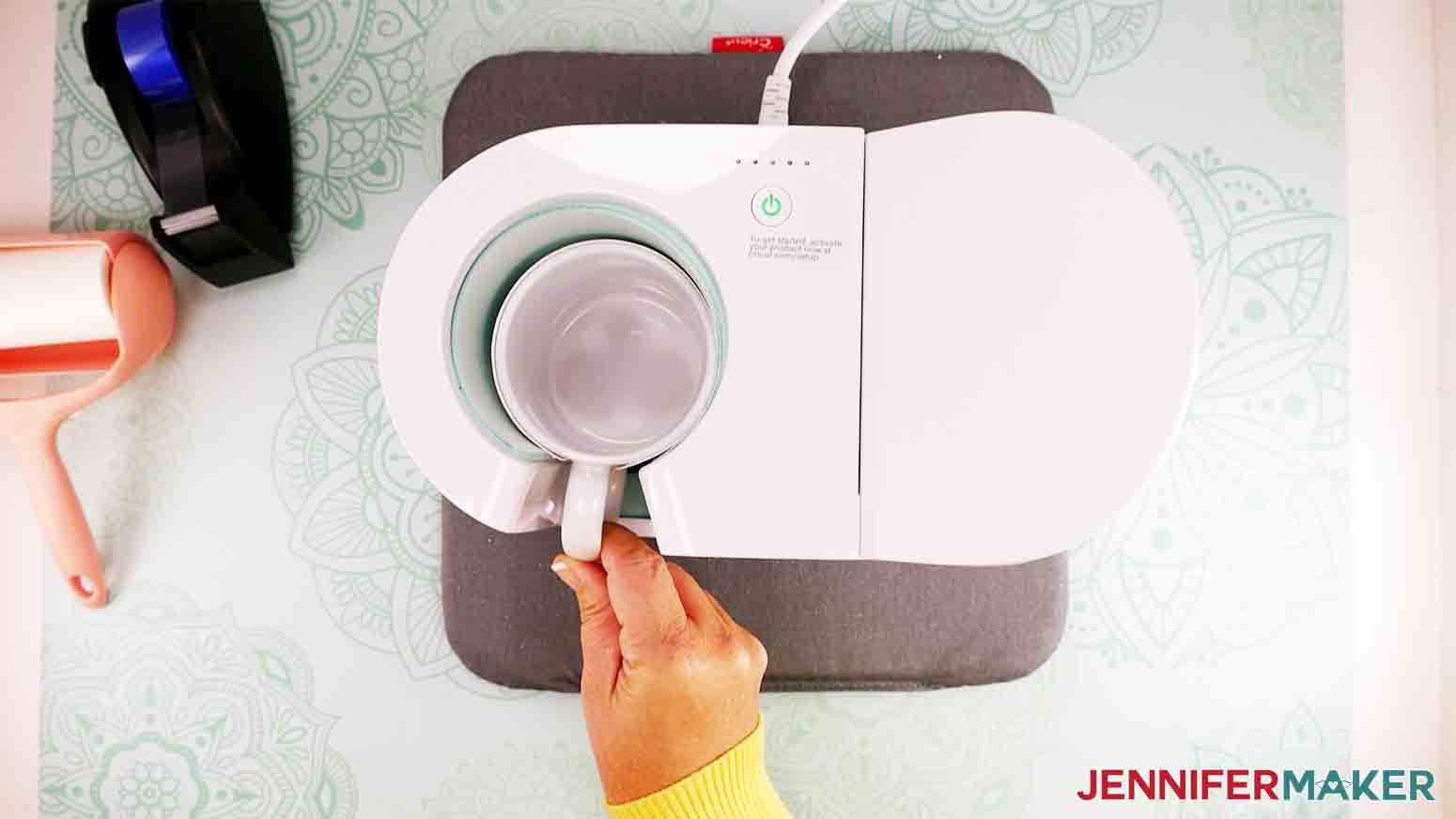 Now close the clamp on the top of the Cricut Mug Press and double check that the heat plates are completely covering your design. If not make sure to open the clamp right away and reposition the mug as needed and close the clamp again.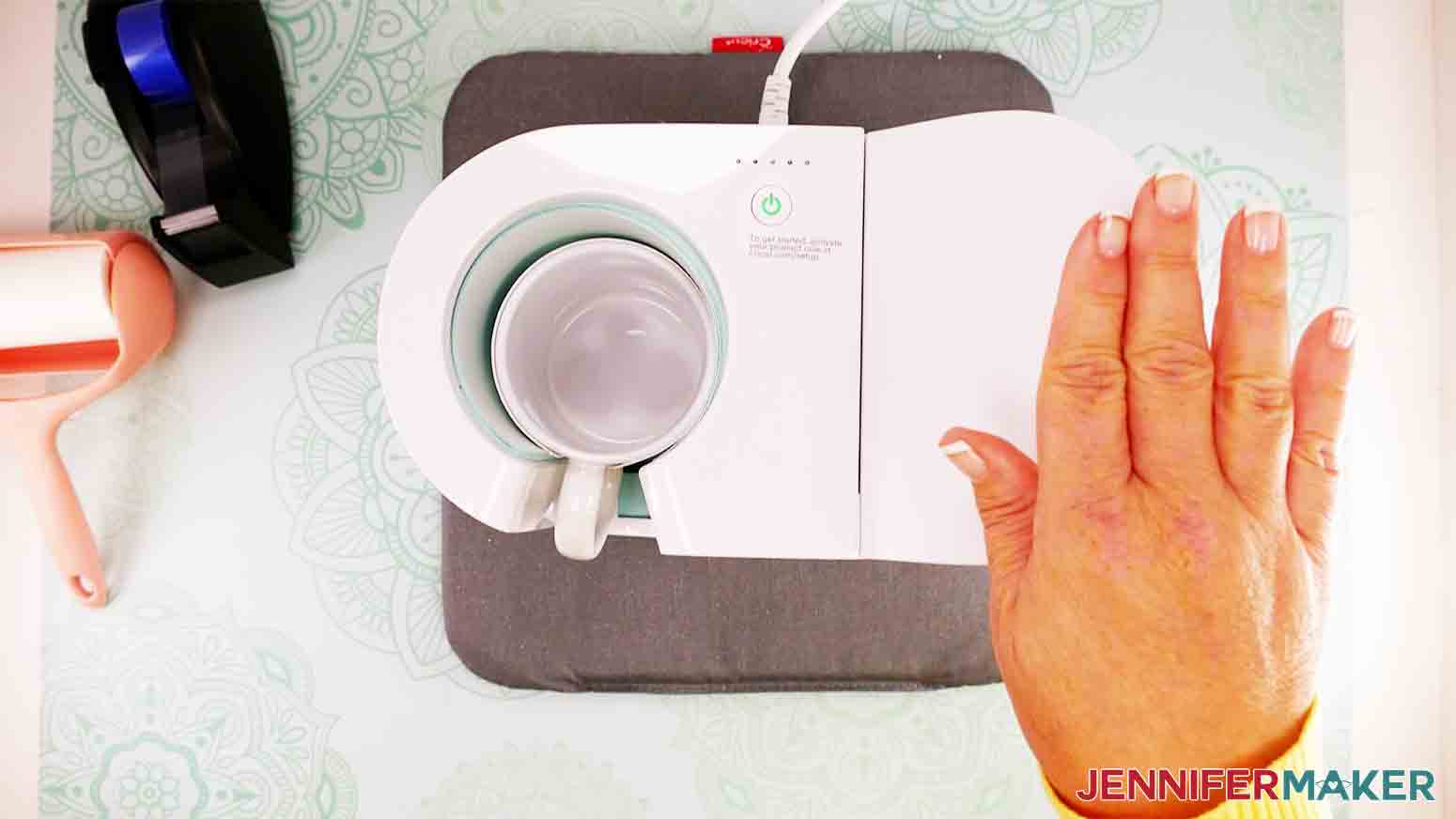 Pushing down on the lever starts the pressing process. There is no other button to push or settings to worry about. The Cricut Mug Press takes the temperature of your mug and the ambient temperature of your room, and determines the correct settings for you...isn't that great, takes all the guesswork out! The little lights on the top of the Cricut Mug Press indicate the progress of your press — an average mug takes about six minutes to press.
When the Cricut Mug Press is finished, it will beep at you. Lift up on the clamp to release it and pull the mug out by the handle, which will NOT be hot. Be careful not to touch the heat plate with the back of your fingers or touch any other part of the mug, as it will be quite hot.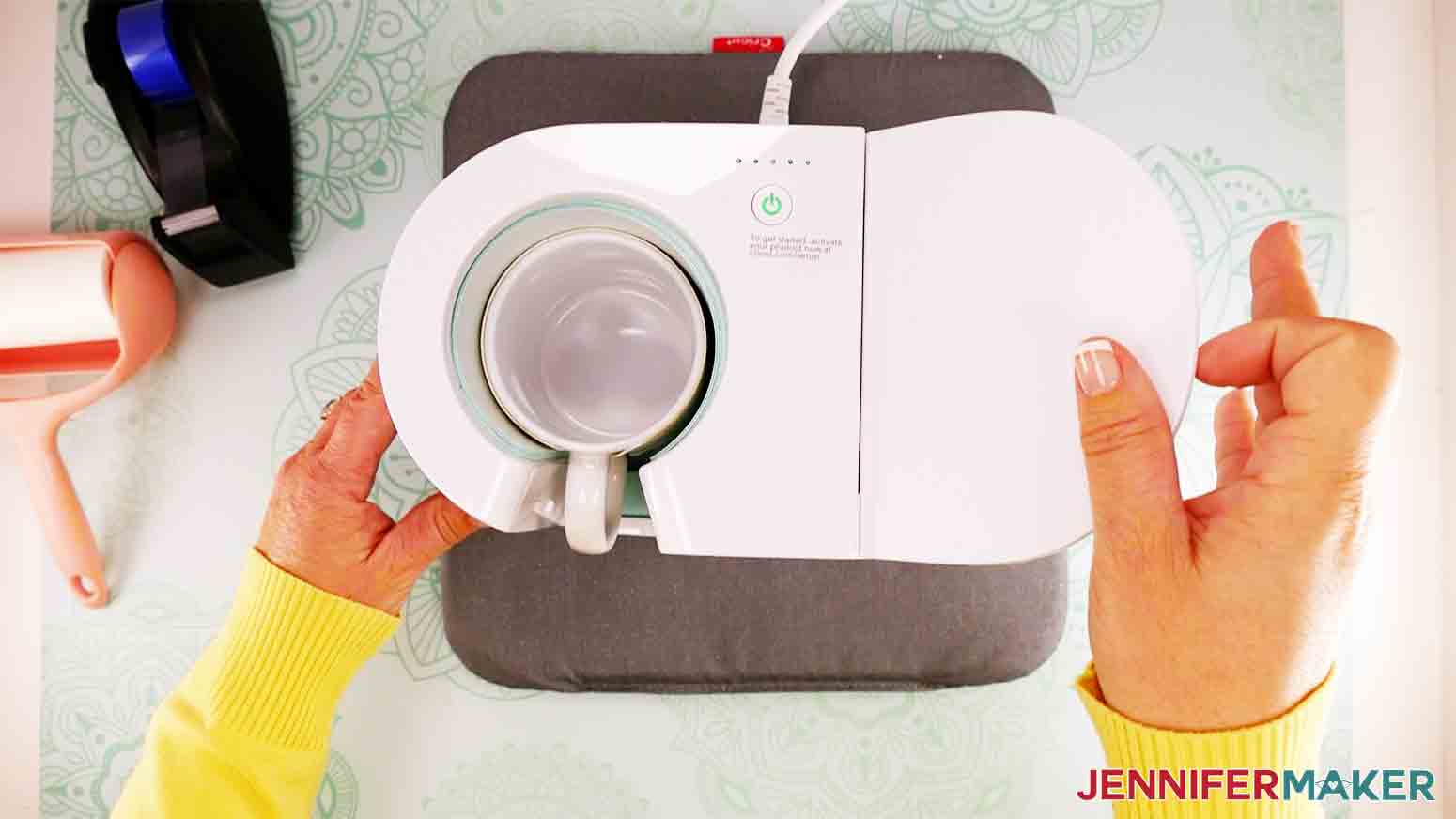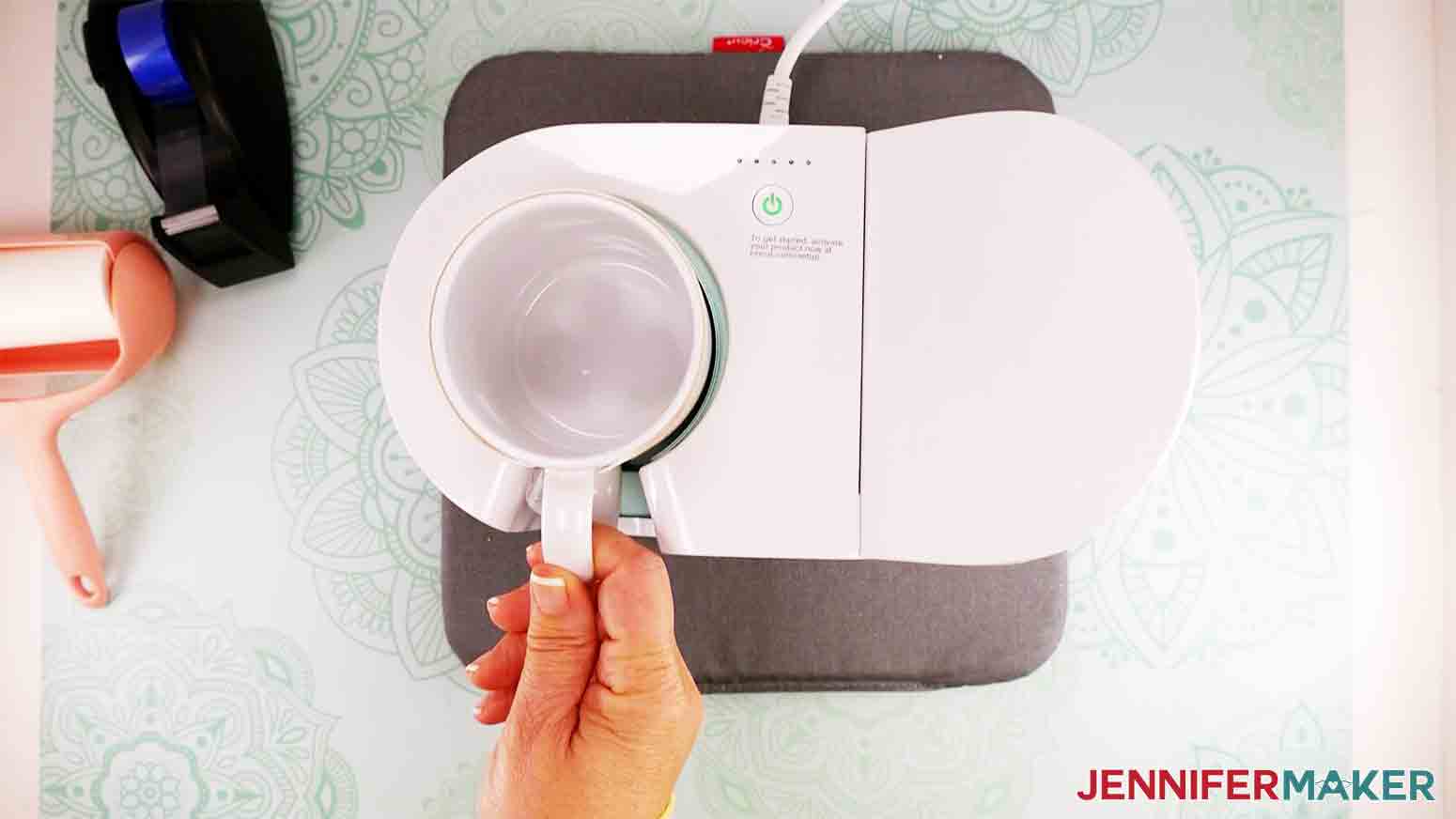 Immediately place your mug on a heat-resistant surface to cool. I place my mug on the same mat I am using for my mug press itself as it's right there and super convenient.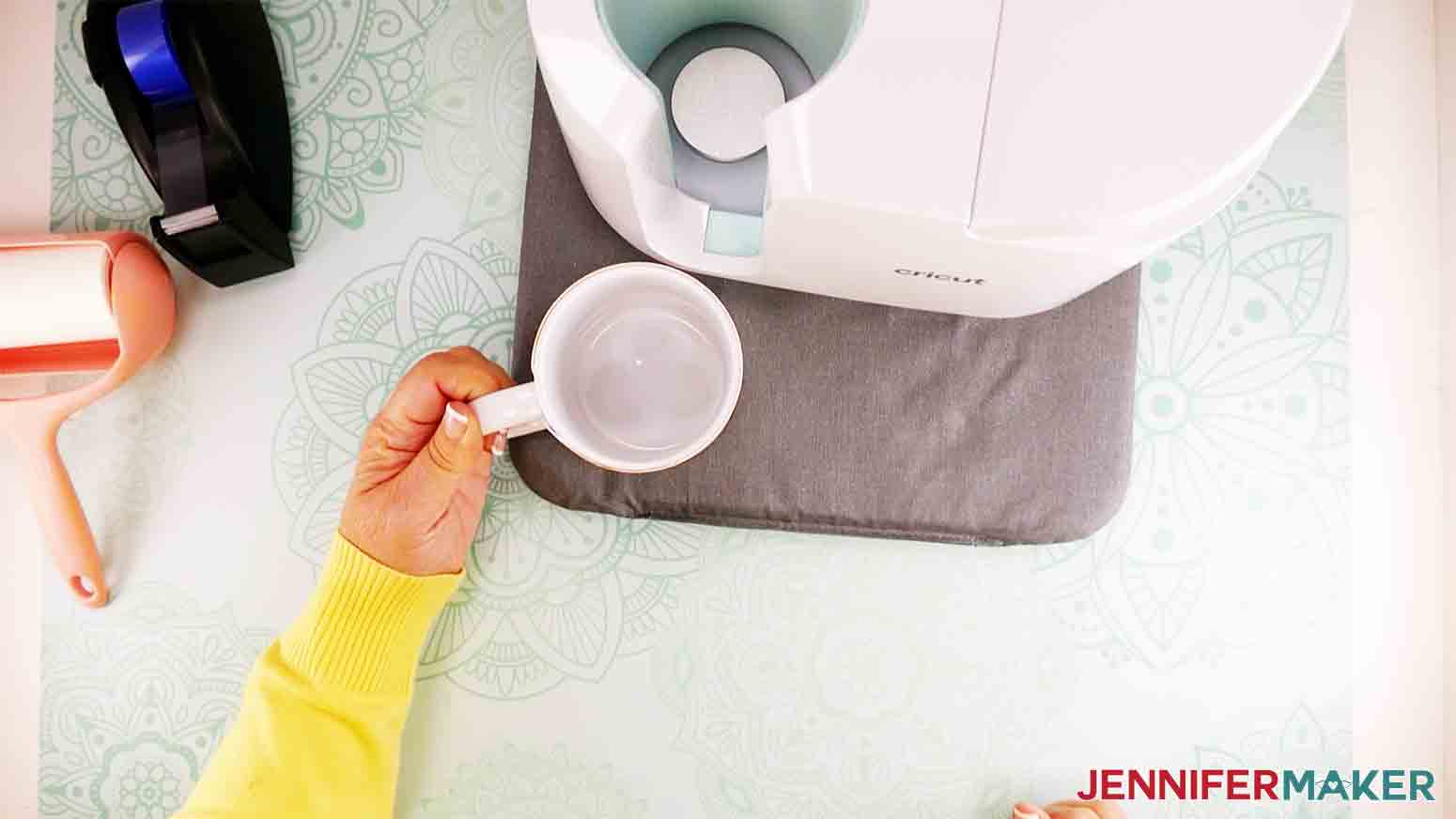 Allow the mug to cool down before you peel off the tape and remove the paper. This takes anywhere from 15 to 30 minutes.
When the mug is cool enough to handle, pull off the tape and paper and check out your beautiful creation!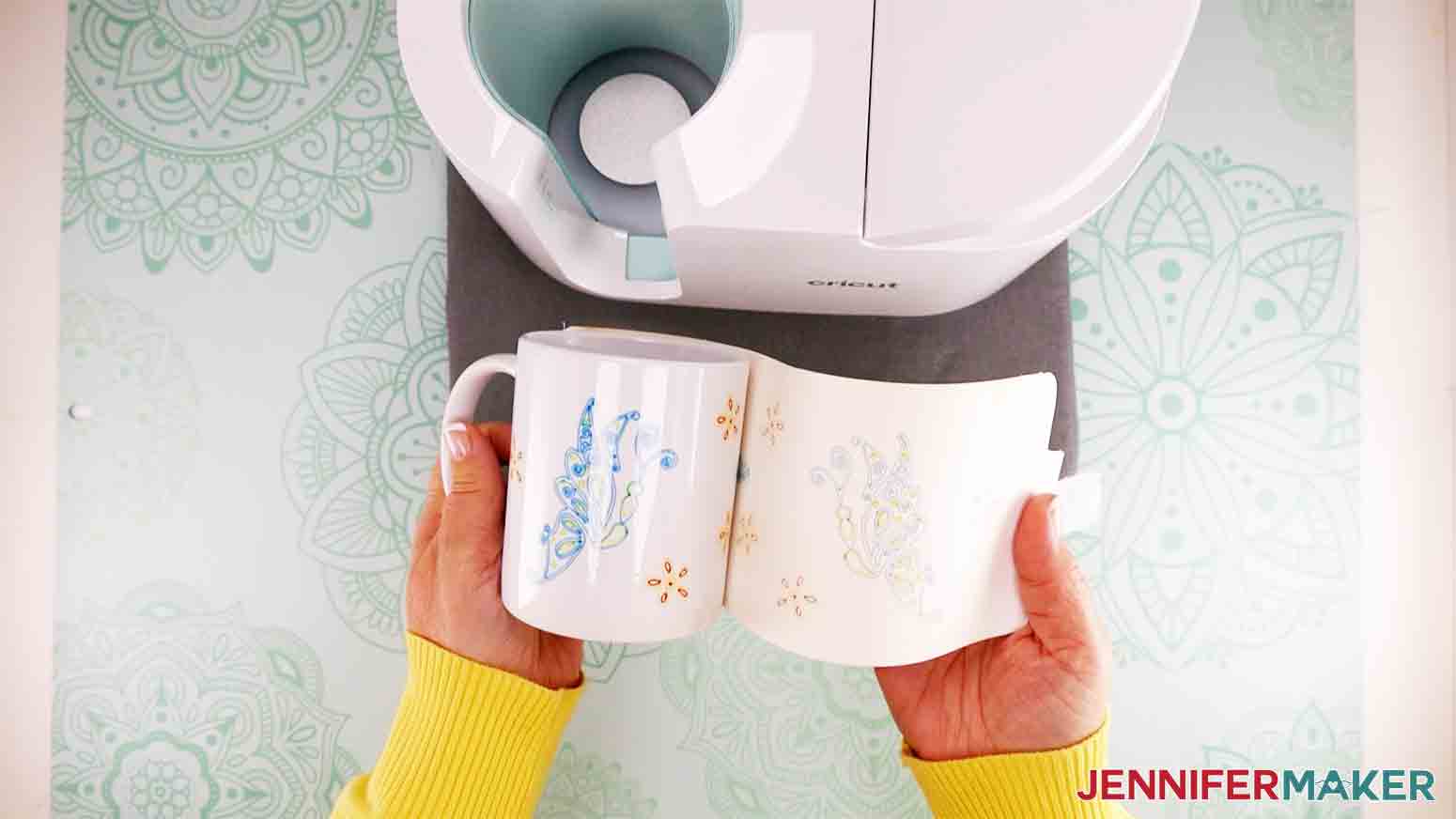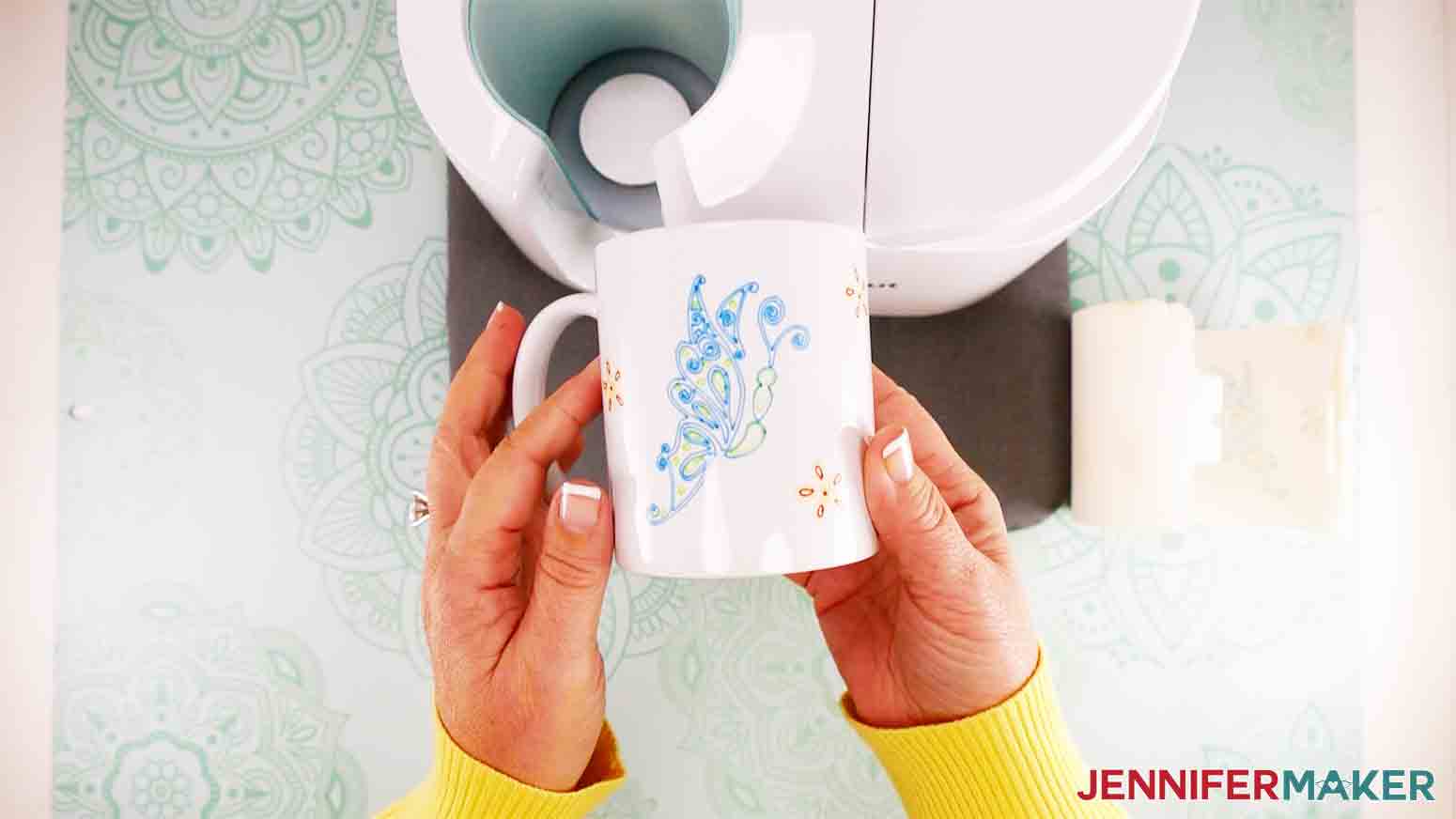 STEP 5: SHOW IT OFF!
Aren't the colors so pretty? These mugs are simply gorgeous and would make a perfect gift for just about any occasion.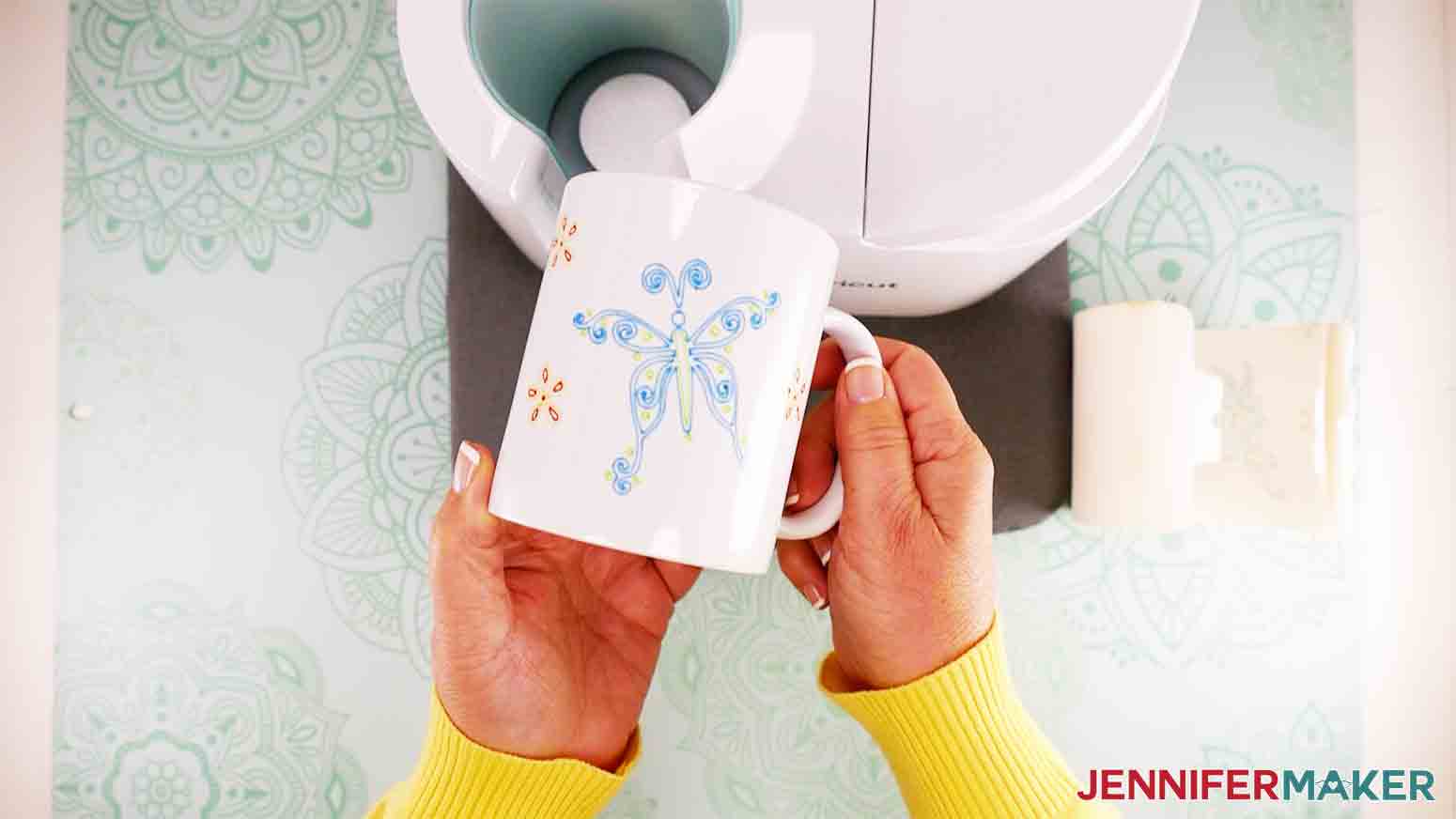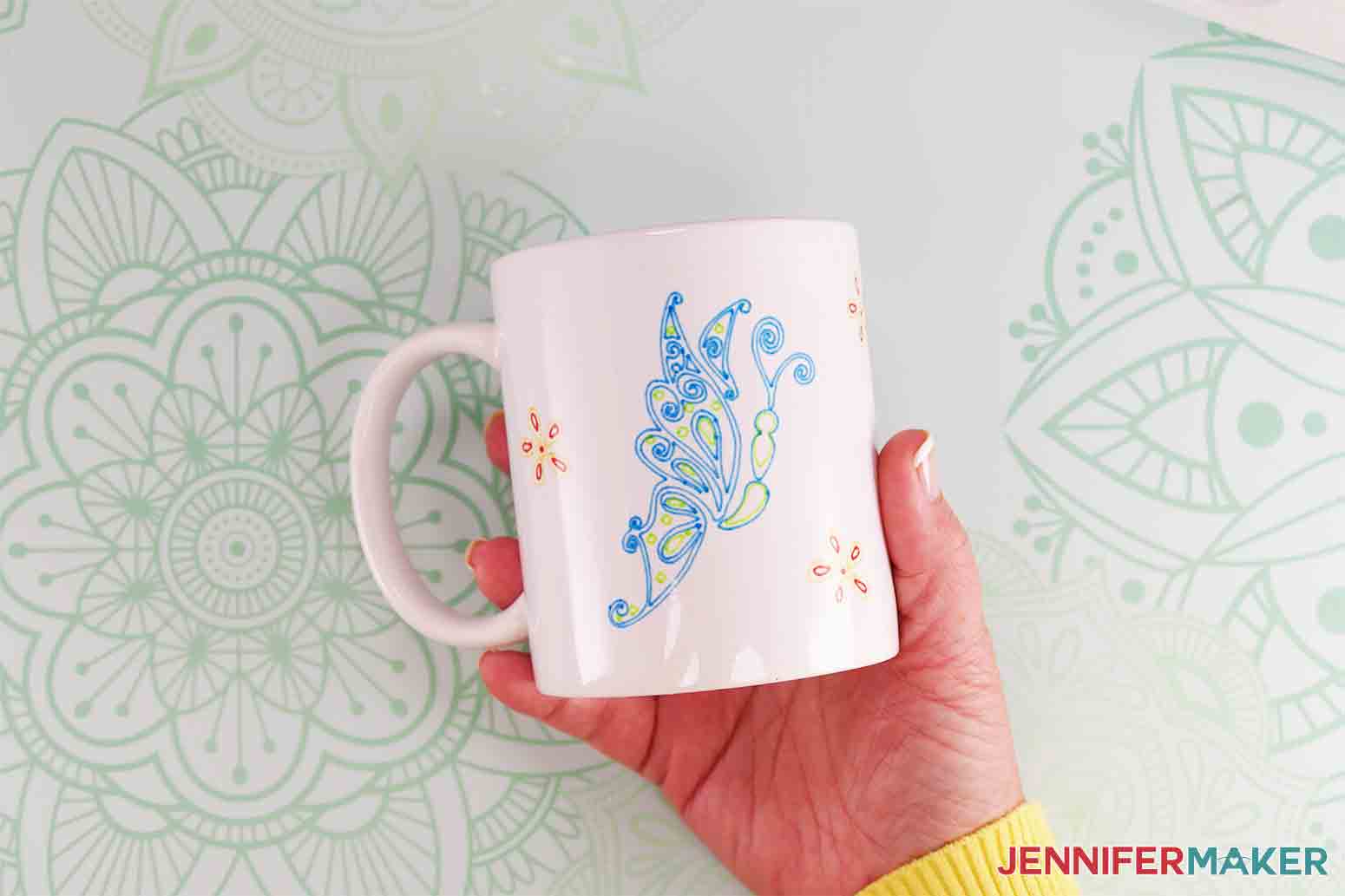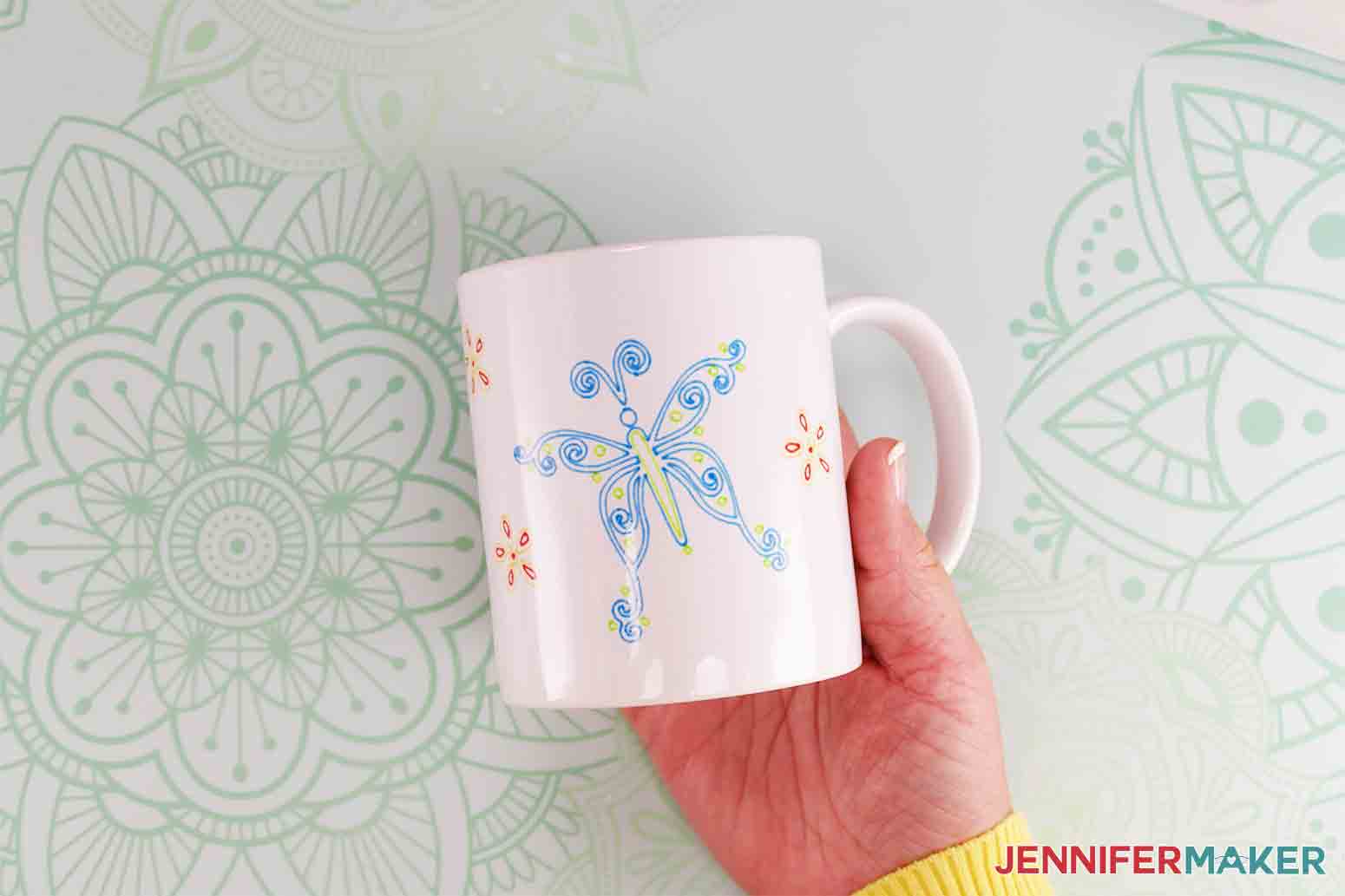 Notes
If you want to make other types of mug designs with your Cricut Mug Press, I have tutorials on those as well! I teach you how to apply a simple decal design, how to layer Infusible Ink for a multi-color design, and how to draw a design freehand.
Answers to Your Questions about Making Infusible Ink Pen Mugs
Q: When can I buy a Cricut Mug Press?
The Cricut Mug Press is NOW available in the Cricut shop, Amazon, Michaels, Joann, Target, HSN, Hobby Lobby, and Walmart.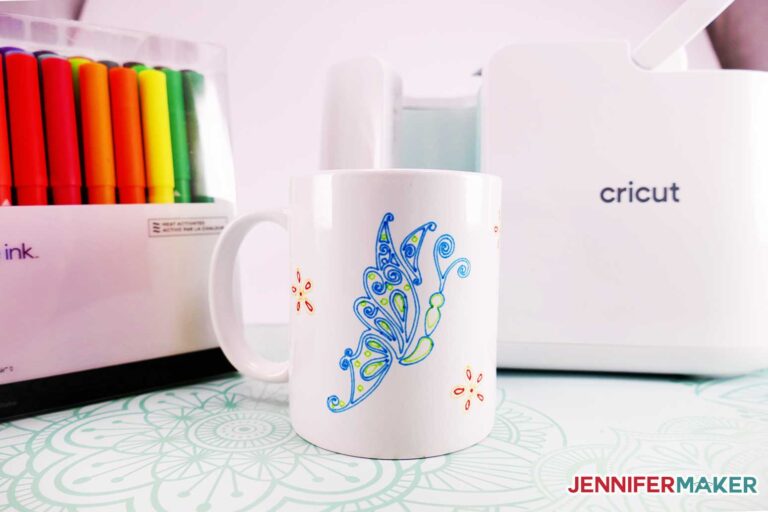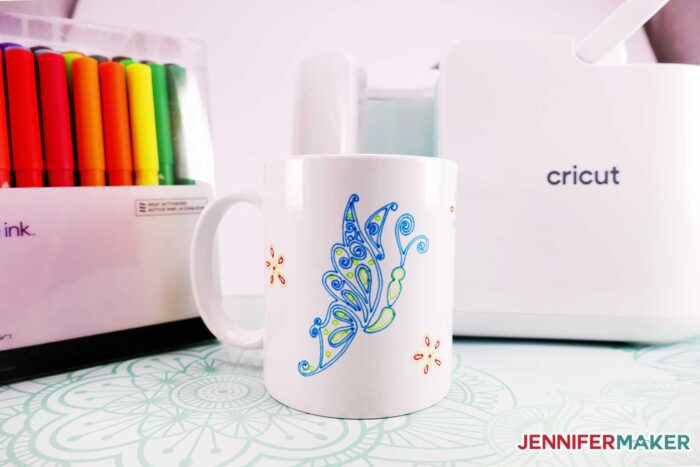 Q: Can I use regular pens and markers?
No, you will need to use Infusible Ink Pens and Markers. They have a special chemical composition that turns to a gas under high heat and becomes a part of the mug itself! A regular pen or marker won't be able to do that.
Q: What kind of mug can I use for my Infusible Ink pen mugs?
Your mug must have a poly coating and straight walls. It is important to look for sublimation (poly-coated) mugs. Other mugs will not work. The Cricut Mug Press accommodates mugs in sizes from 11 oz. – 16 oz without any manual adjustment.
Q: Do I have to only use Cricut mugs?
You will need to use straight-walled, sublimation compatible drinkware. Cricut has tested their mugs and verified that they work the best, but you can use other brands. I've had great success with these sublimation blank mugs.
Q: Do I need to use a white mug?
For the best, most vibrant, results we suggest that you use a white mug for your Infusible Ink project, as the ink is transparent.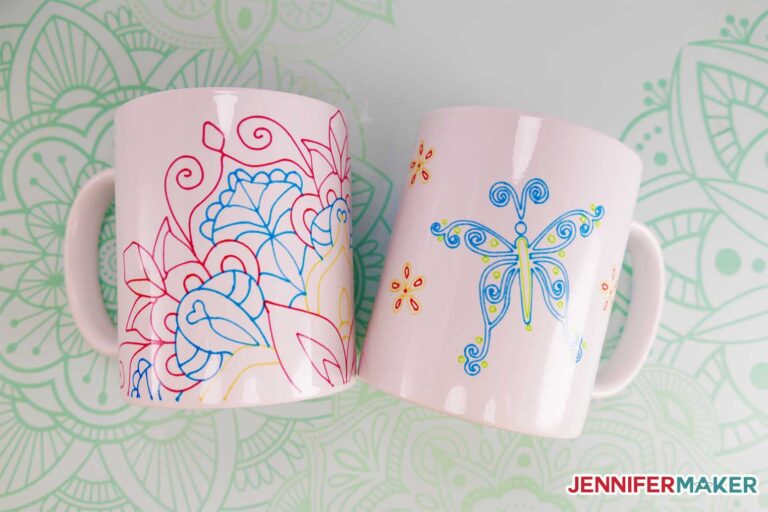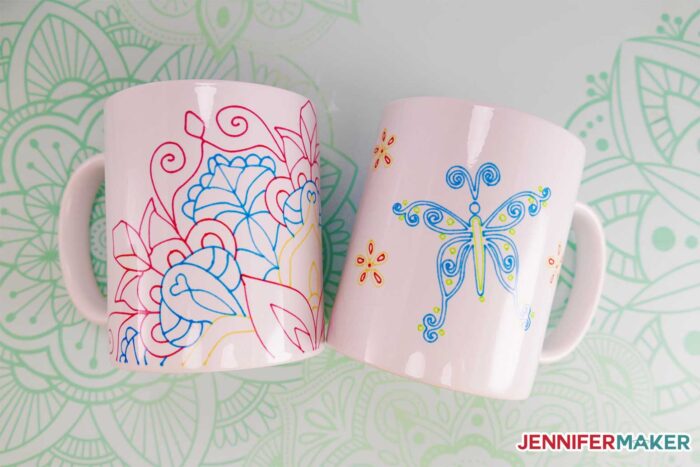 Q: Are Infusible Ink pen mugs made in the Cricut Mug Press safe for use in the microwave and dishwasher?
Yes, they are totally safe in the dishwasher and microwave immediately after they're cooled enough for you to handle — there is no cure time!
Q: Where can I use the Cricut Mug Press?
You can use it anywhere you have good ventilation, so near an open window or with a fan going. Put your Cricut Mug Press on a heat resistant surface, such as an EasyPress pad, to avoid damaging anything underneath.
Q: How do I center my Infusible Ink pen or marker design on my mug?
The trick I use is to keep the handle facing me and then wrap the design starting from the opposite side of the handle, keeping the wrap straight. If it doesn't start to stick evenly, you can take it off and try again. Or just trim your design close to the edge and manually position it exactly where you want it to go on your mug!
Q: How long do I need to let my Infusible Ink pen mugs cool?
You need to wait the same amount of time as for other mug press designs — allow 15-30 minutes to let the mug cool down after coming out of the Cricut Mug Press before touching and removing the liner. The handle will stay cool to the touch, but the cup itself will be hot, so don't touch.
Q: How close to the handle can my Infusible Ink pen mugs design be?
Your design can wrap to ½ inch from the handle. If your design is closer than ½ inch to the handle, the design cannot be heated thoroughly enough to transfer properly and you'll see fading or discoloration. All of my free mug designs are set up so that they are not within that safety zone of the handle.
Q: Can I use any kind of tape to hold down my Infusible Ink pen mug design?
No, you have to use only heat-resistant tape. If you use regular tape, it will melt adhesive onto your design and mug press, so don't do that.
Q: How long does this pressing process take with the Cricut Mug Press?
It depends on the temperature of your room and your mug, but it should take somewhere around 5-6 minutes or so. Your Cricut Mug Press will automatically determine the press time for you, so you don't have to worry about timing anything.
Q: Why do I have blue dots or specks of color on my mug?
The blue dots are dust! It is very important to get the mug absolutely free of dust, which you do by using a lint roller on the mug right before you press it. You'll also want to make sure that when you weed the Infusible Ink sheet that no little stray little dots of ink accidentally fall onto the sections that should be clear. So always check both your liner and your mug before you press the design.
Get my free SVG files to make these pretty pen art and mandala monogram designs!
I can't wait to see your Infusible Ink pen and marker mugs and all the fun and unique ways you'll find to use the Cricut Mug Press. Please share photos of your finished mugs in our Facebook group or tag me on social media with #jennifermaker.
Love,