Learn how to make 18 DIY paper succulents and arrange them all together beautifully in a wooden tray planter!
Paper flowers are fun to make, but it's now autumn and I'm more in the mood for succulents! Now I don't know about you but when it comes to plants, succulents rank pretty high on my list of favorites. They are beautiful, they come in so many different varieties and the best part about them is they don't require much care. I mean, we all lead busy lives these days, right? In this tutorial, I'm going to show you how to make a beautiful tray of paper succulents that is completely care-free!
Watch me cut and assemble these DIY paper succulent templates in my video below!
The materials you need to make these gorgeous paper succulents are mostly just cardstock and glue. I'm used a 65 lb. pack of cardstock pack called "Fields of Green." I think this weight of cardstock works best for shaping the petals into realistic looking shapes. You'll need two 12″ x 12″ sheets of maroon cardstock if you want to make paper succulents like mine.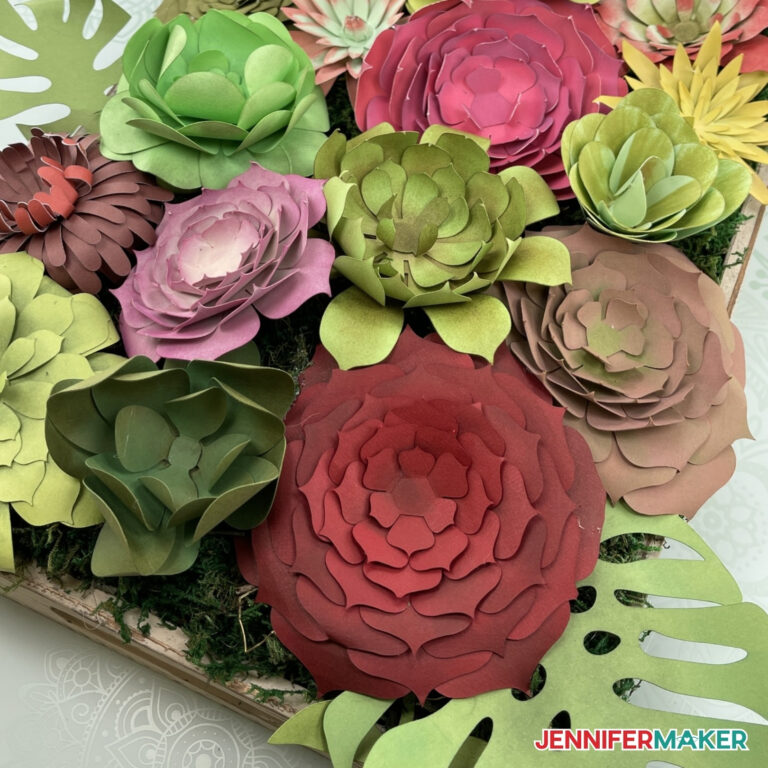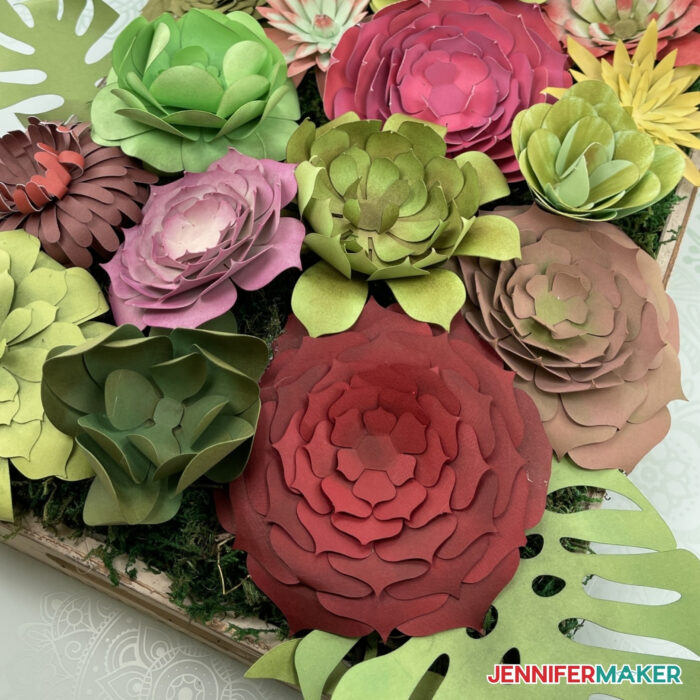 To give you lots of options, I've re-created lots of paper succulent templates for you, including these beauties:
Sedum Suncatcher
Sempervivum
Sedum Sieboldii (October Daphne)
Monstera Leaf (I know, it's not a succulent, but it goes well with them!)
Echeveria Rainbow
Sedum Nussbaumerianum (Coppertone Sedum)
Sempervivum "Jubilee"
Aeonium "Green Platters"
Aeonium Urbicum (Salad Bowl)
Crassula (Devil's Horns)
Portulaca Molokiniensis
Sempervivum Tectorum (Hens 'n' Chicks)
Kalanchoe "Flap Jacks"
Greenovia Dodrentalis (Mountain Rose)
Sempervivum "Silver King"
Sempervivum "Pacific Devils Food"
Echeveria "Melaco"
Aeonium Aroboreum "Zwartkop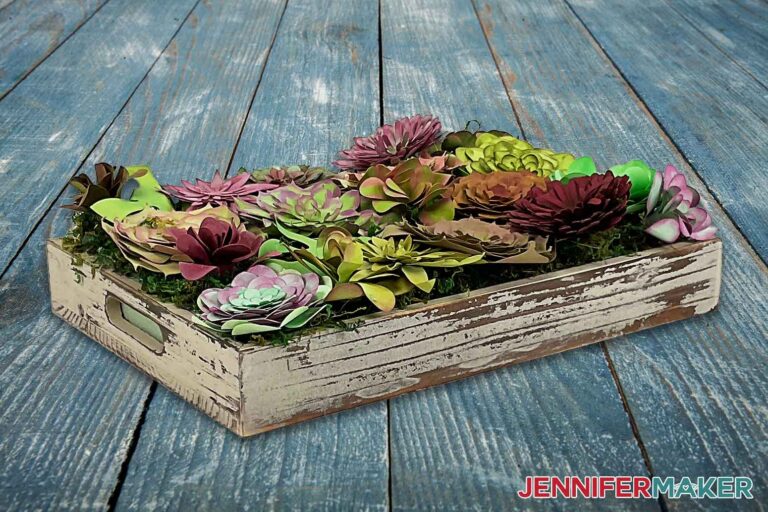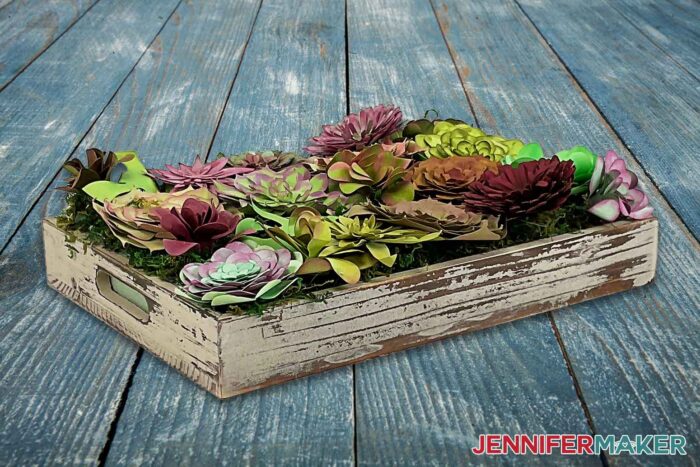 And if you want your succulents to look super realistic like mine do, you can use Pan Pastels and Oxide Distress inks to color your card stock.
Displaying paper plants is easy — just "plant" them like you would a real one. I put my paper succulents in a rustic wood tray. The link to this tray is in my materials list below.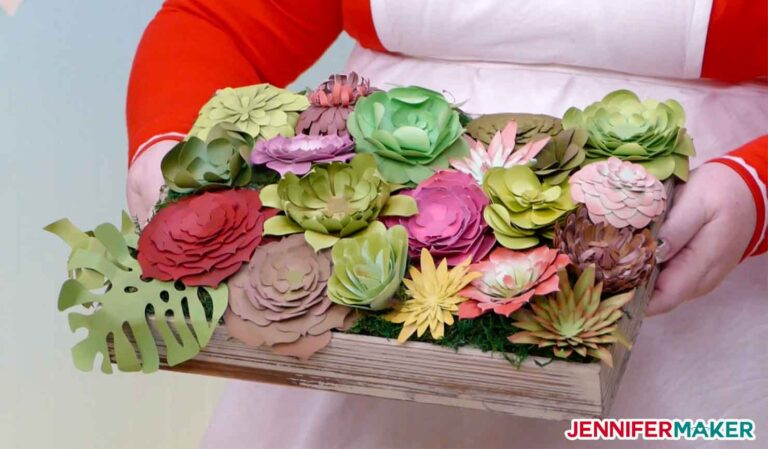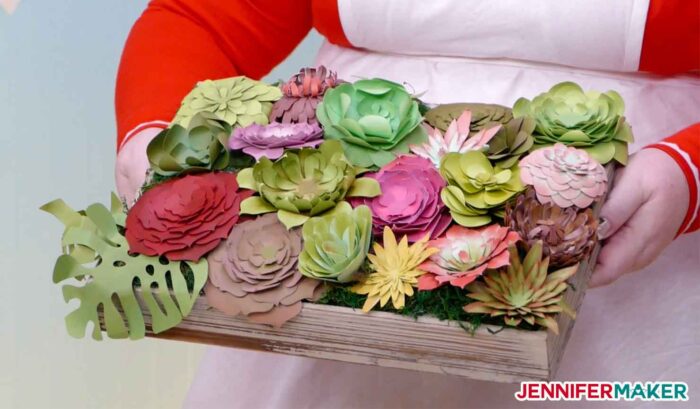 To keep the paper succulents in the tray, I used three to four bricks of floral foam, some 18 gauge floral wire, and a bit of artificial moss.
Other useful tools include a hot glue gun, something to cut our floral bricks like a hacksaw, some needle nose pliers, a quilling tool, tweezers and some small wooden dowels.
Let me show you how to make this paper succulent tray on a Cricut cutting machine! This post contains some affiliate links for your convenience (which means if you make a purchase after clicking a link I will earn a small commission but it won't cost you a penny more)! Read my full disclosure policy.
Materials to Make a Paper Succulent Tray
View the Amazon shopping list with the exact items we used to make this project!
Go over each supply and tool needed for this project (and why I recommend them) in detail in my
Amazon Live video
here: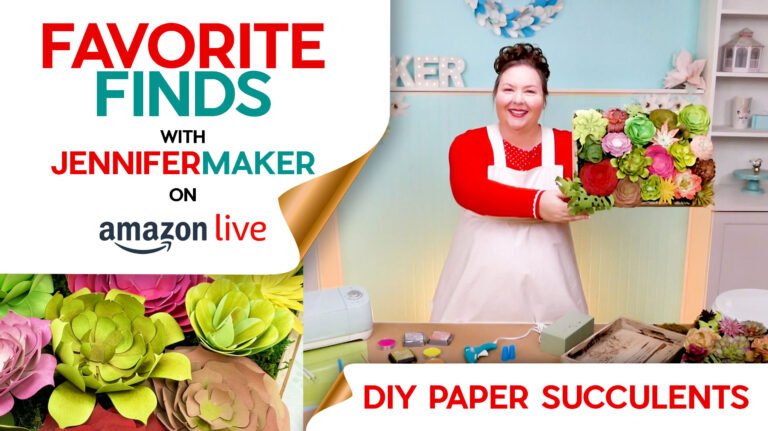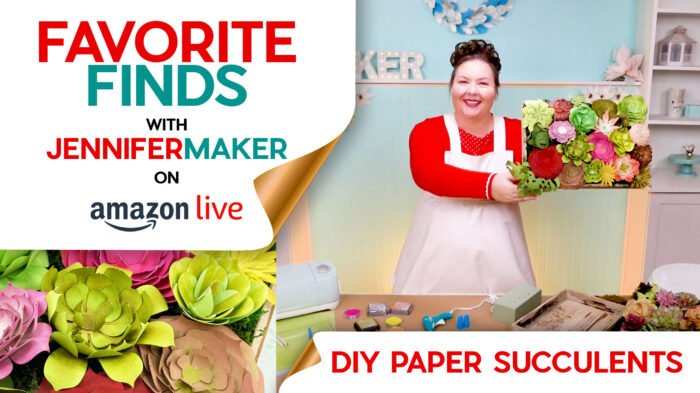 How to Cut and Assemble Paper Succulents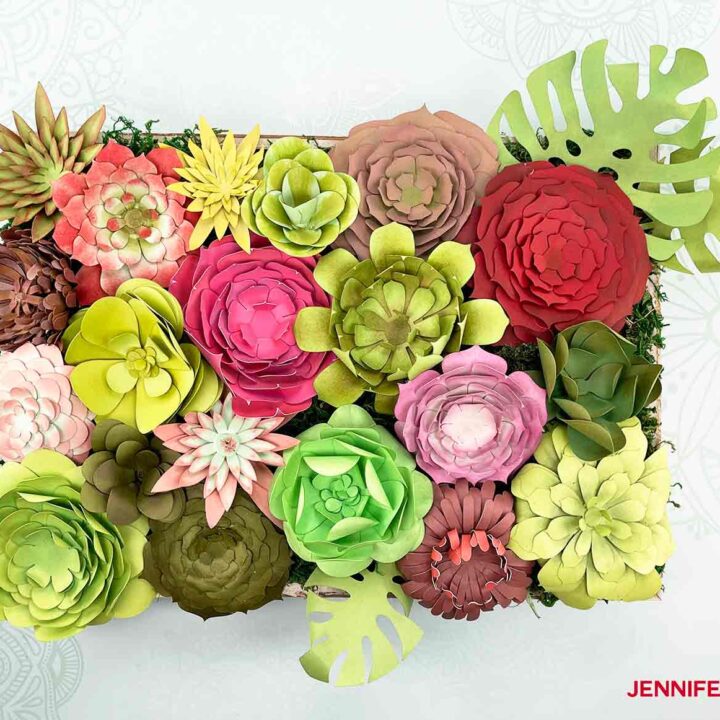 Paper Succulents
Yield: 1

Prep Time: 1 hour

Active Time: 5 hours

Total Time: 6 hours

Difficulty: Easy to Medium

Estimated Cost: $26

How would you like to make a tray filled with beautiful succulents that need no maintenance or watering? I'm going to show you how to turn a wooden tray into a beautiful paper succulent arrangement that can be hung on your wall or placed on a table. Let's get started!
Answers to Your Questions About Making Paper Succulents
Q: Can I cut these paper succulents on a Cricut Joy cutting machine?
Yes, if you use our special file marked as "Joy" in the SVG folder in the free pattern ZIP file. This special file is sized so you can cut your paper succulent pieces on a Joy-sized machine mat.
Q: Do I have to use PanPastels and/or Distress Oxide Inks?
No, this is completely optional. You can also use chalk, crayon, makeup (like eye shadow and blush), colored pencils, and dry-brushed acrylic paint to give your paper succulent pieces color and dimension.
Q: What kind of cardstock is best for paper succulents?
I think 65 lb. cardstock works best as it will be easier to shape the paper petals.
Q: Do you have other paper plants I can make?
Yes! Check out my paper spider plant template and tutorial.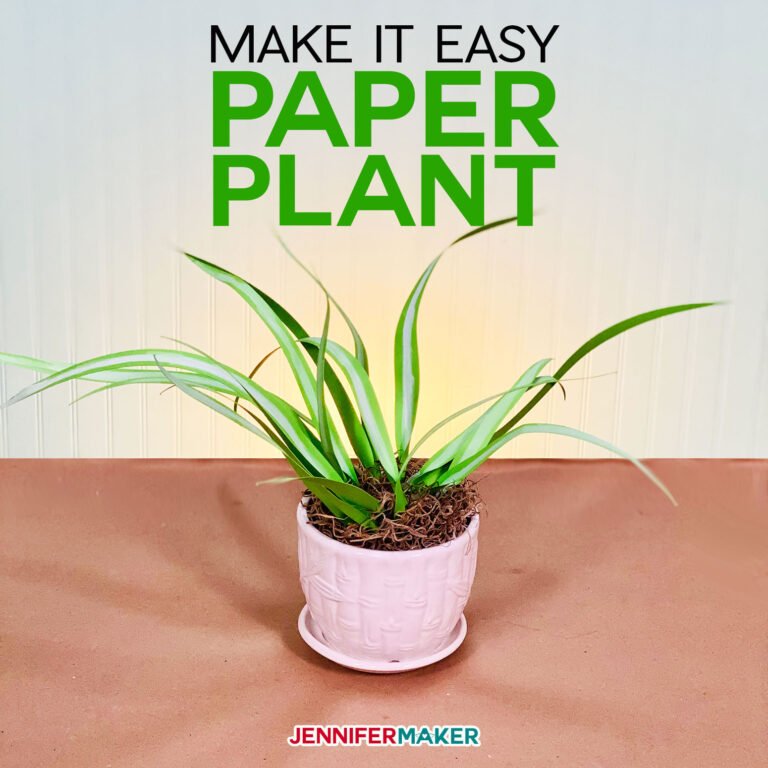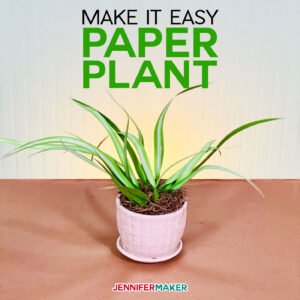 Get my free SVG files to make your own paper succulents
I can't wait to see what you do with your paper succulents! Will you put them in pots? Make them larger and decorate your walls? Please share a photo in our Facebook group or tag me on social media with #jennifermaker.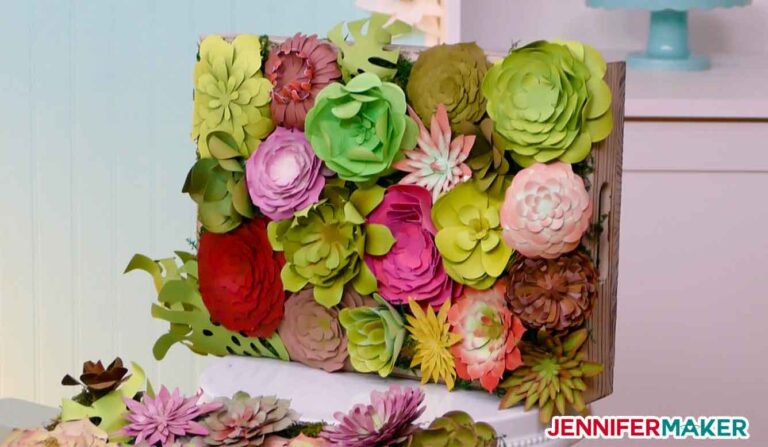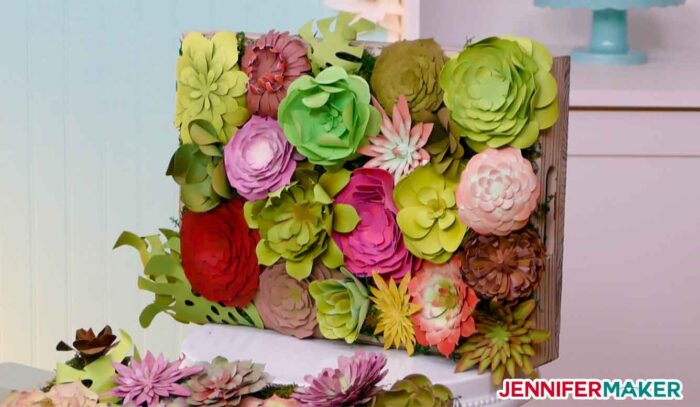 Love,