Learn how to make DIY Floral Letters to use as unique home decor or fun gift boxes!
I'm so impressed by what you've made using my 3D Paper Letters tutorial, I wanted to share some more ways to use them! Today, I'll show you a few different ways to make DIY Floral Letters. I've figured out the best ways to add paper flowers and faux flowers! With these tips, you can make decorated boxes, wall hangings, centerpieces, and even a vase! Let me show you how!
Watch my step-by-step video tutorial on how to make DIY Floral Letters, premiering May 28 on my YouTube channel!
While spur of the moment crafting is always fun, these DIY floral letters will be easier if you do a bit of planning before you start cutting. I'll show you my strategy while making a matching set of letter boxes to spell out Rose.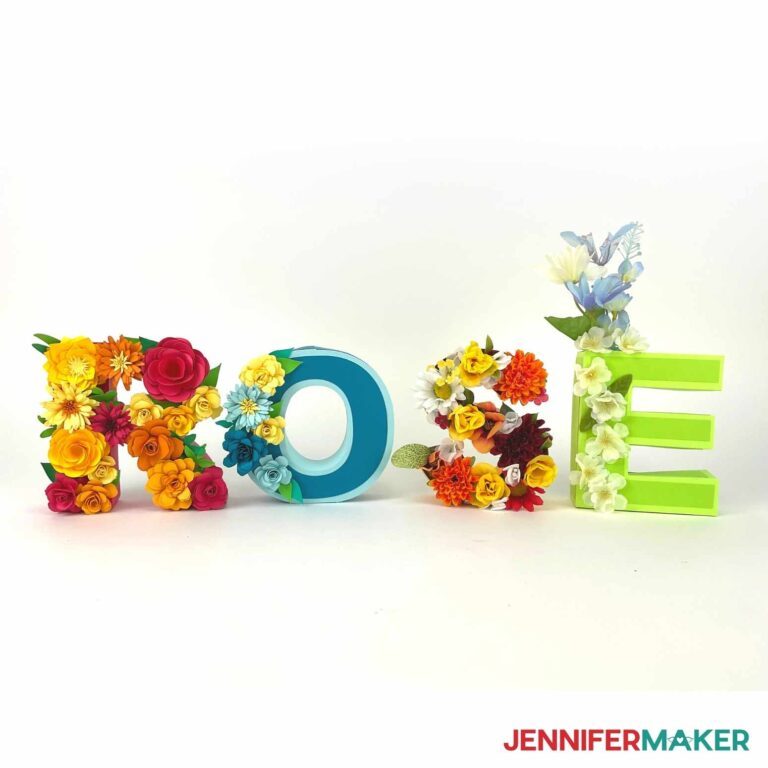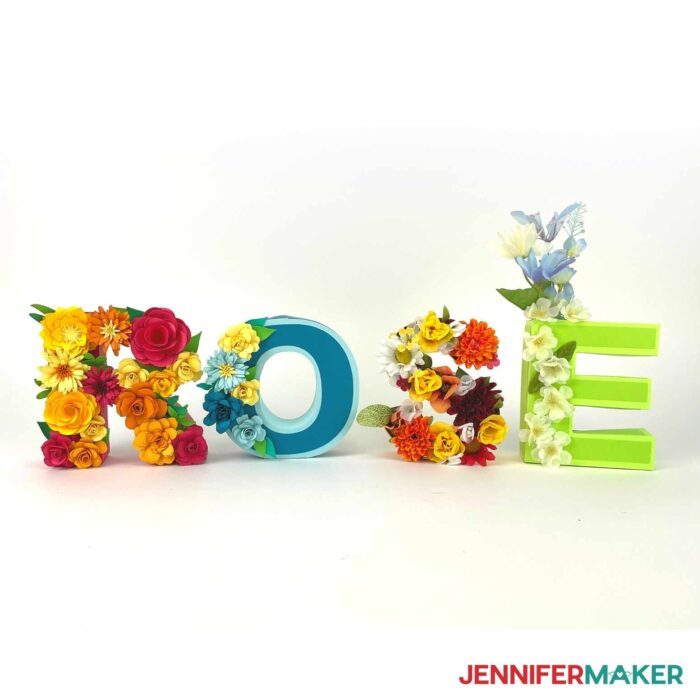 The materials for these DIY floral letters are pretty simple, but will vary depending on the project you want to make. Good-quality cardstock is very important, especially since we need these letters to hold up to creasing and glueing. I recommend using 65 lb paper for both the letters and the flowers. The colors I used came in 12″ x 12″ and 8.5″ x 12″ sizes, so make sure you set the correct Material Size for your cardstock before cutting.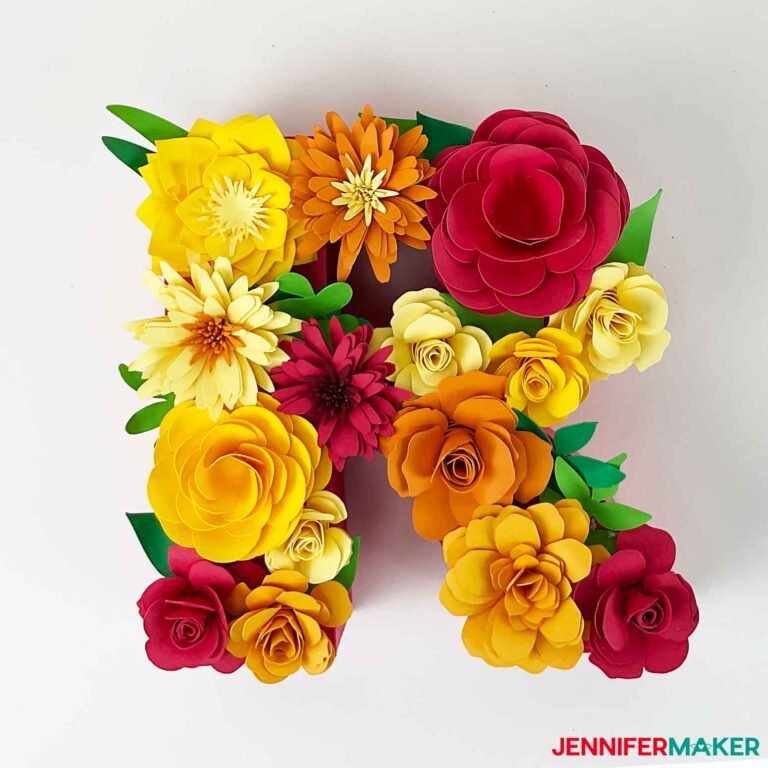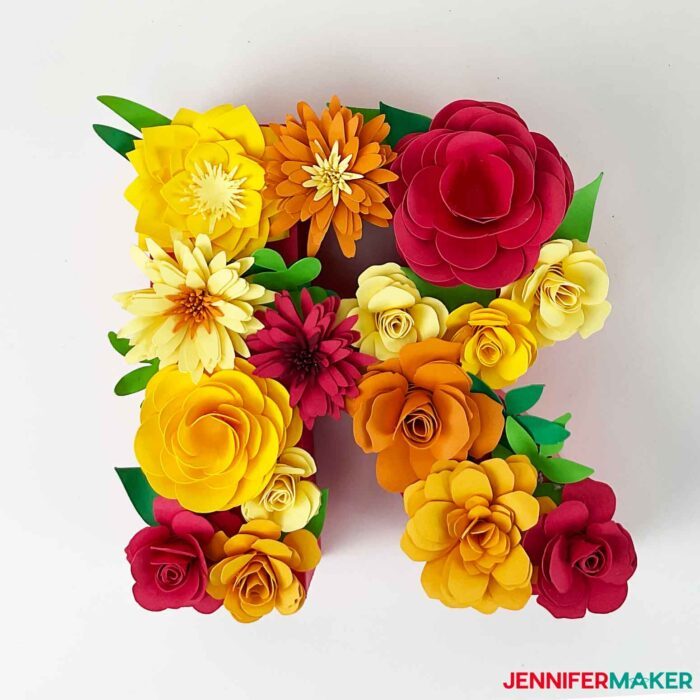 High-quality craft glue will also help these letters go smoothly. I love my Bearly Art Precision Glue for projects like this, because the tip puts the glue right where I want it and nowhere else!
We'll use the standard papercraft tools for the letters (scraper, spatula, and brayer) but you'll also need a quilling tool for some of the paper flowers. You can purchase one, or follow my tutorial to make a DIY Quilling Tool! I also recommend using plastic bags and post-its to keep all the pieces straight.
These letters are an advanced project, so take your time! I've picked Rose for this project because it involved straight sections, curves, and counters — the holes in letters. In the video, I'll show you how to manipulate the cardstock for each element. We'll also go over the super helpful code I added to help you attach the correct pieces together.
My new DIY Floral Letters design file includes some of my favorite paper flowers and new leaves to add greenery to your DIY project. The file includes several roses and a dahlia, carnation, mum, quilled gardenia, and Gerbera daisy. You can find all the cutting and assembly directions for each flower (and many more!) on my list of Paper Flower Tutorials. I recommend making a mix of smaller flowers and larger flowers to showcase the different styles.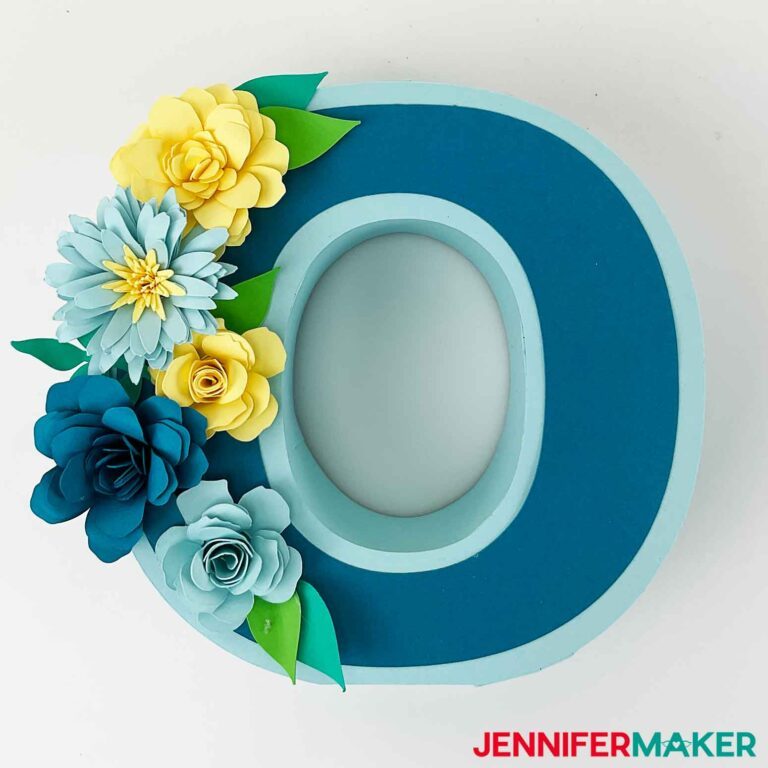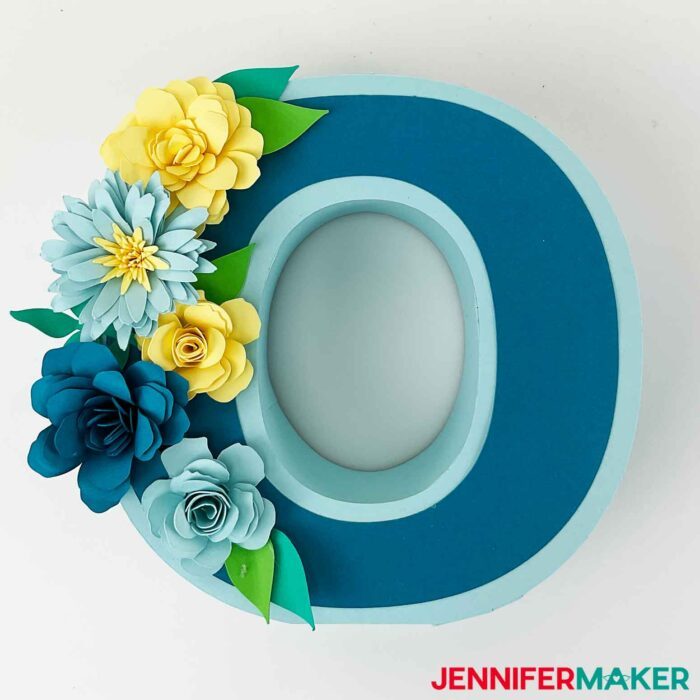 In addition to the simple DIY floral letters, I'll show you how to fill the shape of the letter with flowers and make a monogram vase!
If you want to make DIY Floral Letters filled with faux florals, you'll need a few extra supplies, like floral foam blocks, an appropriate knife, a ruler, a hot glue gun, and wire cutters. I got my floral stems at the dollar store and a local craft store for a good mix. This project uses hollow letters, so you don't have to cut and assemble the entire letter.
I'll also show you how to make a letter with a straight vertical section — like an E — into a vase for fake flowers! This version takes some advanced Design Space work, but I'll walk you through the steps in the written instructions below. One thing to keep in mind is that the vase requires the score version of a letter, so have that tool ready! We'll also discuss how a few metal washers can keep your more top-heavy projects from falling over.
A third display idea that is super easy is mounting a letter on a picture frame. For my example, I cut and assembled an O box and added some rolled paper flowers. Then, I took the glass out of a 5″ x 7″ matted frame and hot glued some nice white cardstock under the mat. I placed the O where I wanted it within the mat and measured the area available for the name at the bottom, then cut it out of permanent vinyl using the Sweetie Almeera font. I used Standard transfer tape (I stuck it to my dress a few times to make it less sticky!) to apply the name. Then, I hot glued the bottom of the O box to the cardstock and put the top in place!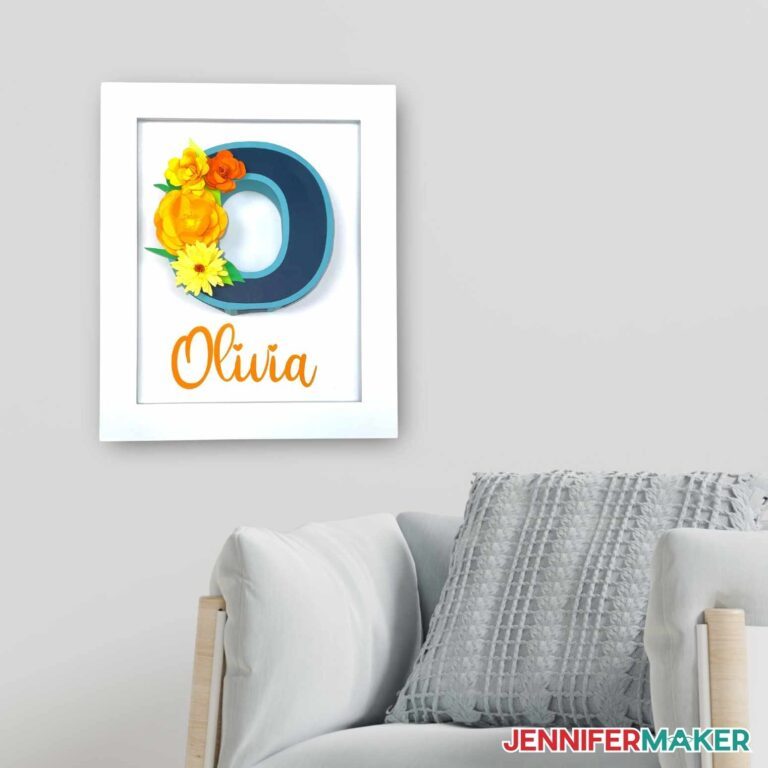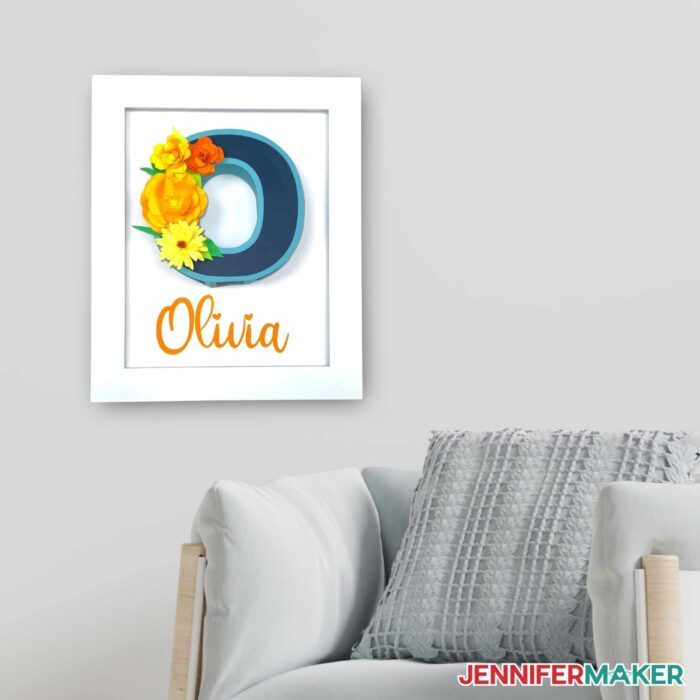 I've loved seeing all the events and occasions you've celebrated using the original 3D Paper Letters! You've shared letters on display at bridal showers, birthdays, a baby shower or two, and so many other parties! In fact, I highlighted a few of my favorites in the video! I just can't wait to see what you do with these flower letters.
I'm going to show you how to cut your DIY floral letters with a Cricut Cutting machine using a Fine-Point Blade and StandardGrip Machine mat. For the creases, you can use a scoring tool, but 'll explain how to use a Fine-Point Blade for everything. I've included file versions for both!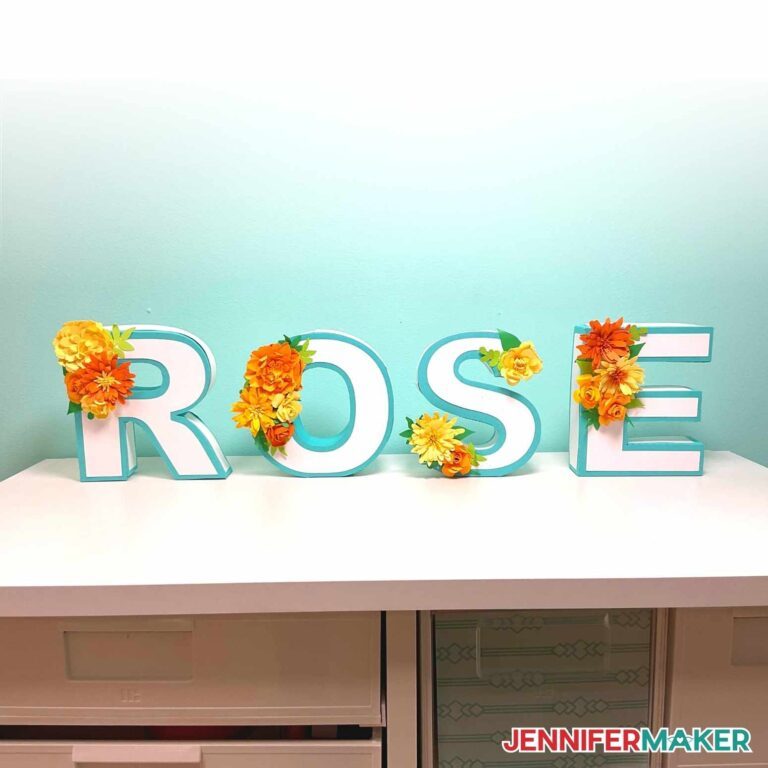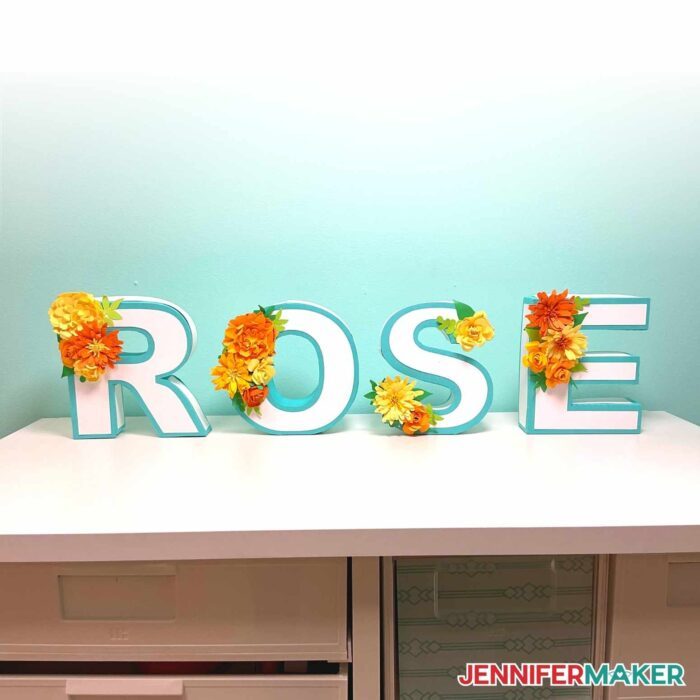 See the material list below for links to everything you need to craft along with me!
Ready to make your DIY Floral Letters? I'm super excited to show you how! This post contains some affiliate links for your convenience (which means if you make a purchase after clicking a link I will earn a small commission but it won't cost you a penny more)! Read my full disclosure policy.
How to Make DIY Floral Letters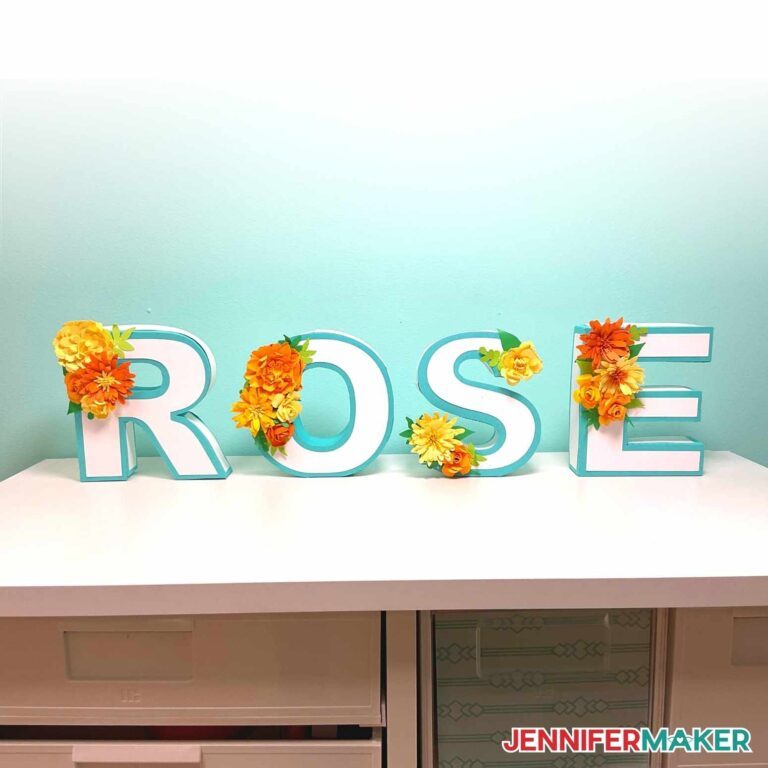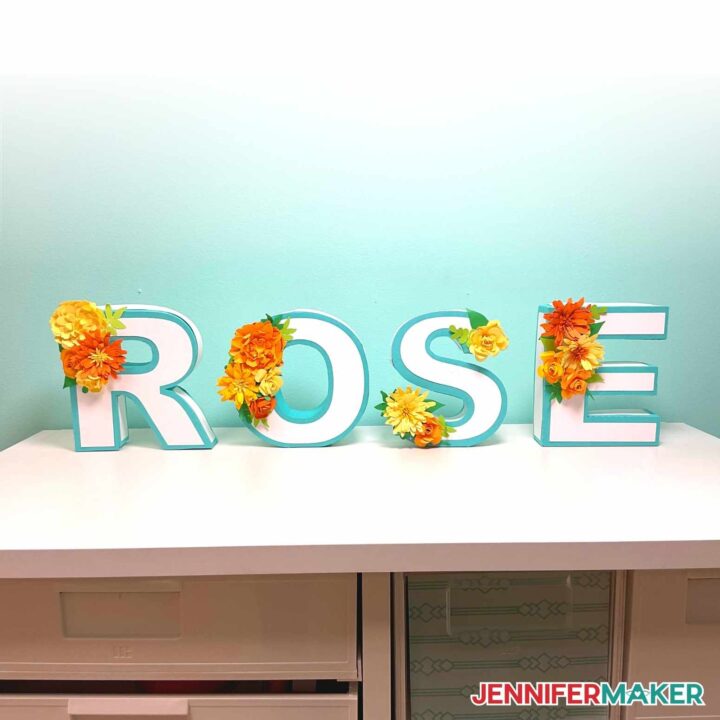 DIY Floral Letters
Yield: 1 letter

Prep Time: 30 minutes

Active Time: 2 hours

Total Time: 2 hours 30 minutes

Difficulty: Medium to Difficult

Estimated Cost: $10-$20

Learn how to make beautiful DIY floral letters as boxes or decor.
Answers to Your Questions About DIY Floral Letters
Where can I find help on assembling the floral letters?
I have a growing list of helpful assembly tips on my 3D Paper Letter Tips post.
How do you glue flowers to letters?
I had the best success using high-quality craft glue when gluing cardstock flowers to the letters. For faux materials, I suggest using hot glue on the bottom of the flower.
How do you make a flower monogram?
Just use my files to cut out the letter you need and follow the tutorial to decorate it!
How do I make my own floral numbers?
The best part about my design collection is that it includes all of the letters, numbers, and a few special characters!
How do you make a flower name?
Cut out your own letters to spell the family name, then follow my directions to assemble and decorate them with flowers however you like!
How can you make hanging letters?
Fortunately, these letters are very light when they're empty. Depending on your setting, you could probably use poster putty on the back of the letters, or poke a small hole to place one on a wall hook or display wire.
What is the best paper to use for this project?
We used 65 lb cardstock to make the side tabs easy to crease, but 80 lb cardstock will also work well when using a Cricut. A cardboard letter might sound like a great idea, but it will be too difficult to bend.
What if I don't have a Cricut cutting machine?
No problem! You can print the PDF files I've included and cut them by hand with an x-acto knife and cutting mat.
Get my free SVG files for DIY Floral Letters!

Now, I'd love to see your DIY Floral Letters! If you make a box, wall decor, or anything else with these designs, please share a photo in our Facebook group, email it to me at [email protected], or tag me on social media with #jennifermaker.
Love,