Learn to make customizable Cricut mandalas in different shapes!
Oh mandalas! There's just something about making these Cricut mandalas that I just love. Not only are they beautiful to look at, they make for wonderful, intricate art that will have everyone asking how in the world you made that! What they don't realize is that your Cricut cutting machine does almost all of the hard work for you in cutting out the little details — all you have to do is stack them up and attach them together. 3D paper mandalas are really much easier than they look — that makes them one of my favorite kinds of projects!
Watch the full step-by-step video showing you exactly how to create your own Cricut mandalas with a VIP pass to Maker Academy Weekend 2022!
Something that I absolutely love about these projects is that the supplies are so simple. Let's take a look at the materials we will need for all of these designs. First off, you will need some cardstock in various colors as well as some optional glitter cardstock if you'd like to add some glitter touches to your mandala. You will also need some craft glue, I love the Bearly Art precision glue. Some double-sided tape and adhesive dots will come in handy as well.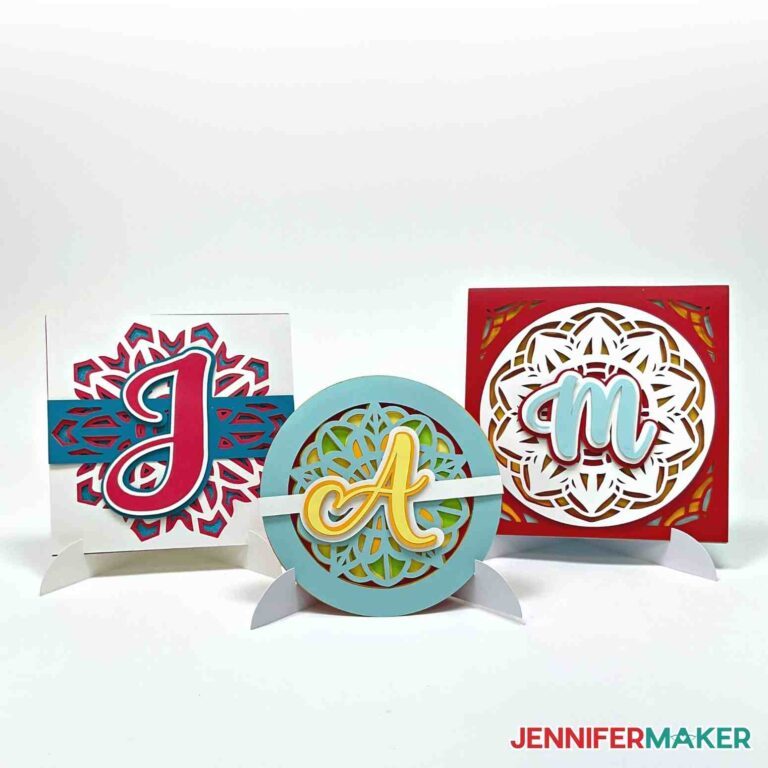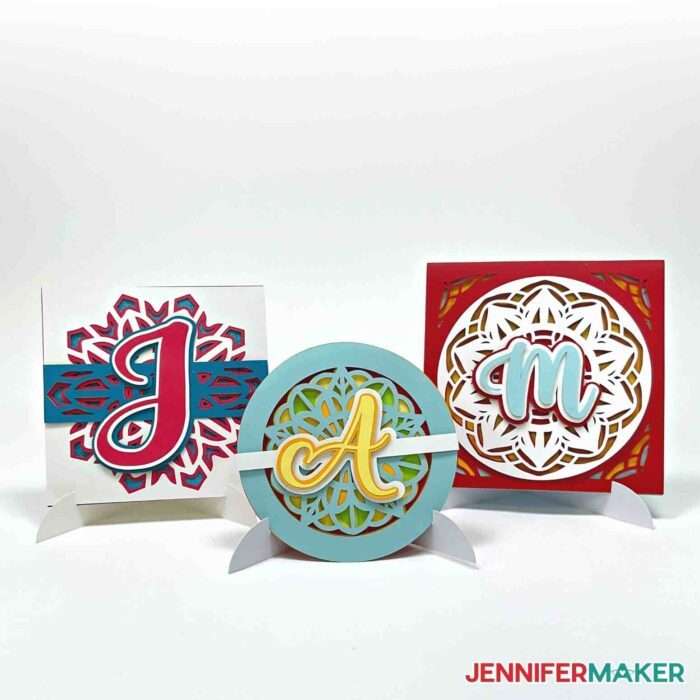 Other materials to have on hand include a weeding tool, brayer, scraper, scoring stylus (if you want to make the easel), a green StandardGrip mat, and a method to cut your material such as the Cricut Maker 3, Cricut Explore series machine, or even the Joy!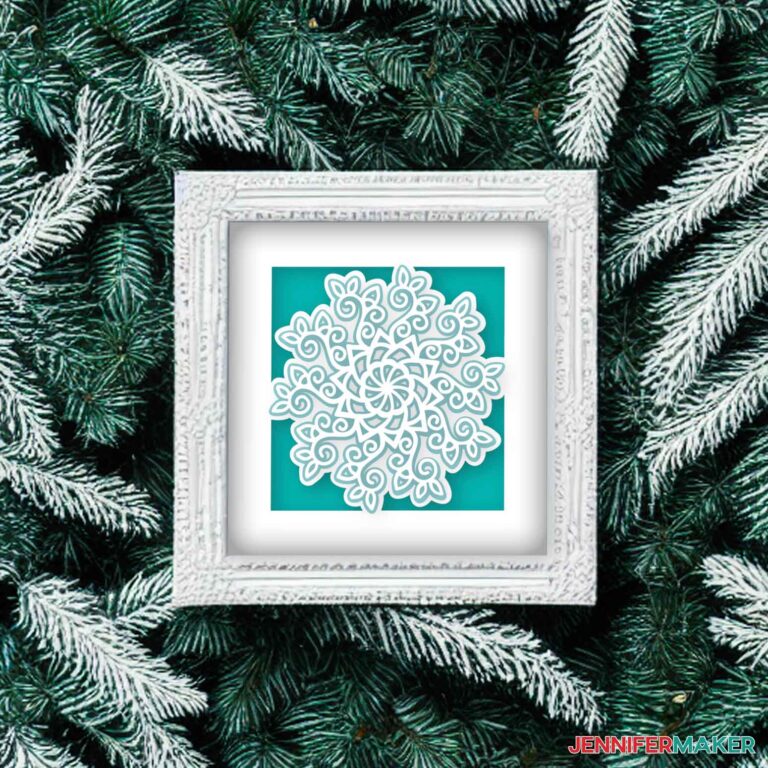 Look how stunning this turned out! I'm in love! Don't you just love the detail?
In my tutorial, I show you how to personalize these with your own initial, word, or whatever you want in the center! Layered designs like this make for great home decor and will add a pop of stylish decor to any are. They are also for affordable gifts for friends and family too!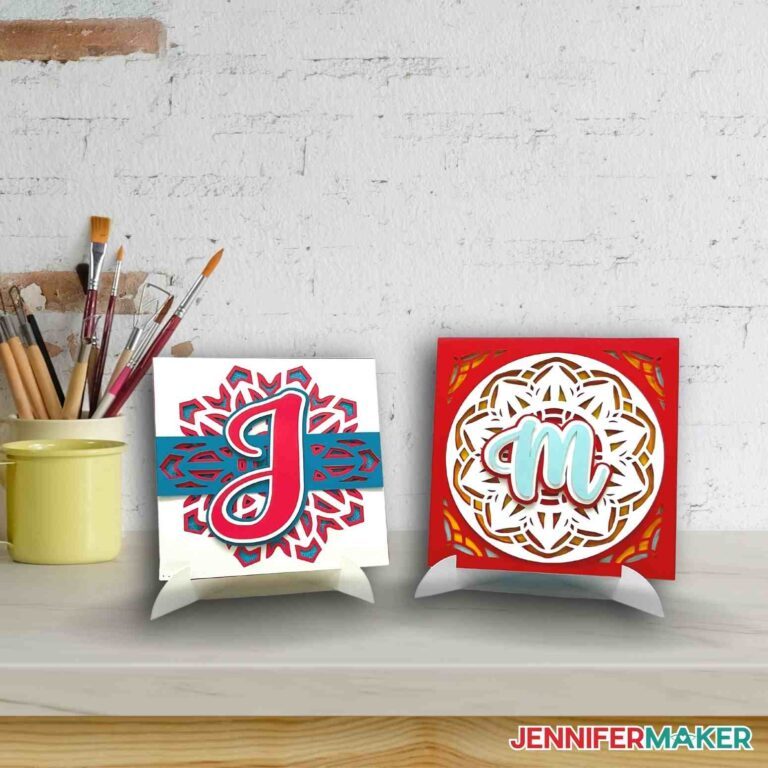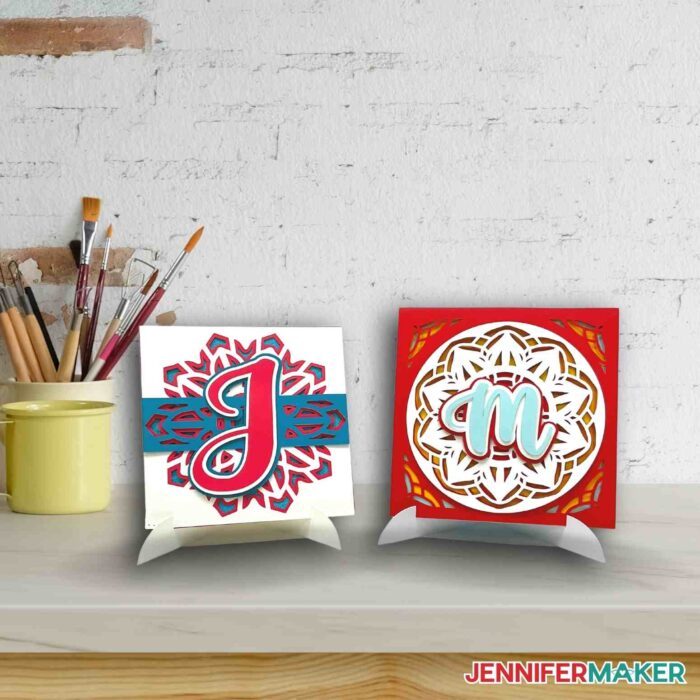 I also show you how to make your own DIY easel to display your mandalas, as well as DIY Shadow Box Frames if you want to get really fancy!
Here's a supply list of what you need to make my easy Cricut mandalas and easels! This post contains some affiliate links for your convenience (which means if you make a purchase after clicking a link I will earn a small commission but it won't cost you a penny more)! Read my full disclosure policy.
How to Make Your Own Cricut Mandalas
The detailed step-by-step assembly video on how to create Cricut mandalas debuted during Maker Academy Weekend 2022, held online November 3-6, 2022. Get an on-demand pass to watch all 20+ workshops, each with a printable handbook, transcript, audio files, design files, and support with a VIP pass below:


Answers to Your Questions About How to Make Cricut Mandalas
Q: Do these layered mandalas work on any other cutting machines like a Brother Scan N Cut?
Yes, our patterns work on ANY cutting machine that can read SVG or DXF files — many people with Scan 'N' Cut machines have cut my designs.
Q: Can I cut these layered designs on a Cricut Joy?
Yes, just resize the layers to 4.5″ or less and you can cut these projects on your Cricut Joy!
Q: What kind of cardstock can I use for Cricut mandalas?
You can use any quality cardstock. I used 65 lb. cardstock for this project but you can use anything from 80 lb. to 100 lb. cardstock.
Q: How do you know what colors to use?
This is a perfect project to bring out your personality and creativity! Have fun and see what combinations you can come up with that fit your home and style. Experiment with colors in Design Space to find the color combinations you like best.
Q: What kind of adhesive will work best?
I used good pieces of double-sided adhesive foam tape and craft glue on these paper mandalas. Glue dots ("zots") can work as well if you want to give them some dimension!
Q: Where is your tutorial for this project?
This is a special project we made for our free Maker Academy Weekend 2022 event! A complete and detailed step-by-step video premiered during the event November 3-6, 2022 — specifically, this tutorial video was available to watch for free for 24 hours beginning November 6 at 11:00 am ET! You can get access to the full video, the printable handbook that details how to make this beautiful project if you get a VIP Pass to Maker Academy Weekend 2022, which comes with other perks and bonuses, too!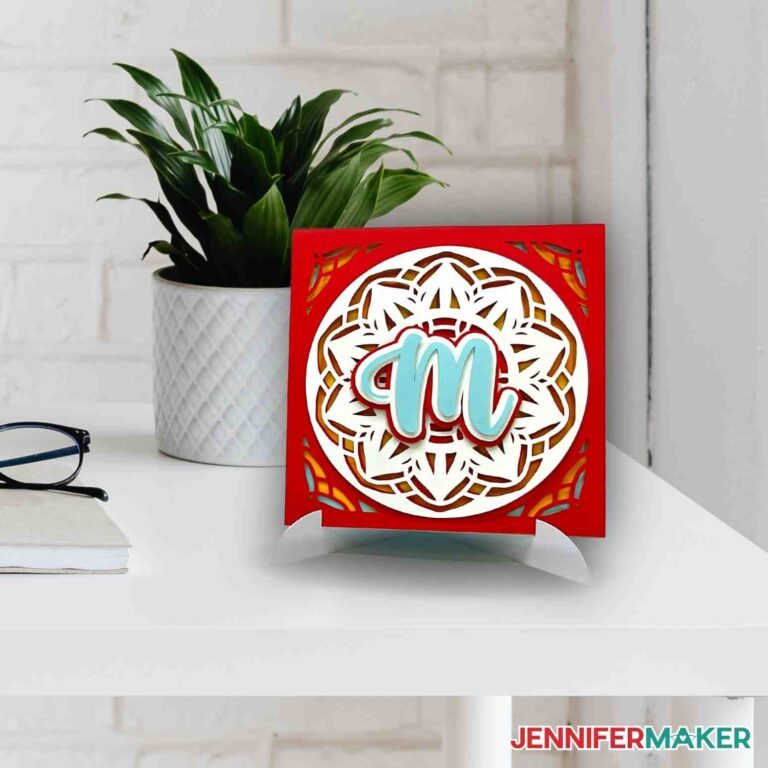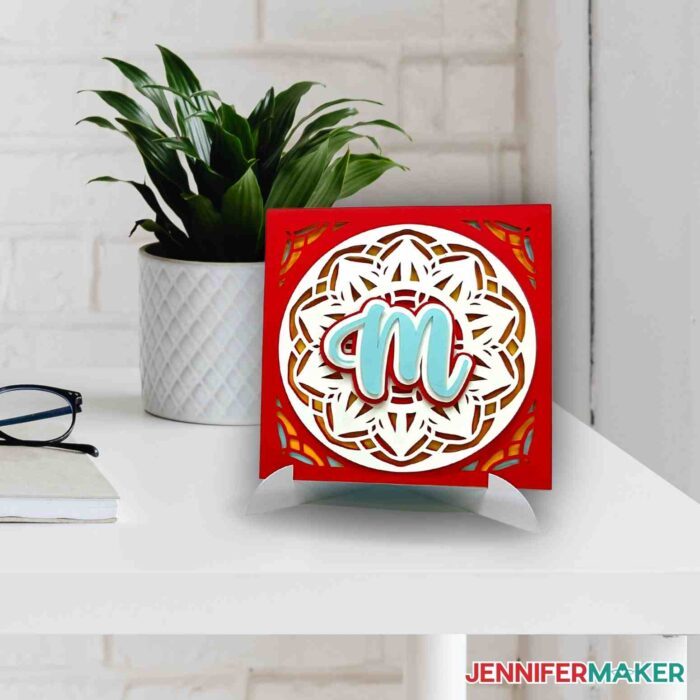 Making layered paper mandalas is a fun and easy way to add a pop of color and personality to any room in your home! With just a few supplies and a little bit of time, anyone can create these lovely designs. So grab your Cricut machine and get started today!
Get my free SVG files to create these your own custom mandalas!
Do you want to make these layered designs? I love seeing what you make with my designs and how you use them! Please share a photo of your Cricut mandalas in our Facebook group or tag me on social media with #jennifermaker.
Love,