I love to make beautiful things by hand, but it's so tough to get those smooth finishes you see on factory-made products. There's nothing like a nail and screw hole to distract you from otherwise lovely project. But never fear—wood filler is here! I can teach you how to use wood filler to patch nail and screw holes for a crazy smooth finish.
We recently finished re-making our built-in shelves in my craft room, turning them from just boring shelves into shelves with built-in hutches and extra storage. During this project, Greg had to fill a LOT of nail and screw holes, and he taught me his trick to filling them in crazy smooth. You'll want to do this with a product known a wood filler, which is sometimes called wood putty or wood plastic. It's a little different than how you might have learned to do it — even different from how the manufacturers recommend you do it. But the finished result is amazing. Greg knows his stuff.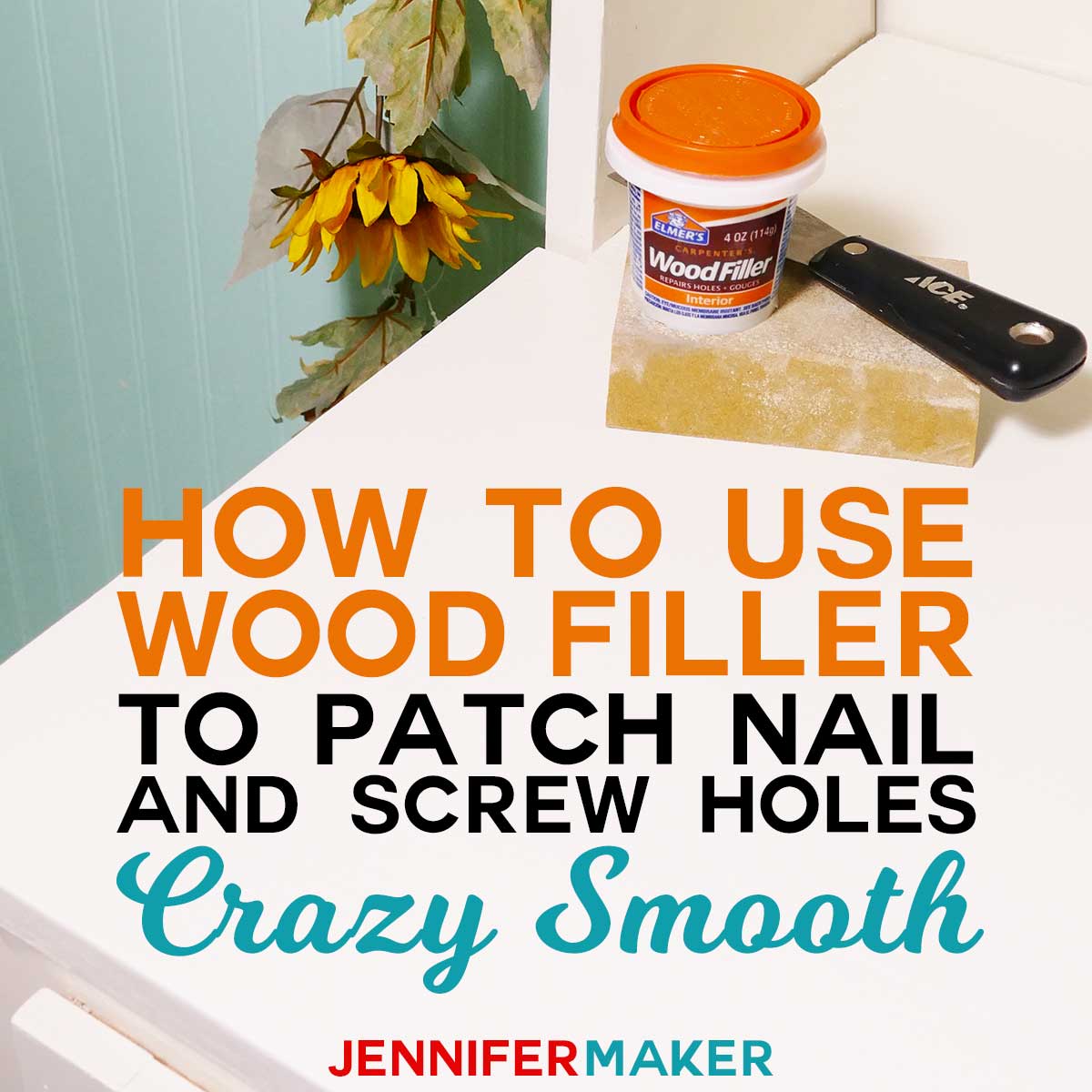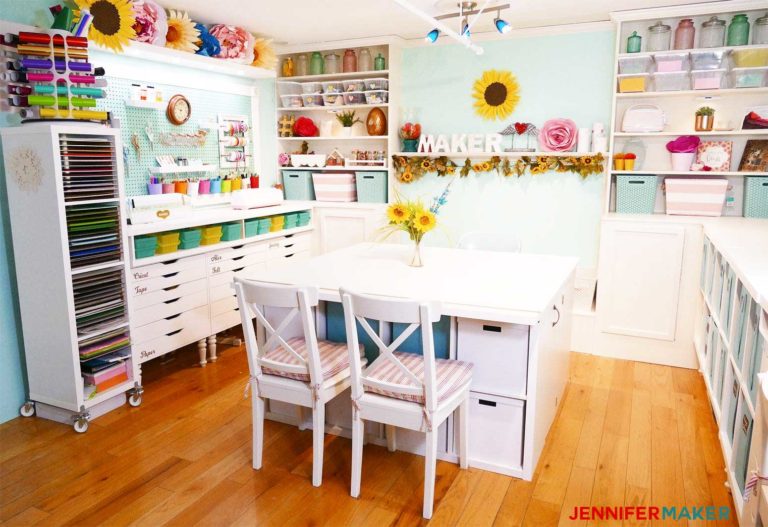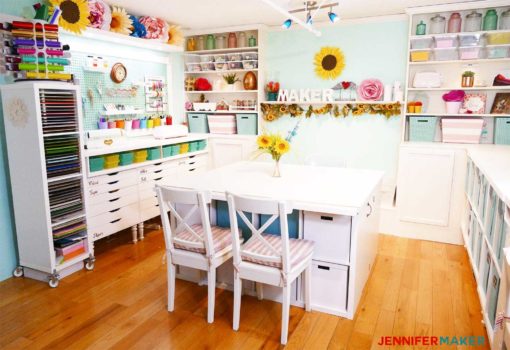 This wood filler technique is great for filling nail holes, screw holes, scratches, gouges, chips, and a variety of imperfections in wood. We recently used this trick to hide the screw holes when hanging up the large framed pegboard in my craft room. Can you tell where we screwed it in?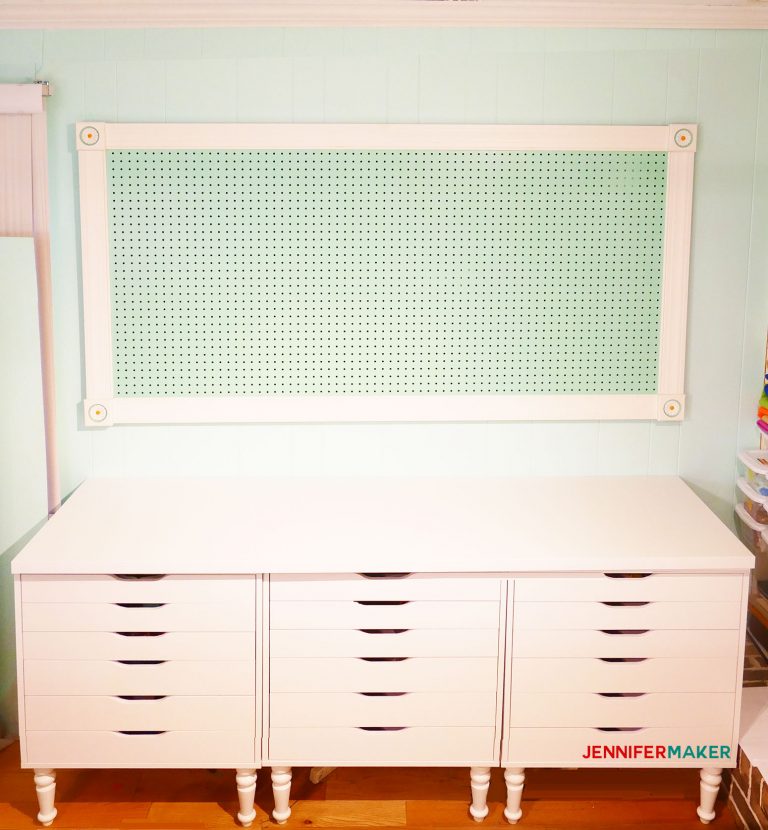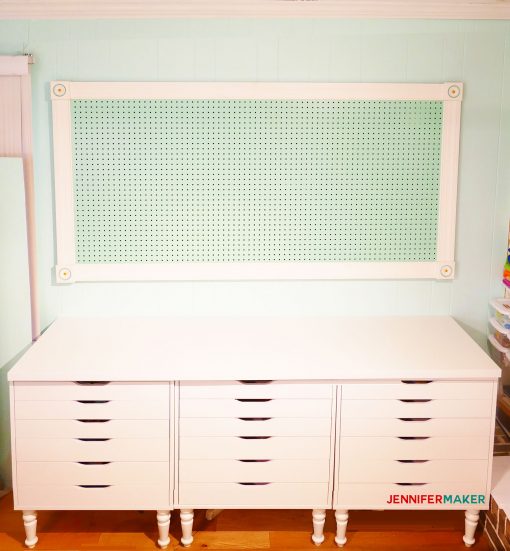 So let me show you Greg's awesome wood filler trick! This post contains some affiliate links for your convenience (which means if you make a purchase after clicking a link I will earn a small commission but it won't cost you a penny more)! Read my full disclosure policy.
Materials Needed to Use Wood Filler for a Smooth Finish
Acrylic-based wood filler (Greg likes this kind) — note: if you want to stain the wood after you fill it, make sure you use stainable wood filler
Damp paper towel or rag
Sandpaper or sanding block (fine grit)
Wood with a nail hole, screw hole, scratch, gouge, chip, or crack
Note: Wood filler/wood putty comes in two types: Acrylic-based and nitrocellulose-based. Acrylic-based wood filler is the more traditional type and the type we're using for this technique. Nitrocellulose-based wood putty dries extremely fast, so it doesn't work well for this super smooth finish technique—you also need to use acetone to clean nitrocellulose-based wood filler, rather than water, making it a little more finicky.
The Trick to Smoothing Nail and Screw Holes with Wood Filler
First, clean the wood you want to fill with the wood filler. Bits of dirt, dust, paint chips, and wood particles will only stand in your way of getting a pretty, smooth finish. You may also want to sand any rough edges near the area you plan to fix (just be sure to clean up that wood dust when you're done). A damp rag works best for cleaning, but you can also use a high quality paper towel (just make sure it doesn't just shred and leaves bits behind).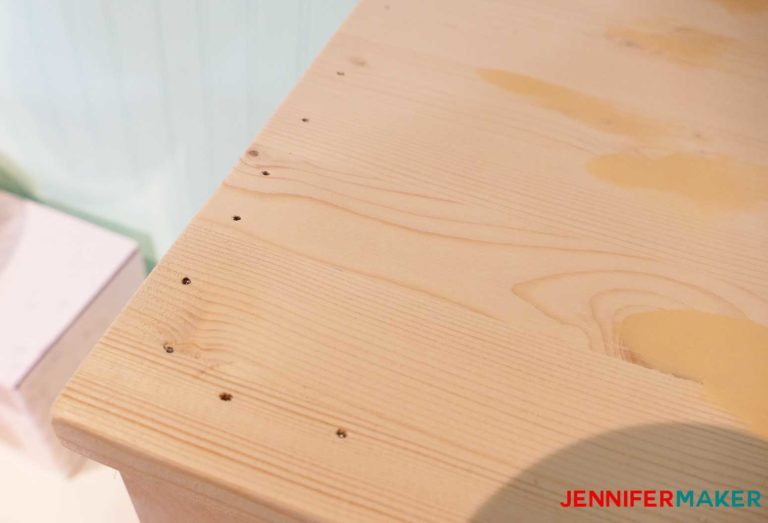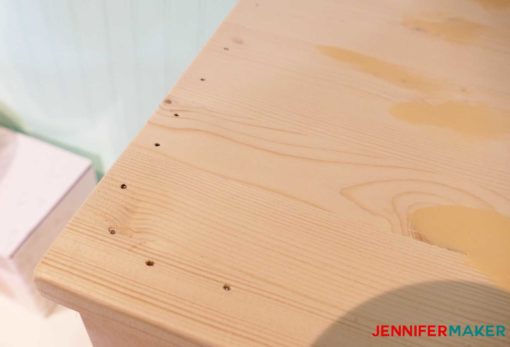 Next, scoop out a small amount of wood filler with your putty knife and apply it liberally across the wood with the imperfections. Don't be afraid to really smear it on, pressing into the wood (and imperfections) as you go. You want MORE wood filler than you think you need because the filler will shrink as it dries. If you really have too much filler on your wood, scrape your putty knife over the surface to remove the extra. Just make sure there's a good layer of wood filler over the nail holes, screw holes, or other imperfections.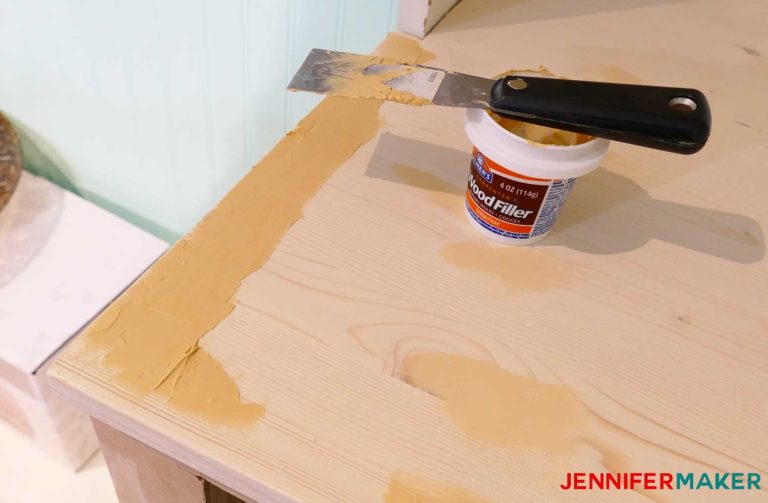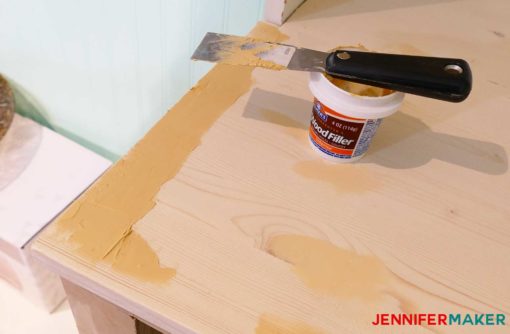 Now let the wood filler sit for 5 minutes. It should not be dry completely before you move on to the next step.
How to Get the Wood Filler Crazy Smooth
Next, using your damp paper towel or cloth, rub the area with the wood filler. Use a buffing motion over the wood filler and it will smooth it out nicely. This technique will work quickly, so no need to overdo it. This is the magic trick for a smooth finish!!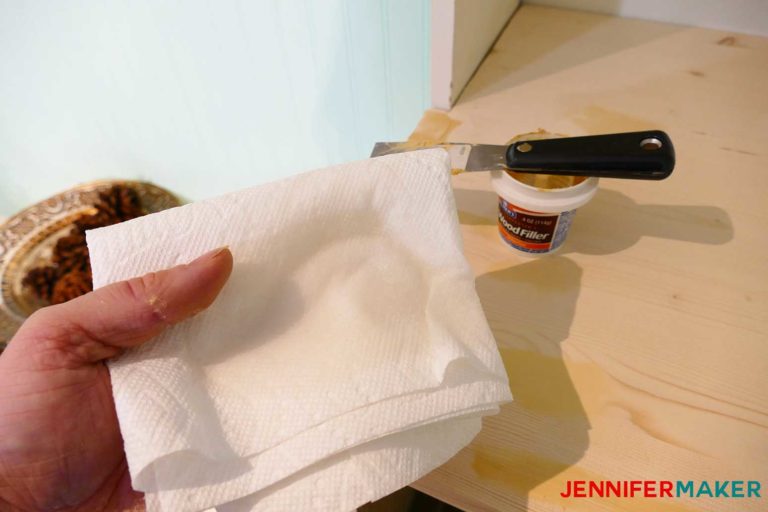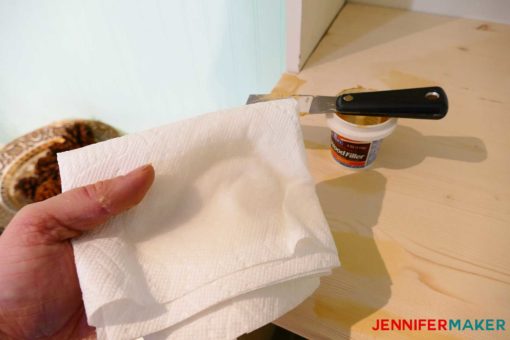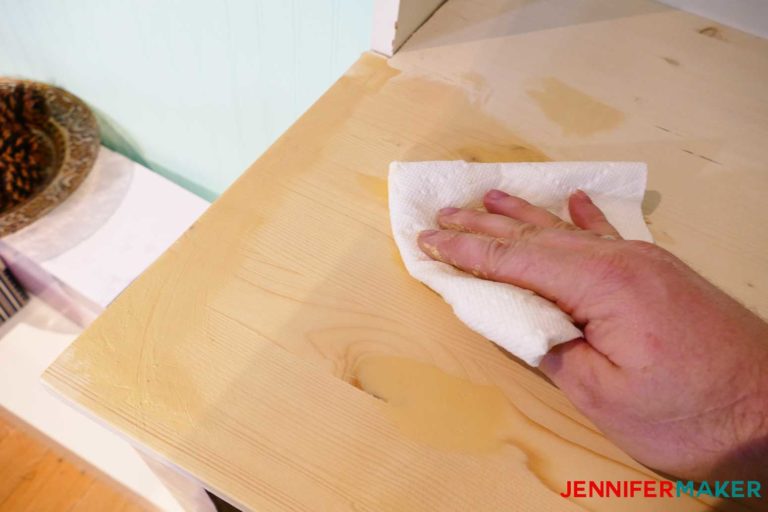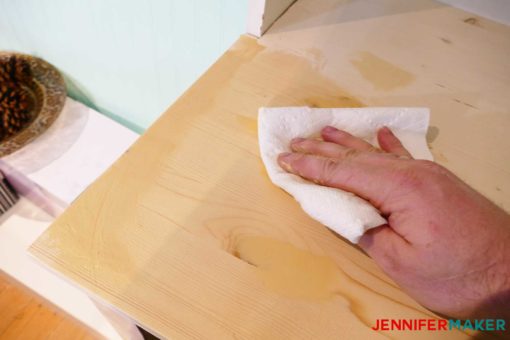 Wait for the wood filler to completely dry. When Greg made the built-in hutches, it took about an hour to completely dry.
Once the wood filler is dry, sand the area smooth with a fine sandpaper or sanding block until it is smooth.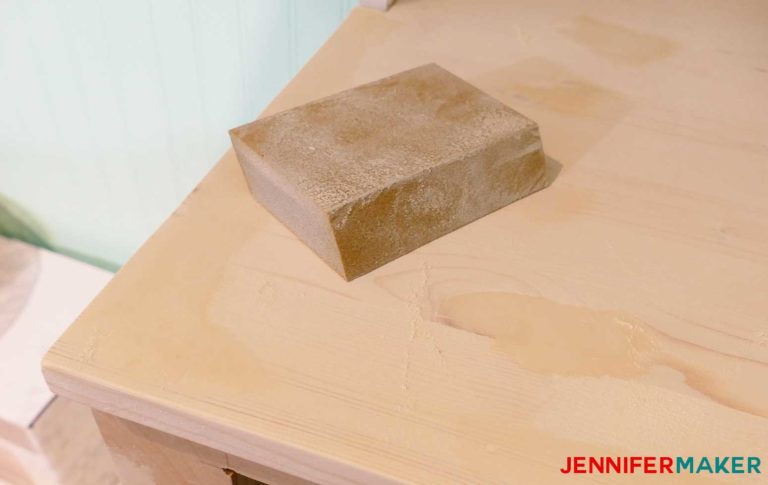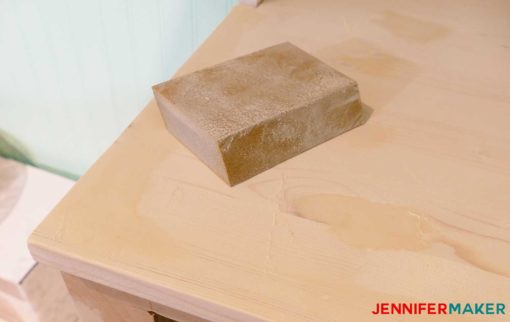 Finally, clean the area with another damp cloth to remove any residual sawdust. And don't forget to clean your putty knife, too. You can clean the putty knife with water. Just be careful not to get any wood filler in your drain, or it will clog it when it dries.
Wood Filler Tips and Tricks
If you want to stain your wood, do it after the filler is dried, sanded, and cleaned.
Here's a tip: Test your wood filler and stain first before you do a big huge project — this can save you some headaches if it doesn't look the way you intended.
We didn't stain our hutches—we simply painted them in our favorite white paint (Swiss Coffee). We did put a LOT of coats of paint on, though, to make sure they were well protected from all the crafting they'll be getting over the years. See how smooth this looks? Not only can you not tell where the holes were, but the finished result is crazy smooth. Greg did great!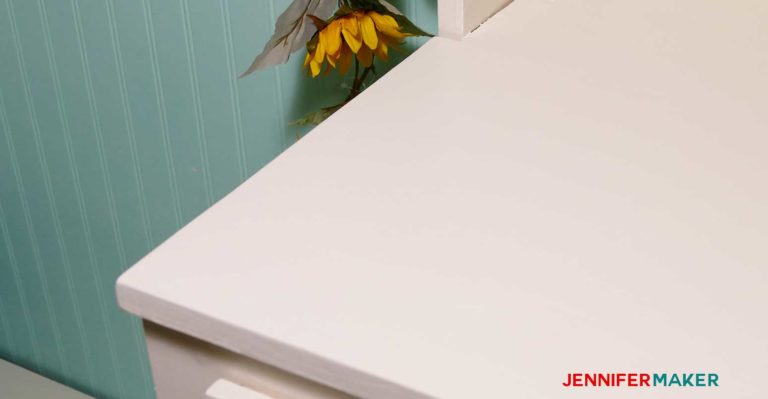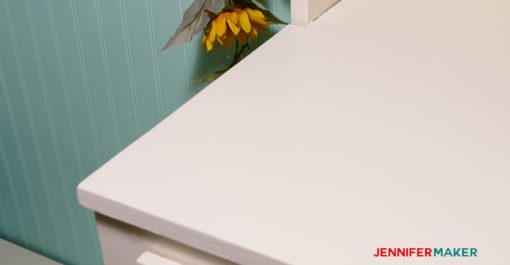 I hope you enjoyed this tutorial! It may not a cute DIY project, but it's a tip that will serve you well for all of your craft projects. Knowing how to properly finish your DIY projects is just as important as all the awesome things you make!
Note: If you're trying to fill in nail or screw holes in drywall, use spackling compound or drywall mud rather than wood filler. The technique for filling holes in drywall is very similar to filling holes in wood. Here's a great blog post about how to fix nail holes in wood.
If you use this trick to patch your nail holes, please share a photo of your project! You can send it to h[email protected] or tag me on social media with #jennifermaker.
Love,