Today is my one-year anniversary of the day I enrolled in Elite Blog Academy and completely changed my life. One of the things students in Elite Blog Academy (EBA) are encouraged to do is record videos of our progress. I recently found and re-watched my older videos, and I was amazed at the transformation in myself. It's one thing to reflect back on numbers; it's entirely something else to see and hear myself. And my videos (both picture quality and delivery) got better as I went along, too!
Some Elite Blog Academy students like to share their videos, but I never did … until today. I've found the courage to share all of my in-progress videos with you. I think they tell a really interesting story, and underscore the transformation in a way words alone cannot.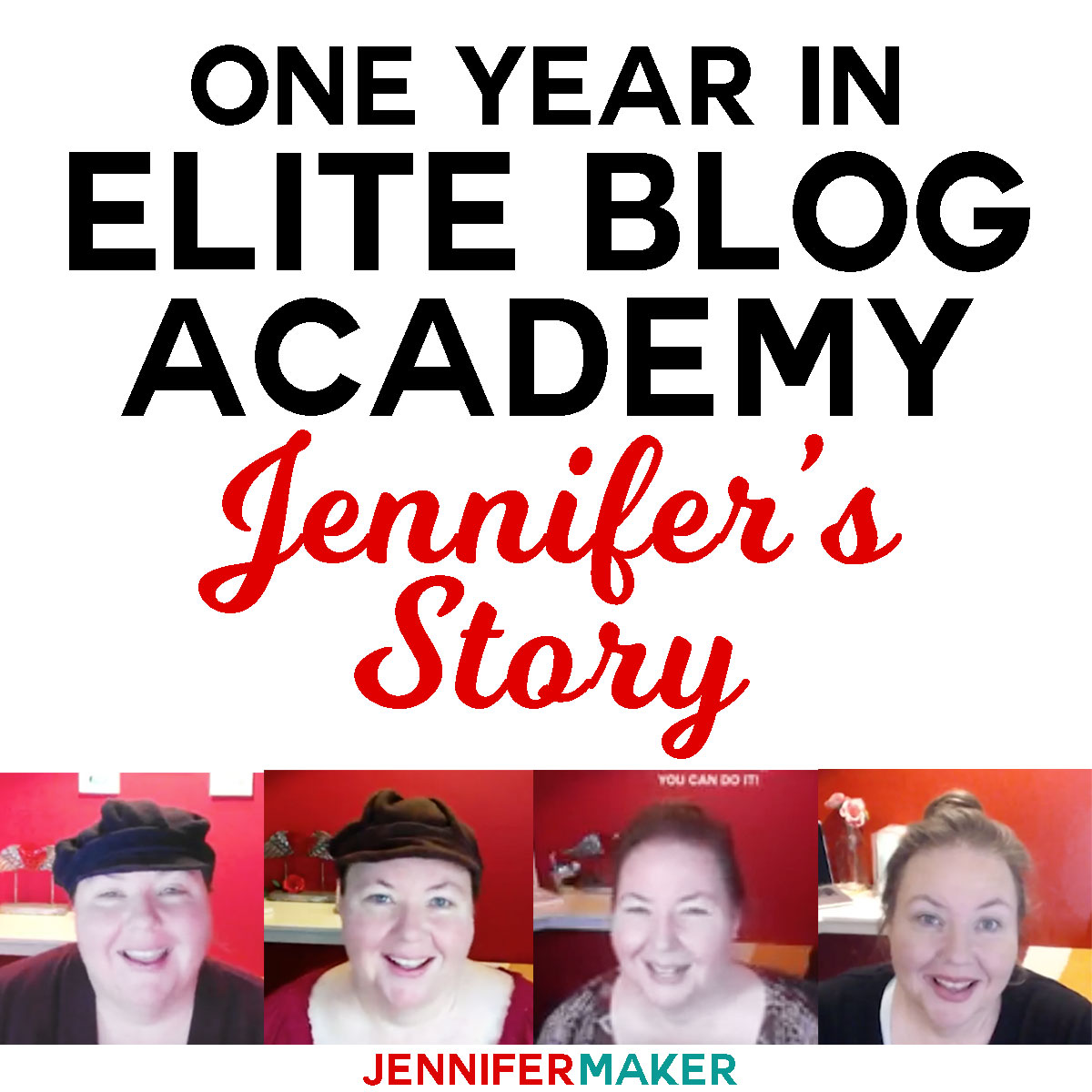 So let me show you my videos — and please be gentle with me!
March 1, 2017 (Elite Blog Academy Unit 1)
This video was recorded as an assignment in Unit 1.

May 16, 2017 (Elite Blog Academy Unit 6)
This video was recorded as an assignment at the start of Unit 7. (Note that I edited out a whole bunch of weird craft chat I had with myself!)

September 8, 2017 (EBA Unit 8)
This video was a draft I made for my LIST LOVE course I was working on at the time, but it gives you a good idea of how things were going for me by September.

November 10, 2017 (Elite Blog Academy Unit 12)
This video was recorded after I completed all 12 units of Elite Blog Academy.

My Blog Stats: One Year Later
Here's how much I've grown in the past year:
Blog Posts:
Feb. 2017: 38
Feb. 2018: 177
Monthly pageviews:
Feb. 2017: 23,217
Feb. 2018: 232,940
Monthly visitors:
Feb. 2017: 17,011
Feb. 2018: 109,324
Monthly subscribers:
Feb. 2017: 1515
Feb. 2018: 29,667
Monthly income:
Feb. 2017: $89.08
Feb. 2018: $20,239.06 (I know, right?)
My EBA Story: One Year Later
I'll be honest: I started blogging in the hopes of creating some extra income to support my family. You see, a year and a half ago, we in a very challenging position. My job was no longer paying the bills, and I was getting deeper and deeper into debt. I was starting to think seriously about moving out of my home of 12 years because I just couldn't afford my mortgage. I was scared. Then around the same time, my daughter turned 12 and — well — let's just say her hormones kicked in big time and things got REALLY hard for her, too. That was when I knew I had to continue to provide a stable environment for her, so that meant we had to STAY in our home. So I began what I hoped would be a profitable blog.
Unfortunately, blogging was difficult at first. It was really hard for people to find me and I wasn't always even sure WHO I was blogging to. While I was making some money, it wasn't a lot — anywhere between $30-$80 a month. So I joined Elite Blog Academy five months into my blog's journey. I had heard about the course from other profitable bloggers, and read many wonderful things about it. I was still just barely hanging in there, money-wise, but I considered Elite Blog Academy an investment in myself. So when enrollment opened, I was ready and raring to go.
I resolved to work on Elite Blog Academy diligently, reading every lesson, watching every video, and completing every assignment. And I did. I was bound and determined to get as much out of it as I could, because money was still so tight for us and I needed my investment to pay off. It took me nine months to complete the course, from start to finish.
But my story doesn't stop there. I'm writing this exactly one year after starting Elite Blog Academy. I learned how to refine my message and figure out who needed and wanted to hear it. I grew my audience manyfold — I went from a very small, quaint little blog that was rarely visited to one that now touches the lives of over half a million people. I learned how to monetize my work on my blog — I went from making $80 the month I began Elite Blog Academy to now over $15,000 a month. And I learned how to build a business. This entire craft room, where I do projects for my readers …. and it's all possible because of my blog. I created this craft room the month I achieved a full-time income from my blog, only six months after I began the course. I continue to invest back into my blog so I can keep building my blog and growing my reach.
From what I learned and implemented in this past year, I've completely transformed not just my blog, but my life. My daughter is safe in her home, we can pay our all our bills, and we can afford to be generous to those in need..
And I couldn't have done this without Elite Blog Academy. It gave me the structure and network I needed to create this amazing blog I now have. I was able to learn from all the other successful bloggers who had come before me, like Ruth, who was so willing to share her experiences and tell me exactly what had and had not worked for her. I listened, I put it into action (even when it was outside my comfort zone), and I kept building and growing. I stood on the shoulders of giants and found I could reach beyond even my wildest imagination. Every day I get up and feel so excited about what I get to do on my blog, who I'm going to meet, and what I will be able to share. I'm astounded I've come so far in this past year in Elite Blog Academy, and I cannot wait to see what comes next.
I will be forever grateful I decided to invest in myself and my future.