Learn how to sublimate tapered tumblers!

What's better than a tasty cold beverage on a summer day? A yummy drink in a super cute cup! I recently showed you how to sublimate mugs, which are so fun to make for hot coffee and tea. This summer though, sublimated tumblers are all the rage, and they're perfect for cold beverages to keep you cool at the pool, the beach, or during your summertime road trip. However, learning how to sublimate tapered tumblers can be tricky! Since the sides of the cup are slanted instead of straight up and down, how do you prepare and sublimate your tumbler so you get the best result?
Want to save this project? Enter your email below and we'll send the project straight to your inbox.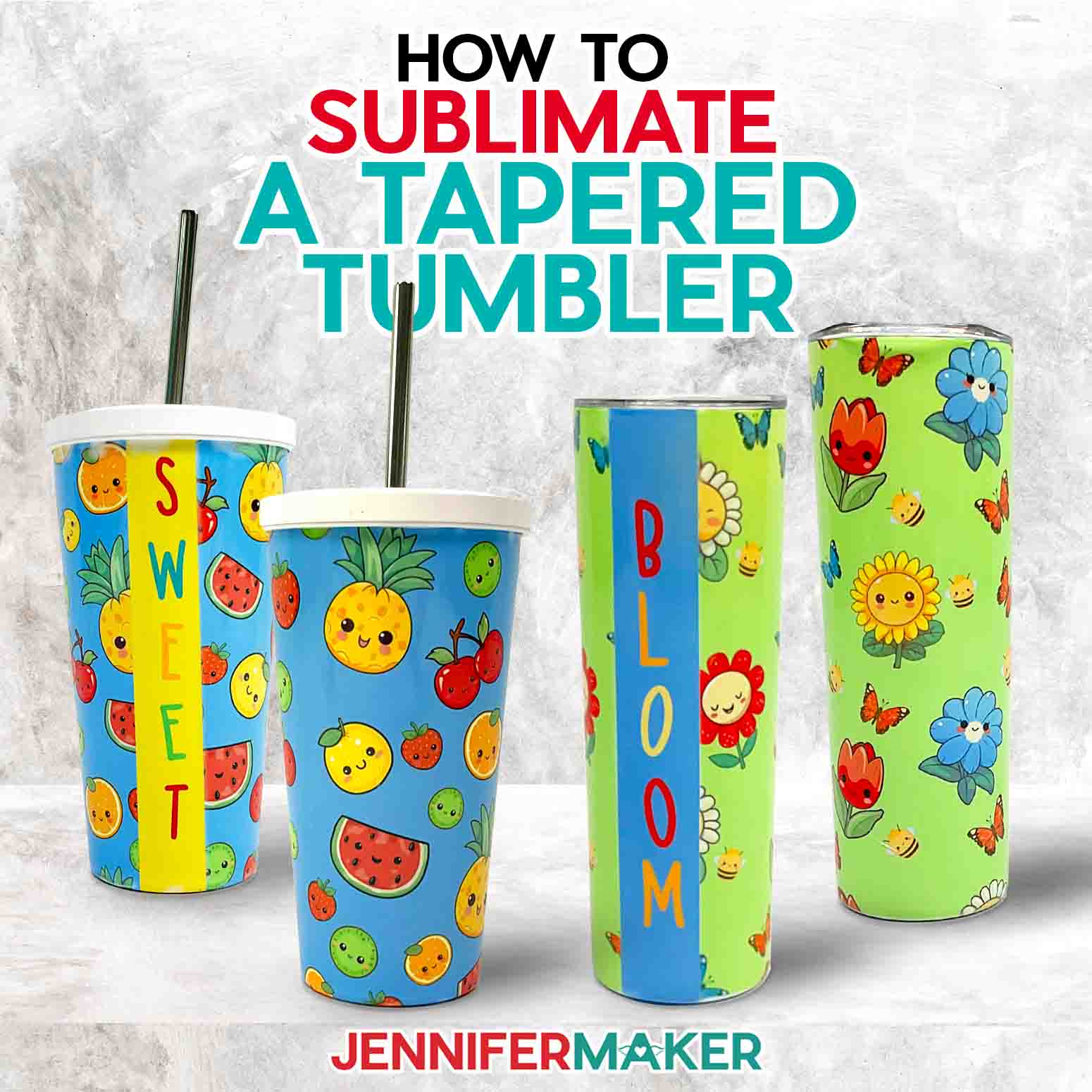 First, we'll prepare the image. I created some super cute Kawaii-inspired wrap designs just for this tutorial using an AI generator! We won't use Cricut Design Space for this project, but we will be using Canva, Google Docs, an online template maker, and an online file converter. Don't worry, all of these websites are free to use, and I'll walk you through all the steps on how to use your tumbler's measurements to create and print the perfect wrap to fit your cup. And I'll share how to use my cute word ribbons to disguise the seams!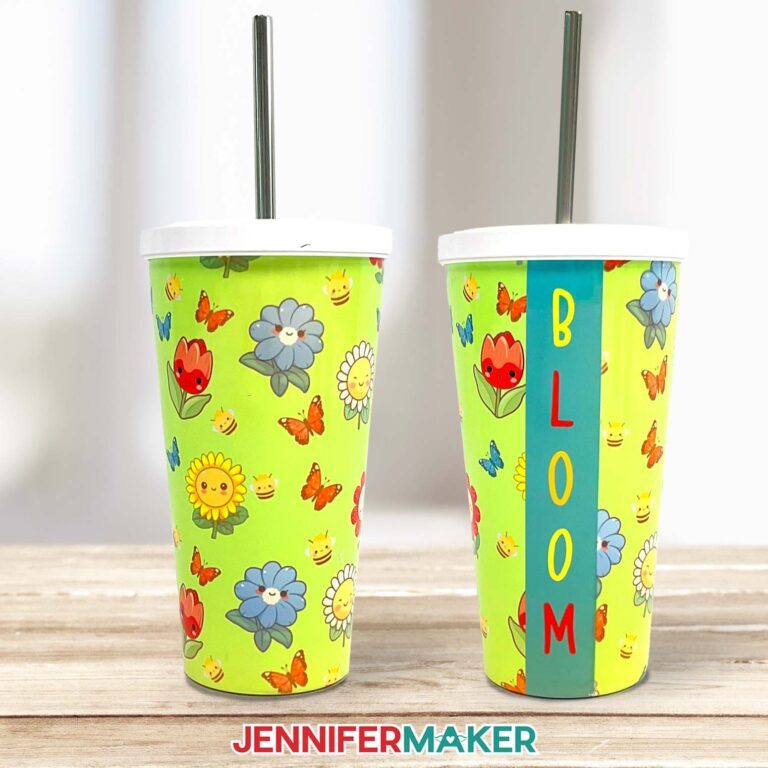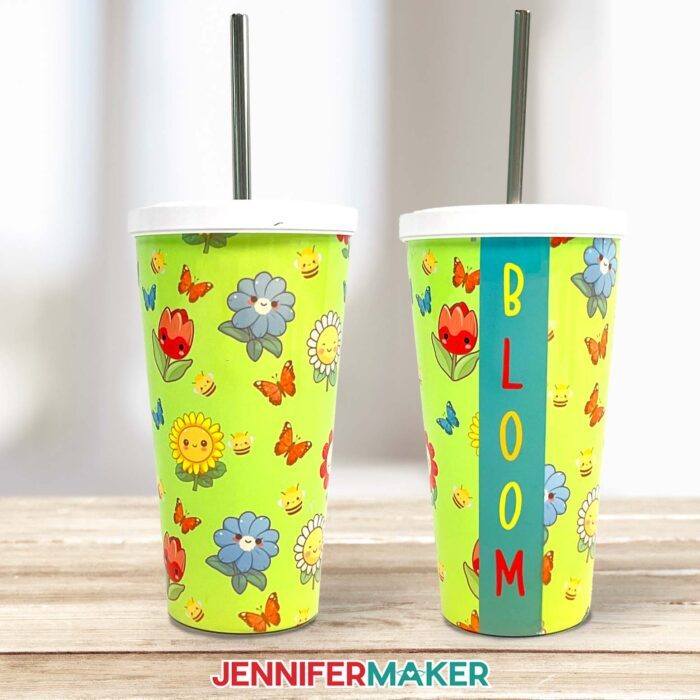 For this project you'll need a tapered sublimation tumbler blank. Regular white or blank tumblers won't work — look instead for tumblers labeled for sublimation. They come in a variety of sizes, but for this tutorial I'll be using 19 ounce tumblers with straws that I purchased from Michaels. They are stainless steel tumblers that are coated with material that can be sublimated. I did several tests on different tapered tumblers, and I liked this brand the best because it yielded the most consistent results. I have some alternatives in the materials list, though!
You'll also need a few other sublimation supplies, like a craft-purposed convection oven or air fryer, 8.5″ x 14″ sublimation transfer paper, a lint roller, and some other supplies you can find in my materials list if you scroll down. Don't forget a fan for ventilation!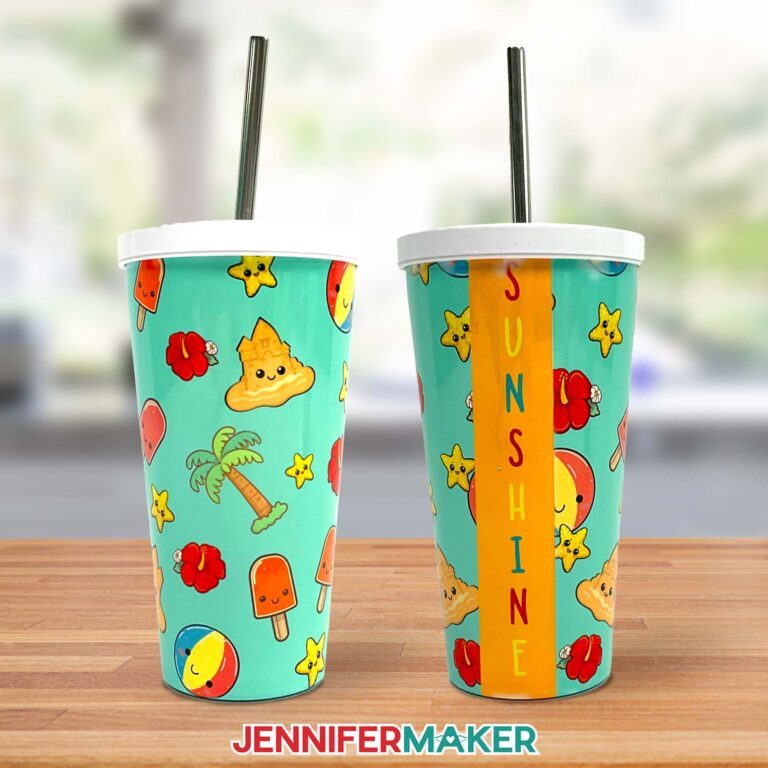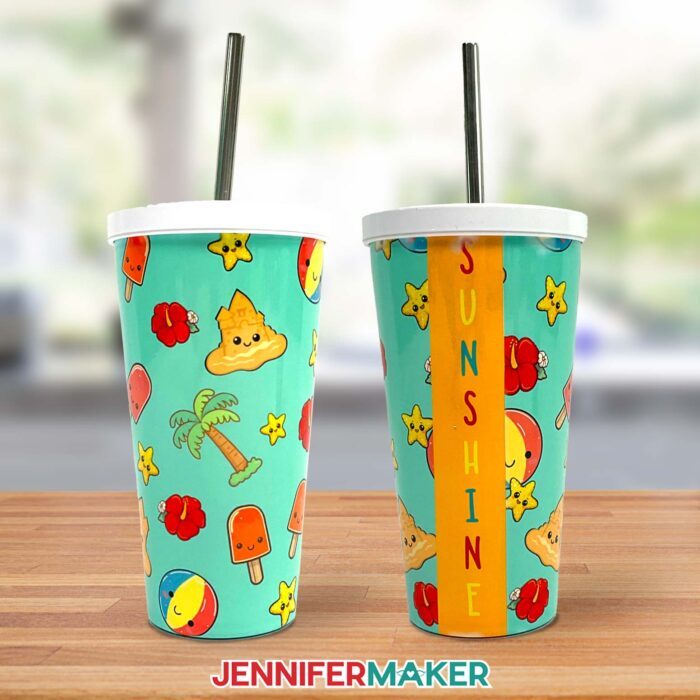 When we're ready to begin the sublimation process, I'll show you three different ways to prepare your tumbler using a shrink wrap sleeve, silicone bands, or a silicone wrap.
After this tutorial, you'll know all about how to sublimate tapered tumblers and you can create them for yourself, your family, and friends — or even to sell!
Ready to learn how to decorate tapered sublimation tumblers? This post contains some affiliate links for your convenience (which means if you make a purchase after clicking a link I will earn a small commission but it won't cost you a penny more)! Read my full disclosure policy.
Materials And Tools to Make Tapered Sublimation Tumblers
How to Sublimate Tapered Tumblers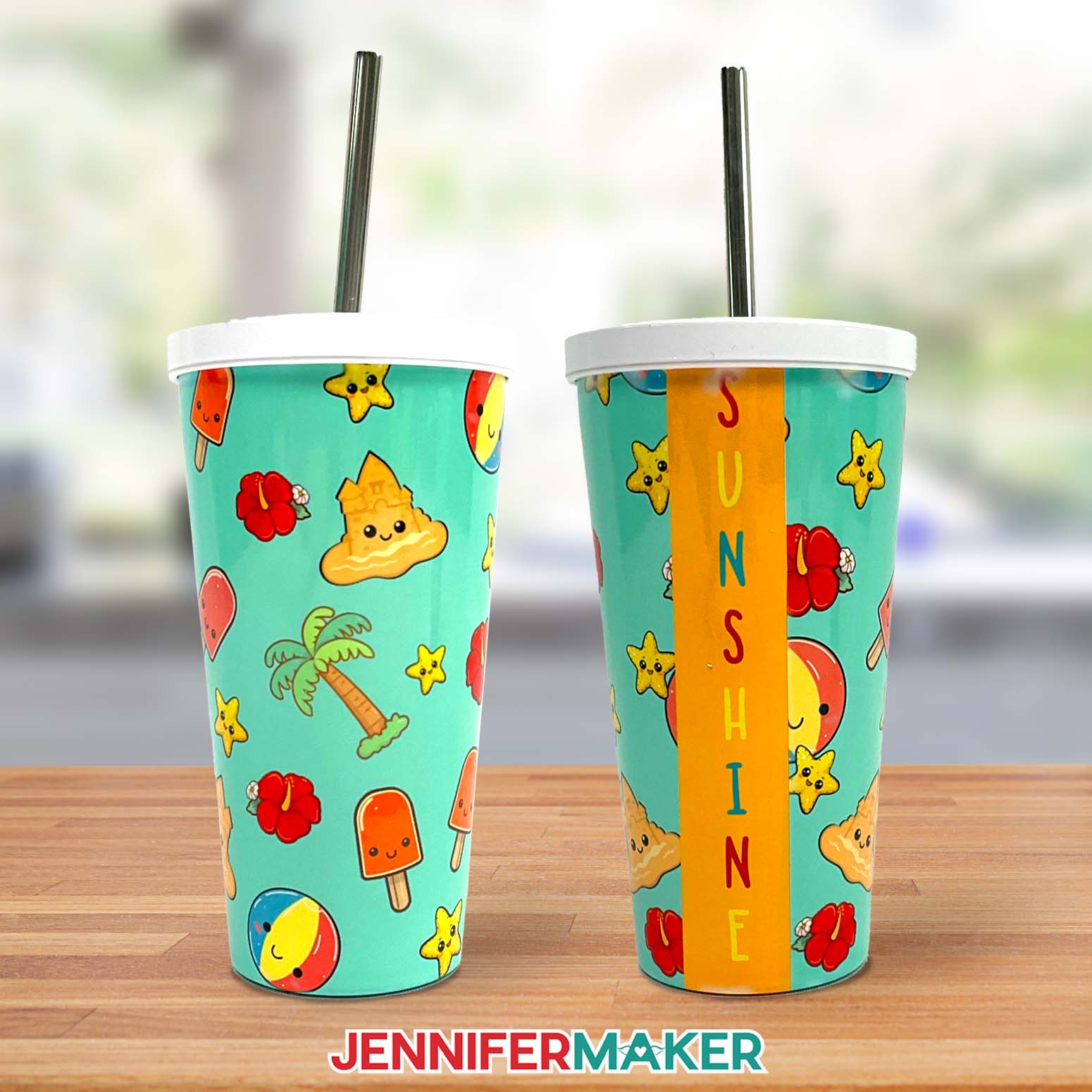 How to Sublimate Tapered Tumblers
Additional Time:
10 minutes
Total Time:
1 hour
25 minutes
Difficulty:
Easy to Medium
Estimated Cost:
$10 - $15
Learn how to sublimate a tapered tumbler with custom designs using a template, Canva, and a convection oven.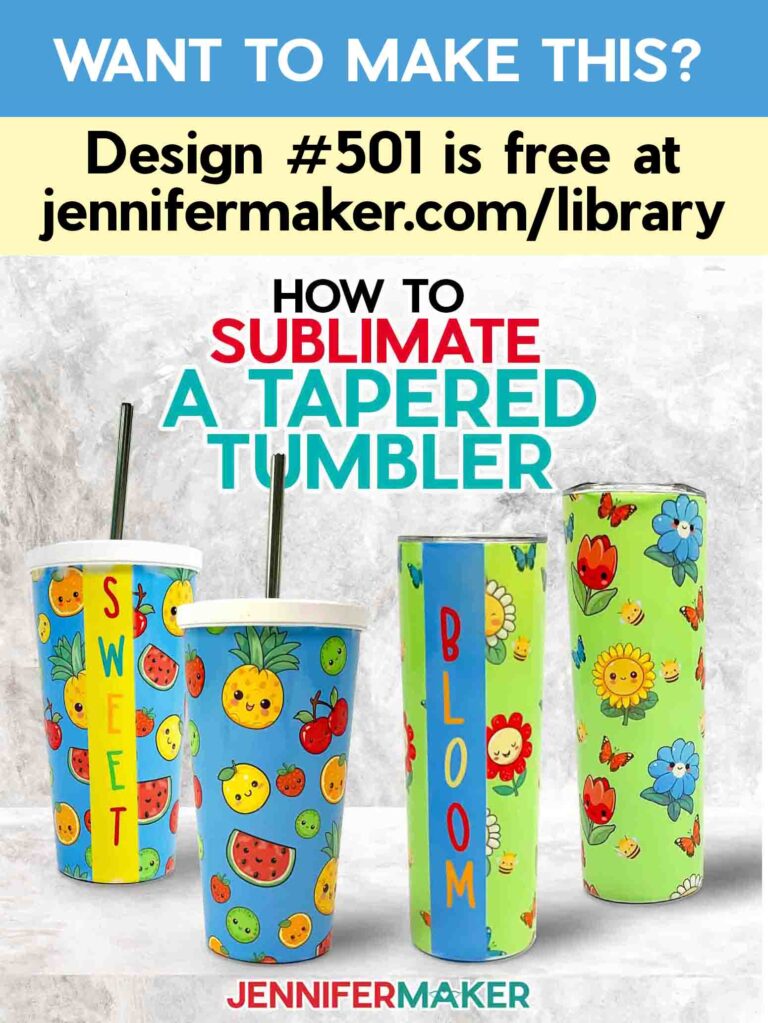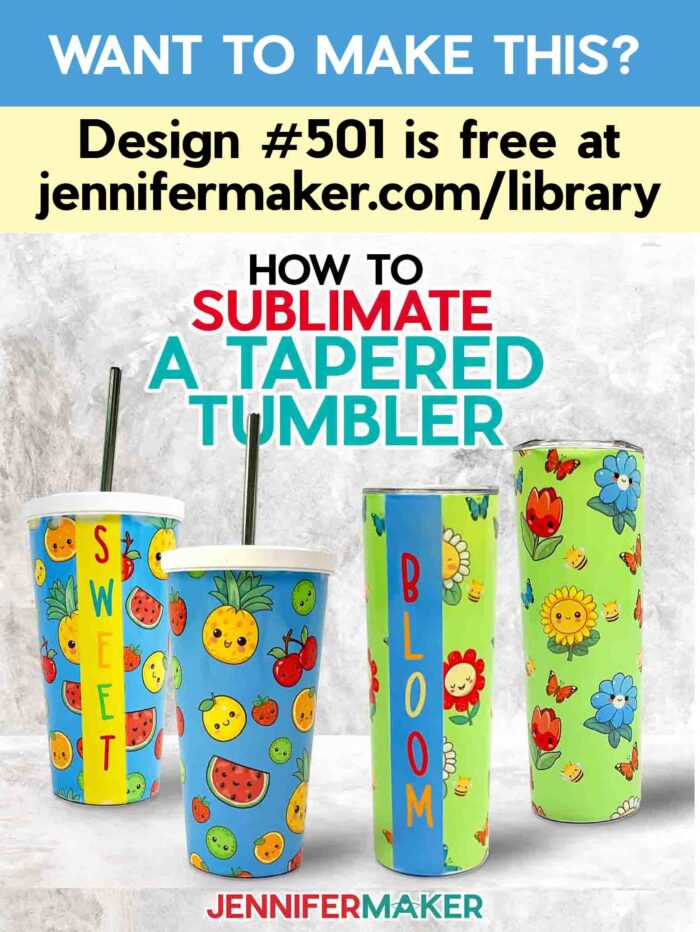 Answers to Your Questions About How to Sublimate Tapered Tumblers
Q: How do you taper an image for a tumbler?
A: The easiest way I've found to taper an image for sublimation on a tapered tumbler is to first measure the height as well as the top and bottom circumference of the tumbler. Then you input those measurements into an online tapered tumbler templates generator, and use that to modify your image into the perfect shape. If it sounds complicated, it's not! I'll walk you through every step in this tutorial.
Q: How do you tape a sublimation tumbler for perfect edges?
A: When I taught myself how to sublimate tapered tumblers, I had plenty of mistakes. That's why I want to share my techniques so I can save you time, frustration, and materials! To get perfect seams, first I tightly wrap my sublimation paper design around the tumbler, with the design side facing the cup. The loose end will overlap the first end a little bit. Then you want to tape it in place all the way up the seam, starting with top, middle, and bottom before filling in the gaps. Then find the first end of the paper UNDER the overlapped end, and use a small scraper tool or your fingernail to press down right where they overlap. Watch my YouTube video tutorial to see this in action. Using this method helps to get the ink as close to the tumbler as possible, for the least noticeable seam.
Q: What makes a tumbler sublimatable?
A: A tumbler isn't sublimatatable unless it's coated with a material that can be sublimated. A regular white tumbler won't work because it's not made from or coated with material that accepts dye sublimation.
Q: How do you heat press a tapered tumbler?
A: While some have success by using a heat gun, I recommend using a craft-purposed convection oven, craft-purposed air fryers, or a regular size craft-purposed oven. I can't over-emphasize the importance of the oven being craft-purposed — that means ONLY used for sublimation crafting, and not cooking. Once an oven or air fryer has been used to sublimate tumblers, mugs, or anything else, it's no longer safe to cook food in. Please be safe! If you have a tumbler press, it's unlikely to work for tapered tumblers — it's meant more for straight sided cups.
Q: Do I wipe a tumbler with alcohol before sublimation?
A: Yes. Cleaning your tumbler with alcohol and a lint-free cloth removes any oils from your hands, smudges, label residue, or anything else that might interfere with your sublimation results. Use a lint roller to make sure there is no fuzz or dust left on your tumbler, too!
Q: How long and what temperature to sublimate a tumbler?
A: To sublimate a tumbler, set your craft-purposed convection oven to 375°F (190°C) for 6 minutes. If you're using a craft-purposed air fryer, set it to 385°F (196°C), also for 6 minutes.
Q: Do you let sublimation cool before removing?
A: While different sublimation projects have different directions, when sublimating tumblers you absolutely want to let the wrap and paper cool completely before removing it, or it can cause ghosting, smudging, or under-sublimation on your finished product.
Q: How do you get a perfect seam on a sublimation tumbler?
A: Hold the wrap tightly around the tumbler with one hand, and use your other hand to apply heat-resistant tape to secure the top, middle, and bottom. Continue taping over the rest of the seam, keeping the wrap nice and tight. Trim away the excess paper just above the rim of the tumbler, then use several pieces of heat-resistant tape along the bottom edge, starting with the North, South, East, and West points, then filling in the spaces between. Next, trim the excess wrap away from the bottom of the tumbler. Tape along the bottom edge of the tumbler, again starting with the North, South, East, and West points before filling in the spaces between. Now feel for the edge of the paper underneath the seam. Take your small scraper tool or your fingernail and press along that line, pushing the paper and the ink into the cup as close as possible. This is the best way to get the ink to transfer nicely with a less obvious seam.
Get my free PNG files to learn How to Sublimate Tapered Tumblers!

I'd love to see YOUR adorable tapered sublimation tumbler! Please share a photo in our Facebook group or tag me on social media with #jennifermaker.
Love,