Learn which sublimation works best for which projects … and how it compares to copy paper!
Sublimation paper is a coated specialty paper designed to hold and release dye sublimation ink onto surfaces. There's an extra layer on the paper designed just for holding, rather than absorbing, sublimation ink. This special coating paper is formulated to hold up in the sublimation printer, withstand the high heat of a heat press, and create beautiful, vibrant sublimation transfers to your surfaces.
Want to save this guide? Enter your email below and we'll send the guide straight to your inbox.
Learn all about sublimation paper in this helpful video:
You should know that sublimation transfer paper is NOT the same as that plain copy paper you might already have in your copier or regular inkjet printer, even though it might look the same at first. A good sublimation paper has three things:
1. It holds the sublimation ink well without allowing the micro ink dots from your printer to blur together.
2. It withstands the high heat of your heat press machine.
3. It efficiently releases the dyes into your surface when heated.
Each of these is important for the sublimation process and getting the best results!
There are a lot of different sublimation papers out there, and you may be wondering what's best to use and what's better off avoided in your heat transfer printing projects.
This post contains some affiliate links for your convenience (which means if you make a purchase after clicking a link I will earn a small commission but it won't cost you a penny more)! Read my full disclosure policy.
I have a variety of sublimation papers here in my studio — I have A-SUB 125G, A-SUB 120G, A-SUB 105G, A-SUB ECO, TruePix paper, DyeMaster-R, and Printers Jack. And there are a LOT more papers out there, too. So what's the difference between them all? Most all of these are general sublimation papers that will work for a variety of surfaces. There are OTHERS that get more specialized, but these SHOULD all work for most sublimation jobs.
Let's take a look at a piece of A-SUB paper. This is the BACK side of A-SUB paper, which as the word "A-SUB" print on it — be sure to print on the other side of it. The "right side" of sublimation paper is the one that is pure white, without any printing on it.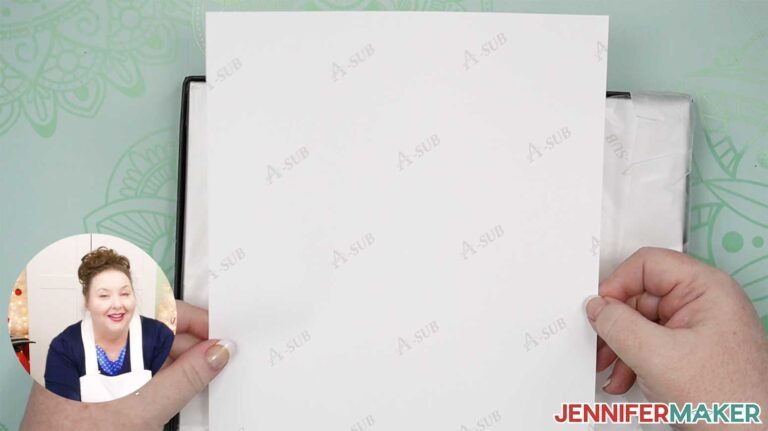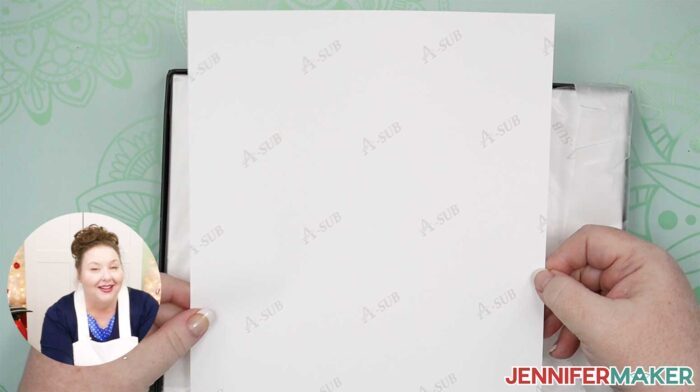 This post contains some affiliate links for your convenience (which means if you make a purchase after clicking a link I will earn a small commission but it won't cost you a penny more)! Read my full disclosure policy.
So then how do you decide which is the best sublimation paper to use? One important thing I want you to pay attention to is the paper weight, like how A-SUB comes in a wide range of weights, including 125g, 120g, 105g, and ECO. These numbers refer to the WEIGHT of the paper.
A-SUB 125 g stands for 125 grams per square meter and it's the heaviest sublimation paper. The heavier the paper and the thicker the coating, the better it will hold the ink and saturate your surface — if you want full color, vibrant designs, go for the heavier weight. This paper is my favorite and the go-to for nearly every project. It works great in my Epson printer, the printed image looks great, and has a true color. It also has a very high transfer rate, meaning that most of the sublimation ink will transfer from the paper to the surface. 125g sublimation paper also has a greater durability than the thinner paper, and it holds up under all the heat presses I've tried.
Tip: I've found the 120 g sublimation paper is just as good as the 125 g paper, and often less expensive!
If you use the 125 or 120 gram paper and get wheel marks, however, you may want a lighter paper, like 105 gsm. This heavier paper can also cause issues with rigid and hard surfaces (hard substrate), as the ink has no where to go and can blur or ghost — if this happens, again, go with a thinner paper.
A-SUB 105g is the one hundred and five gram paper, and it's the lightest sublimation paper. So now you may be wondering why we'd want lighter paper if heavier gives the best and most saturated color. Well, it turns out that light sublimation paper like holds a little less ink and this is better when you're making seamless designs, like our full-color sublimation doormat or even a sublimation tumbler. The lighter paper is ALSO better for some printers that can get wheel lines or pick up extra ink when going through the printer. For example, when I switched to 105 gram paper on my Epson Workforce, it worked much better. The catch with 105 gram paper is that it is more likely to curl with high temperatures, and it doesn't do as well with heavy ink saturation — the low weight of the paper is more likely to cause moving, bleeding, and ghosting, And if your surface just looks dull and faded, like a T-shirt, it could also be related to the low weight of the paper — use the heavier paper to get more ink on it and more ink on your surface.
But what about the ECO paper by A-SUB? It's basically less expensive sublimation paper. So if you're doing a LOT of sublimation printing, you could use this, but it's really only a little less money … I'm not sure it's worth it, personally, unless you're working in volume. I test out whether this paper is the same as the other papers in my video.
So WEIGHT of sublimation paper is a big factor. Another factor can be the compatibility of the paper with your printer. For example, TruePix paper is optimized to work with Sawgrass sublimation printers. It's 120 grams and works on a variety of surfaces.
DyeMaster-R sublimation paper is optimized to work for Epson and it's 105 grams. I am not sure why it's so thin, but it could be because the Epson Workforce, which is one of the first printers people began converting to sublimation years ago, really needs a thinner paper.
Now, you may have heard of people using regular paper for sublimation, for example laser copy paper. It's possible to use laser copy paper because it's formulated to withstand the high heat of your heat press. The question is if inkjet heat transfer paper can hold and release the ink well enough, however.
So I thought we should do a TEST of six different papers — three A-SUB papers, TruePix paper, Laser Paper, and a regular Copy Paper, just so you can see what it looks like for each one. Here's what each one looks like pressed onto polyester fabric (I used garden flag sublimation blanks):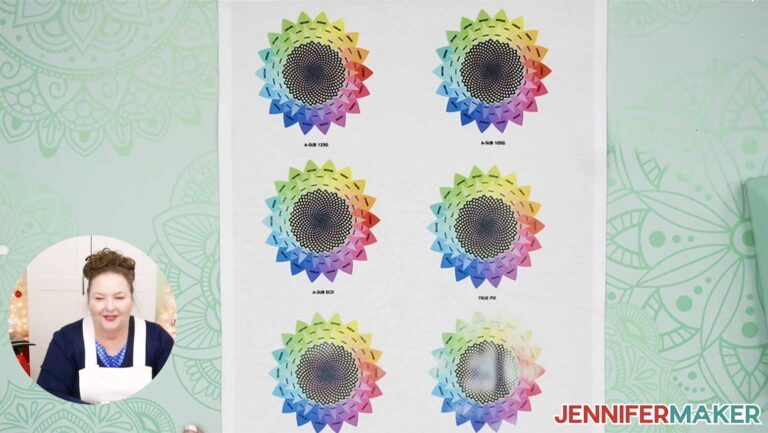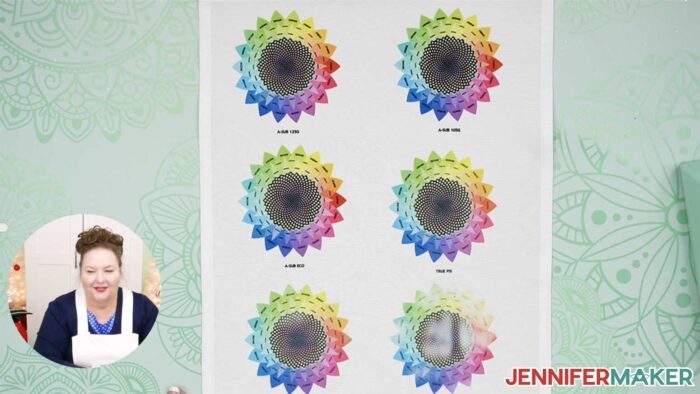 The top results are what I think are the best sublimation paper — A-SUB 125G and A-SUB 105G. It's always a good idea to do a test like this when you're first learning to use your dye sublimation printer or are trying out a new sublimation project or special paper.
More Questions About Sublimation Paper
Q: What is the best paper for sublimation?
A: While some people will use just regular laser paper, I really recommend you use special sublimation paper for the best and most vibrant results and ink transfer. I used A-SUB paper during my tests.
Q: Can I just use photo paper for sublimation?
No, it typically cannot withstand the high temperature of your heat press.
Q: How do I test my sublimation prints for vibrancy and color?
A: Use my free subliflower design to see how your colors look! It's Design #385 in my resource library!
Q: What is the best sublimation printer?
This depends a lot of your needs, but check out my article on the best sublimation printers!
Q: How do I learn sublimation for beginners?
A: Join Sublimation Startup for a logical, step-by-step guide to getting setup for success with sublimation! You can ask questions and feel confident that you'll get help! The Sublimation Startup mini-course is also great for those who enjoy learning from Jennifer Maker's easy-to-understand, calm, and clear method of teaching. This is a no-fluff, no-mess, no-distraction workshop … it's like sitting down with Jennifer in her craft room to learn directly from her! We work in logical steps to build your understanding and confidence with sublimation, and then provide support to keep helping you as you continue on your journey! Register now!
Get my Subliflower Design for free!
I also have a group just for sublimation crafting where you can get help and tips from other crafters who love to sublimate, too! Come join us at jennifermaker.com/sublimationgroup to ask questions, share ideas, and get inspired!!
I hope this helps you find the right sublimation paper for your next project. Watch for more sublimation tutorials and please ask any questions you have in our Facebook group or tag me on social media with #jennifermaker.
Love,