Learn how to make this fun Scrabble Wall Art for your home or as a gift with this easy tutorial!
Scrabble is one of the most iconic games around and those little wood tiles are so fun to play around with. This incredibly fun, easy to personalize Scrabble Tile Wall Art is a perfect addition to your home decor or to give as a thoughtful gift! I've seen others make these large Scrabble Tiles for their homes and couldn't wait to design one for my own wall! And we love to play games as a family, so these name tiles are perfect for us. I'm going to show you how YOU can make these tile for your own family or, better yet, make them as a gift for a family you know and love. So for Day 19 of the 25-Day Gift-Away, I am showing you how to make Scrabble Wall Art!
Want to save this project? Enter your email below and we'll send the project straight to your inbox.
See exactly how to make these large Scrabble tiles in my tutorial video (or keep scrolling if you prefer a printable step-by-step photo tutorial):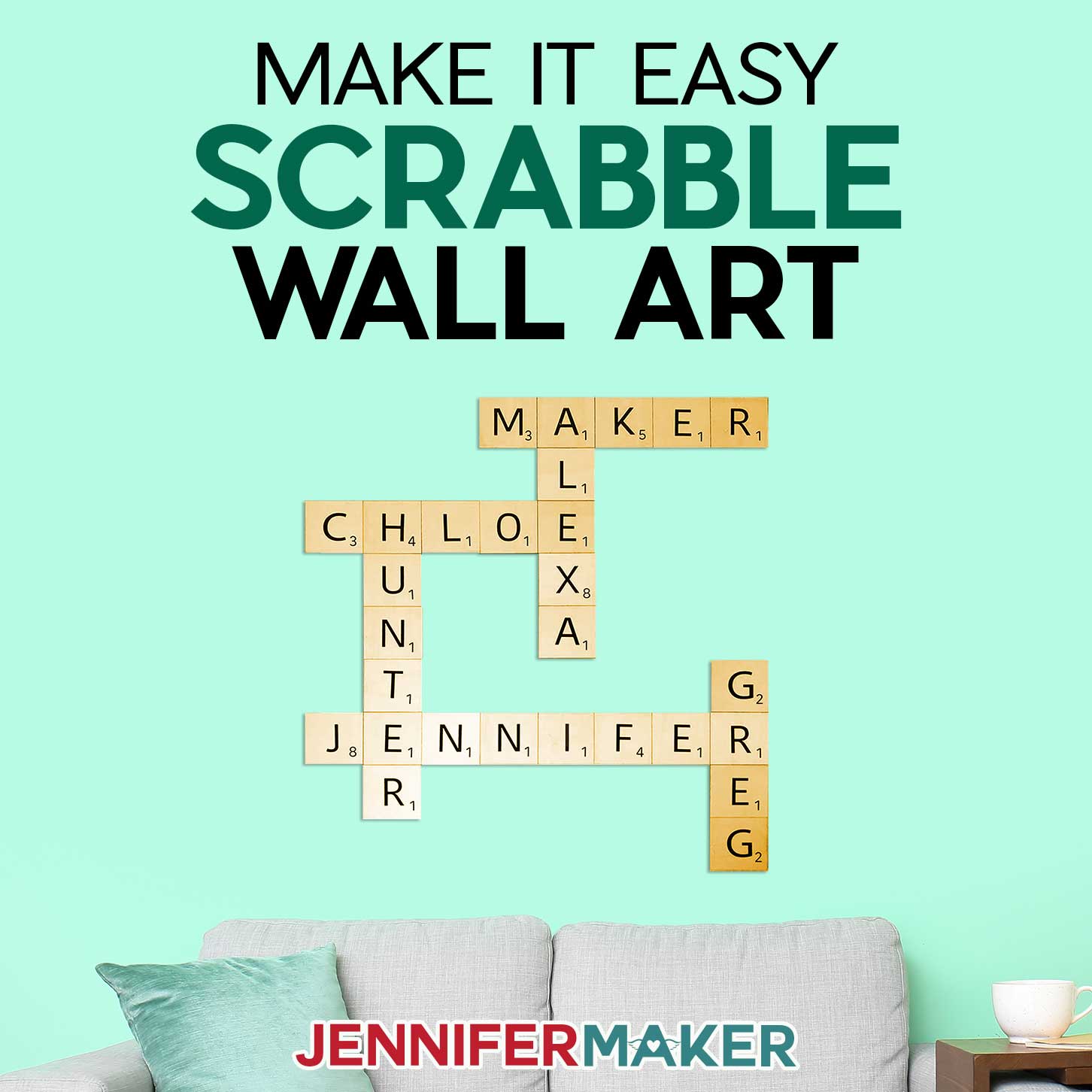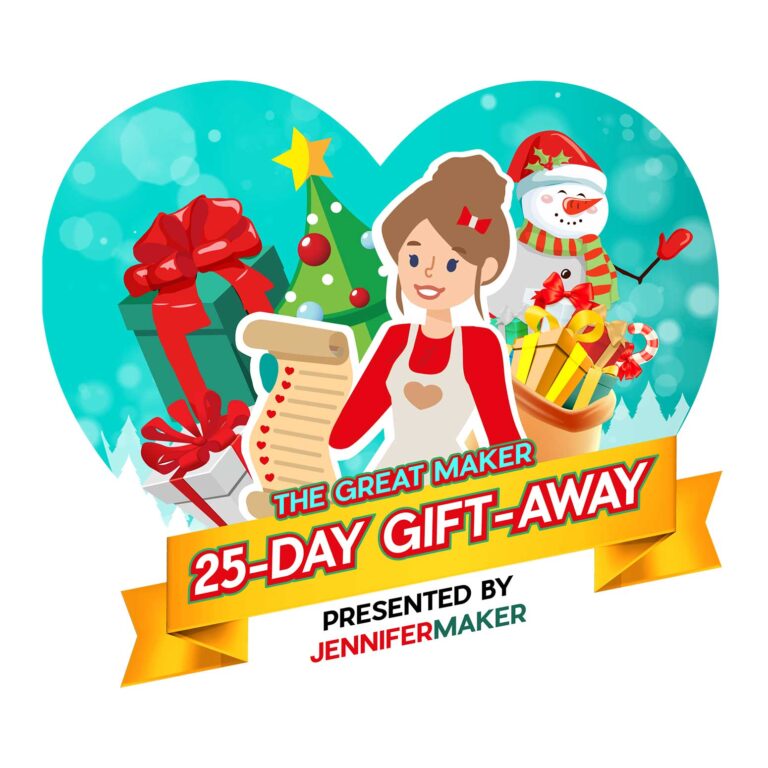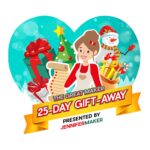 What is The Great Maker 25-Day Gift-Away?
This is an
annual tradition
here at JenniferMaker! Every day for the first 25 days of December we gift you with a brand new project, design, tutorial, and video. On top of that, we host a giveaway with 25 prizes. Some of the amazing prizes are
Cricut cutting machines
, sewing machines, gift cards, and beautiful
print editions of our popular Cricut Coach Playbook
. You can even earn bonus entries for sharing photos of the daily projects!
Click here to learn more about The Great Maker 25-Day Gift-Away!
To make the big Scrabble tiles that go on a wall, I used 3″ square wood tiles I found at Amazon. You'll also find these at the dollar store. These are unfinished wood. They are sanded very smooth, and it's not necessary to stain or paint them. You can stain them to match your decor, of course, but it's also fine to keep them natural as I have.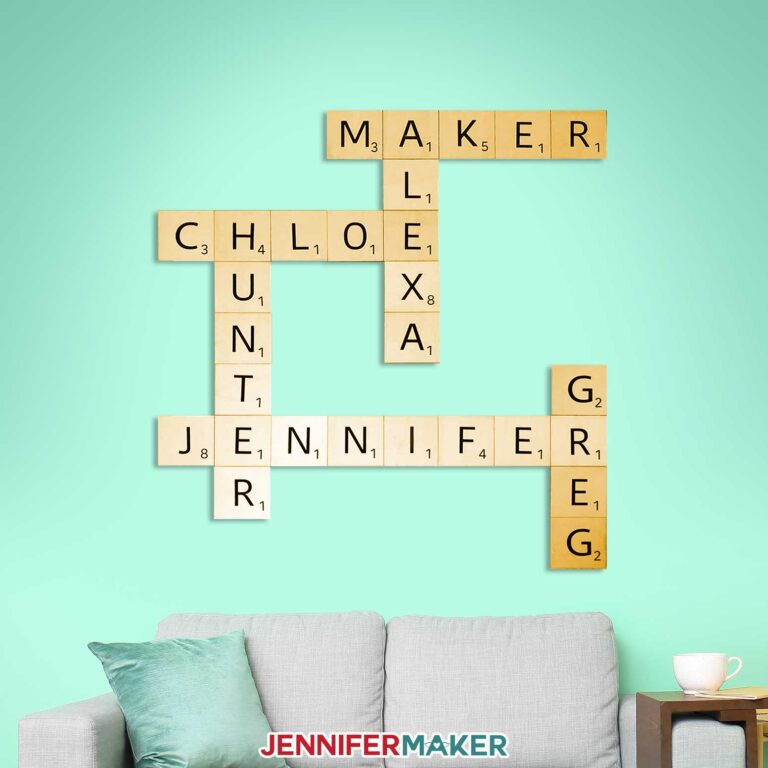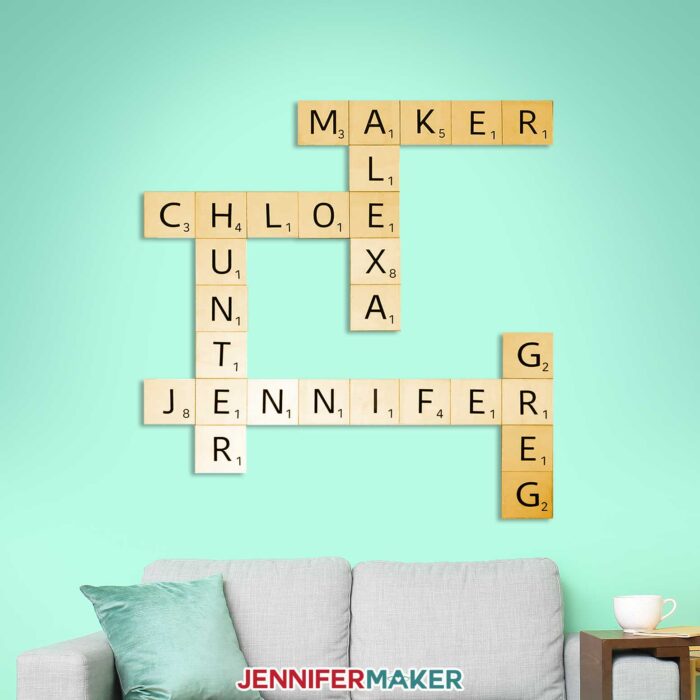 To simulate the letters and numbers seen on Scrabble tiles. we cut black permanent adhesive vinyl. To make a set of tiles as large as mine, you'll want 48″ of vinyl, or four sheets of 12″ x 12″ vinyl sheets. You don't have to use black, of course, but the Scrabble tile letters and numbers are black, so use black if you want to match those.
To put your Scrabble Tiles altogether as wall art, you'll want a package of balsa wood sheets — i used about seven of them — to keep the tiles together as a unit. And two picture hangers will allow you to hang your tiles up on the wall as I have here.
Other useful things to have on hand include a weeding tool for removing the excess vinyl, standard grip transfer tape for putting your vinyl on your wood, a hot glue gun and glue sticks to stick your tiles to the balsa wood, and a roll of masking tape.
I cut the vinyl for this project on a Cricut cutting machine using the fine point blade and a green standard grip mat. These can be cut on all Cricuts, from the Joy to the Explore to the Maker, as well as other cutting machines!
Ready to make these big Scrabble tiles? Let me show you where to find my free tile patterns, and then I'll show you how to come up with a tile arrangement, cut and apply your vinyl to your tiles, and keep your tiles altogether for hanging! This post contains some affiliate links for your convenience (which means if you make a purchase after clicking a link I will earn a small commission but it won't cost you a penny more)! Read my full disclosure policy.
Materials to Make Scrabble Wall Art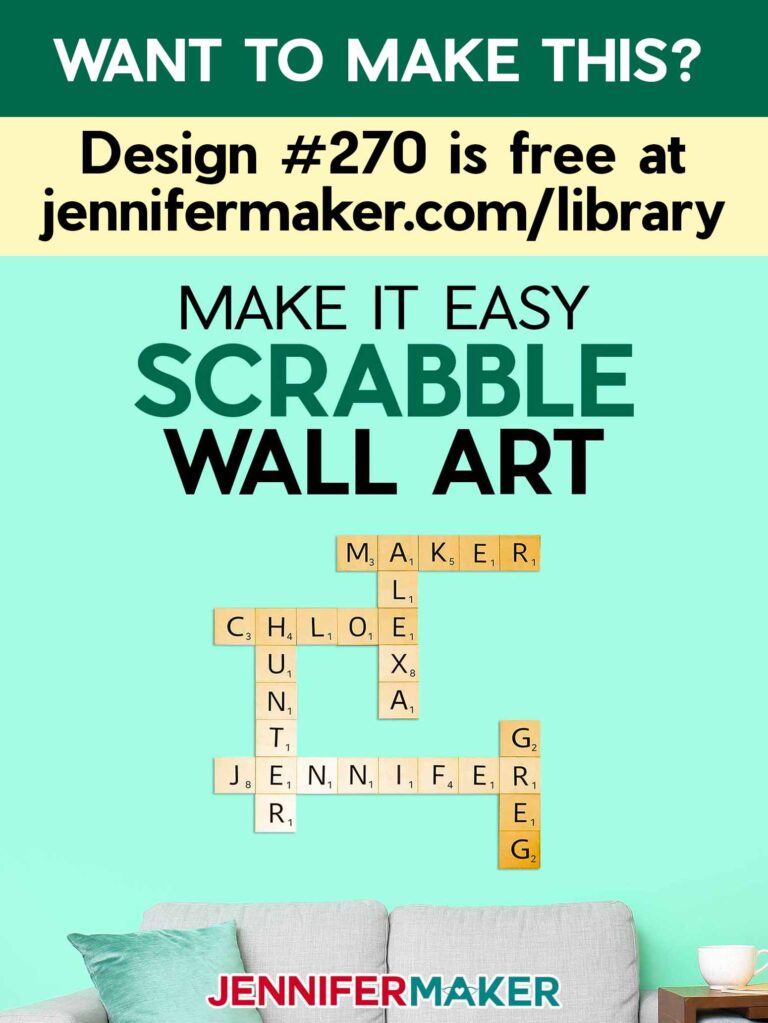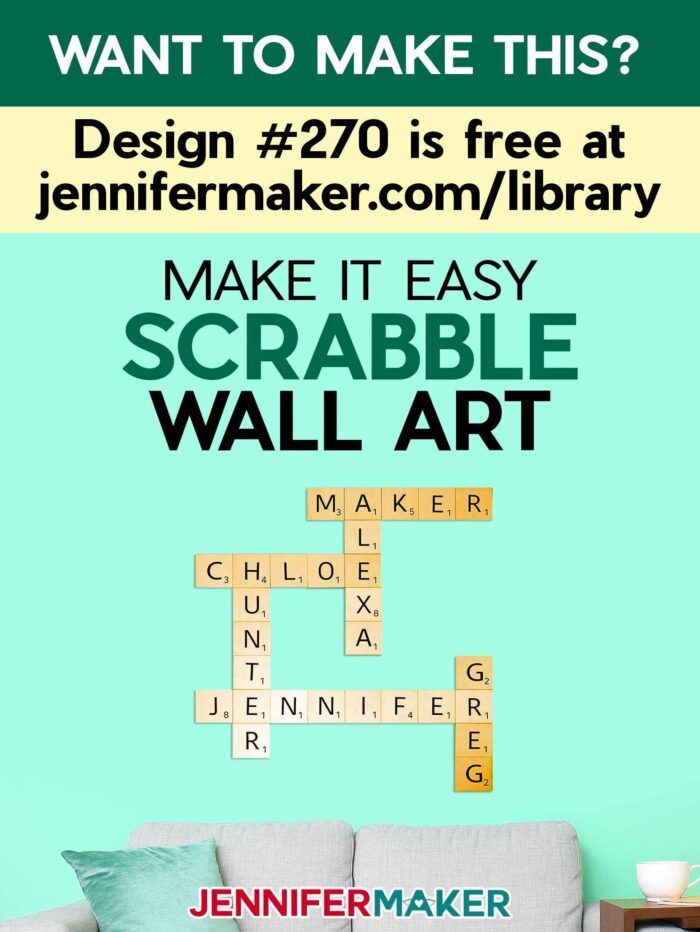 How to Layout and Make Scrabble Tile Wall Art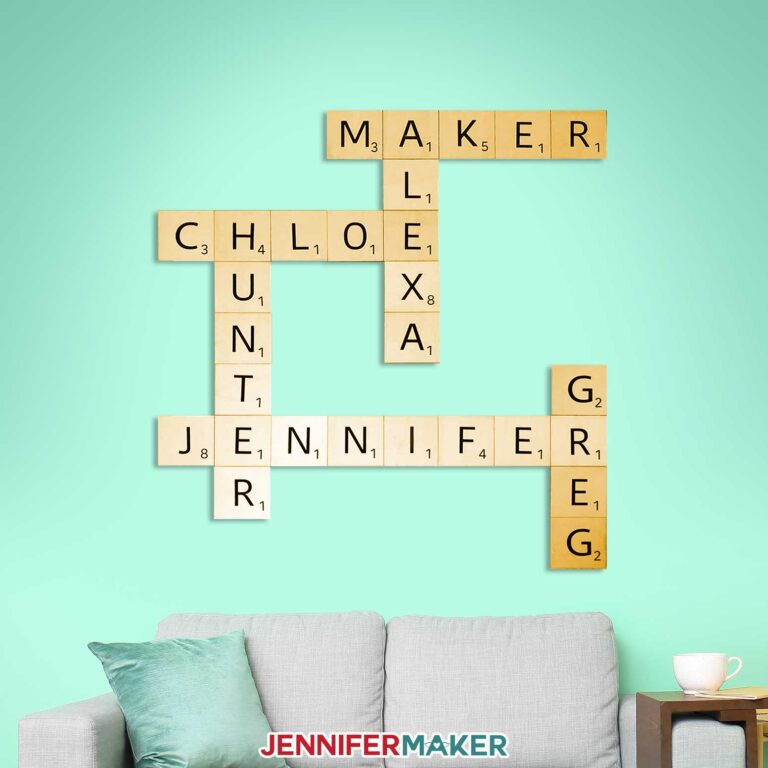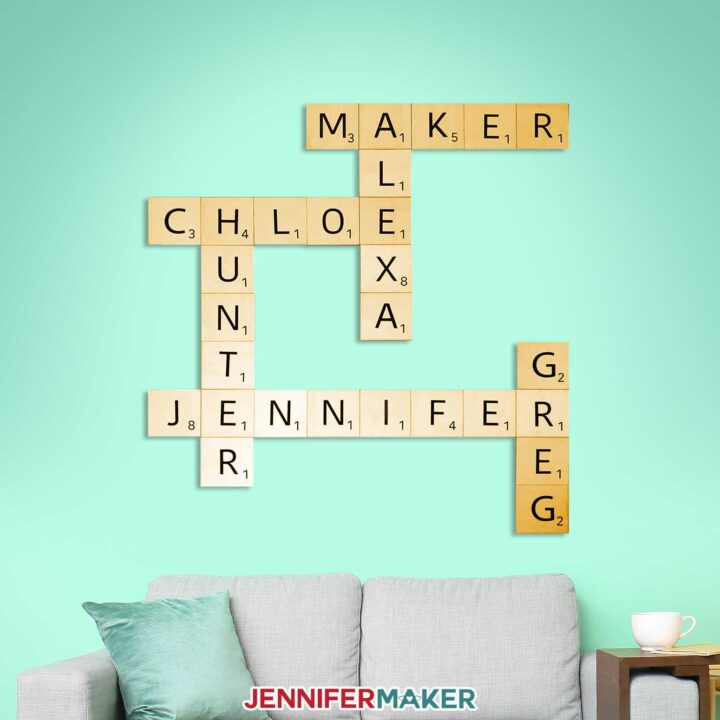 Scrabble Wall Art
Active Time:
3 hours
30 minutes
Total Time:
3 hours
30 minutes
OHHH this was such a fun project! I have been seeing others make the Scrabble Tile Wall Art and couldn't wait to design one for my own walls. These are so much fun and I can't wait to see what you design too.
Instructions
OHHH this was such a fun project! I have been seeing others make the Scrabble Tile Wall Art and couldn't wait to design one for my own walls. These are so much fun and I can't wait to see what you design too.

STEP 1: GET THE SCRABBLE WALL ART DESIGN

You can get my free Scrabble Wall Art SVG design file #270 from my free resource library (get the password to the library in the form at the bottom of this page. Here is what my Scrabble Wall Art design file will look like when you upload it to the Cricut Design Space:
Tip: If you are not sure how to upload an SVG cut file to the Cricut Design Space, watch this helpful video training series I made. If you are on an iPad or iPhone, here is how to download and upload SVG files to the Cricut Design Space app.
STEP 2: PREPARE THE DESIGN FOR CUTTING

One of the very first things you will want to do before you cut the design, is to decide how much wall space you have to work with, and then how you want to lay out your words so they fit within that space. I knew my wall art had to fit in a space approximately 30 W x 30 H. Of course you can design your layout manually on paper, but I also found a great website (https://crosswordhobbyist.com/) that is an awesome tool in not only getting one layout, but also variations of that layout.
To use the tool, first enter all the words you want to use in your layout in the Auto Arrange column. You only need to enter them in the word column. We will not use the Clue column.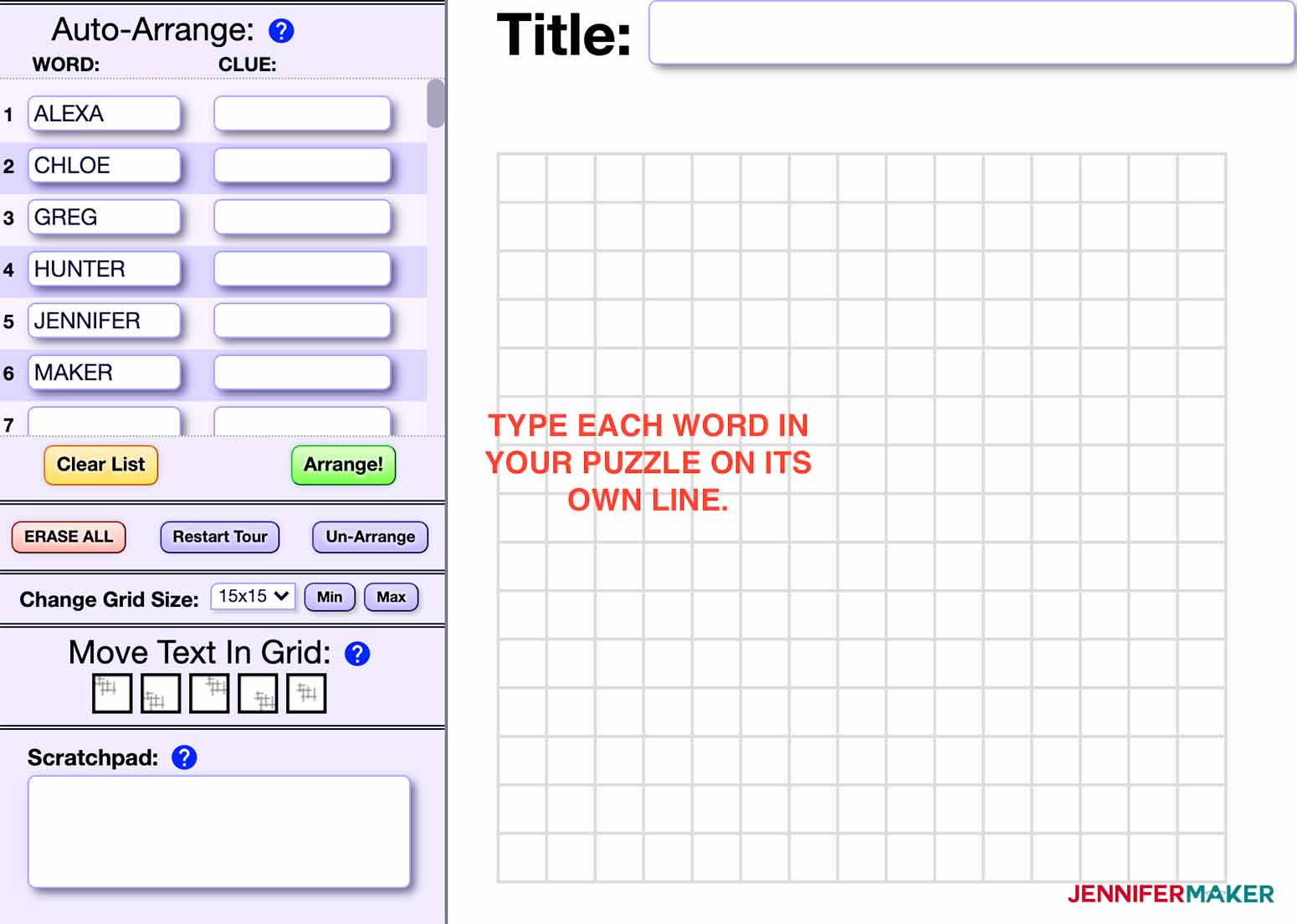 Press the Arrange button to see the auto generated layout in the grid on the right of the screen.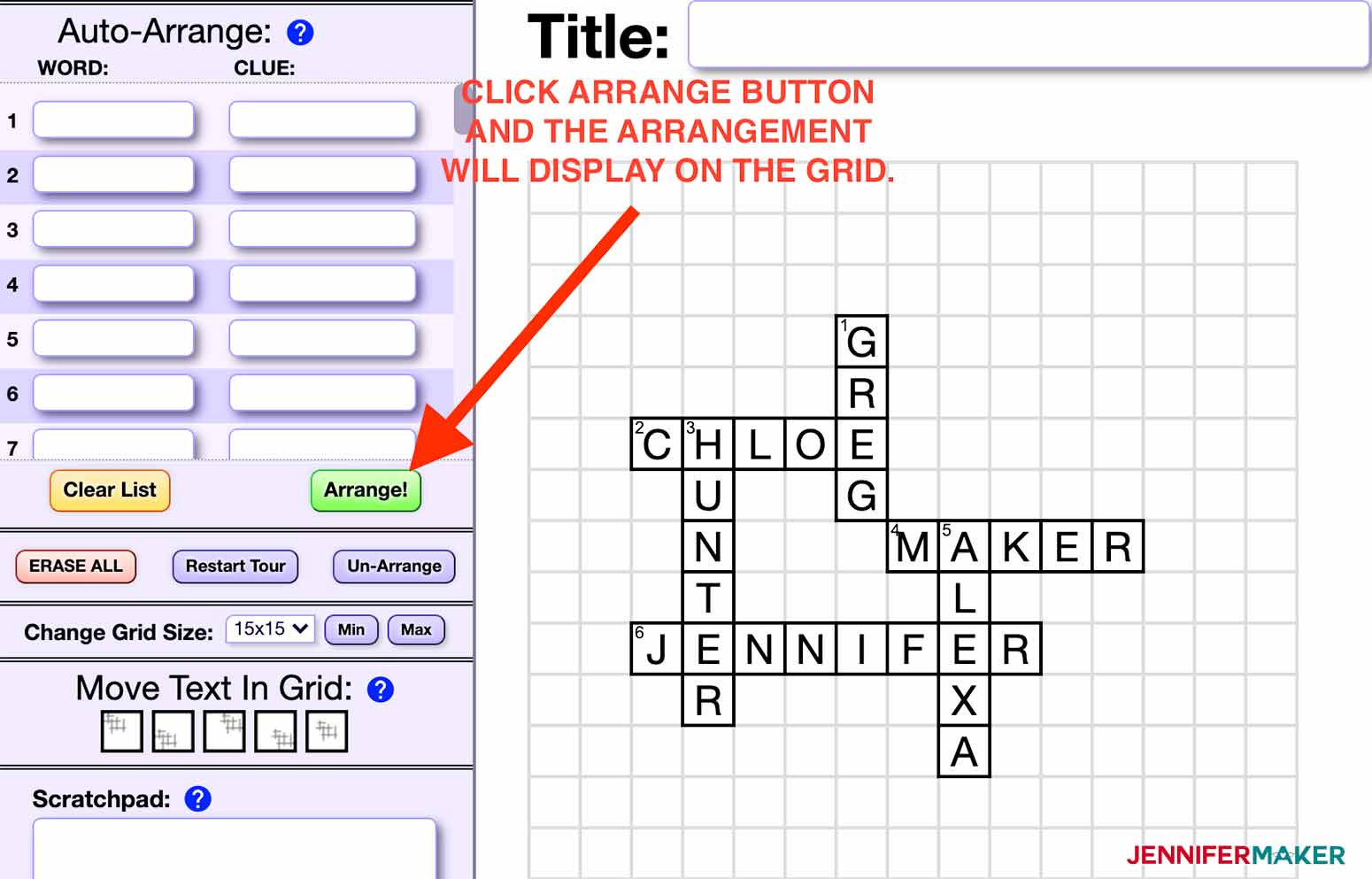 If you are not fond of that arrangement, you can click the un-arrange button and your words will go back into the Auto Arrange column where you can click the Arrange button again and most times see another variation. I have also found that if you are not seeing the variations you would like, if you re-enter your words in a different order in the Auto Arrange column and click arrange you will get new layouts as well.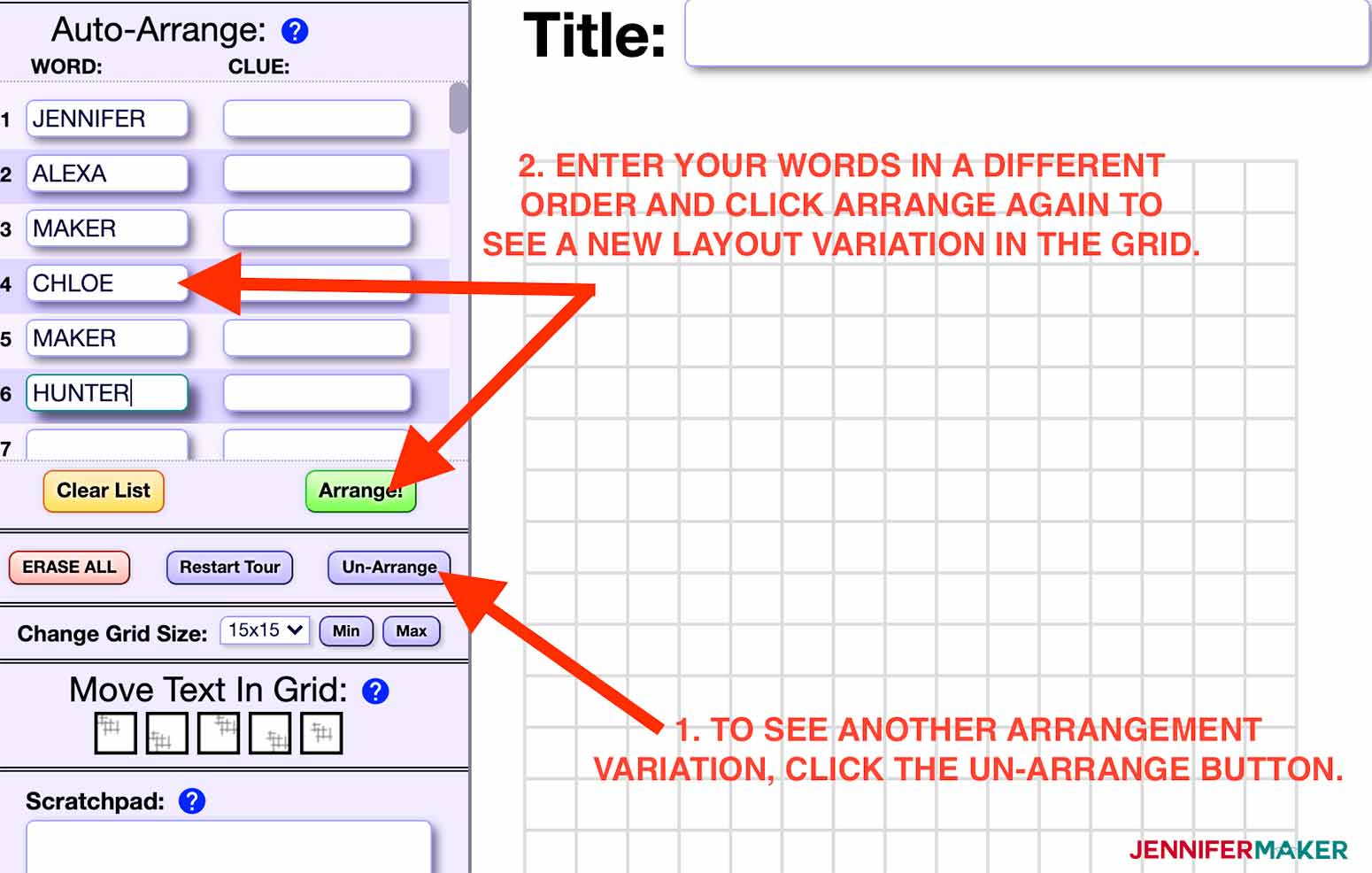 Just play with the tool and you will certainly find variations that you may not have thought of! Once I chose a layout, I had to make sure that layout was going to fit in my space. To determine the width, I looked at my longest word. It was 8 letters. I multiplied 8 x 3 (each tile is 3 inches square) and found that my arrangement would be 24 inches wide. To determine the height based on the layout I chose, I counted the number of tiles and blank spaces from the top to the bottom of the layout, which was 9. I multiplied 9 x3 (each tile is 3 inches square) and found that my arrangement would be 27 inches in height. So, my wall art of 24 W x 27 H will fit nicely in the space that I have chosen to place it.

I have designed the Scrabble Wall Art cutting file to fit the 3 inch x 3 inch tiles used in the materials list above. If you are using larger tiles, you will need to change the tile size to the size of your purchased tiles. To change the size of the tiles, I would recommend that you ungroup the design, select the letters you will not be needing for your scrabble wall art and delete them. I would then select each of the remaining letters individually and change the size of each tile to whatever your purchased tile size is.
If you are using the 3 x3 tiles, simply ungroup the design by clicking on the Ungroup button at the top of the Layers panel. I found it easiest to lay my Scrabble Tile Wall Art design out on the Design Space canvas to assure I was cutting all the necessary letters. I laid out the design just as it was seen on the grid of the tool used above. Any letter tiles that I needed more than one instance of, I just duplicated those tiles and put them in place on the screen. To duplicate a tile, right click on it and select duplicate from the drop down menu. Your duplicated tile will display on the canvas and you can place it where you need it in your layout. Once the design is laid out on the canvas, the next step is to click the Make It button.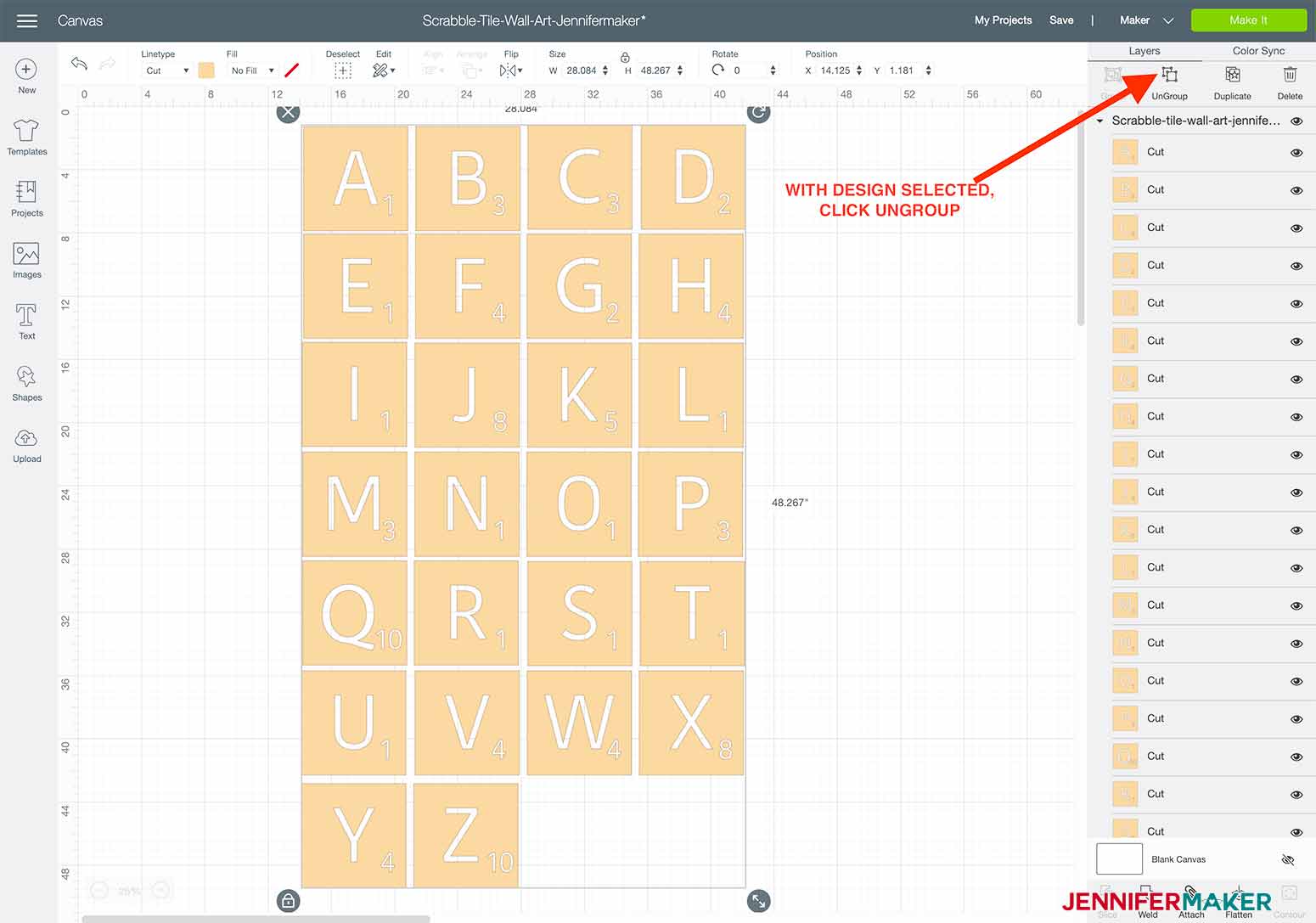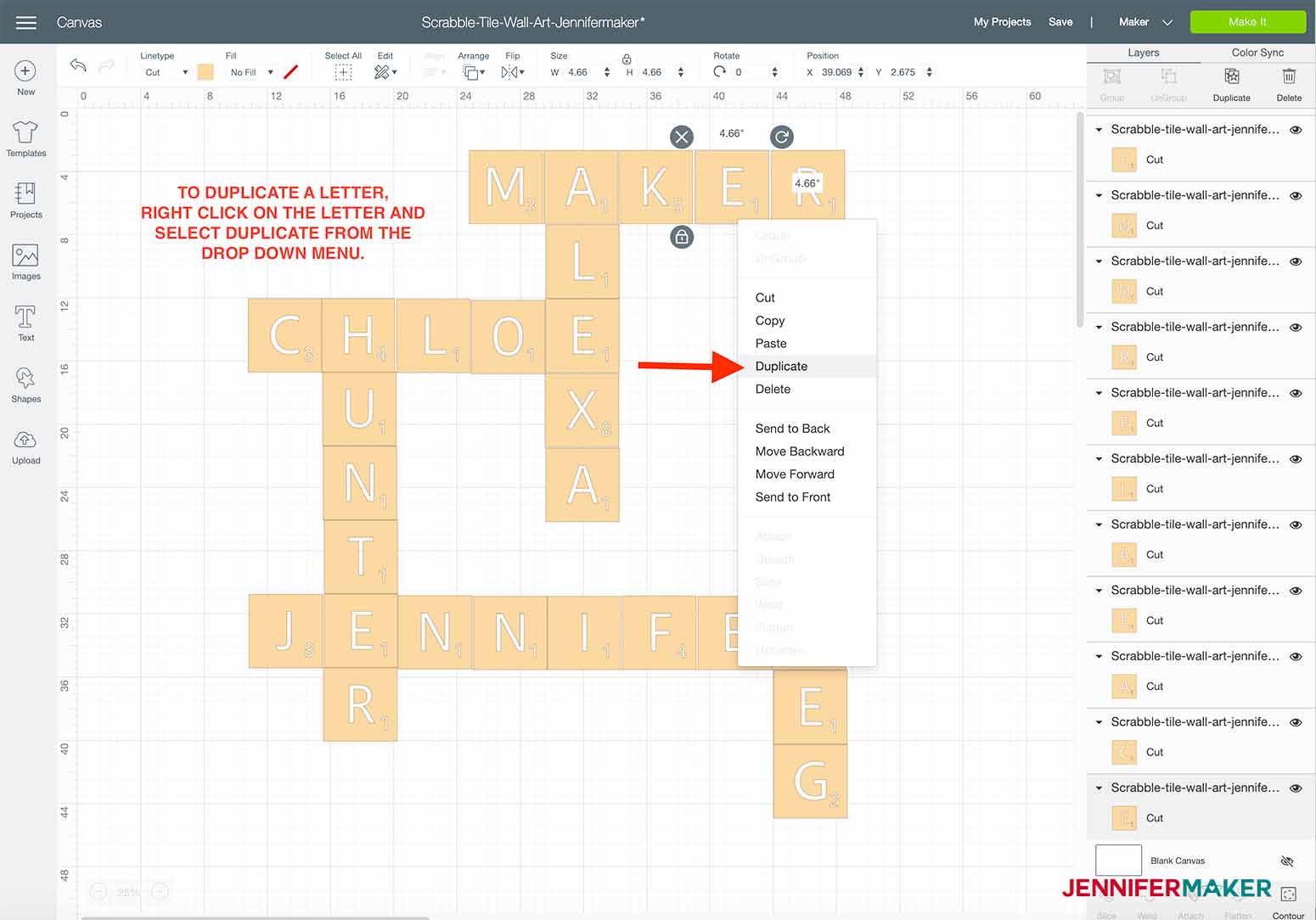 Review the preview mat screen. Just remember that the preview screen will NOT look like your canvas and you won't want it to as that would be a huge waste of vinyl. Click continue and click on Browse Materials to find and select vinyl as your material to cut. Place a piece of vinyl (your choice of color) on a Cricut Standard Grip Mat (green mat), shiny side up. Load the mat into into your machine and press the flashing button to cut.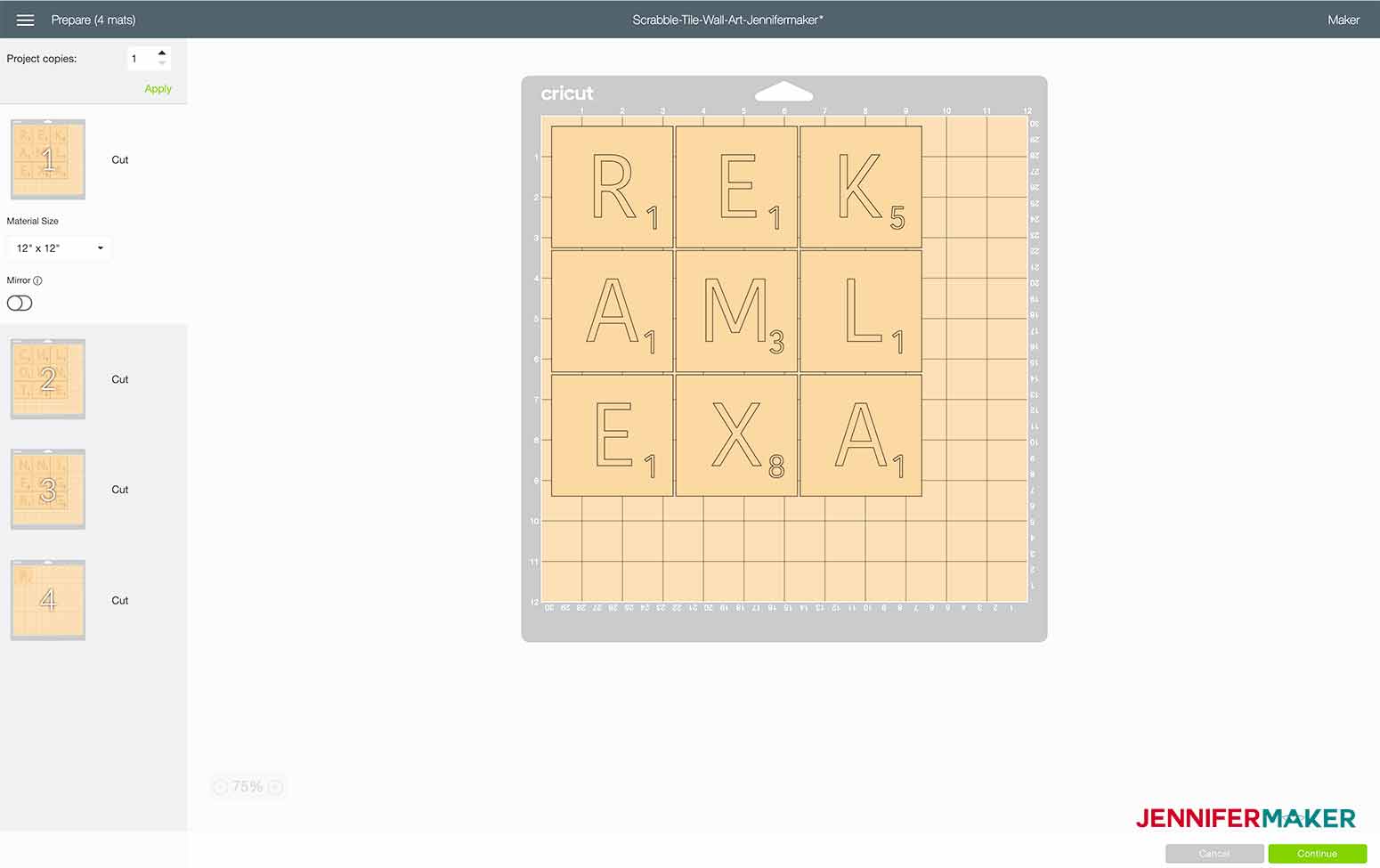 STEP 3: SCRABBLE WALL ART ASSEMBLY

I decided to not stain or paint my wood tiles. I liked how they looked right out of the package. However, you may decide to paint or stain yours whatever color you choose. If painting or staining your tiles, be sure to allow plenty of drying time before attempting to place your letters on the tiles.

Once the design is cut, weed the vinyl by removing the weeding box around each letter and the middles of any letters.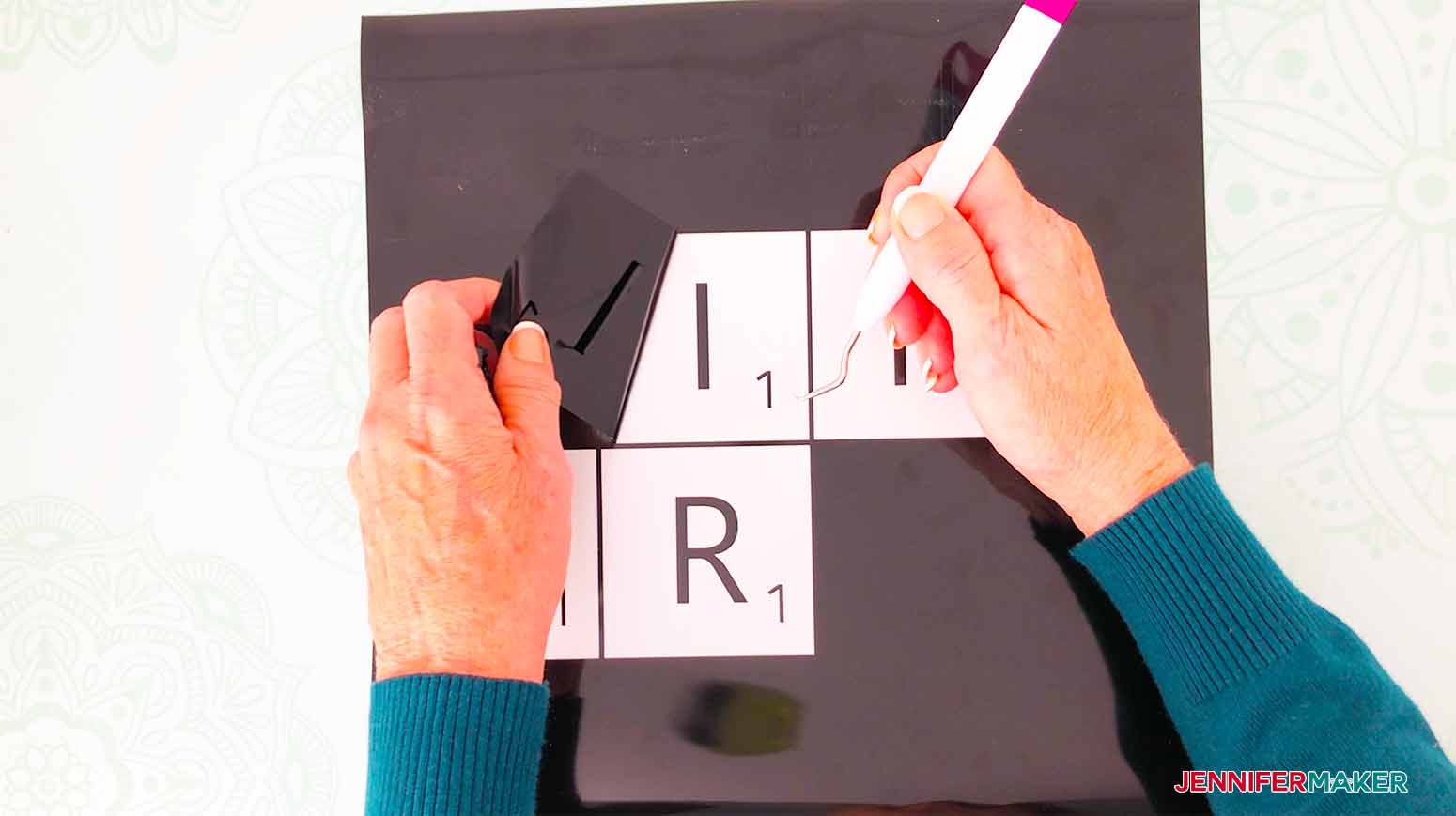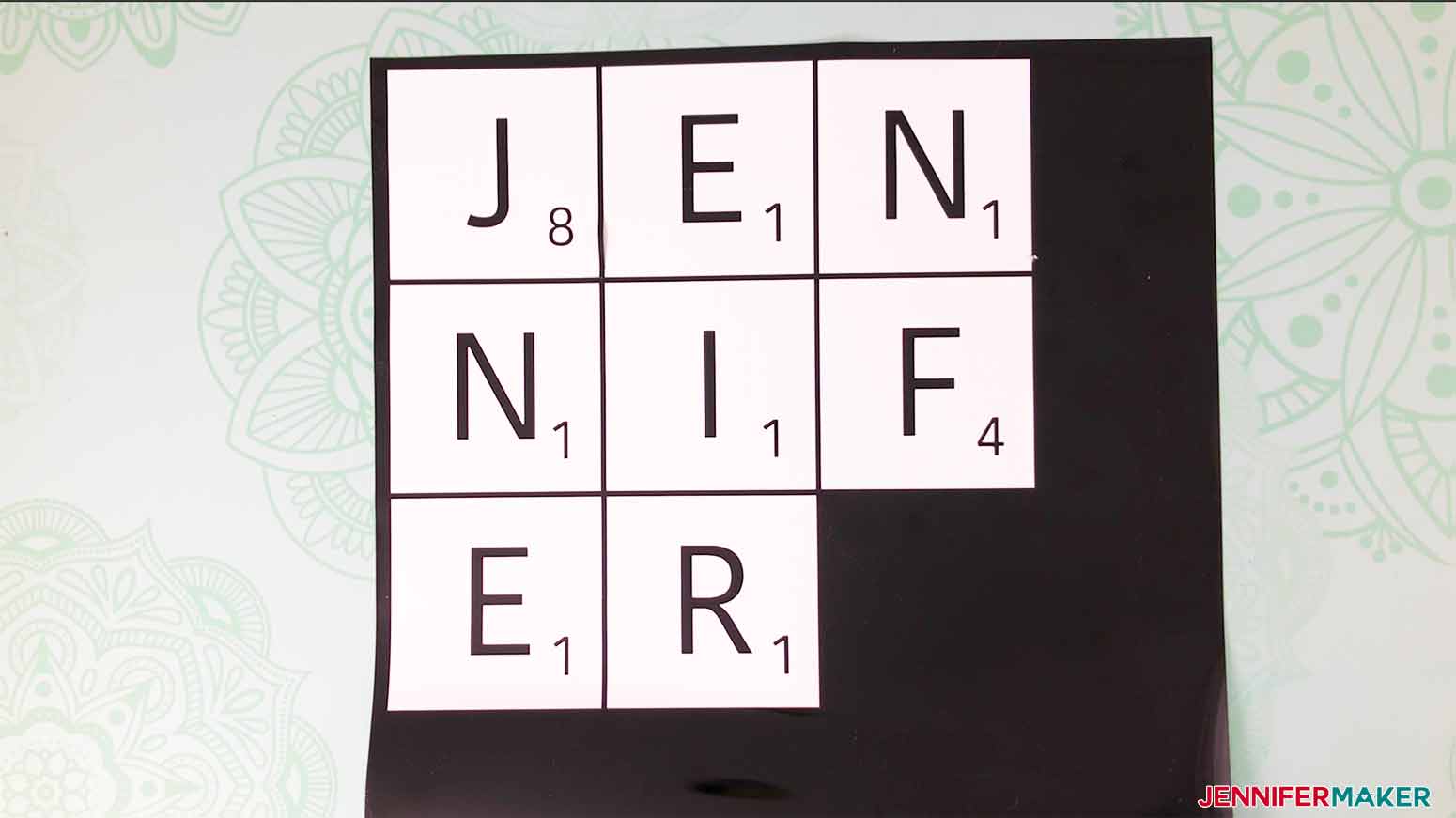 I used Cricut Standard Grip Transfer Tape to transfer the vinyl to the tiles. I found that by cutting my transfer tape to the same size as my tiles, I was able to always have my vinyl placed in the center of the tile. Cut your transfer tape to fit the size of your tiles, I cut mine 3 x 3 as that was the size of my tiles. Remove the backing paper from the transfer tape.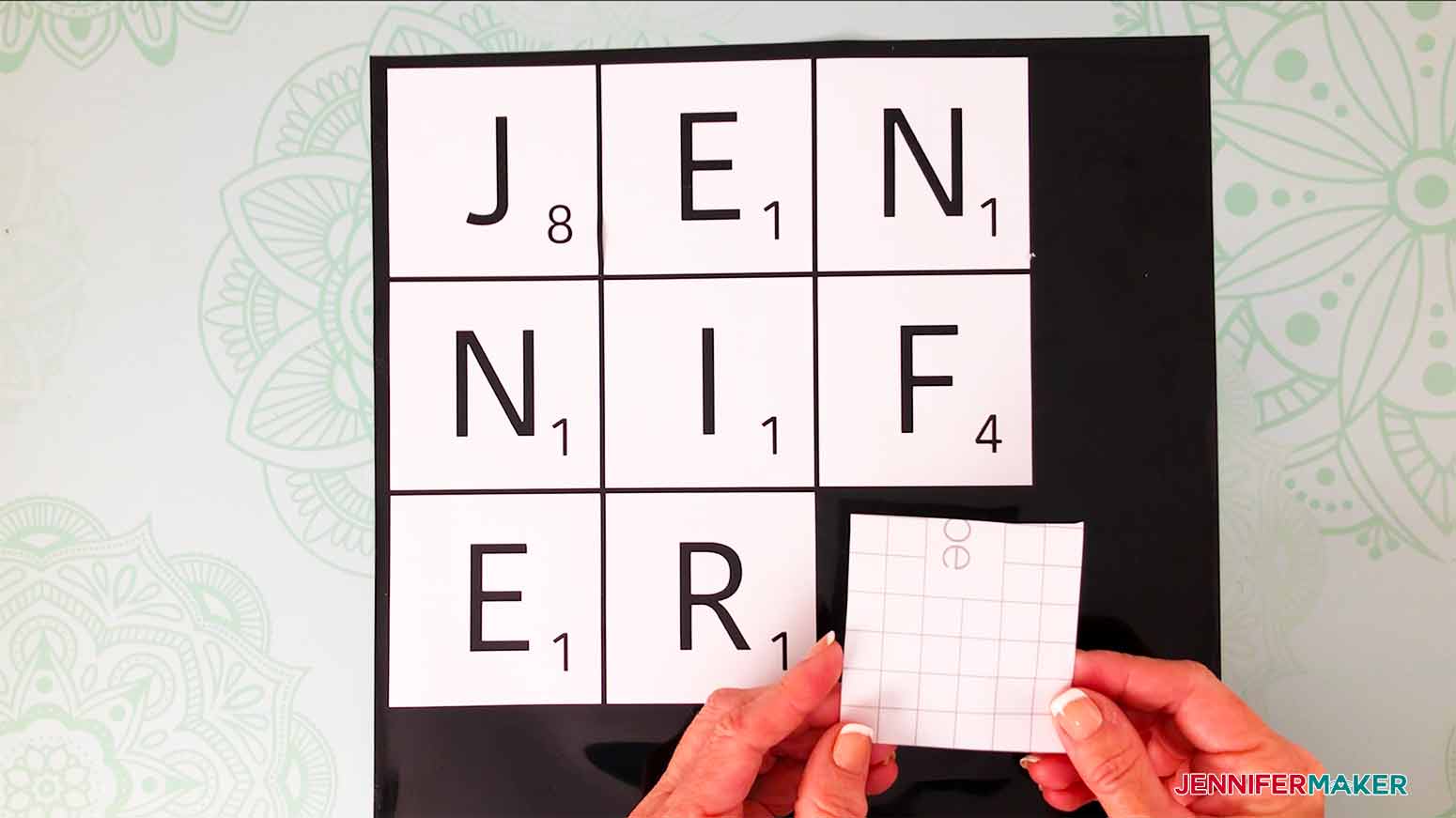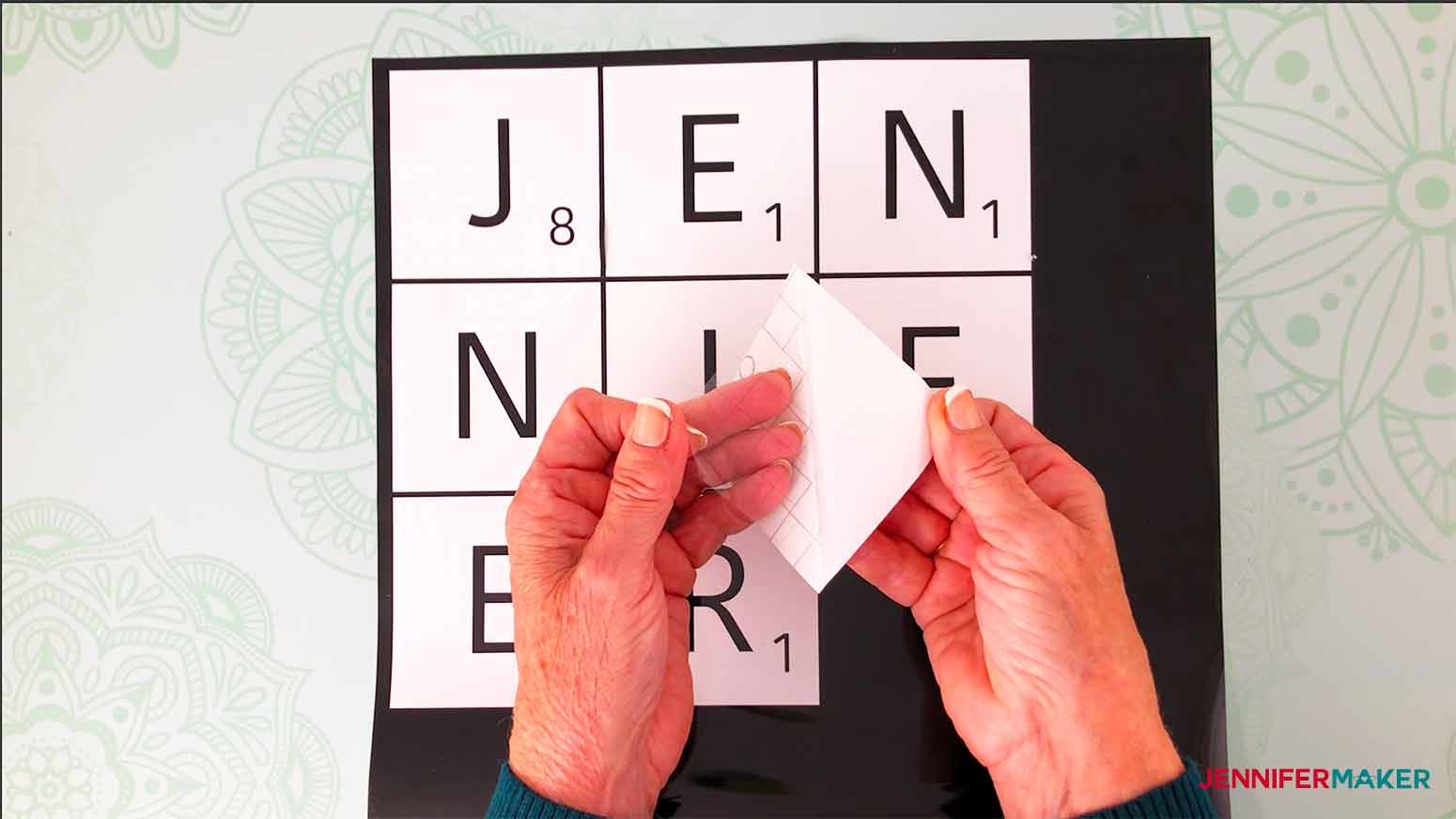 Line up the transfer tape within one of the weeded tiles, lay it down and burnish the transfer tape to the vinyl using a scraper. Flip over your sheet of vinyl and remove the vinyl from the paper backing.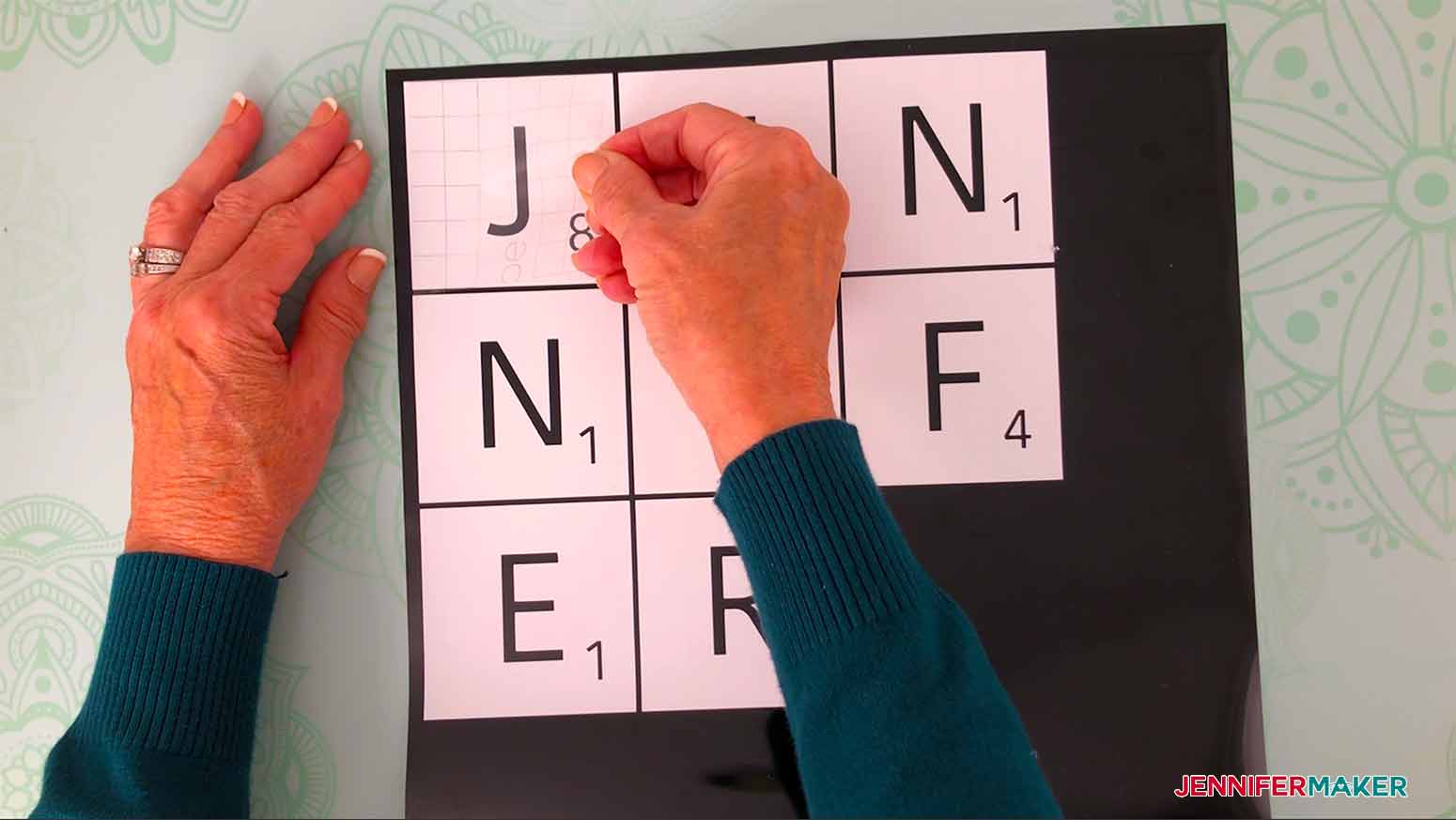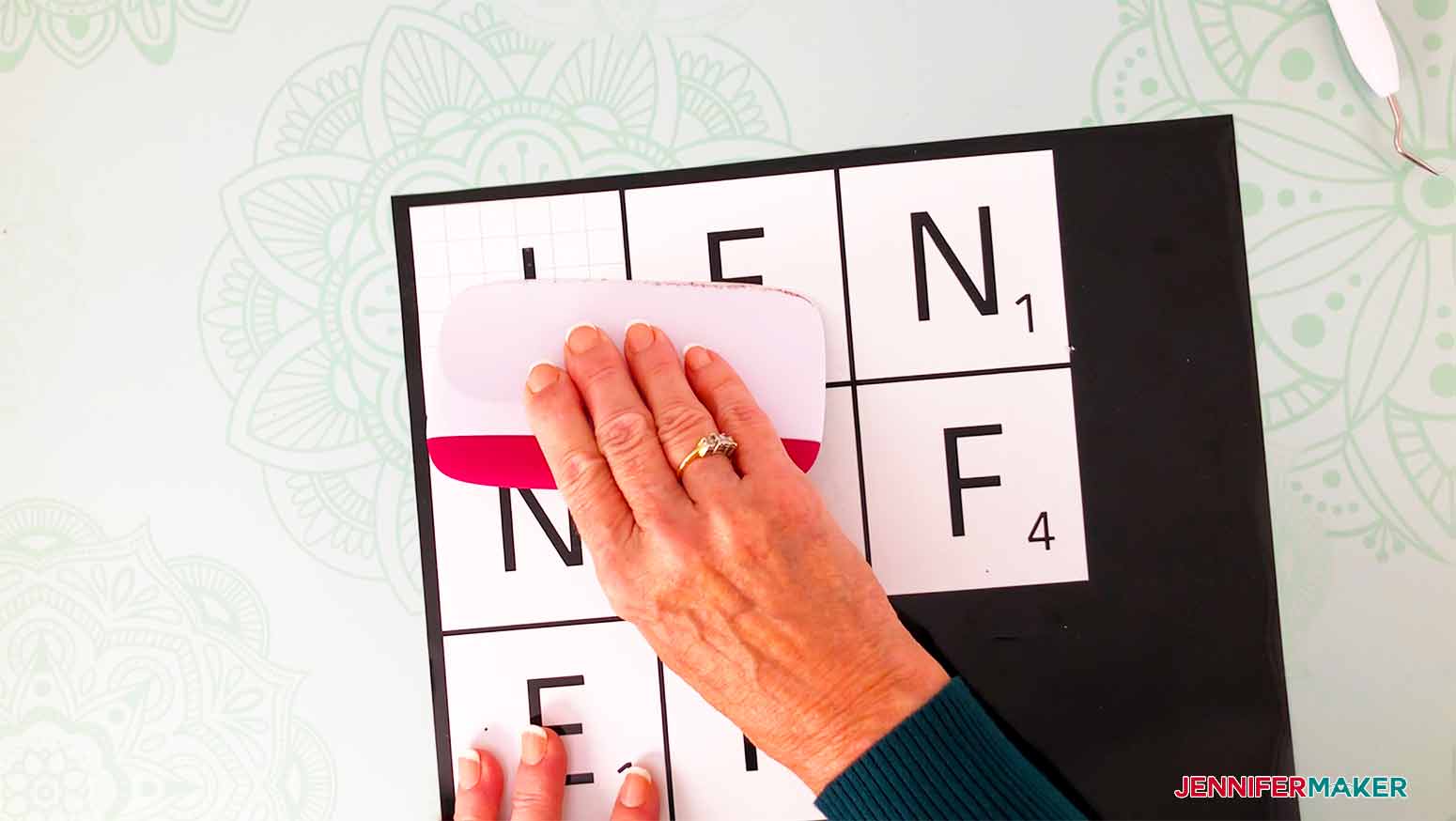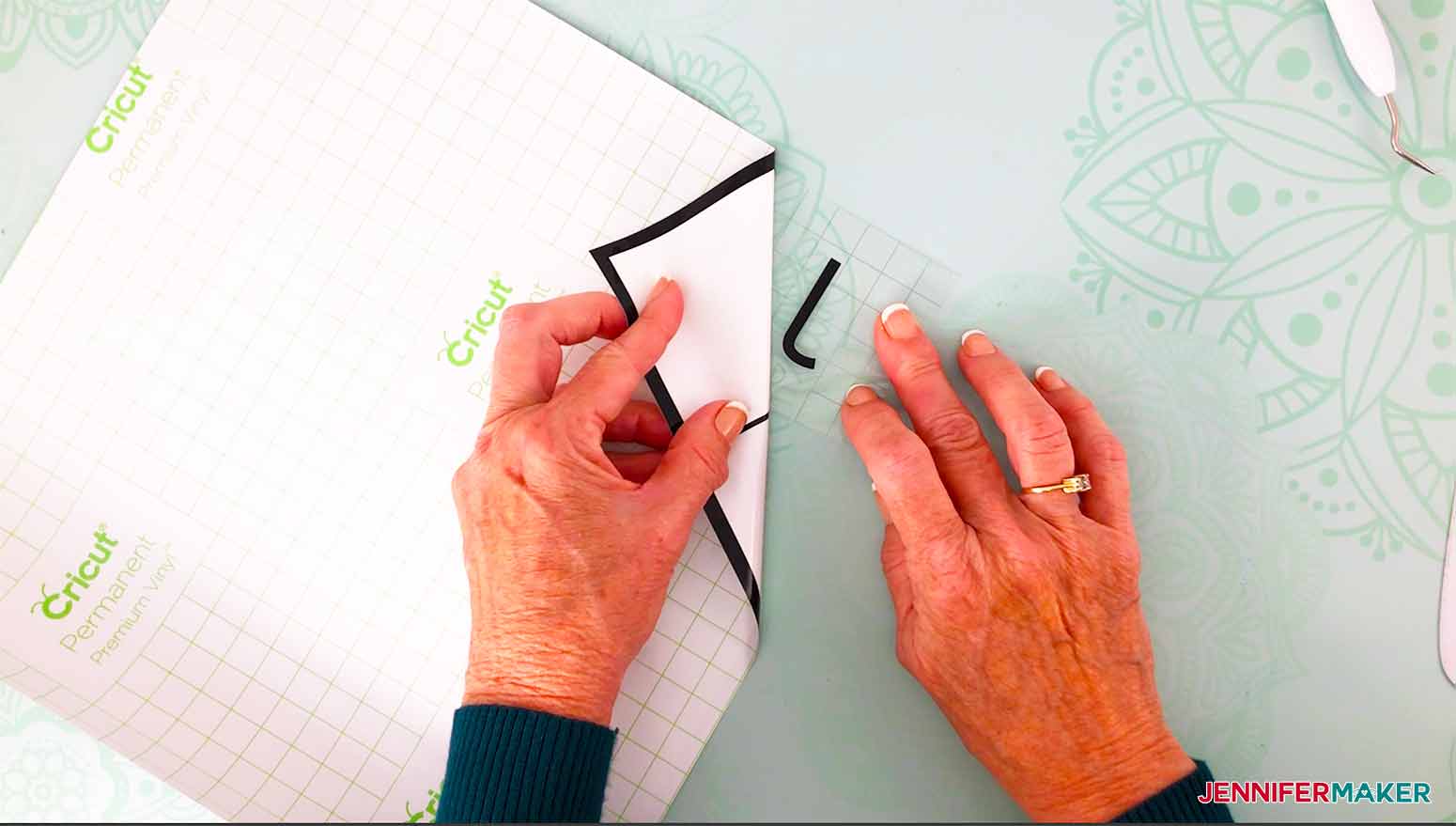 Apply the vinyl to the tile, burnish the vinyl to the wood using a scraper and remove the transfer tape.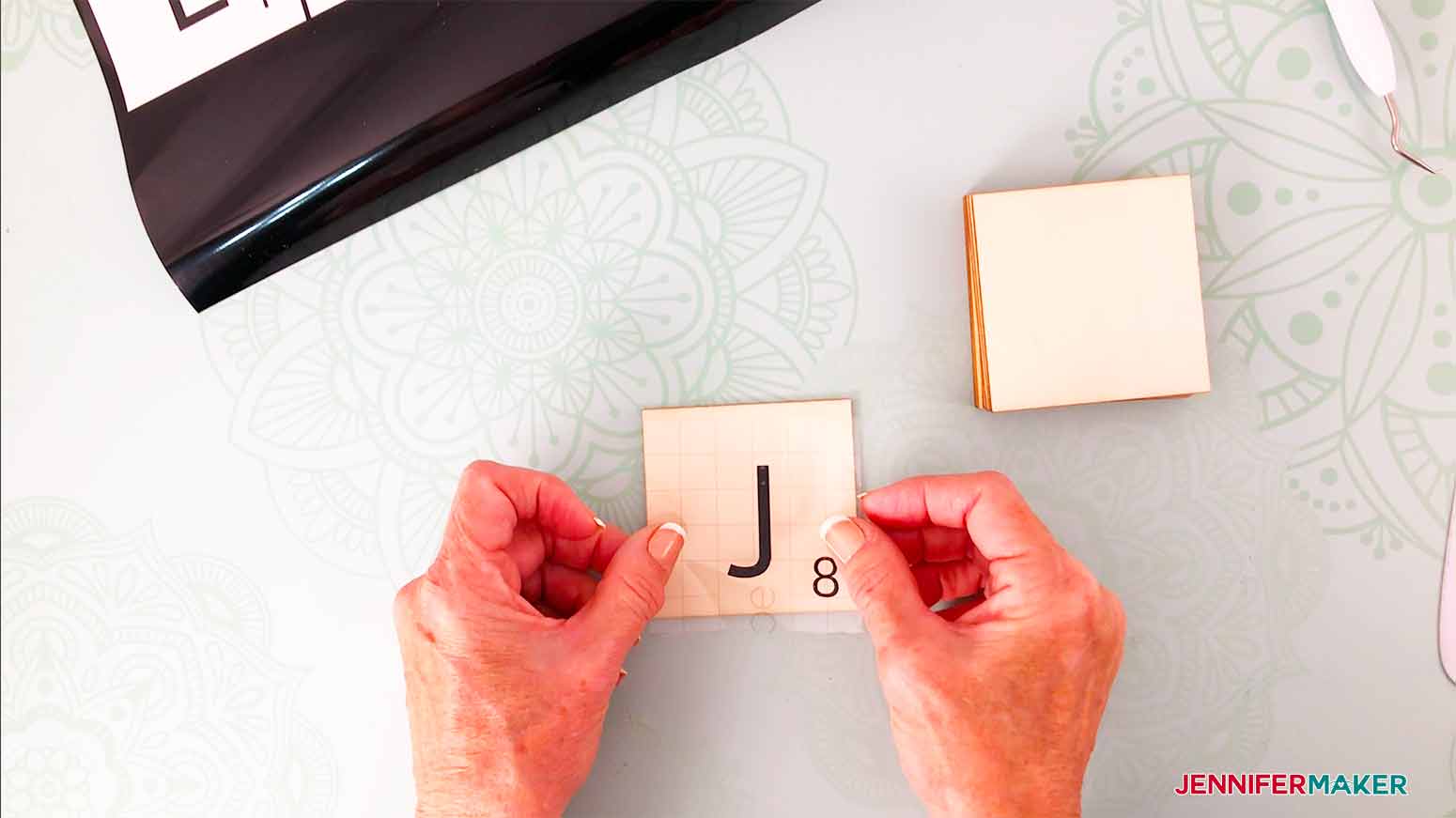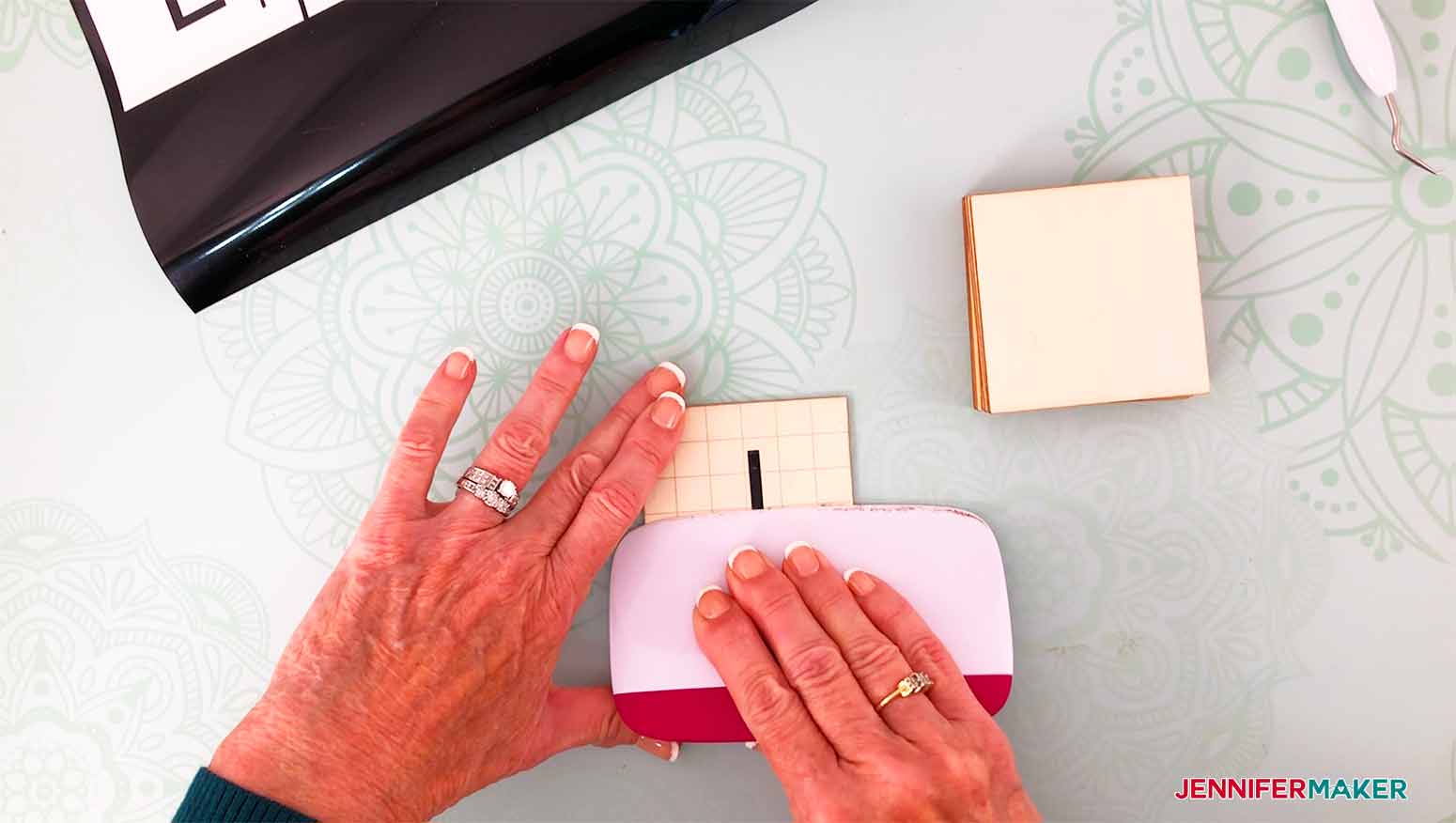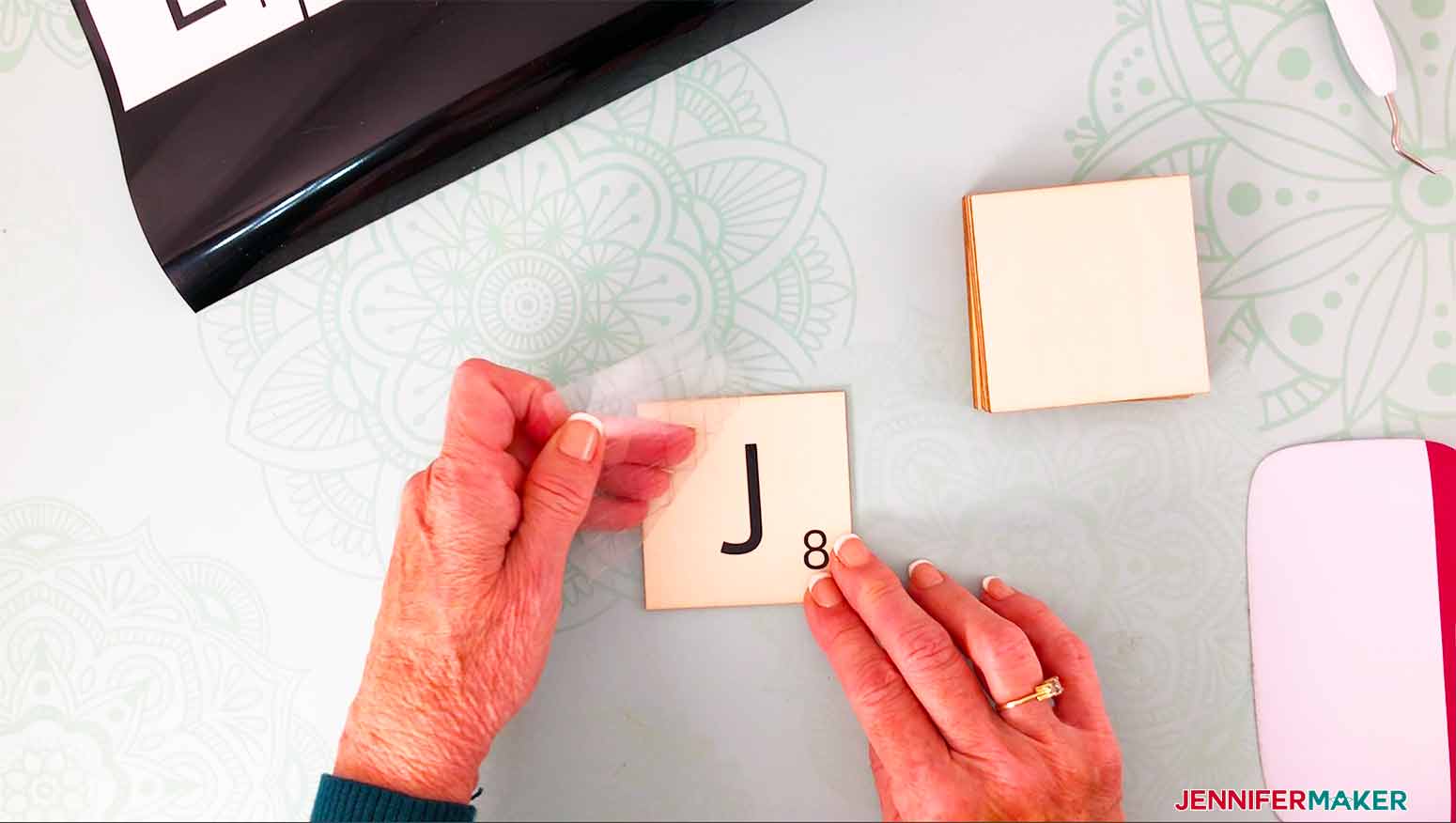 I followed this process and finished all the tiles for my Scrabble Tile Wall Art. At this point, you could arrange your tiles on your wall as single tiles. However, I wanted to hang my Scrabble Tile Wall Art as one piece and not worry about the spacing, alignment etc that comes with putting one tile at a time on the wall.
To do this, I began by putting my longest word together first and build from there. So I started with my name, Jennifer. I first put the tiles face up on my workspace in the order that they needed to be in. Then I flipped each tile over by grabbing them at the top and flipping them over towards me. I used a straight edge to assure the tiles were all lined up evenly. Once I was sure of their position, I laid a piece of 1 1/2 inch masking tape across the middle of all the tiles. This step serves two purposes. First, the tape holds all pieces together BEFORE I glue them together. Second, by taping first, I am able to flip my tiles over to make sure all the tiles are positioned correctly before I glue them as it is easy to have a letter upside down.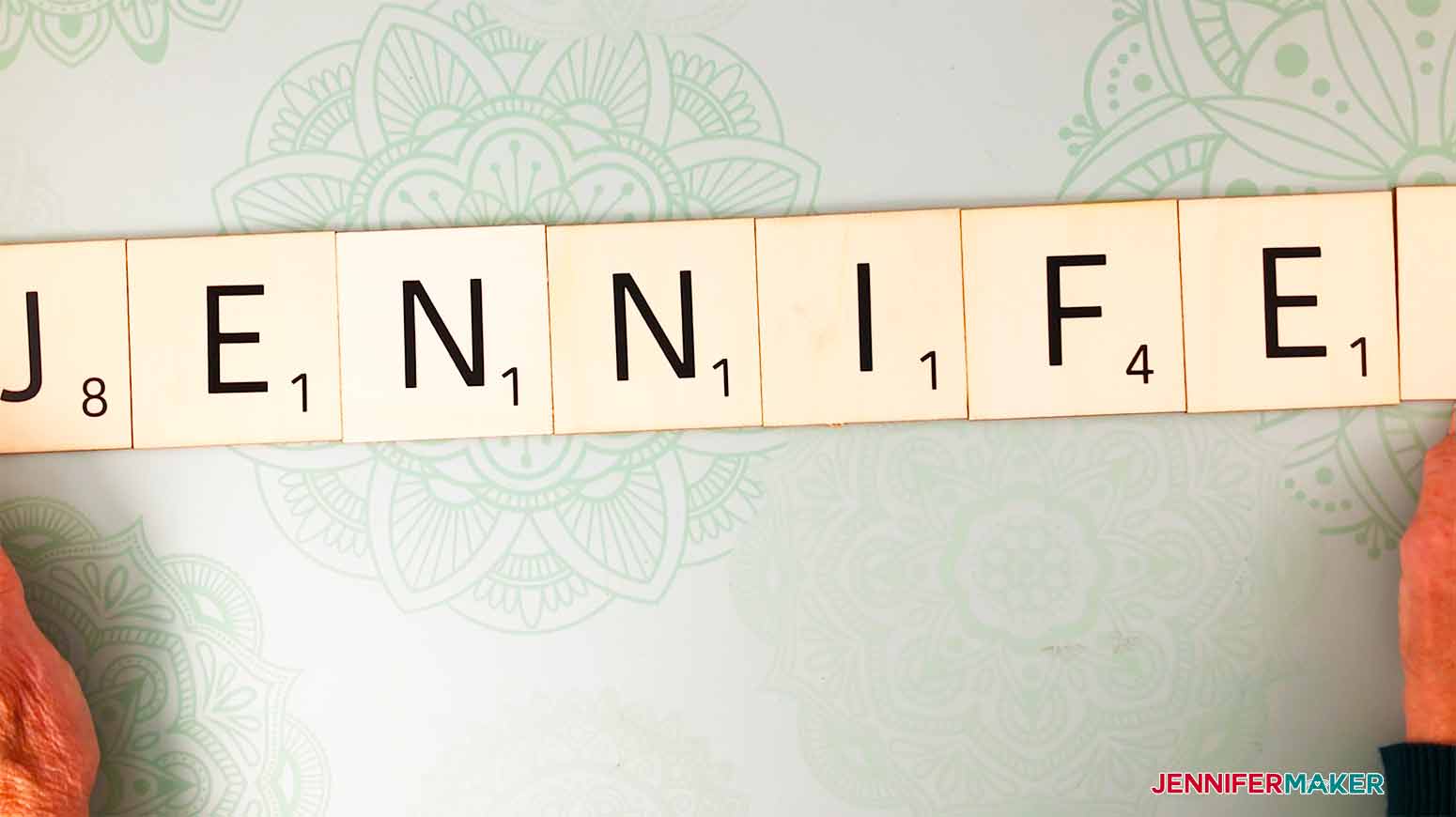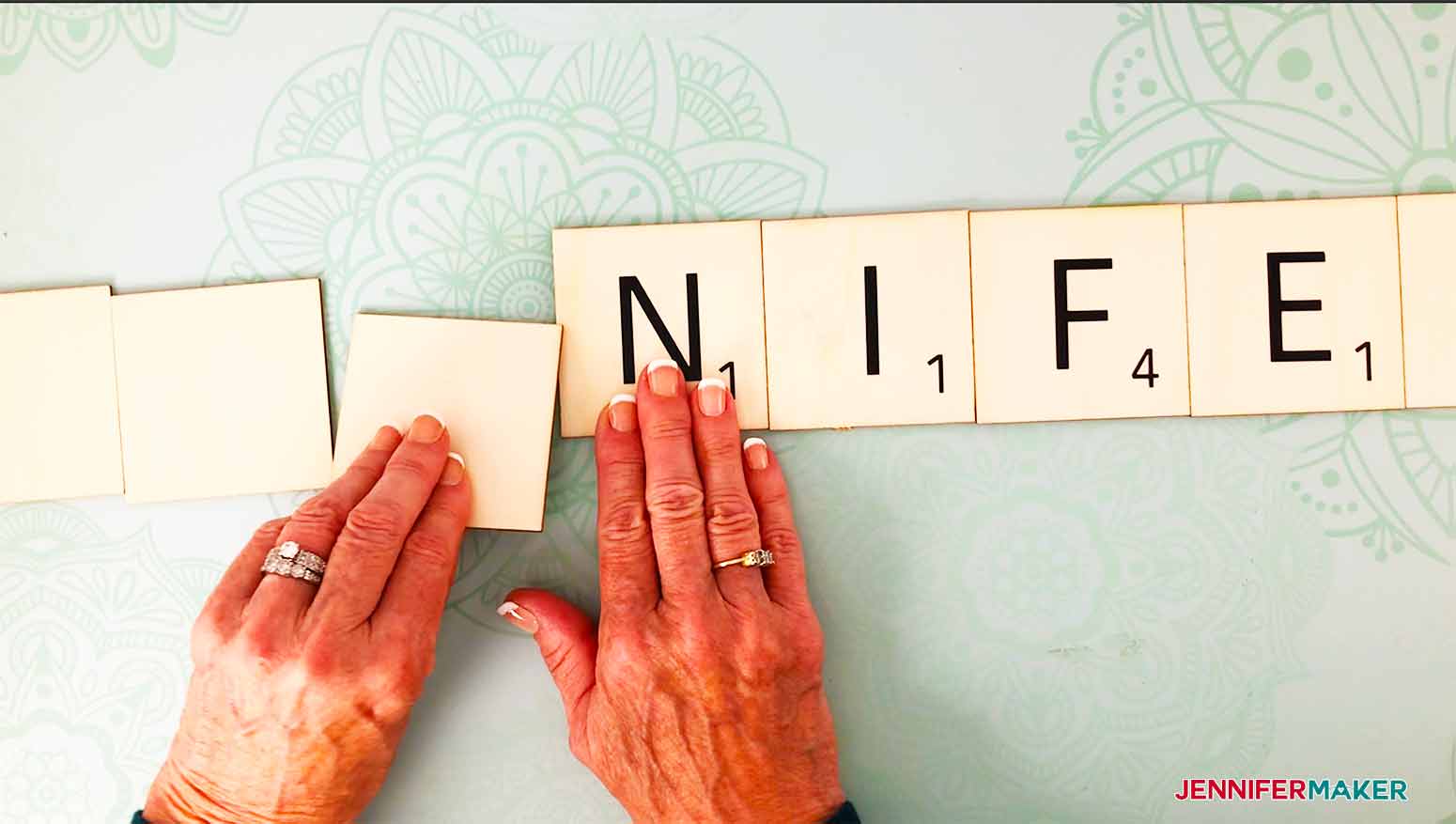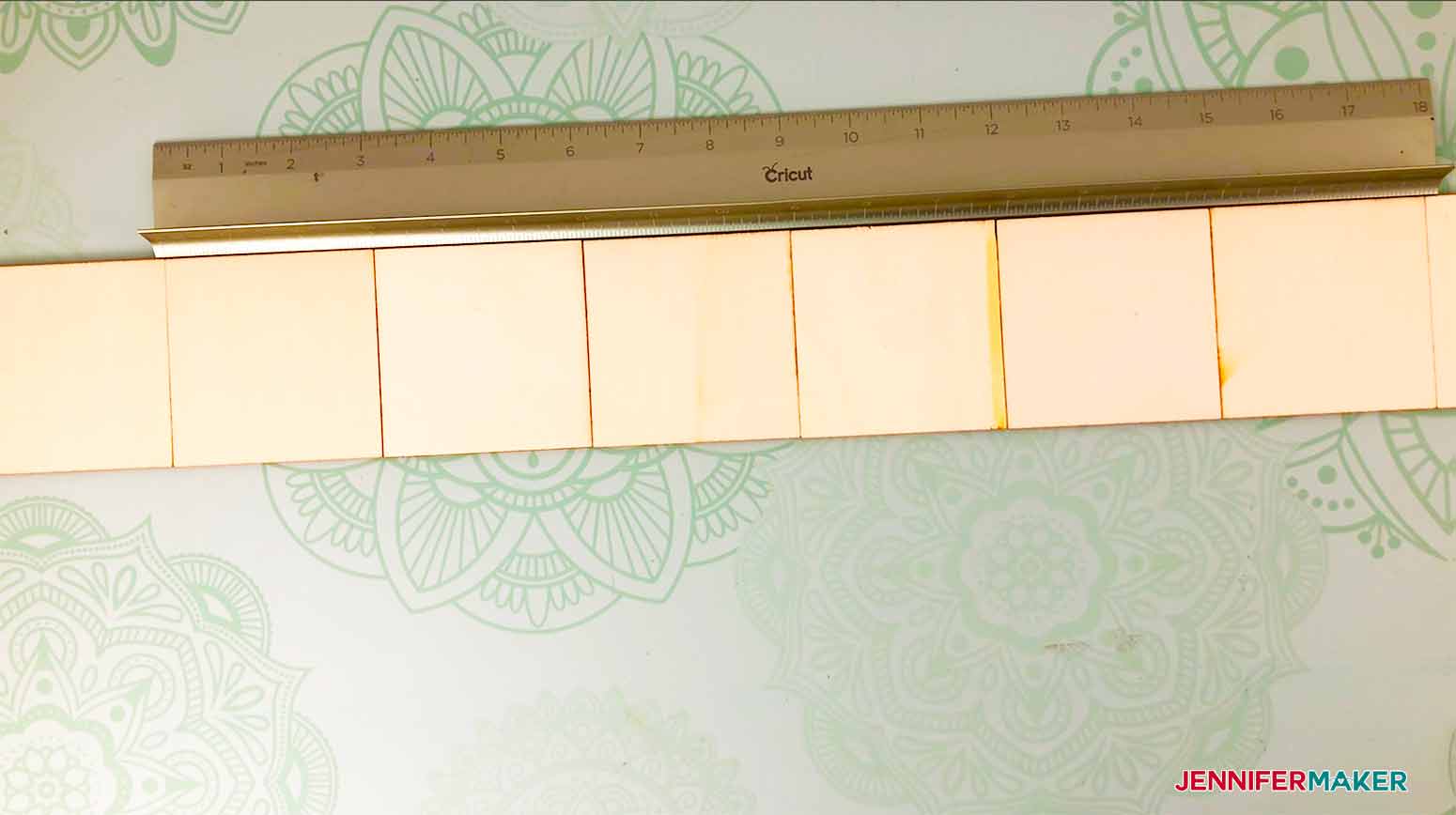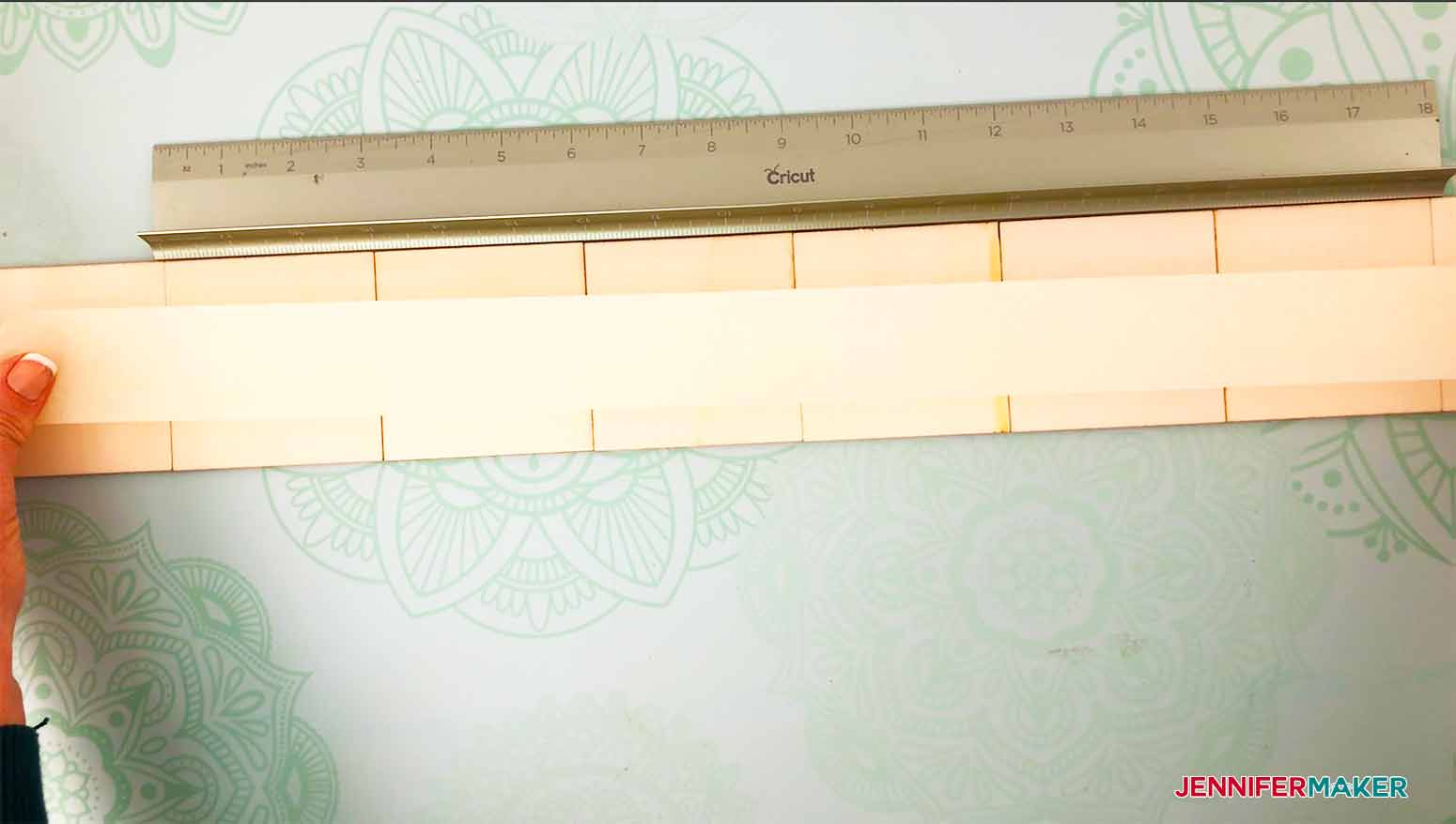 Once taped, I can pick up my tiles and see if I need to make any adjustments as I found it was easy to place a letter upside down or not in line with other tiles.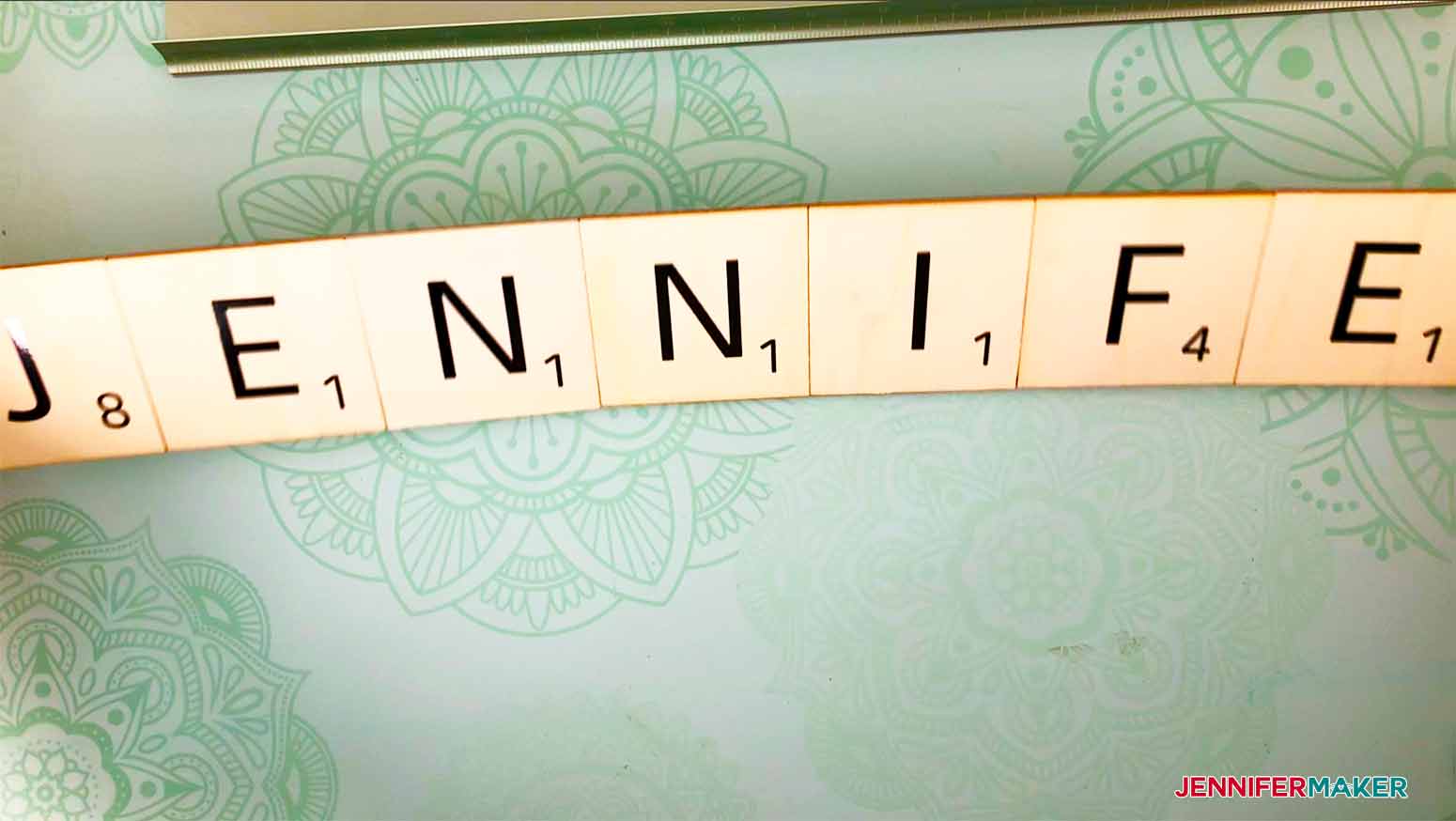 Just having the tape on the back of the tiles is not enough to keep them together for hanging so I decided to cut strips of balsa wood to adhere to the backs for more stability. I cut my strips of balsa wood about 1 1/2 inches wide. Why not the size of the tiles you ask? Because in order to connect all the tiles, you need space on each tile to place the balsa wood strip. I cut my strips using my Cricut Portable Trimmer at 1 1/2 inches wide. The trimmer may not cut all the way through the balsa wood, however it does score the balsa wood well enough that you only need to bend it to snap it apart after cutting. You may have some pieces of balsa wood left over from cutting that are not the 1 1/2 inches wide and they are just fine to use as well. I try not to waste much material.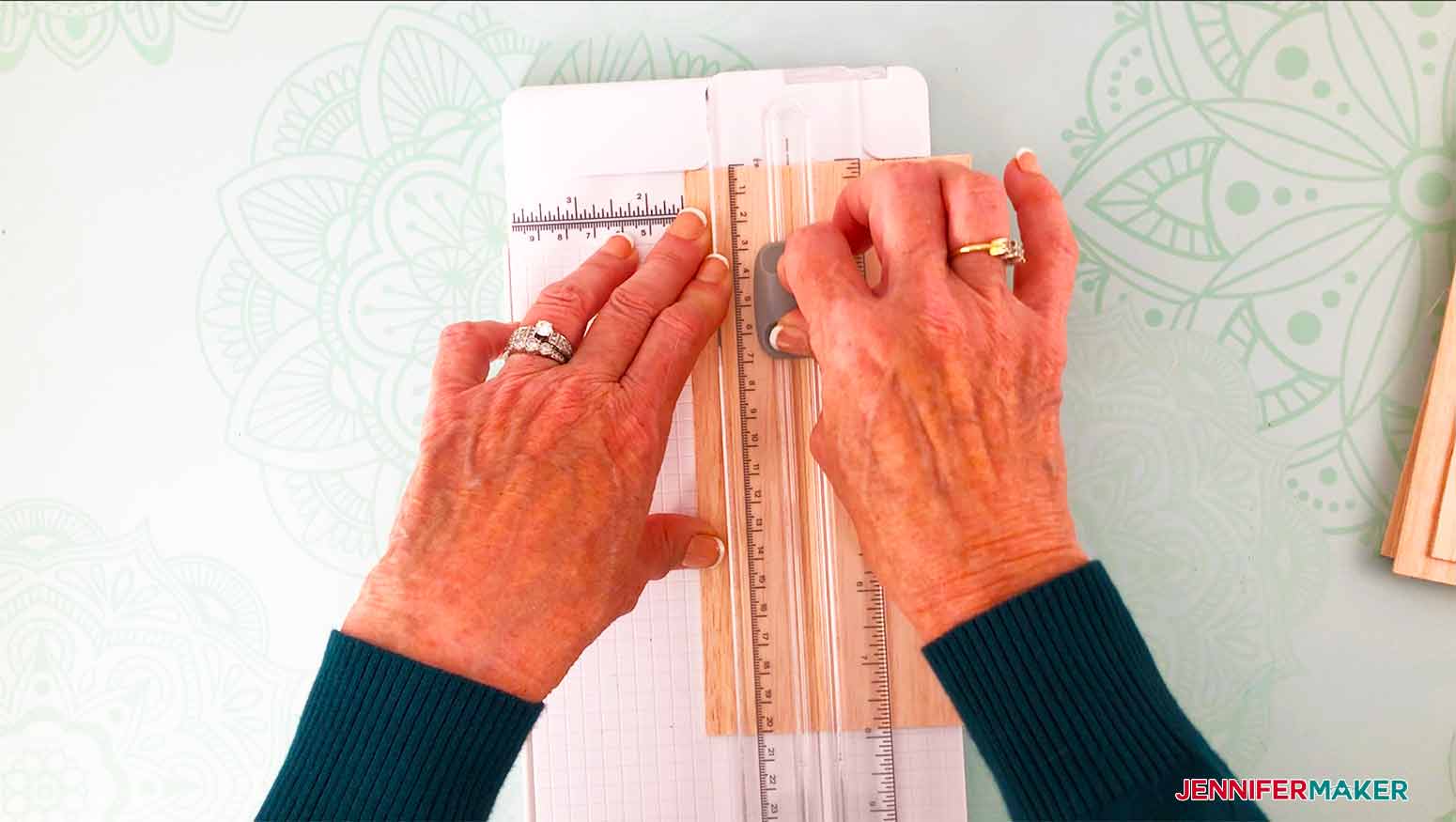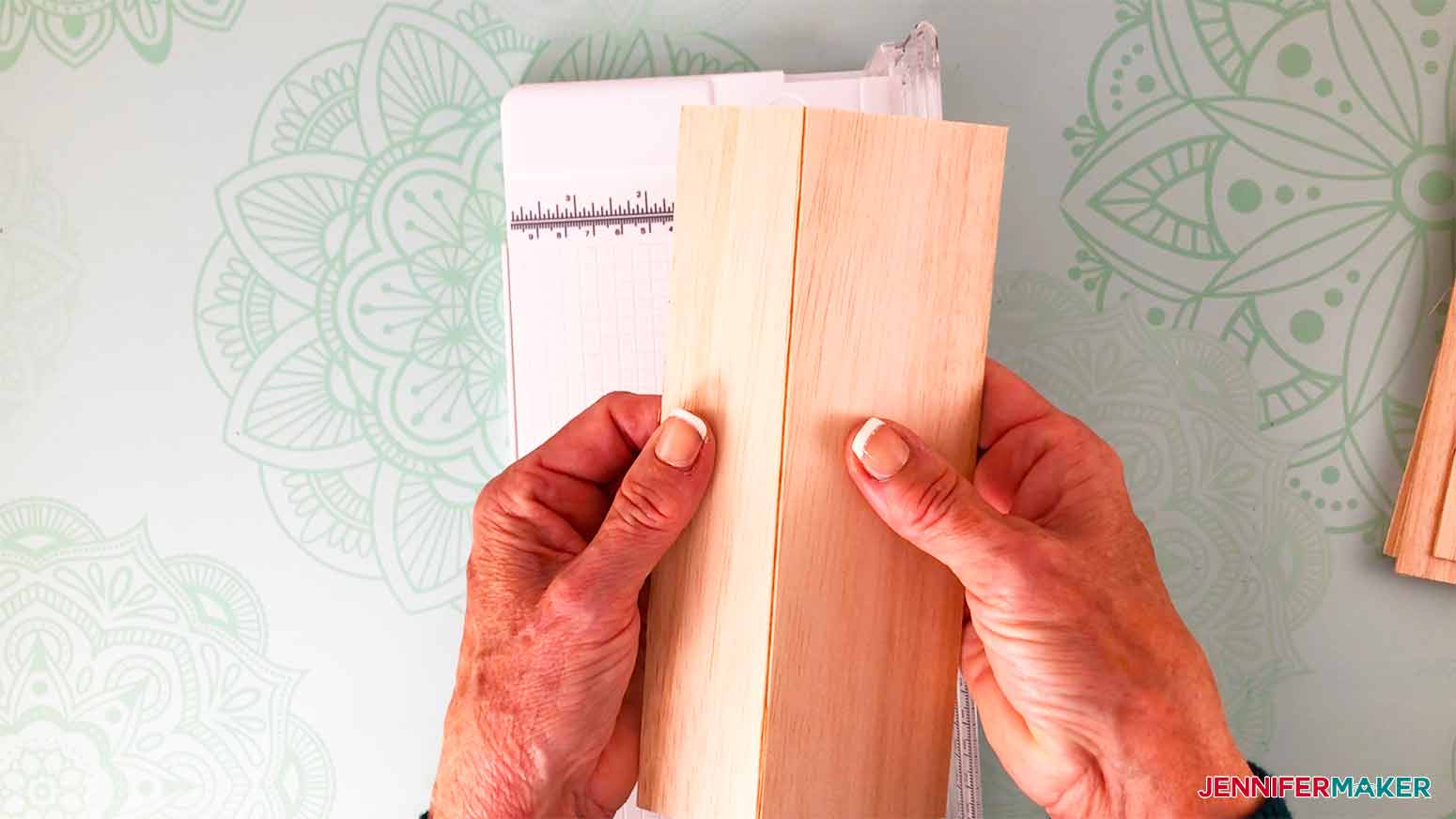 Determine placement of your balsa wood strips. I always made sure that I did not end a piece of balsa wood at the end of a tile (unless it was the end of the word of course). Having the balsa wood span the tile seams adds to the stability. Place a strip of hot glue along the masking tape on the back of your tiles. Place down your strip of balsa wood on the hot glue and press in place, trying to keep the wood centered as much as possible to the tile.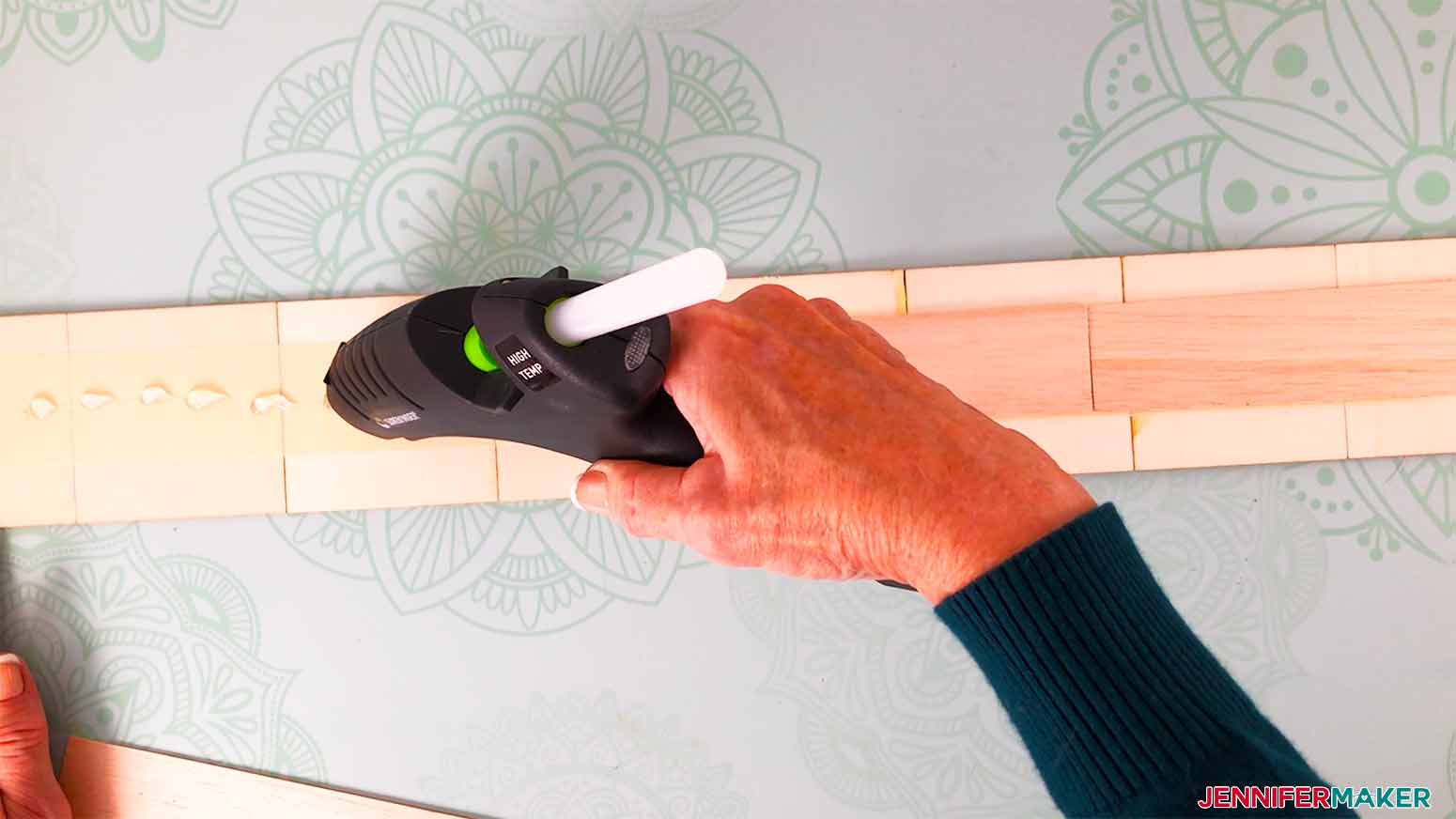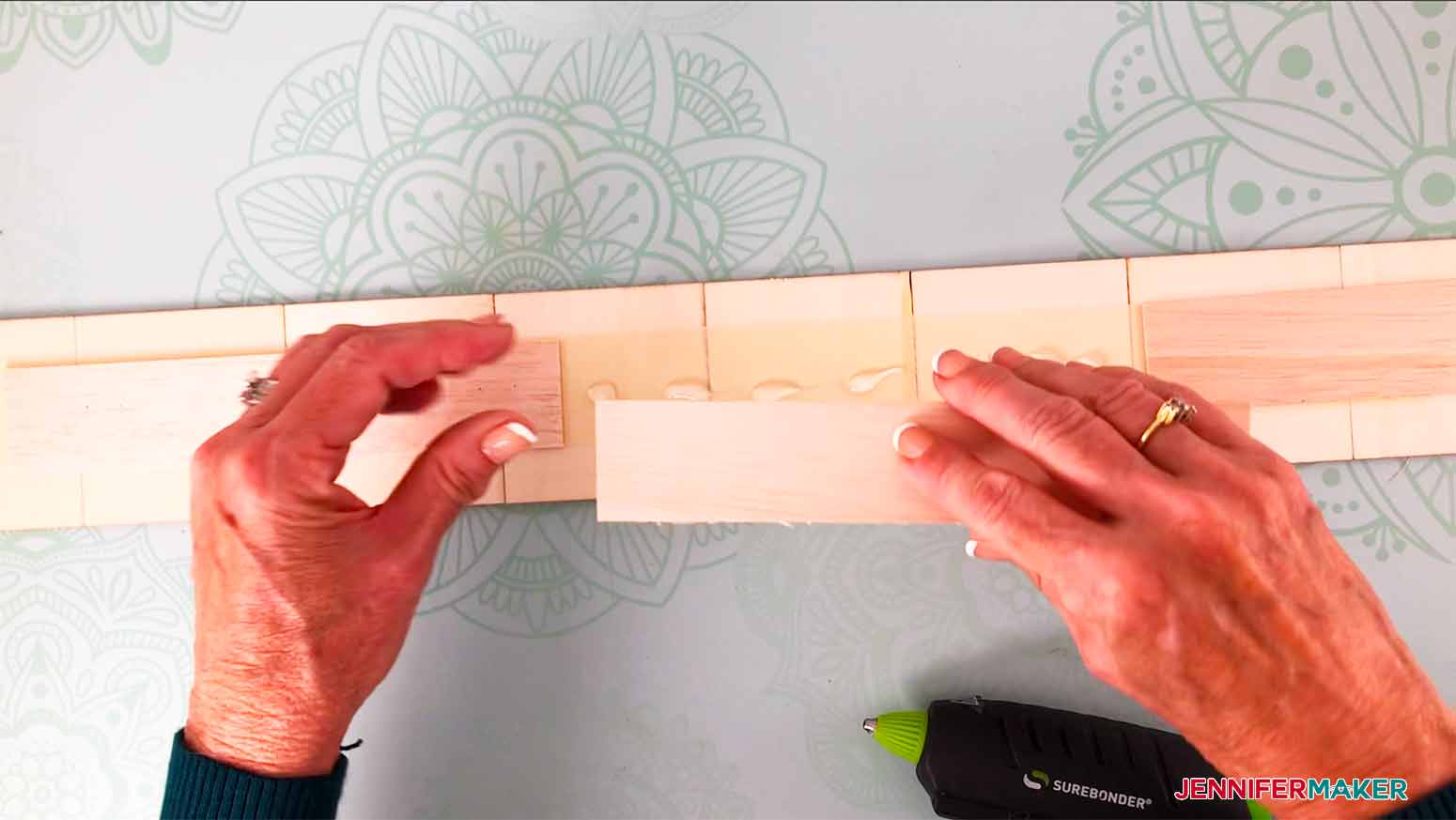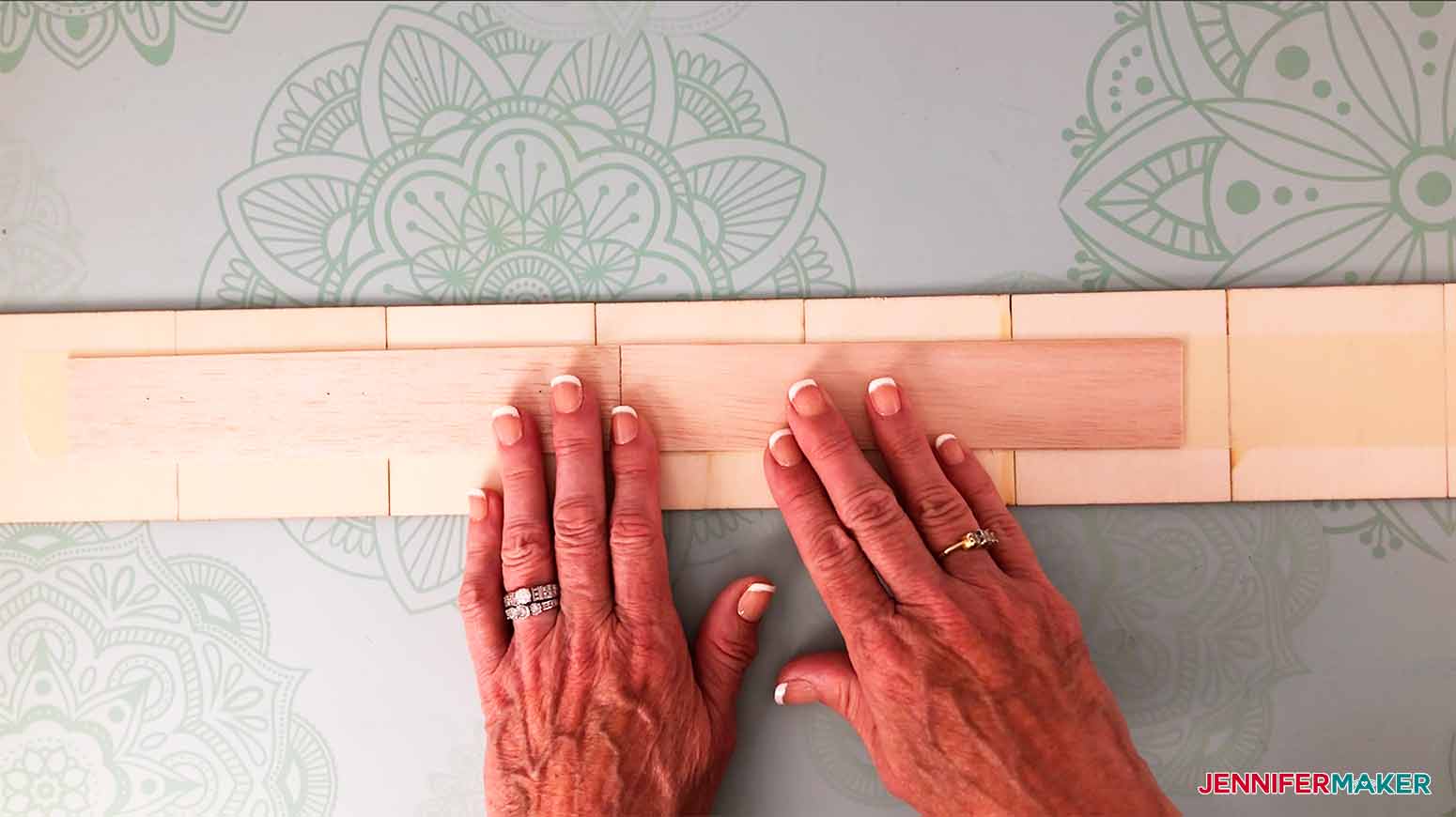 Once I had my first word assembled, I began to add on to my Scrabble Tile Wall Art following all the steps above. I lined up all the tiles where they needed to be, taped them together, flipped them over to check for accuracy and then added the balsa wood backing for support.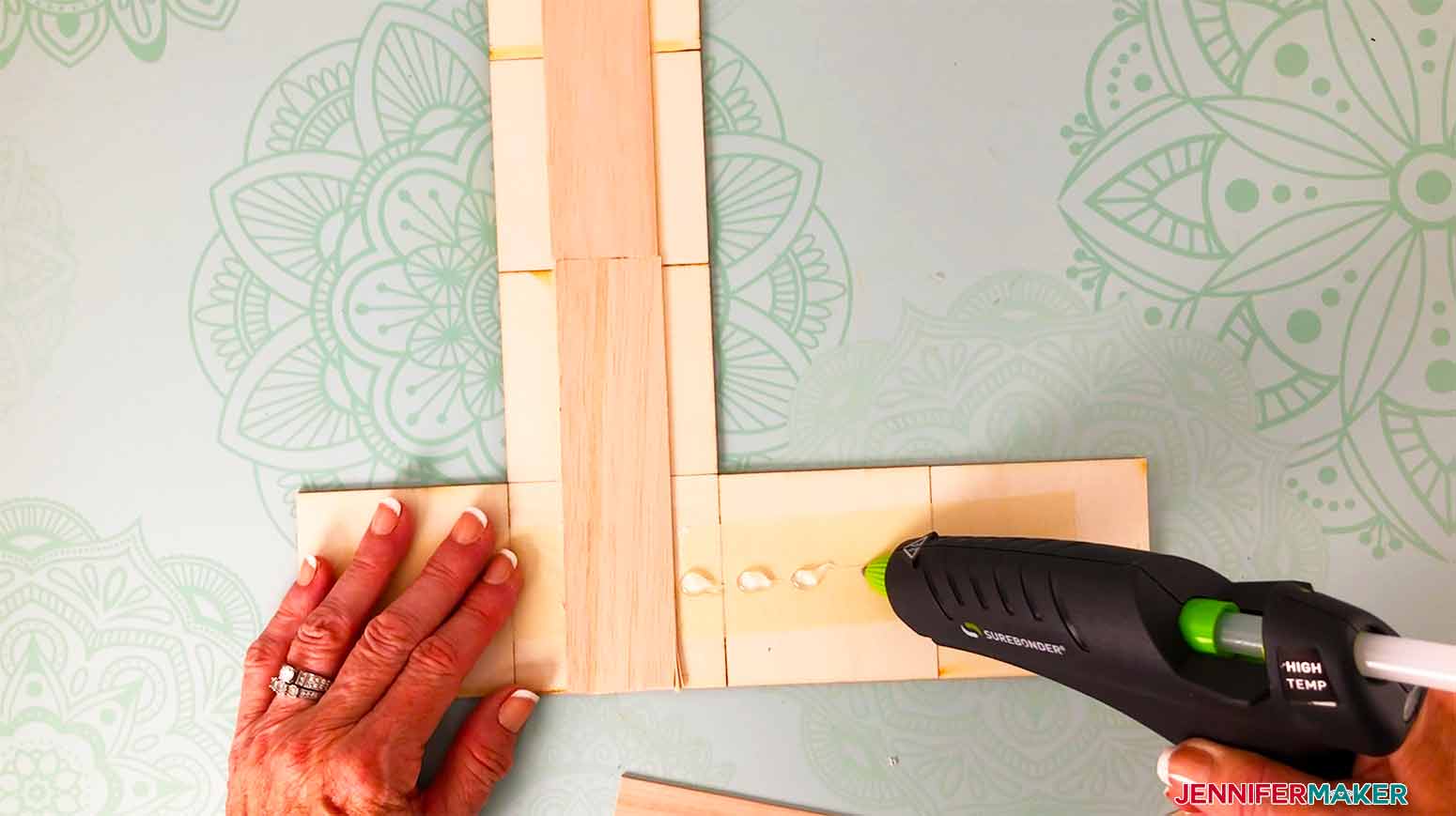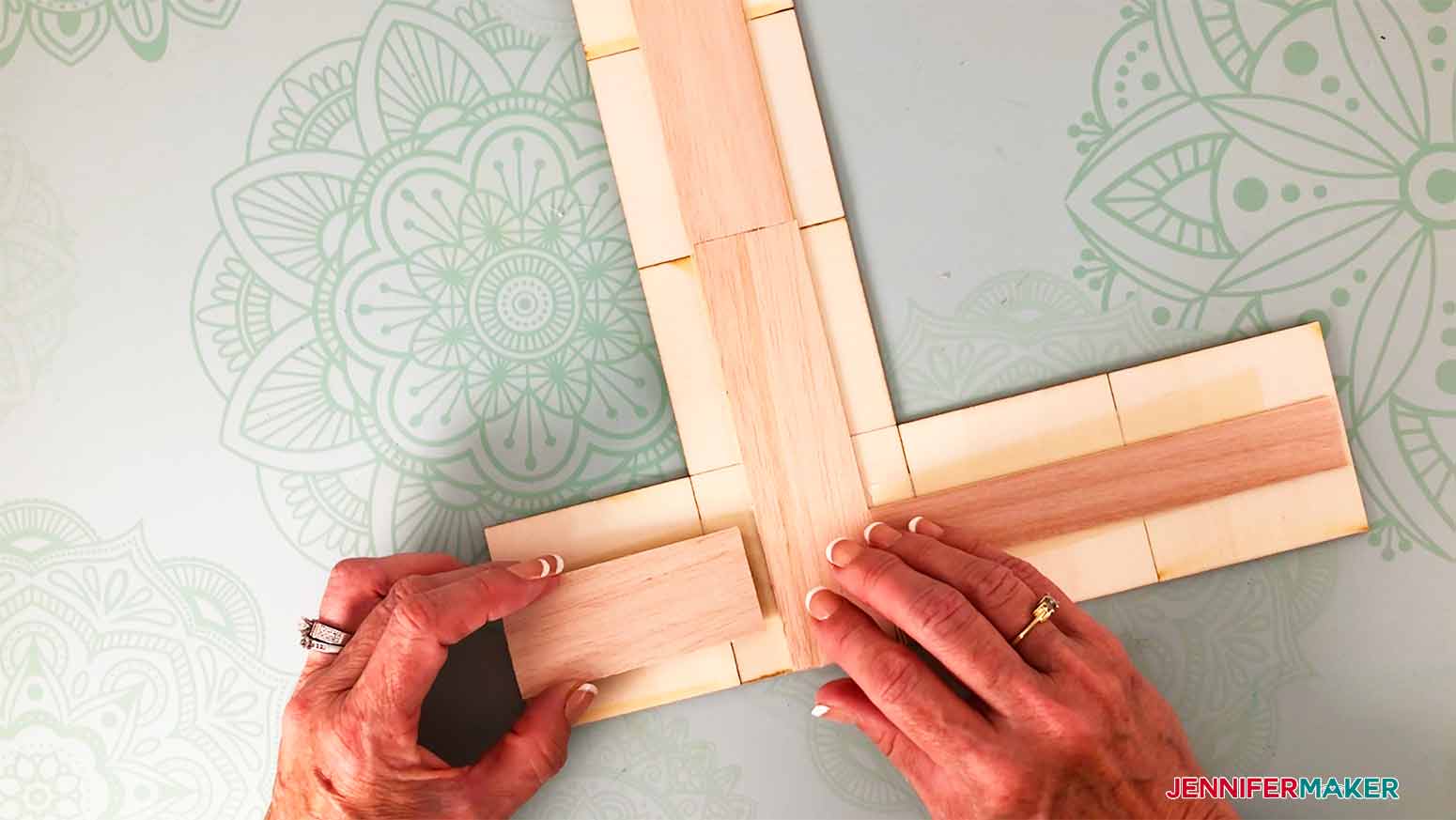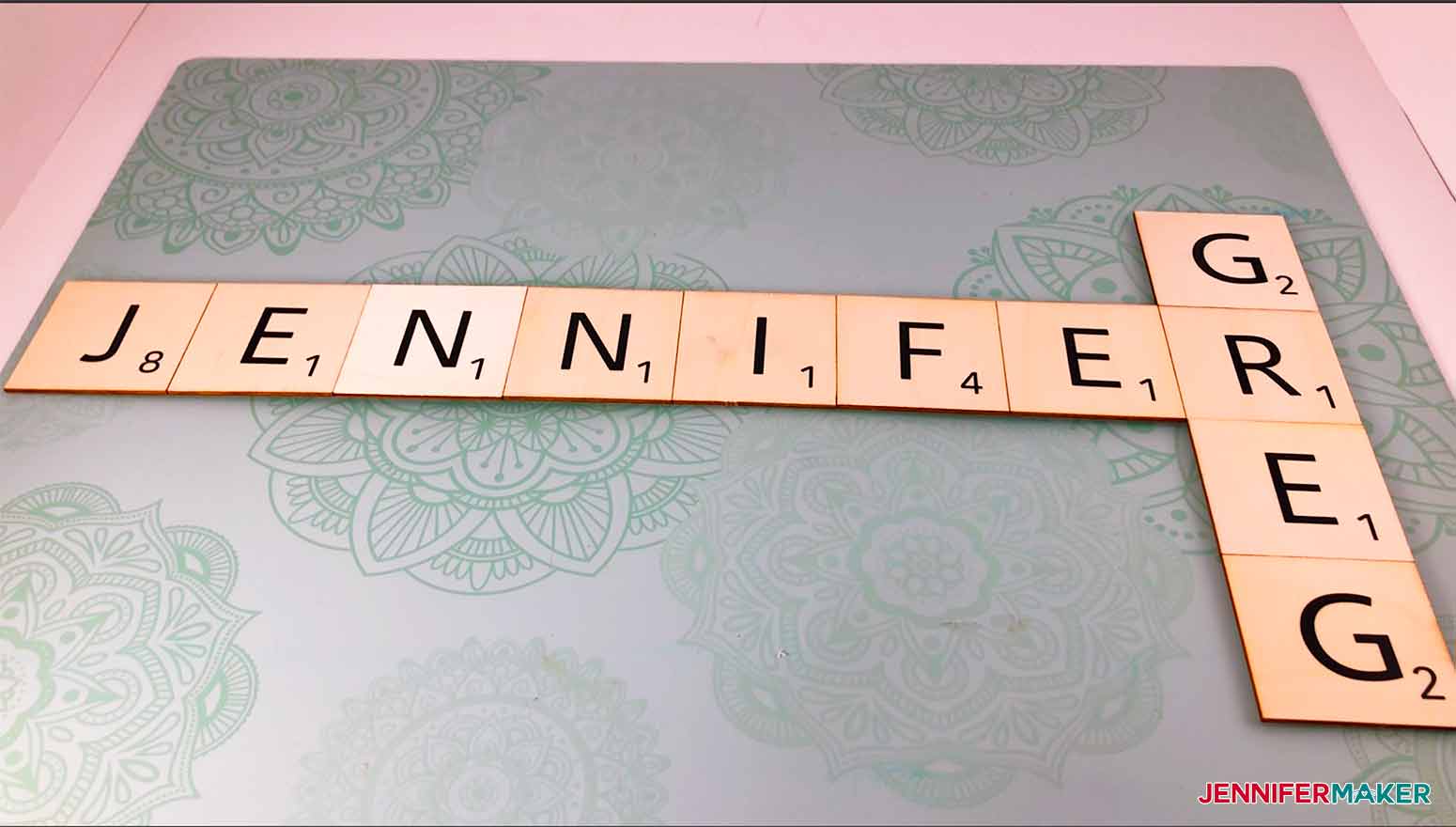 Once I was done, I needed to determine how I was going to hang my Scrabble Wall Art on the wall. I decided to use sawtooth picture hangers to aid in hanging. Because my tiles are on the thin side, I had to be careful not to hammer the picture hangers through the tiles. I glued an extra piece of balsa wood on the back of where I was going to place a hanger. This gave me the thickness I needed for the hanger to be securely attached to the Scrabble Tile Wall Art and not have the hanger come through the front of the tile.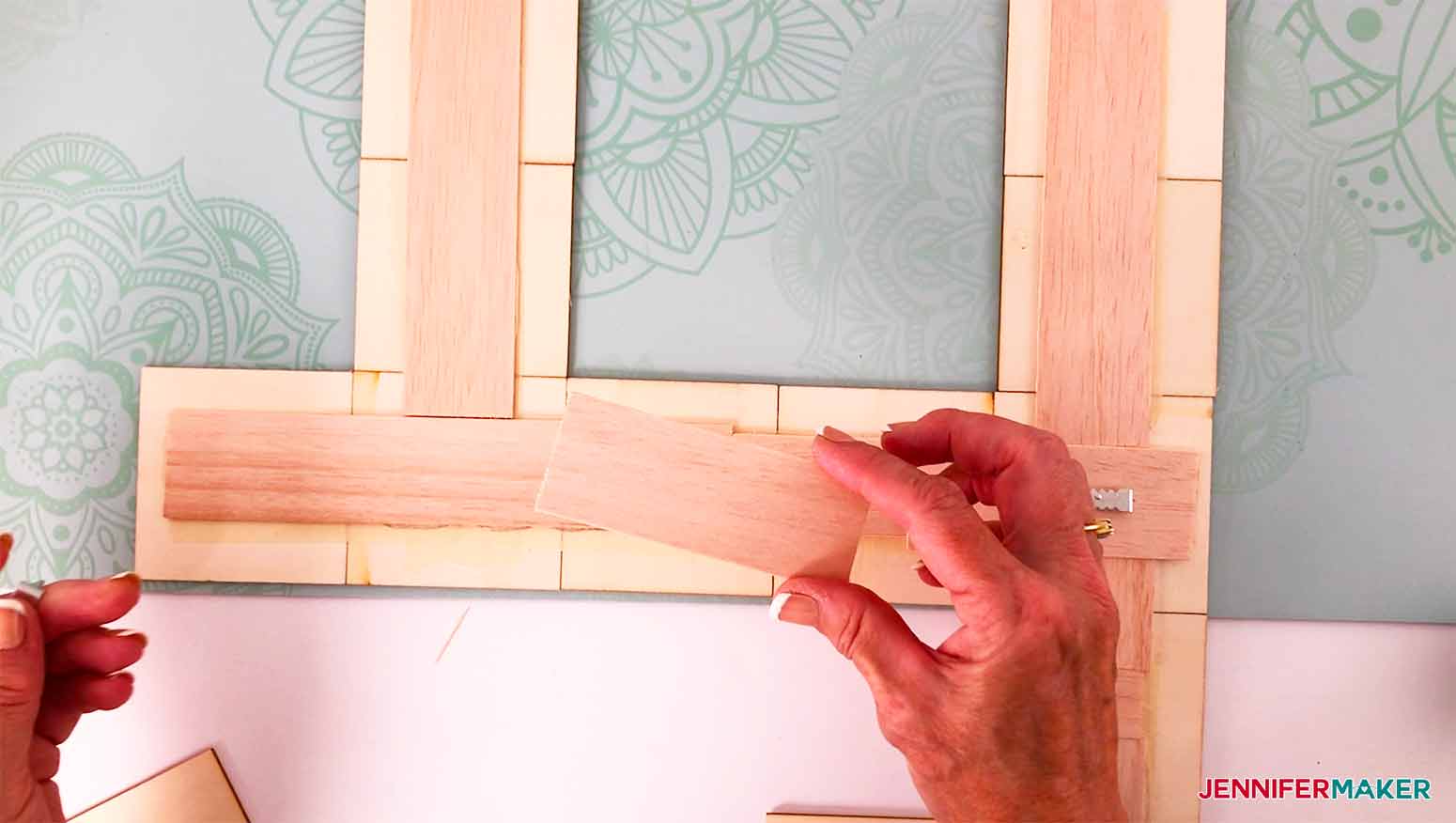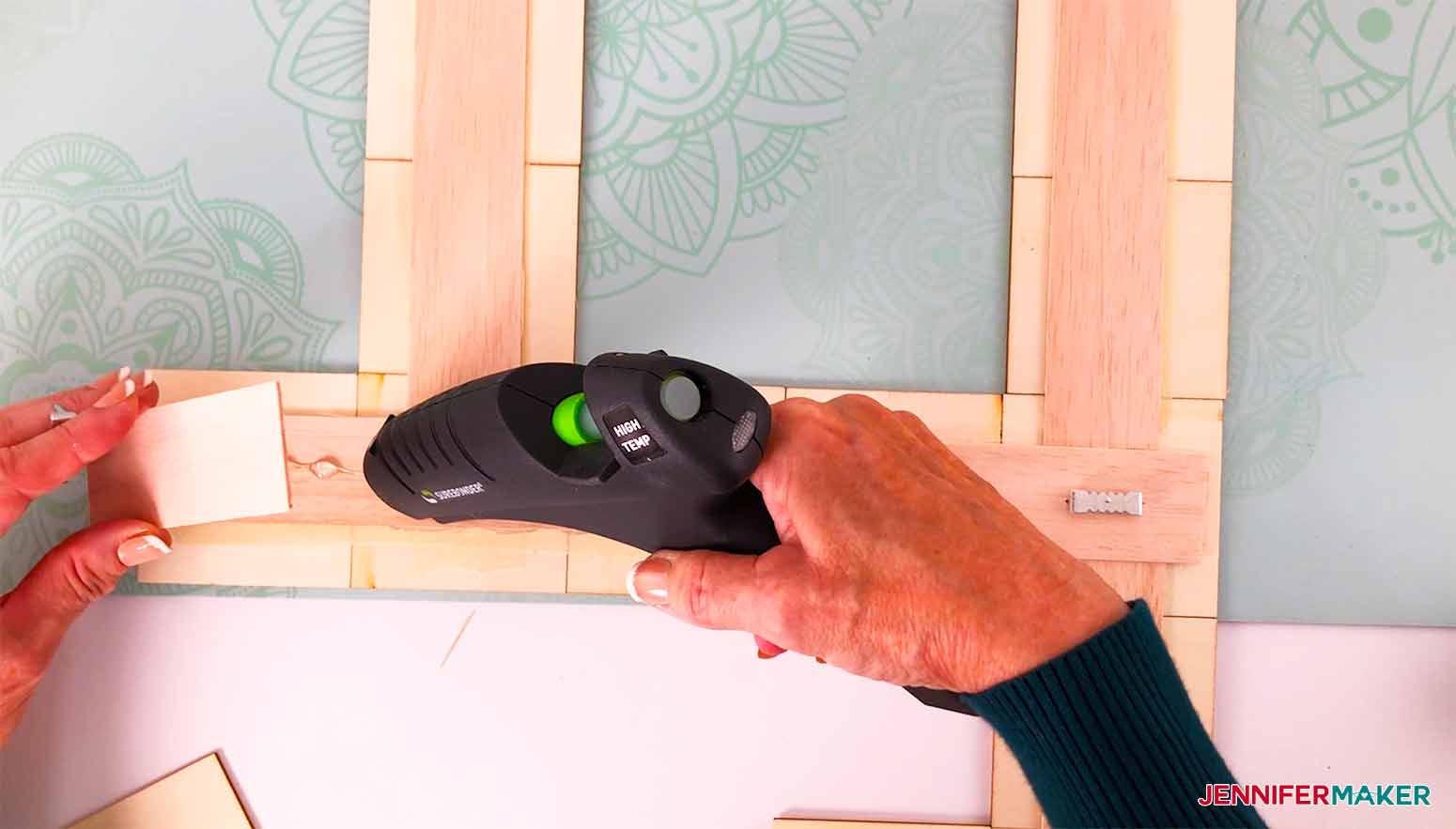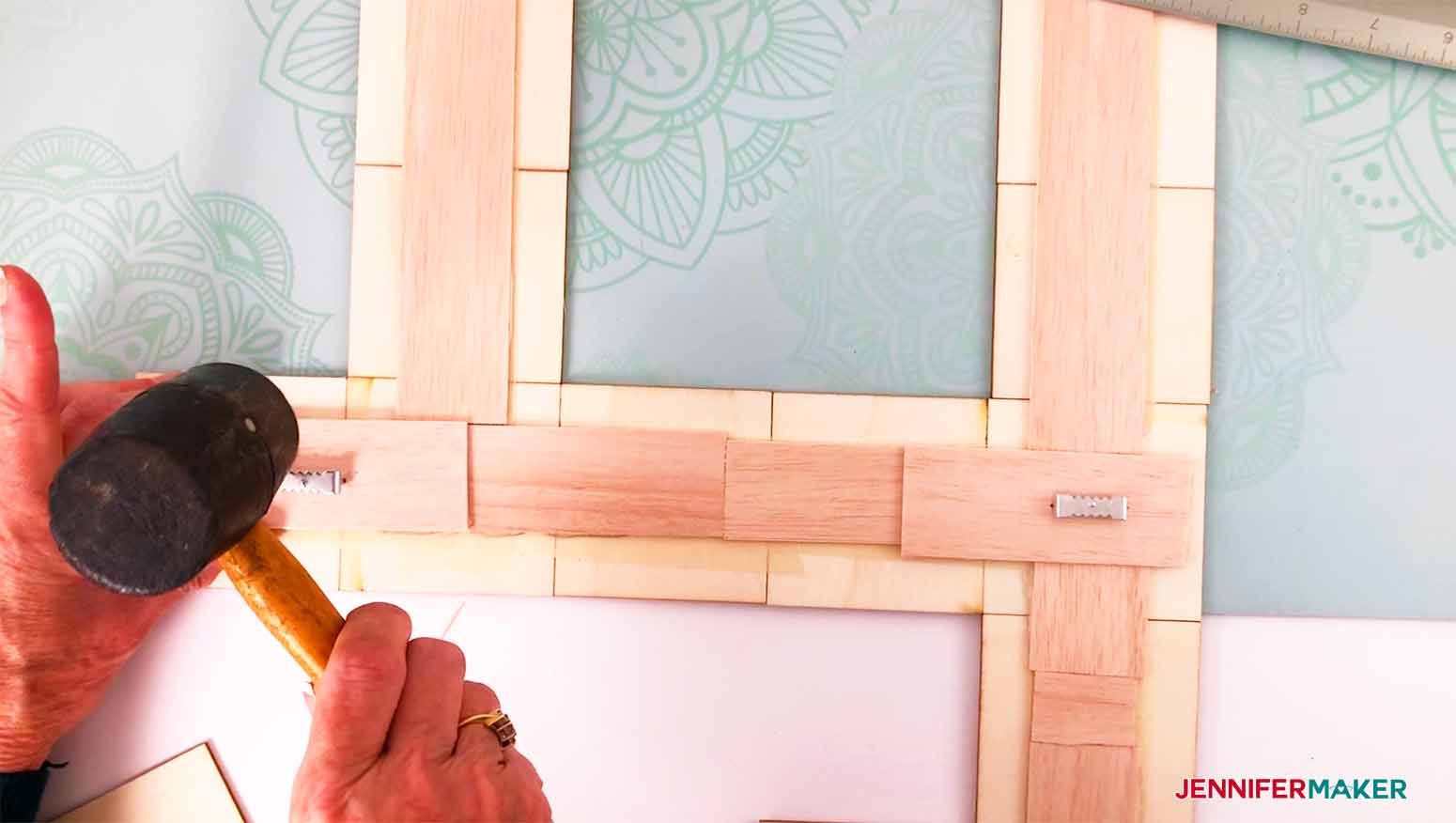 This project was so much fun and I love how it turned out! I can't wait to see what you create.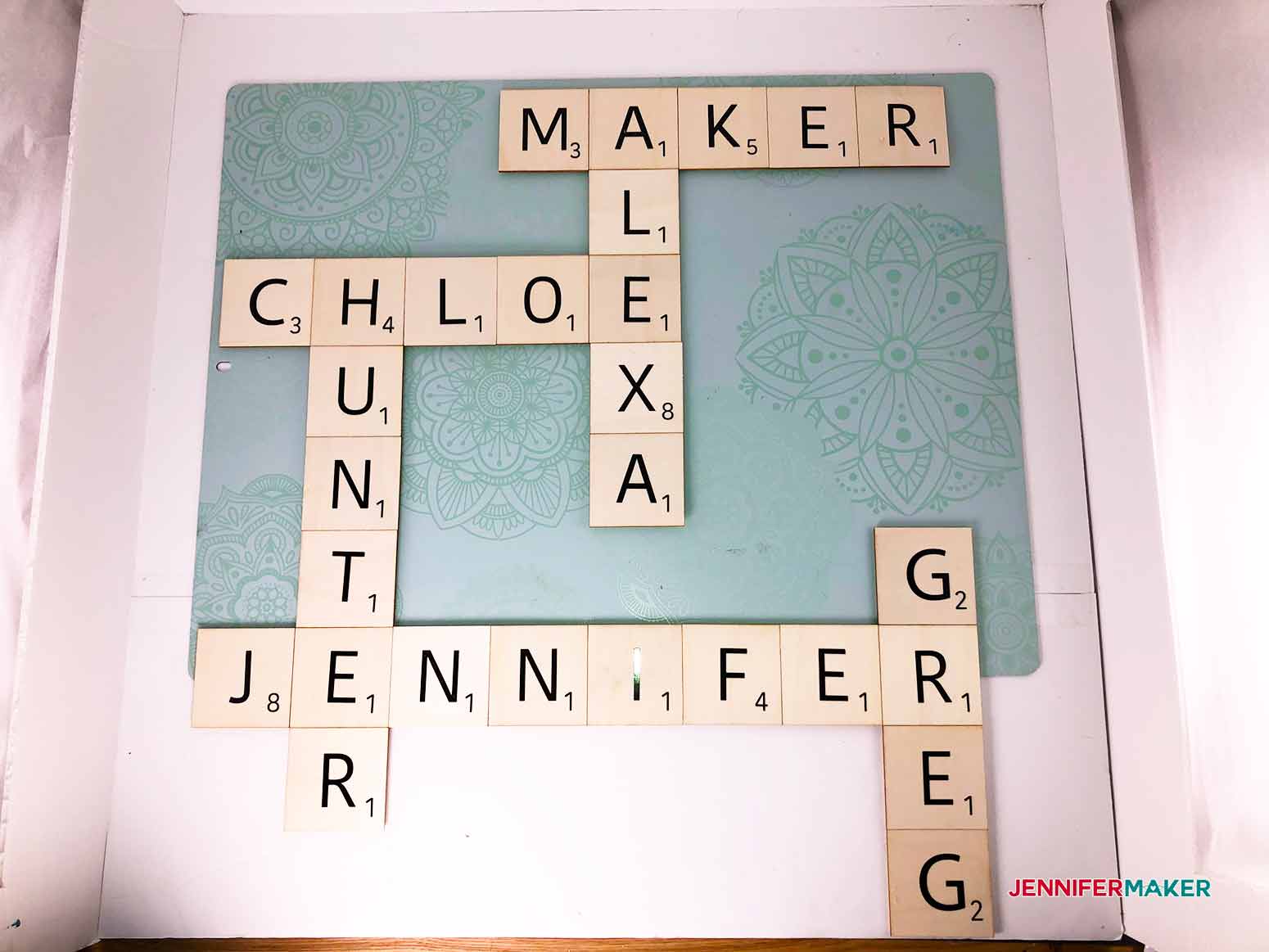 STEP 4: SHOW IT OFF!
I'd love to see what you did with the Scrabble Tile Wall Art design. If you make one, please share a photo in our Facebook group, or email it to me at [email protected], or tag me on social media with #jennifermaker.
Notes
The overall size of this Scrabble Wall Art project was 24 inches wide x 27 inches high. Of course the size of your project will depend on the size of tiles you use and how many.
Special thanks to the JenniferMaker Design Fairy Team, specifically Design Fairy Vicki, for helping me design and make this fun Scrabble Tile Wall Art.
Answers to Your Questions About Scrabble Wall Art
Q: What is an easy way to figure out how to put names together in the crossword puzzle?
I like to use the website, Crossword Hobbyist, to help put all of my words together in a puzzle design!
Q: Do you stain or varnish the wood?
I did not stain or varnish this project because I liked how it looked like this! You can if you want, but it is not necessary.
Q: What size tiles do you use?
We are using 3 inch tiles for this project!
Get my free SVG files to make your own Scrabble Wall Art
I'd love to see your large Scrabble Tile Wall Art designs. Please share a photo in our Facebook group or tag me on social media with #jennifermaker.
See all of the projects, tutorials, and free designs in the JenniferMaker 25-Day Gift-Away Challenge!
Love,