Are you getting a new Cricut Joy smart cutting machine and wondering what materials and accessories you truly need to get started? Here are the must-have Cricut Joy supplies and tools you need to start making fabulous things right away!
The Cricut Joy is a wonderful compact cutting machine! If you're anything like me, you're wondering WHAT ELSE you need to have to really put it to use. The Cricut Joy is a new breed of cutting machine that can cut without a mat, but only if you use the right materials. And I'm getting so many emails asking questions about it that I decided it was time for a list! So let me tell you exactly what Cricut Joy materials and accessories I consider to be must-haves and nice-to-haves so you can get crafting with your awesome new cutting machine immediately!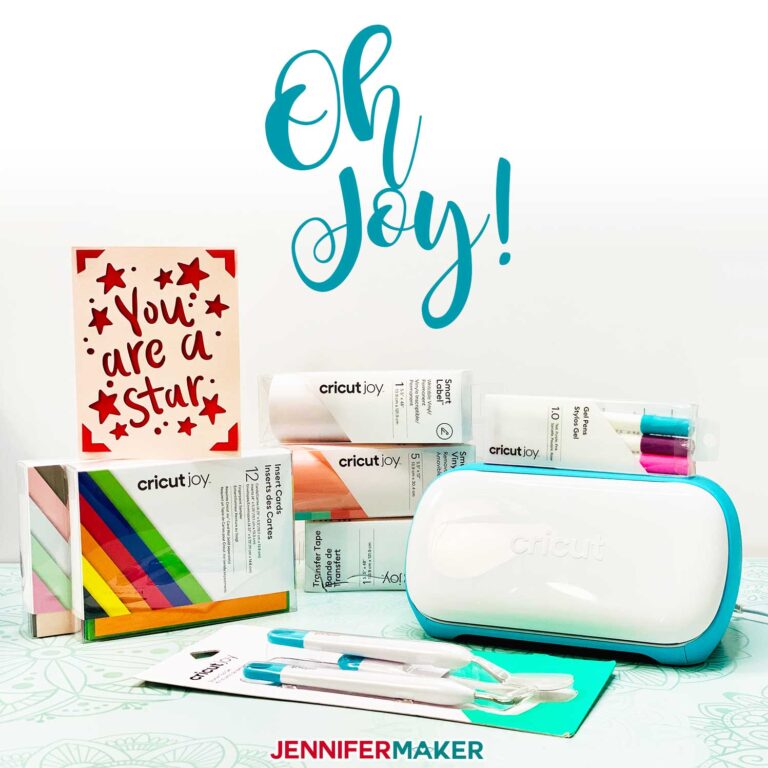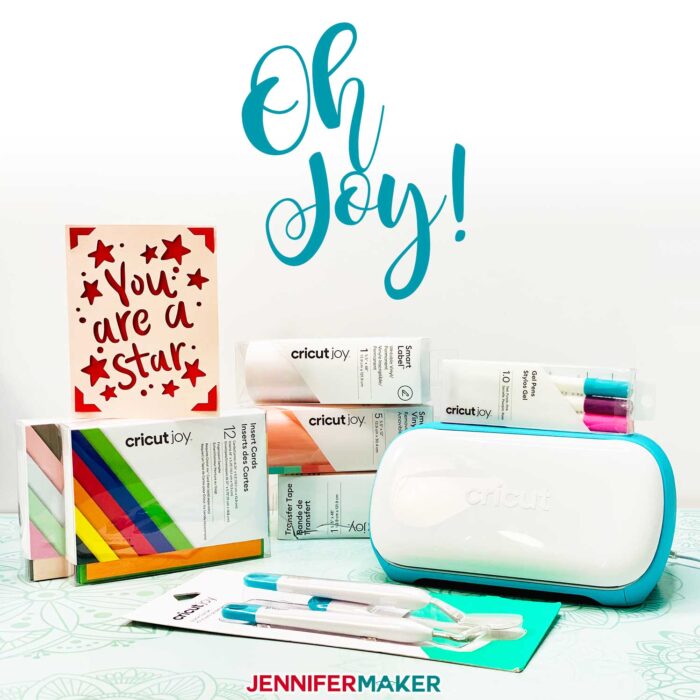 This post contains some affiliate links for your convenience (which means if you make a purchase after clicking a link I will earn a small commission but it won't cost you a penny more)! Read my full disclosure policy.
First, if you haven't purchased your Cricut Joy yet and are wondering where to get one, here's a list of the places I know that are selling them online and in the store:
Second, you really and truly do NOT need ALL THE THINGS. In fact, your Cricut Joy has some things in the box already. Here's a list of what your Cricut Joy cutting machine comes with:
Cricut Joy Included-in-Box Accessories and Supplies: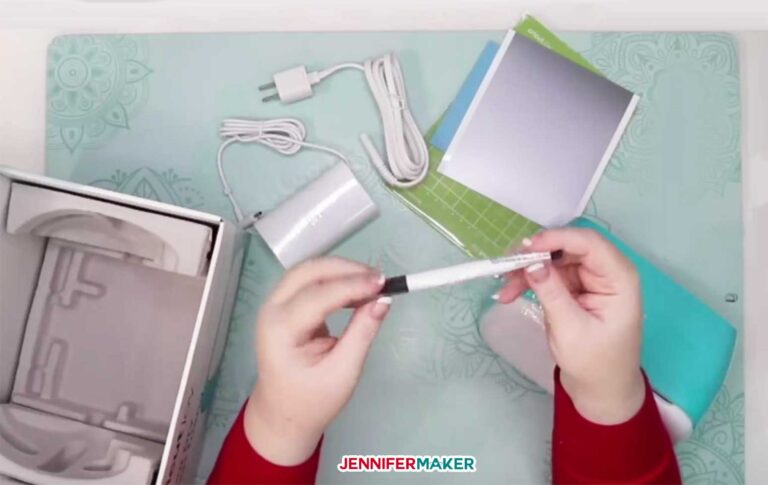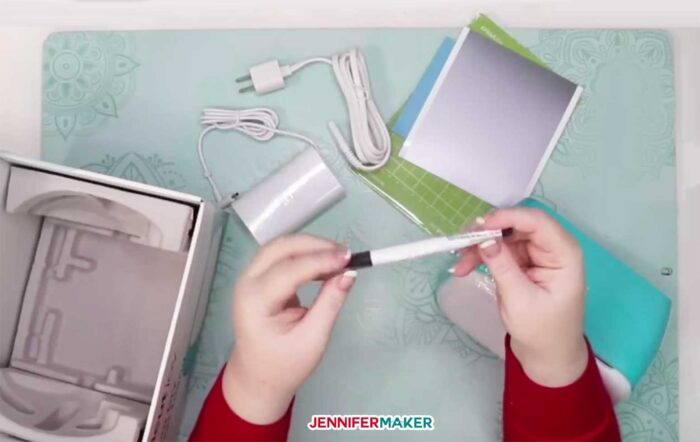 Cricut Joy machine
Blade + Housing — this is a special one that fits the Joy
Fine Point Pen, Black (0.4 mm) — this is a special one that fits the Joy
StandardGrip Mat, 4.5″ x 6.5″ (11.4 cm x 16.5 cm) — this is a special one that fits the Joy
Welcome card
Power adapter
Free trial membership to Cricut Access™ (for new subscribers)
50 ready-to make projects online
Materials for a practice cut
Tip: Watch my Cricut Joy Sneak Peek and Unboxing video for a closer look at each of these items!
Beyond what comes in the Cricut Joy box, all I had when I started out with my first Cricut was some cardstock. (Yep, that was it!) But there are a number of things that are really useful to have in the beginning, and that's what we'll focus on in this list! I explain each item in depth, but if you're in a hurry, here's a short list of what I think you should get when you get your Joy:
Cricut Joy Extra Materials and Accessories Shopping List
If you need more information on WHY I think these Cricut Joy materials and accessories are useful, keep reading…
So What Cricut Joy Materials are Must-Haves?
Must-Have Accessory: Cricut Tools (Especially Weeding Tool and Scraper Tool)
Get the Cricut Joy tool set here.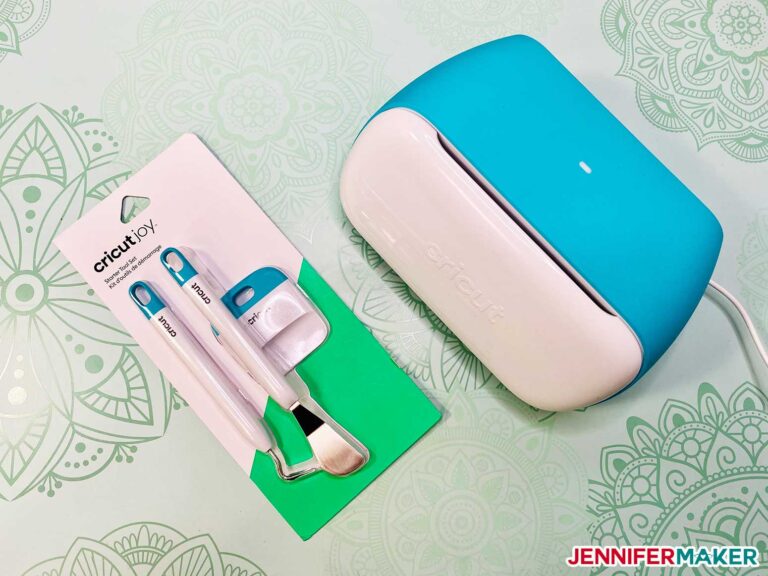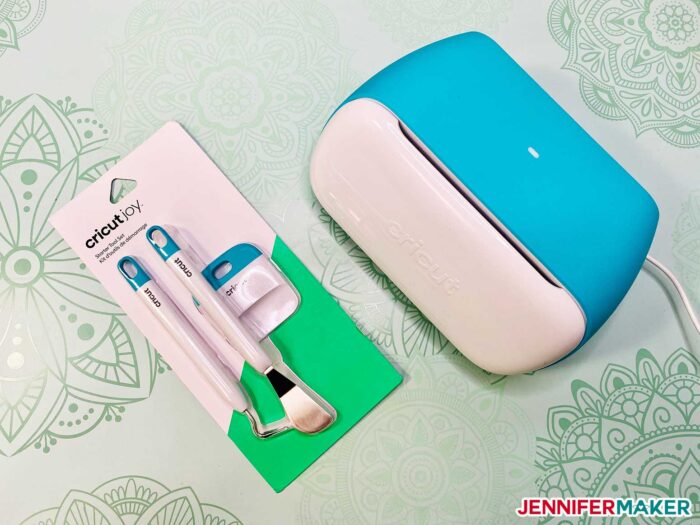 WHAT TO GET: Some basic tools are really useful, especially a weeding tool and a scraper.
WHY YOU SHOULD GET IT: If you cut vinyl, you're almost certainly going to need a weeding tool to remove all the bits of vinyl you do not want to transfer to your project. And a scraper is so SO useful when cutting paper, as it takes a while to get all of those little bits of paper up off your mat.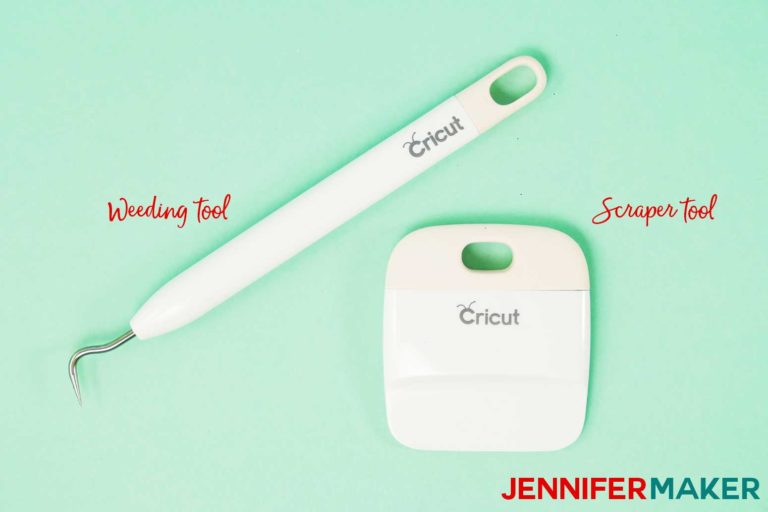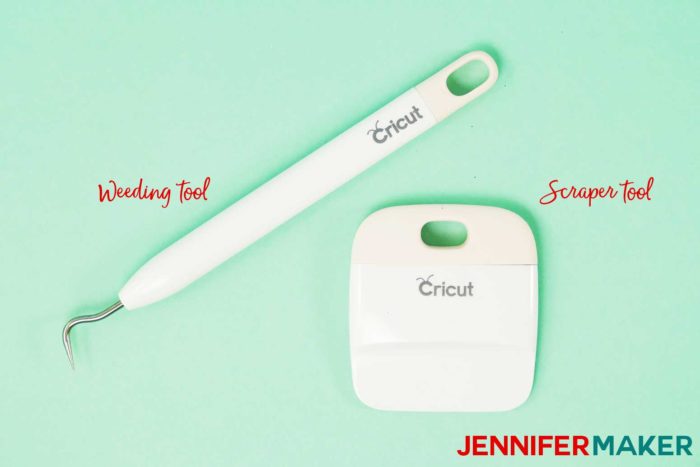 WHERE TO GET IT: There is a special Cricut Joy tool set here that matches the color of your machine — it comes with a weeding tool, a scraper, and a spatula. You can also just get the Cricut weeding tool here and just the Cricut scraper tool here. It may be better deal to get a Cricut Basic Tool Set here on Amazon. You'll also find these tools stocked at the major craft stores.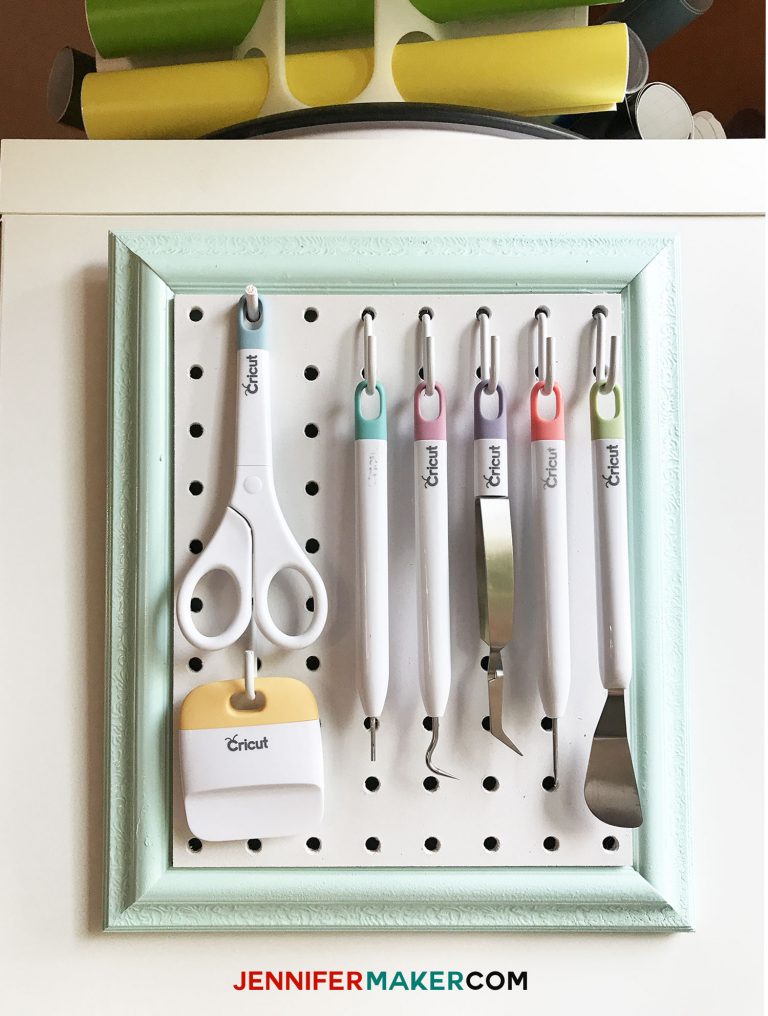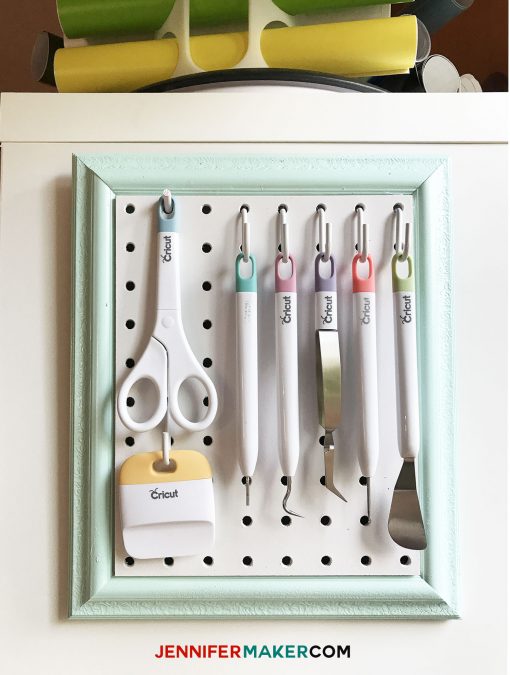 Tip: Learn how to make this nifty and portable Cricut tool holder here.
Must-Have Supply: Smart Vinyl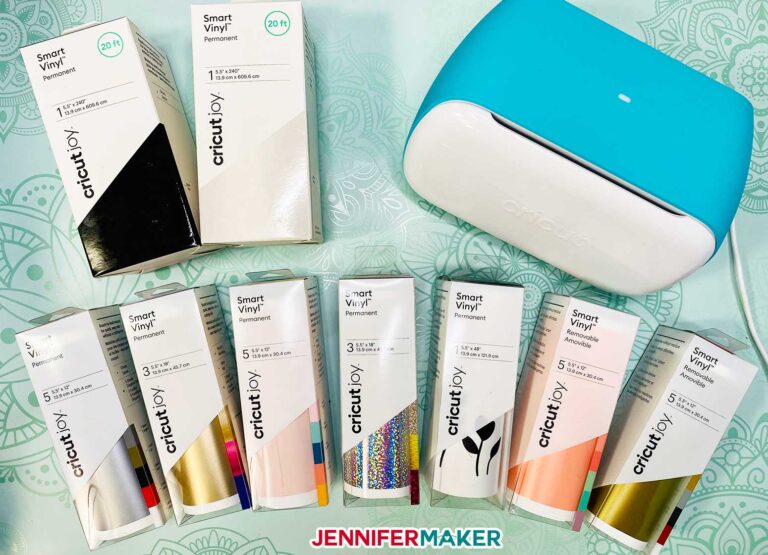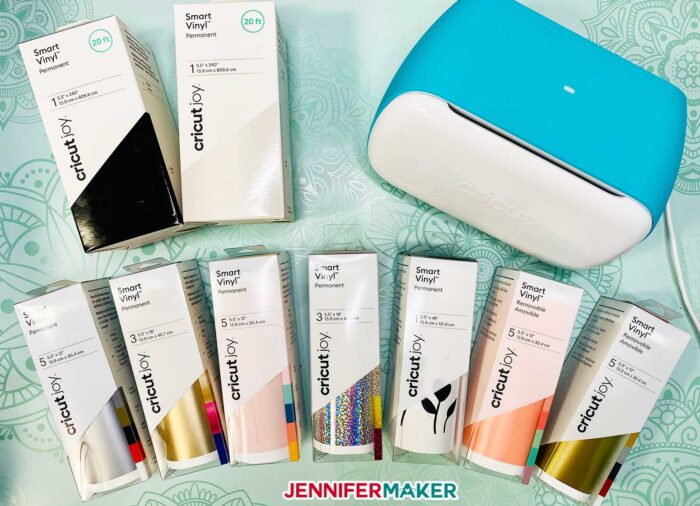 WHAT TO GET: If you want to begin making vinyl projects with your Cricut Joy right away, you'll need vinyl! You can use either Smart Vinyl or regular vinyl (with a mat).
WHY YOU SHOULD GET IT: I recommend the special Smart Vinyl made just for the Joy because you can use it matless, which saves time and trouble. You can get BIG rolls of it, up to 240″ long (like the two boxes at the top of the photo above) or a huge variety of colors, sheens, and patterns. There's also removable vinyl, writeable vinyl, and iron-on vinyl, all made for the Cricut Joy and able to cut matless!
Tip: Pick up some Smart Label Writeable Vinyl and make some awesome Pantry Labels!
Must-Have Supply: Transfer Tape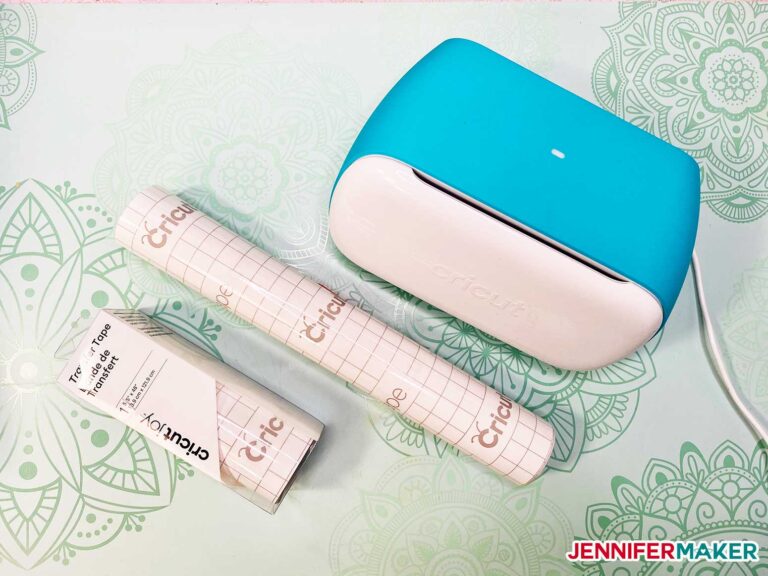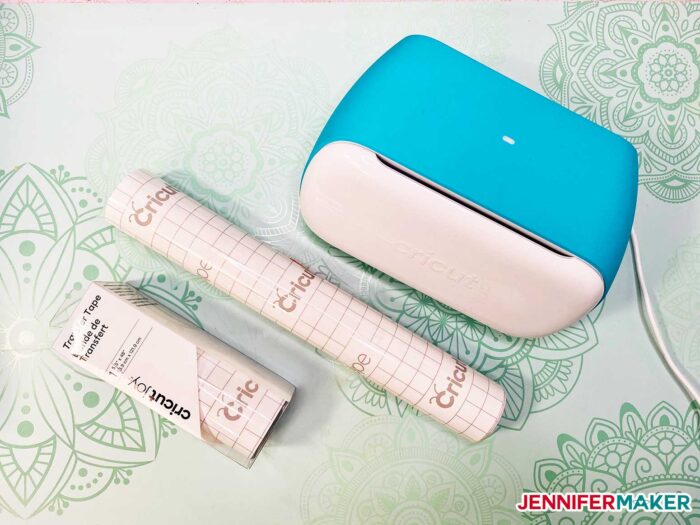 WHAT TO GET: Cricut Joy-sized transfer tape (or the larger rolls if you prefer).
WHY YOU SHOULD GET IT: Vinyl projects also need at least one roll of transfer tape so you can transfer your vinyl to your project surface. Be sure to get the Cricut StandardGrip Transfer Tape, not the StrongGrip transfer tape (which is only used for glitter vinyl). I usually just use the Cricut brand of transfer tape. You can also get the StandardGrip Transfer Tape pre-sized for Joy vinyl, too!
Must-Have Material: Insert Cards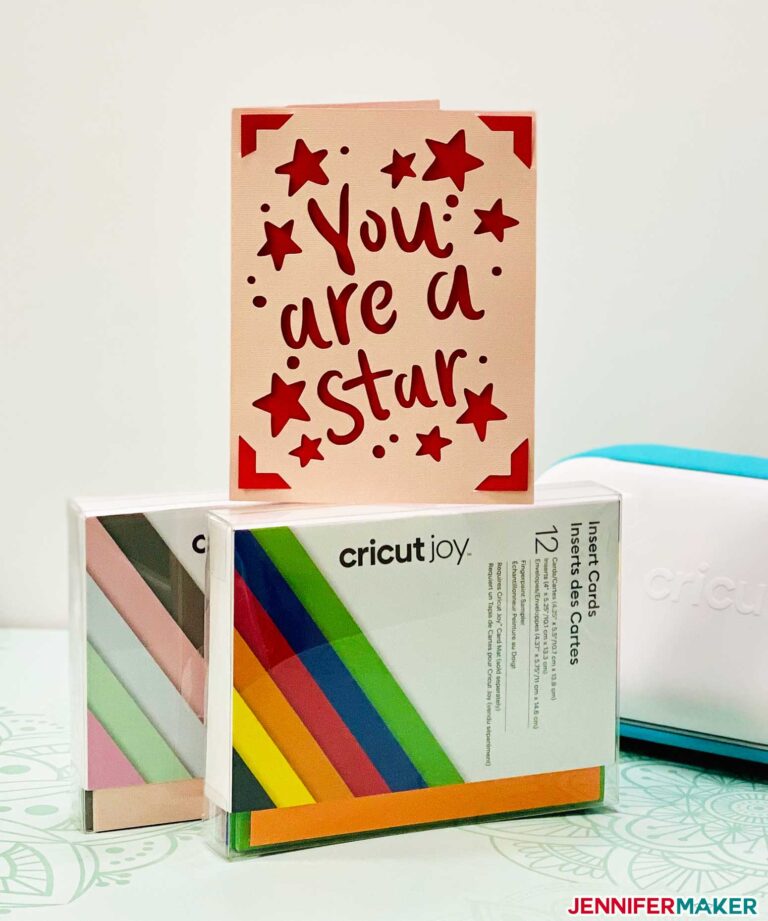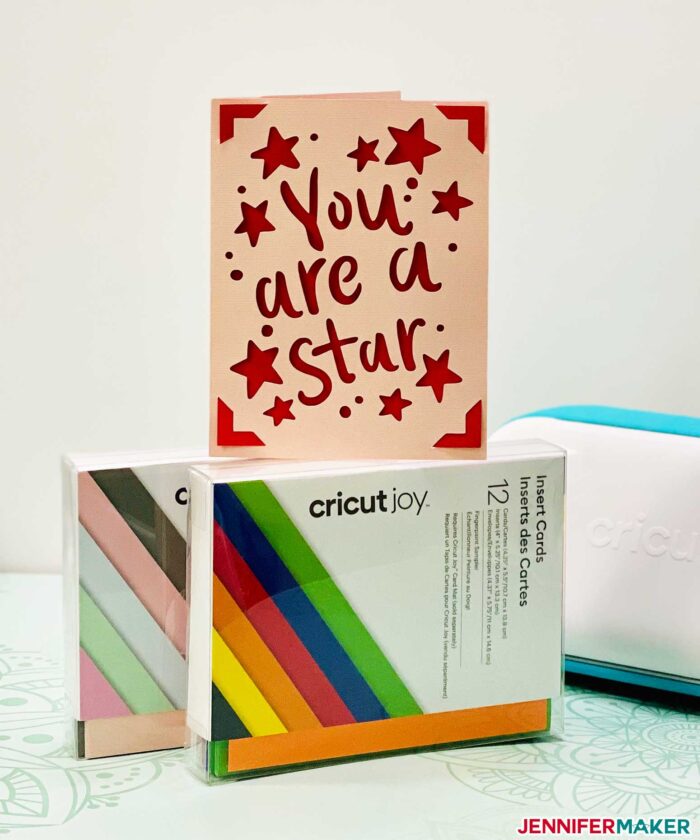 WHAT TO GET: Insert Card sets to make the super-cute, super-fast cards!
WHY YOU SHOULD GET IT: If you want to take advantage of one of the cool features of the Cricut Joy and make lightning-fast cards, pick up a pack of Insert Cards. If you don't have those, you can wing it with some cardstock … just be sure you also have a Card Mat!
By the way, my teen daughter Alexa made this card…. it's super easy to do!
Must-Have Accessory: Aluminum Foil Ball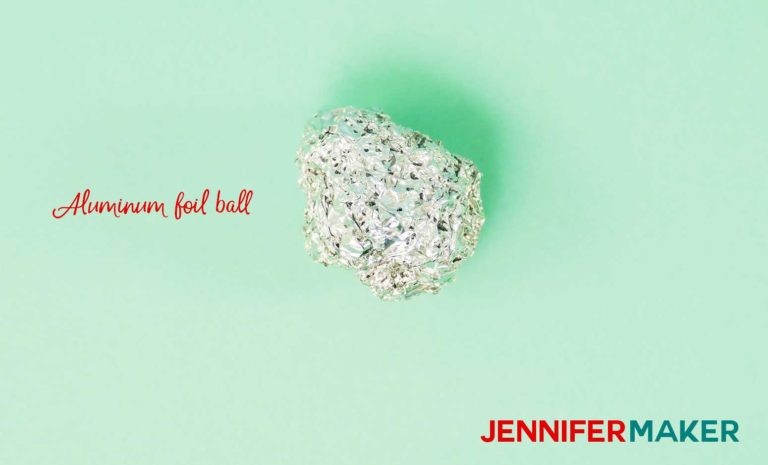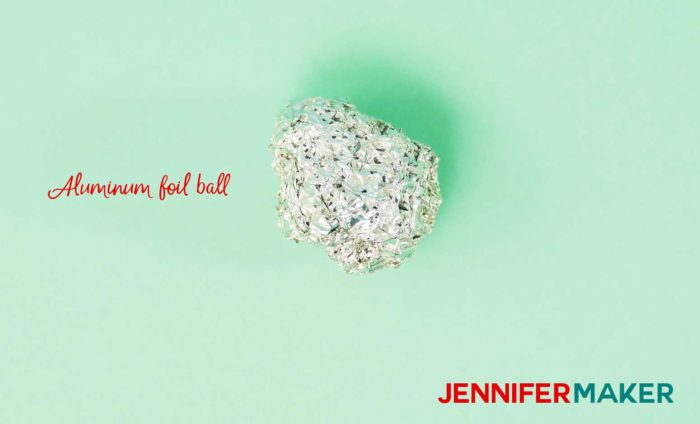 WHAT TO GET: A sheet of regular household aluminum foil, balled up tightly.
WHY YOU SHOULD GET IT: A ball of aluminum foil will help you keep your fine-point blades sharp and clean, and likely will mean you do not need to buy replacement blades for a long, long time (I haven't bought a replacement blade in over a year now). Learn how to use the aluminum foil ball over in my Cricut Cutting Problems & Solutions.
WHERE TO GET IT: Your local grocery store will have some! But I'll bet you already have some in your kitchen!
Nice-to-Have Cricut Accessories
Nice-to-Have Accessory: More Cricut Mats
If you're planning to use Smart Materials, you probably don't need a mat right away (plus you get one in your machine's box). But if you DO plan on using non-Smart Materials, just know that I go through mats pretty frequently, and usually buy a new Cricut mat every time I visit the craft store. Some projects will really need a new or newish mat that is very sticky in order to work right. Yes, you can wash them, but I find it more time consuming and it's easier (for me) to just get new mats (time is money, friends!). I recommend you have at least one each of the Cricut mats—you can see them all here.
Nice-to-Have Accessory: Cricut EasyPress
If you're going to do iron-on vinyl projects, the Cricut EasyPress is a great accessory and makes it easier to iron on things.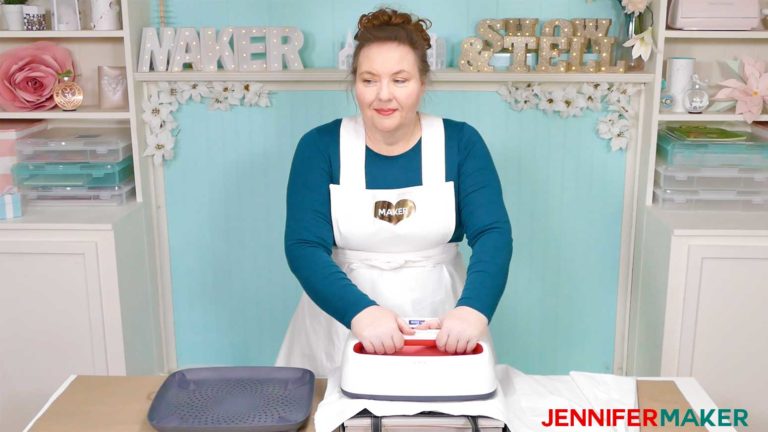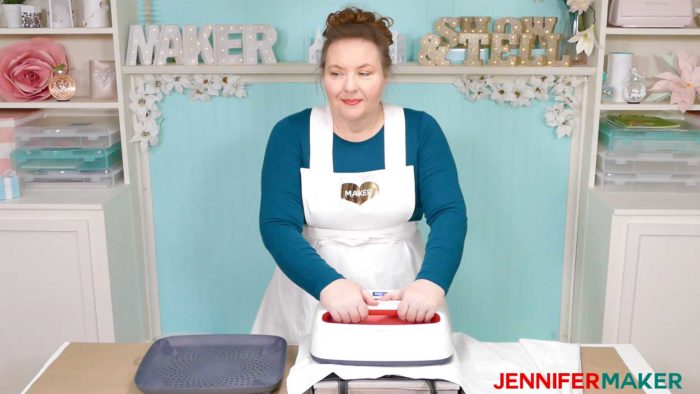 Nice-to-Have Accessory: Cricut Joy Pens
If you think you'll want to do any envelope addressing or writing in general, pick up a few Cricut Joy pens — just be sure you get ones for the Cricut Joy, because they are sized small enough to fit in your clamp. The ones made for the Explore and Maker are too large for your Joy.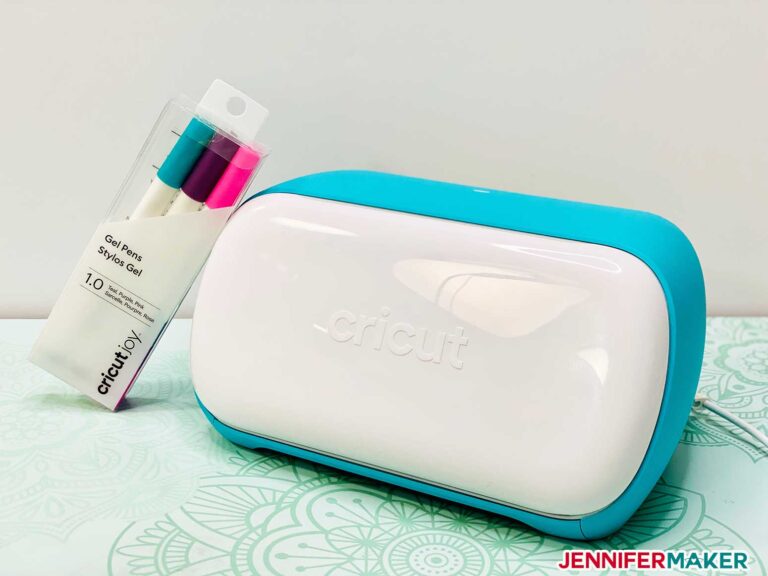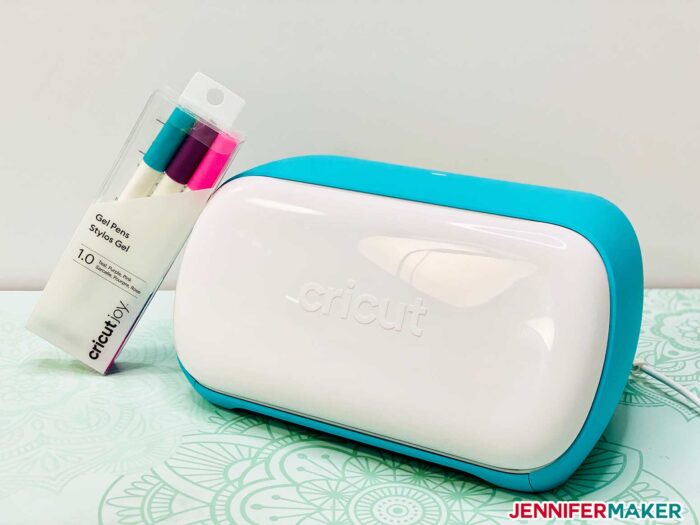 Important: If you plan to use the pens for the Smart Label Writeable Vinyl, get the .3 or .4 size pens and avoid gel or glitter pens.
Tip: Learn more about Cricut pens in my Ultimate Cricut Pen Guide.
Things I DO NOT Think You Need Right Away
You really don't need replacement blades. Use my aluminum foil ball trick to keep your blades sharp and clean!
You don't need every color and type of card sets or vinyl, even though you may be tempted. I recommend you buy your supplies on a project-by-project basis to avoid stockpiling too much and getting overwhelmed.
I also don't think you need a bunch of cutting mats at first, UNLESS you plan to cut a lot of vinyl or cardstock that is NOT one of the Smart Materials.
Now What Do You Do With Your Cricut Joy?
You're now ready to take on the crafting world, my friend! If you need help setting up a new Cricut, I have a whole new owner's guide and free mini-course on how to do that!
Your new Cricut Joy cutting machine comes with a free trial of Cricut Access, which is a library of images, projects, and fonts. It's all inside Cricut Design Space (the app you used, or will use, to setup your Cricut). So I recommend you click Projects, choose "Cricut Access" from the dropdown menu at the top, and pick a Cricut Joy project that looks like something you want. Stick with something simple at first. Each project will tell you what materials and accessories you need, so be sure to check. When you've found something, click the green Make It button to get started.
If you have any questions about Cricut Joy accessories or supplies, please come on over to my awesome Facebook group and let us know!
Love,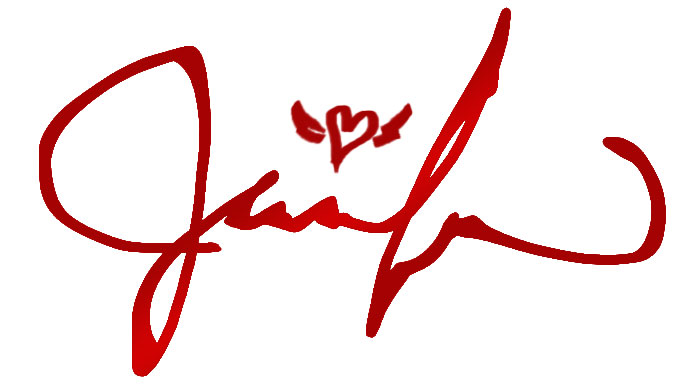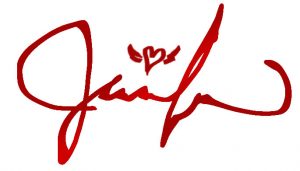 P.S. Here are some great Cricut Tips and Tricks to help you get the most out of your cutting machine!