Learn all about new Cricut Autopress and decide if the powerful, user-friendly heat press is right for you!
Like many of you, I've been perfectly happy with my EasyPress for most of the craft projects I've done However, we recently made 30+ matching t-shirts for a team retreat. After the eighth shirt, we were DREAMING of a way to heat a large design on both sides while we prepped my next item! Their team must have read my mind, because the new Cricut Autopress does exactly that and more. Now, no machine will ever be perfect for every crafter, but if you have specific needs, goals, and resources, the Cricut Autopress may be what you need to work faster. I'll tell you everything you need to know about the Cricut Autopress, share projects, and answer your questions in this ultimate guide!
You can get the Cricut Autopress on Cricut.com, Joann.com, and Michaels.com (affiliate link).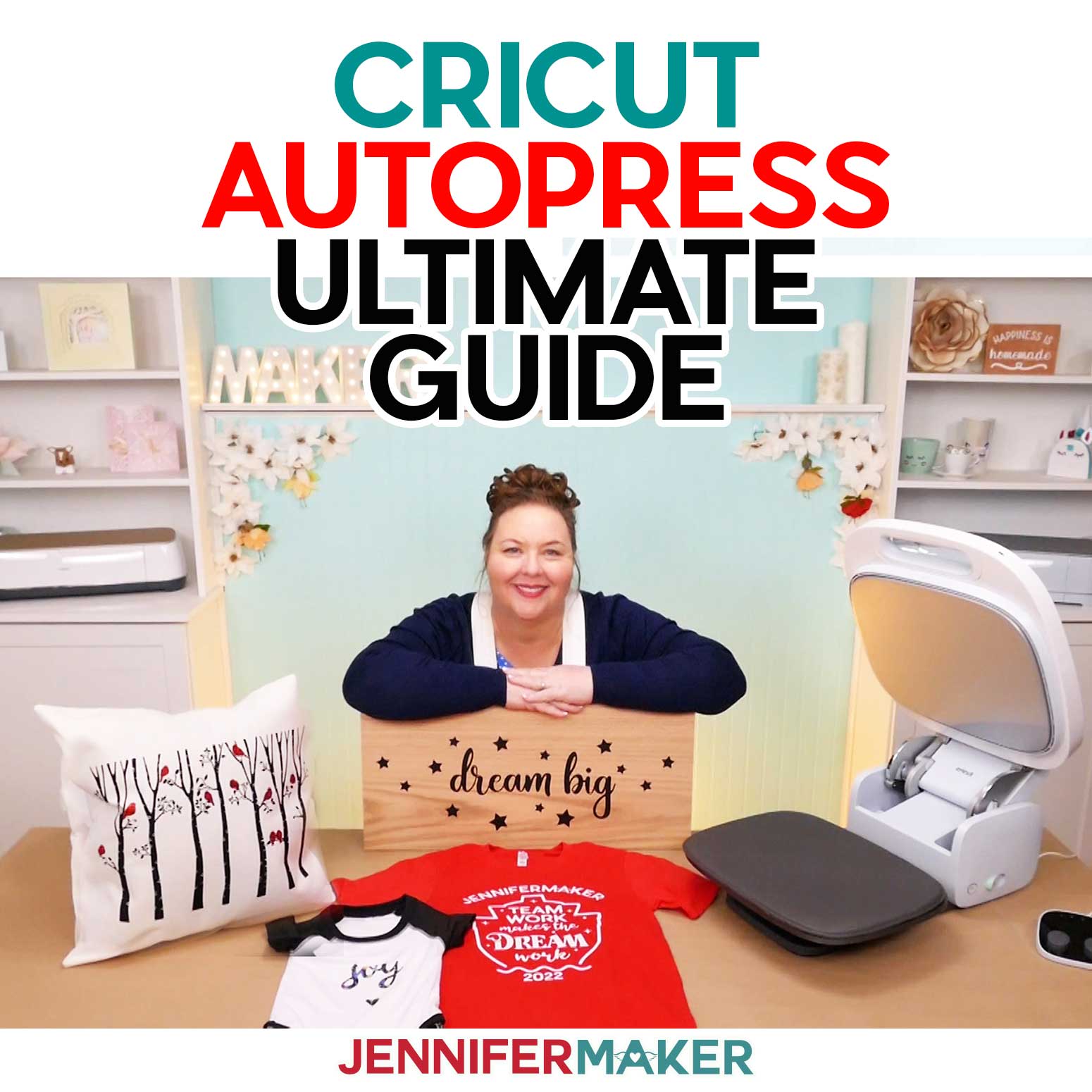 Check out my video all about the new Cricut Autopress — I cover unboxing, setup, features, safety, four projects, and my opinion on whether I think it is worth the price!

I want to thank Cricut who sent me an Autopress in advance without any expectation of a positive review so I could learn how it works and teach you everything we learned! When I am done with the first video and tutorial series, I will be donating this Autopress to a charitable organization that needs to make awesome things, and I'll be buying my OWN Autopress — I always buy my own tools and materials so I can truly understand their value and worth, because I'm spending my own money.
This post contains some affiliate links for your convenience (which means if you make a purchase after clicking a link I will earn a small commission but it won't cost you a penny more)! Read my full disclosure policy.
What's special about the Cricut Autopress?
If you're like me, you're curious how the Cricut Autopress stands apart from the EasyPress and other heat presses. Truthfully, they are different tools for different needs. For many home crafters and even businesses, an EasyPress, Mug Press, an EasyPress Mini, or even a household iron will fit your needs. And I will be right there to cheer you on in your success no matter what you choose to use!
However, the Autopress shines when it comes to ease, consistency, and multitasking — especially in a small or multipurpose space.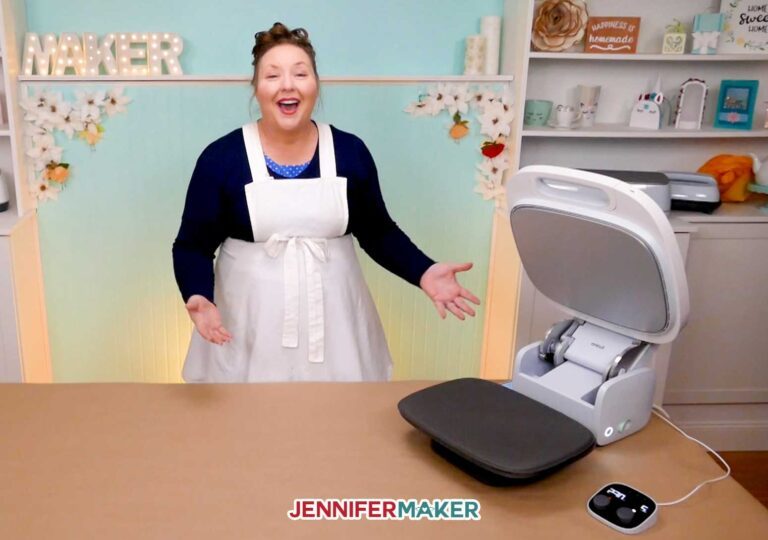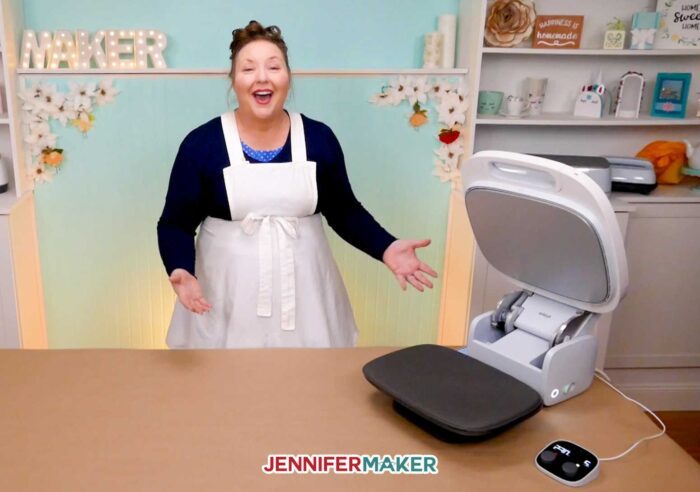 The Cricut Autopress can work without your constant attention. You set the needed time and temperature using dials on the Control Pod. The dials are easy to use with either hand. The control also has four programmable buttons for temperature and time profiles for common projects. And unlike an EasyPress or some other closing heat presses, the Autopress' Zero Effort operation closes with two fingers and adjusts the pressure it applies, so you don't have to press down on it.
The 12″ x 15″ ceramic-coated platen heats evenly from edge to edge. Also, the Autopress opens automatically after its timer goes off, so you can prep your next project rather than babysitting your first. No risk of overheating your project! And its heat plates are large and consistent enough to fit two smaller projects, doubling your productivity.
Many craft businesses work out of small spaces, so having a multi-item or industrial heat press may not be physically possible. Or, you may be need to move your press while not in use to make room for other work. The Autopress fits on a standard kitchen counter. It folds up easily and can be stored vertically, allowing you to reclaim space for other tasks as needed. Just have a friend help you move it because it does weigh 53 lbs!
Finally, the Cricut Autopress comes with lots of support from the company and the community of users, including me! There are some very inexpensive heat presses out there, and I know some of you have been successful using them, which is great! But you'd be surprised at how many comments and questions I get about how confusing those are to use, how they rarely come with any instructions, and how there is no way to get support.
I think those of you who struggle with those less well-engineered heat presses will find the Autopress to be very easy to set up and use, and will have the support you need to be successful. The Autopress is high quality and has reliable safety features and manufacturing processes. The press will be backed by a solid Cricut warranty and the support you need to make your projects a success.
The value is most definitely there for the Autopress, if you need these features and the investment is within your budget. In my video, I share more details, a few new projects, and my personal thoughts about the Autopress to help you make your decision.
What comes in the box with the new Autopress?
The shipping box weighs almost 58 lbs, so have a friend help lift it! Inside, you will find:
Cricut Autopress with dual voltage
Pressing Mat with Silicone Non-Slip Grip
Control Pod & USB Cord
Power Cord
User Guide, Warranty, Safety Information
Note: The Autopress does not ship with materials or blanks. Extra non-slip pressing mats for the Autopress will also be available for $54.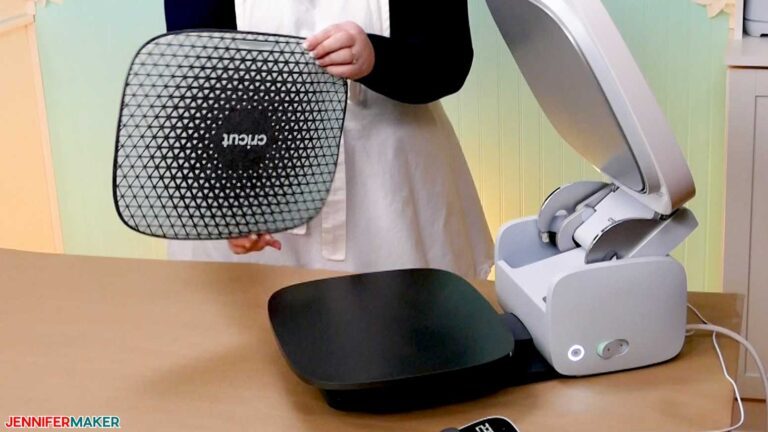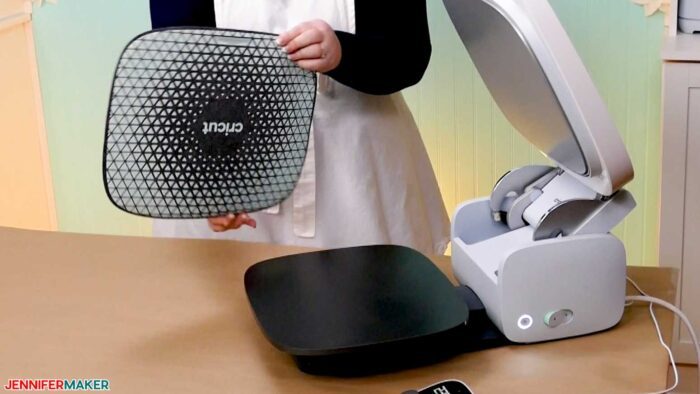 How much space and power do I need for the press?
Your work surface should be at least 22.5″ deep and sturdy enough to hold 53 lbs. You will want about 26″ of clearance above the machine to open it comfortably. The Autopress needs 1300 watts of power, which is actually a bit less than the 12″ x 10″ EasyPress 3. It can safely run off of a medium-duty extension cord rated for at least 13 amps. Avoid power strips with extra devices plugged into it, however, since the main outlet will still split your circuit's amperage between all of the plugged in appliances.
The closed machine dimensions are:
16.63″ (42.243 cm) Wide
6.62″ (16.812 cm) Tall
26.07″ (66.207 cm) Deep
While open with the handle forward:
16.63″ (42.243 cm) Wide
25.14″ (63.842 cm) Tall
23.21″ (58.961 cm) Deep
You should also plan enough space for easy access to the Control Pod, which has a 39″ cord, as well as all connection ports. You don't need to screw down the heat press as some heavy duty machines require!
I've avoided purchasing a clamshell or multifunction heat press before now because I often need to clear my workspace for videos or projects. I don't have a great place to store a big piece of machinery. But with the Cricut Autopress, I can fold it up and store it vertically, so I can set it in a corner or beside a table when I need the space.
Does the Autopress require a lot of skilled set up and planning?
No, it's VERY easy! You will need a desktop or laptop computer with a USB port and reliable Internet access to set up the Cricut Autopress. Cricut Design Space walks you though the entire process with handy steps!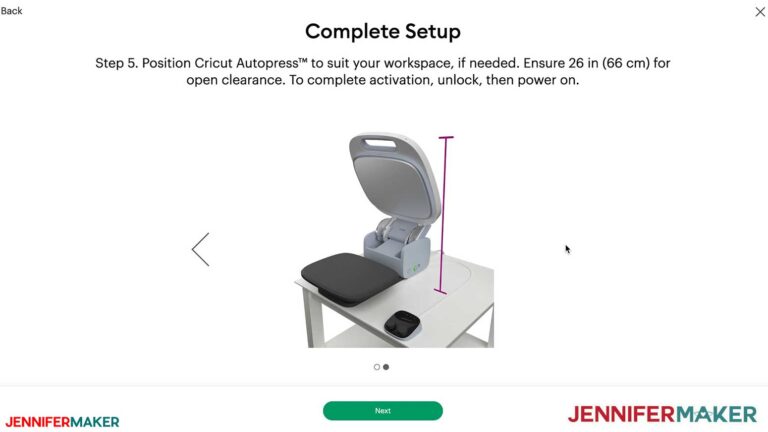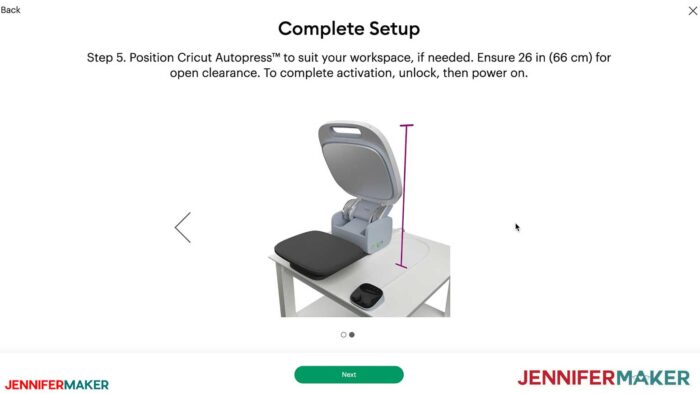 Visit the Cricut Machine Setup site and click on "Heat Press" to begin registering the machine. Select "Autopress" and follow the on-screen directions.
Plug the power cord into the machine and a wall outlet or extension cord rated for at least 13 amps. Then, plug the USB cord from the Control Pod into your computer and click "Continue" on the website. Sign in with your Cricut ID and review the terms. You'll see the letters "USB" appear on the Control Pod and it will download any updates. When it's done, the Control Pod will change from "USB" to "UPD" and "100%" and you can click Continue. Remove the Pod's USB cord from the computer and plug it into the Autopress. You can set the computer aside.
Toggle the unlock switch on the machine's side to open the top and make sure you have enough space to work comfortably and safely. Then, push the power button next to the lock and you're ready to go! The machine will automatically start heating to the temperature set on the Control Pod, so be careful not to touch it! The Autopress will reach its top temperature of 400 °F (205 °C) in about eight minutes.
What are the pre-programmed settings on the Control Pod?
Cricut researched the most commonly used material combinations and created easy-to-use presets for each:
Sport/Flex/Polyester: 315 °F (155 °C) for 25 seconds
Everyday Iron-On/Cotton: 315 °F (155 °C) for 30 seconds
Glitter Iron-On/Cotton: 330 °F (165 °C) for 25 seconds
Infusible Ink/Polyester: 385 °F (195 °C) for 30 seconds

Can I change the heat press presets?
Yes! If you are ready to replace an existing setting, use the dials to enter your desired time and temperature settings, then press and hold the chosen button for three seconds until it beeps. Your new setting is ready to use!
Do I have to use the Cricut Heat App with the Autopress?
No, the Cricut Autopress does not work with the Cricut Heat app at all. You can use the app to look up the correct time and temperature for your projects, or reference the Cricut Heat Guide. The Guide will be updated to include Autopress settings closer to the product release.
What materials can I use with the Cricut Autopress? Can I use non-Cricut materials and blanks?
You have lots of options! You can use Iron-on vinyl (heat transfer vinyl / HTV), Infusible Ink transfer sheets and pens, and sublimation transfers. Any blank that works with your heat transfer material and fits in the press will do well. For my playtest projects, I used:
Do I need special supplies to clean the heat press?
There's no special care needed for the Autopress. You do not need a special mat to cool items after you heat them with the Autopress — they will cool down on the removable pressing mat just fine. I often place a sheet of parchment paper between my project and the top plate just to make sure none of the design touches a hot component. Cricut does not recommend a silicone sheet with the Autopress, so avoid those.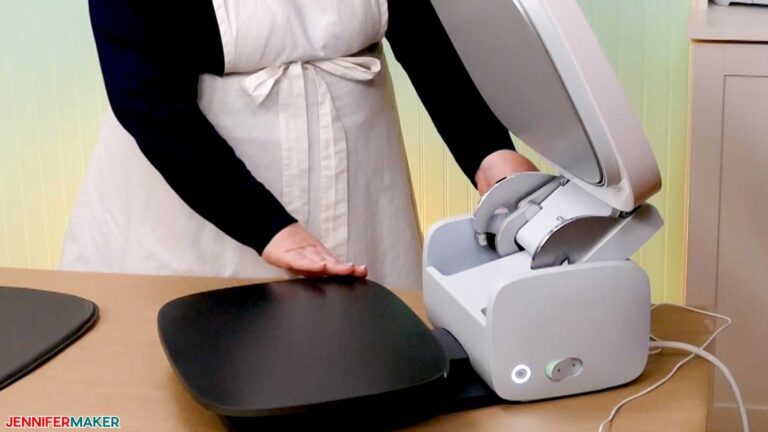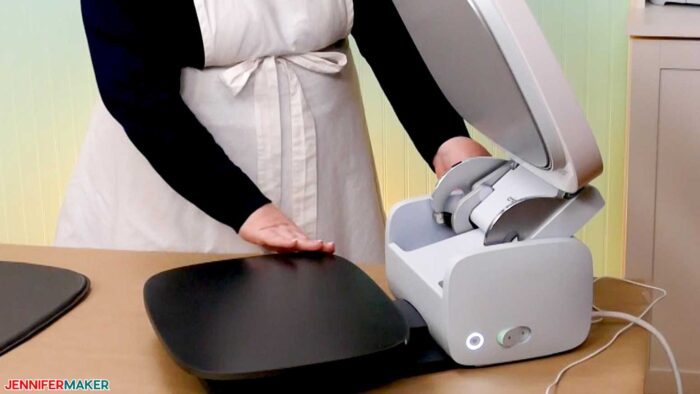 Will there be discounts for the heat press?
Cricut Access subscribers can use their discounts through the Cricut shop when they become available to purchase! Learn all about Cricut Access here. My Cricut shop discount code will not work on the Autopress (nothing with a cord is eligible) but you can use it to get free shipping and a discount on any materials or tools you purchase at the same time.
Is the Autopress really worth it?
There isn't a simple answer, because deciding to invest in a tool like the Cricut Autopress depends on your personal or business situation. In my opinion, there are two main things to consider: need and value.
If you press projects as a hobby and for a few bulk gifts, I think you're good to stick with your EasyPress or even your household iron. If you make many items but the cost would stretch your budget too much right now, using your current heat press while saving up is a good option.
But if you need bulk-making power, or you really need the automatic nature of the Autopress, and it's within your budget, I think you'll love it.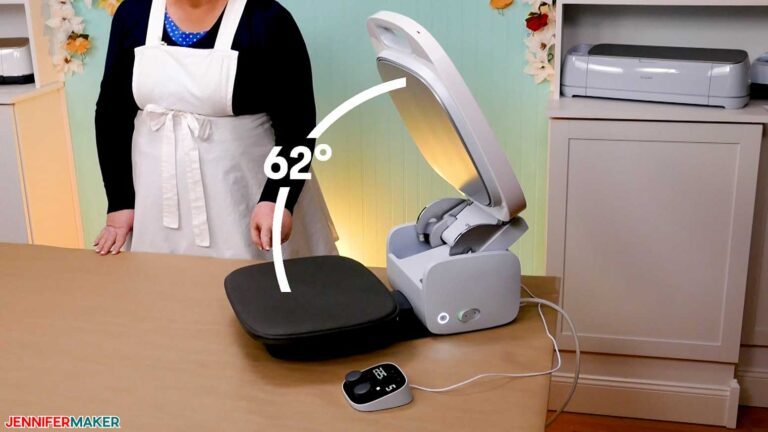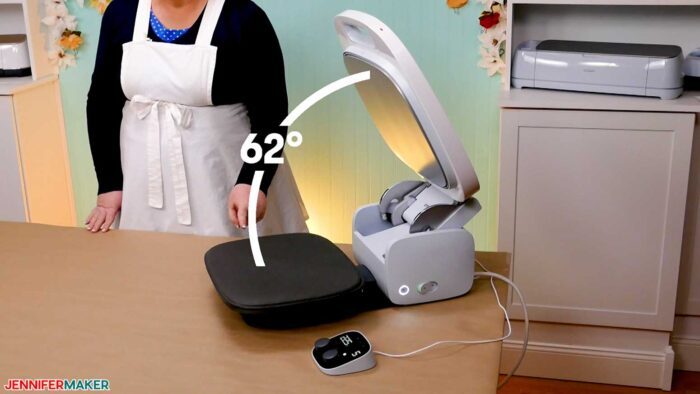 For small businesses, community organizations, and big families, the Autopress is a valuable investment. Prepping your next project while the Autopress does its thing and then auto-opens so nothing overheats will save you time and material. Yes, there are other heat presses that do this, but they tend to cost MORE money and have fewer automated features. The highest-rated press I found with similar features — the venerable Stahls Hotronix Auto Clam Heat Press — currently costs over $1,100. I actually bought the Stahls press, along with a Siser press and a Fancierstudio press so I could evaluate and compare them all for you and prefer the Cricut Autopress. I'll have that comparison video ready to share well before the Autopress goes on sale.
My goal is always to learn about and use new products with all of you in mind. While the Autopress may not be the best option for everyone, I am happy to put it through its paces to help you decide if the investment is right for you!
I heard that a cheaper heat press is just as good. What do you think?
There are some very inexpensive heat presses out there, and I know some of you have been successful using them, which is great! But I ALSO get a lot of questions on how confusing those are to use, how they rarely come with any instructions, and how there is no way to get support. I think those of you who struggle with this will find the Autopress to be very easy to setup and use, and will have the support you need to be successful!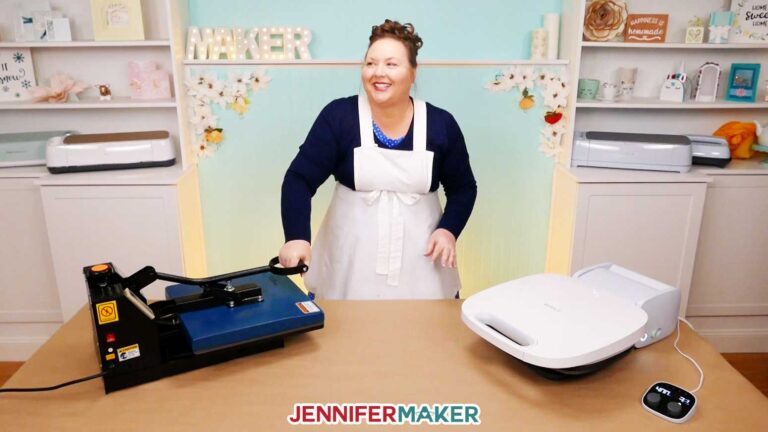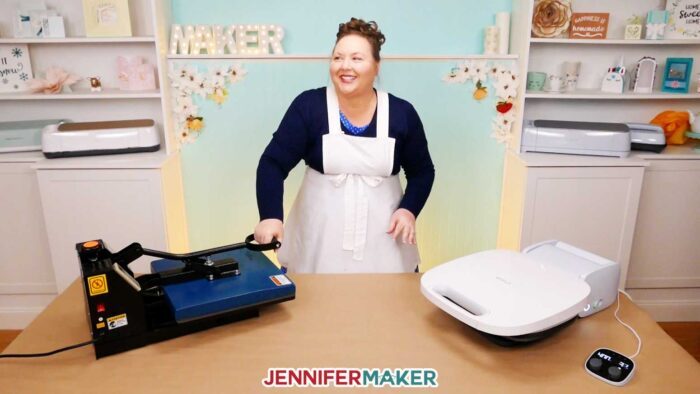 I think the Autopress is going to be an AMAZING heat press to use for sublimation, in particular because of the way the heat plate comes straight down onto the project to automatically apply an even amount of pressure, rather than approach it at an angle like most other heat presses. That means less chance for movement and ghosting. I've been learning so much about sublimation and I'm excited to teach you what I have learned soon!
Is the Autopress really worth $1000?
Now I know that the Autopress's price tag of $1000 seems like a lot if you're used to seeing just the entry-level heat presses. But it's important to understand this not an entry-level heat press. If you want entry-level, go for an EasyPress. The Autopress is for those who are ready to take the next step, and do more in less time.
Let me give you a scenario. Those custom and personalized team shirts I made with glitter iron-on vinyl for my team retreat — those would have cost us about $30 to have made for us. And what is $30 times 35, the number of shirts we needed? $30 times 35 is $1050, which is the price of the Autopress right there. Of course we had to buy shirts and materials, yes, but that's really not that much money in the grand scheme … it's our TIME that is the most valuable. When we were making these shirts with the EasyPress, we had to do extra pressings, because you need to press the back of each shirt, too. And we had to stand right there during the pressing the whole time.
But with the Autopress, it's just one press — no back pressing is needed. And we can be prepping one shirt while another is pressing. It's built for batches. The Autopress takes the pressing of all these shirts from about 45 minutes total to just 15 minutes. This is a game changer. Not only does it save time, but it saves money because you can get more done in what time you have. If you sell your things, your investment could be returned within say 50 presses. Even if you don't sell your stuff, your investment is returned in the time you save.
Our most valuable and expensive resource is always our personal time.
What do you recommend as a first project for the Autopress?
A T-shirt is a great way to learn the Autopress' features! You can watch the whole process in my introductory Autopress video. My Team Shirt project is a good option if you want to use Iron-On Vinyl. If you want to try an Infusible Ink shirt, I have some great designs to get you started as well. I'd love to see your results!
What projects do you have to make with it?
I have designed several new projects — T-shirts for teams, designs for baby bodysuits, a pillow throw, and a wood sign! They are all available as Design #377 in my free resource library!
How to Set Up Cricut Autopress and Make Heat Transfer Projects
Here is my Amazon shopping list for these first projects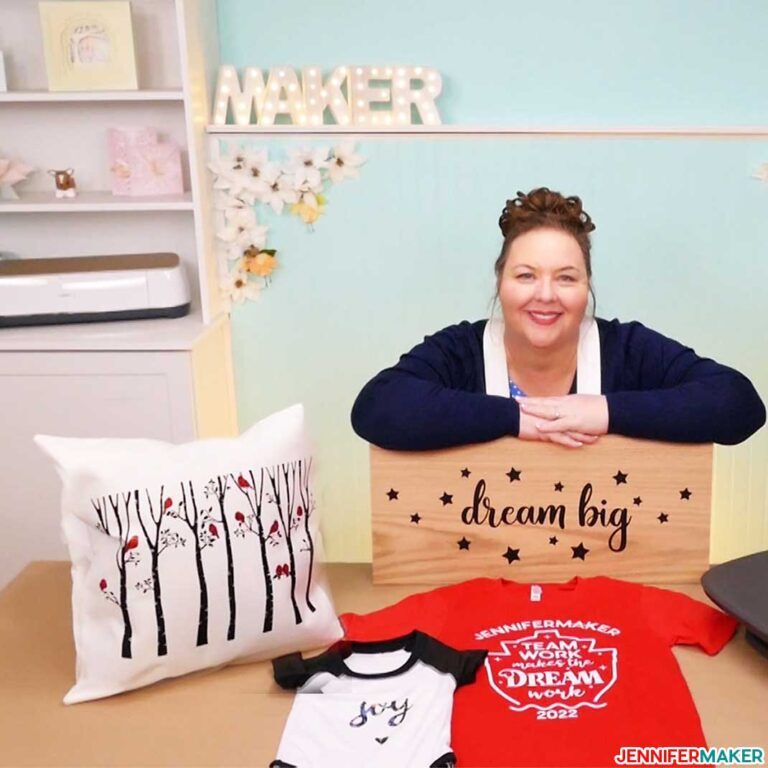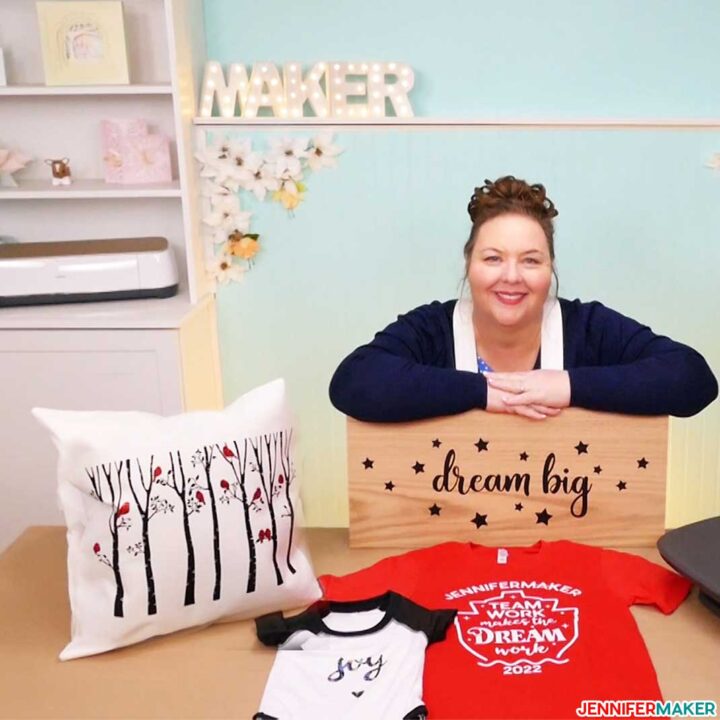 Cricut Autopress: Set Up and Test Projects
Set up the new Cricut Autopress and explore its fun features in several projects!
Answers to Your Questions about the Cricut Autopress
How do I get the new Cricut Autopress?
You can get the Cricut Autopress at Cricut.com, Joann.com, and Michaels.com.
What colors does the Autopress come in?
The Autopress is available in "Mist," which is a very light blue that matches the Cricut Maker 3 and Bright 360 Lamps.
Is the Autopress safe to use?
Very safe! The Autopress has an auto-off feature, which turns off the machine after 13 minutes without use. The press will beep 30 seconds before it shuts off so you can reactivate it if you have more crafting to do.
Does the Autopress take a long time to heat up?
It can reach 400 °F (205 °C) in eight minutes, about half or 1/3 of the time of the other large heat presses I've been testing. The $200 heat press I have in my studio takes 20-30 minutes to heat up!
Do I need a Teflon sheet or other heat plate protection for the Autopress?
No, you don't — you can use one if you like, but you can also just use parchment paper or a piece of liner material to protect your iron-on vinyl.
Can I use Infusible Ink with the heat press?
Yes! The Autopress reaches 400 °F (205 °C), so it is powerful enough to use Infusible Ink Transfer Sheets and similar materials.
Does the Autopress let me do sublimation projects?
Yes, the Autopress can transfer sublimation designs, and does a great job of them, too!
Does the Autopress move the image when you lift up the top?
No, I did not experience any shifting or ghosting with the Autopress.
How much is the Autopress?
The Cricut Autopress will retail for $999 USD.
Can I use other brands of vinyl with the new Cricut Autopress?
Yes, the Autopress will work with all good-quality heat transfer vinyl and similar brands.
Get my free SVG files to make these projects using the Cricut Autopress!
As always, I'd love to see your Cricut Autopress projects! I know you'll make some amazing things with it. Please share your ideas and photos in our Facebook group or tag me on social media with #jennifermaker.
Love,