Learn how to make a beautiful light up angel out of cardstock that you can also use as a tree topper!
I'm excited to share a project that combines some of my favorite things: light up papercrafts and angels! I've always loved angels as decorations. There's just something about them that make me feel very peaceful, and always remind me to take a calming breath. Some days, that's a necessary reminder! This angel was inspired by my friend Gjoa's paper angel that she debuted during our Holiday Maker Fest 2020 event — we made our angel in a similar style with Gjoa's permission.
Want to save this project? Enter your email below and we'll send the project straight to your inbox.
My light up angel uses simple materials that create an elegant result. It will make a beautiful tree topper, decor item, night light, or even a gift for a special person in your life!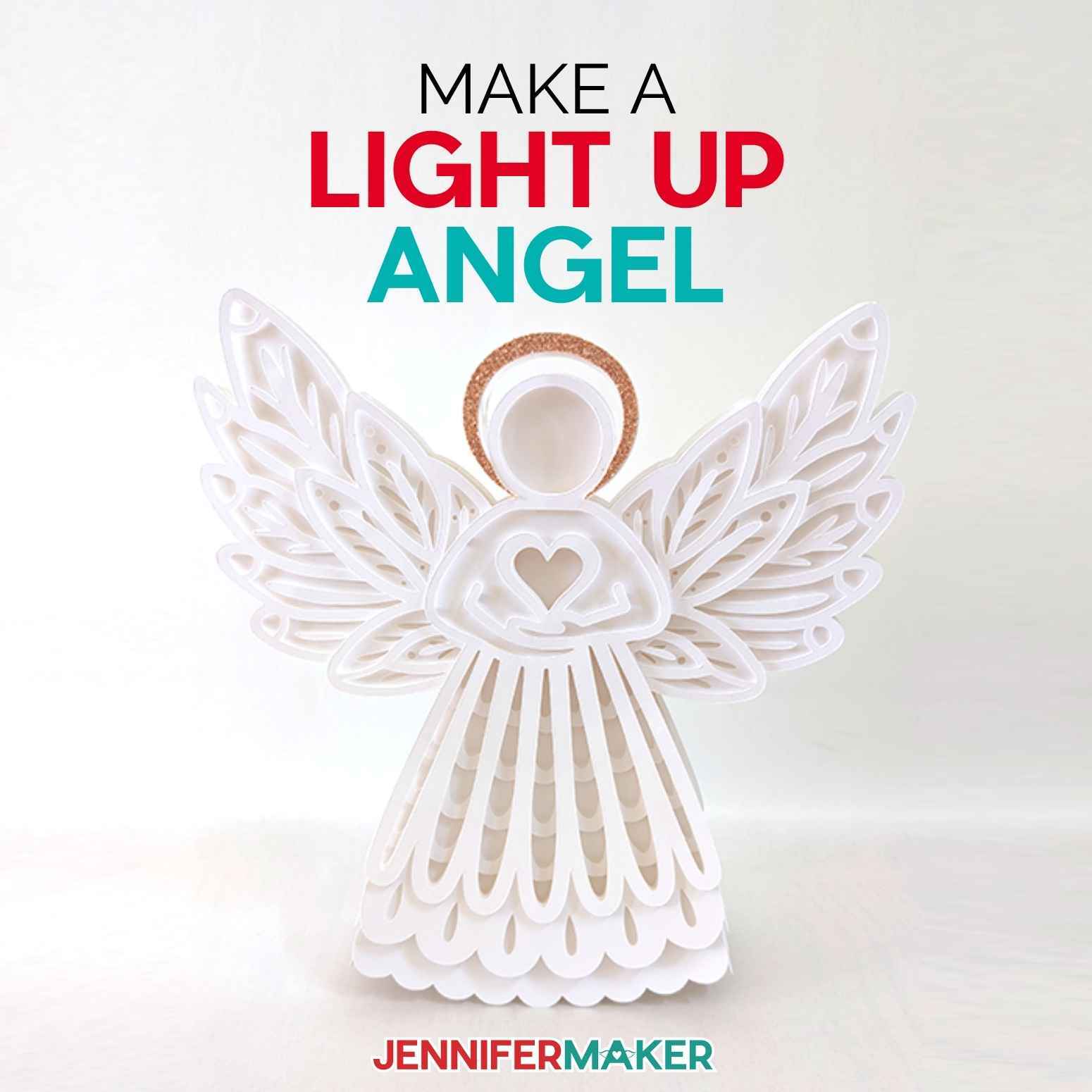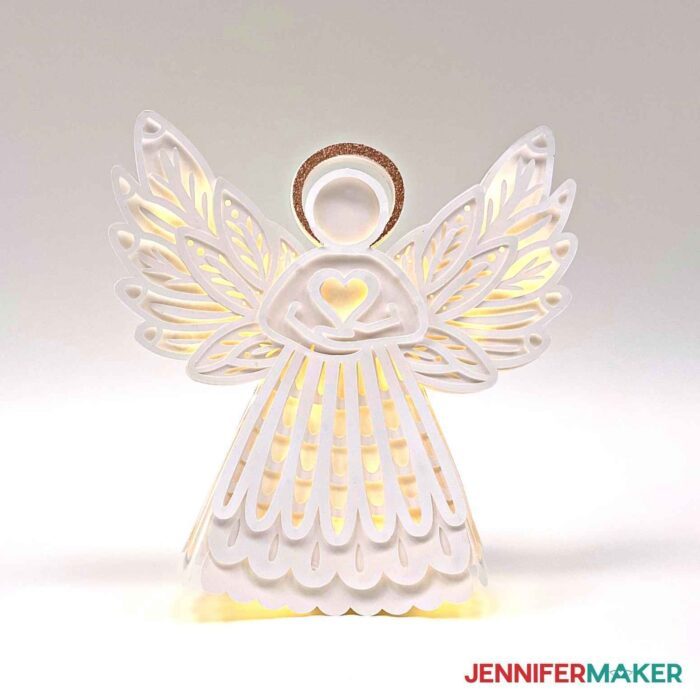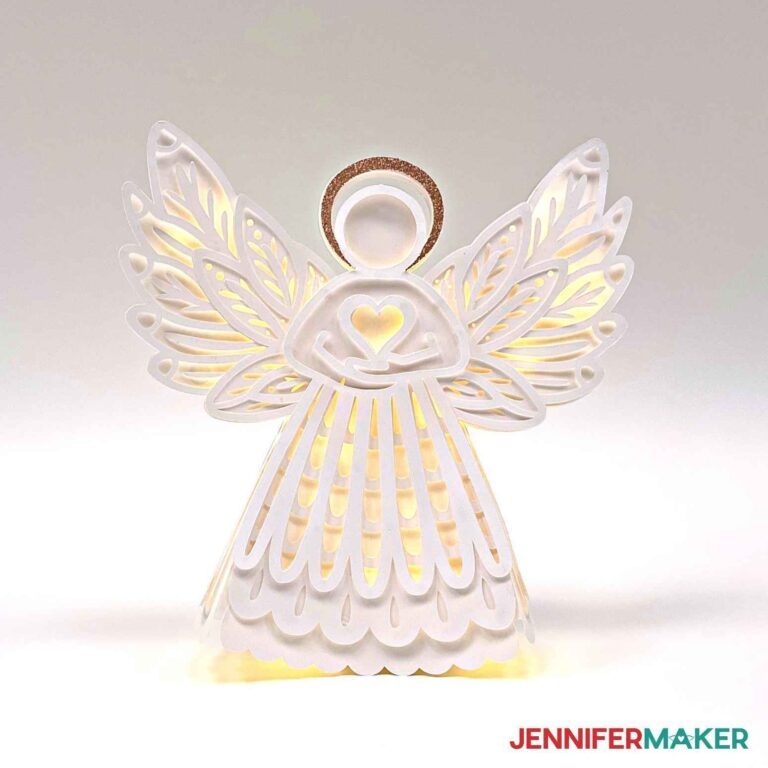 The key to this angel is lining up your layers perfectly to allow different amounts of light to shine through. My tutorial will show you how to line everything up just right AND how to attach your lights for a soft glow! This is truly a simple project that looks more complicated than it actually is.
The materials and supplies are super simple too! Good-quality cardstock is very important. For the angel's main pieces, I used sixty-five pound cardstock in white. It's sturdy, but lets the lights shine through nicely. For the halo, I used gold glitter cardstock, but you can use different colors to fit your decor. It would also look nice in silver, too! Some matching ribbon will come in handy when we look at display options, too. I did a lot of experimenting to find the best cut settings, so I'll show you how to get heavenly results!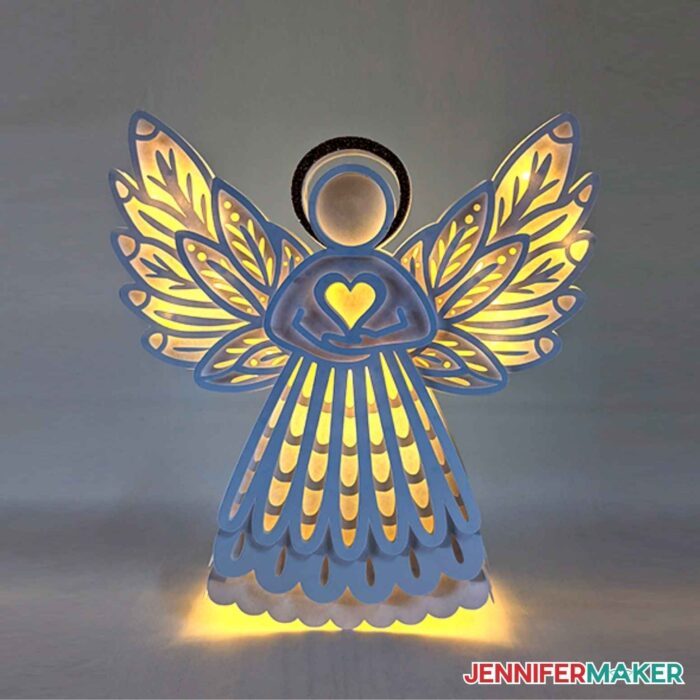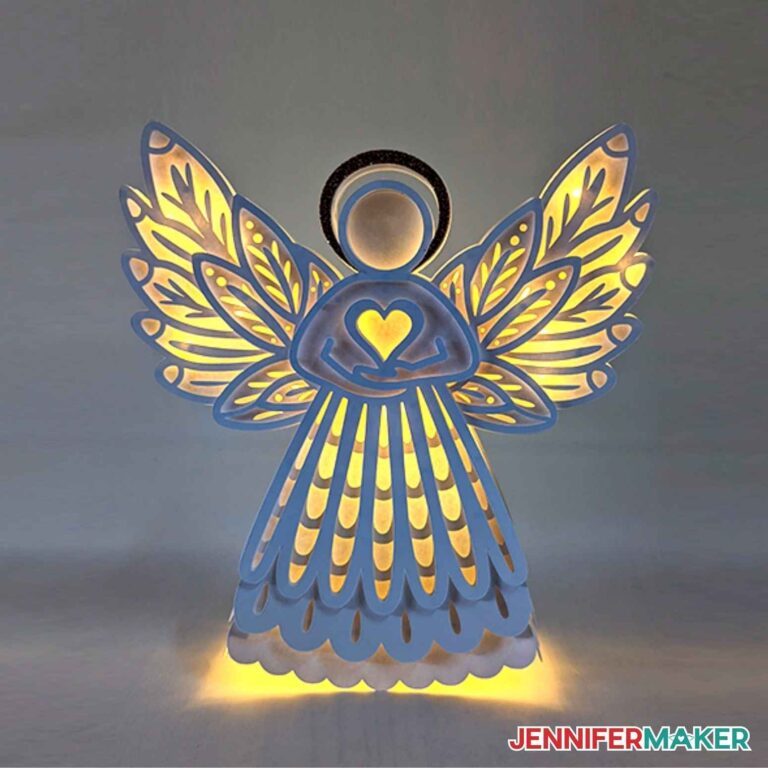 I used a few different kinds of adhesives to create the angel's layered look. I'll show you where to use each kind in the tutorial, including the best way to attach the pretty fairy lights! They'll stay right where you want them and will be easy to use. You won't want to miss my tips!
This project involves a lot of detailed cutting, but it's so worth the time! Before you start, you might want to review my Tips for Cleaner Cuts to get the best results.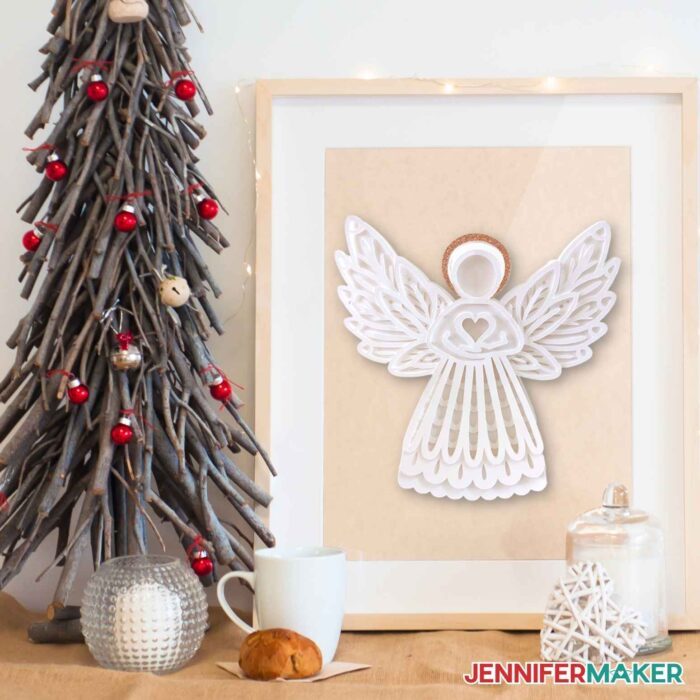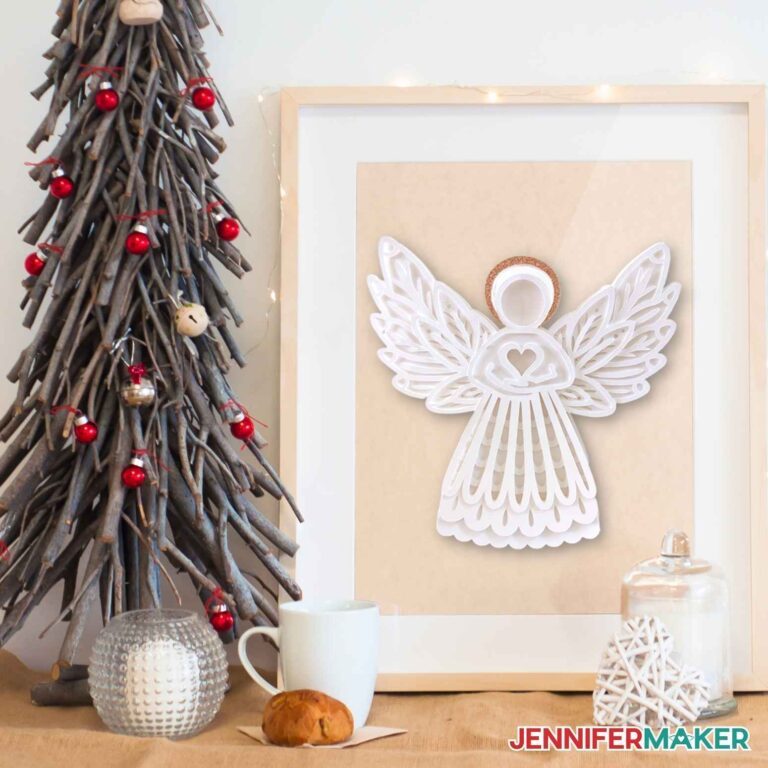 Here's a supply list of what you need to make a 3D light up angel! This post contains some affiliate links for your convenience (which means if you make a purchase after clicking a link I will earn a small commission but it won't cost you a penny more)! Read my full disclosure policy.
Materials to Make a 3D Light Up Angel Ornament or Tree Topper
View my Amazon shopping list with the exact items we used to make this project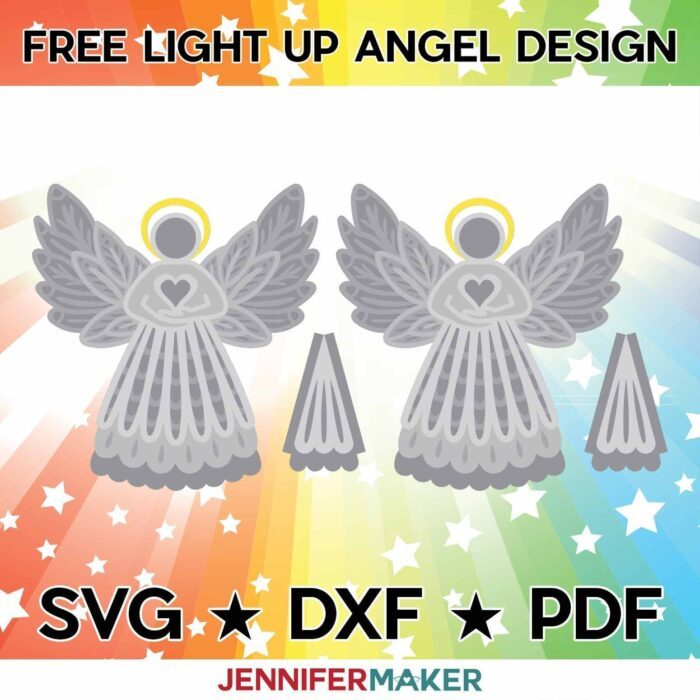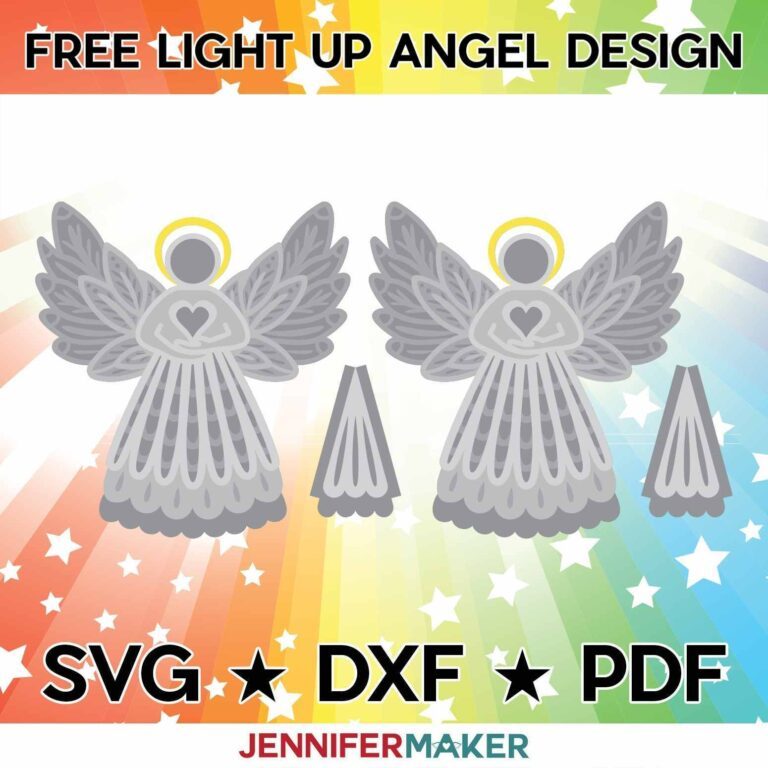 How to Make Your Own 3D Light Up Paper Angel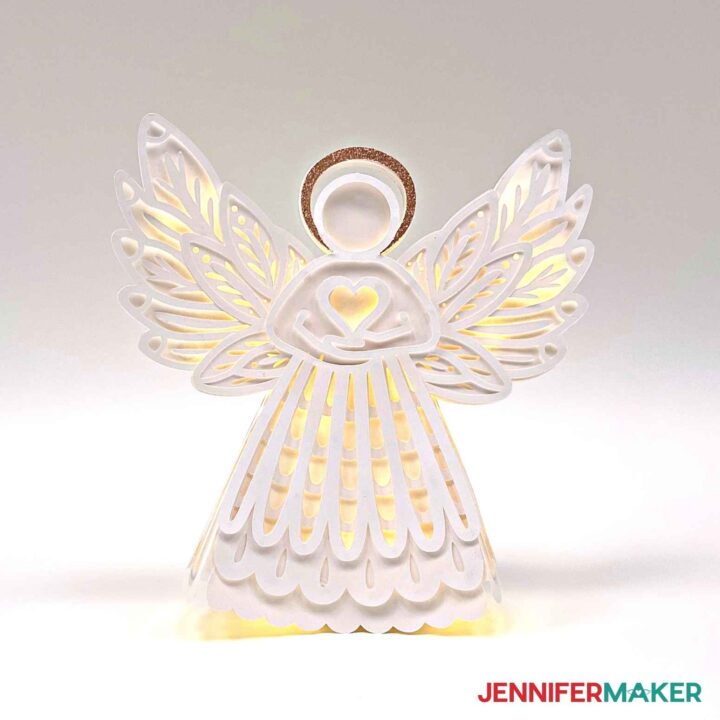 Light Up Angel
Learn how to make a beautiful light up angel out of cardstock that you can also use as a tree topper!
The detailed step-by-step assembly video on how to the 3D light-up angel debuted during Maker Academy Weekend 2022, held online November 3-6, 2022. Get an on-demand pass to watch all 20+ workshops, each with a printable handbook, transcript, audio files, design files, and support with a VIP pass below:


I really love this paper angel design. Here's the ornament with the fairy lights inside. It gives off such a pretty glow, don't you think?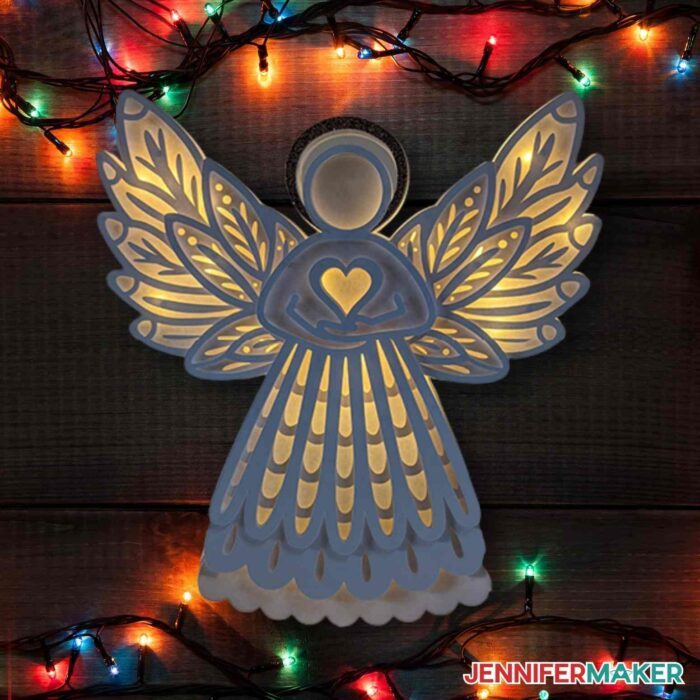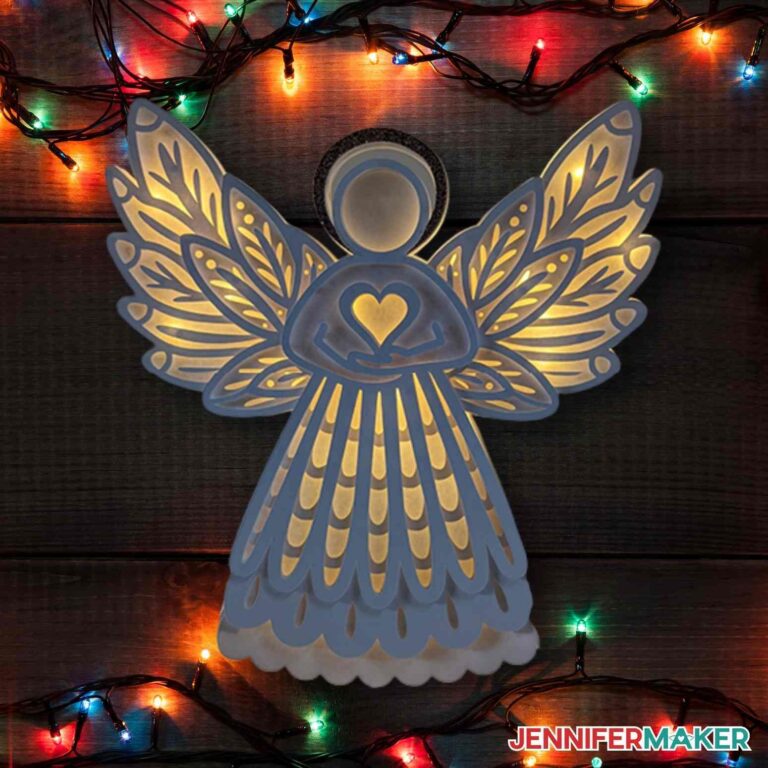 And here it is the angel beautifully displayed inside a picture frame. Your guests will be amazed that you've created this work of art and they'll never know just how easy it was to make!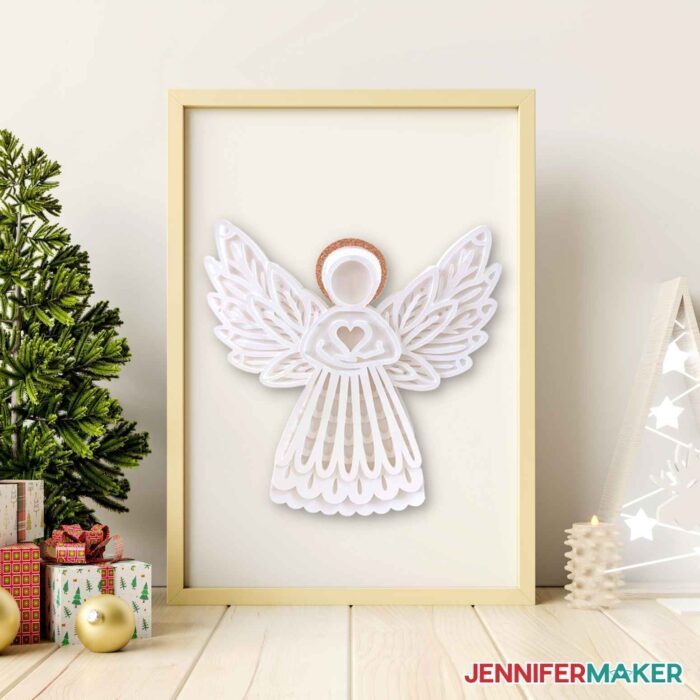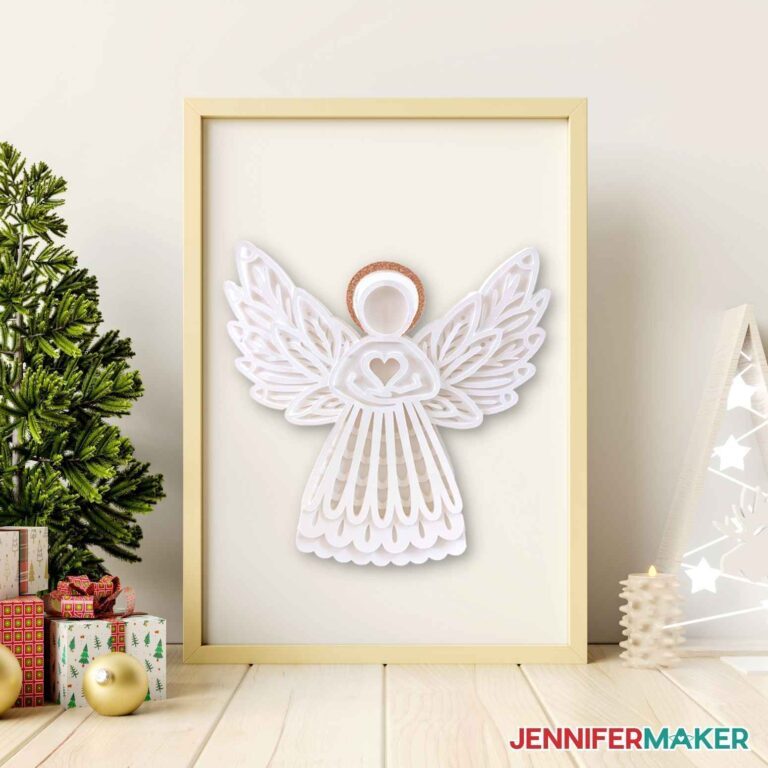 Answers to Your Questions About How to Make a Light Up Angel
Q: Where is your tutorial for this project?
This is a special project we made for our free Maker Academy Weekend 2022 event! A complete and detailed step-by-step video will premiered during the event November 3-6, 2022 — specifically, this tutorial video was available to watch for free for 24 hours beginning November 4 at 10:00 am ET! You can get access to the full video, the 15-page printable handbook that details how to make this beautiful project if you get a VIP Pass to Maker Academy Weekend 2022, which comes with other perks and bonuses, too! Look at all the paper angels made by our VIP passholders in the lead up to our big event!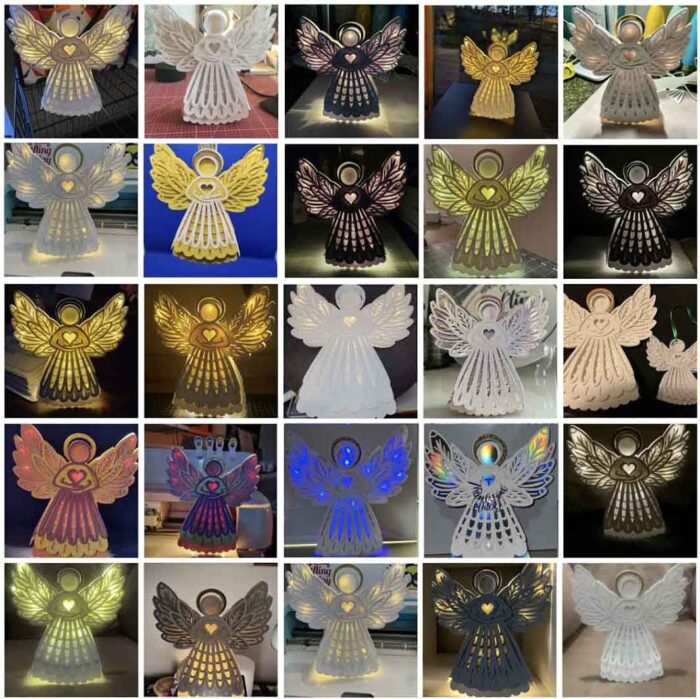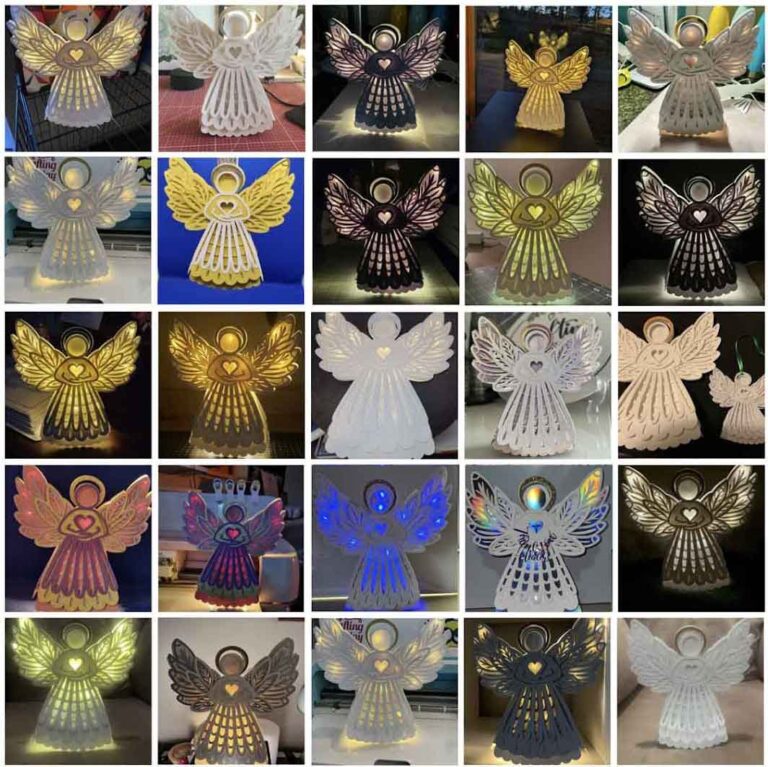 Q: What blade do you need to make intricate cuts on cardstock on Cricut?
If you're planning to use your Cricut to cut cardstock, you'll need to make sure you have the right blade. All modern Cricut cutting machines come with a Fine-Point blade that is ideal for cutting intricate designs in paper, cardstock, and other thin materials. However, if you're cutting really heavy cardstock (like over 100 lb.), you may need to use a Deep-Cut Blade. The deep-cut blade is stronger and sharper, making it ideal for cutting through thicker materials up to 1.5mm thick. You can purchase Deep-Cut blades separately or as part of a blade kit.
Q: What kind of lights do you use in layered cardstock projects?
One option is LED fairy lights. These small, delicate lights add a touch of whimsy to any project. You can tuck them behind layers of paper to create a softly glowing effect. Another option is LED strip lights. These are slightly larger than fairy lights, but they pack a powerful punch of light and weigh more. We think lightweight fairy lights work the best.
Q; How do you cut your cardstock so intricately without tearing and ripping?
A: The key is to use a clean sticky machine mat and a clean fine point blade. Learn more about getting cleaner cuts on your Cricut cardstock projects in my Cricut Cutting Problems guide.
Q: Is there another layered paper angel like this I can make?
Yes! Check out my friend Gjoa's Layered Christmas Angel, which is the older sister to our angel — she pioneered this particular style of angel, which inspired our own design. Get her lovely angel over at SpecialHeartStudio. While you're there, check out Gjoa's other AMAZING designs — she is very talented!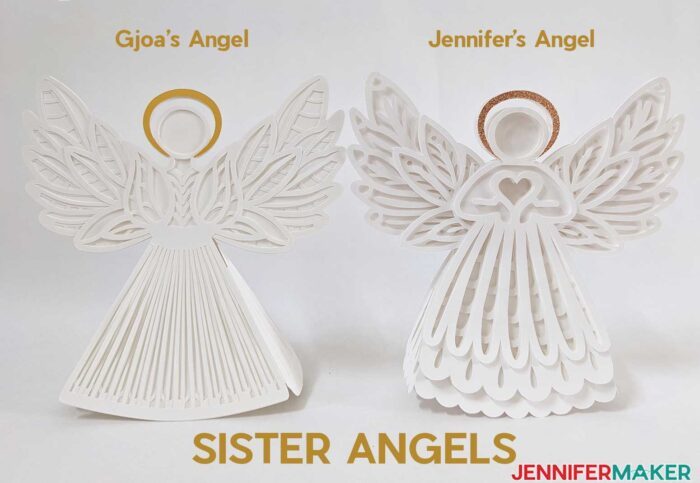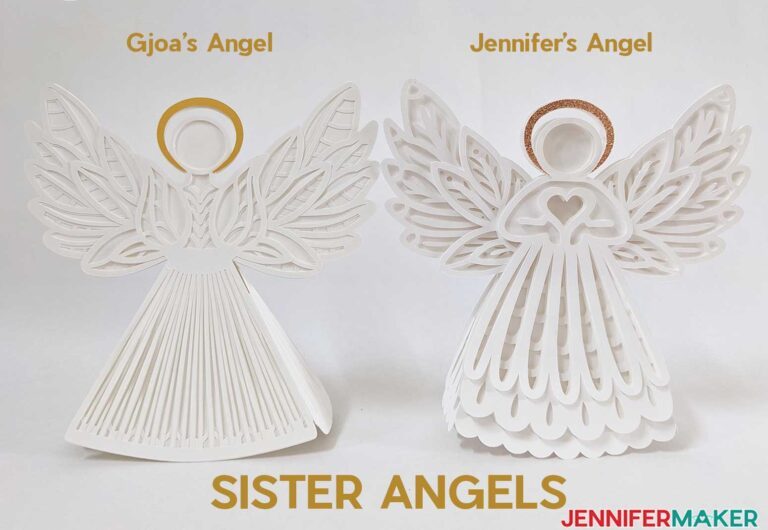 Get my free SVG files to create this stunning paper angel!
I SO hope you'll make one or both angels! Please share a photo of your 3D light-up angels in our Facebook group or tag me on social media with #jennifermaker.
Love,