Struggling to sew a neckline? Check out this easy tutorial for a perfect round jewel neckline every time!
It's sewing season around my house. Every year we go camping for a couple of weeks with a large historical society (the SCA) and that requires lots of clothes you can't buy in stores. This week I've made several new tunics for my daughter, all of which required round jewel necklines. As I was working on them, I realized how so many people struggle with necklines and how I had a super easy and reliable way to sew gorgeous round, jewel necklines… and I thought I'd share it!
There are three tricks to my round neckline technique — asymmetry, a salad plate, and an extra bit of material!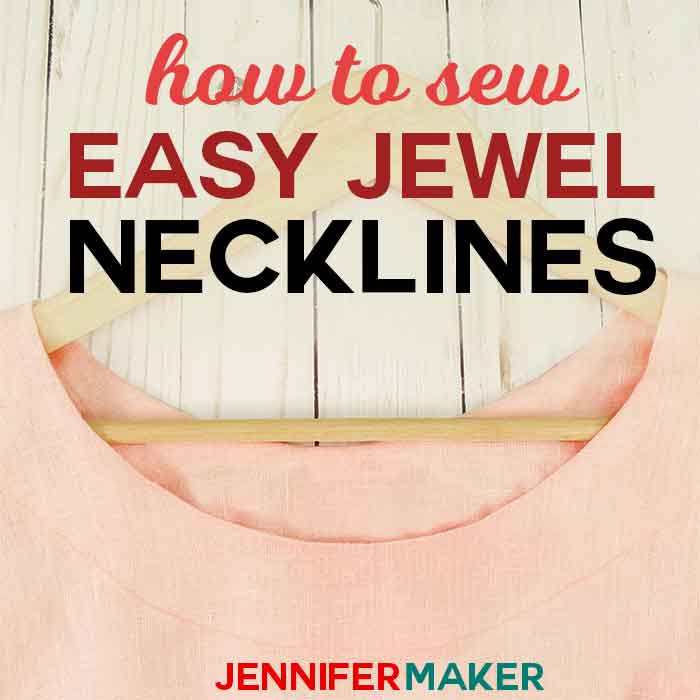 Okay, that sounds funny, but let me explain. First, one of the biggest mistakes people make when creating necklines is to center the neckline on the top of the garment. But our necks actually sit more toward the front of our bodies than the backs. So when you center it on top, the neckline can feel like it's "choking" you in the front and too low in the back. The secret is to lower the neckline a bit. I like to put 1/3 in the back and 2/3 in the front. This gives me perfect-looking, comfortable necklines every time. I'll show you exactly how to do this in the tutorial below.
Second, using something perfectly round, like a salad plate, makes is super easy to create a round jewel neckline. And a 7.5″ diameter salad plate happens to be just about the right size for a lovely neckline that you can fit an average size head into. (My daughter's and my own head are the same circumference: 22″ — if you have a particularly large or small head, adjust accordingly.) I do not recommend you try to freehand a circle—they are notoriously hard to get perfect without some sort of aid.
Third, we're going to use a simple facing material to give a smooth, finished look to your neckline. This really is super easy!
Let me show you how to sew round jewel necklines quick and easy! This post contains some affiliate links for your convenience (which means if you make a purchase after clicking a link I will earn a small commission but it won't cost you a penny more)! Read my full disclosure policy.
Materials and Tools to Sew Round Jewel Necklines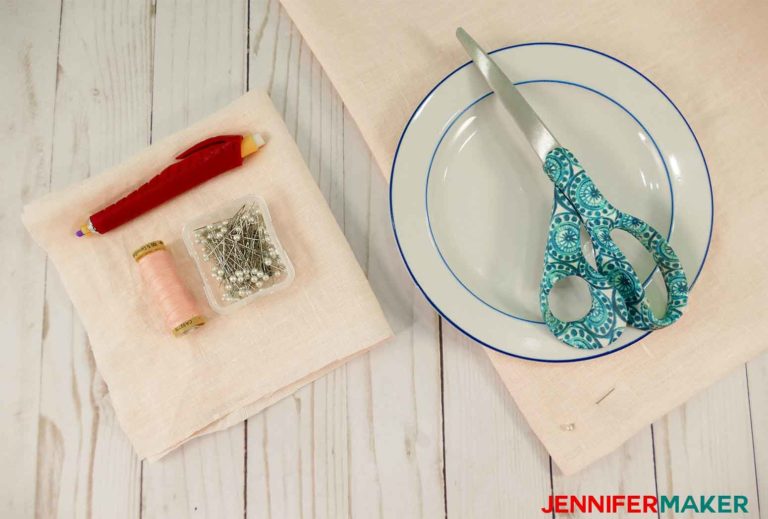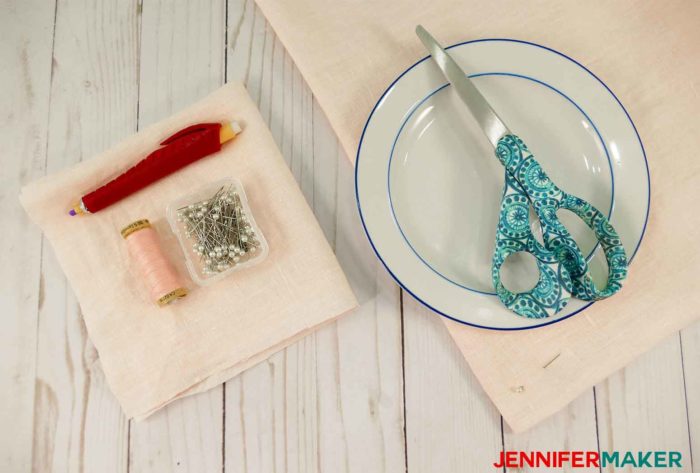 Fabric (doesn't really matter the type—you can do this with anything. I'm using a soft pink linen.)
Thread (I recommend you use thread the same color as your fabric)
Needle (or a sewing machine—here's my favorite sewing machine!)
Pins
Scissors
Iron
A way to mark your fabric (I used chalk, but you could also use a water soluble fabric marking pen)
A 7.5″ diameter salad plate (or something else round like this)
How to Sew Round Jewel Necklines
First and very important, I recommend you follow this tutorial on your garment BEFORE you construct it fully. This is SO much easier to do when your garment can lay out flat. Once you've started sewing it together, it gets harder and harder to lay flat. You can still do it, it's just not as easy. So if possible, create the neckline before you finish sewing the shirt or tunic together. You do need to have the front and back of your garment sewn together at the top, of course, before you can add a neckline, so be sure to do that if necessary.
Find the center top point of your garment (where it would sit on your shoulders) and pin or mark it. Then find the center half of your garment (fold it vertically in half) and pin or mark it.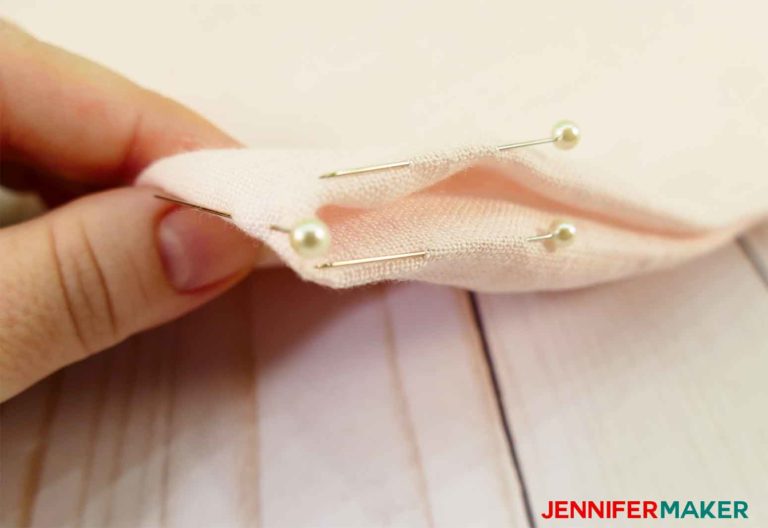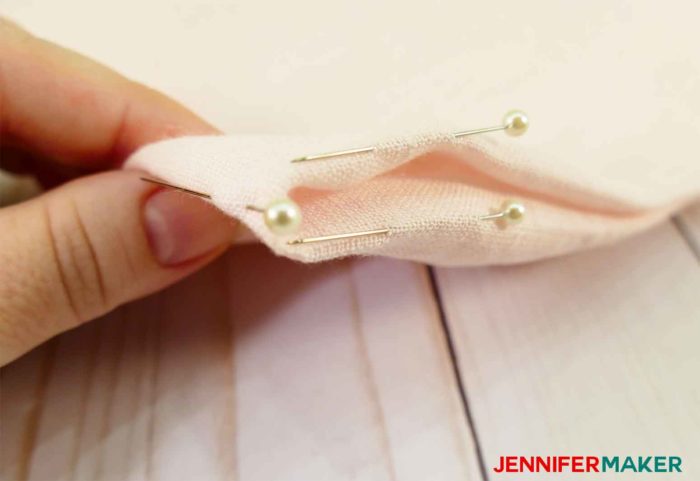 Open up your garment and lay it flat on your cutting surface (if possible). Keep the front of your garment closer to you. Find the point at which your two pins/marks intersect — this is the dead center of your garment. Mark it with chalk/pen and make a big cross at least 8″ high and wide.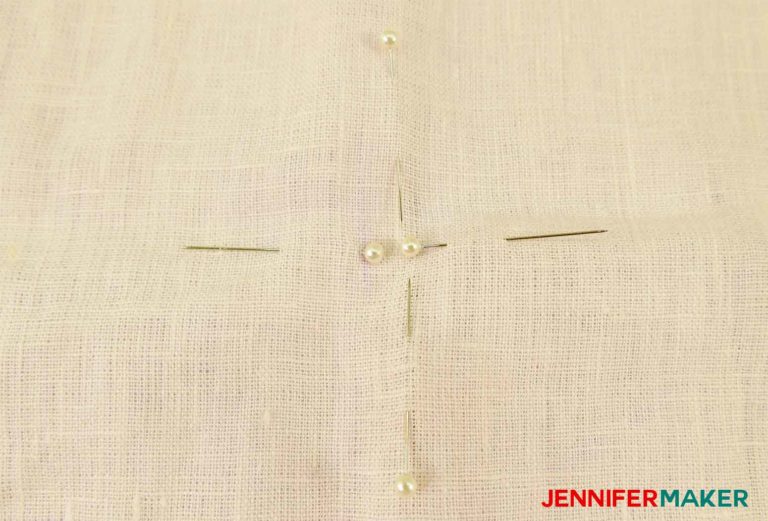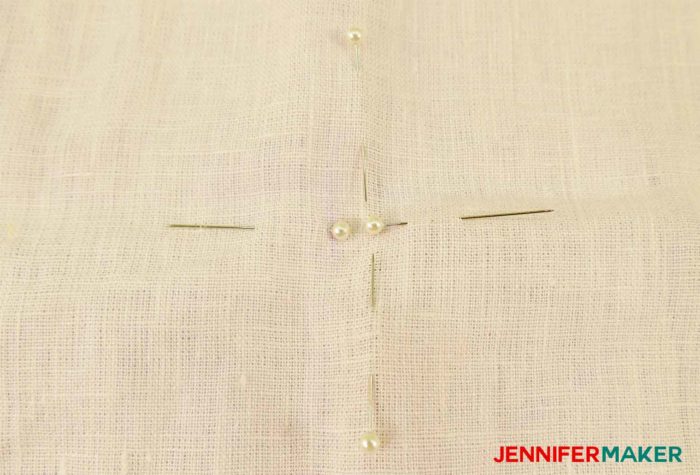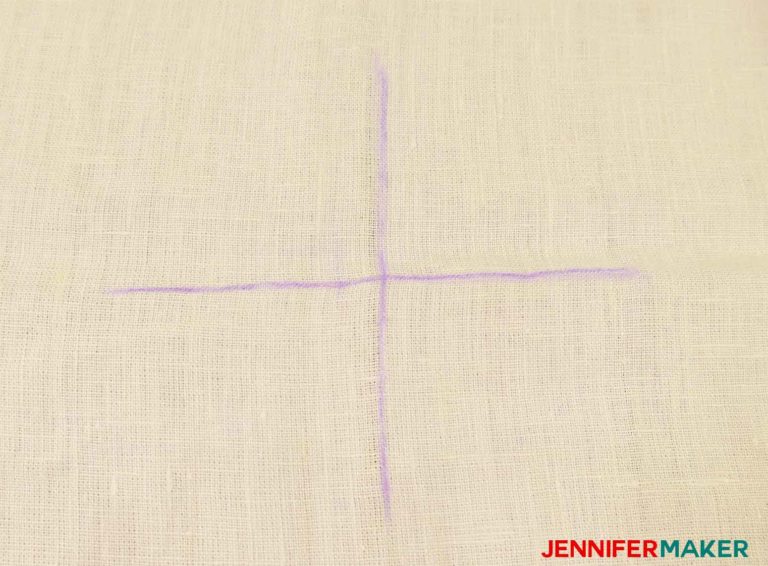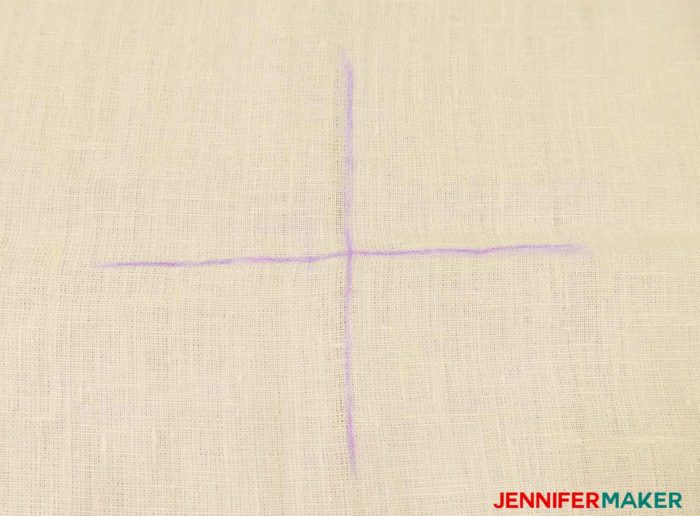 Get your 7.5″ diameter salad plate, or whatever round thing you want to use (make sure it has at least the same circumference — or a bit larger — as your head) and plate it on your fabric. Center it on your marked cross. Now move your salad plate down so that 1/3 of it is above your horizontal line, and 2/3 is below it. This is going to give you a round jewel neckline that fits properly around your neck.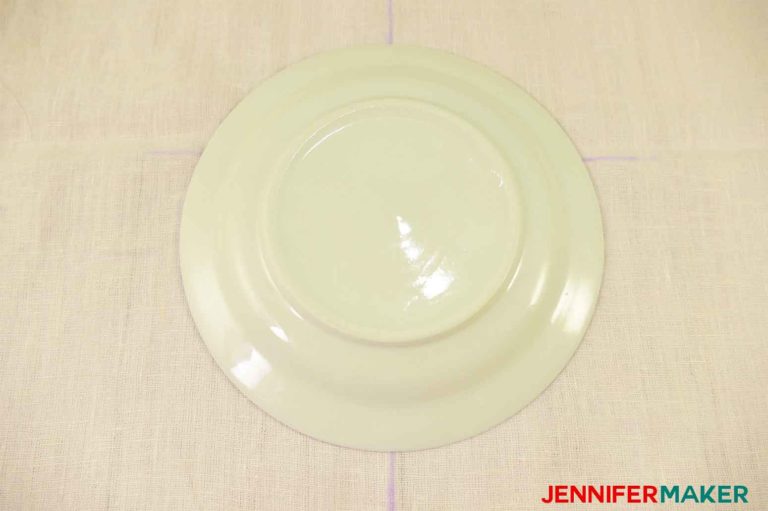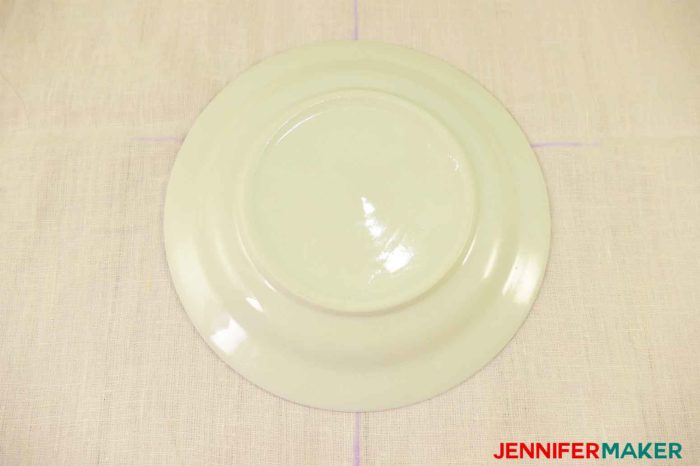 Mark your circle by outlining the salad plate.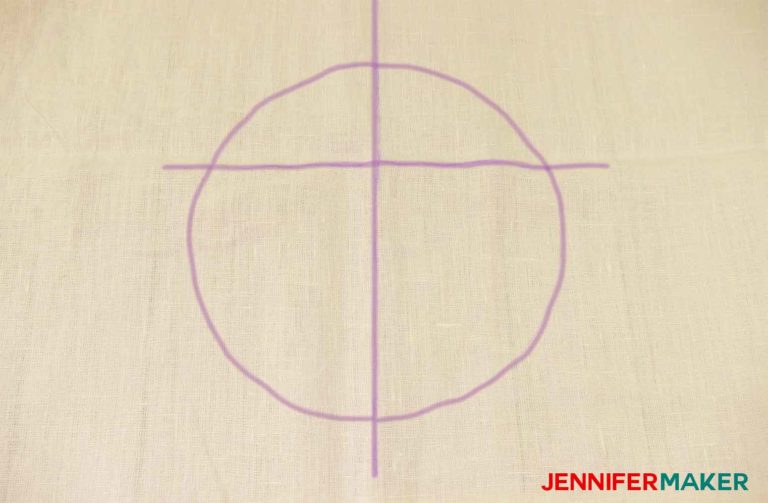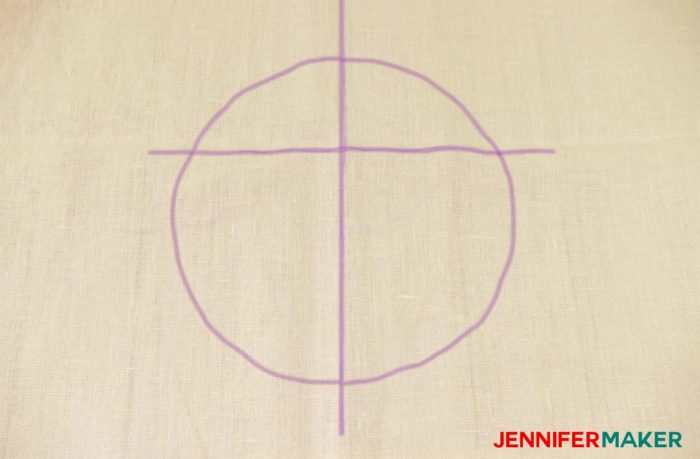 Cut out a square of fabric at least 15″ x 15″ (bigger is fine) and pin it on your circle, centered. (Note, if your fabric is right side up, keep the square on top of your fabric. If it is right side down, put the square under your fabric. In my photos, I put my square under my fabric so you could see my markings better.) This square is your facing.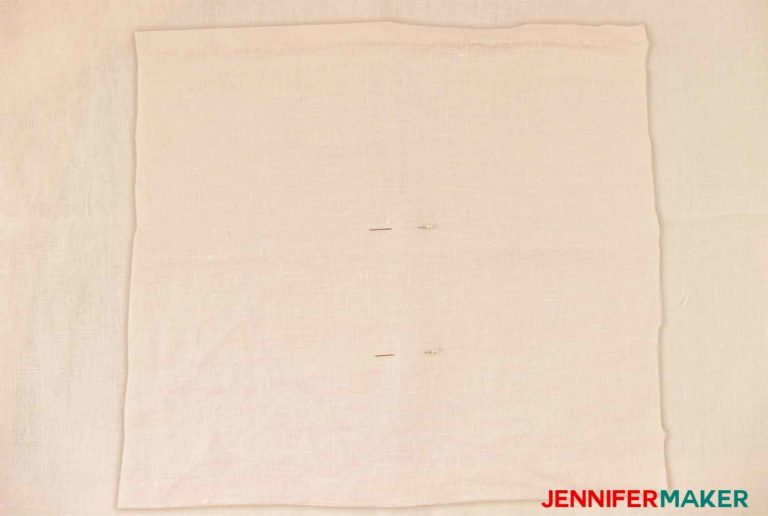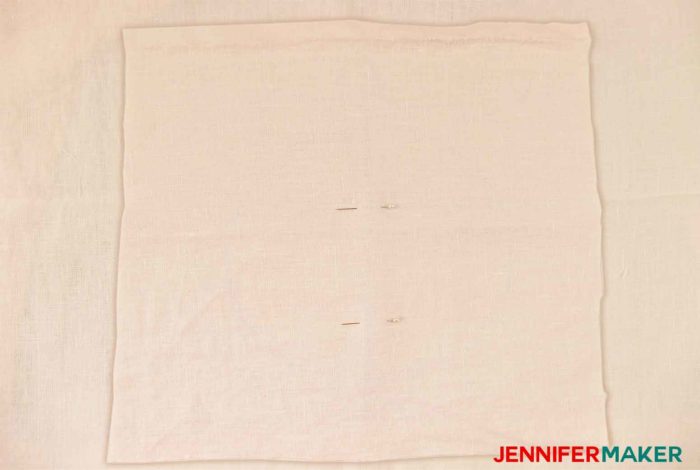 Pin the facing square to your garment, as shown below.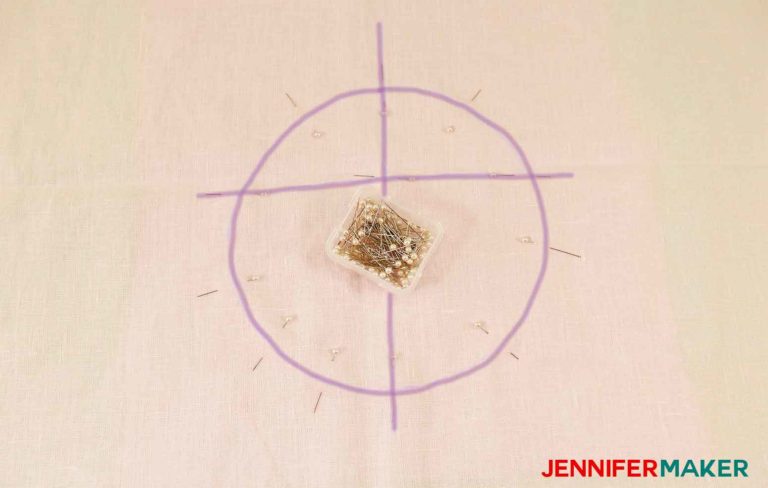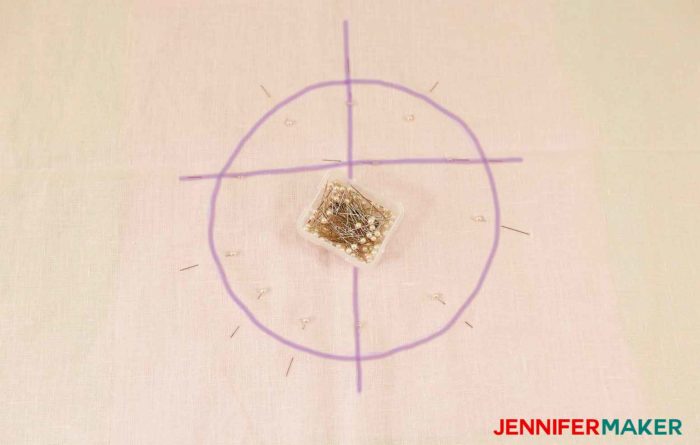 Now simply sew your garment and facing together all around this circle you marked. I used my sewing machine at a stitch length of 2.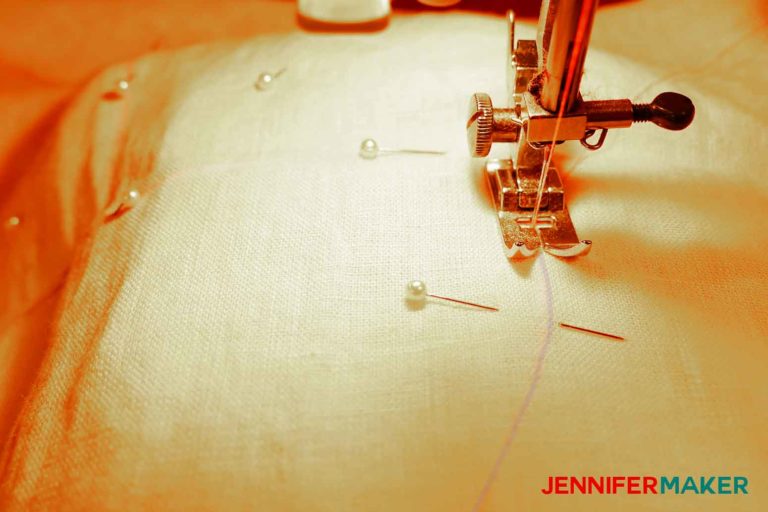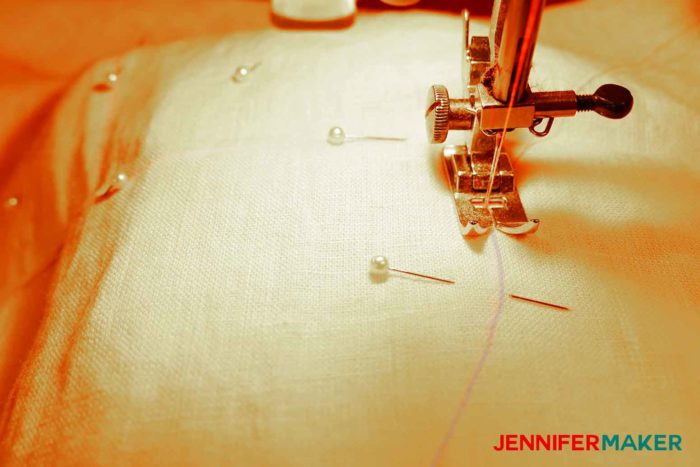 Once you've sewn around the circle, cut out the inside circle (both the garment and the facing square) leaving about 1/2″ of fabric next to the seam.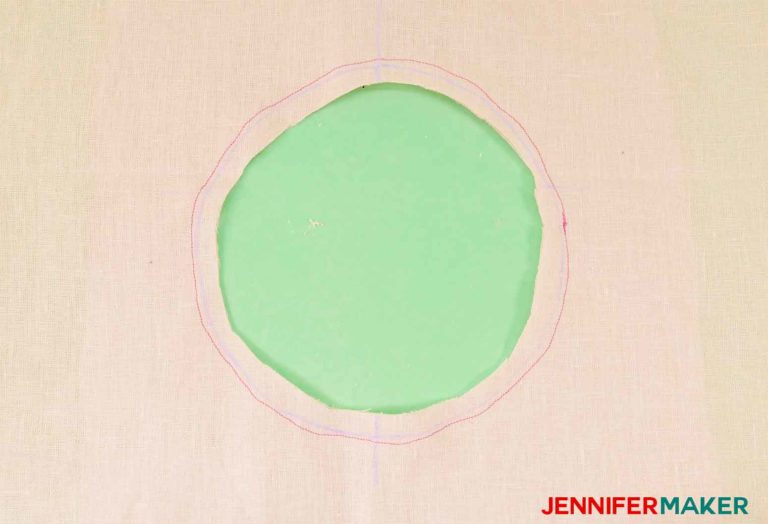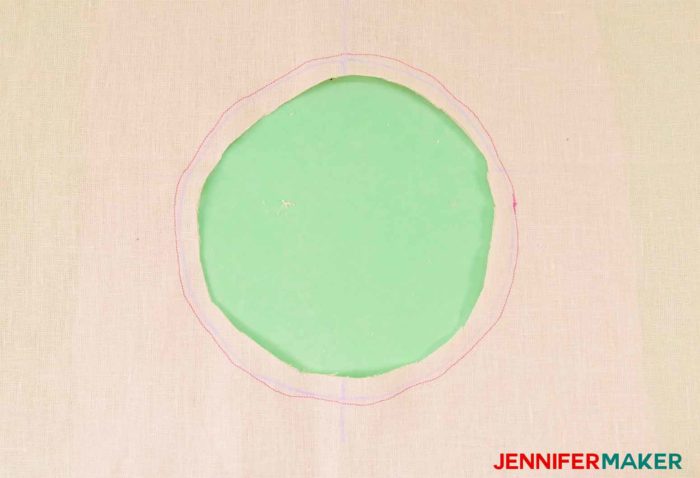 Make small cuts around the perimeter of the seam allowance, cutting just up to the seam but not into it. These little cuts are going to allow your curved seam to lay flat once it is done, so it's very important.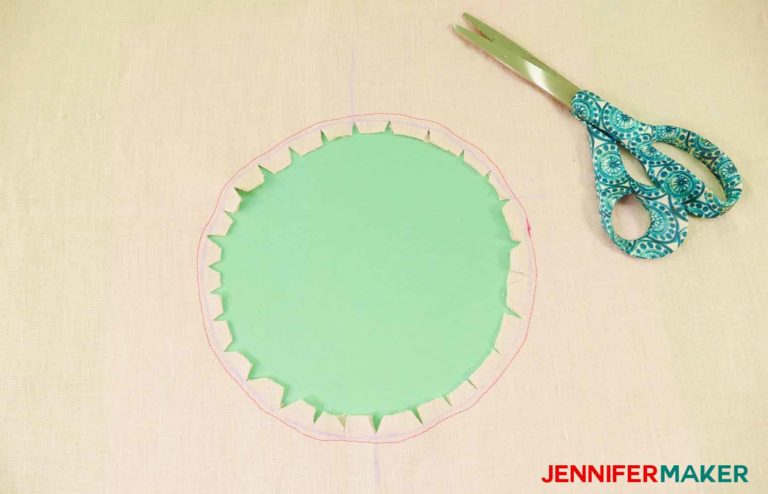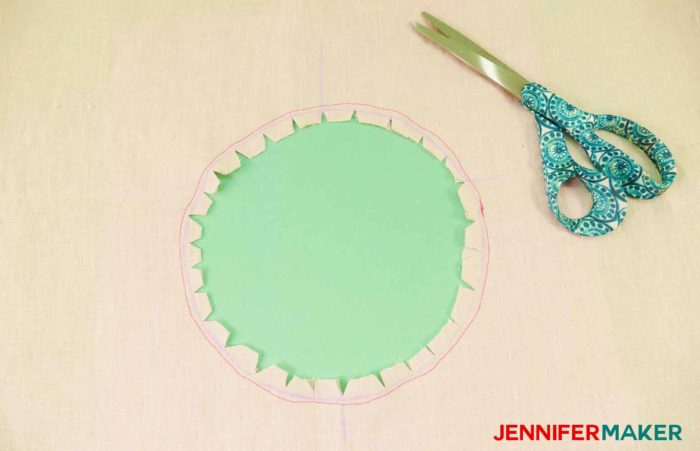 Pull the facing square you sewed on to your garment up and through the circle you cut out and smooth it out.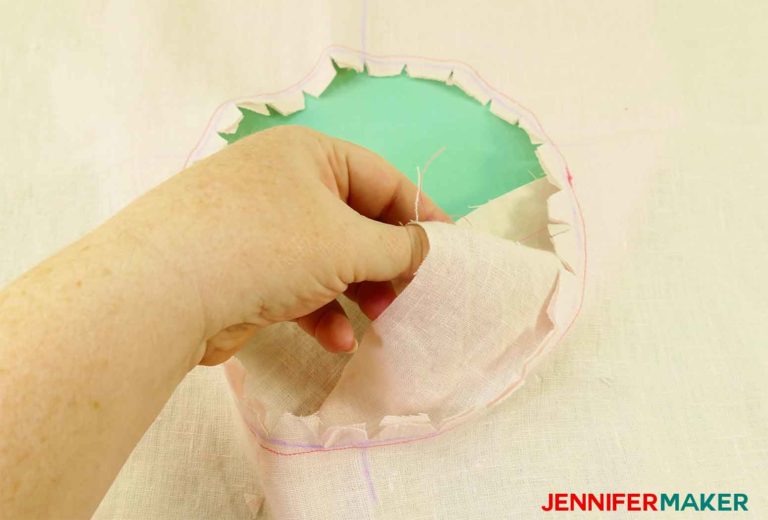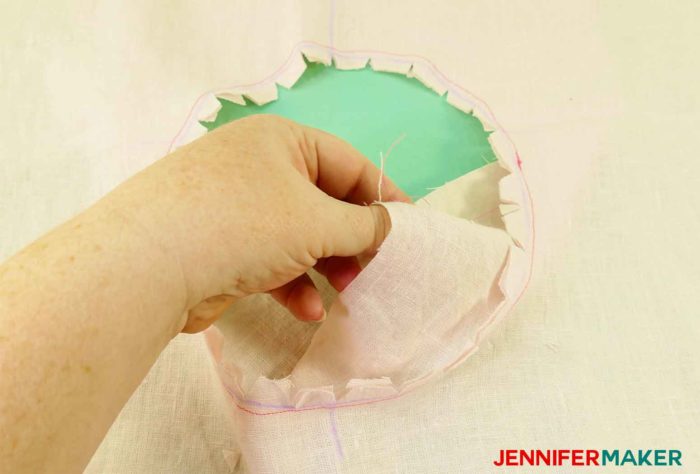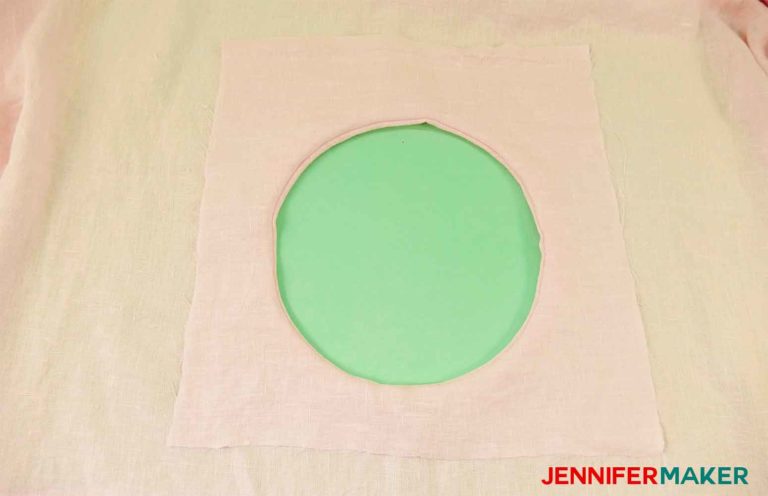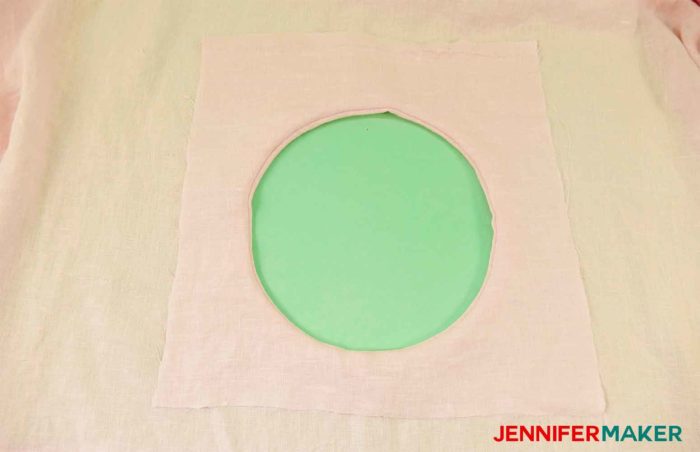 Isn't that neckline seam pretty now? Here's a closeup!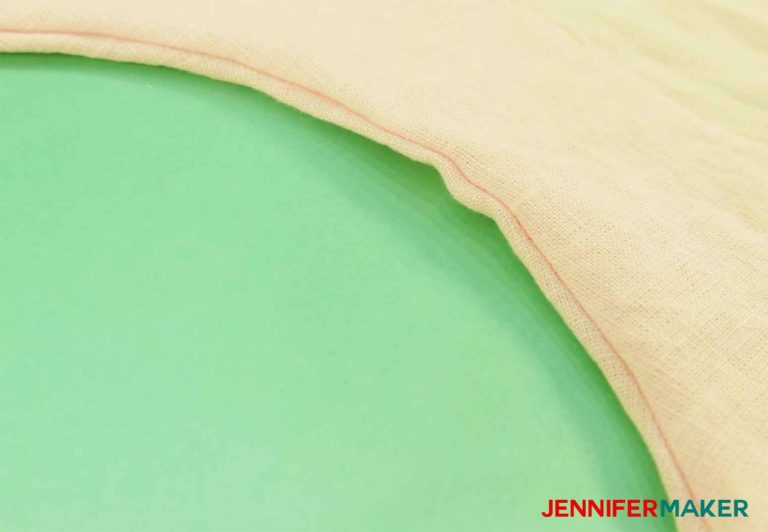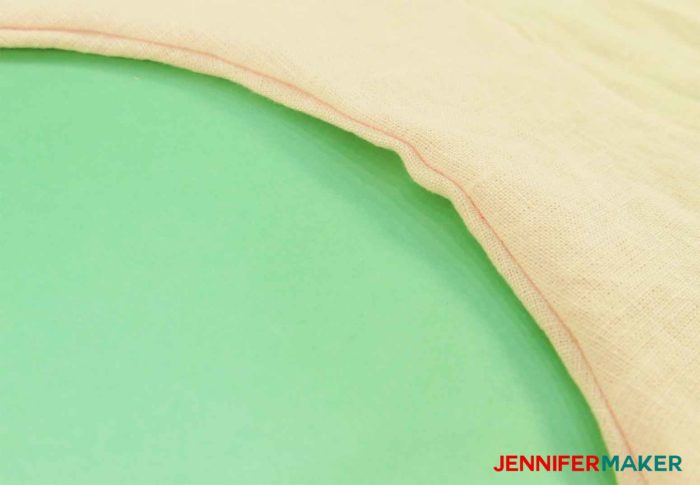 At this point, you need to decide if you to keep that facing material a square shape or cut it into a circle. Either is fine. I cut my facing into a circle with about 2″ of fabric between the edge and the seam.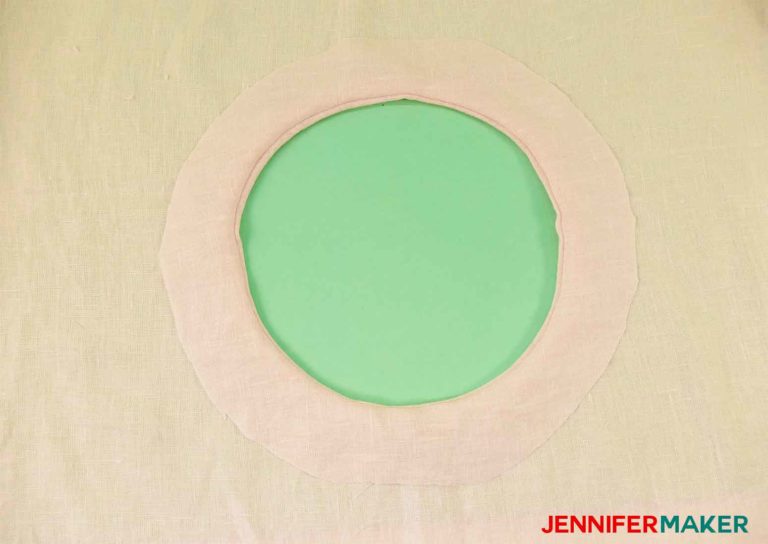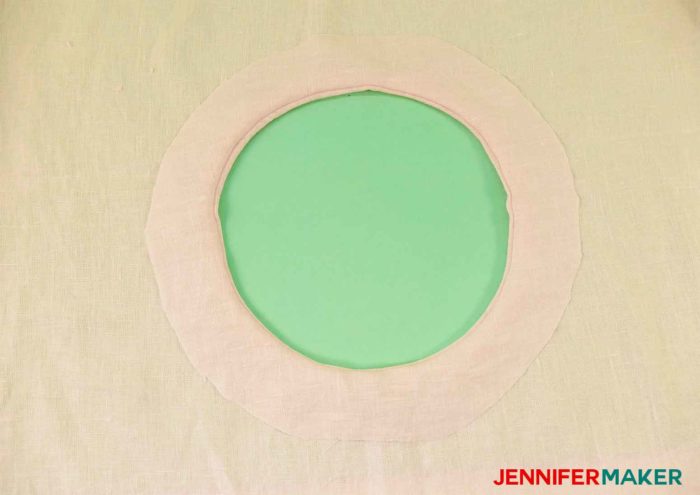 Iron your garment and facing around the neckline so it's nice and smooth and crisp.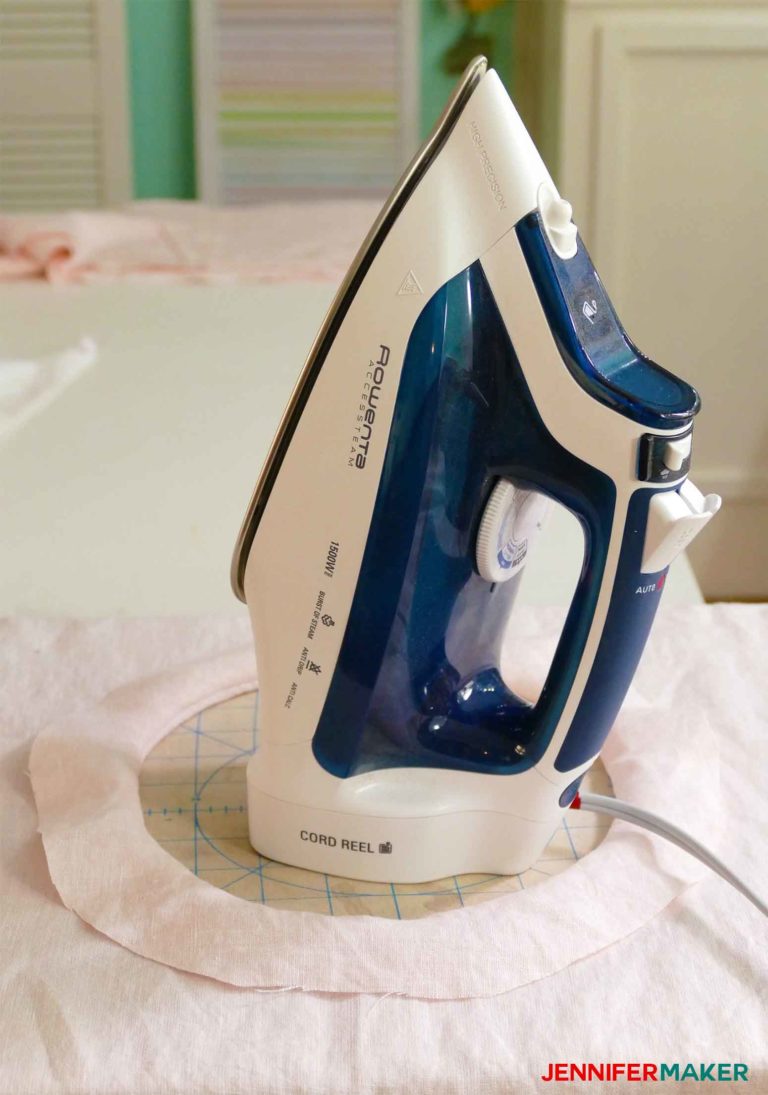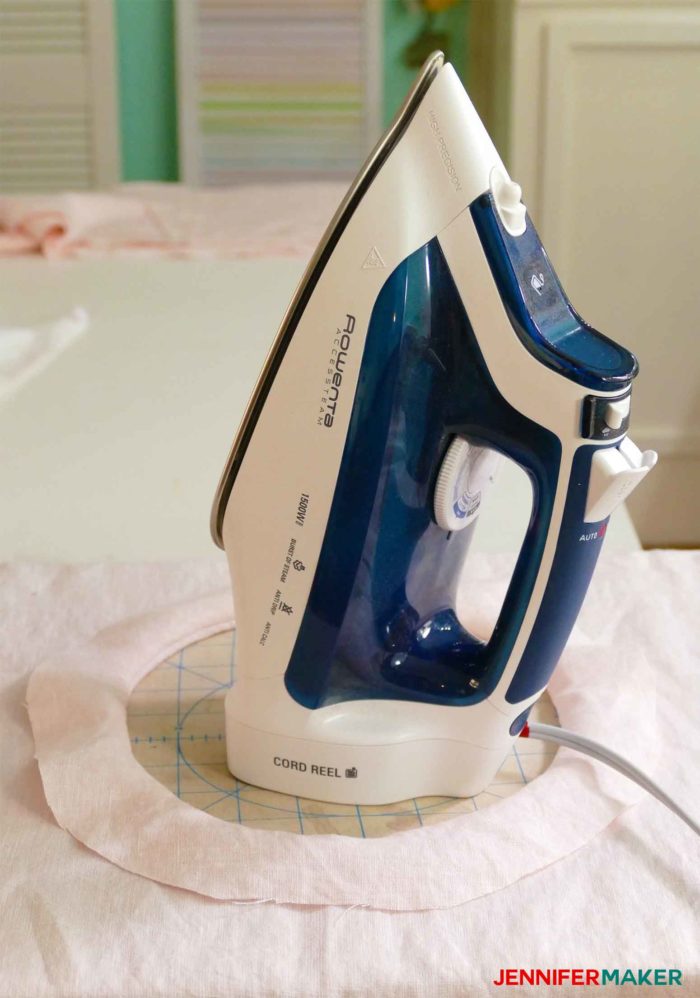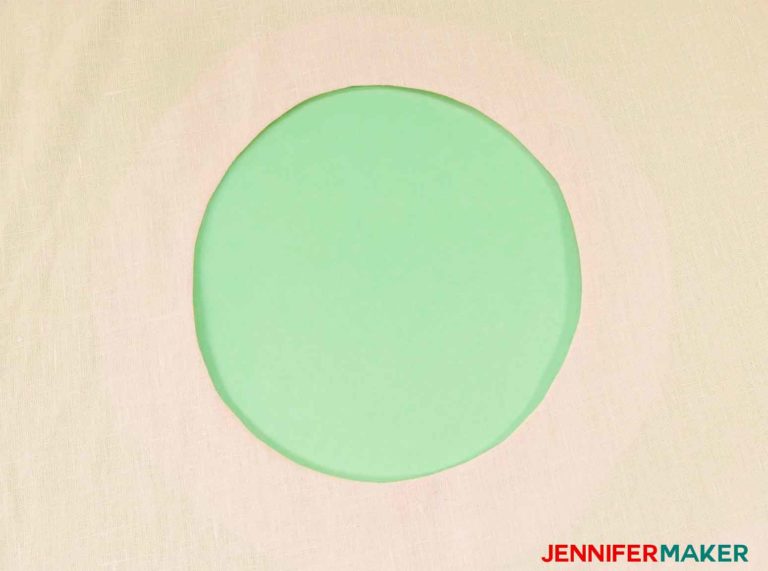 Finish the edge of your facing. I simply sewed a zigzag stitch around the outer edge, but if you have a serger you could use that, too. You could also use pinking shears.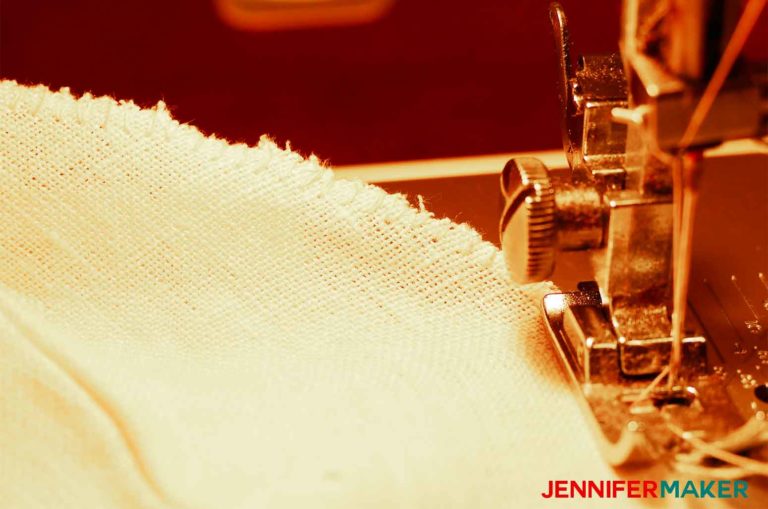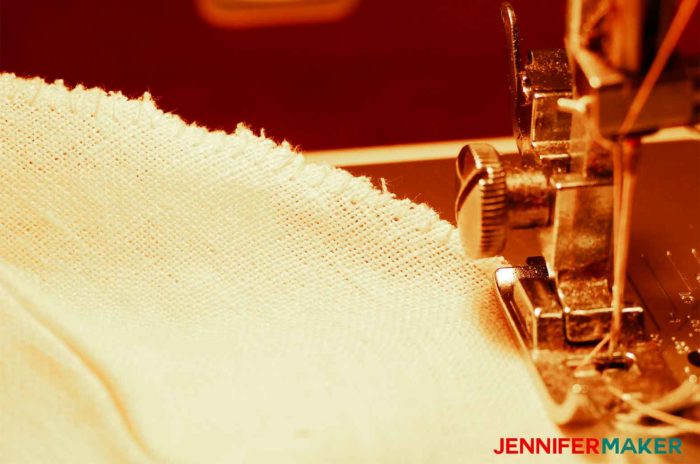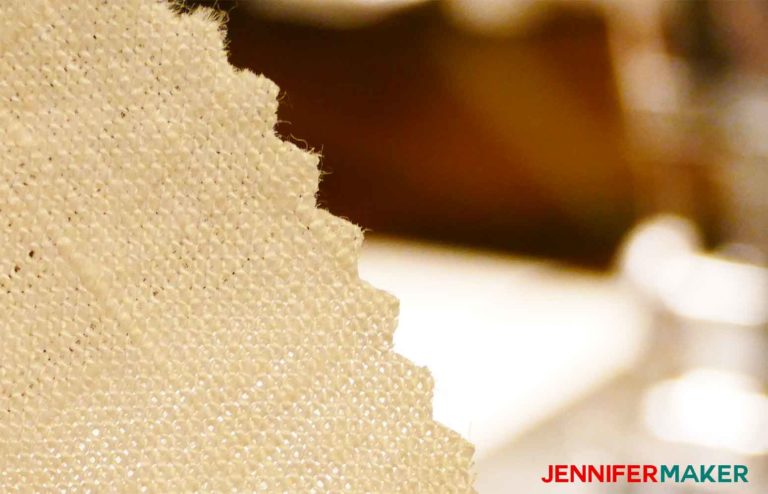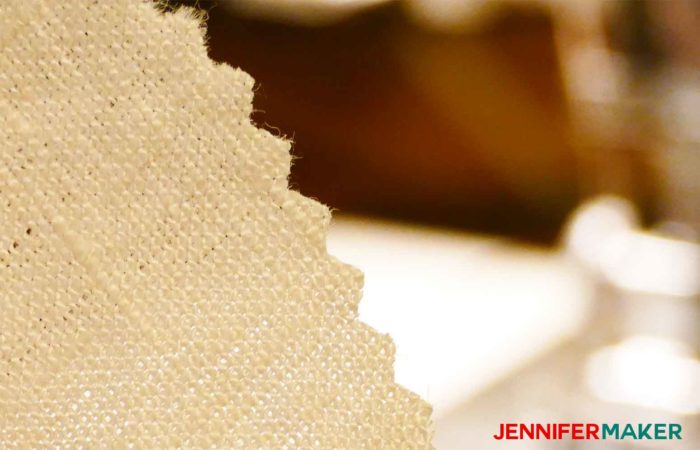 You could stop here, or you could sew the facing down to the garment. If you sew it down, it'll be a little easier as the facing won't want to flip up when you're putting your shirt or tunic on. I sewed mine about 1 1/2″ from the neckline.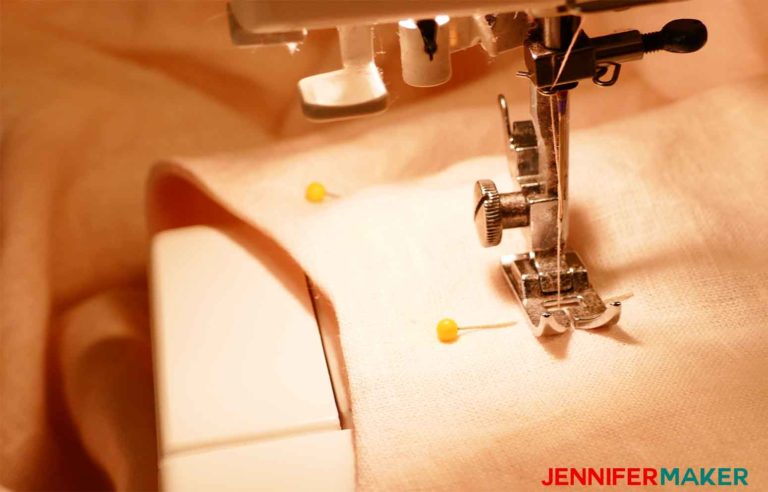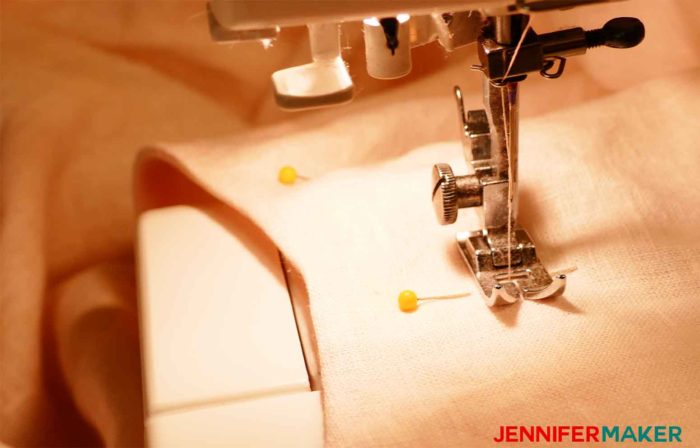 And that's it! That was a lot of instructions for something actually pretty easy, but I wanted to be sure I explained everything! Here is the finished round jewel neckline in our pink tunic: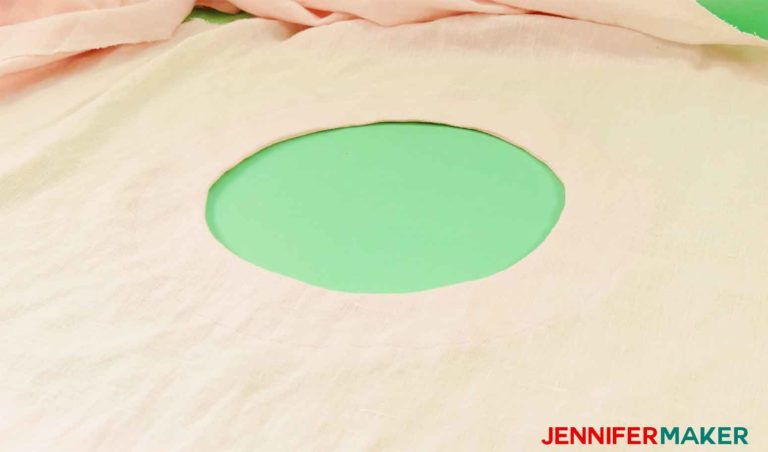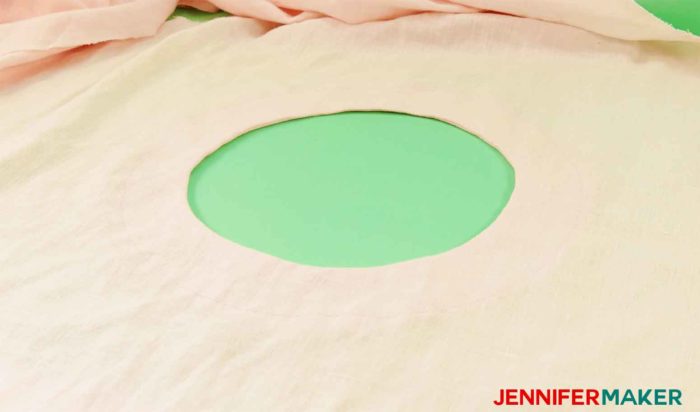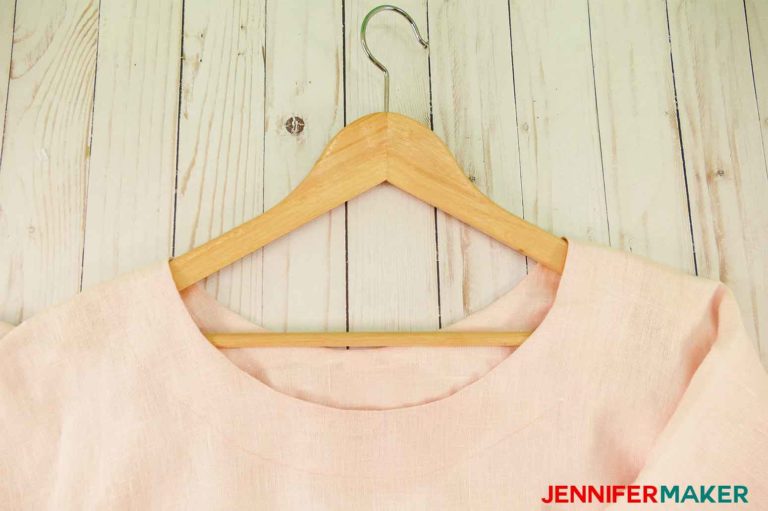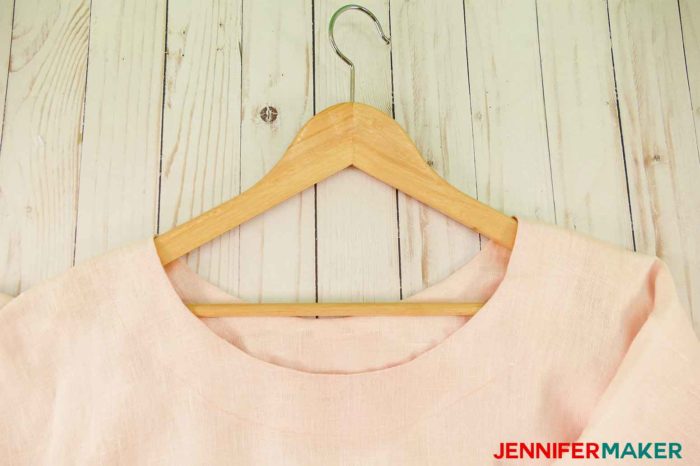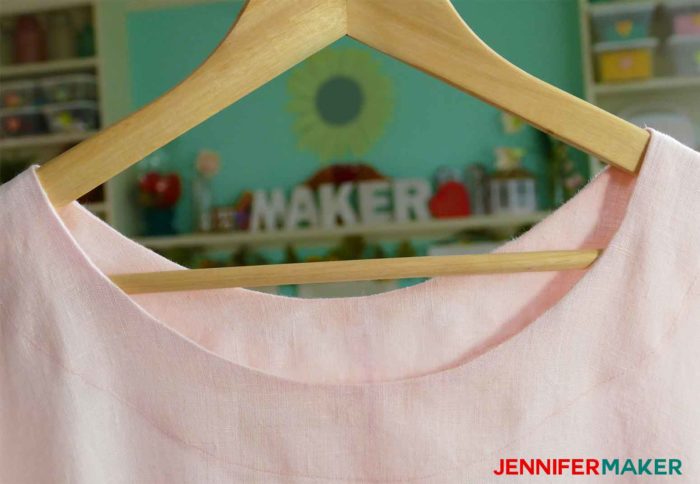 Here is my daughter wearing the pink linen tunic we made for her: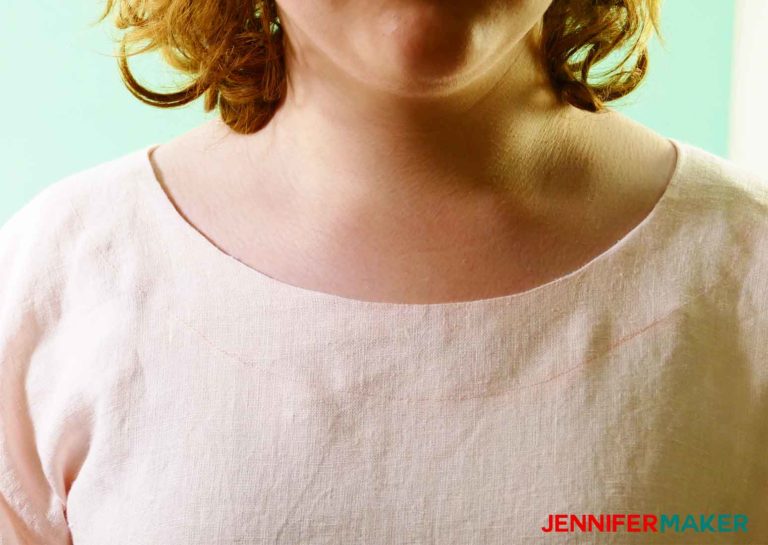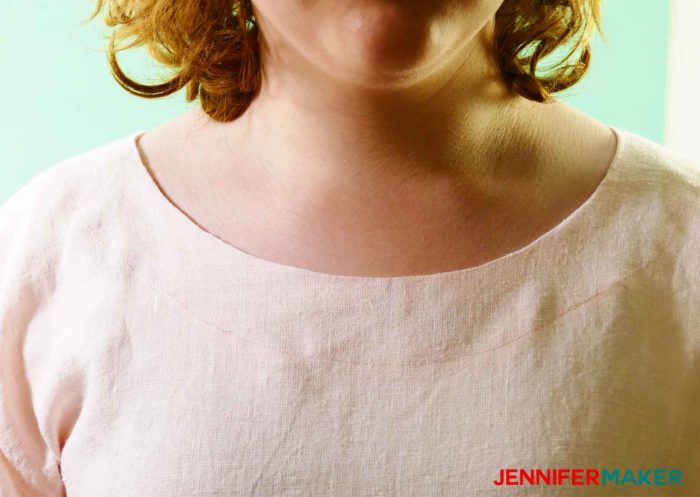 By the way, if you like the look of this soft pink linen, I got it from Fabrics-Store.com!
If you use this tutorial to make a round jewel neckline, I'd love to see what you made — send me a photo of your setup at [email protected] or tag me on social media with #jennifermaker.