Learn how to make a show-stopping tabletop Christmas tree out of cardstock!
Did you ever have a ceramic Christmas tree growing up? They're a classic holiday decoration that has never really lost it's popularity — and for good reason! They bring a beautiful, festive ambience with their glowing lights, and they've always been one of my favorite decorations during the holiday season. Christmas magic often comes in small packages, and a tiny tree might be the perfect tree for you! They bring loads of Christmas cheer to small spaces like your coffee table, fireplace mantel, or even a small apartment or dorm room. But, did you know that you can make your own tabletop Christmas tree? With … your Cricut?!
Want to save this project? Enter your email below and we'll send the project straight to your inbox.
My amazingly talented daughter Alexa designed the three-dimensional shape of the tree in a computer program called Blender, which is a 3D model creating software. Didn't she do an incredible job? I really love when we get to collaborate on designs! She designed it to be cut and assembled out of cardstock, and this amazing design has quickly become one of my favorite holiday decorations. It's truly amazing!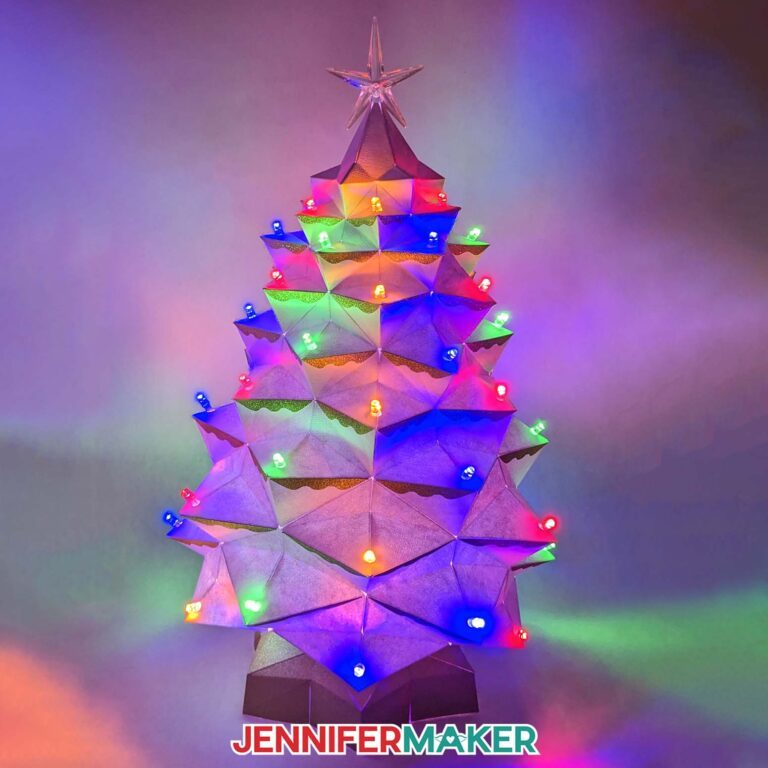 Despite its minimalistic aesthetic, the assembly of Alexa's tree design is pretty complex. It's not super difficult, but I also wouldn't consider this a beginner project. You can expect it to take quite a bit of time to build, and more than a smidge of patience to prepare and assemble. But don't worry, because I'll walk you through each and every step. Plus, I'm including a reference PDF in the download file to help, too. You can absolutely do this!
Plus … the time commitment required to cut, prepare, and put together the cardstock tree makes it the PERFECT project to make during a cozy Christmas movie marathon weekend!
So, are you up for the challenge?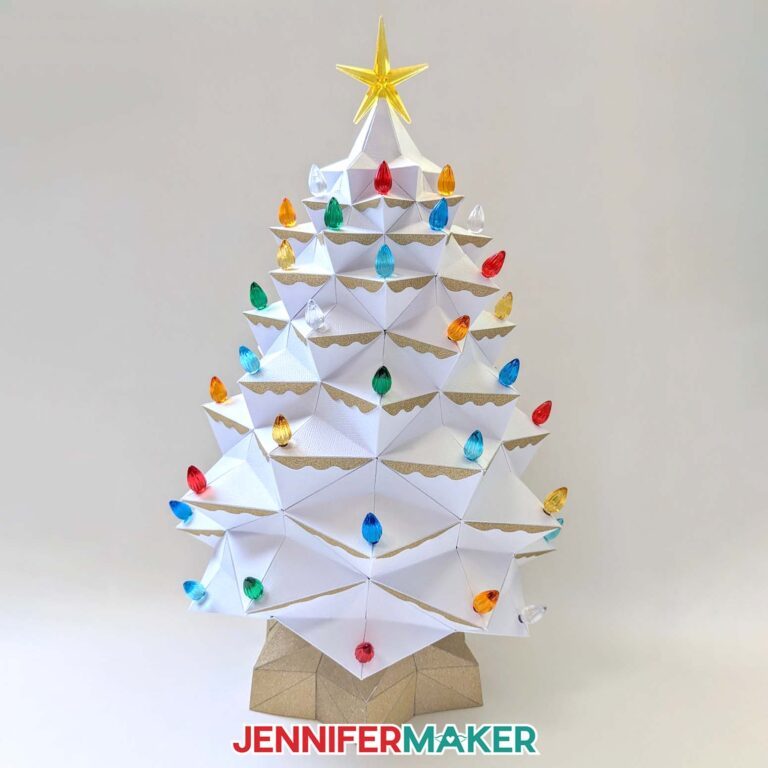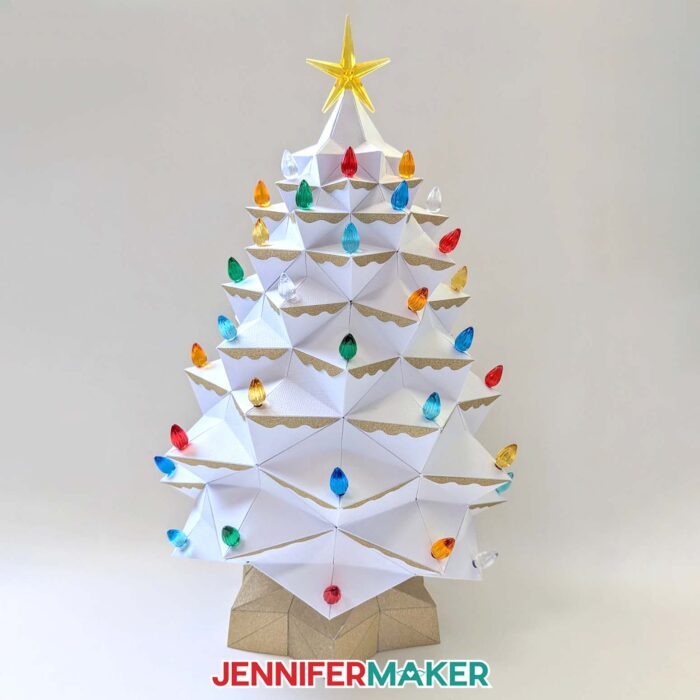 To make folding all of the angles of the tree much easier, I've included two versions of the file in the download folder. One version of the Christmas tree file has dashed cut lines that use the Cricut's standard Fine-Point Blade. The other version has score lines that you can cut using a scoring wheel or stylus in your Cricut cutting machine.
The design is set up to make one 3D tree approximately 16.5" tall by about 9.5" wide. Don't resize it, because the holes are very precisely sized for the lights and bulbs from my materials list. If you make the tree larger or smaller, the lights won't fit!
It really helps to work in a well-lit area for this project, because of all the small details! When you cut your pieces out with your Cricut, it will also prompt you to insert a pen to draw numbers on the tabs. These will tell us how to correctly assemble the tree later.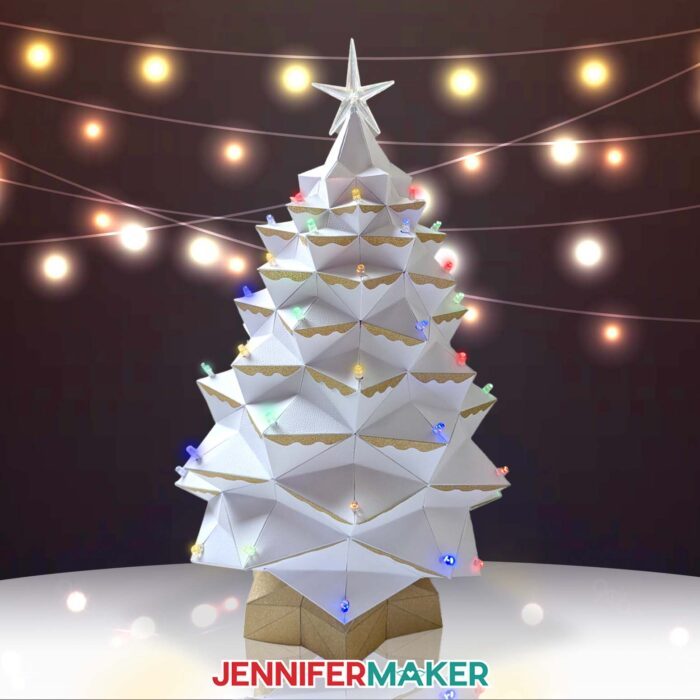 The design of the tree includes a strong and sturdy base, which I'll demonstrate how to decorate with gold foil cardstock not just for added stability, but for a more finished look. After I show you how to make the tree's base, then we'll add the optional gold accents to the branch tips.
After that comes my favorite part: Adding the lights! I show you two options for this. The first is to use ceramic tree replacement bulbs with a puck light, where all you need to do is insert one bulb into each hole from the outside and then stick the puck light underneath the base to light them (and the body of the tree) up.
The second option is to use a strand of LED lights. First, you'll poke the lights through the holes, one at a time, making sure to keep the rest of the bulbs out of the way as you go. Then you can use a rubber band to tie up the rest and insert them inside the tree so it glows from the inside. Your mini tree will look beautiful with warm white lights, multicolored rainbow lights, or whatever you choose to go with your home decor or holiday style!
For a finishing touch, add a star or another tree topper, which you can find in my materials list.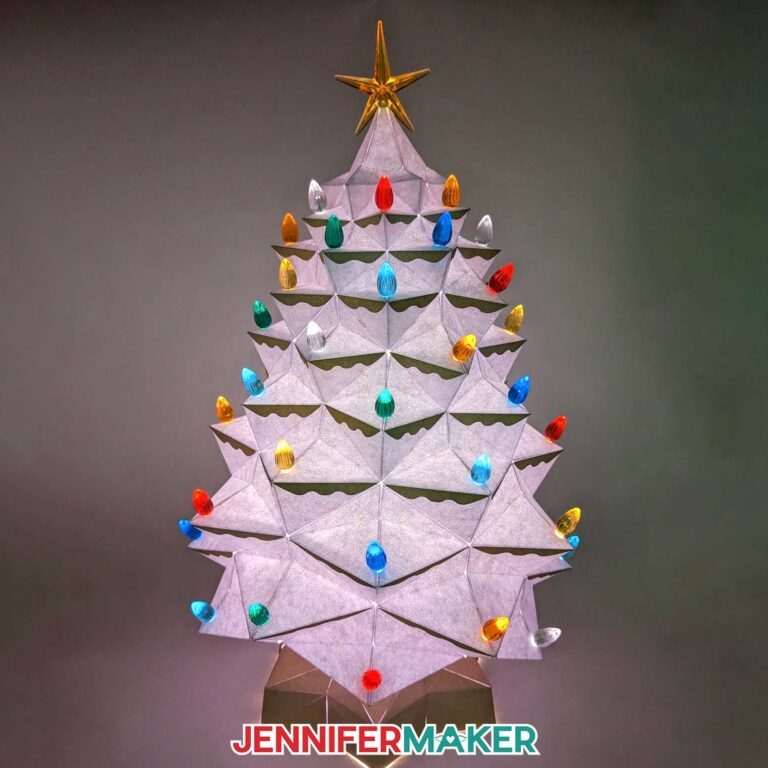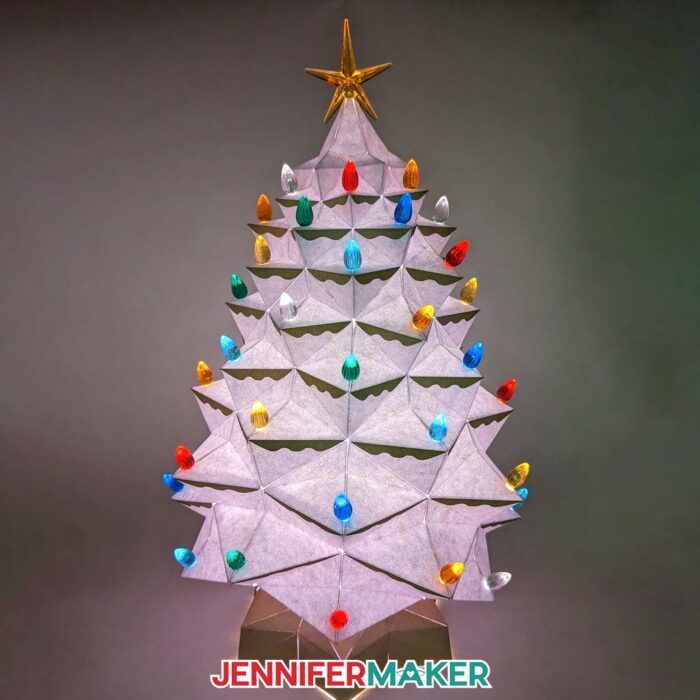 I really love how the WHOLE tree glows, not just the lights. I think I actually like this better than a ceramic tree! Plus, you don't have to worry about it dying before December 25th like a live mini Christmas trees might.
This project really is next level. While it's one of the more complex paper crafts I've ever made, the payoff is SO beautiful. I also feel pretty proud every time I look at it, because I know the work that went into it! And isn't that one of the best things about crafting?
Here's a supply list of what you need to make a cardstock tabletop Christmas tree! This post contains some affiliate links for your convenience (which means if you make a purchase after clicking a link I will earn a small commission but it won't cost you a penny more)! Read my full disclosure policy.
Materials and Tools to Make a Cardstock Tabletop Christmas Tree
View my Amazon shopping list with the exact items we used to make this project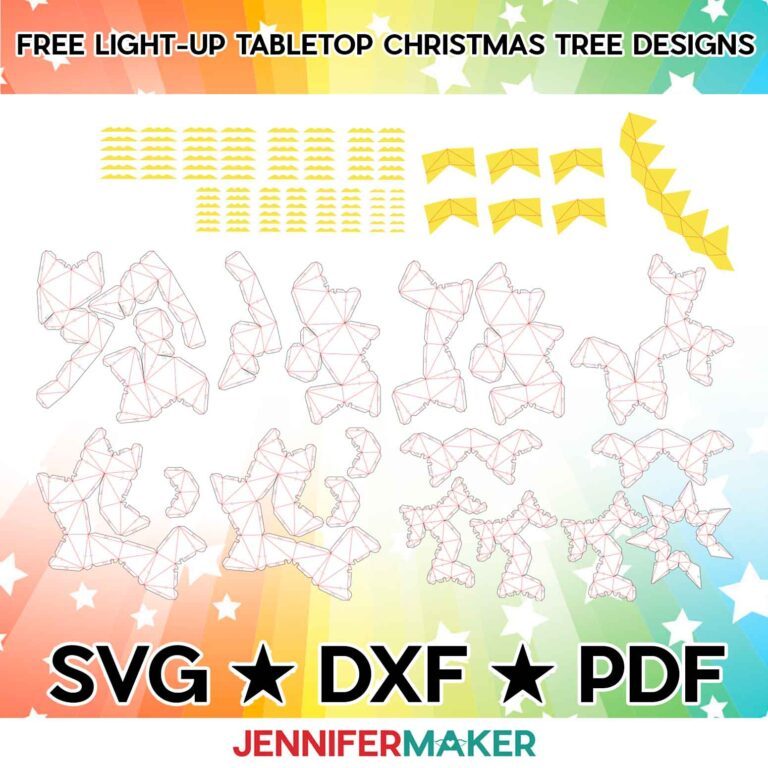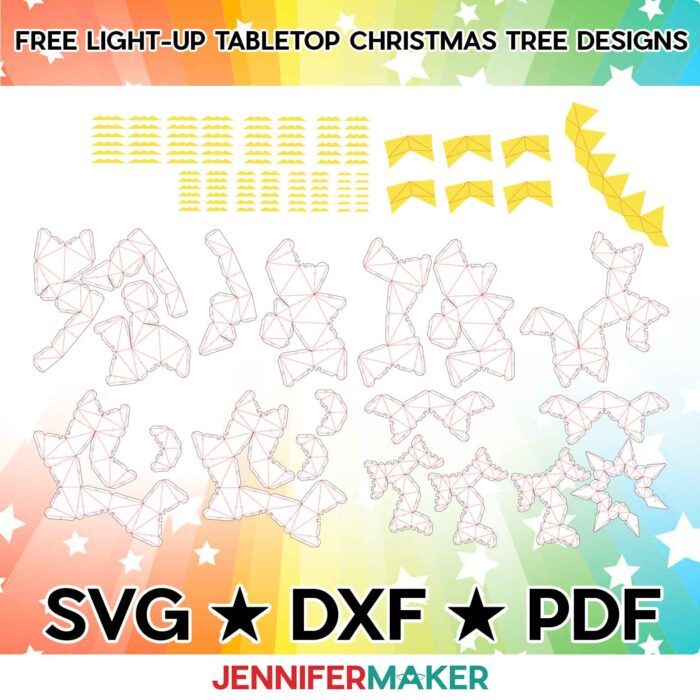 How to Make Your Own Tabletop Christmas Tree from Cardstock
The detailed step-by-step assembly video on how make a tabletop Christmas tree debuted during Maker Academy Weekend 2023, held online November 1-5, 2023. Get an on-demand pass to watch all 30+ workshops, each with a printable handbook, transcript, audio file, design files, and support with a VIP pass below:


Answers to Your Questions About How to Make Your Own Tabletop Christmas Tree
Q: Where is your tutorial for this project?

This tabletop tree is a special project we made for our free Maker Academy Weekend 2023 event! A complete and detailed step-by-step video premiered during the event November 1-5, 2023 — this tutorial video was available to watch for free for 24 hours only during the event. If you missed it, you can get access to the full video, the 35-page printable handbook that details how to make this beautiful project with a VIP Pass to Maker Academy Weekend 2023, which comes with other perks and bonuses, too!
Q: What is the best size for a tabletop Christmas tree?
A: Tabletop trees come in a variety of sizes, and it completely depends on the size of table and space you have available. My tabletop Christmas tree comes out to about 15.5″ tall, which is the perfect size for most tabletops, your kitchen island, side table, and other smaller spaces. It's VERY important not to resize the file in Design Space, though, or the lights wont fit into the holes correctly!
Q: How do you make a mini Christmas tree?
A: This tutorial is a great place to start! If you love my cardstock Christmas tree and want to make one of your own, simply gather the materials and follow my tutorial video. If you'd like to try making some other small Christmas trees, check out the tutorials for my Dollar Tree Christmas Tree (for a more natural look), easy Christmas tree luminary, paper snowflake Christmas tree luminary, Christmas tree advent calendar, whimsical 3D tree, DIY fabric tree, and my Arabesque ornament countdown Christmas tree!
Q: How do you make a small Christmas tree without a stand?
A: When I designed my DIY tabletop Christmas tree, I knew I wanted it to include a really sturdy stand. When I was testing the design, I realized that in order for the tree to be really supported, especially with the added weight of Christmas lights, I needed to reinforce the base with some extra cardstock. That's where the extra pieces come in, which you'll see if you watch my tutorial or look at the reference PDF. Though these pieces may look purely decorative, they serve a purpose — don't skip them!
Q: Which lights work with a tabletop Christmas tree?
A: I designed this cardstock tree to work with the same lights you'd use in a ceramic tabletop tree, which are available on Amazon. To make them light up, insert a puck light into the base of the finished tree. You can also use a strand of LED lights, and poke the lights through the holes on the "branches." Any extra lights can be wound up with a rubber band and inserted inside the tree to make it glow from the inside. I love using battery-operated lights instead of tree lights that plug in because it allows me to move the tree wherever I want, with no unsightly cords dangling behind it.
Q: Do you have other minimalist Christmas decorations I can make?
A: I've got various options for simple or minimalist Christmas decor you can make! Some of my favorite minimalist holiday crafts include my cardstock Christmas countdown town, easy Christmas luminaries, fabric Christmas trees, winter paper village, teacup candles, paper orb gift box and ornament, glitter ball ornament, stacked book decoration, paper candle centerpiece, double-sided infusible ink ornaments, and a lovely winter wreath.
Get my free SVG files to create a cardstock Christmas tree!
Get FREE access to this design and ALL of my SVG cut files!
Subscribe (free!) to my newsletter with updates and tips PLUS get instant access to my resource library with this file and all of my other free files, printables, and patterns! Once subscribed, I will send you a newsletter with details about my new free files each week.
Free Resource Library
Enter my
free resource library
for my latest files, printables, and patterns! Password is 'craft' -- please copy and paste that in at the link above. Thanks for being a subscriber!!
I SO hope you'll make a tabletop Christmas tree of your own! Please share a photo of your tree in our Facebook group or tag me on social media with #jennifermaker.
Love,